HUGE 60-Bay HA6400 RackMount NAS from Synology Revealed
At the risk of being controversial, I would say that Synology is a brand that trades on its software reputation more than it's hardware. That is not to say that they have not created some fine ANS hardware over the years (first commercial NAS brand to include NVMe SSD bays in their hardware, first affordable business true Active-Active controller solution, to name but a couple), but their DSM platform has far outpaced their hardware in terms of appeal with existing and new customers. However, when I first heard that Synology was working on a 60-Bay Intel Powered rackmount solution, I thought I miss heard and had to check (3 times in fact). But no, the newly revealed Synology HD6400 4U RackStation NAS is genuinely a 60 3.5" Bay solution. Arriving in a monstrously huge chassis, this top-loaded server is aimed at users who want it all – Powered, Ungradeability, Storage potential and that feeling of an investment well made. So, with this device entering the comparatively navigated territory for Synology, let's take a look at this device and find out if it's as good as it sounds.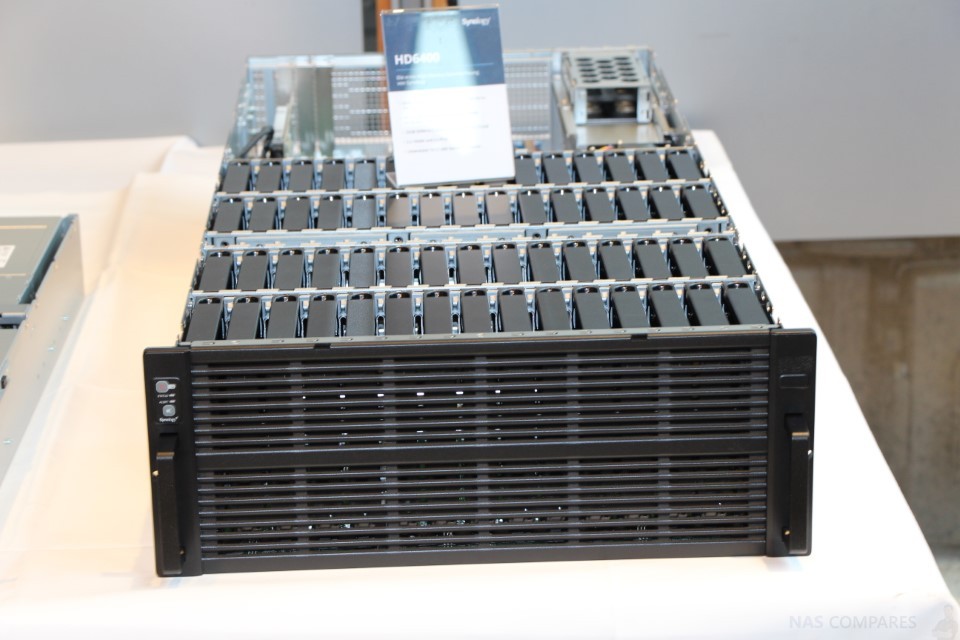 Synology HD6400 4U PowerHouse NAS Hardware Specifications
As you might well expect, in order to support that insane 60 Bays of storage (that no doubt support the latest 16TB Seagate Ironwolf NAS Hard Drives and Ironwolf 110 4TB SSDs) this device is going to need a seriously powerful architecture surrounding it. Obviously, from a build stance, this rackmount will be beefy. Synology's rackmount range is already well established enough, that I have little or no concerns about the build quality externally. But with a new kind of drive injection and deployment system in place, along with a much more enterprise-level processor architecture in place, I am keen to look under the bonnet on this.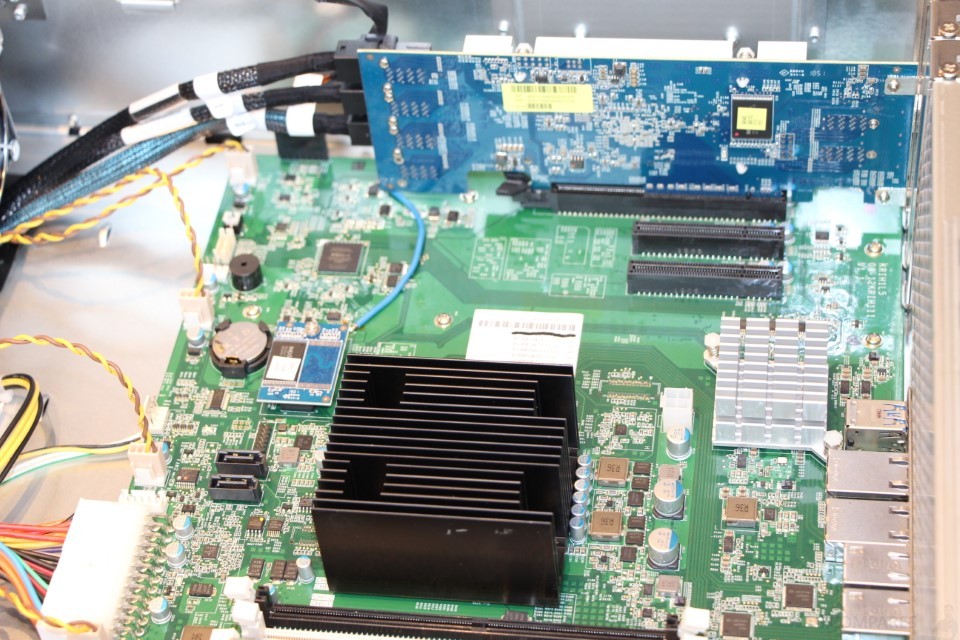 CPU: Xeon Silver 4110 eight-core processor x2
CORES: 8
FREQUENCY:
MEMORY: 32GB DDR ECC RDIMM
MAX MEMORY: 512GB DDR4 ECC RDIMM
BAYS: x60
FORM FACTORS: 3.5"/2.5" (Adapter May Be Required – TBC)
SSD CACHING BAYS: x2 2.5″ (SATA/SAS/NVMe is still TBC)
CAPACITY: 960TB (60x 16TB), Space allocation may limit Max Volumes
DRIVE INTERFACE: SATA 6GB
RAID SUPPORT: RAID JBOD, 0, 1, 5, 6, 10, 50, 60, Multi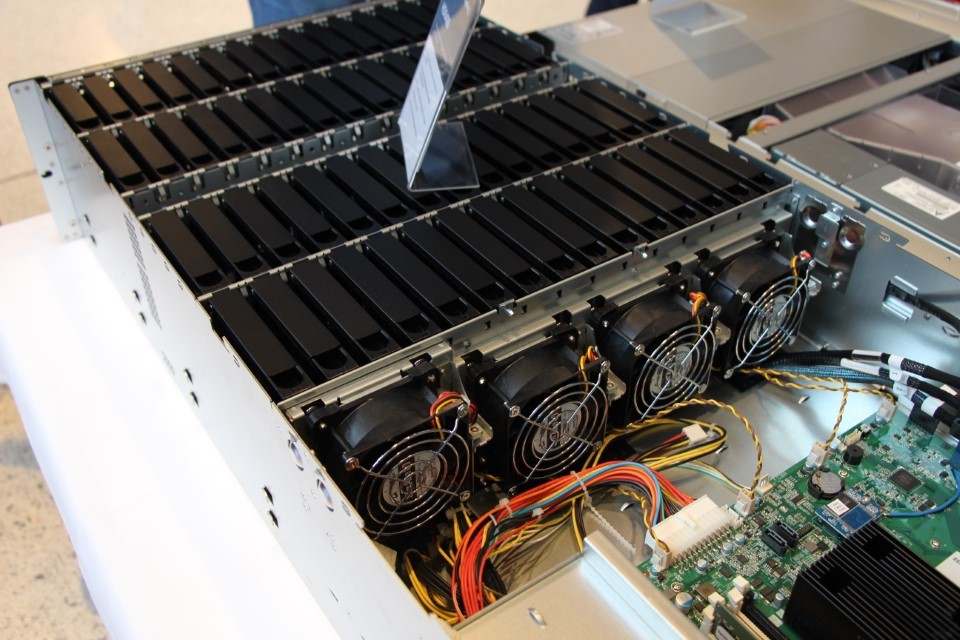 NUMBER OF FANS: 4x internal
USB 3.0 PORTS: x2
RJ45 1Gbe LAN PORTS: x2
10Gbe 10GBASE-T Ports: x3
PCIe Slots: x 3
Storage Expansion Ports: x1
Hot-Swap: Yes
LCD Panel: No
PSU: x2
CHASSIS: Metal, 4U Rackmount, Top Down Drive Delivery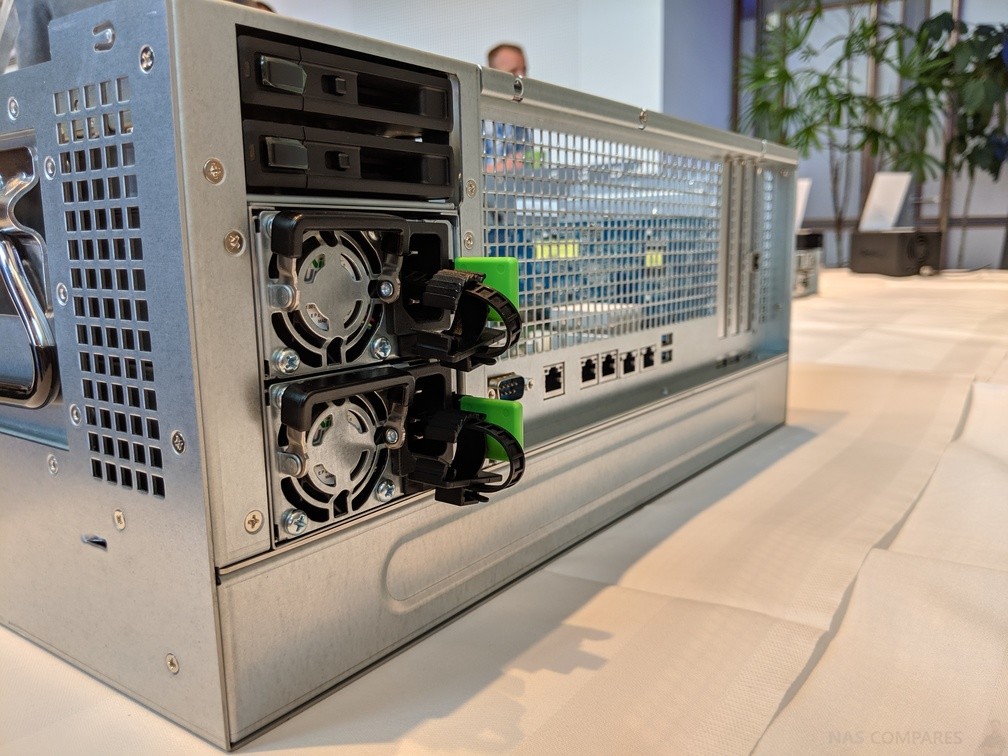 Synology HD6400 Rackmount NAS Software Specifications
Where to start on the Synology HD6400? Well, In short, in terms of the entire Synology software suite of applications, services and programs, you name it and this device supports it (with the complete exception of Synology Hybrid RAID and still looking for BRTFS to be confirmed). With the kind of hardware that the HD6400 is equipped with, this is a device that is not going to struggle. I will be interested to see if it supports GPU cards at the time of release, as the ONLY area I can see this device even slightly sweating in an enterprise business application sense is in high tier business class surveillance use where an company will wish to take advantage of the deep video analysis displayed in the likes of the DVA3219. But even then, the hardware inside this device is of such a power level that it could probably handle it. The Intel Silver 4110 is going to provide such insanely high IOPS (even on mechanical HDDs in this volume) that the right kind of hybrid storage array (along with the SSD caching improvements involved in DSM 7.0, such as metadata pinning/locking and better block sizing actions) will make any modern-day NAS run wonderfully smooth.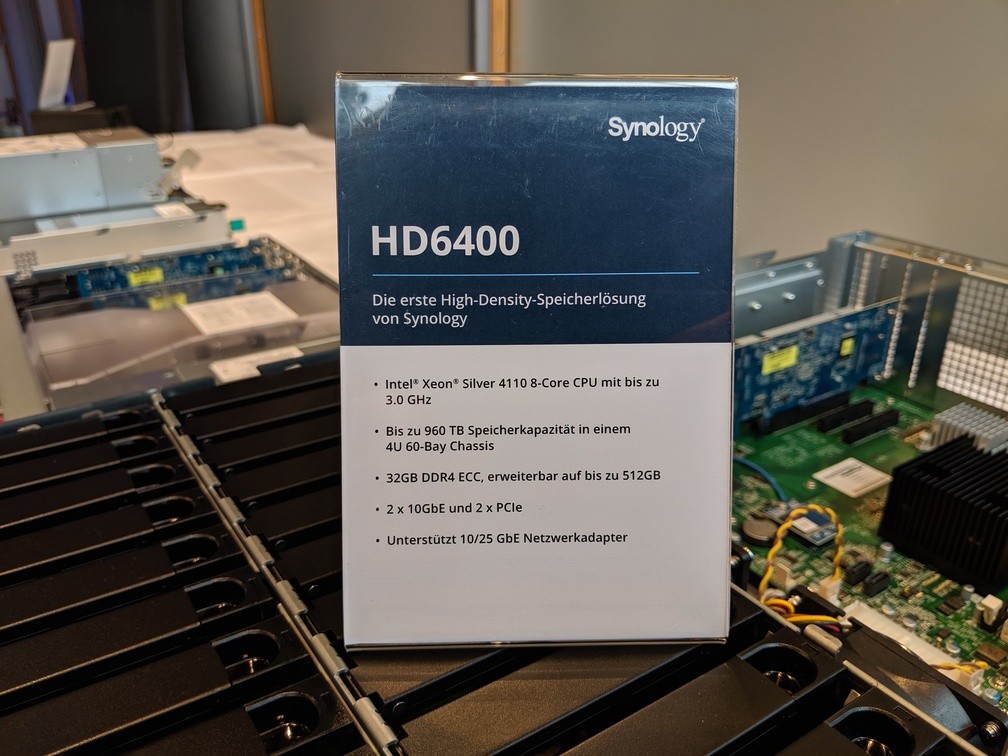 Moving into more 3rd party (but still core applications) such as Windows Server applications and VMware, this device should arrive after the release of DSM 7.0 next year, so Directory Server and Improvements in Vmware/Vsphere compatibility will mean that this monster device can be used to upgrade an existing setup in your business in the backend, yet you can still use the familiar dashboard and UI of the software you already license. Below is a combination of Synology applications and 3rd party applications that are supported. The extent to which these are supported (# of active simultaneous users, licenses, sessions, etc will be updated when a datasheet is available).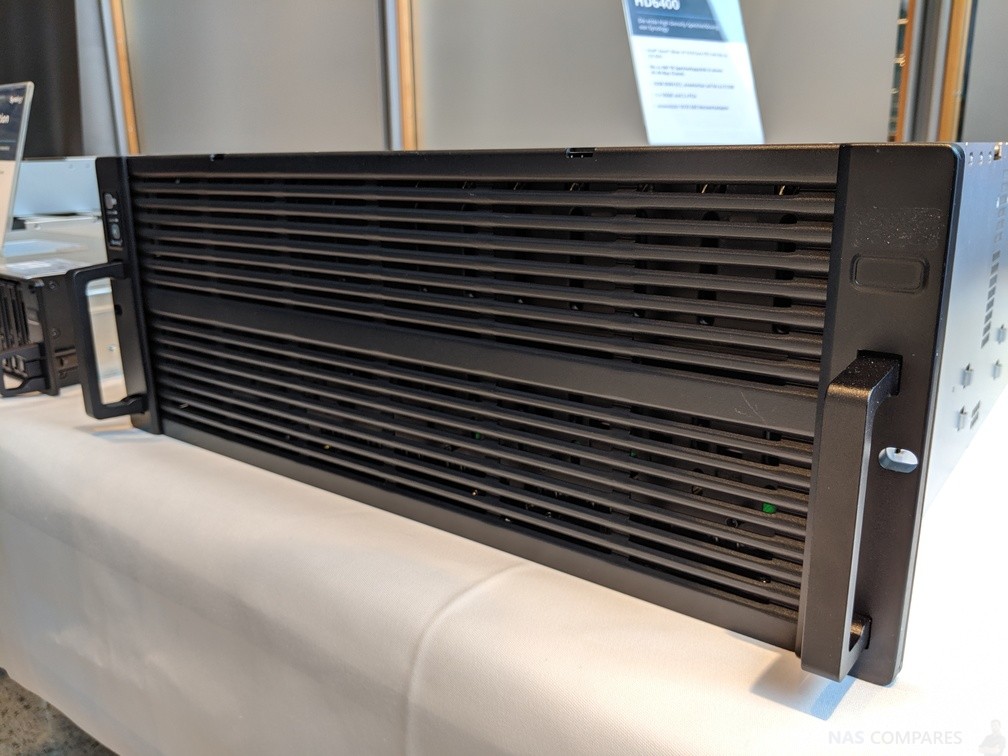 Synology Active Backup: Yes
Synology Surveillance Station: Yes
Synology Virtual Machine Manager: Yes
Synology High Availability: Yes
Synology Drive: Yes
Synology Directory Server: Yes
Synology Active Insight: Yes
Synology Hybrid Share: Yes
Hyper Backup: Yes
Docker: Yes
Synology CMS Yes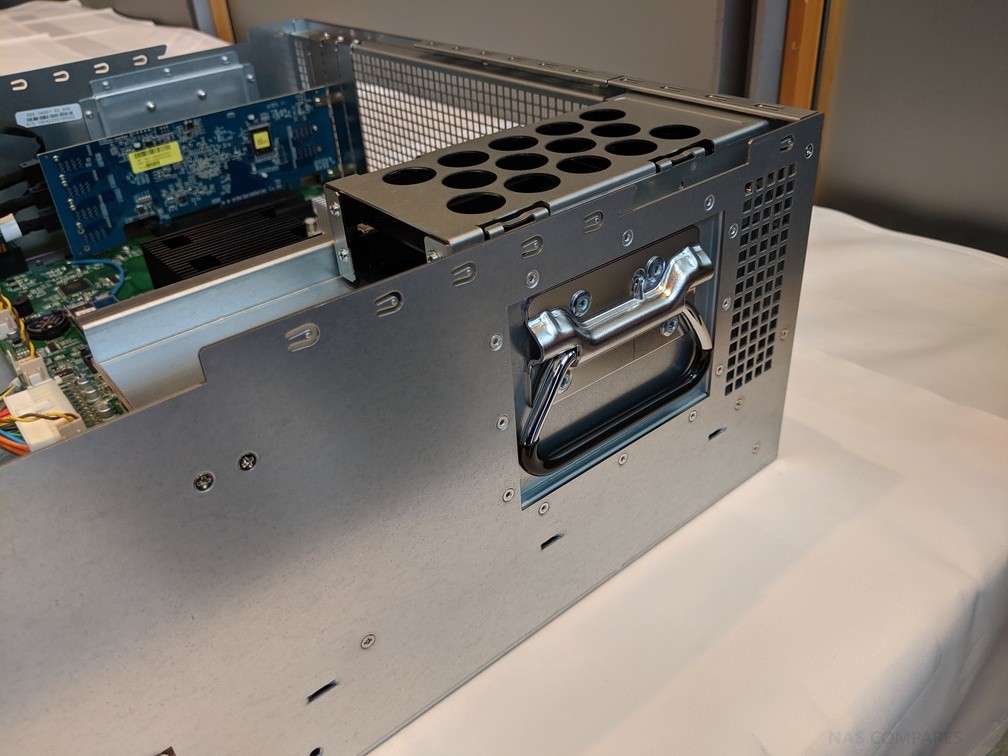 Synology Mail: Yes
Synology Office: Yes
Synology Download Station: Yes
Synology Photos: Yes
Plex Media Server: Yes (Fantastically overpowered, why on earth would you!)
iTunes Server: Yes
WordPress: Yes
BTRFS Support: Yes (TBC)
Synology Hybrid RAID: No
Snapshot Support: Yes
4K Support: Yes
Transcoding Support: Yes
Synology Multimedia Suite*: Yes
Synology Moments: Yes
Synology Chat: Yes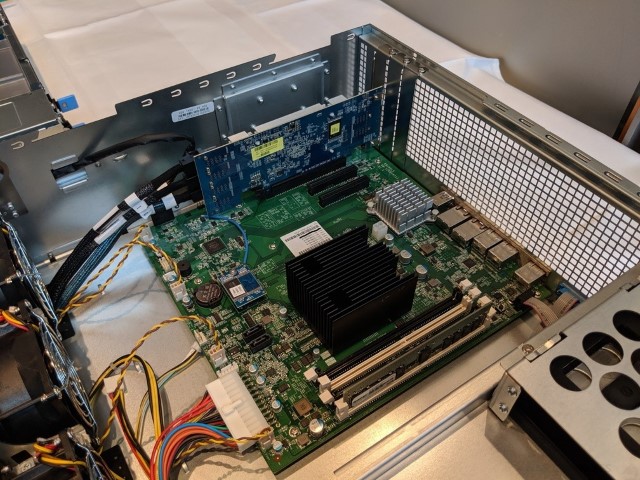 *Video Station, Audio Station, PhotoStation, Media Server, Mobile Apps, etc
Synology

HD6400

60-Bay 4U NAS Price and Release Date
Of all the devices that were finally revealed at the Synology 2020 events, this is the one that seems the most enterprise led (and that is surprising, given the prominence of the SA3200, SA3400 and Flashstation FS6400 on show), but sadly the one with the least traceable/known availability. As this is relatively untrodden ground for Synology, the details surrounding the availability of the HD6400 are close to zero! I think it is most certainly a 2020 product, but possibly one that we will get more information on around CES 2020 in January. With the development cycle and release of the UC3200 (originally the UC300) in excess of a year, I think this is going to be similarly lengthy in it's release schedule.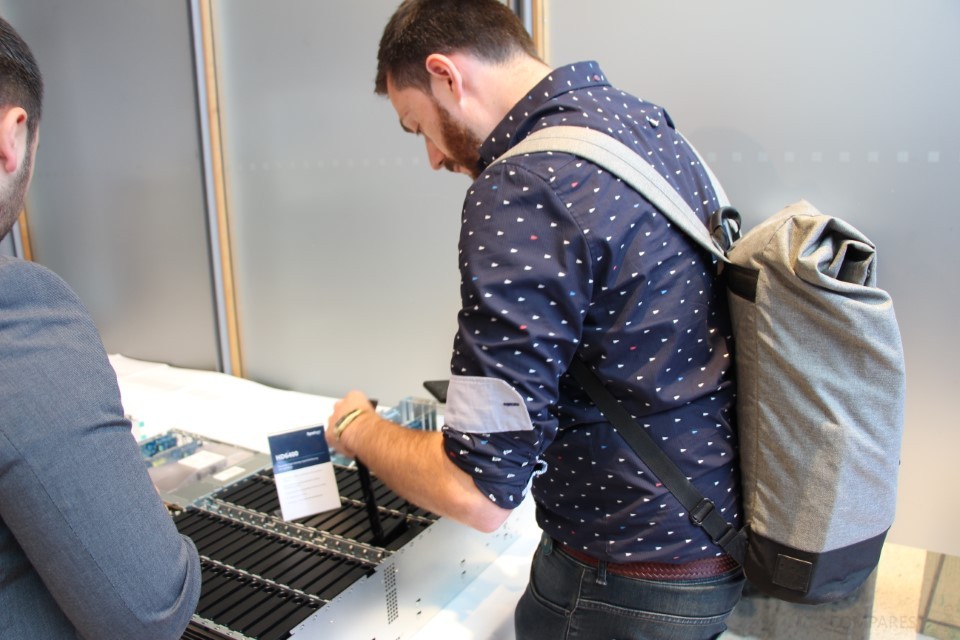 Regarding price, the sky is the limit here. This device features a lot of 'firsts' from Synology and when that happens, you cannot simply just 2-3x the price of a 24-Bay NAS Server. This device may likely arrive at a price point for business only, BUT I would strongly recommend contacting SPAN in 2020 and see if an early unit can be provided. With the marketing value of a case study in modern IT right now, as well as the high profile appeal of this device to a certain kind of business, arrangements may well be made and an earlier available and improved price is never off the table. That said, the Synology HD6400 is still a big question mark at this time of writing in terms of price and release and I hope to change this fact very soon.
Alternative to the Synology HD6400 RackStation NAS
If your data requirements are a tad more urgent your hardware is showing signs of age or a licencing agreement with the likes of HP or Netapp are drawing to a close), then waiting on the eventual release of the
Synology HD6400
is just not viable. In that case, I would recommend looking at the SA series from Synology. These SAS based enterprise servers feature similar hardware power under the bonnet and although they lack the other 40-Bays or so, expansion devices connected over 12GB SAS provide a suitable alternative and a more modular/granular storage plan – which may well be desirable for some.

📧 LET ME KNOW ABOUT NEW POSTS 🔔
Join 1,406 other subscribers
Get an alert every time something gets added to this specific article!
This description contains links to Amazon. These links will take you to some of the products mentioned in today's content. As an Amazon Associate, I earn from qualifying purchases. Visit the NASCompares Deal Finder to find the best place to buy this device in your region, based on Service, Support and Reputation - Just Search for your NAS Drive in the Box Below
Need Advice on Data Storage from an Expert?
We want to keep the free advice on NASCompares FREE for as long as we can. Since this service started back in Jan '18, We have helped hundreds of users every month solve their storage woes, but we can only continue to do this with your support. So please do choose to buy at Amazon US and Amazon UK on the articles when buying to provide advert revenue support or to donate/support the site below.

Finally, for free advice about your setup, j
ust leave a message in the comments below here at NASCompares.com and we will get back to you.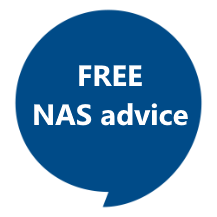 Need Help?
Where possible (and where appropriate) please provide as much information about your requirements, as then I can arrange the best answer and solution to your needs. Do not worry about your e-mail address being required, it will NOT be used in a mailing list and will NOT be used in any way other than to respond to your enquiry.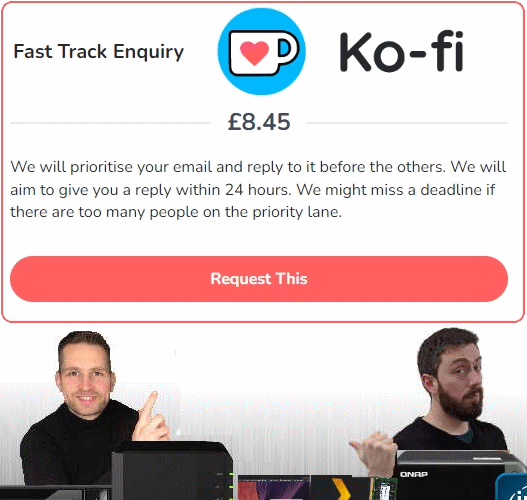 Terms and Conditions
Alternatively, why not ask me on the
ASK NASCompares forum
, by clicking the button below. This is a community hub that serves as a place that I can answer your question, chew the fat, share new release information and even get corrections posted. I will always get around to answering ALL queries, but as a one-man operation, I cannot promise speed! So by sharing your query in the
ASK NASCompares
section below, you can get a better range of solutions and suggestions, alongside my own.
This description contains links to Amazon. These links will take you to some of the products mentioned in today's video. As an Amazon Associate, I earn from qualifying purchases