A Guide to the Best Plex NAS Drives to Buy Right Now
If you have been looking at buying a Synology or QNAP NAS drive in 2022 for use as a Plex Media Server, then chances are you are doing this because you are sick of paying for a bunch of online streaming services OR you have an enormous physical library of discs that you own in your home that you want to watch conveniently on an Amazon FireTV, Roku Box or home Console, disc free! It's not a big ask, is it! Do you remember when watching movies and boxsets from your sofa was easy? You owned a few hundred DVDs or Blurays, you popped in the disc for what you wanted to watch, then you watched it. It had a few extra steps that Netflix, Hulu, Prime Video and Disney+, BUT you owned what you watched and you were in control of what you wanted to see. The dominance of subscription streaming services was unquestionable and for a while, it genuinely felt like it was the best option for ease of access to a huge library of multimedia that you only really wanted to watch once or twice anyway – all for just $5-10 per service. However, it got complicated. We went from 3-5 media streaming services, to suddenly HUNDREDS, with Films/Boxsets appairing on exclusive platforms (in some cases actual tv seasons being divided across different services too). This also led to TV shows being available/featured on a streaming service considerably shorter, due to the show-owner realising that timed exclusivity and switching streamingly platforms is much more lucrative in the long run. So, the streaming services STOPPED being so convenient, stopped being such good value – with most households now having/needing 3-4 different subscription services (so, in most cases Netflix, Prime Video, Disney+ and the cable TV/Sky provider service) and spending $400-500 a year, and not owning a single piece of media or having control of when things are not available. Add to that the rather bias search abilities of these platforms pushing 'suggested' content and you cannot help but pine for those simple days of sitting on the sofa and watching that DVD. It is for this reason that many have made the jump over to Plex Media Server. To find out more about what Plex, a Plex Media Server NAS are and what they do, watch the video below:
A free service that allows you to stream the media YOU own, but still features slick graphics, user-friendly GUI, descriptions, trailers, thumbnails, reviews and more. Today I want to discuss the best three NAS drives for use as a Plex Media Server. There are literally thousands of different NAS devices on the market that can be used for Plex (it is a fairly low resource demanding tool in its smallest form) but the extent to how much you will use it, the number of users you want to share with, the volume of media and the quality of the content (e.g 4K, 1080p, etc) make a HUGE difference to which NAS you should choose for your Plex Media server. So my three PLEX NAS recommendations for 2022 are based on the best Budget 1080p Plex NAS, the best 4K Plex NAS and finally, the Best EVERYTHING Plex NAS for 2022. Let's begin.
What Have All the Best Plex NAS Drives Have in Common?
It is worth remembering that although there are ALOT of different Plex NAS drives available to buy, they are by no means created equal! With numerous super budget brands popping up online, it can be tempting to consider these alongside the premium NAS brands. However, all too often they offer solutions righty seem 'too good to be true' and then are gone from the web before your warranty even gets cold! So, whether you are looking at the three best Plex solutions that I am recommending below OR are looking at another Plex NAS you saw on offer/recommended elsewhere – the best NAS system ALWAYS include the following software and services:
Combined Hardware & Software Solution – That means that you are buying the hardware, but it ALSO includes a web browser GUI, mobile apps and desktop client apps (including backup, media, streaming, surveillance and file management software)
All NAS systems in this guide are compatible with (and can be accessed by) Windows, Mac, Android and Linux operating systems
All NAS Solutions arrive with between 2-3 years Warranty (with the option to extend to 5 years)
All NAS drives can be accessed locally over the network, as well as secure remote access is possible with brand supported services (at no additional cost)
The most modern and regularly updated NAS systems will support the very latest 20TB NAS hard drives (such as the Seagate Ironwofl 20TB and WD Red 20TB)
All the recommended solutions support multiple drive configurations (RAID) for drive failure protection and performance enhancements
All solutions receive regular updates to their security, features and services
All recommended NAS drives can connect and synchronize with cloud services (Google Drive, DropBox, OneDrive, etc), as well as Business/Enterprise services such as AWS, Azure, Backblaze and more
All NAS solutions (regardless of brand) feature the ability to host a shared drive on your PC/Mobile/Laptop systems that are synchronized with the NAS via the network/internet, but is shown in your native operating system file manager (i.e Mac Finder or Windows Explorer)
All the NAS solutions listed can be accessed DIRECTLY via an ethernet/network cable being connected from your PC/Mac system, to the NAS RJ45 port for 100MB/s and higher connectivity
All the best NAS solutions (regardless of brand) feature backup and sync tools that can be installed on your local client computer and allow regular backups of your files and system data
So, make sure that if you are looking at a NAS solution that is NOT recommended below, that it includes all of the above. As these are some of the clearest areas that brands all too often cut orders to produce cheaper by ultimately inferior NAS servers for home and business. So, let's discuss the very best Plex NAS to buy now in 2022.
Best Value 1080p 4K Plex NAS Drive – The Synology DS920+ NAS
0-80TB, 4-Bays, Intel J4125 4x 2.0-2.7Ghz CPU, 4/8GB 2666Mhz Memory, 2x 1Gbe Port, 2x NVMe SSD Cache Bays, 3-5yr Warranty
Current Price/Availability on Amazon – $550+
Hardware Review – HERE
YouTube Video Review – Watch
The DS920+ NAS is something that Synology should be proud of. It is a great entry into their already impressive range of Diskstation NAS devices. If you are looking for a brand new NAS to consolidate your home media, to support your relative as the 'IT whizz' of the family, or move your business away from Google Drives and DropBox' onto something safer, more scalable and dependable – then the DS920+ has alot to offer you. It gives you a great base to start using the DSM platform, as well as a good means to upgrade your storage internally at a later date (expansions in memory, expansions in storage, expansion in NVMe). If you are an existing DS918+ or DS916+ owner, this might not seem like the jump you were waiting for.
This slideshow requires JavaScript.
There are always areas of improvement, the USB ports, the 1Gbe, that 1 memory slot – but these are things that Synology no doubt feel should be pushed into a higher price/hardware bracket – Allowing the DS920+ Price to be as close to its predecessors it can be. Whether you agree or disagree, I think that we can agree that this NAS is still giving you alot of bang for your buck in 2020. Thank you once again to 'Takeo from Tokyo' for all his assistance on this hardware review
---
Best Powerful 1080p & 4K Plex NAS Drive – QNAP TVS-872X
0-160TB, 8-Bays, 2x M.2 NVMe SSD Bays, 2/4/6 Core Intel Pentium/i3/i5 CPU, 8-64GB DDR4 Memory, 1x 10Gbe Port, 2x 1GbE, 2x PCIe Slot, 1x HDMI 2.0 4K 60FPS, USB 3.2 Gen 2, ZFS Option 2yr Warranty
Current Price/Availability on Amazon – $1799
Hardware Review – LINK
YouTube Video Review – Watch
If this was the first time I was seeing the hardware featured on the QNAP TVS-872X, with its Intel Core CPU, 64GB of potential memory, 10Gbe on-board, NVMe equipped slots and USB 10G throughout – I would have been reasonably impressed. Likewise, the scalability in PCIe, storage expansions and network connectivity down the line is also a very valid and positive aspect of this system. But for me, it will always live slighting in the shadow of its Thunderbolt 3 equipped older big brother in the TV-872XT. The software on either ZFS or EXT4 file system is still doing what it does well, finding the line between 1st party apps, 3rd party support, customization and (mostly) getting it right – if occasionally trying to be too big for its boots.
This slideshow requires JavaScript.
The QNAP TVS-872X is undeniably still a great example of the wide-ranging features available to prosumers who want a storage system heavily geared towards high-performance transmission via high-performance media with higher tier hardware at their disposal. It would be misleading to think of this NAS as any kind of significant upgrades over the XT, and the price tag that the TVS-872X currently arrives at (£1700+ / $2400) is perhaps a tad closer to that of the thunderbolt version than can be justified, but with an increasing over-reliance by brands on Xeon based systems, the TVS-872X is one of the most graphically well-equipped systems in the market today. If you are looking for a NAS for video editing, Plex media server, AI-assisted surveillance or virtualisation in a more compact form, the TVS-872X and its hardware has a heck of a lot to offer you.
---
Ultimate Plex Media Server NAS – The QNAP TVS-h1288X
0-160TB, 8x HDD Bays, 4x SATA SSD Bays, 2x M.2 NVMe SSD Bays, 6 Core Intel Xeon W (Embedded Graphics) CPU, 16-128GB DDR4 Memory, 2x 10Gbe Port, 4x 2.5GbE, 3x PCIe Slot, 1x HDMI 2.0 4K 60FPS, USB 3.2 Gen 2, ZFS Option 3yr Warranty
Current Price/Availability on Amazon – $2899
Hardware Review – LINK
YouTube Video Review – Watch
When reviewing a business class piece of kit, it is important to stay RELATIVE! You cannot compare a Ferrari with a Ford Focus as equals, as they have a very different audience in mind and a very different price tag – therefore Value and ROI are always relative. That said, the TVS-h1288X is, hands down, the most impressive desktop NAS drive I have ever handled – and I do not say that lightly! QNAP has been working overtime these last 2 years to not only introduce their ZFS series to the SMB and Enterprise marketing, with gradual but compelling results – but it is only now in the TVS–h1288X system that they have successfully merged it into another core area of their business – content creators. Whether you are on board with the 'optional thunderbolt card' nature behind this device, you cannot fault the sheer weight of hardware on offer here and how it is perfectly tuned and appropriate for the storage, performance and safety benefits of ZFS in QuTS Hero included with this device.
This slideshow requires JavaScript.
Yes, it is a hungry beast of a device in terms of power, but right now THIS is the NAS system to beat in the market right now in desktop form. There are still the odd hurdle for surveillance users to jump and the fact this range starts at 8/12-Bay is an odd choice – but with a 6-core Xeon processor that features high grade embedded graphics, upto 128GB of DR4 ECC memory, 3 storage tiers of scaling speeds, a combined external bandwidth of 30 Gigabits per second (so 3,000MB/s) and that is without even the inclusion of a Thunderbolt update that can allow upto 4 more Thunderbolt users to enjoy simultaneous access for photo/video editing – You simply cannot fault the ambition behind the TVS-h1288X and it leaves most of its 8-Bay competitors in its dust – just maybe raid the piggy bank before you buy it though
---
And there you have it. Those are the three best Plex NAS drives available right now at the end of 2021 and going into 2022. thought it is always worth remembering that these systems typically have a refresh (i.e manufacturers release a new version/follow-up) every 2-3 years on average. Therefore although these systems are all still great Plex NAS drives, they might have been upgraded in a newer released version, or recently released alternative Plex's may have arrived on the scene that provides better pricing, value or features. If you are in doubt about whether to buy a Plex solution from my recommendations, want to check if a newer system has been released recently OR are simply looking for some free expert advice, then use the free advice section below over. Just enter in a few details of your setup, storage requirements and (in the case of buying a new solution) your budget – then me and Eddie the Web guy can help you with your question. This is a completely free service, is NOT provided with profit in mind and is manned by two humans (no bots, no automated replies, etc). Assistance might take an extra day or two (the service gets a lot of visitors) but we do try to answer every message. If you want to support this service, you can find out how to donate HERE. Otherwise, you can still jsut message us for free advice anyway!
📧 LET ME KNOW ABOUT NEW POSTS 🔔
Join 1,582 other subscribers
Get an alert every time something gets added to this specific article!
This description contains links to Amazon. These links will take you to some of the products mentioned in today's content. As an Amazon Associate, I earn from qualifying purchases. Visit the NASCompares Deal Finder to find the best place to buy this device in your region, based on Service, Support and Reputation - Just Search for your NAS Drive in the Box Below
Need Advice on Data Storage from an Expert?
We want to keep the free advice on NASCompares FREE for as long as we can. Since this service started back in Jan '18, We have helped hundreds of users every month solve their storage woes, but we can only continue to do this with your support. So please do choose to buy at Amazon US and Amazon UK on the articles when buying to provide advert revenue support or to donate/support the site below.

Finally, for free advice about your setup, j
ust leave a message in the comments below here at NASCompares.com and we will get back to you.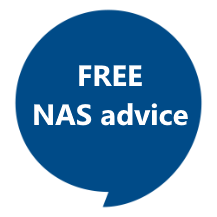 Need Help?
Where possible (and where appropriate) please provide as much information about your requirements, as then I can arrange the best answer and solution to your needs. Do not worry about your e-mail address being required, it will NOT be used in a mailing list and will NOT be used in any way other than to respond to your enquiry.
Support What We Do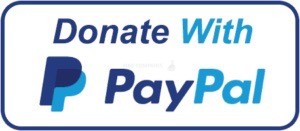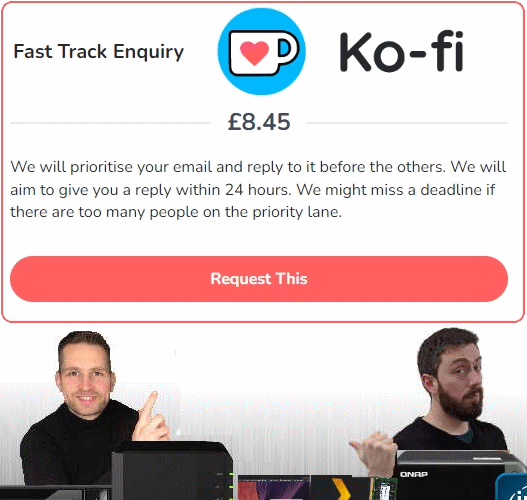 Terms and Conditions
Alternatively, why not ask me on the
ASK NASCompares forum
, by clicking the button below. This is a community hub that serves as a place that I can answer your question, chew the fat, share new release information and even get corrections posted. I will always get around to answering ALL queries, but as a one-man operation, I cannot promise speed! So by sharing your query in the
ASK NASCompares
section below, you can get a better range of solutions and suggestions, alongside my own.