QNAP TVS-872X NAS Drive Review
In the last few years, we have seen the evolution of network-attached storage from being a simple hard drive that you can access remotely, to something far more evolved and capable. Innovations in everything from the hardware available, to what the software can do has resulted in even modest budget home users jumping on board with more and more capable solutions. One of the latest releases from QNAP to arrive on the market is a slight change on an existing system that although is tough to call something new, can certainly be called popular in the hardware it brings to the table. The brand new QNAP TVS-872X system is a non-thunderbolt alternative to the 2018 generation TVS-872XT, arriving at a lower price point, including ZFS support and still featuring 10G. This overwhelmingly popular Intel i3 -bay has been in our top-5 lists in its thunderbolt form for many years, but does this reimagining of the formula make the QNAP TVS-872X still worth your money and your data in 2021? Let's take a look.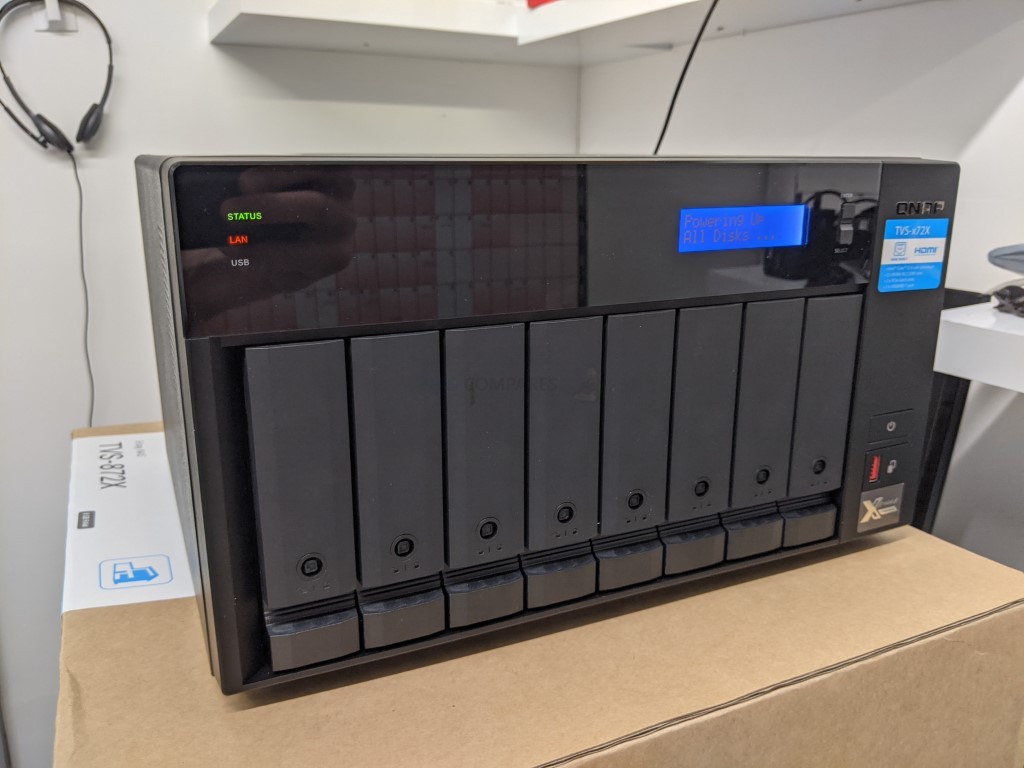 QNAP TVS-872X NAS Drive Review – Quick Conclusion
The QNAP TVS-872X is undeniably still a great example of the wide-ranging features available to prosumers who want a storage system heavily geared towards high-performance transmission via high-performance media with higher tier hardware at their disposal. It would be misleading to think of this NAS as any kind of significant upgrades over the XT, and the price tag that the TVS-872X currently arrives at (£1700+ / $2400) is perhaps a tad closer to that of the thunderbolt version than can be justified, but with an increasing over-reliance by brands on Xeon based systems, the TVS-872X is one of the most graphically well-equipped systems in the market today. If you are looking for a NAS for video editing, Plex media server, AI-assisted surveillance or virtualisation in a more compact form, the TVS-872X and its hardware has a heck of a lot to offer you.
QNAP TVS-872X NAS Drive Review – Packaging
The retail box for this 8 bay NAS is pretty large and in its defence, certainly needs to be. Aside from the large metallic 8 bay chassis inside, QNAP has not scrimped on the protective packaging that the TVS-872X arrives in. The box is fairly nondescript and is largely the same 8 bay desktop carton that we have seen in other hardware releases, with a addition of the specific model label of course, but all the information you're going to need is visible and they have certainly made sure that this unit will be well protected from motion and shock damage whilst in transit.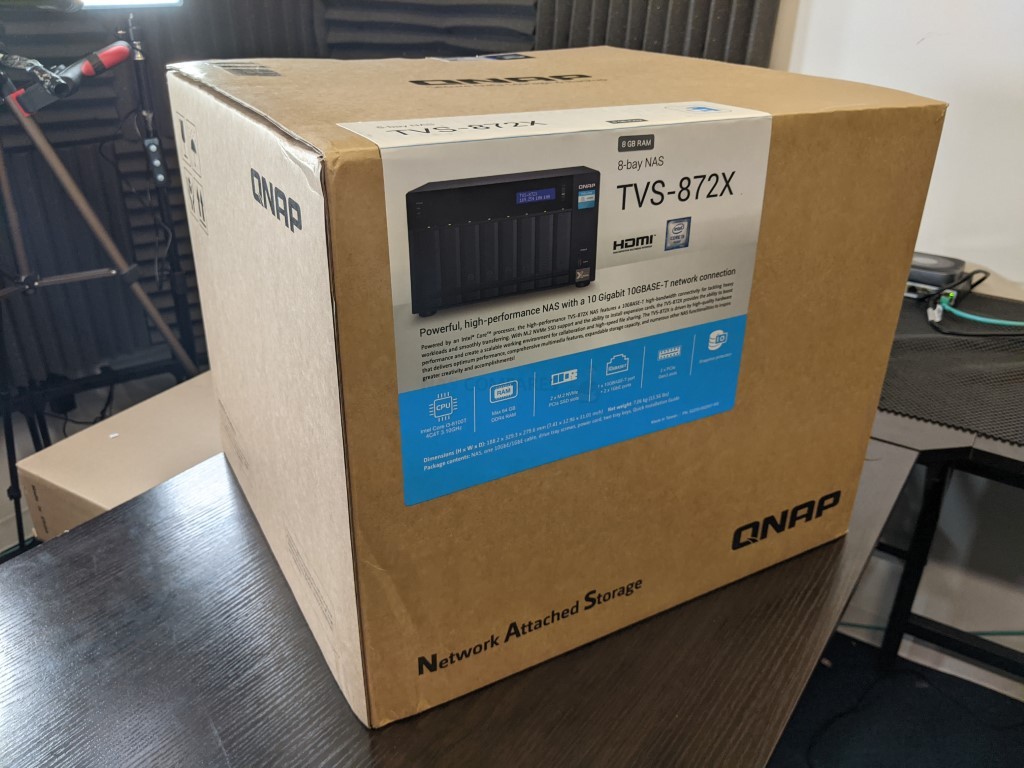 Opening up the retail box shows us the chassis contained in rigid foam from all angles. Sure, it isn't going to protect the unit from any kind of aggressive 'warehouse-forklift-based-mishap', but it is more than enough to withstand worldwide traditional transit bumps and knocks.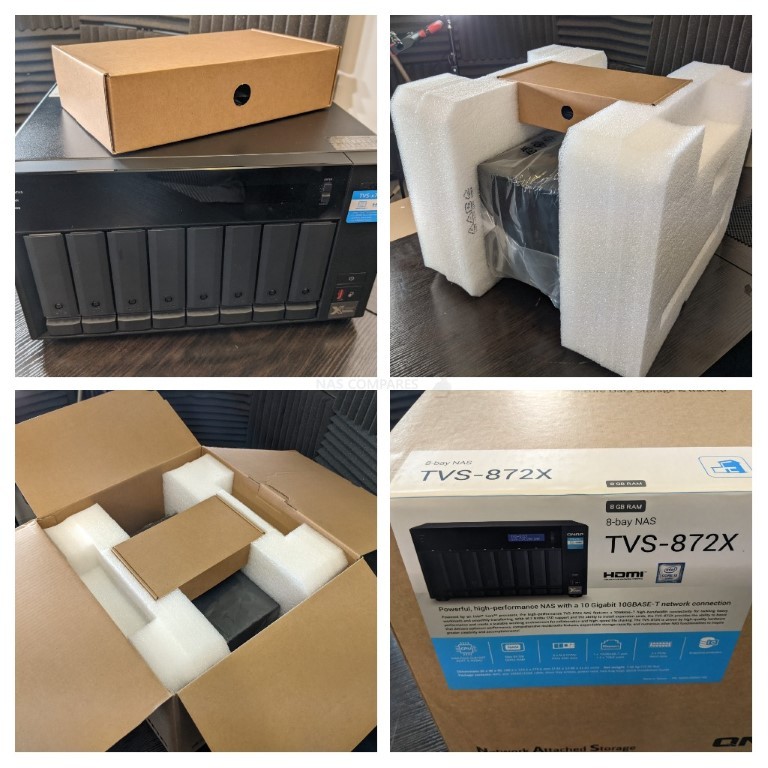 Inside we also find a box of accessories for setting the device up for the first time. The TVS-872X is sold unpopulated, so hard drives and SSD will need to be purchased separately. However, practically every other component needed to set this device up for the first time, as well as a few small extras, is available in this accessories pack and it is surprisingly diverse.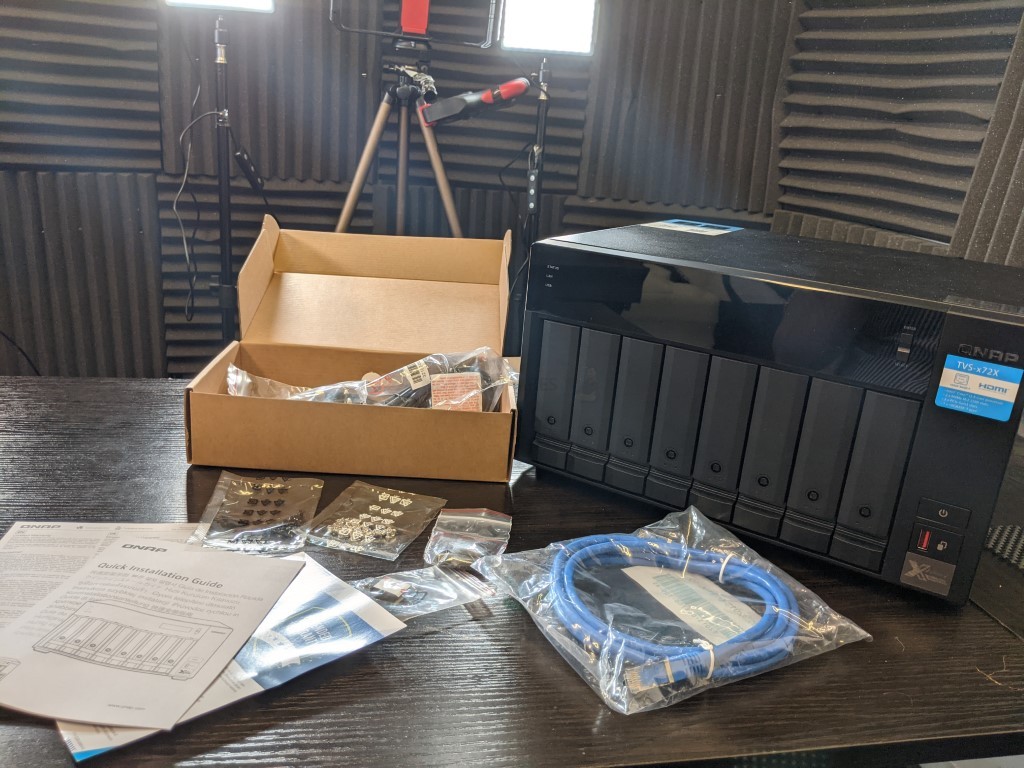 Although the obvious things like setup guides, screws for hard drives and SSD and power cables are clearly present, the fact that this system arrived with individual heat sinks for the internal M2 SSD batteries is a nice little extra (small, but appreciated). There is information on the warranty and details on extending that warranty (2years by default – something I will discuss later on) if you wish, as well as ethernet cables. Also a tiny thing, but I am pleased to confirm that the unit arrives with Cat6 Ethernet cable. A very, VERY small thing to highlight but you would be amazed at the number of 10Gbe solutions that arrived with less appropriate cat5e cables.

It's easy to argue that the cost is tiny and the end-user can easily buy the Cat6 themselves – but then, if the cost is so low, then why not inc them? So yes, I like this.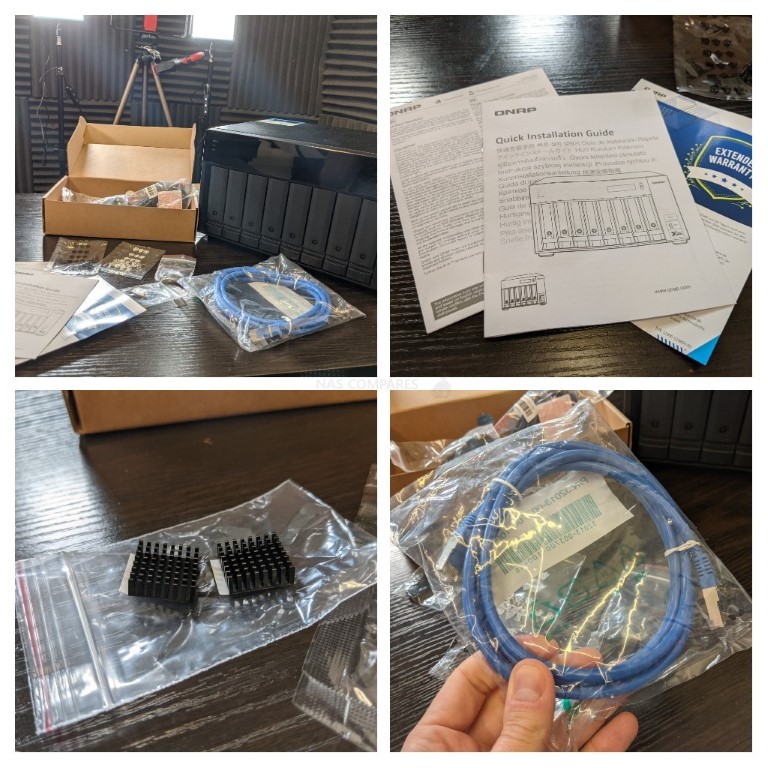 All in all, a familiar and fairly reliable range of accessories included with the system. Again, most of what we see today will bear remarkable similarity to our TVS-872XT reviews a few years ago.
QNAP TVS-872X NAS Drive Review – Design
The chassis that the QNAP TVS-872X utilizes is one that originally premiered in the thunderbolt model several years ago and has had little change in the intervening years. This is not strictly a bad thing and along with provisions for more sophisticated cooling internally, it is a remarkably compact casing for 8 hard drives, 2 SSDs and two PCIe upgrade cards with one at PCIex16. It is a fairly stocky build but certainly exudes ruggedness.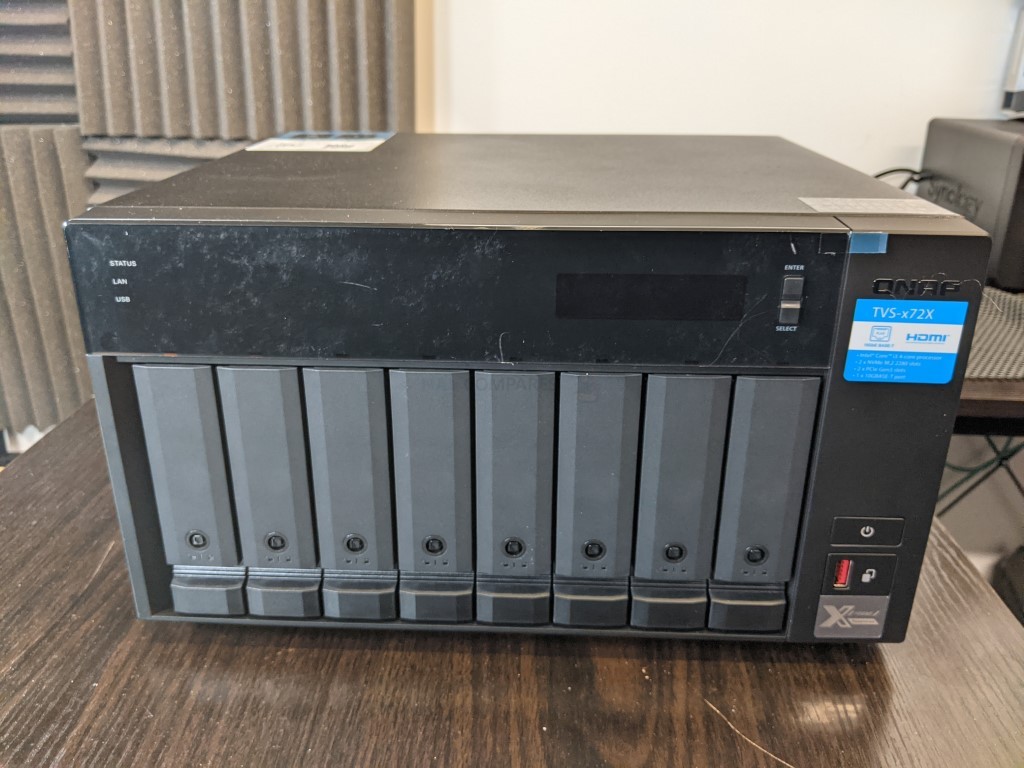 The front of the chassis is subtly ventilated and is mostly grey, black and blue in colour. Despite the rather impressive NAS hardware included in this system (that we will touch on later), the external chassis is a mix of rugged metal, with occasional economic choices subtly hidden in between. Of course, the immediate thing that gets your attention is those 8 SATA storage bays. Each bay supports a traditional 3.5″ hard drive (I recommend Pro class NAS or Data Center hard drives such as Ironwolf Pro, WD Red Pro, Western digital Ultrastar and Seagate EXOS, currently available in up to 18 TB) or 2.5″ SATA SSD.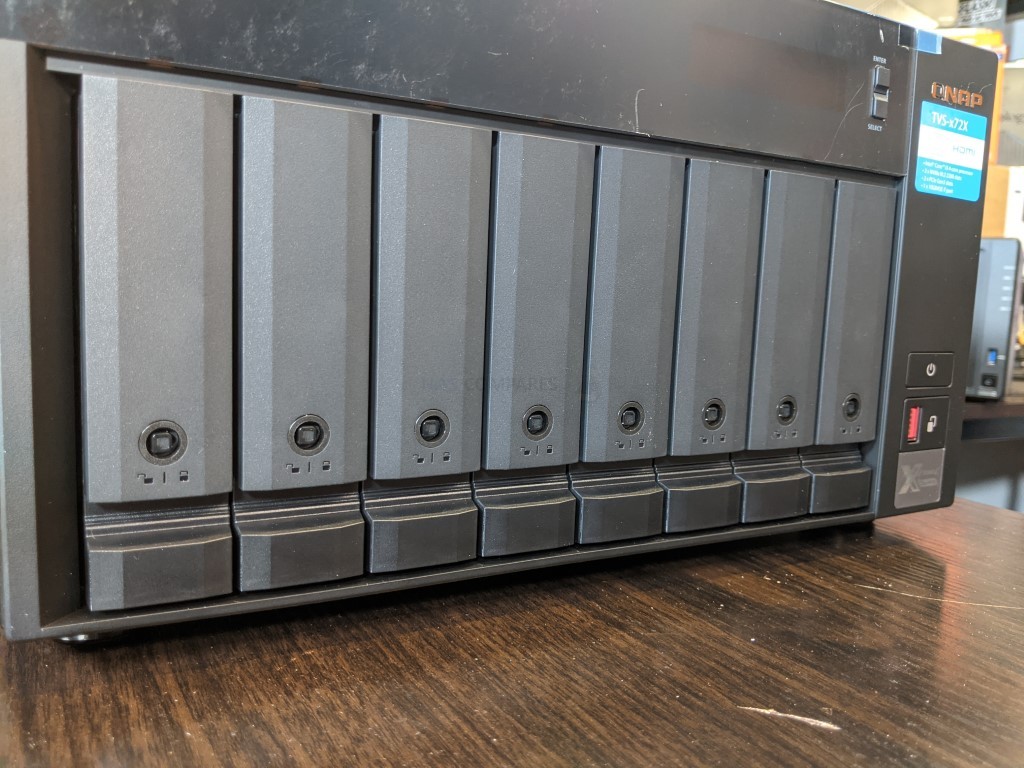 It is worth noting that the QNAP TVS-872X does not need to be fully populated at initialisation and you can run the system with as little as a single hard drive, then add further storage media later. This is of course not recommended and at least two drives should be used to benefit from RAID support. It is also worth noting that the system allows you to utilise all three kinds (if you use the m.2 slots) of media internally with systems such as SSD caching, individual Storage Pools and Qtier, to vastly improve the internal operations speed of the NAS and ensure that more frequently accessed data is living on the most beneficial storage area. This system arrives with both ext4 and ZFS as a choice of the file system, with numerous performance benefits accessible in ZFS, but note that currently QTier is still not supported (at time of writing) on the QuTS Hero ZFS based system software.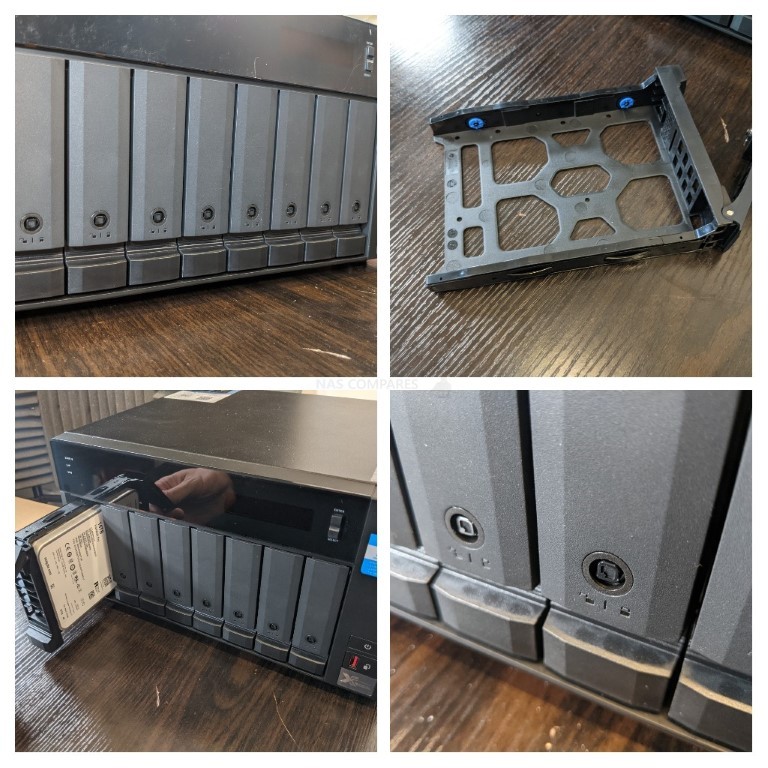 Removing all of the drives inside reveals a sleek and well-ventilated internal chassis that is clear of loose cables, taking advantage of combined data and power SATA connectors. The QNAP TVS-872X is deceivingly good at passive airflow and a lot of this is to do with strategically placed vents throughout the chassis, around the storage bays and with lots of surrounding airflow. This is is pretty necessary when dealing with a compact system like this and is arguably a tad more aggressive in its hardware than most typical desktop solutions in the market. The media trays themselves are plastic, click and load in design, which is almost a little disappointing after the aggressive metallic chassis and rugged design. Some users are less keen on plastic trays, as early generations of trays like these would be prone to cracking as they gave in to heat and vibration over the years. I'm pleased to confirm that more modern plastic trays are a great deal more rugged and enduring, with the added benefit that they also reduce ambient vibration by a small degree. It is still a contentious point of course and many would highlight that plastic trays in a system that is almost exclusively metal in every other way are a little late to the party when it comes to ambient noise.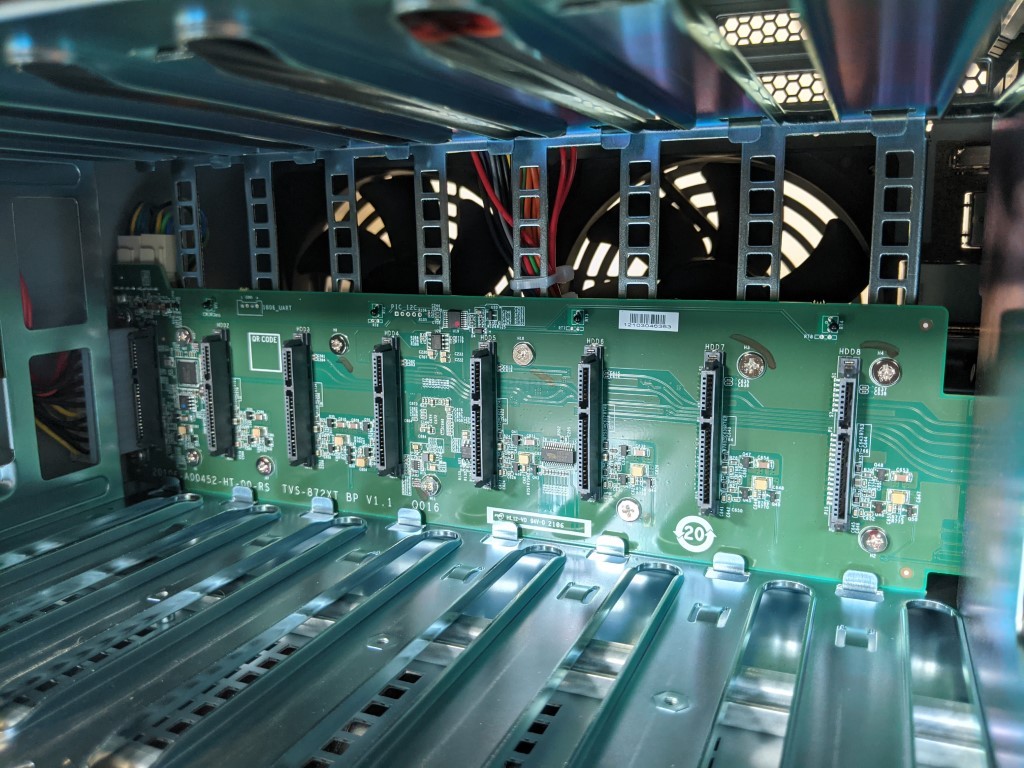 Another cool feature of the TVS-872X and one that is present in the majority of QNAP NAS is an LCD panel to provide real-time information about the system whilst in operation. This display allows you to check system health, details on alerts, a breakdown of the currently used IPs and just generally gives you more information about the health and status of your system at a glance. QNAP is one of the last brands to still continue to include LCD panels on their NAS  systems, with many others switching towards utilising LEDs only (which QNAP does too), and along with the utilisation of HDMI, is one of those things that the brand still garners a certain keen and dependable audience with.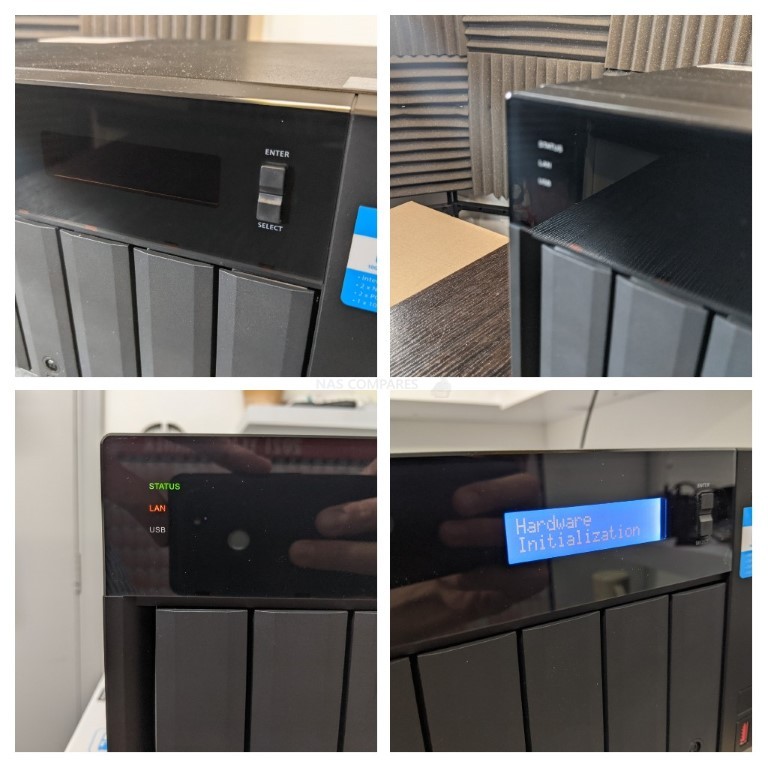 The LEDs and the system features on the front of the chassis can be broken down into two varieties. There are the usual individual LEDs for denoting the initialization, activity and health of individual SATA storage bays, and there are also three LEDs at the top left of the system display that the network activity system status and activity on the individual M2 PCIe NVMe SSD slots. Of course, all of these LED lights can be dimmed or completely turned off if you choose. I personally quite like the LCD panel on my solutions, as it is considerably quicker than logging in via a client device to check any alerts on the fly.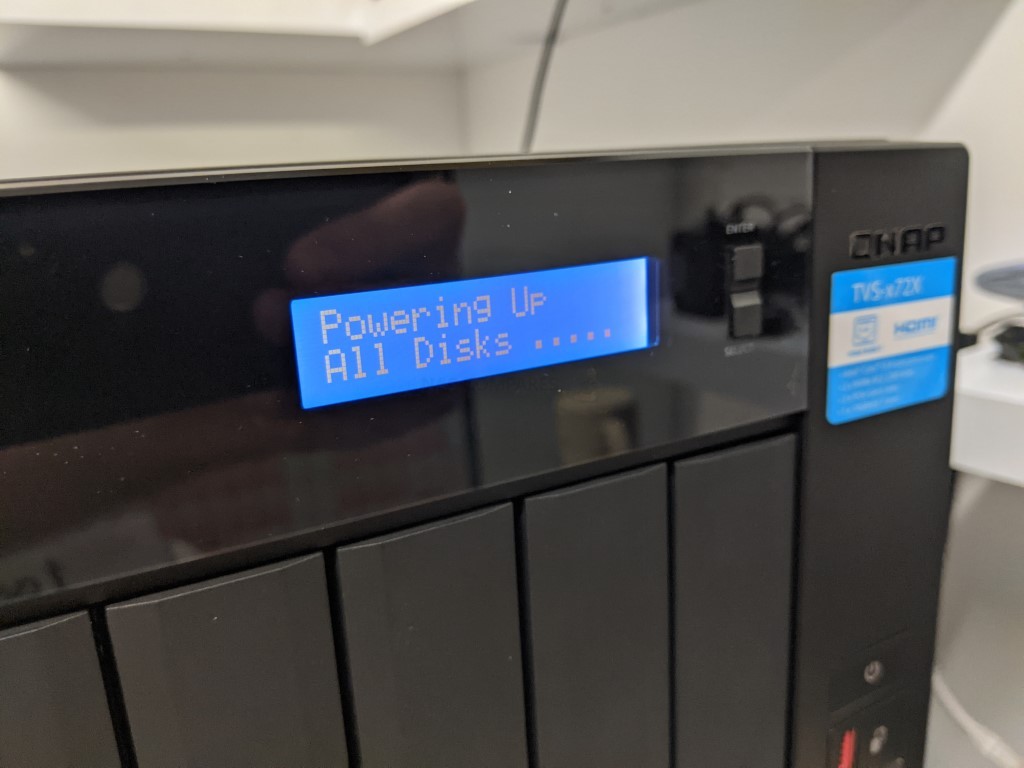 Another rather long-standing staple of NAS systems, especially QANP it should be said, is the inclusion of a USB Copy button on the front of the system. To allow on-the-fly backups to and from the system onto an external HDD at the physical touch of a button. Of course, this can be completely automated if you choose when a drive is connected utilising the hybrid backup sync software, with numerous methods of backup. These range from whole drive clone, to incremental and time managed – again, in either direction whether you want to backup a regular USB drive or you want regular backups of the NAS on a removable drive to keep off-site. The appealing thing here though is that it has both a physical button to provide you with that peace of mind that the job has been actioned, but also there is the fact it is USB 3.2 Gen 2. That means that this system supports the 10 gigabit per second more modern USB connection and for those looking at faster backups, this will be a godsend. It genuinely annoys me in 2021 that we are still seeing hardware arriving in the thousands of pounds with USB 3.2 Gen 1 (USB 3.0 5Gb/s) and I am pleased this is avoided here.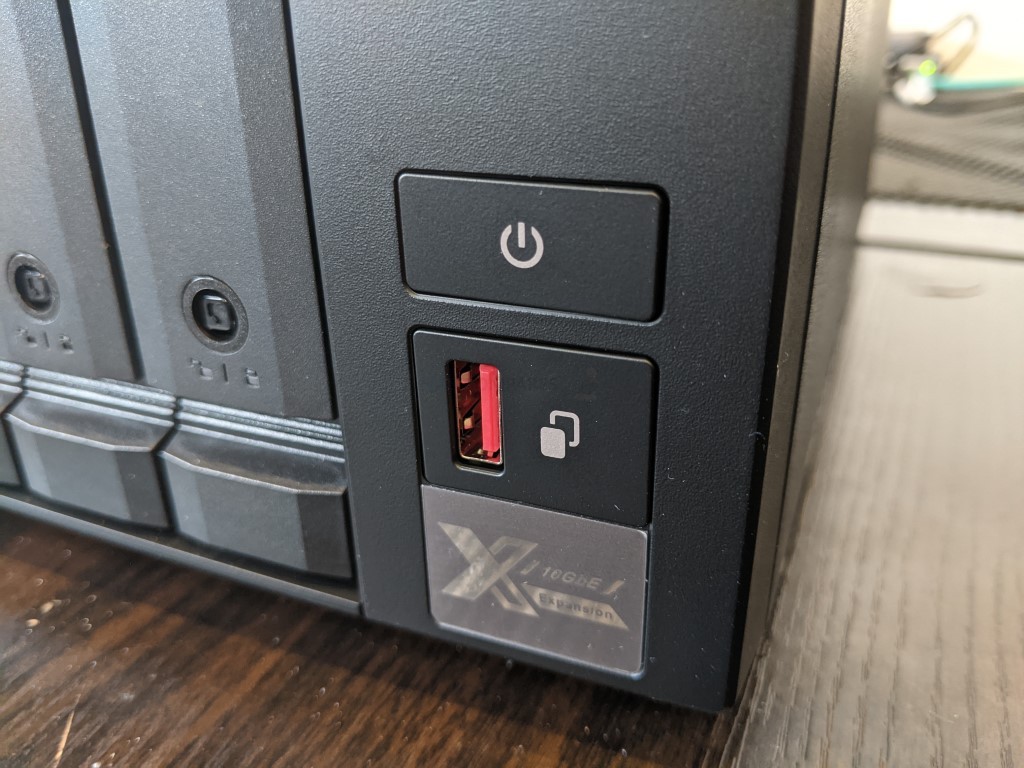 Ventilation on the external chassis of the TVS-872X is fairly well placed, with vents on either side, 2x on the rear of the device, tons surrounding the internal storage media and slotted ventilation underneath the base of the system to assist air passage on the storage drives. With a reported 24.2db(A) by QNAP when the unit is in operation, this is going to be even higher when using the recommended enterprise-grade drives. So do bear in mind that this system is not going to be especially quiet in typical operation. For those thinking of utilising the TVS-872X for video editing over 10Gbe, you may want to put some distance between you and it.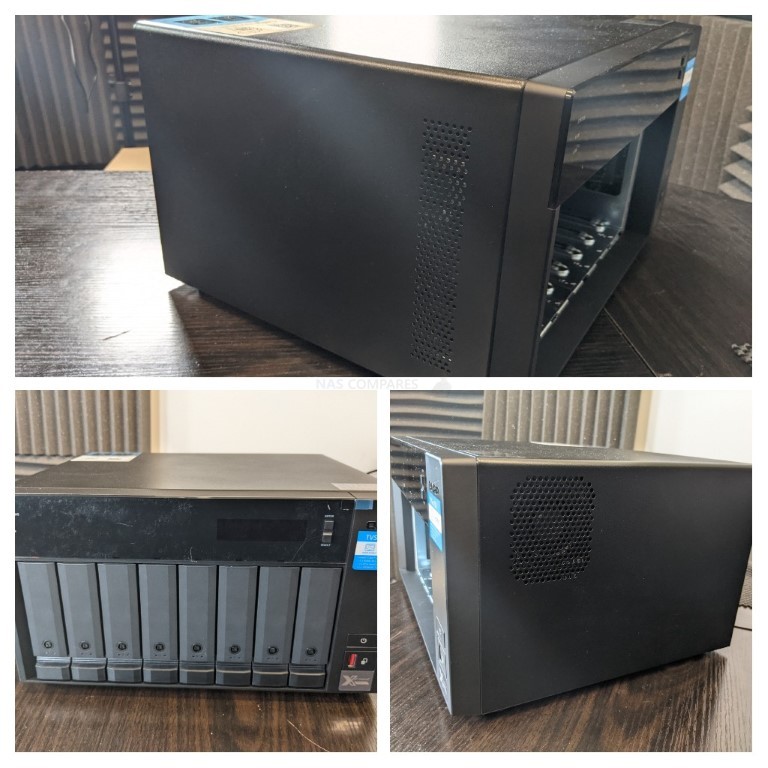 You can't really question the passive cooling vent on the TVS-872X, as they are on practically every side, also take advantage of a metal chassis to assist heat dissipation and the system boasts technically five active internal cooling fans, two on the rear, two on a dedicated CPU cooling fan and of course the one on the PSU. Let's have a look at what port and connections the TVS-872X has to offer.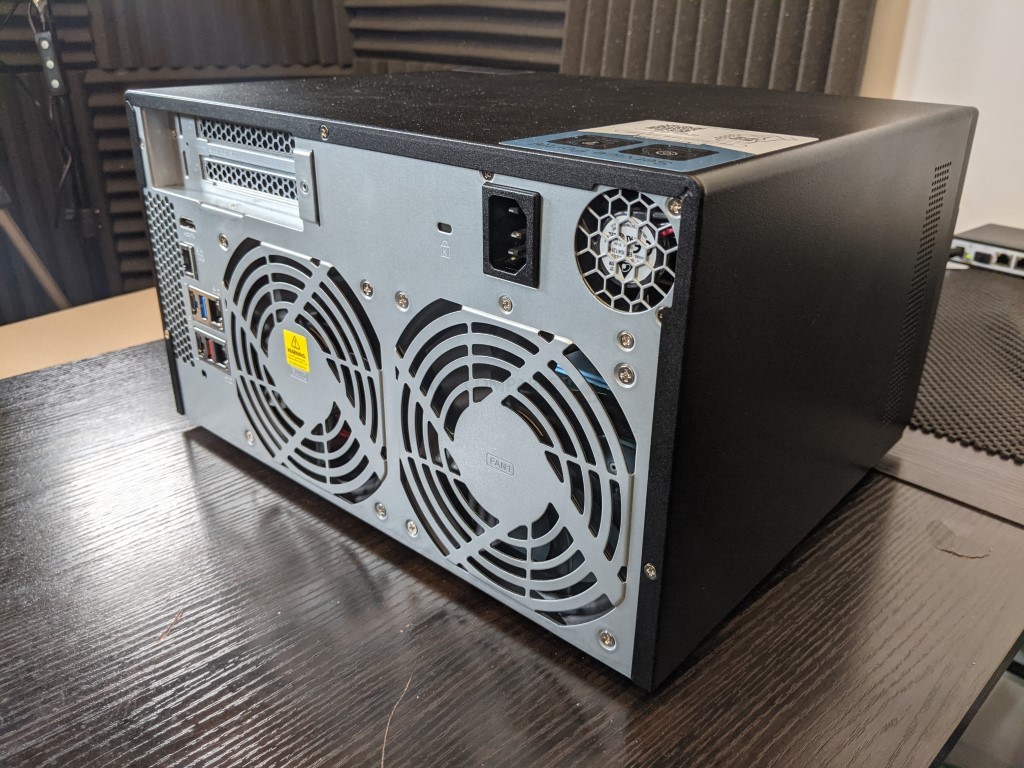 QNAP TVS-872X NAS Drive Review – Ports and Connections
The differences between the TVS-872X and TVS-872XT NAS come down to one simple difference, that of thunderbolt on the more expensive device. When the TVS-872XT was first released at the start of 2018, it was highly praised for being a remarkably future-proof desktop NAS system, with its use of high-performance PCIe bandwidth options, onboard 10GbE, 10G USB throughput, HDMI 4K 60FPS and NVMe storage pool options. Fast forward to 2021 with the TVS-872X and what we have is still a very good NAS, but those same hardware factors from before are now arguably more mainstream. That said, the system still boasts some hardware highlights that are unique to the TVS-X72 series.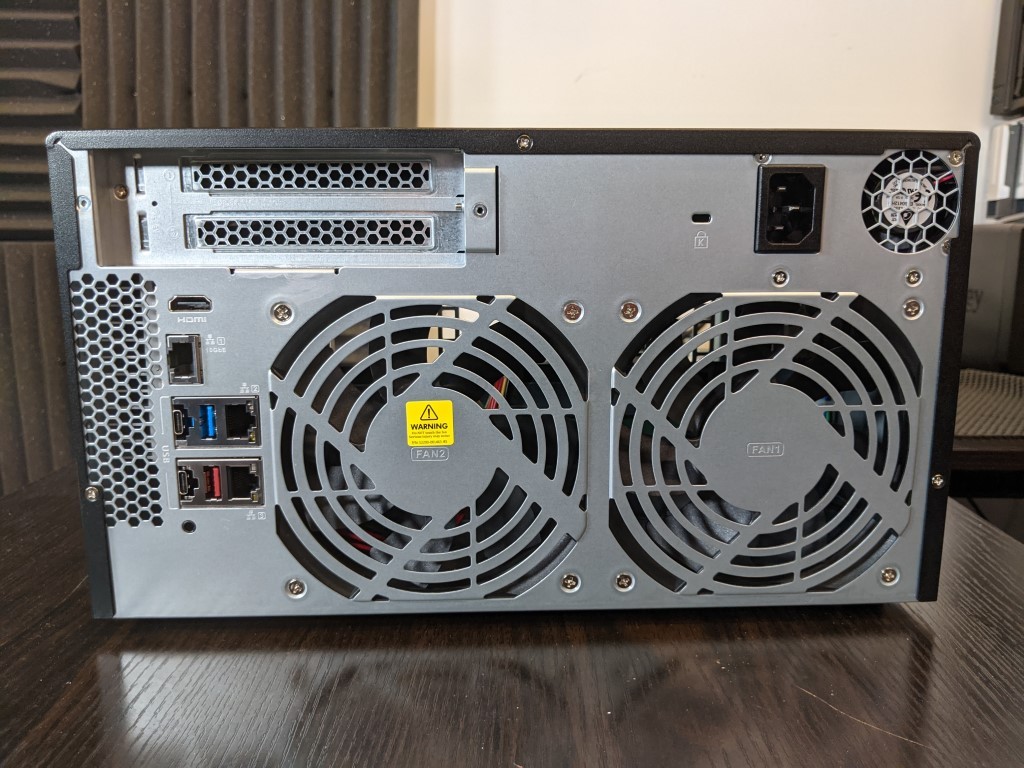 The rear of the system is dominated by those two large active cooling fans. There is lots of passive ventilation around the rear of the chassis, but those big fans will keep the internal chips, heatsinks and media at a very good operational temp. You can lower the RPM manually, to reduce any ambient noise, but this system will work at its best if you leave this at automatic and allow the system to raise/lower RPM as the sensors dictate.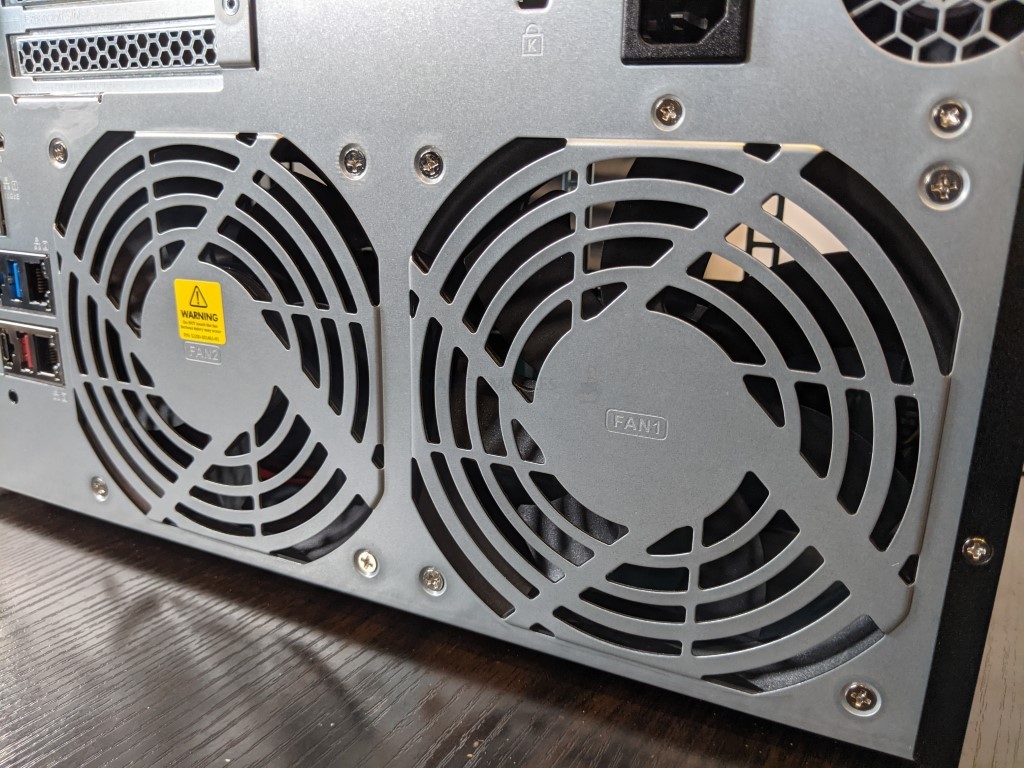 The system also features an internal PSU, rated at 250W, which is going to come in pretty handy if you are looking to max out the potential 1,000MB/s on the 10G, or want to install some hefty PCIe cards inside. That said, the system is a little more power-hungry than recent releases like the TS-873A or TS-653D, with a reported 65.03W whilst in operation and 41.47W whilst in standby.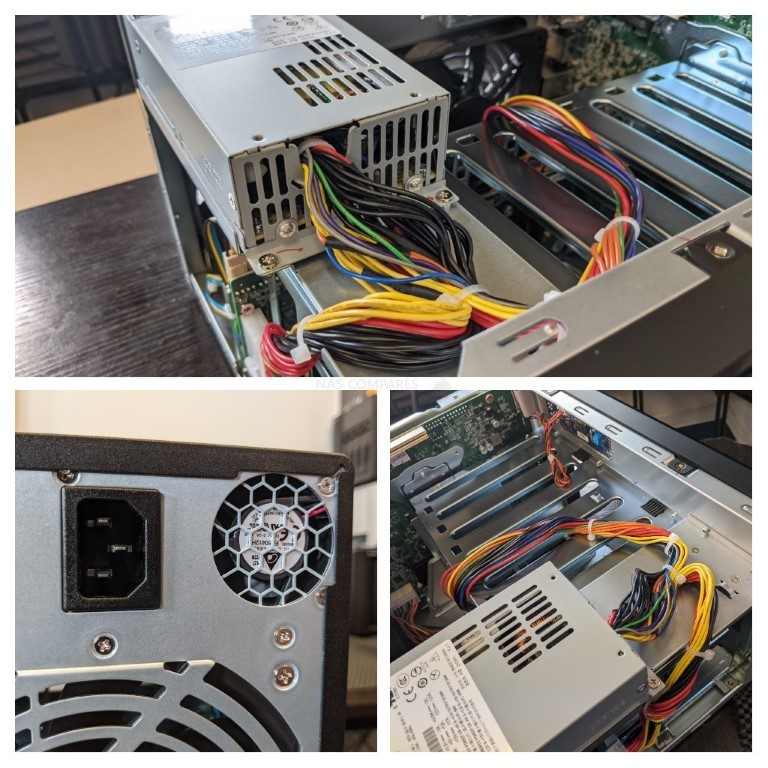 The dedicated 10Gbe port featured on the TVS-872X does not arrive on a dedicated PCIe card (as seen in the likes of the TVS-1282T3 etc). However, a quick check internally shows that it has its own dedicated Aquantia controller located underneath the main heatsink alongside the CPU. The 8 Bays of storage found inside this system alongside the impressive i3-8100T CPU, will mean that fully saturating a 10G connection will be incredibly easy. However, this external 10Gbe connection may ironically come across as a bottleneck once you consider utilising a full 8 enterprise drive setup, as well as the NVMe drives as tiered storage or separate storage pool. At this price point, 10Gbe would be fully expected but given its similarity to the thunderbolt 2018 alternative that also had 10Gbe on board, it might have been nice to see a 2 port 10Gbe setup.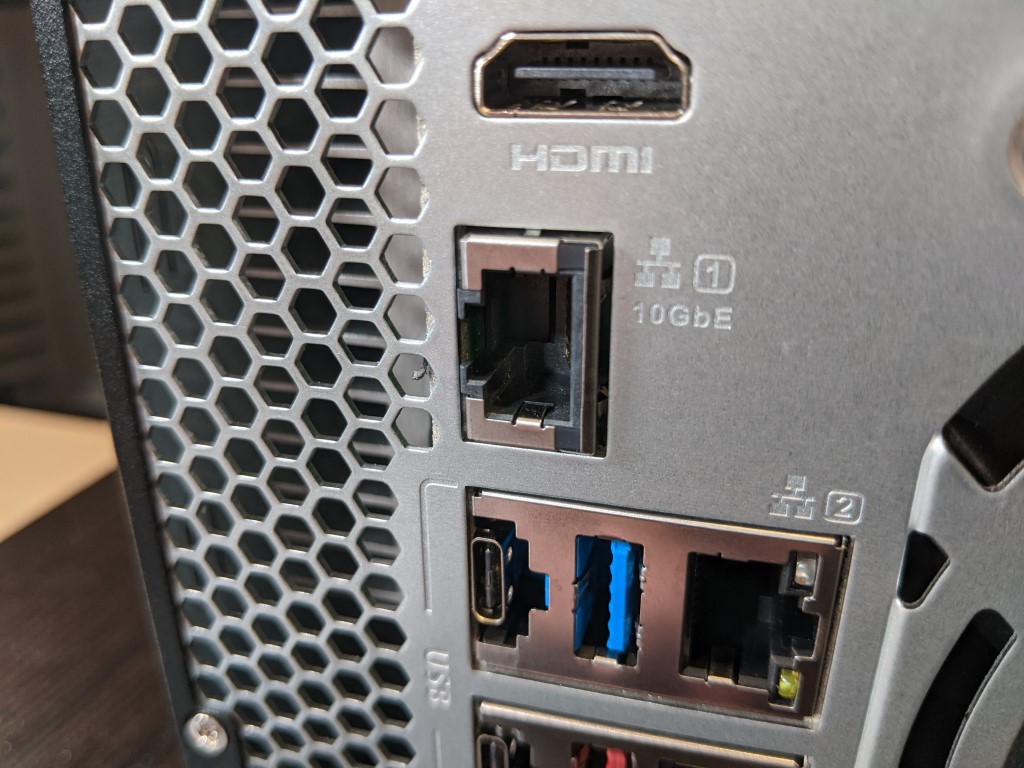 Alongside the 10-gigabit ethernet connection, we find two standard gigabit ports. These are fairly normal, even if other QNAPs in 2020/2021 feature 2.5G in the (e.g the TS-453D and TVS-872X), these are still perfectly acceptable alongside the existing 10G port. My complaints of improving the bandwidths externally on this system may seem a tad churlish and perhaps limitations have resulted in QNAP presenting these connections as the most efficient way to share up those PCIe lanes, I still think it would have been nice to see a little more evolution between the TVS-872X and TVS-872XT given the 3-year difference and only a modest £300 price difference.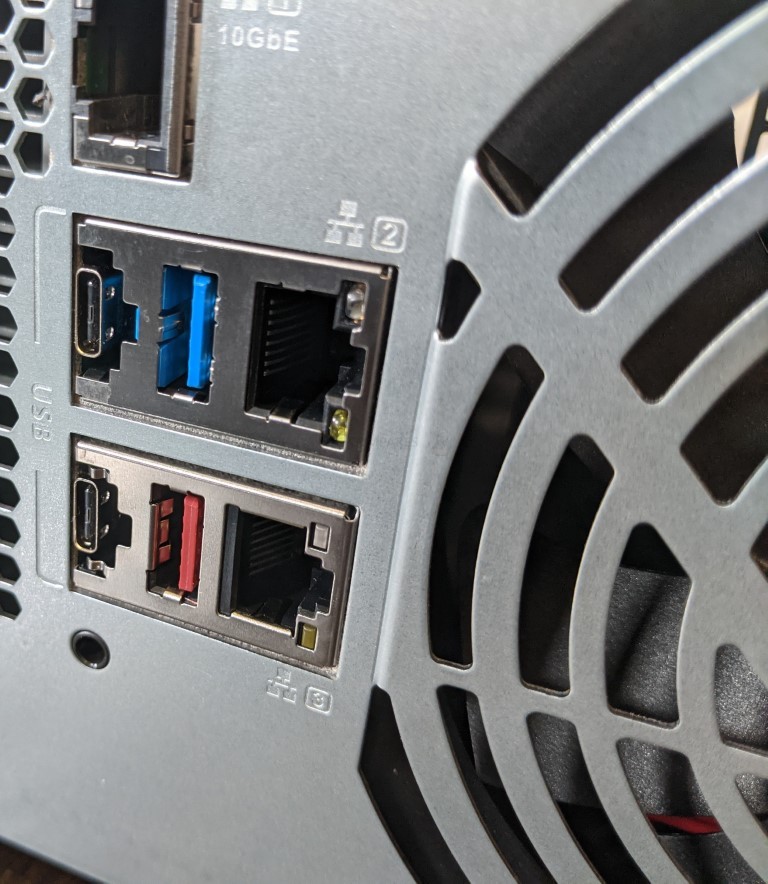 One connection that the TVS-872X features that I will always approve of are the inclusion of USB 3.2 Gen 2 ports. The system arrives with four of these much faster 10Gb USB ports in type A and type C connectivity which support everything from external storage drives, peripheral control devices, 5Gbe network adaptors, office hardware and more. For a faster local backup drive in a wider backup strategy, these port are ideal for keeping this process as quick as possible across multiple drives. Equally, these ports can be used for high-end web cameras for surveillance and assigned individually to virtual machines.
Then there is the range of RAID enabled expansions from QNAP in their TR and TL series. Utilising those 1000Mb/s local connections with an expansion will ensure that the bottlenecks occasionally associated with equipping expansions are largely avoided.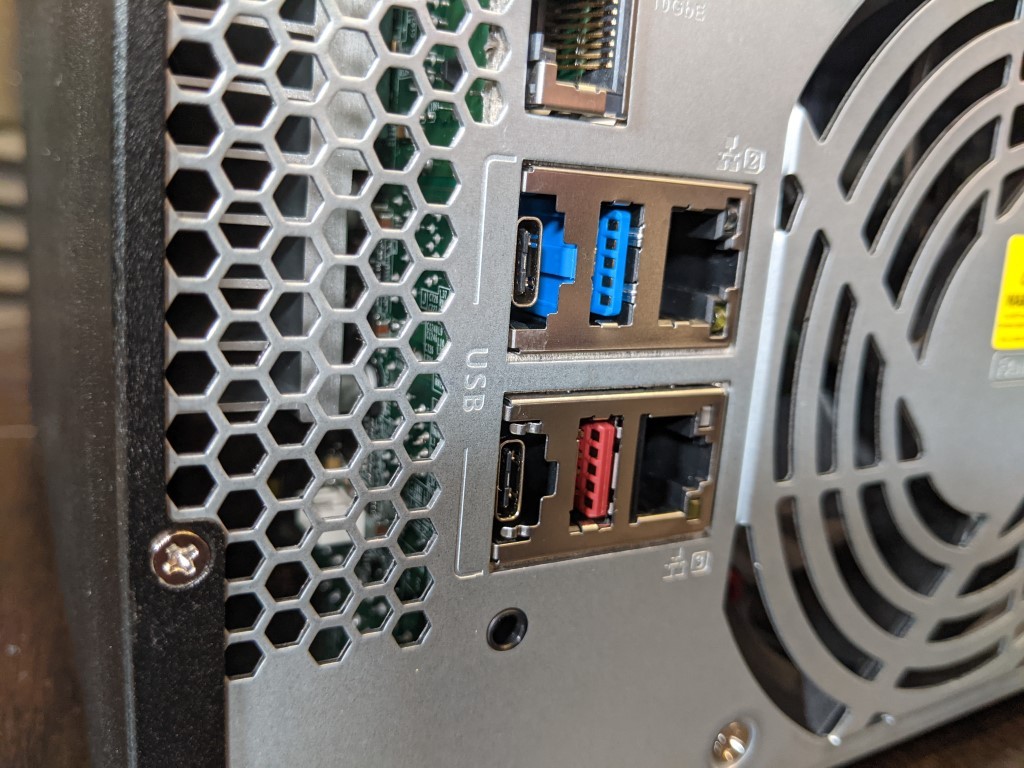 Another area of NAS that QNAP is one of the largest supporters of is the utilisation of HDMI on devices for creating a visual and parallel GUI to enjoy your visual data on a locally connected monitor. Support of KVM environments and a wide range of official (and custom/unofficial applications over on QNAPClub) mean that your NAS can be utilised as a stand-alone computer, standalone surveillance system, stand-alone entertainment system and all the while still supporting the network and remote shares of your network-attached storage system simultaneously. Much like the older unit, the TVS-872X features 4K 60hz HDMI 2.0 output and particularly for standalone surveillance uses and multimedia buyers, this will be very appealing. It is worth highlighting though that HDMI enabled applications on NAS have grown a little thinner on the ground in recent years, but the bulk of the core services and applications still support this visual out option, receiving regular updates, even going as far as to support connecting a virtual machine to the HDMI via QVM and connecting any USB keyboard and mouse.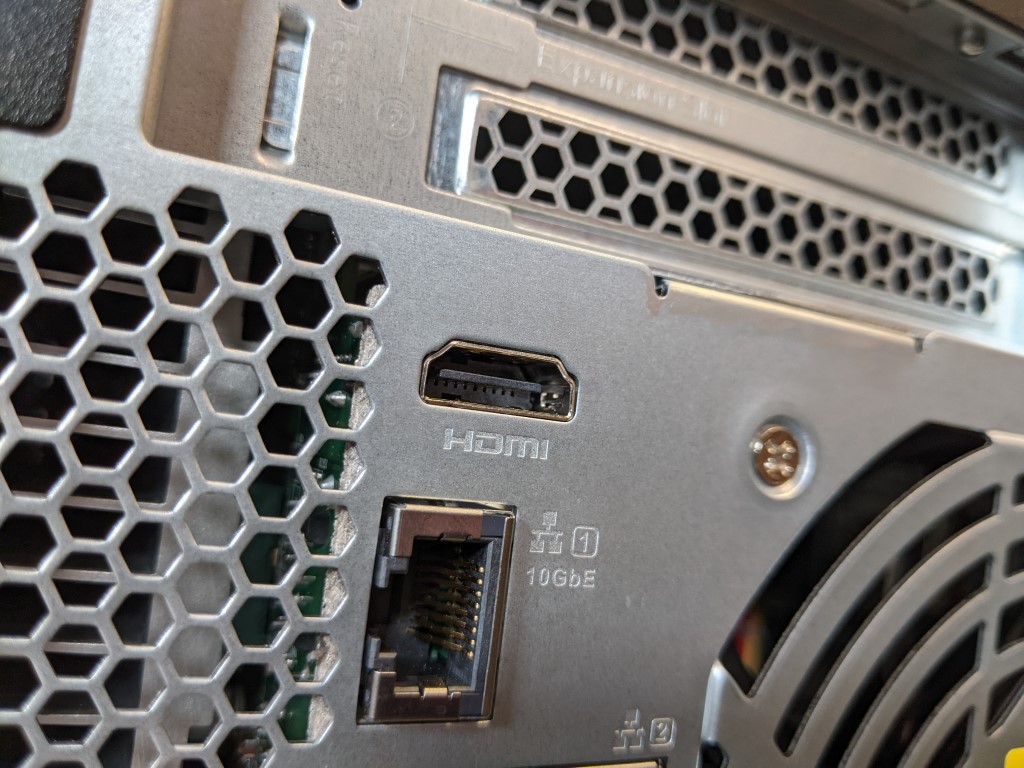 A staple of 8-bay desktop solutions, the TVS-872X also has PCIe upgradability and much like the previous thunderbolt release, it has two PCIe slots. The first is a PCIe 3×4 slot that comfortably provides support for the majority of modern network interface cards, Wi-Fi 6 cards, SSD Media upgrades and even accelerator cards from QNAP themselves and third-party cards like Google's TPU AI acceleration card.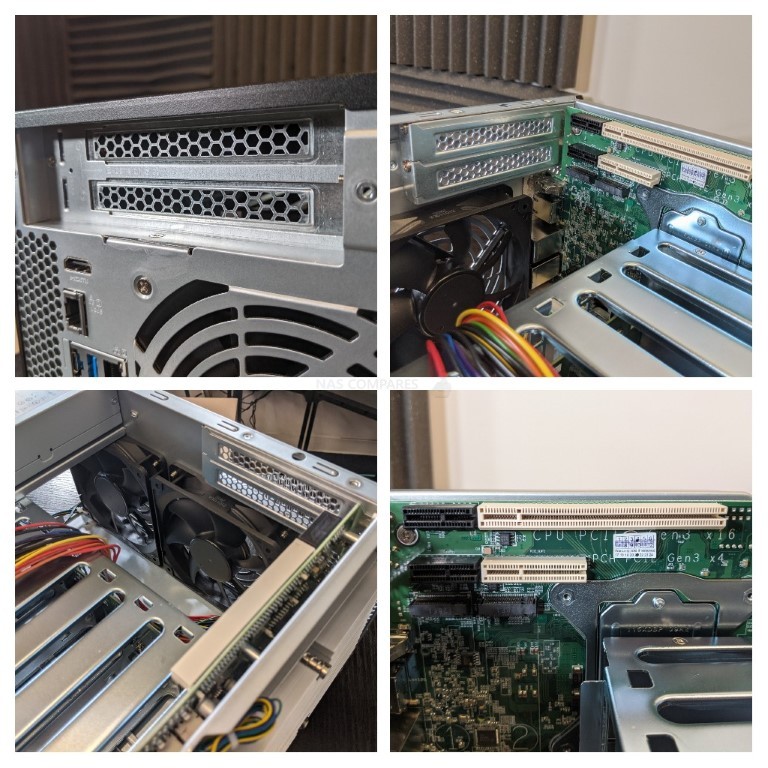 The second slot however is particularly interesting as it is a PCIe gen 3×16 slot. This really opens the door to more aggressive cards and substantially bigger upgrades to the system, with dual-port greatly increased fibre network interface cards in 25-100Gbe SFP and a small but effective range of graphics cards supported. The TVS-872X already features quite an impressive CPU and 10-gigabit ethernet by default, but the bandwidth available to this upgrade slot means that the upgradeability of this system down the line is pretty fantastic. In its thunderbolt variation, a 2 port thunderbolt card occupied one of these slots but now this new version allows greater upgrade options, even if the physical installation of cards in this system is a little tighter than some might like.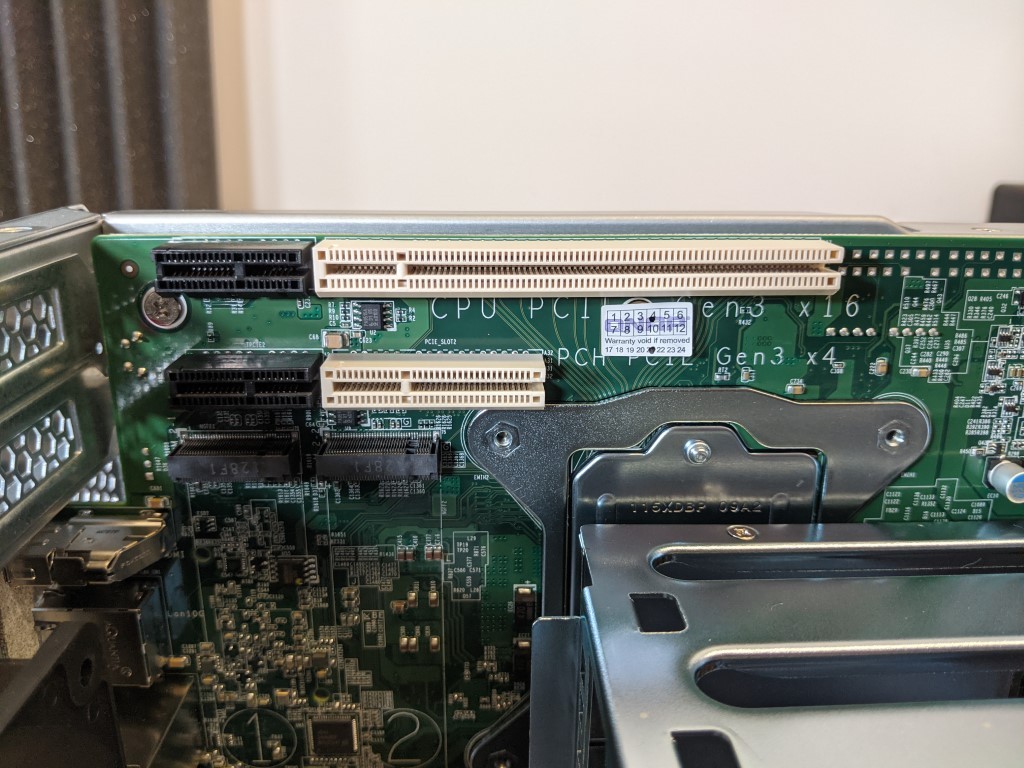 As mentioned, the TVS-872X bears a near-identical comparison with the TVS-872XT, with only that dual-port thunderbolt card serving as any difference in ports and connections. Even 3 years since they similar systems debut, this is still an impressive arrangement of physical local connections on offer and aside from perhaps swerving the opportunity to upgrade those 1Gbe ports into something attached more exciting, there is little to critique in this system connectivity. Let's take grab a screwdriver and see what is going on under the bonnet.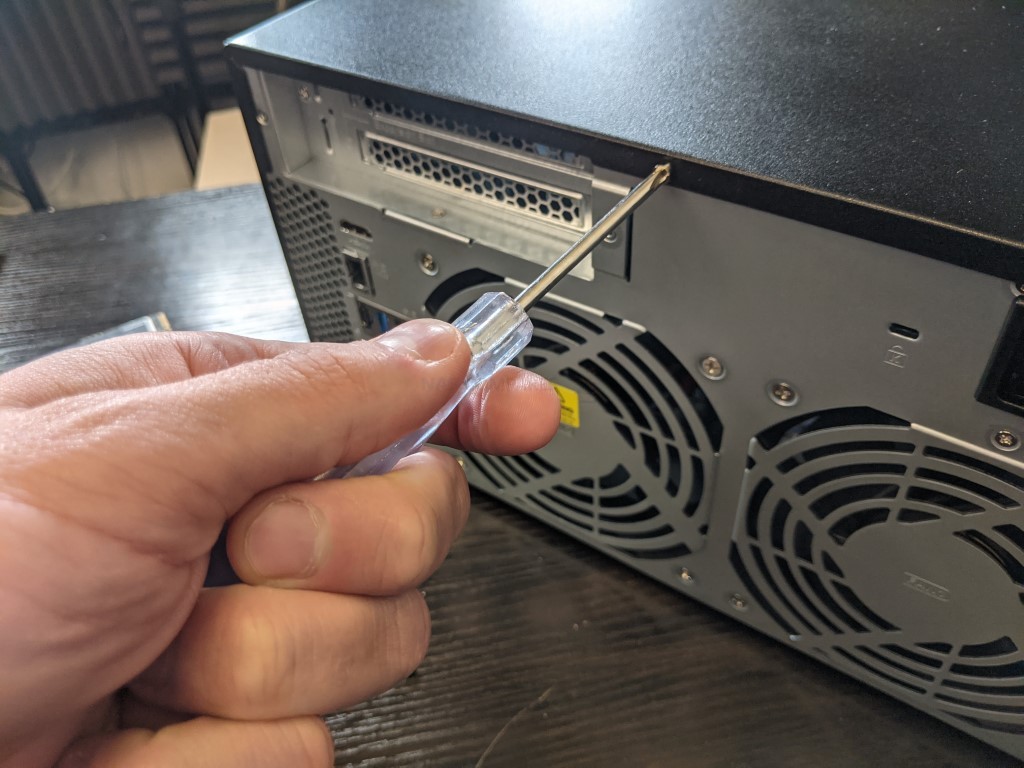 QNAP TVS-872X NAS Drive Review – Internal Hardware
The metal external casing is easily removed with 3 screws and slides off to reveal a surprisingly spacious chassis. The passive ventilation throughout this system that is pushed by those active fans has plenty of room to work with and although perhaps the level of space available will be less in smaller models in this family, there is plenty of airflow available here. This is not the first QNAP system to also feature the enhanced cooling deck internally, which comprises an additional dual-fan array that lives above the controller board and feeds into a phenomenally sized heatsink.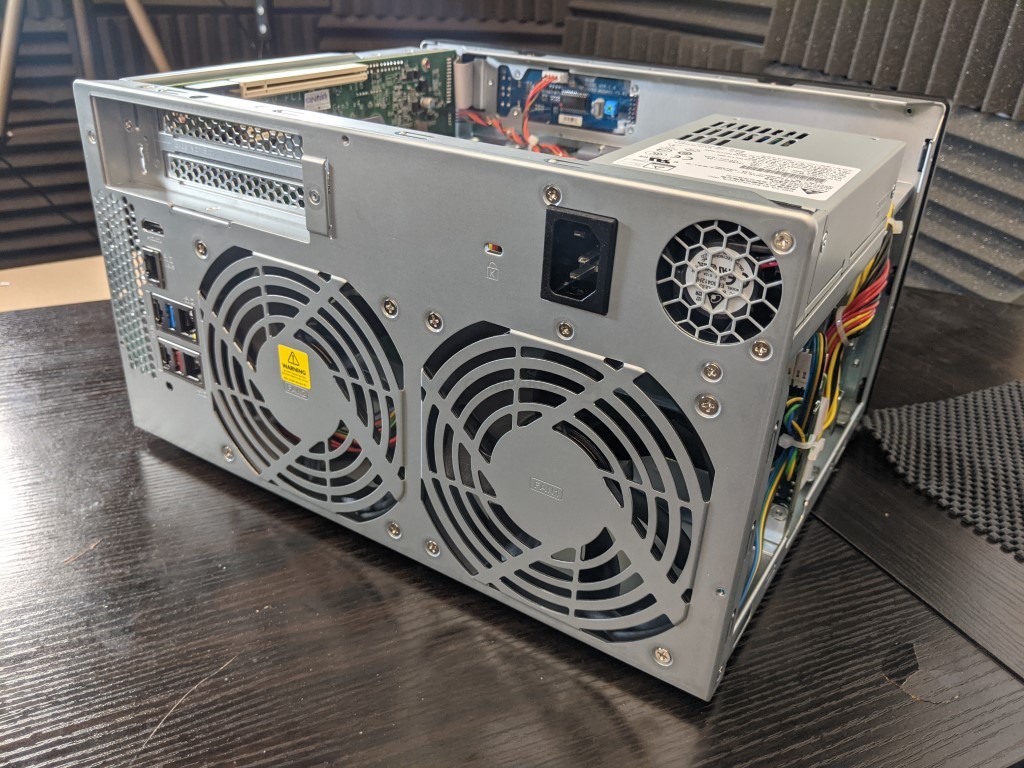 As mentioned earlier, the system features two dedicated NVMe M2 slots that allow the installation of much faster modern SSD. Now it should be highlighted that these M.2 slots are PCIe gen 3×2 in bandwidths, so media will not be able to exceed 2000 Megabytes per second on either slot (most PCIe Gen 3 NVMe are advertised at speeds of 3000-4000MB/s Read Max). This is still a remarkably large amount of potential throughput however and once you factor in RAID support and using them as a storage pool, they provide a substantially faster area of space for editing. As well as the aforementioned support of caching and QNAP's QTier system. These slots also arrived on the other side of the main controller board, not in line with the two fan active cooling system that the CPU and 10G controller benefit from. However, they are directly in line with the two massive rear fans and metal heat sinks are included in the accessory box mentioned earlier, so heat should not be a worry.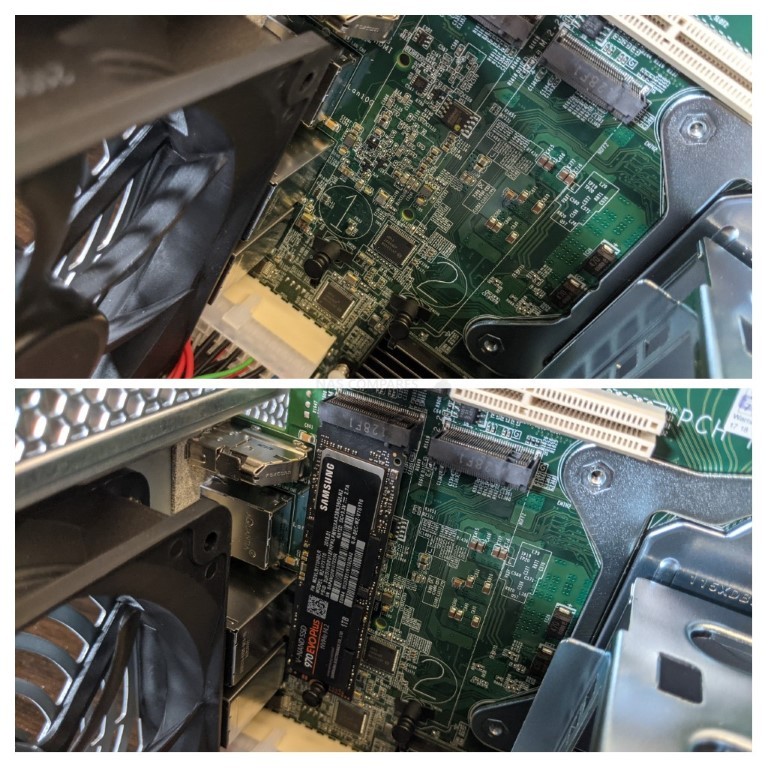 The memory slots on this system are located on the inside of the core storage bays and the TVS-872X arrives with 8GB of memory by default. This memory is DDR4 SODIMM in architecture, across two slots and the default memory arrived in a single module. Thanks to the Intel Core CPU, this system can support up to an impressive 64GB of memory which is hugely beneficial to virtualisation and network surveillance deployment. QNAPs main rival, Synology, have opted for ECC memory in their comparative system (the Synology DS1621xs+ – Read my comparison HERE) and although it is absent on the TVS-872X, it does arrive with significantly higher maximum memory potential instead (64GB rather than 32GB). One important factor that should be mentioned on the memory that the QNAP TVS-872X arrives with is that although the system features the choice of ZFS as a filesystem at the start, some of the features of ZFS such as inline deduplication are not available without a minimum 16GB of memory. This is especially galling for some who see the thunderbolt model arriving with 16GB of memory and an i5-8100T processor at just over £300+ more. Still, 8GB of memory is a good base level for this system and it is still a respectable i3 8th Gen CPU.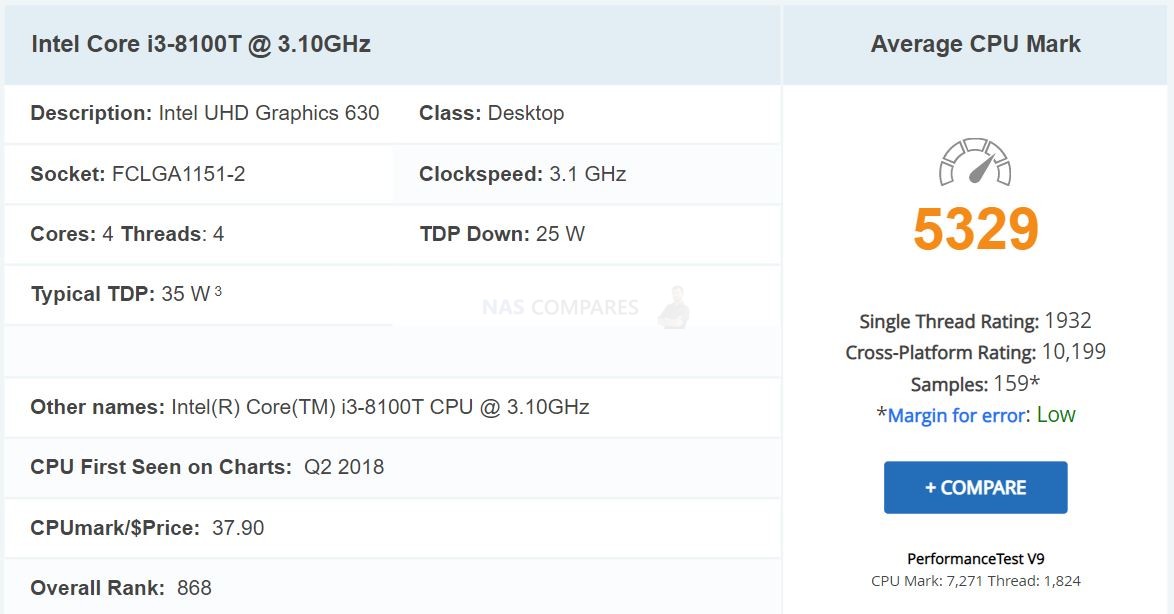 The CPU inside the TVS-872X is an Intel i3-8100T. Rated at over 5000 on CPU benchmark currently, it is a quad-core 3.1GHz processor that also features UHD 630 embedded graphics. QNAP is one of the last NAS brands and server makers in the market to still utilise Intel core processors, ranging from Pentiums to i5 and i7's. The majority of NAS released for business and enterprise storage in the last 3-years have almost exclusively arrived with Xeon based processors. This is thanks to Xeon's exceptional file handling and consistent performance (pretty much series-wide), as well as arriving in significantly more core configurations and efficient power vs performance design. However, many uses prefer Intel core processors with NAS systems because alongside aggressively high-performance they also arrive with embedded graphics, which is hugely beneficial in Virtualisation, 4K Multimedia, widespread camera surveillance and are especially adept in thunderbolt NAS solutions (even the latest TB3 NAS, the TVS-h1288X is a graphically embedded Xeon). There was a time when simply featuring an Intel core CPU would increase a NAS's price by 20-30% over Xeon systems, but in these times of widespread use and increased investment by Intel in xeon development, the result is that intel core powered NAS are a pinch more affordable, if a touch less available.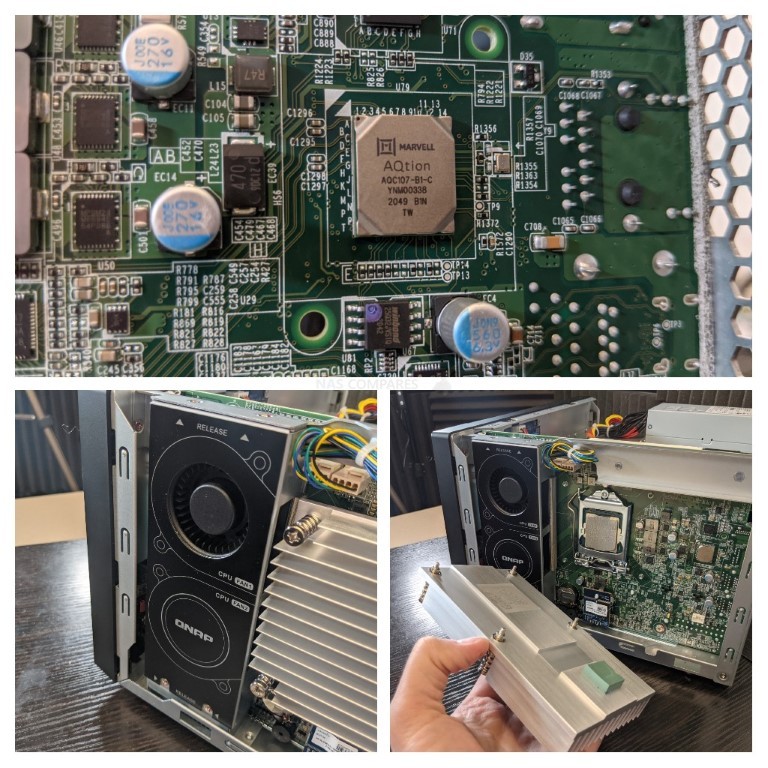 Adjacent to the main processor of this device, we also find the dedicated 10Gbe network processor. In the last few years, this brand has managed to make 10-gigabit ethernet performance considerably more affordable and the majority of NAS brands and network manufacturers owe a large debt of thanks to them for ultimately making 10Gbe notably more accessible for home and prosumer users worldwide. Although this particular Aquantia is the same processor debuted in the thunderbolt model over 3 years ago, it is still an excellent 10Gbe handling chip and this combined with the throughput of the i3 and 8-bays of storage will present you with an impressive system to edit with. Both the CPU and 10G network controller are covered by an especially large (by the standards of NAS certainly) heat sink that ensures that these two key components are being kept at an ideal operating temperature. Heat sinks in NAS' are not new and largely are used to minimise power consumption when compared with dedicated CPU fans, furthering the lifespan of the product. Unusually though, this heat sink is also being directly cooled by a unique slim twin fan box located immediately next to it.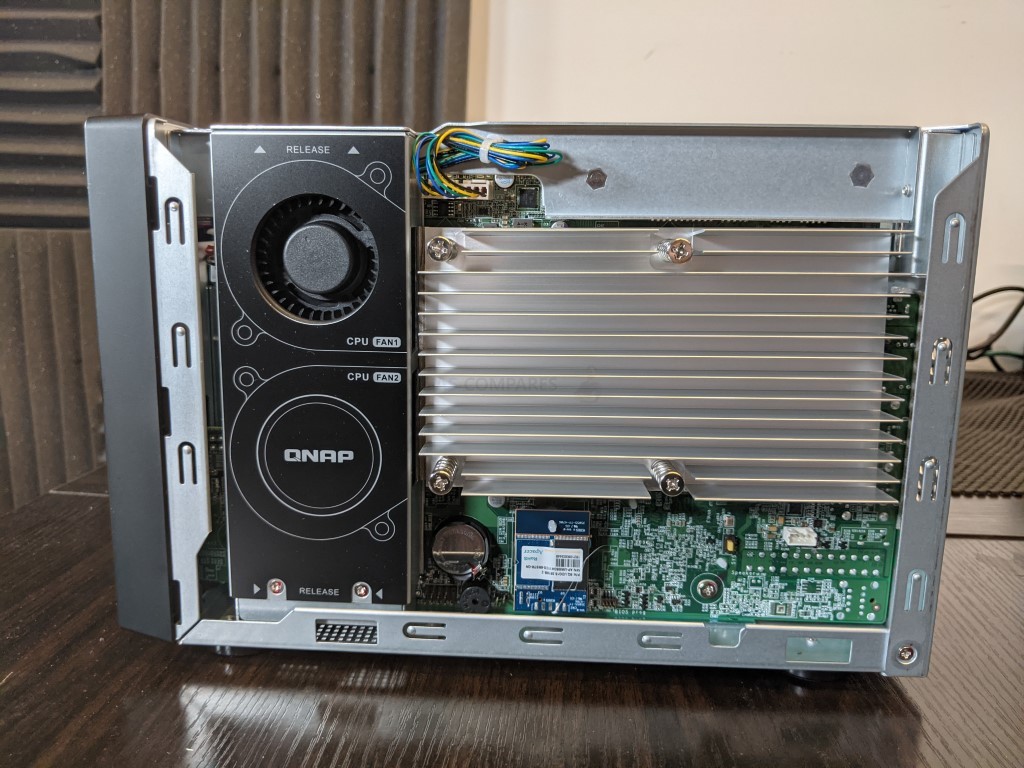 This two-piece low noise fan kit utilises two main vents to push and draw air around the system and predominantly throughout that large heatsink. This is one of few qnap NAS systems to do this and it is no coincidence that this compact desktop NAS chassis with its arguably more aggressive components would feature it. Despite their low noise and low impact design, these twin fans add to the general ambient noise of the system when in operation and only further highlight why this system, although ideal in power for those video editors looking to switch to NAS, is going to be less fun to work in close proximity to.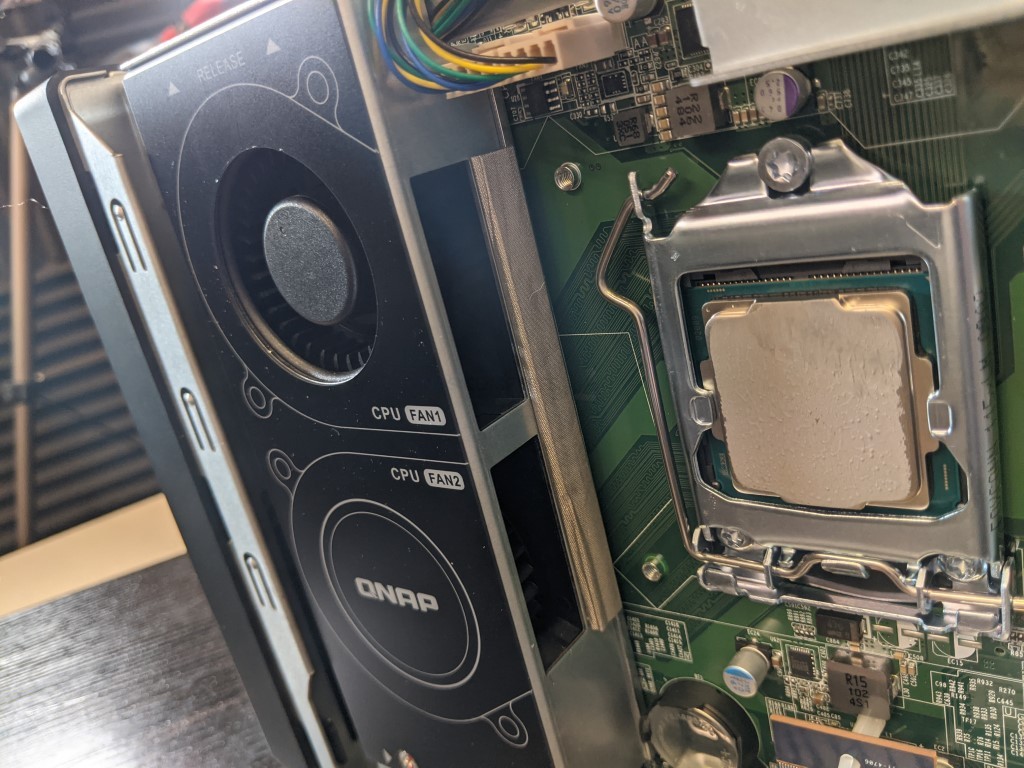 Noise criticisms aside, this is still a remarkably well-engineered NAS device even by 2021 standards and although the majority of the hardware architecture we are seeing here has changed very little since the TVS-872XT release back in 2018, it still holds up remarkably well. Next, we'll talk about how this device delivers in the software department, as well as what this device brings to the table that may have been absent in previous versions.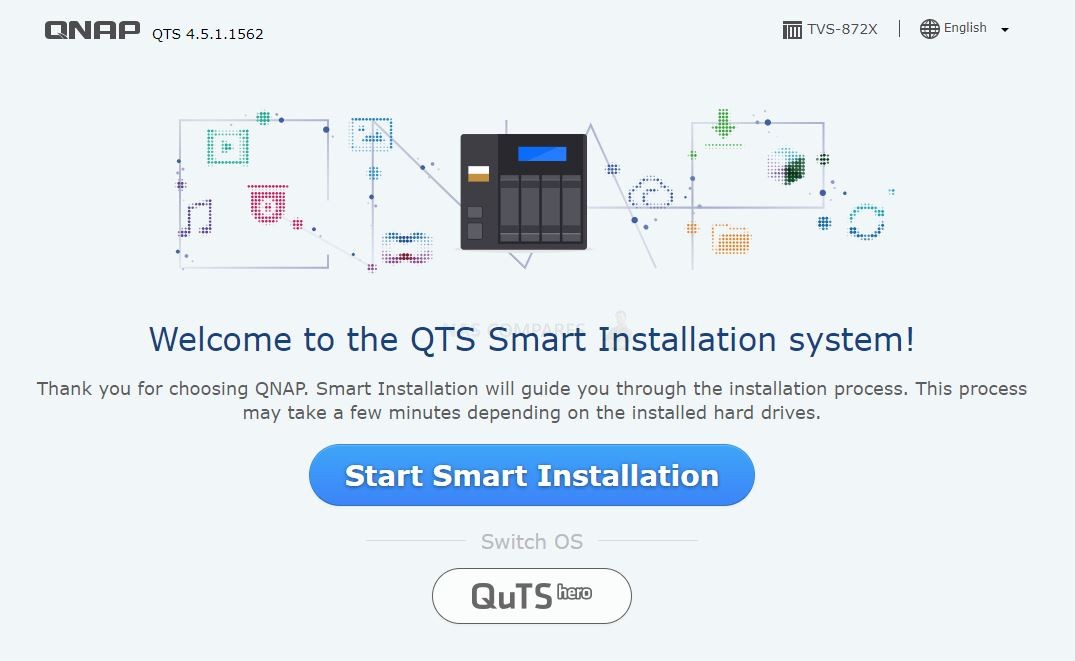 QNAP TVS-872X ZFS NAS Review – Software
The software found with the QNAP TVS-872X NAS can be broken down into 2 sections. namely those of the advantages that QNAP QTS already bring to a business user, and then the widespread system and storage advantages that QuTS Hero and ZFS bring as well. For those unfamiliar with the QNAP operating system, it arrives with hundreds of free applications, can be accessed from a web browser or desktop client, arrives with many, many apps for mobile on IOS and Android and is definitely in the top two operating systems you can get for network-attached storage devices. Often compared with their biggest rival Synology NAS and DSM, QNAP QTS GUI is designed in a way that will definitely appeal more to Android and Windows users, giving you everything you will need from a network-attached storage device in 2021 and arrives with constant updates for added features and security.
QNAP File Management Highlights
File Station – File Browsing and Management Tool
QSirch -Intelligent and Fast System-wide search tool
QFiling – Smart and customizable long term storage and archive tool
SSD Caching Monitor and Advisor – Allowing you to scale your SSD cache as needed, or get recommendations on how much you need
QTier – The QNAP intelligent, multi-layer tiering system that works to optimize your SSD vs HDD use, moving files to the appropriate storage media (not currently supported on QuTS Hero, just QTS)

Microsoft Active Directory– Support and cross-platform control of Active Directory processes
Access-Anywhere with myQNAPcloud – Safe and secure remote access over the internet to your storage systems, apps or just file storage
Qsync for multiple hardware environment backups and Sync – Client applications that can be installed on multiple 3rdparty devices and create a completely customizable and scaled back up network between your devices
QuDeDupe / Deduplication tools – Allowing you to conduct backups between multiple devices and directories, but allows same-data in numerous locations to be only held once (but recorded in all locations) to allow smaller backups and lesser bandwidth consumption. Once again, remember that you will need to upgrade to 16GB of memory in order to take advantage of these more advanced ZFS utilities in practice.
Then you have KEY applications that are used on the QNAP NAS system that moves into tailored data access and use, such as:
Hybrid Backup Sync 3 – Allows you to Backup and Sync with Amazon Glacier, Amazon S3, Azure Storage, Google Cloud Storage, HKT Object Storage, OpenStack Swift, WebDAV, Alibaba Cloud, Amazon Drive, Amazon S3, BackBlaze B2, Box, Dropbox, OneDrive, Google Drive, HiDrive, hubiC, OneDrive, OneDrive For Business, ShareFile and Yandex Disk. As well as backup to another NAS over real-time remote replication (RTRR) and USB connected media. All scheduled and all accessible via a single app user interface.
vJBOD and Hybrid Mount – Gives you the ability to mount cloud storage as a visible drive within the NAS (and the apps access it as if it was local) or mount a % of space from your NAS onto another as a virtual chunk of space to use
Multimedia Console – one portal access point to manage media access, searching, indexing and transcoding on your NAS device.
Photo, Video and Music Station – Multiple file type tailored applications to access data in the best possible way that is suited to their output – along with smart searching, playlists and sharing
Virtualization Station – Used to create virtual computers that can be accessed anywhere over the network/internet with the correct credentials. Supporting Windows, Linux, Android and more. You can import an existing VM image to the NAS, or you can even download Linux and Windows VMs directly to the NAS for trials for free
Container Station – much like the VM app, Container station lets you mount and access smaller virtual tools and GUIs, then access them over the network or internet.
Linux Station – Handy application to deploy multiple Linux based Ubuntu VMs from the NAS, all easily and within a few clicks
QVR Pro and Surveillance Station – Surveillance applications that allow you to connect multiple IP cameras and IP speaks to your network and manage them with the applications. Arriving with 4 camera licenses for Surveillance Station and 8 licenses for QVR Pro (the better one IMO), QNAP is constantly updating this enterprise-level surveillance application – adding newer security hardware and software tools for 2020 (see QVR Face and QVR Door)
QuMagie – Facial and Thing recognition application to help you retrieve, tag and catalogue photos by its use of AI to actually 'view' all your years of photos and let you search by the contents of them, not the file names.
Download Station – A download management tool that can handle HTTP, BT, FTP and NZB files in bulk to be downloaded to your NAS drive and keep safe. As well as keeping an eye on your RSS feeds and keeping your podcast downloads automatically updated with every episode
Malware Removers and Security Councillor – Along with Anti Virus software trials on the app centre, QNAP also provide numerous anti-intrusion tools and even a whole app interface to monitor in/outgoing transmissions with your NAS. It can make recommendations to beef up your security and keep you safe
Above are a few of my software overviews that cover the general GUI and system of QuTS Hero on the TS-h886, as well as RAID rebuild and storage management overviews of the system to give you some idea of what the TVS-872XT  can and cannot do:
Space Saving Efficiency – Inline data deduplication, compression, and compaction reduce file size to conserve storage capacity and optimize performance.
Intelligent Memory Cache – Main memory read cache (L1 ARC), SSD second-level read cache (L2 ARC), and ZFS Intent Log (ZIL) for synchronous transactions with power fail protection are simultaneously supported to boost performance and security
RAID Z – Multiple RAID levels allow flexible capacity utilization. RAID Triple Parity and Triple Mirror deliver higher levels of data protection.
App Center – Apps for backup/sync, virtual machines/containers, content management, productivity, and more features can be used to expand the application potential of the TS-h972AX.
All in all, the fact that the QNAP TVS-872X arrives with the option of the ZFS or EXT4 versions of the QNAP Software and GUI is a large part of what makes these NAS appealing.
QNAP TVS-872X NAS Review – Conclusion
If this was the first time I was seeing the hardware featured on the QNAP TVS-872X, with its Intel Core CPU, 64GB of potential memory, 10Gbe on-board, NVMe equipped slots and USB 10G throughout – I would have been reasonably impressed. Likewise, the scalability in PCIe, storage expansions and network connectivity down the line is also a very valid and positive aspect of this system. But for me, it will always live slighting in the shadow of its Thunderbolt 3 equipped older big brother in the TV-872XT. The software on either ZFS or EXT4 file system is still doing what it does well, finding the line between 1st party apps, 3rd party support, customization and (mostly) getting it right – if occasionally trying to be too big for its boots.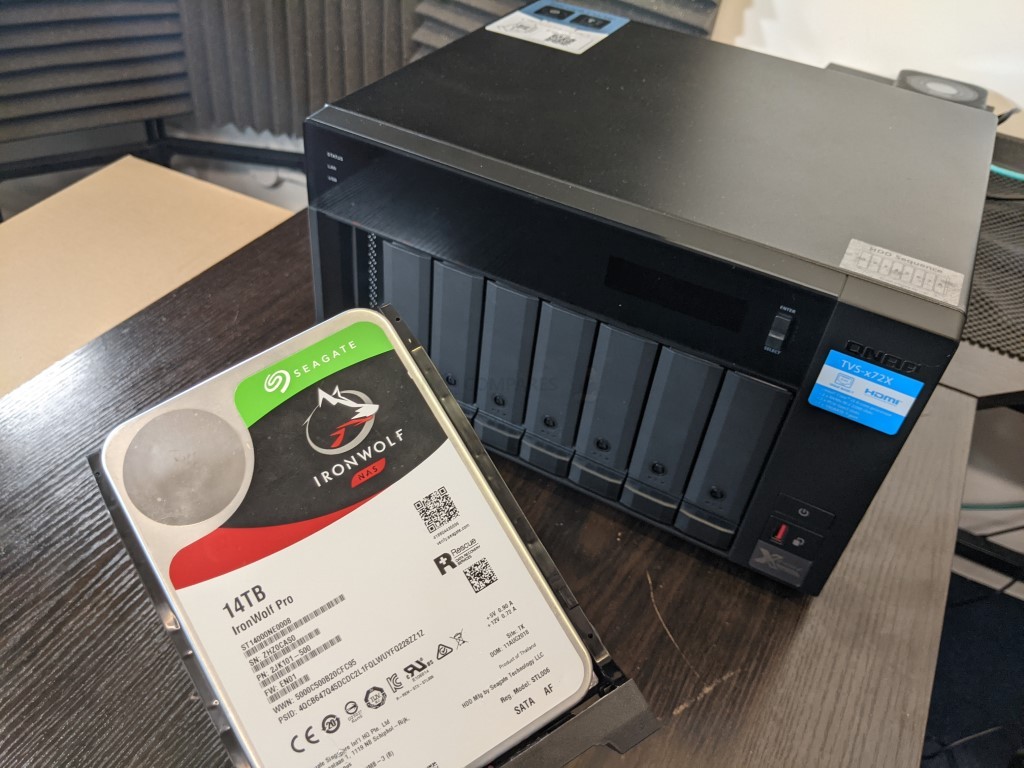 The QNAP TVS-872X is undeniably still a great example of the wide-ranging features available to prosumers who want a storage system heavily geared towards high-performance transmission via high-performance media with higher tier hardware at their disposal. It would be misleading to think of this NAS as any kind of significant upgrades over the XT, and the price tag that the TVS-872X currently arrives at (£1700+ / $2400) is perhaps a tad closer to that of the thunderbolt version than can be justified, but with an increasing over-reliance by brands on Xeon based systems, the TVS-872X is one of the most graphically well-equipped systems in the market today. If you are looking for a NAS for video editing, Plex media server, AI-assisted surveillance or virtualisation in a more compact form, the TVS-872X and its hardware has a heck of a lot to offer you.
What the QNAP TVS-872X can do (

PROS

):

One of the few Intel Core NAS Systems Released in 2020/2021
High Virtualisation Use
10Gbe Enabled and still has 2x 1Gbe
SSD Optimized with NVMe Support
Very Expandable (File System & config dependant)
Optimized for Post Production and Broadcasting
Can be upgraded to 10/25/40Gbe
10G alternative to the TVS-872XT for those that didn't want TB3
Surveillance including multiple camera licences – 8 Licences FREE
Download server (FTP, HTTP, BT,NZB)
CMS and CRM systems included
Media Center support across numerous apps

What the QNAP TVS-872X cannot do (

CONS

):

GPU Card Support is not clear
8G Default Module is a little restrictive for ZFS
PCIe Card Installation is a lot more complicated than you expect
📧 LET ME KNOW ABOUT NEW POSTS 🔔
Join 1,570 other subscribers
Get an alert every time something gets added to this specific article!
This description contains links to Amazon. These links will take you to some of the products mentioned in today's content. As an Amazon Associate, I earn from qualifying purchases. Visit the NASCompares Deal Finder to find the best place to buy this device in your region, based on Service, Support and Reputation - Just Search for your NAS Drive in the Box Below
Need Advice on Data Storage from an Expert?
We want to keep the free advice on NASCompares FREE for as long as we can. Since this service started back in Jan '18, We have helped hundreds of users every month solve their storage woes, but we can only continue to do this with your support. So please do choose to buy at Amazon US and Amazon UK on the articles when buying to provide advert revenue support or to donate/support the site below.

Finally, for free advice about your setup, j
ust leave a message in the comments below here at NASCompares.com and we will get back to you.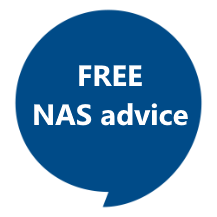 Need Help?
Where possible (and where appropriate) please provide as much information about your requirements, as then I can arrange the best answer and solution to your needs. Do not worry about your e-mail address being required, it will NOT be used in a mailing list and will NOT be used in any way other than to respond to your enquiry.
Support What We Do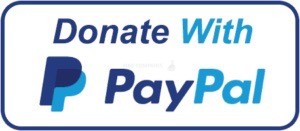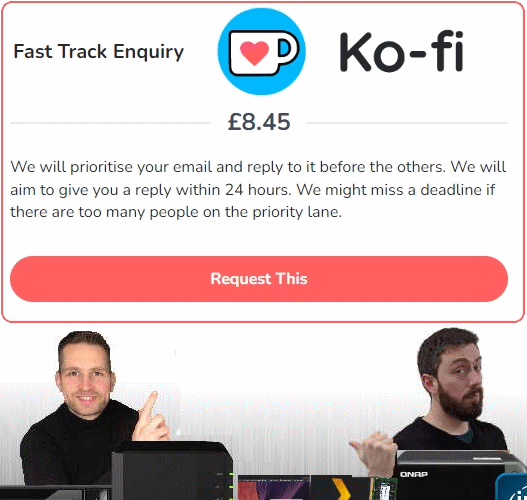 Terms and Conditions
Alternatively, why not ask me on the
ASK NASCompares forum
, by clicking the button below. This is a community hub that serves as a place that I can answer your question, chew the fat, share new release information and even get corrections posted. I will always get around to answering ALL queries, but as a one-man operation, I cannot promise speed! So by sharing your query in the
ASK NASCompares
section below, you can get a better range of solutions and suggestions, alongside my own.
This description contains links to Amazon. These links will take you to some of the products mentioned in today's video. As an Amazon Associate, I earn from qualifying purchases
Summary
Reviewer
Review Date
Reviewed Item
QNAP TVS-872X NAS Drive Review
Author Rating