Does the latest 2-Bay NAS from Synology deserve your data this 2016?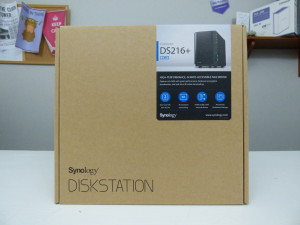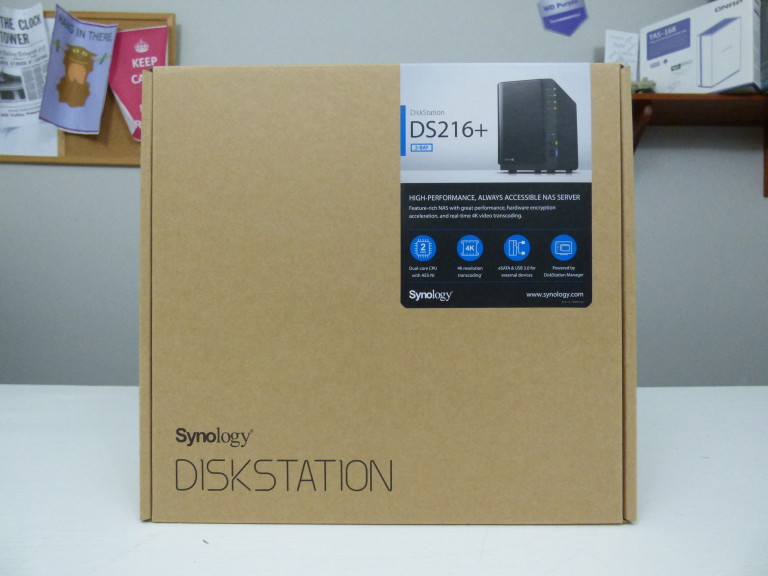 Released at the start of 2016, this Synology NAS arrived with something of a whiff of disappointment after the power house Synology DS716+ (still, to this day, one of the top 5 NAS devices I have every used). With a price difference of around £70 between them, many who had waited with baited breath for the release of the 216+ wondered whether they should save the money and wait for it's release, or spend the extra and go for the tip top 716+. Of course I have already mentioned both of these two devices on our comparison at SPANTV and it has still not served to convince some people one way or another which is the best Synology NAS of the two. Today I want to host an unboxing for 216 + to give you a better understanding of what you get for your money and maybe even help you decide which one of them, in the long run, deserves your data
The look of this Synology NAS?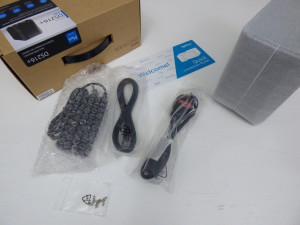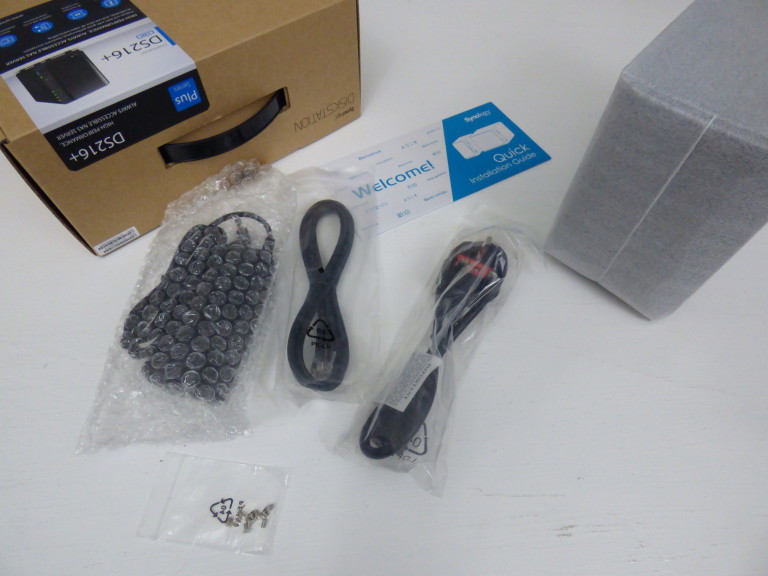 One thing I will try to avoid (and most likely fail miserably with) in this unboxing is to make too many comparisons with the Synology DS716+. Not only is it unfair, but it is also a bit bias against the Synology 216+. However, straight away you can see that the DS216+ features near identical packaging to the 716+ of course that is marginally expected given they are two bays, but it hardly helps you choose. The packaging itself is unction (if a little unimaginative) and although provides almost no protection for transit (unlike the larger NAS devices such as the Synology DS1515+ and the QNAP TS-453A-4G) it is very compact and every part of the contents is in separate portions – neat and tidy!
What do you get for your money?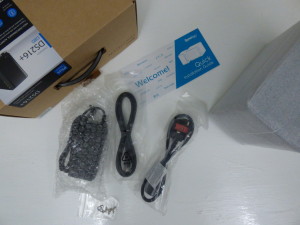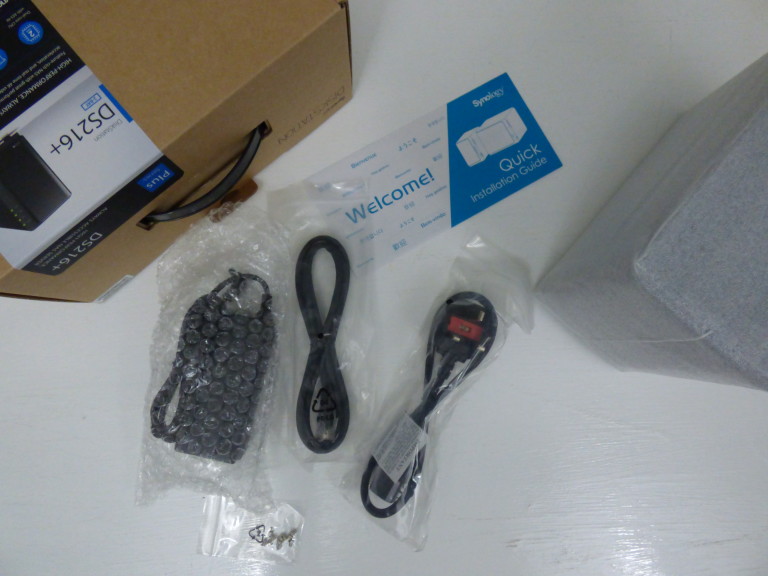 For your £200+ spend, you get the DS216+ NAS itself (obviously… bit of a rubbish unboxing if it didn't), as well as an external Power supplier, quick start manual, hard drive screws (for 2.5″ form factor drives and SSD – 3.5″ Desktop HDDs can be clipped in screwlessly), a mains power cable (country specific) and a LAN able (Cat 6). All pretty standard and functional, but if you were expecting an instructions manual, drivers CD or USB cable – those days are gone my friend.
Let's talk about the physicals? What does the DS216+ look like?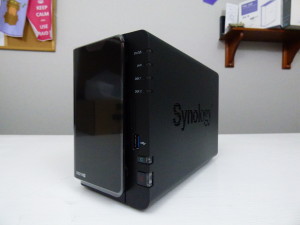 Physically the device uses the same frame and chassis as a number of it's previous 2 bay NAS versions over the years from Synology. The front panel is held in place by 4 rubberizes corner points and it can be easily removed to gain access to the HDD trays. Once again as mentioned, these are the fantastic Synology click and load trays that will not require any additional tools.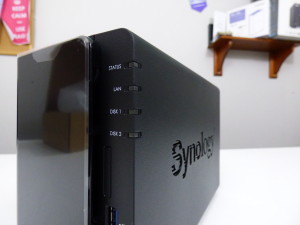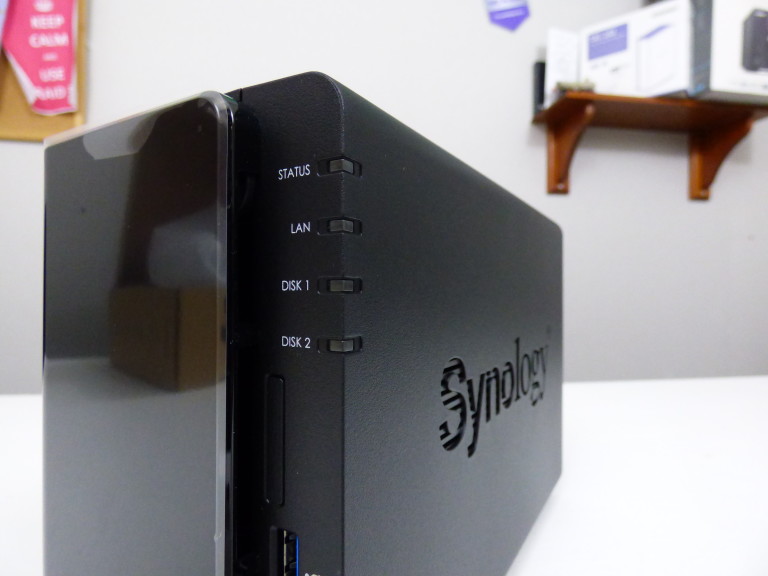 Also the unit features multiple front mounted LEDS to indicate drive health and general access indications. The frame itself is a mixture of light brushed metal and plastic and the unit remains cool and quiet in operation. Lastly, as you can see from the images the unit also features a front mounted USB 3.0 Copy button.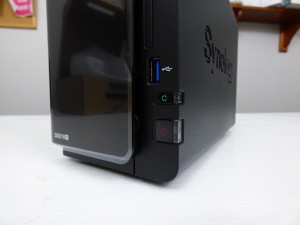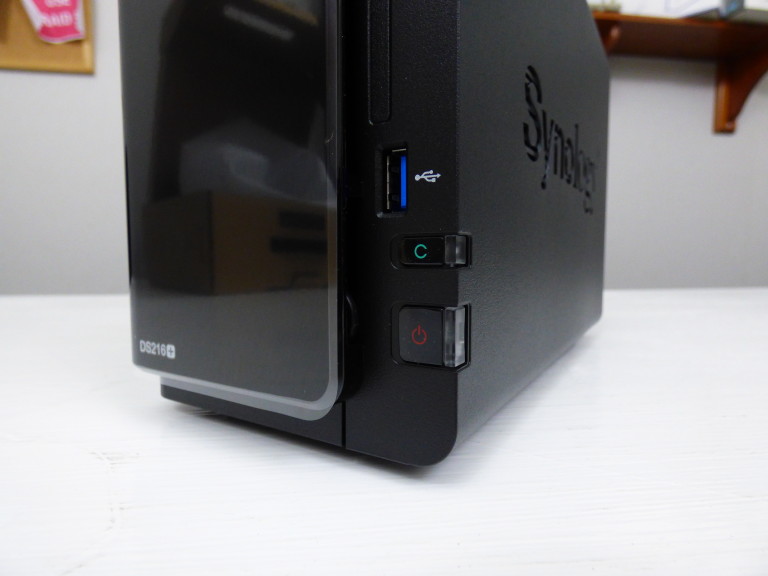 A very welcome feature and something that till recently was something only found on most QNAP devices and only in the last year or two been incorporated into Synology NAS units more and more. All we need now is for them to embrace HDMI NAS more and we will see some true cross over!
Let's take a look at the back…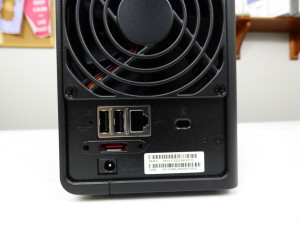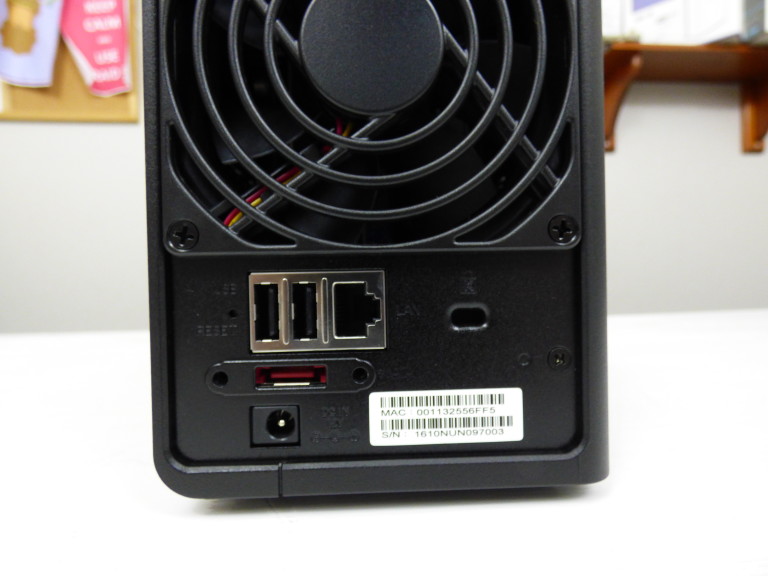 Once we flip the unit around we can see that things start to go a tiny bit down hill. I know I said I would try to limit comparisons against the DS716+…. but….the DS716+ features USB 3.0 throughout, 2 gigabit LAN ports and an eSATA port. The DS216+ however has the eSATA port… but then has 2x USB 2.0 ports and just the one LAN port. Now whether this has been done to keep it different enough from the 716+ to separate sales and/or create a price hike for fairly standard features, masking them as improvements – who is to say?! But it is a little underwhelming. Next we can move onto the inside of the device.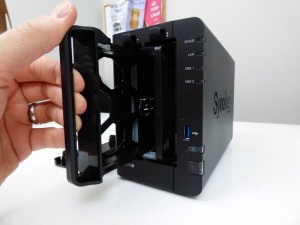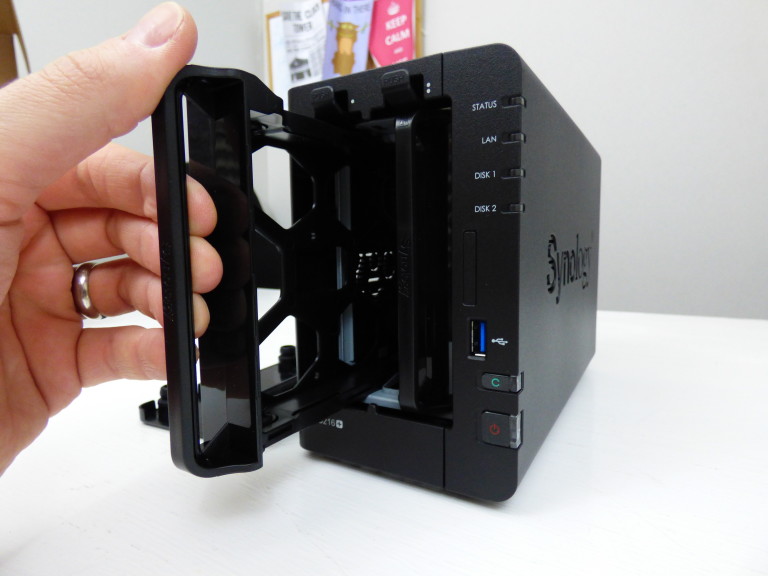 On a good note the device runs on the Btrfs (butter fs) internal file system so many, many background operations are quick and with little or no system resources being used. This is especially evident in larger scale operations like RAID building which can LITERALLY take seconds! Also the inclusion of a dual core Intel x86 CPU (Intel Celeron) means that it is suitable as Plex Media Server NAS, however it's extend and level of HD support is unsociable, as well as providing Native 4K and HD transcoding. Lastly the unit arrives with 1GB of non expandable DDR3 memory. So enough to be getting on with, but still feels like it wouldn't have been a big stretch to bump that up to 2GB.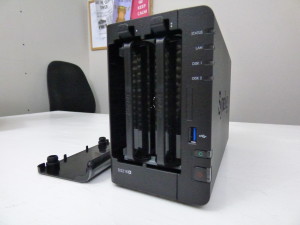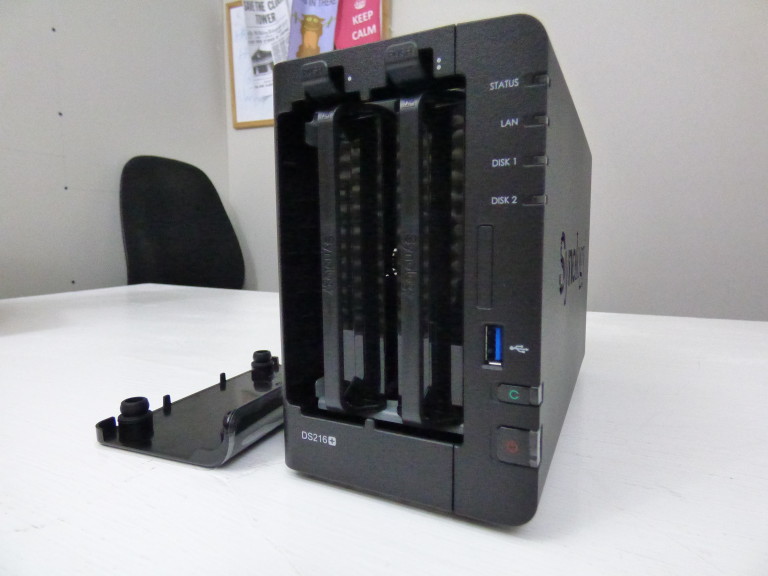 All in all I have to say that the Synology DS216+ is a good NAS for 2016. It just feels like it has been intentionally nerfed to make the DS716+look better. This coupled with their release in similar months to the competitors QNAP NAS devices, the TS-253A-4G and the TS-251+ (priced respectively 30-50 pounds cheaper than the DS716+ and DS216+) it does seem that, if you budget allows, that you should think bigger. Otherwise, an excellent NAS.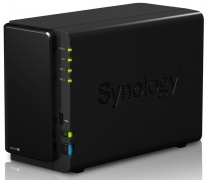 The Synology DS216+ is available now from nascompares.com and will cost around £200 to buy without the VAT or hard drives.
If you need NAS Hard Drives, nascompares.com recommend the WD Red Series or the Seagate NAS range at a capacity of at least 4TB (so you have lots of storage in a RAID 1 or SHR). Thanks for reading.
click below for all the close up shots of the Synology DS216+
📧 LET ME KNOW ABOUT NEW POSTS 🔔
Join 1,750 other subscribers
Get an alert every time something gets added to this specific article!
This description contains links to Amazon. These links will take you to some of the products mentioned in today's content. As an Amazon Associate, I earn from qualifying purchases. Visit the NASCompares Deal Finder to find the best place to buy this device in your region, based on Service, Support and Reputation - Just Search for your NAS Drive in the Box Below
Need Advice on Data Storage from an Expert?
Finally, for free advice about your setup, j
ust leave a message in the comments below here at NASCompares.com and we will get back to you.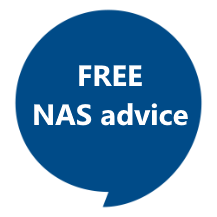 Need Help?
Where possible (and where appropriate) please provide as much information about your requirements, as then I can arrange the best answer and solution to your needs. Do not worry about your e-mail address being required, it will NOT be used in a mailing list and will NOT be used in any way other than to respond to your enquiry.
TRY CHAT
Terms and Conditions
If you like this service, please consider supporting us.
We use affiliate links on the blog allowing NAScompares information and advice service to be free of charge to you.
Anything you purchase on the day you click on our links will generate a small commission which is
used to run the website. Here is a link for
Amazon
and
B&H
.
You can also get me a ☕
Ko-fi
or old school
Paypal
. Thanks!
To find out more about how to support this advice service check
HERE
If you need to fix or configure a NAS, check
Fiver
Have you thought about helping others with your knowledge?
Find Instructions Here

ASK NASCompares forum
, by clicking the button below. This is a community hub that serves as a place that I can answer your question, chew the fat, share new release information and even get corrections posted. I will always get around to answering ALL queries, but as a one-man operation, I cannot promise speed! So by sharing your query in the
ASK NASCompares
section below, you can get a better range of solutions and suggestions, alongside my own.