A new more powerful, yet compact Rackmount NAS for 2017 in the Synology FS2017 Flashstation NAS
Designed for I/O-intensive and latency sensitive environments, Synology FlashStation FS2017 provides reliable, high performance all-flash storage solution with comprehensive business applications for enterprise users. Synology FlashStation FS2017 simplifies data management and optimizes virtualization environments, providing lightning-fast storage.Synology FS2017 is backed by Synology's 5-year limited warranty.

Astonishing Performance with the Synology FS2017 Flash NAS
Powered by an Intel Xeon D-1541 eight-core processor and 32GB DDR4 ECC RDIMM (up to 128GB), Synology FS2017 delivers over 90K 4K Random Write IOPS1 , making it ideal for video post-production, mail server, virtualization and database solutions, which require low-latency and ultra-high performance. FS2017 comes with dual 10GBase-T ports and supports optional 10GbE / 25GbE / 40GbE network interface cards, allowing flexible, high-performance network configurations.

Synology FS2017 Flash NAS provides cost effective Unified Storage
Synology FS2017 is compatible with major SAS / SATA SSD brands to avoid vendor lock-in. FS2017 is also a unified storage server supporting iSCSI protocol and file sharing services, which provides the cost savings and simplicity of consolidating storage over an existing network while providing the flexibility required by virtual server environments. In addition to the internal 24 drive bays, FS2017 supports up to two Synology RX2417sas expansion units to provide a total of 72 2.5″ drive bays for scalability

Synology FS2017 Flash NAS arrives Virtualization Ready
FS2017 provides seamless storage solutions for virtualization environments, including VMware, Citrix, Hyper-V, and OpenStack. With VMware vSphere 6 and VAAI integration certified, FS2017 helps offload specific storage operations and optimizes computing power for unparalleled performance and efficiency in VMware environments. Windows Offloaded Data Transfer (ODX) and Synology Advanced LUN support greatly improves the efficiency on massive data transfer and migration. With OpenStack support, FS2017 can be used as a block-based storage component for servers complying with the Cinder API.

Rock-Solid Data Protection with the Synology FS2017 Flash NAS
The Snapshot Replication application provides schedulable, near-instantaneous data protection. It replicates 65,000 system-wide backup copies to offsite servers and local volumes, bringing near-instantaneous data protection and ensuring data in shared folders or virtual machines in iSCSI LUNs remain available in the event of a disaster. With block-level incremental backup and cross-version deduplication, Synology Hyper Backup provides multi-version backup with optimized storage space utilization and allows multiple backup destinations to local shared folders, external hard drives, network shared folders, rsync server, and public cloud services.

Comprehensive Business Applications available on the Synology FS2017 Flash NAS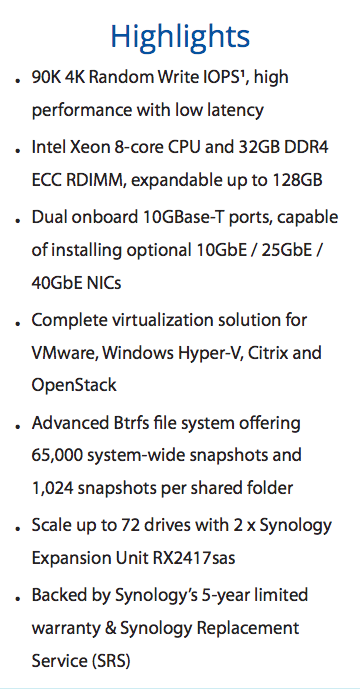 Powered by the innovative Synology DiskStation Manager (DSM), FS2017 comes fully-equipped with applications and features designed specifically for large-scale business:
• Windows® AD and LDAP support allowing easy integration with existing business directory services without recreating user accounts.
• Windows ACL support provides fine-grained access control and efficient privilege settings, allowing FS2017 to fit seamlessly into current infrastructure.
• MailPlus allows your business to set up a secure, reliable, and private mail server while giving your employees a modern mail client for receiving and sending messages.
Reliability and System Availability System reliability is of paramount importance to businesses which depend upon their commercial servers every day. FS2017 responds to these concerns with wide-ranging availability and redundancy features:
• Synology High Availability ensures seamless transition between clustered servers in the event of one node failing with minimal impact to applications.
• Redundant power supplies, system fans, and multiple network ports with failover support ensure maximum continuous service uptime.
• DDR4 ECC RDIMM detects and corrects errors during data transmission.
• The tool-free system fan design allows hot swapping and simple exchanging of malfunctioned system fans. Optional Synology RKS1317 rail kit provides fast and easy system installation and maintenance.