Good news – The 4-Bay Synology DS418J Diskstation specs and datasheets are available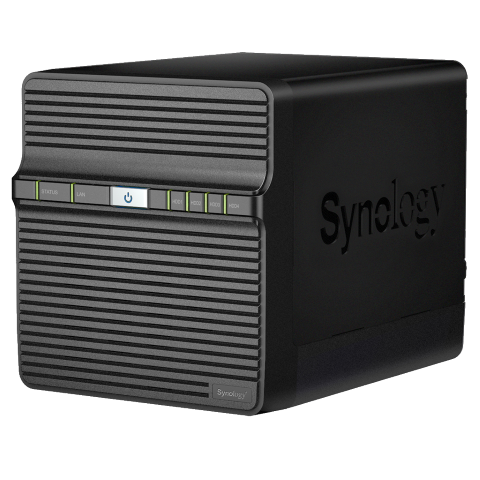 Originally uncovered at Computex 2017, the latest 4-Bay Synology NAS for the 2017/18 series was premiered alongside a number of other high demand synology desktop units. Although it was a little overshadowed by the giants that were the DS918+ and DS718+ NAS, the cost-effective (we try to avoid the word cheap… but… you know) 4-Bay DS418J was met with interest. This is of course not the first 4-Bay NAS from synology and their orange J Series (basic) but it certainly featured some lovely upgrades over the older DS416J and DS414J. Take a look below at the specs, the speeds and the highlights (and yes, the occasional low-light) and see if this latest budget NAS is for you.
What is the Synology DS418J and What is the Synology J Series?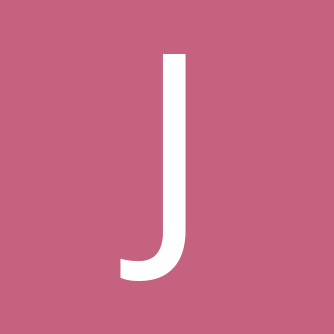 Synology DiskStation DS418j is a 4-bay NAS server designed for home and personal users to effectively manage, protect and share data. Its new Realtek RTD1293 dual-core 1.4GHz 64-bit dual-core processor provides large-capacity storage volume support for flexible data management. Synology DS418j is backed by Synology's 2-year limited warranty.
Cost effective DS418J NAS is the ideal companion for your files and is your own private cloud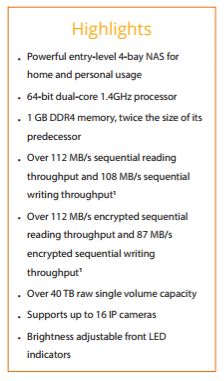 Synology DS418j is a powerful entry-level 4-bay network attached storage solution equipped with that 64-bit dual-core 1.4 GHz processor and 1GB of DDR4 RAM, delivering sequential reading throughput at over 112 MB/s and writing throughput at over 108 MB/s, and an encrypted sequential data transmission at over 112 MB/s reading and 87 MB/s writing1. The great combination of the 64-bit hardware and DiskStation Manager (DSM) allows DS418j to take advantage of large-capacity HDDs for flexible storage volume management as well as efficient file sharing and data backup.
Cross-Platform File Sharing and Data Synchronization made easy with the Synology DS418J
Synology DS418j supports comprehensive network protocols, ensuring a seamless file sharing experience across Windows®, Mac®, and Linux® platforms. Windows AD and LDAP integration allows DS418j to fit quickly and effortlessly into any existing network environment without the necessity to recreate user accounts. Cloud Sync keeps your Dropbox, Google™ Drive, Microsoft OneDrive, Baidu Cloud, and Box storages in sync with your personal DiskStation at home. The Cloud Station Suite enables you to sync files among multiple devices — Windows PC, Mac, Linux, iOS or Android™ tablets/ phones — easily keeping everything up-to-date. All the seamless file sharing over the Internet is protected at a high security level with the HTTPS, firewall, and IP auto-block mechanisms supported by DS418j.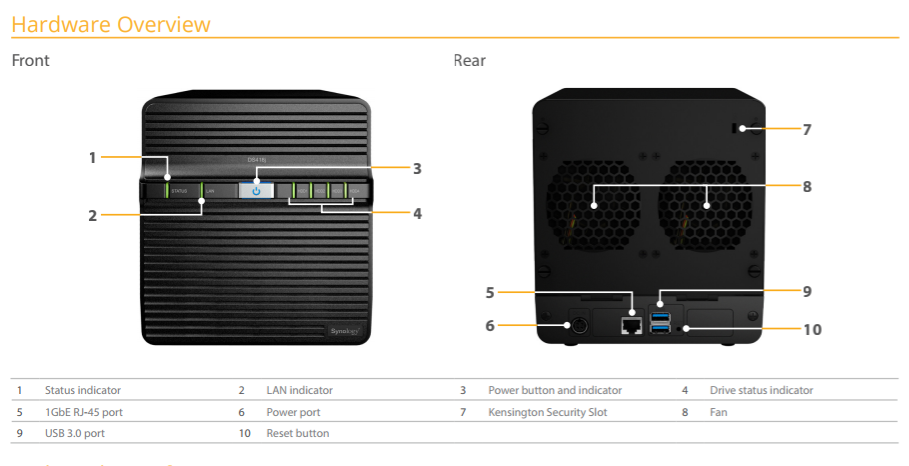 The Synology DS418J is your one-stop easy backup solution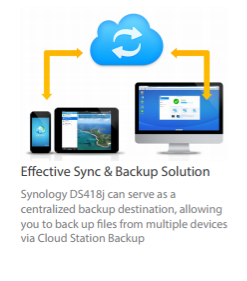 With block-level incremental backup and cross-version deduplication, Synology Hyper Backup provides multi-version backup with optimized storage utilization and allows data backup to multiple destinations – local shared folders, external hard drives, network shared folders, rsync servers, and public cloud services.
Set up your own 24/7 Security Network Solution with the Synology DS418J server
Synology Surveillance Station offers a centralized interface to manage IP cameras deployed in your workplace, allowing users traveling miles away to safeguard their environments by watching live views, recording events, and taking snapshots with computers or mobile devices.

DS418j is an ideal surveillance solution as it is capable of hosting up to 16 IP cameras (480FPS at 720p). In addition to its intuitive setup and hassle-free interface, Surveillance Station features an optimized live view experience with on-screen operations, smart analytic tools like motion detection, and an alert system that sends instant notification through DS cam, SMS, and e-mail.
Access your files Anywhere and at Anytime with the DS418J Synology NAS
Synology NAS provides mobile applications that allow you to enjoy the full variety of your multimedia library over the Internet on the go. Available on iOS, Android™ and Windows Phone® platforms, DS photo, DS audio, DS video and DS file mobilize your Photo Station, Audio Station, Video Station and File Station by placing terabytes of multimedia content at your fingertips.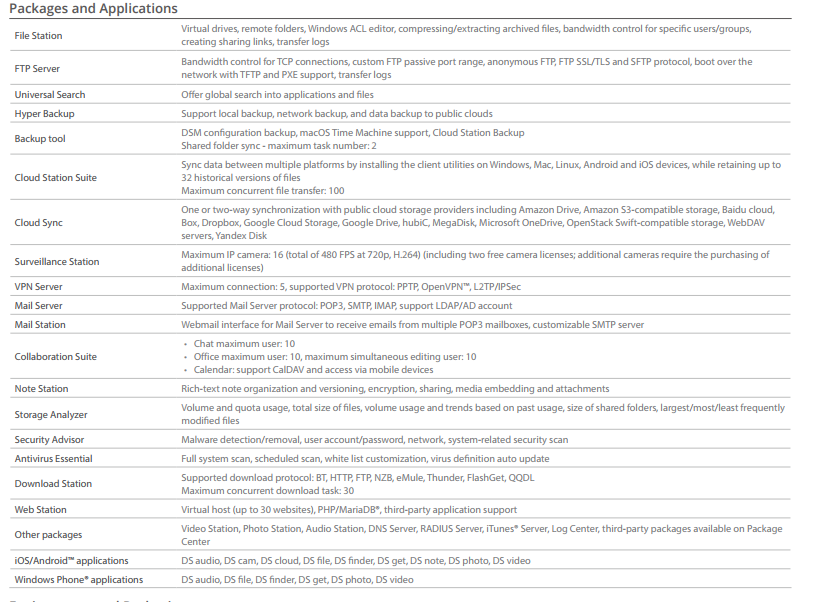 What's more, DS get makes it possible for you to manage and monitor your download tasks remotely anywhere, anytime.
The DS418J arrives with Energy Efficient with Cool and Quiet Design
Synology DS418j is designed with energy efficiency in mind. Compared with its average PC counterpart, Synology DS418j consumes relatively little power at 21.22 watts while accessing and 8.97 watts when hard drive hibernation is enabled. The scheduled power on/off feature further reduces power consumption and operation cost.