The Synology DS118 – A Brand New 1 Bay NAS for 2018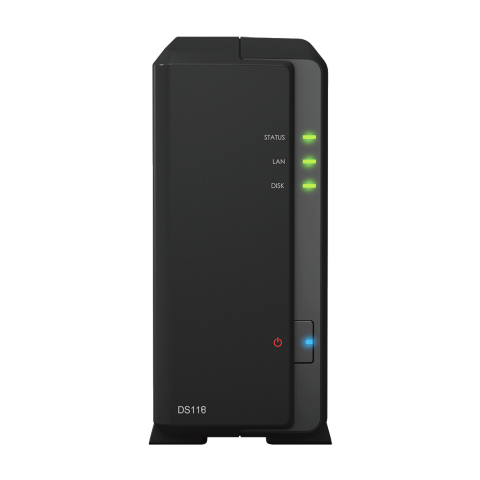 Synology have really been pushing NAS hard throughout September and October 2017 and today we want to highlight one of three devices that are still yet to come. The other two I have already lightly covered on this channel in the last week or two (DS218play and DS218j), but I wanted to talk about possibly the most interesting of them all. Let's look at the Synology DS118 1-Bay Home NAS Server for 2017/18.
What is so special about the Synology DS118 NAS 1-Bay? Is 1-Bay safe?
Following in the footsteps of the popular Synology DS116 (as well as the less popular and massively underwhelming DS115J) this new NAS is arriving with some rather neat hardware under the bonnet, but before we get to that, let's discuss the elephant in the room – RAID. For a start, like it's predecessor, it is it more focused towards performance than storage. Obviously, as this is running on a single Hard Drive or Solid State Drive, you lose certain storage option mainstays such as RAID hardware protection, but this is no longer the crushing failure risk that it once was. With cloud migration backup (from both synology themselves with the C2 Backup Plan, as well as the likes of 3rd party providers such as GoogleDrive, Amazon S3 and DropBox) to USB external backups to take off-site, the loss of a single drive is not the 'game over' that it used to be. Likewise, the pooling ability of RAID to combine multiple drives into a single visible depositary is not a factor with the use of a single Bay NAS such as the DS118.
How powerful is the DS118 NAS server from Synology?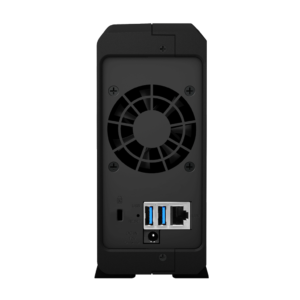 When it comes to NAS performance, that is where the Synology DS118 really begins to shine. Unsurprisingly the unit is arriving with an ARM based CPU, but what has really caught me by surprise is the fact we have seen the return of the Realtek RTD1296. I know that sounds a bit 'train spotter', but let me explain. This is the first ARM based CPU that I have ever seen on Network attached storage devices that:
Is 64bit (like an intel chip)

Can support DDR4 memory (like an intel chip)

That plays 4K Media (yes, like an intel chip)

Can, more importantly, transcode 4K (you guessed it, like an intel chip)
This same CPU was featured on the DS418/DS418j (slight variation in cores and revision between them) and has already been tested by 'EddietheWebGuy' on his ongoing (soon to be published) 4K Comparison on the entire Synology and QNAP 2017-2018 range of NAS, and this CPU performed remarkably well! Additionally the fact this unit arrives with 1GB of DDR4 memory means that if your needs are less about media and more about lots of file transfers, then this simple and compact 1 Bay NAS will really leave you satisfied. Lastly the chassis arrives with a single LAN port for network connectivity, two USB 3.0 ports and measures a mere 166 mm x 71 mm x 224 mm – easily hidden out of sight and out of mind. LIkewise, it's noise and imprint in your home or office is minimal at best with this hardware setup arriving at around 9W consumption whilst in HDD Access and just over 4W whilst the DS118 and hard drive are in Hibernation.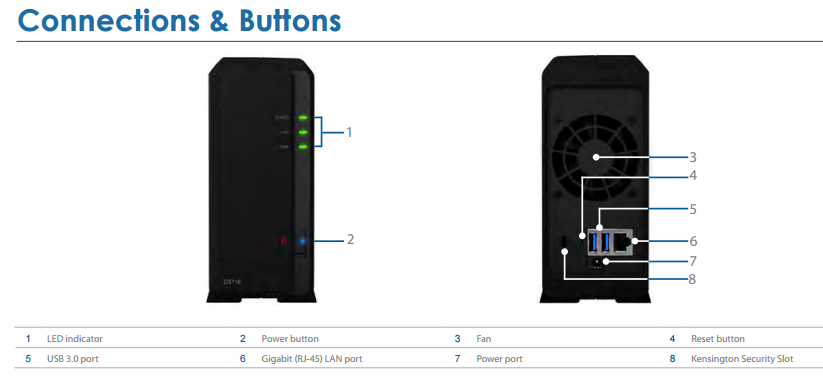 Synology DS118 and the DSM NAS Software
It is still too early to see to what extent that the DS118 from Synology will support the Diskstation Manager 6.1 operating system (currently DSM 6.1 is in beta), but we expect it to be to a similar level of support as seen on the DS418/DS418j. Likewise when it comes to more specialised areas like network CCTV use with Surveillance Station software, the DS118 supports upto 16 IP Cameras from popular brands like Reolink and Edimax and arrives with 2 licences included at no additional cost. Alongside first party apps, this device also should support popular 3rd party applications such as Plex (though we doubt it can support transcoding as a Plex Media Server), Apple Time Machine and can act as an iTunes server.  Finally it is fully expected to support most of the new and improved applications in DSM 6.2. such as Synology Drive, Synology Moments, Improved Synology Office and Synology Chat 2.0.
How much does the Synology DS118 NAS cost and when is it relased?
Possibly the msot impressive part about the Synology DS118 NAS is the price. The unit can be pre-ordered now at SPAN.COM at just £140+ ex.VAT and if you want to install a 2TB WD Red Drive, the whole thing will come in at 2 Terabytes of storage at just over £200+ ex.VAT. For a comprehensive, 4K Media and full network backup solution to all your home and multimedia needs, that is an incredible price Take a look below on how to order and more:
The Synology DS118 NAS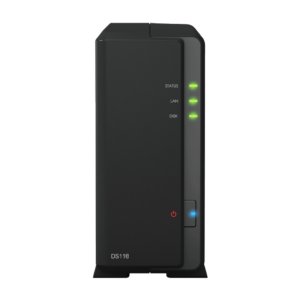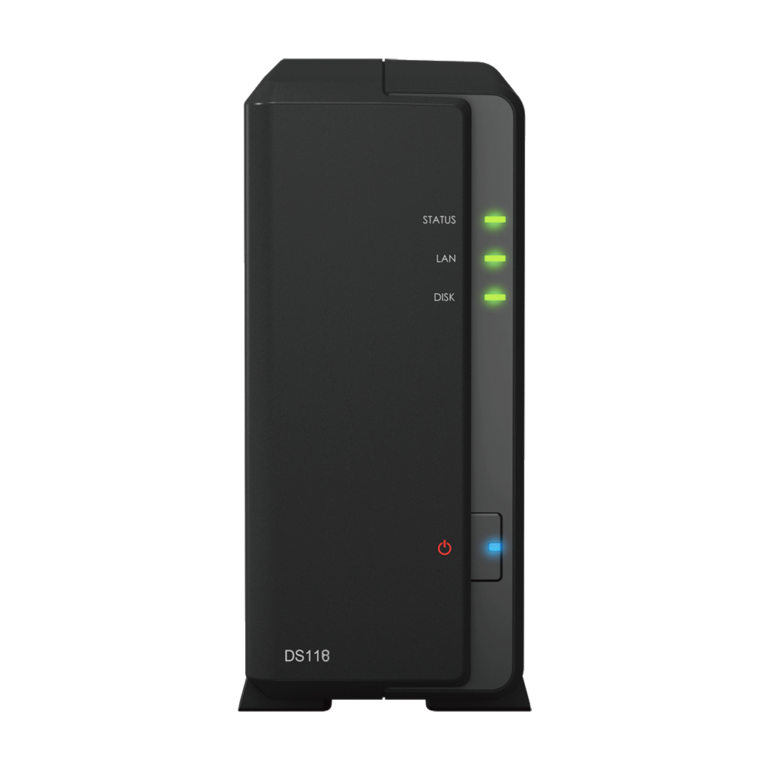 Release Date – TBC (expected late Oct '17 – Nov'17)

£140+ ex.VAT

1-Bay for HDD or SSD

Realtek RTD1296 Quad-Core 1.4GHz CPU

1GB DDR4 Memory


What are the Specs of the Synology DS118 NAS?
Below you will find the specification of the DS118 NAS from Synology. However, as always, these details are subject to change between now and official release, so always be sure to check the specifications that matter the most to you before placing your order. For up-to-the-minute information, but sure to go to SPAN.COM here and click the notify me button to receive instant alerts on any and all product changes. Take a look below at what we know so far.
Synology NAS Model

Synology DS118 1-Bay – £140+ ex.VAT

CPU Model

Realtek RTD1296

CPU Architecture

64-bit

CPU Frequency

Quad-core 1,4 GHz

Hardware Transcoding

YES

Memory

System Memory

1 GB DDR4

Storage

Drive Bay(s)

1

Compatible Drive Type

3.5 "SATA III / SATA II HDD

2.5″ SATA III / SATA II HDD (with optional 2.5″ Disk Holder)

2.5″ SATA III / SATA II SSD (with optional 2.5″ Disk Holder)

Maximum Internal Raw Capacity

12 TB (12 TB HDD x 1) (Capacity may vary by RAID types)

External Ports

USB 3.0 Port

2

File System

Internal Drives

EXT4

Sizes

Sizes

166x71x224 mm

Crowd

0,7 kg

Other

RJ-45 1GbE LAN Port

1

Wake on LAN/WAN

YES

System Fan

60 mm x 60 mm x 1 pcs

Fan Speed Mode

Cool Mode

Quiet Mode

Low-power Mode

Wireless Support (dongle)

YES

Power Recovery

YES

Noise Level*

16.4 dB (A)

Scheduled Power On/Off

YES

Power Supply Unit / Adapter

36W

AC Input Power Voltage

100–240 V AC

Power Frequency

50/60 Hz, Single Phase

Consumption

9,4 W (Access)
4,22 W (HDD Hibernation)

Ambient temperature

Operating Temperature

5°C to 40°C (40°F to 104°F)

Storage Temperature

-20°C to 60°C (-5°F to 140°F)

Relative Humidity

5% to 95% RH

Warranty

2 years

Notes

The performance data is measured with a Western Digital 1TB WD10EFRX hard drive at full load.

Wake on WAN support requires switches and routers.

Zajszint mérés körülményei: Fully loaded with Seagate 1TB ST31000520AS hard drive(s) in idle; Two G.R.A.S. Type 40AE microphones, each set up at 1 meter away from the Synology NAS front and rear; Background noise: 16.49-17.51 dB(A); Temperature: 24.25-25.75˚C; Humidity: 58.2-61.8%

Storage Management

Maximum Internal Volume Number

1

Maximum iSCSI Target Number

10

Maximum iSCSI LUN

10

Supported RAID Type

Basic

File Sharing Capacity

Maximum IP cam (Licenses required)

16 (including 2 Free License)

Total FPS (H.264)*

480 FPS @ 720p (1280×720)
400 FPS @ 1080p (1920×1080)
160 FPS @ 3M (2048×1536)
80 FPS @ 5M (2591×1944)

Total FPS (MJPEG)*

320 FPS @ 720p (1280×720)
120 FPS @ 1080p (1920×1080)
90 FPS @ 3M (2048×1536)
54 FPS @ 5M (2591×1944)

Notes

Surveillance Station throughput is tested with Axis network camera, using continuous recording with live view from Surveillance Station and motion detection by camera. Live view and recording are sharing the same stream from the camera.

Maximum Connections

5

Environmental protection and packaging

Environment

RoHS Compliant

Packaging Content

Main Unit X 1

Welcome Note X 1

Accessory Pack X 1

AC Power Adapter X 1

RJ-45 LAN Cable X 1

Optional accessories

Camera License Pack

Disk Holder: Type C