Should you buy the QNAP TVS-473e NAS this 2018 for the Home or Business?
Choosing the right network attached storage (NAS) device that can do everything that you want can be tricky. FInding a powerful NAS is relatively easy and if you have the money, you can spend thousands of pounds quite easily and get a NAS device that has the hardware to do so much. However that all means nothing if the device is poorly developed, arrives with shoddy software and is (to quote my cockney forbears) 'all mouth and no trousers'! Luckily the NAS that i want to discuss today does not fall victim to this and the
QNAP TVS-473e NAS
 has the possibility to be one of the best valued NAS of 2018.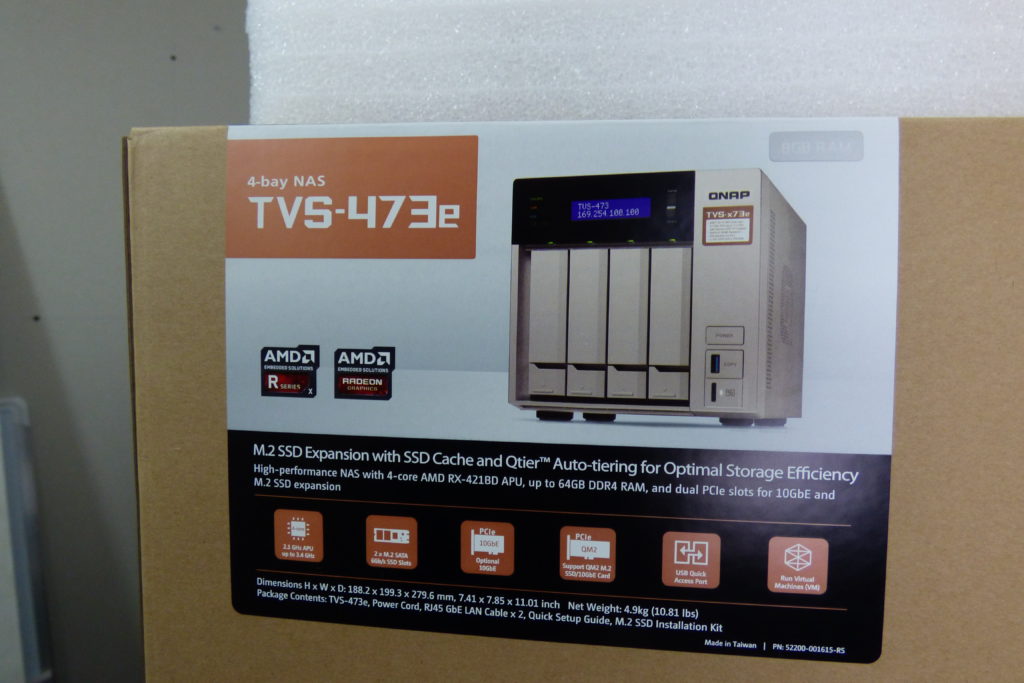 Arriving as a re-imagined adaption of the TVS-473 released at the closing stages of 2016, this version of the popular x73 series features everything that made the gold NAS series so popular but manages to strip away a few of the lesser used features to bring the price right down. In the coming months you will see a few of the NAS servers in the QNAP range arriving with an 'e' in the title. This is QNAP respnding to demand and providing a number of their solutions in forms that remove unwanted accessories and minor features (SD Card slots, extra USB ports, remote controls, etc) and producing much better valued units to buy.
The QNAP TVS-473e
is such an example, so let's get started.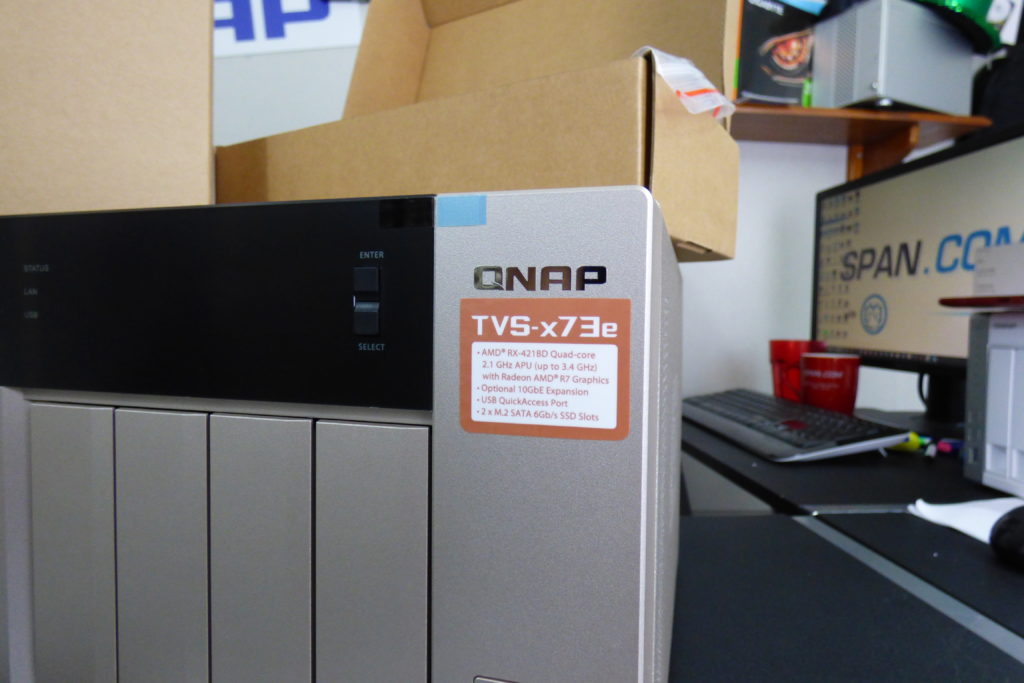 QNAP TVS-473e NAS – Design
It will come as no surprise that the chassis of the
TVS-473e NAS from QNAP
is near enough identical to that of the TVE-473. This is the case with the rest of the range and that is not a bad thing. The reason the x73 and x73e series are and will be sought after is that they are made by a process of evolution. I KNOW how ridiculous that sounds, but stay with me. As I mentioned on SPANTV last year, the gold series NAS represents years of A-B testing, development wins and losses, and ultimately what you are left with is a NAS that features every idea that made it through the previous releases since QNAP 1.0. Such hardware highlights as: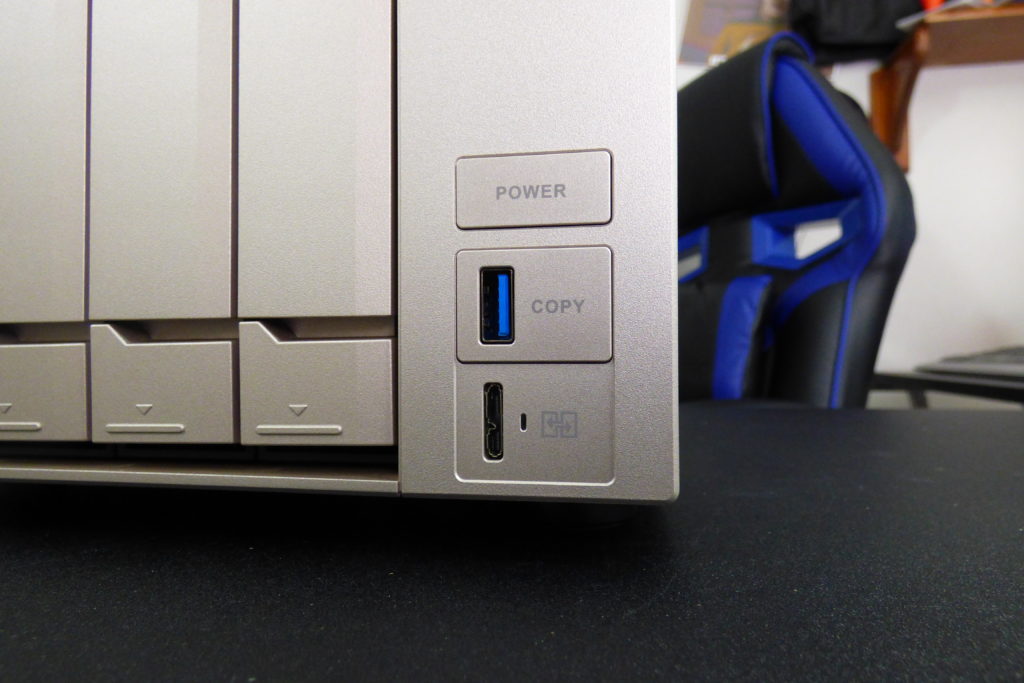 The Quick connect USB port of the front that allow direct attached access to your NAS files (either providing access via the file explorer interface of your windows or mac system) or full user interface access of QTS 4.3.4)
Dual m.2 SSD slots inside that enabled SSD caching, as well as provide access to the tiered storage smart system only available on QNAP by adding 2.5″ SSD in an available bay.
One of the few devices that use a highly grahically enabled AMD CPU, the MD R-Series RX-421BD, which is quad-core with a 2.1 GHz clock speed that can burst up to 3.4 GHz
DDR4 memory, much faster and more efficient that DDR3 in most other NAS devices, this combined with that beast of a CPU mean that there are few modern NAS applications of tasks that you cannot do
PCIe slots that enable you to install everything from additional M.2 SSD cache cards and 10GBe, to more USB ports or a GPU card for vurtual machine access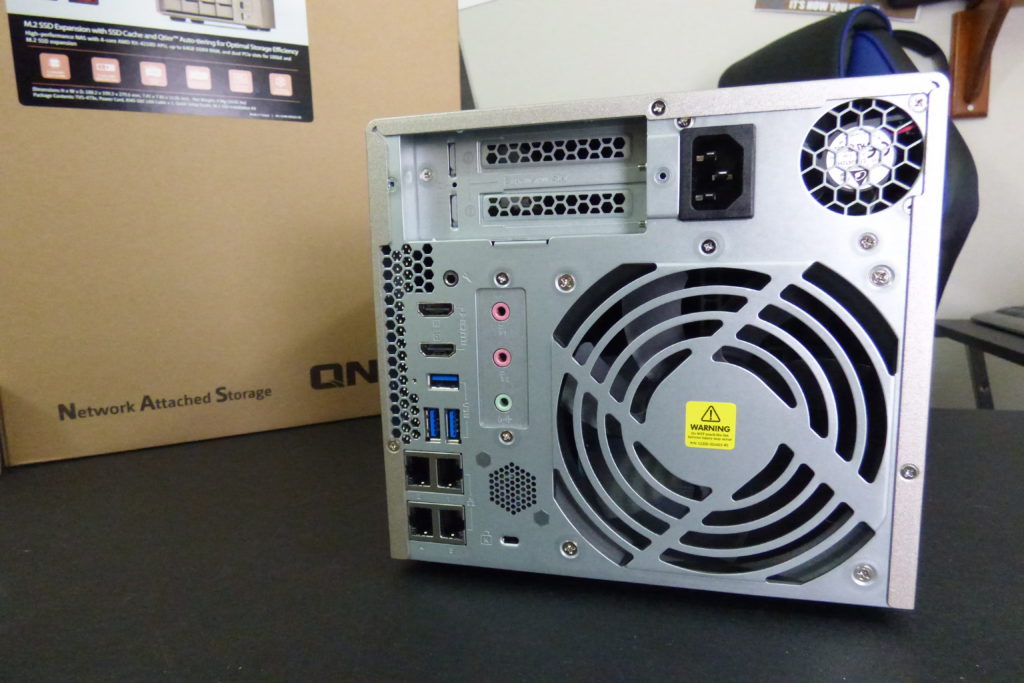 4 LAN Ports straight away, giving you the potential to link aggregate them and effectively quadruple your upload/download within the device
Dual HDMI ports that can be combined for mirrored/combined desktop, or dedicated to individual needs
Rear mounted speaker and additional Audio in/out – so lots of sound options
Front mounted USB Copy port and button for fast backups to a local external HDD or visasera
Rear mounted controllable fan. This may not be exactly exciting, but it is features like these that are rarely sung about and more useful that people give them credit for.
Tooless HDD Hard Drive installation trays and LCD panel for system information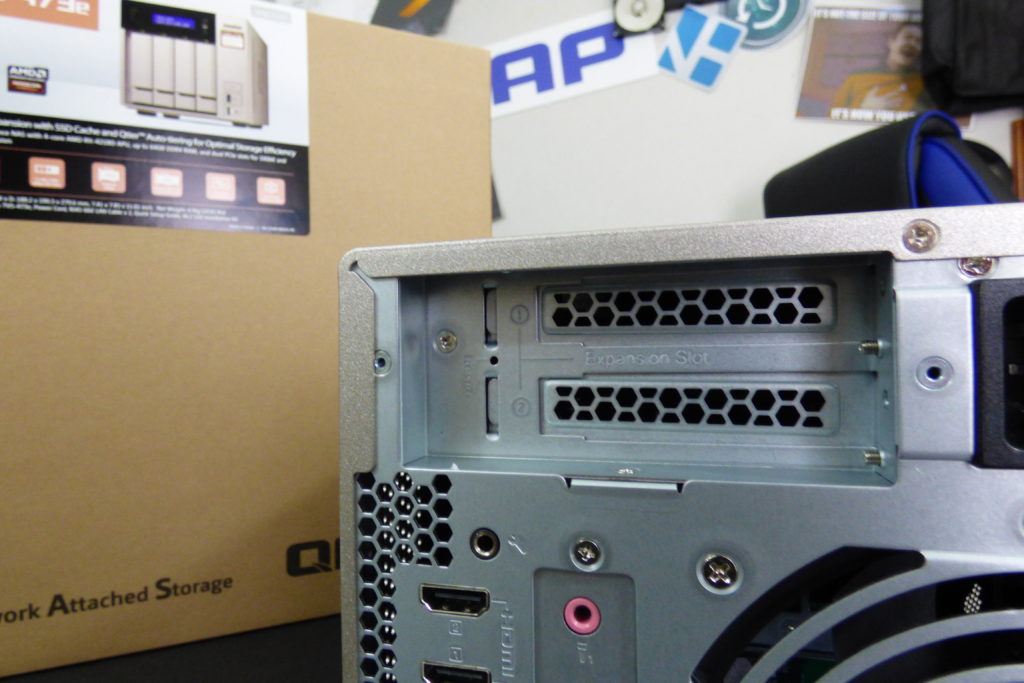 So, as you can see, a HIGE amount of technological advancement and development have produced the TVS-473e. Every single one of the features above were premiered on different NAS, but the TVS-x73 series was the first to feature ALL of them on a single device. The QNAP TVS-473e continues this legacy, but removing a few bits and bobs (none of the above) to make it leaner and more accessible in cost.
What is the difference between the TVS-x73 and the TVS-x73e Range
As mentioned, you are going to see more NAS servers from QNAP arriving with the 'e' badge. This is about making their range more accessible to people by removing smalelr features and accessories that research showed were being largely ignored. If you want the features you can of course still buy them as optional parts, or still buy the full complete TVS-x73 NAS units. But aside from those, the new TVS-473e range is near enough identical.Here is what we said about the TVS-473 NAS in January 2017, back when it was released: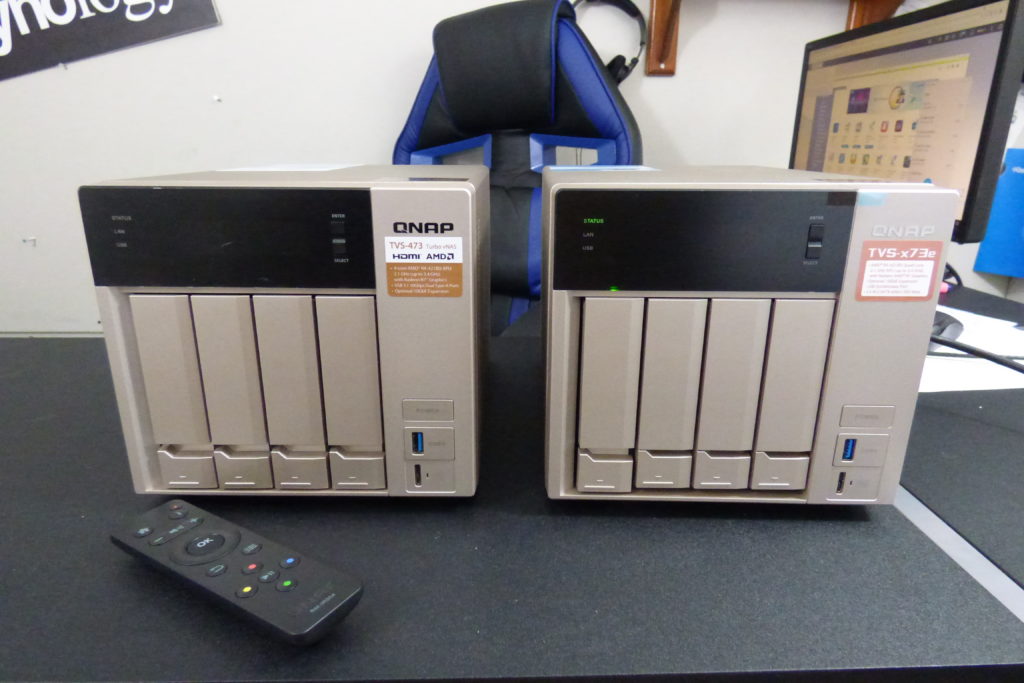 DESIGN

8/10

Easily one of the best looking NAS servers I have seen yet. I know that when most people hear 'Gold' They think it might look a bit naff, but in reality it looks more Rose Gold / Copper and with a mostly Metal Frame – it is a very attractive NAS

FEATURES

9/10

The QNAP TVS-473 can do almost ANY NAS task that you will ever need. If you have herd that a NAS can do it – THIS device can do it. Virtual Machines, NAS Surveillance, DAS connectivity, New remote control for multimedia in 1080p 4K and Plex Media Servers. Cannot argue with it's ability.

PERFORMANCE

8/10

Not only can this device do almost anything in NAS – But it can perform it better than almost any NAS device out there! Easily the best NAS in the market today – not cheap, but unparalleled in it's performance vs price.

VALUE

8/10

A NAS without compromise, a NAS that can do anything and everything. If you need a NAS with future proofing and years of future proofing, this 2017 NAS is the one for you.
| | |
| --- | --- |
| DESIGN | If you like the Hardware to match – this QNAP NAS is maybe not for you as it will stand out a mile next to your mostly White or Black office environment. |
| FEATURES | The only QNAP NAS features missing currently available in the TVS-473 is Thunderbolt Connectivity. It wouldn't surprise me if a PCIe card featuring Thunderbolt 2 and Thunderbolt 3 connectivity is on the horizon. |
| PERFORMANCE | Intel CPU fans will skip this in favour of the QNAP TVS-1282 or the Synology DS1817+ when it ever gets released!!! |
| VALUE | Not to be a broken record, the only downside is the lack of Thunderbolt2 NAS connectivity, a few accessories that most users will never use (but nice to know they are there) and the price being a pinch higher than most – but you are paying for a solid 9/10 NAS. |
The above still rings true, HOWEVER now with the removal of the remote control, USB 3.1 Gen 2 ports (two parts of the package that never even made it to the review, they were so overlooked) and costing over £100 less than the original. For me that makes this better than the TVS-473 as it arrives at both a price point that is more palatable to many, as well as still keeping every single one of the core things that made it a top spec NAS server.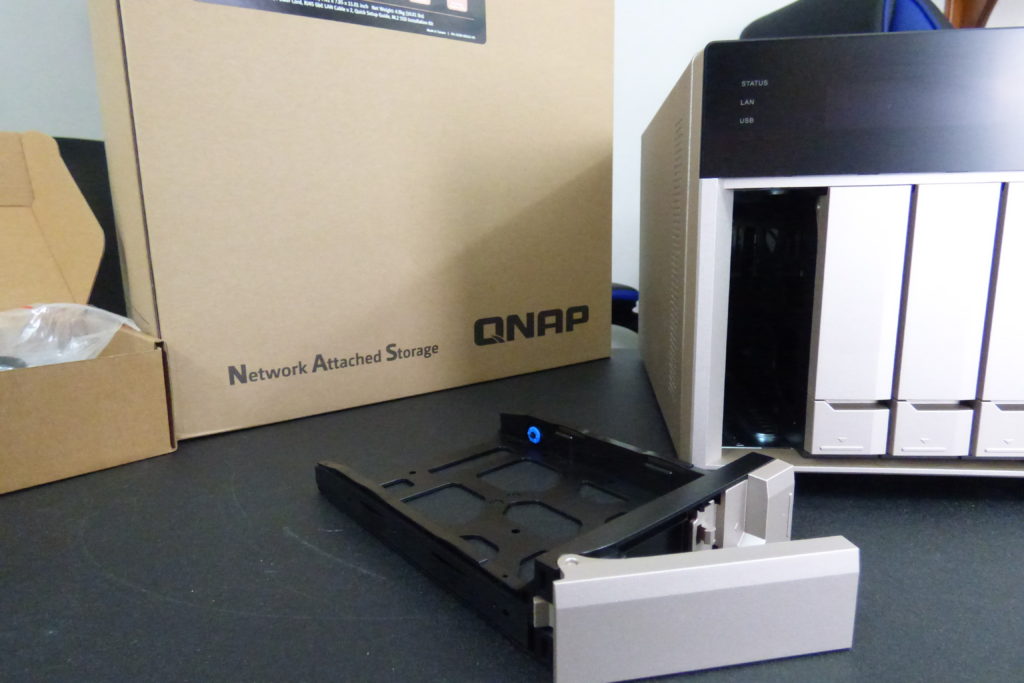 Also, you'll be pleased to hear the device supports the very latest NAS hard drives from WD and Seagate, in up to 10 and 12TB, a multitude of IP Cameras for network surveillance and a large range of graphics cards for virtualisation.
QNAP TVS-473e NAS – Software
As mentioned, the device supports the latest version of the QNAP Software, QTS 4.3.4 the UI is still as good as ever. If you want to experience the software for yourself before you buy, do follow the advice from my video below:
What makes the
QNAP TVS-473e NAS
so good, is quite simply that it does practically EVERYTHING. I know that is a tremendous overshoot of a statement, but hear me out. Thanks to the hardware that this device arrives with, I genuinely struggle to think of something that you would need a 4, 6 or 8 Bay desktop NAS to do that this cannot perform. Host multiple virtual machines for the office, editing photo and video (don't forget your PCIe graphics card) and for a centralised platform for the commute (a personal favourite). Not enough, how about the perfect Plex Media server, as well as playing and transcoding 4K media in H.264 and H.265 to all your home and internet-enabled media devices. Not convinced? How about that it can be used as a standalone PC (Windows, Android, Linux, etc) with the attachment of a keyboard, mouse and monitor, whilst STILL being able to be used for all your NAS tasks at the same time. As well as proving an incredible surveillance solution for your home, office of retail CCTV network setup that can be accessed by mobile, desktop or as a standalone surveillance station? There is so much this NAS can do, see below:
This slideshow requires JavaScript.
What the QNAP TVS-473e can do (PROs):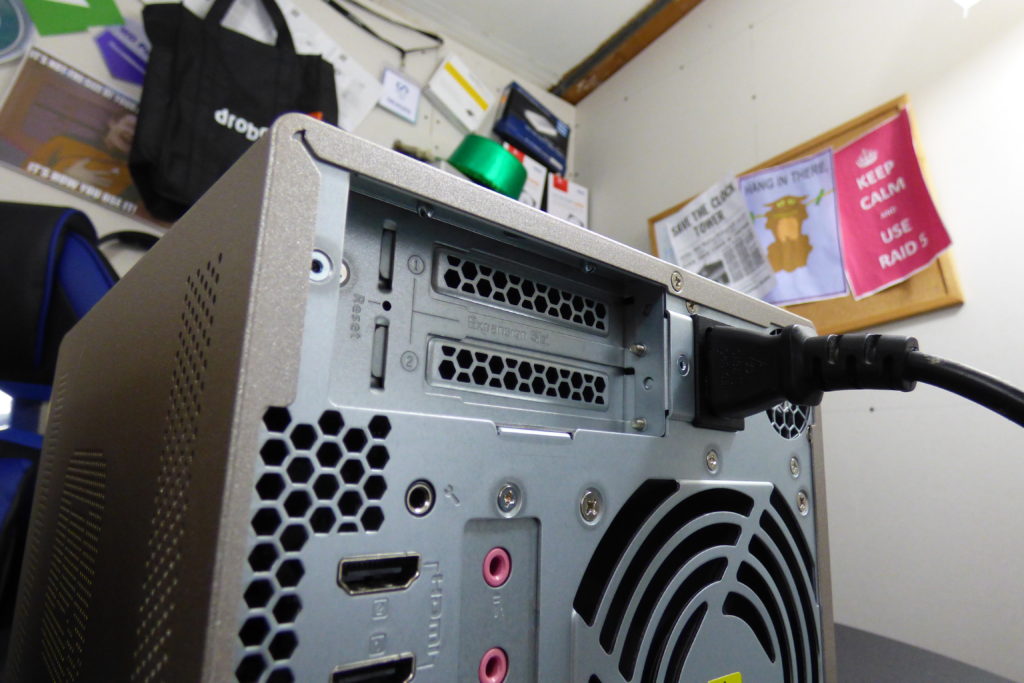 4K Playback and Transcoding
Virtualisation and Multiple VM Hosting
DLNA Support
Plex Media Server Support including Transcoding
Apple TIme Machine Support
Surveillance including 4 camera licences and supporting 40 cameras at once
iTunes Server
Snapshot Support and large scale time managed backups of all kinds
Email server
Download server (FTP, HTTP, BT,NZB)
CMS and CRM systems
Office applications
Media Center support
PCIe Card Upgrades – 1/10/40GBe, SSD Cache Upgrade, USB 3.1 Gen Card
Graphics Card Installation for VM use
What the QNAP TVS-473e cannot do (CONs):
Still no Support for Thunderbolt
No Dedicated SSD Bays, as found in the TVS-x82 series
No Remote Control
No USB 3.1 Gen 2
QNAP TVS-473e NAS – Conclusion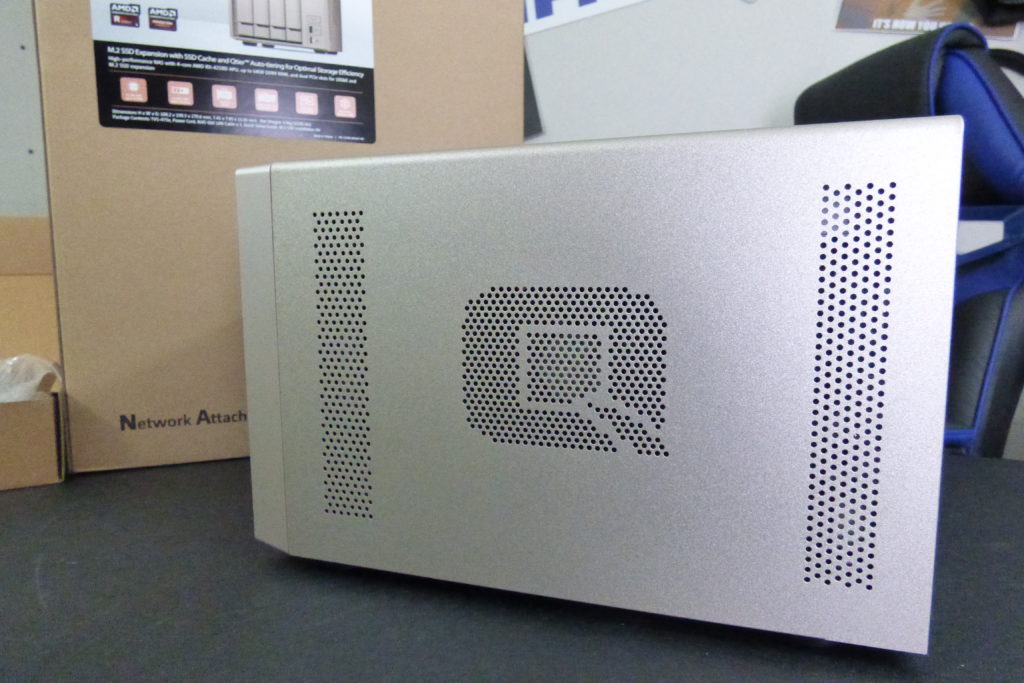 The QNAP decision to re-release a number of their 2017 NAS series with an 'e' on the end, a lower price tag and the removal of a few accessories/ports is undeniably a good thing. Making the much more fully featured NAS devices such as the TVS-x73B and TS-x53B range more affordable and accessible is going to be a hugely popular move. The QNAP TVS-473e is just as powerful, polished and high performing as the older unit – plus those few items that have been removed in the 'e' version are still able to be purchased separately for those that still want USB 3.1 Gen 2 and the remote control. My only gripe is the retiring of the TVS-473 complete NAS. Why not jsut sell the two versions so that the NAS buyer can make the right choice for them? They did it with the TS-253Be and TS-253B both being available at the same time. But overall this is still a fantastic device and more than worthy of the Gold NAS accolade!
QNAP TVS-473e NAS – Where to Buy?
You can pick up your QNAP TVS-473e below , the NAS experts for around £600-700+ ex.VAT (depending on whether you want 4GB of DDR4 memory or 8GB)
📧 LET ME KNOW ABOUT NEW POSTS 🔔
Join 1,747 other subscribers
Get an alert every time something gets added to this specific article!
This description contains links to Amazon. These links will take you to some of the products mentioned in today's content. As an Amazon Associate, I earn from qualifying purchases. Visit the NASCompares Deal Finder to find the best place to buy this device in your region, based on Service, Support and Reputation - Just Search for your NAS Drive in the Box Below
Need Advice on Data Storage from an Expert?
Finally, for free advice about your setup, j
ust leave a message in the comments below here at NASCompares.com and we will get back to you.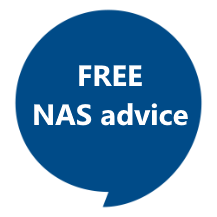 Need Help?
Where possible (and where appropriate) please provide as much information about your requirements, as then I can arrange the best answer and solution to your needs. Do not worry about your e-mail address being required, it will NOT be used in a mailing list and will NOT be used in any way other than to respond to your enquiry.
TRY CHAT
Terms and Conditions
If you like this service, please consider supporting us.
We use affiliate links on the blog allowing NAScompares information and advice service to be free of charge to you.
Anything you purchase on the day you click on our links will generate a small commission which is
used to run the website. Here is a link for
Amazon
and
B&H
.
You can also get me a ☕
Ko-fi
or old school
Paypal
. Thanks!
To find out more about how to support this advice service check
HERE
If you need to fix or configure a NAS, check
Fiver
Have you thought about helping others with your knowledge?
Find Instructions Here

ASK NASCompares forum
, by clicking the button below. This is a community hub that serves as a place that I can answer your question, chew the fat, share new release information and even get corrections posted. I will always get around to answering ALL queries, but as a one-man operation, I cannot promise speed! So by sharing your query in the
ASK NASCompares
section below, you can get a better range of solutions and suggestions, alongside my own.
This description contains links to Amazon. These links will take you to some of the products mentioned in today's video. As an Amazon Associate, I earn from qualifying purchases