A VM enabled ARM NAS? Surely not. Is the TS-1635AX changing the rules?
There has been an insane number of QNAP announcements of late. I have always maintained that QNAP is the network attached storage brand that truly innovates within the NAS industry. Today they have uncovered another fine example of changing what has considered the 'norm' in NAS with the reveal of the world's first true virtual machine enabled ARM-based NAS.
This slideshow requires JavaScript.
In order to truly appreciate why the QNAP TS-1635AX is such a big deal, you need to understand the typical nature of ARM-based CPU's.
Why are Virtual Machines on an ARM NAS not a thing? and why is the TS-1635AX different?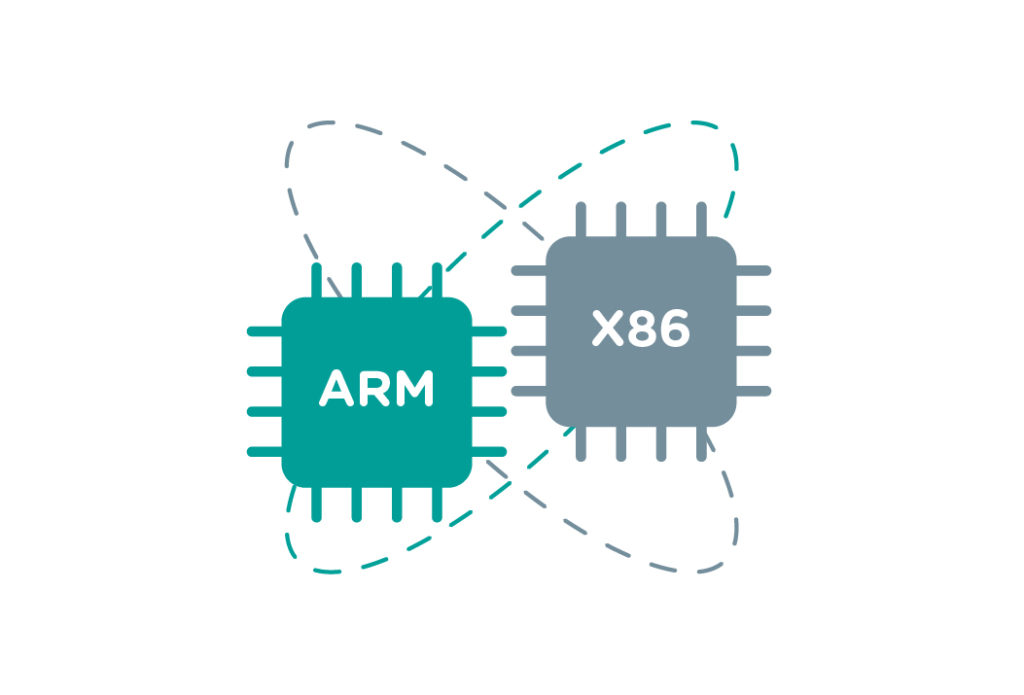 Due to the very different nature of how instructions are handled and commands executed, you can hugely narrow down the perfect NAS for your tasks this way. A NAS featuring an ARM processor (Marvel, Annapurna or Realtek) is designed with reduced power use. Its raison d'être is to perform as high as possible, whilst still maintaining low-power usage. ARM CPU based NAS can be used for multi-file operations, backups of systems and feature in a number of business NAS devices designed with document and database archives in mind. They can certainly be used to play and stream Media over the likes of DLNA and Plex Media servers (though you will need at least a dual-core 1.4GHz clock speed and 1GB of Memory) but for the most part, functionality such as transcoding of files and 4K Playback is largely not possible. That said, newer Realtek CPU used in NAS like the DS418 and TS-328A are 64bit (most ARM are 32bit architecture) and can not only play 4K Media but transcode it too! Transcoding is one of the most demanding NAS processes (next to VM Creation and hosting) that a NAS can do. It is the reshaping of multimedia files on the fly so they are more suitably played on the client/streaming device i.e. playing a 4K Resolution file on an iPhone.
x86 CPU such as Intel and AMD on NAS Servers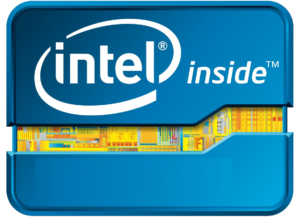 x86 Processors, on the other hand, can typically outperform ARM both on single tasks and multiple tasks. They are also more suitable for rendering, transcoding, graphics creation in VMs and more. Alongside this, it is also worth highlighting that an x86 CPU can do anything an ARM can do. It is just a fact that an x86 will perform all tasks quicker. This, of course, comes at a price, both financially and consumption. The average x86 Intel i7 CPU in a 4-Bay NAS produces around 35-45W whilst in operation, whereas an average ARM has a maximum use of around 20-25W. Likewise in hibernation or standby, x86 use 10-15W, whereas an ARM will use as little as 4-6W. Likewise, a NAS with an x86 CPU will be between 15 and 30% more expensive in terms of cost (like for like), but this is largely due to the device being able to do more and the cost of the hardware itself. However, the lines have become blurred when it comes to things like virtual machine hosting and support with a new breed of ARM CPU being used in modern NAS that arrive in 64bit architecture and thanks to container station, linux station and docker mean that virtual environments are now more than possible on an ARM system.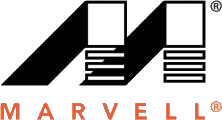 The QNAP TS-1635AX NAS features a Marvell ARMADA 8040 ARMv8 Cortex-A72 64-bit quad-core CPU, at 1.6 GHz, not only provides smooth and efficient computing but also performs well in a variety of application scenarios to help companies cope with growing data volume and ensure businesses can access their files smoothly and unobstructed. The TS-1635AX features 12 3.5-inch hard disk bays, four 2.5-inch SSD bays, and two M.2 SATA SSD bays for deploying a combination of large-capacity, high-performance, and cost-effective storage space. At the same time, the TS-1635AX arrives with two built-in 10GbE SFP+ network ports and 2x 1 Gigabit network ports, providing high-speed connectivity and flexibility in network use. The QNAP TS-1635AX NAS server also arrives with 2x PCI Express (PCIe) 3.0 slots for hardware expansion ranging from improves NICs and expansion ports – we are still awaiting information on GPU card compatibility. The optional QM2 M.2 SSD/10GbE expansion card range is also highly recommended for those looking to maximize their network storage.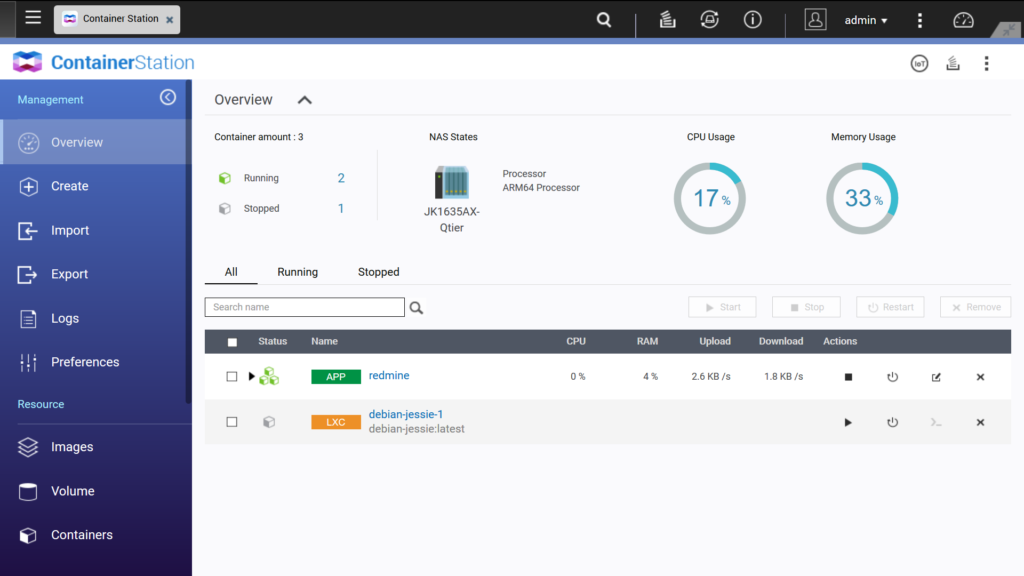 What can the QNAP TS-1635AX NAS Do?
The QNAP TS-1635AX business class NAS supports containers applications such as LXC, Docker and Linux Command-Line Interface (CLI), as well as virtualization technologies such as Virtual Machine environments (VM), allowing you to easily transfer existing applications to TS- 1635AX web/network based platforms, or deploy an entirely new new solution on the TS-1635AX for day to day use or just testing. Additionally, the virtual switch application supports the use of multiple modes to connect containers to one another or externally from the VMs via the NAS' individual physical network interfaces. This allows you to deploy enterprise IT infrastructure that is flexible, adaptable, reversible and ensures high security compared with portable deployment. Additional Virtual machine features are coming soon. The launch date will be announced separately. The QNAP TS-1635AX features the following hardware and software applications:
| | |
| --- | --- |
| | The built-in 2 10GbE SFP+ network ports can be used in application scenarios that require high network performance, such as database and huge data transmission/storage. |
| | With four 2.5-inch hard disk slots and two M.2 SATA (2280 size) slots, you can install SSDs and enable Qtier to boost access performance. |
| | Two built-in PCIe 3.0 slots (one each for x2 and x1) allow the optional QM2 expansion card, wired/wireless network expansion card, and USB 3.1 Gen2 (10Gbps) expansion card to be installed. |
| | The snapshot feature can add a layer of protection for your disaster recovery plan, while allowing you to perform snapshot creation or restoration on the local machine and/or remote site. |
| | The TS-1635AX supports containers (LXC and Docker®) and the Linux Command-Line Interface Virtual Machine technology for deploying diverse virtualized application environments. |
| | QNAP's VJBOD technology can use the TS-1635AX's free storage space to expand other NAS storage. You can also use the QNAP storage expansion device to expand the TS-1635AX's storage space. |
Further information on the QNAP TS-1635AX is still incoming and how we are able to host VMs on this ARM-based NAS is still yet to be fully explained, but we are looking forward to seeing this guy in action! Below are the specs we know so far and look forward to updating you more on this next month. Stay tuned!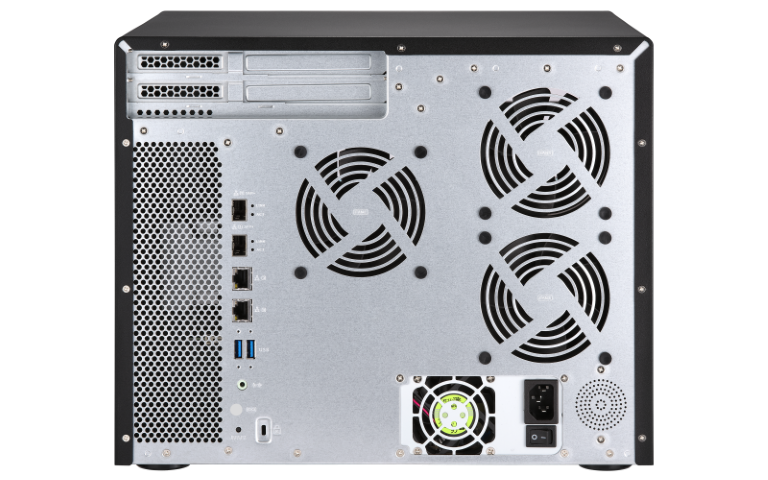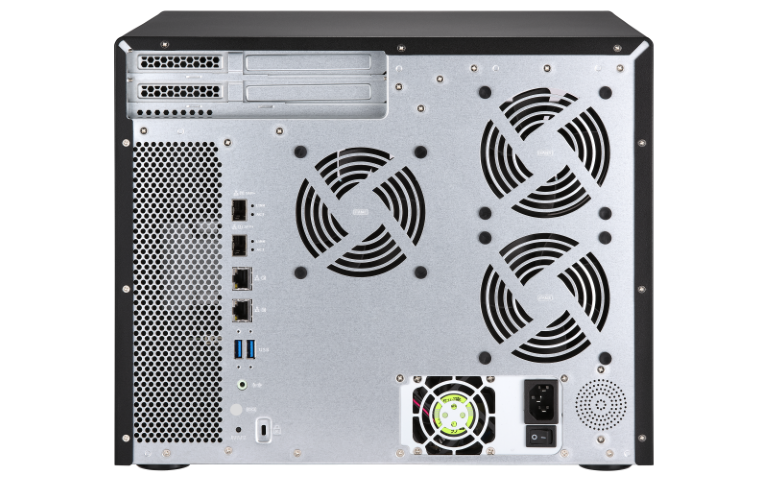 Processor
Marvell® ARMADA® 8040 ARMv8 Cortex-A72 Quad Core 1.6 GHz Processor
Processor Architecture: 64-bit
cryptographic engine:
Standard system memory
4 GB DDR4 (1 x 4 GB)
Maximum expandable memory
16 GB (1 x 16 GB)
Memory slots
1 x DDR4 Long-DIMM slot
Support hard drive quantity
12 x 3.5 inch SATA 6 Gbps hard disk slot
4 x 2.5 SATA 6 Gbps hard disk slot
Support hard disk type
3.5-inch HDD bays
• 3.5-inch SATA hard drive
• 2.5-inch SATA hard drive
• 2.5-inch SATA SSD2.5-inch HDD bays
• 2.5-inch SATA hard drive
• 2.5-inch SATA SSD
M.2 SSD 埠
2 x M.2 SATA 6 Gbps SSD Slots (2280 Specifications)

Note:
1. The system shipment does not include an M.2 SSD.
2. M.2 SSDs are prone to high temperatures during operation. It is recommended to install SSD heat sinks provided by third-party vendors on the SSD controllers or those included with QNAP M.2 Accessories.

SSD cache support
• 3.5-inch hard drive bays: 1 to 8
• 2.5-inch hard drive bays: 1 to 4
• M.2 SATA SSD slots: 1 to 2
• Other configurations: Configuring M.2 SSDs through QM2 PCIe expansion cards
10 Gigabit Ethernet 埠
2 x 10GbE SFP+
Gigabit Ethernet 埠
2 x RJ45
USB port
3 x USB 3.1 Gen 1 Type-A
• Front: 1 (This button can be used with a one-button backup button)
• Rear: 2
PCIe expansion slot
Slot 1: 3.0 x 2
slot 2: 3.0 x 1
USB one-button backup
Front: USB 3.1 Gen 1 Type-A
Sound source
• 1 x 3.5 mm line-out output
• Loudspeaker
• Warning buzzer
Note: Speakers and line-out outputs cannot be used at the same time
model
desktop
Size (height x width x depth)
303.84 x 369.89 x 319.8 mm
11.96 x 14.56 x 12.59 inch
weight
Net weight: 12.06 kg (28.79 lbs)
power supply
250 W, 100 – 240V AC, 50/60 Hz
Power consumption (watts)
HDD sleep: 39.74 W
Running: 76.69 W
(including 12 1TB Traditional HDDs and 4 120GB SSDs)
fan
System: 3 x 9.2 cm fan (12V DC)
processor: 1 x 6 cm fan (12V DC)
Noise value
23.0 dB(A)
Operating Temperature & Relative Humidity
0 – 40 ̊C (32 – 104 ̊F), Relative Humidity 5 – 95%, Non-condensing, Wet Bulb Temperature: 27 ̊C (80.6 ̊F)
Other interfaces
Kensington Security Keyhole
Articles Get Updated Regularly - Get an alert every time something gets added to this page!
This description contains links to Amazon. These links will take you to some of the products mentioned in today's content. As an Amazon Associate, I earn from qualifying purchases. Visit the NASCompares Deal Finder to find the best place to buy this device in your region, based on Service, Support and Reputation - Just Search for your NAS Drive in the Box Below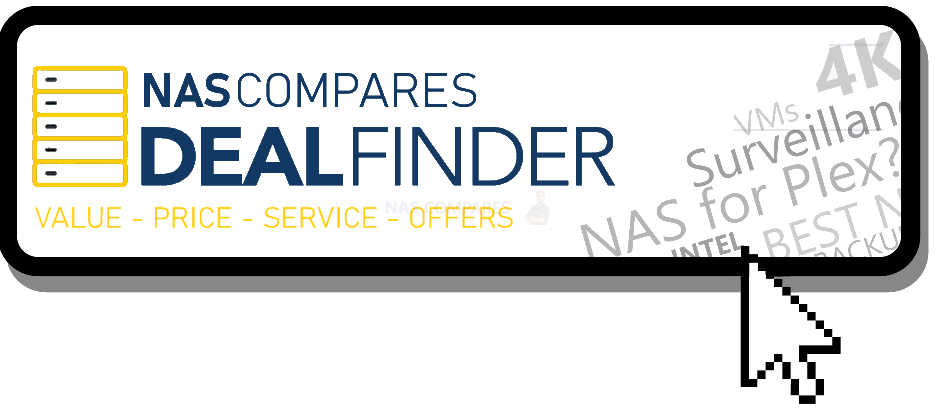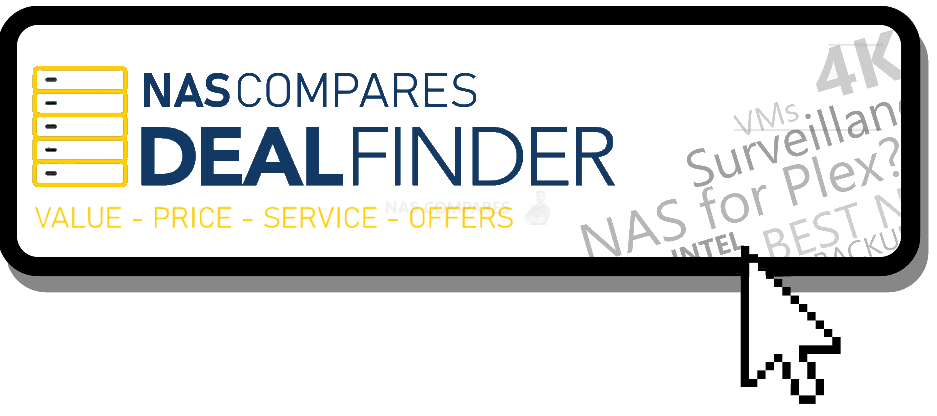 SEARCH IN THE BOX BELOW FOR NAS DEALS
Need Advice on Data Storage from an Expert?
We want to keep the free advice on NASCompares FREE for as long as we can. Since this service started back in Jan '18, We have helped hundreds of users every month solve their storage woes, but we can only continue to do this with your support. So please do choose to buy at Amazon US and Amazon UK on the articles when buying to provide advert revenue support or to donate/support the site below.


Finally, for free advice about your setup, j
ust leave a message in the comments below here at NASCompares.com and we will get back to you.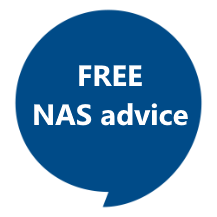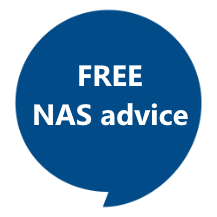 Need Help?
Where possible (and where appropriate) please provide as much information about your requirements, as then I can arrange the best answer and solution to your needs. Do not worry about your e-mail address being required, it will NOT be used in a mailing list and will NOT be used in any way other than to respond to your enquiry.
Terms and Conditions
Alternatively, why not ask me on the
ASK NASCompares forum
, by clicking the button below. This is a community hub that serves as a place that I can answer your question, chew the fat, share new release information and even get corrections posted. I will always get around to answering ALL queries, but as a one-man operation, I cannot promise speed! So by sharing your query in the
ASK NASCompares
section below, you can get a better range of solutions and suggestions, alongside my own.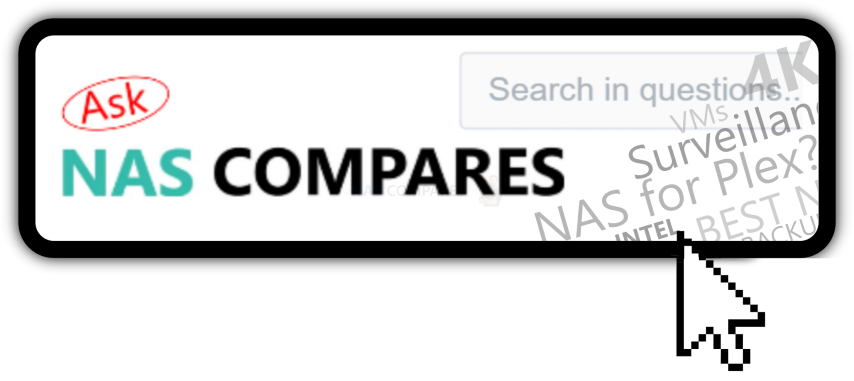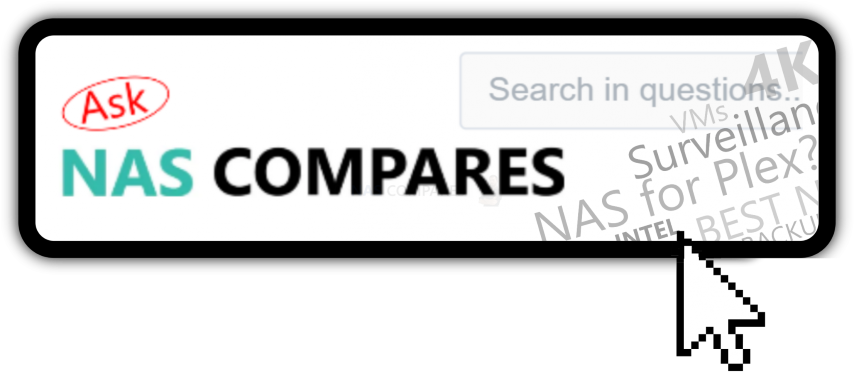 This description contains links to Amazon. These links will take you to some of the products mentioned in today's video. As an Amazon Associate, I earn from qualifying purchases