Is now the time for you to Upgrade to 10Gbe?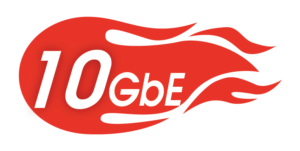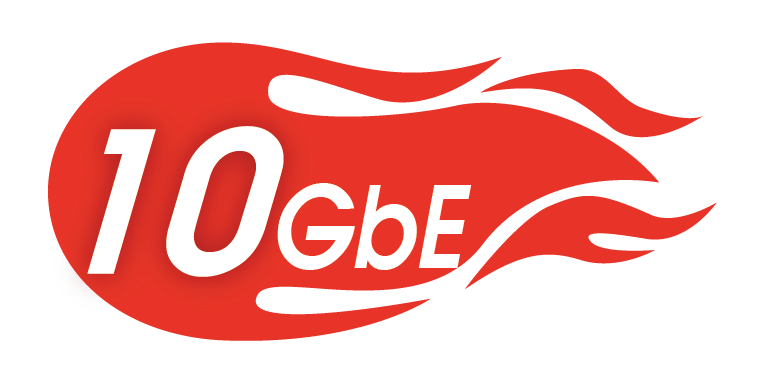 Holding on to your networking and data center gear for as long as possible is a good way to protect your bottom line, but at what point does avoiding an upgrade actually, begin to harm your business?  "There simply comes a point when it costs much more to incrementally upgrade an existing legacy enterprise to address new needs than to fully depreciate existing assets and move on". Below are some key indicators and trigger events that will help you know when it's the right time to migrate your legacy 100MbE and/or 1GbE equipment to higher bandwidth, next-generation products and platforms:
You need your network or larger scale data center to support virtualized, Windows Server, and/or cloud-based environments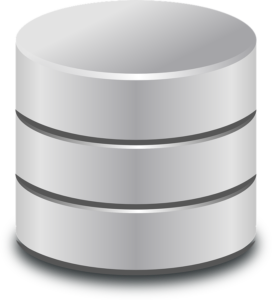 We hear the terms "virtualization" and "cloud" used ubiquitously to describe the next wave of networking and data center technologies that promise dramatic increases in performance and capacity and simplify the provisioning and management of physical resources.  Regardless of the hype, however, these trends – especially server and desktop virtualization – drive new requirements for increased bandwidth to be truly effective.  As Intel themselves stated, "Since 2010, according to IDC, there have been more VMs deployed than physical servers, with VMs continuing to grow at a far faster rate than physical servers.
It is simply uneconomical to support a virtualized server with multiple 1GbE connections to support all those VMs."  To address this issue, Intel suggests that, "Sharing a 'fatter' 10GbE pipe dramatically reduces cabling costs, power consumption, and overall infrastructure costs."  Whether you are in the process of implementing advanced networking technologies in your data center, or merely investigating your options, migrating to 10GbE is the first step you'll need to take.

If you are Windows Server user, then I definitely recommend the Windows Storage Server (WSS) 2016 Range of Buffalo NAS devices. Not only do they feature 10GBe connectivity, but also arrive with Windows Server 2016 WorkGroup or Standard Edition Licenses. They are available NOW In 2, 4 and 6 Bay RAID enabled configurations. Each arriving with hard drives included
WS5220DN 2-Bay

WS5220DN04W6EU – 4TB

WS5220DN08W6EU – 8TB

Available From May 2018

WS5420DN 4-Bay

WS5420DN08W6EU – 8TB

WS5420DN32W6EU – 16TB

WS5420DN16W6EU – 12TB

Available From May 2018

Intel Atom C3338 – Dual core 1.5Ghz8GB DDR4 RAM

WSS 2016 Workgroup Edition

10Gbe (10GBASE-T) x1

1GbE(RJ45) x2

USB 3.1 Gen 1 x2

USB 1-Touch Backup

LCD Display

2-Bay Storage

Software RAID 0, 1, JBOD

Available in 4TB and 8TB

Intel Atom C3338 – Dual core 1.5Ghz8GB DDR4 RAM

WSS 2016 Workgroup Edition

10Gbe (10GBASE-T) x1

1GbE(RJ45) x2

USB 3.1 Gen 1 x2

USB 1-Touch Backup

LCD Display

4-Bay Storage

Software RAID 0, 1, 5, 6, 10

Available in 8TB, 16TB, and 32TB
You are experiencing performance issues in mission-critical applications, or will soon be deploying a robust, enterprise-wide software package such as Oracle or SAP
These days we are experiencing a proliferation of data that is unlike any other time in history.  Video as a medium for communication has never been more popular, and its use will only continue to increase in the years to come.  As companies rapidly embrace "big data" and video as common elements of their mainstream business processes, their existing data infrastructure cannot keep up.  In order to compensate, many IT departments will augment their compute and storage resources, and overlook the lines of transmission that connect them.  One example of this is utilizing Flash memory in the form of Solid-State Drives (SSDs) in core servers and storage arrays.
It should come as no surprise that the use of Flash in the form of SSDs can move a system's critical choke point from storage to the network.  Even a little bit of Flash can shift your system's performance bottleneck from storage to the network if you are still on 1GbE. It is important to audit and inspect all aspects of your data center – servers, storage, and networking – when making the decision to deploy new applications that may potentially gobble up lots of memory, processing power, and bandwidth. Various forms of 10GBe Based Network Storage (NAS) are available from several big vendors and the largest 10Gbe brands in 2018 are Buffalo Technology and QNAP. Take a look below to see which best suits your 10 gigabit needs:
You need to cut costs and save money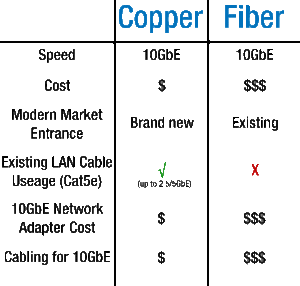 We are all familiar with the phrase "do more with less."  In spirit, it is a noble business aspiration, but when applied to an organization's IT strategy and budget, those words become problematic and vexing.  As unintuitive as it may sound, upgrading to a higher performance platform may actually help your company save money.  Migrating to 10GbE provides opportunities to not only consolidate 1GbE lines but to also combine your Ethernet LAN and Fiber Channel SAN into one network.  As Dell explained:
"The first step for many IT departments is taking inventory of expensive stand-alone systems such as networking or storage devices and then investigate how smaller, denser and converged platforms might help reduce costs, footprint and management.  At the same time organizations are assessing their Local Area Networks (LAN) and Storage Area Networks (SAN) infrastructure and evaluating how they can consolidate the two into one multi-functional network.".
Furthermore, the price per port for 10GbE has come down dramatically over the past 12 to 18 months, so switches are much more affordable for organizations of all sizes.  Finally, while 10GBASE-T is becoming more available, most switches use SFP+ optical transceivers as connectors to fiber optic uplinks.  Utilizing compatible third-party optical transceivers and direct-attach cables, instead of overpriced optics directly from the manufacturer, provides a great way to achieve significant savings.
Remember that the perfect 10GBe network requires the right switch. Ideally, you want to consider a network switch of at least 5-8 Ports, have a user interface for controlling and managing connections and supports 10GBASE-T as a connection so you can merge the 1Gbe devices and 10GBe devices in the same shared network. The lowest priced managed 10Gbe switch at this user capacity and type is the Buffalo MP-BS2008 8-Port Network switch. We recently reviewed it and you can find the breakdown and results here:
OFFICIALLY the Lowest Priced FULL 10Gbe 8-Port Switch EVER – Buffalo BS-MP2008 at £400+
Migrate on your own terms – you don't have to do it all at once
Most importantly, don't feel forced to begin your migration to 10GbE by your incumbent networking vendor.  While they can provide a lot of useful information, it is sometimes one-sided and not always in your best interest.  It is important to expose yourself to a few objective tips like these that can help you determine when upgrading to 10GbE is right for your network.  For the best results, you should experiment with different 10GbE options in a confined, non-mission critical (or developmental) part of your network or data center.  Once you have decided on the best products and solutions for your company, avoid massive capital expenditures by scaling your 10GbE deployment across your network over a period of time, starting with the core and working outward to the edge.  Utilize third-party maintenance and support providers to help determine and preserve the useful life of legacy components.  In many cases, you can find a practical, cost-effective hybrid solution that weds previous generation hardware with current best-of-breed products, and exceeds the performance, availability, and capacity requirements for your data center.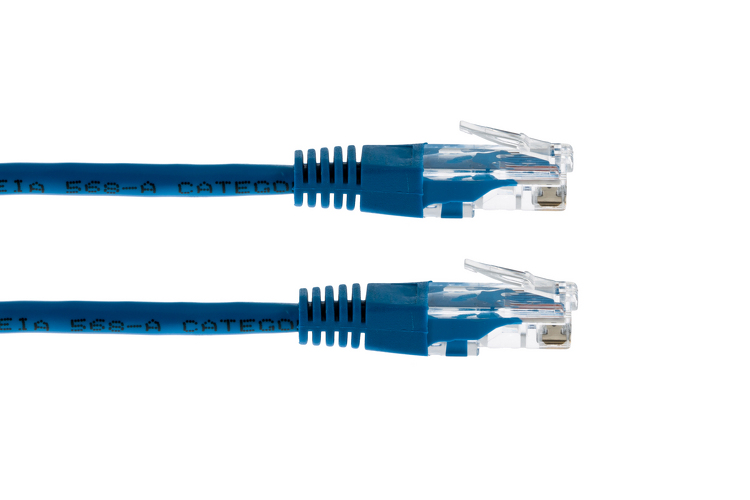 Once again, Buffalo NAS have a Business class NAS, at a price that home users won't shy away from, in their TeraStation Range. Each NAS device arrives with 10GBe 10GBASE-T as well as standard 1Gbe RJ45. That means you can scale your access gradually along with the network you have. If you want to learn more about the TeraStation 5100 Range, click here:
10Gbe – SFP+ FIber versus 10GBe Copper
Although fiber cable has a much longer reach (with 10GBASE-T losing efficiency over 20 metres) and reduced electromagnetic interference, copper cable is still popular for its reliability and cost-effectiveness. This is also true in 10GbE network too. 10GBASE-T copper and SFP+ are two most popular kinds of connection of physical media to your 10GbE network. But what is it that makes 10GBASE-T the more popular option? Let's find out.
What are the Pros and Cons of 10GBASE-T Based 10Gbe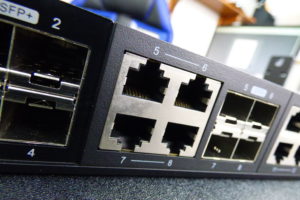 Pros of 10GBASE-T
Cheap twisted pair cables.
Patch panels can be used without messing around with transceivers.
Cons of 10GBASE-T
Higher power consumption.
People may get tempted to use substandard cabling, and this would have a negative influence on the speed.
No good way to extend length beyond 100m (though this can be somewhat mitigated by choosing switches with mostly 10GBASE-T but also a handful of SFP+ ports) limited choice of equipment.
What are the Pros and Cons of SFP+ Based 10Gbe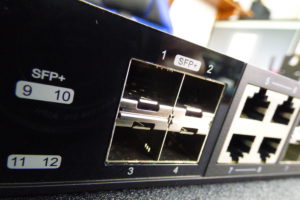 Pros of SFP+
Lower latency
Lower power consumption
Cheaper NICs and switches
More choice of connected equipment.
With transceivers and fiber basically can run length can be covered.
Cons of SFP+
Apparently, it is not a big deal for transmission within a short distance.
For longer runs or runs that need to go through patch panels needs transceivers and optical fiber. Fiber itself is cheap but transceivers, termination, patch panels, and etc for fiber would cost a lot.
Apparently, it is not a big deal for transmission within a short distance.
For longer runs or runs that need to go through patch panels needs transceivers and optical fiber. Fiber itself is cheap but transceivers, termination, patch panels, and etc for fiber would cost a lot.

Before building a 10G home-lab, you should consider your needs carefully. if cost, flexibility and scalability are more critical for you, 10GBase-T solution may be your best choice, If you want to lower power consumption and latency, you'd better choose SFP+ solution. To conclude, a 10GBase-T solution is much cheaper than SFP+ solution. Furthermore, 10GBase-T is more suitable for traditionally structured wiring. In 2018 I always recommend 10GBASE-T as the ideal 10Gbe network for home and business users alike. If you do not have to choose price or distance, you could have both 10GBASE-T and 10G SFP+ in the same switch, such as Ubiquiti EdgeSwitch 16 XG and UniFi Switch 16 XG. Both of them feature twelve 10G SFP+ ports and four RJ45 10GBASE-T ports to efficiently deliver and aggregate data at 10G speeds. But some people point out that the 10GBASE-T ports on the Ubiquiti switches actually don't work reliably at 10Gbps speed. Therefore, before you buy it for those four RJ45 10GBASE-T ports, you have to make sure that they can work without issues.
📧 SUBSCRIBE TO OUR NEWSLETTER 🔔
🔒

Join Inner Circle
Get an alert every time something gets added to this specific article!
This description contains links to Amazon. These links will take you to some of the products mentioned in today's content. As an Amazon Associate, I earn from qualifying purchases. Visit the NASCompares Deal Finder to find the best place to buy this device in your region, based on Service, Support and Reputation - Just Search for your NAS Drive in the Box Below
Need Advice on Data Storage from an Expert?
Finally, for free advice about your setup, j
ust leave a message in the comments below here at NASCompares.com and we will get back to you.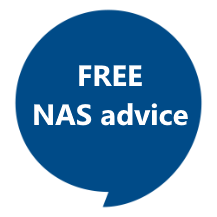 Need Help?
Where possible (and where appropriate) please provide as much information about your requirements, as then I can arrange the best answer and solution to your needs. Do not worry about your e-mail address being required, it will NOT be used in a mailing list and will NOT be used in any way other than to respond to your enquiry.
TRY CHAT
Terms and Conditions
If you like this service, please consider supporting us.
We use affiliate links on the blog allowing NAScompares information and advice service to be free of charge to you.
Anything you purchase on the day you click on our links will generate a small commission which is
used to run the website. Here is a link for
Amazon
and
B&H
.
You can also get me a ☕
Ko-fi
or old school
Paypal
. Thanks!
To find out more about how to support this advice service check
HERE
If you need to fix or configure a NAS, check
Fiver
Have you thought about helping others with your knowledge?
Find Instructions Here

ASK NASCompares forum
, by clicking the button below. This is a community hub that serves as a place that I can answer your question, chew the fat, share new release information and even get corrections posted. I will always get around to answering ALL queries, but as a one-man operation, I cannot promise speed! So by sharing your query in the
ASK NASCompares
section below, you can get a better range of solutions and suggestions, alongside my own.
This description contains links to Amazon. These links will take you to some of the products mentioned in today's video. As an Amazon Associate, I earn from qualifying purchases