ANOTHER Brand enters the Thunderbolt 3 NAS Market – QSAN XCube XN5004T and XN8008T
Thunderbolt NAS used to be such a rare thing. I remember as little as 2 years ago when the idea of a NAS that supported Thunderbolt as a means of direct attached access for two users, whilst still maintaining network/internet connectivity to hundreds of users at once was MASSIVE! However, like all cutting-edge technology, all too soon we get used to it and then it becomes an accepted standard practice. However, until 2018, one thing never changed and that was that QNAP was the only brand to produce a Thunderbolt-enabled NAS. However, on the back of the recently announced Promise Atlas S8+ TB3 NAS, we have found out that QSAN has entered this super fast editing NAS arena too! QSAN are a company that has always existed in the background of NAS as an enterprise brand with an enterprise range of products. They have never tried to break ground in the home market (in the way that Synology and QNAP have), but this move into the photo and video editing sector with the QSAN XCube NAS which can use Thunderbolt 3 connectivity, 10GBe access or even 40Gbe insanely fast access is pretty groundbreaking for them (and indeed the NAS market as a whole). They have entered this arena with the 4-Bay XN5004T model and the XN8008T 8-Bay NAS server. SO, what is it that makes the new QSAN range of Thunderbolt NAS such a big deal?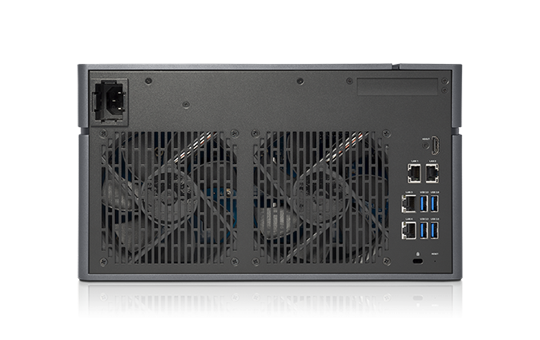 QSAN XCube XN5004T and XN8008T – Hardware
The XCubeNAS XN5000T and XN8008T Series are simple, solid, and stylish NAS systems which are designed for Workgroup and SMB applications. The XCubeNAS is powered by specific hardware N+1(3.5'' LFF xN + 2.5'' SFF x1) design, with an additional onboard SATA SSD slot for blazing performance and capacity expansion that can benefit every workgroup and SMB user. With an additional flexible PCIe slot to boost Thunderbolt™ 3 performance, Thunderbolt™ 3 not only delivers an amazing 40Gbps data transmission rate but also provides more than a 100% increase in bandwidth than the 2nd generation. It is an ideal solution for throughput demanding applications such as video editing and production, music production, digital photography editing, high-speed external device data backup to NAS, and more.
Hardware

XN5004T

XN5008T

CPU

Intel® Celeron® 2.9GHz Dual-Core Processor

RAM

8GB DDR4 SO-DIMM, up to 32GB

*Note: The pre-install memory modules may need to be replaced when expanding the memory.

USB

USB 3.0 x5

Flash

8GB USB DOM

HDMI

1

Drive Bays

4 LFF with lock

1 SFF

8 LFF with lock

1 SFF

No. of Internal Hard Disks

5:4 (LFF disk) + 1 (SFF disk)
9:8 (LFF disk) + 1 (SFF disk)

Max. Raw Capacity

42 TB:10TB x4 + 2TB x1

Note:LFF=10TB, SSF=2TB

82 TB:10TB x8 + 2TB x1

Note:LFF=10TB, SSF=2TB

Hard Drive Interface

SATA 6Gb/s (backward compatible with SATA 3Gb/s)

Expansion Slot

PCIe Gen3x8 for 10 GbE/ 40 GbE / Thunderbolt 3.0 / SAS adapter cards.

Ethernet Ports

1 GbE LAN (RJ45) x4

Dimension
(H x W x D)

177 x 190 x 235 mm
177 x 310 x 235 mm

Agency Certifications

FCC Class B • CE Class B • BSMI Class B • VCCI Class B • RCM Class B • KCC Class B
The XCubeNAS is perfectly designed for Workgroups and SMB by the latest hardware specification. Humanized mechanical design makes the installation and maintenance much easier than you can imagine. With additional PCIe slots on XCubeNAS, ultra-high-speed data transmission, such as 10GbE, 40GbE and Thunderbolt 3, is also capable for multiple purposes
Hardware

XN8008T

CPU

Intel® CoreTM i5 2.7GHz Quad-Core (maximum 3.3GHz) Processor

RAM

8GB DDR4 SO-DIMM, up to 32GB

*Note: The pre-install memory modules may need to be replaced when expanding the memory.

USB

USB 3.0 x5

Flash

8GB USB DOM

HDMI

1

Drive Bays

8 LFF with lock

1 SFF

No. of Internal Hard Disks

9:8 (LFF disk) + 1 (SFF disk)

Max. Raw Capacity

82 TB:10TB x8 + 2TB x1

Note:LFF=10TB, SSF=2TB

Hard Drive Interface

SATA 6Gb/s (backward compatible with SATA 3Gb/s)

Expansion Slot

PCIe Gen3x8 for 10 GbE/ 40 GbE / Thunderbolt 3.0 / SAS adapter cards.

Ethernet Ports

1 GbE LAN (RJ45) x4

Dimension
(H x W x D)

177 x 310 x 235 mm

Agency Certifications

FCC Class B • CE Class B • BSMI Class B • VCCI Class B • RCM Class B • KCC Class B
QSAN XCube XN5004T and XN8008T – Software
QSM 3.0 (QSAN Storage Management 3.0) is a NAS operation system for QSAN XCubeNAS series. The core of QSM is Linux kernel and in-house fine-tuning 128-bit ZFS (Zetabyte File System) file system.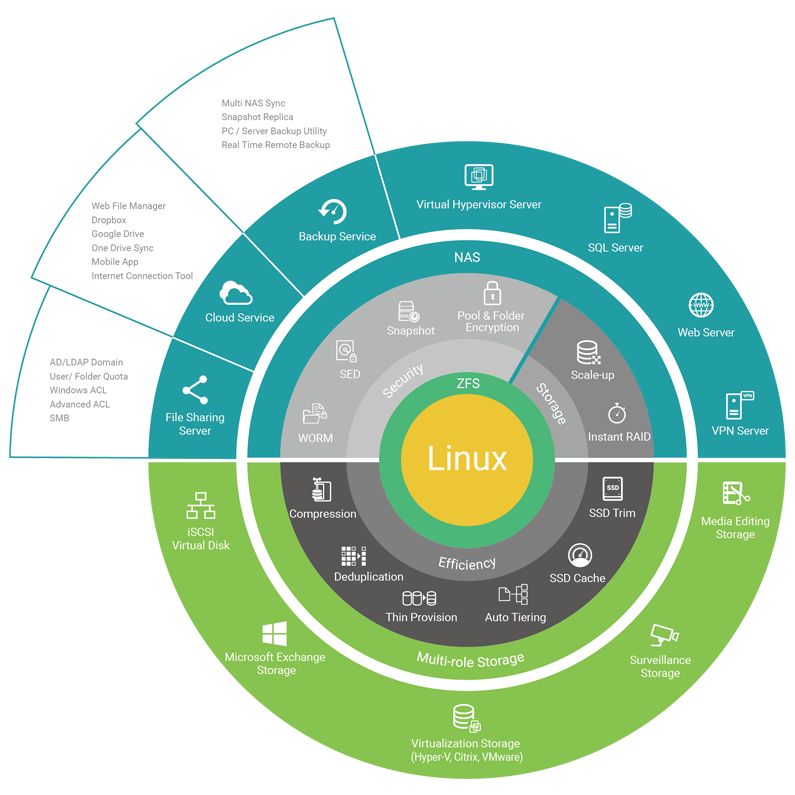 QSM's powerful storage features ensure persistent, reliable storage management, protection against data corruption, seamless capacity expansion, several data integrity mechanisms, pool and disk encryption protection, unlimited snapshots, and unlimited clones. It's important for users to easily operate and manage the XCubeNAS. With the simple, clear, and intuitive interface such as graphic icons and tablet/phone-like interface, the XCubeNAS is easier and more pleasant for everyone to use without any professional knowledge.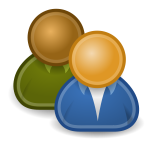 Users are allowed to create multiple user accounts and share folders, and authorized by those shared folders with the support of privilege settings. There are features that IT administrators can use to set the access control on the XCubeNAS.
Privilege setting: You have the ability on setting user's windows permission of the specific share folder and its subfolder, or limit user to access specific services.
User and folder quota: You can decide the storage space on the individual user folder and limit the storage capacity in each volume.
Take control of your storage space by adding quotas (limits) to the amount of data a user can store. Users can be limited on how much data a folder can store or the quota can apply to the entire system, thus empowering the admin with complete control of what is stored on the XN5000T Series.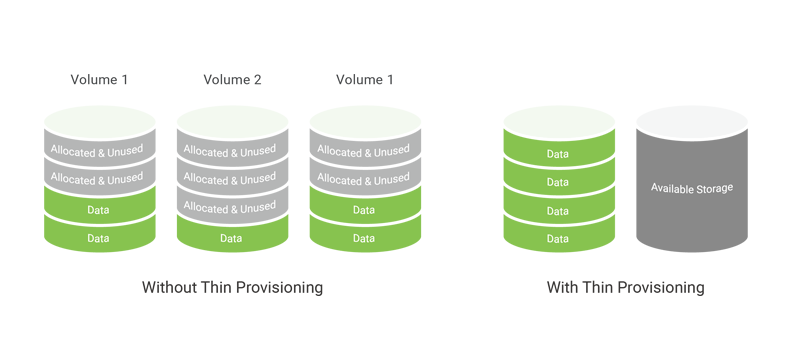 XN5000T Series tailor-made storage pool technology effectively caters to diverse storage demands on data integrity, scalability, high performance, and availability. Comprehensive RAID levels are supported to ensure data integrity under every application scenario. Pool capacity could be expanded on the fly, rapidly responding to growing needs for capacity. The design of the XN5000T allows for creating customized storage pools and auto categorization of data based on usage. "Hot" data will be moved to front line storage while "cold" data is stored on slower disks. All this is done automatically with the XN5000T Series.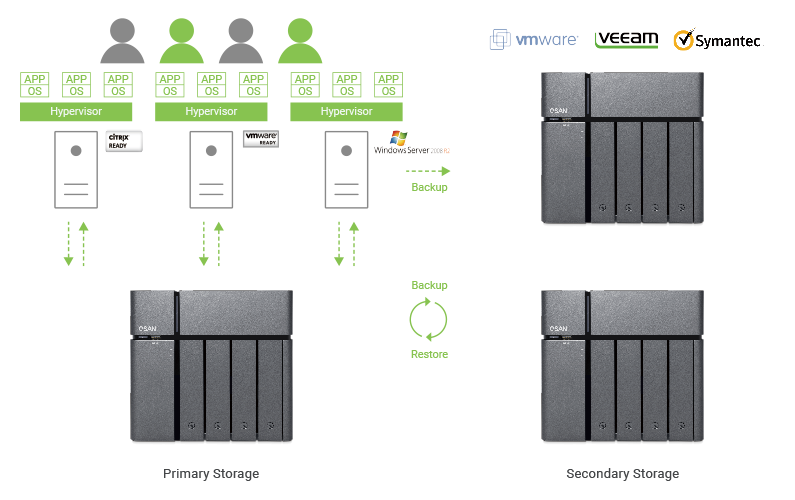 XCubeNAS is verified with VMware® Ready™, Citrix® Ready™, and Microsoft® Hyper-V™ certified. No matter which virtualization environment you've adopted, the XCubeNAS is a practical and efficient storage system for you to deploy in any virtualization platform. XCubeNAS can be used for primary storage repositories and as a backup to existing primary storage. As a backup storage device, the XCubeNAS supports a comprehensive list of 3rd-party virtual machine backup software to ensure that your VMs and data are never at risk of loss.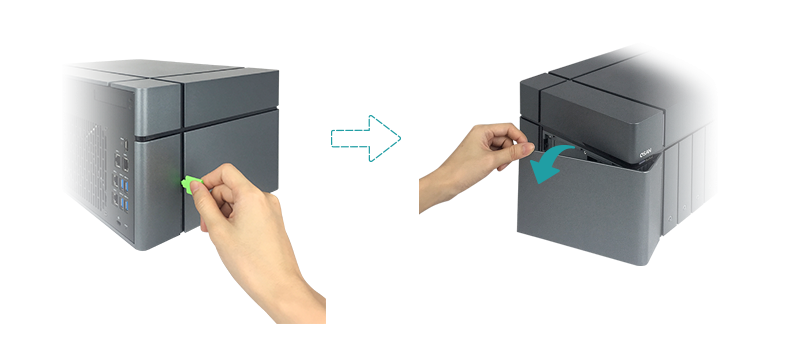 By using auto-tiering, it helps increase the performance of your business application without crippling your budget. The XCubeNAS features auto-tiering technology which makes the system continuously analyze the accessing frequency of your data for better data transmission. The most frequently used data will move to higher speed tier, on the other hand, the less commonly used data will move to capacity tier. Demanding workloads of your business applications could be dramatically reduced, and the performance increased without massive investment in expensive all flash storage devices – this is all done by the XCubeNAS' intelligent auto-tiering technology.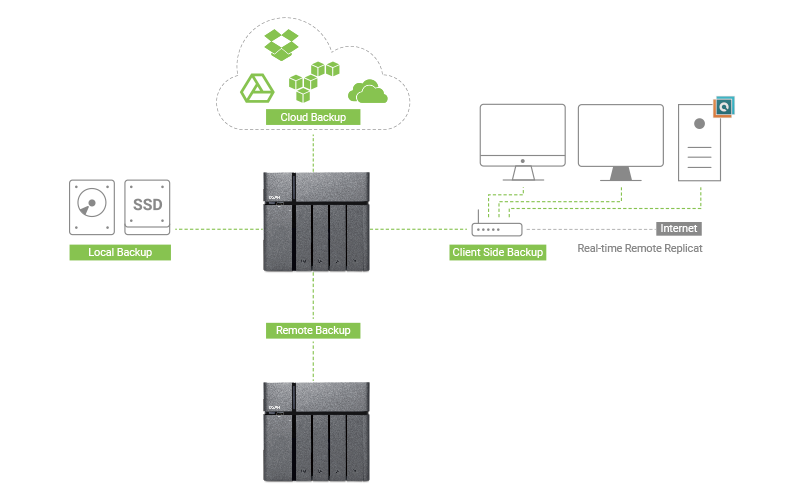 The XN5000T Series effectively addresses the above challenges by providing comprehensive and effective backup solutions that assist you to design a complete and efficient backup solution to minimize the risk of data loss. Various storage devices, remote servers, public clouds even other XCubeNAS can be seamlessly integrated into your XN5000T, achieving an all-encompassing backup solution allowing data to be free and safely and efficiently preserved.
Client side backup
Remote backup
Cloud backup
Local backup

XN5000T Series pool encryption mechanism ensures secured storage environment for any user who wants to modify data must first pass authentication. The XN5000T Series supports up to AES 256-bit encryption for internal drives and external USB/eSATA drives, and adopts a military level FIPS 140-2 validated encryption, which is considered to be the highest security certification for compliance.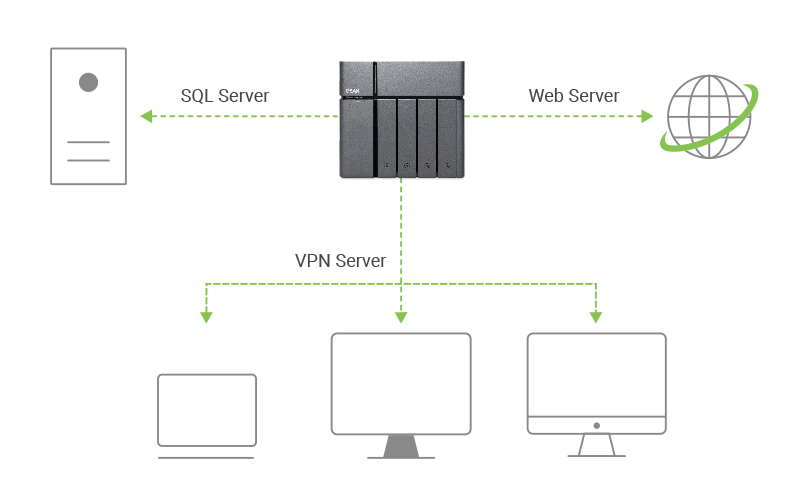 XCubeNAS provides free DDNS services so you can pick your own domain name and easily connect from anywhere. This is rather useful when your broadband has a floating IP address that changes frequently. Furthermore you can use your DDNS domain name to access your XCubeNAS via the Xccess Mobile app for Android and iOS. If your NAS is located behind a NAT router, you can enable UPnP port forwarding to easily access your NAS.
Where can I buy the QSAN XCube XN5004T and XN8008T?
The QSAN XN5004T and XN8008T XCube is available to buy NOW using the links below. IN the coming weeks we will be featuring both a hardware review and software review to see how this thunderbolt 3 NAS performs. We will see how the QSAN XN8008T compares with the QNAP TVS-1282T3 and how the Xcube XN5004T and QNAP TS-453BT3 NAS compared.
Below is a full breakdown of the software and application support (first and third party) of both the QSAN XN5004T, XN5008T and XN8008T. I think we really are seeing a Thunerbolt/40Gbe NAS contender for 2018.
Unified Storage

NAS application server (Gigabit/10GbE/40GbE NIC)
iSCSI storage (Gigabit/10GbE/40GbE NIC)
Direct attached storage with Thunderbolt 3.0 (40GbE/s)

File Server

File sharing across Windows/Mac/Linux/UNIX and centralized management

FTP Server

Supports data access from remote location via FTP
FTP with SSL/ TLS (explicit) mode
FXP supported
FTP bandwidth control and connection control
Passive FTP port range control

Backup Server

3rd party backup software support: Acronis True Image, CA Brightstor ARCserve Backup, EMC Retrospect, Symantec Backup Exec, LaCie Silverkeeper
Snapshot replica
Time machine backup server
External storage device backup
Block-level real time remote replication supports instant, schedule backup management
XMirror (Multi-side data synchronization)
 Cloud backup: Amazon S3
Cloud synchronization: Google Drive, Windows OneDrive, Dropbox

Web Server

SQL Server

VPN Server

Supports OpenVPN, PPTP and IPsec+L2TP

Virtualization Server

Virtual machine import/export
Virtual machine  backup
Virtual machine  Snapshot
User-based permissions settings
Support virtual switch
Supports access from IE, Safari, Firefox, Chrome
Multiple OS : Windows, Linux, UNIX and Android

Operating System

NAS Discovery

Connection

IPv4, IPv6 and DDNS domain name registration (QSAN Cloud)
Auto port forwarding

Networking

VLAN
Link aggregation (support 7 bonding modes)
Multi-IP settings
Gigabit Jumbo Frame

File System

ZFS file system
EXT2 (Virtual Volume)
EXT3 (Virtual Volume)
EXT4 (Virtual Volume)
FAT (Virtual Volume)
NTFS (Virtual Volume)

Supported Operating Systems

Windows
Mac OS X
Linux (2.6 or later) and UNIX

Disk Managemwnt

Single disk, RAID 0 (Disk Striping), RAID 1 (Disk Mirroring), RAID 5, RAID 5 + hot spare, RAID 6, RAID 10,  RAID 50, RAID 60 and JBOD (Linear Disk Volume)
Multiple volume and storage pool
User defined storage (Generic, Media, Database)
Online pool/volume Capacity Expansion
Pool/ volume usage threshold notification
Self-encrypting drives (SED) pool level protection
Pool write cache
Scrub pool
Convert cloned volume
Virtual volume (mount disk from remote iSCSI target)
Set free and replace disk
HDD S.M.A.R.T.
Built-in iSCSI target and initiator service
External device management
Global and dedicate hot spare disk
Zero time RAID creation and quick rebuilding
Auto Tiering
SSD read/write cache
Deduplication (volume and LUN)
Snapshot (folder and LUN)
Compression (volume and LUN)
Thin Provision for LUN
SSD Trim

User Managemwnt

Local / domain user and group management
Local / domain application privilege
User quota for local and domain user
Home folder
Windows AD and LDAP
Trust domain and support up to 200,000 domain users

Folder Management

Advance file ACL
Windows ACL
Hide shared folder on Windows network
Unicode support
WORM (Write Once Read Many protection)
Folder usage threshold notification
Folder quota

System Tool

NTP time settings
Notification: E-mail alert (SMTP authentication), syslog, and SNMP
System firmware upgrade
Back up, restore, reset system settings
Import system configuration
Antivirus
Smart fan
IP access control
Policy-based unauthorized IP blocking
Secure remote login by SSH connection
Connection list management
USB, SNMP UPS support
Network recycle bin
Import SSL certificate
Real-time Resource (CPU, Memory, Storage, Disk, Process) / Hardware/ service/ network resource monitor

Power Management

HDD hibernation
Power schedule
Wake on LAN
UPS settings
Recover from power outage

System Optimization Setting

Log

Systm log
System connection and data transfer log

Multilingual Support

Chinese (Traditional & Simplified), English, French, German, Italian, Japanese, Korean, Russian, Polish

File Manager

File preview
Embedded file player
Filter
Mount Cloud (Google Drive, OneDrive, Dropbox)
ISO image mount
CIFS, FTP, SFTP and WebDAV client
Share link
Team folder sharing
Publish to facebook, twitter, weibo
Media library
Media streaming
Online doc preview and editing
Transcoding (online/offline), compression

Service

Data service: CIFS, AFP, NFS, FTP, WebDAV
Backup service: Rsync
Discover service: Bonjour

Virtualization

Windows: Hyper-V, storage space
VMware: VMware 6.5 ready, VAAI, SRM
Citrix: Citrix 7.0 ready

Multi Browser Support

Internet Explorer
Safari
Firefox
Google Chrome

Utility

XFinder
XRplicator (Windows backup utility)

Mobile App

Xccess (iOS, iPad and Android)
📧 LET ME KNOW ABOUT NEW POSTS 🔔
Join 1,414 other subscribers
Get an alert every time something gets added to this specific article!
This description contains links to Amazon. These links will take you to some of the products mentioned in today's content. As an Amazon Associate, I earn from qualifying purchases. Visit the NASCompares Deal Finder to find the best place to buy this device in your region, based on Service, Support and Reputation - Just Search for your NAS Drive in the Box Below
Need Advice on Data Storage from an Expert?
We want to keep the free advice on NASCompares FREE for as long as we can. Since this service started back in Jan '18, We have helped hundreds of users every month solve their storage woes, but we can only continue to do this with your support. So please do choose to buy at Amazon US and Amazon UK on the articles when buying to provide advert revenue support or to donate/support the site below.

Finally, for free advice about your setup, j
ust leave a message in the comments below here at NASCompares.com and we will get back to you.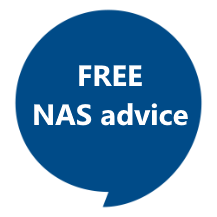 Need Help?
Where possible (and where appropriate) please provide as much information about your requirements, as then I can arrange the best answer and solution to your needs. Do not worry about your e-mail address being required, it will NOT be used in a mailing list and will NOT be used in any way other than to respond to your enquiry.
Support What We Do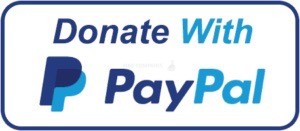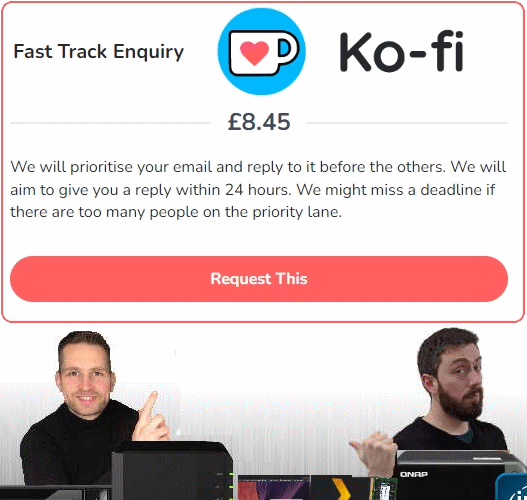 Terms and Conditions
Alternatively, why not ask me on the
ASK NASCompares forum
, by clicking the button below. This is a community hub that serves as a place that I can answer your question, chew the fat, share new release information and even get corrections posted. I will always get around to answering ALL queries, but as a one-man operation, I cannot promise speed! So by sharing your query in the
ASK NASCompares
section below, you can get a better range of solutions and suggestions, alongside my own.
This description contains links to Amazon. These links will take you to some of the products mentioned in today's video. As an Amazon Associate, I earn from qualifying purchases