WD My Cloud Pro PR4100 NAS in 2018 – Is this Plex NAS worth your time?
When it comes to NAS servers, I think it is safe to say that this blog has covered them all. In recent years we have seen in recent years we have seen truly breathtaking Network Attached Storage from the top NAS vendors, improving and re-imagining what we can do with our data over the network and internet. However, along with all of these Innovations, it is worth mentioning that it all comes to nothing without the humble hard drive for the data to be read and written, to and from. One of the biggest hard drive manufacturers in the world is Western Digital and alongside the popular WD Red NAS hard drives, they have also released several NAS server devices for home and business in their WD My Cloud range.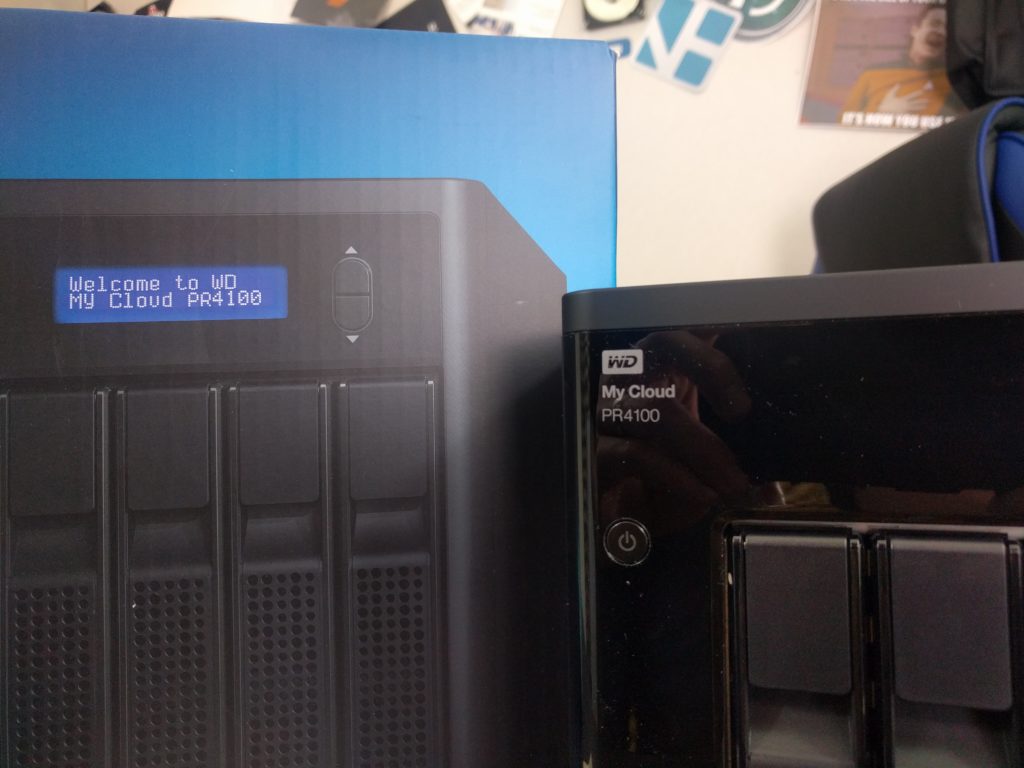 However unlike the Synology and QNAP fully featured NAS, the WD my cloud series has always been something of a cost-effective first time NAS choice. However, all that changed last year with the release of the WD my cloud Pro Series (the PR4100 NAS). Featuring hardware equal and in many cases superior to that of Synology and QNAP units, new interface and increased support for programs like Plex, Apple time machine and milestones surveillance, WD has really pulled out all the stops on this one. But how does the WD my cloud pro PR4100 compare with the newest generation of NAS in 2018? Let's find out.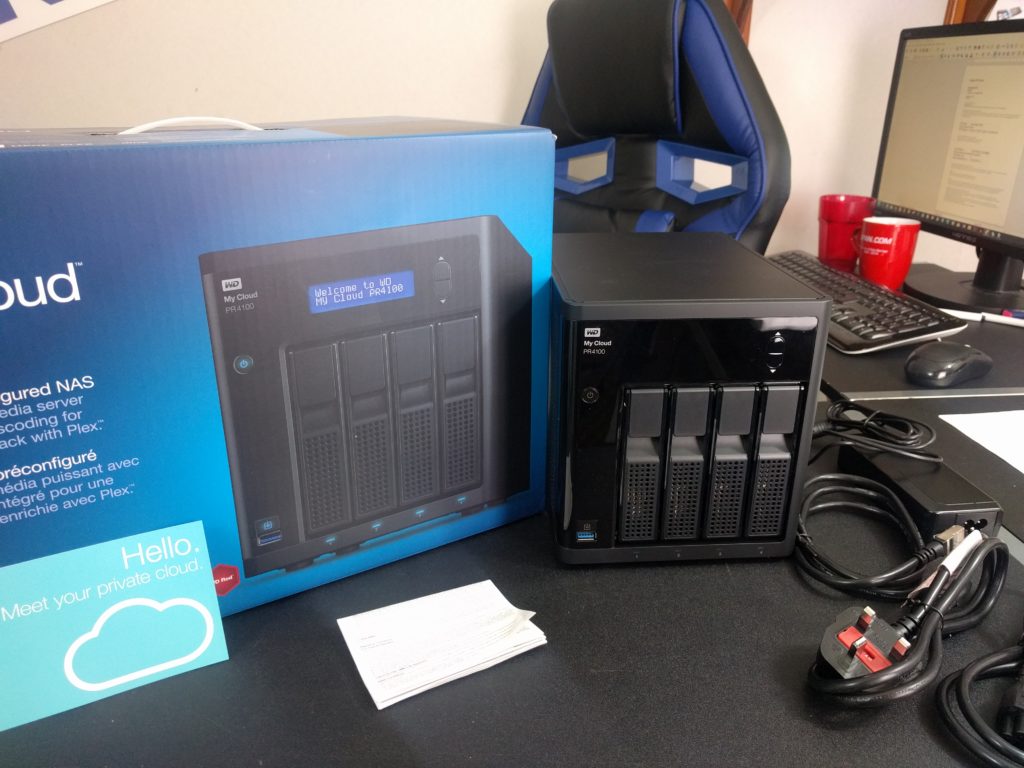 WD My Cloud Pro PR4100 NAS External Hardware
One of the first things that hit me about this NAS is the design of the chassis. Previous WD My cloud NAS devices had a sleek, compact and discrete nature about their design, much more in line with the overall subtle power, noise and footprint in your environment. In the case of the new WD My cloud Pro things have taken a far more industrious and powerful step.
There are several factors in its design that one associate with brands like Synology and QNAP. Features such as LCD panels providing real-time storage information, hot-swappable hard drive bays so you can expand your RAI storage or exchange drives while the device is still powered on. The ventilation on the front panel is some of the best I have seen from a NAS server in a long time.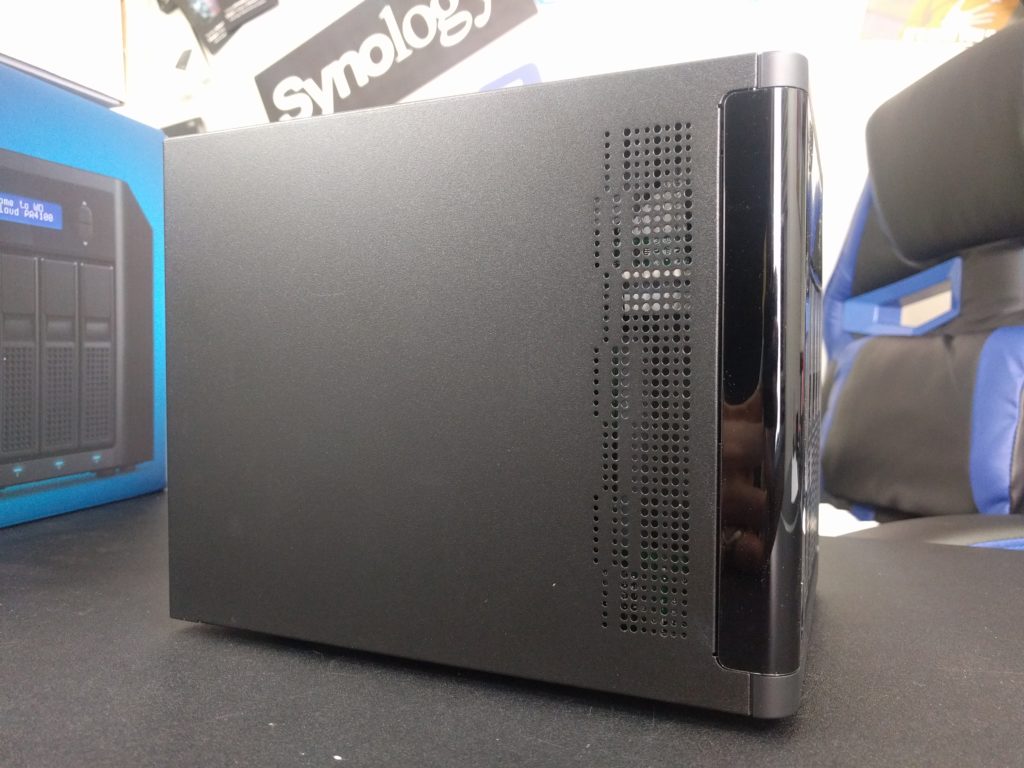 Additionally, it is also worth highlighting that the WD My cloud Pro can be purchased empty or fully populated with a variety of WD NAS hard drives. Meaning that you can choose to use this on item fully populated with a warranty that covers both the hard drive media and the NAS server itself. Unsurprisingly the drives inside are WD Red NAS hard drives and fair play to Western Digital, they could have cheap and out and used WD blue or green to cut down costs.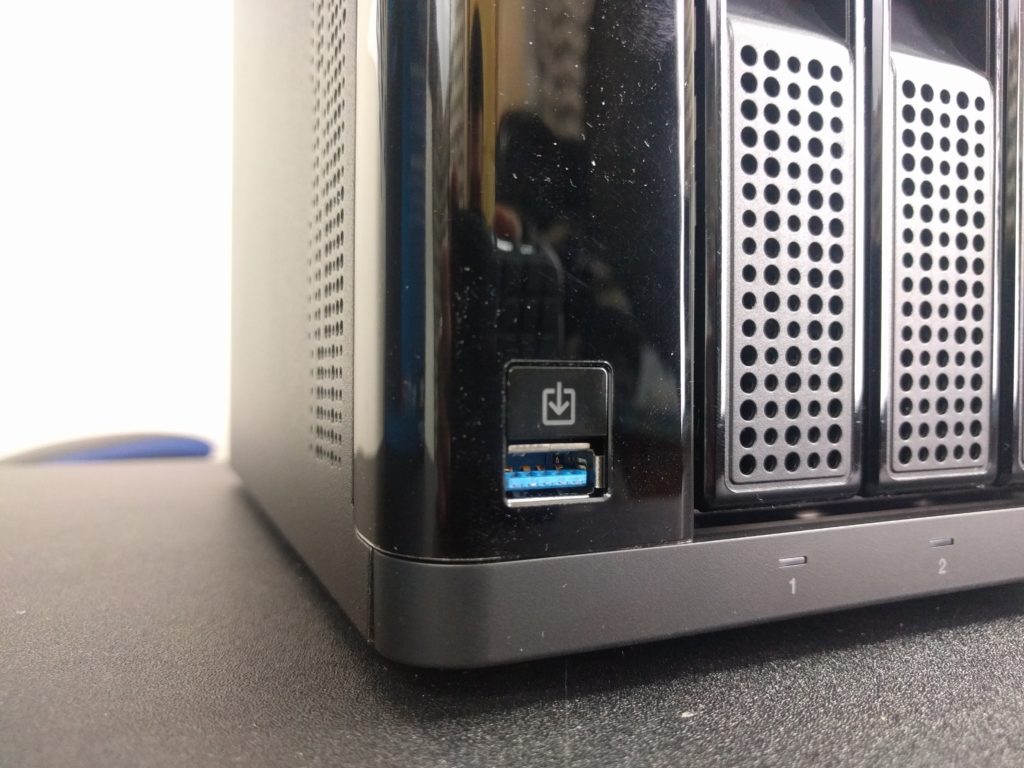 Another feature found on the front panel of the WD my Cloud Pro chassis is one-touch USB 3.0 copy button, a feature not seen in previous WD devices.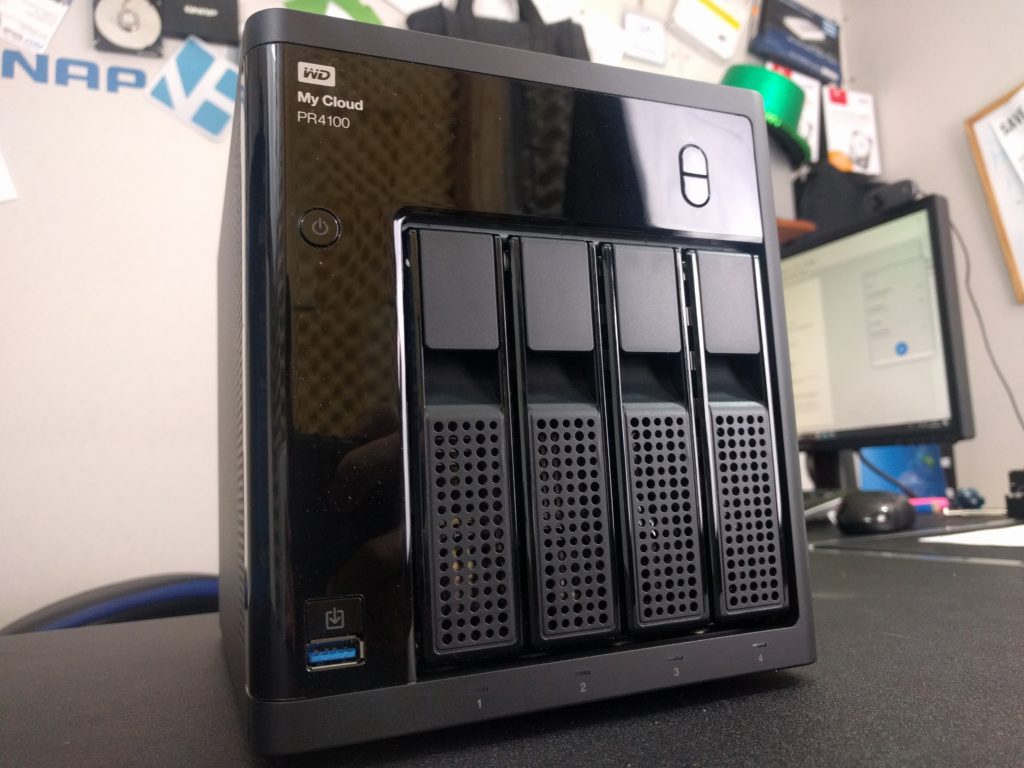 The sides of the device and a small area of the base of the WD My Cloud Pro provide additional ventilation to keep things cool. However it is worth mentioning that the entire chassis is metallic and noise does travel surprisingly well throughout the device. So you will not find the quiet running that you associate with the WD My Cloud EX2 and older series. That said, the noise generated does not differ widely from other mainstream NAS, such as the Synology DS918+ and the QNAP TS-453B.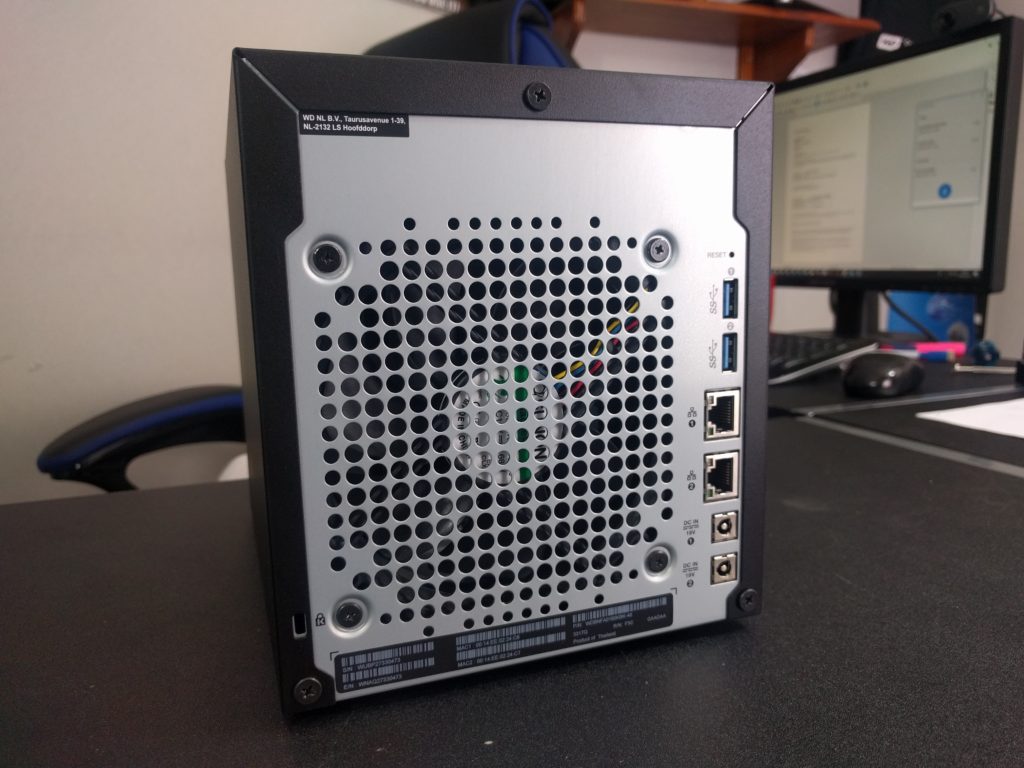 The rear of the WD My Cloud Pro device features several ports that are a big step up from those older WD devices. As expected there are more USB 3.0 ports and a large cooling fan that will automatically increase or decrease rotations per minute to keep things cold. However, the improvement of dual 1Gbe port means that this device support link aggregation, effectively doubling your read and write speeds to the device itself.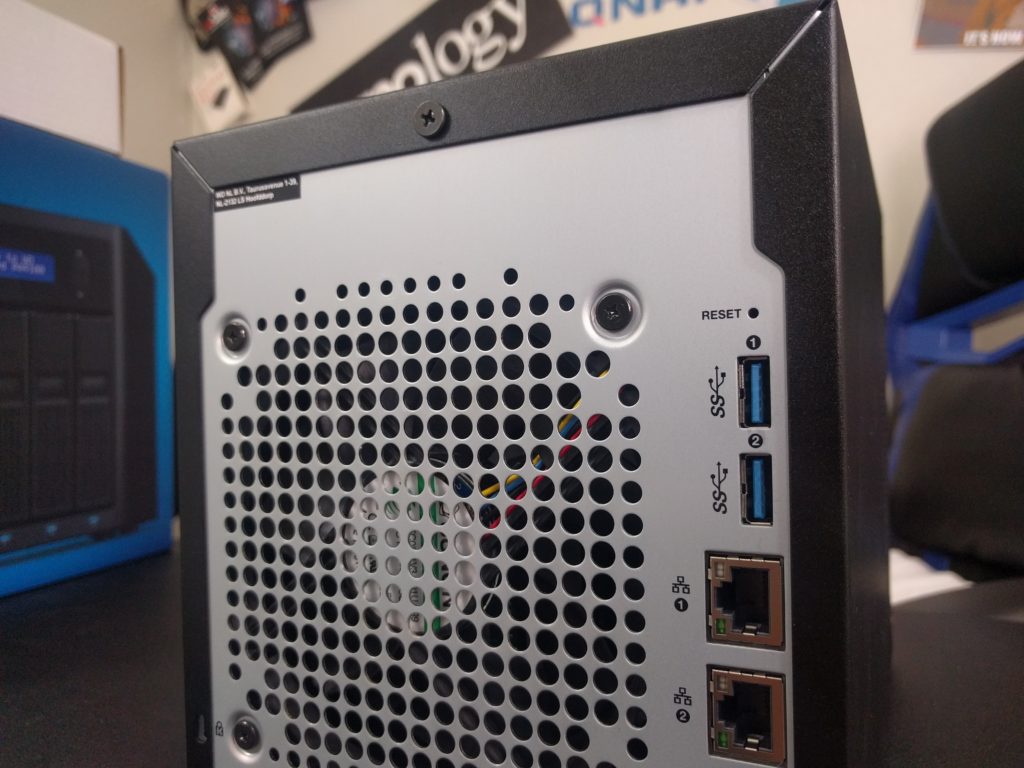 With media files getting bigger all the time as well as the continued growth of 4K as optimal Media output, the increased need for connection speed surpassing that the standard 1Gbe is growing all the time and this feature is very forward thinking of WD to take into consideration within their traditionally more restrained NAS server range.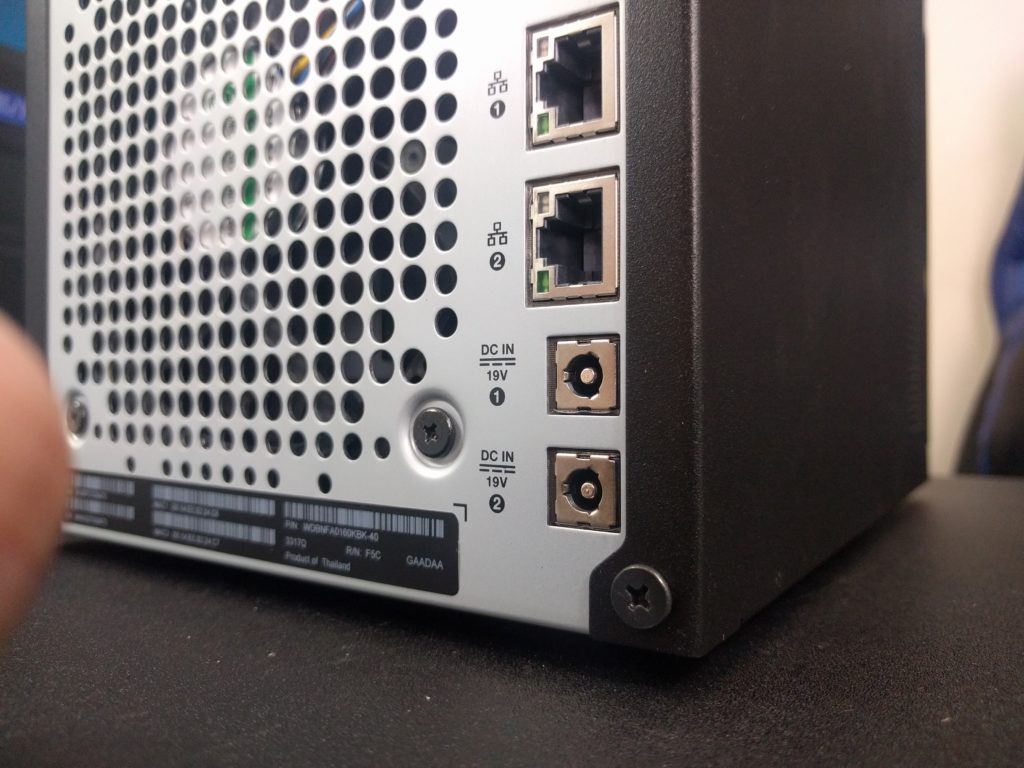 However despite the positive impression that the dual RJ45 ports left on me, probably the biggest surprise this device presented was to power supply ports. The idea of a NAS server with a redundant power supply is not a new thing and in fact has been around for almost a decade. But the WD My Cloud Pro PR4100 is the only desktop NASS that I have ever seen that features dual power supplier connections on the rear and thereby providing you with a redundant power supply option.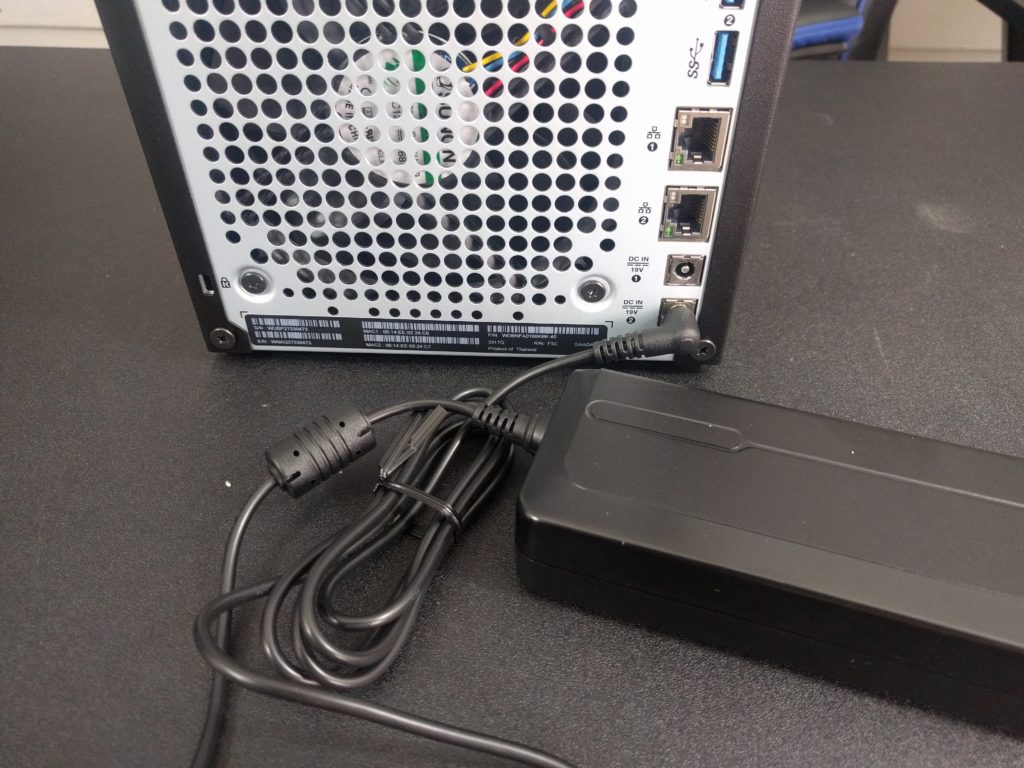 However, in the interests of keeping costs as affordable as possible to the end user, the retail kit of the WD My Cloud Pro only includes a single external PSU to connect to this NAS. If you want to take advantage of the redundant power supply option, you have to spend another £30 to £50 to purchase a second PSU. So this is a nice feature that if you wish to take advantage of, you will need to invest a pinch more. I know the second power supply seems somewhat unnecessary as it does not double the power in the operation and output of the device, but the versatility of dual power suppliers is well-documented especially in NAS.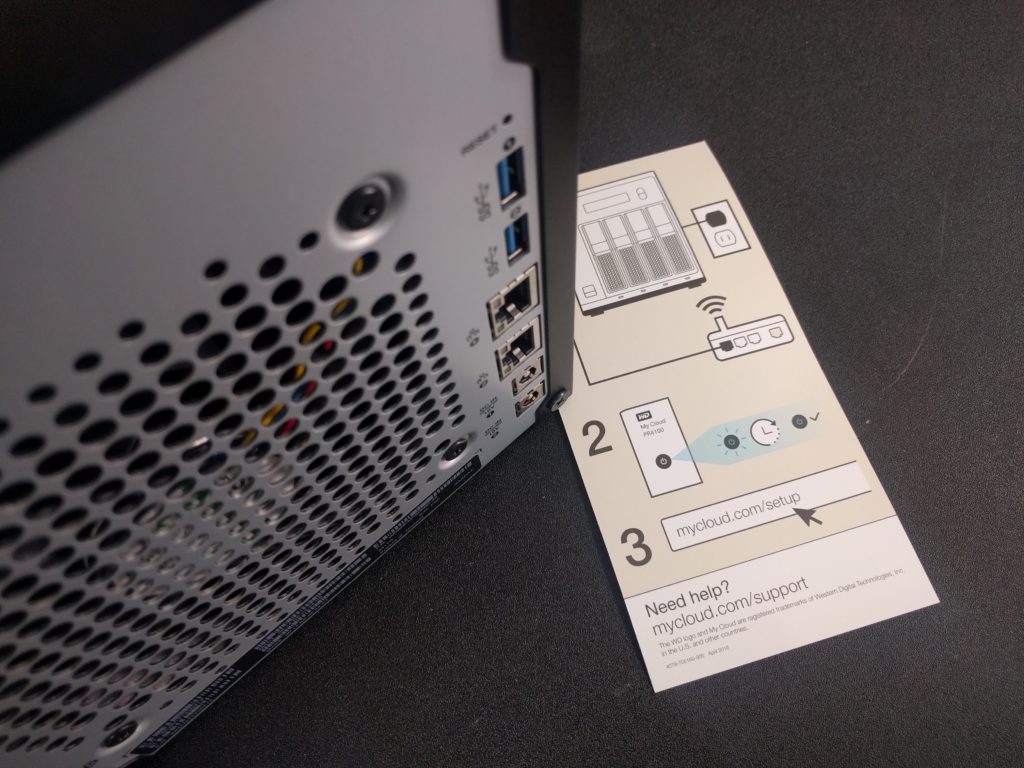 Given that most NAS servers are on 24/7 and often accessed from outside the home or office, there are numerous instances where the breakdown of a NAS server due to a faulty power supply could cost you real money in the long term, if you cannot access your data when you need it. Also, never forget that next to the hard drive Media, the power supplier is the second most fragile part of any computer (next to throwing a brick at the screen).
WD My Cloud Pro PR4100 NAS Internal Hardware
The internal hardware of the My Cloud Pro NAS is impressive for two main reasons.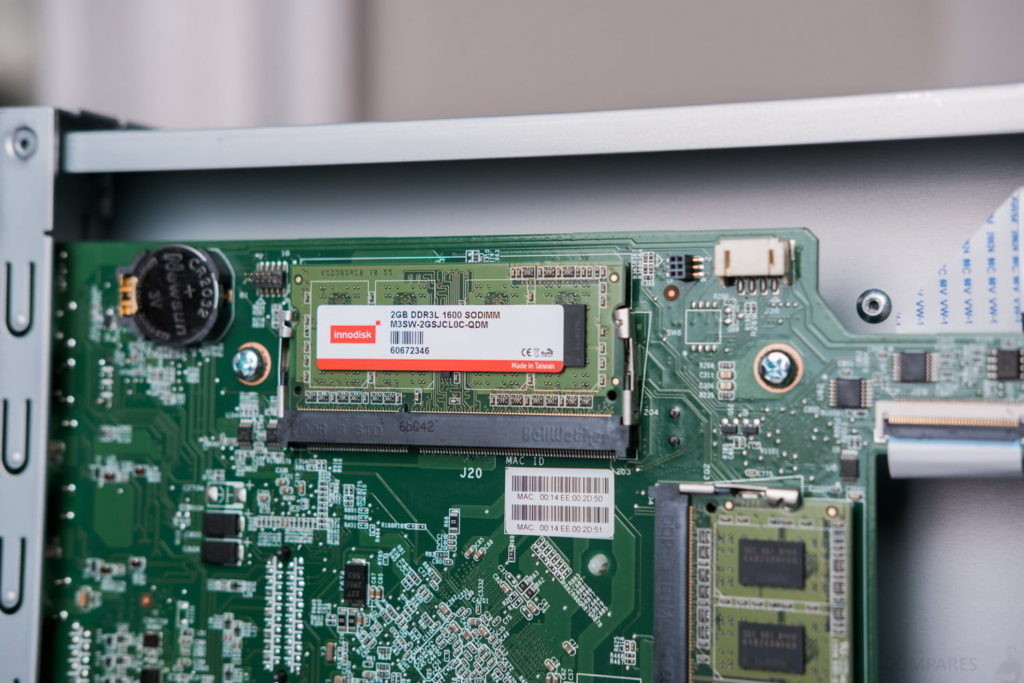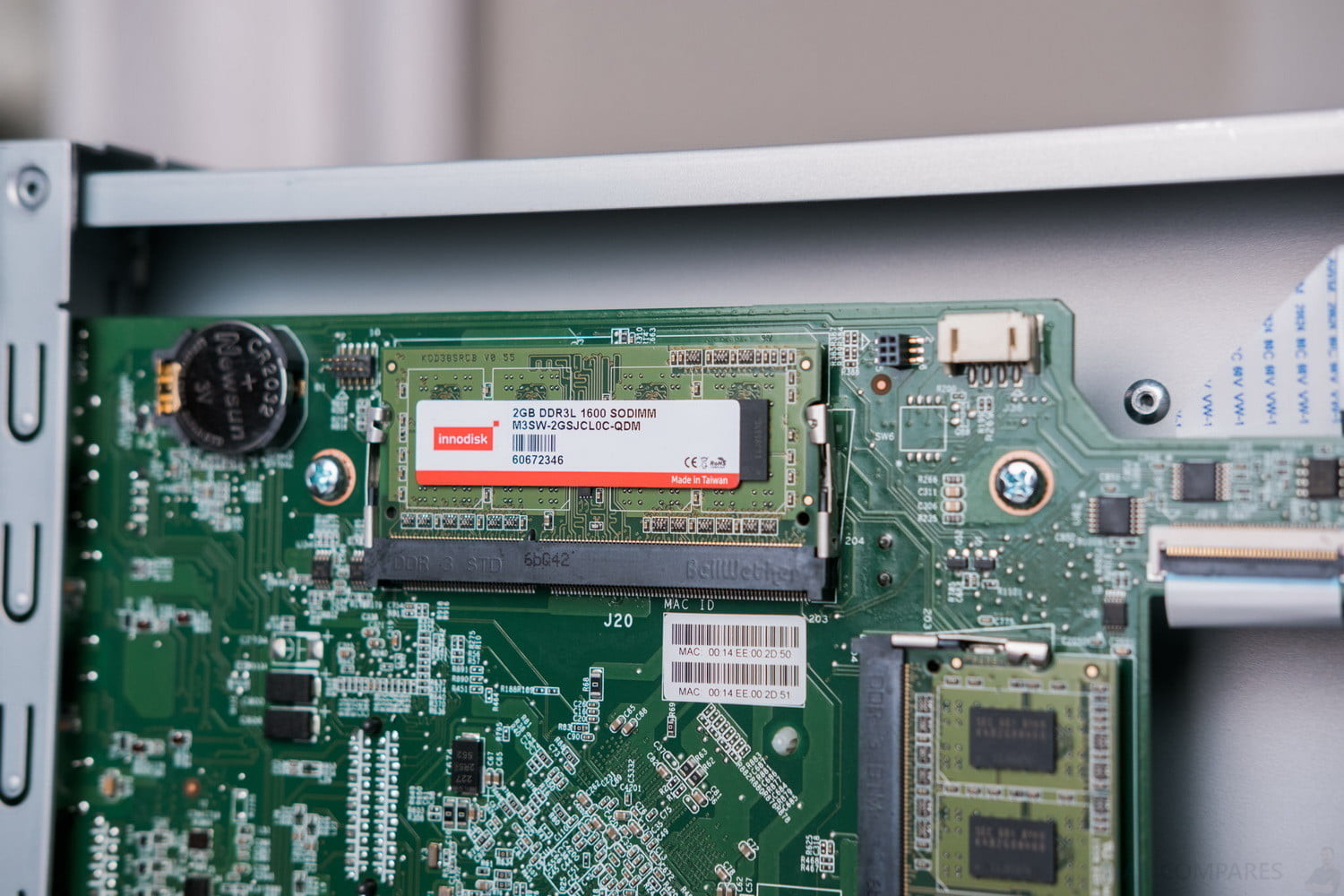 The CPU inside is an Intel Pentium quad-core CPU at 1.6Ghz. This CPU supports HD and 4K transcoding, aes-256 bit encryption, multiple file transfers and multiple download tasks. Additionally, the CPU is further improved with the inclusion of 4GB of DDR3 memory.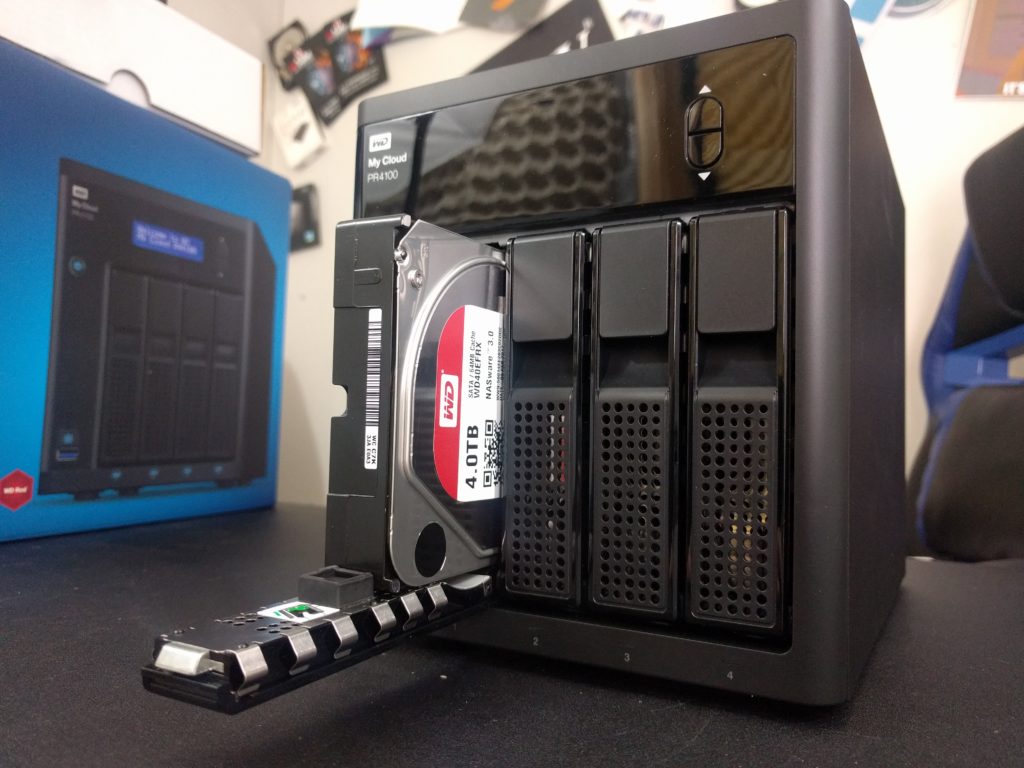 So currently the CPU on this device is more powerful and efficient than many of the popular Intel Celeron chips found in the current Synology and QNAP NAS range. Which leads us to software. As well as of course being available empty AND fully populated!
WD My Cloud Pro PR4100 NAS Software
Chances are if you are thinking of buying the WD My Cloud Pro PR4100 in 2018, then chances are you are buying it because of Plex. The WD My Cloud PR4100 is currently the best value and best performing Plex media server NAS available in the market today. Yes there are more powerful now servers available, however, with price tags in the four figures and slightly more complex internal structure, these cannot really compete right now for home users against the £3-400 WD My Cloud Pro.

It isn't just the internal hardware that makes the PR4100 the best Plex media server of 2018 right now, though they certainly help, given its quad-core Pentium and the big chunk of memory to boot. No the main reason that it is superior to most devices in the same price threshold is to do with transcoding and the transcoding engine on this device. Most modern fully featured NAS have an Intel or AMD based processor inside. Likewise, these CPU have transcoding and rendering built into the CPU architecture. This is the portion of this processor that is dedicated and specialised to handling graphics creation, graphics rendering and graphics manipulation.
This is the area of the CPU that performs transcoding most efficiently.
What is Transcoding?
In brief, transcoding is the reshaping and changing of a file to a version that is a better fitting to the device that is accessing the file. An example would be a movie file such as .mov been played on an older TV released around or before 2006. Devices around this time were not able to play these kinds of files easily.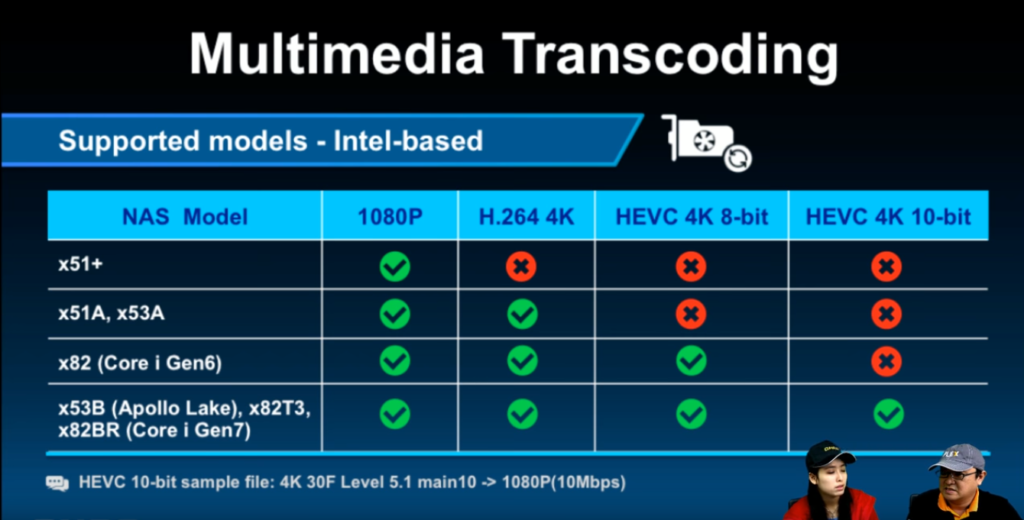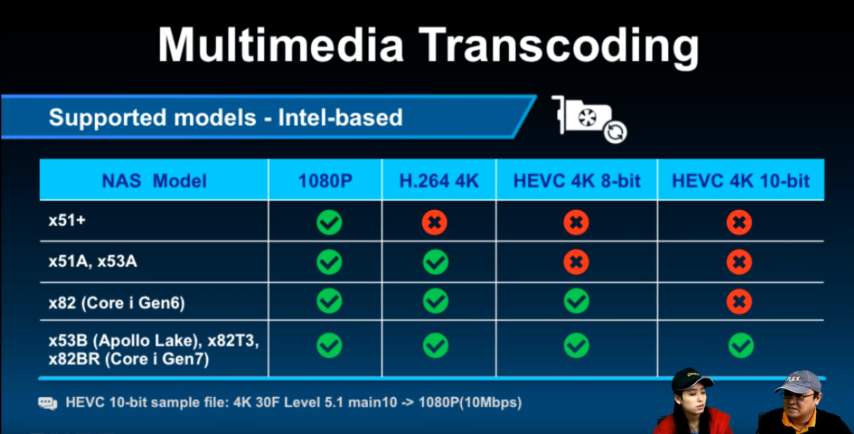 However thanks to transcoding the file can be manipulated and changed on the NAS on the fly so that it will play perfectly, in a format more befitting to the destination device (Smart TV tablet smartphone netbook and more). Transcoding is not limited to just media files, it is more than changing photos and videos and audio files. It can extend to regular word processing files and complex PDFs.
WD My Cloud Pro PR4100 NAS Plex Transcoding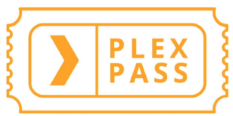 Outside of Plex, most modern fully featured NAS can transcode files in HD and 4k movies with relative ease as long as you use the transcoding engine built into the chip. However, Plex is a third party application and many NAS devices will not let third-party providers use the hardware inside easily, or least as easy as a first party app such a Synology video station and QNAP video station. The result is that when Plex is trying to transcode on most NAS devices, the CPU will immediately go to 70 or 80% use just for this one task and it can both slow down your overall NAS use, as well as raise temperatures and noise internally from fans cooling the device.
WD My Cloud Pro PR4100 NAS Review Conclusion
And this is what makes the WD PR4100 different. Because once you install the Plex media server application and want to play a file that requires transcoding, the WD NAS gives complete access to the transcoding engine to plex. Something that most massive brands generally do not do on the whole. The result is that files are transcoded, utilising significantly less CPU power than on other devices using the Plex media server application. Additionally, because this CPU is a Pentium and not a Celeron like almost every other device at this price threshold, it is able to transcode quicker and more frequently in a single occurrence. Likewise, because it is using less CPU, it means the device is significantly more stable whilst being used for other applications. That is the reason why despite this device not being the newest NAS right now, it is still the very best Plex media server NAS of 2018 to buy.
This slideshow requires JavaScript.
However almost no one buys a network attached storage device JUST for Plex and it is worth highlighting that although this device supports common NAS applications such as Apple Time Machine backups, multiple surveillance cameras the Milestone surveillance software, a mobile app to access your files over the network or the internet, network drive AND network file config support making it accessible as an ISCSI or more on your windows or mac system, it is still a little Limited in all other areas.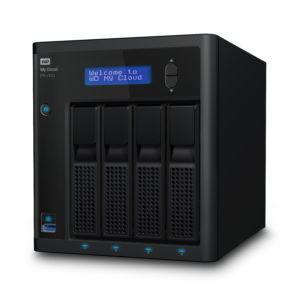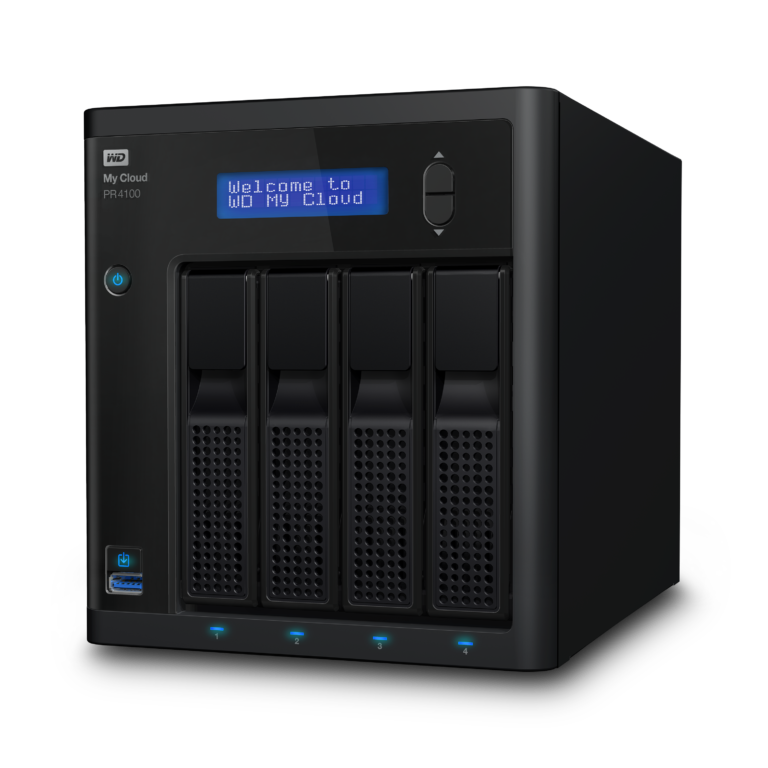 The WD My Cloud does not feature the large scale app store you would find on a Synology or QNAP NAS. Also compared with those other brands that have 10 or 15 mobile apps available, WD has around to 2 3 official first-party NAS Mobile apps for Android and iOs. Finally, the user interface feels considerably more limited when compared with DSM from Synology, QTS from QNAP and ADM from Asustor. So if you are looking for a general file explorer structure, easy to manage backups, access to a branded surveillance software and of course the best Plex media server NAS for under £400, you would be very hard pushed to beat the Western Digital my cloud pro pr4100 4-bay NAS. Just don't plan on playing Tetris or Kodi anytime soon!
📧 LET ME KNOW ABOUT NEW POSTS 🔔
Join 1,750 other subscribers
Get an alert every time something gets added to this specific article!
This description contains links to Amazon. These links will take you to some of the products mentioned in today's content. As an Amazon Associate, I earn from qualifying purchases. Visit the NASCompares Deal Finder to find the best place to buy this device in your region, based on Service, Support and Reputation - Just Search for your NAS Drive in the Box Below
Need Advice on Data Storage from an Expert?
Finally, for free advice about your setup, j
ust leave a message in the comments below here at NASCompares.com and we will get back to you.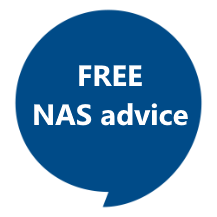 Need Help?
Where possible (and where appropriate) please provide as much information about your requirements, as then I can arrange the best answer and solution to your needs. Do not worry about your e-mail address being required, it will NOT be used in a mailing list and will NOT be used in any way other than to respond to your enquiry.
TRY CHAT
Terms and Conditions
If you like this service, please consider supporting us.
We use affiliate links on the blog allowing NAScompares information and advice service to be free of charge to you.
Anything you purchase on the day you click on our links will generate a small commission which is
used to run the website. Here is a link for
Amazon
and
B&H
.
You can also get me a ☕
Ko-fi
or old school
Paypal
. Thanks!
To find out more about how to support this advice service check
HERE
If you need to fix or configure a NAS, check
Fiver
Have you thought about helping others with your knowledge?
Find Instructions Here

ASK NASCompares forum
, by clicking the button below. This is a community hub that serves as a place that I can answer your question, chew the fat, share new release information and even get corrections posted. I will always get around to answering ALL queries, but as a one-man operation, I cannot promise speed! So by sharing your query in the
ASK NASCompares
section below, you can get a better range of solutions and suggestions, alongside my own.
This description contains links to Amazon. These links will take you to some of the products mentioned in today's video. As an Amazon Associate, I earn from qualifying purchases