QNAP & IEI Mustang-200 NAS spotted at CeBit 2018
Around a year ago, we at NASCompares told you about a very, very bizarre item that had been announced from QNAP and IEI. Not only was it another first from the innovators of NAS, but also it was pretty much a first in the world. The QNAP Accelerator Card (which goes by the rather cool name, the Mustang 200) is a PCIe card that, once connected with your host server or PC, provide an ENORMOUS source of processing power and fast acting caching via the fast PCIe slot. When it was first discussed by QNAP, it was so experimental and unheard of, that they actually posted it on a crowdfunding site, inviting users to put their money where their mouth is to gauge interest.
QNAP take to Kickstarter to take the next step innovating storage – The Mustang-200 Accelerator
It surpassed backing requirements and as good a sign as that was, we never really heard about it again. Sure, we saw mention on the IEI website with approximate specs and descriptions, but that is all. Till NOW. At CeBit 2018 I was finally able to get my hands on it and speak directly to the tech guys at both QNAP and IEI about what it does, who it is aimed at and answer the questions you guys have sent over the last year.
The Specifications of the Mustang-200 from QNAP – Quick Reminder
If you did not catch our coverage of the Mustang-200 previously, below is a quick reminder of the hardware/software specs. Unsurprisingly (and like most of the new hardware devices we have seen at CeBit) it's a pretty impressive setup:
● Dual 10Gbps network based x86 computing accelerator
● Decentralized computing architecture for independent tasks
● PCI Express x4 delivers a scalable and flexible solution
● Two Intel® Core™ i7-7567U/i5-7267/Celeron® 3865U processors, up to 4.00 GHz
● Support high-end graphics engine – Intel® Iris™ Plus Graphics 650
● Pre-installed 32 GB DDR4 (max. 64 GB) and 1 TB NVMe (max. 2 TB)
Not enough? Here is what we said on NASCompares when we first heard about the Mustang-200 almost a year ago:
QNAP take to Kickstarter to take the next step innovating storage – The Mustang-200 Accelerator
Your Questions about the Mustang-200 Answered
This is not the first time we have heard about the Mustang-200 Upgrade PCIe card. Between unofficial QNAP leaks and our coverage of Computex 2018 here on NASCompares, SPANTv and NCTv, we have let you guys know plenty about the Mustang-200. However, now we are face to face with it and the team at QNAP we got a chance to put your questions directly to them. I will keep these questions updated as much as possible and add more if they get popular. Here is what you wanted to know: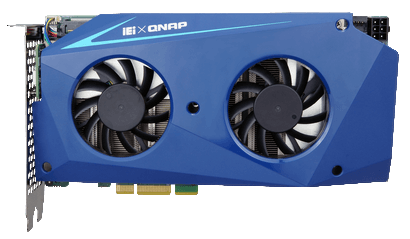 What are the Practical Applications of the Mustang Accelerator Card?
This was an especially common question and I could tell when I asked QNAP/IEI about this, they weren't happy about it. As it is such a powerful upgrade card, the applications and tasks that a device like this would be suited for are very hard to define. You wouldn't use it as a simple gaming upgrade – this is horrendously overpowered for that and not the right data handling equipment foe that. Large scale server data caching for business – again, such data behaviour in such general use would be quite a waste of this device's hardware potential.
However, let's talk AI..let's talk relative data intelligance and what it takes for a cloud/private server to take a tonne of data on a near constant basis and produce a result/reaction? THAT is where the Mustang 200 Accelorator card lives! This is a card designed to keep your business at the top in this AI and Smart data age.
Will this work with QNAP NAS or just PC/Modified tower servers?
Because it is still in it's design stages (software design and compatibility – the hardware is pretty much nailed down!), they were mto able to 100% confirm that this wil be supported on existing NAS devices like the TS-1277 or TVS-1282. It is designed to be supported by Linux and Windows based ervers (which is what mostthinking machines are based on) and they gave a positive indication of QNAP NAS support if/when this device is released, but would not fully commit beyond "probably, yes" or "almsot certainly".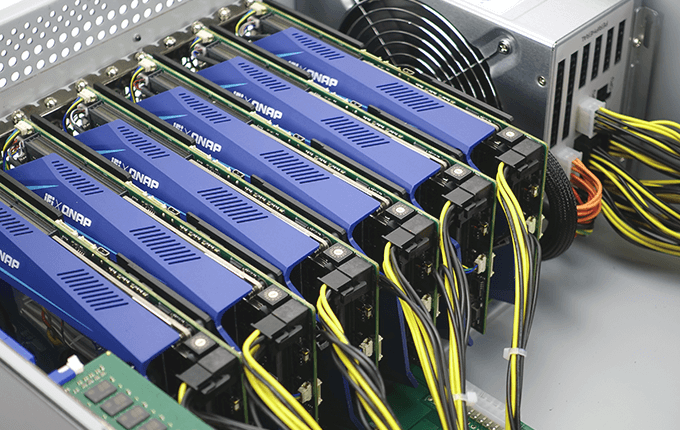 How much will the QNAP & IEI Mustang 200 Card Cost?
How long is a piece of string? A Really, Really long piece of string, made of some of the most powerful thread available in the world right now? This is almost certainly going to be a request item that is only available on order directly through a reseller ( handled with IEI). It is jsut too niche and narrowly defined for them to mass produce as they do with their NAS devices.
Will you be able to buy the Mustang 200 outside of Taiwan, or will it be a specialist item like many IEI devices?
Another question that I, when I asked, they got annoyed with me – you guys REALLY need to give me nicer questions! They were unwilling to commit on availability in Europe or indeed anywhere outside of taiwan. Once again, I can see the logic. It is going to be an expensive piece of kit that will almost certainly cost well in excess of £2000 to start with (and almsot certainly higher in it's top tier configuration). Worldwide availability requires a large degree of stock factors, distribution, language and region development and more. That is alot to consider for a device that is so selective in it's audience. I hope one day to have this device on the YouTube channel and show it's pros and it's cons. Til lthen, keep firing your quetions over and I will do all that I can to keep you i nthe know!
📧 LET ME KNOW ABOUT NEW POSTS 🔔
Join 1,410 other subscribers
Get an alert every time something gets added to this specific article!
This description contains links to Amazon. These links will take you to some of the products mentioned in today's content. As an Amazon Associate, I earn from qualifying purchases. Visit the NASCompares Deal Finder to find the best place to buy this device in your region, based on Service, Support and Reputation - Just Search for your NAS Drive in the Box Below
Need Advice on Data Storage from an Expert?
We want to keep the free advice on NASCompares FREE for as long as we can. Since this service started back in Jan '18, We have helped hundreds of users every month solve their storage woes, but we can only continue to do this with your support. So please do choose to buy at Amazon US and Amazon UK on the articles when buying to provide advert revenue support or to donate/support the site below.

Finally, for free advice about your setup, j
ust leave a message in the comments below here at NASCompares.com and we will get back to you.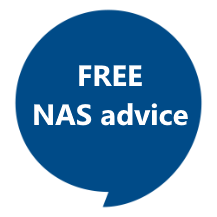 Need Help?
Where possible (and where appropriate) please provide as much information about your requirements, as then I can arrange the best answer and solution to your needs. Do not worry about your e-mail address being required, it will NOT be used in a mailing list and will NOT be used in any way other than to respond to your enquiry.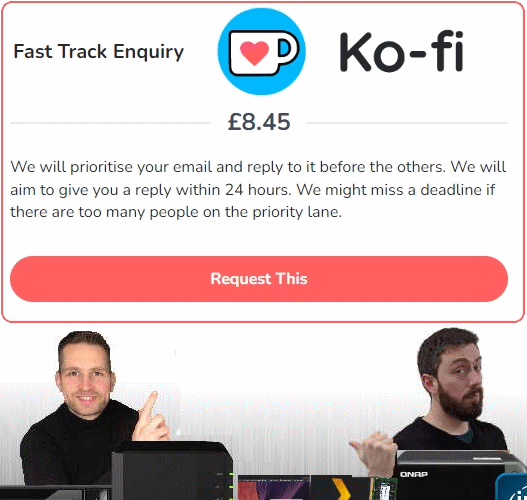 Terms and Conditions
Alternatively, why not ask me on the
ASK NASCompares forum
, by clicking the button below. This is a community hub that serves as a place that I can answer your question, chew the fat, share new release information and even get corrections posted. I will always get around to answering ALL queries, but as a one-man operation, I cannot promise speed! So by sharing your query in the
ASK NASCompares
section below, you can get a better range of solutions and suggestions, alongside my own.
This description contains links to Amazon. These links will take you to some of the products mentioned in today's video. As an Amazon Associate, I earn from qualifying purchases