Synology MR2200ac Mesh Router spotted at last!
Ever since Synology made their first real moves into the router market several years ago, they have speedily developed a following of users who want the same level of features and functionality found in their popular NAS range, but in the most integral part of your home/office network environment – your router. Routers act as the gateway point for all data coming in and out into the internet, so there are several key features that you need to consider:
Security
Control
Network Coverage
A mesh router is a device that, costing less than a regular router, is designed to extend an existing wifi network, whilst still maintaining perfect coverage and security. In the older days, we would use a wi-fi powerline adapter or another router in 'slave' mode, connected to another powerline adapter (or 10-20 metres of LAN cable). However, there are numerous access and security issues that get thrown up. Even if the device is a clone of the credentials of the original router, it will still be seen by devices as another access point and your devices will get confused at the points when you switch between one device and another. Another security issue is that all traffic through that point from multiple devices would be treated as a single path of data up/down – not hugely useful, controllable or safe.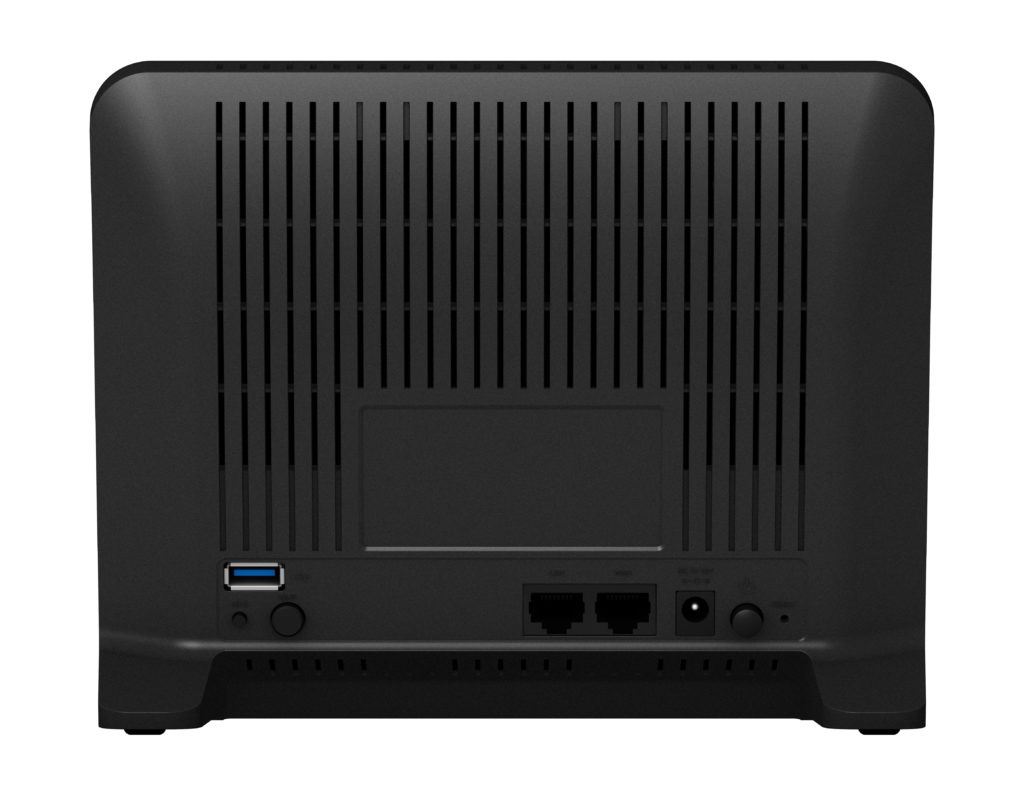 A mesh router solves this by picking up the surrounding wifi network and then pushing it out again to create a brand new powerful access point. This device will mirror EVERYTHING about the original wifi network so your devices will treat all access points as one – think in a hotel with 10 floors, yet has a single wifi access name/login and your wifi is always strong, wherever you go – this is largely made p[ossible thanks to mesh networks.
Say hello to the Synology MR2200ac Mesh Router for 2018
Synology's existing routers, the RT1900ac and RT2600ac provide ample amounts of all three, but with growing trends in mesh networks, it was only a question of time before Synology introduced a mesh router to accompany their router devices. The MR2200ac has been in development for a long time and been present at numerous IT events over the last year. But does it live up to the expectations, is this AC2200ac mesh router really THAT big a deal, and should this be your next purchase to complete your network environment?
This slideshow requires JavaScript.
The Specifications of the MR2200ac from Synology – Quick Reminder
If you did not catch our coverage of the MR2200ac Mesh Router previously, below is a quick reminder of the hardware/software specs. Unsurprisingly (and like most of the NAS devices we have seen at CeBit) it's a pretty impressive setup both in software and hardware:
Qualcomm IPQ4019 quad-core CPU
Tri-band Wi-Fi – Single SSID with 802.11 k/v/r
1x USB, 1x WAN and 1x LAN
Arrives with Synology Router Manager 1.2
Dedicated Mobile App
This slideshow requires JavaScript.
Your Questions about the MR2200ac Answered
This is not the first time we have heard about the MR2200ac Mesh Router. Between unofficial Synology leaks and our coverage of Computex 2018 here on NASCompares, SPANTv and NCTv, we have let you guys know plenty about the MR2200ac. However, now we are face to face with it and the team at Synology we got a chance to put your questions directly to them. I will keep these questions updated as much as possible and add more if they get popular. Here is what you wanted to know:
Can the MR2200ac Mesh Router be used standalone or does it still need a Primary Router to connect with?
The Synology MR2200ac Mesh router can function as an extension of your existing synology router network or standalone. Though it is designed with mesh usage as it's primary function, it can still support a home or office network on its own, arrives with SRM 1.2 and has most of the same features and functionality of the RT1900ac and the RT2600ac (though lacking the aerial functionality to the same degree of singular coverage). In an idea use can scenario, you would use the device paired with your existing synology router to better cover your devices. Here is how the network coverage would go: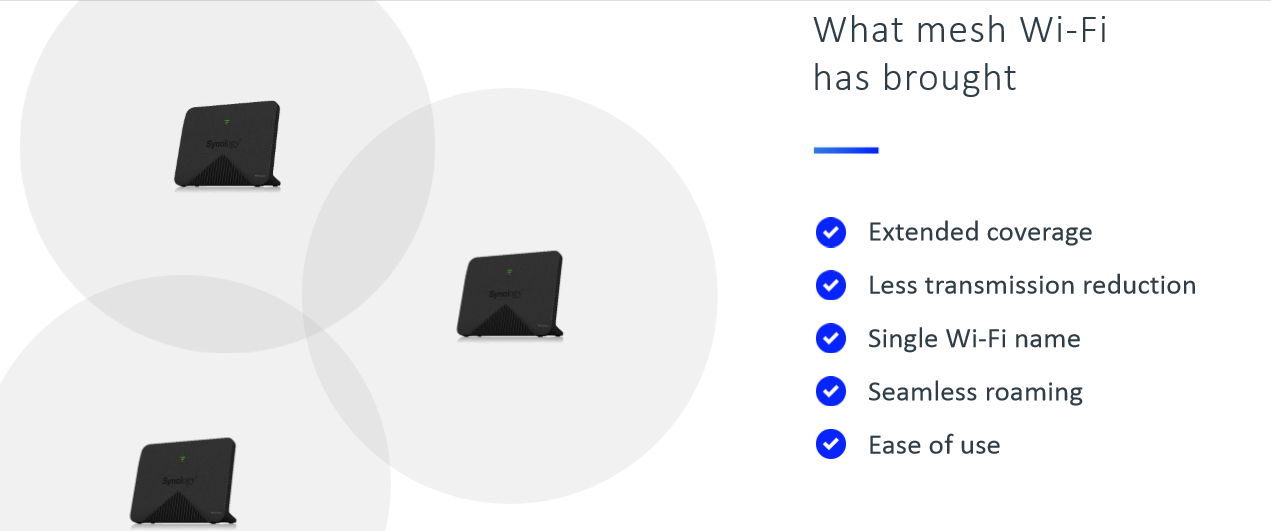 And this is how it would look in conjunction with your devices: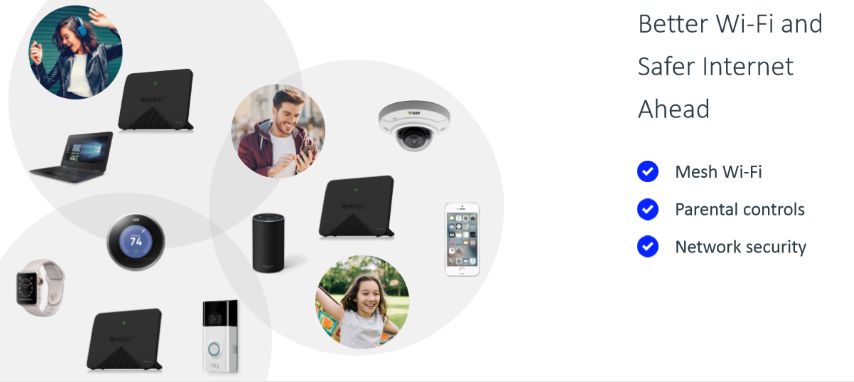 Can the Synology MR2200ac connect to existing Mesh Router networks?
Yes, if you already have Synology mesh devices in your environment, or want to add mesh to a Synology router device, the MR2200ac can be used to extend these environments. However it will only function as a Wireless extended Access point when used with other branded routers and mesh environments. You can also still use the Synology Router Manager (SRM 1.2) software via PC/Mobile device, but you will only have control and software functionality covering that single MR2200ac mesh router.
What Benefits are there to a home user buying the Synology MR2200ac Mesh Router?
The Synology Mesh MR2200ac features a number of very interesting safety and guideline appliances in its software. It all surrounds enhanced provisions for safe and secure access for everyone sharing a network, with or without the Mesh router. It all arrives with SRM 1.2.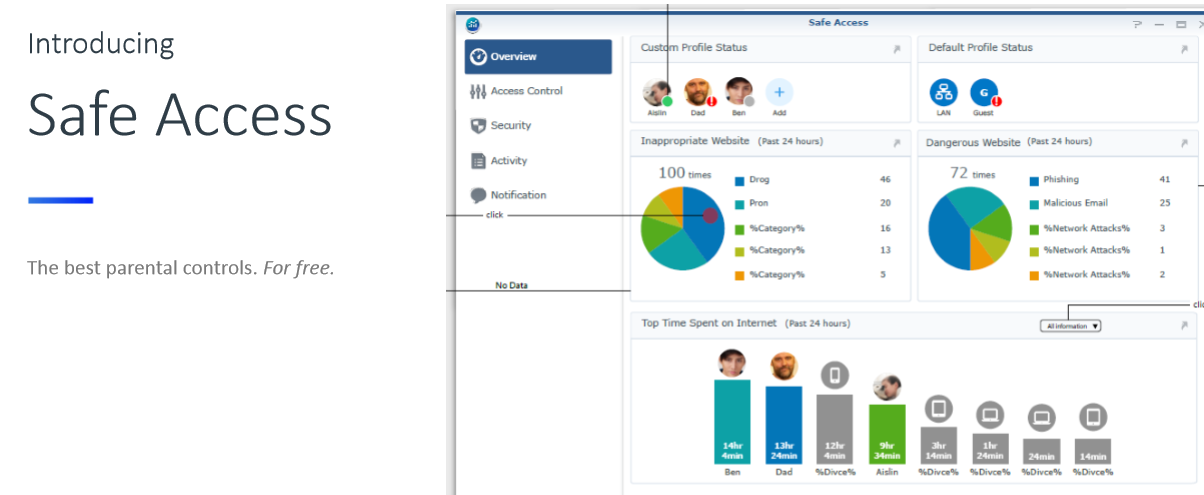 Synology Safe Access arrives with features and functionality, such as:
The ability to define and characterize individual devices to a single user to give bespoke control, access and priority to these devices via the Mesh router point

The ability to assign access time limits (hour, day, week, etc) to individual users. Once a user has their network devices recognized and defined by the MR2200ac (see above), then you are able to give them time managed access. It is even smart enough not to automatically add the time up together, even though multiple devices (TV, Laptop and phone for example) are connected at the same time – thereby providing much fairer allotments of access to users (family, clients, etc)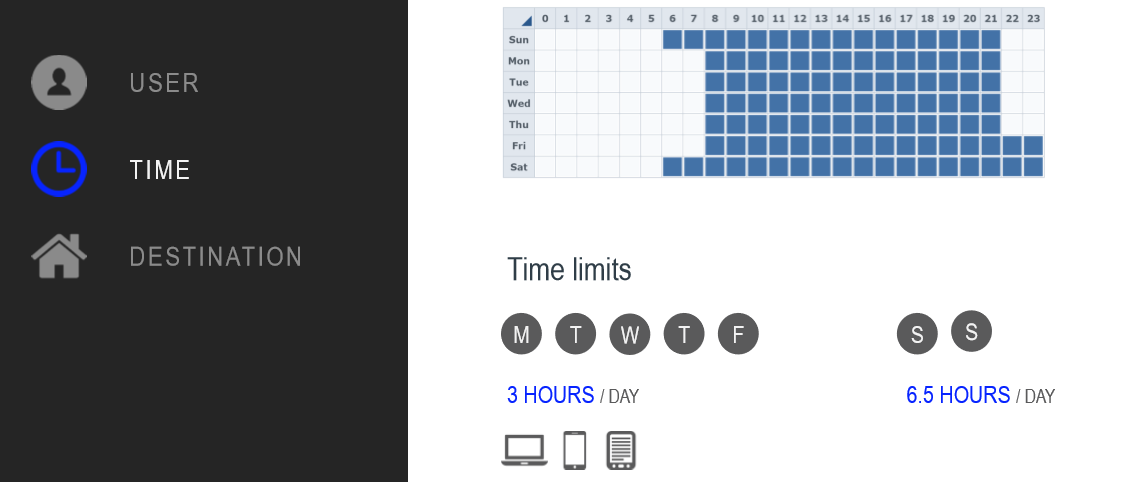 Not only are you able to blacklist and whitelist certain websites from a selected mesh router point in the network (e.g. only give your child access to Wikipedia or school supported websites, but block distracting social media and online games servers), but you can also cross reference this against devices and time frames. So, one you quickly set up a routine on for your relative/guest/client, you can then easily set up which devices can access what and at what time they can do it.
i.e. you don't want your staff having access to social media in your office, but you need to let your social media staff have access to certain machines and at certain times of the day. This would let you set that up easily and quickly.

Arriving with an impressive user-interface that is not intimidating to the novice, you can get general data on all contented devices and either disconnect, reassign priority or increase/decrease access in just two clicks, to any device.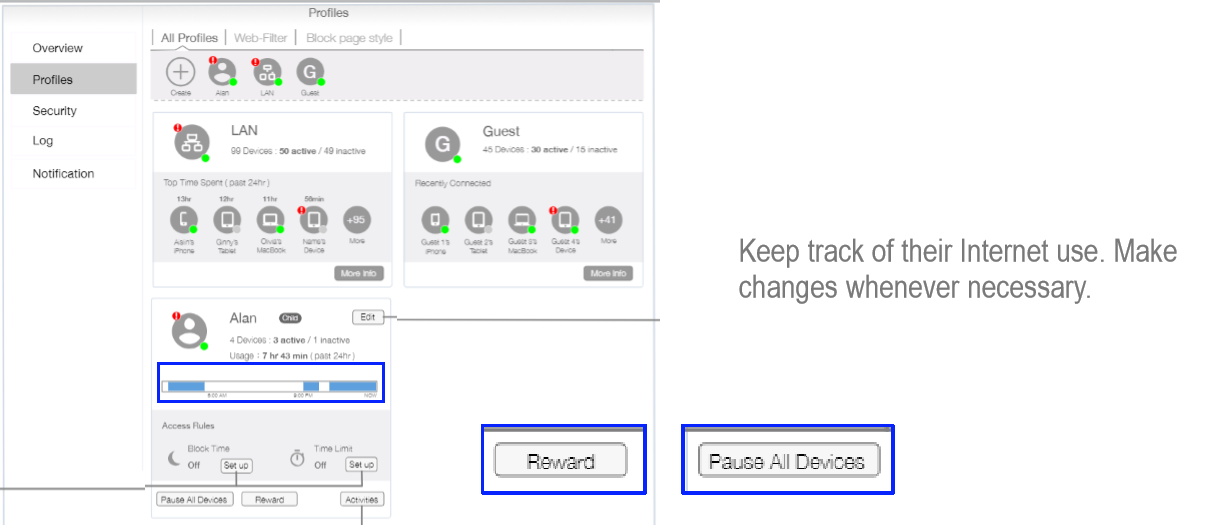 You can monitor and protect your network against threats and intrusions. This is something most routers provide BUT not to this extent and not at a mesh connected level. The mesh router provides blanket protection across all devices, whilst still monitoring individually. Most devices will only monitor from the internet point to the router – this goes several steps further.

For added benefits, the Synology MR2200ac mesh also incorporates Google Safe browsing with its vast knowledge of current and older threats types, so you can stay up to date.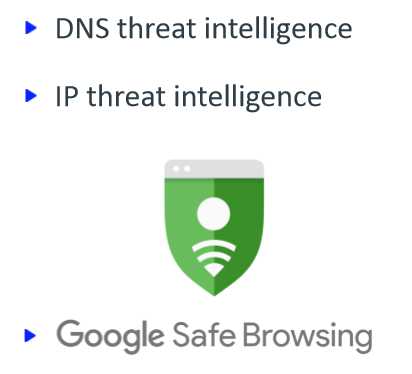 When will the MR2200ac Mesh Router be released?
This is still very much a sought-after Synology device and Synology are well aware of that. However, I very much doubt we will see a worldwide release of the MR2200ac before Q3 of 2018. Synology has already announced the improved Synology Router Manager 1.2 with the security and control features mentioned above, so I do think we are nearing official release. Stay tuned!
📧 LET ME KNOW ABOUT NEW POSTS 🔔
Join 1,570 other subscribers
Get an alert every time something gets added to this specific article!
This description contains links to Amazon. These links will take you to some of the products mentioned in today's content. As an Amazon Associate, I earn from qualifying purchases. Visit the NASCompares Deal Finder to find the best place to buy this device in your region, based on Service, Support and Reputation - Just Search for your NAS Drive in the Box Below
Need Advice on Data Storage from an Expert?
We want to keep the free advice on NASCompares FREE for as long as we can. Since this service started back in Jan '18, We have helped hundreds of users every month solve their storage woes, but we can only continue to do this with your support. So please do choose to buy at Amazon US and Amazon UK on the articles when buying to provide advert revenue support or to donate/support the site below.

Finally, for free advice about your setup, j
ust leave a message in the comments below here at NASCompares.com and we will get back to you.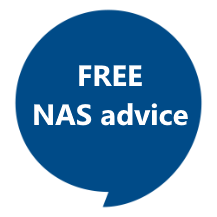 Need Help?
Where possible (and where appropriate) please provide as much information about your requirements, as then I can arrange the best answer and solution to your needs. Do not worry about your e-mail address being required, it will NOT be used in a mailing list and will NOT be used in any way other than to respond to your enquiry.
Support What We Do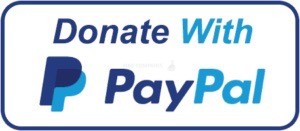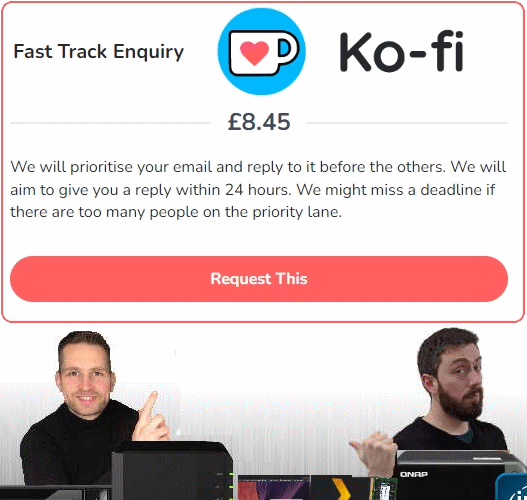 Terms and Conditions
Alternatively, why not ask me on the
ASK NASCompares forum
, by clicking the button below. This is a community hub that serves as a place that I can answer your question, chew the fat, share new release information and even get corrections posted. I will always get around to answering ALL queries, but as a one-man operation, I cannot promise speed! So by sharing your query in the
ASK NASCompares
section below, you can get a better range of solutions and suggestions, alongside my own.
This description contains links to Amazon. These links will take you to some of the products mentioned in today's video. As an Amazon Associate, I earn from qualifying purchases