BTRFS Update for the Synology DS418 and DS218 NAS
Great news for those that have purchased, or are considering purchasing the cost-effective Synology DS218 2-Bay or DS418 4-Bay NAS, you are now able to use the Synology BTRFS file system. Previously these budget-friendly NAS devices featured the Realtek RTD1296 1.4GHz Quad Core CPU and 2GB of DDR4 memory, which although well equipped, did not support the more evolved Btrfs file system. Till recently this was reserved for Intel equipped NAS such as the DS619slim, DS1019+ and DS1819+. Luckily the boffins at Synology have rigorously tested and confirmed that the DS218 and DS418 now support this file system. In order to take advantage of this, you can choose it at the point of setting up your NAS for the first time. When dealing with large-scale data storage, businesses require a solution that prevents data corruption, while providing flexible backup tools. The Btrfs file system brings these tools to the DS218 and DS418 Synology NAS servers, allowing businesses and organizations to reduce maintenance overhead and efficiently store their data, even on these more budget devices. But what is Btrfs? Is it preferable to EXT4 and should you consider formatting your device to Btrfs?
What is Btrfs?
In case you're unfamiliar about what filesystems actually do, it's pretty simple when summarized. File systems are used to control how data is stored after a program is no longer using it, what other information – known as metadata – is attached to the data itself, how access to data is controlled, and so on. It doesn't sound like an easy thing to program, and it's definitely not. File systems are still continually being revised to include more functionality while becoming more efficient in what it needs to do. Therefore, although it's a basic necessity for all computers, it's not quite as basic as it sounds. Btrfs is a modern file system developed by multiple parties and now supported by select Synology NAS models. Btrfs was designed to address obstacles often encountered in enterprise storage systems, such as fault tolerance, management, and data protection. Btrfs, which can be pronounced as "Butter FS", "Better FS", or "B-Tree FS", is a file system made completely from scratch. Btrfs exists because the developers wanted to expand the functionality of a file system to include pooling, snapshots, and checksums among other things.
A Guide to Synology BTRFS NAS of 2016 – Genuine advance in Network Attached Storage or just a gimmick?
What are the benefits of Btrfs on a Synology NAS
While btrfs is independent of EXT4, it builds off the design and structure in EXT4 which are great for consumers and businesses alike and incorporate those additional features which will benefit everyone (but specifically enterprises). For enterprises who use very large programs with very large databases, having a seemingly continuous file system across multiple hard drives would be very beneficial because it can make consolidation of data much easier. Data deduplication would reduce the amount of actual space data would occupy, and data mirroring would become easier with btrfs as well when there is a single, broad file system that needs to be mirrored. Finally background checksum, auto healing of corrupted files against records made prior to a read/write action and simplified snapshot actioning mean that btrfs brings a lot to the table for Synology users.
Synology Metadata mirroring and increased data availability
In any storage system, keeping metadata intact is critical as it includes important information, such as folder structures, filenames, access permissions, and the location of each file. Btrfs stores two copies of metadata on a volume, allowing for data recovery if the hard drive is damaged or suffers from bad sectors.

Btrfs, Synology NAS and file self-healing
Traditional storage systems might experience errors that go completely unnoticed which result in corrupt data being provided to applications with no warning or error messages. In order to avoid these types of errors, Btrfs provides checksums for data and metadata, generates two copies of metadata, and then verifies the checksums during each read process. Once discovering a mismatch  (silent data corruption), the Btrfs file system is able to auto-detect corrupted files (silent data corruption) with mirrored metadata, and recover broken data using the supported RAID volumes, including RAID 1, RAID 5, RAID 6, RAID 10, F1, and SHR.
Simplified Snapshots and data protection on your Synology NAS
The Btrfs file system introduces a powerful snapshot feature allowing you to create a point-in-time copy of an entire shared folder. That way, if a human error results in a lost or corrupt database, you can quickly restore the data back to the previous time at which the snapshot was captured.
Low impact on your Synology hardware, Big benefit to your data
Taking a snapshot consumes only a small amount of additional storage space while exerting little impact on system performance thanks to Btrfs's copy-on-write architecture.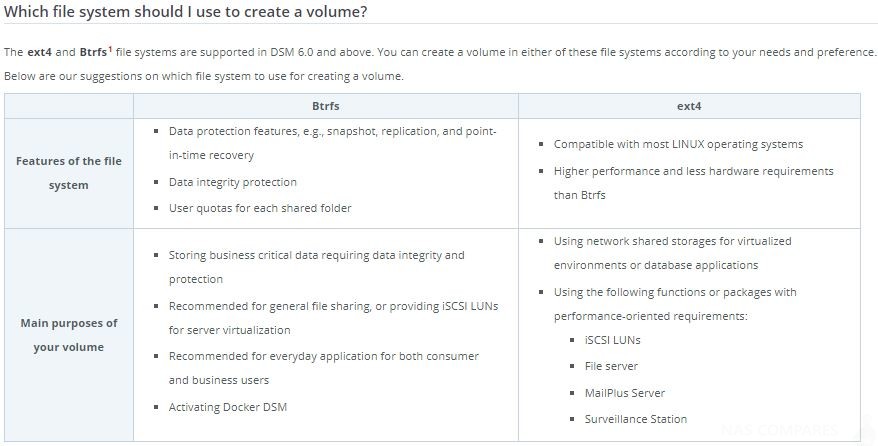 Enabling Frequent Scheduled backups on your Synology Automatically
Automatically create point-in-time copies of data up to every 5 minutes without affecting performance, guaranteeing granular data backup and recovery.
Completely Customizable Data Retention Policy on your Synology Drive
Retain up to 256 hourly, daily, or weekly recovery points according to your individual needs. Smart retention options automatically delete unneeded versions.
Instantaneous Snapshot Actions on your Synology NAS
Capture snapshots instantly and backup data without worrying about files being modified or deleted during the backup process.
User-Friendly Self-Service Recovery and History View
Employees can view earlier versions of files and restore them to a previous state by themselves using File Station or Windows File Explorer.
Much more Efficient Synology Drive Storage Management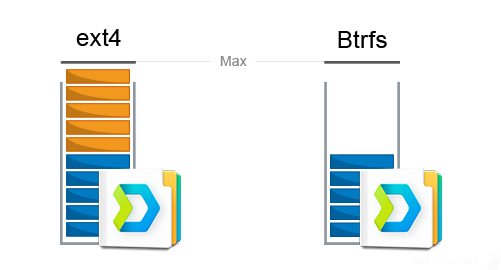 Compared to ext4 volumes, Btrfs does not require double the storage space for Drive's file versioning and history data. You can retain historical versions of files when using Drive — without worrying about consuming too much storage space.
Synology Backup Data Consistency Checks

Traditional backup methods require time to copy data from one place to another, potentially leading to inconsistent data if files are modified during the backup process. Btrfs solves this issue by taking a snapshot before the backup process starts, and then copying the snapshot data to the backup destination — with no need to worry about files being modified, moved, or deleted.
Improved Quotas for Shared folders on your Synology NAS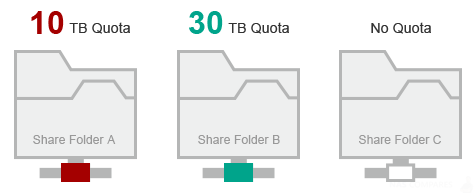 Specify a storage limit for individuals shared folders, so your storage space will not be consumed by a particular shared folder. This is helpful for controlling available storage space when multiple teams or departments store files on the same Synology NAS server.
FAST Cloning of Entire Shared folders on your Synology NAS

With Btrfs, you can simply select a shared folder and make a clone of all the contents nearly instantaneously. This is useful when testing updates to websites or databases and you need a quick clone.
Why Buy the Synology DS218 NAS?
The Synology DS218 NAS is a cost-effective 2-bay NAS that, although not the lowest priced 2 HDD/SSD NAS on offer from Synology, it is the best hardware vs price unit in their line up. Many users who purchased it late last year bought it for that very reason and since it's release we have seen many 1st and 3rd party applications become available for it (Plex, Synology Moments and now BTRFS) as the abilities of that newer 64bit ARM CPU are explored. Here is what we said when we originally reviewed the device:
| | |
| --- | --- |
| DESIGN | Synology have improved this case and it is great to see the new 2-Bay chassis being utilised. The device arrives with much better specs than the DS216 before it and with almost double the stats and an 64bit Chip, the DS218 is an impressive starter NAS. |
| FEATURES | Easily the best standard 2-Bay NAS synology have released. If your budget is tight, then this is possible the best price vs power NAS out there, supporting almost every application and NAS task you need. Though Plex Transcoding is not really an option – though native transcoding is more than possible. |
| PERFORMANCE | The improved Realtek CPU and DDR4 memory mean that options like 4k, transcoding natively and most file level network applications are conducted very well. |
| VALUE | All in all, the best standard class NAS from Synology we have seen in a few years. Recommended for Surveillance, backups, file level access and sharing files easily – this is a good, solid NAS. |
This slideshow requires JavaScript.
| | |
| --- | --- |
| DESIGN | Those familiar with NAS may find the unit a little limiting – but for the budget and the hardware, it is still quite a bargain. |
| FEATURES | The lack of an intel / x86 based CPU, mean that transcoding in plex is not really an option. |
| PERFORMANCE | It will stumble a little with higher end / dense multimedia applications. |
| VALUE | If your budget can allow it, we recommend the DS218+ unit as it will give you far higher power at your finger tips |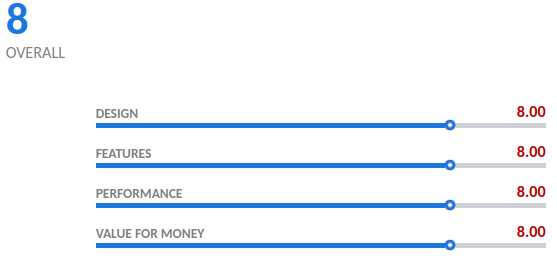 Why Buy the Synology DS418 NAS?
Much like the DS218, the 4 HDD/SSD DS418 is one of the most affordable RAID 5 enabled, 4 Bay NAS that you can buy from Synology currently. Featuring a near identical level of hardware both internally and externally as the 2 bay, it became a good middle ground for many NAS buyers shortly after release. With the price of the DS418 so close to that of the DS218, many users upgraded to it for the simple fact you could install twice as much storage and with RAID 5, RAID 6 and RAID 10 support, found it had better options for storage in the long term. Here is what we said about it when it was released:
| | |
| --- | --- |
| DESIGN | Using a new Chassis, dual LAN ports and improved internal hardware – the DS418 NAS is certainly a NAS that will surprise users used to the lacklustre hardware available in the DS416 and DS414 NAS |
| FEATURES | Featuring such software application and support as 4K, 1080p, apple time machine, and almost every application from DSM 6.2 – This standard class NAS arrives with an excellent feature select. |
| PERFORMANCE | Performing well on many, many smaller file level transfers, the DS418 is a device that will provide a solid hardware and software position for you and your home or business |
| VALUE | At just £330, this is a great amount of hardware and software ability at this price mark. Definitely, one to consider for surveillance and file level business needs |
This slideshow requires JavaScript.
| | |
| --- | --- |
| DESIGN | Still in a lower tier to the DS918+ or DS418PLAY – If you need raw, immediate power, maybe give this a miss |
| FEATURES | Disappointing that PLEX has not yet released supported plex app. |
| PERFORMANCE | Applications that are heavy in graphics generation or visual editing will struggle a little on the DS418 |
| VALUE | If your needs are more than 50% related to multimedia, Plex, DLNA and more will maybe need to skip this and go for the DS218+ |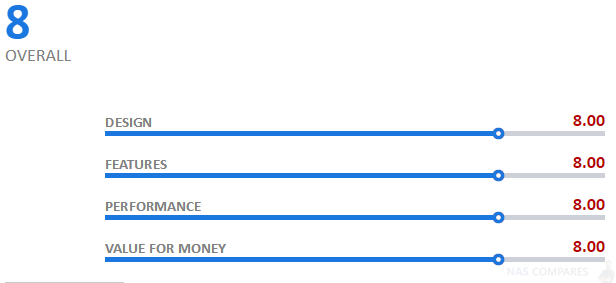 BTRFS on the Synology DS218 and DS418 NAS – Conclusion
There is no denying the option of a choice of file systems when setting up your DS418 and DS218 between Btrfs and EXT4 is a big deal and for those that want to let the NAS arrange various forms of file checks, protection and integrity failsafes in the background, without constant intervention. AS much as we all want to have a private cloud for our data and want to invest in this technology wisely, after it is purchased and setup, we then want to forget about the admin – Btrfs is a big, big step towards that kind of setup and the fact that more budget enabled devices such as the DS418 and DS218 Synology NAS now support it is a big deal indeed.
| | |
| --- | --- |
| | |
| | |
Articles Get Updated Regularly - Get an alert every time something gets added to this page!
This description contains links to Amazon. These links will take you to some of the products mentioned in today's content. As an Amazon Associate, I earn from qualifying purchases. Visit the NASCompares Deal Finder to find the best place to buy this device in your region, based on Service, Support and Reputation - Just Search for your NAS Drive in the Box Below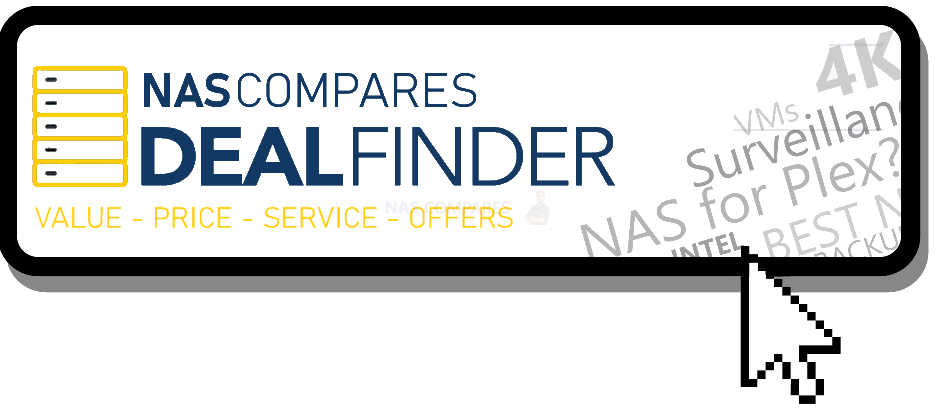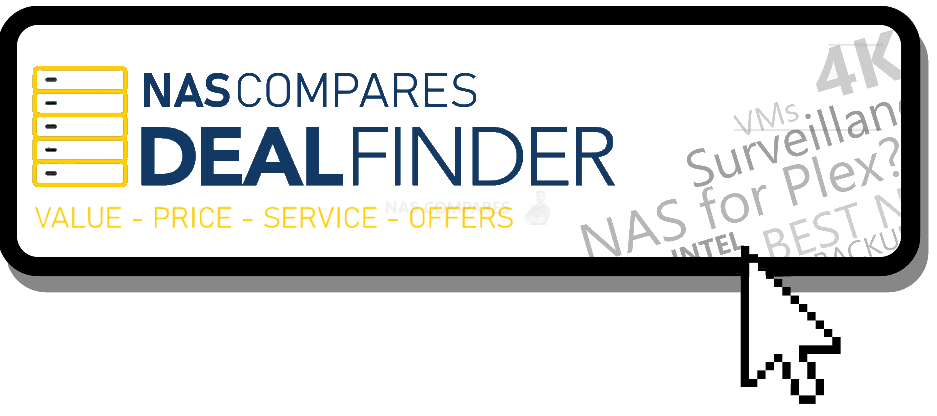 SEARCH IN THE BOX BELOW FOR NAS DEALS
Need Advice on Data Storage from an Expert?
We want to keep the free advice on NASCompares FREE for as long as we can. Since this service started back in Jan '18, We have helped hundreds of users every month solve their storage woes, but we can only continue to do this with your support. So please do choose to buy at Amazon US and Amazon UK on the articles when buying to provide advert revenue support or to donate/support the site below.


Finally, for free advice about your setup, j
ust leave a message in the comments below here at NASCompares.com and we will get back to you.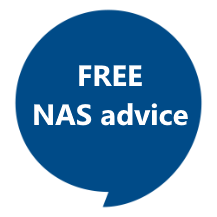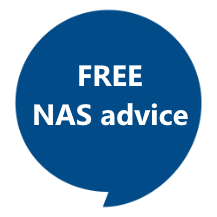 Need Help?
Where possible (and where appropriate) please provide as much information about your requirements, as then I can arrange the best answer and solution to your needs. Do not worry about your e-mail address being required, it will NOT be used in a mailing list and will NOT be used in any way other than to respond to your enquiry.
Terms and Conditions
Alternatively, why not ask me on the
ASK NASCompares forum
, by clicking the button below. This is a community hub that serves as a place that I can answer your question, chew the fat, share new release information and even get corrections posted. I will always get around to answering ALL queries, but as a one-man operation, I cannot promise speed! So by sharing your query in the
ASK NASCompares
section below, you can get a better range of solutions and suggestions, alongside my own.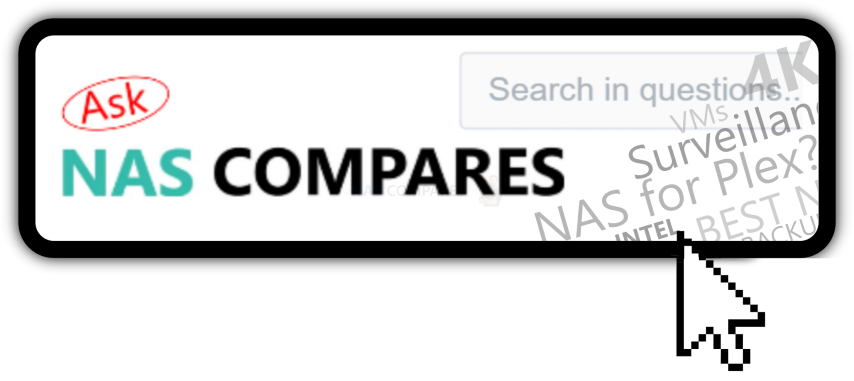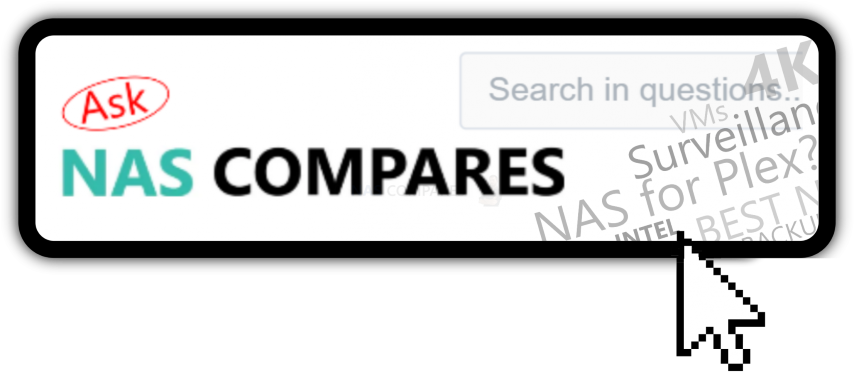 This description contains links to Amazon. These links will take you to some of the products mentioned in today's video. As an Amazon Associate, I earn from qualifying purchases
Summary
Reviewer
Review Date
Reviewed Item
Synology BTRFS now on DS218 and DS418 NAS
Author Rating