Brand New Information on the QNAP HS-453DX SilentNAS
A fanless, HDD + M.2 SSD hybrid 10GbE Silent NAS that supports HDMI 2.0 4K playback, blending your aesthetics, entertainment and lifestyle. The HS-453DX is equipped with Intel® Celeron® J4105 quad-core processor and supports HDMI 2.0 (4K @60Hz) output. It can output high-quality images to 4K large screens, and the image details are more vivid and vivid, allowing home theater and audio and video. Entertainment enthusiasts can enjoy a great visual feast at home. The HS-453DX, crafted with ingenuity and craftsmanship, won the 2018 Computex d&i Design Award for easy integration into the home space. The quiet and fanless design allows you to fully enjoy the audio and video enjoyment without noise. HS-453DX has two SATA HDD hard disk slots and dual M.2 2280 SATA SSD slot hybrid configuration, plus 10GbE NBASE-T high-speed network, for smoother and more enjoyable video streaming With a big file transfer experience.
| | |
| --- | --- |
| | 10GbE NBASE-T RJ-45 Multi-Gig network transmission, streaming audio and video is smoother, and it is convenient and fast to share large files such as audio and video. |
| | HDMI 2.0/1.4 dual output, can output 4K high-definition audio and video content to the big screen; support 4K video streaming and instant conversion. |
| | M.2 2280 SATA SSD Dual Slot Configurable SSD Cache app with new SSD plug-in reservation settings to meet your performance needs. |
| | The fanless, zero-vibration design makes the system stable and reliable, and it is not easy to get dust and keep it clean for a long time. |
| | The snapshot completely records the system status and data. When an accident occurs, the system can be quickly restored to the normal state through the snapshot. |
| | Capacity expansion via VJBOD (Virtual JBOD) network virtual storage expansion enclosure, or connection to up to 2 4-bay TR-004 USB hardware RAID array enclosures |
HS-453DX-8G – Intel® Celeron® J4105 quad-core 1.5 GHz processor (up to 2.5 GHz maximum burst), 8 GB memory (2 x 4 GB)
HS-453DX-4G – Intel® Celeron® J4105 quad-core 1.5 GHz processor (up to 2.5 GHz maximum burst), 8 GB memory (2 x 2 GB)
4K PlayBack on the HS-453DX with HDMI 2.0a
The HS-453DX processor has built-in Intel® UHD Graphics 600 graphics chip, which provides two H.264 video hardware decoding playback and conversion, which instantly converts 4K movies into a format that plays smoothly on each device*. You can output 4K 60FPS high-definition content via HDMI 2.0, view your favourite audio and video files on 4K TV, or stream audio and video files to DLNA®, Roku®, Apple TV®, Amazon Fire TV with Plex® multimedia server. Devices such as ® and Google Chromecast can enjoy the AV collection on NAS on your phone, tablet or TV. With the QNAP RM-IR004 remote control and QButton app, you can enjoy the convenience of the NAS digital life experience with the custom remote control button function.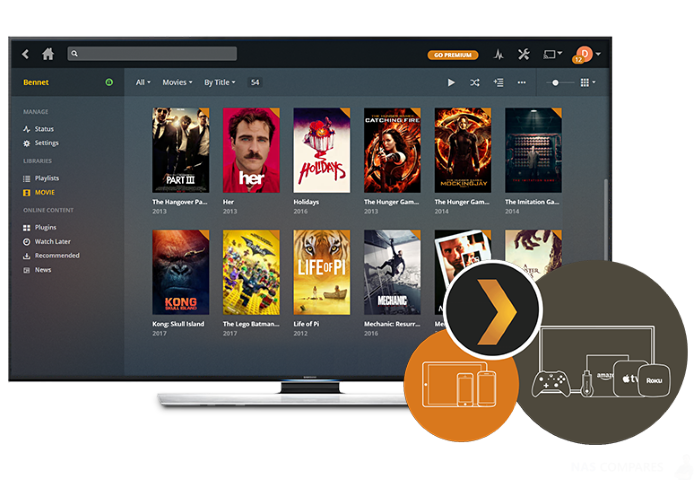 The QNAP HS-453DX NAS and Roon Media
Roon is a management software designed for music enthusiasts. It automatically searches all the music collections in the NAS and collects them in the Roon database. With Roon Apps, you can remotely stream multimedia to various compatible devices to create multiple rooms. Streaming environment. The HS-453DX App Center provides Roon Server applications with high-performance processing of core computing, large storage space and SSD cache support. The outstanding performance makes the Roon music streaming experience smoother. It is a music lovers who create Roon music for you. The best choice for the center.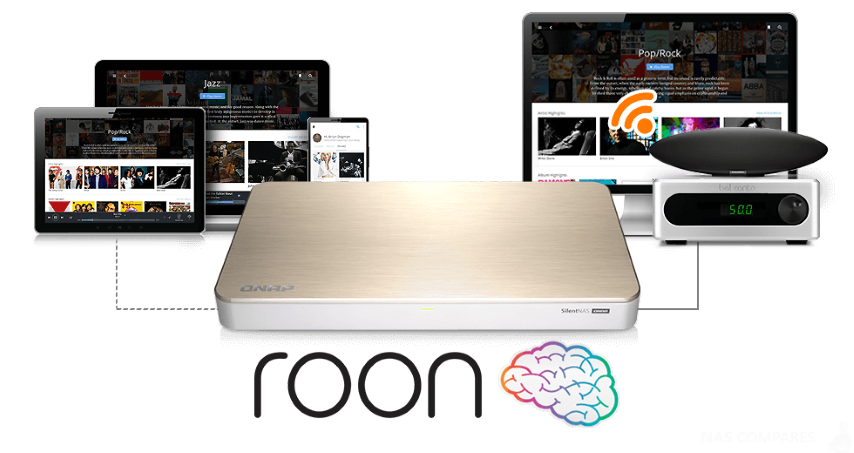 Enhanced Audio and Video Options on the HS-453DX NAS
The HS-453DX has a unique fanless and simple flat design with a metallic hairline shell that perfectly matches the 4K high-definition TV and stereo to create a stylish digital home. The HS-453DX has a variety of I/O outputs, including: USB 3.0 Type-C & Type-A USB and USB 2.0 串 can be connected to a variety of external storage devices; HDMI 2.0/1.4 dual output  can output 4K high-definition images to Large screen viewing; speaker, audio output and 3.5 mm microphone jack for I/O output needs in NAS applications. The HS-453DX is very easy to assemble, and the magnetic front door cover makes it easy to disassemble and install with a tool-free 3.5-inch hard drive, even if you use it for the first time.

QNAP HS-453DX Read and Write Speeds over 10Gbe
The HS-453DX is equipped with an Intel® Celeron® J4105 quad-core 1.5 GHz processor (up to 2.5GHz for bursting clocks) and 4GB/8GB DDR4 memory (up to 8GB dual channel configuration), supporting SATA 6Gb/s hard The disc and SSD transfer interface provides high-speed access performance and provides excellent data access speed even with AES-NI encryption acceleration.

The HS-453DX also offers a dual-port M.2 2280 SATA SSD expansion slot, which allows you to flexibly configure advanced SSD applications to further enhance performance. The HS-453DX's built-in 10GBASE-T network provides 10GbE high-speed network transmission and supports NBASE-T Multi-Gig (10G/5G/2.5G/1G/100M five-speed network), so you don't need to replace existing ones. Use the network infrastructure of Cat 5e, 6 and 6a cables for faster network performance.

Tested in the QNAP lab, the data will vary depending on the actual environment. 
Test environment:  Firmware: QTS 4.4.0, Storage: 2 x 2.5″ 240GB SSD + 2 x M.2 SSD, RAID 5, 4GB RAM, thick volume, Test PC: Windows 10 Pro, Intel Core-i7 4770 3.4GHz, 16GB RAM, LAN-10G2T-X550 MTU 9000
10Gbe Advantages on the QNAP HS-453DX NAS
Lossless audio and video is immersive, but managing a large lossless format file is a heavy burden. Use 10GbE high-speed network to help you double management efficiency! You can capture the CD into an undistorted lossless format on your computer and quickly transfer it to the HS-453DX via a 10GbE network. QNAP offers a variety of 10GbE network solutions, and now you can upgrade your computer to a 10GbE environment.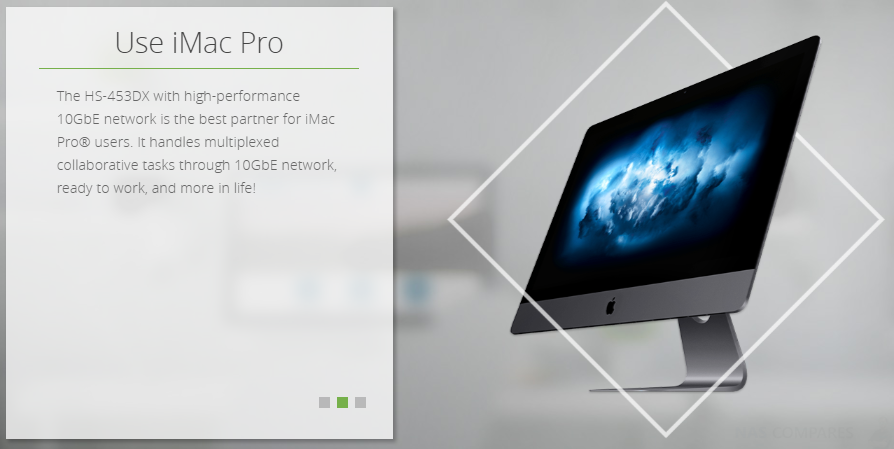 For those that are keen thunderbolt 3 users, I am pleased to confirm that QNAP is developing their own Thunderbolt-to-10GBe adapters, QNA-T310G1T and QNA-T310G1S, that support both 10GBASE-T and SFP+ respectively. In real terms, this means that you can use this small device (promised to arrive at a very affordable price point) to connect your Thunderbolt 3 MacBook or EliteBook DIRECTLY to the HS-453DX silent NAS for editing files on the NAS, whilst using the network and internet capabilities of the HS-453DX to drastically improve your workflow!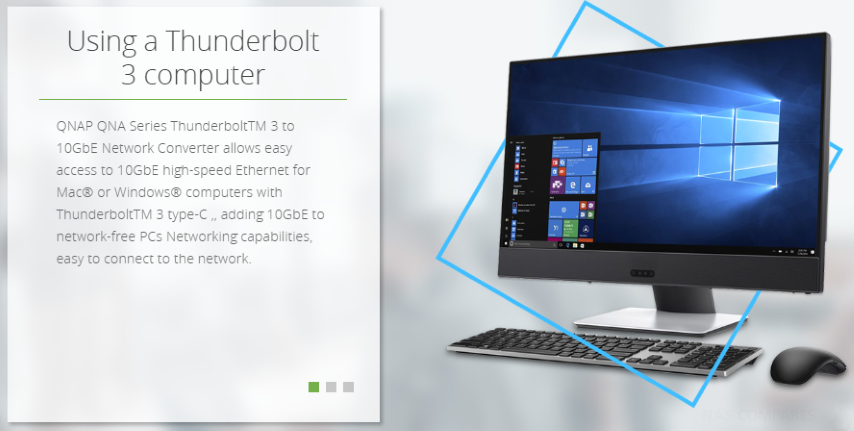 SSD Storage and Caching on the HS-453DX NAS
The HS-453DX has a hybrid HDD + SSD architecture, and as SSD hard drives are no longer expensive, you have the flexibility to configure SSD applications for your HS-453DX: enabling SSD caching or using QtierTM automatic tiered storage Frequently accessed files are moved to higher performance SSDs for optimal storage efficiency. The new QTS supports the RAID level configuration SSD Over-provisioning (OP) function, allowing you to flexibly adjust the SSD OP reservation space (1% ~ 60%) according to application requirements, further improving SSD performance and durability. Sex, make file backup, audio and video entertainment and other applications faster and smoother.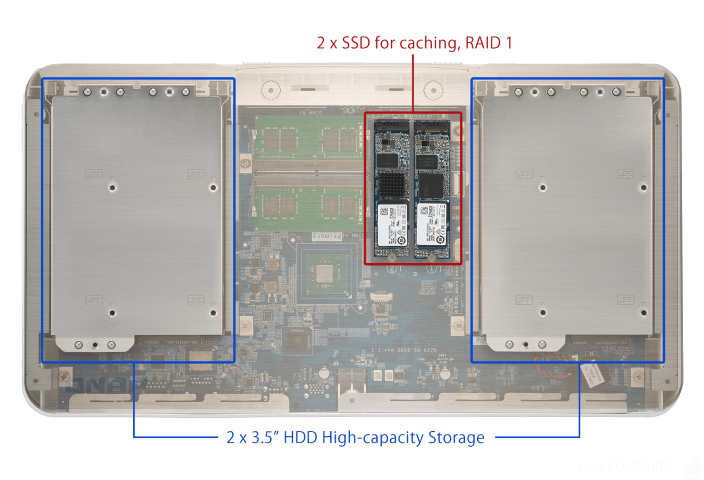 System status and data security, mastered by one hand
QNAP Notification Center is the first to integrate the system and all application status notifications into a single application, allowing you to manage many application notification settings at once, keeping you informed of the status of your NAS. The Security Counselor evaluates the security settings for the HS-453DX and improves the environmental security of the NAS. Notification Center centrally manages all QTS system logs, event notifications, and alert notifications, so you don't have to set up individual apps. Notification management is simple, more convenient and less time-consuming.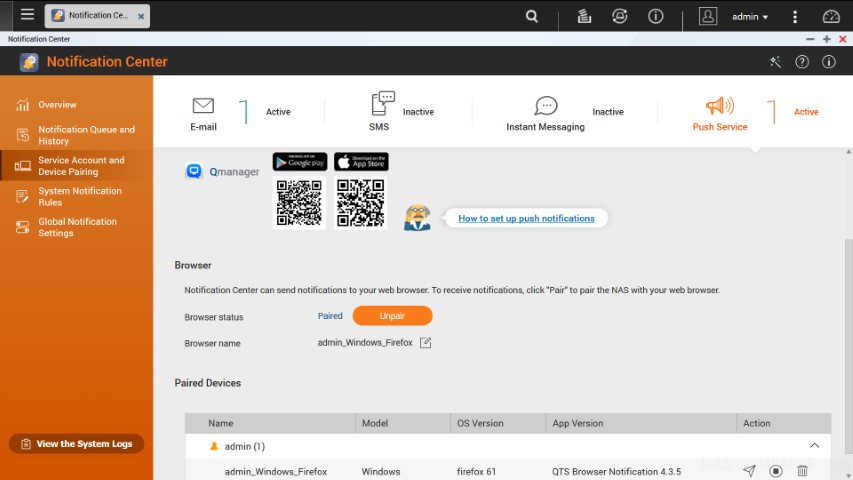 Security Counselor conducts security risk assessments for NAS and suggests appropriate security settings to guard against possible risks and crises. It also integrates anti-virus software and applications that scan for malicious programs to ensure the security of the NAS environment.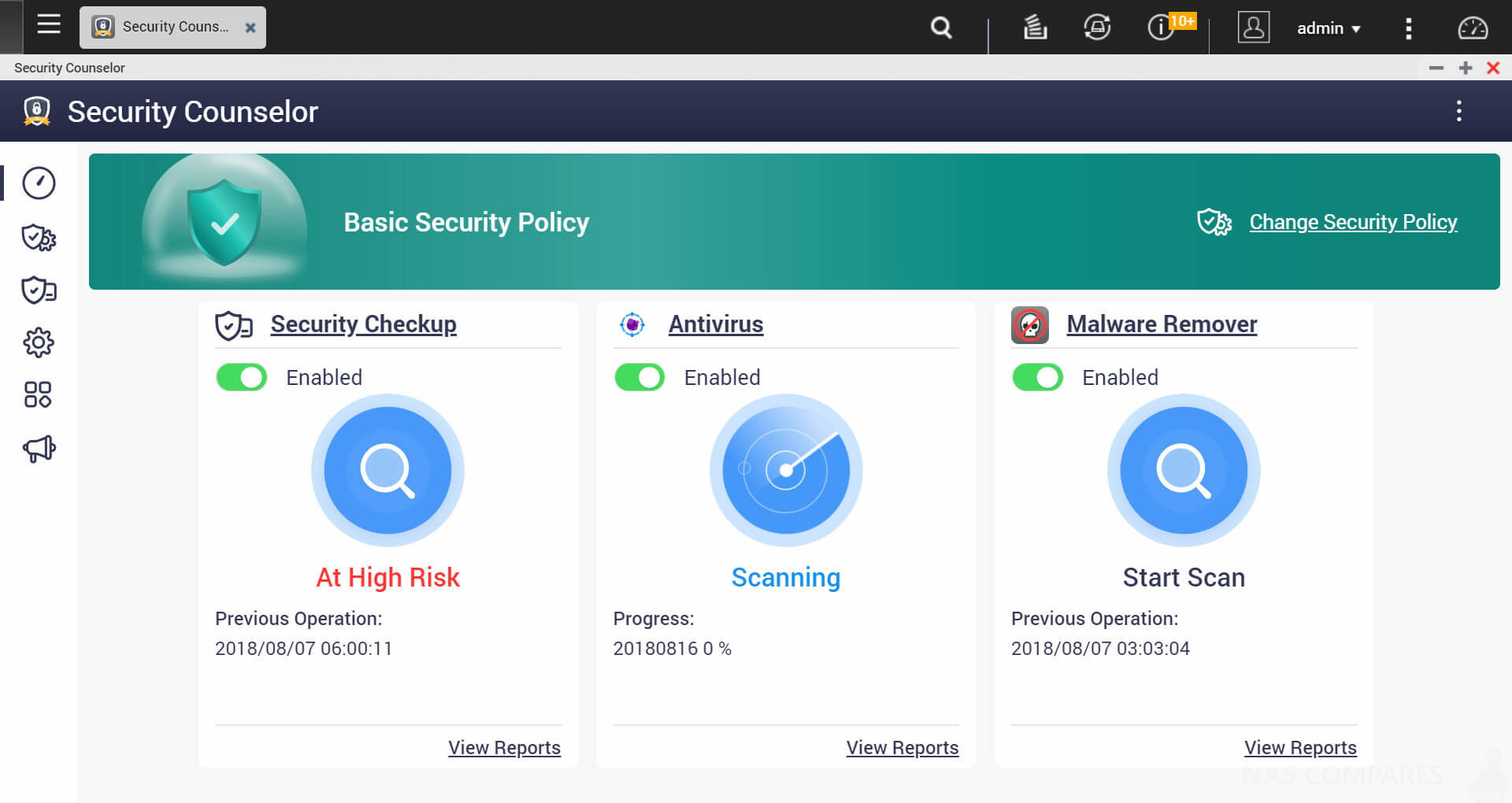 What are the Internal Specifications of the QNAP HS-453DX
Although we have already discussed the precise specifications of the QNAP HS-453DX here on NASCompares before, it is worth discussing them again, as this is one of the most impressive pieces of kit I have seen for several years:
CPU
Intel® Celeron® J4105 quad-core 1.5 GHz processor (up to 2.5 GHz maximum burst)
Processor architecture: 64-bit
graphics: Intel® UHD Graphics 600
Encryption
Yes, AES-NI
Memory
4 GB SO-DIMM DDR4 (2 x 2 GB)
Max Memory
8 GB (2 x 4 GB)
Memory slots
2 x SO-DIMM DDR4
(paired DDR4 memory of the same speed, capacity, and die type required for two DIMM configurations)
Flash memory
4 GB eMMC
# of Drives
2 x 3.5 SATA 6 Gbps hard drive, hot swappable
M.2 SSD
2 M.2 SATA 6Gb/s SSD ports with support for 2280 interface
10 Gigabit Ethernet
1 x 10GBASE-T RJ45, support 10G/5G/2.5G/1G/100M Five-speed
Gigabit Ethernet
1 x RJ45
USB port
2 x USB 2.0
1 x Type-C USB 3.0
2 x Type-A USB 3.0
HDMI output
1 x HDMI 2.0, highest resolution 3840 x 2160 Ultra HD @60Hz
1 x HDMI 1.4b, up to 3840 x 2160 Ultra HD @30 Hz
Audio
• 2 x 3.5 mm dynamic microphone jack
• 1 x 3.5 mm line-out jack
• 1 x speakerNote: Speaker and line-out jack cannot be used at the same time
Infrared (IR)
Yes , support QNAP RM-IR004 remote control
LED indicator
Hard disk 1-2, status
Button
Power, reset
Size
42.8 x 404 x 220 mm
1.68 x 15.9 x 8.66 in
weight
Net weight: 2.40 kg (5.29 lbs)
PSU
90W, 100-240V
Power consumption
Hard disk sleep mode: 13.55W
running: 22.38W(including 2 1TB hard drives and 2 256GB SSDs)
Noise
• Background operation: 6.0 dB(A)
• 2 x 2.5
SSDs: 6.2 dB(A) • 2 x 3.5 HDDs: In
operation: 13.8 dB(A)
Standby: 6.2 dB(A)
Access your files from anywhere
The HS-453DX centrally stores and manages a wide range of data and supports protocols such as SMB/CIFS, AFP and NFS for file sharing between different operating systems such as Windows®, Mac® and Linux®/UNIX®. With the Qsync Sync widget, any file uploaded to the HS-453DX can be read on other desktops, laptops or mobile devices connected to the NAS.
How much will the QNAP HS-453DX Silent NAS cost?
We are still awaiting a confirmed worldwide price on the HS-453DX NAS, but I am assured we will have this VERY soon. I strongly recommend you subscribe here to NASCompares or visit the store below via the 'check availability button' and click on the page for updates as and when they arrive on the HS-453DX.
When will the Silent HS-453DX NAS be Released?
With so much buzz on the QNAP HS-453DX NAS, it cannot be long now till official release worldwide. As previously mentioned, we are still awaiting the release details but if you subscribe here to NASCompares, or click the link below and register for updates, you will be the first to know! I don't know about you, but I am massively excited for the HS-453DX NAS in 2018/2019.

Articles Get Updated Regularly - Get an alert every time something gets added to this page!
This description contains links to Amazon. These links will take you to some of the products mentioned in today's content. As an Amazon Associate, I earn from qualifying purchases. Visit the NASCompares Deal Finder to find the best place to buy this device in your region, based on Service, Support and Reputation - Just Search for your NAS Drive in the Box Below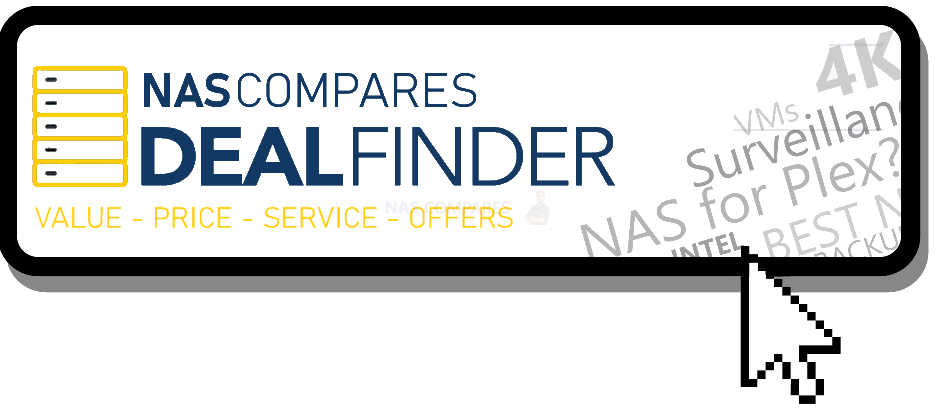 SEARCH IN THE BOX BELOW FOR NAS DEALS
Need Advice on Data Storage from an Expert?
We want to keep the free advice on NASCompares FREE for as long as we can. Since this service started back in Jan '18, We have helped hundreds of users every month solve their storage woes, but we can only continue to do this with your support. So please do choose to buy at Amazon US and Amazon UK on the articles when buying to provide advert revenue support or to donate/support the site below.

Finally, for free advice about your setup, j
ust leave a message in the comments below here at NASCompares.com and we will get back to you.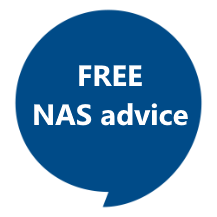 Need Help?
Where possible (and where appropriate) please provide as much information about your requirements, as then I can arrange the best answer and solution to your needs. Do not worry about your e-mail address being required, it will NOT be used in a mailing list and will NOT be used in any way other than to respond to your enquiry.
Terms and Conditions
Alternatively, why not ask me on the
ASK NASCompares forum
, by clicking the button below. This is a community hub that serves as a place that I can answer your question, chew the fat, share new release information and even get corrections posted. I will always get around to answering ALL queries, but as a one-man operation, I cannot promise speed! So by sharing your query in the
ASK NASCompares
section below, you can get a better range of solutions and suggestions, alongside my own.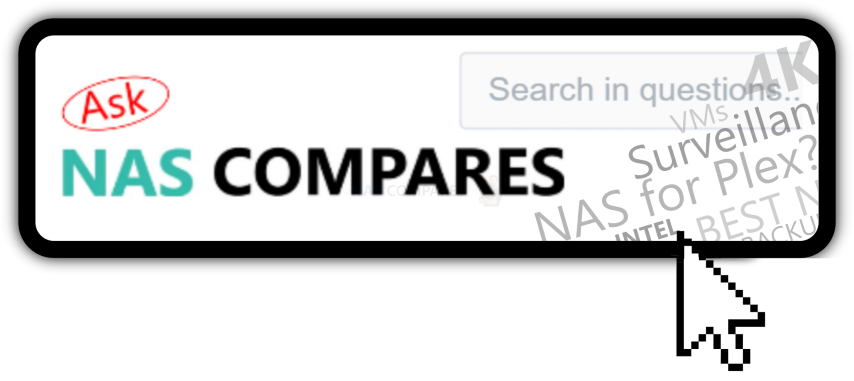 This description contains links to Amazon. These links will take you to some of the products mentioned in today's video. As an Amazon Associate, I earn from qualifying purchases