The Best 4-Bay Thunderbolt 3 NAS – TVS-472XT vs TS-453BT3
When choosing the best Network Attached Storage (NAS) device for your home or business needs, the last thing you want to do is buy something that is not going to do everything that you want it to do. Too often we buy hardware for a purpose and within days or weeks of buying it, regret that it. Maybe it isn't fast enough, maybe it is too loud, too limited or too complex. However, many QNAP NAS buyers in 2018 (especially those in the Mac community who deal with storing or editing photos and video) are making a choice about whether to buy a NAS server with or without a Thunderbolt connection. Being typically much faster than other connections, Thunderbolt is now available for both Mac and Windows systems in the 40Gb/s connection, Thunderbolt 3.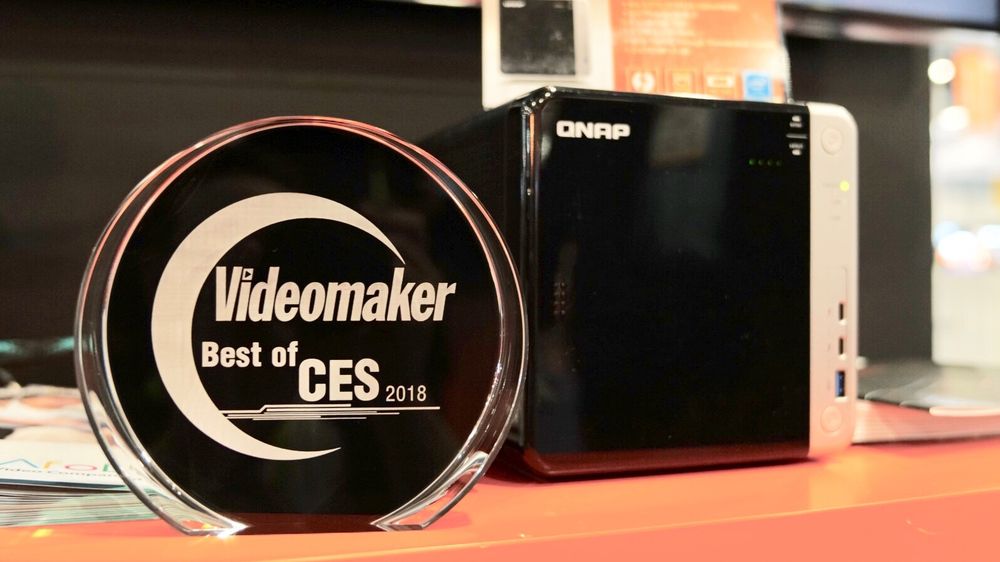 Currently, QNAP is the only brand in the world that has such an extensive range of Thunderbolt-enabled NAS solutions (they practically invented it), so it does make your choice a little tough. How important is the CPU? Is it worth the extra money? Will you use 10Gbe? In order to keep costs lower, QNAP last released their most cost-effective thunderbolt 3 NAS they had ever produced, the QNAP TS-453BT3. This new award-winning NAS arrives using the same chassis design, CPU and Memory of the 2017 released QNAP TS-453B, but arriving with new additions and a few qwerks. Fast forward to now and they have released the new TVS-472XT Intel Pentium powered Thunderbolt 3, 10Gbe and Multimedia enforced NAS.
What can both the

TS-453BT3

and

TVS-472XT

QNAP NAS do?
Before I get down to which of these units is better at what task, I think it is important to know the things that BOTH of these QNAP NAS devices can do. So, whether you decide upon the QNAP TS-453BT3 or the QNAP TVS-472XT, you will definitely be able to: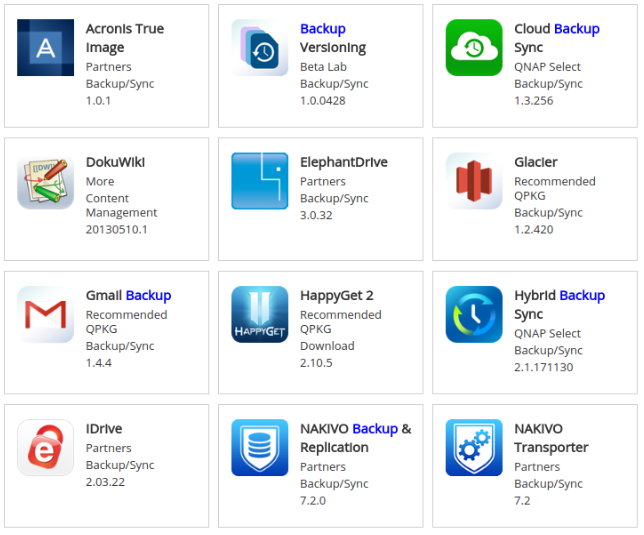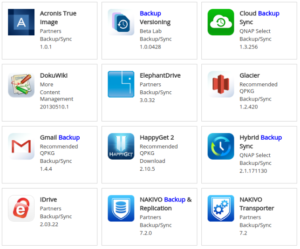 Both the TVS-472XT and the TS-453BT3 feature Thunderbolt 3 ports to directly connect multiple Mac and Windows machines to edit files on the NAS.
Host a Virtualisation Platform – setup and run multiple VMs, supporting multiple Operating systems and enhanced by the Docker app, Container Station
Create a standalone PC with the addition of a keyboard, mouse and monitor
Both units arrive with a remote to maximize the media uses of that HDMI port (TVS-472XT has HDMI 2.0a for 60fps 4K)
Both TS-453BT3 and TVS-472XT let you connect to a 10Gbe network VIA thunderbolt 3, by using the NAS as a thunderbolt-to-10G bridge
Serve as a cross-platform service – bridging connections and transfers of files between Mac and Windows systems over the network
Heavily support RTRR and comprehensive snapshot technology meaning you will have an equal amount of backup options whichever you go for. As well as migration, connection and interaction with existing cloud services like dropbox, Google Drive ElephantDrive

Create comprehensive Surveillance solutions, supporting multiple IP cameras and even arriving with some licences included (more camera supported on the TVS-472XT)
Access exactly the same NAS OS that is updated regularly and has a huge app store to really customise your setup to make it your own

Both feature a means to access your data via direct attached storage
Both the TS-453BT3 and TVS-472XT feature 10Gbe connectivity to edit files at 10x the bandwidth of traditional network speeds.
Why Buy the QNAP

TVS-472XT

Thunderbolt 3 NAS?
First off, let's get it out of the way – the QNAP TVS-472XT is a big, BIG deal. In terms of sheer innovation, you would be hard pushed to find a stronger brand than QNAP. In recent years we have seen genuine industry defining hardware releases and incredibly designed means to make your data accessible as organically and fluidly as possible. Of all of these developments, the real jewel in their crown is their range of Thunderbolt NAS devices. Since the release of their first TVS-871T Thunderbolt NAS back in late 2015, we have seen them develop Thunderbolt 2 and 3 NAS into an industry-defining piece of kit. Providing content creators across the world the ability to make previously network only accessible network attached storage accessible by thunderbolt connectivity by multiple users at once. Reshaping studio and broadcast media workflow for the better, there have been several versions of this thunderbolt NAS technology since it's the first release (the older TS-453BT3 and TVS-882ST3 to name a few) each more tailored to fit a distinct workflow. Now in 2018/19, we have been informed of the very latest Thunderbolt 3 NAS to be released, the Thunderbolt 3 and 10Gbe enabled TVS-x72XT range, arriving in 4, 6 and 8-Bay. So, let's find if why/if you should be excited?
This slideshow requires JavaScript.
What can the 

TVS-472XT

Thunderbolt NAS Do?
The high-performance QNAP TVS-472XT  NAS with the 8th generation Intel® CoreTM processor features 10GBASE-T and ThunderboltTM 3 dual-network high-speed connectivity, and plenty of bandwidth for simultaneous processing of multiplexed tasks, smooth transfer, playback and Online editing of 4K videos and coping with related workloads, with M.2 SSD cache acceleration data access and PCIe expansion graphics card, perfect for high-speed sharing of efficient collaboration environment. The TVS-872XT has better specifications, fuller performance, full multimedia functions, and flexible expansion of storage space and NAS applications so that you can inspire more creativity and work more in your work and life!

The 

TVS-472XT

Thunderbolt and 10GBe NAS Summary
The QNAP TVS-472XT features the 8th generation Intel Core CPU and DDR4 dual-channel memory (expandable to 32 GB) for superior system performance. It has 2 Gigabit and 10GBASE-T network ports (supports 10G/5G/2.5G/1G/100M five-speed transmission) and supports SATA 6Gb/s hard disk transmission interface even in AES 256-bit NAS. When the machine encryption is accelerated, it still provides excellent data reading and writing speed. The TVS-x72XT's Thunderbolt 3 not only enables faster file transfer, but also connects to USB Type-C external hard drive devices, supporting USB 3.1 Gen2 up to 10 Gb/s transfer rate, allowing you to use the USB interface. Quickly complete large-scale transmission such as audio and video media, which is more widely used, more efficient, and very convenient.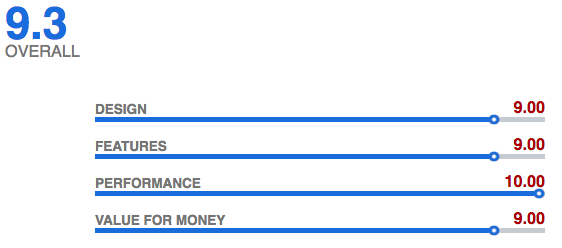 Why Buy the QNAP

TS-453BT3

Thunderbolt 3 NAS?
QNAP NAS has been easily the most innovative network attached storage brand of the year and when they adopted the popular mac and windows based connection, Thunderbolt, into their NAS devices, they knew they had struck gold. Thunderbolt NAS has been around now for 2 years and in that time, QNAP has heavily invested in this technology (they are currently the only provider of a Thunderbolt-enabled NAS server in the market and capitalize on this). As they have explored the viability of this form of connection, they have released several waves of units, each very distinctive and aimed at different thunderbolt users. The TS-453BT3 Thunderbolt NAS is an excellent example of how they manage to push the envelope of what a NAS can do!

The TS-453BT3 Thunderbolt 3 NAS really was a game changing release. What makes it such a game changer is that price tag vs hardware. Arriving at under $999,  the device features MANY of the key functions and abilities of the TVS-871Tand the TVS-1282T3, but manages to trim the edges to bring you thunderbolt 3 direct connectivity on a NAS, at a huge drop in price. Many of the key features such as:
Dual Thunderbolt 3 Ports for connecting multiple Macs
The TB3 USB Type C Ports also support USB Connectivity
10GBe Connectivity
M.2 SSD Ports inside for SSD Caching
4K Media Playback
Much more compact at just 4-Bays
Supporting JBOD, RAID 1, RAID 0, RAID 5, RAID 6, RAID 10 and more
Native 4K Transcoding
PLEX Media Server Hosting
VM Hosting
Thunderbolt3-2-10GBe Connectivity

The chassis is an adapted version of the TS-453B NAS Chassis released back in Spring of 2017. The case is designed with two objectives in mind. 1, To keep the device compact and 2, to reduce noise, but still keep cooling and ventilation high. This is successfully achieved with a NAS case that is almost half the size of the TVS-682T, but with only one rear fan, ventilation on almost every side and temperature sensors throughout. The front of the device is the same as the TS-453B but silver as opposed to blue, with dual USB-C ports for that all important Thunderbolt 3 connection (as well as USB 3 as needed of course). There is an LCD panel providing realtime information about the device, LED lights for highlighting the HDD health, system access, network access and more. If you move the front panel, you find the 4 fast access drive bays (cannot be locked sadly) that eject plastic click and load trays. The device supports the very latest 10TB and 12TB Hard drives, however always do bear in mind that the bigger the drives, the more rugged the construction and overall the more noise the drives might make whilst in operation.
This slideshow requires JavaScript.
You would be forgiven for being concerned about what CPU and RAM would be inside this NAS. When the words 'Cost Effective' or 'Value for Money' are thrown around, many are suitably suspicious. However, like many of the foundations of the TS-453BT3, this device has used the same CPU and 8GB of DDR3L Memory that is featured on the TS-453B. An Intel Celeron J3455, featuring a Quad-Core with 1.5 GHz frequency per core that can be burst up to 2.3 GHz. It is a 64-bit Architecture chip that also features Intel HD Graphics and for the security conscious, AES-NI Hardware Encryption. As mentioned, the device arrives with the maximum memory pre-installed at 8GB (2 x 4 GB DDR3L).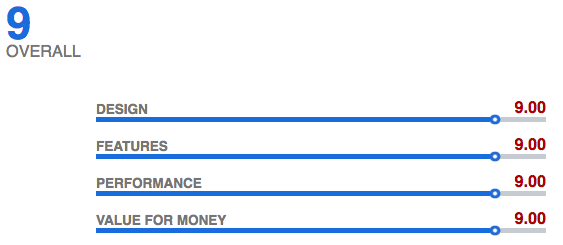 How do the Specifications of the TVS-472XT and TS-453BT3 NAS Compare?
It when we take a closer look at the hardware inside the QNAP TS-453BT3 and the TVS-472XT that we really see what makes these two NAS different. The TS-453BT3 is designed to give you the features and functionality of Thunderbolt 3 and 10Gbe, but maintain a price point that is easier for users to afford. The TVS-472XT is a different kind of beast NAS, as it features powerful hardware and ports throughout, as well as better means to improve and upgrade as you go. It is for this reason that the hardware in the TVS-472XT is just BETTER in almost every single way. It is more than just the power of the components, but efficiency and the ability of the CPU, the Speed of the Memory, the functionality of HDMI 2.0a vs HDMI 1.4b and the inclusion of USB 3.1 Gen 2 vs USB 3.1 Gen 1 (USB 3.0) . The TS-453BT3 may cost £100-150 less (depending on where/when you shop), but the TVS-472XT gives you so, so much more value and future-proofing!
TVS-472XT 4-Bay NAS

QNAP Thunderbolt and 10GBe

TS-453BT3 4-Bay NAS

QNAP Thunderbolt and 10GBe

processor
Intel® Pentium® Gold G5400T Dual Core 3.1 GHz Processor
Processor Architecture: 64-bit
Graphics: Intel® UHD Graphics 610

Processor: Intel® Celeron® J3455 quad-core processor 1.5 GHz, up to 2.3 GHz
processor architecture: 64-bit
graphics: Intel® HD Graphics 500
encryption engine: AES-NI

Cryptographic acceleration engine
(AES-NI)
(AES-NI)
Standard system memory
4 GB SODIMM DDR4 (2 x 2 GB)
8 GB RAM (2 x 4 GB DDR3L)
Maximum expandable memory
32 GB ( 2 x 16 GB)
8 GB (2 x 4 GB)
Number of memory slots
2 x SO-DIMM DDR4
(paired DDR4 memory of the same speed, capacity, and die type required for two or four DIMM configurations)
2 x SODIMM DDR3L
M.2 SSD
2 M.2 PCIe (Gen3 x2) NVMe SSD ports supporting 2280 interface
2 x M.2 2280 SATA 6 Gbp/s SSD
Thunderbolt 
2 x Thunderbolt 3 transmission
2 x Thunderbolt 3 transmission
10 Gigabit Ethernet
1 x 10GBASE-T RJ-45
1 x 10GBASE-T RJ-45
Gigabit Ethernet
2 x RJ45
2 x RJ45
PCIe expansion slot
Slot 1: PCIe Gen3 x16 (CPU)
Slot 2: PCIe Gen3 x4 (PCH)Note: Slot 1 is pre-installed with a Thunderbolt 3 network expansion card

1 x PCIe 2.0 x2
Note:
1. Pre-installed a QM2 expansion card (QM2-2S10G1TB) with a single 10GbE 10GBASE-T network port and dual M.2 SATA SSD slots.
2. The dual M.2 SATA SSD slot on this QM2 only supports M.2 2280 SATA 6Gb/s SSD. Please confirm compatibility before purchasing SSD .

USB port
1 x USB 3.0
2 x Type-C USB 3.1 Gen2 5V/3A 10Gbps
2 x Type-A USB 3.1 Gen2 5V/1A 10Gbps
5 x USB 3.0 (front: 1 x one-button backup; back: 4)
HDMI output埠
1 x HDMI 2.0, highest resolution 3840 x 2160 Ultra HD @60Hz

2 x HDMI 1.4b (up to 3840 x 2160 @ 30 Hz resolution)

Source
• 1 x 3.5 mm dynamic microphone jack
• 1 x 3.5 mm line-out jack
• 1 x speaker
• 2 x 3.5 mm dynamic microphone jack
• 1 x 3.5 mm line-out jack
• 1 x speaker
QNAP

TVS-472XT

and

TS-453BT3

Thunderbolt NAS – Conclusion
On a software level and from a tick-box of features point of view, these two NAS are similar – near identical! However this is another case of quality vs quantity and though both the TS-453BT3 and the TVS-472XT are excellent Thunderbolt 3 enabled NAS devices (10Gbe too), the sheer extent of how much further the TVS-472XT will take you is impossible to ignore. The TS-453BT3 will certainly leave a smaller footprint in your office/home environment (in terms of noise, power consumption and size) and for many that is a key factor, but if you are looking for power, efficincy and future proofing, then you should not hesitate in buying the TVS-472XT TB3 and 10Gbe NAS.
Why Buy the QNAP TVS-471XT NAS

Why Buy the QNAP TS-453BT3

Better CPU
Better Memory Options
Available PCIe Slot
HDMI 2.0a for Better 4K
USB 3.1 Gen 2
USB-C
Better Read/Write
NVMe SSD Support
Better Performance for Photo/Video Editing

Lower Running Costs
Quieter
Smaller Chassis
Better TB3 Port Placement
Includes Remote
Lower Price
Dual HDMI
📧 LET ME KNOW ABOUT NEW POSTS 🔔
Join 1,410 other subscribers
Get an alert every time something gets added to this specific article!
This description contains links to Amazon. These links will take you to some of the products mentioned in today's content. As an Amazon Associate, I earn from qualifying purchases. Visit the NASCompares Deal Finder to find the best place to buy this device in your region, based on Service, Support and Reputation - Just Search for your NAS Drive in the Box Below
Need Advice on Data Storage from an Expert?
We want to keep the free advice on NASCompares FREE for as long as we can. Since this service started back in Jan '18, We have helped hundreds of users every month solve their storage woes, but we can only continue to do this with your support. So please do choose to buy at Amazon US and Amazon UK on the articles when buying to provide advert revenue support or to donate/support the site below.

Finally, for free advice about your setup, j
ust leave a message in the comments below here at NASCompares.com and we will get back to you.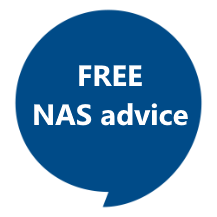 Need Help?
Where possible (and where appropriate) please provide as much information about your requirements, as then I can arrange the best answer and solution to your needs. Do not worry about your e-mail address being required, it will NOT be used in a mailing list and will NOT be used in any way other than to respond to your enquiry.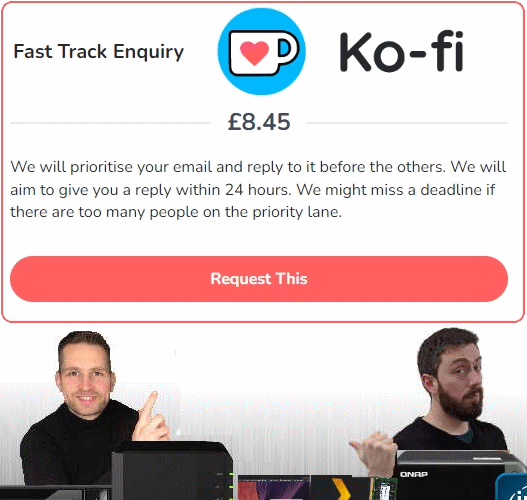 Terms and Conditions
Alternatively, why not ask me on the
ASK NASCompares forum
, by clicking the button below. This is a community hub that serves as a place that I can answer your question, chew the fat, share new release information and even get corrections posted. I will always get around to answering ALL queries, but as a one-man operation, I cannot promise speed! So by sharing your query in the
ASK NASCompares
section below, you can get a better range of solutions and suggestions, alongside my own.
This description contains links to Amazon. These links will take you to some of the products mentioned in today's video. As an Amazon Associate, I earn from qualifying purchases