Does the QNAP HS-453DX Silent NAS live up to the Hype?
2018 has been an incredible year for network attached storage. We have seen some truly groundbreaking pieces of technology come from QNAP throughout the year and none more so than the newest silent NAS that was originally uncovered way back in the spring. Finally, after half a year of waiting, I have got my hands on the brand new QNAP HS-453DX NAS and I get to find out if this really does live up to the Expectations. Featuring a brand new CPU for network attached storage, HDMI 2.0A for improved 4K 60hz playback, 10-gigabit ethernet connectivity and a combination of hard drive and SSD Media – this QNAP NAS has the potential to be one of the greatest pieces of network storage I have ever got my hands on. Arriving at just over £520+ without VAT and storage media, this is not a cheap NAS device and unless you intend to use all of the features mentioned, chances are this may seem like quite an expensive piece of kit. So let's get started and find out if this is the perfect NAS for you.
QNAP HS-453DX Quick Results:
Pros of the QNAP HS-453DX
Cons of the QNAP HS-453DX

Intel J4105 Celeron CPU
Genuinely the Best looking NAS for years
HDMI 2.0a Output
4K Transcoding
Audio In/Out
10Gbe Port
Silent (withlownoise media ideally)
Includes Remote Control
HDD+SSD Combination Storage

Only 2 Years Warranty
No USB 3.1 Gen 2
Heat is a consideration
QNAP HS-453DX NAS – Design
The retail packaging for this QNAP NAS is very clean and modern, with lots of information on the external packaging telling us about what hardware this device arrives with, as well as the software abilities that it can perform. The HS-453DX packaging carton was surprisingly large and given that I had never got my hands on this device until now, I was unaware in real terms just how large this device was, but we will get to that later.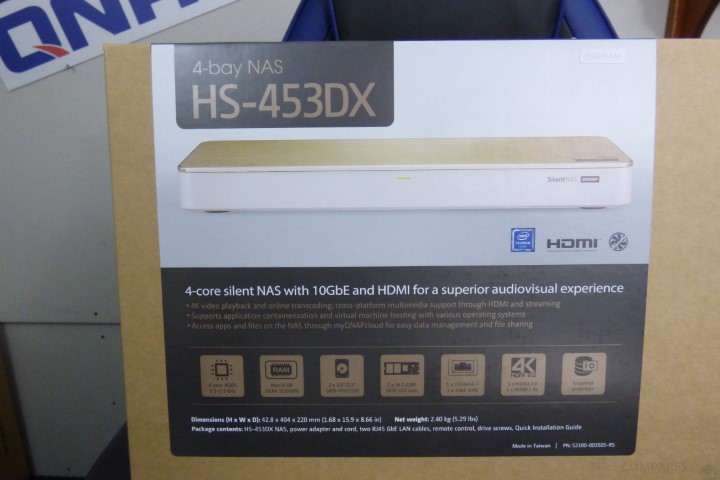 Once I opened up the retail packaging, I was able to find a good selection of accessories inside.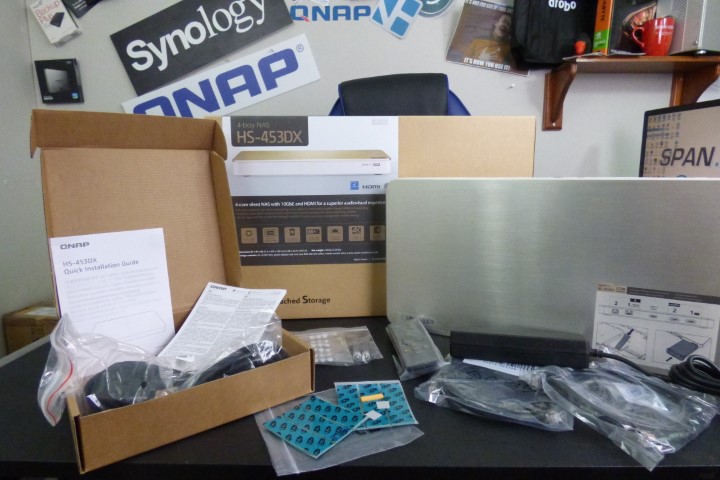 All securely packaged together and safely encased for transit, inside I found the following:
HS-453DX NAS server device

External power supplier

Mains power lead

2x  CAT 6a RJ45 LAN cables

New QNAP style remote control

Quickstart Installation guide and Warranty information

Hard drive screws for 3.5 inch and 2.5 inch media

Adhesive heat sink panels for M2 SSD drives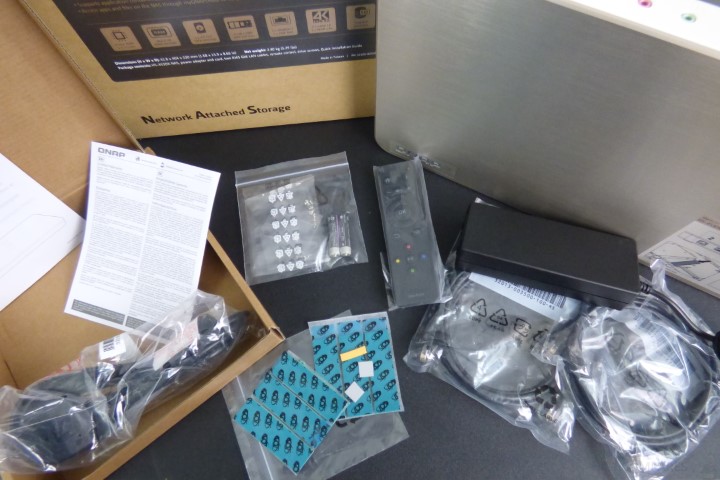 Pretty much everything that you are going to need to begin the set-up and full installation of this silent NAS drive in your home or business environment though you will still need to buy hard drives and or SSD media separately.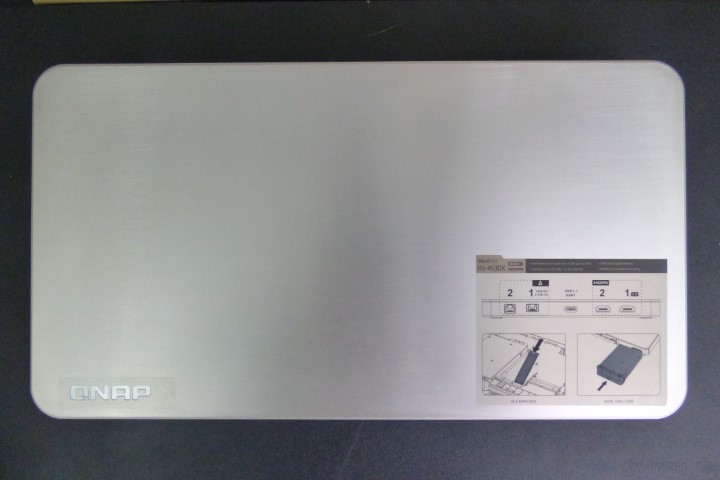 Straight away, as soon as I've removed the HS-453DX from its packaging, I was surprised by the width of the device. Every image of this device I had seen previously did not prepare me for just how wide this device is.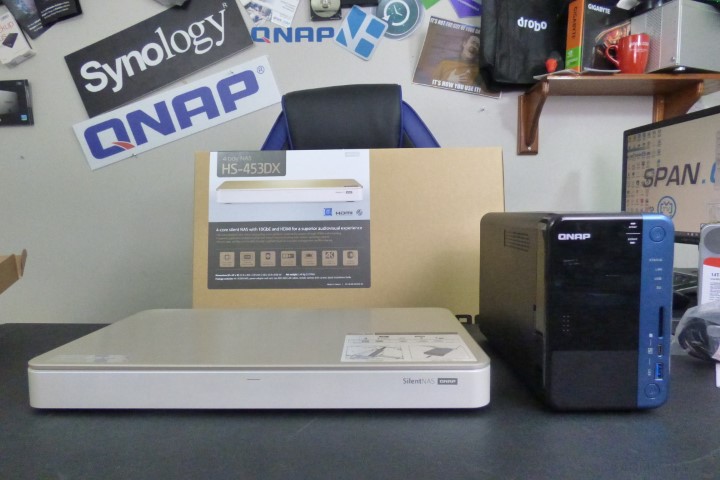 It is an exceptionally shallow depth and low height device at just over 4 cm in high and 22 cm deep, it fits in almost any discreet area required. However, it is still just over 40 cm wide, which is about as wide as a traditional 8 bay NAS. This has clearly been done to take advantage of the heat dissipation of the top metal panel and to spread hardware across the surface as much as possible and alleviate potential temperature issues. As this device does not have an internal fan and instead relies on several passive heatsink component internally, the need to space hardware out horizontally makes a great deal of sense.
The top, copper panel of the HS-453DX is genuinely eye-catching in a Rose gold/Copper colour. Cool and heavily metallic, this panel will definitely assist in dissipating heat from the internal hardware.  There is also additional heat sinking methods used inside, but we will get on to that later on.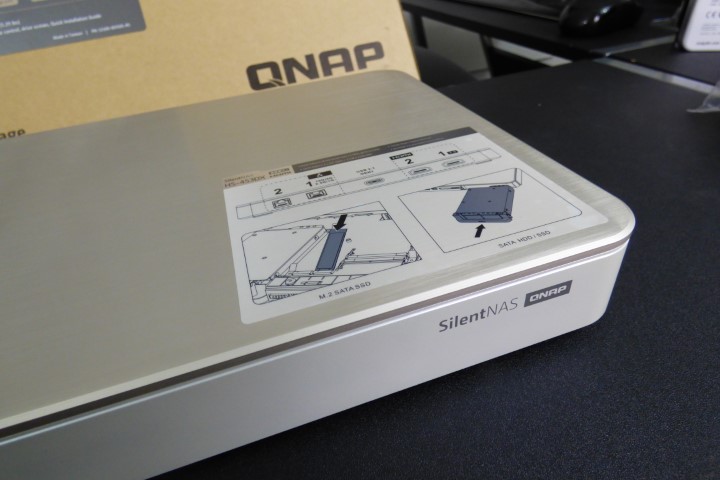 The front of the device is tremendously understated and considerably more discreet than any NAS I have ever reviewed.  The front panel, in fact, does not feature anything that minor LED light transparency and the QNAP Silent NAS logo.
In fact, this NAS is so unique in its design and the way it has been constructed, that it has won the World Design Award 2018 for its chassis and has even made it into the CES 2019 design awards next January.  I can honestly say I do not know of a single other NAS drive that has ever featured in these Awards, let alone both. impressive indeed.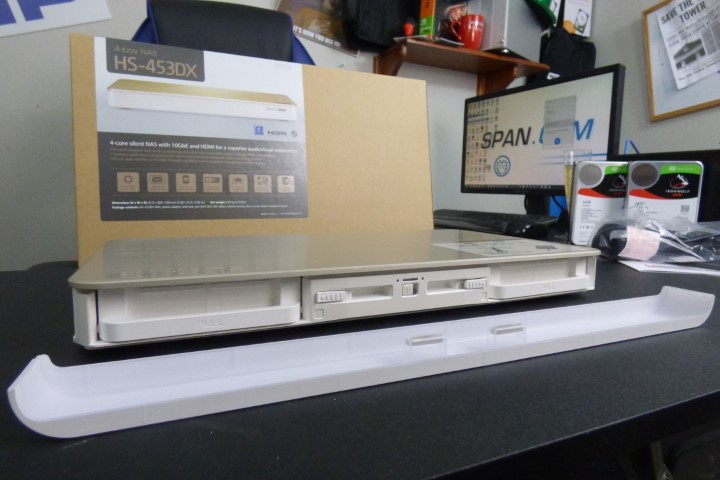 QNAP HS-453DX NAS – External Hardware
The front panel is held in place by two magnetic panels in the centre and can be easily removed revealing two hard drive bays, with their own dedicated locking mechanism, as well as further LED drive health/access indicators and the power button.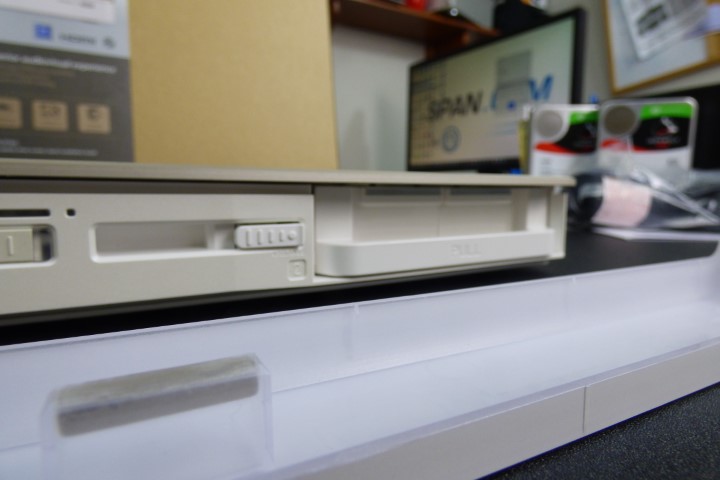 Each hard drive bay has its own lock switch that prevents drives accidentally being removed whilst in use. The mechanism is quite rigid for a 2 bay and hot swapping will be quite an ordeal on this device if you wish to swap HDD/SSD from time to time.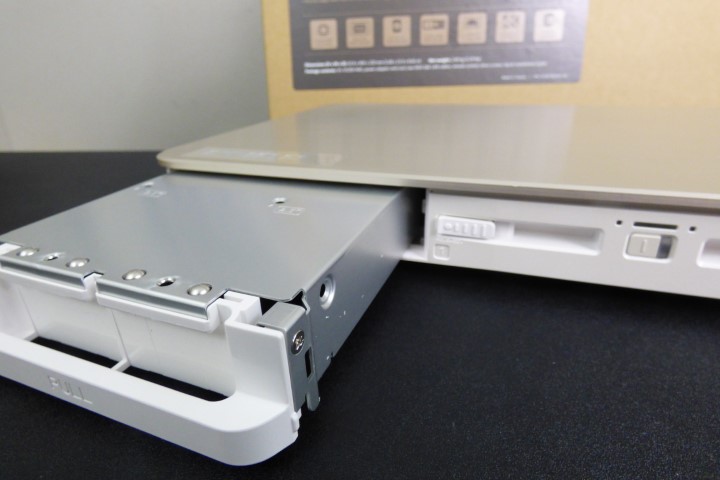 Each drive tray is metal in design and features screw holes for both hard drive and SSD Media. You can operate the HS-453DX with a single drive or fully populate the device with two drives in a RAID 0 or RAID 1 configuration, as per your needs.  I am also pleased to confirm that this device supports the latest 14 Terabyte Seagate Ironwolf and Ironwolf Pro NAS hard drives. Although it is worth mentioning that more enterprise-level hard drives are more rugged in construction and therefore will generate more noise when in use, thereby undermining the Silent nature of this QNAP NAS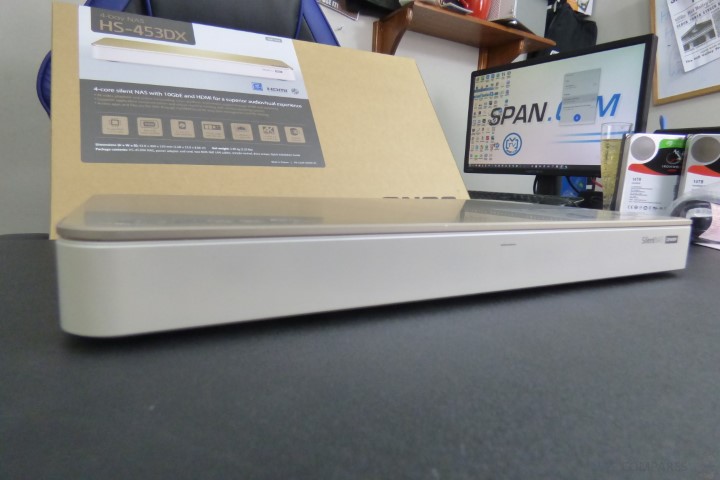 The sides of the HS-453DX silent NAS are smooth and featureless, without any need for additional ventilation or ports due to the lack of fans internally. This will limit dust collection within the device and also adds to the general modern and award-winning design of the HS-453DX.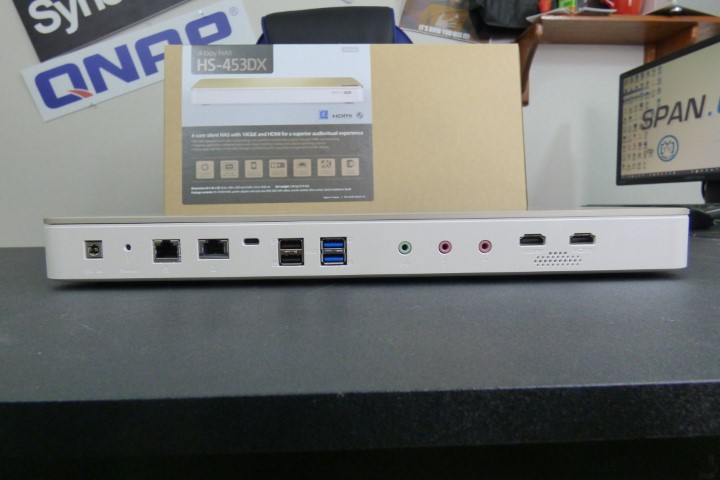 A look at the back of the HS-453DX QNAP shows all of those incredibly innovative ports and connections that make this NAS appealing for more than just it's silent operation qualities.
Next to the power and reset button, we find the 1Gbe LAN port that makes network and internet access to the HS-453DX possible.  Although the 1Gbe RJ45 port is useful and rather common in NAS, what really grabs your attention is the inclusion of 10Gbe. This 10GBASE-T based 10 gigabit per second ethernet port allows you to access the contents of the NAS at 10 times the maximum speed t that of traditional 1Gbe. This combined with the combination of hard drive and SSD Media inside means that you have got a NAS with fantastic internal speed and fantastic external speed –  in short, the bottlenecks are removed on this NAS.
Remember that you can either connect directly from a 10Gbe enabled PC or Mac to this device for live editing of dense video media on the NAS or connect this NAS to an existing 10 gigabit network switch and allow multiple users to access the NA at faster speeds than a traditional 1gGbe as could ever possibly provide.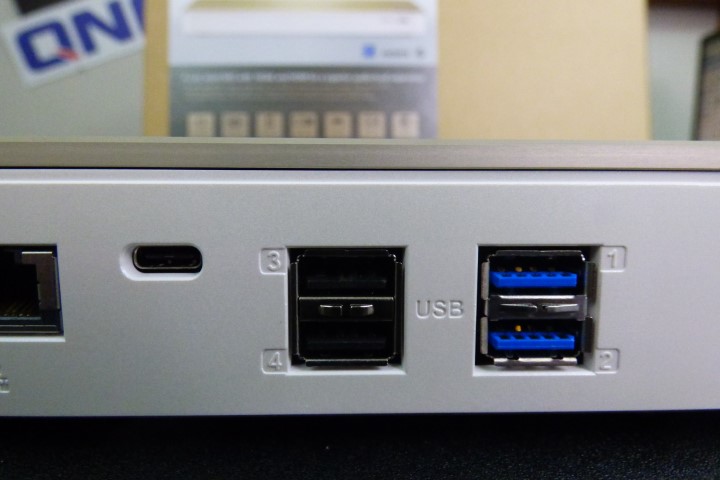 With regard to USB devices, expandable storage, and peripherals, the QNAP HS-453DX features a multitude of support in these areas.  You can utilise the old-fashioned USB 2.0 ports for peripheral devices, such as a keyboard, mouse or wireless dongle. You can utilise USB 3.1 gen 1 USB type-C connectivity for a drive that utilises this more modern connection and finally, you can utilise USB 3.0 type-A to connect Further 5 Gb/s peripheral devices to the NAS. Like other QNAP NAS devices, you can utilise USB storage devices for backup purposes or to make the content of those drives network accessible.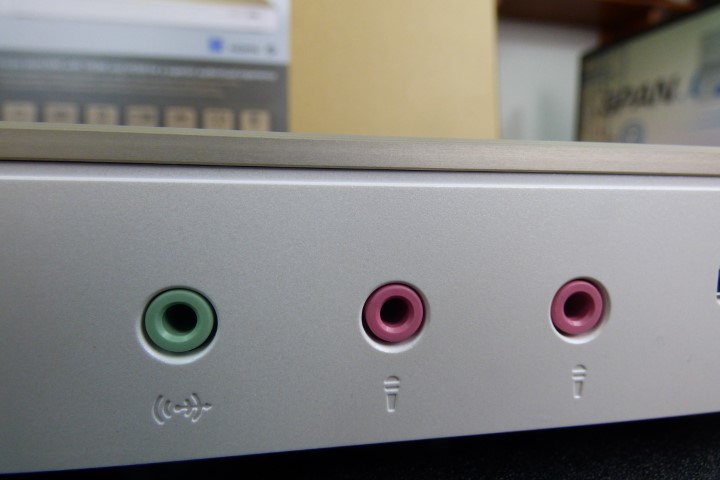 Another cool feature that we find occurring more and more on the rear of QNAP NAS is the inclusion of audio in and audio out ports. The HS-453DX features two ports that can connect two separate microphones, for everything from live streaming on YouTube with the DJ2s to software included karaoke, using these audio socket with the Skype HD station application (unoffical) and Linux station virtual machines if you want. You can also connect this NAS via audio out to an existing sound system for playing your audio media directly to a device without using network or internet connectivity.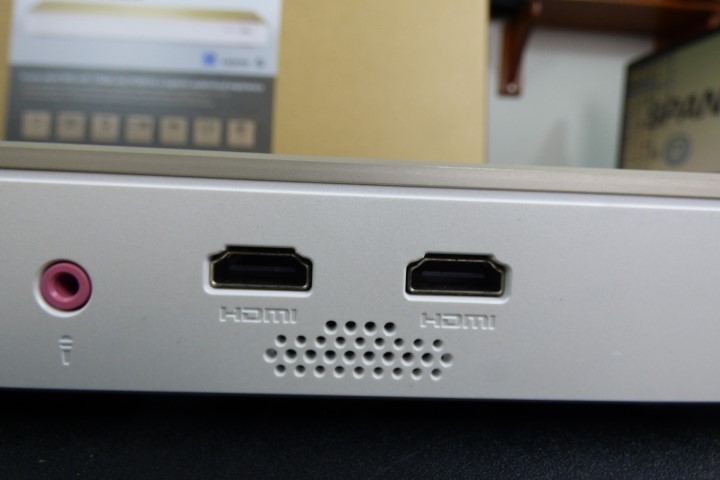 In terms of HDMI output, the HS-453DX also breaks new ground with regard to 4K media. This NAS arrives with two HDMI port that both support 4K Media, but one of them is HDMI 2.0 and supports 4K movie playback at 60hz. Once you use this NAS for multimedia output in key applications such as Plex and Kodi (unofficially supported), you are able to watch some insanely high resolution media easily and from the comfort of your sofa. Remember this device also includes the QNAP remote control for easy and versatile control of multiple NAS functions.

The second HDMI port also provides support of audio over HDMI for those that have this kind of setup and both HDMI ports can be used by the NAS in conjunction with a keyboard and mouse for such functions as a surveillance station (with the QVR Pro and Surveillance station software) or a stand-alone PC with the virtualisation station or container station application that is included free with this nas.
QNAP HS-453DX NAS – External Hardware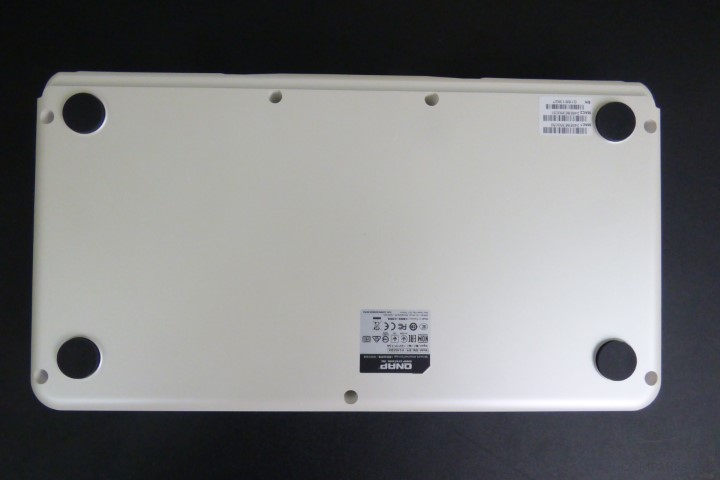 Alongside the two hard drive bays on this device, there are also two M2 SSD bays inside the device and in order to access and install media on these bays, we need to remove the top heat sink panel.  In order to do this, we need to remove 7x screws from the base of the device .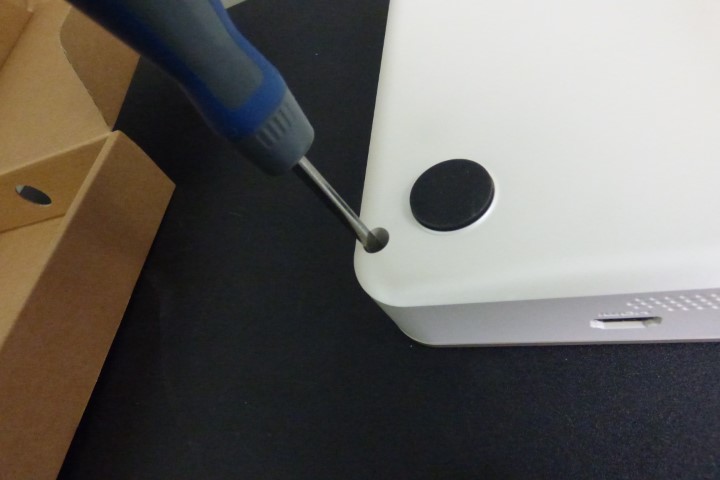 Once we have removed 4 or 7 screws , the copper coloured top panel easily slides away to reveal the internal hardware of the HS-453DX silent NAS.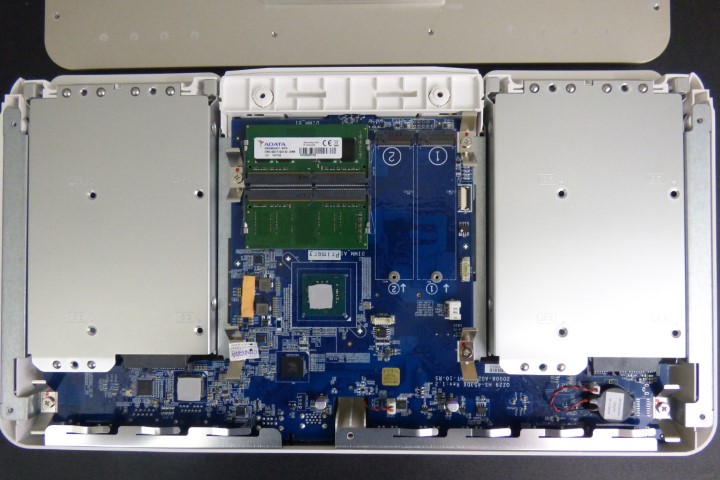 Inside we find a very smart layout of hardware, that is both unique and very clever. In order to ensure maximum heat dissipation across the top panel, all the internal hardware is laid out across a specially designed motherboard unique to this device.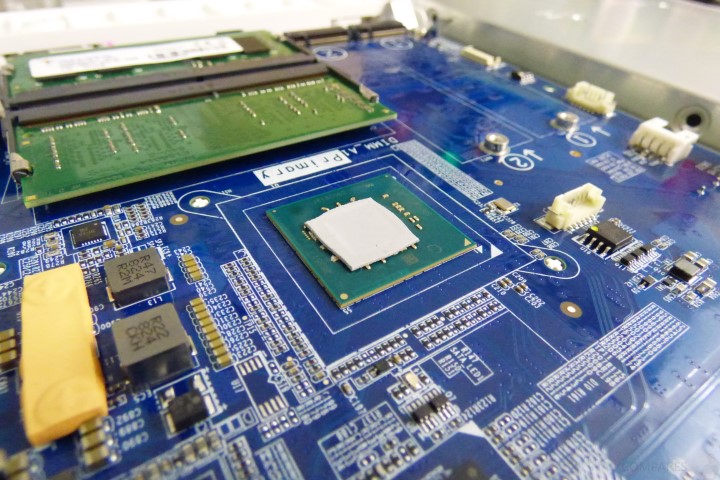 A closer look at the main CPU of this device shows that there is only a small layer of heat sink between the CPU and the lid, featuring well covered and familiar thermal paste. The Intel J4105 quad-core CPU inside this device is 1.5GHz in frequency, that can be burst up to 2.5 GHz across each core when the system needs it.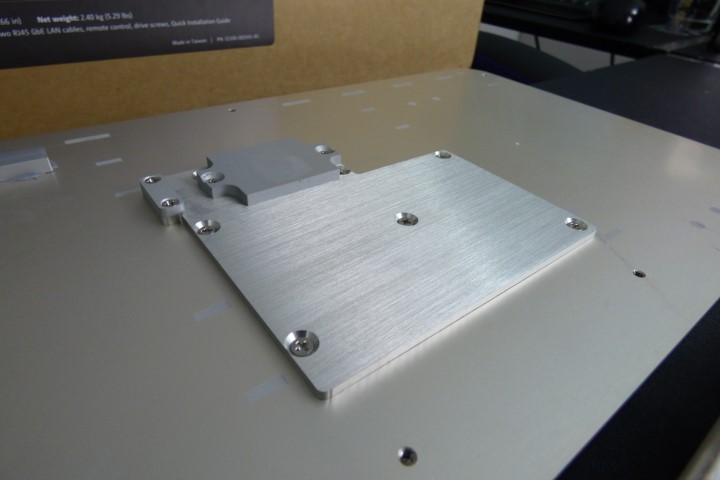 If we look at the inside of the copper lid we removed earlier, we can find an additional aluminium heatsink panel specially built in to assist further dissipation of that CPU into the top panel. There is additional thermal paste between these two layers also.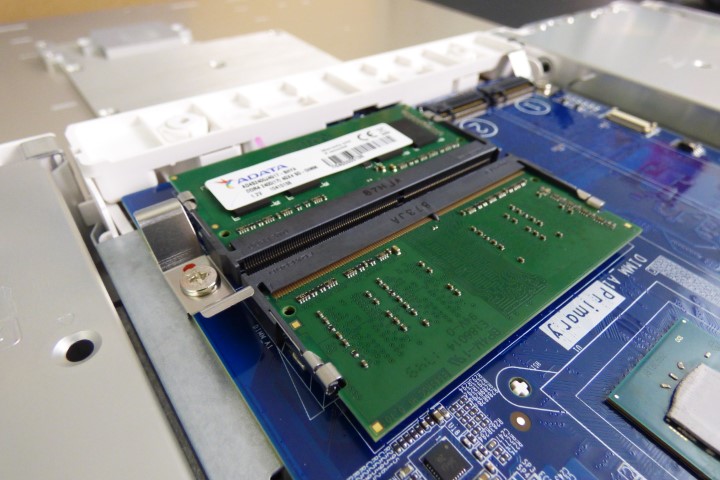 The QNAP Silent NAS also arrives with DDR4 2400 memory support and the HS-453DX arrives with either 4 or 8 GB of memory (by default 4GB). I am positive this device will support Kingston and Crucial alternative memory up to 16GB, however do be sure to pair your memory accordingly and check compatibility in advance.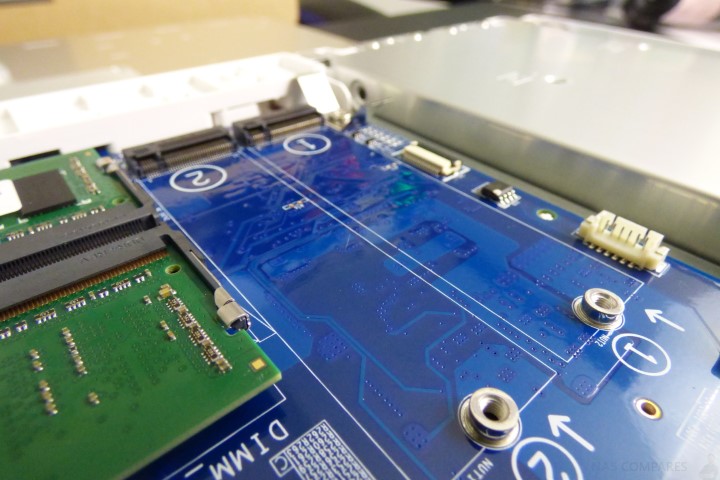 Besides the CPU and Memory, we find the two internal M2 SSD slots. It is worth bearing in mind that not only are the slot both SATA 6Gbs in architecture but also that you can only install full length M2 SSD, as there are only screw holes provided for this length.
The M.2 SSD storage bays can be used in a number of ways. The most common use is as SSD read/write cache, whereby these faster storage media types are used to support the existing hard drive storage – vastly improving internal read write operations overall in typical use.  Alternatively, you can set up a separate RAID volume across these drives in a RAID 0 environment, then utilise the external 10Gbe connectivity to create a ridiculously fast internal and external storage volume for live editing photo and video files on the NAS. Once completed, you can manually or automatically transfer this completed work to the hard drive volume across the other two HDD bays in a RAID 1 or RAID 0 environment, then this work can be distributed across the network or internet to your clients customers colleagues or family as needed. A great, compact and quiet editing NAS indeed.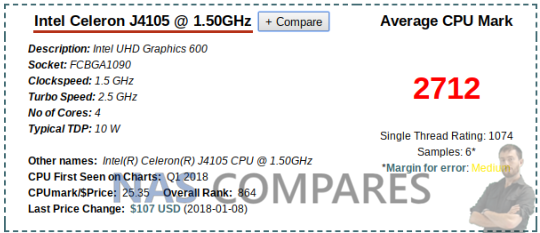 QNAP HS-453DX NAS – Software
The HS-453DX from QNAP arrives with the QTS operating system and with this you can create a variety of data storage and network attached storage environments for your home or business needs. The main appeal of the HS-453DX silent NAS isn't just that it runs quieter than most NAS devices, but that it can do so much with the hardware provided. Such as:
The QNAP NAS opens the door to you running an independent surveillance platform using comprehensive CCTV software in the home or office.

You can enjoy multimedia over the network, on your Smart TV, console, iPad, mobile phone and more.
Access the entire catalogue of your Media anywhere in the world over the internet, thanks to applications such as Video station, Plex, roon server, iTunes server and more
Run container station applications and small app developments, thanks to the numerous Linux tools available on the device or utilise virtualisation station to run a virtual PC that can be accessed over your network or internet environment
Catalogue large scale photo, music and video collections for your home or business
Run a download server for your home or business directly on the Silent NAS device and then enjoy those files in whichever way you see best
Enjoy transcoding and on-the-fly adaption of 4K and 1080p Media live on this device, so you can watch even the most dense high resolution media on any device.  Likewise Plex media server tests prove positive on this device and although it utilizes software transcoding, performance was impressively high
Improve the creative workflow of your photo or video environment by connecting and editing machine directly to HS-453DX via 10Gbe, then connect the NAS to your network over 1GB. Thereby giving your editor the ability to create content and then other staff can distributes over the network and internet easily adding metadata as needed.  A complete and workable centralisation of your workflow on a remarkably portable device.
Pros of the QNAP HS-453DX
Cons of the QNAP HS-453DX

Intel J4105 Celeron CPU
Genuinely the Best looking NAS for years
HDMI 2.0a Output
4K Transcoding
Audio In/Out
10Gbe Port
Silent (withlownoise media ideally)
Includes Remote Control
HDD+SSD Combination Storage

Only 2 Years Warranty
No USB 3.1 Gen 2
Heat is a consideration
QNAP HS-453DX NAS – Conclusion
Ultimately the HS-453DX Silent NAS gives you more than almost any other NAS throughout 2018 for this price. If you only see this device as a 2 Bay NAS for watching media, then chances are you will never see the value in spending £500 or more on this silent NAS. however, if you intend to take advantage of two or more of the functions available, such as 10Gbe connectivity in your creative workflow where a low noise NAS is of particular appeal, or you take advantage of HDMI 2.0a to enjoy the very best 4K media, but don't want to hear a NAS buzzing in the in the background –   the QNAP HS-453DX is certainly the perfect NAS for you and with exceptionally great room for expandability in future thanks to SSD cache upgrade options and memory expandability, this is a NAS that although quiet has a lot to shout about. We will be conducting noise and heat tests later this month, along with full Plex performance tests to give you a full breakdown of the performance of the HS-453DX, but for now I can say that this could potentially be my favourite NAS of 2018.

Intel Celeron J4105 processor at 1.5 GHz
4 GB DDR4 (expandable to 8 GB)
Graphic Intel UHD Graphics 600
1 x Rj45 10BASE-T
 2 x bays for 3.5 "or 2.5" drives (mechanical or SSD SATA)
2x M.2 SSD SATA
2 x HDMI 2.0 4K
1 x RJ45 Gigabit
2 x USB 3.0
2 x USB 2.0
2 x audio inputs
1 x audio output
Rear speaker
External power supply
Those Specifications for the HS-453DX Silent NAS in full:
CPU
Intel® Celeron® J4105 quad-core 1.5 GHz processor (up to 2.5 GHz maximum burst)
Processor architecture: 64-bit
graphics: Intel® UHD Graphics 600
Encryption
Yes, AES-NI
Memory
4 GB SO-DIMM DDR4 (2 x 2 GB)
Max Memory
8 GB (2 x 4 GB)
Memory slots
2 x SO-DIMM DDR4
(paired DDR4 memory of the same speed, capacity, and die type required for two DIMM configurations)
Flash memory
4 GB eMMC
# of Drives
2 x 3.5 SATA 6 Gbps hard drive, hot swappable
M.2 SSD
2 M.2 SATA 6Gb/s SSD ports with support for 2280 interface
10 Gigabit Ethernet
1 x 10GBASE-T RJ45, support 10G/5G/2.5G/1G/100M Five-speed
Gigabit Ethernet
1 x RJ45
USB port
2 x USB 2.0
1 x Type-C USB 3.0
2 x Type-A USB 3.0
HDMI output
1 x HDMI 2.0, highest resolution 3840 x 2160 Ultra HD @60Hz
1 x HDMI 1.4b, up to 3840 x 2160 Ultra HD @30 Hz
Audio
• 2 x 3.5 mm dynamic microphone jack
• 1 x 3.5 mm line-out jack
• 1 x speakerNote: Speaker and line-out jack cannot be used at the same time
Infrared (IR)
Yes , support QNAP RM-IR004 remote control
LED indicator
Hard disk 1-2, status
Button
Power, reset
Size
42.8 x 404 x 220 mm
1.68 x 15.9 x 8.66 in
weight
Net weight: 2.40 kg (5.29 lbs)
PSU
90W, 100-240V
Power consumption
Hard disk sleep mode: 13.55W
running: 22.38W(including 2 1TB hard drives and 2 256GB SSDs)
Noise
• Background operation: 6.0 dB(A)
• 2 x 2.5
SSDs: 6.2 dB(A) • 2 x 3.5 HDDs: In
operation: 13.8 dB(A)
Standby: 6.2 dB(A)
What is the Difference between the HS-453DX, HS-251+ and the TBS-453A NAS?
As mentioned, the HS-453DX 4-Bay is not the first 'silent NAS' that QNAP has ever produced. In the last 2 years, we have seen the HS-251+ 2-Bay HDD specialised NAS and the Group sharing and network sharing enabled TBS-453A Sharing and teamwork NAS. Below are the specs of all three of these NAS devices compared, and it is pretty clear that the newer HS-453DX is better in almost every single way:
Model

QNAP

TBS-453A

QNAP

HS-251+

QNAP

HS-453DX

CPU

Quad-Core Intel® Celeron™ N3150

1.6 GHz, burst up to 2.08GHz

Quad-core Intel® Celeron®

2.0GHz (Up to 2.42GHz)

Celeron J4105 1.5 GHz up to 2.5GHz

 up to 25.GHzMemory

TBS-453A-4G: 4GB
TBS-453A-8G: 8GB
SO-DIMM DDR3L
2GB DDR3L
4-8GB

RAM Slots

2

1

2

HDDs/SSDs

4x 2280/2260/2242 SATA 6Gb/s M.2 SSD
2x 2.5″ or 3.5″ SATA 3Gb/s
4

2 x SSD + 2 x M.2

HDD Tray

No

No
No

LAN Ports

2 LAN ports + 3 switch ports
2
1GbE + 10GbE

10Gbe Slot

No
No
1

HDMI

2
1
2 4K HDMI 2.0

Speaker

No
No
Yes

Audio In/Out

No
Yes
Yes

USB 2.0

1
2
2

USB 3.0

4
2
2
📧 LET ME KNOW ABOUT NEW POSTS 🔔
Join 1,582 other subscribers
Get an alert every time something gets added to this specific article!
This description contains links to Amazon. These links will take you to some of the products mentioned in today's content. As an Amazon Associate, I earn from qualifying purchases. Visit the NASCompares Deal Finder to find the best place to buy this device in your region, based on Service, Support and Reputation - Just Search for your NAS Drive in the Box Below
Need Advice on Data Storage from an Expert?
We want to keep the free advice on NASCompares FREE for as long as we can. Since this service started back in Jan '18, We have helped hundreds of users every month solve their storage woes, but we can only continue to do this with your support. So please do choose to buy at Amazon US and Amazon UK on the articles when buying to provide advert revenue support or to donate/support the site below.

Finally, for free advice about your setup, j
ust leave a message in the comments below here at NASCompares.com and we will get back to you.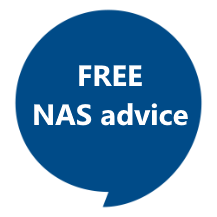 Need Help?
Where possible (and where appropriate) please provide as much information about your requirements, as then I can arrange the best answer and solution to your needs. Do not worry about your e-mail address being required, it will NOT be used in a mailing list and will NOT be used in any way other than to respond to your enquiry.
Support What We Do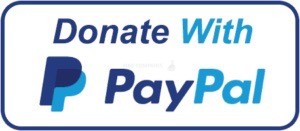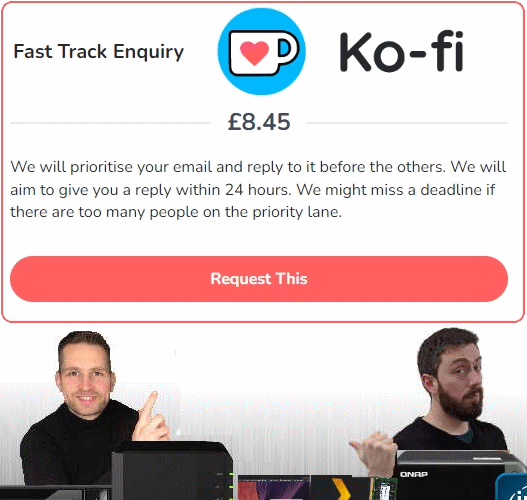 Terms and Conditions
Alternatively, why not ask me on the
ASK NASCompares forum
, by clicking the button below. This is a community hub that serves as a place that I can answer your question, chew the fat, share new release information and even get corrections posted. I will always get around to answering ALL queries, but as a one-man operation, I cannot promise speed! So by sharing your query in the
ASK NASCompares
section below, you can get a better range of solutions and suggestions, alongside my own.
This description contains links to Amazon. These links will take you to some of the products mentioned in today's video. As an Amazon Associate, I earn from qualifying purchases