Is the Synology RS1619xs+ RackStation your Perfect Business NAS?
When it comes to network attached storage (NAS), Synology is still one of the biggest names out there and therefore you would hope that the perfect NAS for you would arrive with a Synology badge attached. However, until recently, most Synology NAS has forced you to make a tough decision when budgeting your ideal network attached storage solution. Unless you were prepared to spend upwards of £3, 000 or more, most NAS server devices would be designed to provide excellent internal hardware OR excellent storage capacity. All too often Synology has released NAS server devices that were either fantastically powerful (Xeon CPU, 10GBe, etc) but low on storage or massively storage enabled NAS (8 or 12 Bay) with modest internal specs. Until the uncovering of the new Synology rackstation, if you wanted both power and capacity you needed to spend serious money. However, the release of the new RS1619xs+ NAS rackmount is one that shows that Synology is trying to be more flexible in the hardware they provide. This quad-core Xeon enabled rackmount NAS arrives with great RAID enabled disk storage options across 4 bays, contained in a 1U rackmount form and can be expanded by an additional 12 hard drive bays with the RX1217.
So the question is, has Synology's experiment with the RS1619xs+ Rackstation NAS paid off and does it tick all the boxes for your 2019 budget?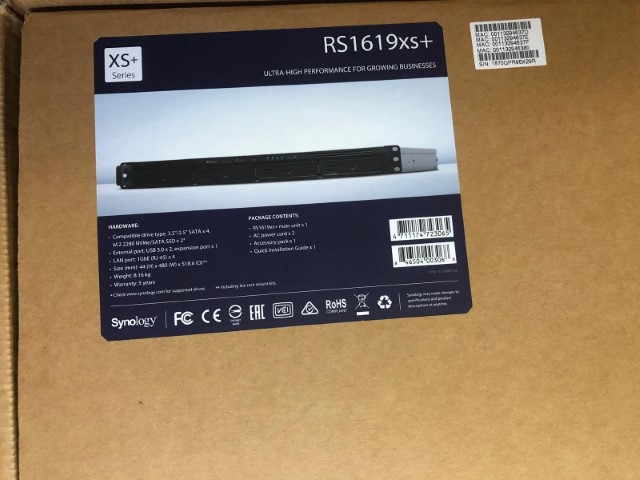 As this is a rack mount storage device, you can forgive the fact that the retail box is remarkably understated. This is common practice with most Enterprise and business level server devices, so we will not judge the aesthetics of external packaging today! However, it is worth mentioning that the Synology RS1619xs+ rackstation arrives with a few extra accessories above and beyond the unit itself. There is the RS1619xs+ unit itself, 2x LAN cables, a UK power lead, additional screws, tray keys, instruction manual and warranty information. Though there was an absence of the C2 Backup Cloud trial I have seen in other units and only 1 power cable, for a 2 PSU device. This could well be because this is a sample and not a full retail unit, so that is worth bearing in mind.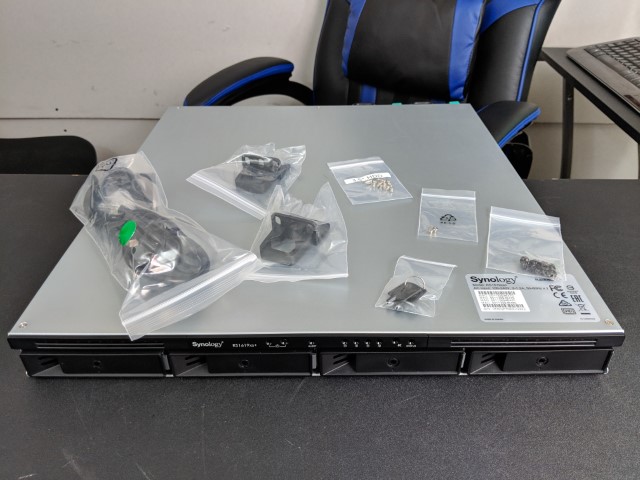 The external packaging itself is fairly robust and whether you are ordering this unit pre-populated or empty, it is sufficient to protect this unit between Synology HQ and your doorstep.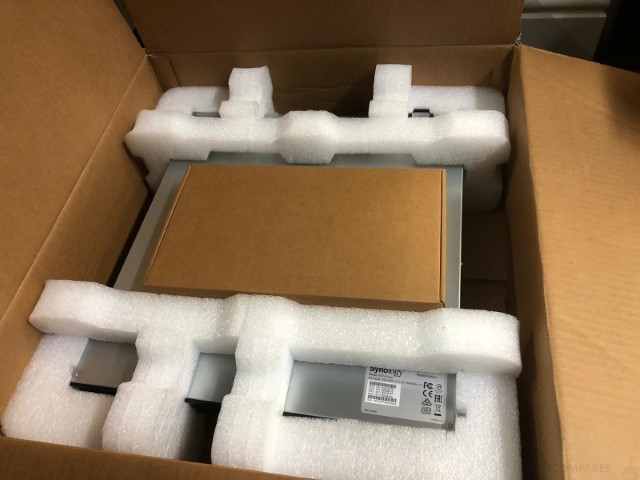 Once unboxed, we were able to take a good look at this 1U height powerhouse promising NAS. As a one rack cabinet bay chassis, it is going to be impressive to see how they have fit so much in terms of ports and power into this frame.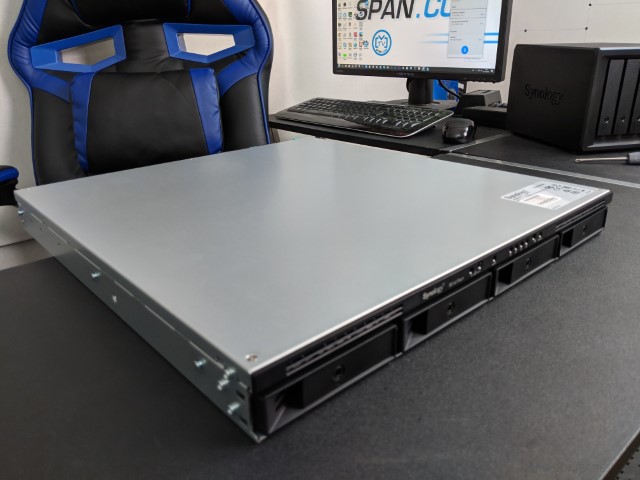 Much like other Synology NAS, the RS1619xs++ does not feature any form of LCD or more intelligent notification beyond that of the LEDs that denote system drive and network access. Synology has never been a company to introduce this and in a rackmount structure, it will most likely be of greater benefit to be able to see the chassis indicators from afar or over the network.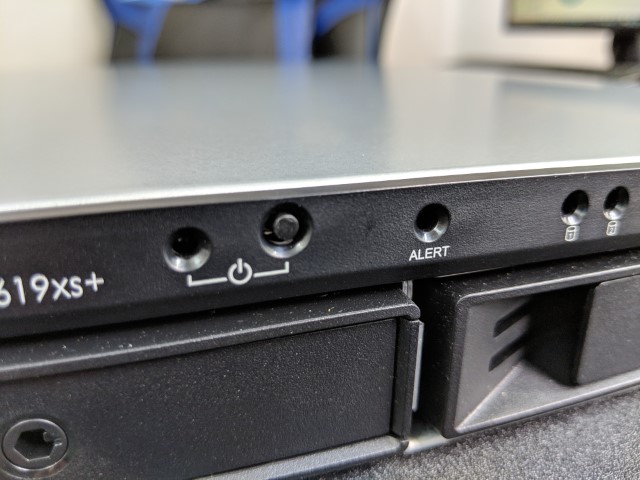 Additionally, there is a noise cancellation button for alerts and a reset button as needed but don't worry the NAS cannot be reset easily!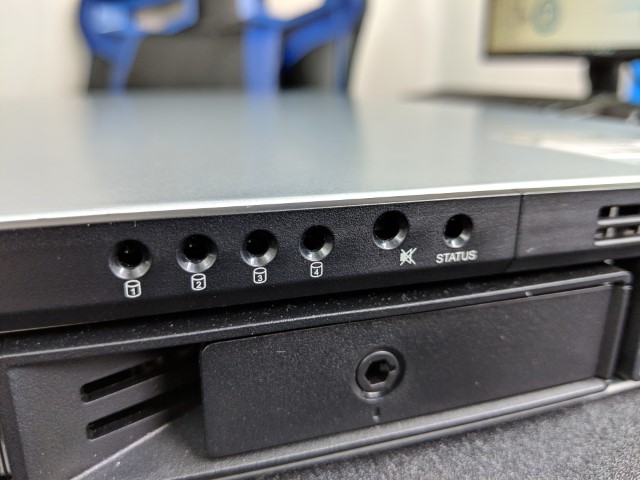 As this is a rackmount designed device, the unit requires sliding or static rails if fitting into an existing cabinet in order to have physical stability and all access to the ports for configuration. But those looking to enter the word of rack storage should already be aware of this. The four Bays of RAID-enabled storage all feature their own dedicated LED lights and are exceptionally well ventilated throughout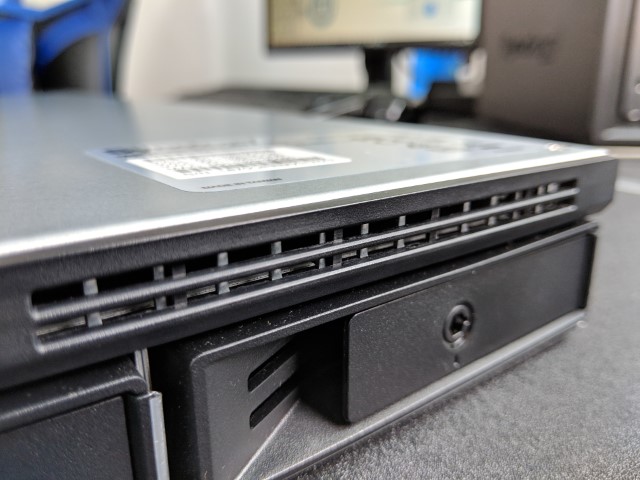 Removing a tray shows that this unit features metal trays, that support hard drives of upto 14TB SATA (such as the Seagate ironwolf series) or 2.5″ SSD media (such the Samsung EVO/Pro series at upto 4TB).  The unit also arrives with optional handles for installation and assisted movement with sliding rails, which can be added or removed easily.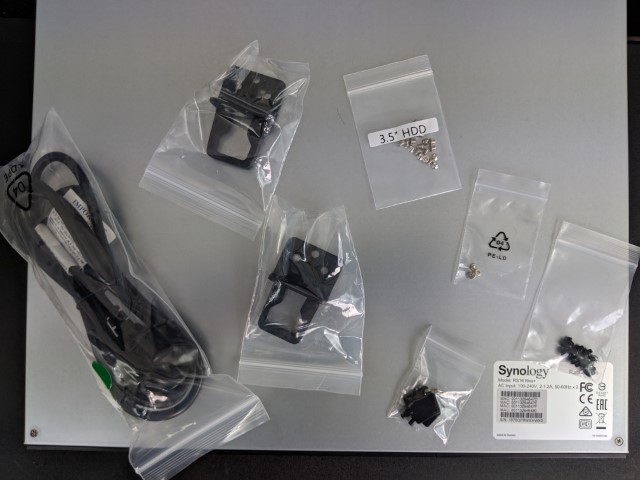 Unlike the Synology RS1219+ that was released earlier in 2018, this is a full depth rackmount unit and you will require a full depth rack mount cabinet to install this in your existing office. This is not a huge surprise, given the amount inside the device. Aside from that, the external chassis is fairly standard for a rackmount NAS device and, though not exciting, is more than sufficient construction required for this kind of storage device and to support the hardware/software this uses.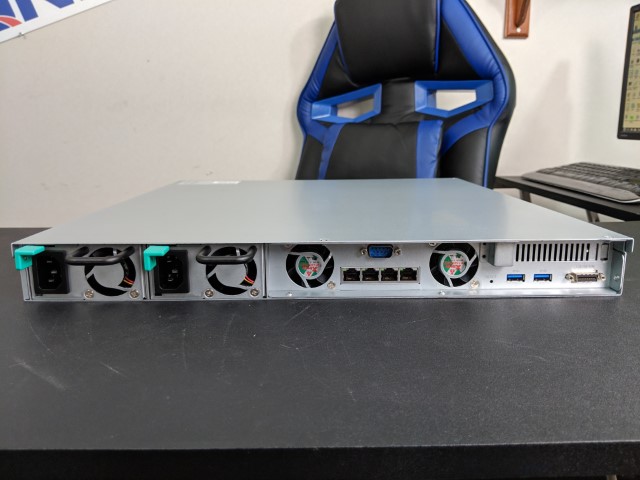 if we turn the unit around, we can get a look at just how much has been packed into the rear of this rackmount chassis. It is very, VERY busy.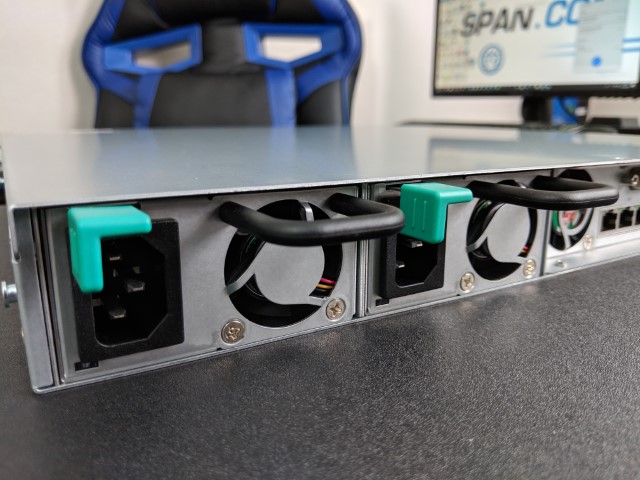 The RS1619xs+ NAS is available with 2 power supply modules at the rear. This is definitely an unexpected addition, give the already extensive hardware included with this device.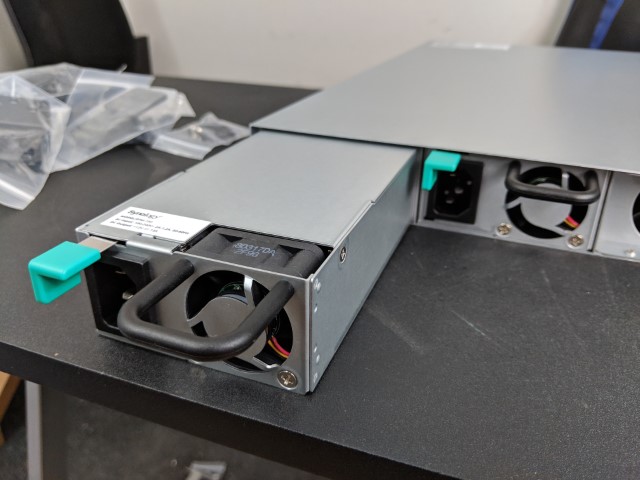 For those that aren't away, the redundant power supply design means that when you connect both connection points to a mains power, in the event of one of the PSU ceasing to function (not uncommon with servers), then the device will not drop functionality/access for even a millisecond, as the other PSU is supporting the device.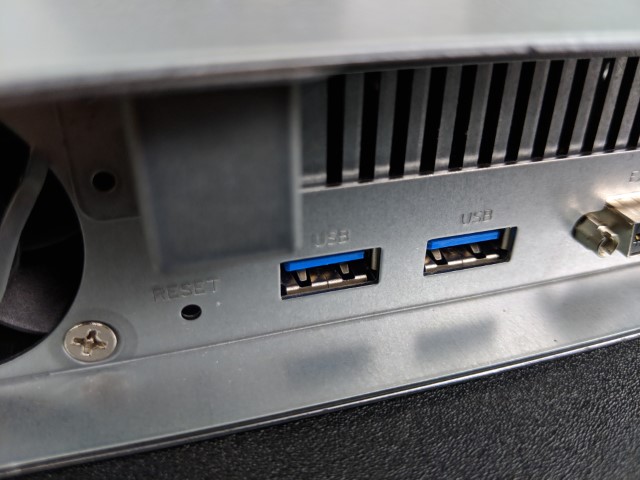 Next, we spot several USB 3.0 ports for adding additional storage to the RS1619xs+ rackstation NAS. Alternatively, you can, of course,e use these USB ports for adding compatible devices such as uninterruptible power supplies (UPS) or wireless management devices.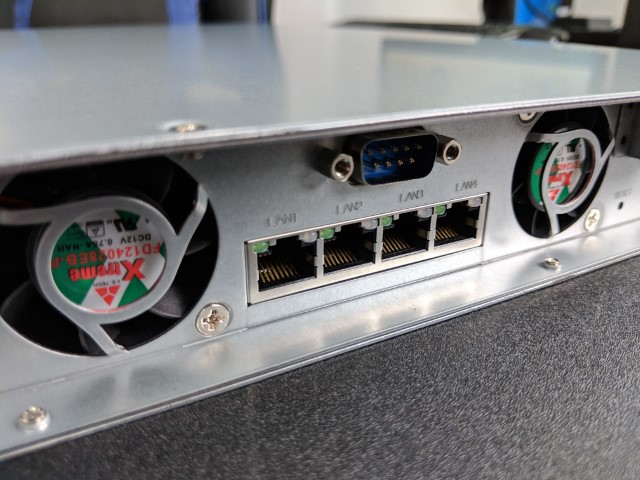 I am pleased to confirm that this rackmount NAS device includes 4 x LAN 1Gbe RJ45 ports on the rear, meaning link aggregation and effectively four times typical network traffic is possible to and from this device. However, you will need to use a compatible NIC (network interface card) or a Smart switch.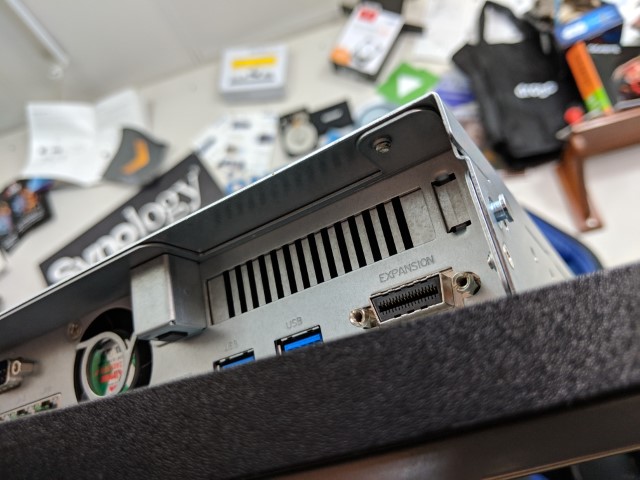 In case the potential 4Gbe network speeds utilising link aggregation is not enough for your storage environment, there is an available PICe slot on the Synology RS1619xs+ that opens the doorway to both 10Gbe and 40Gbe upgrades.
Generally, this PCIe slot could be used for more than ethernet connectivity, however, given that this NAS also features NVMe SSD cache upgrades internally, you would be mad to use the PCIe upgrade slot for anything other than 10/20/40Gbe upgrades.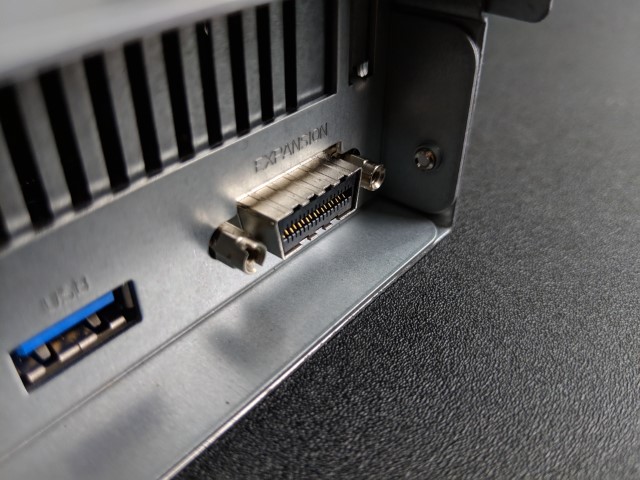 On the rear of this device, we also find an SAS port for adding the additional storage of a Synology NAS expansion unit (RX1217) and something that means this modest 4-Bay RS1619xs+ NAS device can become a whopping 16 bays of storage. This storage can act as one giant RAID enabled volume or multiple smaller volumes. Alternatively, you can use an expansion chassis as a means of synchronising and backing up from the Host NAS in real time, all the time!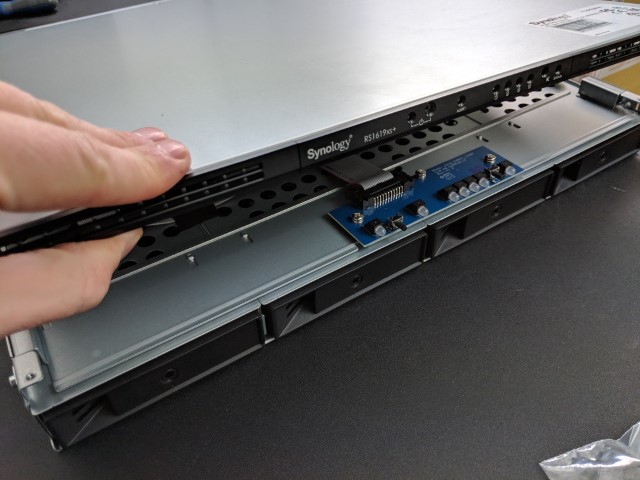 Removing the rear thumbscrews of the RS1619xs+ chassis, then sliding the top panel forward, means we are able to take a good look at what the inside of the RS1619xs+ NAS has to offer.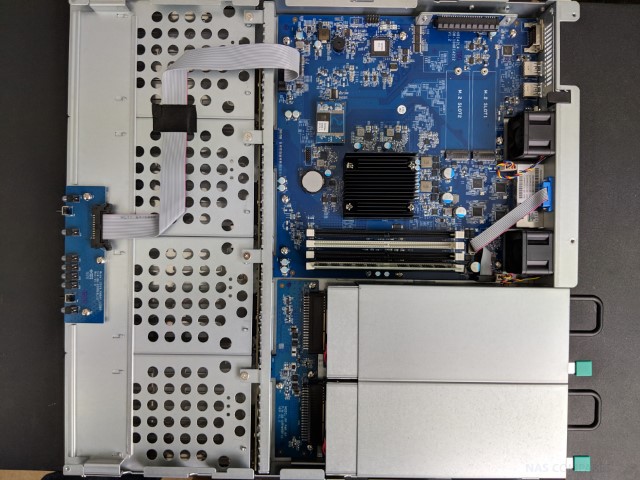 Unsurprisingly, the RS1619xs+ NAS features a good balance of well spaced out components and fully featured internal hardware.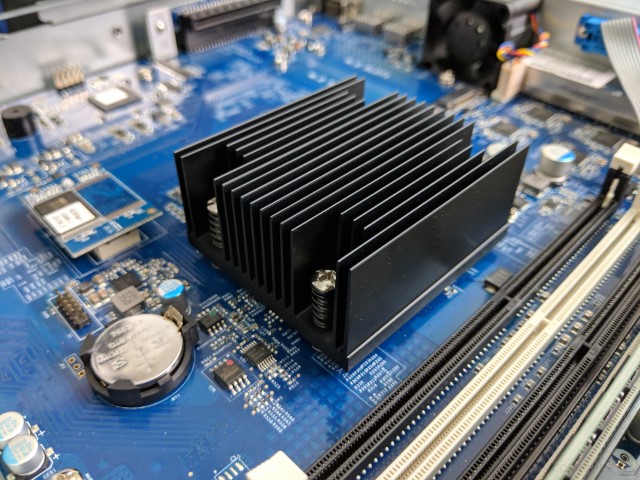 The NAS features a Xeon based CPU, safely concealed under an impressive heatsink to dissipate heat that is gathered with sustained use. The Intel Xeon D1527 processor is one of the best Synology use in their entire NAS Range and once again it is great to see it featured here. It will ensure MAXIMUM throughput at 10Gbe, as well as ensuring you get the very most out of the device when using SSD caching.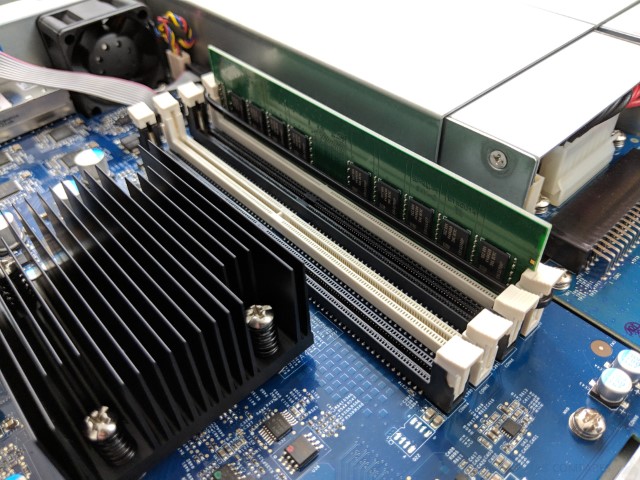 The Unit arrives with 8GB of  ECC DDR4 memory (2133Mhz too) that can be upgraded to an impressive 64GB to further support your storage needs. Those looking at high-end VM use with SynologyVirtual Machine manager, or using Active Backup Suite in all its ways (VM, Cloud, local and network backups) will see the advantages of bumping up this memory – but 8GB of ECC DDR4 is pretty hench, to say the least!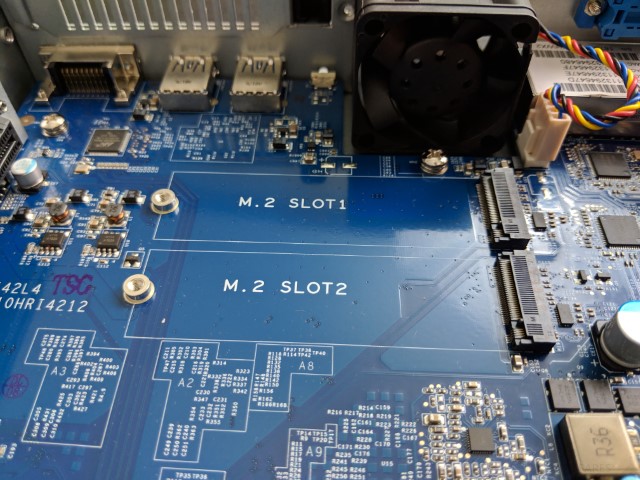 Another impressive and unique selling point of this rack-mountable NAS is the inclusion of 2x NVMe SSD slot inside. This is the first Synology rackmount to feature this onboard high-speed PCIe SSD cache technology and is just another one of the many reasons why the RS1619xs+ rack station is some serious piece of kit. SSD cache enables you to vastly improve your read and write speeds as well as massively increase IOPS. Those that use a NAS server for large volume file exchanges with many users will see enormous benefit in harnessing NVMe SSD cache (ideally Read/Write Cache over 2 drives in a RAID 1 environment)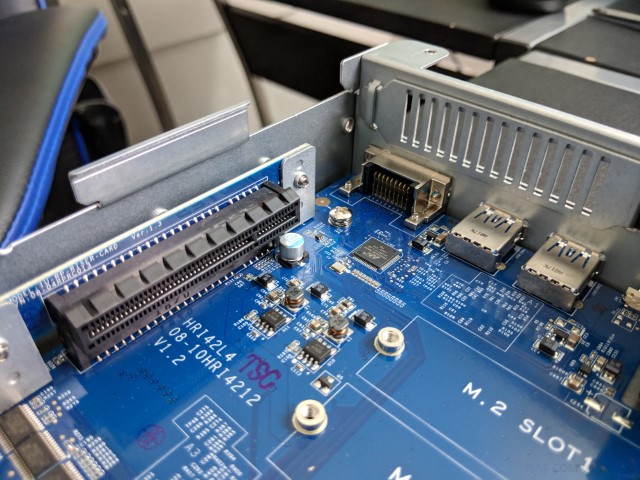 Finally, we find our PCIe slot inside the device and installing card is remarkably easy, can be done whenever the need arises and is a PCIe 3.0 x8 slot.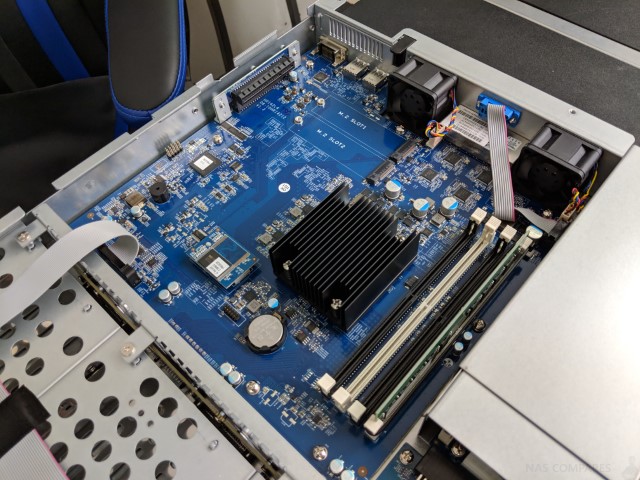 Synology RS1619xs++ RackStation NAS and DSM Software
Synology's evolution into Enterprise NAS storage has been incredibly fast. Over the last few years, we saw Synology NAS  evolve from a powerful home desired brand to a dominating Business Server platform. This is largely thanks to great first party app support in DSM 6.2 (7.0 in beta next year) and increased compatibility with popular 3rd party software. The RS1619xs++ is a NAS server that comfortably supports all the latest software Innovations that Synology can provide to the highest extent and even in this slim 1U form, can really offer you enormous business potential. such as:
Synology office – Alternative to Google Docs

Synology mail – Alternative to Gmail, Outlook, etc

Synology calendar – Alternative to Google Calendar

Synology chat – Alternative to Skye and Whatsapp

Synology drive – Alternative to Google Drive, Dropbox, etc

Synology moments – Alternative to Google Photo and Picasa

and many backup applications covering USB local network and internet cloud-based provisions when needed.
Which in turn, means the RS1619xs++ Synology NAS can be used as for:
Multiple virtual machines

A 4K Plex media server

A live photo video editing suite

Large-scale multi-device backups

Graphics rendering of files over 10G

Multiple RAID volumes and sharing storage internally

…And all of this at the same time whilst providing network and internet storage to many users.
Synology RS1619xs++ RackStation NAS – Conclusion
What makes Synology impressive in the field of business over the last 2 years, is that they spend more time and money on their applications than any other NAS brand. The result is that 1, the DSM software gets much, much greater results from the hardware than 3rd party apps or other NAS brands with their own software, and 2, they are not just selling hardware but a complete storage solution that fills pretty much every modern need for your data in business. I know this sounds too good to be true, but they really have gone the extra mile on this software. The RS1619xs++ provides you with the hardware platform to make the most of their software platform. Add to this that the RS1619xs++ arrives with 5 years of warranty and 3 years of the Synology Replacement Service (SRS) for next day, no quibble, replacement in the event of hardware issues AND access to the Synology premium support services and you are looking at a solid and very grounded data storage solution indeed
What makes the RS1619xs+ such an appealing server in 2018 is that it manages to give you everything that Synology as a brand promises, in such a compact form. Because this is a hardware geared device, it is more expensive than most typical 4 Bay NAS – but as always you need to work out your priorities and decide where to leverage your spending. Synology has had a history of providing far too modest a hardware spec, in favour of software spending. However, this new RS1619xs++ gives you a solid and reliable helping of both hard and software to push your business use to the top tier. More affordable units such as the RS818+ or RS819 give you the 4 bays of RAID storage, but internal hardware that would reach it's limit long before you do! The Synology RS1619xs++ represents more than just a rackmount NAS with better than average hardware, it represents Synology listening to their critics and answering with a device that ticks all the boxes – Price, Power, Software, Capacity. One of the best things they have put out to market in years!
Check Availability and the Release of the Synology RS1619xs+ Rackstation NAS here
Look up the Best Price for your NAS Here: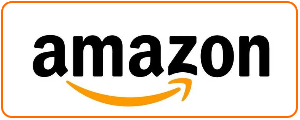 Support this site with Ad Revenue


Articles Get Updated Regularly - Get an alert every time something gets added to this page!
This description contains links to Amazon. These links will take you to some of the products mentioned in today's content. As an Amazon Associate, I earn from qualifying purchases. Visit the NASCompares Deal Finder to find the best place to buy this device in your region, based on Service, Support and Reputation - Just Search for your NAS Drive in the Box Below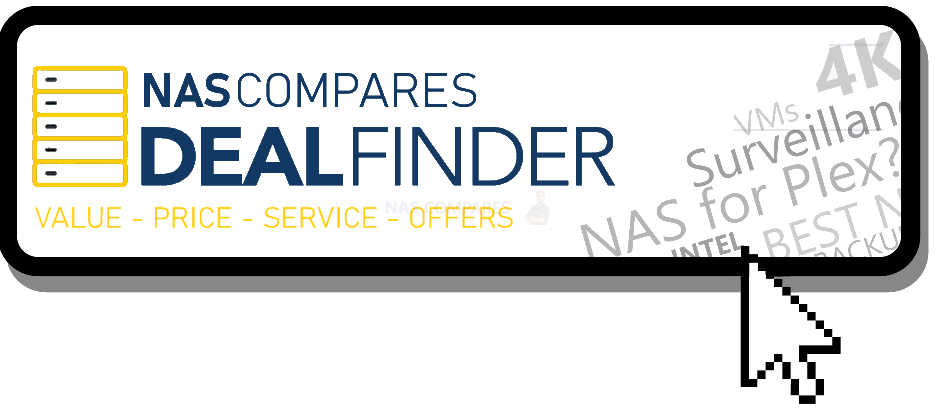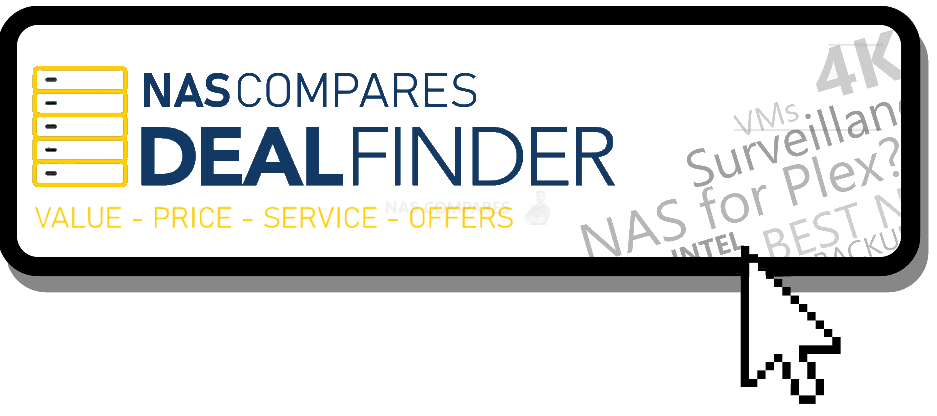 SEARCH IN THE BOX BELOW FOR NAS DEALS
Need Advice on Data Storage from an Expert?
We want to keep the free advice on NASCompares FREE for as long as we can. Since this service started back in Jan '18, We have helped hundreds of users every month solve their storage woes, but we can only continue to do this with your support. So please do choose to buy at Amazon US and Amazon UK on the articles when buying to provide advert revenue support or to donate/support the site below.


Finally, for free advice about your setup, j
ust leave a message in the comments below here at NASCompares.com and we will get back to you.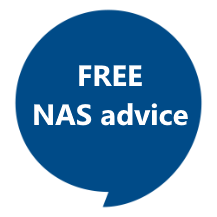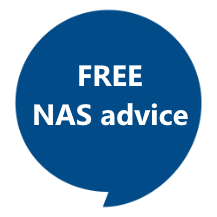 Need Help?
Where possible (and where appropriate) please provide as much information about your requirements, as then I can arrange the best answer and solution to your needs. Do not worry about your e-mail address being required, it will NOT be used in a mailing list and will NOT be used in any way other than to respond to your enquiry.
Terms and Conditions
Alternatively, why not ask me on the
ASK NASCompares forum
, by clicking the button below. This is a community hub that serves as a place that I can answer your question, chew the fat, share new release information and even get corrections posted. I will always get around to answering ALL queries, but as a one-man operation, I cannot promise speed! So by sharing your query in the
ASK NASCompares
section below, you can get a better range of solutions and suggestions, alongside my own.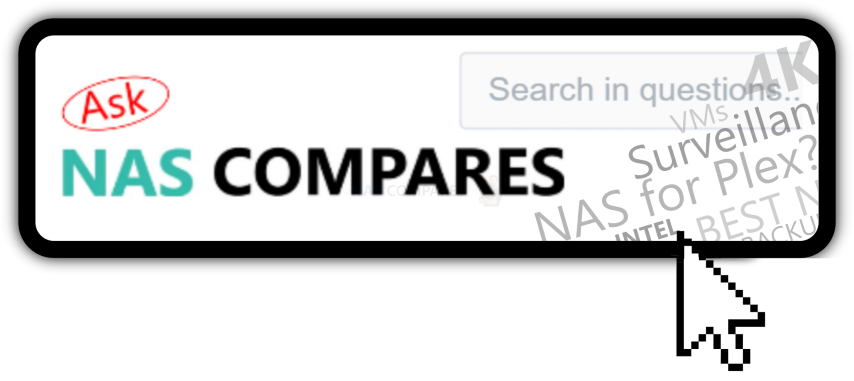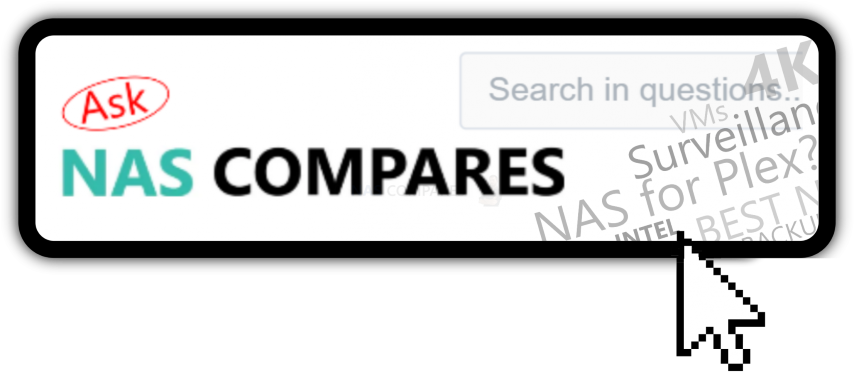 This description contains links to Amazon. These links will take you to some of the products mentioned in today's video. As an Amazon Associate, I earn from qualifying purchases