Hardware Power Vs Capacity – Choosing the Right NAS
Choosing the right storage solution for you, whether it is for home or business, is a big step. Many buyers want to ensure that when they buy their first NAS, that they will not have to do it again for at least 5 years. It is for this reason that it is becoming increasingly common for many network attached storage buyers to choose the ideal server on the basis of the MAXIMUM amount of storage available. This should not come as a huge surprise, given that the key component in the ideal storage solution, is the STORAGE! However, despite the fact that you can buy many network attached storage solutions with high-end CPU and lots of memory,  there are surprisingly few large-scale desktop/tower solutions that arrive with a decent CPU and RAM included. In reality, buyers are all too often forced to make a choice between overall capacity or overall power. Otherwise, they are forced to consider rackmount storage and like spend 5x as much on storage and create several times more power consumption, space needed and noise!
Luckily, this is not always the case and they are amongst the thousands of NAS  available in 2018, there are in fact a few that manage to find a good balance of storage and power, whilst still maintaining a reasonable price point. Today I want to talk about the top 5 NAS Solutions for those looking for MAX STORAGE. All of these Solutions support the very latest 12TB and 14TB hard drives, as well as excellent RAID support internally and are designed for desktop use.
When it comes to Synology or QNAP NAS storage with a priority on Capacity, the main uses are:
Large Scale Backups

Enterprise Surveillance of 8 and above IP Cameras

Virtualisation and VMware

Plex media servers for large families

TS-1635AX Time Machine backups for active studios

Photo Video Editing over 10Gbe for Production

CRM and CMS Business Systems for sales and record keeping

Windows Server 2016 Environments

College and University Storage Environments
In order to decide the very best desktop NAS storage for space and capacity, the TOP 5 NAS need to be suitable for the requirements above, as well as arrive with minimum:
Parameters
Warranty 2 years +
3.5" HDD Support
Desktop/Tower Chassis
Can be Expanded with QNAP or Synology NAS expansion chassis at a later date
it is with these guidelines that we are able to decide what are the very best NAS solutions for those that want maximum storage to last them for many years. The top 5 NAS below either provide you with great storage potential, good storage potential on a budget, fantastic storage and 10Gbe speed, massive NAS storage for all multimedia and plex or provide you with the best possible hardware and power in desktop form. Let's get started.
QNAP TS-832X NAS for Best Price, Good Storage and Medium Spec
This slideshow requires JavaScript.
The QNAP TS-832X arrived in mid-2018 and is by far the best priced 8x hard drive NAS solution available right now. It arrives with a quad-core ARM CPU that really keeps files moving fast and is further supported with between 2-16GB of DDR4 memory.  The TS-832X from can even can run on even a single hard drive or you can add NAS drives gradually and extend or change your RAID configuration as you see fit.  Finally, this NAS arrives with two 10Gbe SFP+ ports, that provide insane network speeds for storage environments that are ready for 10-gigabit ethernet. This combination of potentially 100+ terabytes of RAID-enabled storage and the potential link aggregation of 2x 10-gigabit ethernet ports mean that this is easily the best storage at this price level you can buy right now.
PRICE – £500+ ex.VAT
Key Specs – AnnapurnaLabs, an Amazon company Alpine AL-324 Quad-core 1.7GHz ARM® Cortex-A57 Processor, 64-bit, 2-16GB DDR4 Memory, 2-year warranty, PCIe x2, 2x LAN, 2x 10Gbe SFP+, 3x USB 3.0, speaker, LCD
QNAP TS-832X NAS

Storage – 8/10

Power  7/10

Price – 10/10

QNAP TS-832X 2GB

Cost-efficient 10GbE NAS with PCIe expansion

Dual 10GbE SFP+ ports for accelerating virtualization and massive file sharing.

PCIe expandability allows for 10GbE adapters, QM2 cards, USB 3.1 10Gbps cards, or wireless network cards.

Qtier technology and SSD caching enable 24/7 optimized storage efficiency.

Snapshots fully record system status and data, allowing you to protect files and data from accidental deletion and malware attacks.

Secure private cloud supporting centralized storage, backup, sharing, disaster recovery, and storage capacity expansion.

Score Based on Usability as a NAS Multimedia Streaming tool

Buy From EU
Buy From UK
Buy from US


---
Synology  DS2419+ NAS for Max Storage and Medium Spec
If you did not think that the 8 days of storage that you got with the QNAP TS-832X was not enough, then you will need to step up towards the 12 hard drive Bay Synology DS2419+. Costing more than 2 times that of the QNAP TS-832X,  the Synology DS2419+ provides even better internal hardware specifications, with an Intel Atom quad-core based CPU – far, far better for all multimedia needs, graphical and rendering tasks such as virtualisation and photo or video editing. Additionally, the device arrives with a similar level of memory but no 10gbe connectivity. Luckily the DS2419+ arrives with 4x LAN ports that all support link aggregation (effectively quadrupling your upload and download speeds when done right, and an available PCIe slot for adding 10Gbe when you want it. This all arrives bundled with 3 years of manufacturers warranty, one year longer than the QNAP TS-832X.
This slideshow requires JavaScript.
what makes the Synology DS2419+ NAS an impressive device, is that you are able to have multiple RAID levels across the 12 bays of storage on this desktop NAS and still have the external speed potentially available with link aggregated LAN or a 10g upgrade. It may cost a little more but the Synology DS2419+ is the storage NAS choice for those that want to handle more than just documents, PDFs and other general office files.
PRICE – £1200+ ex.VAT
Key Specs – Intel Atom C3538 Quad Core 2.1 GHz, 4-16GB DDR4, 12 Bay, 4 LAN, PCIe slot, 3 Year Warranty
Synology DS2419+ NAS

Storage – 9/10

Power – 7/10

Price – 8/10

Synology DS2419+

12 Bay Desktop Network Attached Storage Enclosure

Quad Core CPU Delivers 451.5 MB/s Reading, 415.49 MB/s Writing

Upto 16GB Memory

AES-NI Hardware Encryption Engine Boosts Encryption Transfer at over 451.21 MB/s Reading, 198.46 MB/s Writing

Four Gigabit LAN Ports with Failover and Link Aggregation Support

Expandable to 24 Drives
4x USB 3.0
PCIe  Slot for 10Gbe or SSD Cache Card M2D18

Scale up to 24 drives with Synology DX1215

Running on Synology DiskStation Manager (DSM)

Score Based on Usability as a NAS Multimedia Streaming tool

Buy From EU
Buy From UK
Buy from US


---
QNAP TS-1635AX NAS for MAX Storage, Modest Spec and 10Gbe
When the QNAP TS-1635AX was first announced in Q1 of 2018,  it was a strange little NAS. I say little, it is easily the biggest NAS drive in a desktop form I have ever seen. It arrives with 12 available bays or hard drive storage and 4 bays of SSD storage. This combined with two available 10 Gb ethernet slots, mean that this device removes almost all bottlenecks from your massive storage potential. The hard drives can be maintained in multiple hard drive RAID levels on the 12 HDD bays and any solid-state drives installed in the 4 SSD slots can be used for fast active-storage over 1Gbe and 10Gbe directly point to point with an editing PC/Mac.
This slideshow requires JavaScript.
Much like the QNAP TS-832X, the TS-1635AX arrives with an ARM-based CPU for large fast-acting file management. However, it is worth mentioning that this device still costs around £200 less than the Synology DS2419+, yet still provides more storage, 10Gbe included and a combination of hard drive and SSD RAID options. This is the Max STORAGE NAS for those looking for huge space and huge speeds, inside and out for £1k+.
PRICE – £1K+ ex.VAT
Key Specs – 12 HDD, 4 SSD, 10Gbe SFP+, 2 LAN, 3 USB, PCIe Annapurna Alpine AL-514 quad-core 1.7 GHz ARM Cortex-A15, 4GB Memory, 2 Year Warranty
QNAP TS-1635AX NAS

Storage – 10/10

Power – 8/10

Price – 7/10

QNAP TS-1635AX 4GB NAS

Versatile, high-performance 16-bay desktop NAS, powered by the Marvell ARMADA 8040 processor

The two built-in 10GbE SFP+ ports empower mission-critical applications such as databases and large data transfer/storage.

Install SSDs with four 2.5-inch drive bays and two M.2 SATA (2280 form factor) slots for enabling Qtier to boost performances.

The two PCIe 3.0 slots (x2 and x1) can be used to install additional QM2 cards, network cards, and USB 3.1 Gen2 (10Gbps) cards to expand NAS functionality.

Snapshots add an extra layer of protection to your disaster recovery plans, giving you the flexibility to create and revert snapshots locally and/or remotely.

The TS-1635AX supports containers (LXC and Docker) and Linux command-line interface (CLI) virtual machines (VMs) for deploying diversified virtualization applications.

Score Based on Usability as a NAS Multimedia Streaming tool

Buy From EU
Buy From UK
Buy from US


---
Synology DS3617xs NAS for Storage, Power and a Perfect Plex Media Server
For those looking a NAS that will have enough storage to last upwards of 10 years, as well as specifications that will still be tip-top in 5 years time – the Synology DS3617xs is the perfect storage NAS for you. This is especially true for those who wish to buy a NAS primarily for multimedia, such as a 4K Plex media server, 1080p and 4K video editing, cataloguing hundreds of thousands of raw photos taken for business and all the while maintaining high IOPs and access speeds. The DS3617xs from Synology is still one of the most powerful desktop capacity-focused network attached storage devices I have ever seen and arrives with 12 available hard drive bays of storage. The internal hardware is the very best that Synology has ever included in the desktop NAS in the form of an Intel Xeon quad-core processor and up to 64 Gigabytes of memory (DDR4 ECC too!).
This slideshow requires JavaScript.
It includes such features as an available PCI-e slot for adding 10Gbe and even features the btrfs platform for its excellent file handling that includes data-health checks and integrity checks on all read-write operations.  Finally, the device arrives with 5 years of warranty, by far the longest of any desktop NAS solution in this list. this is even more impressive when you find out that this warranty includes the Synology replacement service, whereby if you have a hardware fault Synology will arrange a swift turnaround of replacement hardware in 24 hours ( depending on your region). All in all, an excellent NAS drive and narrowly misses the top spot, just because of the lack of 10Gbe and a lack of hardware flexibility.
PRICE – £1900+ ex.VAT
Key Specs – 12-Bay, Intel Xeon D-1527 Quad Core 2.2 GHz (2.7 GHz turbo), 16-64GB DDR4 ECC Memory, 5 year warranty, SRS, BTRFS, PCIe, 4 LAN, 2 expansion,
Synology DS3617xs NAS

Storage – 10/10

Power – 10/10

Price – 5/10

Synology DS3617XS NAS

Reliable and ultra-high performance network attached storage solution

Processor family: Intel Xeon, Processor model: D-1527, Processor frequency: 2.20 GHz.

RAM capacity: 16 GB, RAM type: DDR4

Maximum RAM supported: 48 GB.

Ethernet LAN data rates: 10,100,1000 Mbit/s

# of LAN: 4 Ports
PCIe Slot for M2D18, E10G18-T1 and E10G18-T2

Supported storage drive types: HDD, SSD

Storage drive interface: Serial ATA

Storage drive size: 2.5/3.5″.

Score Based on Usability as a NAS Multimedia Streaming tool

Buy From EU
Buy From UK
Buy from US


---
QNAP TS-1677X NAS for Power, Storage, Plex, VMs and Ultimate Future Proofing
The QNAP TS-1677X is our very best hardware versus storage NAS of 2018. It includes every single feature mentioned in the previous NAS and yet still manages to include even more! You name it, the QNAP TS-1677X can do it and includes everything from 12 hard drive bays and for SSD bays, to multiple PCIe slots and duel 10Gbe ports (10GBASE-T/RJ45 type as well). Arriving with the Ryzen based CPU inside, it is the latest generation of AMD processors and is the very best chip right now for graphical rendering and virtualisation. Additionally, any of the NAS mentioned in our top five storage news list of good for surveillance, but it is the QNAP TS-1677X and Synology DS3617xs that provide the maximum storage for multiple IP cameras in your home or business environment.
This slideshow requires JavaScript.
What keeps the QNAP TS-1677X on the top spot is the price tag. Unlike every other storage NAS in this list, the QNAP TS-1677X can be purchased in multiple configurations of CPU type and memory, allowing you to prioritise your budget towards either storage, power, speed or all three! Once again, you do not need to fully populate this or any NAS in our top 5 storage of 2018 and can add drives and expand your RAID as you go.
PRICE – £2-3K+ ex.VAT
Key Specs – 12 HDD, 4 SSD, PCIer Support, 2x 10GBASE-T, 6x USB, 4 LAN, 2x USB 3.1 Gen2, Multiple Ryzen CPU Versions, 8-128GB DDR4 Memory
QNAP TS-1677X NAS

Storage – 10/10

Power – 10/10

Price – 6/10

QNAP TS-1677X 16-Bay

Network Attached Storage with AMD Ryzen 3, 5 and 7

PCIe expands multiple applications and can install graphics graphics cards, 10GbE/40GbE network cards, QM2 cards, USB 3.1 10Gbps expansion cards, or wireless network cards.

Supports AMD RadeonTM and NVIDIA graphics cards; accelerates artificial intelligence, video playback, transcoding, and virtual machine GPU Pass-through computing speeds.

Built-in dual-port 10GBASE-T (RJ45) network ports, large bandwidth acceleration for virtualized applications, and high-definition video editing and sharing.

Perfect support for virtualization and software container applications, centralized storage, backup, sharing, and disaster recovery; support storage expansion.

We recommend that NAS users with more than 10 HDDs use RAID 50/60, taking into account the three requirements of storage capacity, protection, and performance.

Score Based on Usability as a NAS Multimedia Streaming tool

Buy From EU
Buy From UK
Buy from US


Need Help?
Still not sure which NAS is the best for you as your long-term storage solution? Use the advice section below and let us know your requirements and your budget and we will tell you the best NAS for your needs. Our advice section is free, impartial and simply there to help the NAS community. Find out more below
📧 LET ME KNOW ABOUT NEW POSTS 🔔
Join 1,570 other subscribers
Get an alert every time something gets added to this specific article!
This description contains links to Amazon. These links will take you to some of the products mentioned in today's content. As an Amazon Associate, I earn from qualifying purchases. Visit the NASCompares Deal Finder to find the best place to buy this device in your region, based on Service, Support and Reputation - Just Search for your NAS Drive in the Box Below
Need Advice on Data Storage from an Expert?
We want to keep the free advice on NASCompares FREE for as long as we can. Since this service started back in Jan '18, We have helped hundreds of users every month solve their storage woes, but we can only continue to do this with your support. So please do choose to buy at Amazon US and Amazon UK on the articles when buying to provide advert revenue support or to donate/support the site below.

Finally, for free advice about your setup, j
ust leave a message in the comments below here at NASCompares.com and we will get back to you.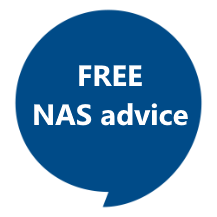 Need Help?
Where possible (and where appropriate) please provide as much information about your requirements, as then I can arrange the best answer and solution to your needs. Do not worry about your e-mail address being required, it will NOT be used in a mailing list and will NOT be used in any way other than to respond to your enquiry.
Support What We Do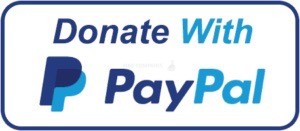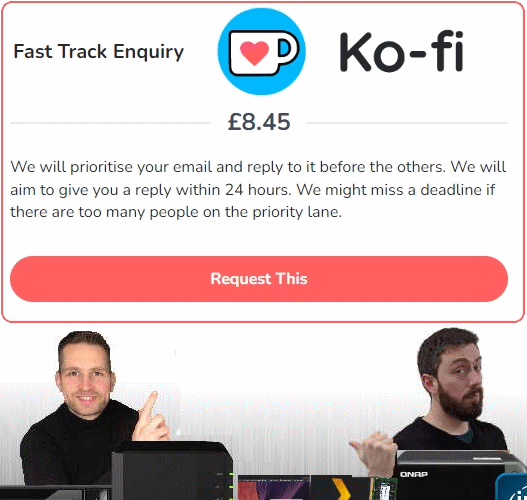 Terms and Conditions
Alternatively, why not ask me on the
ASK NASCompares forum
, by clicking the button below. This is a community hub that serves as a place that I can answer your question, chew the fat, share new release information and even get corrections posted. I will always get around to answering ALL queries, but as a one-man operation, I cannot promise speed! So by sharing your query in the
ASK NASCompares
section below, you can get a better range of solutions and suggestions, alongside my own.
This description contains links to Amazon. These links will take you to some of the products mentioned in today's video. As an Amazon Associate, I earn from qualifying purchases