Seagate Ironwolf NAS SSD

– Worth Your Cache?
Not so long ago, we at NASCompares found out about a new range of solid state drives (SSD) from the guys at Seagate. This in itself wasn't big news, new SSD are announced by the big storage brands almost monthly, but what made us all sit up and listen was that Seagate announced these new drives were to be Network Attached Storage (NAS) specialized SSD drives, to arrive under the Ironwolf NAS banner. Now, for those that aren't aware, two of the biggest names in NAS Drive Media are Western Digital with their WD Red range and Seagate Ironwolf. Till recently, these were exclusively Hard Drive based only. and promised much better on-drive optimization for 24×7 use (typical of NAS), along with balanced read/write performance, task engineered vibration sensors and improved buffering. These factors are what differentiated the NAS Hard Drives from Regular Hard Drives. We always knew that eventually, a brand would release a series of NAS targetted SSD media, at least from a marketing position – it's a bit of a new brainer. But from an actual user case scenario point of view, is there much difference between a Seagate Ironwolf SSD and regular SSD drives?
Why Has Seagate Released the

Ironwolf 110 NAS SSDs

?
The sceptic in us all will immediately question the utility of a NAS SSD. It is a long established fact that SSD drives, though faster, more energy efficient, higher in durability and more reliable, they cost ALOT more. Even now in 2019, the cost of SSD is approximately £0.30 per gigabyte (even in the case of the Seagate 110 NAS SSD), this is a big step up from the average of £0.02 per Gigabyte with Seagate Ironwolf Hard Drives. So, who is the target audience for a NAS tailored SSD? Is a NAS SSD even necessary compared with regular SSD drives, and Is Seagate just in it for the money? Let's get our hands on the Seagate Ironwolf drive SSD and see what we have here.
Seagate

Ironwolf 110 NAS SSD

– Design
The chassis of the ironwolf SSD drive itself is very similar to that of SSD from Samsung and Sandisk. However, even the 1.92TB sample that I have been sent is just 7mm in height and very impressive in form. There are the usual screw holes around the chassis for NAS tray, Loading slot or PC Case installation, though the unit arrives bare bones in an antistatic bag, without screws and manuals (this is fairly standard for this kind of media drive)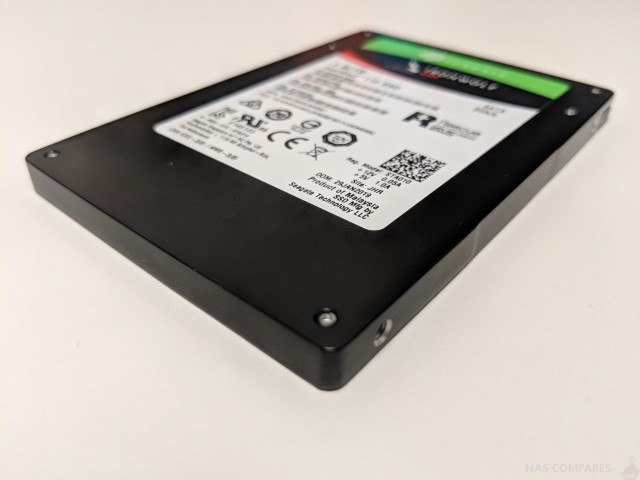 If we flip the drive over, we find a heat dissipating bottom panel that allows the NAND chips inside to get sufficient cooling. Very few NAS drives (with the exception of PCIe based drives) arrive with active cooling or moving parts.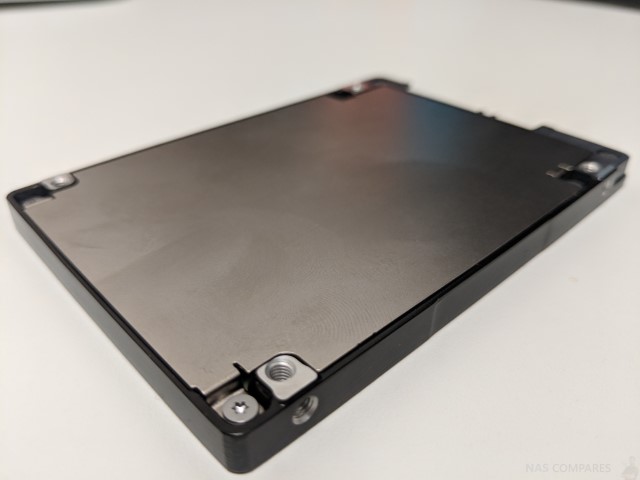 Seagate has ensured that the 'Ironwolf' band design is in force here and ensure that the logos are the very first thing you see.
As previously mentioned, the Seagate Ironwolf NAS SSD range is SATA in connection. There are developments of an NVMe SSD, in the Firecuda series, but given that the majority of NAS devices still use SATA as their primary means of both storage and SSD bays, this is probably for the best.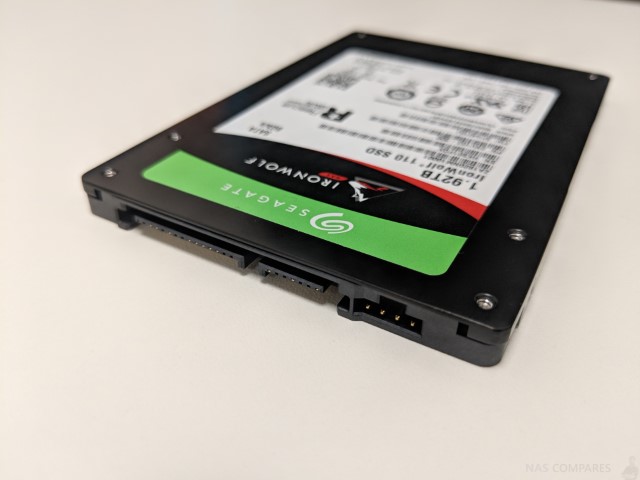 Despite the fact I used the 1.92TB Ironwolf 110 SSD, it is worthing highlighting that the specifications for the entire NAS SSD range are very similar indeed.
A closer look at the more technical specifications with regard to power and performance show that even at the lower capacity tier, the Read speeds are consistent throughout, however, there is a tiny dip in the write speed in the lower gigabyte drives.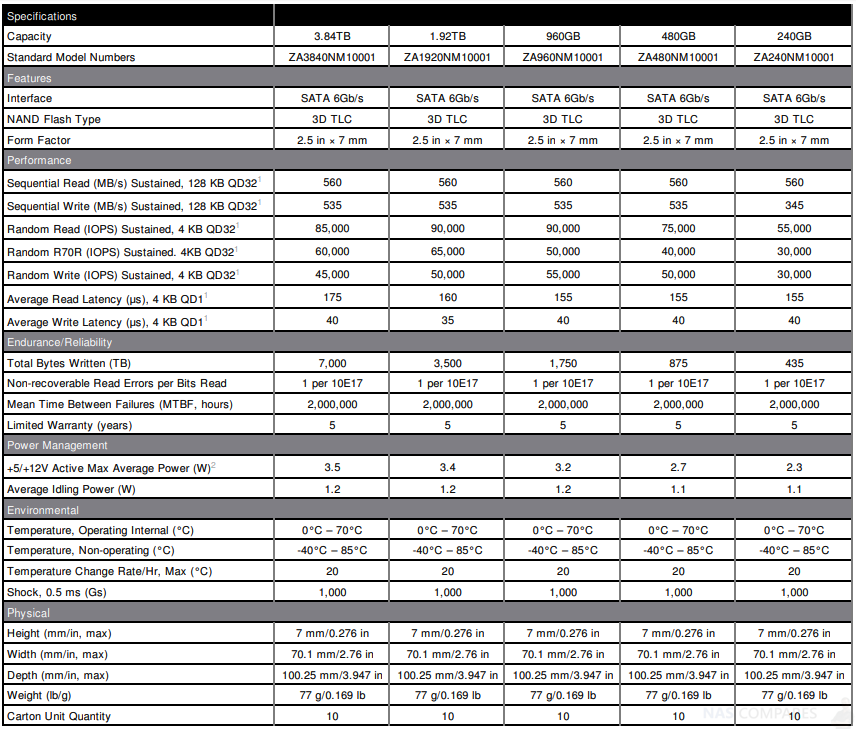 This is where we can see a few minor differences between the Seagate 110 SSD for NAS and traditional SSD that are currently used in NAS drives (from brands like Samsung EVO/Pro and WD Blue).
Seagate Ironwolf 110 NAS SSD

– Software and Support
One area that Seagate has always excelled on compared with WD, Toshiba and HGST is in the area of software and support. Their NAS HDD range arrived with a number of key buying points for both home and business users, as well as their hardware being tailed to the storage need (the latter not being unique to them, but always at a better price point than their competitors). One area they were keen to highlight in their Ironwolf SSD series, regards 'Durawrite'. This is a new data write and reading system for SSD that is included in their 110 NAS SSD series. It is used to address the issue of poor data writing. With such a focus on speed with SSDs, it was often overlooked that just throwing all the data at the internal NAND storage chips isn't enough. You need to organize it as efficiently and dynamically as possible, but this risks the SSD controller having to lower speeds in order to maintain that layout. Durawrite and an improved system of over=provisioning is a good way to avoid this internal bottleneck.
One of the most commonly observed drawbacks of NAND flash storage (and something that brands like QNAP have become aware of on a software level, trying to avoid) is the need to organize the storage structure during writing to ensure that data is formed and stored in the most appropriate manner, An inefficient structure of data across one or more SSD can result in actually writing more data than we really need to store in every exchange, which results in poorer speeds or a decrease in visible/usable capacity. In a more common SSD, if you need to write 1GB of data, in the case that the structure of the SSD has been confusing (storage, deletion, re-storage, etc over a period of time), the actual amount of data actually written may be as high as 5GB or even 10GB. This is where the Durawrite technology on the Ironwolf SSD comes into play. Most data on client systems is compressible.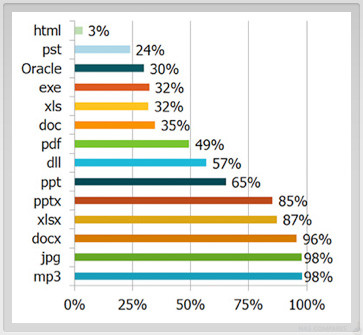 Data Reduction technology is similar to data compression. The Seagate 110 SSD controller compresses data being written to the NAND Flash storage inside. This compression reduces the footprint of the data being written to the SSD, thereby generating Dynamic Over Provisioning as a benefit and enhances their usable life and performance. NAND Flash technology is a non-volatile memory technology that is subject to wear when host writes are performed. SSDs are rated in Total Bytes Written (TBW), which lets users calculate the estimated life of SSDs based upon their daily writes. Except in extreme cases, the majority of SSDs installed in client systems such as desktops, notebooks and ultrabooks will outlast the systems. However in NAS systems, whether you are using Ironwolf SSD drives for caching or primary RAID storage, the regularity of data being written is much higher and their operational time is several times higher.
What is SSD Over Provisioning? And Why Does that Make the

Seagate 110 SSD

Good for NAS?
The Seagate 110 NAS SSD range arrive with a tiny extra piece of NAND Flash storage reserved for the SSD controller's use. This Over-Provisioning (OP) space is used to support the SSD controller's operations typically. However, through DuraWrite, the smaller footprint of data written to the NAND Flash storage creates Dynamic OP by freeing up additional OP space. So there is room to negotiate better data write, without backing up performance in the chain.
For example. Let's assume we have a standard 256GB SSD filled to 80 per cent capacity with a typical operating system, applications and user data. The SSD has 20 per cent free space, used by the SSD controller as its Dynamic OP. Next, let's take the same SSD with DuraWrite Data Reduction technology and compare them::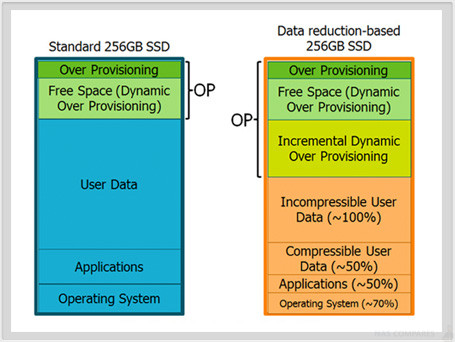 Both SSDs have the standard OP area for a 256GB SSD (shown in the "Over Provisioning" box in dark green), followed by the free space area that functions as Dynamic OP for both types of SSDs.
However, in the SSD with DuraWrite on the right SSD, we can see that the footprint of the operating system, applications, and some of the user data (the compressible portion) is smaller – resulting in less NAND Flash capacity being used on the SSD to store data. While both SSDs have 20 per cent free space, the SSD on the right with DuraWrite technology has an Incremental Dynamic OP area that it can use to increase the SSD's performance and extend its endurance even more than the standard SSD shown on the left.
Seagate 110 NAS SSD

and the Rescue Data Recovery Services plan.
A neat little extra that Seagate includes in their Ironwolf SSD drives, along with enterprise HDD drives, is the Rescue Recovery package. They are currently the ONLY company to offer this and for some users, can almost justify the entire purchase itself. Data recovery is expensive, anyone who has ever felt the sad ache of data loss when a drive stops booting, at the horrible feeling creeps up on you that this isn't jsut going to be a 'turn it on and off to fix' type scenario. The Ironwolf 110 SSD includes two years of data recovery services, supported by a team of data recovery specialists, means that your files can be restored in as few as two days. With a Seagate Rescue Plan, you can enjoy the peace of mind that comes with knowing your data—whatever device you store it on—is always protected, whether you drop it, dunk it or accidentally delete it. There are of course terms and conditions and all data recovery has its limits, but I am always impressed by this when I see it included with their HDD and SSD.
IronWolf Health Management and

Seagate 110 NAS SSD
One rather unique thing that Seagate brought to the table when they rebranded their NAS Drives to 'Ironwolf' was the inclusion of the Ironwolf Health Management tool. What this meant in real terms, was that if you were using ironwolf drives in your Synology or QNAP NAS, if you went into the storage manager, next to 'Disk info' and SMART' tests, a new drive diagnostic tool appeared. With it, you can prevent external disturbances from affecting the NAS or drive health as it alerts you when potential problems occur, proactively intervene and backup your data when the system notifies and generally is a nice little extra layer of analytical data for you to factor into your storage needs. Below is their corporate video on the subject. It's a bit cheesy but covers the basics well.
It is worth highlighting though that the health management does not appear to be present upon initially released units. Whether this is because it is still in the process of being tweaked for the 110 SSD range, or because of Seagate having not pushed this new NAS media to its full ability, it is hard to say. But I can certainly vouch for it in their hard drive range.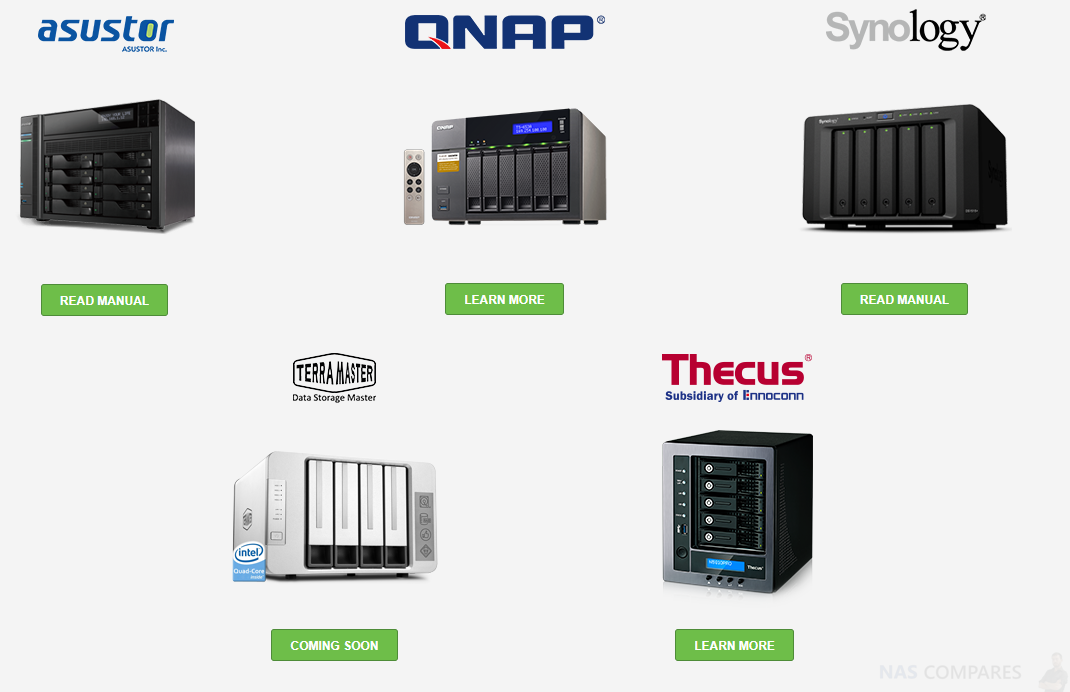 Seagate NAS 110 Ironwolf SSD

arrives with a 5 Year Warranty
Despite the question marks regarding the health management tools in initially released units of the ironwolf SSDs, I can confirm that the entire Ironwolf SSD Range arrives with 5 years of warranty. This is generally considered standard for all SSDs and I am still surprised when we still see some SSD drives arriving with less, given the reliability and durability of solid-state media. This, along with the 2 years of data recovery offered with these dries, means you are getting some great support packages offered with these NAS SSD and if you are looking at more enterprise NAS such as the RS4017xs+, RS1619xs+ and DS3617xs, then these 5 year warranty NAS will benefit greatly from these drives in both coverage and peace of mind.
Seagate NAS 110 Ironwolf SSD

Conclusion
At the start of this review, I wanted to answer three questions, I think we can answer them and mostly in the positive.
Who is the target audience for a NAS tailored SSD?
Right now, the NAS industry is making the move away from Hard Drive NAS arrays. The Price point of SSD compared with HDD is still something of a problem for home and SMB users, but with great innovations from NAS Brands to utilize SSD caching (A system whereby you can vastly improve the performance of an HDD only RAID storage array with 1-2 SSDs) more and more users are looking at getting SSDs installed alongside their NAS – hence why you are seeing more NAS such as the DS1019+, TS-351 and HS-453DX released in 2019 that feature 2+ dedicated SSD bays for this very purpose. Add to this the sudden affordability of 10Gbe thanks to companies like Aquantia, means that a NAS with separate storage pools for HDD and SSD inside can have much faster external access to their NAS and require storage media that can keep up! The release of a NAS specialized SSD is of tremendous benefit to all of these users, especially those who already use Seagate Ironwolf HDDs in their NAS drives. This is of even further interest to users who are looking at AI and deep learning operations taht need storage media that can keep up with intensely high IOPS and R/W able CPUs these days (Flash-based NAS). Home users can, of course, utilize the Ironwolf 110 NAS SSD in their devices, but without 10Gbe externally, or the need internally for computations to be made lightning fast, you will not see the benefits.
Is a NAS SSD even necessary compared with regular SSD drives?
I think so, yes. There is no denying that the majority of NAS users who need to invest in SSD media partially or fully in their server device will want to know that they are buying the correct media for their needs and if a brand who has already invested heavily in the NAS storage market releases a NAS branded SSD, it will certainly make the research and buying process easier the consumer and mid-range market. Additionally, buying factors in the Ironwolf 110 NAS SSD series such as the Data Recovery service, 5 year warranty and dynamic Over Provisioning functionality are not always available from other domestic desktop PC booting SSDs and NAS buyers are the ones who need it most, due to prolonged read/write actions over time and sporadic activity.
Is Seagate just in it for the money?
Yes and No. Of course, a big storage media brand such as Seagate are always going to be looking to make a profit in everything they do and will always be on the lookout for an opportunity for that. However, it is also worth noting that there IS a need for SSDs in NAS systems, whether it is for full SSD Flash NAS storage (in devices such as the Synology FS1018) or caching in HDD and SSD mixed NAS devices, such as the QNAP TVS-1282 and DS619slim. Till now, most buyers have had to buy SSD from brands who have produced media that, though impressive, is not specifically designed for NAS devices. Additionally, given the popularity of Seagate Ironwolf HDD, it is understandable that the ability to have storage provided by the same brand for your fast access storage is preferred.
We will be conducting speed tests and SSD caching tests within Synology and QNAP NAS drives in the next week and will let you guys know how the Seagate Ironwolf 100 SSD range for NAS did against it's closest SSD rivals. Currently, Samsung is the most popular choice of SSD for home and business choice for flash media and caching. It will be interesting to see how the ratios are by the end of the year and given that WD has already released their WD Blue, Green and Black range of SSD media, it can only be a matter of months before we see them announce a WD Red SSD drive. In the meantime, right now I have no hesitation in recommending the Seagate Ironwolf SSD range of drives for NAS users, as you are getting better value and functionality in their drives than rivals right now.
📧 LET ME KNOW ABOUT NEW POSTS 🔔
Join 1,414 other subscribers
Get an alert every time something gets added to this specific article!
This description contains links to Amazon. These links will take you to some of the products mentioned in today's content. As an Amazon Associate, I earn from qualifying purchases. Visit the NASCompares Deal Finder to find the best place to buy this device in your region, based on Service, Support and Reputation - Just Search for your NAS Drive in the Box Below
Need Advice on Data Storage from an Expert?
We want to keep the free advice on NASCompares FREE for as long as we can. Since this service started back in Jan '18, We have helped hundreds of users every month solve their storage woes, but we can only continue to do this with your support. So please do choose to buy at Amazon US and Amazon UK on the articles when buying to provide advert revenue support or to donate/support the site below.

Finally, for free advice about your setup, j
ust leave a message in the comments below here at NASCompares.com and we will get back to you.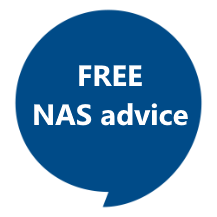 Need Help?
Where possible (and where appropriate) please provide as much information about your requirements, as then I can arrange the best answer and solution to your needs. Do not worry about your e-mail address being required, it will NOT be used in a mailing list and will NOT be used in any way other than to respond to your enquiry.
Support What We Do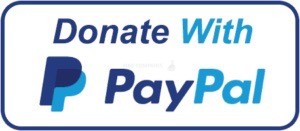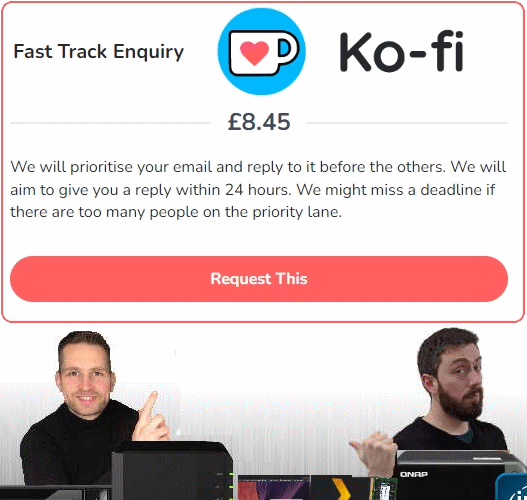 Terms and Conditions
Alternatively, why not ask me on the
ASK NASCompares forum
, by clicking the button below. This is a community hub that serves as a place that I can answer your question, chew the fat, share new release information and even get corrections posted. I will always get around to answering ALL queries, but as a one-man operation, I cannot promise speed! So by sharing your query in the
ASK NASCompares
section below, you can get a better range of solutions and suggestions, alongside my own.
This description contains links to Amazon. These links will take you to some of the products mentioned in today's video. As an Amazon Associate, I earn from qualifying purchases