Synology RS819 RackStation – True Value NAS?
Synology has released one of the last in their 2019 wave of popular NAS drive devices (Rackstation NAS) and the latest to join the series is the modestly sized, modestly priced and modesty powered RS819 4-Bay NAS. Often overlooked due to their lack of Intel options, the value series is probably the most affordable of their catalogue of  Network Attached Storage servers. Following in the footsteps of the older DS218, and DS418 NAS released in late 2017/2018, this four HDD server has taken everything that was popular about its predecessor (the RS816) and super-sized them, for good measure. From a new and far, far more proficient CPU, better RAM and a host of software options that you would never have imagined would be available at this pricetag, Is the Synology RS819 the final word in affordable business storage? Let's find out.
Synology RS819

RackStation NAS – Hardware

Once we unboxed this rackmount NAS, we found that the accessories were few but important.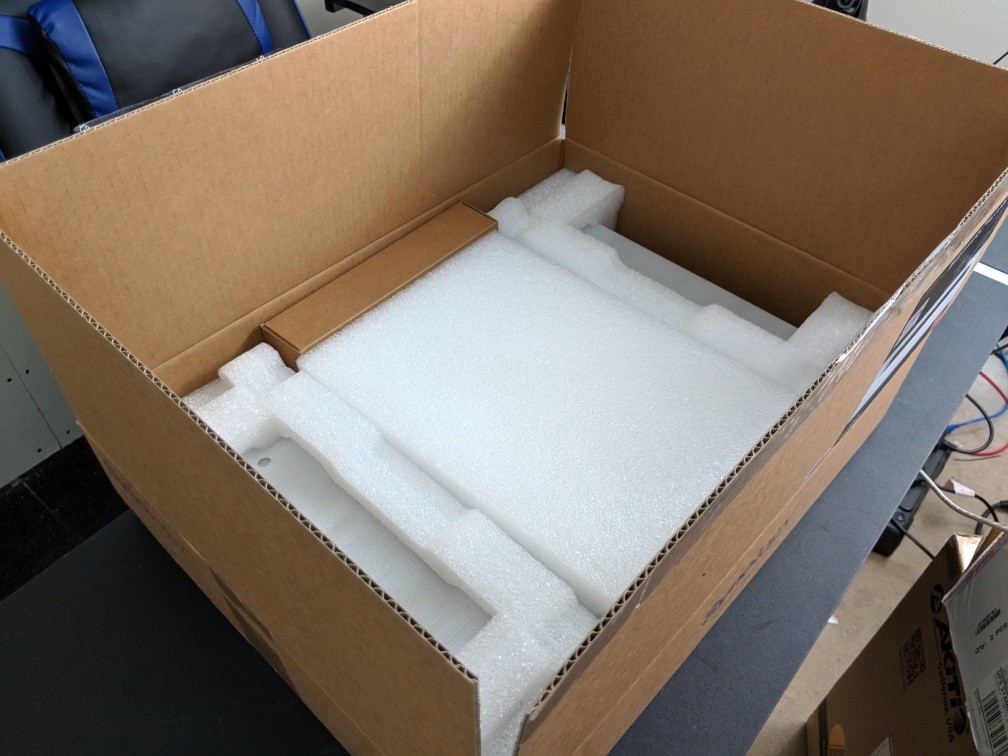 Like all NAS from Synology, it will come as no surprise that the unit arrives with all the parts you are going to need to get your Synology NAS solution up and running (except a Hard Drive or SSD of course). Inside the retail box you will find:
The RS819 NAS Server Device
Instructions and first-time setup guide
Screws for HDD and SSD installation
Rear Panel screws for the chassis
Rack Handles (optional for use)
1x RJ45 LAN cable
HDD/SSD Bay Keys
It should also be noted that in order to fully use the Synology NAS, you will also need:
An available power/mains wall socket
1 or 2 Hard Drives or SSD (depending on your RAID and storage requirements)
A router or switch with an available RJ45 port (LAN)
If you do not intend to install the NAS in the same room/accessible to your router/switch, then you will need to consider distances solutions such as Powerline Adapters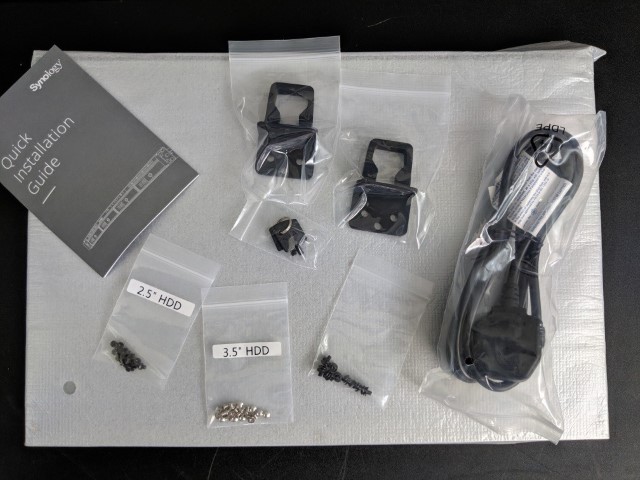 Once we have the unit unboxed, we took a good look at the front of the device and those 4 hard drive bays.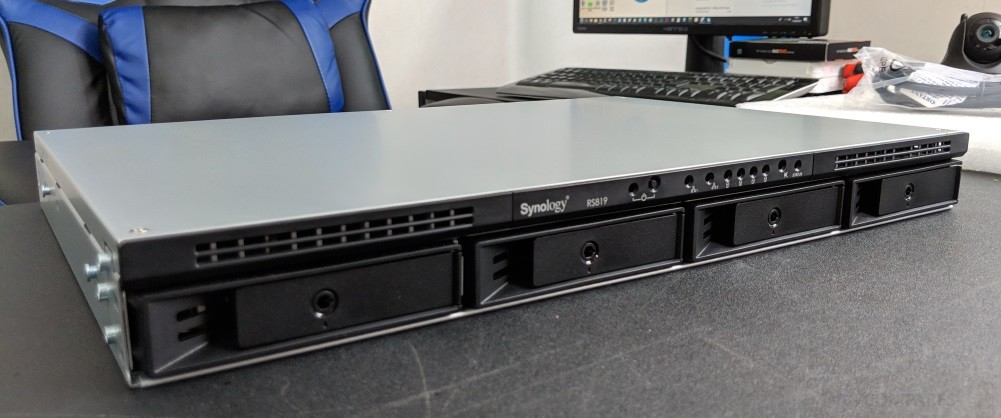 Each bay supports both hard drives and SSD, supporting the very latest 12TB and 14TB drives from WD or Seagate respectively. The internal hardware (that we will talk about later) also support multiple raid configurations from RAID 0 to Raid 5 and RAID 6 (and more), as well as Synology Hybrid RAID. Additionally, this device does not need to be fully populated in order to function and in fact can run on a single hard drive leaving you to add drives as and when you need them.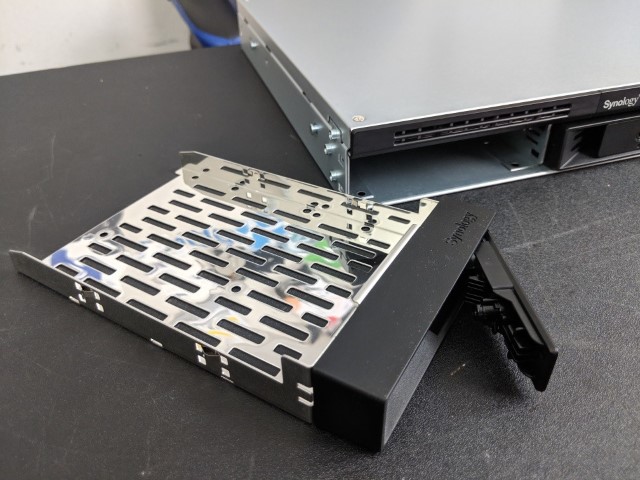 Each hard drive tray is metal in design, requiring each drive to be screwed in with four supplied screws. Additionally, each tray has an LED light to denote drive health and can be locked individually to ensure it is not removed in error.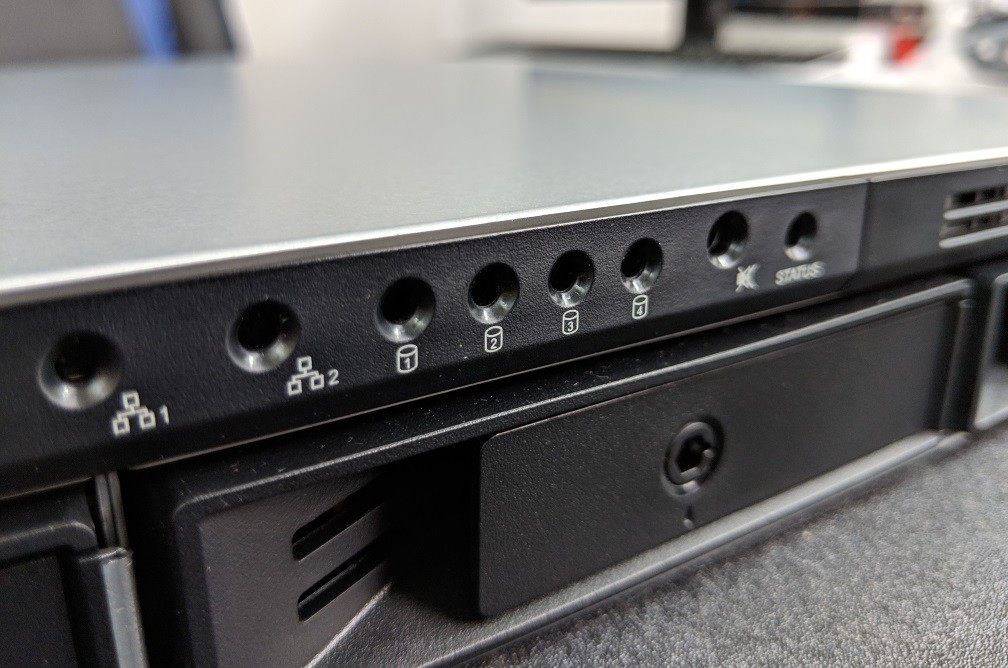 The other corner is a touch more underwhelming and merely shows the model ID and no further USB ports.
The
Synology RS819

RackStation NAS – Ports and Connections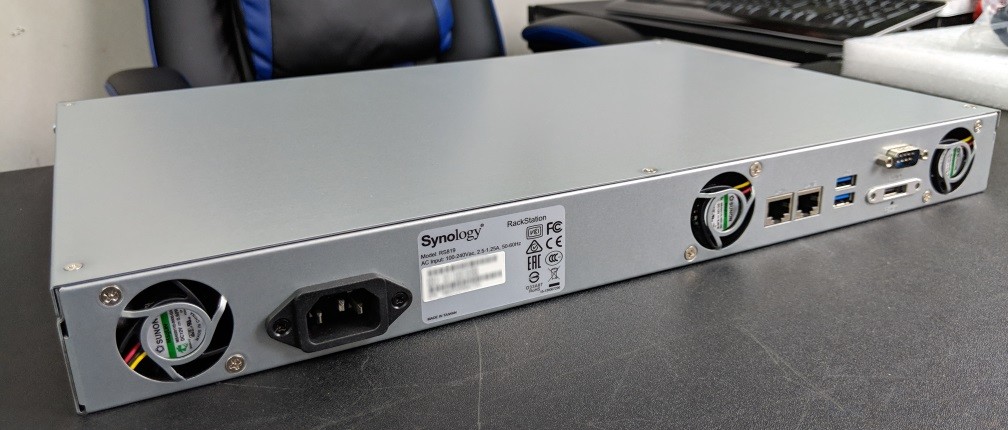 At the rear of the device, we find both a large amount of ventilation and a large variety of connections and ports, to take advantage of all of that RAID ready storage.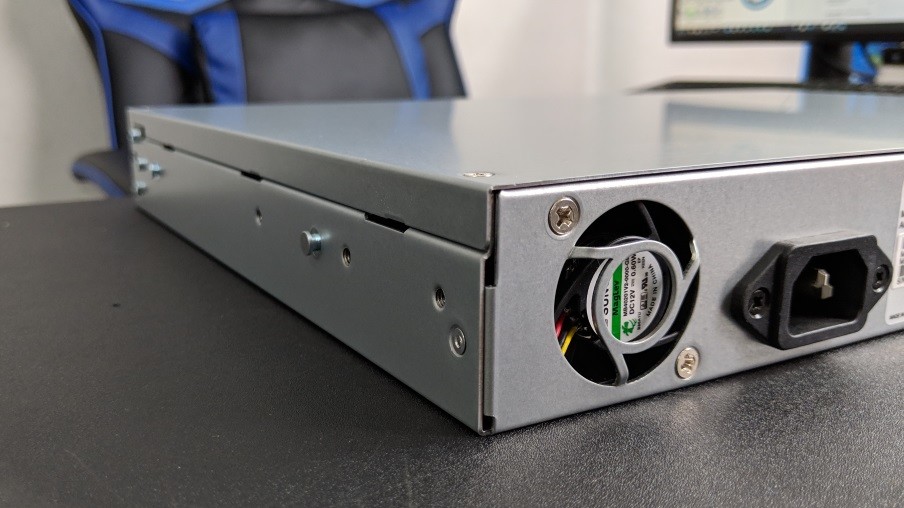 On the rear of the device, we see three fans. The one on the furthest left is for the internal 100W PSU fan. Unlike many other Synology Rackmount NAS that had dual/redundant PSU options, the RS819 Rackstation is only available with 1 power supplier.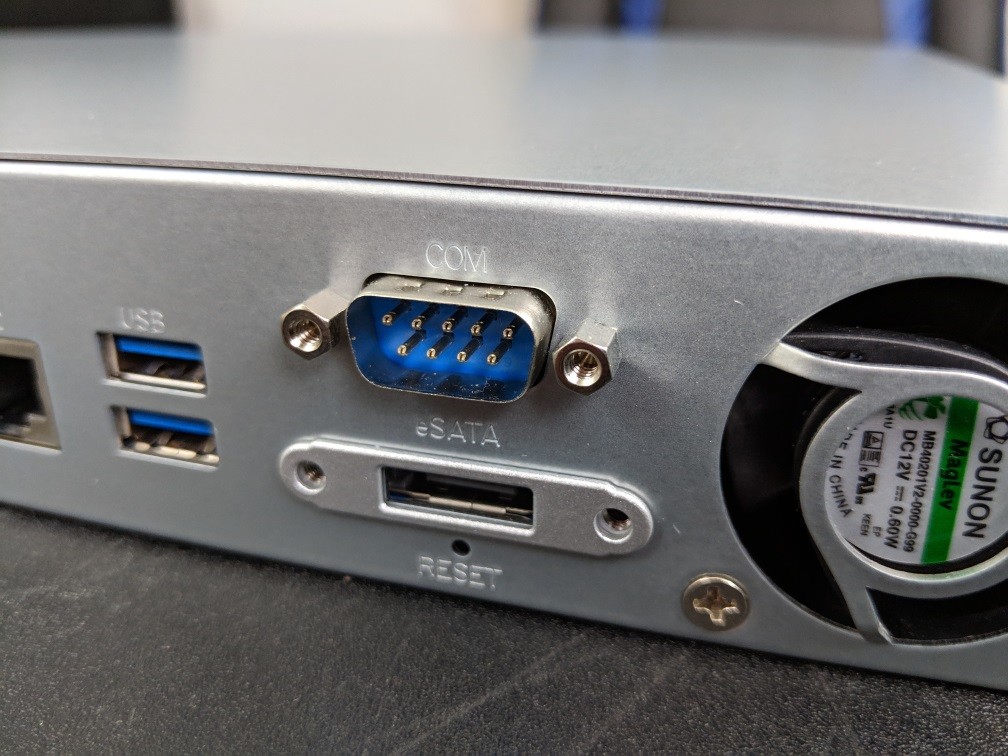 Regarding ports, we find a com port (not VGA – I made that mistake before!) that let us integrate the Synology RS819 NAS with existing hardware systems in your storage environment (security or older storage systems).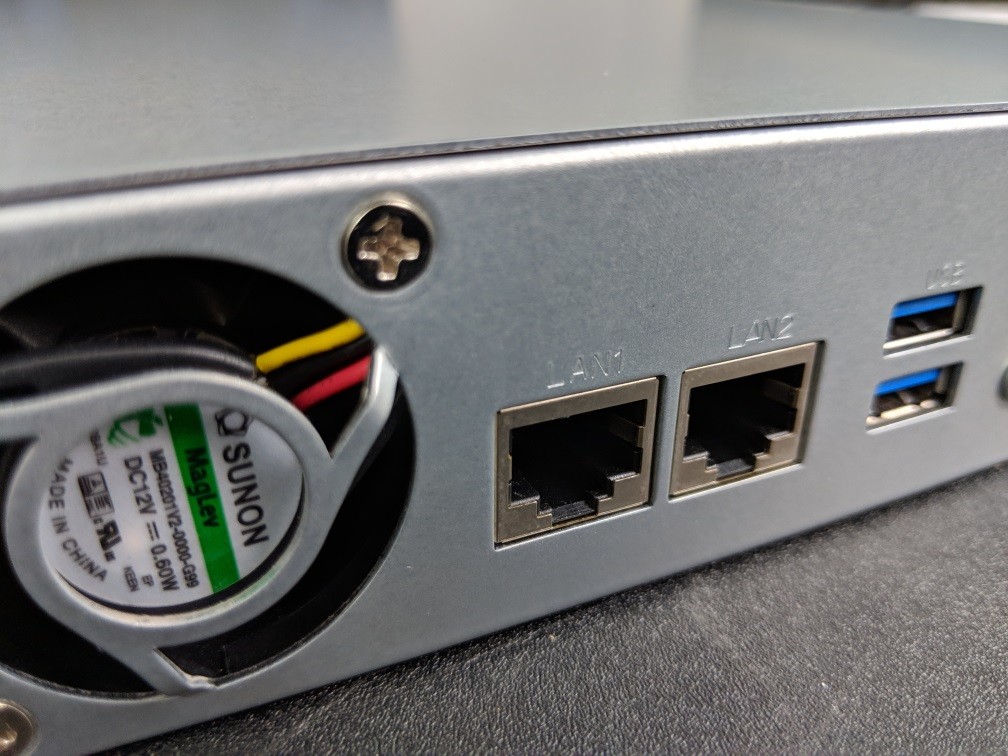 Next, we find two 1GB LAN ports (RJ45 based) for network and internet connectivity, that can be linked aggregated (port trunked) in order to effectively quadruple the upload and download speeds to this NAS device. Do remember that you will need computer connected devices to have multiple LAN ports in order to also enjoy this speed. Alternatively, connect the NAS via 2 LAN to a switch to ensure that more 1Gbe connected devices get the best possible speed from their connection at the same time from the RS819 NAS.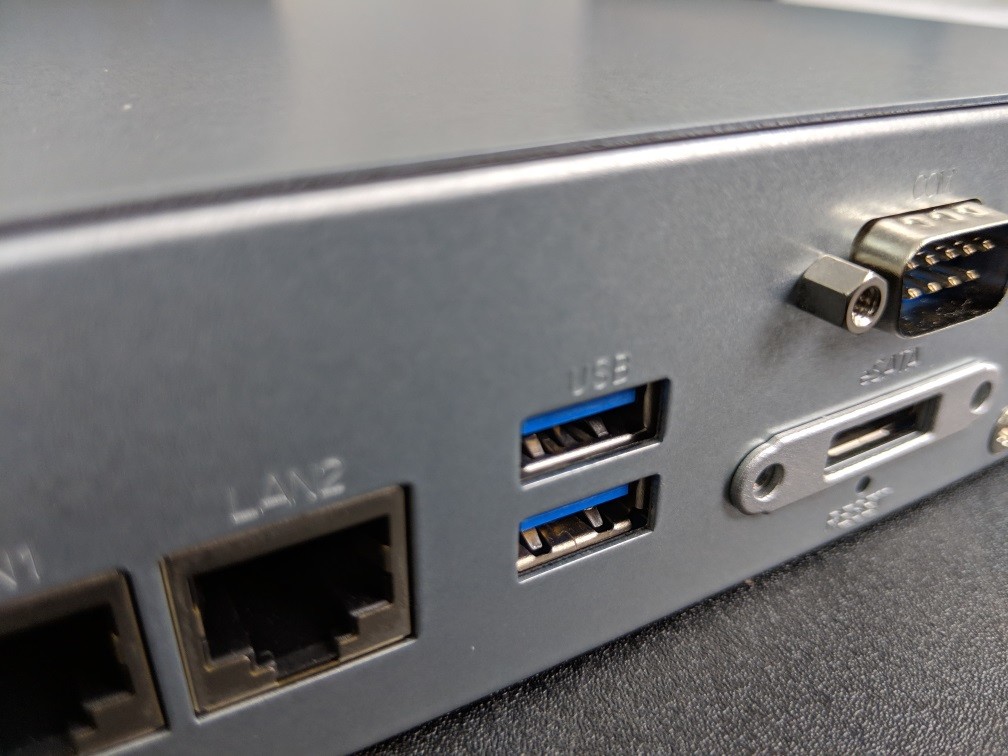 We find additional USB ports that let us add external storage to the RS819 NAS device. These can be used to connect portable storage and back them up to the Synology, or to back up the contents of a file, folder or volume on the NAS to an external drive, or just to make a standard USB drive network access to your users. All this can be actioned in an ad hoc fashion or set up default actions for when a drive is connected.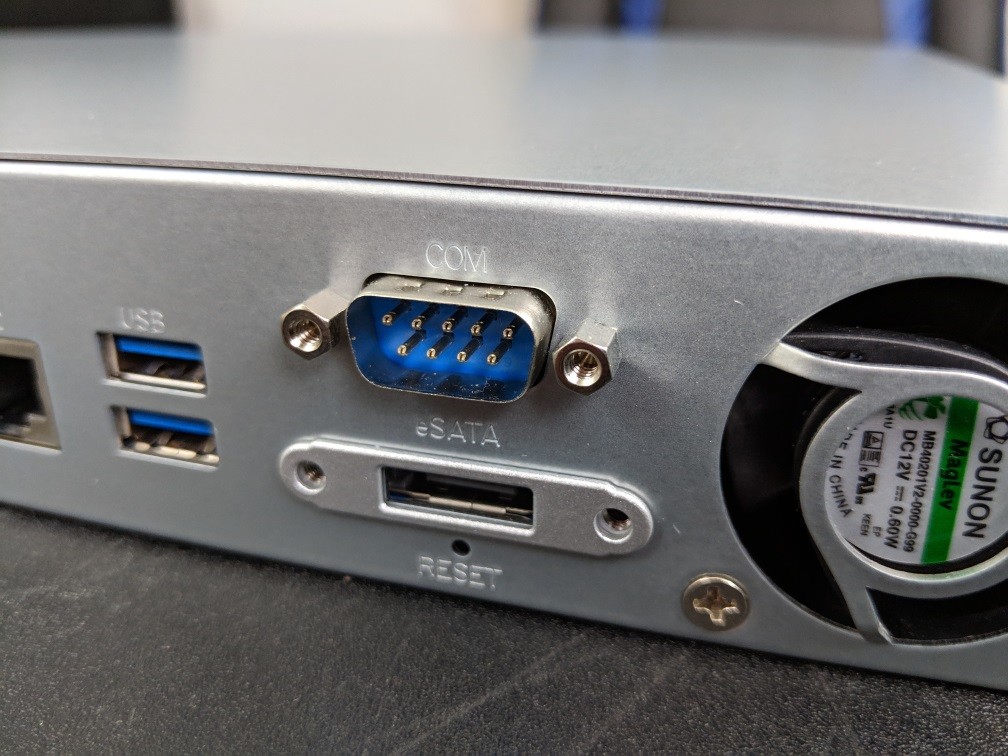 Continuing with the theme of adding space, additionally around the vast amount of ventilation on this device we find an expansion port that allows us to connect an official Synology RX418 expansion rackmount chassis and add a further 4-Bays of storage to our existing 4 bays (so, eight bays total). Once this storage is connected, you have the option of adding it to your existing RAID array on the RS819 (Also letting you change your RAID to adapt to this storage increase), alternatively you can set it as a completely new RAID enabled Volume for network access or (commonly) use it as a backup for the primary storage volume.
The
Synology RS819

RackStation NAS – Internal Hardware
As this is a rackmount device, it is not designed to be pretty. However, there are screws located on the top of the secured RS819 chassis. So, let's take a look inside.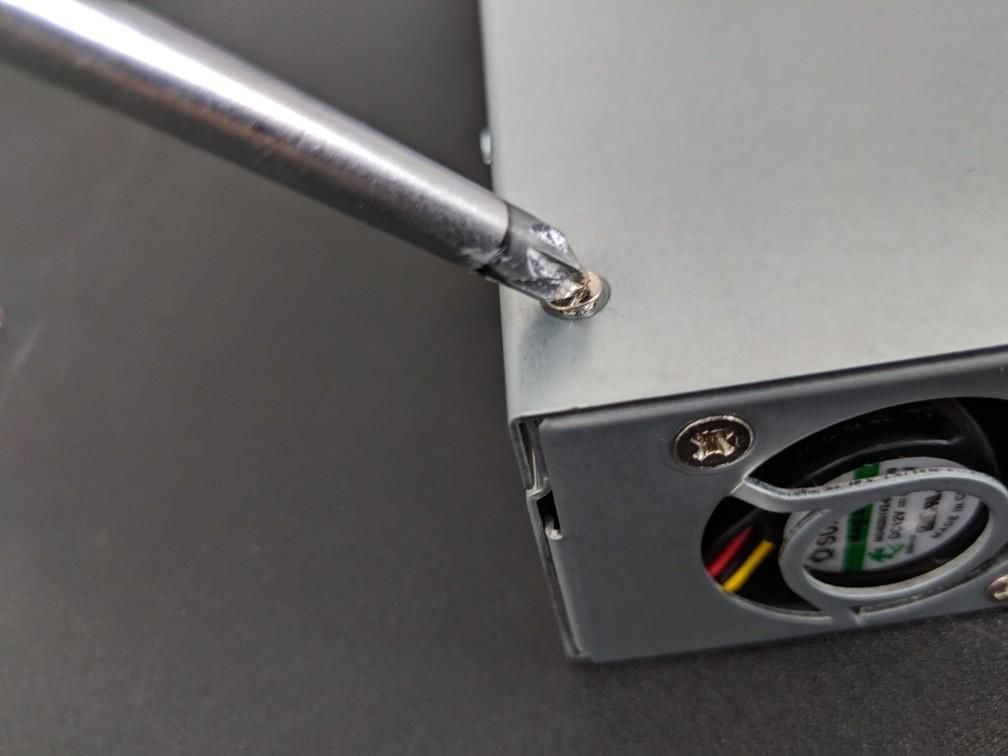 Inside we find a motherboard, not dissimilar to that of a desktop computer.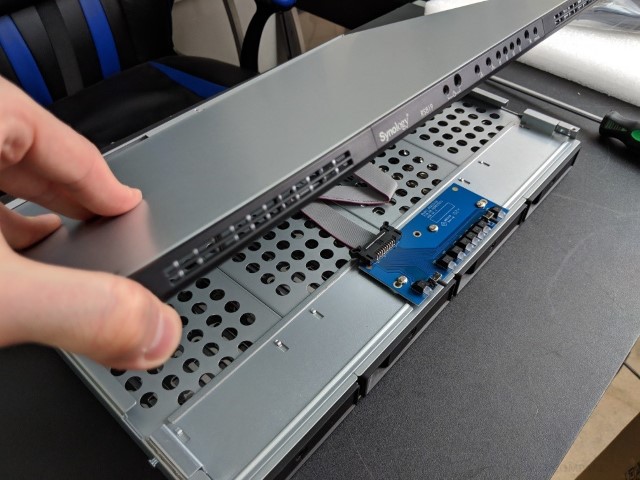 The CPU in this device is a Realtek RTD1296 64bit ARM, that features a 1.4Ghz clock speed in each of its 4 cores. Which means it can handle everything from multimedia (Synology Apps and Plex), Docker, Fast and intuitive file management, large scale backups and network CCTV security with Surveillance Station 8.2. This is further supported by 2GB of DDR4 memory that cannot be expanded.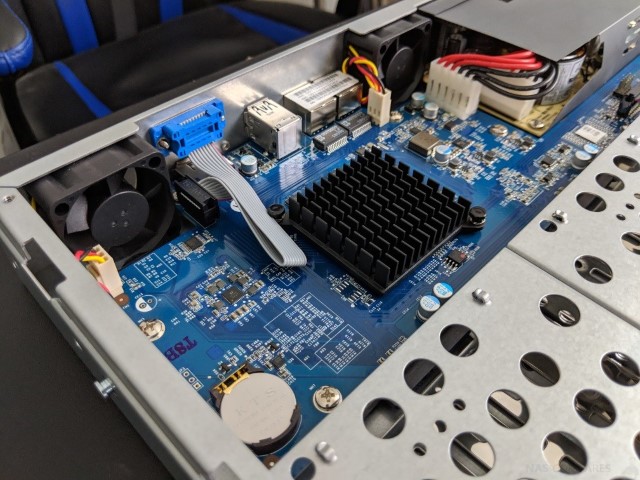 Finally, and I have to say that this is a real sore point for me, there is no PCIe or 10Gbe port. I know this is a value/budget NAS, but it would have cost very little to add a PCIe slot to this NAS (maybe bumping the price up a little), but the lack of this kind of network expandability and futureproofing is a real shame!
The
Synology RS819

RackStation NAS – Software

The Synology RS819 arrives with the latest version of diskstation manager. This software arrives with literally hundreds of applications covering both first and third party requirements, so this NAS can handle numerous utilities for the home and business environment ranging from:
Synology Surveillance Station
Plex Media Server
Synology Video station
Synology Photo station
Free Sugar CRM
Numerous CMS option
Synology File Station Management
Multiple third-party cloud migration tools with Dropbox, Google Drive and more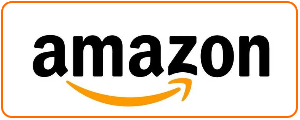 What can the
Synology DS819

NAS Server do?

For such a modest sized NAS, it is safe to say that Synology has really done a fantastic job of squeezing so much hardware into the tiny chassis:
| | |
| --- | --- |
| Model | Synology RS819 NAS |
| Price | £500+ ex.VAT |
| CPU Model | Realtek RTD1296 |
| CPU Architecture | 64-bit |
| CPU Frequency | Quad Core 1.4 GHz |
| System Memory |  2 GB DDR4 |
| Hardware Encryption Engine | YES |
| Hardware Transcoding Engine | 10-bit H.265 (HEVC), MPEG-4 Part 2, MPEG-2, VC-1; maximum resolution: 4K (4096 x 2160); maximum frame rate per second (FPS): 30 |
This is (with exception of the expandability of the RX418) almost identical to the hardware in the Synology DS418 and DS218.  This Realtek RTD1296 CPU is both a quad-core chip and 1.4GHz in frequency/clock speed. Likewise, the chassis of this rackmount NAS has already been seen in the RS816. Once you start comparing this device against the old RS816, the RS819 arrives at around £50 more expensive than the older Synology, where has that £50 extra gone in the construction of the Synology RS819? Once you look closer at the hardware you start to see why this device exists as a suitable successor to the RS816.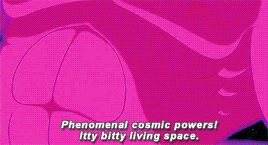 How does the
Synology RS819

NAS compare with the older RS816 NAS?

As mentioned, the internal specifications are impressive indeed. But is more than just gigahertz and megabytes. What makes them impressive is that on the newer NAS device, the RS819 features:



Should you buy a NEW Synology or OLD Synology NAS Drive in 2018
The

Synology RS819

NAS – Software
In terms of software, this NAS is able to support most of the common software and apps available on the DSM 6.2 (DSM 7.0 in beta soon we hope) platform from Synology. The big Synology apps that have had further big updates last year, such as Synology Drive, Synology Moments, new and improved Synology Office, and finally, Synology Chat is all available and are supported fully. Likewise, a host or third-party applications that Synology has become famous for are supported too. However, it is worth noting that this unit is unsuitable for virtual machines (VMs) as the CPU is not complex enough. Also, though the RS819 supports PLEX Media Server when officially installed, it cannot perform any transcoding/re-shaping media files for that program. unofficially. Those two factors aside, the Synology RS819 can stand up against the big boys quite well in most other ways.
Additionally, Synology has been working hard to get the most out of the newer range of 64bit Realtek CPU and this means that the RS819 Rackstation, despite its modest hardware when compared with the RS818+ and RS1219+, arrives with support of BTRFS. This great file system allows you to have much easier and less system resource consuming background snapshots, file self-healing and constant background checks on data processes. The lack of BTRFS and Plex was what let this hardware down last year and now this resolution means that the RS819 has become a much more attractive device to many.


In terms of native multimedia support with the official applications and DLNA, this device supports 4K playback as well as being able to transcode both 4K and 1080p at 10 bit H.265 format. It does not support h264, but most modern 4K and 1080p productions no longer use this codec so this is less of a problem than it would appear. Additionally, the RS819 NAS supports the very latest hard drives and SSD. With NAS hard drives arriving at 12TB and 14TB from WD and Seagate respectively, you are looking at some serious storage potential. Of course, do remember that this unit supports RAID 0, RAID 1, RAID 5, RAID 5, RAID 10 and SHR. For those that don't know, SHR or 'Synology Hybrid RAID' is by far one of the best RAID levels available and is a fluid RAID that let you use different drives of different capacities Brand and size. Definitely a recommendation for those that want to upscale their drives at a later date – one for you keen business NAS users.
For surveillance, the RS819 is very suitable for home and business, in as it can support up to 20 IP cameras via the popular surveillance station 8.2 software that arrives completely for free in this unit (via the app center) along with two camera licences. The Synology NAS surveillance software has had some incredible updates in the last 6 months that extend to live streaming to YouTube from your IP Cameras via the NAS, Using a mobile phone as an instantly deployable IP Camera and vastly improved footage scanning and browsing.  Finally, the RS819 arrives with three years of manufacturer's warranty, like almost all of the Synology rack station range. Ultimately, it is down to the far better CPU, more memory, and app support that we can explain the £50+ price difference over the RS816.
Why Buy the
Synology RS819

Rackmount NAS?

Despite the fact the Synology RS819 features internal hardware that, on paper, appears to be lesser than that found in the RS818+ (At around £250+ more), Synology have now spent enough time with this hardware and it's structure to be able to get so, SO much more out of it than most thought possible.

As always, if your budget is especially tight, remember, these devices do not need to be fully populated from day 1, they run just as well with 1 drive inside as they do with 2 or 4! So you can scale your spending accordingly.

Conclusion – 3.5/5

Interested in buying the Synology RS819 NAS? Support the blog by visiting the link below for the very best price now on the Synology RS819 NAS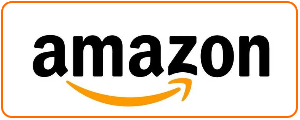 What the Synology RS819 can do (PROS):

Home and Student Storage
DLNA Support
Apple Time Machine Support
Surveillance including multiple camera licences
iTunes Server
Synology Hybrid RAID (SHR) Support
Download server (FTP, HTTP, BT,NZB)
CMS and CRM systems
Office applications on DSM
Media Center support
Plex Media Server Support
Half-Depth Rackmount
Lower noise and power consumption than other Rackstations

What the Synology RS819 cannot do (CONS):

No Virtualisation Support whatsoever
Only Available in 2GB
Can only be expanded by an additional 4 HDD
No HDMI
No 10Gbe or PCIe is a bit of a letdown
📧 LET ME KNOW ABOUT NEW POSTS 🔔
Get an alert every time something gets added to this specific article!
Want to follow specific category?

This description contains links to Amazon. These links will take you to some of the products mentioned in today's content. As an Amazon Associate, I earn from qualifying purchases. Visit the NASCompares Deal Finder to find the best place to buy this device in your region, based on Service, Support and Reputation - Just Search for your NAS Drive in the Box Below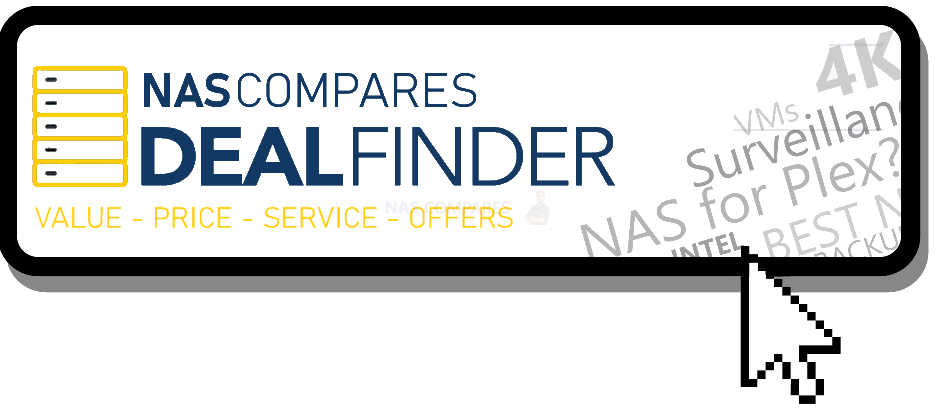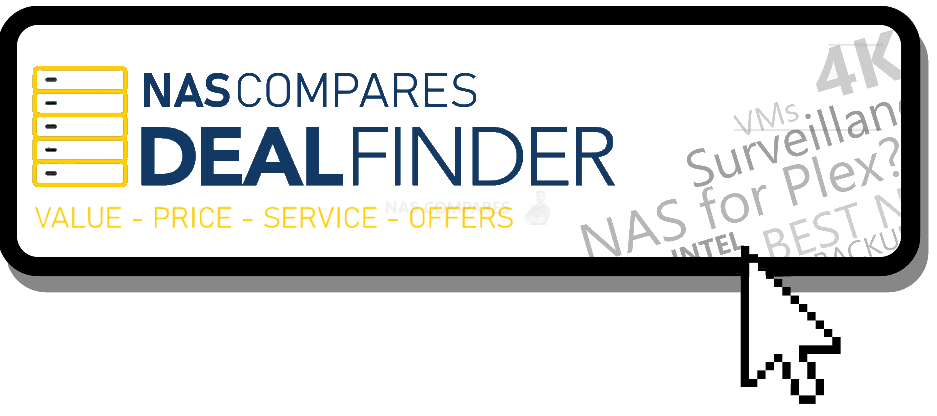 Other products mentioned on this article:
SEARCH IN THE BOX BELOW FOR ANY OTHER NAS
Need Advice on Data Storage from an Expert?
We want to keep the free advice on NASCompares FREE for as long as we can. Since this service started back in Jan '18, We have helped hundreds of users every month solve their storage woes, but we can only continue to do this with your support. So please do choose to buy at Amazon US and Amazon UK on the articles when buying to provide advert revenue support or to donate/support the site below.


Finally, for free advice about your setup, j
ust leave a message in the comments below here at NASCompares.com and we will get back to you.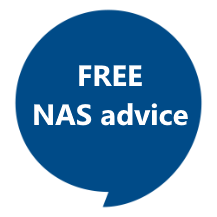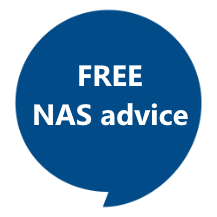 Need Help?
Where possible (and where appropriate) please provide as much information about your requirements, as then I can arrange the best answer and solution to your needs. Do not worry about your e-mail address being required, it will NOT be used in a mailing list and will NOT be used in any way other than to respond to your enquiry.
Terms and Conditions
Alternatively, why not ask me on the
ASK NASCompares forum
, by clicking the button below. This is a community hub that serves as a place that I can answer your question, chew the fat, share new release information and even get corrections posted. I will always get around to answering ALL queries, but as a one-man operation, I cannot promise speed! So by sharing your query in the
ASK NASCompares
section below, you can get a better range of solutions and suggestions, alongside my own.
Summary
Reviewer
Review Date
Reviewed Item
Author Rating