Brand New FS6400 SSD Based NAS Drive from Synology Uncovered
The new tech being revealed here in Taipei continues from Synology. Next, up in our continued coverage of new NAS server for later in 2019, we have the brand new Flashstation FS6400 Rackmount NAS for enterprise-class users who want some of the fastest internal and external transmissions speeds ever achieved on a Synology NAS device. This is by no means the first time that Synology has delved into the word of SSD only based storage, with the previously released FS3017 Rackmount and FS1018 Desktop chassis servers. However, the FS6400 is by far their boldest flash solution yet, in terms of power, storage, expandability and ability.  With spectacular IOPs that promise to outweigh those of its predecessors, a combination of 10Gbe as standard and 25Gbe/40Gbe upgradability, alongside a unique internal CPU/Controller internal design, the Synology FS6400 Flashstation may well seem ridiculously enterprise, but whether you are in the market for AI active storage, looking for a data center solution that's in it for the low-term, or just someone that appreciates good hardware (*waves hand in the air a bit*), then this could well be of interest to you.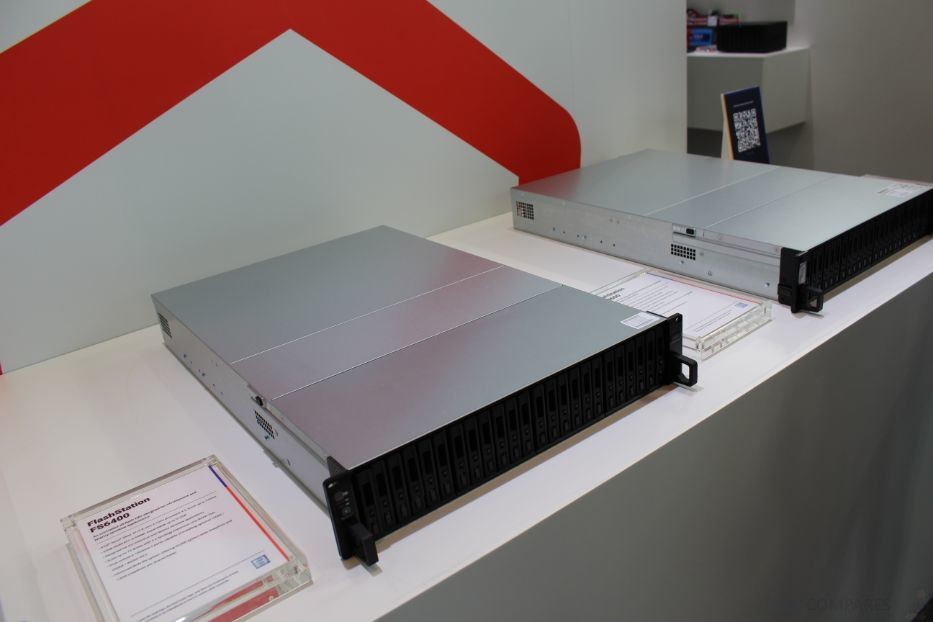 What is Flash Storage and Why is the Synology FS6400 Different to Typical NAS?
When discussing solid state drives (SSDs), many people, myself included, use the words 'Flash Storage' and 'SSD storage'" frequently and often as the same thing. It's a reasonable assumption, given how close they both are – one (flash) is the chips and storage technology that is used within the other (SSD). However, the two terms don't refer to exactly the same thing once you start delving into the subject. So in the case of the FS6400 the device houses many individual SSD drives (each comprised of flash memory – NAND), in the overall Flash Enclosure, they become something greater than the sum of their parts and in the right RAID array, become something comparable to a SUPER SSD!
Too complex? Let's use a metaphor (that always helps, right?) One of the most apt analogies that gets used in the storage industry is that flash is like eggs and an SSD is like an omelette. In the same way that an omelette is made mostly of eggs, an SSD is made mostly of flash. And if someone asked what you had for breakfast, it would be understandable if you answered "eggs," even if what you really had was an omelette. Now, you can also do lots of things with eggs besides making omelettes. In the same way, you can do lots of things with flash besides making SSDs. But in the case of the FS6400, much like flash storage is used to construct a single SSD, they are using many SSD to create one giant area of flash storage that's RAW and ready to be used, thanks to RAID technology and fast external speeds – a Flashstation NAS.
I will assume that the majority of people reading this will know about the difference between SSD storage and traditional HDD storage, but just in case. Flash is a storage medium based on silicon chips that can be written to or erased with electricity, whereas traditional storage relies on a system of moving parts and more physical implementation. The advantages, some obvious and some not, are:
Speed: Flash has some unique characteristics that make it particularly useful for storing enterprise data. First, as the name suggests, it's really fast, much faster than spinning hard disk drives (HDDs).
No moving parts: unlike spinning disks or tape, flash can be used to make drives with no moving parts. In general, that makes it less likely to break or fail, particularly in situations where the storage is being moved around (although experts sometimes disagree about the true reliability of flash).
Non-volatile: flash is non-volatile, which means it retains the information that it stores even when the power is off. That sets it apart from random access memory (RAM), which is also very fast but gets erased every time the system powers down.
Easily rewriteable: flash is easily rewriteable, so it's useful for storing data that changes frequently (unlike, for instance, a CD or DVD).
Flash can be used for many things in addition to SSDs. For example, phones, laptops, digital cameras and video cameras, memory cards, USB memory sticks, calculators, medical devices and even some digital toys use flash storage.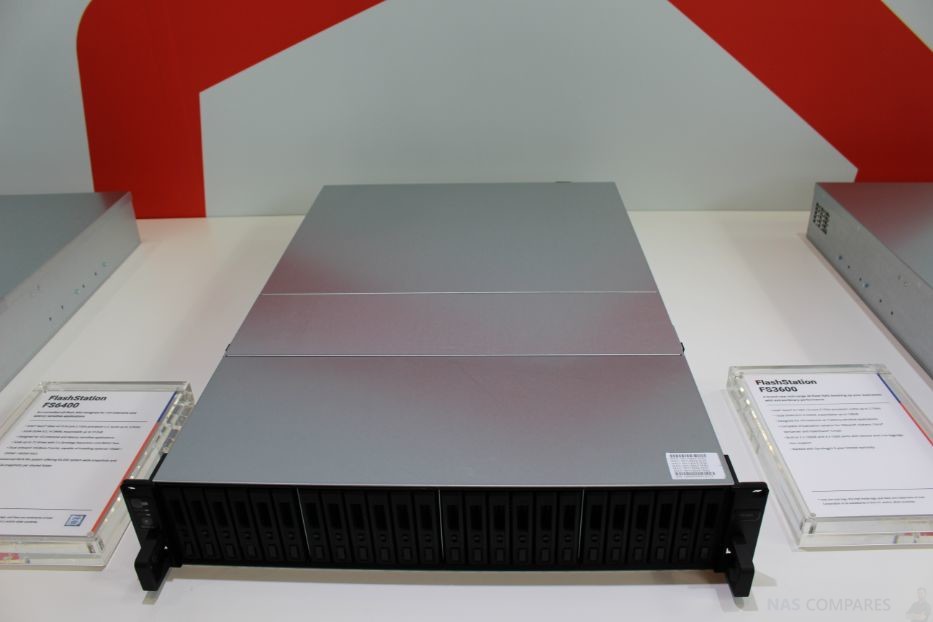 What are the Hardware Specifications of the FS6400 Synology NAS Drive?
Because the media used in a flash storage device requires the access and full use of the instantaneous comparative speeds of Solid State Drives, this means that any basic CPU found in general NAS (those efficient Realtek ARMs or those home media friend Intel Celrons for example) just will not cut it. For anyone that has ever purchased a 10Gbe enabled NAS that features a weaker CPU, you will know that the CPU and Memory combination inside any NAS is as big a bottleneck to your speeds, as the SSD media you choose. Think of the SSD as the engine – it is only as fast and powerful as the car you put it in… put a Ferrari engine into a Ford Modeau and short of it blowing up, the inferior gearbox, brakes, steering assistance, axel and wheels will ruin the day. As tortured a comparison as that is, the same can be said of flash storage NAS and I am pleased to confirm that Synology FS6400 hardware specifications are ridiculously powerful and more than enough to handle to super fast internal media to the highest possible degree! Take a look:
CPU:⠀Intel Xeon Silver 4110 8-Core 2.1-3.0Ghz CPU (X2)
Memory:⠀32-512GB ECC DDR4 Memory
Ports:⠀2x 10Gbe, 4x 1Gbe
Expandability:⠀Add 72 Drives, Multiple PCIe slots for 10/25/40Gbe Cards
Warranty:⠀5 years, 3 years SRS, SPS
Based on the Synology FS6400 Hardware, What Software Applications Will It Support?
Large scale Flash storage is such an enterprise only hardware choice, that although you can install the latest version of DSM 6.2.2 (DSM 7.0 in beta soon, we hope) and enjoy all the first and third party applications from Synology, you cannot measure the FS6400 Flashstation in this way. Featuring a multi-tiered approach to backups and redundancy, you have automatic and instant background snapshot creation (for everything including general storage, Virtual Machines and more). Then there are multiple ways to create tailored cloud migration setups to backup off-site (fully encrypted) to 3rd party clouds, Synology C2 or another NAS drive. Next, we have the fully comprehensive software Active Backup Suite, included with your purchase that gives you a means to control backups of other NAS, PCs, Linux servers, virtual machines and containers, all from a SINGLE access point – control updates, scheduled backups and more. That's enough about backups though, if we move over to RAID protection, we can confirm that the FS6400 supports the traditional RAID levels, as well as RAID F1.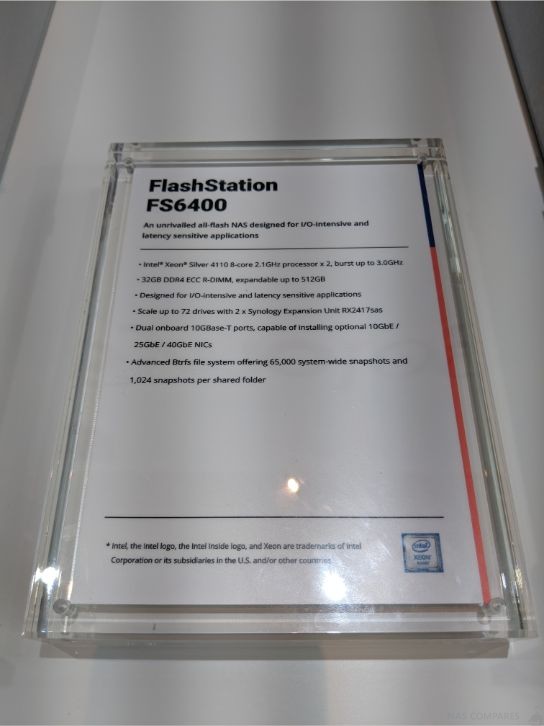 Due to the peculiarities of SSD and RAID technology, a common challenge lies in how to prevent all of the drives from failing at the same time because of the evenly distributed workload. RAID F1 alleviates this problem with a specially designed algorithm to unevenly distribute workload to drives, enhancing the resilience of the storage pool and ensuring your data remains safe. SSD, though using no moving parts, running on low power and heat requirements and being easier to cool, it is still not infallible – F1 provides you with a fantastically safe redundancy safety, without the performance loss typically incurred by RAID 5 or RAID 6. When it comes to users looking at Flash/SSD only NAS solutions for Virtual Machines (due to the faster computing power and response time in IOPs that it provides), I am pleased to confirm that the Synology FS6400 and its easy to deploy iSCSI storage fully supports most virtualization solutions to enhance work efficiency with easy management interface. VMware vSphere 6 and VAAI integration helps offload storage operations and optimizes computation efficiency. Windows Offloaded Data Transfer (ODX) speeds up data transfer and migration rate. OpenStack Cinder support turns your Synology NAS into a block-based storage component.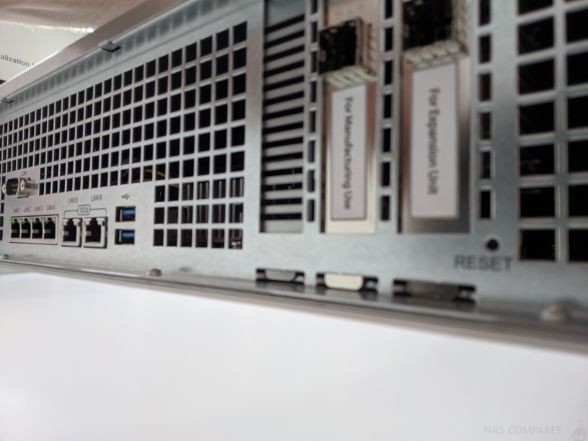 In case you DO need to know what the Synology Diskstation Software platform can offer your business with this device, aside from a ridiculously fast, I can assure you that the hardware inside the FS6400 is more than capable enough to support the following top end Synology Enterprise applications that are included with your purchase (including either unlimited users, or plenty with the options to add more for a fee)
Synology Active Backup
Synology Moments
Synology Drive
Synology Mail
Synology Chat
Synology Surveillance Station
Synology Calendar
Synology Virtual Machine Manager
Synology Media Applications
Docker
Download Station
Cloud Migration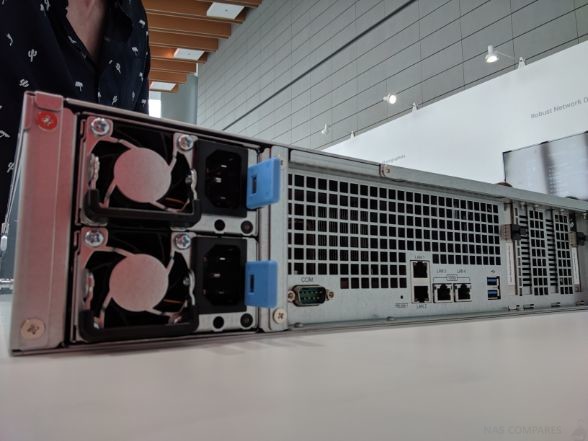 When Will the FS6400 Synology NAS Drive Be Released?
With practically no concrete information regarding the release of the Synology FS6400 Flashstation, this fact is almost impossible to predict. Flash-optimized NAS is so fantastically top-end that its release is rarely publicised much in advance. Synology has been in the habit of slotting business class releases into the beginning of the year, so it is fully possible that this will not see official release until the very start of 2020, but this is jsut speculation and I definitely recommend subscribing to hear a more accurate FS6400 release date and price in the near future.
If I Cannot Wait Till the Synology FS6400 NAS, What Should I Buy?
As the release of the Synology FS6400 NAS is either unknown or worryingly far away, if you need a flash based and SSD optimized NAS solution right now, then I have absolutely no hesitation in recommended the Synology FS3017 Flashstation. Though it is a little older, it still stands up fantastically well and will offer you a similar hardware and software experience to the FS6400 (though less expandability), at a lower price AND right now

Alternatively, for those who want to flash storage option, but at a lesser degree of capacity and price,  recommend the Synology FS1018 Flashstation 10-Bay desktop NAS.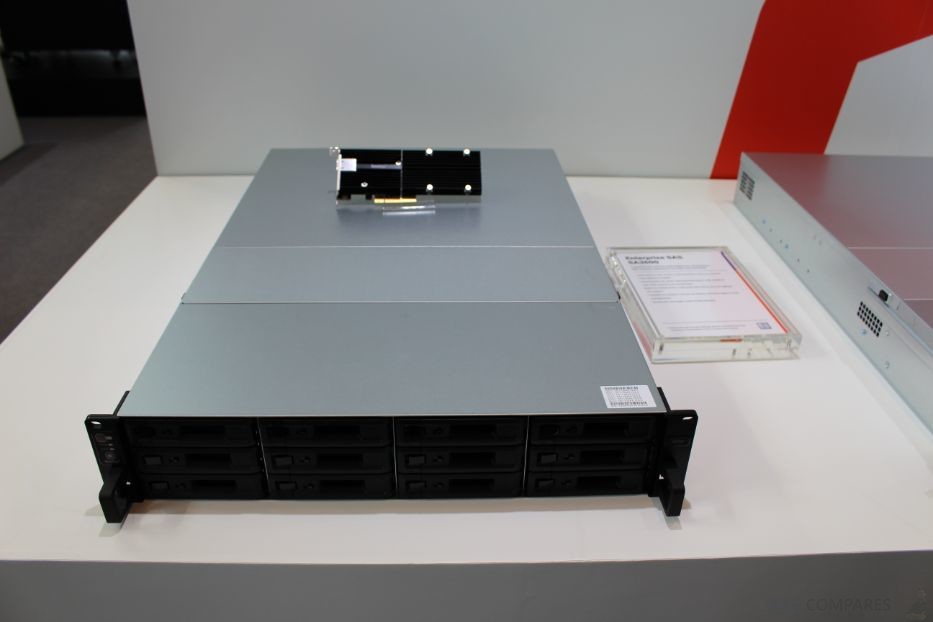 📧 LET ME KNOW ABOUT NEW POSTS 🔔
Join 1,570 other subscribers
Get an alert every time something gets added to this specific article!
This description contains links to Amazon. These links will take you to some of the products mentioned in today's content. As an Amazon Associate, I earn from qualifying purchases. Visit the NASCompares Deal Finder to find the best place to buy this device in your region, based on Service, Support and Reputation - Just Search for your NAS Drive in the Box Below
Need Advice on Data Storage from an Expert?
We want to keep the free advice on NASCompares FREE for as long as we can. Since this service started back in Jan '18, We have helped hundreds of users every month solve their storage woes, but we can only continue to do this with your support. So please do choose to buy at Amazon US and Amazon UK on the articles when buying to provide advert revenue support or to donate/support the site below.

Finally, for free advice about your setup, j
ust leave a message in the comments below here at NASCompares.com and we will get back to you.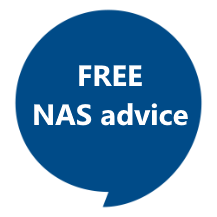 Need Help?
Where possible (and where appropriate) please provide as much information about your requirements, as then I can arrange the best answer and solution to your needs. Do not worry about your e-mail address being required, it will NOT be used in a mailing list and will NOT be used in any way other than to respond to your enquiry.
Support What We Do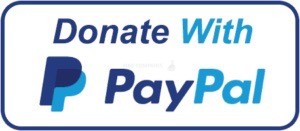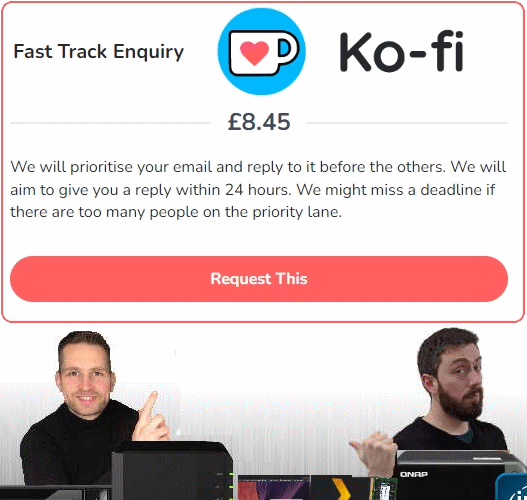 Terms and Conditions
Alternatively, why not ask me on the
ASK NASCompares forum
, by clicking the button below. This is a community hub that serves as a place that I can answer your question, chew the fat, share new release information and even get corrections posted. I will always get around to answering ALL queries, but as a one-man operation, I cannot promise speed! So by sharing your query in the
ASK NASCompares
section below, you can get a better range of solutions and suggestions, alongside my own.
This description contains links to Amazon. These links will take you to some of the products mentioned in today's video. As an Amazon Associate, I earn from qualifying purchases