New and More Powerful ioSafe 1019+ NAS Released
The ioSafe 1019+ is a fire- and waterproof network attached storage (NAS) device engineered to protect your work and ensure business continuity. The 1019+ is a backup system, a disaster recovery plan, and a robust collaboration tool all-in-one. Powered by Synology's DiskStation Manager operating system, the 1019+ makes it easy to secure, protect, recover, and manage your vital data. The 1019+ and its DataCast endothermic fire insulation technology is fireproof up to 1550°F for 30 minutes, meaning the 1019+ will withstand a typical office or home fire. The ioSafe design team and engineering teams thoroughly test their devices to make sure they meet this standard to protect the disk drives installed in the interior of the device. Additionally, the 1019+ uses HydroSafe technology to waterproof its hard drives in submersions of up to 10 feet for 72 hours. While this protects data in flooding situations caused by hurricane or swollen rivers, more typical scenarios involve a business's IT infrastructure being sprayed by a faulty fire sprinkler system, a leaking HVAC system, or a broken pipe. (Not to mention the fire department's hose in case of fire!).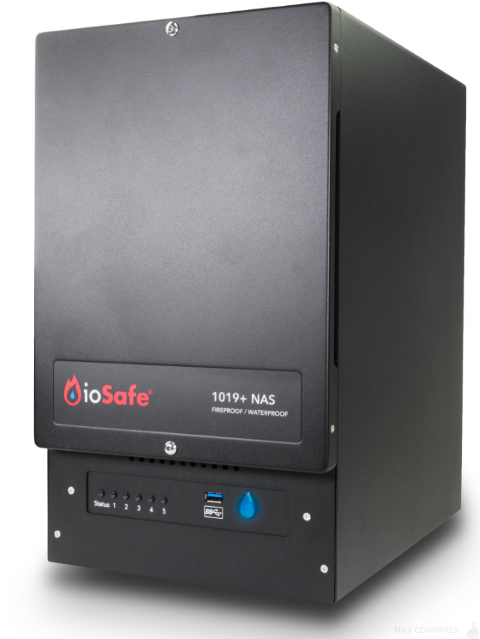 ioSafe 1019 NAS For Disaster Proof Business Data Storage
An ioSafe 1019+ is a fully-loaded insurance policy for small to medium-sized businesses; especially those with poor bandwidth speeds. In a disaster, how long would it take you to fully recover your information from a cloud provider? If you're in a natural disaster, that could take days to weeks for the road infrastructure to even allow for external support. The downtime for businesses is unacceptable. The recovery time is much faster with an ioSafe 1019+ than if it were stored solely in the cloud. A replacement unit to slot in the drives can often be overnight shipped to a location. Businesses that cannot operate without their data lose considerable revenue in opportunity costs while they wait for a data download, replacement drives and/or recovery services to recreate their data. Local recovery is also one less workflow process to maintain if employing other backup methods like off-site tape backups. A local copy of data in an ioSafe device beats any other backup method because you will have full access to the data as soon as you retrieve the device.
Disasters happen anywhere at anytime. While we cannot predict when they happen, it is better to be prepared for the worst and hope for the best. The business continuity and privacy functionality of the ioSafe 1019+ are complementary bonuses to the fire and waterproof features that ensure your data is safe whenever life happens. With an ioSafe 1019+ you can trust that your data will survive if disaster strikes. Testimonials from end users and managed service providers agree – without an ioSafe NAS product, their operations would have ceased until the data was back on-site, and their backup strategy would not have been as easy as a black box in their network closet.
ioSafe 1019 NAS Drive Includes Business Support Services
ioSafe and the 1019+ is aimed at those that understand that your data is critically important and work hard to build equipment that will protect it no matter what. They also understand that even the best equipment can sometimes fail and that other events, such as human error, can put your data at risk. That's why they offer the ioSafe Data Recovery Service (DRS). The DRS provides comprehensive protection against the costs associated with data recovery, including:
Free data recovery by ioSafe technical experts
If necessary we will engage 3rd party data recovery services
Global mail-in coverage
Replacement hardware pre-loaded with the recovered data
Direct access to ioSafe experts
Every ioSafe product shipped with factory-installed drives automatically includes 2 years of DRS which can optionally be extended to 5 years. Coverage can be extended either at purchase or at any time during the initial coverage period. Extending the DRS also extends the hardware warranty for an equal period. In some cases, an advance replacement can be arranged. Contact customer service for details. Their experts are able to deal with most recoveries, but when necessary, they partnered with DriveSavers, an industry-leading data recovery company, to complete the recovery. they'll work with DriveSavers when we're not able to complete the recovery in-house or when compliance with privacy and security regulations such as HIPAA, SOX, GBLA or NIST is necessary.
ioSafe 1019 NAS Drive Hardware and Software
The ioSafe 1019+ is an extraordinary data storage device that makes it easy to collaborate, secure, and manage your work, all while protecting it from disaster. Fireproof and waterproof, the 1019+ can be trusted to bring your business back to life within minutes should fire or flood strike. Powered by Synology's award-winning DiskStation Manager operating system, the 1019+ is capable of file syncing and sharing, media management, and data backup. Built with a Kensington security slot and with an optional floor mount and padlock kit available, the 1019+ device can be physically secured on your premises. The new iosafe NAS is prepared for the demands placed on an organization caused by business growth or simply the explosion of data we're all facing. It stores up to 70TB in its five bays, or up to 140TB with an optional expansion unit, and can be configured in multiple RAID modes for speed and redundancy. Access to your data from anywhere is essential for modern businesses, but public cloud options are often slow and insecure. The 1019+ makes it easy to store your data locally while enjoying the benefits of cloud storage.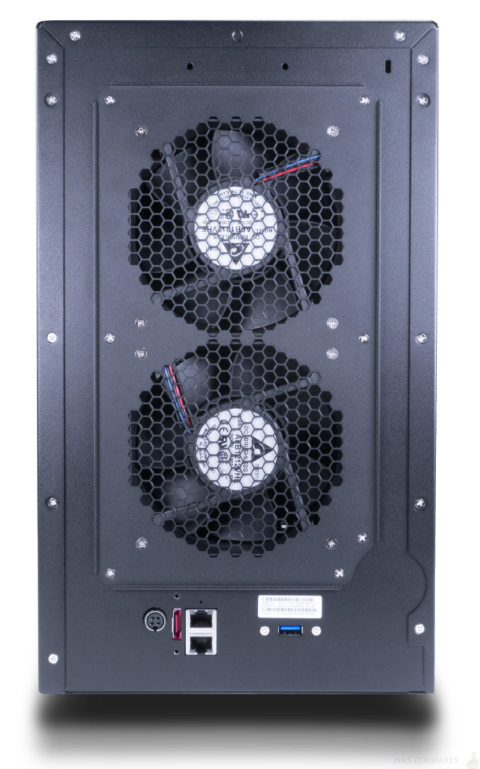 Lastly, just because the ioSafe 1019+ is designed to withstand fire and be incredibly robust, does not mean that the traditional features and functionality of a modern NAS server. Features like the powerful and efficient Intel J3455 CPU, 8GB of DDR3L memory, Twin LAN ports for doubling network connectivity speeds, USB support for external storage and UPS devices and (most exciting of all) NVMe slots for adding fast, FAST SSD based storage to massively increase the read and wrtite operations from inside the device. Full specifications below:
ioSafe Product
Where to Buy
Drive Bays
5
Maximum Drive Bays with Expansion Unit
10
Compatible Drive Type

3.5″ SATA HDD
2.5″ SATA HDD
2.5″ SATA SSD

Qualified Drives
Western Digital

WD2002FFSX – Red Pro NAS 2TB
WD20EFRX – Red NAS 2TB
WD40EFRX – Red NAS 4TB
WD4003FFBX – Red Pro NAS 4TB
WD8003FFBX – Red Pro NAS 8TB
WD80EFAX – Red NAS 8TB

Seagate

ST2000NE0025 – IronWolf Pro 2TB
ST2000VN004 – IronWolf 2TB
ST4000VN008 – IronWolf 4TB
ST4000NE0025 – IronWolf Pro 4TB
ST8000VN0022 – IronWolf 8TB
ST8000NE0004 – IronWolf Pro 8TB
ST14000VN0008 – IronWolf 14TB

Maximum Internal Raw Capacity
70 TB (14 TB drive x 5) (Capacity may vary by RAID types)
Maximum Raw Capacity with Expansion Units
140 TB (70 TB + 14 TB drive x 5) (Capacity may vary by RAID types)
Maximum Single Volume Size
108 TB
If your RAID type is RAID 0/1/5/6/10, you can create multiple volumes to avoid 108 TB limitations.
Each volume needs to be below 108 TB.
If your RAID type is SHR, you can use sizes over 108 TB by directly converting a single volume to multiple volumes.
CPU Model
Intel Celeron J3455
CPU Architecture
64-bit
CPU Frequency
Quad Core 1.5 GHz (bursts to 2.3GHz)
Hardware Encryption Engine
Yes
Memory
System Memory
8 GB DDR3L
External Ports
RJ-45 1GbE LAN Port
2 (with Link Aggregation / Failover support)
USB 3.0 Port
2
eSATA Port
1
File System
Internal Drives
EXT4 and Btrfs
External Drives

Btrfs
EXT4
EXT3
FAT
NTFS
HFS+
exFAT (purchased separately in Synology Package Center)

Appearance
Size (Height x Width x Depth)
375 mm X 221 mm X 317 mm (14.76 in X 8.70 in X 12.48 in)
Weight
29 kg diskless, 33 kg with disks (64 lbs diskless, 72 lbs with disks)
Others
System Fan
120 mm x 120 mm (x2)
Fan Speed Mode

Quiet Mode (default)
Cool Mode
Full Speed

Power Supply Unit / Adapter
150 W
AC Input Power Voltage
100V to 240V AC
Power Frequency
50/60 Hz, Single Phase
Power Consumption*
75 W (Access)
28 W (HDD Hibernation)
British Thermal Unit
256.9 BTU/hr (Access)
95.5 BTU/hr (HDD Hibernation)
Environment Temperature
Operating Temperature
5°C to 35°C (40°F to 95°F)
Storage Temperature
-20°C to 60°C (-5°F to 140°F)
Relative Humidity
5% to 95% RH
Certification

FCC Class A
CE Class A
RCM Class A

Warranty
2 Years No-Hassle Warranty and 2 years DRS. Extendable to 5 Years No-Hassle Warranty and 5 years DRS.
DSM Specifications
Storage Management
Maximum Internal Volume Number
256
Maximum iSCSI Target Number
32
Maximum iSCSI LUN
256
Supported RAID Type

Synology Hybrid RAID
Basic
JBOD
RAID 0
RAID 1
RAID 5
RAID 6
RAID 10

RAID Migration

Basic to RAID 1
Basic to RAID 5
RAID 1 to RAID 5
RAID 5 to RAID 6

Volume Expansion with Larger HDDs

Synology Hybrid RAID
RAID 1
RAID 5
RAID 6

Volume Expansion by Adding a HDD

Synology Hybrid RAID
RAID 5
RAID 6
JBOD

Global Hot Spare Supported RAID Type

Synology Hybrid RAID
RAID 1
RAID 5
RAID 6
RAID 10

File Sharing Capacity
Maximum Local User Accounts
2048
Maximum Local Groups
256
Maximum Shared Folder
256
Maximum Shared Folder Sync Tasks
4
Maximum Concurrent CIFS/AFP/FTP Connections
512
Cloud Station Server
Yes
Maximum Number of Concurrently Connected Devices
512
Maximum Number of Synced Files (ext4)
500,000 / single file reaction time 763 ms
Notes

The maximum number of concurrently connected devices refers to the maximum number of devices that can remain connected at the same time. For more information on file processing capability, please refer to the reaction time for file processing.
File reaction time refers to the preparation time required for other devices to start downloading a 10KByte file from a Synology NAS after the file has been added to the NAS. RAM expansion was not used during testing.
Non-encrypted shared folders were used during the aforementioned testing.

Maximum Users
150
Notes

CPU and RAM usage were both under 80% when the number of maximum users was reached.
For tested models with expandable memory, the maximum amount of RAM was installed.
Client performance may affect maximum simultaneous editing users. Client PCs used for testing: Intel Core i3-3220 / 8GB RAM

Surveillance Station
Yes
Maximum IP cam (Licenses required)
30 (including 2 Free License)
Total FPS (H.264)*
900 FPS @ 720p (1280×720)
300 FPS @ 1080p (1920×1080)
200 FPS @ 3M (2048×1536)
150 FPS @ 5M (2591×1944)
50 FPS @ 4K (3840×2160)
Total FPS (H.265)*
900 FPS @ 720p (1280×720)
900 FPS @ 1080p (1920×1080)
660 FPS @ 3M (2048×1536)
330 FPS @ 5M (2591×1944)
150 FPS @ 4K (3840×2160)
Total FPS (MJPEG)*
250 FPS @ 720p (1280×720)
120 FPS @ 1080p (1920×1080)
100 FPS @ 3M (2048×1536)
80 FPS @ 5M (2591×1944)
Notes
Surveillance Station throughput is tested with Axis network camera, using continuous recording with live view from Surveillance Station and motion detection by camera. Live view and recording are sharing the same stream from the camera.
Video Station
Yes
Video Transcoding
Group 1 – Type 2
Maximum Transcoding Channel Number
1 channel, 30 FPS @ 720p (1280×720), H.264 (AVC)/MPEG-4 Part 2 (XVID, DIVX5)/MPEG-2/VC-1
VPN Server
Yes
Maximum Connections
15
Environment & Packaging
Environment
RoHS Compliant
Packaging Content

Main Unit X 1
Welcome Note X 1
Accessory Pack X 1
AC Power Cord X 1
RJ-45 LAN Cable X 1

Optional Accessories

Surveillance Device License Pack
Expansion Unit: DX517 X 2
VS360HD
VS960HD
Articles Get Updated Regularly - Get an alert every time something gets added to this page!
This description contains links to Amazon. These links will take you to some of the products mentioned in today's content. As an Amazon Associate, I earn from qualifying purchases. Visit the NASCompares Deal Finder to find the best place to buy this device in your region, based on Service, Support and Reputation - Just Search for your NAS Drive in the Box Below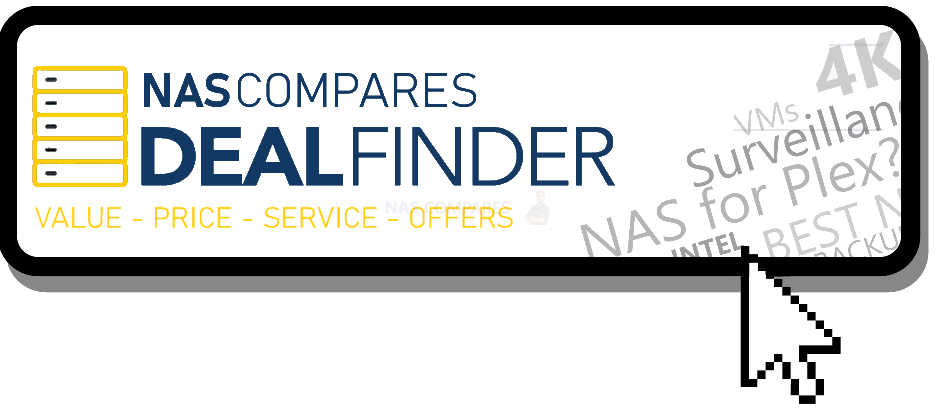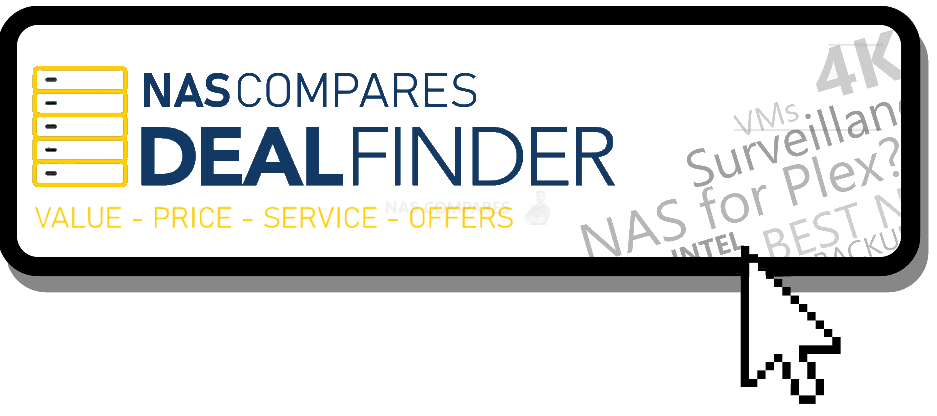 SEARCH IN THE BOX BELOW FOR NAS DEALS
Need Advice on Data Storage from an Expert?
We want to keep the free advice on NASCompares FREE for as long as we can. Since this service started back in Jan '18, We have helped hundreds of users every month solve their storage woes, but we can only continue to do this with your support. So please do choose to buy at Amazon US and Amazon UK on the articles when buying to provide advert revenue support or to donate/support the site below.


Finally, for free advice about your setup, j
ust leave a message in the comments below here at NASCompares.com and we will get back to you.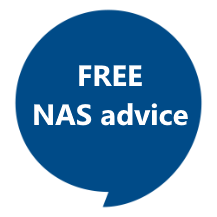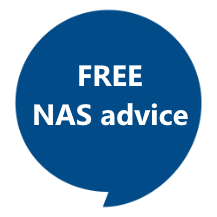 Need Help? Where possible (and where appropriate) please provide as much information about your requirements, as then I can arrange the best answer and solution to your needs. Do not worry about your e-mail address being required, it will NOT be used in a mailing list and will NOT be used in any way other than to respond to your enquiry. Terms and Conditions Alternatively, why not ask me on the ASK NASCompares forum, by clicking the button below. This is a community hub that serves as a place that I can answer your question, chew the fat, share new release information and even get corrections posted. I will always get around to answering ALL queries, but as a one-man operation, I cannot promise speed! So by sharing your query in the ASK NASCompares section below, you can get a better range of solutions and suggestions, alongside my own.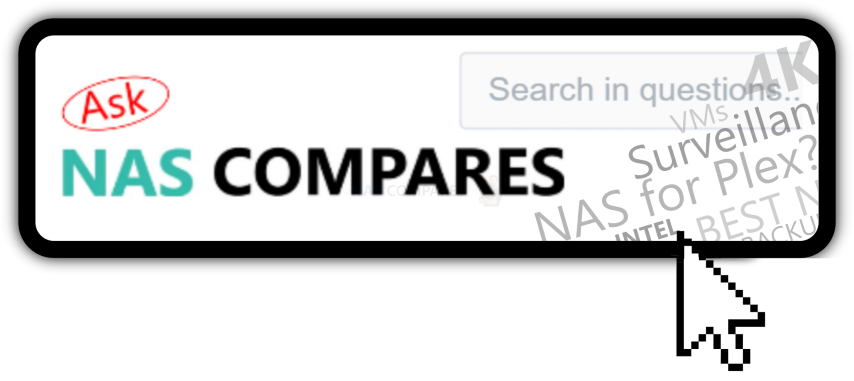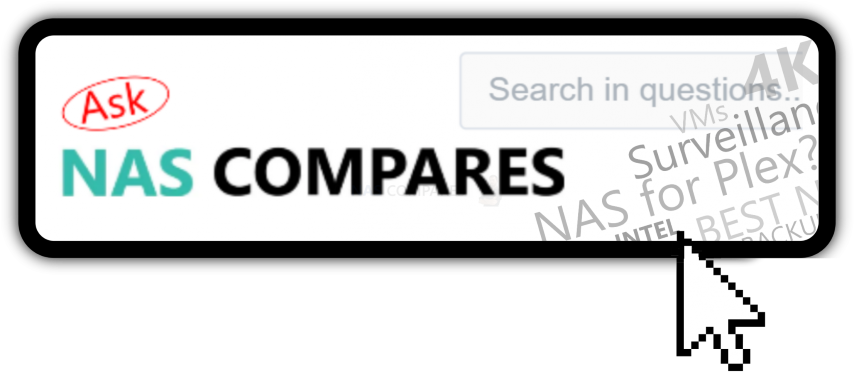 This description contains links to Amazon. These links will take you to some of the products mentioned in today's video. As an Amazon Associate, I earn from qualifying purchases