QNAP TVS-672N and TVS-872N NAS featuring 5Gbe, NVMe, HDMI 2.0 and 8th Gen i3 CPU
With so many NAS devices being released every year from top-tier brands aimed at home and business users parting with their money, it can often get quite predictable to second guess a new release. Whether it is the changing attitudes towards how we use our data, or simply that a brand has to come up with something new, the majority of new NAS drives can be seen a mile off. However, the new TVS-x72N NAS series from QNAP falls somewhere in the middle, serving as an alternative version of an existing popular NAS that aims to satisfy a growing demand. Those that followed my Q&A video on YouTube last month with QNAP UK will be aware that a popular request aimed at them is for the powerful new Thunderbolt3+10Gbe series, the TVS-x72XT range, to be made available without thunderbolt. The TVS-x72N NAS (TVS-672N and TVS-872N), available in 6 and 8 bays, is the answer to this request. Promising a great deal of hardware options, without the additional budget killer that TB3 and 10Gbe can be, let's find out more about the next big QNAP NAS for 2019/2020.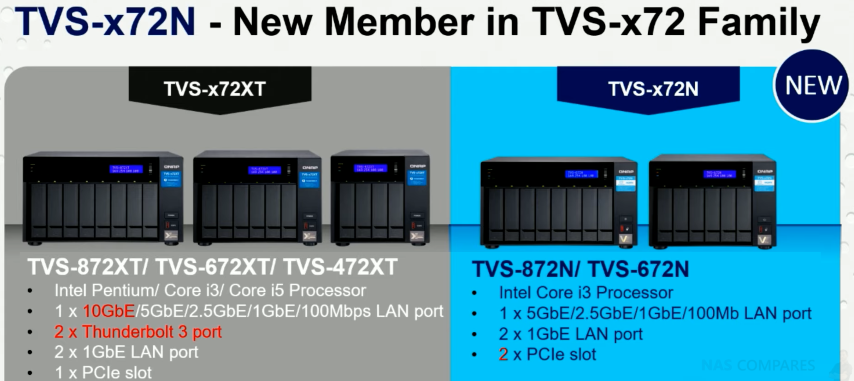 QNAP

TVS-672N

and

TVS-872N

NAS Chassis Design
Arriving in an identical chassis to the TVS-672XT and TVS-872XT, the QNAP TVS-x72N range arrives in a 6 or 8 bay RAID enabled desktop chassis. This metal casing QNAP have designed features numerous external advantages over many other NAS devices, that they have long become famous for. Such as :
Click and load HDD/SSD trays, supporting 3.5-inch and 2.5-inch media
An LCD screen that provides real-time information on storage, network access, temperatures and more
Multiple front-mounted LEDs providing notifications of access, traffic, or issues with the storage or network
Front-mounted USB copy button that supports 10Gbe USB 3.1 Gen 2 media
These options are available on both versions and although are fairly common in most professional QNAP NAS, the TVS-x72N is a surprisingly compact desktop NAS (especially when compared with the TVS-x82 and TS-x77 series) and the fact it manages to keep this chassis profile at 188.2 × 264.3 × 279.6 mm and 188.2 × 329.3 × 279.6 mm for the 6/8-Bay respectively, is pretty impressive. Especially when you hear about the ports and internal hardware they feature.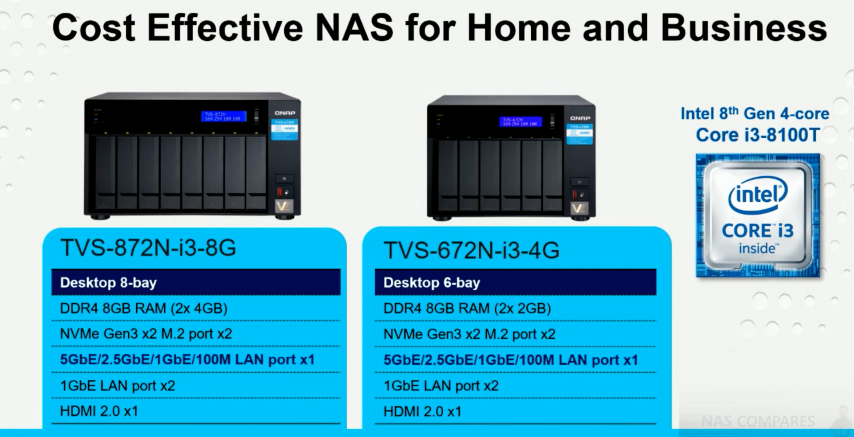 QNAP TVS-672N and

TVS-872N

NAS Ports and Connections
If we look at the rear of the QNAP TVS-x72N NAS series, we find some really impressive connectivity featured on this device. Arriving with almost every single advantage available on the TVS-x72XT range, it is worth mentioning again that both thunderbolt 3 and 10Gbe are absent. Although we do not have a price on this device yet, because of the removal of these two rather business-oriented connections, it will bring the price notably lower. With the exception of these two connections, we find a whole host of incredibly modern NAS hardware options and a little something extra in the form of 5-gigabit ethernet. 5Gbe is something that is starting to become a new growth area for QNAP, which already has a stronghold on 1Gbe and 10Gbe hardware devices (in NAS and Switches). 5Gbe is completely backwards compatible with the traditional 1Gbe RJ45 found in most home and business environment but has the additional benefit of providing up to 5x the connectivity, if you use a 10Gbe switch, a 5Gbe enabled router or the brand new QNAP 5Gbe-to-USB adaptor that is compatible with Windows Mac and Linux systems.
Most users who have requested a non-thunderbolt alternative to the TVS-672XT and TVS-872XT did not even consider the inclusion of such a fluid and adaptive extra like 5Gbe. The rest of the advanced connectivity advantages of the TVS-x72N NAS series are:
TVS-x72N features Dual PCIe slot
Supporting x 4 and x 16 PCIe, these slots allow you to add upgraded NIC cards for 1Gbe, 5Gbe, 10Gbe, 25Gbe and even 40Gbe connectivity, as well as multiple QM2 ethernet and SSD combo cards. These slots allow for the usage of various expansion cards to expand NAS hardware utilization and Software performance
PCIe Graphics cards
Accelerate NAS video processing and empower GPU tasks. GPUs can also be passed-through to virtual machines
QM2 M.2 SSD/10GbE cards
Add M.2 SSD caching or 10GbE (10GBASE-T) connectivity to the NAS for optimized performance and bandwidth
10GbE/ 40GbE adapters
Enable lightning-fast throughput for bandwidth-demanding tasks such as virtualization, massive data transmission, and fast backup/restoration
Wireless network cards
Use the QNAP QWA-AC2600 wireless adapter with WirelessAP Station to transform the TVS-672XT into a convenient wireless base station, allowing network resources of the NAS to be shared with multiple devices
TVS-x72N features HDMI 2.0
With a complete graphical user interface and output available via HDMI for the TVS-x72N, it can output 4K media at 60 frames per second to a supported monitor or TV. If you were planning on watching high bitrate and dense media from your NAS and are concerned about busy or limited network bandwidth, this HDMI port can be used in everything from QNAP's own video software, to Plex and Kodi (unofficially). As well as serving as a functional port for a myriad of applications in QVR Pro Surveillance (8 camera licences included), to a stand-alone PC running simultaneously with traditional NAS user access, playable retro arcade machine (ROMs from MAME, Sega, Nintendo, etc), Desktop word processing, free Linux VMs, Container applications with network/internet/HDMI output and dedicated multimedia programs too such as YouTube and Spotify
TVS-x72N features USB 3.1 Gen 2 USB A and C
With multiple USB ports featured on this device, the QNAP TVS-x72N supports many peripheral devices for home and business users, as well as external storage options. Whether you plan on using these for USB local backups as an extra tier in your data protection and redundancy, or using the TR-002 and TR-004 hardware RAID expansion, these ports support both 5Gb (500MB/s) and 10Gb (1,000MB/s) speeds that the right USB device can take advantage of, saving you time and giving you that extra hardware ability
TVS-x72N features 2 x 1 Gigabit Ethernet
As well as the 5 Gigabit Ethernet ports mentioned, you can also take advantage of the two 1Gbe ports for further access to this device. Additionally, you can link aggregate (otherwise known as port trunking and will require a LAG switch setup) these ports for upto 7Gbe network activity which, unless you are using particularly fast media, should give you some great speeds for HD video editing and gaming used as a steam library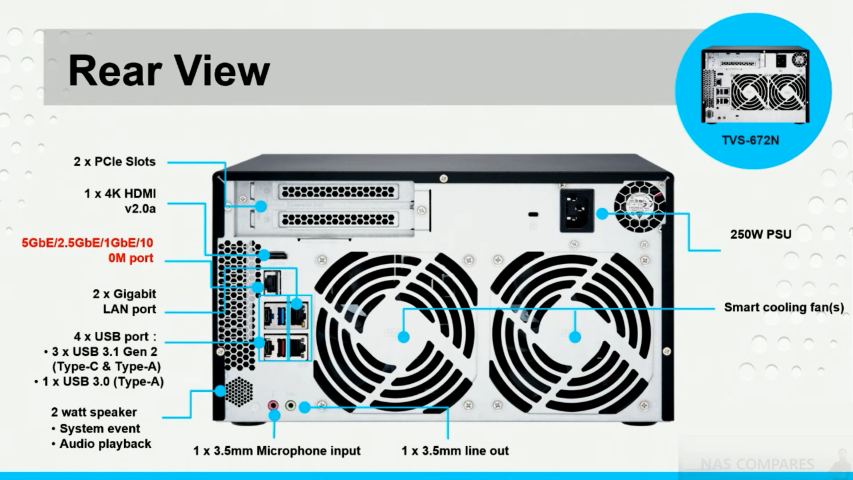 TVS-x72N features Audio In and Out
The TVS-x72N also arrives with 3.5 mm microphone input and speaker outputs, to connect the NAS to an existing media hardware option in your home or office. Allowing you to make audible alerts better heard, or simply to output media audio where you need it to go. Alongside this, the QNAP TVS-x72N NAS range also features a 20-watt speaker that can be used in the same ways, but locally
TVS-x72N features Twin Controllable Fans
This QNAP NAS chassis arrives with two rear cooling fans to maintain system temperature and ensure system efficiency. These fans can be left on their smart settings to increase or decrease rotations per minute automatically as the internal hardware requires (internal temperature sensors do their thing!), but you can also set this manually if you choose to, for noise reasons. Though the TVS-x72N is not an especially noisy NAS, it is still a 6 or 8 bay device in a metal chassis, so this will increase the db(A) level a pinch. We think this can be compared against the TVS-672XT at 23.8db(A) and the TVS-872XT at 24.2 db(A)
TVS-x72N features a 250W PSU
The system is also supported by an internal 250W power supplier for the system, the drives and the PCIe slots. Although we haven't got our hands on the device yet, the TVS-672XT at 26.52W (idle), 45.6W (Access) and the TVS-872XT at 41.47W (idle), 65.03W (Access)
The inside of a QNAP TVS-672N and TVS-872N are a fantastically well-laid system. Identical to that of the TVS-x72XT, it arriveS with an 8th Gen Intel i3 Quad-core CPU at 3.10Ghz per core. This processor is supported by DDR4 memory (available in two high-speed variations) and the CPU has a high degree of embedded graphics for 3D graphic generation and transcoding within programs such as Plex media server.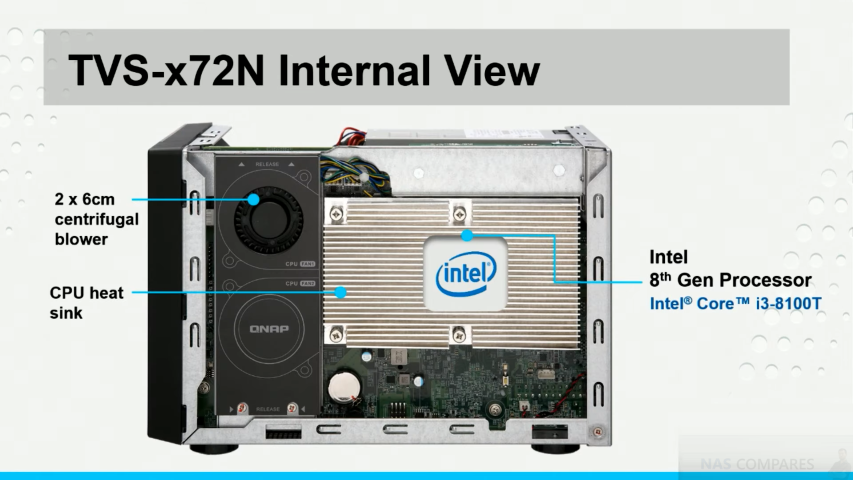 Another keen area of interest on this device will be the two NVMee SSD bays inside this NAS. These PCIe SSD based slots give you the ability to utilise superfast SSD caching to support your existing hard drive storage array or use QTier for a smarter storage system and faster overall speeds with combined storage media types (HDD for Storage + NVMe SSD for caching). Alternatively, just use as superfast storage space for volumes in your device that could benefit from flash media boasting 1800MB/s to 3000MB/s speeds. QNAP is one of the only NAS brands at the time of writing that has an NVMe SSD Storage (not just caching) enabled NAS.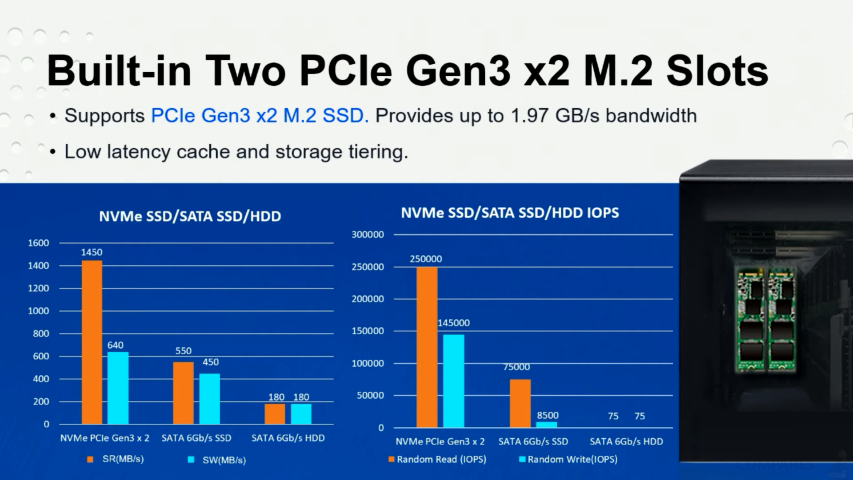 So, in conclusion. Full internal specifications that we know so far are:
Intel i3-8100T Quad Core CPU at 3.10Ghz with Intel UHD Graphics 630
8/16/32GB DDR4-2666 or DDR4-2400 Memory
Transcoding Supported at 4K and AES-NI Encryption
Available in 6-Bay and 8-Bays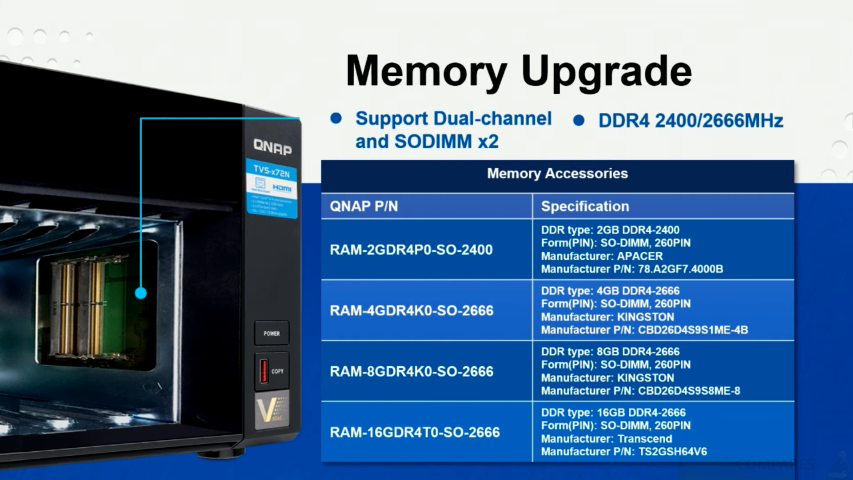 1x 5Gbe RJ45 LAN
2x 1Gbe RJ45 LAN
1x HDMI 2.0
2x NVMe Gen 3 SSD Ports
2x PCIe Slots (x16 and x4)
USB 3.1 Gen 2 Type A & C
Audio In/Out
250W PSU
5GB Internal Flash Memory for OS
IR Remote Sensor for Optional Remote Control
Many of these are the reasons for users having admired the QNAP 72XT series and, at the right price point, the soon to b released TVS-x72N NAS range could do very well indeed!
QNAP

TVS-672N

and

TVS-872N

NAS Conclusion
Right now everything we know about the TVS-672N and TVS-872N is enough to make this potentially one of the most popular NAS that we will see in 2019. With many users this year having already purchased the Thunderbolt and 10Gbe more expensive versions of this device (TVS-672XT and TVS-872XT) just because this combination of hardware could not be found anywhere else, the TVS-x72N will serve as a welcome purchase for those that sat on their wallets and held out long enough for it eventual arrival. We will reserve full judgement this device and alot will hinge on the price tag that QNAP chooses to give it, but more importantly, what will the price difference between this and the TVS-x72XT be? Regardless, I will be impressed to see what they can put out for the end of 2019 and 2020, as well as what other 5Gbe enabled solutions we might see. Perhaps a TS-963N? A TS-453N? Who's to say. I have always stated that QNAP has always been the hardware innovators of the NAS industry and if ANYONE was going to introduce a new 5Gbe marketplace, it was always going to be them! Stay tuned to find out or alternatively, click the link below to stay notified about the QNAP TVS-x72N NAS to make sure that you get it before everyone else as, like many new releases, we expect the stock to be scarce on day one. Cheerio!
| | |
| --- | --- |
| QNAP TVS-672N 6-Bay NAS – Price TBC | QNAP TVS-872N 8-Bay NAS – Price TBC |
| | |
📧 LET ME KNOW ABOUT NEW POSTS 🔔
Join 1,410 other subscribers
Get an alert every time something gets added to this specific article!
This description contains links to Amazon. These links will take you to some of the products mentioned in today's content. As an Amazon Associate, I earn from qualifying purchases. Visit the NASCompares Deal Finder to find the best place to buy this device in your region, based on Service, Support and Reputation - Just Search for your NAS Drive in the Box Below
Need Advice on Data Storage from an Expert?
We want to keep the free advice on NASCompares FREE for as long as we can. Since this service started back in Jan '18, We have helped hundreds of users every month solve their storage woes, but we can only continue to do this with your support. So please do choose to buy at Amazon US and Amazon UK on the articles when buying to provide advert revenue support or to donate/support the site below.

Finally, for free advice about your setup, j
ust leave a message in the comments below here at NASCompares.com and we will get back to you.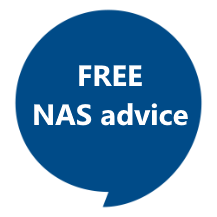 Need Help?
Where possible (and where appropriate) please provide as much information about your requirements, as then I can arrange the best answer and solution to your needs. Do not worry about your e-mail address being required, it will NOT be used in a mailing list and will NOT be used in any way other than to respond to your enquiry.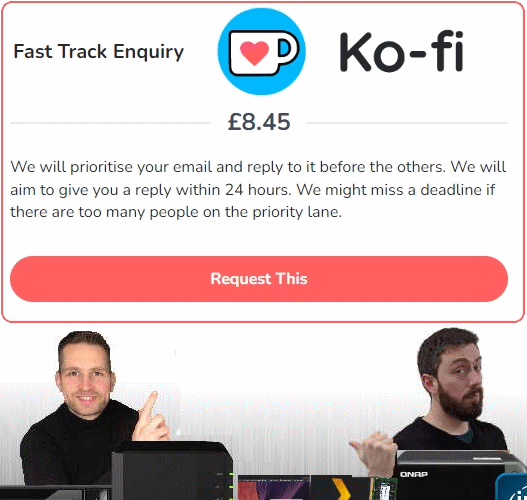 Terms and Conditions
Alternatively, why not ask me on the
ASK NASCompares forum
, by clicking the button below. This is a community hub that serves as a place that I can answer your question, chew the fat, share new release information and even get corrections posted. I will always get around to answering ALL queries, but as a one-man operation, I cannot promise speed! So by sharing your query in the
ASK NASCompares
section below, you can get a better range of solutions and suggestions, alongside my own.
This description contains links to Amazon. These links will take you to some of the products mentioned in today's video. As an Amazon Associate, I earn from qualifying purchases