Top 3 £500 NAS Drives for a

Plex Media Server

2019
If you want to buy a Plex media server NAS on a low budget, then you may well have encountered the difficulties of getting the right device for the job. For their first NAS drive for a Plex media server, most users when want to spend somewhere between £500 and £1000 on the entire purchase… that includes hard drives, software, cables and tax (VAT, etc). The problem is that most NAS drives that people recommend will end up costing you much more than this figure and if you are on a tight budget of just £500, then you would be forgiven for thinking that you are bang out of luck. However, do not fear as in fact there are several very, VERY good NAS drives that can be purchased with hard drives installed, that will give you great performance, transcoding options and smooth playback, while still keeping within this budget. So today, I want to talk about three of the very best budget NAS drives for Plex that you can buy for under £500.
NASCompares Top 3 Budge/Cheap Plex NAS for £500 (including Drives and Tax)

Synology DS218+ NAS

+ Seagate Ironwolf NAS Hard Drive (2x 1TB)

QNAP TS-251B NAS

+ Seagate Ironwolf NAS Hard Drive (2x 3TB)

Nimbustor 2 NAS

+ Seagate Ironwolf NAS Hard Drive (2x 2TB)
What should I be looking for in a Budget

Plex

NAS?
Any NAS that is going to be used as a Plex media server needs to have certain hardware and software options as standard, to skip even one of these will severely bottleneck your performance from Day 1. Although most of these are available in more affordable NAS drives, the extent to which they are supported will make all the difference between a good Plex media server and a great Plex media server on a tight budget.(as well as still having money for hard drives). These factors are:
An Intel or AMD based CPU that is 64-bit x86 in architecture
Support of at least 1080p and 4K regular playback, as well as the support of 1080p transcoding to Plex client devices
Embedded graphics or transcoding support (hence that CPU range)
At least two Bays of storage (for greater storage and redundancy, AKA – Disk Failure Protection)
A frequently updated and stable graphical user interface (such as Synology DSM or QNAP QTS)
Support and compatibility for the plex media server application (not all NAS support it, weaker ARM CPU and Unbranded NAS might not)
Rest assured that all three of the budget NAS drives for Plex that I have recommended below will provide excellent support of these features. It's no huge secret that any old budget PC, unused Mac  mini or old laptop can run as a Plex media server, but the reason people are purchasing NAS drives from companies like Synology and QNAP for use in Plex is because these devices, even in a budget form, provide the following advantages:
Quiet and stable storage
RAID functionality for hard drive failure or combined storage
24/7 reliability and efficiency
Software and Graphical user interface (GUI) that is easily accessible from a desktop or mobile device
Network and Internet access for hundreds of simultaneous users
ALL of these factors are what will ensure your Plex Media Server NAS, (even on a tight budget) will be fantastically capable and stable. So, let's get on to my top 3 devices for PLEX servers.
Best £500

Plex Media Server

NAS for Beginners – Synology DS218+ and Seagate 2TB Seagate Ironwolf
Synology DS218+, Intel J3355 2.0-2.5Ghz CPU, 2GB Memory, BTRFS, SHR, 2yr Warranty, Seagate Ironwolf NAS Hard Drive (2x 1TB)

= £420 TOTAL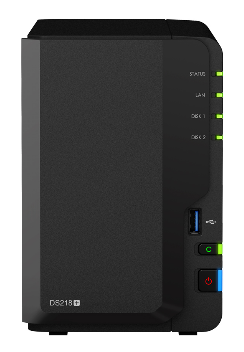 The DS218+ NAS is one that budget buyers have been using as a Plex media server for a lot of 2018 and 2019. Although the device might look a little long in the tooth in the 2nd half of 2019, even at this price point it features multiple ports and connections. It is the surprisingly powerful and efficient Synology software that the DS218+ arrives with that means that you are getting a number of key plex options covered by this NAS drive. Arriving with the popular Intel Celeron J3355, the DS218+ from Synology is one of the most popular NAS drives that they have released in a very long time. If you want to stay within the £500 budget, including hard drives and tax, you will be able to find this device for just over £300 tops and that gives you another £200 that you should be able to get a couple of 1TB or 2TB Seagate Ironwolf hard drives for your NAS.
What makes the DS218+ such an impressive device is that it gives you everything you need in a modern device for plex, at a remarkably affordable price. Featuring a transcoding engine (embedded graphics) on that CPU, that Plex pass users will be able to utilise, the performance of media on the DS218+ is pretty impressive for such an affordable NAS drive. Add to that the fact that it is a two-bay device with support of BTRFS as it's file system for stability, SHR for a more fluid RAID system that allows you to mix and match drives to increase storage later down the line, support of the Synology 5 bay expansion device for adding more data later and an overall sense of stability and user-friendliness in this device. Sure, there are more powerful Synology NAS drives out there for use as a Plex media server, but at this price level, it is not only the most affordable fully-featured Synology NAS you can buy, but also one of the best Plex media servers NAS drives you can get for under £500 that includes storage and tax.

---
Best £500

Plex Media Server

NAS for Ultimate Access – QNAP TS-251B and Seagate 6TB Seagate Ironwolf
QNAP TS-251B, Intel J3355 2.0-2.5Ghz CPU, 2GB Memory, HDMI, PCIe Slot, Audio In/Out, 2yr Warranty, Seagate Ironwolf NAS Hard Drive (2x 3TB)

= £480 TOTAL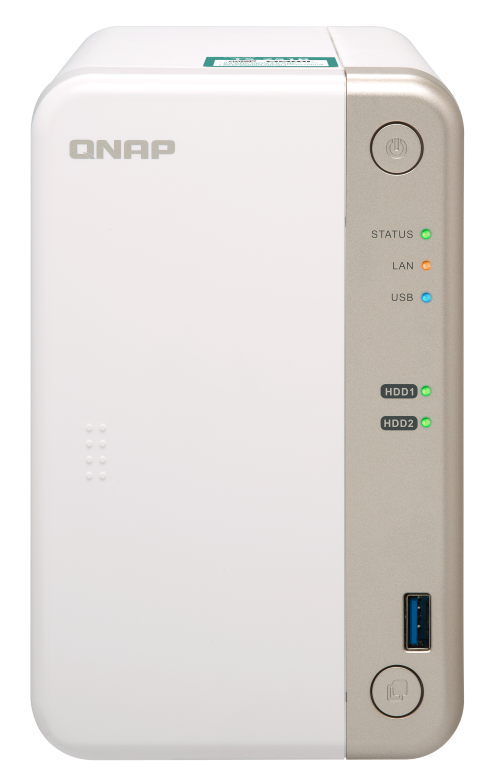 As soon as you mention any kind of NAS drive for home or business and Synology, you will of course then mention QNAP. These two brands have been producing great NAS drives for use as Plex media servers for years now and the most cost-effective QNAP drive that allows you to get both the device and a good amount of storage space for under £500 is the TS-251B device. The QNAP TS-251B has exactly the same internal CPU+RAM hardware as the previously mentioned DS218+ NAS, with the added benefits that it is a pinch lower in price and features several hardware advantages that, even a budget Plex NAS user, may factor into their media server now or later that are damn near irresistible.
Featuring such advantages as an HDMI port to connect your TV directly to your Plex media server NAS and enjoy media at almost 0-second latency speeds (which is especially useful for 4K playback), the QNAP TS-251B NAS even features a PCIe upgrade slot that will allow you to increase your network speeds at a later date. These kinds of hardware options, as well as the Plex support at 1080p and 4K at less than £500 including tax and storage,  is genuinely mind-blowing. At this price point, you are able to get this and maybe a couple of 2 or 3 Terabyte Seagate Ironwolf NAS hard drives, still leaving you with around £20 leftover!
As mentioned, the internal hardware is identical in traditional spec to that of the DS218+, with the same Intel Celeron J3355 CPU and 2GB of memory, though in the TS-251B you can expand all the way up to 8GB of memory (the Synology oddly limiting you to 6GB at 2+4GB), further highlighting the upgradability of this NAS and allowing you to buy a budget NAS drive today that can become a much more powerful and useful NAS later. On a software level, QNAP has the QTS platform that is much more catering to Windows and Android users in its design. Whereas the Synology tried to keep things to Network/internet-only access, the QNAP gives you far more customization in and out of plex, and the TS-251B gives a much greater balance of access for local, access and internet/network connectivity.
---
Best £500

Plex Media Server

NAS for Performance – Nimbustor 2 and Seagate 6TB Seagate Ironwolf
Asustor AS5202T, Intel J4005 2.0-2.7Ghz CPU, 2GB DD4 Memory, HDMI 2.0a, BTRFS. 2.5G, 3yr Warranty, Seagate Ironwolf NAS Hard Drive (2x 2TB)
= £466 TOTAL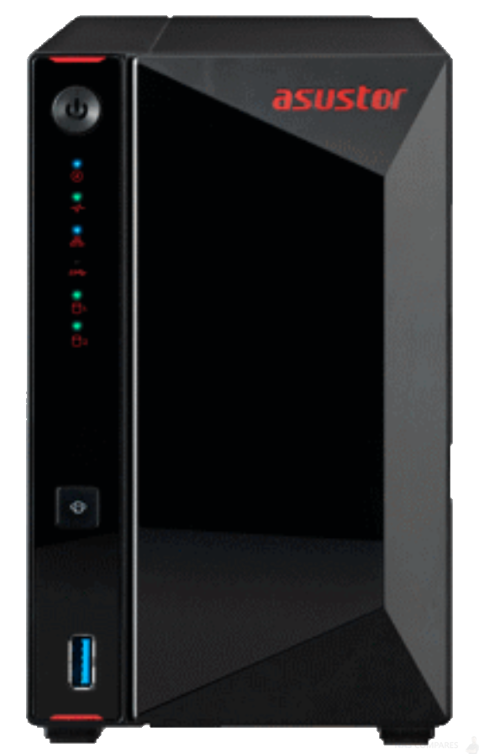 One NAS brand that has REALLY accelerated it's customer awareness this year is Asustor. The release of the Nimbustor series really shook up the NAS world with its incredibly affordable price point, despite featuring some of the very best hardware available on this list. At our £500 price point for a Plex NAS, you can buy the Nimbustor 2 and 4TB of storage (including TAX) with £30-40 leftover, which really does make this tough to beat. from a hardware point. Arriving with the best Intel Celeron dual-core CPU in NAS right now, the J4005 at 1.5-2.7Ghz per core and 2GB of DDR4 memory, in PLEX that translates to some fantastic performance, supporting 1080p and 4K playback, along with a good chunk of 1080p transcoding and lower-end 4K.
What makes the Nimbustor 2 so much better than the TS-251B or DS218+ for Plex power buyers is that despite me including it in my budget Plex NAS list, it actually provides a great many features that even £1000+ NAS drives do not. That powerful Gemini lake dual-core processor promises that you will get great plex performance (though less than a modern Pentium Gold or higher i3/i5/i7). Alongside this, all of the file system or hardware features from the TS-251B and DS218+ are here in one form or greater. Such as BTRFS support and that HDMI 2.0 output, that lets you playback 4K Plex media locally to your connected TV we at 60FPS (only 30 frames per second in the QNAP TS-251B). However, it is in terms of future connectivity that the Nimbustor 2 really succeeds. Although it is the most affordable NAS on the list today, this device arrives with two 2.5Gbe ports. These ports are completely backwards compatible with regular 1Gbe RJ45 connectivity (found in all homes and offices), but allow your Plex media server NAS to take advantage of greater network speeds in your network environment as your surrounding network and internet equipment evolved over the years. With file sizes getting bigger and bigger, yet our demand for data getting faster and faster, options like 2.5Gbe in the Nimbustor 2 and PCIe upgraded NICs (network interface cards) on the TS-251B are definitely worth consideration.
The Nimbustor 2 NAS, despite its low price point, even arrives with a fully-featured and gamer inspired graphical user interface and operating system, ADM. So notwithstanding some great performance as a Plex media server, it also arrives with a myriad of backup and file streaming options available to you.
---
Best

Plex Media Server

NAS for £500 – Conclusion
So, there you have it. The Top 3 NAS Drives for a budget Plex Media Server, for under £500 including hard drives and tax. All three have their own strengths and weaknesses in plex, so be sure to choose the right NAS Drive for you.
NASCompares Top 3 Budge/Cheap Plex NAS for £500 (including Drives and Tax)

Synology DS218+ NAS

+ Seagate Ironwolf NAS Hard Drive (2x 1TB)

QNAP TS-251B NAS

+ Seagate Ironwolf NAS Hard Drive (2x 3TB)

Nimbustor 2 NAS

+ Seagate Ironwolf NAS Hard Drive (2x 2TB)
It is worth highlighting that regardless of which NAS drive you buy as the perfect £500 budget Plex media server, all three of these devices can do so much more than that, providing you with the following additional software and support options to you, your family and colleagues:
– Multi-tiered backup options for Windows, Mac, Android and Linux devices.
– Synchronisation and migration options for NAS to NAS, cloud to NAS, USB to NAS and Apple time machine.
– DLNA media support for enjoying all your media across all your devices
– Multiple user support that allows simultaneous file access and control over the network and internet.
– Privilege, time limit, password and remote share options for sending files to those that need them
– A wide range of third-party apps support from dedicated app centres via the NAS GUI
– Multiple mobile apps available from iOS and Android, that are free and tailored to different file requirements
– Dedicated surveillance software that allows you to connect access and control multiple pan tilt zoom IP cameras in your network environment and record footage, Taylor alerts and set recording rules
– all arrived with two to three years of manufacturer's warranty worldwide.
So there you go, those are the best NAS drives for used as a Plex media server for you right now. Still unsure? Not quite ready to spend the money? Never fear, you can always
contact me directly for free advice
using the form below. This is a free service and only manned by myself (with the odd bit of support) so my reply might take an extra day or two, but my advice will be impartial and with your best interests at heart! If you want to support, you can always donate (on the right) or you can click an ad banner and that goes straight to supporting the site!
Use the FREE ADVICE Button to contact me directly for a recommendation on the Best Plex NAS for your Setup/Budget. Please bear in mind that this is a one-man operation, so my reply might take a little bit of time, but it will be impartial, honest and have your best interests at heart.
📧 LET ME KNOW ABOUT NEW POSTS 🔔
Join 1,570 other subscribers
Get an alert every time something gets added to this specific article!
This description contains links to Amazon. These links will take you to some of the products mentioned in today's content. As an Amazon Associate, I earn from qualifying purchases. Visit the NASCompares Deal Finder to find the best place to buy this device in your region, based on Service, Support and Reputation - Just Search for your NAS Drive in the Box Below
Need Advice on Data Storage from an Expert?
We want to keep the free advice on NASCompares FREE for as long as we can. Since this service started back in Jan '18, We have helped hundreds of users every month solve their storage woes, but we can only continue to do this with your support. So please do choose to buy at Amazon US and Amazon UK on the articles when buying to provide advert revenue support or to donate/support the site below.

Finally, for free advice about your setup, j
ust leave a message in the comments below here at NASCompares.com and we will get back to you.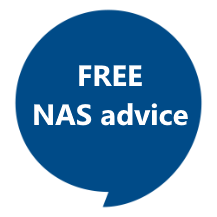 Need Help?
Where possible (and where appropriate) please provide as much information about your requirements, as then I can arrange the best answer and solution to your needs. Do not worry about your e-mail address being required, it will NOT be used in a mailing list and will NOT be used in any way other than to respond to your enquiry.
Support What We Do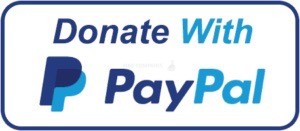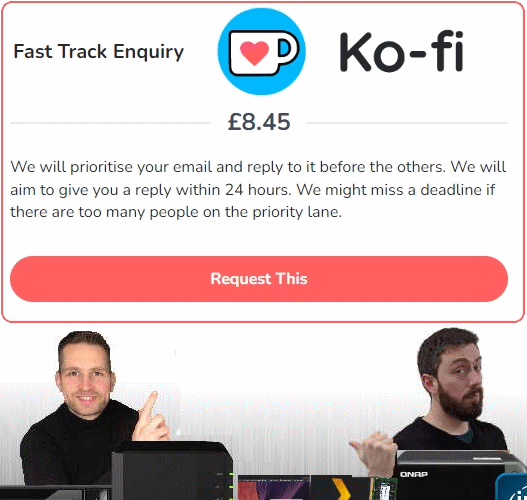 Terms and Conditions
Alternatively, why not ask me on the
ASK NASCompares forum
, by clicking the button below. This is a community hub that serves as a place that I can answer your question, chew the fat, share new release information and even get corrections posted. I will always get around to answering ALL queries, but as a one-man operation, I cannot promise speed! So by sharing your query in the
ASK NASCompares
section below, you can get a better range of solutions and suggestions, alongside my own.
This description contains links to Amazon. These links will take you to some of the products mentioned in today's video. As an Amazon Associate, I earn from qualifying purchases
Summary
Reviewer
Review Date
Reviewed Item
Best 3 Plex NAS for £500 - 2019 Edition
Author Rating