Testing the 14TB WD140EFFX NAS HDD
Now that WD Red has entered the realms of 14TB, with the release of the WD140EFFX NAS hard drive, the competition between drive manufacturers is really beginning to ramp up. We are long since past questioning the necessity of NAS optimized hard drives (i.e. RAID suitable, random read/write, 24×7 use, teaspoon vs fork, etc), but just how good is the WD Red 14TB NAS drive? We have long been using the smaller capacity WD Red drives in our Synology and QNAP NAS over the last few years, but after the 10TB, we saw a pause in their release schedule. Now, hot on the heels of the 10TB, we have this 14TB NAS build that, arrives at a price point that is very similar to it's nearest competitor, yet the internal specifications are distinctly different in two key areas (that we will go into later on) and it is no longer just a case of these drives being the 'same but different'. But before I get ahead of myself, let's do things properly. This is part one of my 3 part series of tests of the WD Red 14TB NAS HDD, that I hope will give you a tonne of information on whether this drive is best for you and your data. In part one, we are going to take this new hard drive and test it in a single drive pc build, using popular and recognized benchmark tools to see how it does and in what areas it excels. So, let's start our tests.
WD 14TB WD140EFFX NAS HDD Drive Build
Even before getting this test drive into the machine, I thought it worth taking a look at the build of the WD Red 14TB HDD. Arriving in anti-static packaging, this new drive is quite a beast in terms of depth, weight and construction – whilst still managing to be a standard 3.5″ SATA.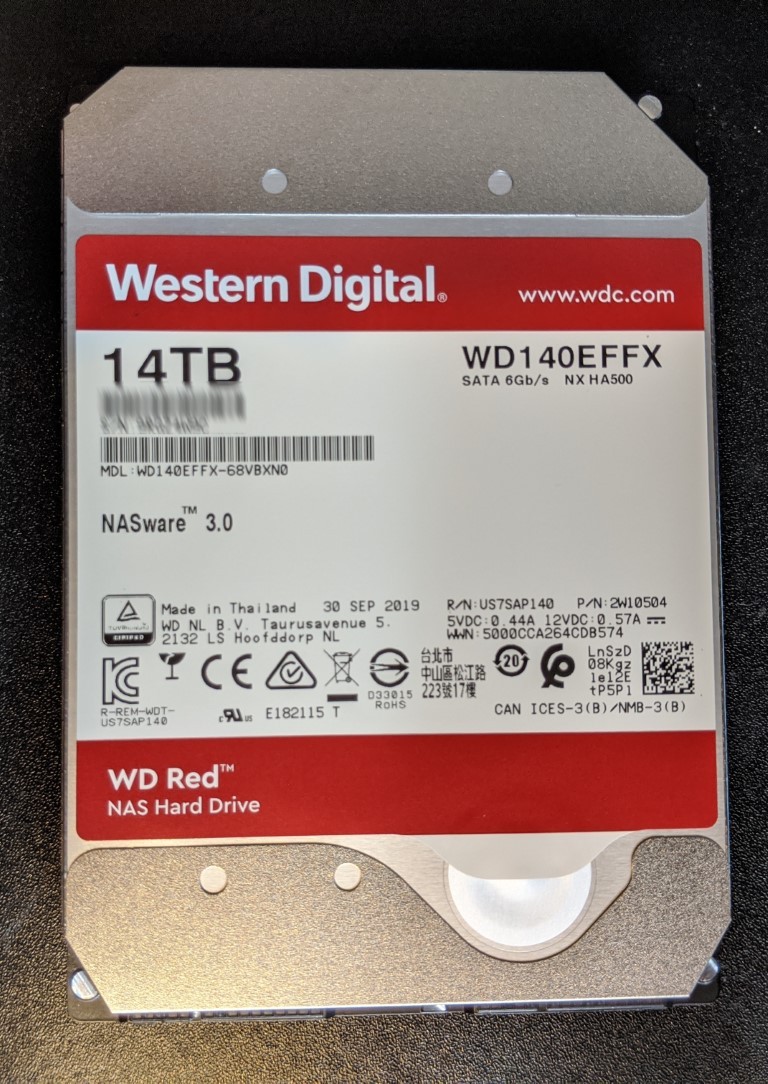 The first thing that struck me was the SATA port. I have handled ALOT of NAS hard drives in the past and am well aware that once HDDs reached 8/10TB, the way in which the data is stored physically needed to change. The earliest drives used a non-RAID friendly method of storage involving a system known as shingled magnetic recording (SMR) in which data layers overlapped. However, this has largely been overlooked in favour of helium-based storage methods, where the platters and HDD mechanical internals are housed in helium sealed compartments. Theses produce better results in performance and allow even better platter distribution.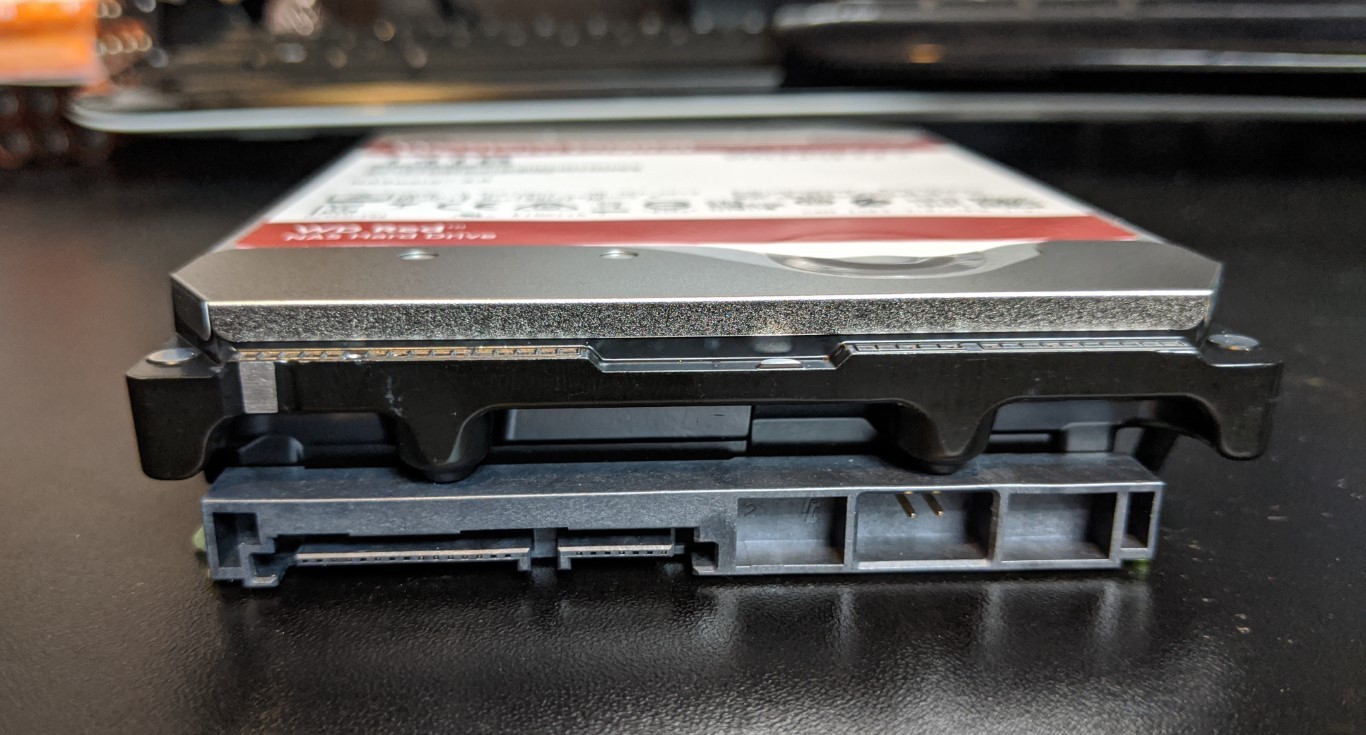 However, despite my knowledge of the helium storage system of the WD Red 14TB, I was still surprised by the impressive construction of the drive. Featuring a far more crafted casing, the newer 14TB device is a much better and clearly definded construction of the much older 4TB WD Red HDD. See how the two compare below:
| | |
| --- | --- |
| WD Red 4TB NAS Hard Drive SATA | WD Red 14TB NAS Hard Drive SATA |
The enterprise construction of the WD Red 14TB NAS Hard Drive really stands out here and from what I have seen, the PRO series 14TB Hard drive (WD141KFGX) is even more impressive in terms of physical build. This is something that I really do need to draw attention to, the fact that the WD Red and WD Red Pro 14TB NAS Hard drive DO seem to be very different in physical build, but yet they are BOTH 147mm x 101.6mm x 26.1mm in size.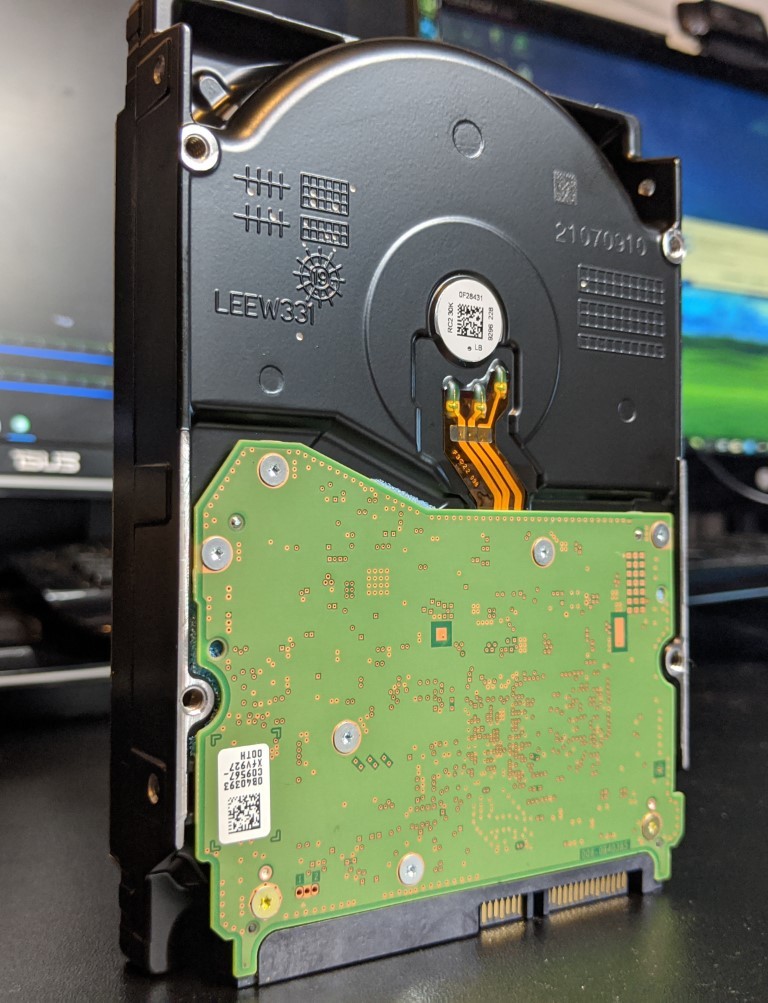 The WD Red 14TB HDD for NAS arrives with a 5400RPM internal platter speed and a whopping 512MB cache. This is very, very important, as many users (including myself) will think that the 5400RPM is an intentional limitation imposed by WD in order to push users to the PRO series drive and it's 7200RPM. However, in reality, this big area of cache on the controller AND the lower 5400RPM speed results in higher speeds than other 5400RPM disks in practice. I will go into more detail with this later, but the speeds I achieved in this drive via the ATTO benchmark tool very surprising for a standard series disk.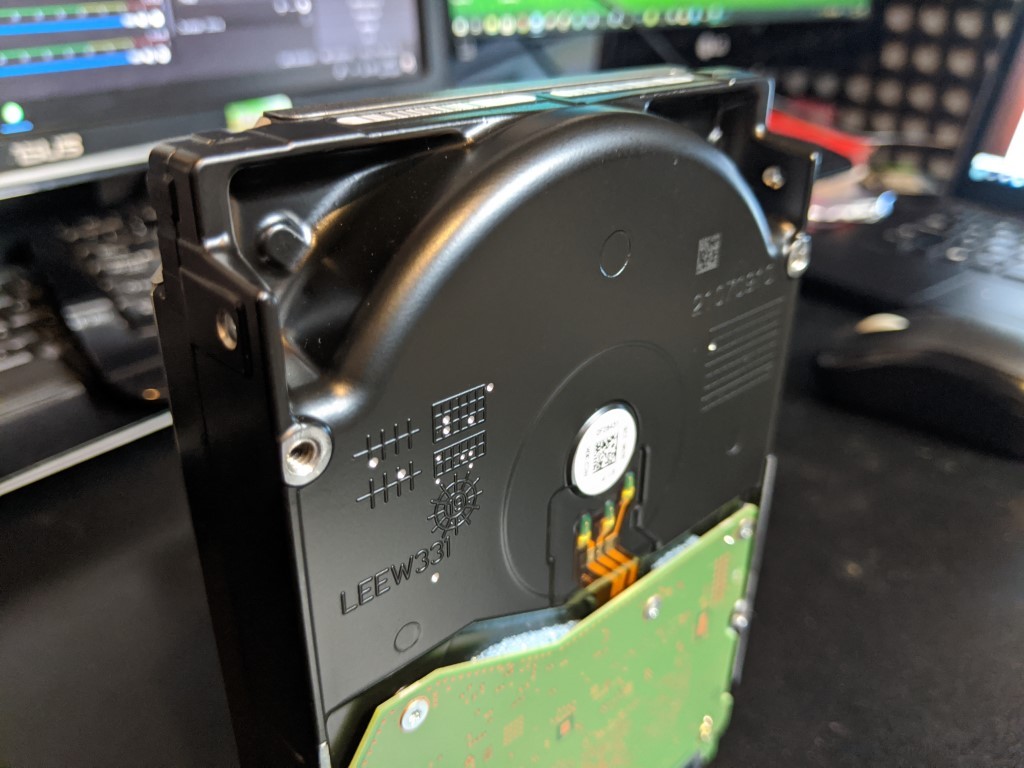 Another area of focus is noise. The noise from WD's own spec sheets declared the WD Red 14TB to feature 2.0 db(A) in idle and 2.9 db(A) in access. This is noticeably lower than the 3.0 db(A) idle and 3.4db(A) reported from the rival 14TB from Seagate Ironwolf official specs sheet. So, during the tests featured below, I made an extra effort to check the noise levels and, though I do not have high-grade audio equipment to measure decibels that low, it was HUGELY clear even using just my own ears that the WD Red 14TB NAS Drive was remarkably quiet for a drive being accessed constantly for read/write tests in ATTO Benchmark and BlackMagic. It may a little noise, but way, WAY less than I would have assumed from a 14TB hard drive in 2019.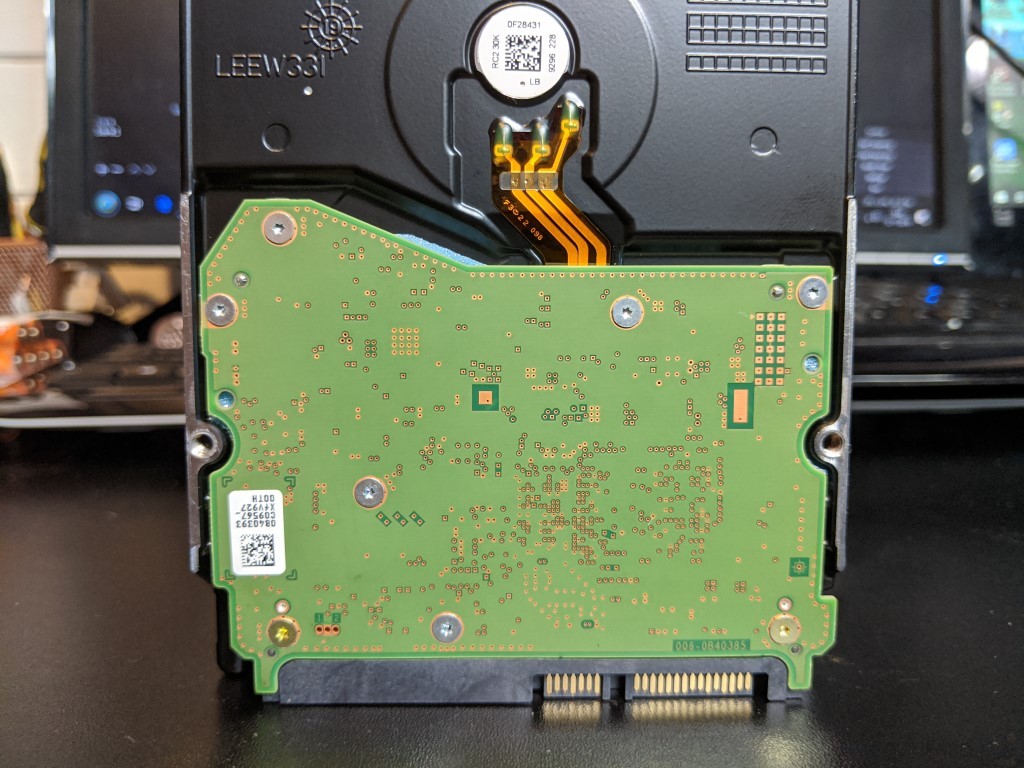 And this is an important point – Pro vs Standard. Anyone that has been following hard drie development (in or out of NAS) in 2019 will have seen that the majority of hard drives will arrive in 2 versions for each capacity, in PRO and REGULAR. However, with the building technology getting closer and closer, the hardware difference between these standards is getting smaller and smaller. Sure, on a software level we can see differences in the controller parameters (monitoring vibration, head, access as PRO drives are in bigger RAID environments or have to work harder), as well as a longer warranty in 5 years up from 3 years (as a means for the manufacturer to say this drive will work constantly for that period) and have higher mean time between failure and Data writes per year/day allowable. But in actual physical build, you find little difference.
| | |
| --- | --- |
| WD Red WD140EFFX | WD Red Pro WD141KFGX |
| 14TB Capacity | 14TB Capacity |
| 512MB Disk Cache | 512MB Disk Cache |
| SATA – 6Gb/s | SATA – 6Gb/s |
| 180TB/year Workload | 300TB/year Workload |
| 196MB/s Transfer | 240MB/s Transfer |
| 5400RPM | 7200RPM |
| 1Million MTBF | 1Million MTBF |
| 1-8 Bay NAS Recommended | 1-24 Bay NAS Recommended |
| 3 Year Warranty | 5 Year Warranty |
In Brief, the  WD Red NAS Hard Drive range has always featured:
Built for NAS compatibility
Featuring NASware™ 3.0 technology
Engineered to run cool and quiet
Designed for RAID environments
Noise and Vibration Protection
Supporting Synology and QNAP upto 8-bay NAS Systems (WD Red)
Medium to Large NAS environments up to 24 bay (WD Red Pro)
RAID Configurations from RAID 0 and 1, upto RAID 5, 6, 10 and SHR
3 Year Warranty with WD Rd and 5yr with WDR= Red Pro
What we find when looking at these drives is that the quieter WD Red Standard drive actually has a great deal of difference on an output and performance figures. This certainly makes the difference in price between them more palatable.
Why are you testing the WD 14TB WD140EFFX NAS HDD with PC Tools?
As previously mentioned, the first round of tests on the WD Red 14TB WD140EFFX NAS Hard Drive will be conducted with PC performance test tools. Although this drive is designed for use in a NAS server, we are leaving the testing for this in part two and three of our tests. However, to get a baseline performance benchmark of the drive, it is considerably easier to test it using popular windows desktop test tools. Because of this, we are reserving full judgement on this drive until all three rounds of testing are complete.
PC was used for testing the WD 14TB WD140EFFX NAS HDD?
In order to test the WD Red 14TB WD140EFFX NAS HDD in a regular PC scenario, I am using a fairly mid-range PC and connecting the Hard Drive over eSATA. The specifications of the test PC are:
Windows 10 Pro
AMD A8-6500 APU 3.50Ghz Quad Core
Radeon HD Graphics
8GB Memory
120GB Samsung 840 EVO SSD
Testing tools that were used in this preliminary testing were ATTO Benchmark, BlackMagic Test Disk (for larger 4K file testing) and HD Tune.
WD 14TB WD140EFFX NAS HDD Test Results
The first test I wanted to perform was the ATTO Benchmark. Using a 256MB file size, the WD Red 14TB NAS Hard Drive hit the 200MB/s write threshold very quickly, peaking between 203-205MB/s frequently. Meanwhile Read speeds stayed high and in the 200MB/s area pretty consistently and for a 5400RPM drive, these were some impressive speeds – which was no doubt assisted positively by that large 512MB cache.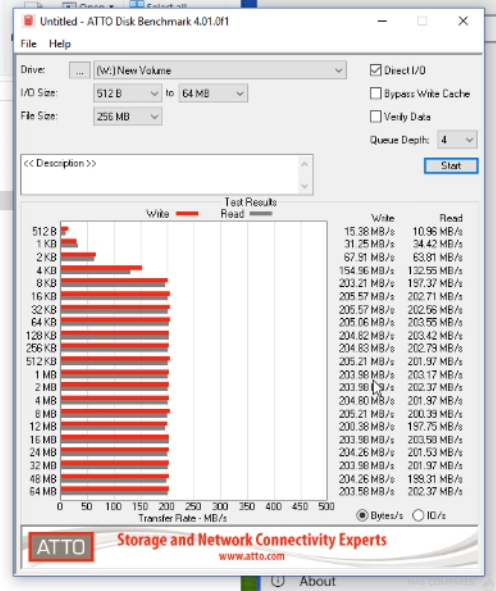 The next test was using an older program, but still simple and reliable – HDTune. Never dipping below 187MB/s, it reached a performance height of 219MB/s and averaged at a decent 203.6MB/s overall. Even outside of a RAID volume, that is a nice benchmark indeed for a standard series hard drive.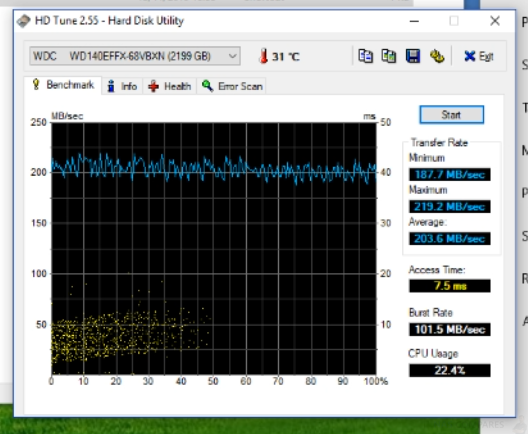 Finally, we tested a 1Gbe file on the popular video benchmark tool BlackMagic Desk speed test. Testing a variety of formats and video depths, the tests remained largely in the 200MB/s and above area. It didn't come as a huge surprise at the very top end that a struggle began to appear, at 2K and above, you would need to think about SSD media or SSD caching.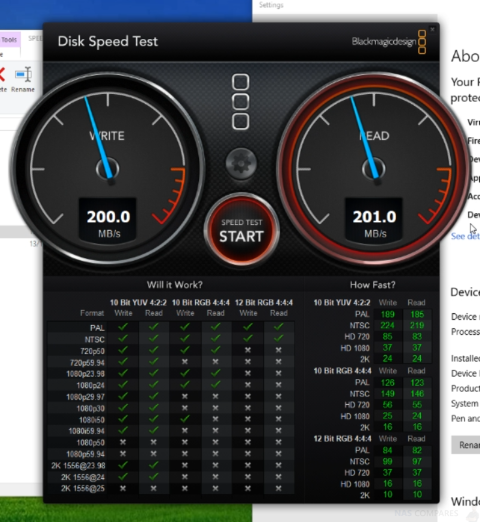 A full video of these tests can be found here and they provide at least 30-120 seconds of test cycle per attempt.
WD 14TB WD140EFFX NAS HDD Early Thoughts
As discussed, this test should not serve as the final judgement of the WD Red 14TB NAS hard drive, as although it benchmarked very well for use in a domestic PC test environment, it's primary use should be in a NAS server. In test two, we will be running multiple file operations and formats on a NAS drive using two of the WD 14TB WD140EFFX hard disk in a RAID 1 environment. These tests will involve multiple simultaneous copy operations, compression tests, deletion and RAID rebuilt times. However, just looking at the performance figures so far indicate that this certainly a robust hard drive and one that promises to perform equally as well in RAID environment. Stay tunes for test 3, when we will be comparing and testing performed on the WD Red NAS Hard with the Seagate Ironwolf disk. Stay tuned for that.
| | | |
| --- | --- | --- |
| | | |
| WD Red 14TB WD140EFFX | WD Red 14TB Pro WD141KFGX | WD Red Whole Range for NAS HDD |


📧 LET ME KNOW ABOUT NEW POSTS 🔔
Join 1,750 other subscribers
Get an alert every time something gets added to this specific article!
This description contains links to Amazon. These links will take you to some of the products mentioned in today's content. As an Amazon Associate, I earn from qualifying purchases. Visit the NASCompares Deal Finder to find the best place to buy this device in your region, based on Service, Support and Reputation - Just Search for your NAS Drive in the Box Below
Need Advice on Data Storage from an Expert?
Finally, for free advice about your setup, j
ust leave a message in the comments below here at NASCompares.com and we will get back to you.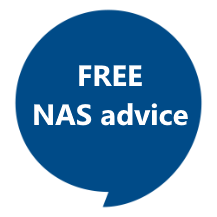 Need Help?
Where possible (and where appropriate) please provide as much information about your requirements, as then I can arrange the best answer and solution to your needs. Do not worry about your e-mail address being required, it will NOT be used in a mailing list and will NOT be used in any way other than to respond to your enquiry.
TRY CHAT
Terms and Conditions
If you like this service, please consider supporting us.
We use affiliate links on the blog allowing NAScompares information and advice service to be free of charge to you.
Anything you purchase on the day you click on our links will generate a small commission which is
used to run the website. Here is a link for
Amazon
and
B&H
.
You can also get me a ☕
Ko-fi
or old school
Paypal
. Thanks!
To find out more about how to support this advice service check
HERE
If you need to fix or configure a NAS, check
Fiver
Have you thought about helping others with your knowledge?
Find Instructions Here

ASK NASCompares forum
, by clicking the button below. This is a community hub that serves as a place that I can answer your question, chew the fat, share new release information and even get corrections posted. I will always get around to answering ALL queries, but as a one-man operation, I cannot promise speed! So by sharing your query in the
ASK NASCompares
section below, you can get a better range of solutions and suggestions, alongside my own.
This description contains links to Amazon. These links will take you to some of the products mentioned in today's video. As an Amazon Associate, I earn from qualifying purchases