Is the QNAP

Guardian QGD-1600P

NAS and PoE Switch worth your data?
Throughout 2019 I have looked at ALOT of NAS devices, some small, some absolutely huge. However, a NAS drive on its own is not enough for most users who want to use their data in a more entrepreneurial or enterprise way. For those users, a network switch will be needed in order to manage a wider network of devices (PCs, Macs, Servers, CCTV cameras, media devices, etc) and ensure that communication between all users on the network can be fluid, smooth, fast and safe. Over the years we have seen QNAP evolve from a brand focused on network storage to a fantastically innovative brand that is slowly absorbing all areas of networking. This latest solution may well be the most innovative step I have seen yet, with the release of the Guardian QGD-1600p, a combined NAS drive and Managed network switch. Arriving with an impressive NAS CPU+Memory, running parallel with a 16 port managed switch (whilst still supporting communication in between), supporting Power over Ethernet (PoE) and combination with two SFP+ ports, this is a genuinely unique device that (if I am honest) am surprised doesn't already exist – that isn't selling QNAP short here, I just think this is an idea that I am amazed no one hasn't already tried. Still, QNAP beat everyone to the punch and released a very interesting and unique device. Today we want to take a good look at the QGD-1600P Guardian and figure out if this NAS+Switch combo is a better choice for you than purchasing separately. Let's get started.
QNAP

Guardian QGD-1600P

NAS and PoE Switch Quick Verdict
For me, the Guardian QGD-1600p is a solution that is exactly what QNAP should be doing. The success of this device will, of course, affect how successful this product range could be (maybe with smaller versions, 10Gbe versions, or non-PoE). With a NAS hardware portion that gives you a great CPU and Memory options, as well as a switch side that gives you a high grade and user-friendly switch to work with, there is a large amount of appeal. There are the odd compromises present for reasons of price/space, such as just two 2.5″ storage bays and only 1Gbe connectivity, but if this device is successful, we will likely see these concerns addressed in separate versions. However, the QNAP Guardian does an exceptional job of being a NAS and a Switch, with tremendous potential for savings in space, power use, technical learning and access difficulty. Just remember when looking at the price tag of £550+ ex.VAT, that you are buying BOTH a NAS and a Switch, and making price comparisons between the guardian and a stand-alone Switch or NAS is just illogical.
QNAP

Guardian QGD-1600P

NAS and PoE Switch Packaging
Straight away, the first thing taht hit me about this device is the retail box – it is HUGE! Very early on I had to focus on the fact that this is an enterprise entry product and with it's rackmount frame design and business focus, it was is going to be bigger than I anticipated. The retail box was a clear indication of this, arriving at around 4.5KG in weight and the unit inside at 16 × 52 × 40 cm.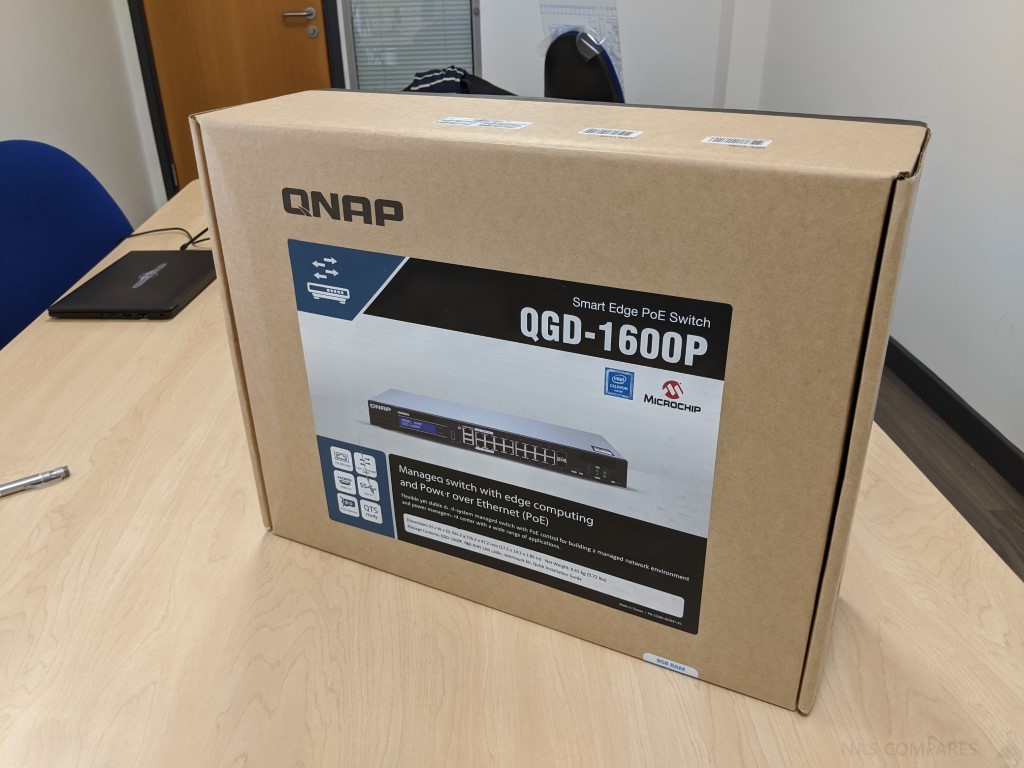 Opening to box up showed a well-packed device and accessories box. This was not a surprise, but given this device has no removable bays, populated media or external PSU, I was impressed by the clear efforts to ensure movement in transit was reduced as much as possible.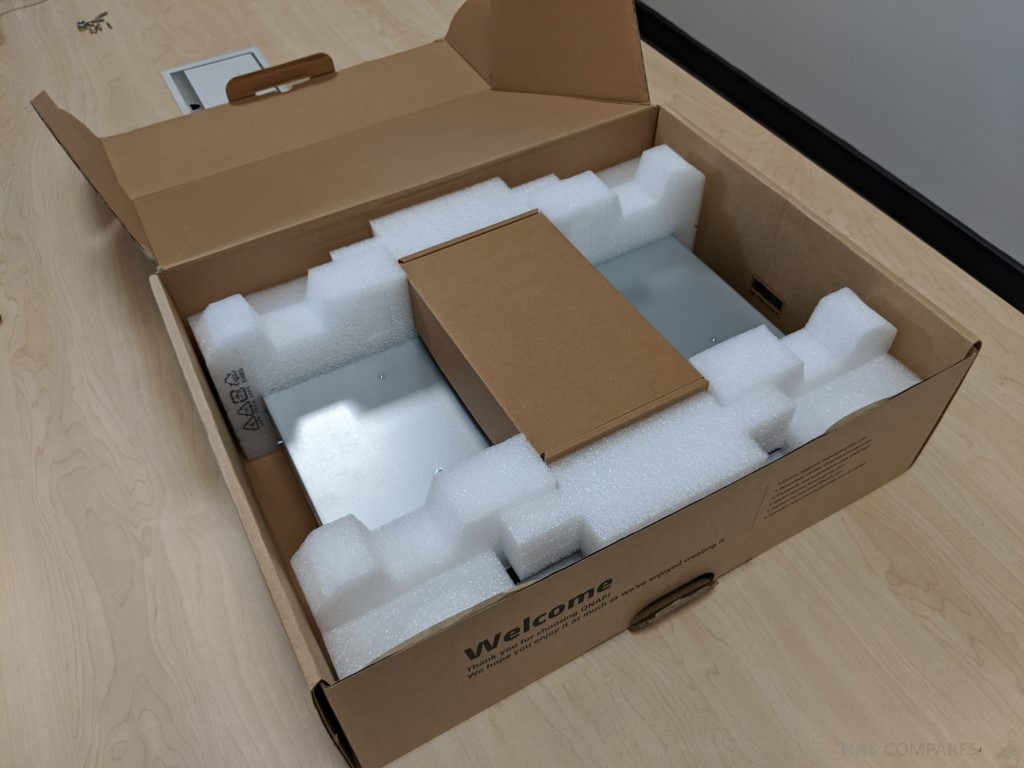 The number of accessories included was fairly standard and much alike any switch you purchase, there is only a single RJ45 LAN cable. It is worth highlighting that you can use regular CAT6 LAN cables for the RJ45 PoE ports.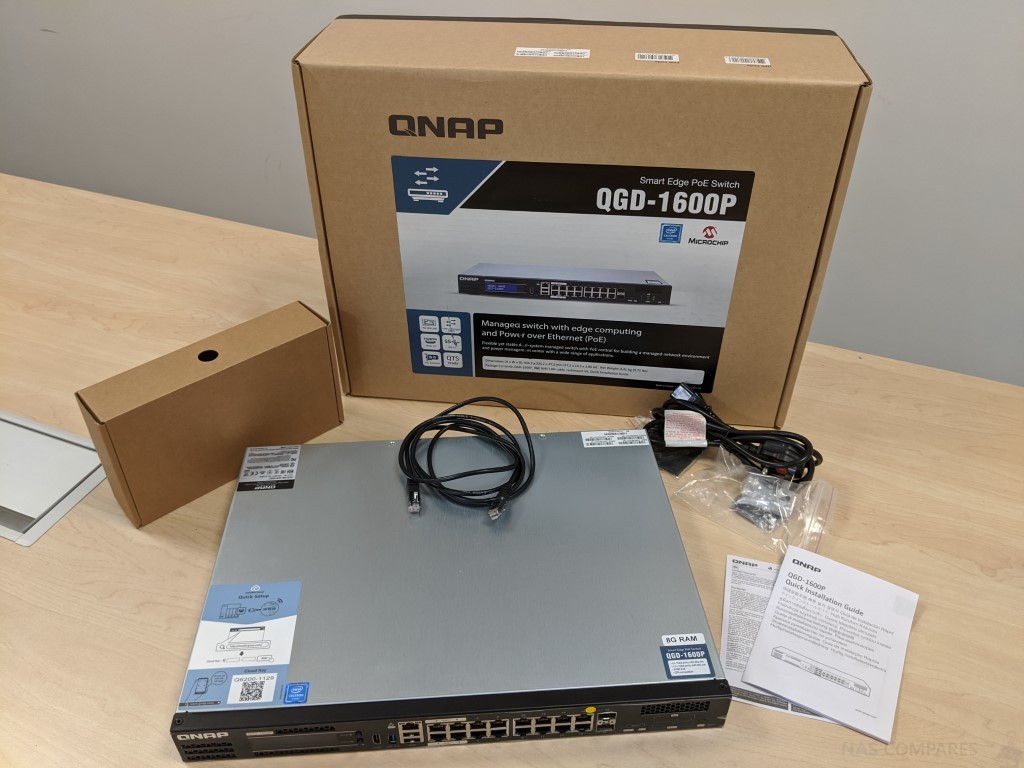 So the full accessories and bit in the box are: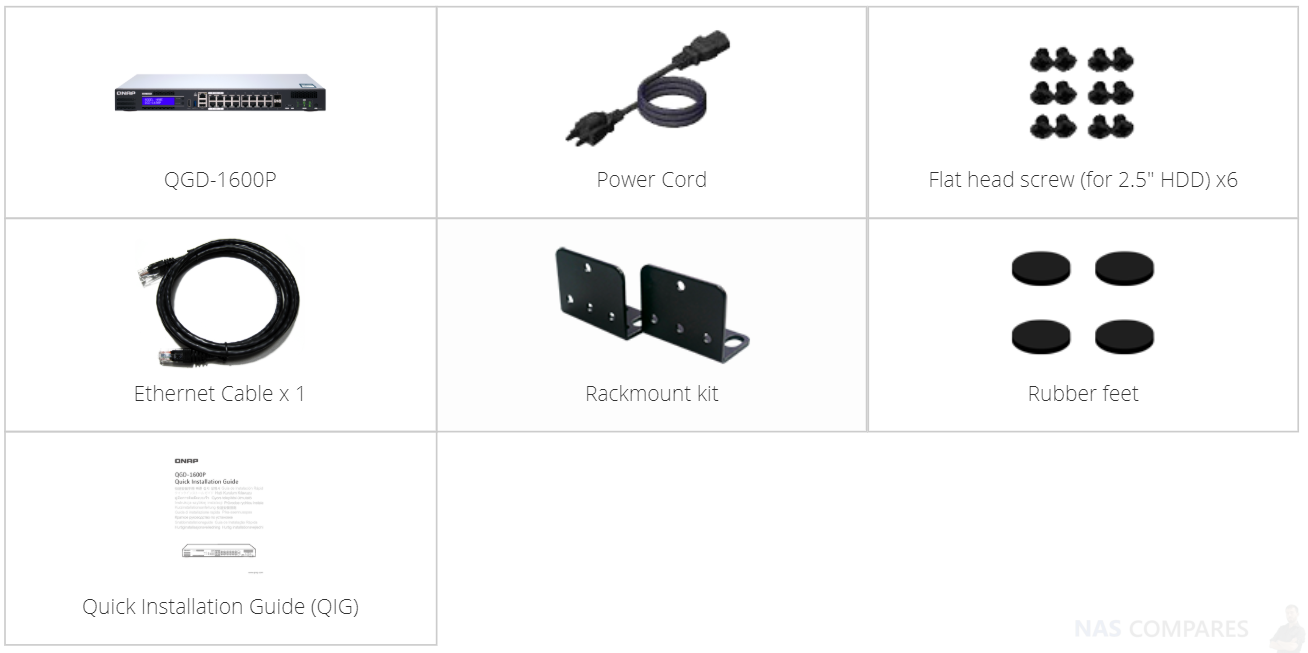 All seems fairly standard and aside from the inclusion of the handles for installing the QNAP Guardian QGD-1600p in a rack cabinet, all seems present and correct for the first-time setup of this device for connection via WAN to your internet point or modem.
QNAP

Guardian QGD-1600P

NAS and PoE Switch Design
The design of the guardian NAS switch is more in favour of a switch, with its 1U profile and half depth. This has obviously been made in efforts to accommodate the 16 RJ45 LAN ports and 2 SFP+ combo ports available to the switch portion of this device. There are certainly more NAS recognizable ports to see (i.e the HDMI and LCD panel), but at a casual glance, most users would just see a rather enterprise looking network switch. Despite this device featuring a NAS and PoE switch architecture that run independently, with options of cross-over, I first want to focus on the switch portion of the guardian hardware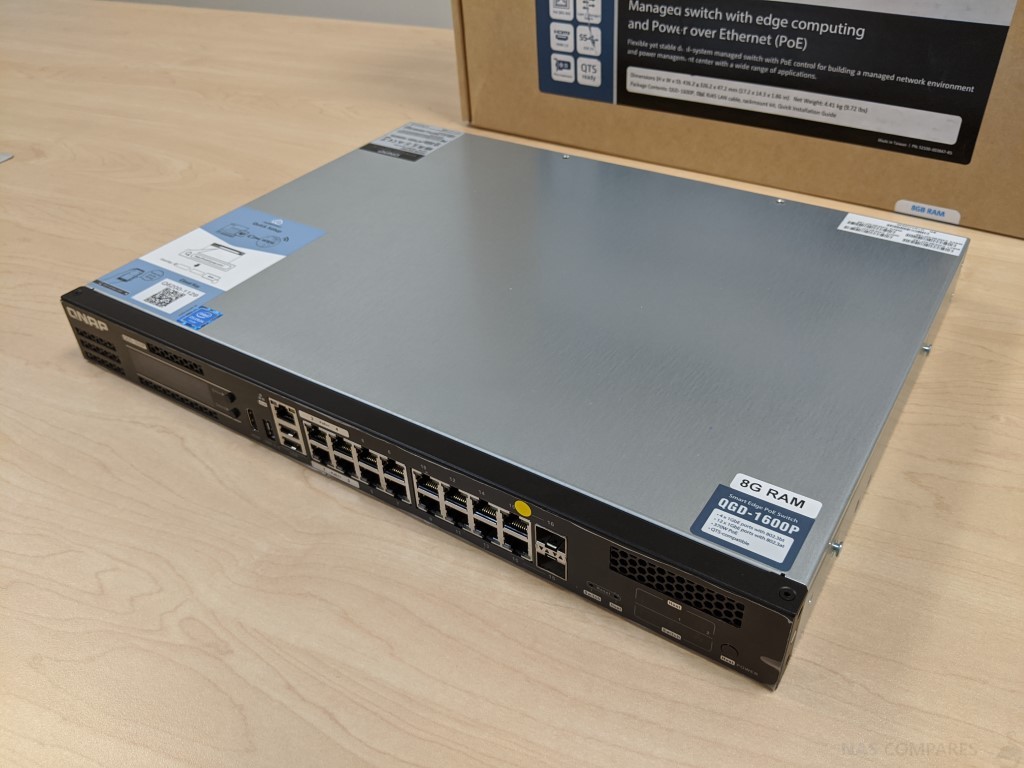 As mentioned, this is not a full depth rackmount chassis, but a half depth casing that will slide pretty much into any rack cabinet, as well as arriving with rubberized feet for desktop deployment. Likewise, much like a rackmount NAS device, there is no ventilation built into the sides, the base or lid of the QNAP QGD-1600p, ensuring all ventilation is based at the front and rear vents of this device.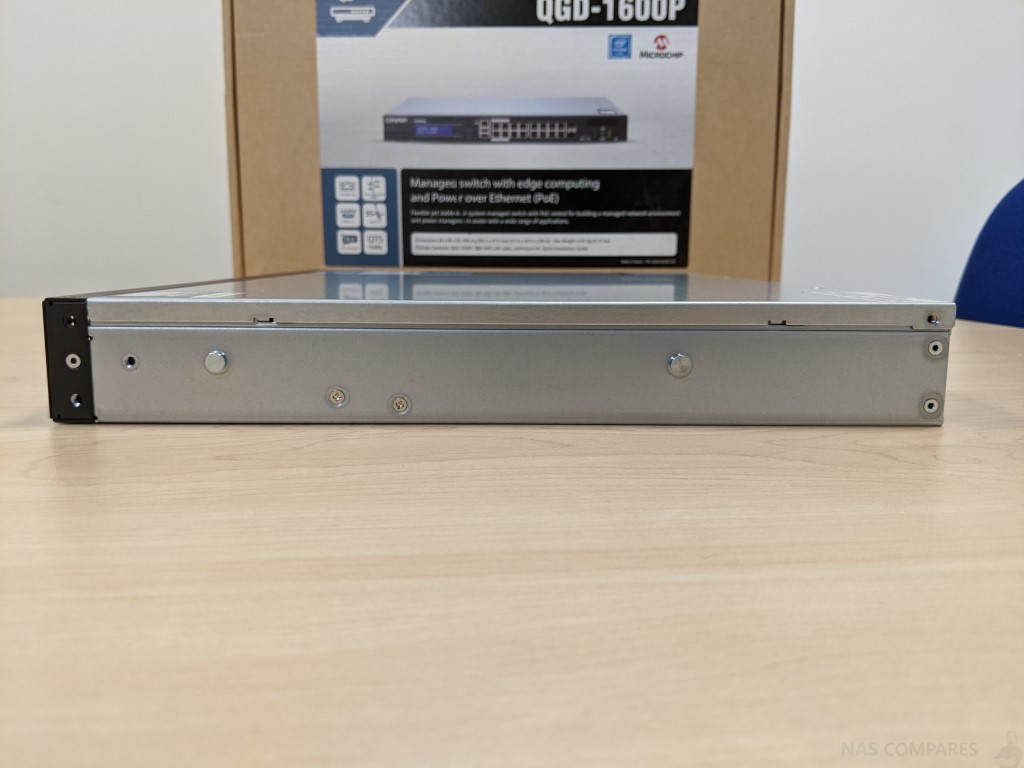 If we take a closer look at the front right side of this device, we see a nod toward to independent (yet cooperative) nature of the QNAP guardian QGD-1600p. Despite the device being a single PSU and encased in a single chassis, the NAS and Switch run independently. This allows you to power one or the other down (for updates, rebooting or jsut to conserve power) as needed, without the other being affected.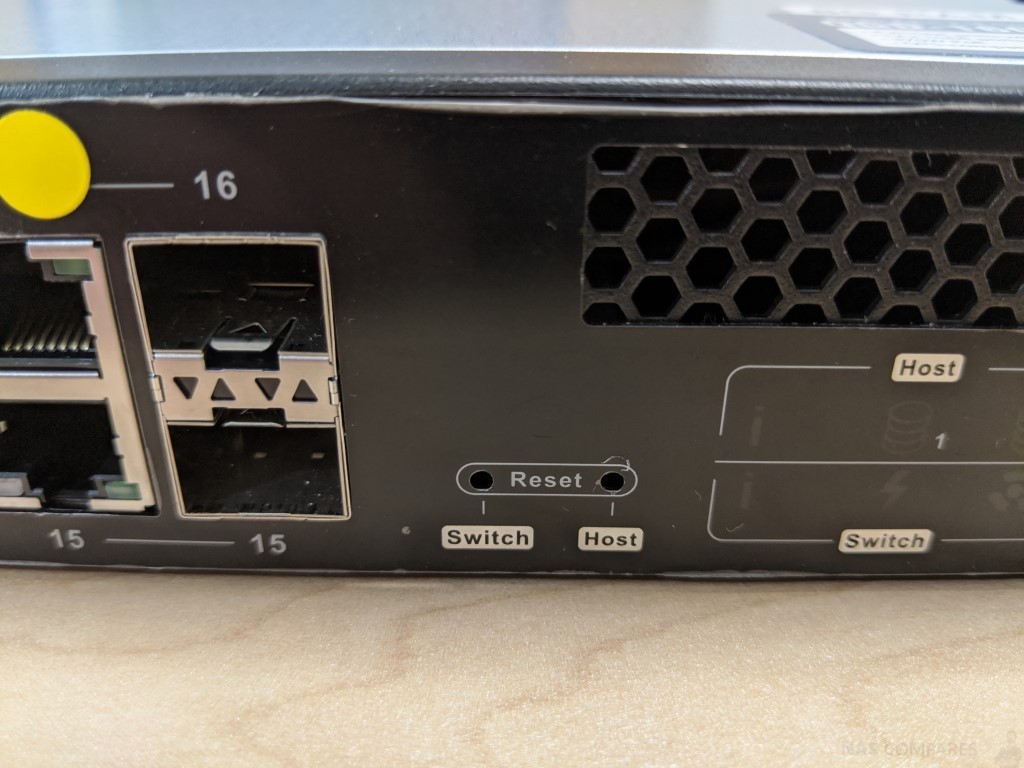 The two devices can communicate in a number of ways (with the managed network switch software 'QuNetSwitch', or using the PCIe slots on the NAS for supported network devices like the QWU-2200AC 4 antenna wireless network card (converting the guardian into a powerful router+switch+NAS), but the two hardware architectures of this device will still be able to run independently.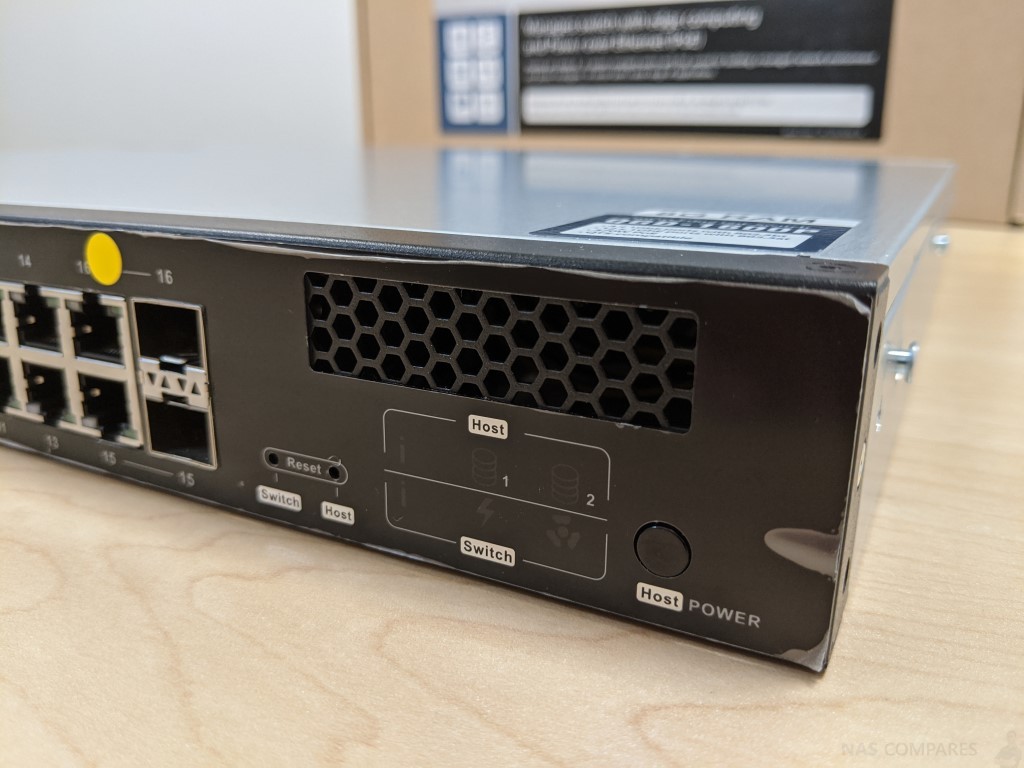 There is a power button featured close to the reset pins, but this is dedicated to the NAS device for booting, restarting, etc. Whereas the switch will remain powered and functional with just mains powered connected to the guardian.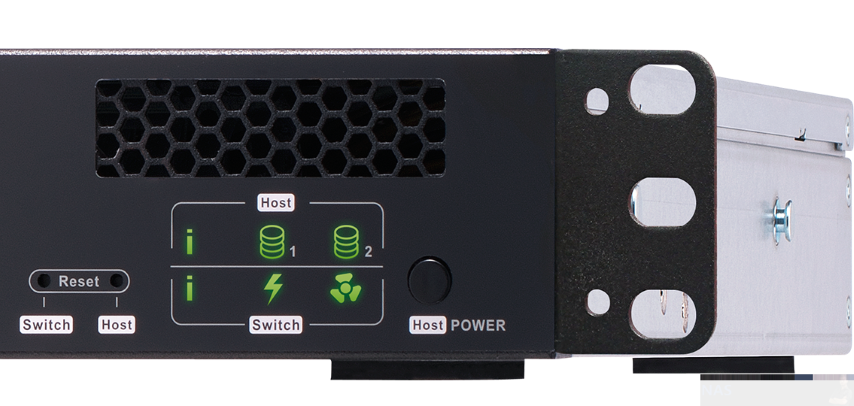 Once again, despite the parallel nature of the guardian switch architecture, there is an LED-lit panel indicating several points, ranging from:
QTS NAS System Activity
QSS Switch Activity
Hard drives / Solid State Drive Access
Active PoE and PoE++ Access
System Fan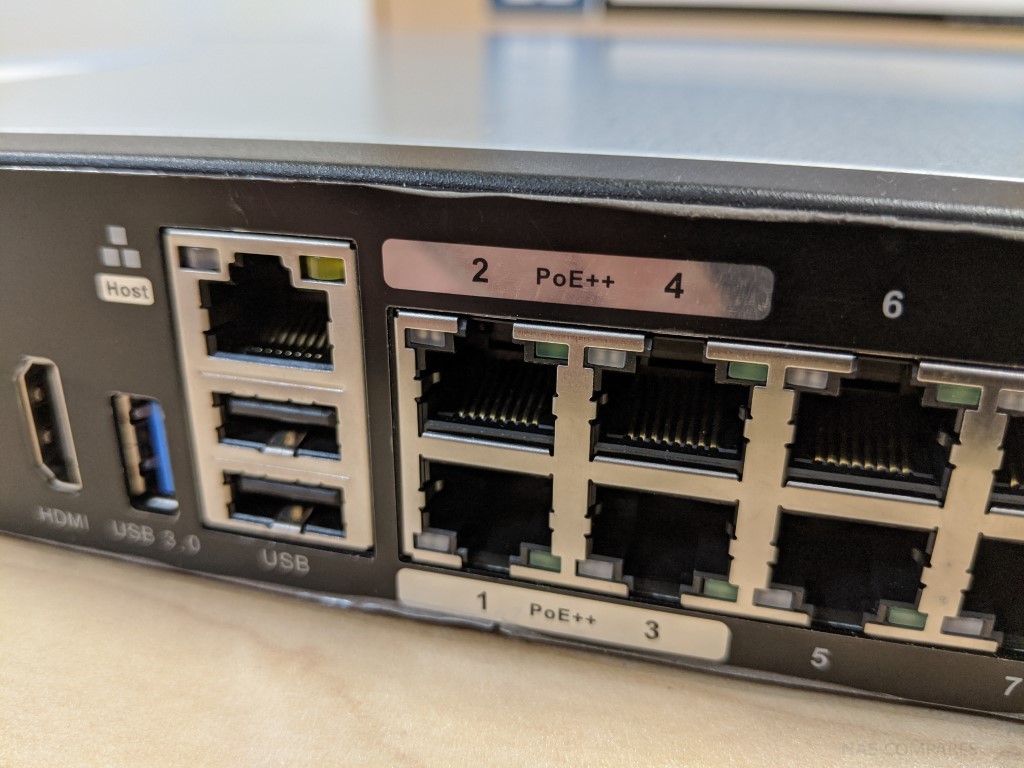 Of course, this device is more than just a switch but is, in fact, power over ethernet enabled managed switch. PoE devices are those that can be powered by the electrical power supplied by the RJ45 LAN cables and can arrange from alarm systems and IP speakers, the Intelligent IP Cameras, security sensors and IoT devices. ALL 16 ports of the QNAP guardian switch supply power, but with different levels of watts. The first 4 ports are PoE++ and supply 802.3af at 15.4W, 802.3at, at 30W and 802.3bt at an impressive 60W. More enterprise devices, such as AXIS business IP Cameras will need upto 60W to operate all their mechanical and optical operations to a high degree.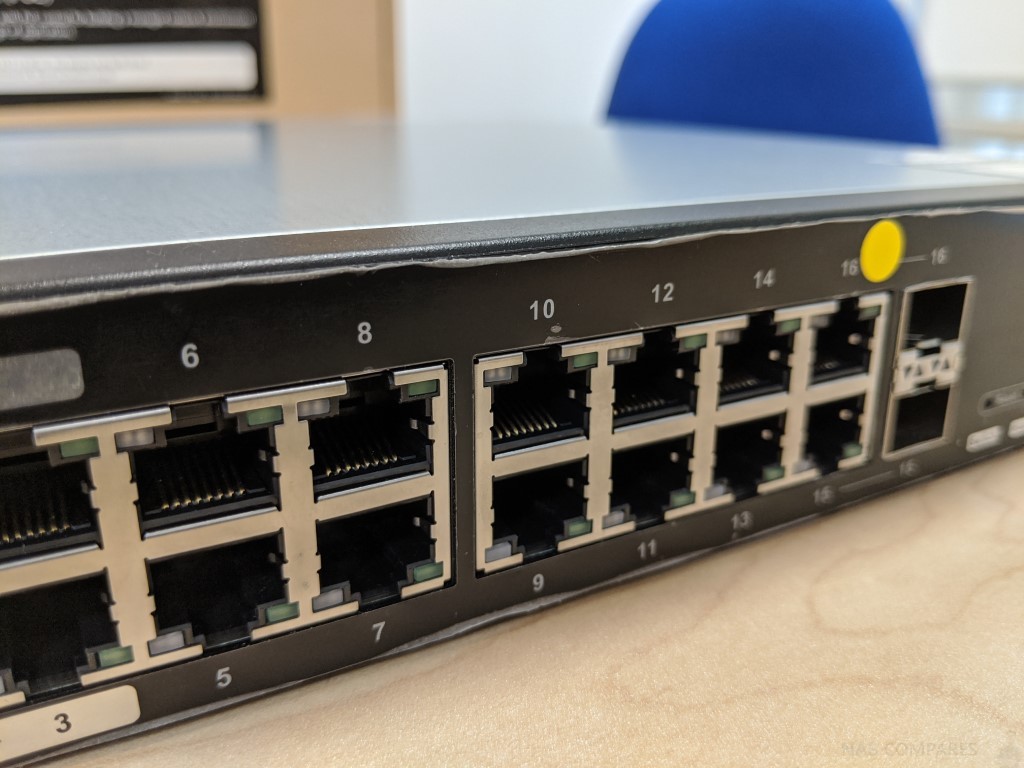 The remaining 12 RJ45 ports ( Designated Ports 5-16) supply 802.3af at 15.4W and 802.3at at 30W. This is sufficient for low-mid level IP Cameras and IP Speakers, such as Reolink, Hikvision and Annke.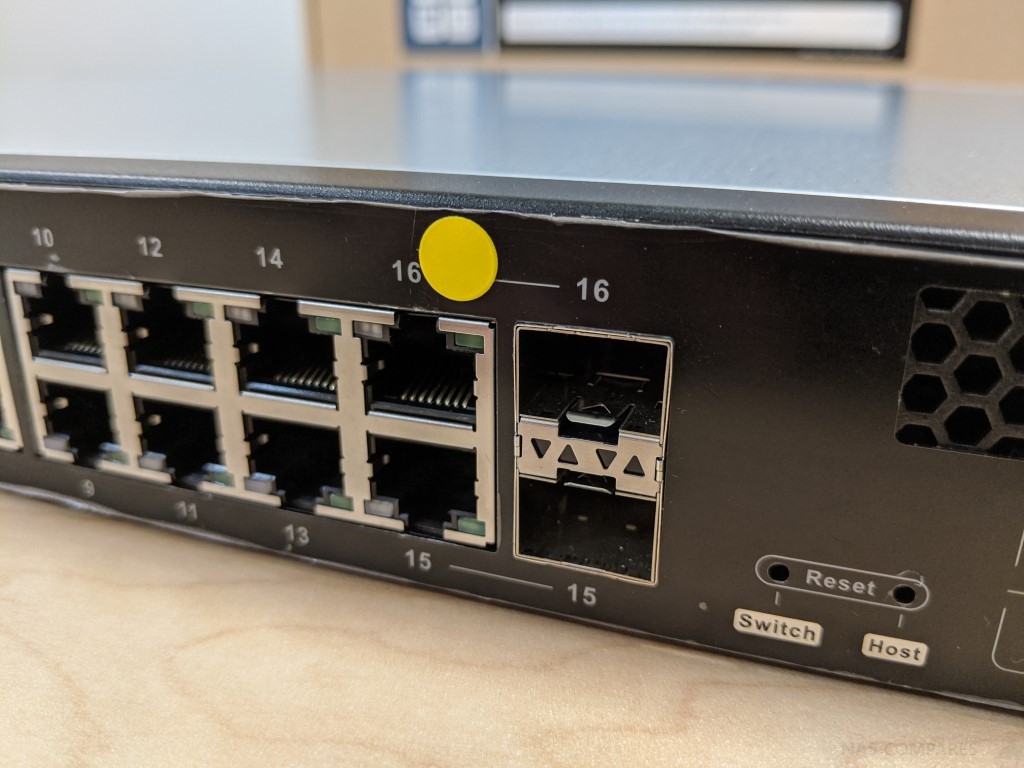 Finally, the RJ45 Ports on this device are also connected with two SFP+ Ports, that means this device can work as a bridge with mixed copper/fibre setups and create combo environments, with the ports on the right being combined together. As well as combining ports, the QGD-1600p also allows widespread link aggregation (also known as LAG or Port Trunking) in order to bond connections and turn, for example, 4 individual 1Gbe LAN connections into a single 4Gbe LAN connection. This is done with the QNAP Switch Software and QuNetSwitch on the device. On a hardware level, the guardian gives you alot more than more PoE managed switches does, with the added benefits from the NAS side. So, let's now move over to that.
QNAP

Guardian QGD-1600P

NAS and PoE Switch Hardware & Ports
The NAS side of the QNAP Guardian QGD-1600p may seem a little thin on first glance, with limited storage potential and seemingly crammed into a corner (At least from an external glance). But the device arrives with an impressive CPU and Memory combo, along with a large number of brand favourite ports and connections. The first, being very QNAP based) is an LCD panel, that can be utilized by the NAS for the most part, with links to the switch. This LCD provides realtime information in a 1-touch sense to the IP of the NAS, connected devices, the temperature and more in seconds.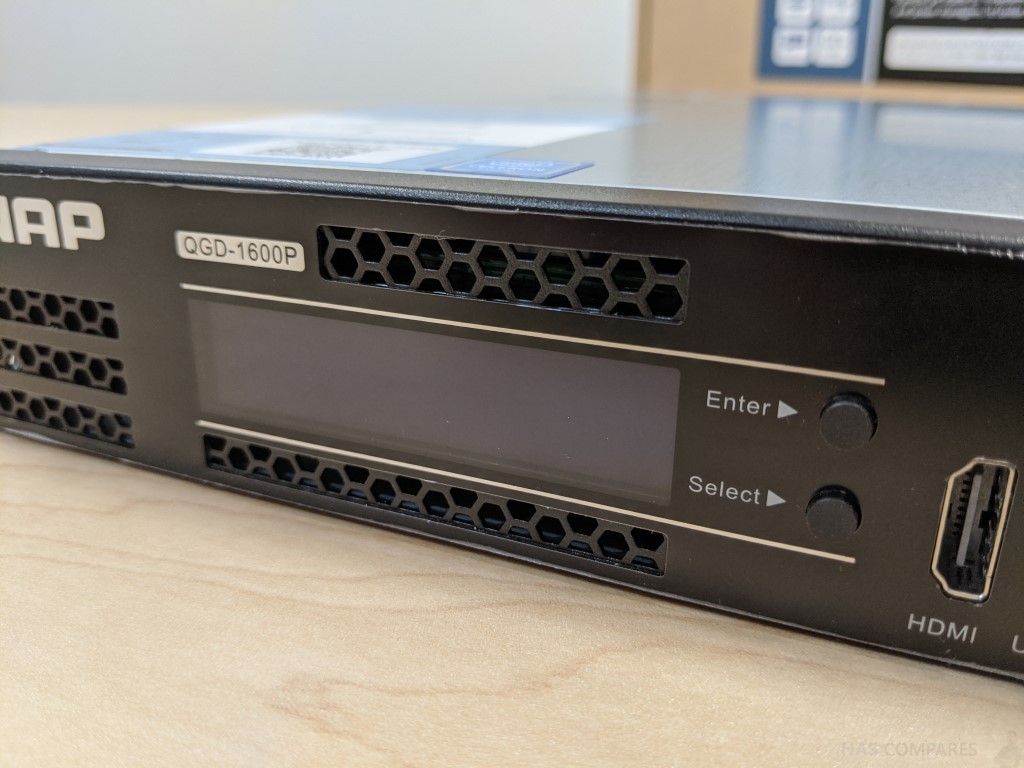 Another popular feature present on the QGD-1600p (and a few other modern 2019/2020 NAS) is the inclusion of HDMI 2.0a. This 4K 60FPS supported port provides live access to a visual interface from the QNAP NAS QTS software platform and HD Station (Hybrid Desk Station). This can be used for QVR Pro Surveillance, Multimedia, Plex, Office applications, an installed VM, YouTube, Linux Station VMs and more.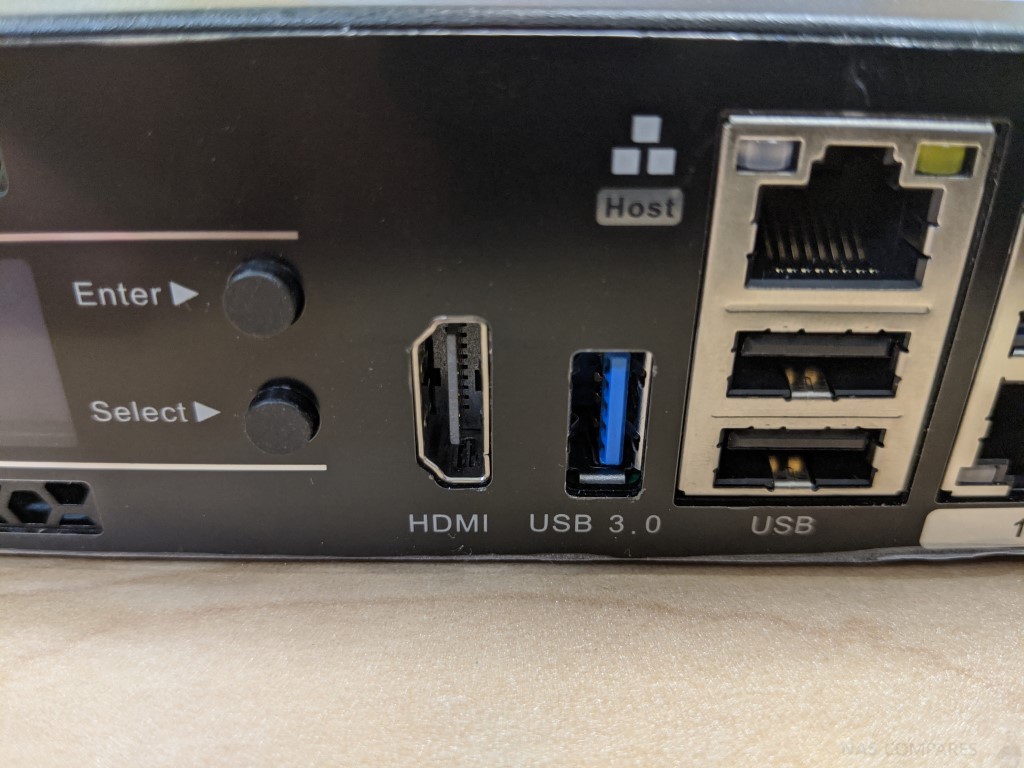 The HDMI port can also be used in conjunction with USB ports for connecting Keyboard, mouse and other control USB peripherals (otherwise know as KVM) for controlling and navigating the HDMI graphical user interface (GUI). However, both the USB 3.0 and USB 2.0 ports also support a myriad of supported peripherals. Ranging from:
External storage devices (USB Drives, USB Keys, etc)
RAID expansion devices (such as the TR-004, TR-002 and UX-500/800p)
Wireless Dongles
UPS Communication
Keyboards and Mouse
Control Pads
USB Webcams for use in Surveillance Station and QVR Pro
Of course, the device you connect may be more suitable for USB 3.0, over USB 2.0, so bear that in mind, as there are fewer USB 3.0 connections available. Alongside the 16 RJ45 and SFP+ ports that are available to the Switch portion of the QNAP Guardian device, there is a dedicated LAN/RJ45 1Gbe port for the NAS Drive side of the QGD-1600p. However, but installing the free Network and Virtual Switch software, you can then assign individual ports from the switch to the NAS architecture.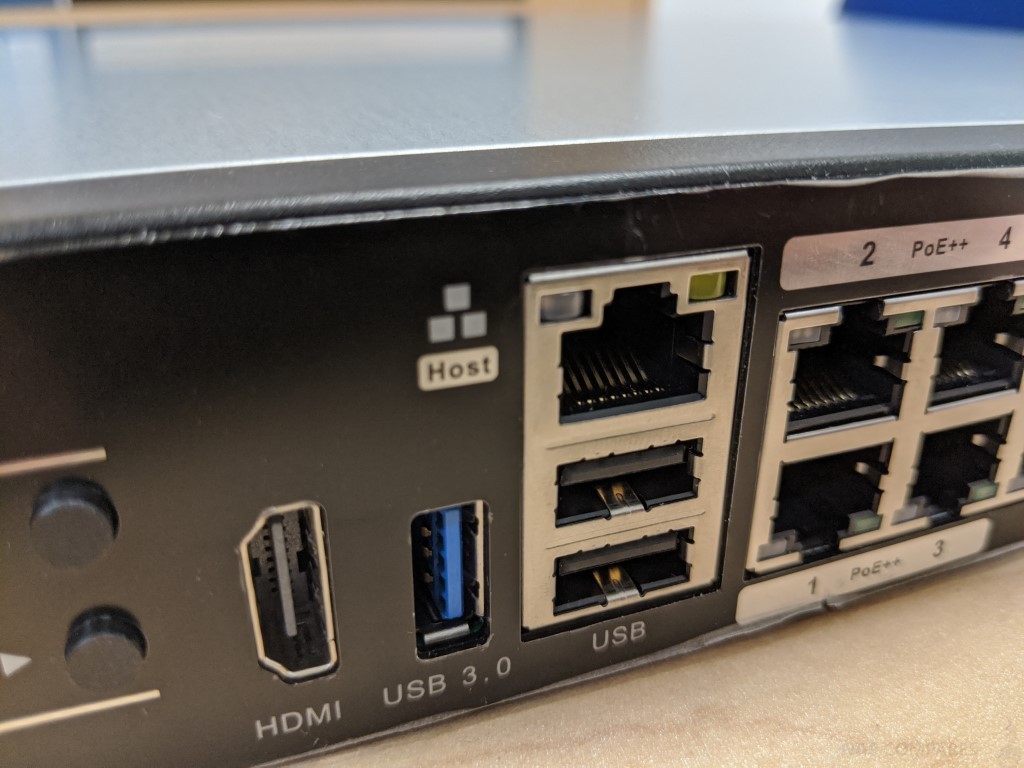 The rear of the guardian switch shows us a single 3 pin connector that is the main power source for the 418W PSU found inside the guardian NAS/Switch. Of that power, 370 Watts is supplied for the switch and it's PoE ports, and the rest is used to support the NAS side, the 2.5″ SATA media and PCIe slots. All around the front and rear of the device, we find passive ventilation holes to aside airflow through the device, this works with the internal fan on the CPU, the rear fan located on the HDD/SSD media and the PSU fan to keep the device internal temperature at a good level to maintain efficiency
Finally, the NAS portion of the QNAP Guardian supports the installation of upto two PCIe cards, at PCIe Gen 2 x2 on each slot supported. The slots support the installation of a 10/5/2.5Gbe network upgrade card (NIC), as well as SSD cache cards (or a combination of the two in the QM2 Card series). Some cards, such as the 2000AC 4 antennae wireless QNAP card, are supported for use in the NAS drive AND switch portion of the device, though currently, the switch cannot access the 10Gbe ports – which is a real shame, as this would present a modular 1/2.5/5/10Gbe solution for growing businesses.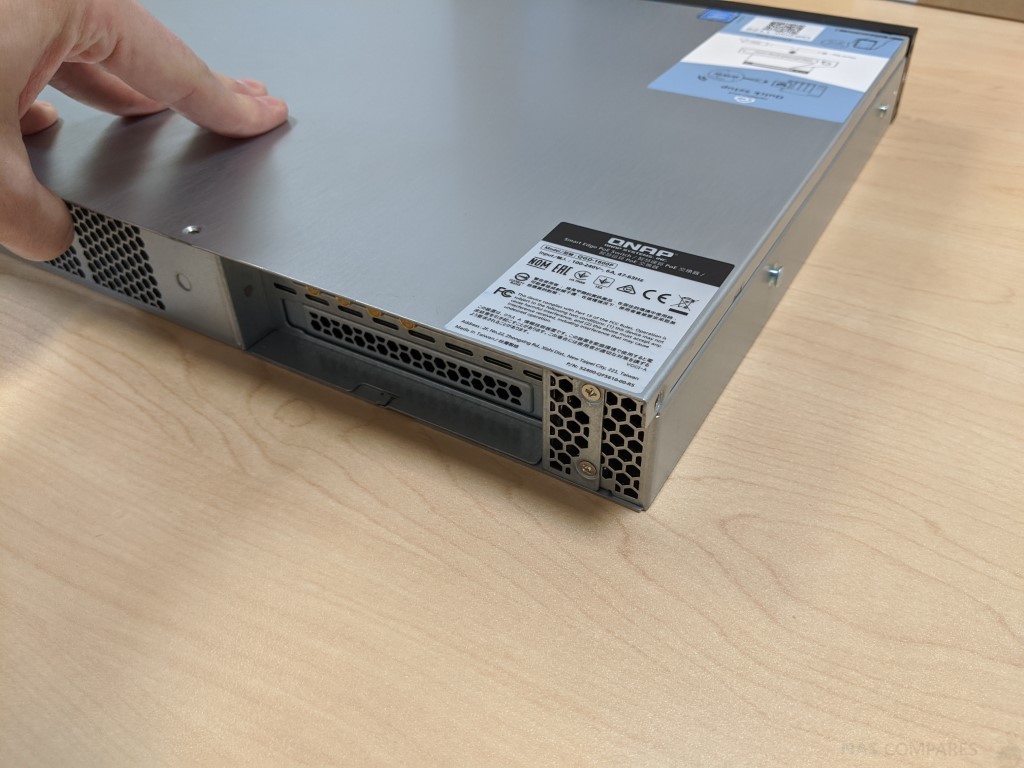 What you are presented with is a fully-featured NAS drive solution, in the chassis of a switch mini rackmount chassis. The limit of two internal 2.5″ SSD/HDD (though expansion with USB connected storage devices like the TR-002 and TR-004 are an option) is a shame, but in order to keep this device lean and efficient, the hardware choice makes sense.
QNAP

Guardian QGD-1600P

NAS and PoE Switch Internal Hardware
Much like any other rackmount NAS or switch device, the lid of the device is easily accessed with the removal of a few screws at each corner.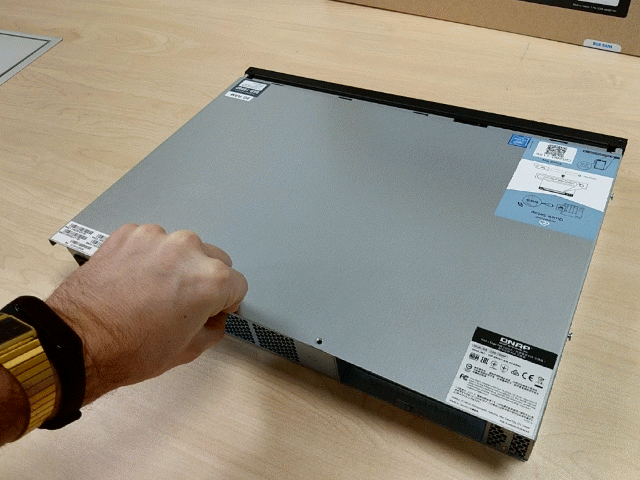 Now, full disclosure, the unit I am using in this hardware review is directly from a QNAP tradeshow, as stock is low and demand is high. Consequentially, this device has been set up for users to see it's full capabilities in demo form, so there are accessories present in the images that are NOT included in the retail purchase of this unit by default. So, bear in mind that the two SSDs and PCIe card installed in the QNAP guardian featured in the images below are not included. That said, these components were used and are featured in the QGD-1600p software review going live on YouTube any day now.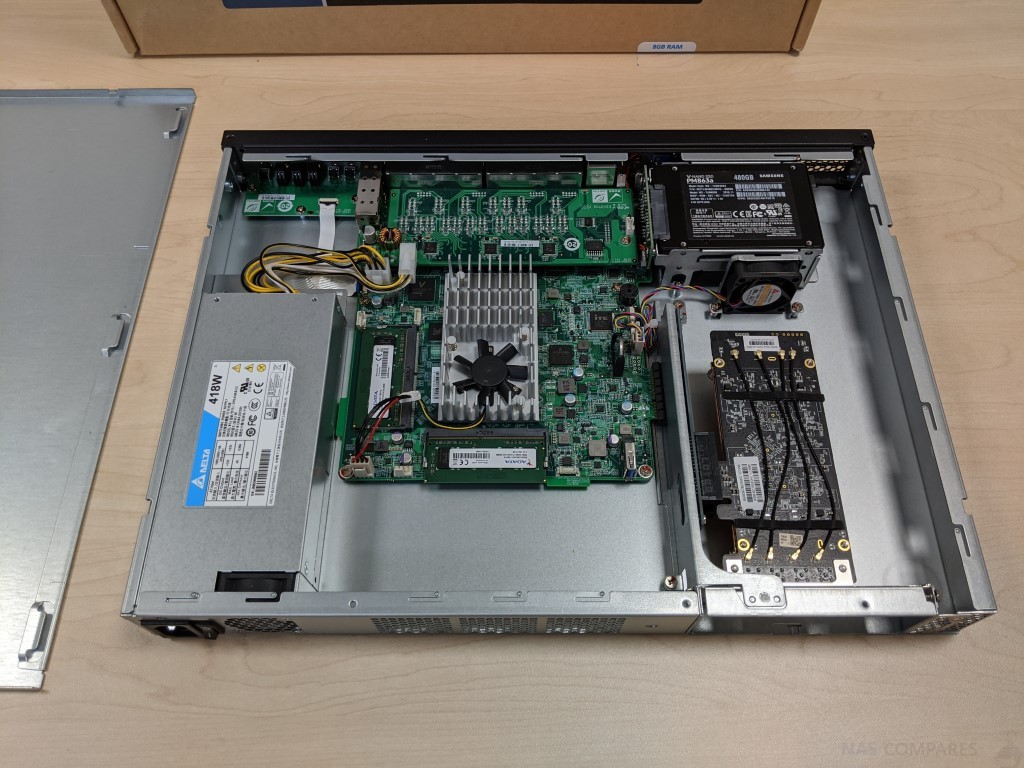 Once the lid was removed, we can see a neat layout of the controller board, controllers, traditional computer components and (most importantly) how the NAS and Switch hardware can coexist in the same chassis. The elements of the crossover are fairly clear, with the most obvious one being the single PSU that diverts power appropriately to the two internal hardware environments.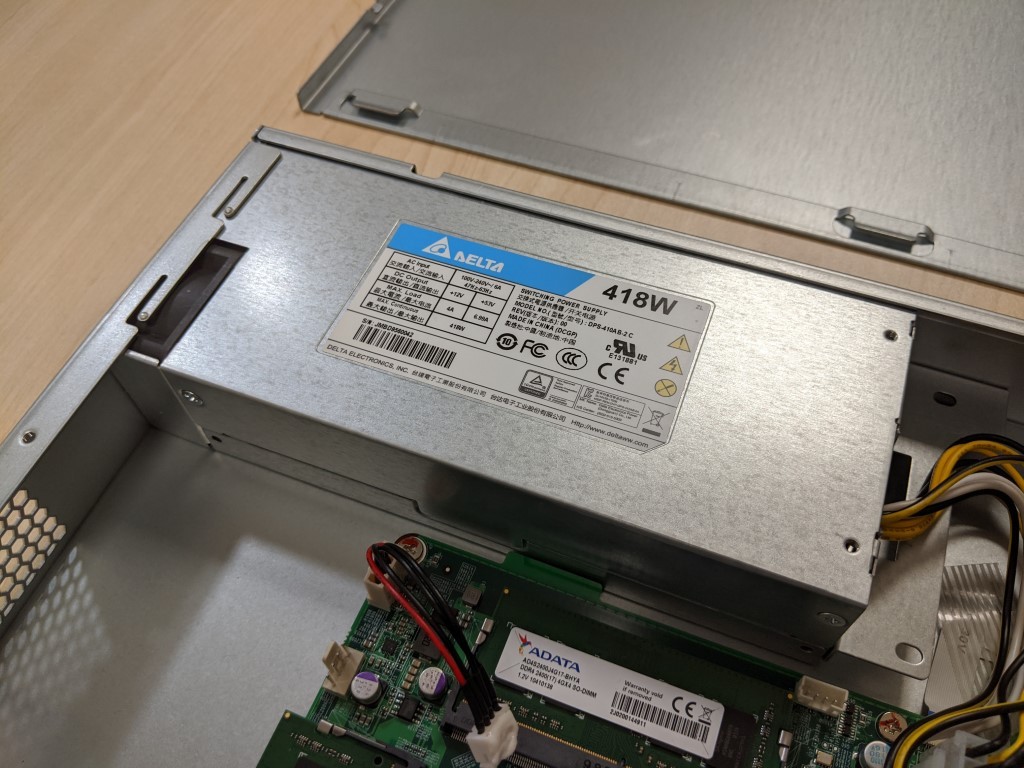 The internal power supply, which looks a great deal like a rackmount PSU module, is rated at 418W (dictated on the side) and 370W is made available the POE RJ45 ports and Managed switch environment, with the rest serving the NAS CPU, Memory, PCIe and general controllers/connections.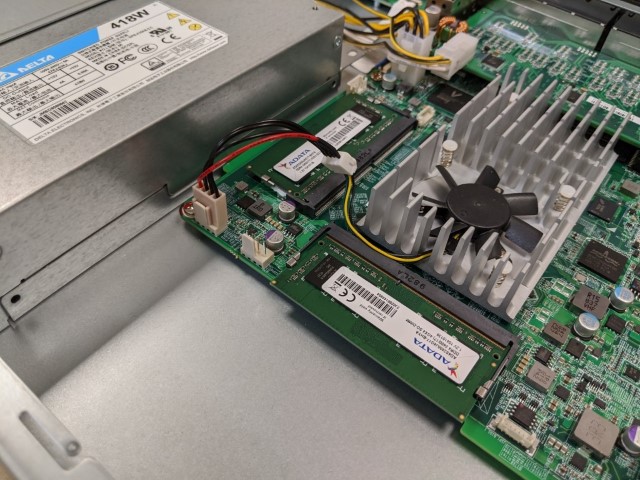 Despite the rather compact nature of the QNAP Guardian Switch/NAS, I am pleased to confirm that there are two SO-DIMM memory slots, supporting DDR4 and the device arrives in 4GB and 8GB versions. Whether this device will support 16GB (unofficially) is yet to be seen, but those looking at the multiple ways the device supports virtual environments (Virtualizations station, VM Installer, Container Station, Linux Station, etc) will be keen to know if this is the case and I will be sure to check this out at a later date.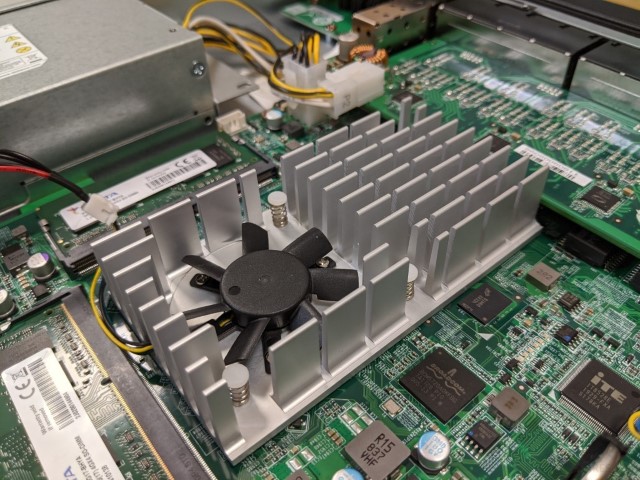 One very cool inclusion on the QNAP QGD-1600p NAS/Switch is that CPU. The fact that it is a quad-core Intel Celeron is already a good sign, for what is technically a '2-Bay NAS', it already makes it one fo the most powerful 2 Bay NAS that has ever been commercially available (with the only exception is the rather lukewarm PR2100). However, this is made EXTRA impressive when you find out that it is the Intel Gemini Lake J4115 CPU, one fo the newest processors to be seen on NAS at this level yet. Arriving at 1.8Ghz per core, burst/turbo available to 2.5Ghz as needed, this 4 core processor also featured embedded Intel HD 600 graphics for 4K, 1080p, multiple streams of transcoding and improved graphical manipulation.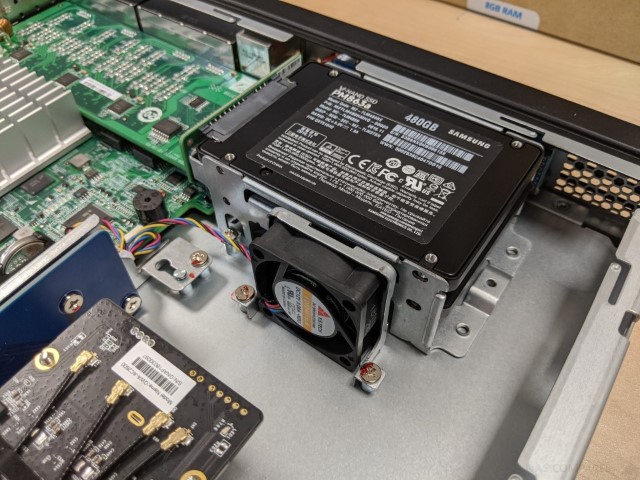 As mentioned, the guardian is (on the NAS side) technically a 2-Bay NAS drive and supports SATA based media. However, in efforts to keep the device quiet, fast and maintain the form factor, the QGD-1600P only supports 2.5″ Hard Drive or SSD media. In modern terms, that would be a maximum of 2x 4TB commercial-grade NAS SSD (such as WD Red SA500 or Ironwolf 110), or 5/6TB 15mm height hard drives. This is not the end of the world and you can certainly upgrade the storage a great deal with a USB 3.0 connected NAS expansion (such as the TR-004, TR-002, etc), but this may well be a subject that needs addressing in future versions. Temperature is maintained by the device using numerous internal sensors and processes, but there is also a dedicated fan for the SATA media bays that is system controlled.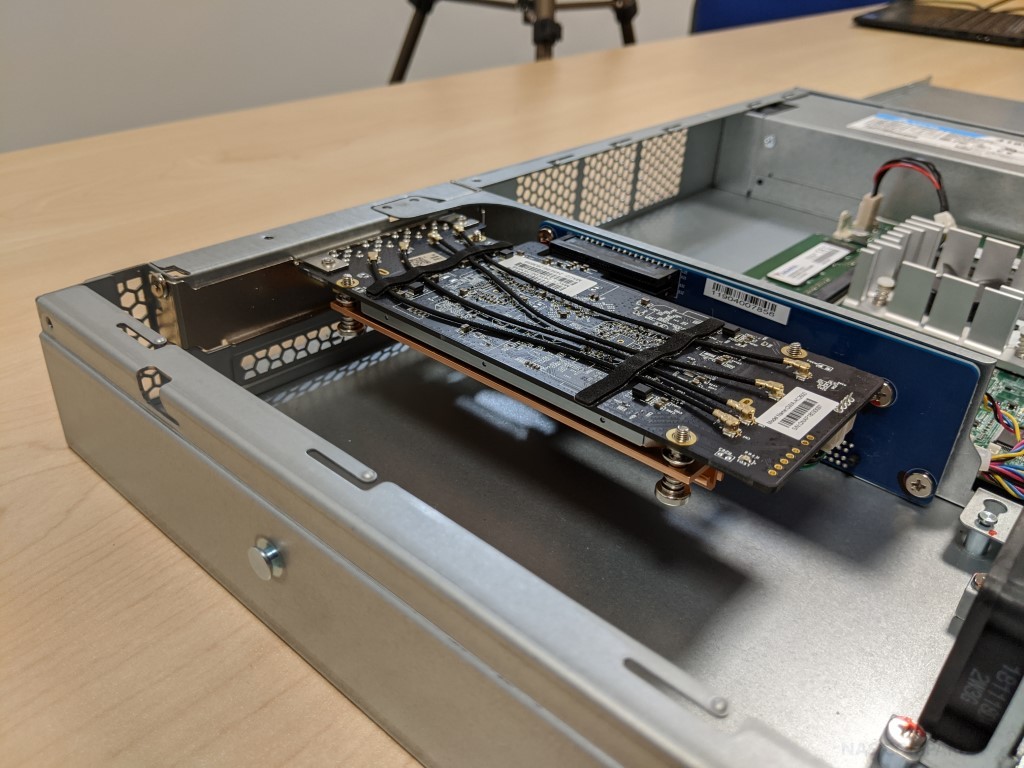 Finally, we can look at this two PCIe Gen 2×2 ports. These support numerous upgrade cards for network connections (upgrading you to 2.5Gbe, 5Gbe and 10Gbe as needed), SSD cache cards to add more storage/faster-caching operations to the NAS drive, as well as supporting wireless network cards through this port for the switch to access, creating a private wireless network connection with the managed switch network together! It would be nice if the switch could use the PCIe slots to add 10Gbe (or higher) ports to the network, not just the NAS, to create a modular managed switch network environment, but can see the technical issues that could be faced both internally and externally with LAN identities. Maybe this will be addressed in future.
QNAP

Guardian QGD-1600P

NAS and PoE Switch Software
The software architecture of the QNAP QGD-1600P Guardian Switch is very evenly spread amongst the modern range of QTS NAS applications and the new and dedicated switch-based applications that are made available on this device. The entire device runs on the QTS 4.4.1 Linux platform, but from there you can create a completely unique and bespoke environment. Below are just a few of the very best things the QNAP QGD-1600P Guardian Switch can do for NAS users, most of which can be simultaneously operated.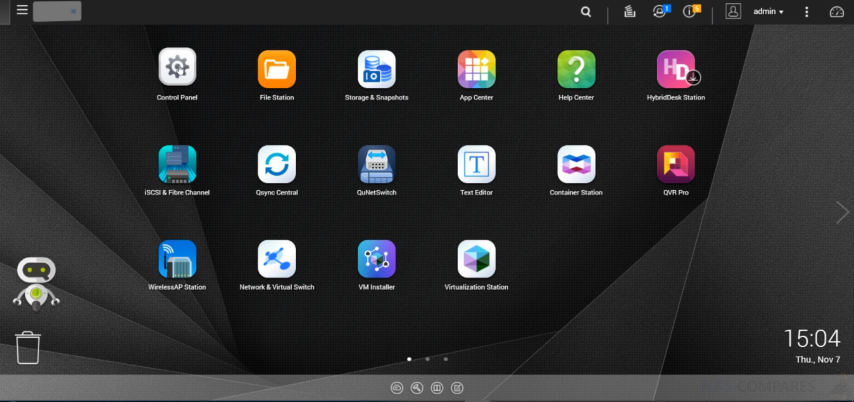 Enterprise-Class Standalone/remote access Surveillance System (KVM)

Multimedia Server, using first party QNAP applications or Plex Media Server

Virtual Machine Host, supporting Windows, Ubuntu, Android and more (remote or standalone with KVM)

Container Solution to deploy smaller virtual instances

10/25Gbe Editing Solution (by installing a PCIe NiC in an available slot)

Home/Office/Building wide backup Solution over the network/Internet

3rd Party Cloud-to-Local Interface and Sync Solution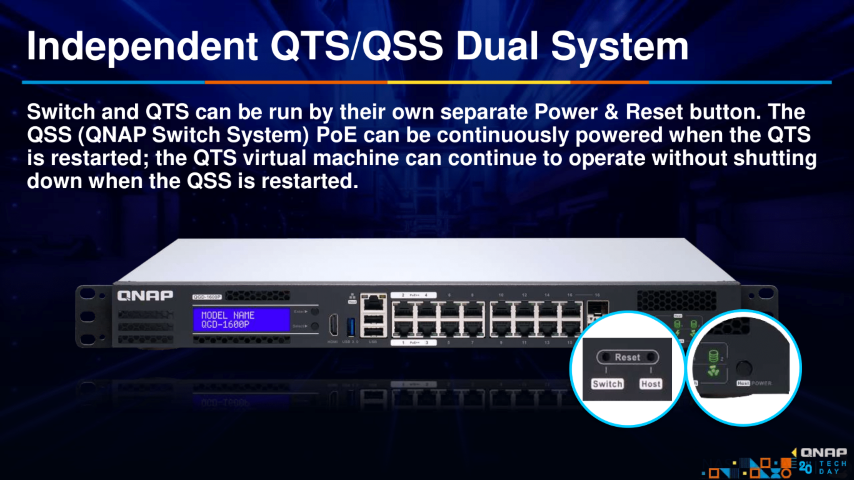 Whilst Supporting all of these processes very well, thanks to that powerful J4115 CPU and DDR4 Memory, the device also operates several network switch applications and processes, providing you with a top tier network management and protection solution (with PoE remember!) via those 16 ports. These software and management options are:
Physical Switch architecture is connected to/with the QNAP Virtual Switch software
New VM Management and VM Installer application to streamline VM deployment
QuNetSwitch gives you full control and protection
Support of other network switch control and protection with OpenWrt, MikroTik and pfsense with Container station and VM Installer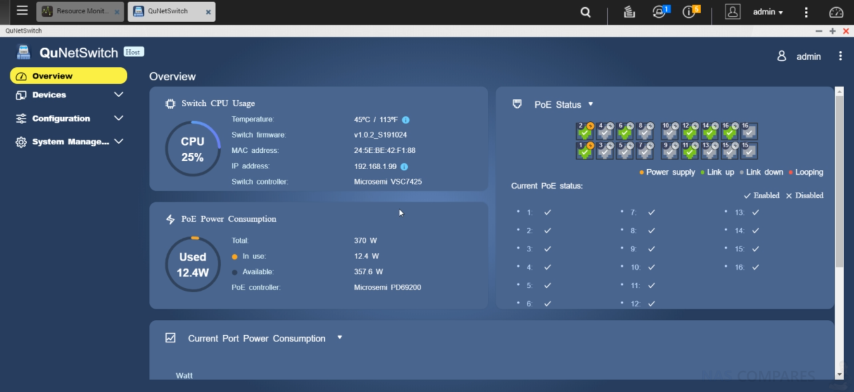 What are the Advantages and Disadvantages of the QNAP QGD-1600P Guardian over a separate NAS and Switch?
The initial advantages are pretty obvious. For a start, having a single device performing the functionality of two devices will save physical space, it will utilize less power overall whilst in operation and will simplify the control of both, whilst still maintaining security and safety in access. However, other less obvious advantages are more to do with moving the evolution and innovation of NAS over recent years and moving that over to the network switch architecture. Most switches arrive with rather techie-heavy dialogue and a steep learning curve, making them considerable intimidating to non-IT professionals. The QNAP QGD-1600P Guardian Switch is designed to be much more user-friendly (thanks to the design and GUI of QNAP QTS for NAS) and allows control of the switch is a much more understandable way.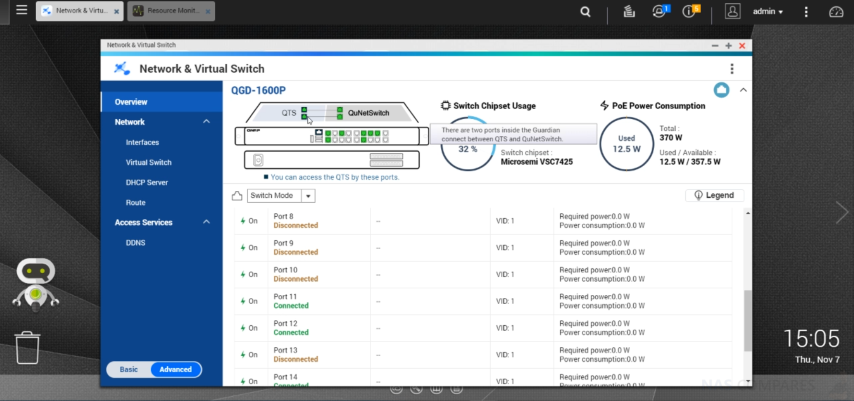 This user-friendly design is further improved when you see that the QuNetSwitch software for moderating and controlling your NAS has a well designed GUI that, when combined in use with the Network and Virtual Switch software for QNAP NAS, let's you create a fantastically unique network, with your own tailored securities, permissions, priorities and protocols – all very, VERY easily. This and the VM Installer and Virtualization applications, to simplify the deployment of VM environments, means that setting up a VM in considerably easier too – as one big hassle of any VM is making it visible on the network/internet, something the QNAP QGD-1600P Guardian Switch resolves very well.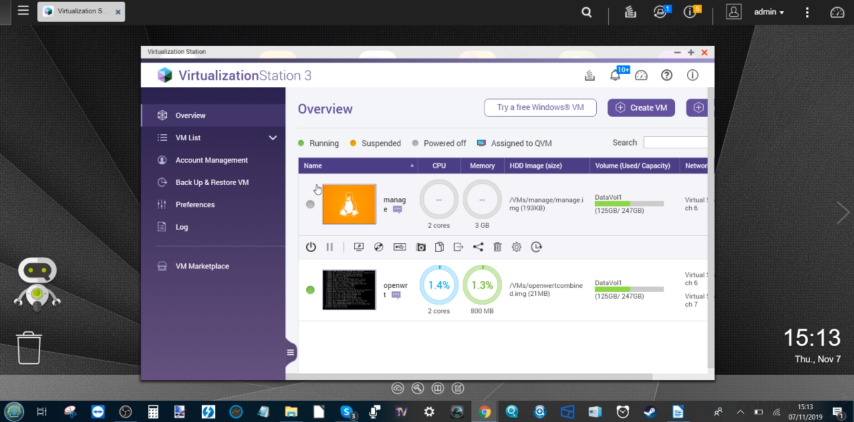 Finally, the big guns! As a surveillance solution, having a NAS and PoE managed to switch combined is a fantastic idea. Not only can all the cameras be connected (effectively) directly to the NAS, but the easy-anywhere access of the NAS (still with encryption, https, VPN and other services available) ports over very well and usably in surveillance. All the while with the switch part fo the QNAP QGD-1600P Guardian management priority of service commands, firewall control, pfsense support, DDOS prevention measures and camera priority control. With the NAS protecting the recordings with it's own RAID control, backup options with Hybrid Backup Sync 3, and user permission settings. Finally, thanks to the QNAP QVR Pro platform, you have a full CCTV system that can be accessed over the network, internet or locally with a keyboard, monitor and mouse (KVM support) and has a complete dashboard to view your IP cameras, each with their own settings, permissions, triggers and control. You even get 8 camera licenses included for the software, 4 times that of their nearest rival.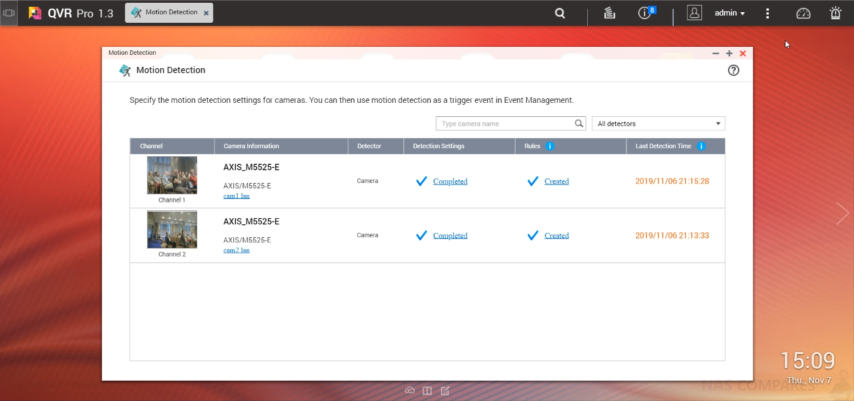 The most obvious disadvantage is that you are putting two eggs in one basket, meaning that if the system dies, you lose access to both your NAS and your Network Switch. This is definitely going to be a concern for those who wrap their whole business around a single switch that connects to the internet. However, for me personally, the advantages far outweigh the disadvantages in the long run.
QNAP QGD-1600P NAS Switch and VM Installer
The VM Installer application is available in the QTS NAS GUI. This is where you can install virtual machine environments in the switch side of the device. Currently the QNAP QGD-1600P Guardian Switch supports pfsense, OSRouer and OpenWrt in the VM installer and each are already available in a dropdown menu when you open VM Installer.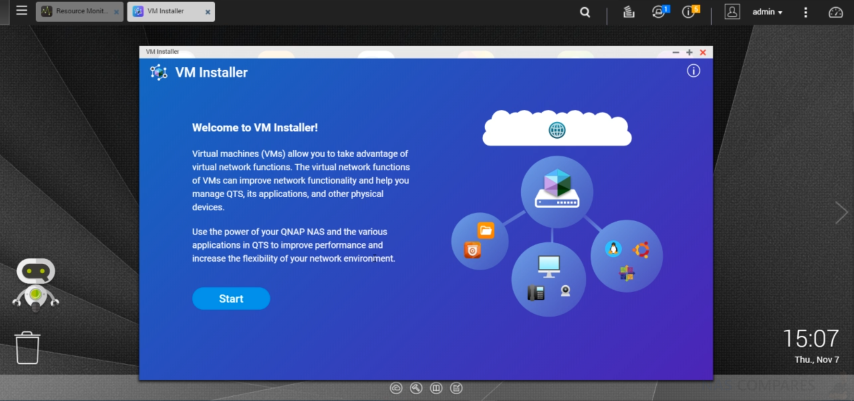 You can select the VM installation directory and space allocation that you want to provide to this VM. It is all presented in a very easy and chewable/friendly way. One the initial steps are complete, you can move into a more bespoke setup for you. You can decide whether this VM OS will have internet access, select the ports you wish to dedicate to the VM and the WAN you want to dedicate to it. You can just deploy at a single it in a single click from there and the new VM in the switch side will appear on the network and virtual switch application within the NAS QTS GUI.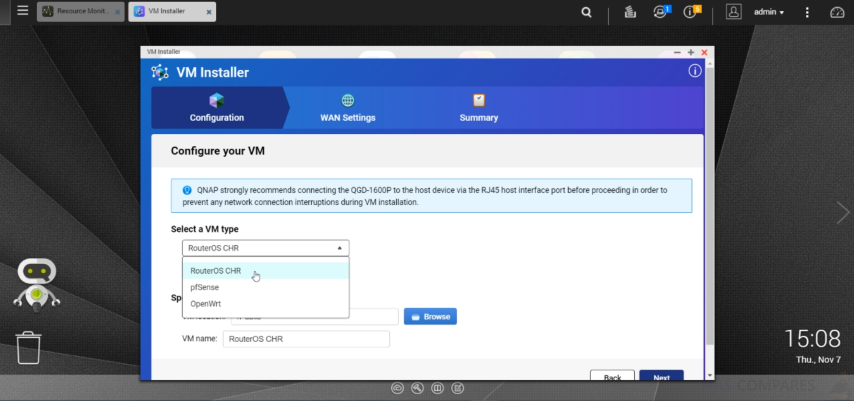 QuNetSwitch and QNAP QGD-1600P Guardian Switch
This is the main switch-based software side of things. If you access the switch remotely via the LAN or Internet, the QuNet Switch application is what you will see. It is the user interface of the switch and is very similar in design to the majority of core system QNAP applications. The QuNetSwitch application is also visible on the QTS NAS side of the QNAP QGD-1600P Guardian as an app window, so you can monitor and control the switch side of things from either side. From the main user interface, you are IMMEDIATELY able to see:
The ports available and active connections
PoE connectivity and how much is being drawn by each port
Analytics of port traffic on each port/whole switched
LAG/Port Trunking configuration
Active connected device and their configuration
Security logs and notifications
Connected users
Active Security protocols in place
It is also worth highlighting that the QNAP QGD-1600P Guardian Switch also supports the installation of the QWA-AC2600 Wireless card, (and Wireless AP applications in QTS) which supports a wide MIMO environment. This allows you to add wireless connectivity for your home/office users to the NAS and Switch environment and create a complete PoE LAN and Strong wireless network, that has access to the assets and applications of the switch.
QNAP

Guardian QGD-1600P

NAS and PoE Switch Conclusion
For me, the Guardian QGD-1600p is a solution that is exactly what QNAP should be doing. The success of this device will, of course, affect how successful this product range could be (maybe with smaller versions, 10Gbe versions, or non-PoE). With a NAS hardware portion that gives you a great CPU and Memory options, as well as a switch side that gives you a high grade and user-friendly switch to work with, there is a large amount of appeal. There are the odd compromises present for reasons of price/space, such as just two 2.5″ storage bays and only 1Gbe connectivity, but if this device is successful, we will likely see these concerns addressed in separate versions. However, the QNAP Guardian does an exceptional job of being a NAS and a Switch, with tremendous potential for savings in space, power use, technical learning and access difficulty. Just remember when looking at the price tag of £550+ ex.VAT, that you are buying BOTH a NAS and a Switch, and making price comparisons between the guardian and a stand-alone Switch or NAS is just illogical.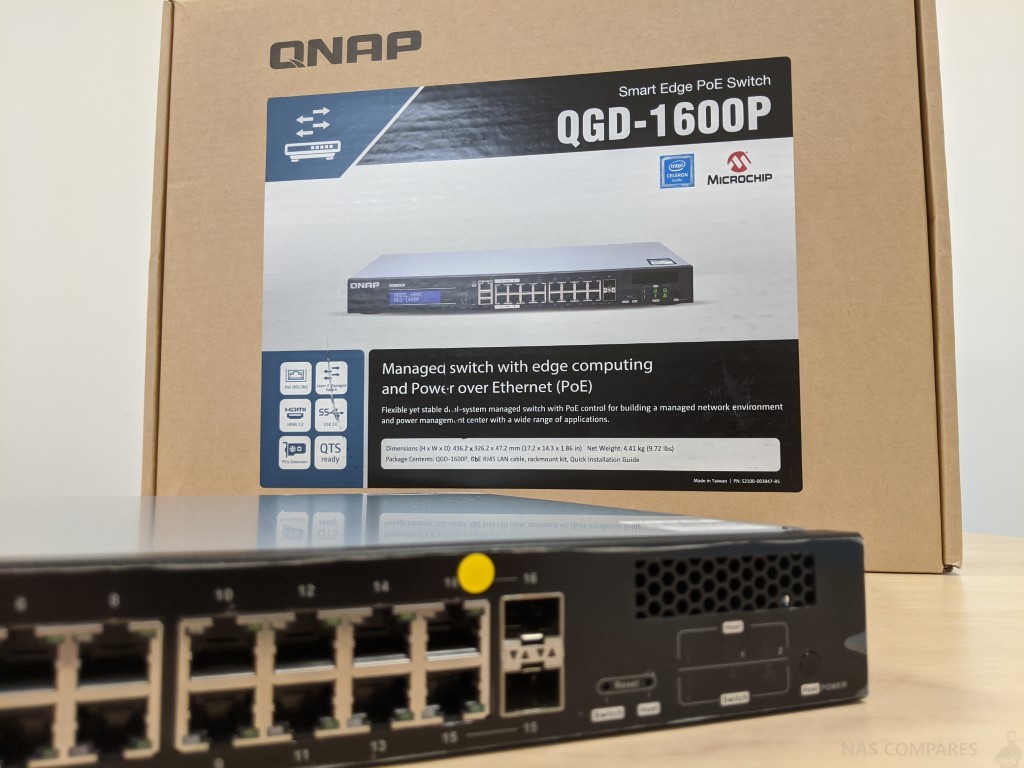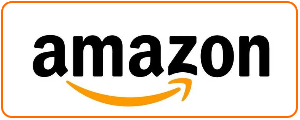 📧 LET ME KNOW ABOUT NEW POSTS 🔔
Join 1,671 other subscribers
Get an alert every time something gets added to this specific article!
This description contains links to Amazon. These links will take you to some of the products mentioned in today's content. As an Amazon Associate, I earn from qualifying purchases. Visit the NASCompares Deal Finder to find the best place to buy this device in your region, based on Service, Support and Reputation - Just Search for your NAS Drive in the Box Below
Need Advice on Data Storage from an Expert?
We want to keep the free advice on NASCompares FREE for as long as we can. Since this service started back in Jan '18, We have helped hundreds of users every month solve their storage woes, but we can only continue to do this with your support. So please do choose to buy at Amazon US and Amazon UK on the articles when buying to provide advert revenue support or to donate/support the site below.

Finally, for free advice about your setup, j
ust leave a message in the comments below here at NASCompares.com and we will get back to you.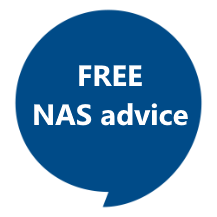 Need Help?
Where possible (and where appropriate) please provide as much information about your requirements, as then I can arrange the best answer and solution to your needs. Do not worry about your e-mail address being required, it will NOT be used in a mailing list and will NOT be used in any way other than to respond to your enquiry.
TRY CHAT
Support What We Do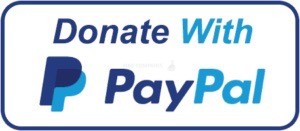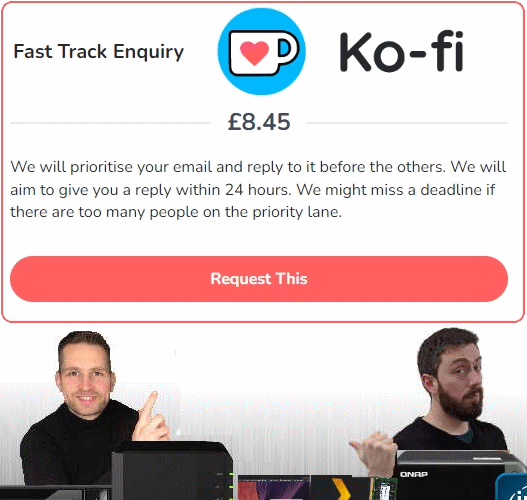 Terms and Conditions
Alternatively, why not ask me on the
ASK NASCompares forum
, by clicking the button below. This is a community hub that serves as a place that I can answer your question, chew the fat, share new release information and even get corrections posted. I will always get around to answering ALL queries, but as a one-man operation, I cannot promise speed! So by sharing your query in the
ASK NASCompares
section below, you can get a better range of solutions and suggestions, alongside my own.
This description contains links to Amazon. These links will take you to some of the products mentioned in today's video. As an Amazon Associate, I earn from qualifying purchases
Summary
Reviewer
Review Date
Reviewed Item
QNAP QGD-1600P Guardian NAS Switch Hardware Review
Author Rating