New Xeon Powered
AS7110T LockerStor 10 Pro

NAS Revealed at CES 2020

If there was one brand that really shook things up last year in the world of NAS, it has to be Asustor. Always a brand that popped up throughout 2019 here on NASCompares, they have seemingly been challenging the bigger brands at their own game, investing in some remarkably impressive and forward-thinking hardware. This has continued into 2020 with the latest addition to their NAS family being unveiled at CES 2020, the LockerStor 10 Pro NAS. This new 10-Bay NAS may sound remarkably familiar to that of the Lockerstor 10 (non-Pro) featured here a while ago (with the hardware review being published any day now), but this is taking the logic and hardware found in that NAS – namely the 10Gbe, 10Gbe, NVMe and more, then sticking a serious power upgrade behind it all. So, let's take a look at this new NAS drive for 2020 from Asustor and see what it has that is going to make it stand out from the crowd.
What are the Hardware Specifications of the Asustor
LockerStor 10 Pro

NAS?

The first important point of note on the LockerStor 10 Pro is the choice of CPU. Those that followed my summer 2019 coverage of Computex 2019 will recall a NAS called the CabinetStor that included an 8th Generation i3/i5 CPU – THIS is NOT that NAS. The new LockStor 10 NAS from Asustor arrives with a modern gen Intel Xeon quad-core processor, as well as being backed up with 8-32GB of DDR4 ECC memory. These two points are ones that need to be highlighted in particular in comparison with the LockerStor 10. In my testing of the LockerStor 10, I noted that it had an incredible scope of connectivity and storage speed potential, but featured a CPU that could potentially serve as a bottleneck moving forward. However, the LockerStor 10 Pro addresses this point massively, with it's significantly more powerful and fast handling of enterprise-level file transfers. Used in conjunction with the two 10Gbe (10GBASE-T, copper) network ports, as well as the twin 2.5Gbe (2.5GBASE-T, copper) ports, mean that you will truly see the bandwidth and throughput possible with that kind of power.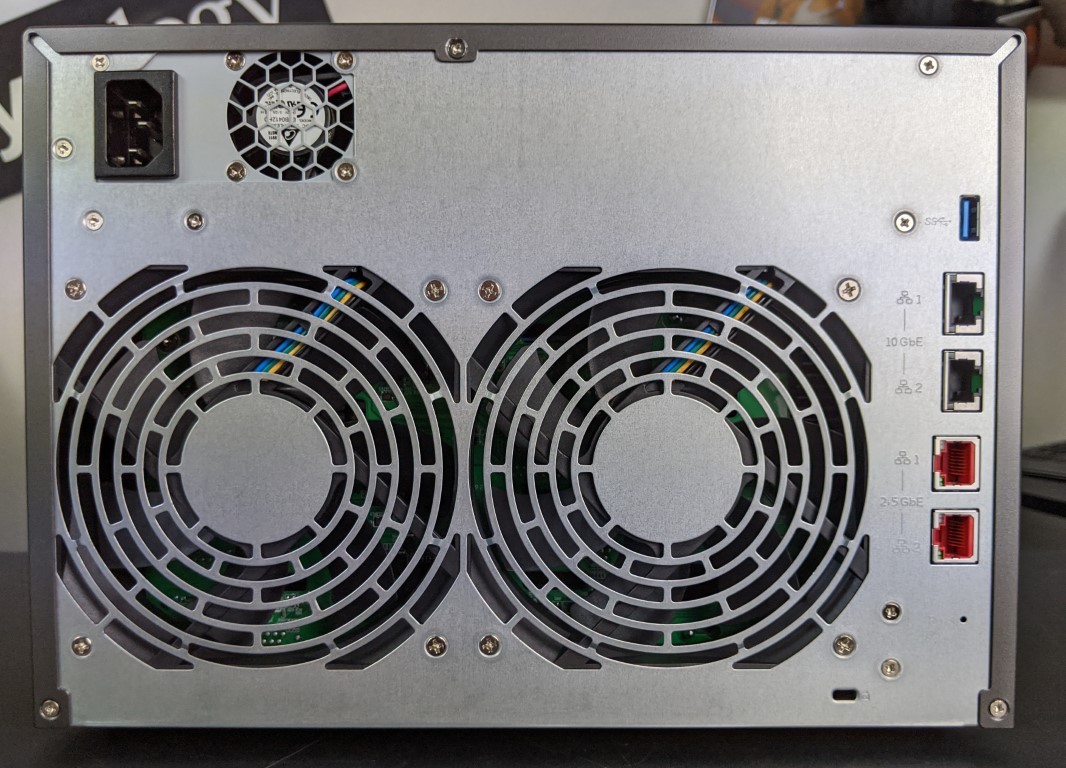 This is made even more possible and impressive when you take note of the NVMe SSD media bays found inside the Lockstor 10 Pro NAS Drive. These PCIe based SSD bays, when used for caching in conjunction with a hard drive RAID of upto 10 SATA bays that are available mean that you have the potential to max out the link aggregated combination of 20Gbe (10G + 10G) and 5Gbe (2.5G + 2.5G) and enable your connected users to be able to max out their own respective connections at the same time. Of course, choosing the right RAID and HDD/SSD media plays it's part too, but it will always be hugely beneficial to keep that glass ceiling as high as possible! Finally, the LockerStor 10 features USB ports (as most NAS drives do), but arrives with USB 3.1 Gen 2 (also known as USB 3.2 Gen 2 now) and it's potential 10Gb/s connectivity with external storage devices for backups, expansions and more.
What are the Software Specifications of the
LockerStor 10 Pro

NAS?

The LockerStor 10 Pro provides support for practically the entire application library of ADM, the NAS software platform from Asustor. This covers everything from the browser-based graphical user interface (GUI), client desktop applications for Windows and Mac, as well as a host of mobile applications for Android and iOS. The Xeon based CPU found in the Lockstor 10 Pro is fantastically powerful, but is worth noting, lacks embedded graphics and/or a transcoding engine. It gets around this by using raw CPU power to perform these more graphically led tasks, but that does mean that these kinds of operations will need more power usage. In terms of applications and tasks the Lockstor 10 Pro can do in terms of apps and utility is:

Antivirus (ClamAV) – Scheduled Scans, Automatic Virus Definition Updates, Quarantine Infected Files

Download Center – Supports BT(Torrent & Magnet Link), HTTP and FTP Downloads, Torrent Search, Bandwidth Control, RSS Subscription and Automatic Downloading (Broadcatching), ASUSTOR Download Assistant for Windows & Mac

DropBox, OneDrive and Google Drive Sync – Each ADM Account is Able to Individually Log into one cloud Account, supporting Sync, Directly Upload Files to cloud from the NAS, or from cloud to NAS

LooksGood Media App –Built-in three main video library categories; movies, TV shows, home movies and smart video sorting management
The efficient global search function allows for searches by keywords followed by the execution of more detailed searches for the purpose of finding categories of movies, TV shows, home movies and parameters such as actors, director, year, genre, writer and title
Attractive poster wall and thumbnail display
Automatic production of video poster thumbnails
Centralized management and ability to configure the order of favourites and playlist history
The system administrator is able to configure video library and editing permissions according to user preferences
Can configure access permissions to share with
Multimedia conversion feature
Self-defined smart folder for video conversions
Supports digital TV recordings via digital
Easy streaming with Chromecast and DLNA
Supports playback of videos in Apple TV via AiVideos tvOS version
Mail Server – Each ADM Account can Become an Independent Email Account, Provides SMTP, IMAP and POP3 Mail Protocols, Spam Filter and Black List Settings, Antivirus Scanning for Emails, Exclusive Email Backup Mechanism, Auto-Forwarding and Auto-Response Protocols
Photo Gallary – "Album" and "Browse" Viewing Modes, Manage Photo Album Access Rights: Public Access, Restricted to Certain Accounts, Album Password, Multi-level Folder Structure Support, Supports Tagging of Photos, One-click Sharing to Social Media (Facebook, Google+, Twitter, Plurk, email), Intuitive Drag and Drop Management, Slideshow Viewing Mode, Supports a Wide Range of Image Formats: JPG/JPEG, GIF, PNG, BMP, TIFF, RAW and Supports Video Playback
Surveillance Center – Up to 64 channels in 720p on single live view display, On-screen camera controls including camera PTZ, manual recordings, take snapshots, configure camera settings and open Maps, Up to 4 channels of synchronous and non-synchronous playback with audio, Intelligent video analytics including motion detection and foreign object detection, Supported Browsers: Windows Internet Explorer, Microsoft Edge, Firefox, Mac Safari, Mac Firefox ESR, Event notification supports SMS, E-mail, and mobile push notification, AiSecure mobile app for iOS and Android with Push notification, Maximum IP Cam (4 Free Licenses; Additional Licenses to be Purchased)
Takeasy – Download from YouTube, Vimeo, Twitch and More, Selectable Video Type and Quality, Automatic Downloads with YouTube or Twitch Subscriptions, Preview Downloads in Progress and Online Playback
SoundsGood Audio App – Import Personal/Public Music Collection, Personal/Public Music Collection Permission Control, Playlist Editor, ID3 Tag Editor, Local Speaker Support: HDMI, USB, Audio Jack, Supported Audio Formats for Browser: MP3, WAV, Ogg, Supported Audio Formats for Transcoding Through Browser: AIFF, Flac, Supported Audio Formats for Local Speaker: MP3, WAV, Ogg, AIFF, Flac
Backup Tools – Rsync (Remote Sync) Backup, Cloud Backup, FTP Backup, External Backup, One-Touch Backup, EZ Sync, Btrfs Snapshots
A remarkably wide range of applications and abilities, as well as these applications, are included in the price of the device at time of purchase.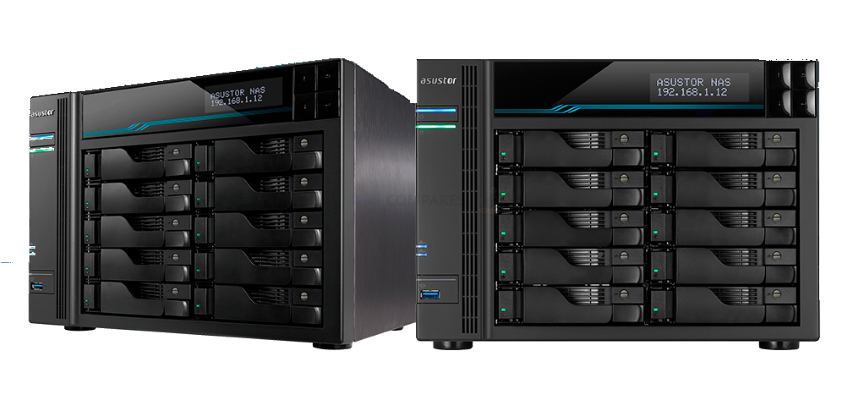 How Much will the
LockerStor 10 Pro

NAS Cost at launch?

The price of the Asustor Lockerstor 10 Pro NAS is a less easy matter to pin down. The non-Pro version retails at around £950+ without local TAX and this Intel Atom-powered version that is still remarkably new is similar in a number of ways. However, I can easily see that Xeon CPU and other smaller enhancements pushing that rice tag into the £1350-1400 mark with ease. Perhaps at a closer time to release, we will learn more about warranty lengths and other non-confirmed inclusions that will affect the retail cost, but certainly, be prepared to break into 4 figures!
When will the Asustor
LockerStor 10 Pro

AS7110T NAS be Released?

Asustor have made it clear that this device is being geared up for a Q1 release in 2020. Typically, the majority of companies in Taiwan will use Q1 to refer to Jan-March of a year and I see no reason for this not to be the case for the Lockstor 10 Pro 10-Bay NAS Drive.
What is the Alternative to the AS7110T
LockerStor Pro 10

NAS?

Although the release of the Lockstor 10 Pro seems to be pretty close compared without the releases being unveiled at CES 2020, it still might be a little too late for you. This combined with the potential price increase that newer and more powerful CPU might bring could understandably make you want to look for an alternative Right now, if you want the majority of things this NAS is offering RIGHT NOW, then the best option for you is the Asustor LockerStor 10 (non-Pro) below.

If you plan on buying your NAS Drive from Amazon, please support this website by clicking the button below to take you there. This costs you nothing and we will earn a small commission on anything you buy, and that will help keep this site up and running. It just costs you a click and ensures I can keep helping more users with their data storage needs. Thank you.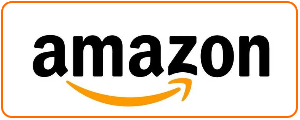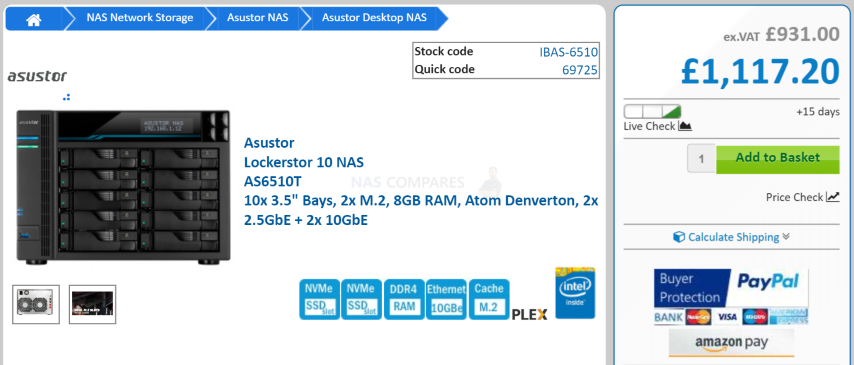 Articles Get Updated Regularly - Get an alert every time something gets added to this page!
This description contains links to Amazon. These links will take you to some of the products mentioned in today's content. As an Amazon Associate, I earn from qualifying purchases. Visit the NASCompares Deal Finder to find the best place to buy this device in your region, based on Service, Support and Reputation - Just Search for your NAS Drive in the Box Below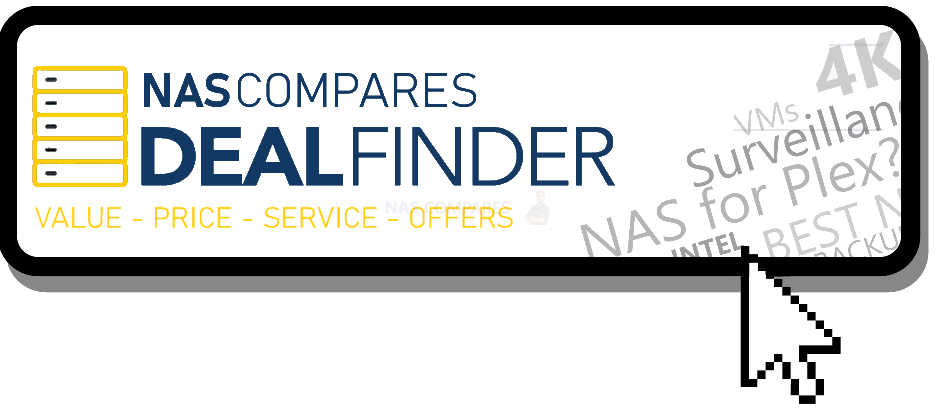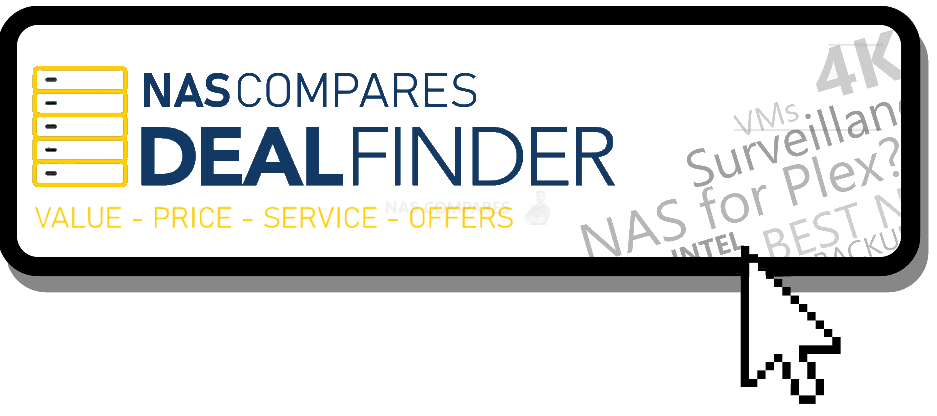 SEARCH IN THE BOX BELOW FOR NAS DEALS
Need Advice on Data Storage from an Expert?
We want to keep the free advice on NASCompares FREE for as long as we can. Since this service started back in Jan '18, We have helped hundreds of users every month solve their storage woes, but we can only continue to do this with your support. So please do choose to buy at Amazon US and Amazon UK on the articles when buying to provide advert revenue support or to donate/support the site below.


Finally, for free advice about your setup, j
ust leave a message in the comments below here at NASCompares.com and we will get back to you.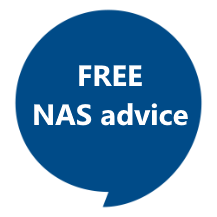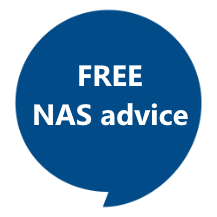 Need Help?
Where possible (and where appropriate) please provide as much information about your requirements, as then I can arrange the best answer and solution to your needs. Do not worry about your e-mail address being required, it will NOT be used in a mailing list and will NOT be used in any way other than to respond to your enquiry.
Terms and Conditions
Alternatively, why not ask me on the
ASK NASCompares forum
, by clicking the button below. This is a community hub that serves as a place that I can answer your question, chew the fat, share new release information and even get corrections posted. I will always get around to answering ALL queries, but as a one-man operation, I cannot promise speed! So by sharing your query in the
ASK NASCompares
section below, you can get a better range of solutions and suggestions, alongside my own.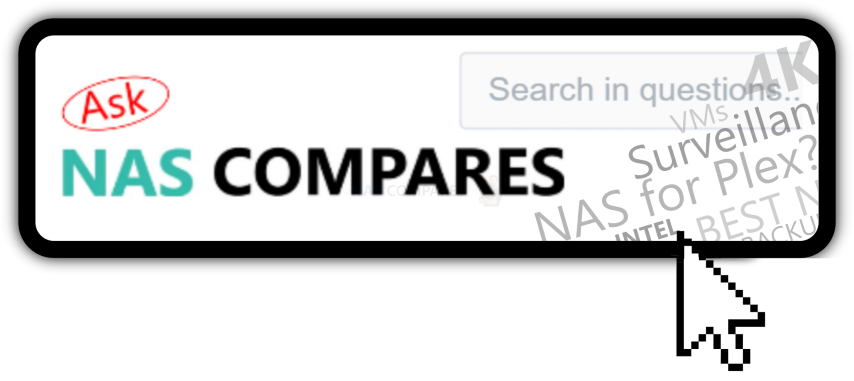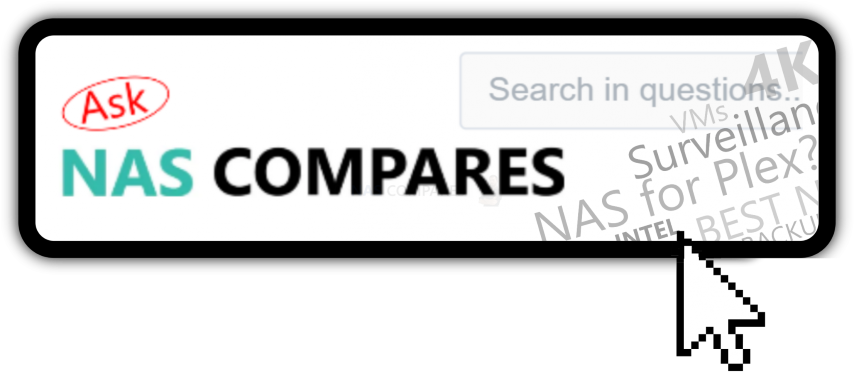 This description contains links to Amazon. These links will take you to some of the products mentioned in today's video. As an Amazon Associate, I earn from qualifying purchases