QNAP TS-230 NAS – Is it worthy of your data?
Owning a network-attached storage device used to be something only available to businesses and those with deep pockets. However, now the technology has become considerably more affordable, as well as the hardware involved becoming exceptionally more efficient, NAS drives in the home are actually rather more commonplace. All of the big brands feature extensive and diverse portfolios of solutions that feature different tiers to their ranges that are designed for the more budget-conscious buyer who still wants to enjoy the benefits of their own personal server. QNAP is one of the most well established and evolved of the NAS brands in 2020 for home and business users and their latest TS-230 solution arrives on the market specifically geared towards these cost-effective buyers. The
new TS-230
arrives with a new chassis design and profile, while still maintaining popular value series specifications – all while seemingly arriving at a more affordable price point (around £150 without tax) than their competitors at this same hardware level. However, is this new server cheap and NASty or just budget but brilliant? Let's take a good look at this brand new NAS.
QNAP TS-230 NAS – Quick Conclusion
As long as you start using the QNAP TS-230 with the mindset that you cannot expect the moon, the QNAP TS-230 is indeed an exceptionally well priced NAS for the hardware you are getting. If you are looking for your first NAS drive for home or to support the data storage needs of friends and family, you are going to struggle to find better than the TS-230 right now. That said, the hardware architecture of the TS-230 does not give you the full range of apps and fluidity that QNAP has on offer in the QTS platform, so so although you can run the majority of it services, understand that this NAS arrives with a glass ceiling somewhere down the line. Recommended for a low-key multimedia server for photos, music and movies (arriving with support of the AI-powered QuMagie app and intelligent indexing tool 'Multimedia Console', fast and effective photo storage or as an additional backup tier to your existing storage strategy.
QNAP TS-230 NAS – Retail Packaging
The external packaging of the TS-230 is something we've seen before from QNAP, but with a bit of a twist. Generally, we always find that the more affordable series from QNAP will arrive with more detailed external packaging. These more affordable NAS devices will often be more likely to be seen in retail high Street outlets and therefore generally require a little bit more presentation on the box for the uninitiated. The TS-230 is no exception.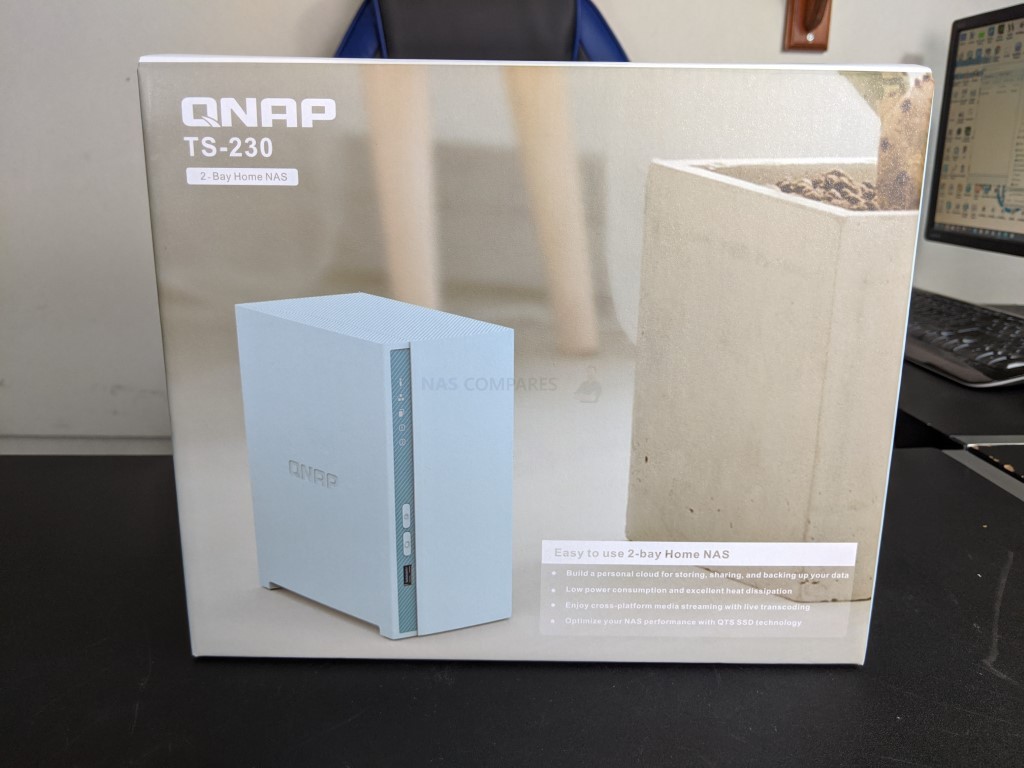 The box is still pretty clear-cut and shows plenty of information about the hardware inside, the specifications in general usage and information about what this NAS can do. Time and time again in this review I will talk about what the TS-230 will be able to perform in your network environment, but bear in mind that the extent to which the NAS can perform these tasks will be centred around the ARM processor and fixed memory, which will present limitations on the depth of how well these apps can run. Still, there is a great deal of scope to what the TS-230 can do and much of this is detailed on that retail packaging.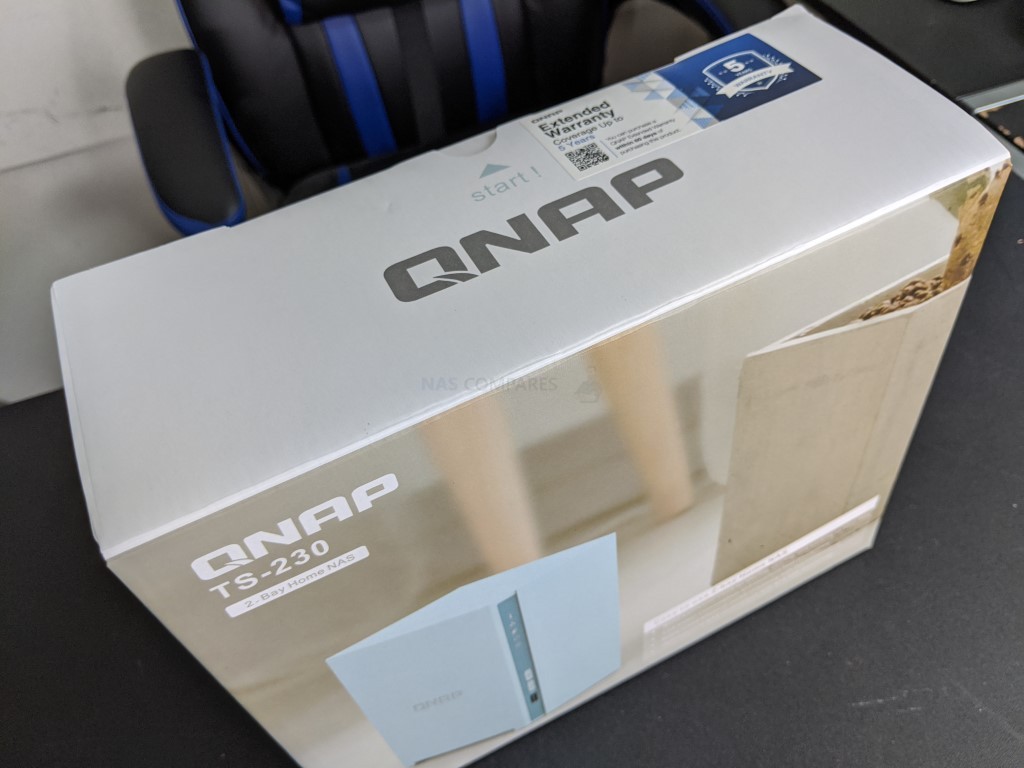 It is a fairly petit container that the TS-230 arrives in and lots of tech photos are garbed on all sides. in fact, for such a Petit container I am surprised that we are getting a 2 bay NAS and accessories all inside. The contents are held in side-profile and are slid out, with the TS-230 at the top.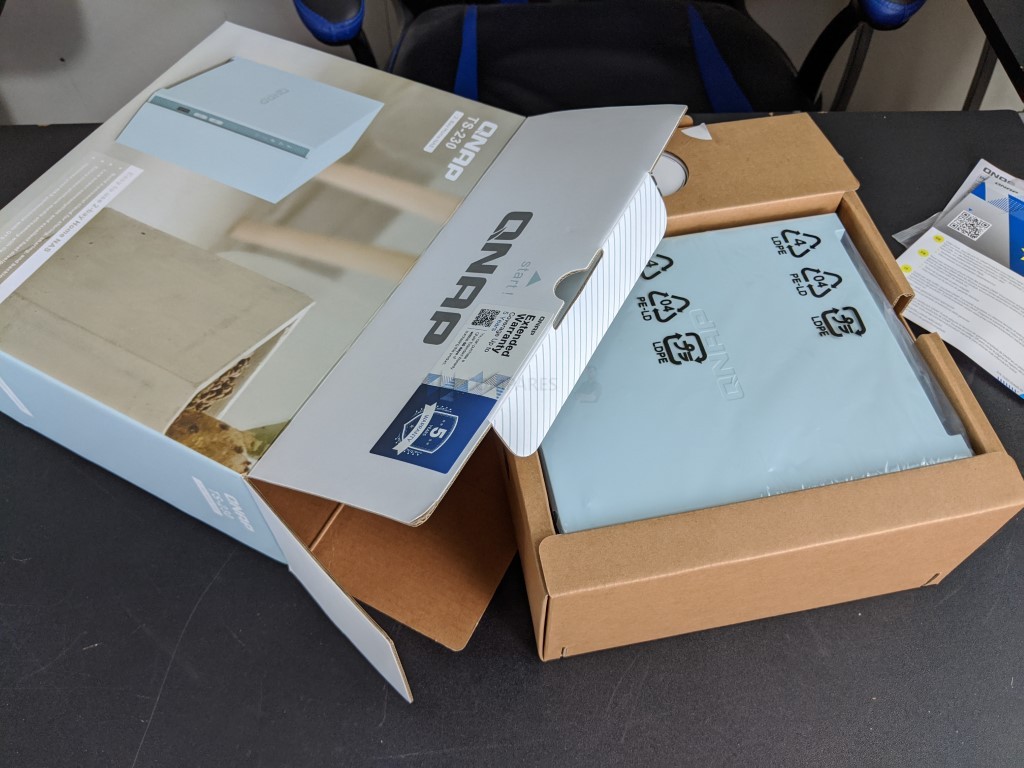 The partitioned cardboard contents of the TS-230 retail kit is surprisingly robust and each part of the contents of this NAS kit are well separated. We are not finding here the same level of skeletal foam that we find in larger and more expensive QNAP NAS, but one can assume that this is geared more towards affordability than it is for suitability for long, long shipping distances.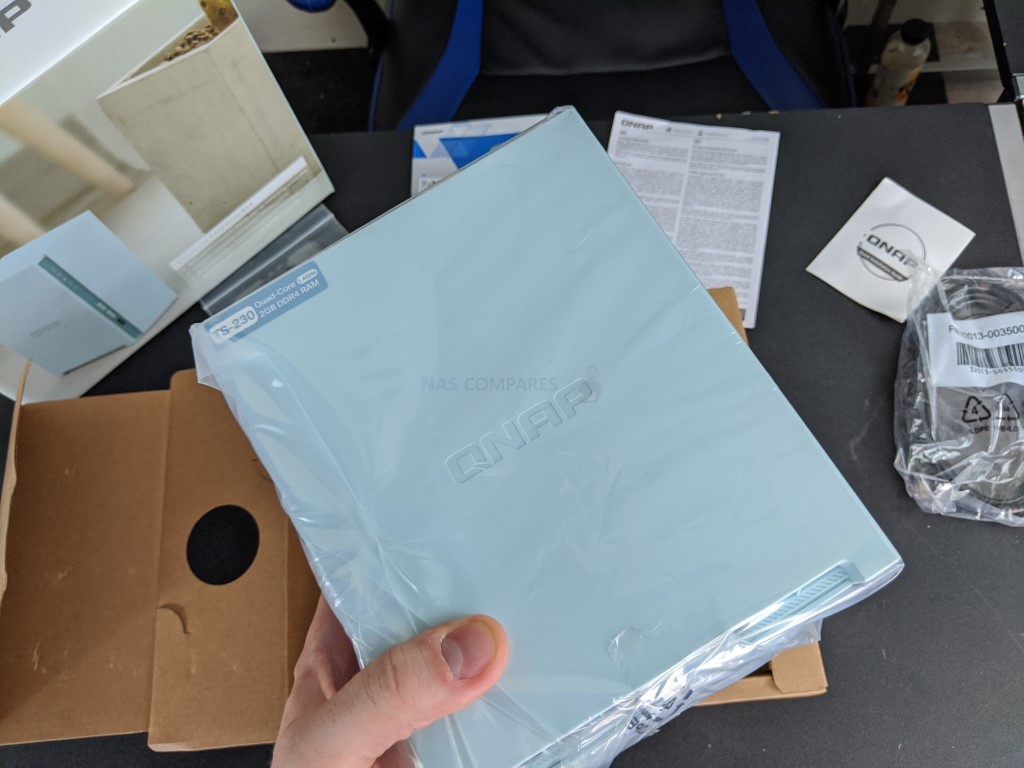 Once the full package is unboxed, we can take a good look at the accessories that are included with the TS-230 nav purchase. These accessories include: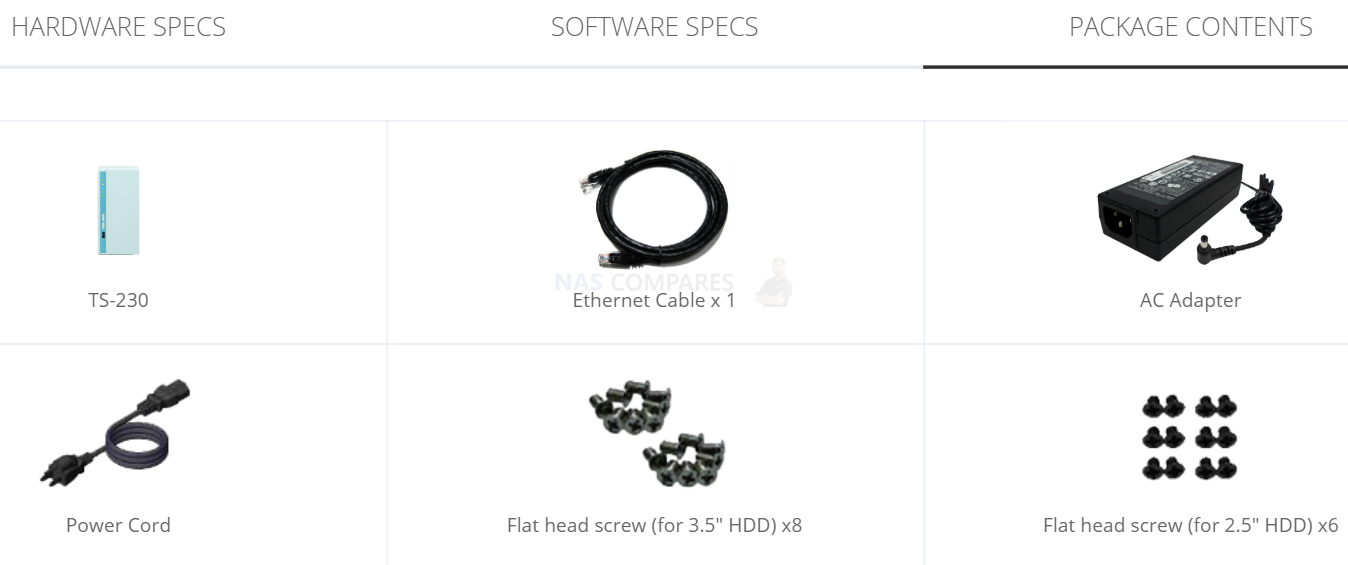 This is all fairly standard stuff and what you would expect in order to begin utilising your NAS server. However, it's worth highlighting that you will still need to purchase at least one hard drive to get things started on this device. Some NAS brands tend to include hard drives with your purchase at an additional cost (Western Digital, Buffalo, etc), but QNAP has never really favoured the pre-populated style of selling their solutions. often you might save a few quid with a NAS with hard drives included, but you do this at the expense of not being able to choose the right storage type or capacity for your needs.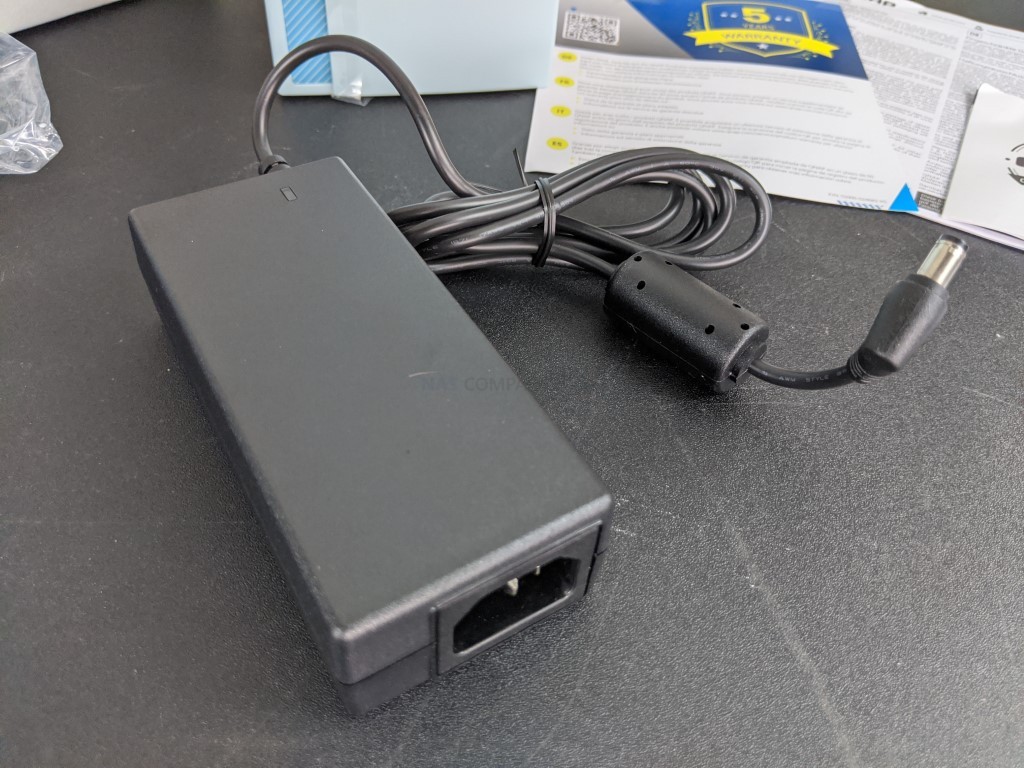 The external power supply of the QNAP TS-230 is remarkably small for what is effectively a microcomputer with network capabilities. Many users are not a huge fan of external PSUs, fearing they are more prone to accidental disconnection. However, I am a big fan of external PSU as not only do they make the arduous task of exchanging a broken PSU down the line considerably easier, but they also ensure lower internal temperatures when your NAS is in operation compared with those servers that have internal PSU.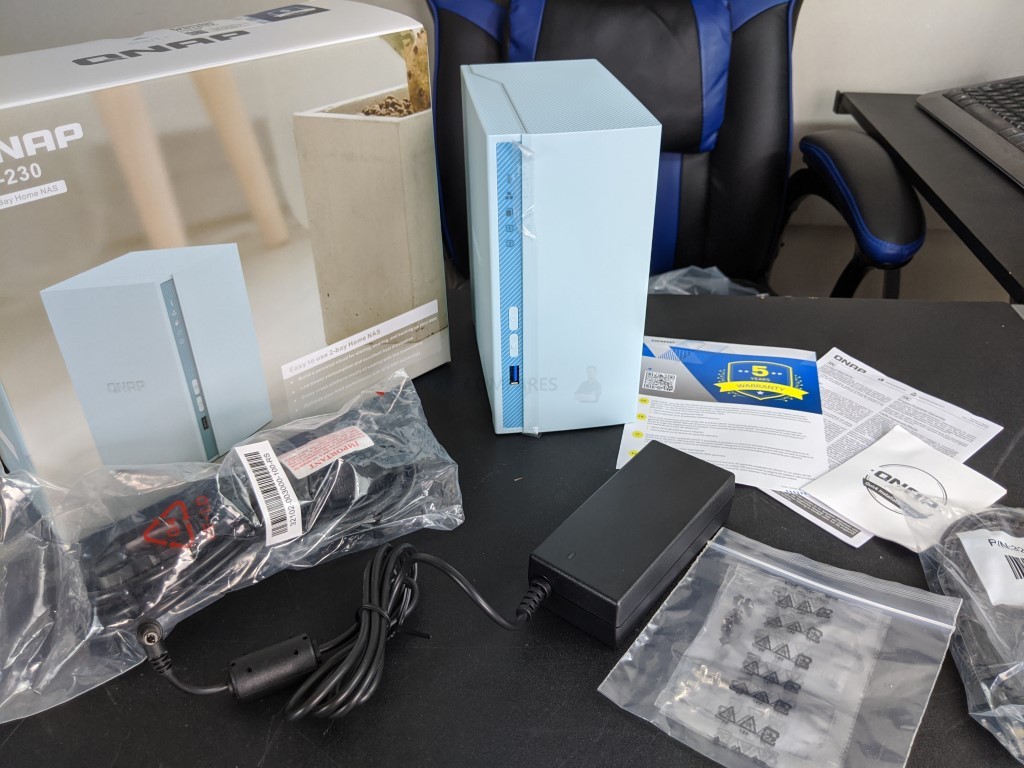 Ultimately, the TS-230 from QNAP seemingly arrived with all the components you are going to need to get things moving on your personal NAS server. Let's take a closer look at that new chassis design from QNAP.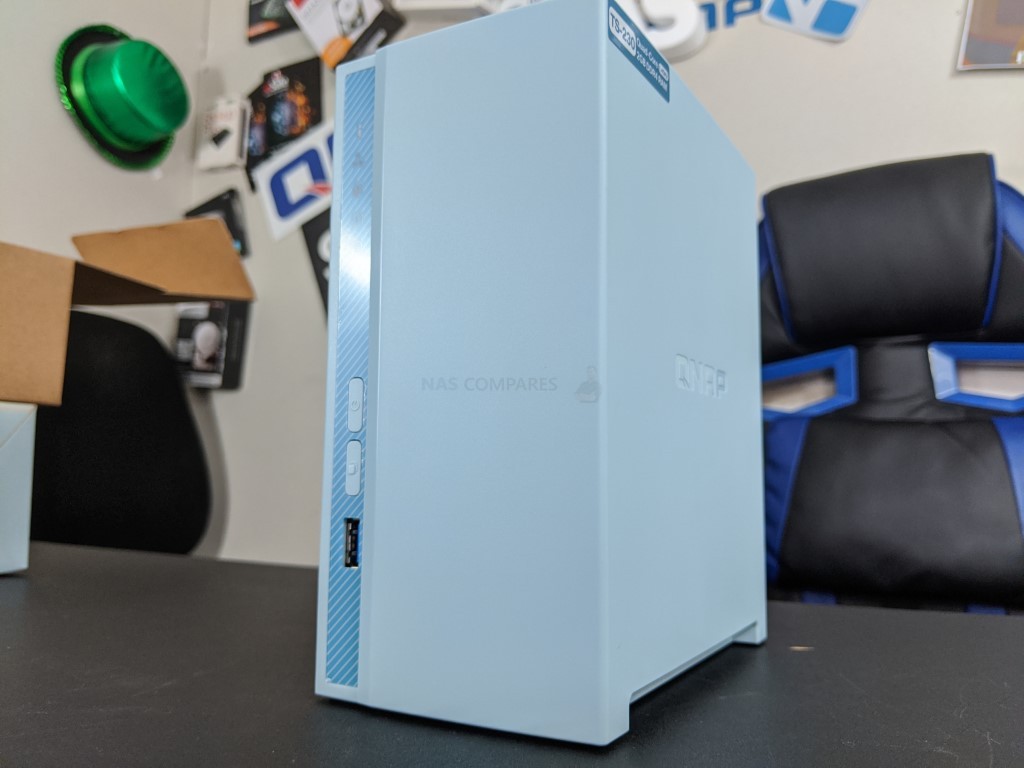 QNAP TS-230 NAS – Chassis Design
The chassis design of the new TS-230 is similar to that of the TS-228A. Although in this new NAS, we find a pale blue plastic external casing that utilizes a more vertical profile than the majority of others that use a horizontal Drive injection method. In fact, for a two-drive NAS, this could easily be one of the smallest desktop private servers I have seen in all my years of NAS. Despite its small stature, it manages to include pretty much all of the design and functionality towards typical use and passive cooling that you would find on most desktop NAS devices, all whilst arriving at 18.8 × 9.1 × 15.6 cm in size (unboxed and standing tall)
There is no LCD panel available to give you real-time information about your NAS at a casual glance, with the TS-230 favouring the use of multiple LEDs that denote system power, access, drive activity and status. These are largely for brief indicators of the system whilst in use and aside from being a three colour notification system, are pretty discrete and maybe a bit 'blah'. Though these LEDs can also be increased and decreased in their brightness from the system software.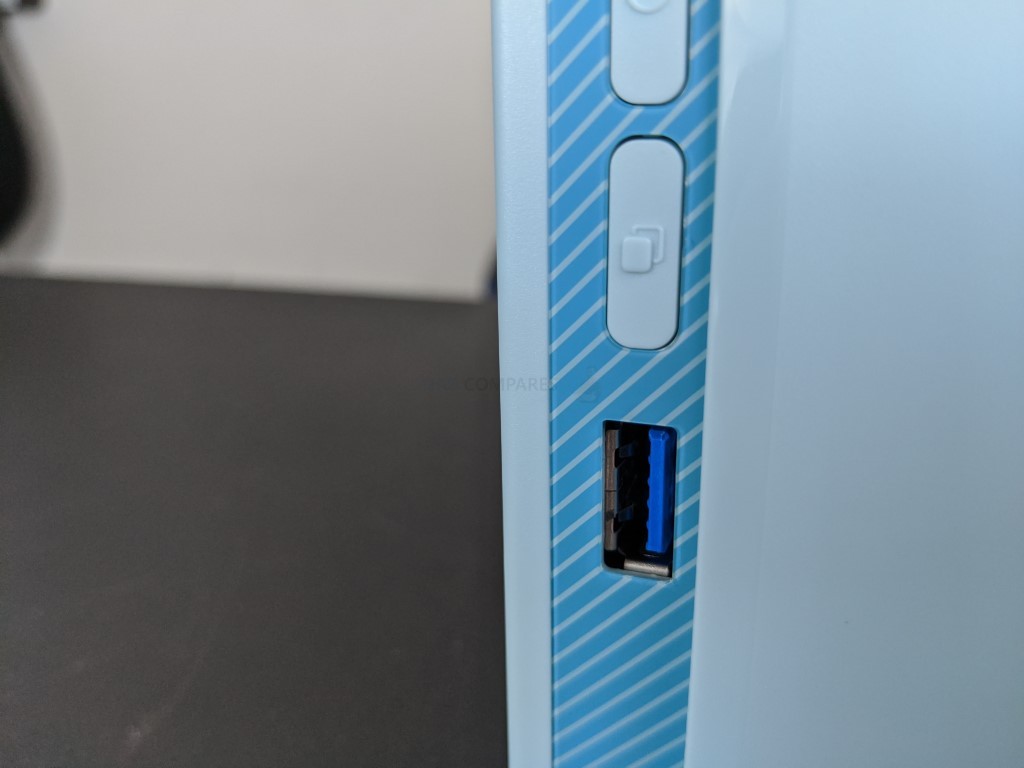 One feature small extra that the budget TS-230 NAS and other mid-range NAS drive feature is the inclusion of a one-touch USB copy port and button. This port allowance users to backup and sync data on USB drives to the NAS, or vice-a-versa. Although more of an old feature, this is still popular among users who want to add an additional layer to their backup strategy or frequently use USB flash drives or external hard drives in their professional or scholastic lives. Data on these USB drives or NAS that you want to mirror/clone/sync at a single click can be backed up in numerous ways at the touch of a button. Popular utilizations are:
Backing up the entire contents of a drive to mirror sync a folder on the source drive
Backing up only files that have changed on the source drive with the target, also known as differential backups
Version backups that will create a complete backup of the source drive into new target folders each time
Synchronising both the target and The source drives to be identical with each click
This is a fairly rudimentary and simple procedure, but exceptionally useful for those on the go. Of course, you do not need to rely on a physical button and can even preset the device to action one of these backup routines when a certain USB Drive is connected to a certain USB port as you see fit.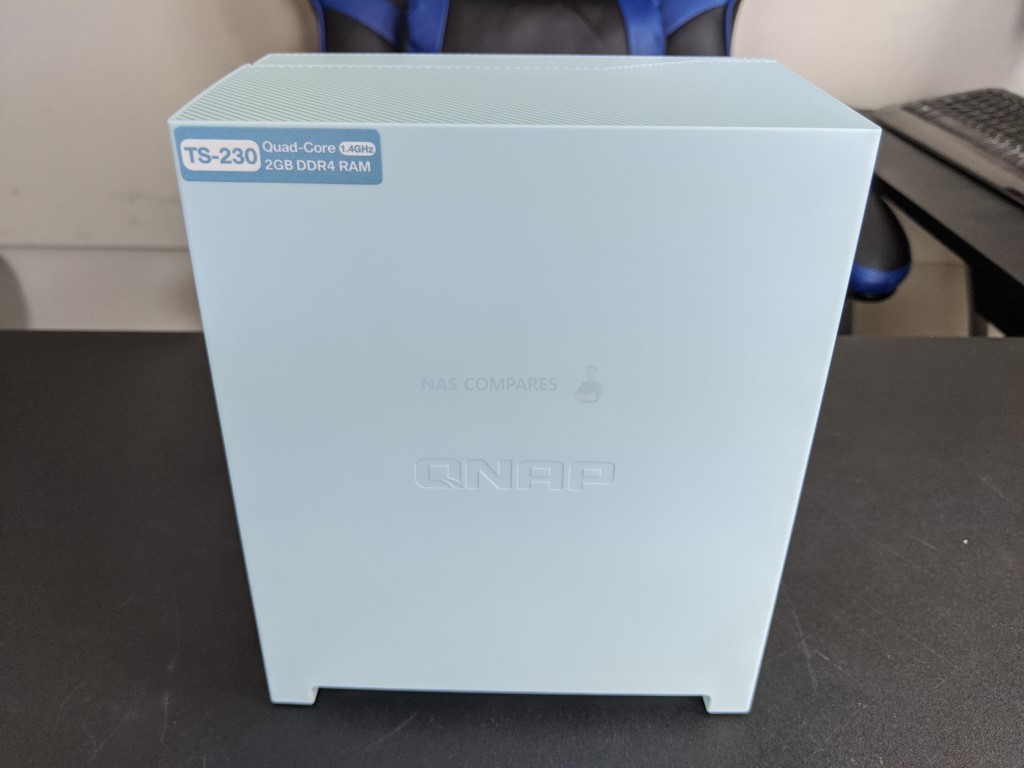 The sides of this TS-230 NAS are embossed with the QNAP logo, though not ventilated as you find in the often compared Synology DS220j, Though it does feature additional ventilation at the base of these side panels of the chassis. This airflow is assisted by an internal fan that we will touch on later on.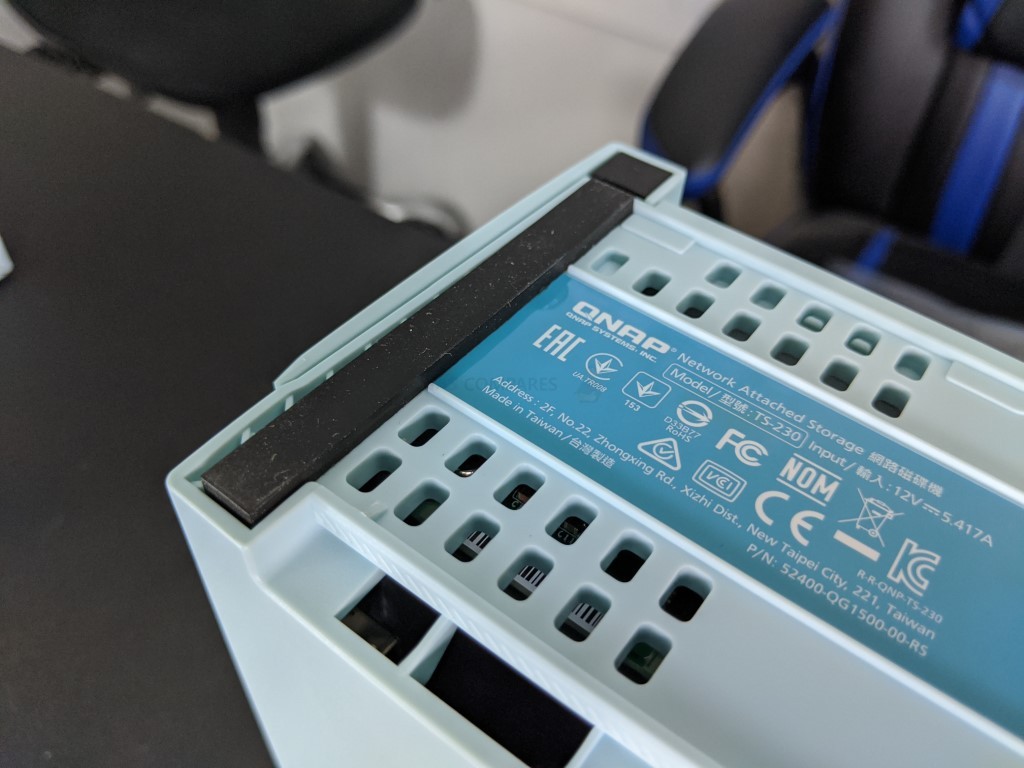 The base of this device includes a fraction more ventilation but is largely where we find the means to unlock this chassis and get access to SATA media bays and the internal hardware.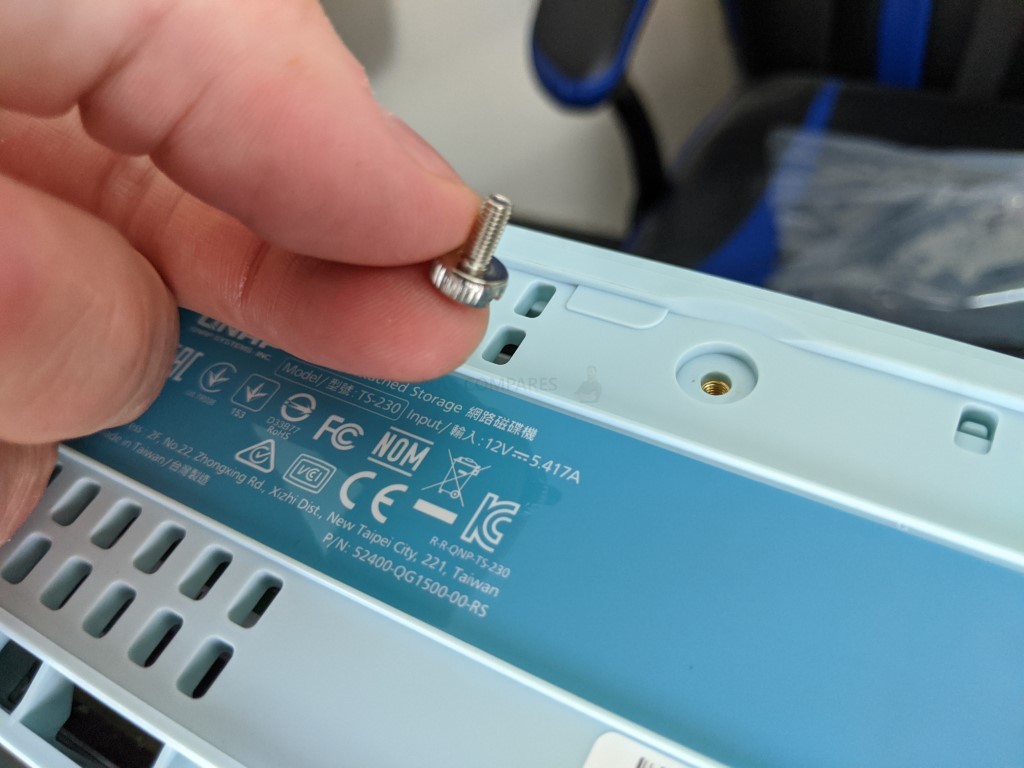 Overall, this is a rather understated design from QNAP in the TS-230 and despite the quirky light blue chassis design colour, it is a fairly universally neutral design that makes a very good balance on understated stature and compact design. But what about connectivity and how it will connect with your existing hardware? Let's discuss.
QNAP TS-230 NAS – Ports and Connections
Given the affordability of the new TS-230 NAS, as well as the fact this new personal server arrives with a more affordable ARM processor, the available ports and connections are simple and fairly standard. For a start, you will not find any of the flagship HDMI or 2.5Gbe ports on this budget solution – you are very much getting the standard class of connections on this device.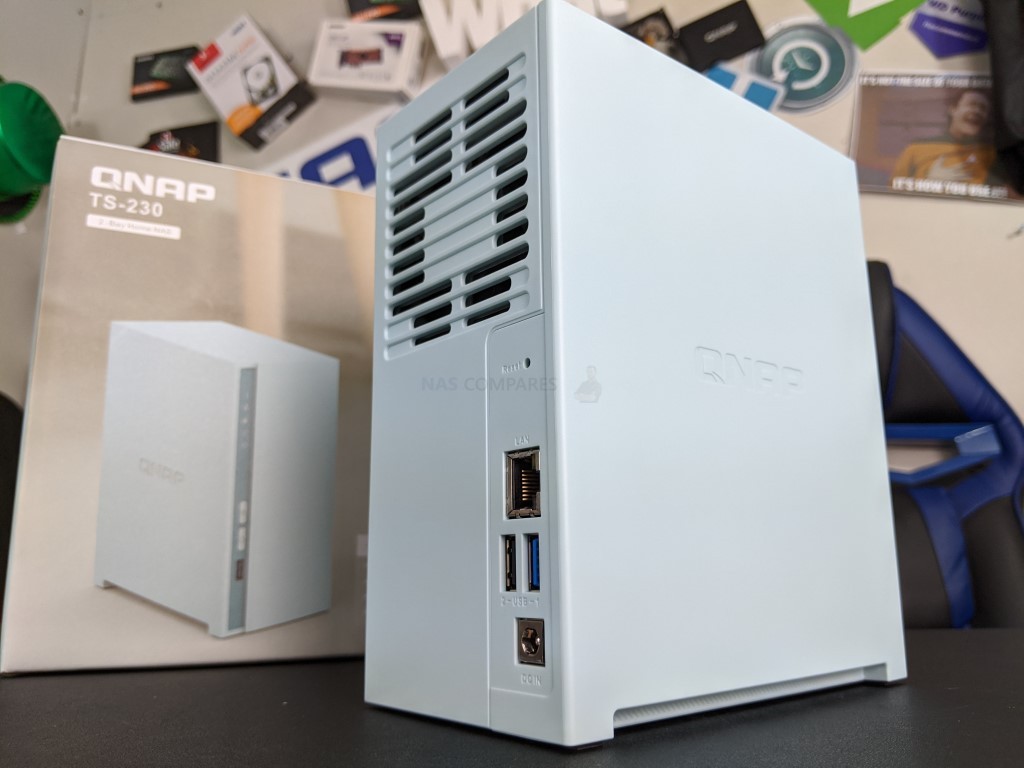 The rear of the device features a horizontal slit ventilation hole, that covers the 8 cm internal rotating fan that can be adjusted manually or automatically for increased cooling or decreased noise whilst the device is in operation. The TS-230 is not what a huge device and aside from the internal fan, has no internal moving parts, so generally, noise will only be generated by this internal fan and the clicks and whurs of hard drive media that you install inside. A single active cooling fan on a 2-bay NAS device is fairly standard, though this device does seem to feature a fraction less passive cooling ventilation than other devices.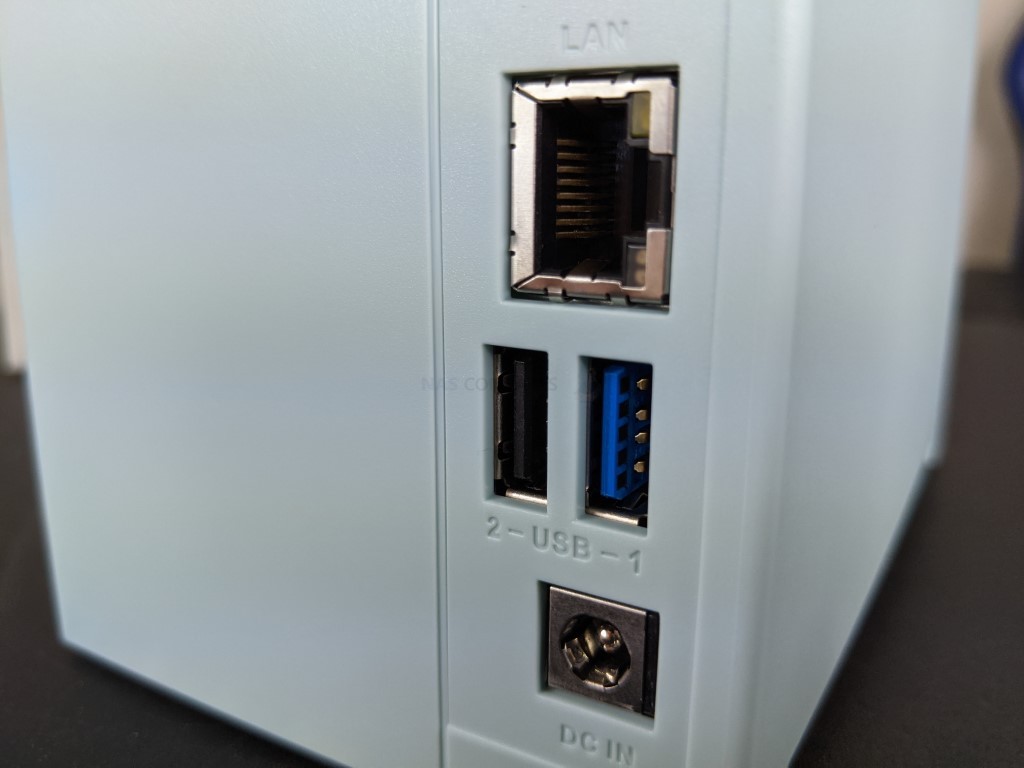 Another thing that QNAP has always been quite famous for that is sadly absent in the TS-230 due to reasons of economy, is more impressive external connection options than USB 2.0. Typically when a QNAP NAS arrives with USB 2.0 ports, these are used for peripheral and control devices in conjunction with an HDMI port and HD station. Sadly this is not the case with the TS-230, that lacks any kind of KVM support. the front-mounted one-touch copy port is indeed USB 3.0 and allows up to 5 Gbp (up to 500MB/s) connectivity with external drives. but theis USB 2.0 port is not much use for external storage in 2020, given the size of modern data and the low bandwidth and potential throughput that USB 2.0 has is limited to just 480 megabits (so 48MB/s). You can still use these ports for supported compatible USB devices, such as wireless adaptors and making non-network devices discoverable over the network (printers, scanners, UPS', etc), but that is about it.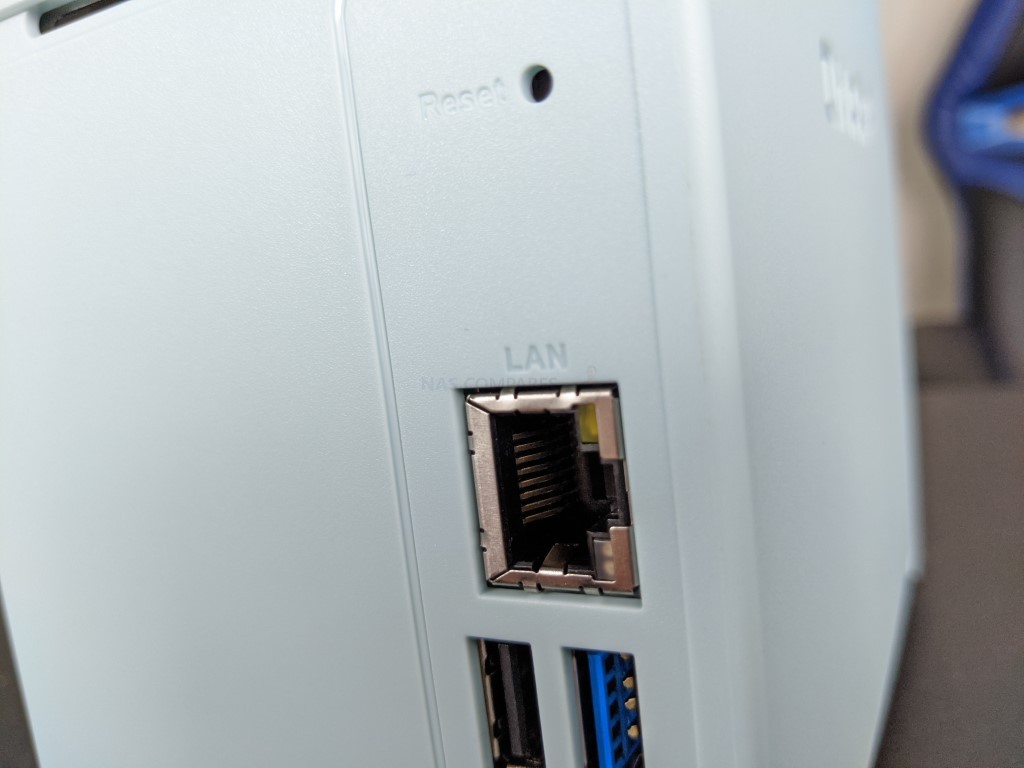 Another area where the economy of this 2020 series NAS makes it subservient to more modern series (such as the TS-251D and TS-253D) is the inclusion of a single 1Gbe LAN Port. The performance possible with the Realtek RTD1296 1.4Ghz (4 core) ARM processor inside this device likely presents enough of a bottleneck outside of 1Gbe that it is understandable that the TS-230 only features a single one-gigabit ethernet LAN connection, so this can partially be justified. Additionally, the TS-230 is not geared towards prosumers or those with more evolved network environments in their home or small business. The TS-230 is more specifically tailored towards single users or those that want to enjoy multimedia in their home from a handful of devices. plus low key 4K multimedia playback and native transcoding are possible on this device (taking a sizable dent in the available hardware, however) but until more domestic multimedia devices like your TV or Amazon fire stick start supporting + gigabit network, the TS-230 can get by on 1Gbe RJ45 for a while yet.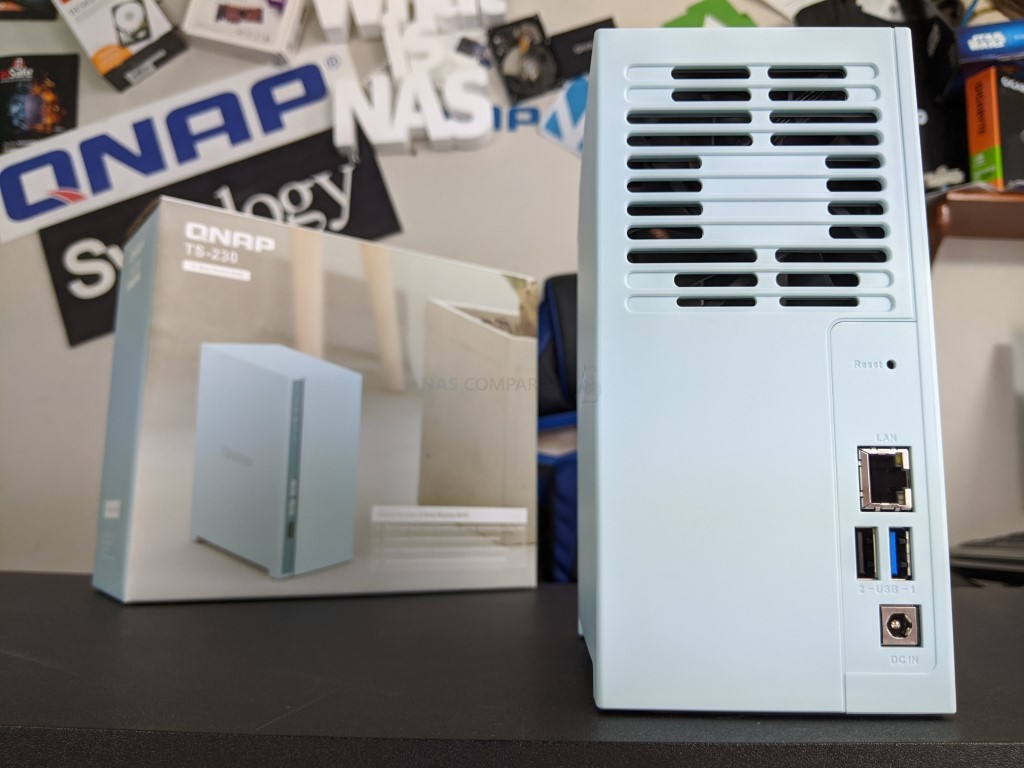 Overall what we find is that the connectivity options of the QNAP TS-230 are functional, if a tad rudimentary. Certainly a decent level of support at this price point, but hardly what most people would call truly futureproof or will knock and end-users socks off. But what about the internal hardware?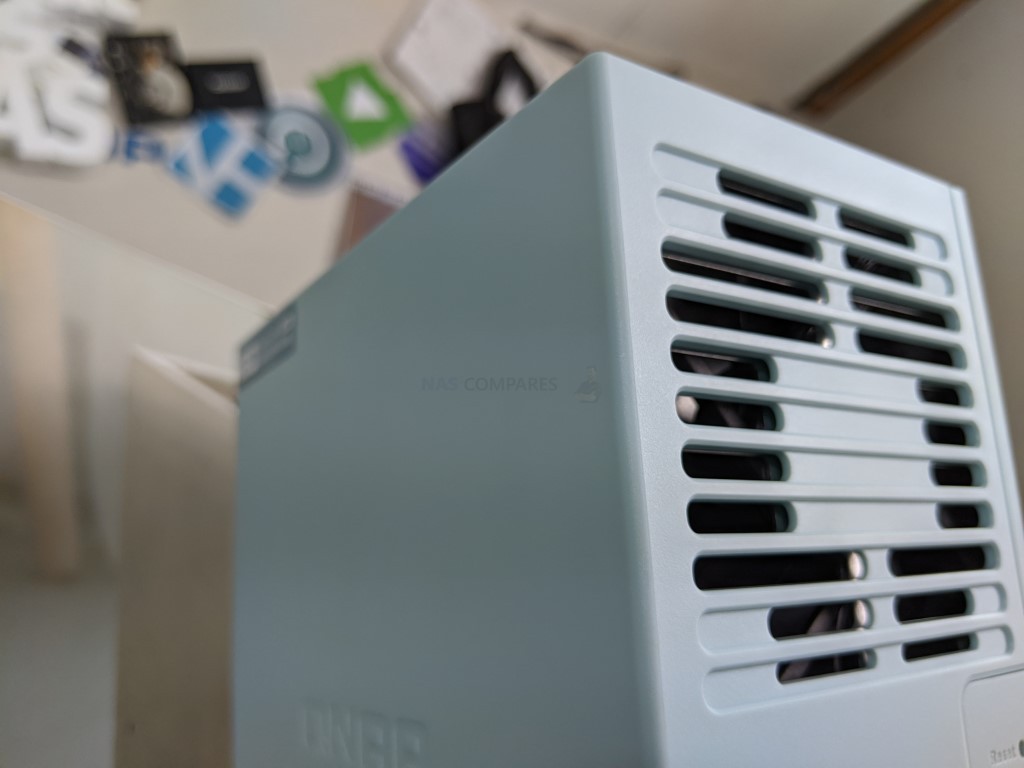 QNAP TS-230 NAS – Internal Hardware
Removing the base of thumb screw we are able to remove part of the external chassis of the TS-230 NAS, in order to access the SATA multimedia bays and populate this device.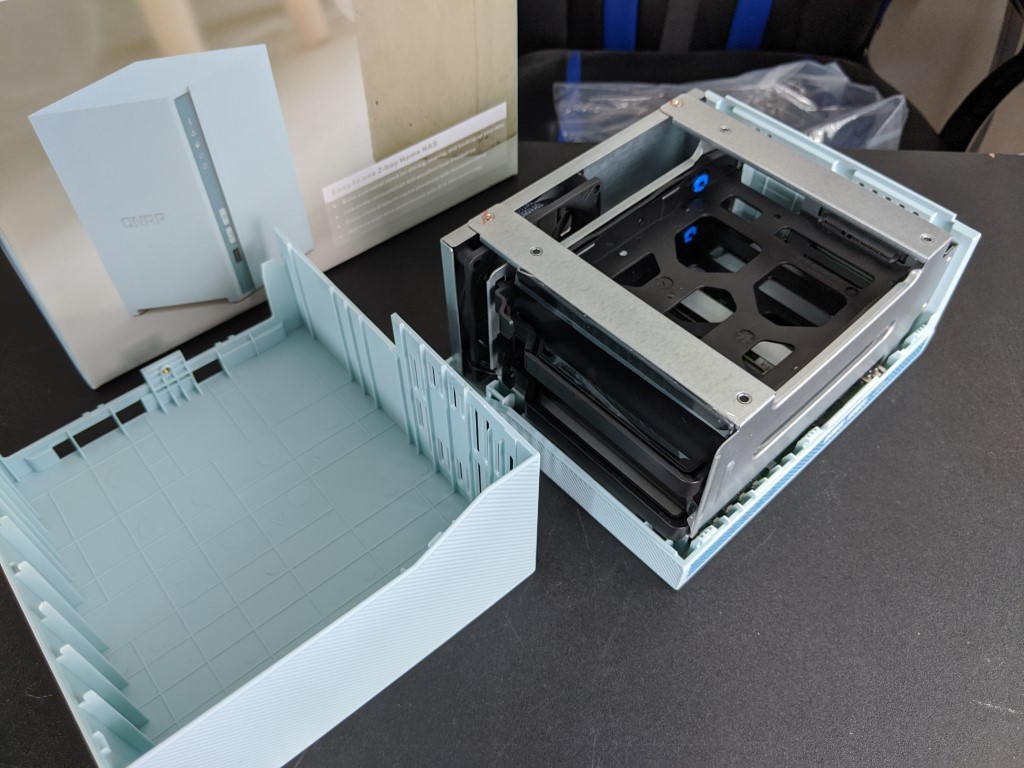 Removing this one screw allows you to slide off half of the outer casing and you are able to see the twin SATA 6 Gbs media bays for hard drives and SSD installation, as well as that active cooling fan and bass vents.
The SATA bays themselves include both the SATA data and power connector combined on the PCB, which means no fiddling around with power cables as you would find in a desktop PC. The TS-230 can function fully populated with a hard drive or SSD in either bay, as well as functions with a single hard drive installed on day one. Thanks to more modern and much larger hard drives, such as the Seagate ironwolf 16TB NAS hard drive, the TS-230 as a potential 32 Terabytes of storage possible in a RAID 0 environment, or 16 Terabyte in a RAID 1. Alternatively, you can install SSDs, which are a great deal faster, but arrived at a lower overall capacity of a current commercial standard of around 4 TB. Solid-state drives inside the QNAP TS-230 maybe a bit of a waste, given the possible performance bottleneck present in the CPU and memory inside this device (and that 1Gbe). These two components are still quite efficient and certainly excellent value you at this price point, but you will not see investment in solid-state drives be returned if installed inside the TS-230.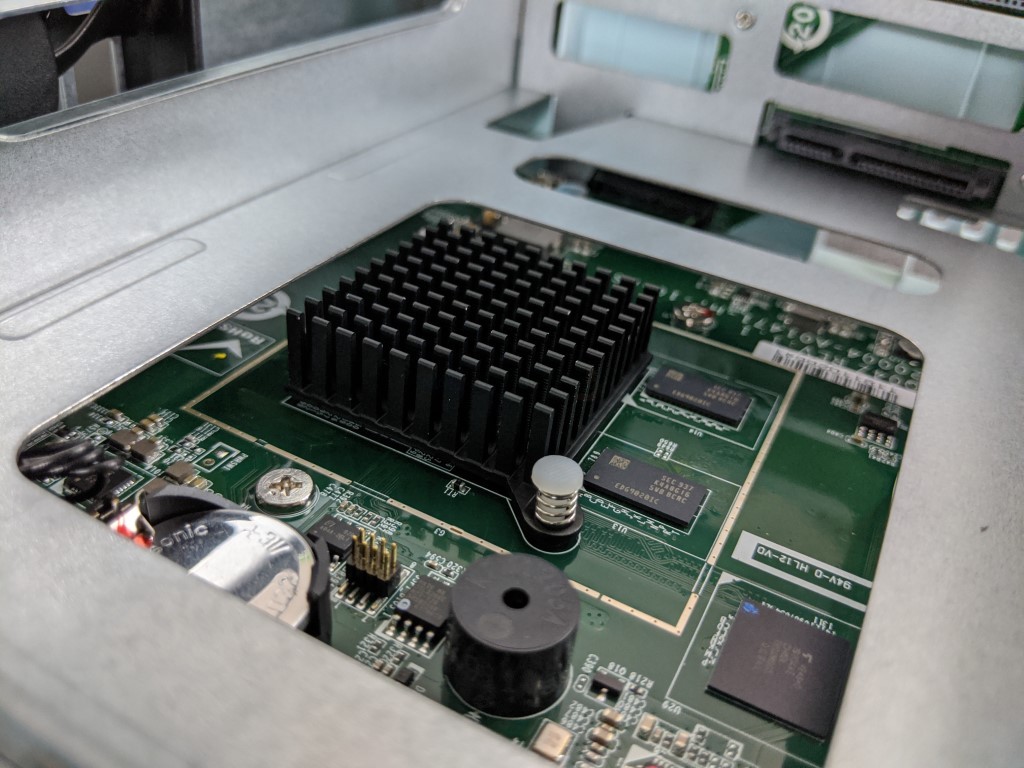 The CPU and memory of any NAS drive can often make up the bulk of the price of a NAS. Sure, there are a bunch of other factors that you need to bear in mind of course to get the right solution for you, but a tonne of storage and fast connections is not going to be much use if the internal processor and RAM can't move the data fast enough or in a way best suited to the file type. The TS-230 features a 64bit architecture (closing the gap a little between mobile targetted processors and x86 processors from AMD and Intel) in its ARM-based processor. The Realtek RTD1296 has been used in NAS servers for a couple of years now too to resounding success for the most part, allowing more budget-focused buyers to do more with their data.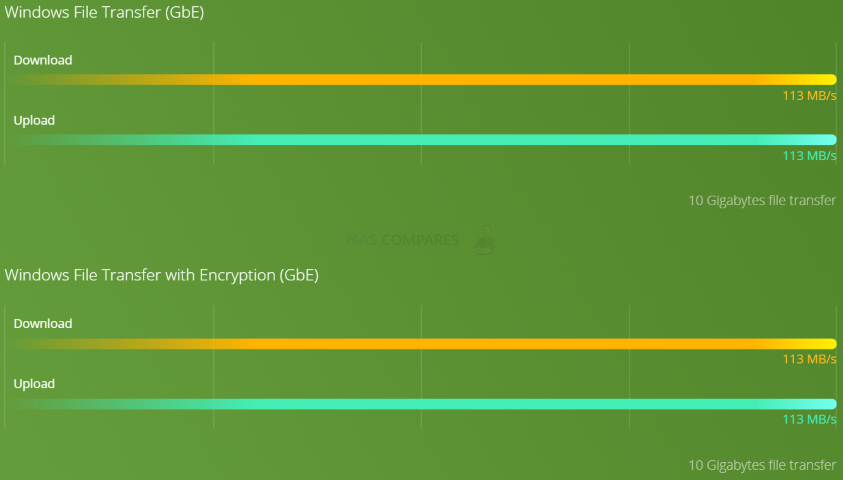 This quad-core 1.4 GHz processor allows you to use a number of first and third-party applications, despite it's more cost-effective nature. It also allows the system to utilise the higher frequency DDR4 memory modules which increase speed and efficiency over DDR3 in the previous generation by a good 10 to 20% at the very least. Additionally, I am pleased to say that the TS-230 arrived with 2 Gigabytes of DDR4 memory, twice the amount generally found in other affordable NAS systems (as well as 4x the amount in the Synology DS220j, this device's main rival that we discussed in this comparison) at this price point.
Although that memory cannot be expanded, it is still a decent enough amount of memory re4 for buyers looking to make the most from their money. Unlike a modern PC, the internal CPU, memory and network connections cannot be upgraded in the lifespan of this device, so if you are looking to save a few quid in the QNAP TS-230 compared with more established specification devices in their range, remember that it does kinda arrive with a glass ceiling attached. However, a NAS device is more than just typical hardware specifications and the TS-230, much like any other modern NAS drive, is purchased as a complete storage solution involving hardware and software capabilities. so let's take a look at what the TS-230 can do in the QNAP QTS platform, and to what extent it can do it.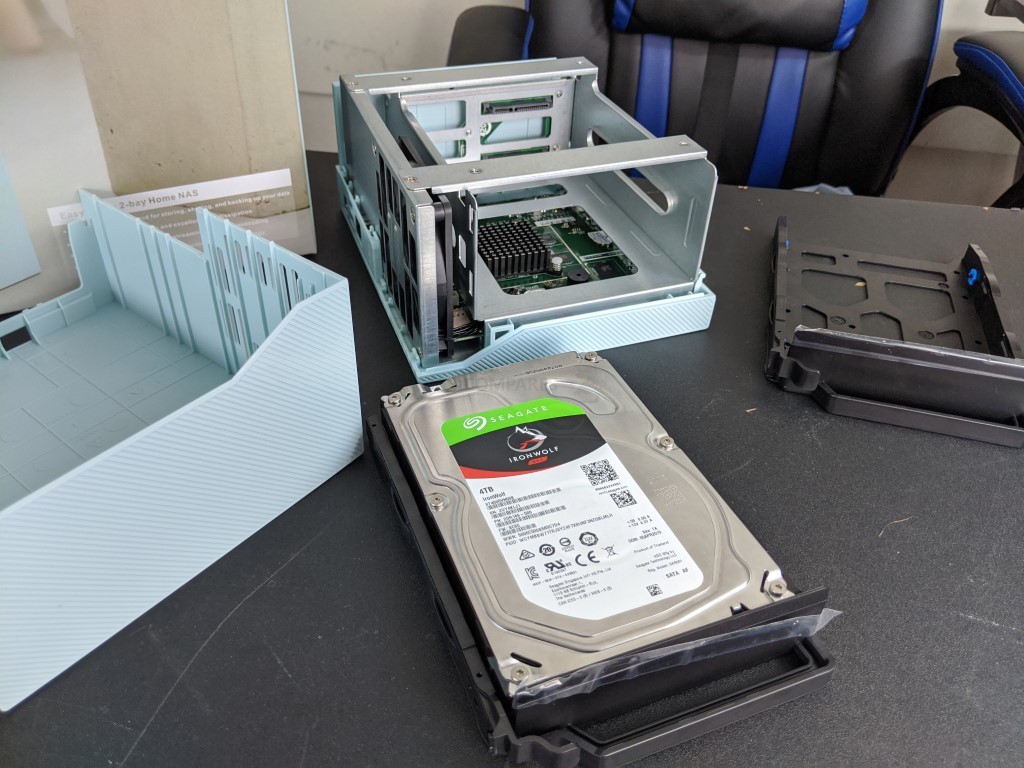 QNAP TS-230 NAS – Software
I have rather laboured the point about the internal hardware of the TS-230, but this is mostly because many users will not understand the difference between power and capability, and this is very often an area where a buyer will fall into the tricky area of Budget Vs Cheap. I believe that this NAS falls into the category of Budget, not cheap – but let me explain. The QNAP TS-230 is more than just hardware and arrives with the QTS 4.4.2 NAS software. This software is included in the price of the TS-230 and is easily one of the best user interfaces and operating systems that are available for those users in both home and business circles. it is important to understand that when you buy the TS-230 server (or indeed any QNAP NAS), it arrives with the QTS software platform, with constant updates and hundreds of applications included. These are all tested and maintained 1st party QNAP apps and 3rd party applications. This is further improved with desktop client programs for PC/Mac and mobile applications for iOS and Android – ALL INCLUDED and downloadable at any time. The TS-230 can perform most modern applications that you would want from a modern NAS, such as:
QNAP QTS 4.4.1 File Highlights
File Station
QSirch
QFiling
SSD Caching
QTier
Lite Microsoft Active Directory Support (supported in a greater and more fluid degree on bigger NAS systems)
Access-Anywhere with myQNAPcloud
Qsync for multiple hardware environment backups and Sync
Key Applications on the QNAP TS-230
Hybrid Backup Sync 3 – Allows you to Backup and Sync with Amazon Glacier, Amazon S3, Azure Storage, Google Cloud Storage, HKT Object Storage, OpenStack Swift, WebDAV, Alibaba Cloud, Amazon Drive, Amazon S3, BackBlaze B2, Box, Dropbox, OneDrive, Google Drive, HiDrive, hubiC, OneDrive, OneDrive For Business, ShareFile and Yandex Disk. As well as backup to another NAS over real-time remote replication (RTRR) and USB connected media. All scheduled and all accessible via a single app user interface.
QuMagie – Facial and Thing recognition application to help you retrieve, tag and catalogue photos by its use of AI to actually 'view' all your years of photos and let you search by the contents of them, not the file names.
Multimedia Console – one portal access point to manage media access, searching, indexing and transcoding on your NAS device.
Photo, Video and Music Station – Multiple file type tailored applications to access data in the best possible way that is suited to their output – along with smart searching, playlists and sharing
Surveillance Station – Surveillance applications that allow you to connect multiple IP cameras and IP speaks to your network and manage them with the applications. Arriving with 4 camera licenses for Surveillance Station
Download Station – A download management tool that can handle HTTP, BT, FTP and NZB files in bulk to be downloaded to your NAS drive and keep safe. As well as keeping an eye on your RSS feeds and keeping your podcast downloads automatically updated with every episode
Malware Removers and Security Councillor – Along with Anti Virus software trials on the app centre, QNAP also provide numerous anti-intrusion tools and even a whole app interface to monitor in/outgoing transmissions with your NAS. It can make recommendations to beef up your security and keep you safe.
Mobile Applications for iOS and Android
Qfile – File manager
QPhoto – Photo Manager
QVideo – Video Manager
QMusic – Music Manager
QNotes – Central note-taking app, for collaboration between users
Full list here – https://www.QNAP.com/en-uk/mobile-apps/TS-230?category=productivity
Whatever way you look at it, the QNAP TS-230 NAS provides an extensive degree of software and hardware support for those starting out in the fields of NAS, as well as providing a solid base of operations for more experienced NAS users who are looking for an affordable, yet powerful network solution. It should be mentioned however that the CPU is still lacking enough to carry extensive operations involving virtual machines and 4K transcoding via a Plex media server (other than a low level 1080p and 720p bitrate/compression). If those are your main needs, then you should look at the TS-X53D and TS-X51D range, as they arrive with higher tier Intel Processors that feature integrated graphics and a far superior architecture.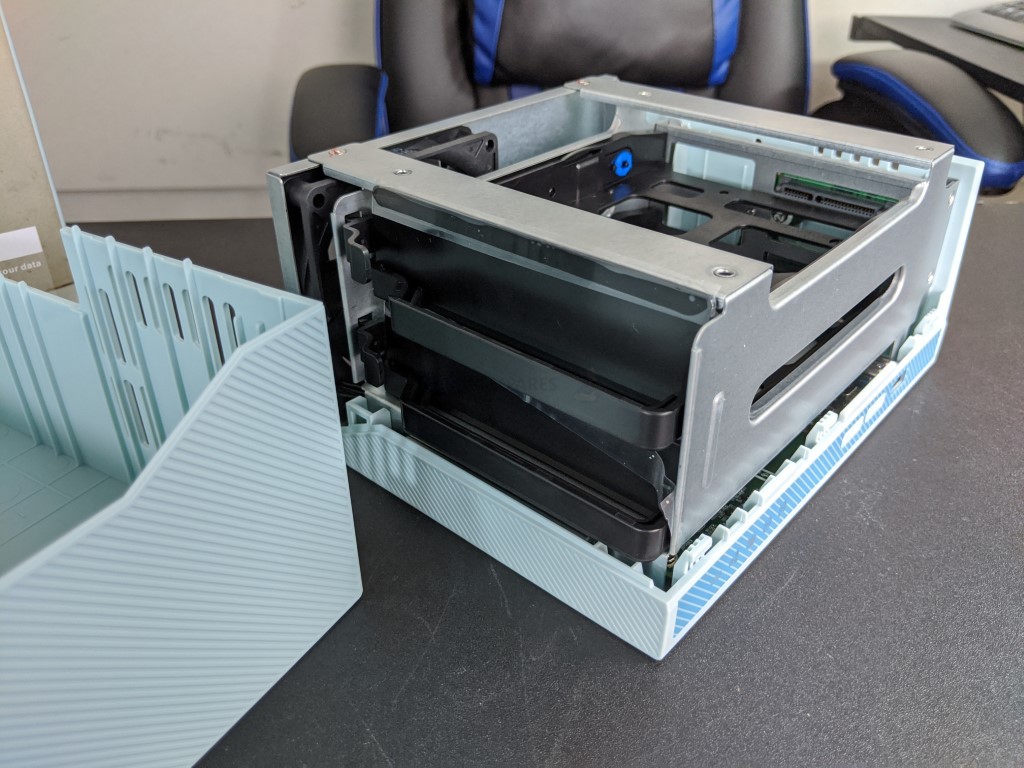 QNAP TS-230 NAS – Review Conclusion
As I have said (what feels like 50x now) the TS-230 NAS from QNAP is a budget solution for a budget NAS buyer, and although you are getting exceptional value on this device and a good base of operations for 1-5 regular network users, you have to keep your expectations of this NAS realistic. A lot of what makes the hardware and software reputation of QNAP NAS as a brand is only partially present here and although it provides an excellent base to enjoy the more standard QNAP applications of music, photo Video, download, mail and surveillance station, you are going to see limitations in more advanced and graphically demanding NAS tasks.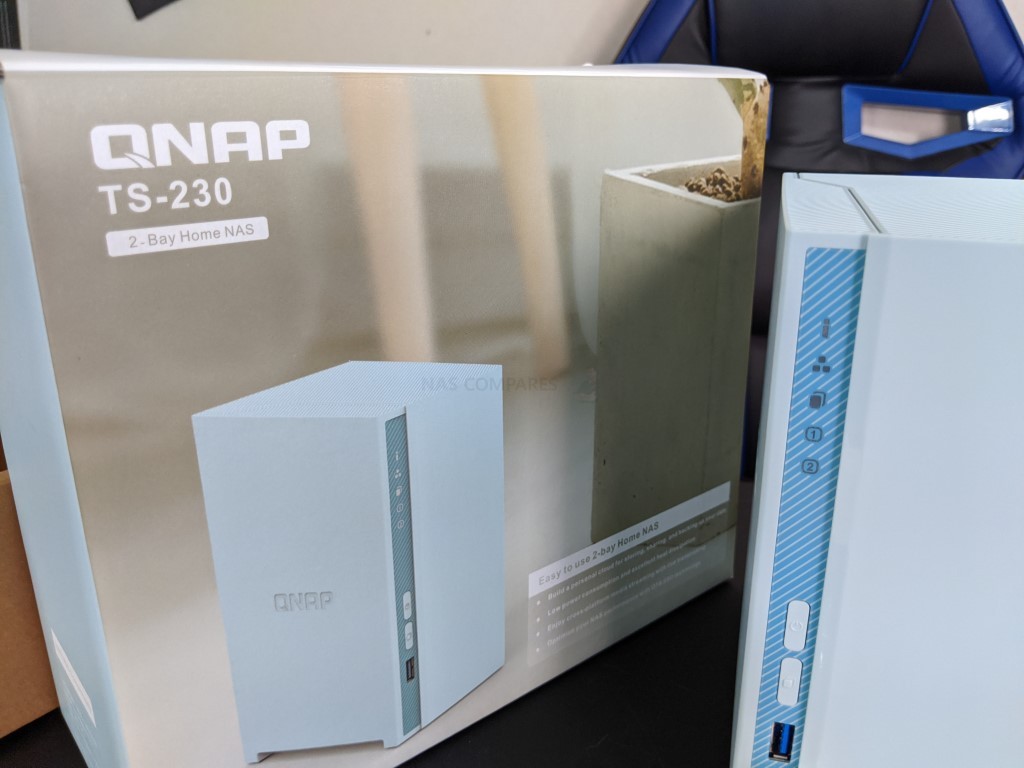 That said if you are looking for a dependable and affordable photo backup device, as well as accessing a multi-tiered backup solution that includes ai-powered photo recognition as a bonus – this is a great little NAS to get started with. However, those are looking at Plex media server NAS solutions may find the TS-230 somewhat underwhelming, as it's CPU does not give enough umpf to hit the more complex multimedia formats and resolutions. Overall all this is a good NAS that won't knock your socks off, but will keep your feet grounded!
What the TS-230 can do:
4K Playback
AI Photo Recognition
DLNA Support
Apple TIme Machine Support
Affordable HD Plex Media Server Use
Surveillance including 4 camera licences and supporting 10-12 cameras at once
iTunes Server
Snapshot Support (previously the memory requirement was 4GB, but now reduced to 1GB)
email server
Download server (FTP, HTTP, BT,NZB)
CMS and CRM systems
Office applications
Media Center support
and more
What the TS-230 cannot do:
Virtualisation and VM hosting
Kodi/XMBC
QVR Pro Surveillance
3rd Party Transcoding
📧 LET ME KNOW ABOUT NEW POSTS 🔔
Join 1,410 other subscribers
Get an alert every time something gets added to this specific article!
This description contains links to Amazon. These links will take you to some of the products mentioned in today's content. As an Amazon Associate, I earn from qualifying purchases. Visit the NASCompares Deal Finder to find the best place to buy this device in your region, based on Service, Support and Reputation - Just Search for your NAS Drive in the Box Below
Need Advice on Data Storage from an Expert?
We want to keep the free advice on NASCompares FREE for as long as we can. Since this service started back in Jan '18, We have helped hundreds of users every month solve their storage woes, but we can only continue to do this with your support. So please do choose to buy at Amazon US and Amazon UK on the articles when buying to provide advert revenue support or to donate/support the site below.

Finally, for free advice about your setup, j
ust leave a message in the comments below here at NASCompares.com and we will get back to you.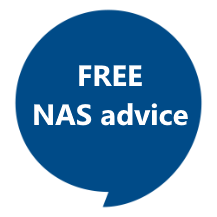 Need Help?
Where possible (and where appropriate) please provide as much information about your requirements, as then I can arrange the best answer and solution to your needs. Do not worry about your e-mail address being required, it will NOT be used in a mailing list and will NOT be used in any way other than to respond to your enquiry.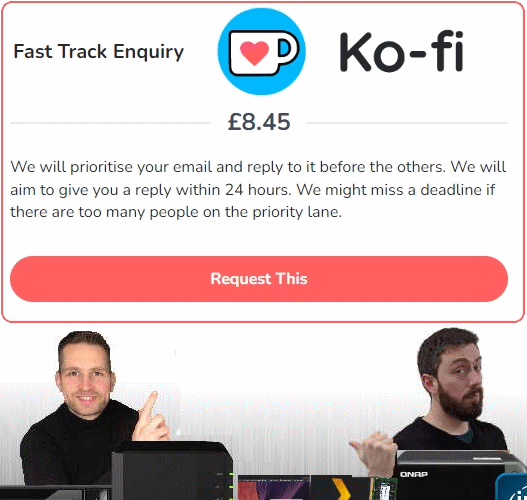 Terms and Conditions
Alternatively, why not ask me on the
ASK NASCompares forum
, by clicking the button below. This is a community hub that serves as a place that I can answer your question, chew the fat, share new release information and even get corrections posted. I will always get around to answering ALL queries, but as a one-man operation, I cannot promise speed! So by sharing your query in the
ASK NASCompares
section below, you can get a better range of solutions and suggestions, alongside my own.
Summary
Reviewer
Review Date
Reviewed Item
QNAP TS-230 NAS Hardware Review
Author Rating