Budget NAS is actually quite big business. Although there are many expensive or overpowered NAS drives out there, there is still a big demand for low end and modestly powered network. Whether this is because of emptier wallets or because of the 24×7 nature of NAS, big brands like Synology and QNAP make yearly efforts to release cost-effective and low price devices. Although not exactly earth-shattering, they give end users a good taste of their software and brand, whilst still producing a product that will provide network and internet access to their data in the modern way that NAS provides. The Synology DS220j NAS, releasing at the end of Feb 2020 and the TS-230 QNAP NAS, released any minute now, already appear to be very popular with bargain buyers who have held off investing in a solution till now and without a new range of 2-Bay budget NAS anytime soon, these two NAS drives have continued to be popular all this way into 2020. As you would expect from these top tier NAS makers, both the TS-230 and DS220j will be consistently updated in their lifespan, as well as supporting the latest versions of their respective operating systems (Synology DSM 6.2 and QNAP QTS 4.4.1). Though it is certainly worth noting that they have very different ideas of what their audience wants. As previously observed here on NASCompares, Synology is a brand that has a greater priority given to software, providing typically lower spec CPU and Memory than their likewise QNAP options, getting the very most out of that hardware. Whereas QNAP tend to give more attention to the hardware by comparison and you will often find their internal (and often external) hardware being far more powerful. However, QNAP has really upped their software game in 2020, still arriving with good and fluid software (though not quite as smooth as Synology's, it has to be said) it has evolved into a remarkably useful and intuitive software platform that can be customized in many more ways than their rival. The DS220j and TS-230 very much embody the philosophies of their respective brands and regardless of which one you buy, you will have a very good device that gives you a good bite of what each NAS brand has to offer home and business users. Let's start comparing these NAS drives.
QNAP

TS-230

vs Synology

DS220j

 – Who Is a 2-Bay NAS for?
Ever since the early days of network attach storage being more widely available to home and small business users, the importance of data protection from hardware failure has been paramount. Everything from the pictures of your family that are figuratively AND literally priceless, to the client and business data that your company is built on needs to be protected. In answer to this, a system called a redundant array of independent disks (or RAID) was devised. Although it can also be used to improve performance, it is more often used to allow you to have a safety net in the event of a hard drive breaking. As useful as this is, it means that you need more than one hard drive in operation (to supply sufficient space for the safety net/redundancy) and it's because of this that a 2-Bay NAS is so popular. It gives you the bare minimum levels of RAID (RAID 1, or 'mirror'), as well as a good level of storage space. 2-Bay NAS such as the TS-230 from QNAP and the DS220j from Synology are ideal for those that want:
Those who plan on storing irreplaceable data on the NAS – Photos of family, private events, data deleted from other devices to make room
Client/Business data that needs to be retained for insurance of security reasons
Surveillance NAS use to ensure that recorded data is not lost
in the case of a RAID 0, those looking for combined hard drive storage spaces that are greater than any 1 hard drive. eg 16TB is currently the biggest HDD you can buy. 2x 16TB in a RAID 0 = 1 32TB Storage Space
But RAID 1 in a 2-Bay means you will only have as much space available AT MOST as the biggest drive available, i.e. 2x 10TB HDD in a RAID 1 = 10TB Space Available at most. So make sure you factor this in when considering the capacity you need in TeraBytes.
Synology DS220j vs QNAP TS-230 – Specifications
One look below will show how the Synology DS220j and QNAP TS-230 NAS feature exactly the same CPU, same compact chassis and the same streamlined, compact but functional design. This is a common occurrence when comparing likewise QNAP and Synology NAS. However, in terms of hardware, there is a very important difference between them, in the form of available Memory. The DS220j arrives with a rather surprising 512GB of memory, whereas the TS-230 arrives with four times as much, with 2GB (2000+MB). This is quite an important difference, as memory/RAM is what the system needs to be able to support more users and more tasks at any time. Larger tasks that this 64bit Realtek ARM Process SHOULD be able to do, will not be possible with 512MB memory. That said, both platforms have great software, with many first-party apps, as well as the support of 3rd party client apps on your Windows, Mac, iOS or Android systems. It is just that there are a number of key brand applications and features (such as BTRFS, Containers, Plex Media Server and 4K transcoding) that are going to be tough/impossible with half a GB of RAM.
Model
Synology

DS220j

NAS

QNAP TS-230 NAS

Price
£149
Where to Buy
Model
Synology DS220j NAS
QNAP TS-230 NAS
Design
Desktop
Desktop
CPU

Realtek RTD1296 64bit

Quad Core 1.4 GHz

Realtek RTD1296 64bit

Quad Core 1.4 GHz

Memory
512MB Memory
2GB Memory
LAN

1x

x1

USB
2x USB 3.0
1x USB 3.0 and 2x USB 3.0
Expandable
No
Yes, with the TR-002 and TR-004
Chassis
Plastic, White, No hot swapping
Plastic, Blue, No hot swapping
PSU (Watts)
60W
65W
CCTV Cameras
10 Cameras
15 Cameras
Warranty
2 years
2 years
Straight away, the specifications are distinct in how each brand has spent its investment. Synology invests HEAVILY in its first-party software, meaning that Diskstation Manager (the OS on the unit to put it plainly) will run all those 1st party Synology applications very smoothly. Whereas, QNAP (although they have a smooth OS) have prioritized the hardware more, with better expandability and access options, as well as better support of 3rd party apps, along with their own software too. The result is that, although both give you alot of functionality and an easy/smooth user interface, the basic Synology software packages (File Station, Video Station, Music Station) are going to be just that pinch bit better HOWEVER the QNAP hardware allows many more users and different software applications (QuMagie, Plex Media Server, SnapShots, 4K Playback and Transcoding at H.265) overall.
Why Should You Buy the Synology

DS220j

NAS?
The Synology DS220j is a device that does not try to hide how low powered it is. Yet it is still by FAR the lowest price you pay for RAID-enabled storage and experience Synology DSM 6.2. Despite the rather efficient and low-end ARM 64bit CPU and rather poultry 512bit memory, you can still access many of the applications on the app store, such as 3rd party cloud backups, file management, surveillance station, local backups to USB devices and DLNA media streaming to TV's, PS4s, Xbox, Amazon firestick and Chromecast. So, for far as using the device for very simple file handling and backups for home and families, it will do the trick.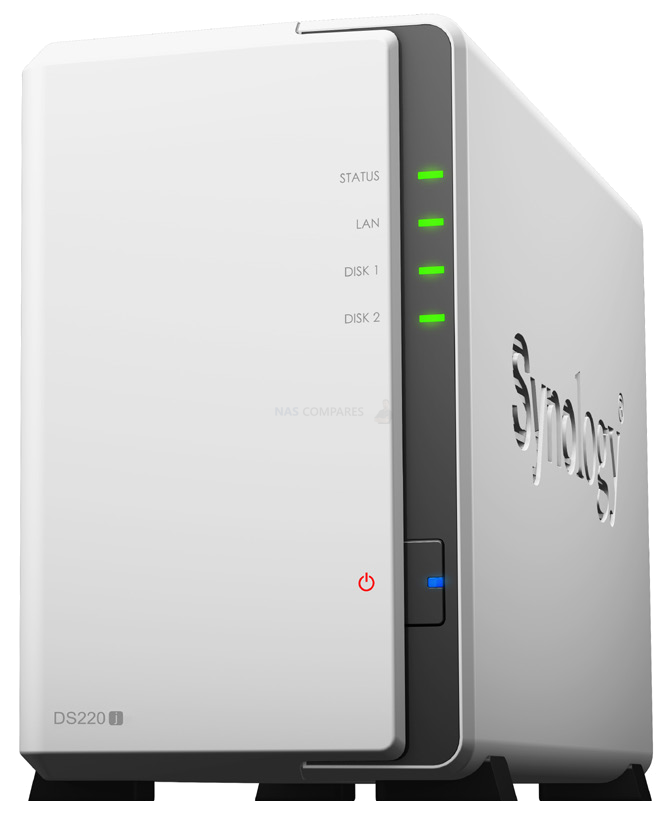 The DS220j also supports many of the client PC/Mac applications and the many, many mobile applications for tailored file access on Android and iOS. In short, you need to look a little past the hardware and see how they have developed the software on this device to get much, much more out of it. That said, with such a painfully small amount of memory, you will have ALOT of difficulty multi-tasking – both with other users and on your own if you want to run more than 2 apps at once. As soon as you run even 1 stream of media over DLNA, the CPU use will leap upto 30-40% and the Memory utilization will hit 30-40%.
It is certainly more powerful than the 1-Bay DS120j, with the same memory amount, but a dual-core 800Mhz 32bit ARM processor, the struggles you could potentially face in the 2-Bay is that hugely improved CPU never getting to spread its wings a bit! You see this SAME processor in the likes of the DS218 and DS418 – But they both had 2GB DDR4 Memory, so they could do more of everything. Still, nice for the price.

Why Should You Buy the QNAP

TS-230

NAS?
As you would expect from QNAP's reputation, the hardware in the TS-230 choose to match, then raise that found in the DS220j. That quad-core ARM CPU is not only more powerful as the clock speed of the older generation of QNAP Budget 2-Bays but in twice as many cores AND it is 64bit. This means it is far, FAR more proficient to do typical tasks. Opening the doors to more complex computations. So, although you do not have the software of the Synology normally, this margin of difference is significantly reduced in the case of the TS-230 vs DS220J, thanks to that memory. The QNAP QTS software and applications (which are already pretty good) run much, MUCH smoother – as well as letting you use more cameras in surveillance, more backups, more streams of media at once, snapshot backups, more users, more volumes and just a better overall experience of NAS and data management. I am not going to say that this is the best NAS that QNAP has put out there BUT it is certainly one of the most well-equipped budget solutions that they have EVER produced.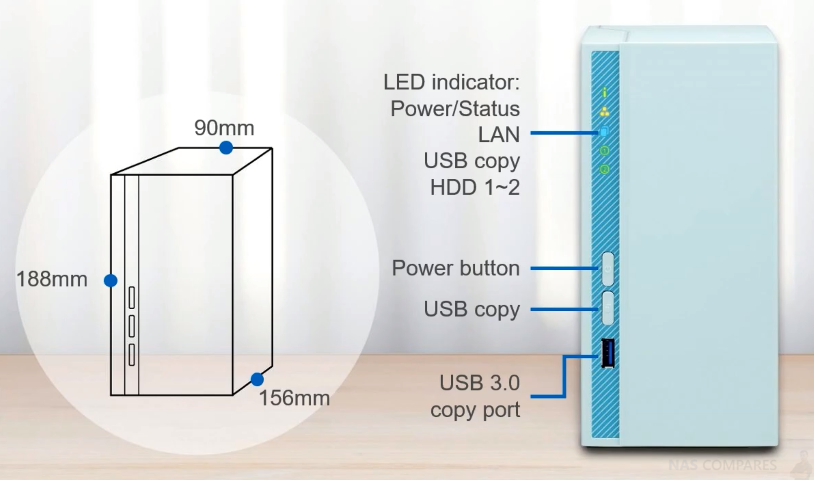 The only thing that counts against it in the hardware stakes, is that the QNAP will typically use a little more CPU/Memory to do the average task that other devices – but this is massively negated by the fact you get 4 times the memory to play within the QNAP TS-230 NAS than the DS220j.
Finally, if you aren't interested in RAID, you can always consider the TS-128A at a lower price, exactly the same CPU family and 1GB Memory, but just the 1 HDD Media bay. The QNAP TS-230 seemingly gives you more for your money and does it with much less compromise that the majority of 'affordable' solutions out there. I am not a fan of the blue chassis, but that is more of my own personal gripe.

What Robbie Would Choose to Buy?

DS220j

or

TS-230

NAS?
For me, this is a no-brainer. The Synology DS220j IS a good NAS and does give you access to the generally smoother and more user-friendly Synology DSM user interface – I just cannot get over that memory amount. If Synology had JUST given people the option to upgrade it manually, rather than hard locking it to 512MB memory on the board. Once you start multi-tasking in even a small way, or 2-3 users run tasks at the same time it will all too often lag, slow down and feel too close to crashing, to actually give you a decent idea of the software that Synology has won awards for! Whereas the QNAP NAS just gives you much, MUCH more for your money. I know it seems like what they give you is just more memory, BUT 2GB memory and this CPU enables the TS-230 to give you much faster and more diverse ways to use your data. For me, the TS-230 is a noticeably better NAS Drive to buy in 2020 and I recommend it for those that are coming into NAS from scratch and want the better budget experience or are looking for a network backup to support another more powerful 2-Bay NAS.
| | | |
| --- | --- | --- |
| Model | Synology DS220j NAS | QNAP TS-230 NAS |
| Price | £149 | |
| Where to Buy | | |
📧 LET ME KNOW ABOUT NEW POSTS 🔔
Join 1,410 other subscribers
Get an alert every time something gets added to this specific article!
This description contains links to Amazon. These links will take you to some of the products mentioned in today's content. As an Amazon Associate, I earn from qualifying purchases. Visit the NASCompares Deal Finder to find the best place to buy this device in your region, based on Service, Support and Reputation - Just Search for your NAS Drive in the Box Below
Need Advice on Data Storage from an Expert?
We want to keep the free advice on NASCompares FREE for as long as we can. Since this service started back in Jan '18, We have helped hundreds of users every month solve their storage woes, but we can only continue to do this with your support. So please do choose to buy at Amazon US and Amazon UK on the articles when buying to provide advert revenue support or to donate/support the site below.

Finally, for free advice about your setup, j
ust leave a message in the comments below here at NASCompares.com and we will get back to you.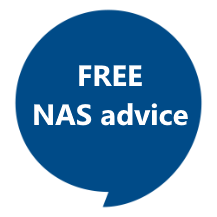 Need Help?
Where possible (and where appropriate) please provide as much information about your requirements, as then I can arrange the best answer and solution to your needs. Do not worry about your e-mail address being required, it will NOT be used in a mailing list and will NOT be used in any way other than to respond to your enquiry.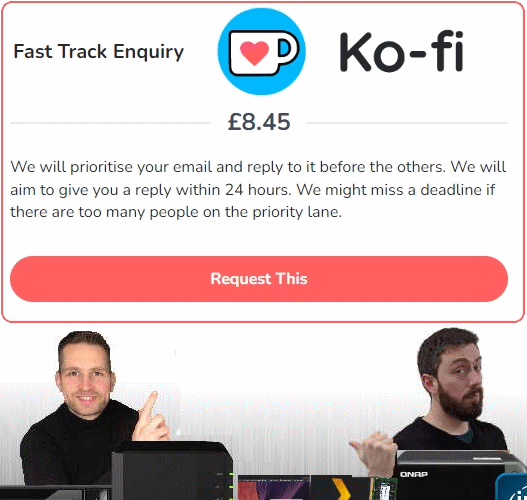 Terms and Conditions
Alternatively, why not ask me on the
ASK NASCompares forum
, by clicking the button below. This is a community hub that serves as a place that I can answer your question, chew the fat, share new release information and even get corrections posted. I will always get around to answering ALL queries, but as a one-man operation, I cannot promise speed! So by sharing your query in the
ASK NASCompares
section below, you can get a better range of solutions and suggestions, alongside my own.
This description contains links to Amazon. These links will take you to some of the products mentioned in today's video. As an Amazon Associate, I earn from qualifying purchases
Summary
Reviewer
Review Date
Reviewed Item
QNAP TS-230 vs Synology DS220j NAS - Best for Budget
Author Rating