Synology DS220+ NAS – Five Reasons Why You Should/Shouldn't Buy It
Of all the Synology NAS Drives that the company has ever produced, the 2-Bay series of diskstation solutions is generally considered to be their most popular item. Kinda their Reebok Classic, their Peanut M&M, it is a staple part of their product portfolio and the new DS220+ NAS Drive (follow up to the popular DS216+II and DS218+) is gradually being officially released worldwide – so should you be considering it for your next NAS purchase? It's an interesting question, as it is definitely a very solid solution from one of the biggest names in network-attached storage (as discussed in my DS220+ hardware review back in May) but is it enough for you? Does it provide enough of an upgrade over it's predecessors and most important of all – does it deserve your money? Today I want to discuss FIVE reasons why you SHOULD buy the new Synology DS220+ NAS, as well as FIVE reasons that you SHOULD NOT. So, let's get to it!
The DS220+ NAS Review Here – https://nascompares.com/2020/06/01/synology-ds220-nas-hardware-review
Why You SHOULD Buy the Synology DS220+ NAS
Synology is a good brand, with DSM (their software, applications and GUI) and the DS220+ brings alot of functionality for home and business users. Here are 5 reasons why you should consider buying the DS220+ NAS in 2020.
1. The Price of the DS220+ NAS
If you are considering an affordable Synology NAS that can perform pretty much all of the current expectations of a network-attached storage device in 2020, then it is genuinely hard to find a better-priced example of this right now than the DS220+. Although by no means the most powerful NAS in Synology' product portfolio, the DS220+ is pretty much the lowest price you are ever going to need to pay to have a device that can support everything from Plex Media Server, to surveillance, to VMs and ultimately to create a multi-tiered backup device for your home or business needs. Likewise, the DS220+ is not the lowest price NAS available from Synology right now but every device in a lower price bracket (J series or Standard) features compromise in one way or another. The price of the Synology DS220+ NAS has managed to remain parallel to that of its predecessor released 3 years before, yet significantly more powerful.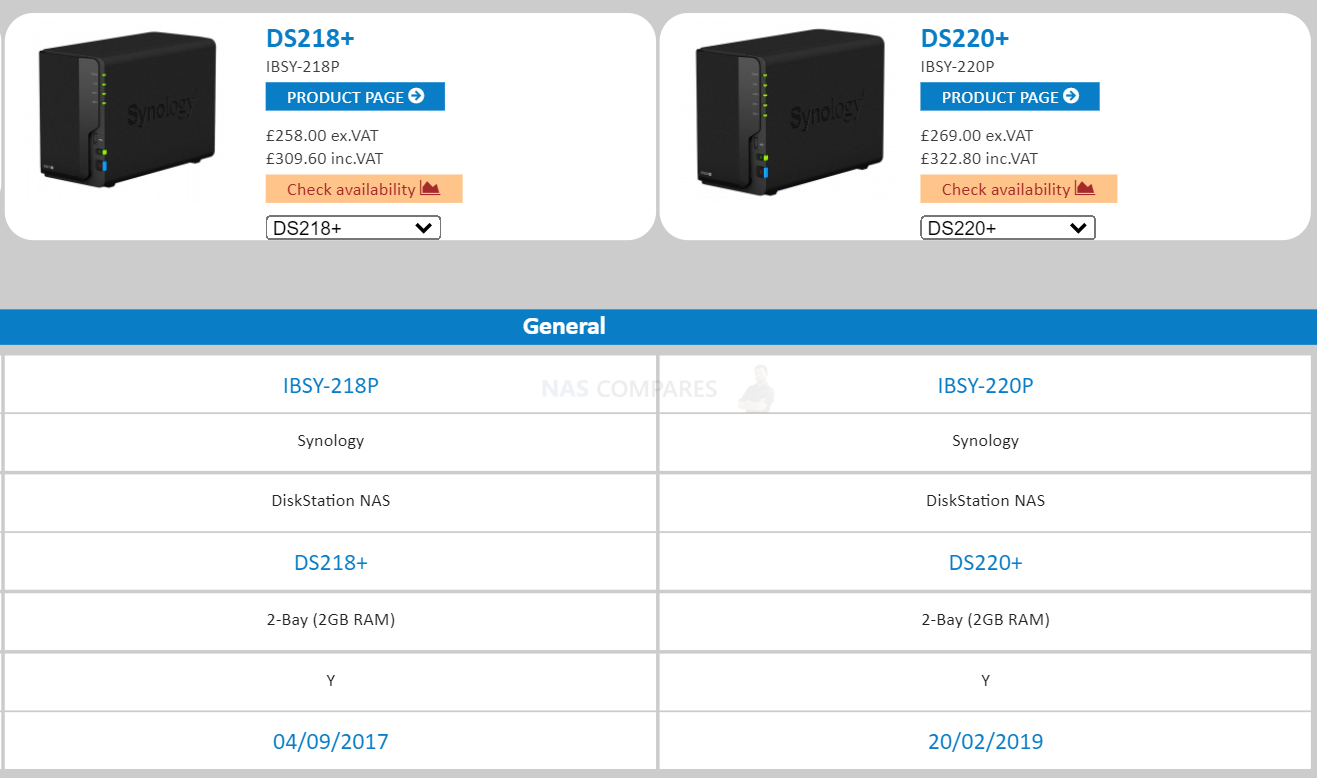 Visit the NASCompares Deal Finder to find the best place to buy this device in your region, based on Service, Support and Reputation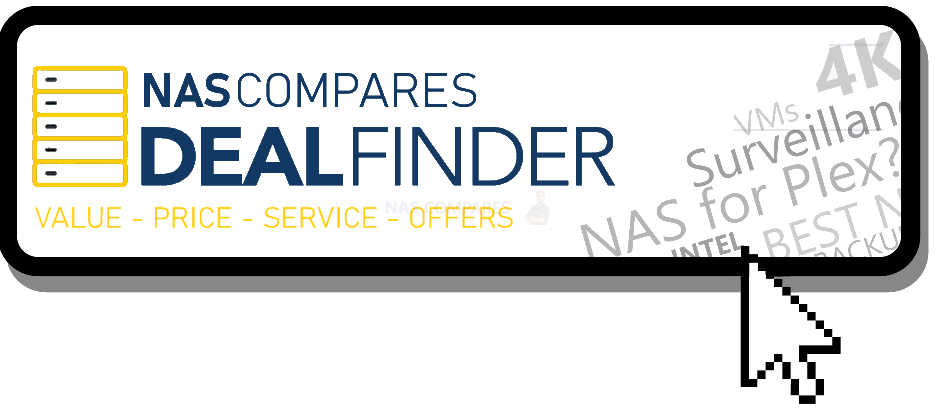 2. The DS220+ features an Impressive CPU
The above-mentioned abilities of the DS220+ at this price point are largely possible thanks to an excellent choice of processor by Synology. Although everyone expected the new DS220+ to feature a dual-core Celeron processor, we did not expect the J4205 processor, which is a pinch more capable than perhaps the J4005 series upgrade we were expecting. This two core processor manages a clock speed of 2.0GHz that can be burst all the way up to 2.9Ghzz. This processor also opens the door too modern features and functionality, such as 4K and 1080p transcoding, AES-NI encryption, greater performing graphical processes and DDR4 memory. The fact this device arrives with 2GB of DDR4 memory is something I will touch on more later, but the CPU choice of the Synology DS220+ is a real winner, at both this price point and this tier of the Synology product family.
3. The DS220+ NAS Features Dual LAN Ports)
One somewhat unexpected hardware choice in the new Synology DS220+, for the better over it's predecessors, is the fact that it arrives with dual LAN ports on the rear. This means it is able to support link aggregation (or port trunking), effectively doubling potential transmission speeds between the NAS and its connected network. This advantage can be leveraged towards multiple users via a link aggregation supported switch or directly point to point with a PC system with multiple ethernet ports and a sufficient network adapter. Although many users have yet to take advantage of the benefits of link aggregation, it is still nice to have this option in terms of scalability. Likewise, with file sizes growing regularly, the ability to effectively double your network traffic bandwidth availability should not be overlooked.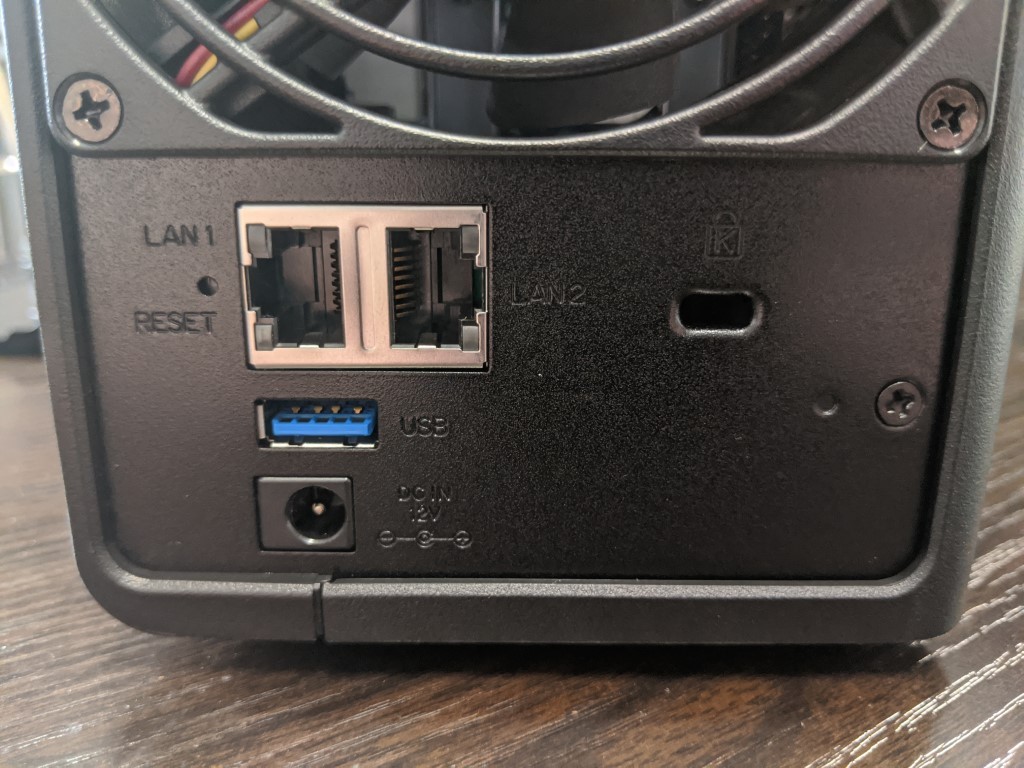 4. The DS220+ has a USB Copy Button – Hear me out!
Although it may appear somewhat rudimentary and old hat, the fact that the Synology DS220+ arrives with a USB copy button on the front is actually rather useful. The bulk of desktop Synology NAS systems have tended to arrive with a front-mounted USB port for conducting localized backups on a physical drive as part of an extended multi-tier backup strategy, with the majority of these systems having either relied on the host NAS system triggering an automated backup schedule or require the end-user to interact with DSM directly to conduct the backup. Of course, you can enable a setting to allow the Synology NAS system to automatically conduct your chosen USB backup method when a given external drive is connected, but it is always more reassuring to know when you physically connect the USB drive that there is also a physical button to simply click once and action the backup procedure. It's a small detail, but given the home and small business nature of the DS220+s audience, I like that this device continues to have this rather low key but very useful feature even in 2020.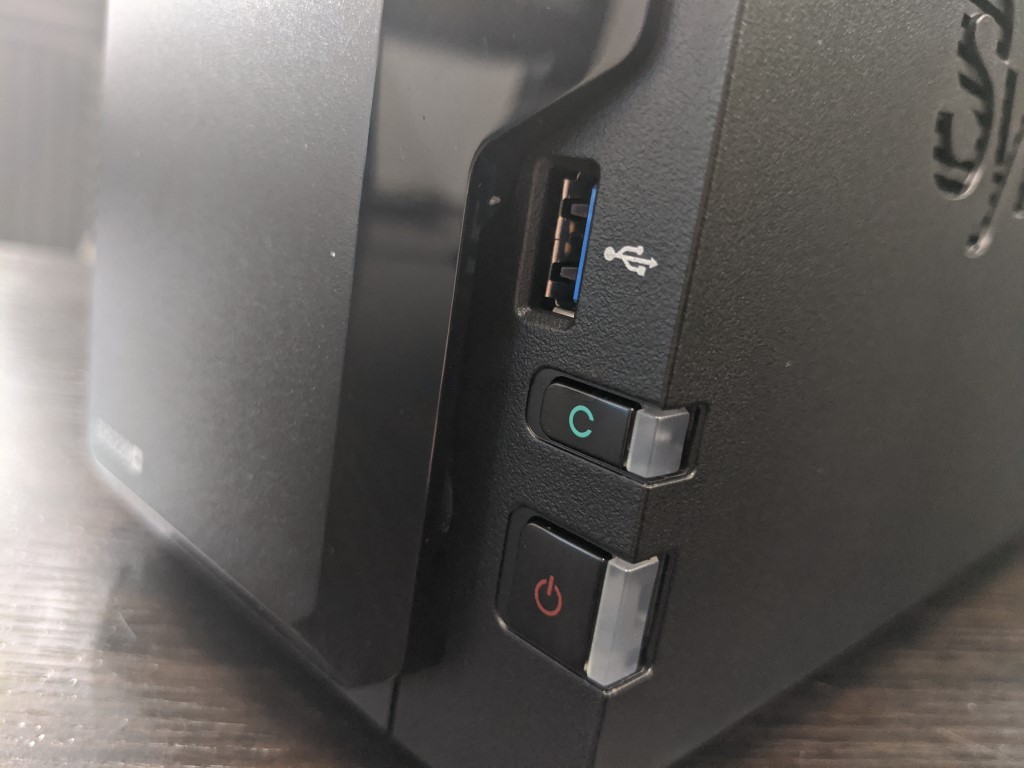 5. Best Entry Point into DSM with the Synology DS220+
Not only is the Synology DS220+ one of the best price vs hardware NAS' in 2020, but it is also easily the best entry point into the award-winning Synology diskstation manager (DSM) platform. When you buy any Synology NAS drive system, you aren't just buying hardware but are really buying a combined hardware and software solution. DSM includes hundreds of useful applications across both first and third party providers and although Synology are keen to advertise the utility of these applications, it is worth highlighting that the availability and extent of individual apps within DSM will often be dictated by the power of your NAS drive. Therefore I'm pleased to say that thanks to the improved hardware in this new DS220+ system, it is easily the best entry point into the DSM NAS platform and all its advantages. This is thanks in no small part to the affordability of the Intel processor, memory available and generally high standard of architecture found in the DS220+ NAS.
Why You SHOULD NOT Buy the Synology DS220+ NAS
As much as I like the Synology DS220+ NAS, it is not the perfect NAS (I have still never found the perfect NAS even after all these years) and there are a few reasons why it is not going to be everyone's cup of tea. Below are the 5 reasons you should NOT buy the Synology DS220+ NAS in 2020.
1. Underwhelming Memory Choices on the Synology DS220+
One area of slight disappointment for many in the brand new Synology DS220+ is the fact that this device can only be upgraded to a maximum of 6GB of memory. This is especially annoying for some, given that because Synology has chosen to solder the default 2GB of DDR4 memory to the main controller internally, meaning that this CPU (that officially supports 8GB) cannot be expanded to more than 6GB officially. Equally, the fact that users are recommended by Synology to only install their own memory modules has irked some users, with Synology highlighting that they are unable to provide technical support on unsupported memory configurations. Still, the 6GB maximum is a bit of a blow.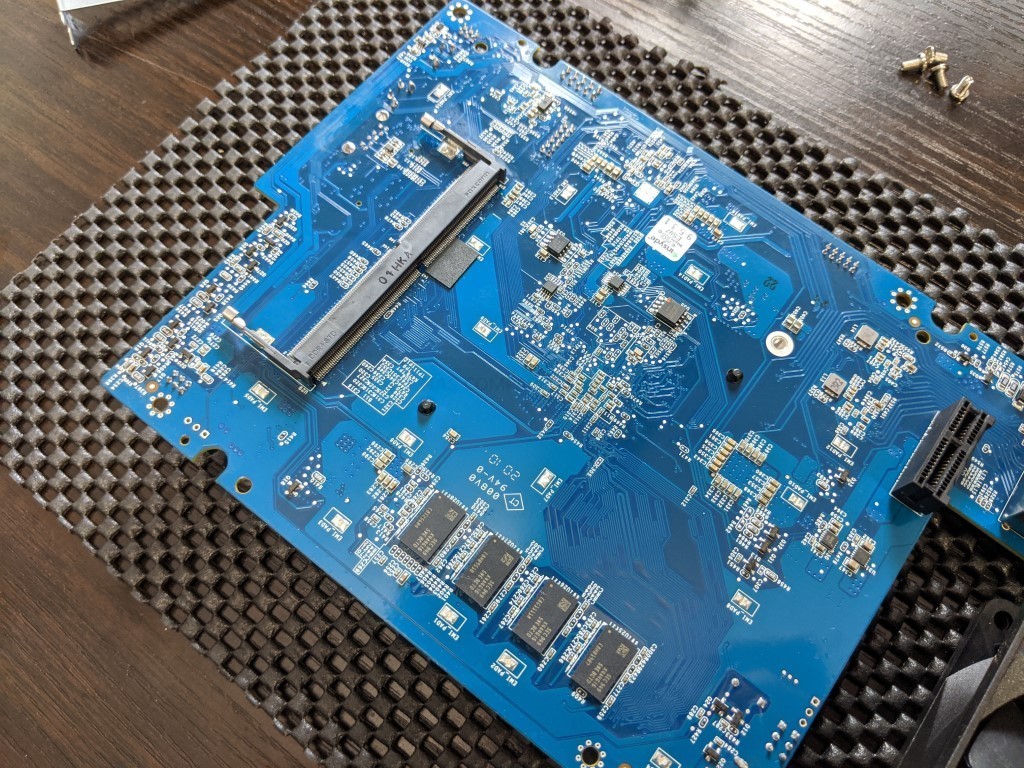 2. 2 Years Warranty on the Synology DS220+ NAS
Those that have been considering their first NAS and have been examining many of the brand new + series dissertations, may be surprised to hear that the DS220+ model arrives with a shorter warranty than that of the rest of the class series, arriving with two years manufacturer's warranty as opposed to the three years included in practically every other plus series Synology NAS. This, in itself, is not the end of the world and generally the Intel-powered Synology NAS systems are by and large the most reliable and featured of the product portfolio. Still, nevertheless, it does seem odd that this device has a fraction less manufacturer's warranty than it's other product family devices.
3. Not Much External Connectivity on the Synology DS220+ NAS
External connectivity on the Synology DS220+ is another area where are there seems to be a bit of a cutback. Synology has never really been a brand that put too much emphasis on external connectivity, maintaining a comfortable distance with the likes of 10Gbe copper, HDMI output, KVM setups and more on their diskstation series. However, the DS220+ is particularly lacking in external ports and connections for peripheral devices. The eSATA port featured in previous generations of this product family is absent and although it was never really able to support an expansion device to the fullest capacity, it's still served as a means of adding external storage to your NAS storage platform. Although USB 3.0 is still very apparent, there is only two connections on the device and given the front one is utilised predominantly as a means of ad-hoc backup and sync with that copy button, this leaves a single USB port to be used by multiple devices, such as UPS, network heartbeats, printers and external storage drives. I appreciate that the architecture of the DS220+ requires power and internal bandwidth to be managed intelligently, but this does seem like a bit of a tight move.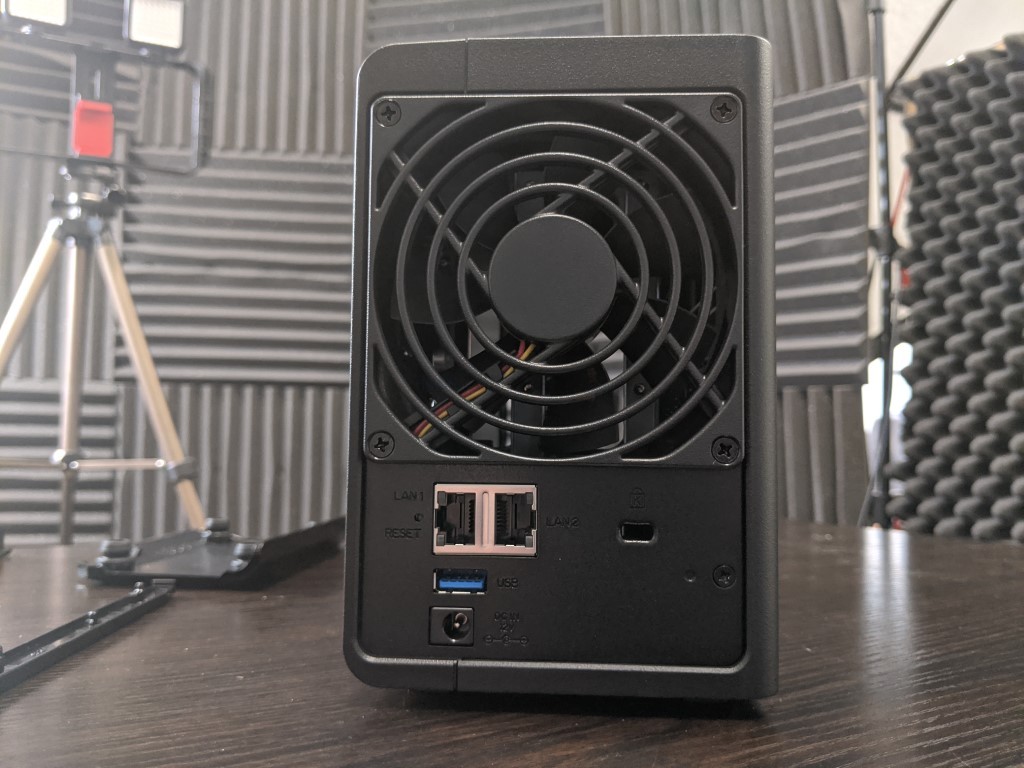 4. The DS220+ Only Features 1Gbe RJ45
Although less of a concern in my eyes at this price point, I do know that the fact that this Synology NAS only has 1Gbe in ethernet connection per port is not everyone's cup of tea. Given the ever-increasing size of data in 2020, be it multimedia, backups, photo collections and more, the fact this device is is throttled for the most part to just 100MB/s (LAG notwithstanding) is a bit of a sore spot for some users and certainly an area of concern for some in the long term. For many this will not be a huge concern given that routers and affordable switches typically do not feature plus-gigabit architecture for the most part at the moment, however, the move towards faster standard ethernet networks in the home and business environment along with more ISPs producing faster routers with 2.5 Gbe and potentially Wi-Fi 6, may well mean that this device a few years down the line may present an unfortunate bottleneck between you and your data. Though as I say, at this price point, I don't think you can really complain.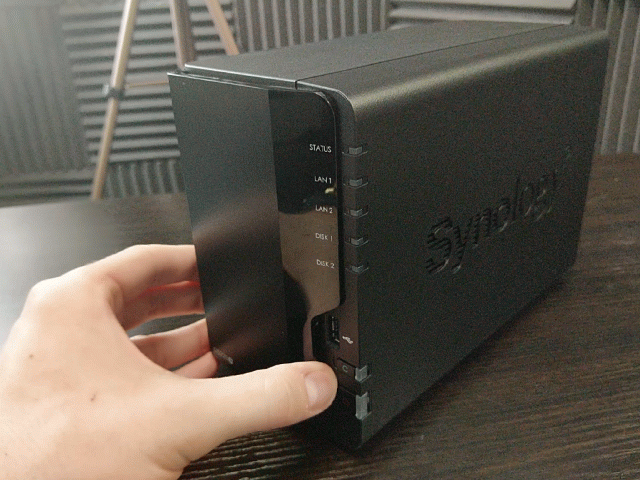 5. The DS220+ and it's Unusual Design
The removable front panel that is featured on the Synology DS220+ NAS is a design choice that has existed through numerous previous generations of this series of devices. Easily removed and replaced, it covers the two main internal hot-swappable 3.5 inch SATA Media bays. However, the DS220+ is largely the only NAS left in the Synology portfolio that employs this rather unusual design choice and given that the rest of the diskstation plus series features lockable and more robust trays, instead of a removable front panel, I think this design choice is long overdue and overhaul. It is not unappealing to look at, it is just an unusual and somewhat and unnecessary means to prevent drive removal, when the introduction of the same lockable, click and load trays found on practically every other Synology NAS would do the job better and lower production costs overall all.
Synology DS220+ NAS – Quick Conclusion
The DS220+ to buy NAS from Synology gives you a decent hardware base from which you can enjoy largely any modern application, both first party and third party. Although no it does not seem a huge jump over its predecessor, the DS218+, what changes are present are welcomed. Likely the least powerful of the newest Intel-powered 2020 generation from the big brand in NAS, it arrives at a price point that is both approachable and easier to justify for brand new buyers. If you are in the market for an affordable yet Powerful compact solution, the DS220+ brings a lot to the table. However, those looking to upgrade from the DS218+ may want to give this one a miss.
PROS
CONS

Great RAID Options
Excellent choice of Apps
Snapshot Replication
BTRFS and SHR
Support Plex
Virtualization
4K Video transcoding
Full Plex Transcoding
Hot-Swap trays
DLNA Compliant
Expandable

Only 1Gbe Ethernet ports
No NVMe cache, as featured in other units
2GB Memory is a little low in the long term when 6GB is the Max
Only a single accessible Memory Bay
If you are thinking of buying a Synology NAS, please use the links below
📧 LET ME KNOW ABOUT NEW POSTS 🔔
Join 1,410 other subscribers
Get an alert every time something gets added to this specific article!
This description contains links to Amazon. These links will take you to some of the products mentioned in today's content. As an Amazon Associate, I earn from qualifying purchases. Visit the NASCompares Deal Finder to find the best place to buy this device in your region, based on Service, Support and Reputation - Just Search for your NAS Drive in the Box Below
Need Advice on Data Storage from an Expert?
We want to keep the free advice on NASCompares FREE for as long as we can. Since this service started back in Jan '18, We have helped hundreds of users every month solve their storage woes, but we can only continue to do this with your support. So please do choose to buy at Amazon US and Amazon UK on the articles when buying to provide advert revenue support or to donate/support the site below.

Finally, for free advice about your setup, j
ust leave a message in the comments below here at NASCompares.com and we will get back to you.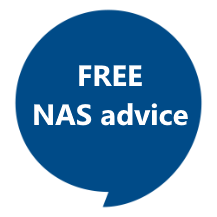 Need Help?
Where possible (and where appropriate) please provide as much information about your requirements, as then I can arrange the best answer and solution to your needs. Do not worry about your e-mail address being required, it will NOT be used in a mailing list and will NOT be used in any way other than to respond to your enquiry.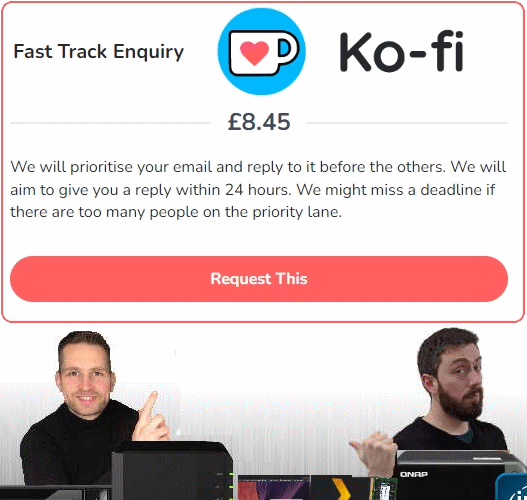 Terms and Conditions
Alternatively, why not ask me on the
ASK NASCompares forum
, by clicking the button below. This is a community hub that serves as a place that I can answer your question, chew the fat, share new release information and even get corrections posted. I will always get around to answering ALL queries, but as a one-man operation, I cannot promise speed! So by sharing your query in the
ASK NASCompares
section below, you can get a better range of solutions and suggestions, alongside my own.