Synology DS1019+ vs DS920+ NAS – Which to Buy?
With the newest 2020/2021 generation of NAS drives being uncovered from Synology of late, those looking to buy a new NAS Drive can be broken down into three types. Those who looked at the new Synology 2020 diskstation NAS and said "yes please", the ones who looked and thought, "nah, you are ok" and finally those who are still on the fence. Today, we want to look at the latter users who are looking at the potential bargains and price cuts that older NAS such as the DS1019+ (and DS918+) released back in 2018/2019 and have narrowed it down to these older units OR to buy the DS920+ NAS released just weeks ago. There is no avoiding the fact that the Synology DSM software platform will generally evolve and change much, much faster than the hardware and even NAS servers released 1-2 years previously will still support some of the latest and most powerful innovations available in the latest firmware updates. So, today I want to focus on these two especially popular NAS drives and help you guys decide between them.
What Can Both the Synology DS1019+ vs DS920+ NAS Do?
It should come as no surprise that regardless of which one of these two NAS drives you choose, you are looking at owning a NAS that supports 100% of all the applications and features that Synology NAS offer. When you buy a Synology DS1019+ or DS920+, you get the completely accessible and fully-featured Diskstation Manager (DSM) platform, with its full range of inclusive applications for the software GUI, mobile applications, client apps and more. So, rest assured, whichever NAS drive you buy will provide support of:
Both units feature the Intel Celeron Processors (DS1019+ has a J3455 1.5-2.3GHz x86 CPU and the DS920+ has a J4125 2.0-2.7Ghz x86 CPU) and plastic compact chassis, thereby reducing power consumption, noise and heat generated
Stream and transcode on the fly (so, live) 1080p HD or 4K media
Both the Synology DS1019+ and DS920+ NAS support AI-supported photo and 'thing' recognition with 'Moments'
Both units are DLNA certified so can be accessed, browsed and played from by popular DLNA devices, such as Amazon Firestick, Chromecast, Apple TV, Bose, Sonos, iPads, etc
Both are multi-bay, RAID enabled devices NAS devices that support JBOD, RAID 0, RAID 1, 5, 6, 10 ( as well as SHR, a popular buying point), as well as supporting the very latest SATA based 16TB and 18TB NAS Hard Drives from brands like WD, Seagate and WD-UltraStar
Both units feature both Hard Drive and SSD dedicated bays, with the DS1019+ arriving with 5 bays, whereas the DS920+ features 4 SATA Bays. A nice extra feature is the fact you have two m.2 NVMe SSD bays for intelligent caching
Both units can be expanded too with the Synology using a DX517 to add 5 more storage bays to your storage pool/RAID
Both use and can be accessed equally by a multitude of mobile applications such as DS File, DS Video, DS Photo and DS Music, Chat, Drive, Moments and more from Synology, available on iOS and Android
Both units support use as a surveillance station, arriving with two camera licences on both the DS1019+ and DS920+,  providing live access to upto 40x IP Cameras. Synology Surveillance Station also supports multiple client apps for desktop and mobile platforms
Both support higher than 1Gbe connections, with the DS920+ and DS1019+ NAS featuring two LAN ports for Link Aggregations,
Both units are completely compatible with Windows, Android and Mac systems, as well as acting as a bring between software platforms to share and distribute files
Both can be used as a comprehensive iTunes server
Both units can be used as mail and business servers, providing excellent 3rd party CRM and first-party CMS systems
Both units can be used as download stations, allowing you to set up tasks and schedules for downloading files and in popular formats such as BT, NZB, HTTP, FTP and more
So, regardless of which NAS drive you buy, you are going to own a very impressive and capable NAS drive.
What are the Specifications of the Synology DS1019+ vs DS920+ NAS?
If you have any experience of PC building or just general familiarity with the average specifications of a computer, then you have already noticed that both the Synology DS1019+ and DS920+ feature very similar traditional hardware elements, such as the same socket Celeron CPU and Memory maximum, namely the Intel J3455 Quad-Core and Intel J4125 Quad-Core, as well as DDR3L and DDR4 memory (with the DS920+ arriving with 4GB and the DS1019+ arriving with the maximum 8GB), as well as multiple LAN ports and USB 3.0.  In fact, at a glance, it is hard to immediately single out what makes them so different – the key thing to remember is the efficiency and revision of the components. The newer DS920+ has higher frequency memory, higher performing and generally improved processor. Below are the pertinent specifications that should be taken into consideration from the DS1019+ and DS920+.
Model
Synology DS1019+ NAS

DS920+ NAS

Price

CPU
Intel J3455 1.5-2.3Ghz

Quad-Core Celeron CPU

Intel J4125 2.0-2.7Ghz

Quad-Core Celeron CPU

Memory
8GB DDR3L 1866Mhz Memory (8GB Max)
4GB DDR4 2666Mhz Memory (8GB Max)
Ports
LAN
2x 1Gbe RJ45 LAN
2x 1Gbe RJ45 LAN
USB
2x USB 3.0
2x USB 3.0
Expandable
Yes, with 1x DX517
Yes, with 1x DX517
Chassis
Plastic, Lockable Trays, NVMe Slots, Twin Cooling Fans
Plastic, Lockable Trays, NVMe Slots, Twin Cooling Fans
CCTV Cameras
40 Cameras, 2 Licences Inc
40 Cameras, 2 Licences Inc
Warranty
3 Years
3 Years
The Synology DS1019+ and DS920+ NAS are two of only a handful of NAS in the world that feature twin NVMe SSD slots for vastly improving internal data speeds (though this is limited to internal operations only, as there are only 1-2 LAN ports available, creating a 110-220MB/s bottleneck for external transmission speeds). Additionally, both the Synology DS1019+ and DS920+ arrive with near-identical software support (with the extent to which you can utilize the software being the key differences. Such as:
Synology Office (Docs, xls, PDF, etc – Alternative to Google Docs)
Synology Chat (Alternative to Skype for internal User Conversation/Collaboration + mobile app)
Synology Drive (Alternative to DropBox/Google Drive with 1-point access to all file types for Mobile and Desktop)
Synology Moments (Photo Sorting and Tagging system with Deep Learning)
Synology Calendar (Smart Calendar App, can be used in conjunction with other apps)
Synology Active Backup (Manage Multiple Server/PC backups via a single control point)
Synology Surveillance Station
Synology Virtual Machine Manager (setup and manage multiple VMs on your NAS)
Synology High Availability (for Syncing Synology NAS and having instant failover support to ensure constant connectivity)
Synology Cloud Station
Synology Multimedia Apps (Video Station, Photo Station, Music Station, File Station, etc)
So, regardless of which one you choose, you still have an excellent degree of software support with either NAS drive.
Why Should You Buy the Synology DS1019+ NAS?
So, considering the largest commercially available NAS hard drives right now are the Seagate Ironwolf 16TB Hard Drive, that means an impressive 80TB of RAW storage potential in the DS1019+. Featuring a great CPU, a good amount of memory, NVMe SSD caching options and 5 bays of RAID-enabled storage, it isn't a huge surprise that it has received a good reception. However, more keen followers of NAS were quick to spot that as good as this hardware is, the DS1019+ for 2019 is remarkably similar to late 2017 released DS918+ and 4-Bay. In fact, the two devices are so similar, that many users are left wondering whether to buy the new DS1019+, or the older DS918+ in the hope of grabbing a bargain. The fact that there are two individual NVMe enabled slots is because you have the option of Read-Only cache and Read and Write cache. The former improves retrieval of data that already exists on the NAS for access and all data stored in the cache is really a clone of that which is already on the hard drive volume, without live data being exchanged amidst instructions. Whereas read and write cache provides the vastly improved speed of file transmission within the NAS and assists both read and write instructions between the NAS and the users. Remember though that a Read/Write cache is a RAID 1 configuration of the available SSD media and therefore with effectively half your total available cache space. Despite the inclusion of the NVMe based SSD cache upgrade, it is still a shame to know that the best external transmission speeds you will reach are 2Gb/s LAN over link aggregation, and not the potential 10Gbe NIC upgrade advantages available when upgrading the DS1517+ NAS.

Synology DS1019+ is designed for small and medium-sized businesses and IT enthusiasts in mind. Arriving with an Intel Celeron J3455 CPU (4 core, 1.5-2.3Ghz per core) and 8GB of memory, the DS1019+ hardware is remarkably impressive. With a powerful built-in AES-NI hardware encryption engine, the DS1019+ provides exceptional encrypted file transmission that compares well with non-encrypted use. The NAS is also capable of transcoding up to two channels of H.265/H.264 4K videos at the same time and this combined with the NVMe SSD cache options, means that you have significant hardware support available in the DS1019+ NAS at this price point.
DS1019+ NAS PROS
DS1019+ NAS CONS

Dual M.2 NVMe cache
Great RAID Options
Excellent choice of Apps
Snapshot Replication
BTRFS and SHR
Support Plex
Virtualization
4K Video transcoding
Full Plex Transcoding
Hot-Swap trays
DLNA Compliant
Expandable
RAM upgradable

No Copy button
Only 1Gbe Ethernet ports
No PCIe slots
Only 4GB and 1 HDD Bay different to DS920+
Another keen area of difference between the DS1019+ and DS920+ is that the 5-Bay features 8GB of memory as standard. Those looking at 1-2 VMs on their NAS, used in conjunction with standard NAS services will see alot of benefits in the 8GB being available on day 1. Additionally, those that have been burnt by the loss of data in the past will consider a RAID 6 to be the bare minimum when it comes to redundancy – so, a 5-Bay allows them that little bit more flexibility in their storage moving forward.
What Should You Buy the DS920+ NAS?
As mentioned, the DS920+ and DS1019+ have incredible similar hardware and with the expectation of the additional HDD bay and 8GB default memory, there is a huge amount of similarly – almost TOO much in fact and to be perfectly honest the area that people will be the most attentive about is the CPU and memory on offer in the DS920+. Arriving with the Intel J4125 Celeron Processor, this 4 core 2.0Ghz processor can be burst to 2.7Ghz when needed and features UHD HD Graphics 600, so it has a great little transcoding engine on offer.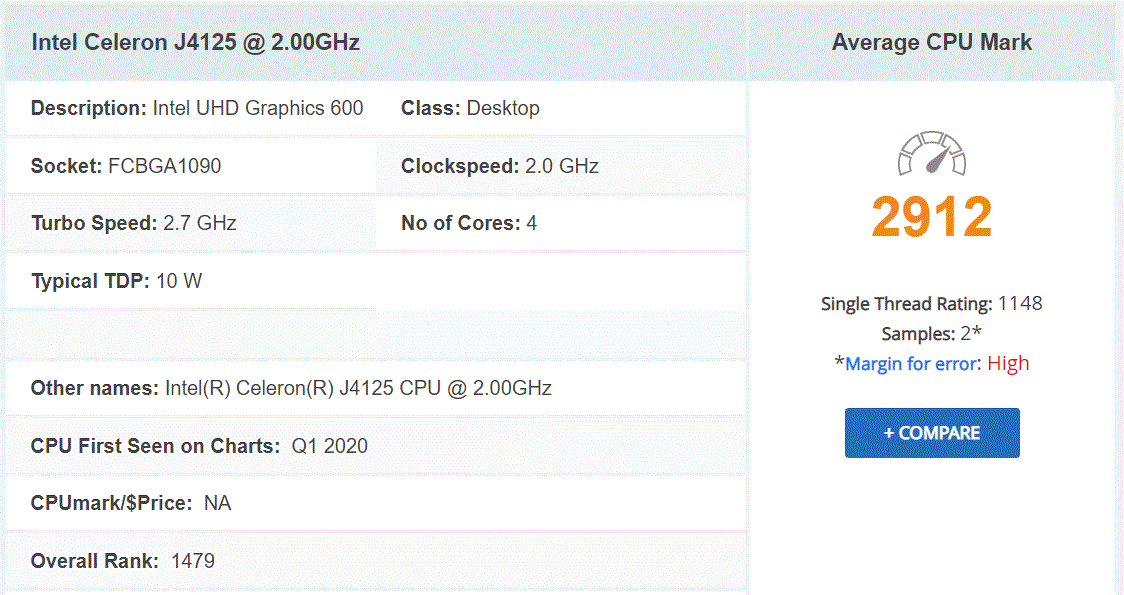 Although it is better than it's predecessor in most ways (barring a slight dip in some H.265 bitrates according to @eddiethweb) it is still a great CPU and one that does very well in the family of Synology expandable 4 Bay NAS processors. There is a % of the market that hoped for something a little beefier (the same ones who wanted 2.5Gbe) and perhaps a return to the use of an Intel Pentium (as we saw in the DS916+), but this is still a very good processor with a good score on CPU benchmark. The software and performance review of this NAS should give us more info on the CPU in a more day to day use (as well as Plex Media Server of course), but we can make some educated guesses.

For a start, it will perform much better in a native transcoding environment with Synology Video station on the DS920+ and DS Video on your Phone, PC, Amazon FireTV or more, than it will in Plex Media Server. You will be able to playback and transcode both 1080p and 4K for the most part natively, whereas in Plex (even with a PlexPass and Hardware Transcoding) you will likely struggle at top-end 1080p and almost no 4K support in a reliable way. Additionally, that CPU will open the door comfortably to virtualization/VM use, but no more than 1-2 with the Synology Virtual Machine app and enough memory (I would bump up to 8GB for that one for sure). In surveillance, the DS920+ will likely do exceptionally well, with 30+ cameras comfortably (the manf says 40x, but that would be at a lower FPS for sure) and the software is still the best you can get on that one. All of these tasks, especially in unison, need memory.
Synology DS1019+ Memory Modules

Two Modules available inside the bay area

Synology DS920+ Memory Modules

1x Available slot in the bay area, another pre-populated and generally inaccessible
The 4/8GB memory option on the DS920+ is a bit of a shame in some respects. 8GB is still a great amount of memory, as well as the DDR4 SO-DIMM 2666Mhz memory available being some 10-20% faster in usage frequency than the 1866Mhz DDR3L SODIMM on the past DS1019+. However, it is worth noting that if you the 4GB starting memory it starts with will be utilized by the intelligent caching/flushing feature of DSM. What this means is that if you look at the resource monitor when the device boots, it is caching more data in the memory than it technically needs to. This is not a bad thing though, as when the memory is needed for applications and services, it is near-instantly flushed by the reserved system area. The result is that the OS of DSM via the browser seems silky smooth at all times and when an app needs the resources, it makes it available – very 'Mac'. Though this means that if you are running 2-3 CORE applications (VMM, Surveillance, Containers, Plex) then you are going to hit a few bumps on the 4GB that the unit arrives with.
PROS
CONS

Dual NVMe M.2 cache
Great RAID Options
Excellent choice of Apps
Snapshot Replication
BTRFS and SHR
Support Plex
Virtualization
4K Video transcoding
Full Plex Transcoding
Hot-Swap trays
DLNA Compliant
Expandable

No Copy button
Only 1Gbe Ethernet ports
No PCIe slots
Only a single accessible Memory Bay
The DS920+ NAS is something that Synology should be proud of. It is a great entry into their already impressive range of Diskstation NAS devices. If you are looking for a brand new NAS to consolidate your home media, to support your relative as the 'IT whizz' of the family, or move your business away from Google Drives and DropBox' onto something safer, more scalable and dependable – then the DS920+ has alot to offer you. It gives you a great base to start using the DSM platform, as well as a good means to upgrade your storage internally at a later date (expansions in memory, expansions in storage, expansion in NVMe). If you are an existing DS918+ or DS916+ owner, this might not seem like the jump you were waiting for.
Visit the NASCompares Deal Finder to find the best place to buy this device in your region, based on Service, Support and Reputation
What Robbie Would Choose to Buy? DS1019+ or DS920+ NAS?
The DS920+ and DS1019+ NAS are two NAS seem so incredibly similar, that you start to wonder why on earth that Synology would have them in their portfolio right now. Whether it is down to the over spilling of the DS918+ in the market, or the somewhat expedited release of the DS920+ in the market, both are seemingly identical in all but a small handful of ways. However, some/all of those differences can be put under the heading 'when you need it'. Both provide a very, very solid foundation to enjoy and benefit from the software and support of Synology NAS DSM, as well as supporting a multi-user and multi-application environment. However, it is the extent to which the user wants to take this that will dictate which NAS they need. The DS920+ is the release with the more modern internal hardware, as well as access to a more efficient system of hardware use when under stress – this means that you will ultimately get MORE done on the DS920+ in a like-for-like situation, but will need to push the device in order to see this. So, then the decision comes down to that of future-proofing and keeping a higher glass ceiling in the long term. With barely £100 between them in the price tag, there isn't much to debate in terms of price, but it is where your month goes that is key and if you want to prioritise your storage, you should go for the DS1019+. However, if the internal power is what matters most and getting the most out of your NAS in a multi-use/app environment, then the DS920+ is the one for you.
If you Prioritize Storage
If you Plan on Running VMs on Day 1
If you are considering RAID 6
If you plan on running more than 15 cameras in Surveillance

If you are in a large multi User/App environment
If you are running more graphical data
If you are on a tighter budget
If you are looking to gradually populate your NAS

You Should Buy the

Synology DS1019+ NAS

You Should Buy the

Synology DS920+ NAS
📧 LET ME KNOW ABOUT NEW POSTS 🔔
Join 1,410 other subscribers
Get an alert every time something gets added to this specific article!
This description contains links to Amazon. These links will take you to some of the products mentioned in today's content. As an Amazon Associate, I earn from qualifying purchases. Visit the NASCompares Deal Finder to find the best place to buy this device in your region, based on Service, Support and Reputation - Just Search for your NAS Drive in the Box Below
Need Advice on Data Storage from an Expert?
We want to keep the free advice on NASCompares FREE for as long as we can. Since this service started back in Jan '18, We have helped hundreds of users every month solve their storage woes, but we can only continue to do this with your support. So please do choose to buy at Amazon US and Amazon UK on the articles when buying to provide advert revenue support or to donate/support the site below.

Finally, for free advice about your setup, j
ust leave a message in the comments below here at NASCompares.com and we will get back to you.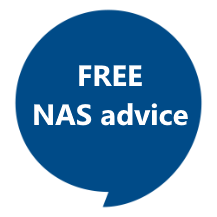 Need Help?
Where possible (and where appropriate) please provide as much information about your requirements, as then I can arrange the best answer and solution to your needs. Do not worry about your e-mail address being required, it will NOT be used in a mailing list and will NOT be used in any way other than to respond to your enquiry.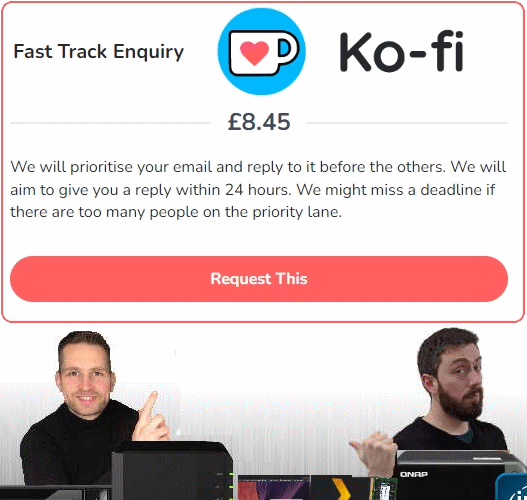 Terms and Conditions
Alternatively, why not ask me on the
ASK NASCompares forum
, by clicking the button below. This is a community hub that serves as a place that I can answer your question, chew the fat, share new release information and even get corrections posted. I will always get around to answering ALL queries, but as a one-man operation, I cannot promise speed! So by sharing your query in the
ASK NASCompares
section below, you can get a better range of solutions and suggestions, alongside my own.
This description contains links to Amazon. These links will take you to some of the products mentioned in today's video. As an Amazon Associate, I earn from qualifying purchases
Summary
Reviewer
Review Date
Reviewed Item
Synology DS920+ vs DS1019+ NAS Drive Comparison
Author Rating