A Guide to Improving Playback on your Synology NAS Drive
One of the most popular reasons that many users invest in a compact desktop Synology NAS solution is for use as a private Plex media server. The appeal of Plex as an alternative to paid subscription streaming services like Netflix and Amazon Prime video is fairly evident, giving you the ability to watch all of your lovely movies and box sets, but still enjoy the slick graphical user interface and background polish (such as trailers, reviews descriptions, thumbnails, watchlists, recommendations and artwork) afforded to those online streaming platforms. The new generation of Synology diskstation NAS' that arrived in summer 2020  (DS920+, DS220+, DS420+ and DS720+) are all solid solutions for use as a Plex media server NAS, however lately many users have identified a recurring playback problem on these recent Intel Celeron powered NAS'. Namely, the fact that they seem to be having difficulty playing H.265 (also known as HEVC) in even rather simple files even as low as 480p and 720p, despite the fact that the CPU and memory are not what being hit very hard. This is a playback issue that is not apparent in the Synology Video Station app (happily playing and converting these files without issue). So, what gives? I am pleased to confirm though that it CAN BE SOLVED! Just follow the guide below, spare 5 minutes to go through the steps and you will be able to play those pesky H.265 / HEVC files, even at 8bit and 10bit.
TRYING (AND FAILING) TO PLAYBACK A SIMPLE 3Mbps H.265 (HEVC) 1080p File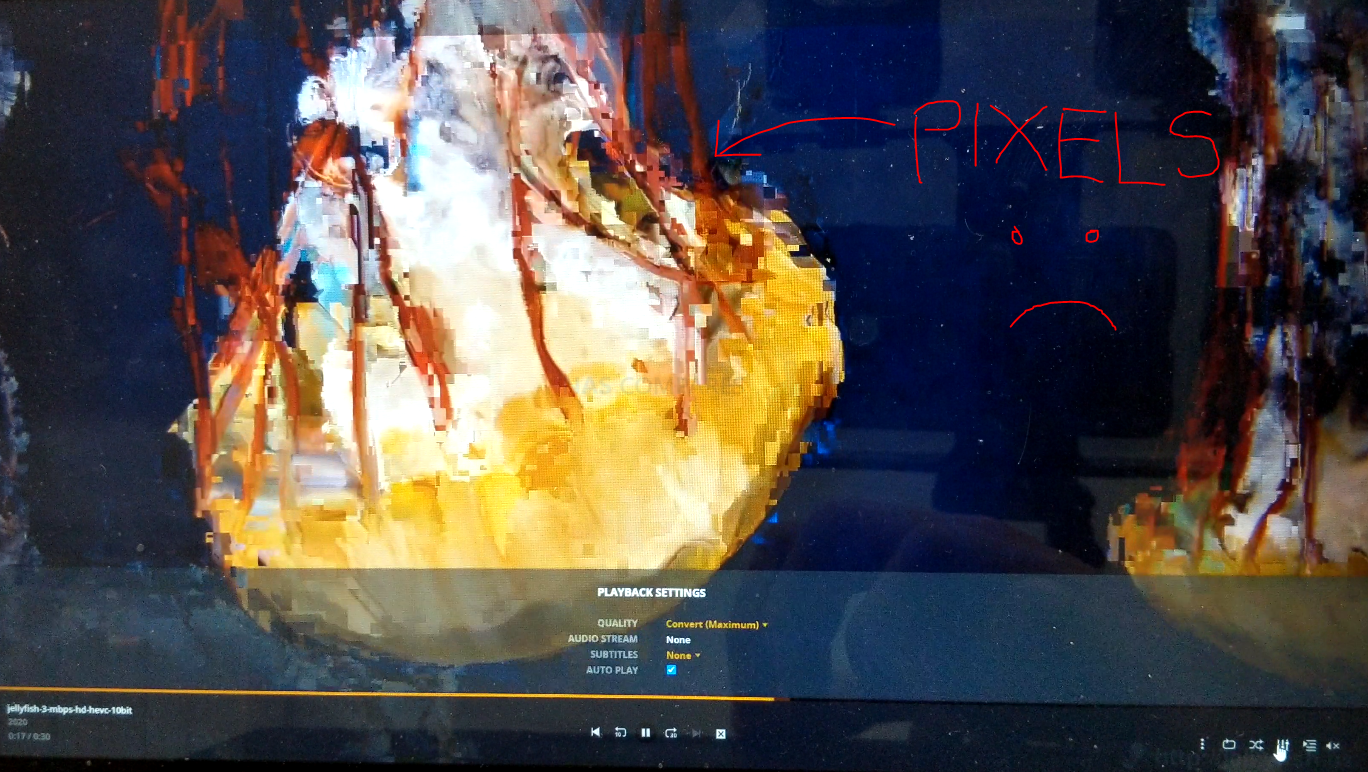 The Issue of H.265 / HEVC PLEX Playback Explained
The reason for this difficulty in playing back specific media formats such as H265 (HEVC), of 8-bit and 10-bit HDR, is due to the Plex media server application utilising a less suitable driver on the Synology NAS. In practice, when the Plex media server has difficulty playing a file type, it will try to transcode the file to a format that is better suited to either the hardware environment of the client (phone, TV, etc) or host (the NAS server itself). It does this by requesting that the embedded graphics component of the CPU (in the case of the DS920+, DS220+, DS420+ and DS720+ it is UHD Graphic 600 250-750MHz at 8GB – more generally known as the transcoding engine in NAS) to change the file type to something more suitable. However, the current version of plex pushes the Synology system to use the iHDdriver and this causes the Synology NAS to have difficulty, as it is not the default driver that the Synology NAS uses for transcoding in its own first-party application. This guide will show you how to to change your Plex media server application on your NAS to use the better-suited 'i965 Driver' on your Synology NAS. The whole process takes little more than 5-minutes and requires almost no technical knowledge, as well as being completely conducted over the web browser in DSM, the Synology software environment. So let's get started.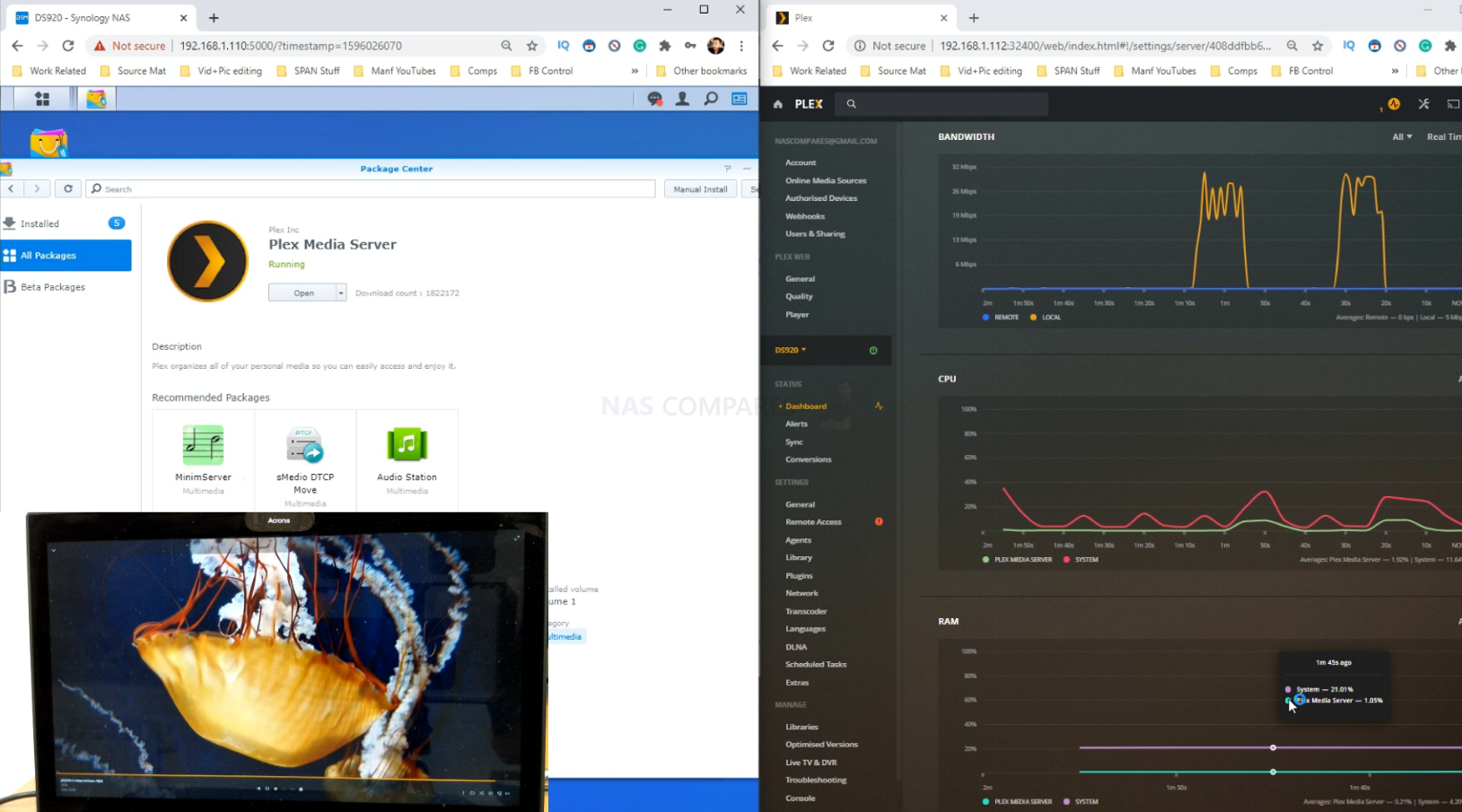 Important!
Before you proceed, it is worth highlighting that although this is a very low-risk operation, you should always be careful when editing background files on your NAS, even ones that are used by third-party programs. Before proceeding, make sure you have a sufficient backup of the data on your NAS off-site or at least on another storage system before proceeding. It is exceptionally unlikely that this will cause long-term damage to your NAS, but better safe than sorry. Additionally, it is worth highlighting that although following these steps will hugely improve performance of your NAS as it plays back and transcodes h265 8bit and 10-bit media, it is not something that is going to change how your system plays back 4K Media overall. If your CPU is not powerful enough to handle 4K Plex multimedia to begin with, as you would expect from an Intel Celeron based NAS, this fix will not make that any better. For true high-end 4K media playback, you should consider an i3 powered NAS at the very least, and most likely an i5 or i7 Intel core. Also, remember that the changes you will be making to the Plex Media Server backend may well be undone ina future Plex Media Server firmware update, so you might need to repeat them at a later date.
Synology NAS Plex H.265 Performance Fix – Step 1
The first thing you need to do is make sure that you have Plex media server already installed, make sure your media has been indexed and that you set Plex up for the first time. If you need a guide on how to set up Plex for the first time on your Synology NAS, you can find it here:
Synology NAS Plex H.265 Performance Fix – Step 2
Once you have Plex media server setup, head back into the Synology DSM platform and open up the application centre and find plex.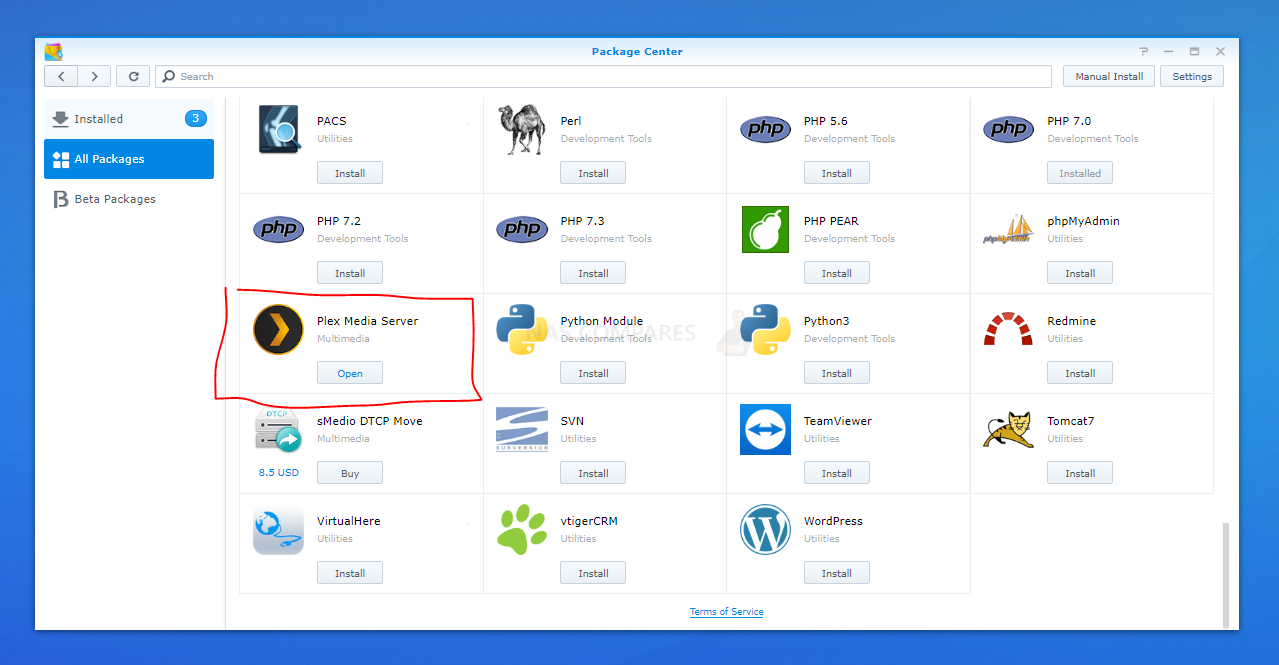 Synology NAS Plex H.265 Performance Fix – Step 3
Click on the Plex logo in the app centre and then in the next window, click the down arrow to select the option to 'stop' the Plex media server application. You need to do this to make sure that the changes you implement to Plex media server on your NAS take effect.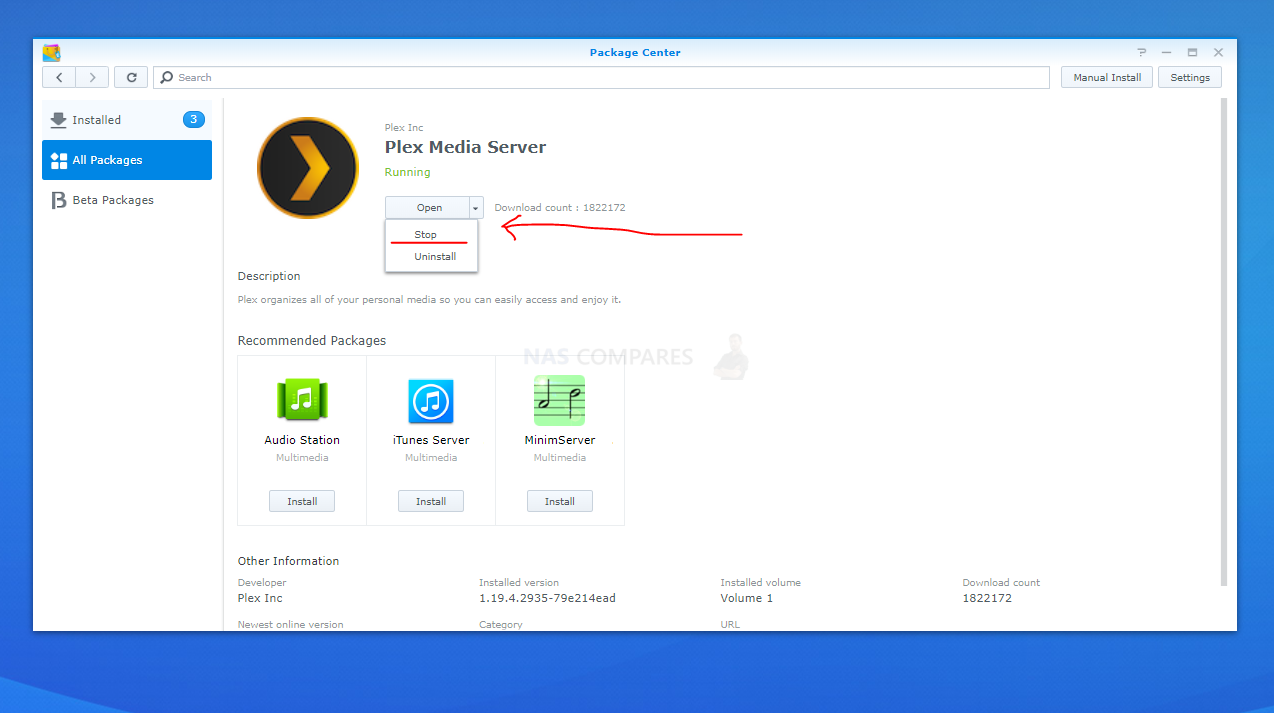 Synology NAS Plex H.265 Performance Fix – Step 4
Next, scroll back through the app centre and find and the Text Editor app from Synology. This is a free application and can be installed with one click and no other add-ons or apps are needed.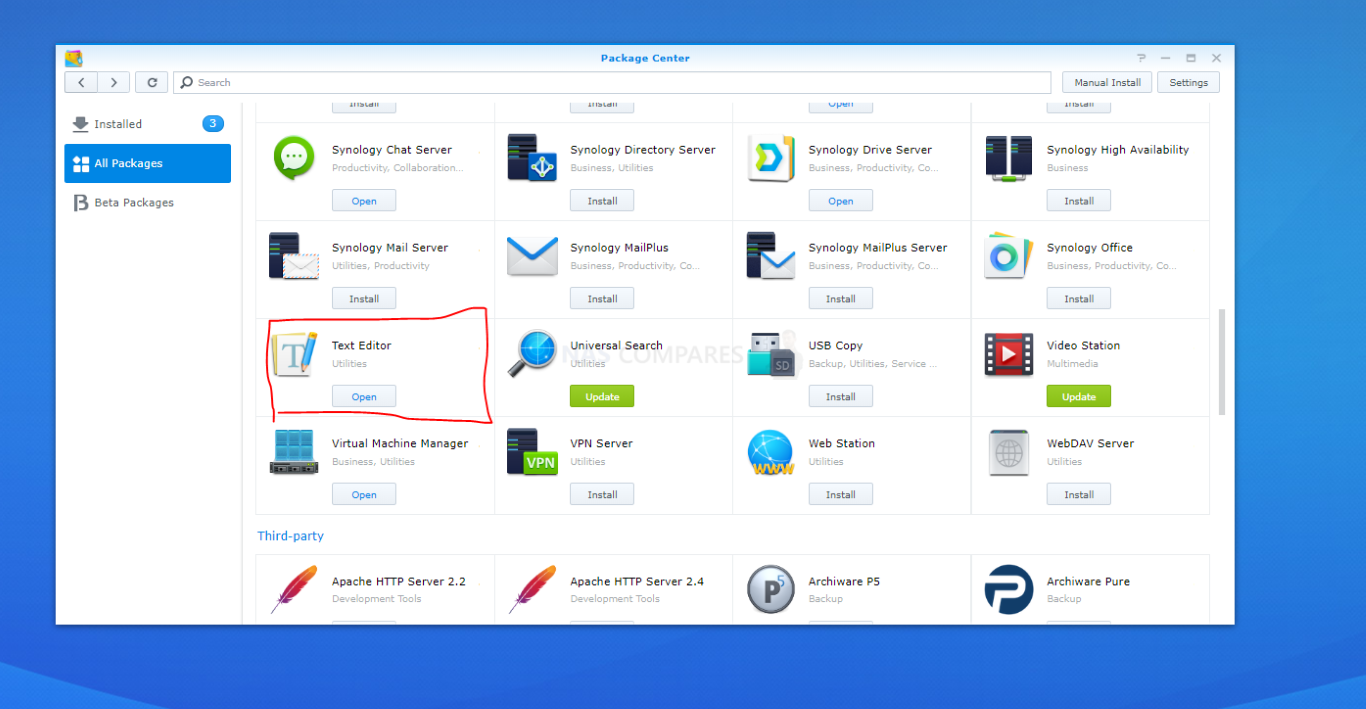 Synology NAS Plex H.265 Performance Fix – Step 5
Next, you need to open up the File Station browser in DSM. As you have already installed the Plex media server application, the Plex folder should appear on your list of available shared folders on the left. Head into the Plex folder.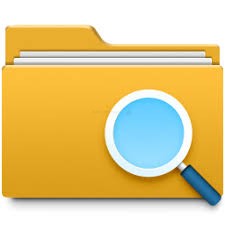 Synology NAS Plex H.265 Performance Fix – Step 6
From here head into the Library folder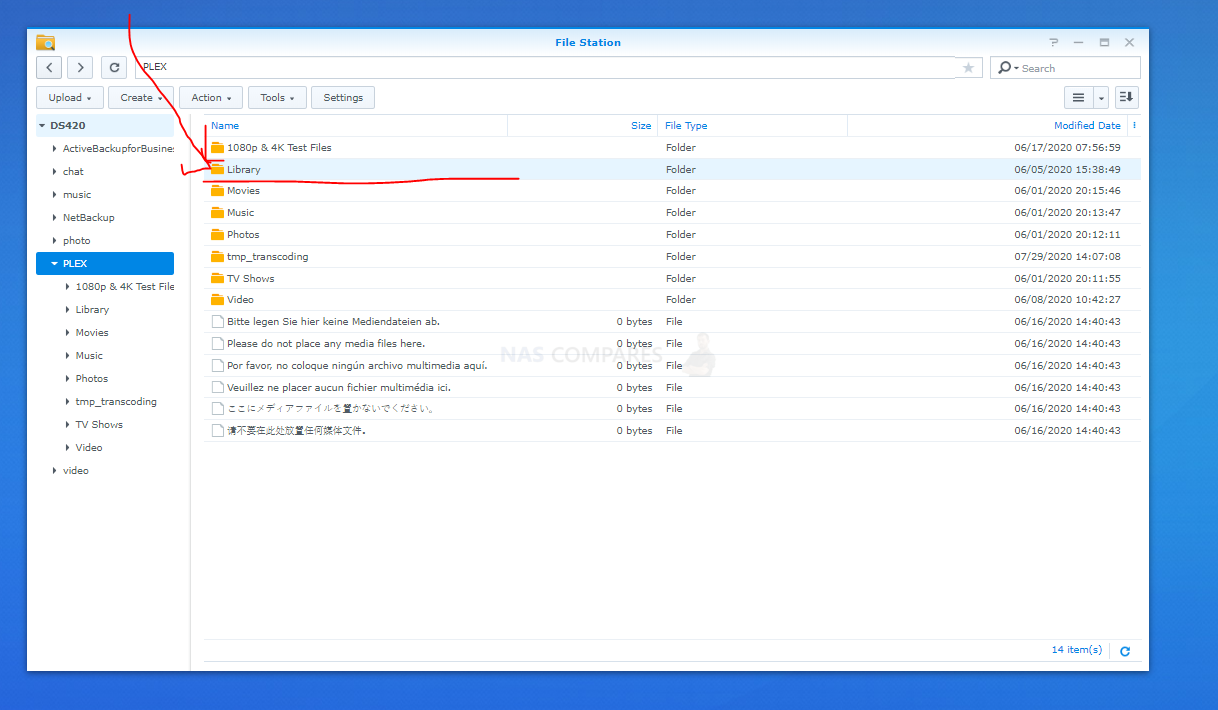 Synology NAS Plex H.265 Performance Fix – Step 7
Then again head into the next folder, Application Support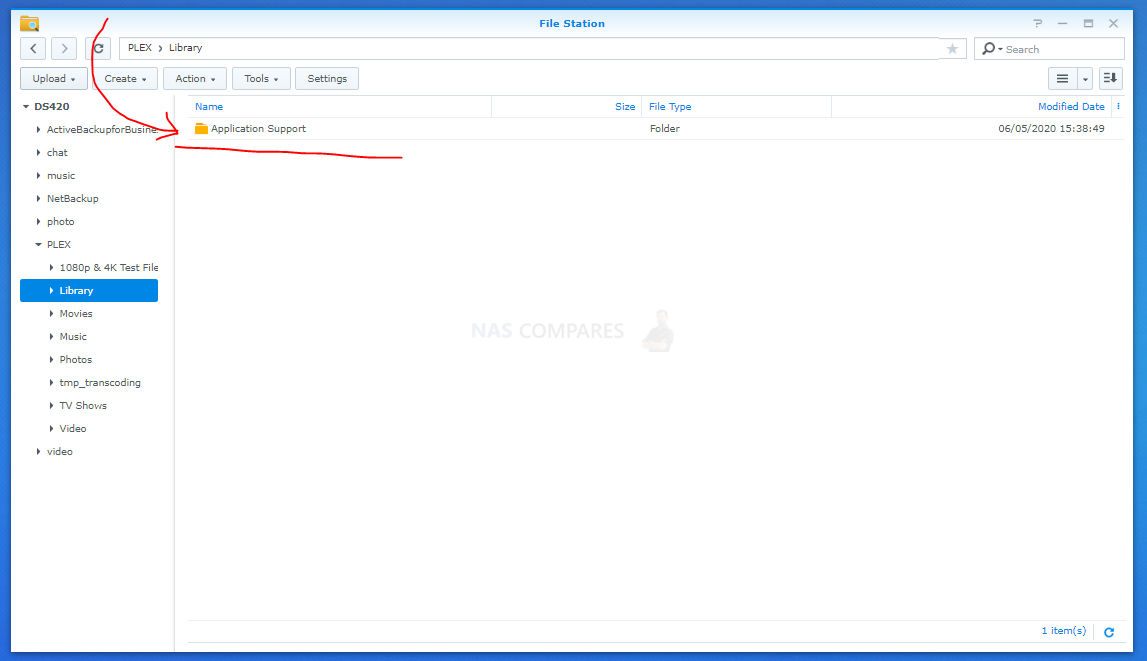 Synology NAS Plex H.265 Performance Fix – Step 8
Next, continue into the Plex Media Server folder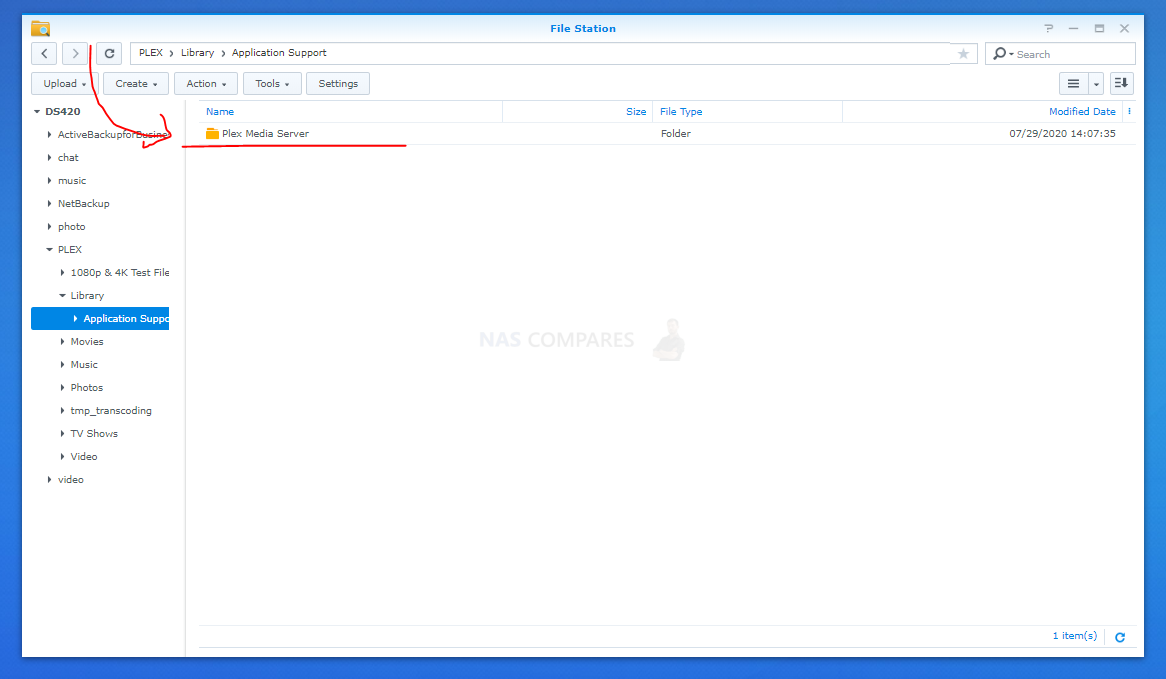 Synology NAS Plex H.265 Performance Fix – Step 9
And from here, double click the file called Preferences.xml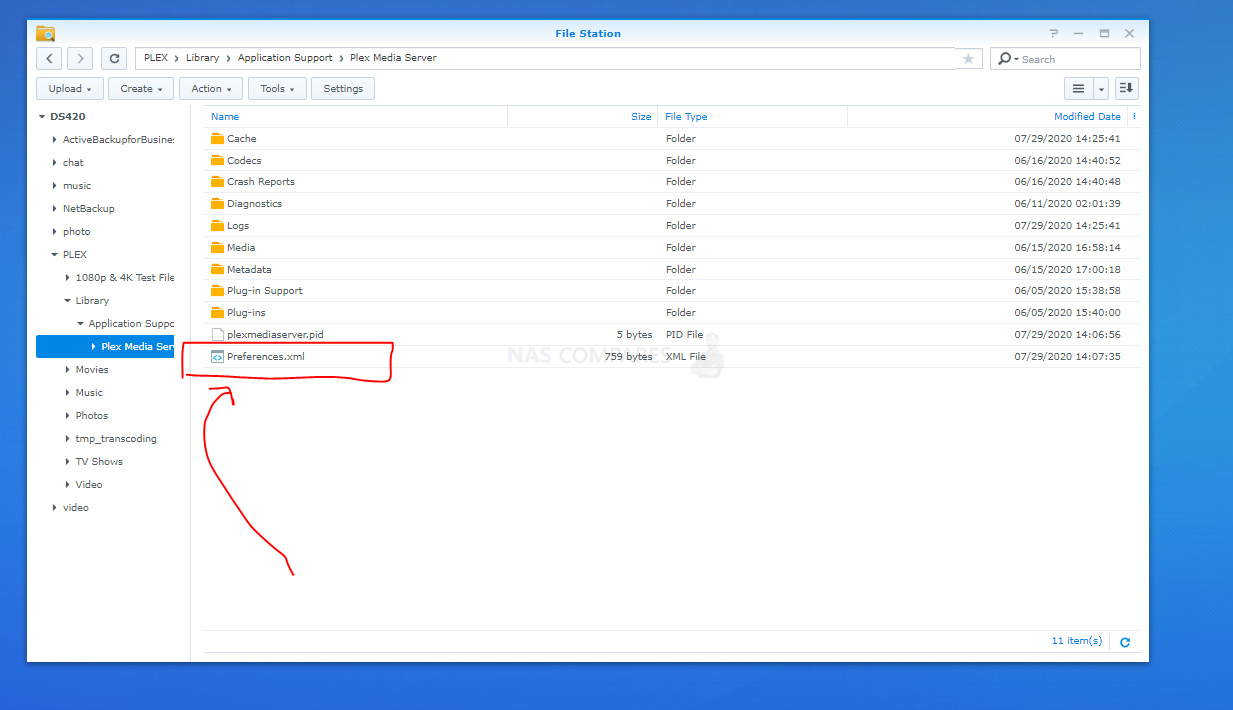 Synology NAS Plex H.265 Performance Fix – Step 10
This file will open in the text editor you just installed. This is the back-end defaults that the Plex media server app users when running Plex media server on your Synology NAS. You will be greeted by a single long line of code/text. Scroll all the way to the furthest end on the right and find the last two characters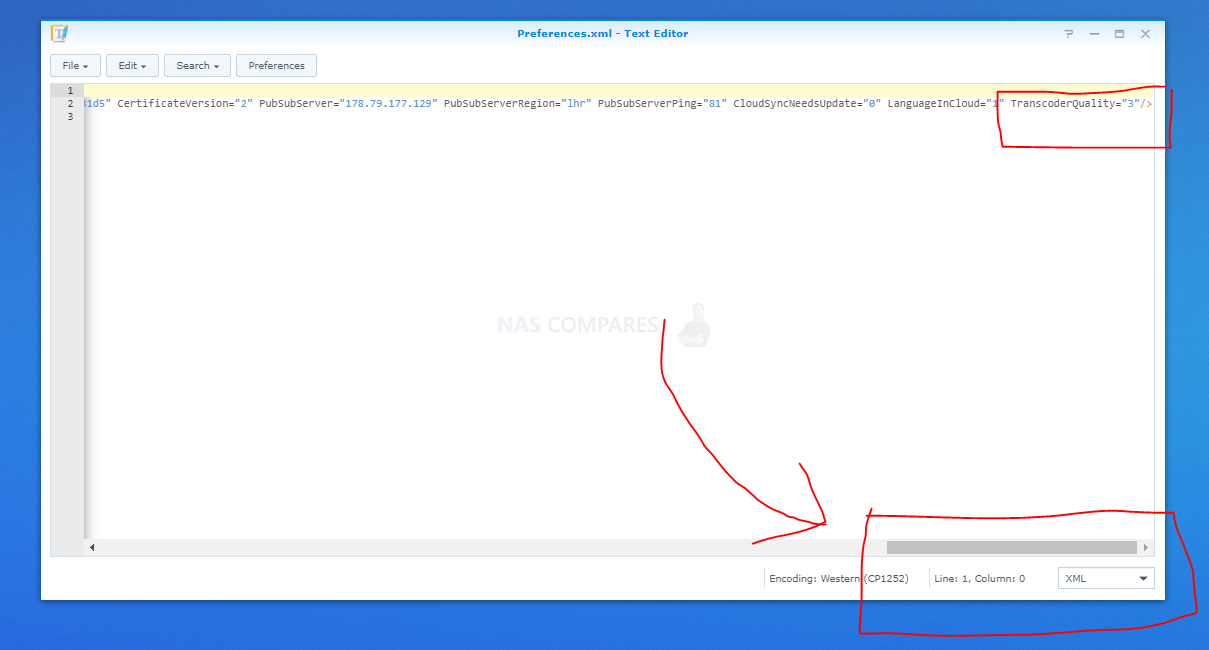 Synology NAS Plex H.265 Performance Fix – Step 12
Next, take the text/code below and copy and paste it into the document, pasting over the last two characters of this line.
VaapiDriver="i965" />
(remember the space BEFORE the V)
The last line of your document should look like this.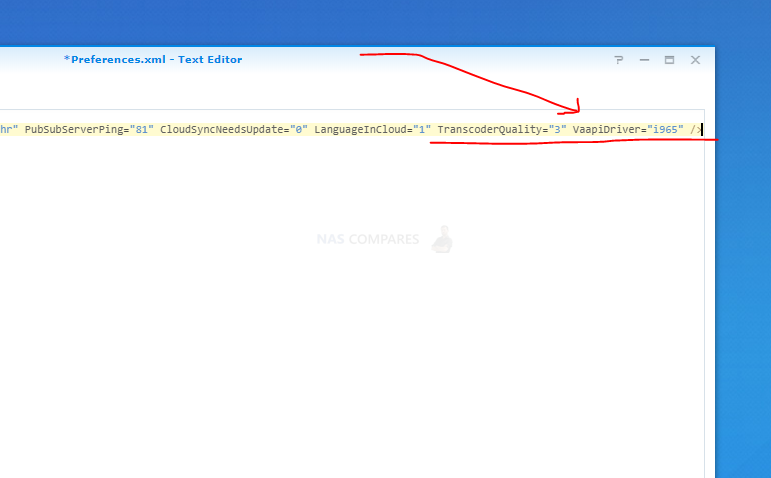 Synology NAS Plex H.265 Performance Fix – Step 13
When you've done that, head up to the top left where it says 'File' and then find the 'save' option and click it to ensure that these changes are maintained.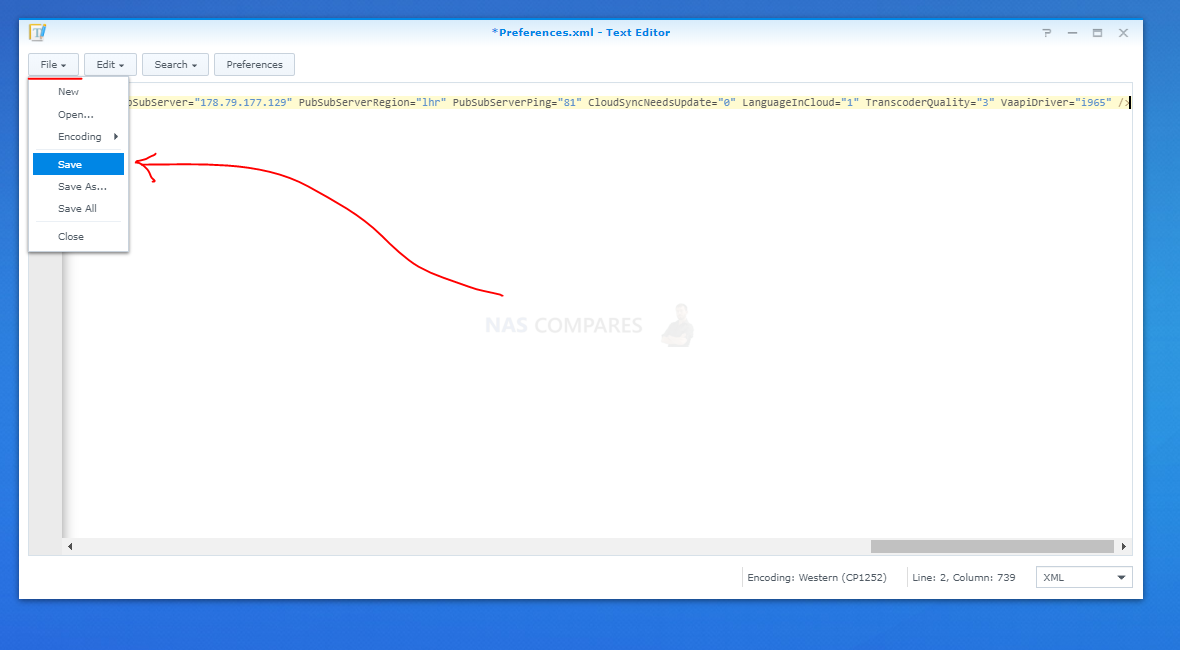 Synology NAS Plex H.265 Performance Fix – Step 14
Now you can close this text window and head back into the app centre to restart the Plex media server application.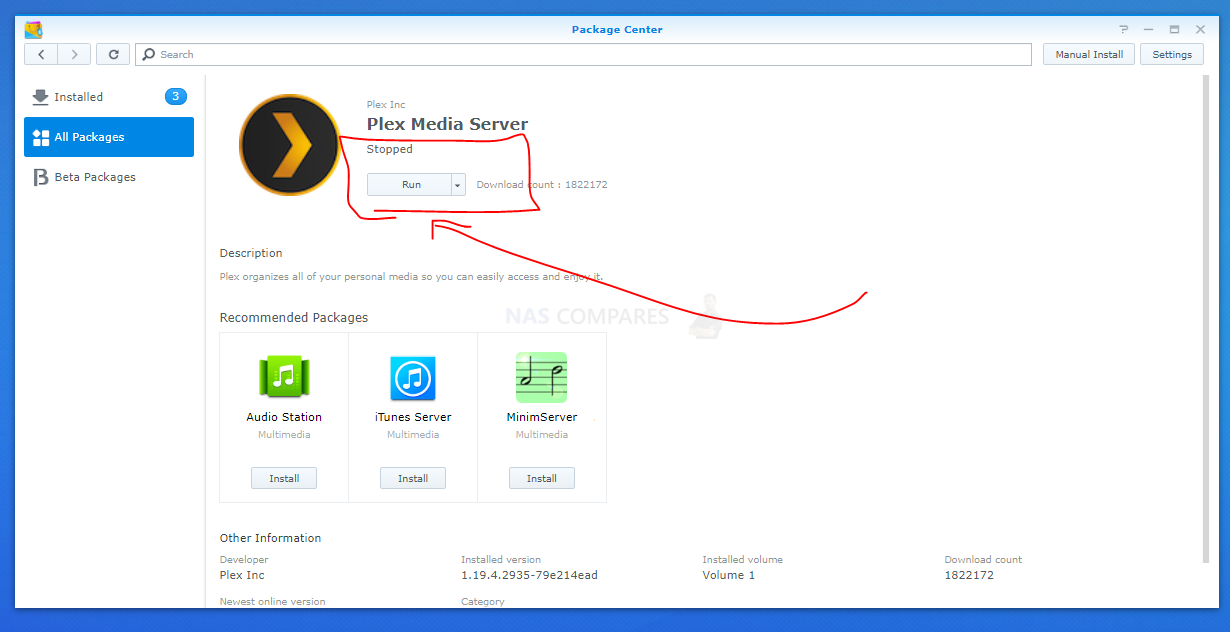 Synology NAS Plex H.265 Performance Fix – Solved
And that is it. If Plex Media Server opens in the next few minutes, then you know that it has worked and now you can go ahead and start playing those h.265 / HEVC files that you were having so much difficulty with ease, barely troubling your CPU and memory. A FULL video of the steps above is available in the video below (as wells s a before and after, showing the extent of the results)
TRYING (AND SUCCEEDING!) TO PLAYBACK A SIMPLE 3Mbps H.265 (HEVC) 1080p File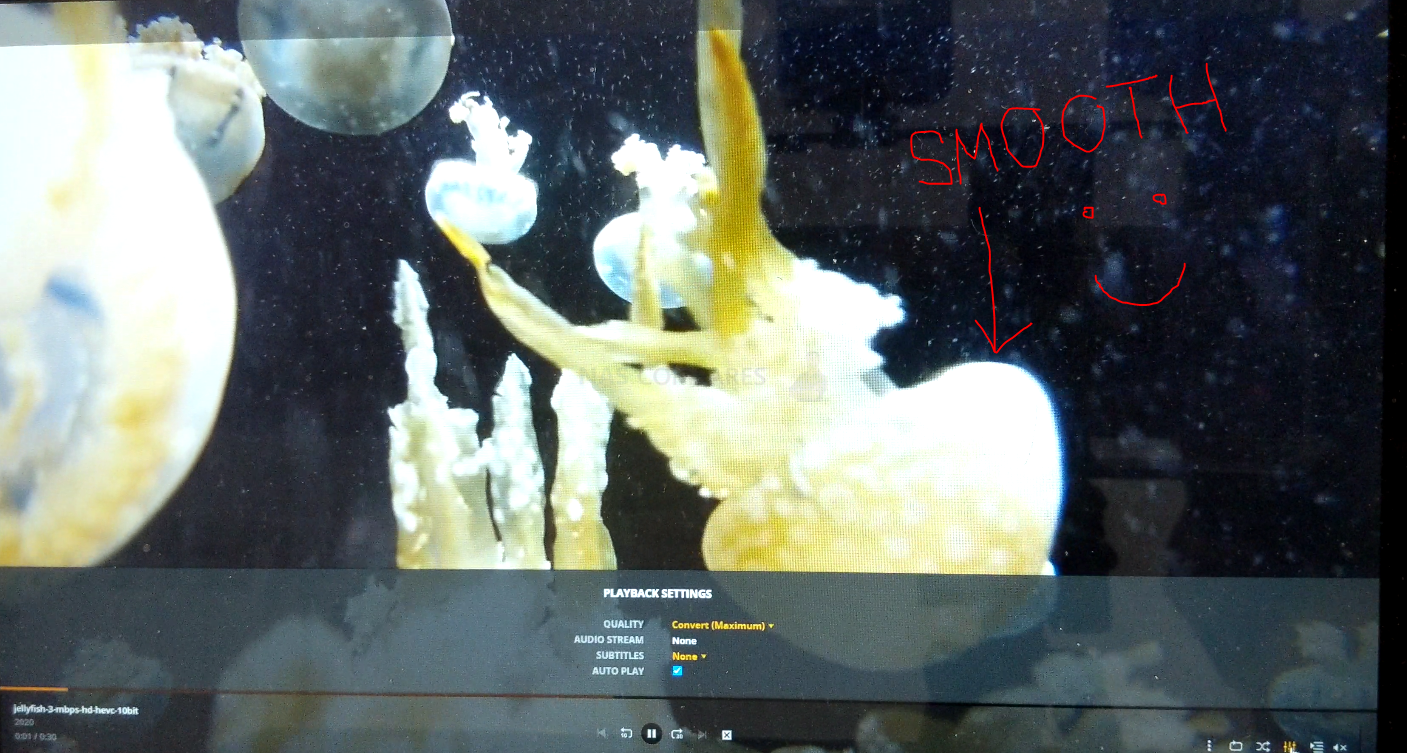 Just remember this fix allows your Plex media server NAS to playback h265 HEVC (8-bit and 10-bit too) media compressed files much more easily, however it does not necessarily mean that high-end 4K files and high bitrate will be in any way affected in their playback on your NAS. The new diskstation DSx20+ series features J4025/J4125 Celeron processors, which will typically only allow up to high-end 1080p playback and transcoding in Plex media server, so you will need to look at higher-end Intel core processors if you want to start dabbling with 4K Plex media server.
Still looking for ways to Improve your Plex Media Server Performance? Below are 11 ways to improve your Plex NAS (click below – Part 1 AND 2)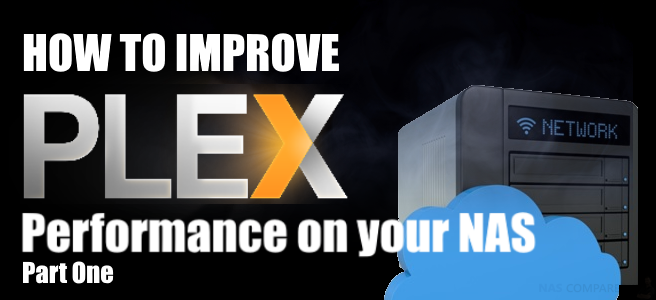 PART 2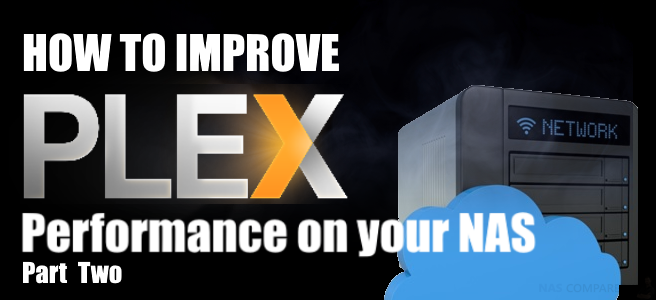 📧 LET ME KNOW ABOUT NEW POSTS 🔔
Join 1,582 other subscribers
Get an alert every time something gets added to this specific article!
This description contains links to Amazon. These links will take you to some of the products mentioned in today's content. As an Amazon Associate, I earn from qualifying purchases. Visit the NASCompares Deal Finder to find the best place to buy this device in your region, based on Service, Support and Reputation - Just Search for your NAS Drive in the Box Below
Need Advice on Data Storage from an Expert?
We want to keep the free advice on NASCompares FREE for as long as we can. Since this service started back in Jan '18, We have helped hundreds of users every month solve their storage woes, but we can only continue to do this with your support. So please do choose to buy at Amazon US and Amazon UK on the articles when buying to provide advert revenue support or to donate/support the site below.

Finally, for free advice about your setup, j
ust leave a message in the comments below here at NASCompares.com and we will get back to you.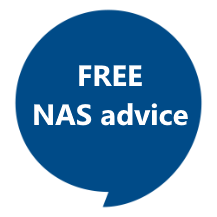 Need Help?
Where possible (and where appropriate) please provide as much information about your requirements, as then I can arrange the best answer and solution to your needs. Do not worry about your e-mail address being required, it will NOT be used in a mailing list and will NOT be used in any way other than to respond to your enquiry.
Support What We Do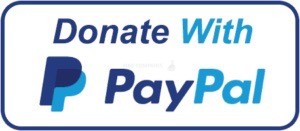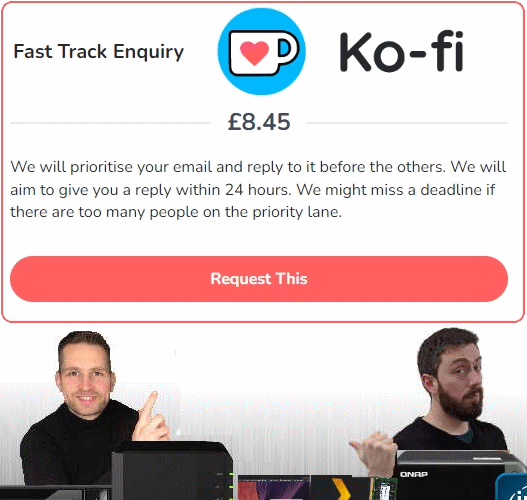 Terms and Conditions
Alternatively, why not ask me on the
ASK NASCompares forum
, by clicking the button below. This is a community hub that serves as a place that I can answer your question, chew the fat, share new release information and even get corrections posted. I will always get around to answering ALL queries, but as a one-man operation, I cannot promise speed! So by sharing your query in the
ASK NASCompares
section below, you can get a better range of solutions and suggestions, alongside my own.