Review of the New QNAP TS-h886 ZFS 6-Bay NAS Drive – Worth your Data?
Summer 2020 has been a remarkably busy period for network-attached storage. We have seen numerous high-profile releases appear on our radar and be released quite quickly, in efforts to bring the latest generation of hardware are to businesses that are beginning to re-open since the peak periods of COVID. However not all the solutions that we have seen in the last couple of months arrived out of the blue and today's NAS is potentially one of my favourite solutions of the year. Originally revealed at the start of 2020, it now arrives with the 2019 previewed ZFS file system, QuTS Hero, inside. Today I want to talk about the brand new TS-h886 QNAP NAS, what makes it especially different from everything we've seen before and what cool features have they included inside. This is not a NAS for the faint-hearted, home user or non-tech buyer – the TS-h886 is a high-end enterprise-grade desktop solution that is designed to change the way many users think about their backups and what exactly is an acceptable norm. At just over £1,800, this is not a light investment and unless you think you're going to take advantage of the large array of hardware advantages inside, this may not be one for you. So, let's get our hands dirty and get to grips with the brand new ZFZ TS-h886 NAS and see if it deserves your data?
QNAP TS-h886 ZFS NAS Review – Quick Conclusion
The TS-h886 is genuinely an incredible piece of engineering, allowing you to leverage towards power rather than capacity, it is still a spacious device, even in this modern age of 16TB and 18TB hard drives in the market. Additionally, the tiered storage system allowing three stages of media to be used, along with the powerful caching, compression and deduplication options available to the ZFS based QuTS Hero software included with the TS-h886 cannot be underestimated. This is a powerful, compact (if somewhat expensive) solution that should allow you to not only stop worrying about your data, but also wonder why you never had a number of these features at your fingertips before. With comparatively instantaneous RAID builds, incredibly future-proof expandability in terms of storage and internal upgrade connections, you can certainly see that QNAP poured a lot of love, work and money into this solution. If you think you are ready for a ZFS NAS, the QNAP TS-h886 is arguably one of the very best in the market in the world right now and will even challenge the likes of FreeNAS in the field of ZFS, whilst still bringing the utility and ease-of-use of QTS onto the powerful and multi-functional file system. But damn, that price tag!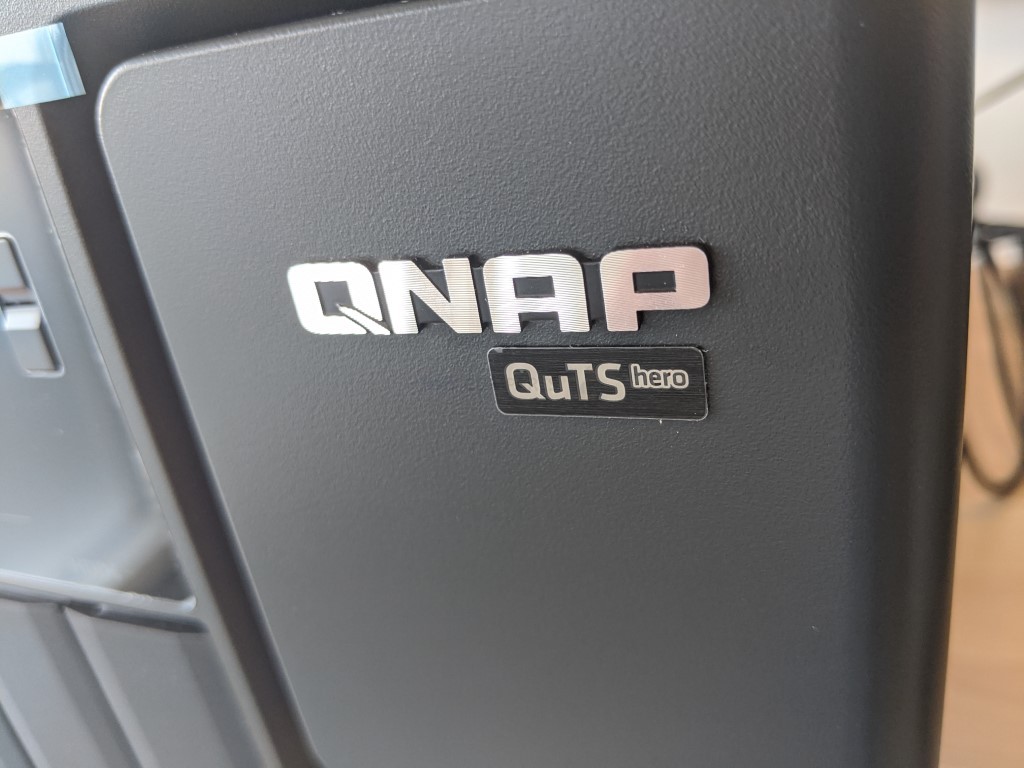 QNAP TS-h886 ZFS NAS Review – Packaging
As one might expect from an enterprise solution such as this, the external packaging of the QNAP TS-h886 is more about functionality and protection than looking pretty. Arriving in an incredibly large box for a desktop unit, the brown box design is familiar to that of other desktop solutions in their product portfolio. That's it, there is a sticker on the top that denotes lots of system information and specifications regarding the use of the device and it's hardware/software specifications.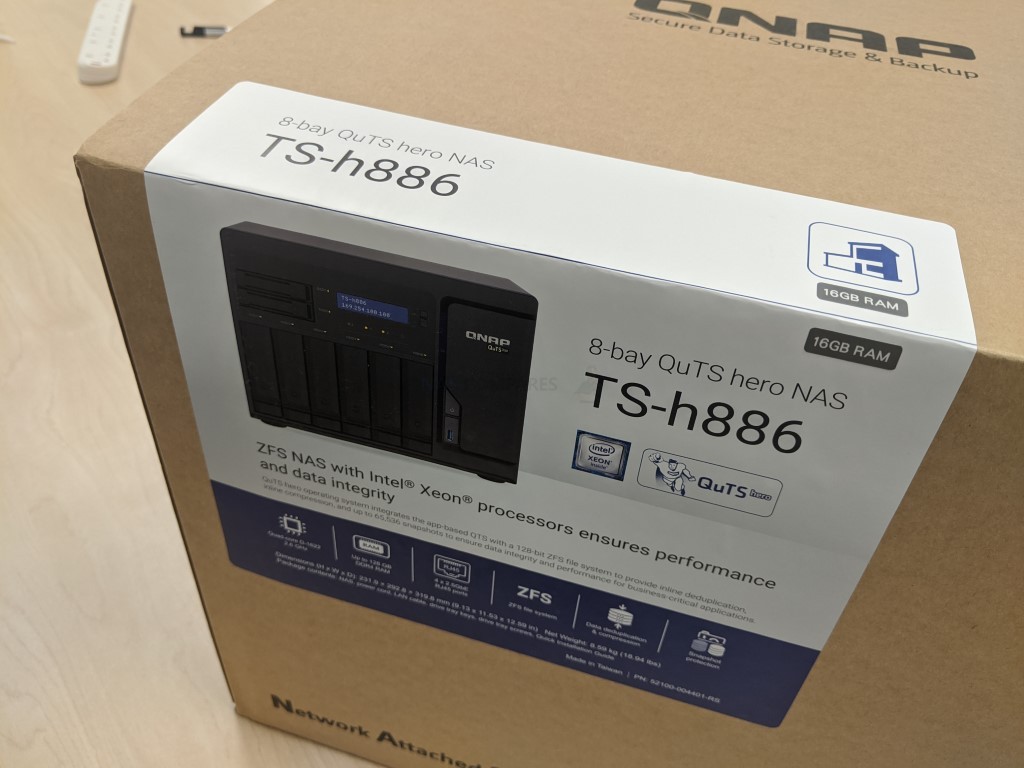 Again, I am not hugely surprised by this given that this is a solution that will almost certainly never be seen by the end-user until they've already ordered it and the courier has dropped it off at their location. Therefore the need for aesthetical external retail packaging is almost non-existent.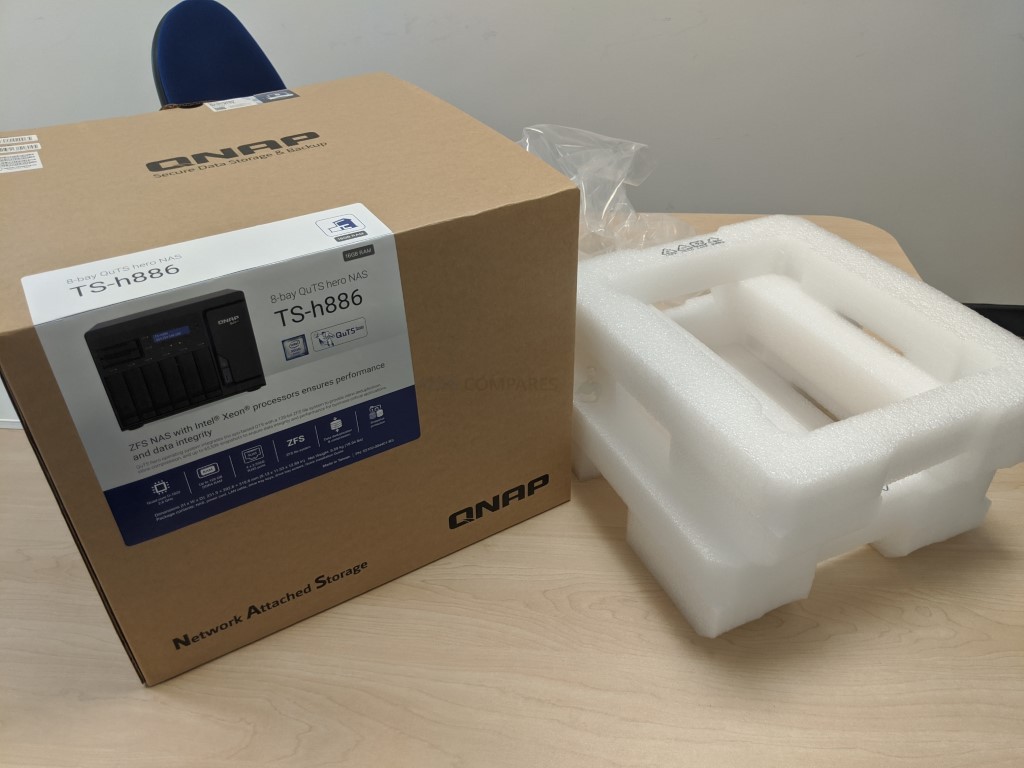 Inside this retail box, we find an enormous degree of protection for the device when in transit. As mentioned previously here on the blog, I appreciate any brand that will spend extra on its shipping container largely because although you can't really protect a device like this from direct and piercing damage from a forklift truck arm, you can protect hardware such as this from shock or motion damage when in transit. This is a wildly underestimated killer of hardware are because often the effects of this kind of damage will not be seen immediately upon opening the device and will end up being a pressing warranty concern down the line. So I'm pleased to confirm that the TS-h886 arrived with a ridiculously dense and heavily protective degree of rigid foam that all but eliminates even a centimetre of internal motion when in transit. Removing the TS-h886 from this protective packaging presents us with the device itself and a box of accessories for deploying the device for the first time. Everything to install this device, baring the storage media sold separately as is always the case with QNAP NAS, includes the following:
TS-h886 NAS Drive
M.2 SSD Heatsink x 3
Quick Installation Guide
Cat 5e Ethernet Cable x 2
Cat 6 10GBASE-T Ethernet cable x 2
Power Cord x 1
Flathead screw x 18 (for 3.5″ HDD) and Flathead screw x 24 (for 2.5″ HDD)
Warranty Information
The accessories included with the TS-h886 are all fairly standard but there are a couple of small details worth highlighting. The retail packaging includes 3 sets of M.2 SSD heatsinks that are used when installing the internal NVMe storage. Although this is a very minor touch, it is worth highlighting because in the last couple of years there has been an increase on M.2 SATA and M2 NVMe SSD equipped NAS Solutions. However, I have noticed several brands included support for this feature, but not including the heat sinks required to maintain passive cooling of this volatile and heat degradable PCIe media, so I'm pleased that QNAP is continuing to include heat sinks with these devices. a minor detail the one I wanted to highlight. Another interesting detail is the included ethernet cables that the TS-h886 arrives with. The TS-h886 features four 2.5Gbe RJ45 LANs port, that we will touch on in more detail later on, as well as a PCIe slot for adding among other things more network interface ports. The TS-h886 arrives with four ethernet cables included with the accessories pack, however, two of them are Cat5e which is suitable for 1Gbe and 2.5Gbe without risk of losing bandwidths, as well as two cat6 cables that are generally used in 10Gbe environments. Although the price difference between these cables is negligible, it is still a nice touch that QNAP have chosen to include two higher capacity RJ45 LAN cables with the TS-h886 device.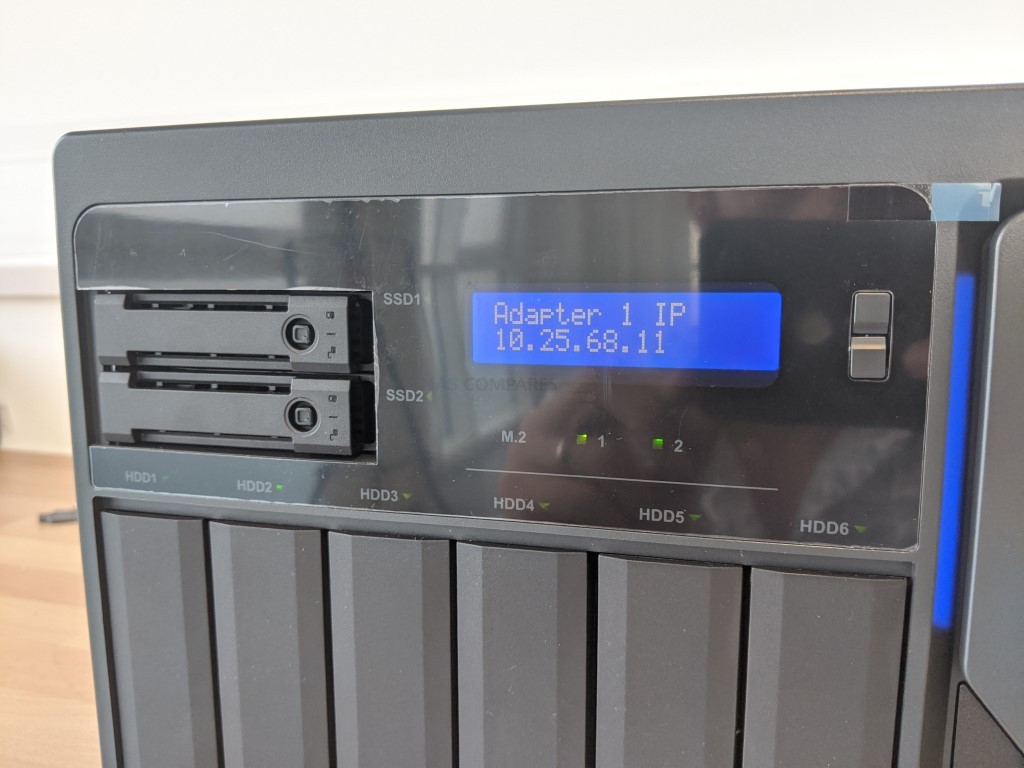 Finally, we find the Quickstart installation guide included with this device along with information on your 2 years manufacturer's warranty and details on extending the warranty up to 5 years. Warranty is a key buying factor for many business users, as they want a solution to last as long as possible but also a longer warranty will generally give the buyer a great deal of confidence in the longevity of this solution. 2-years on the QNAP TS-h886 does seem a fraction shorter than I would have had assumed. Given the high profile nature of this device, I would have thought it would have arrived at 3 years as standard. That said, the Warranty extensions are probably one of the lowest I have found when comparing likewise warranty upgrade packs with other brands such as Synology and Drobo, so I guess this is more of a tailored and scaling approach to the warranty for businesses. Let's agree to disagree.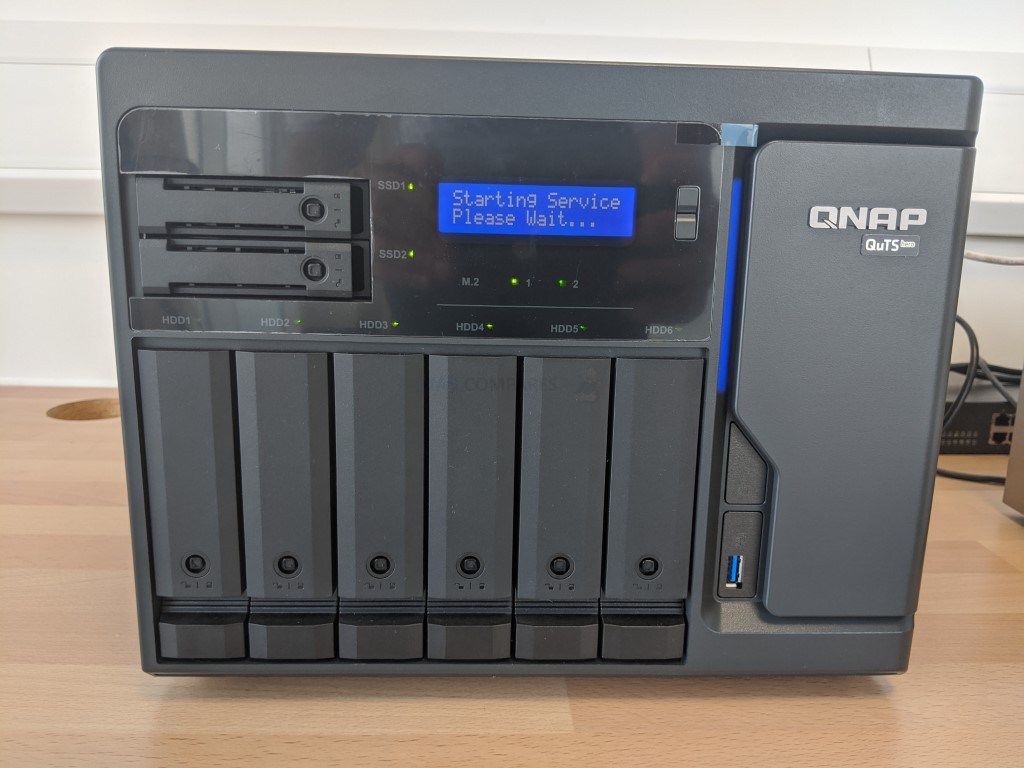 QNAP TS-h886 ZFS NAS Review – Design
Finally, we remove the QNAP TS-h886 from the retail packaging and take a good look at this external chassis. For those that aren't aware, the TS-h886 is not the first 3-tier storage solution that QNAP has brought to the market and is, in fact, the third generation in this type of devices (TVS-x82 being the first). However, the TS-h886 is by far the best looking to buy between these three series, featuring a lot of the design choices in cooling and storage spacing found in the QNAP x82 series, but now with NVMe and a better defined with an improved enterprise stylization.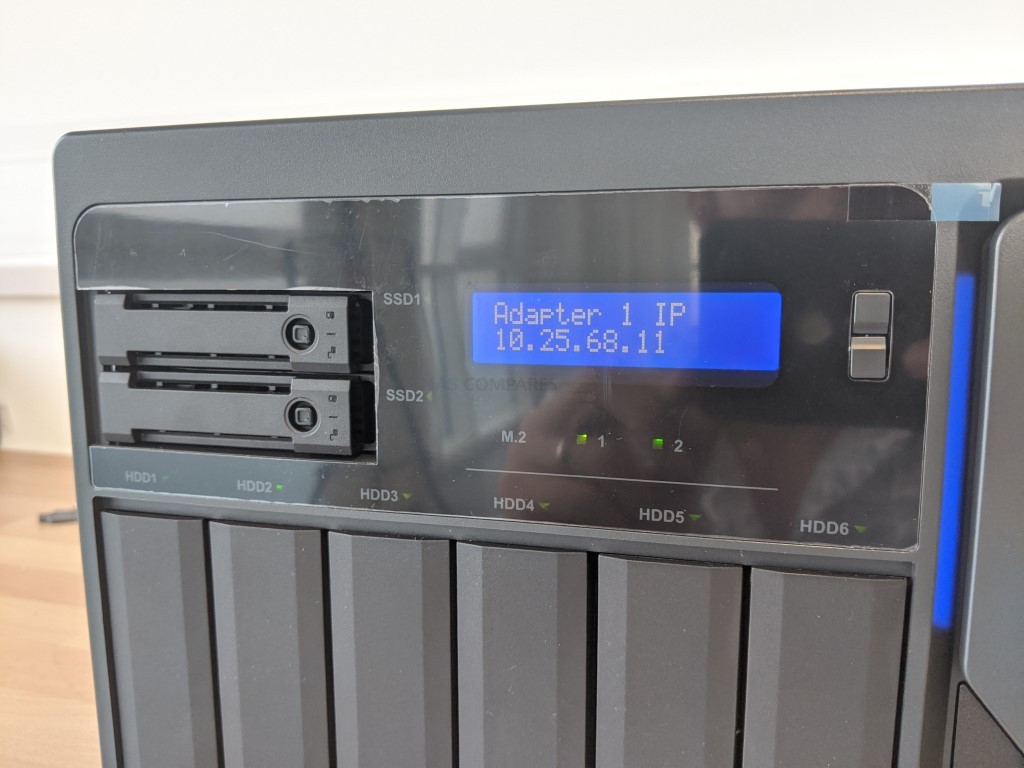 Also, I can confirm that the TS-h886 also features an LCD panel on the front, something that I know a number of users were concerned with the absence of in future QNAP desktop solutions. it is a small detail but this LCD panel does present a great deal of real-time information with regards to network connections, internal operations and details alerts when needed, providing real-time status information on the NAS. Yes, you can dig a lot of this information out by logging in remotely, but it will never be as quick as just tapping the panel on the front of the device and definitely something I.T guys prefer.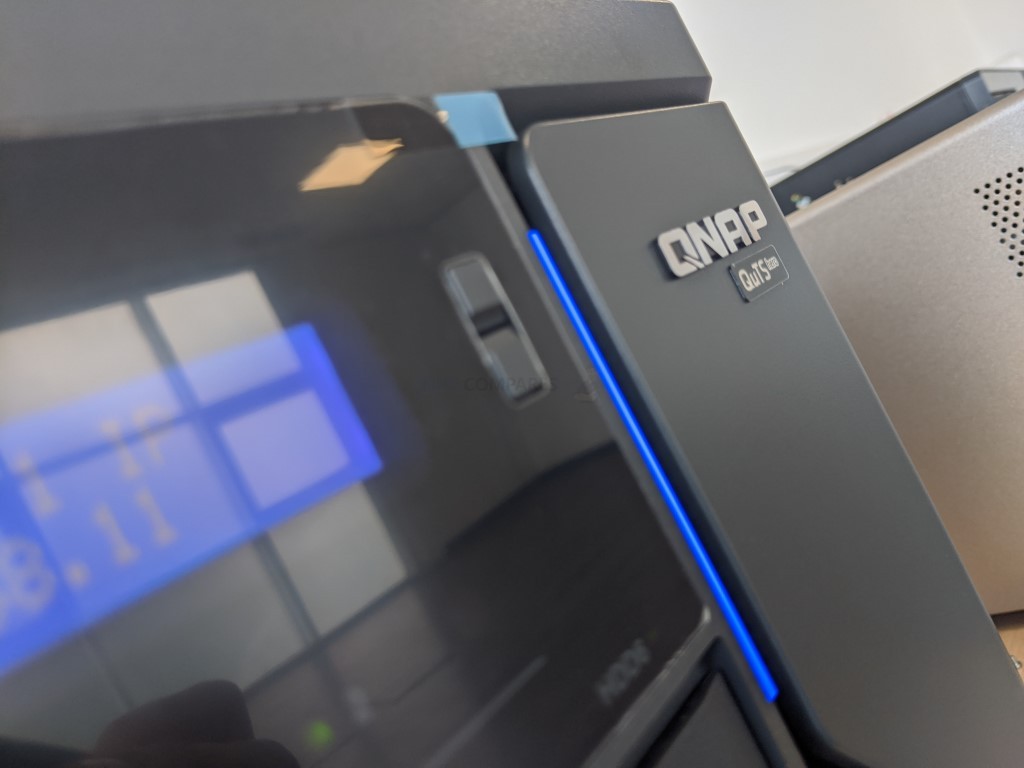 The inside of the QNAP TS-h886, something we will go into more detail later, requires a larger amount of cooling than the average NAS thanks to the high-end Xeon processor, up to 128gb of DDR4 ECC memory and high-end PCIe NVMe SSD bays inside. It is because of this that almost a third of the width of the QNAP TS-h886 is dedicated to a combination of active and passive cooling that benefits from an LED-lit ventilation panel on the front of the device. It's a small design feature and more about modern aesthetics than it is about complete cooling, but I do like how this NAS chassis looks.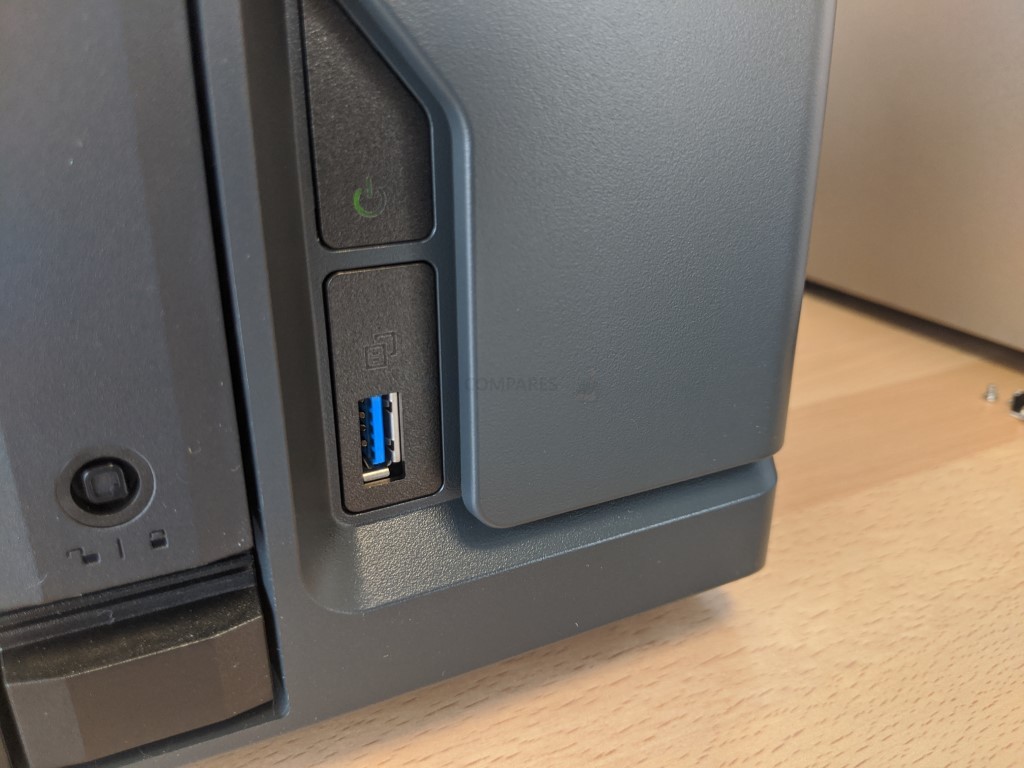 Additionally, on the front of the TS-h886, underneath the power button, we find a front-mounted USB copy button this is something I am often talking about here on the blog and YouTube as a small but undeniably useful feature that (although rudimentary) is still good to have featured here as a means of ad-hoc 'backup and go' functionality.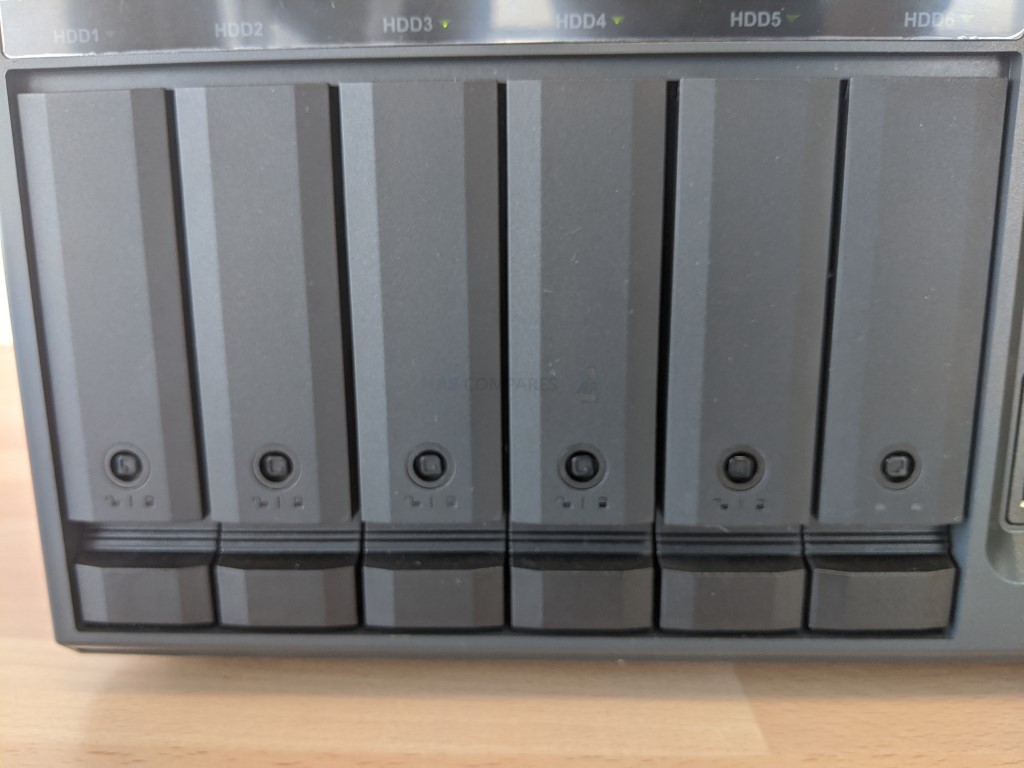 The main storage area of the three-tiered QNAP TS-h886 supports up to 6x SATA hard drives, each in their own dedicated click and load tray. Alongside this, each bay has a dedicated LED light that denotes drive access and health at all times.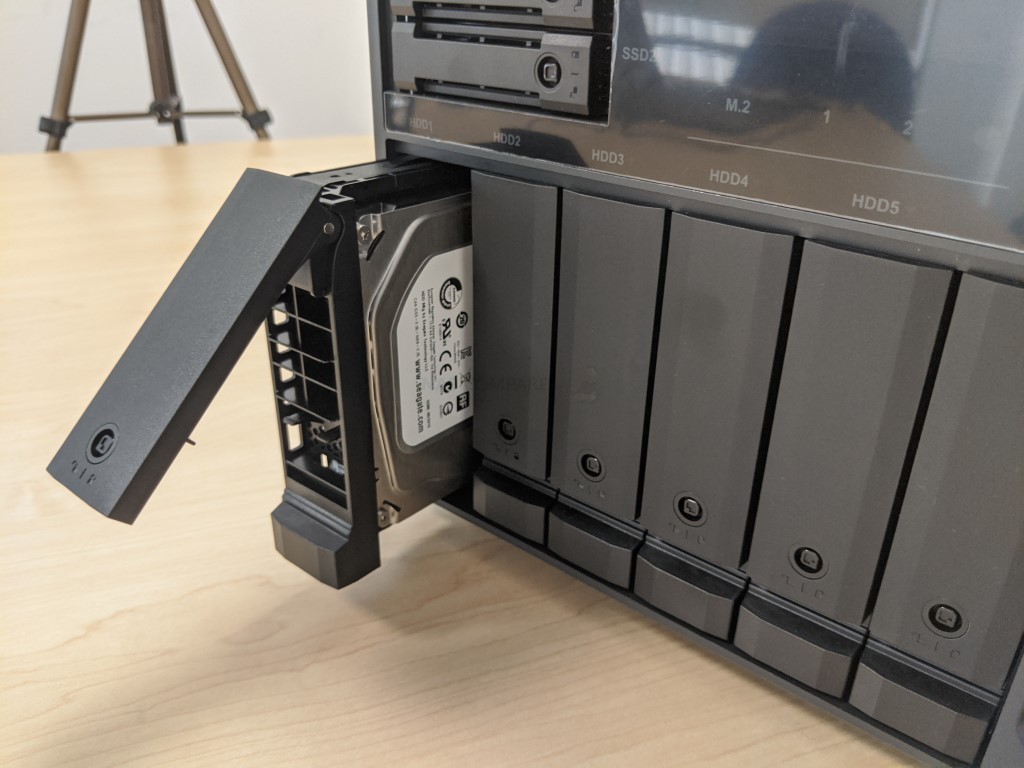 The system can run on a single SATA media drive if you so choose to and although that does leave ample room for scaling your storage and RAID configuration down the line, ZFS is better suited to larger RAID environments and the benefits that it present over typical EXT4 and BTRFS systems. With the support of up to 16TB in the Seagate ironwolf NAS series and larger 18TB drives becoming available in higher capacities, it is strongly recommended that you use enterprise-grade media in a device like this, as both the internal Xeon processor and QuTS hEro remove a great deal of the internal bottleneck that limits other systems from harnessing the performance available in enterprise-grade drive media.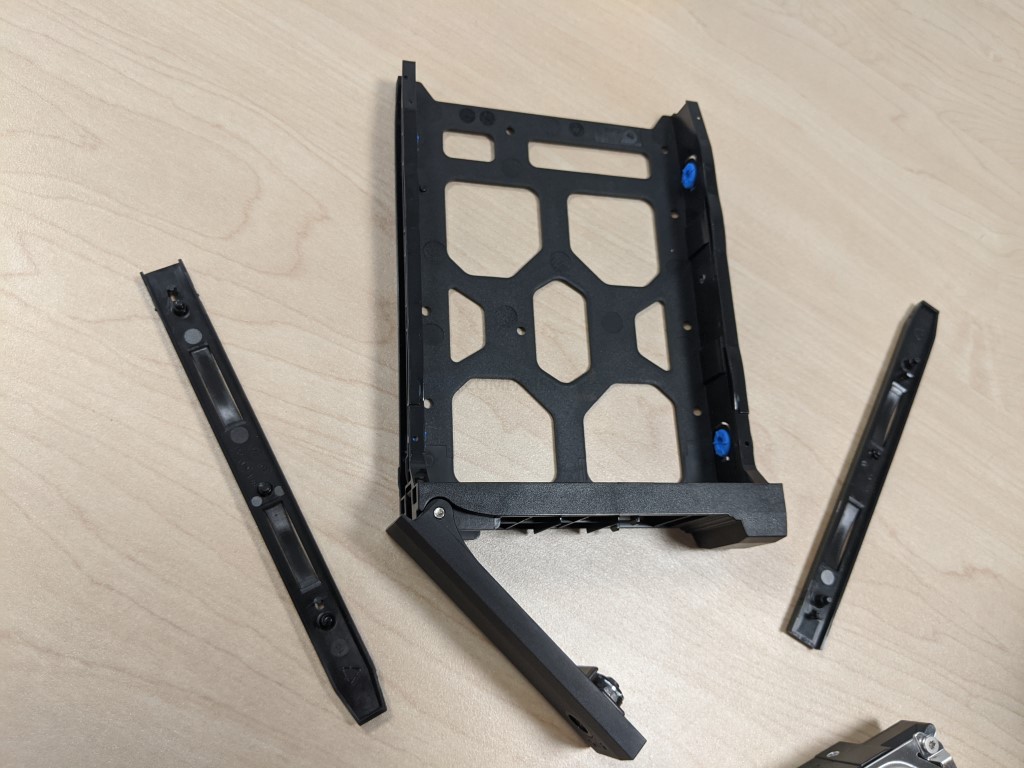 Each tray is click 'n' load and in the case of 3.5 in hard drive media, does not require a screwdriver for installation. However you can install 2.5 SSD media here if you so choose, as there are screw holes and screws provided, but this kind of undermines the whole 3-tier storage system given that there are dedicated two 2.5 inch SSD bays also available. Fully populating the whole device with hard drives of 16tb allows an enormous degree of storage available, even in single and dual parity RAID configurations like RAID 5 and RAID 6. As well as those of triple RAID configurations too. One interesting benefit of ZFS in RAID configurations like these is that the build time, re-silvering and re-builds are significantly faster, with preliminary RAID building at setup taking a handful of minutes (yes, even RAID 6) and not the hours that you would have normally associated with 3+ disk single parity config in EXT4.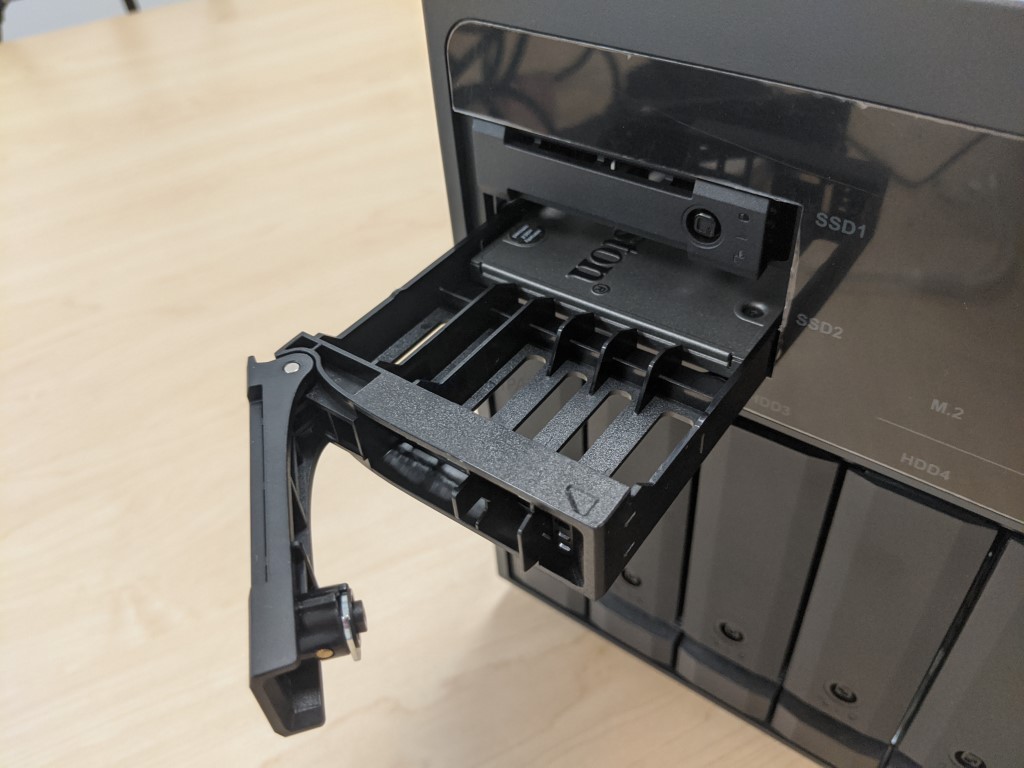 Next, we can look at the SSD bays on the front of the TS-h886 that allow installation of SATA based solid-state drives. This can be used in a number of ways, from tiered storage (Qtier) to raw access with volumes living directly on this SSD layer, with their own preset RAID configuration. Whether you want to use intelligent caching to get the best possible output available to your data, or you want to use each storage tier for different user workgroups with their own priority of data access speed, this 3-tier storage system (with the NVMe to be touched on later) is significantly more advantageous in this ZFS NAS system than when previously used in EXT4 NAS drives.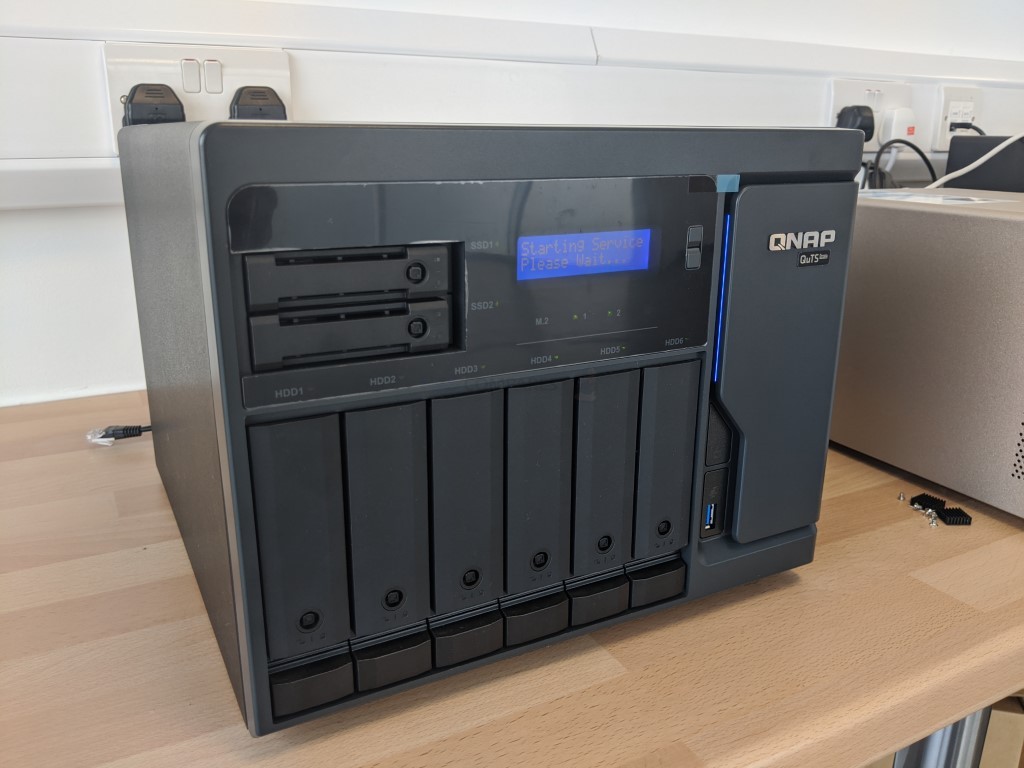 The sides and top of this metal chassis have less ventilation readily available than I would have assumed for such a powerful device. This is largely because of the front-mounted ventilation and exceptionally large amount of rear cooling that we will touch on in a while. Because this is a metal chassis, it should be noted that this system will generate more hum and noise than a number of other typical desktop solutions. That said, this is an enterprise-grade solution and very few NAS servers at this tier of storage will be considered low noise and low impact.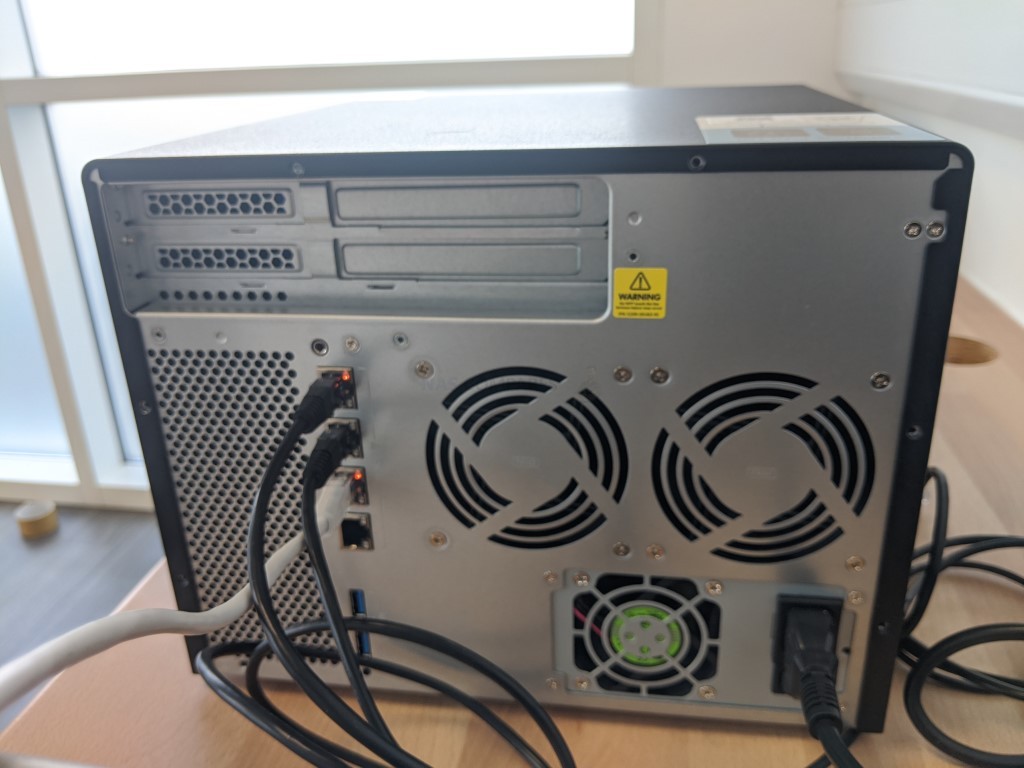 QNAP TS-h886 ZFS NAS Review – Ports and Connections
The rear of the brand new QNAP TS-h886 is almost 50% dedicated to Active or Passive cooling systems. There is a lot of familiarities here in terms of design when compared with other QNAP desktop solutions, that it is hard to ignore that huge area of ventilation dedicated to the left-hand side of the rear backplane.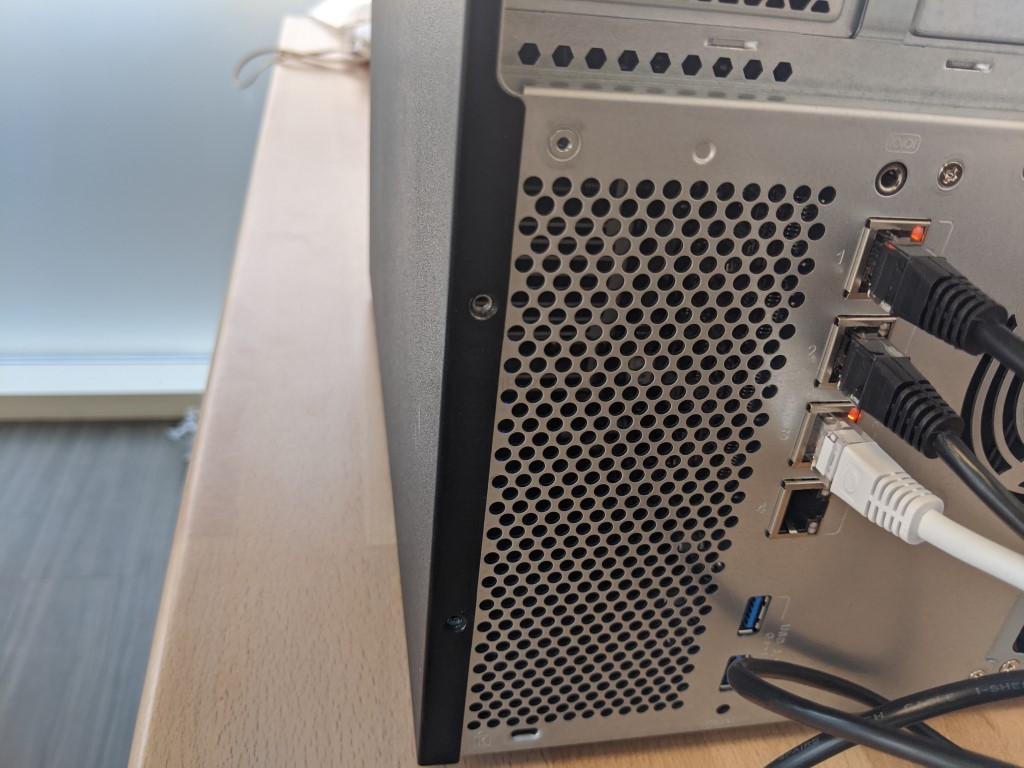 This area of cooling located on the side of the chassis works with a large internal active cooling fan located on top of the memory modules and NVMe days that I will show you later in the review, but this is one of the largest areas of cooling I have seen on a 6 bay desktop NAS solution and a lot of that is to do with the Xeon processor inside, but also simply because of the need to remove any and all bottlenecks to the storage so ZFS (and it's resource-hungry processes) can do its thing to the highest of its abilities.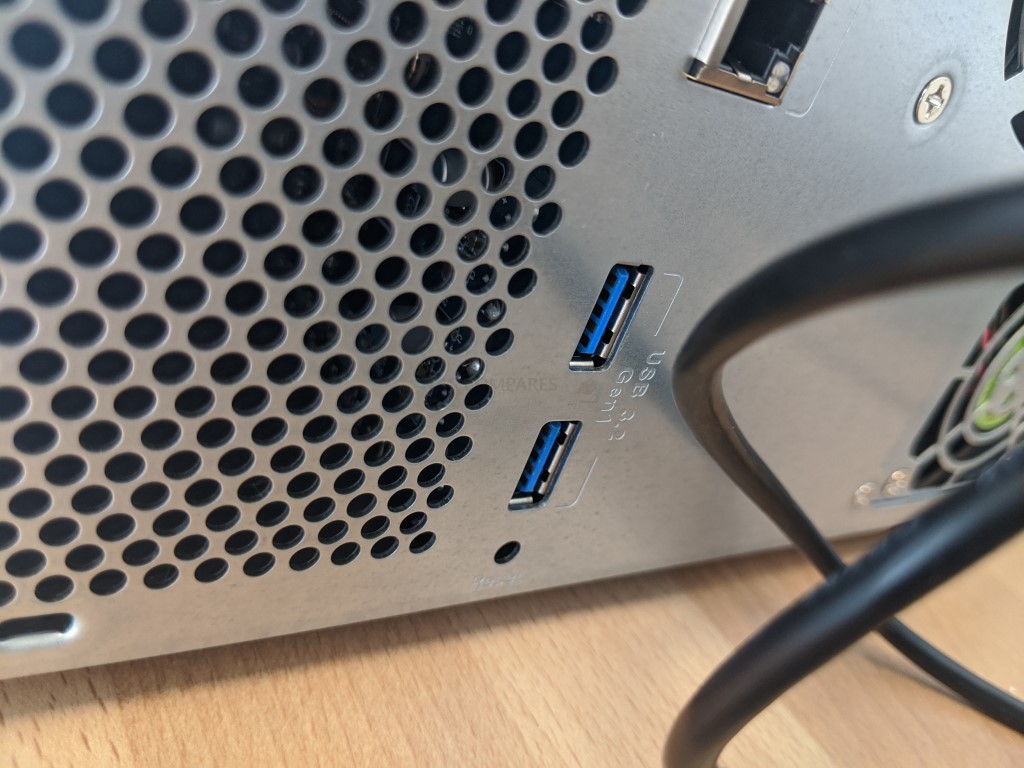 There are two additional USB 3 type A ports located on the base of the rear of the TS-h886 backplane. Each port support multiple peripherals, storage devices, network interface adaptors and business hardware such as UPS' and audio/visual devices. Because the TS-h886 does not arrive with a visual port (such as HDMI) support of keyboard+mouse (KVM) is not available, but the TS-h886 DOES support graphics cards, which open the door to this functionality in virtualisation, surveillance and more.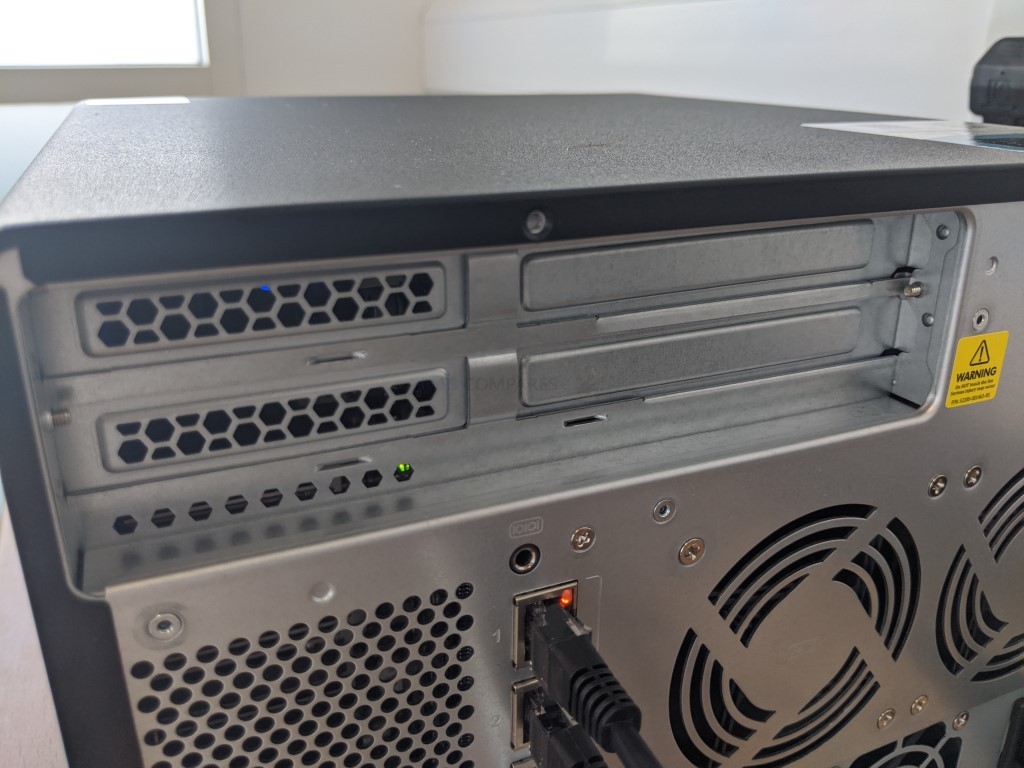 The expandability of your storage device in its lifetime is something that is generally of a high priority to enterprise-grade users. Typically expanding a NAS will fall into two different categories, namely those of storage or power. The USB 3.0 ports previously mentioned allow you to attach a wide variety of QNAP official NAS expansion devices, ranging from hardware RAID inclusive enclosures (the TR series) to JBOD customisable expansion devices (TL series) that require the installation of a PCIe upgrade card. Which leads me the 2nd and bigger means of expandability, with the TS-h886 featuring an PCIe upgradeable slot that is PCIe Gen3 x8 in bandwidth (which mean they are both highly backwards compatible and each support up to 8000MB/s) to the main controller board.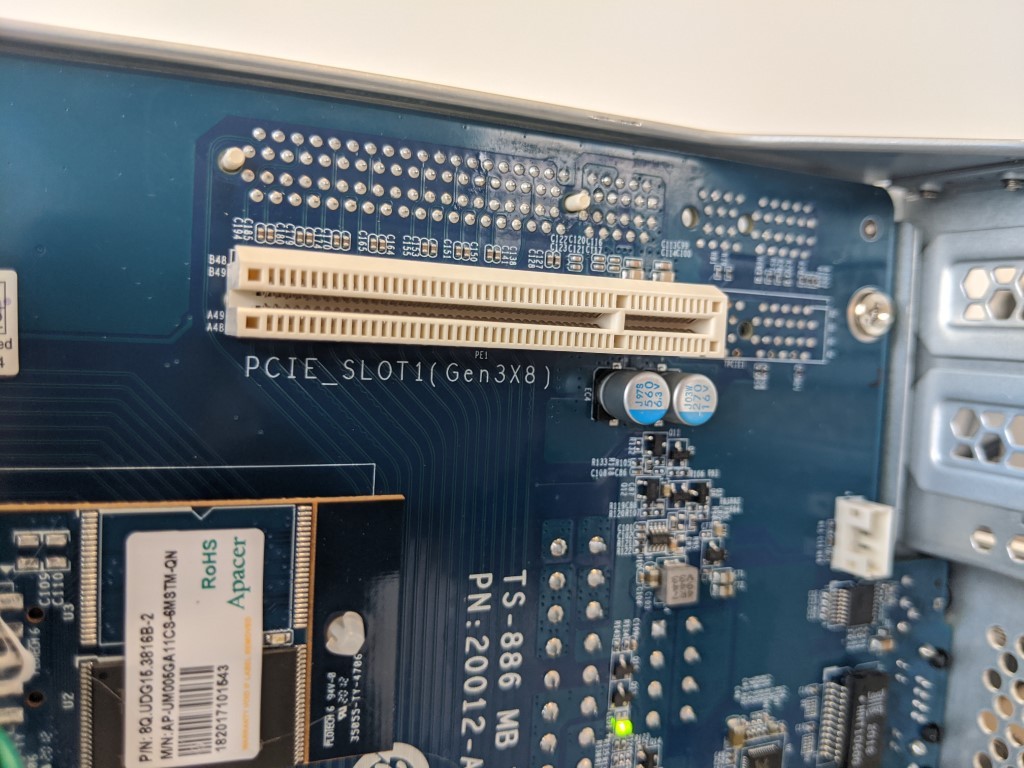 This is a big, big deal to those of you the want to upgrade the QNAP TS-h886 in its lifespan with regards to both external storage, internal storage and improved network interface ports. The PCIe slot will allow you to add multiple increased network interface ports ranging from 1Gbe, 10Gbe, 20 Gbe and even 40Gbe connectivity. Given the vast internal performance in this ZFS and Xeon powered, triple tier storage system, this wide and fast degree of upgradability between connected devices cannot be understated. QNAP already has a wide variety of official PCIe expansion cards available in the QM22 and QXG series, as well as support of multiple third party expansions from Intel, Mellonex and Graphics cards. That means there is a wide choice of expandability available here.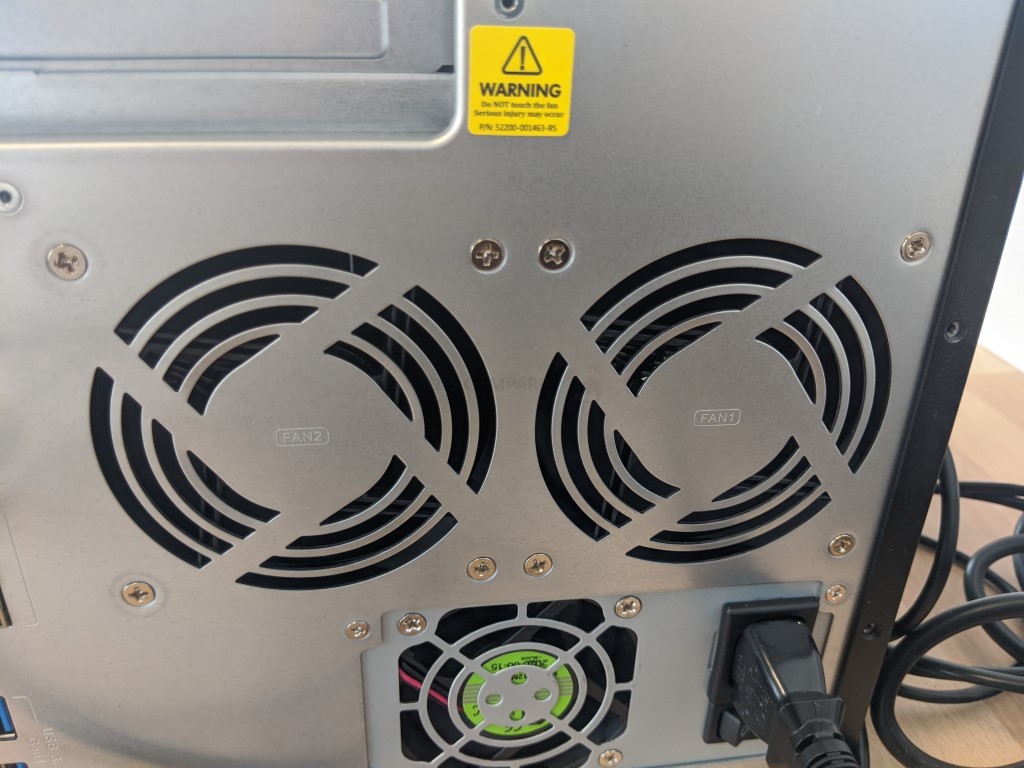 Returning to the subject of cooling, not only is there a large area of cooling on the side of this device featuring passive and active measures working together, but also there are two large rear-mounted fans that will automatically adjust their RPM accordingly to maintain cool internal temperatures across both the internal PCBs and storage media. You can adjust these fans manually if you choose, but I would recommend allowing them to do the job automatically. Once again this does mean that in conjunction with the metal chassis, there is more noise and vibration from the TS-h886 at 20.4 db(A), noticeably higher than the average desktop NAS at around 19.8 db (A) typically.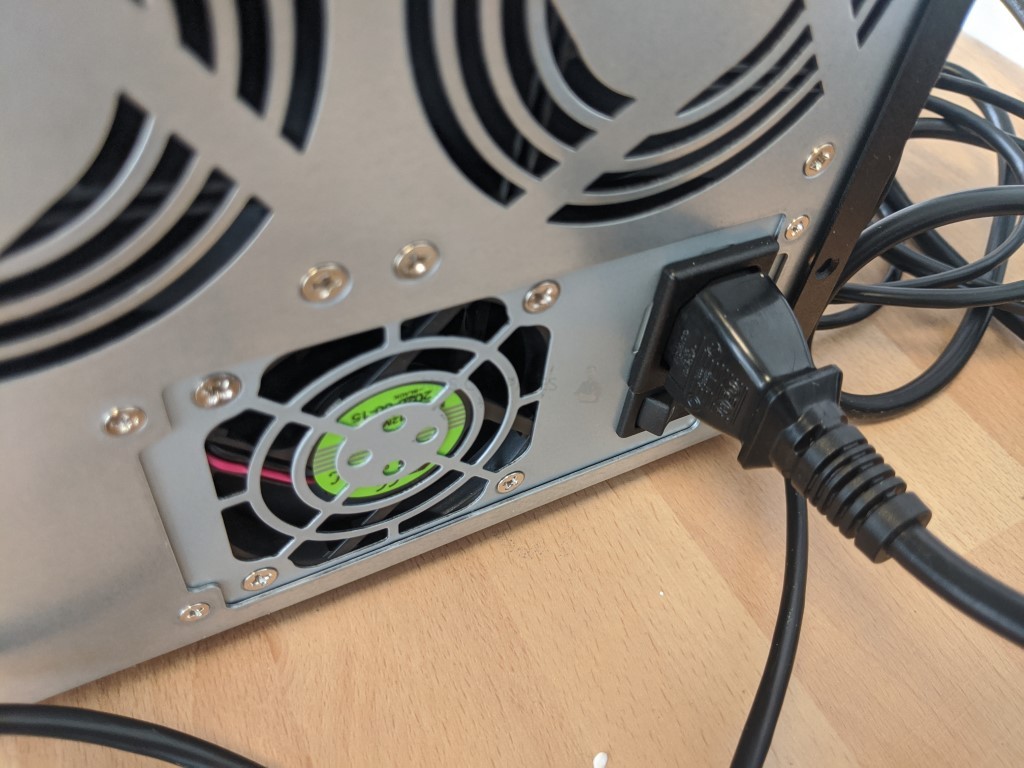 Because of the three-tiered storage system, that Intel Xeon CPU, that DDR4 memory, the PCIe' and the large-scale cooling system in place – the TS-h886 arrives with a beefy 250W PSU internally. This is quite large for a 6 hard drive NAS but understandable given the internal horsepower and preparations for latter expandability. When the device is fully populated with media and in full access, QNAP reports that the TS-h886 runs at 75.79 W. Given the wattage of this PSU, it's understandable why this system would require an internal PSU, though this no doubt adds to the increased need for cooling inside the chassis.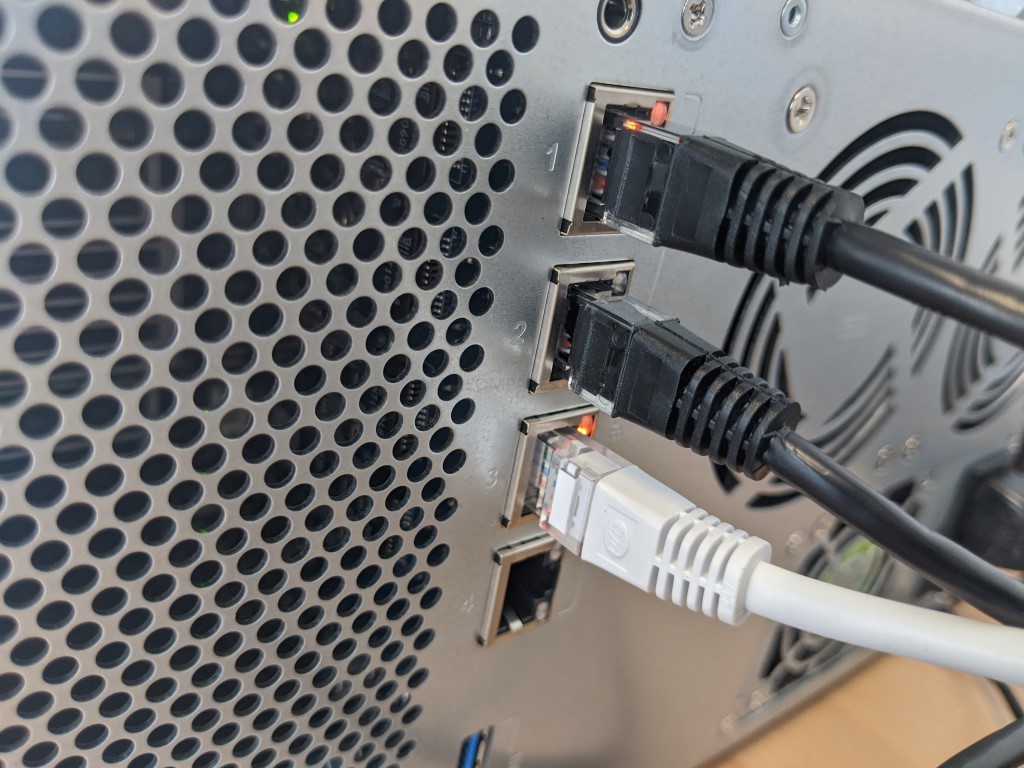 Finally, we can discuss the network connectivity of the new QNAP TS-h886. Many users, myself included, assumed that this device would feature 10Gbe by default. Instead, QNAP has favoured that it features four copper RJ45 LAN connections, each of which supporting up to 2.5Gbe. Factoring in link aggregation or port trunking, that means this device can indeed support 10-gigabit ethernet, but requires a supported network switch in order to achieve it. it's understandable why they would avoid 10Gbe by default on this device, given the price tag is already a noticeable degree higher than other 6 HDD NAS drive NAS systems in their portfolio, as well as it being relatively inexpensive to add 10Gbe to the device, at approximately £80 per Port. QNAP was one of the first brands to introduce to 2.5Gbe and 5Gbe connectivity to the product portfolios, at a price point near identical to that of 1Gbe in most cases.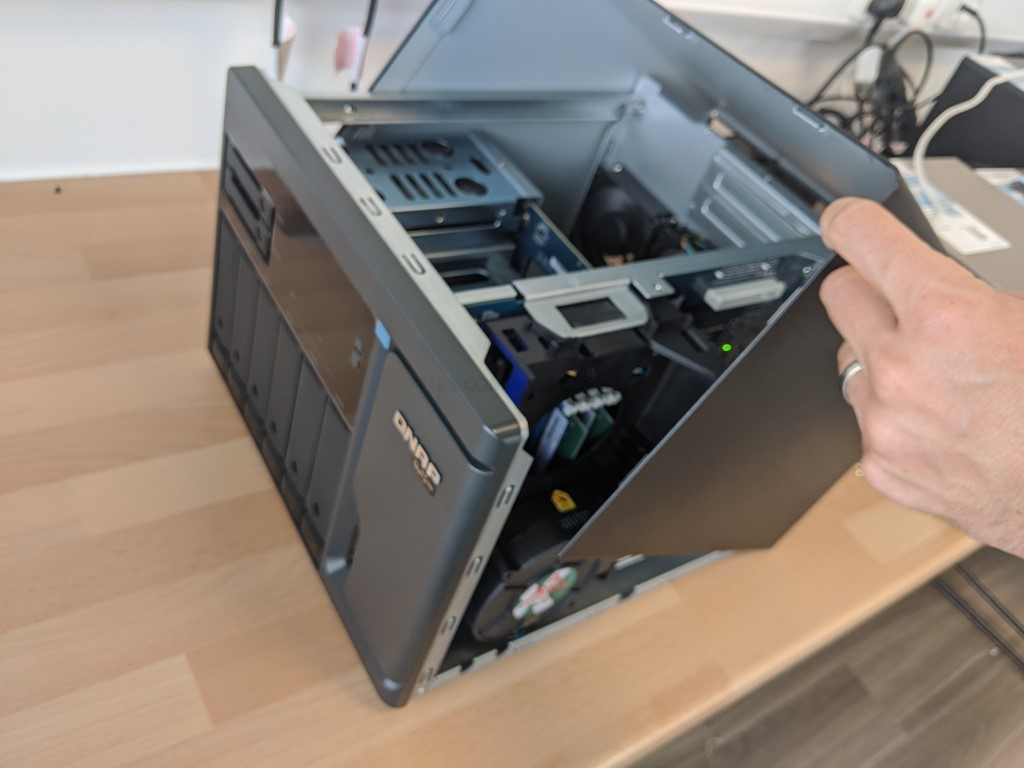 Ultimately, a lot of hard work here that has been done to ensure this device is powerful enough, yet efficient for a 24/7 environment. It is by no means perfect and some users may be put off by the lack of 10Gbe, but I do not think it is a deal-breaker on this occasion. Next, let's remove the lid and take a good look at the internals of the QNAP TS-h886 NAS.
QNAP TS-h886 ZFS NAS Review – Internal Hardware
Removing the metal surrounding lid of the QNAP TS-h886 shows us that almost 50% of the internal space is exactly that, empty space. This is largely to aid that internal cooling across the PCBs and drive media, as well as to assists passive cooling in conjunction with active airflow across heat sinks inside.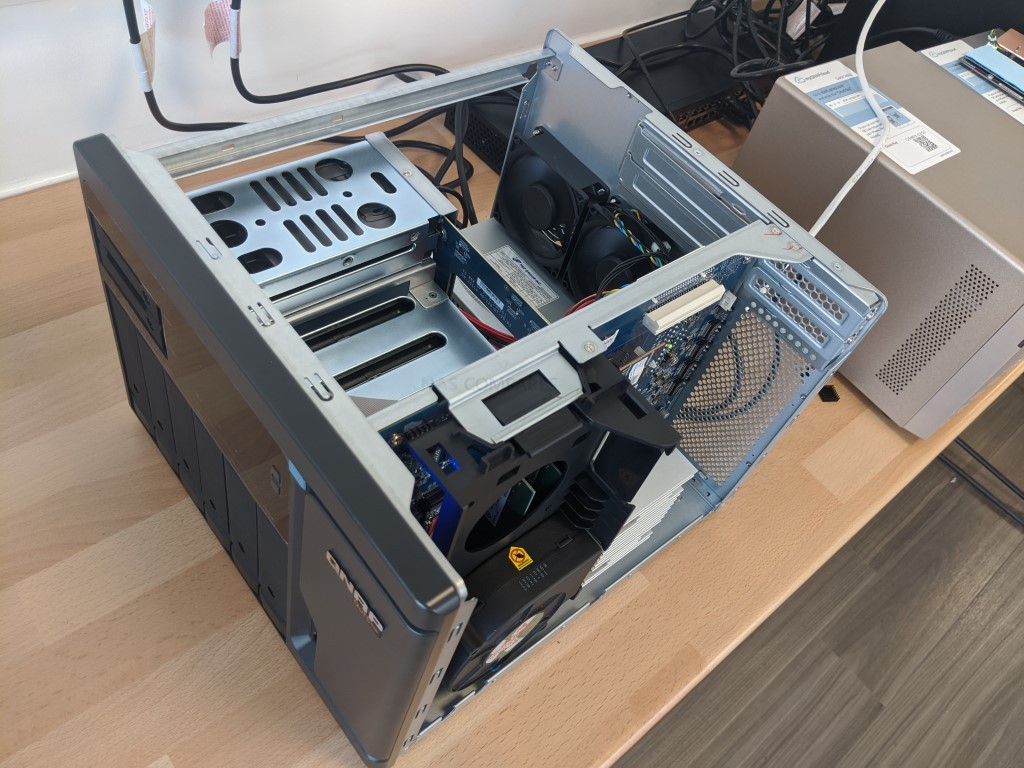 Taking a look at the rather large internal PSU, we can see that the rear active cooling fans are located quite close.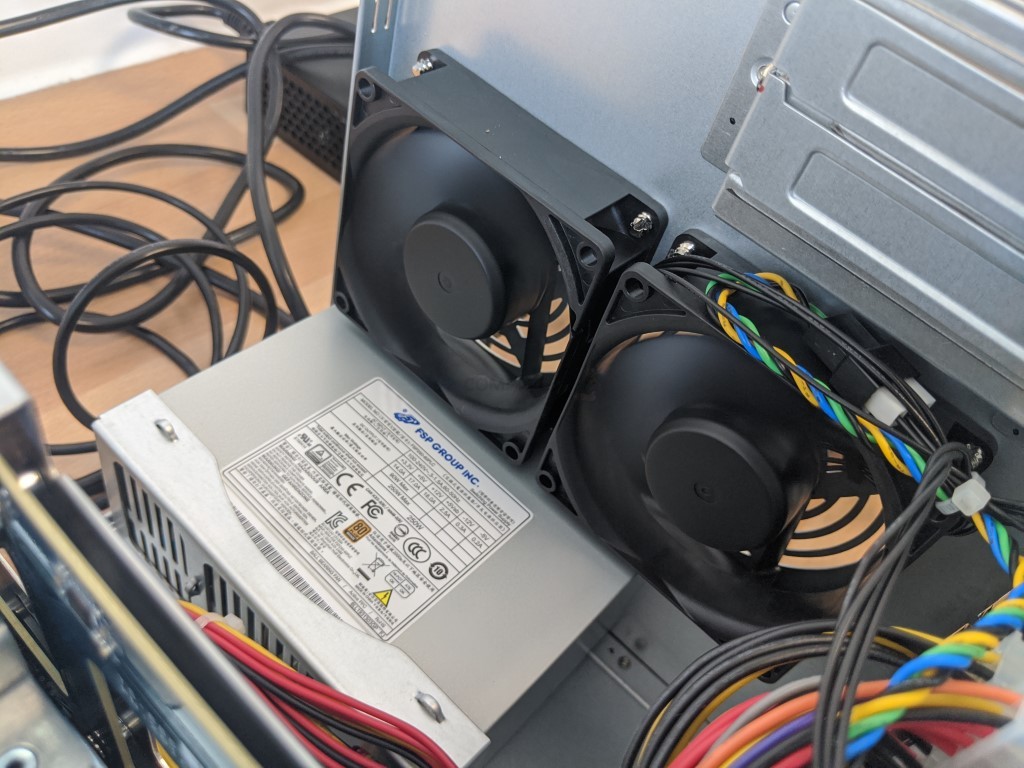 This means that when the device is in operation it promote cool air across the PSU and through the cavities between the storage media inside, which assists low-temperature and efficient utilization of the device when it's in operation.
The main controller board side of the QNAP TS-h886 is mostly taken up by an active cooling fan module that pushes air directly over the Xeon CPU heatsink. The main processor of this device is an Intel Xeon D-1622 quad-core that has a clock speed of 2.6 GHz (burst up to 3.2 GHz) which features an impressively high score on CPU benchmark. The processor is now widely regarded as one of the best and most adaptable processes in the data centre and enterprise network server class market. This processor allows fast acting encryption and widespread AI applications to be supported to a remarkably high degree.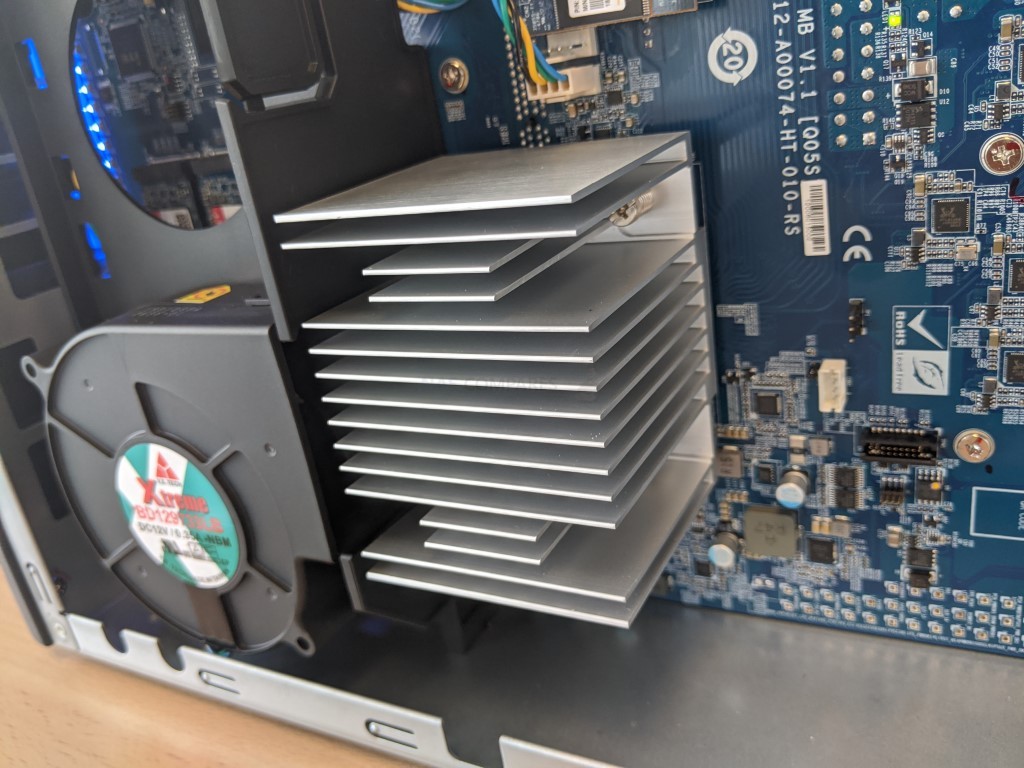 That CPU also allows both ZFS and the QuTS general storage system to work to maximum efficiency. Additionally, this CPU supports DDR4 ECC long-DIMM memory and TS-h886 supports 8-128GB UDIMM DDR4 ECC across four slots, with each slot supporting up to a 32GB maximum. That amount of memory is useful for some of the more demanding aspects of QuTS Hero, such as compression and deduplication processes that allow users to minimise space and lower data bandwidth utilisation in a multi-user environment to an exceptionally high degree. As well as those processes, you will also see big opportunities for utilization in AI-equipped and virtualisation environments.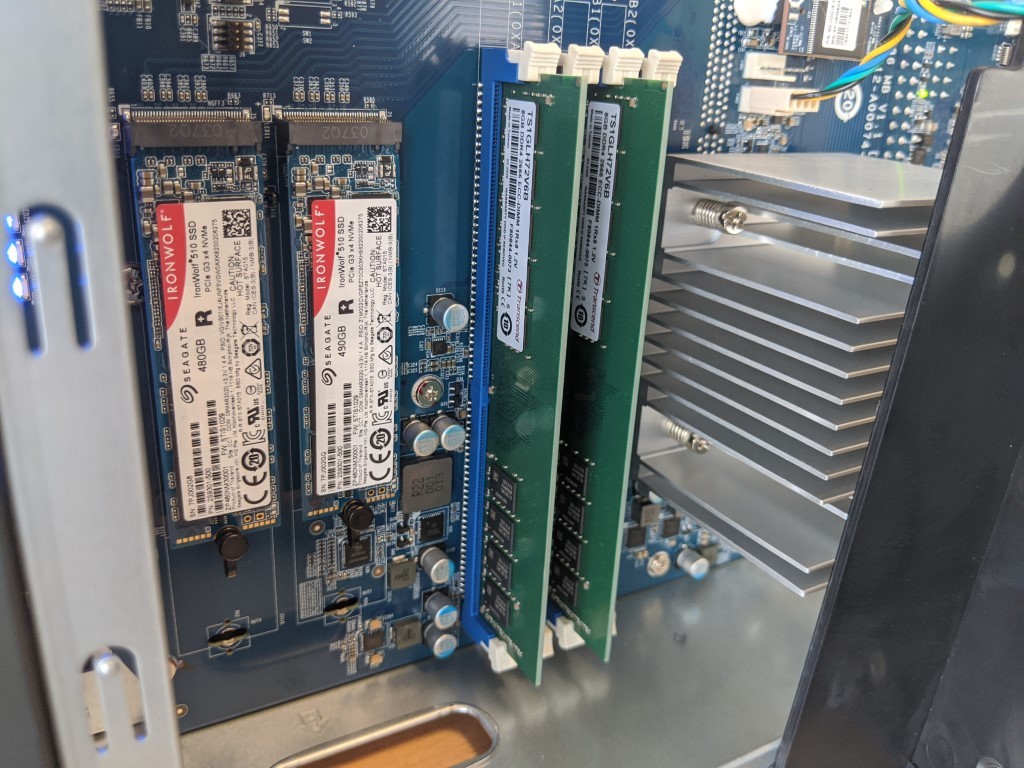 The operating system of the device by default arrives on a stand-alone 5 GB flash module of solid-state storage inside and allows you to deploy the QuTS Hero software from boot. There are of course regular updates to this platform from QNAP, who release firmware updates frequently, but this module allows you to set this device up from cold without an internet connection.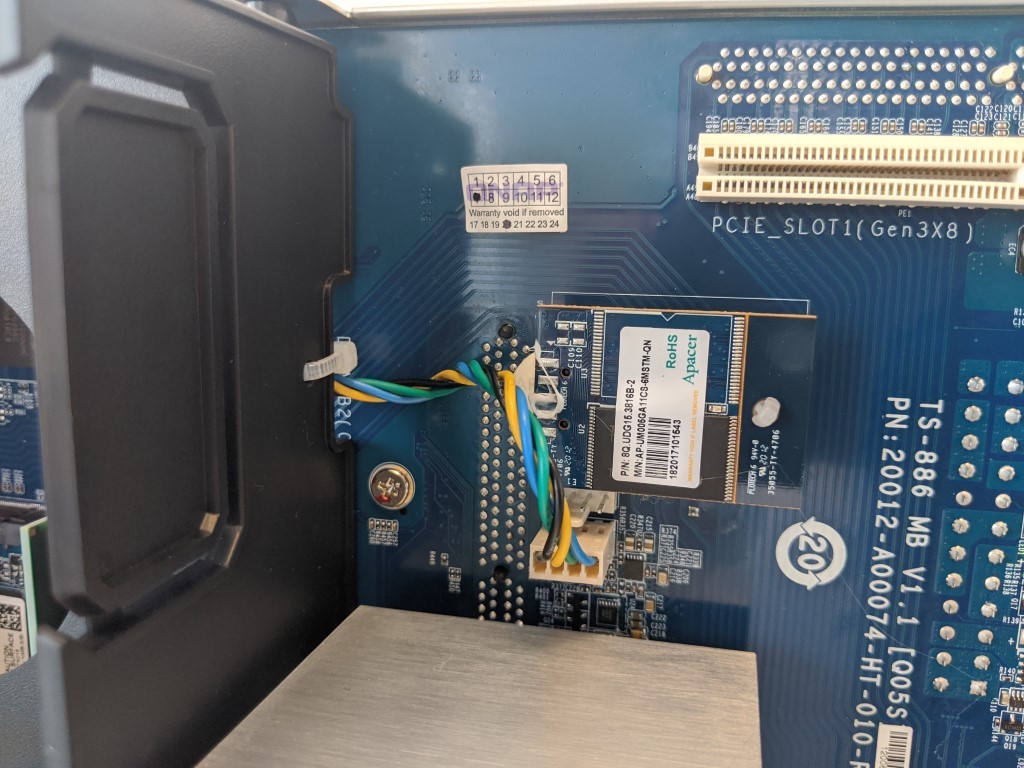 Next, Inside the Black fan module, we find the two NVMe SSD bays. Supporting multiple brands of NVMe SSD, each slot is PCIe gen 3 x 4 – allowing just over 4000 Megabytes per second throughput each.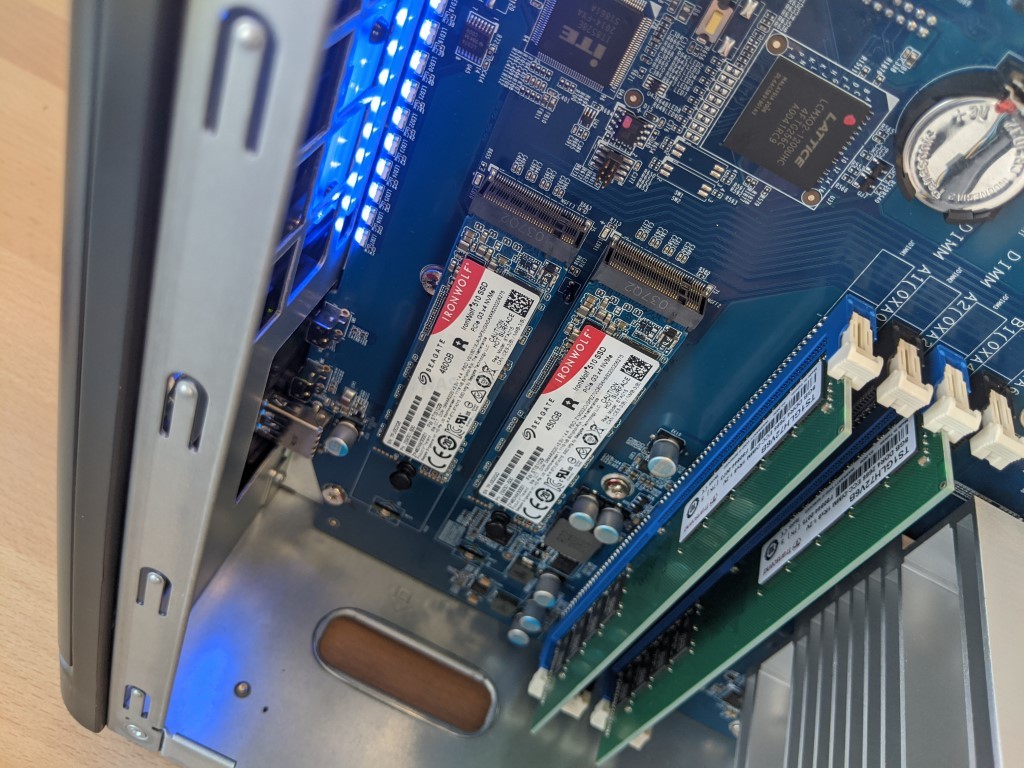 These NVMe can be configured in a RAID together to either create read-write cache areas to support your tiered storage system, or can even be used as an area of super-fast raw access storage as a volume for 4K video editing and more, which can then be synchronised with your HDD RAID Volume for archiving and distribution. Those of you looking at upgrading the TS-h886 to 10Gbe on day one will certainly see the benefits of this kind of implementation, but it is nice to know that QNAP allows you to create the right storage system for your needs and preferences.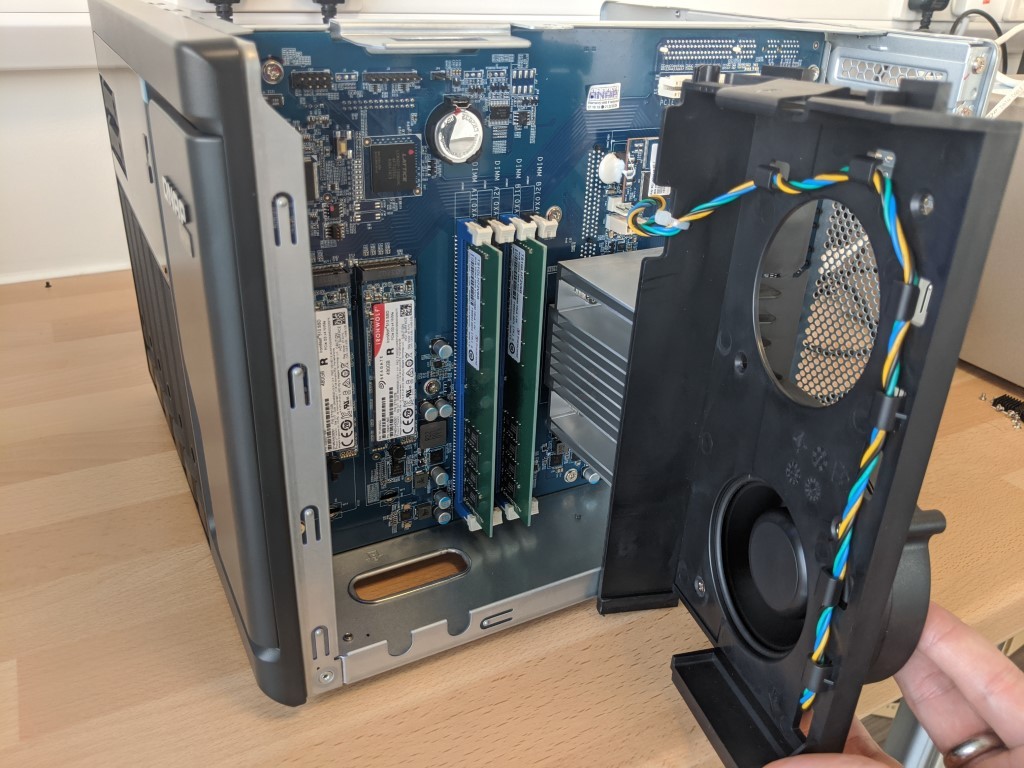 The inside of the TS-h886 is a clean and efficient system and I was surprised to see how much ventilation is made available across the entire chassis. You can certainly see how it makes a bit more noise than most, but you cannot question the quality of the build. Next, let's move on to the software
QNAP TS-h886 ZFS NAS Review – Software
Reviewing the software found with the QNAP TS-h886 NAS can be broken down into 2 sections. namely those of the advantages that QNAP QTS already bring to a business user, and then the widespread system and storage advantages that QTS hero and ZFS bring as well. For those unfamiliar with the QNAP operating system, it arrives with hundreds of free applications, can be accessed from a web browser or desktop client, arrives with many, many apps for mobile on IOS and Android and is definitely in the top two operating systems you can get for network-attached storage devices. Often compared with their biggest rival Synology NAS and DSM, QNAP QTS GUI is designed in a way that will definitely appeal more to Android and Windows users, giving you everything you will need from a network-attached storage device in 2020 and arrives with constant updates for added features and security.
QNAP File Management Highlights
File Station – File Browsing and Management Tool
QSirch -Intelligent and Fast System-wide search tool
QFiling – Smart and customizable long term storage and archive tool
SSD Caching Monitor and Advisor – Allowing you to scale your SSD cache as needed, or get recommendations on how much you need
QTier – The QNP intelligent, multi-layer tiering system that works to optimize your SSD and caching configuration
Microsoft Active Directory– Support and cross-platform control of Active Directory processes
Access-Anywhere with myQNAPcloud – Safe and secure remote access over the internet to your storage systems, apps or just file storage
Qsync for multiple hardware environment backups and Sync – Client applications that can be installed on multiple 3rdparty devices and create a completely customizable and scaled backup network between your devices
QuDeDupe / Deduplication tools – Allowing you to conduct backups between multiple devices and directories, but allows same-data in numerous locations to be only held once (but recorded in all locations) to allow smaller backups and lesser bandwidth consumption
Then you have KEY applications that are used on the QNAPNAS system that moves into tailored data access and use, such as:
Hybrid Backup Sync 3 – Allows you to Backup and Sync with Amazon Glacier, Amazon S3, Azure Storage, Google Cloud Storage, HKT Object Storage, OpenStack Swift, WebDAV, Alibaba Cloud, Amazon Drive, Amazon S3, BackBlaze B2, Box, Dropbox, OneDrive, Google Drive, HiDrive, hubiC, OneDrive, OneDrive For Business, ShareFile and Yandex Disk. As well as backup to another NAS over real-time remote replication (RTRR) and USB connected media. All scheduled and all accessible via a single app user interface.
vJBOD and Hybrid Mount – Gives you the ability to mount cloud storage as a visible drive within the NAS (and the apps access it as if it was local) or mount a % of space from your NAS onto another as a virtual chunk of space to use
Multimedia Console – one portal access point to manage media access, searching, indexing and transcoding on your NAS device.
Photo, Video and Music Station – Multiple file type tailored applications to access data in the best possible way that is suited to their output – along with smart searching, playlists and sharing
Virtualization Station – Used to create virtual computers that can be accessed anywhere over the network/internet with the correct credentials. Supporting Windows, Linux, Android and more. You can import an existing VM image to the NAS, or you can even download Linux and Windows VMs directly to the NAS for trials for free
Container Station – much like the VM app, Container station lets you mount and access smaller virtual tools and GUIs, then access them over the network or internet.
Linux Station – Handy application to deploy multiple Linux based Ubuntu VMs from the NAS, all easily and within a few clicks
QVR Pro and Surveillance Station – Surveillance applications that allow you to connect multiple IP cameras and IP speaks to your network and manage them with the applications. Arriving with 4 camera licenses for Surveillance Station and 8 licenses for QVR Pro (the better one IMO), QNAP is constantly updating this enterprise-level surveillance application – adding newer security hardware and software tools for 2020 (see QVR Face and QVR Door)
QuMagie – Facial and Thing recognition application to help you retrieve, tag and catalogue photos by its use of AI to actually 'view' all your years of photos and let you search by the contents of them, not the file names.
Download Station – A download management tool that can handle HTTP, BT, FTP and NZB files in bulk to be downloaded to your NAS drive and keep safe. As well as keeping an eye on your RSS feeds and keeping your podcast downloads automatically updated with every episode
Malware Removers and Security Councillor – Along with Anti Virus software trials on the app centre, QNAP also provide numerous anti-intrusion tools and even a whole app interface to monitor in/outgoing transmissions with your NAS. It can make recommendations to beef up your security and keep you safe
Above are a few of my software overviews that cover the general GUI and system of QuTS Hero on the TS-h886, as well as RAID rebuild and storage management overviews of the system to give you some idea of what the TS-h886 can and cannot do. (Videos should be live over the proceeding days after the initial review is live):
QNAP TS-h886 ZFS NAS Review – Conclusion
I have reviewed many QNAP NAS systems over the years and typically I find that although the hardware changes, the software between each NAS really seems similar. Yes, an intel CPU will open the doors to more powerful software and an HDMI enabled system will allow a number of direct video access applications to be deployed. However, in the case of the QNAP TS-h886, things are wildly different. On the face of it, you would be forgiven to think that this is just another QTS system, but the speed and fluidity of the entire system being based on the new ZFS QuTS Hero platform makes everything just feel incredibly responsive. Alongside this, the inclusion of a vast array of storage management benefits and RAID functionality that up until now was considered out of reach outside of FreeNAS is incredibly apparent and presented in an incredibly intuitive and user-friendly way. Right now in 2020, the next step in data storage is for your internal network speeds to match that of your external internet speeds, from site to site and office to office. Now systems will always struggle to compete with Cloud services with regard to start-up prices being much smaller on the cloud, and upload/download speeds worldwide getting bigger. The TS-h886 is by no means a cost-effective solution and does not pretend to be. The TS-h886 is a powerful, fast, rugged and reliable storage system and is easily in my pick for one of the best NAS I have used this year. If you can afford it, you will not regret it.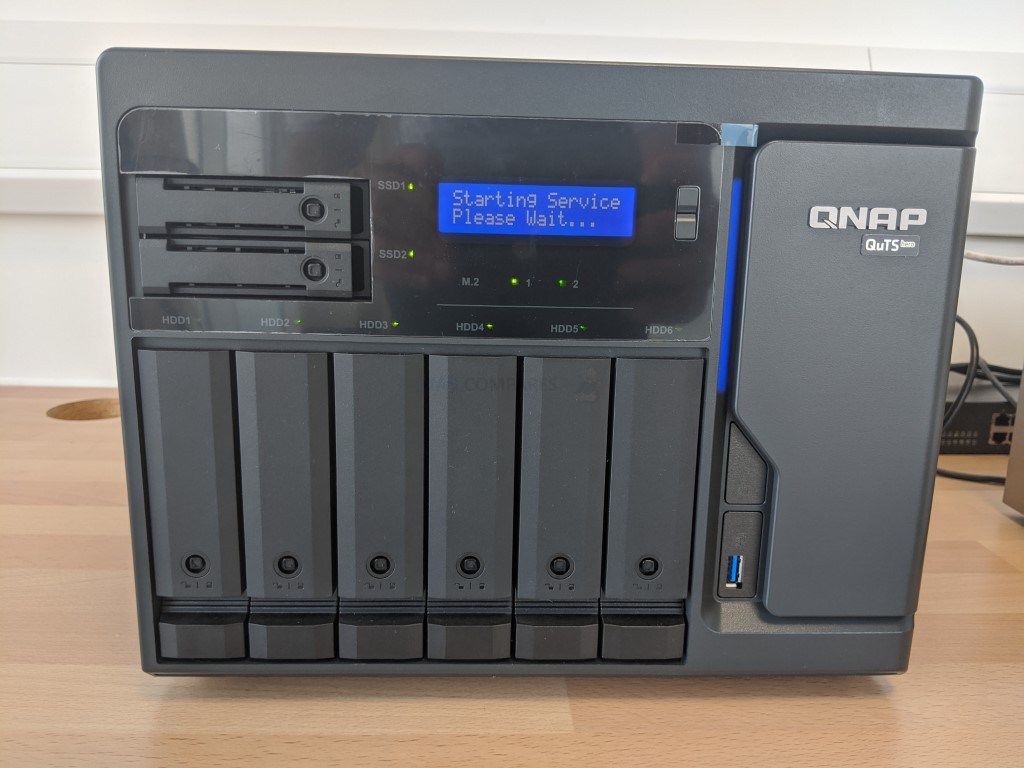 The TS-h886 is genuinely an incredible piece of engineering, allowing you to leverage towards power rather than capacity, it is still a spacious device, even in this modern age of 16TB and 18TB hard drives in the market. Additionally, the tiered storage system allowing three stages of media to be used, along with the powerful caching, compression and deduplication options available to the ZFS based QuTS Hero software included with the TS-h886 cannot be underestimated. This is a powerful, compact (if somewhat expensive) solution that should allow you to not only stop worrying about your data, but also wonder why you never had a number of these features at your fingertips before. With comparatively instantaneous RAID builds, incredibly future-proof expandability in terms of storage and internal upgrade connections, you can certainly see that QNAP poured a lot of love, work and money into this solution. If you think you are ready for a ZFS NAS, the QNAP TS-h886 is arguably one of the very best in the market in the world right now and will even challenge the likes of FreeNAS in the field of ZFS, whilst still bringing the utility and ease-of-use of QTS onto the powerful and multi-functional file system. But damn, that price tag!
PROS
CONS

2.5Gbe LAN Ports

8 Surveillance Camera Licences

3 Tier Storage System

ZFS File System

PCIe Gen3 x8

Virtualization

2 x M.2 2280/22110 NVMe Gen3 x4

ECC DDR4 Memory

10 min Windows and/or Ubuntu VM install (included)

Expandable

Quite expensive for a 6-Bay
Odd decision to limit USB ports to USB 3.0
Perhaps a dedicated 10Gbe model might better suit some users
📧 LET ME KNOW ABOUT NEW POSTS 🔔
Join 1,461 other subscribers
Get an alert every time something gets added to this specific article!
This description contains links to Amazon. These links will take you to some of the products mentioned in today's content. As an Amazon Associate, I earn from qualifying purchases. Visit the NASCompares Deal Finder to find the best place to buy this device in your region, based on Service, Support and Reputation - Just Search for your NAS Drive in the Box Below
Need Advice on Data Storage from an Expert?
We want to keep the free advice on NASCompares FREE for as long as we can. Since this service started back in Jan '18, We have helped hundreds of users every month solve their storage woes, but we can only continue to do this with your support. So please do choose to buy at Amazon US and Amazon UK on the articles when buying to provide advert revenue support or to donate/support the site below.

Finally, for free advice about your setup, j
ust leave a message in the comments below here at NASCompares.com and we will get back to you.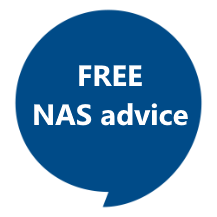 Need Help?
Where possible (and where appropriate) please provide as much information about your requirements, as then I can arrange the best answer and solution to your needs. Do not worry about your e-mail address being required, it will NOT be used in a mailing list and will NOT be used in any way other than to respond to your enquiry.
Support What We Do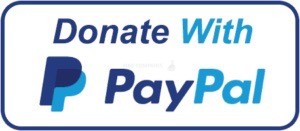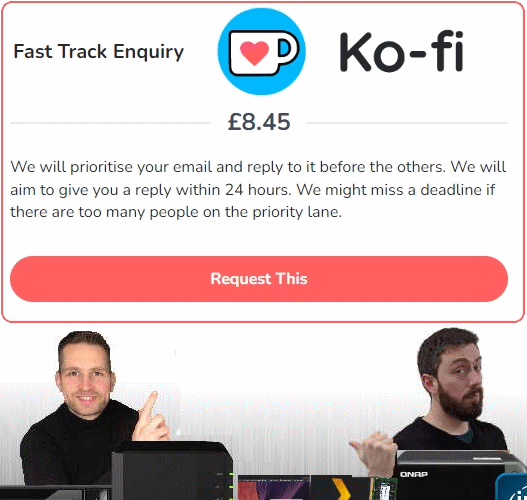 Terms and Conditions
Alternatively, why not ask me on the
ASK NASCompares forum
, by clicking the button below. This is a community hub that serves as a place that I can answer your question, chew the fat, share new release information and even get corrections posted. I will always get around to answering ALL queries, but as a one-man operation, I cannot promise speed! So by sharing your query in the
ASK NASCompares
section below, you can get a better range of solutions and suggestions, alongside my own.
Summary
Reviewer
Review Date
Reviewed Item
QNAP TS-h886 ZFS NAS - Hardware Review
Author Rating