QNAP QSW-M408-4C 10Gbe Managed Switch Hardware Review
I remember as little as 2 years ago go when someone spoke to me a brand launch event about the possibility of QNAP releasing a network switch at some point. QNAP had been talking for a while about releasing a 10Gbe affordable network switch solution and have gone quiet for a while, leading many people to suspect that it had become vapourware and wasn't going to happen. How little did I know, as we fast-forward now in 2020 and realize we are now on the 3RD GENERATION of QNAP 10Gbe network switch solutions and today I am going to hardware review the brand new QSW-M408-4C managed 12 port 10Gbe solution. Arriving at just over £330, this switch arrives with support for both copper and fibre based 10Gbe, across multiple ports, as well as as a management panel, support of numerous L2 security options and port configuration options. Following up the affordable and managed range of switches from early 2019, this new QSW-M408-4C managed switch solution takes a lot of the hardware design in the previous generation and incorporates it into a brand new compact, low-noise, low-energy and high-efficiency solution. So let's see if QNAP has a place in your network environment other than as your NAS, let's see if this QSW-M408-4C switch deserves your data?
QNAP QSW-M408-4C Review – Quick Conclusion
QNAP was not one of the first to introduce a budget 10 Gigabit ethernet switch in 2020 and given the affordability of 10Gbe, as well as the need for businesses to improve their internal networking speeds to match that of high-end ISP and fibre internet around the world, they likely will not be the last. The QSW-M408-4C managed switch is a compact and affordable 10Gbe switch for businesses that want to make the step towards this network bandwidth, but I'll still unsure about the investment. With its unique multi-port combo system, allowing users to combine copper and fibre environments, there is a large degree of flexibility even at this more affordable price point. The design is not for everyone and it lacks the lifetime warranty of some more expensive NETGEAR solutions, but the QNAP QSW-M408-4C is most certainly a capable solution and manages to live up to every single promise that QNAP claims. Along with an incredibly intuitive management panel and ease of design that lends heavily from the QTS NAS software, it certainly beats most of its competitors in the GUI department.
QNAP QSW-M408-4C Review -Packaging
The first two things that struck me about this network switch when I first got my hands on the retail box was 1, the box is incredibly small to contain a 12 Port managed network switch, especially given that it technically has 16 ports. The second point was that it seemed heavier than I expected for the size. Arriving in a very similar retail box to that of the unmanaged version released over a year ago, it still provides plenty of information and protection, though fewer layers of physical protection than the majority of their NAS range, this is to be expected on this scale.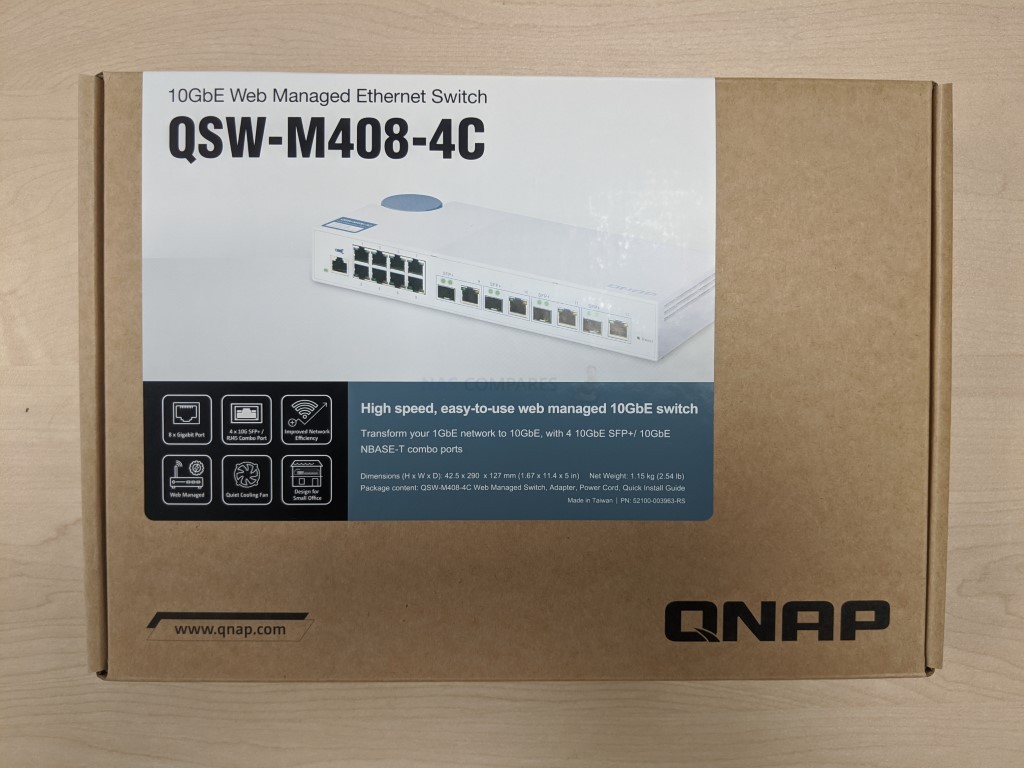 Opening up the retail box shows us the full switch and a small partition for the accessories that this switch arrives with. They have certainly managed to pack it all in tightly and I can totally imagine this box appearing on the shelf of your local electronics store for display.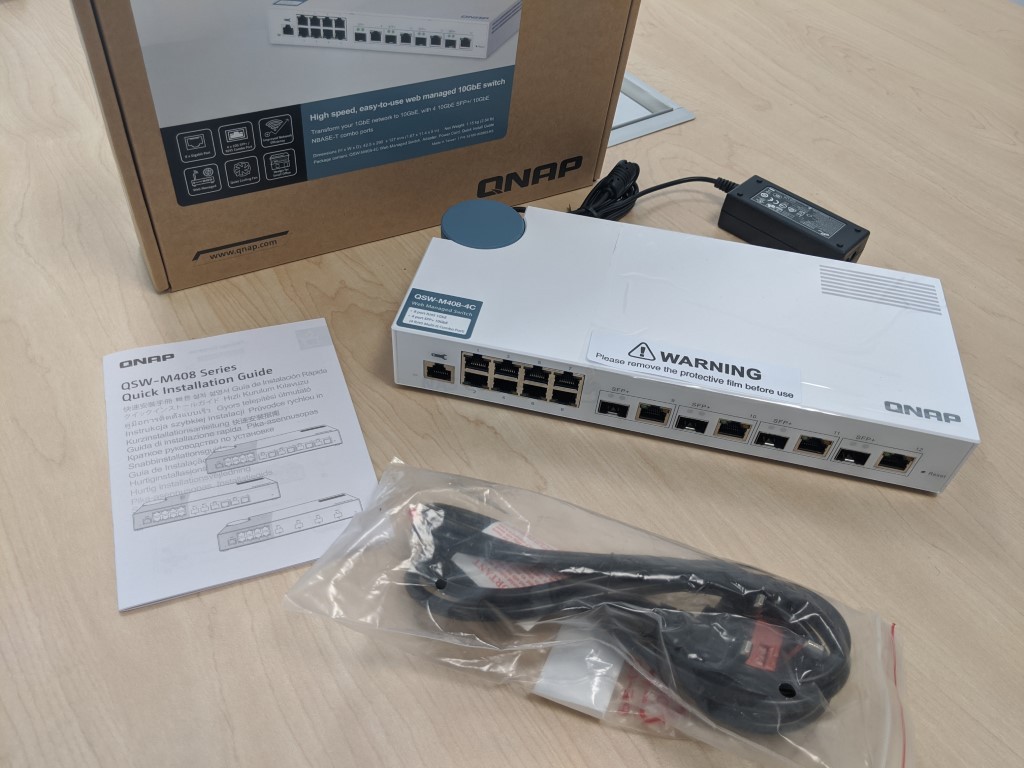 Opening up the accessories box provides us with the QNAP QSW-M408-4C switch and very few accessories. Network cables are not included with this which, which is fairly standard in this kind of technology as it is assumed that any device that requires cable connection to the switch will already arrive with said cables. There is also information for first-time setup and deployment, as well as information on the 2-years of manufacturer's warranty that it includes. However, a rather interesting point surrounds the PSU.
The power supplier included with this affordable managed 10G switch is an external rotational PSU that fits in it a unique way to the rear of the switch casing, with it being rotatable as needed. The low power PSU that the QSW-M408-4C arrives with is designed so that despite its external connectivity, it does not hamper the QSW-M408-4C being installed and deployed in remarkably compact environments.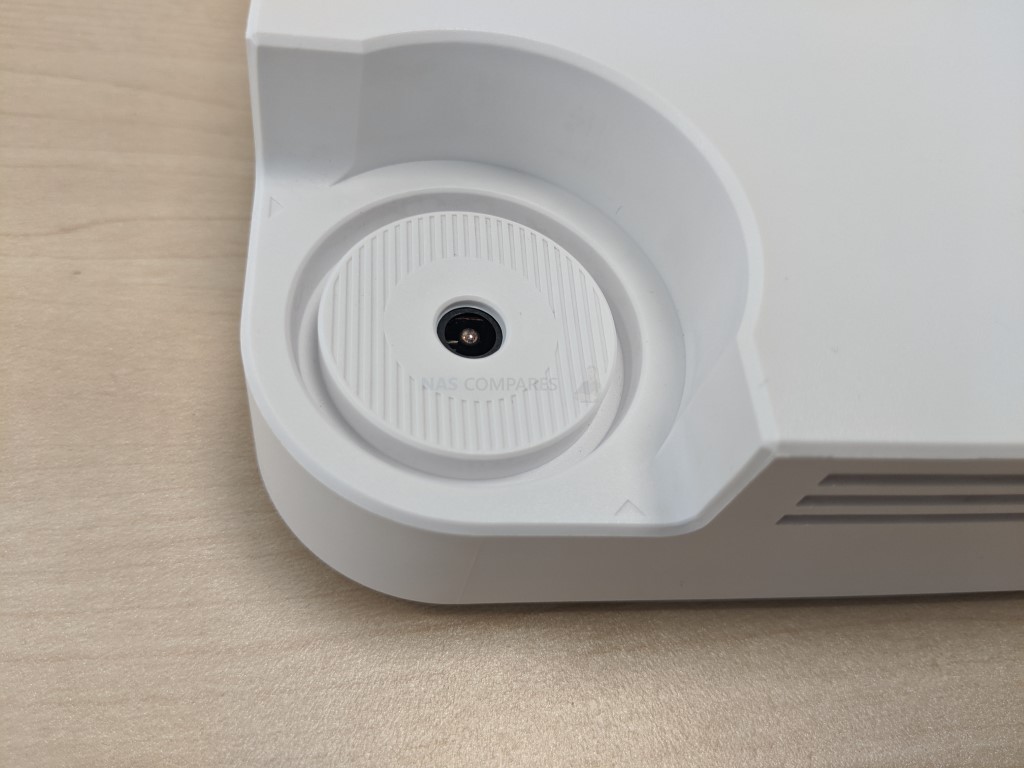 I have not encountered many 10G switches that feature external power bricks, even small ones like this, but I quite like the idea, especially given the fact this switch still typically uses considerably less power than most 10G combo switches in its price range.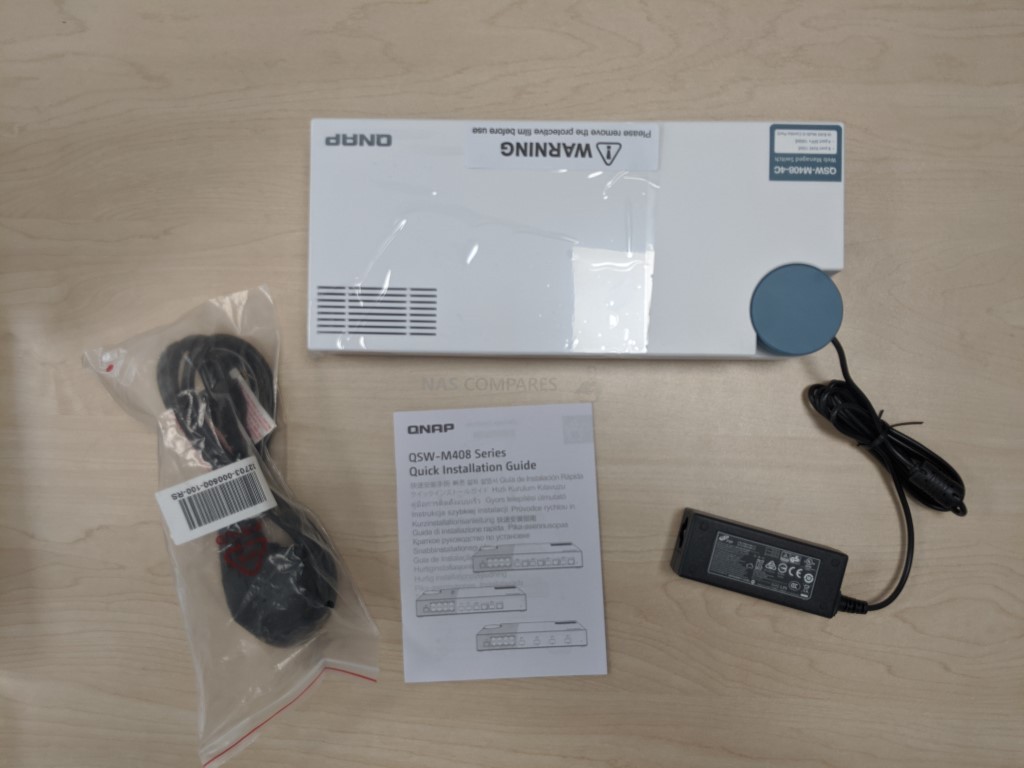 Overall I can't say that the accessories included with the QNAP QSW-M408-4C affordable switch, though not are exactly mind-blowing, are still pretty much everything you're going to need to convert your existing 1Gbe network into a 10Gbw equipped environment are all here.
QNAP QSW-M408-4C Review – Design
You immediately know when looking at the design of the QNAP QSW-M408-4C 10Gbe switch that the colour and shape are going to divide the audience. Arriving in a narrow white vented plastic casing with the blue rotational PSU on the rear, it does have somewhat of a budget aesthetic.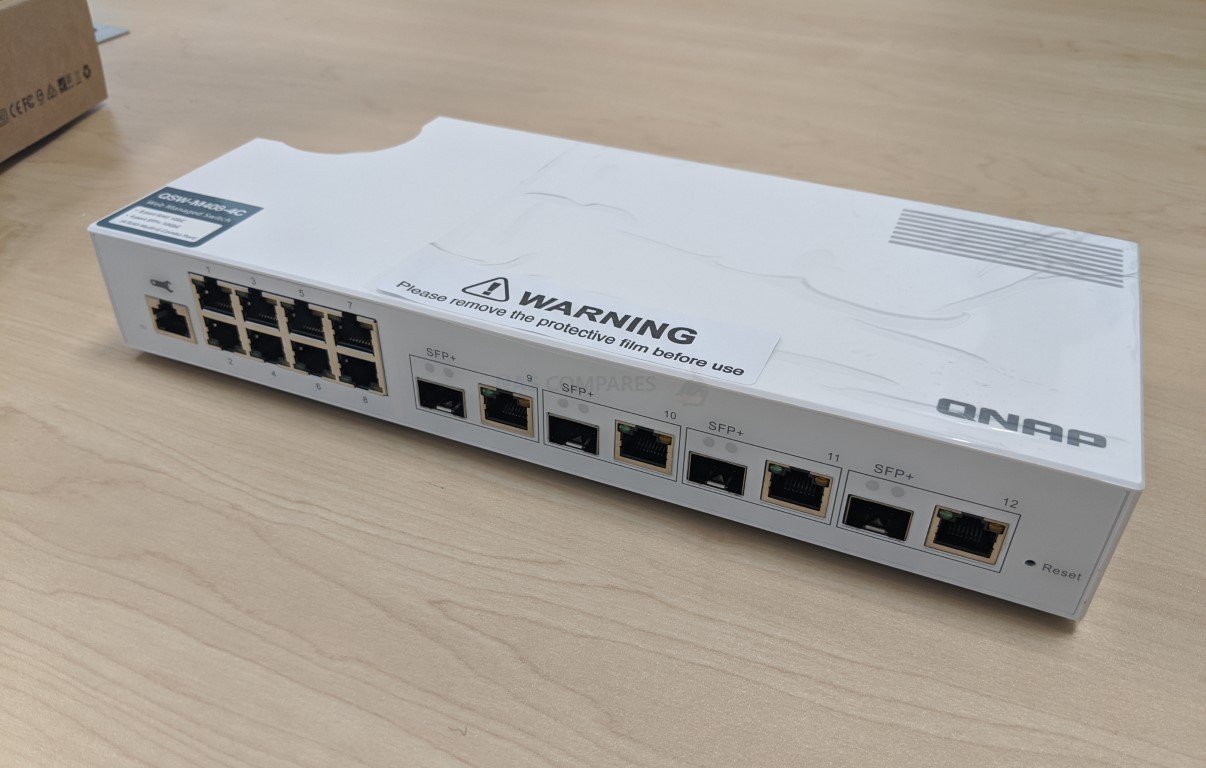 However, it uses the same general casing as the unmanaged version from 2019 and despite that white and plastic external look, many users have told me that it does lend a certain uniformity to small editing suites that are stark modern and well lit. I personally prefer the black metal casing of the more expensive unmanaged first-generation switches, but we are all different.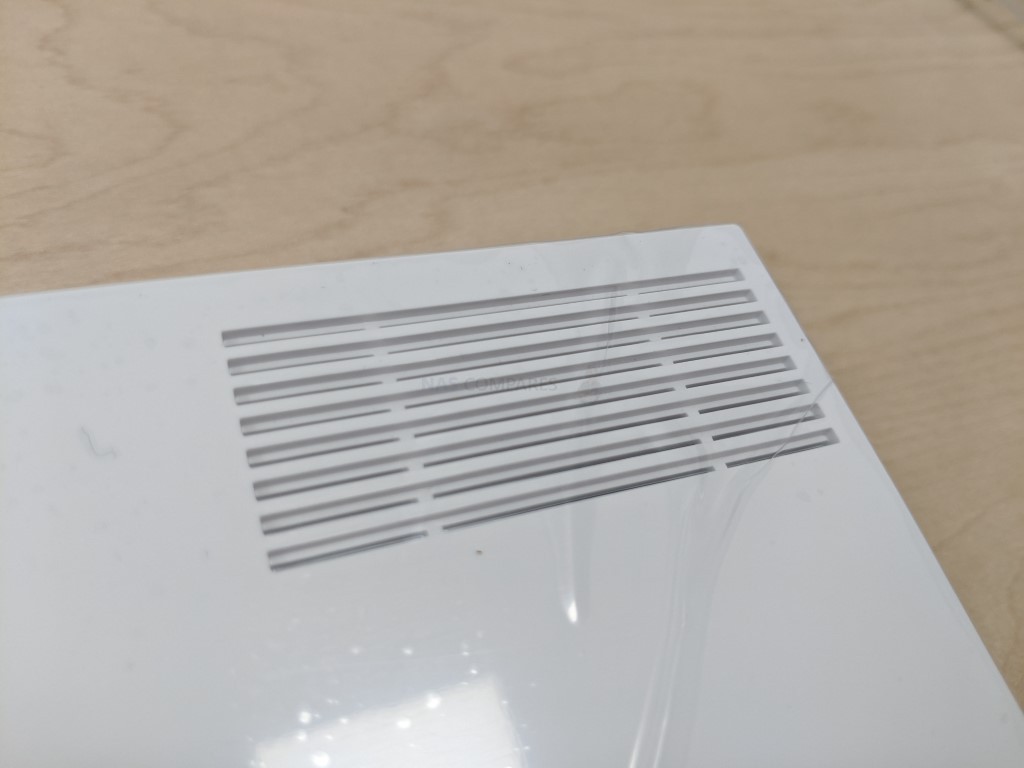 Another core buying point for the QNAP QSW-M408-4C is with regard to how the device maintains cool internal temperatures. The internals of the QSW-M408-4C is almost exclusively silent heatsinks over key areas of the internal PCB, as well as a single near-silent internal fan. The majority of cooling only QSW-M408-4C is achieved simply from tactical ventilation on all sides of the casing that allow cool air to travel over the internal heat sinks with assistance from that small fan. Even when I had several devices connected to this switch during my software video testing (coming soon) it barely made any noise.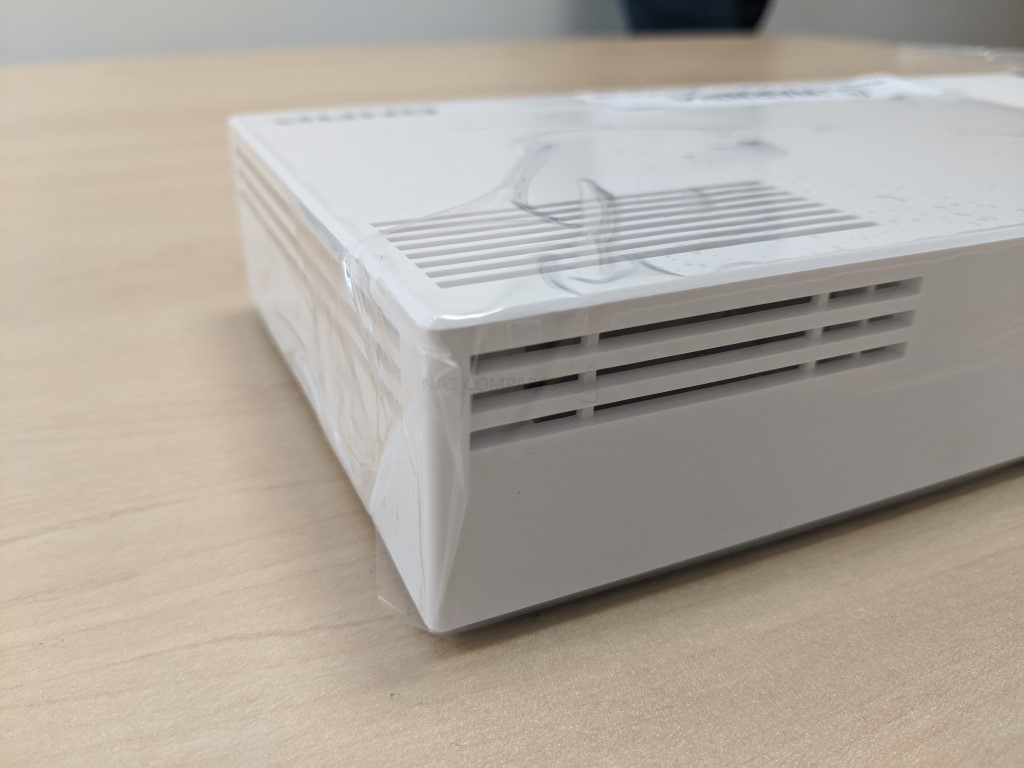 Despite the near-certain fact that any switch that features 12 ports (especially if some of those ports are 10Gbe) and noise is near enough unavoidable, you can see that the QSW-M408-4C has managed to avoid this by both having discrete internal cooling systems and ensuring that the PSU is outside of the chassis. That means that this switch can easily sit on your desk and connecting multiple devices, or allows you to edit directly on a 10Gbe NAS, (or higher with link aggregation) comfortably and whilst easily blending into the environment.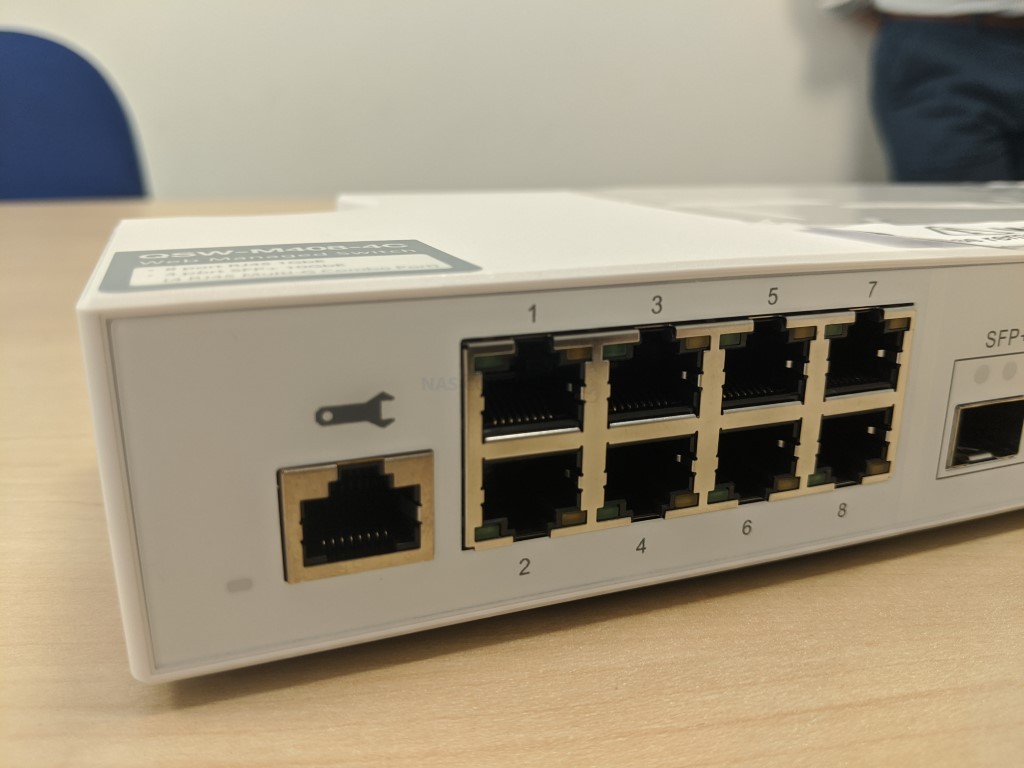 As mentioned, the QSW-M408-4C features support of both 1Gbe and 10Gbe connections. The dedicated 1Gbe port are all RJ45 copper-based and are grouped together in a form of eight at the front. The management, control, configuration and monitoring of these ports is shared by the same GUI and software as the 10Gbe connections. Each port supports up to 100MB/s and can be linked aggregated as needed, as virtual networks (vLANs) be created as sub-networks as needed.. There is an additional config network port located on the switch for connecting too third-party monitoring devices and maintenance. Most users looking at a switch at this price point will rarely take advantage of this feature but it's still a nice touch that it is included.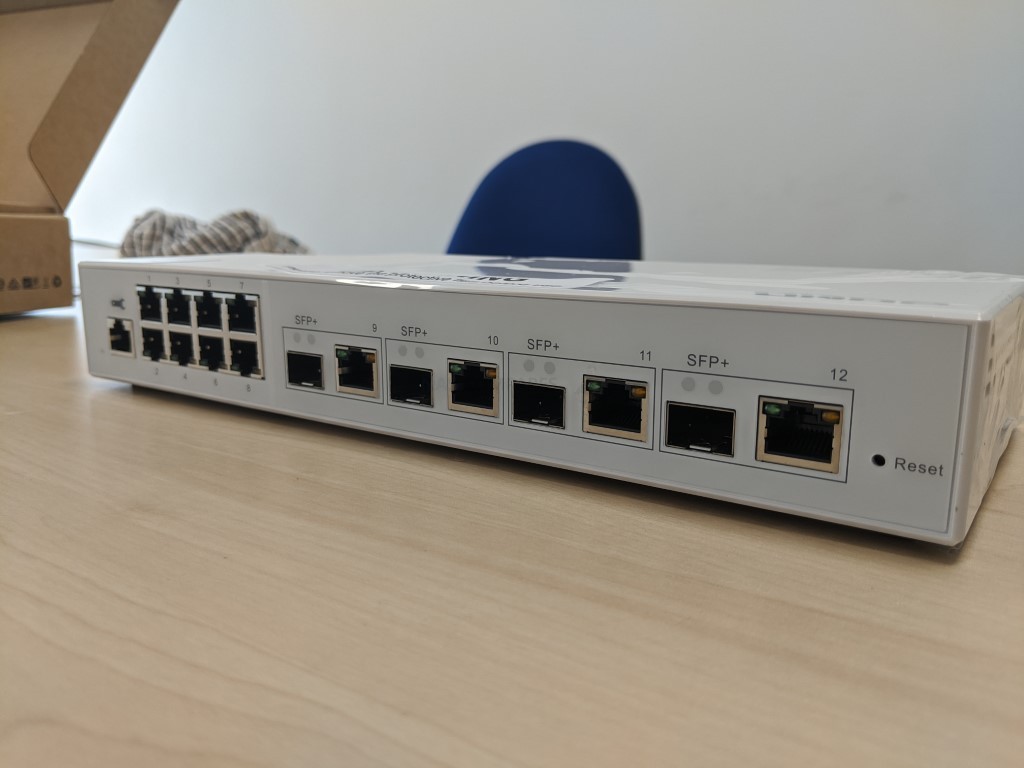 And now onto the key component of this device, the 10 Gigabit Ethernet ports located on the front right of the case. There are a total of 8x 10Gbe ports available, however, it is worth noting that these 'combo' ports are designed to allow the pairing of 1x 10Gbase-T copper and 1x SFP+ fibre-based 10Gbe connection each. You cannot use all 8-port independently, but you can link aggregate each pair of 10Gbe ports to allow up to 20Gbe per combo.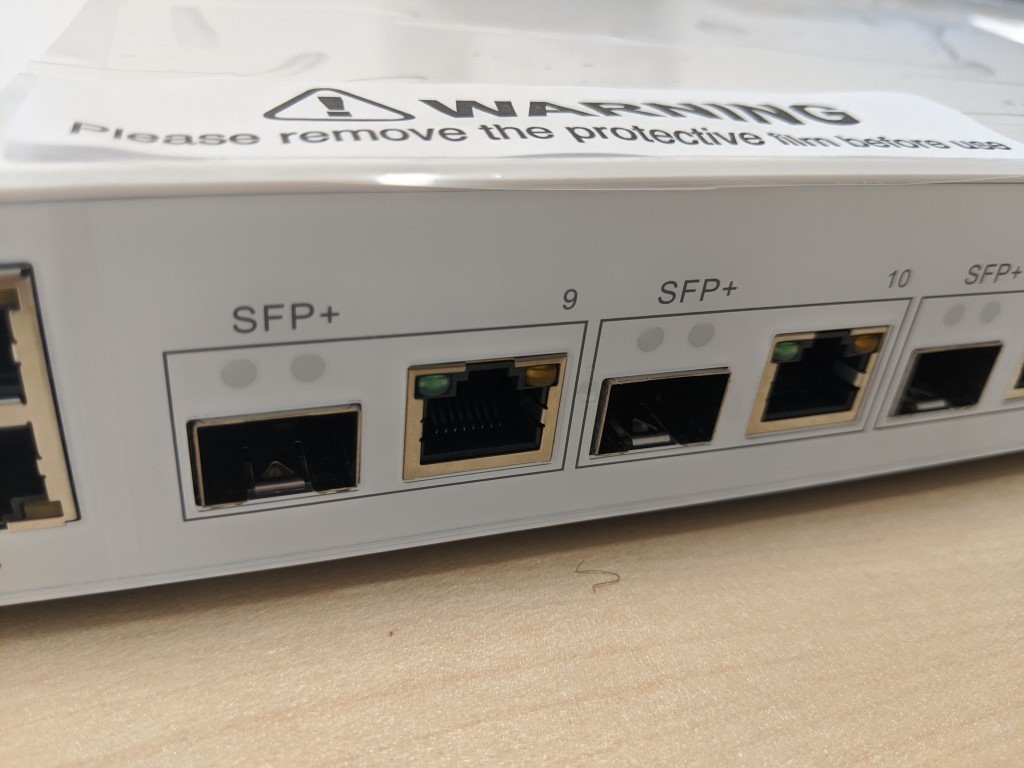 Originally, this design choice is to allow the far-reaching long-distance advantages of fibre-based 10Gbe (SFP+) to connect with the localised internal networking and affordability provided by copper-based Ethernet (RJ45). However, you can purchase moderately inexpensive SFP to 10Gbe adaptors that allow you to convert these port into copper ports and utilise them all internally. This will increase the price noticeably and likely to push the price point of the QSW-M408-4C closer to that of a more enterprise-grade solution that may well negate the adaptors entirely, but on a smaller scale you can still get away with one or two, whilst still saving some money. 
The utility of the combo environment of this managed switch is two fold. First, as mentioned, this allows you to create an affordable bridging point between faster external and faster internal cabling and create abridged environment between them, which is great for companies with office locations that are regionally close but generally quite far apart. The other use for this kind of technology is to allow the use of SFP 10Gbe solutions in your network environment, many of which are available from QNAP in similar affordable ranges. Though it is, of course, worth highlighting that although SFP network devices are generally more affordable, the cabling and transceivers required for a fibre network are noticeably more expensive in the long run.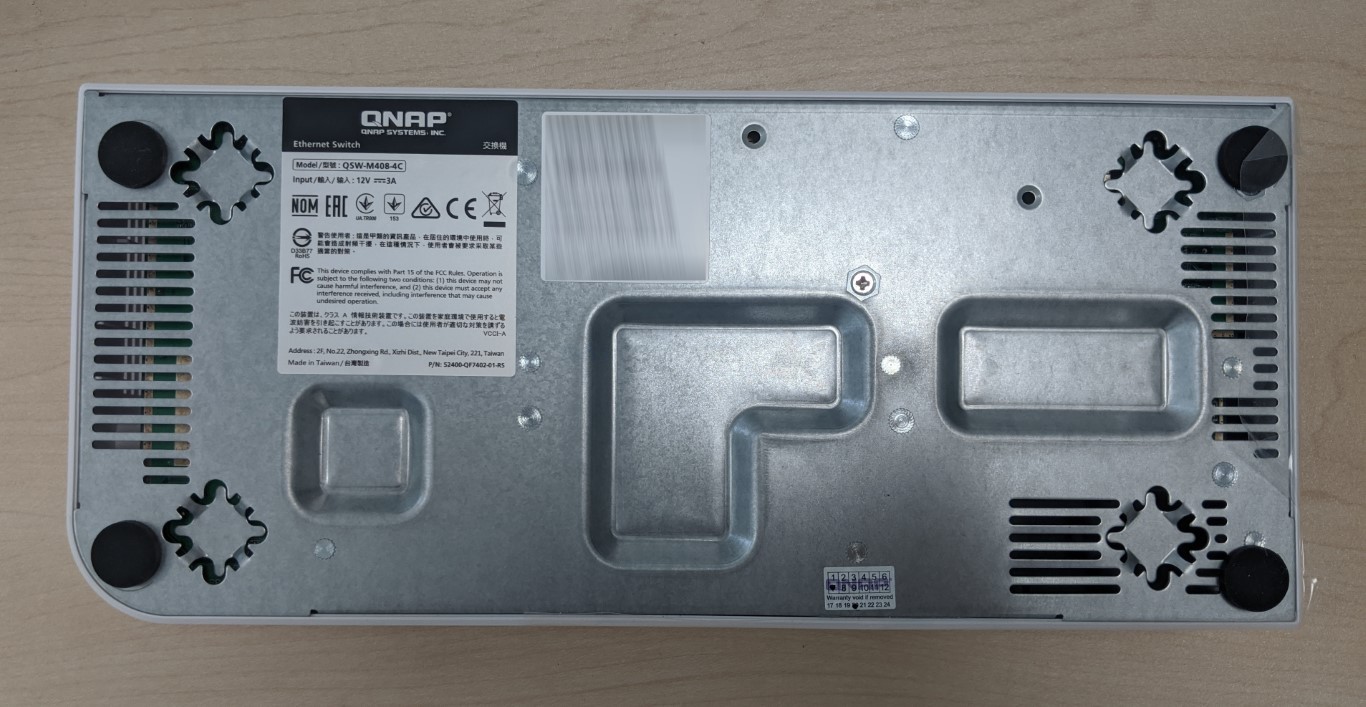 The base of these network switch is fairly plain, metal exposed and features rubberized feet to elevate the device a few millimetres from the desktop. There is another last bit of ventilation, but apart from that, the QNAP QSW-M408-4C is a fairly compact and well-contained network switch. Now let's talk about the software and management options of the QSW-M408-4C.
QNAP QSW-M408-4C Review – Software
Despite its rather modest price tag, the QSW-M408-4C does have a number of unique and desirable features typically found at the much higher price point or from network titans like NETGEAR. It arrives equipped with Layer 2 management functionality (e.g., LACP, VLAN, ACL and LLDP) using a comprehensive, yet simple, Web GUI that is incredibly familiar to anyone that has utilised a QNAP NAS previously, as well as being a far cry of the rather dated NETGEAR genie GUI still found in a number of modern solutions. This will give users network bandwidth control and enhanced network security. In total, the switching capacity of QSW-M408-4C is 96Gbps, maximising out the full potential of each port. The QNAP Switch System (QSS) provides an overview dashboard, port management and setting guide to help administrators control Layer 2 networks. It features:
Real-time system information, port connection status and port traffic

Powerful security and system functions (including ACL, LLDP, RSTP and Flow Control) to help administrators enhance network reliability

An overview of port status, port packet statistics, and configure port speeds.

Bandwidth and packet control functions (such as LACP, VLAN, QoS, and IGMP Snooping) for boosting network performance through IP grouping and bandwidth management.

One of few web-managed switches that support Rapid Spanning Tree Protocol (RSTP). You can easily and efficiently deploy small/medium-scale networks that support expansion, redundancy and loop prevention.
It provides all of these features, as well as the ability to create multiple virtual networks within the main core network, and even features automated or manual firmware update that is a far cry easier to implement than a number of network switches I have used in the past. There is quite a few pop-up guides included too for the network novice, perhaps a little too many times (if you know your way around, they can get pretty annoying actually), but everything is explained quite easily and I feel there is a good balance between being user-friendly and not too dumbed down. Alternatively, you can always just plug and play the device to work straight out of the box, as no prior network configuration needs to be set and the device's default settings are more than enough to have a mixed and capable 10Gbw and gigabit ethernet environment on day one.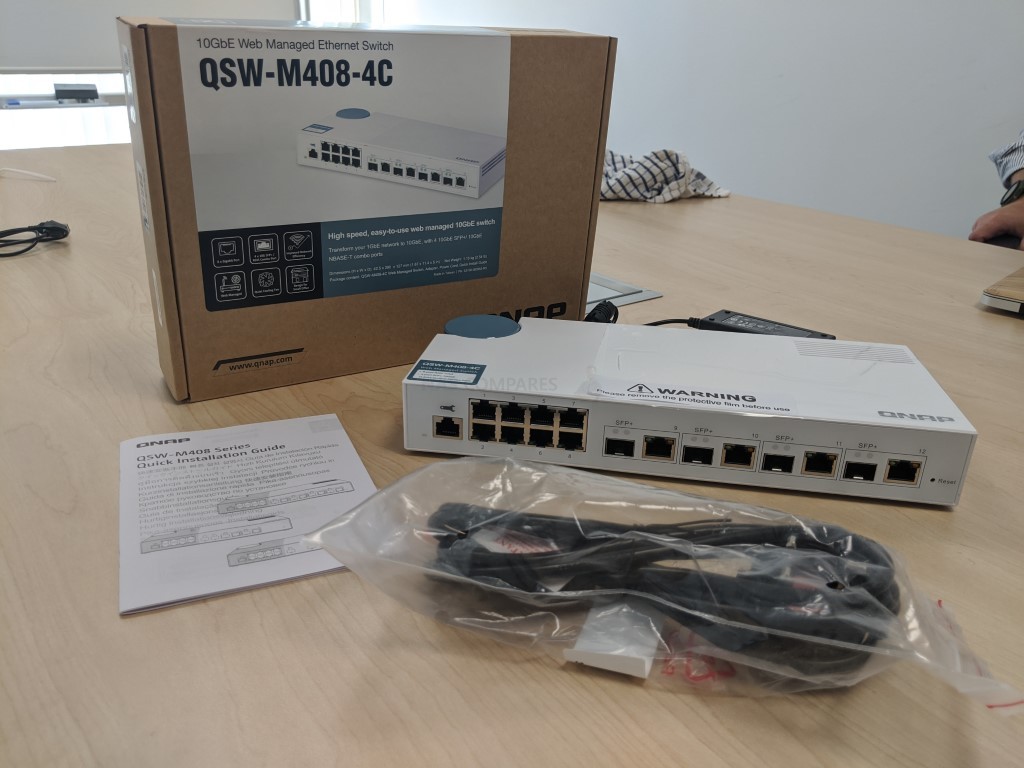 QNAP QSW-M408-4C Review – Conclusion
As odd as it may sound, I am genuinely surprised how much I like the QNAP QSW-M408-4C switch. I knew it was a good solution, as this is not the first time I have handled the QSS software from QNAP (near identical utility as found in the QNAP Guardian NAS+Switch Combo QGD-1600P earlier in 2020) but it is genuinely a very impressive and compact solution and really challenges the idea of how much a solid and reliable 10 Gigabit ethernet switch is supposed to cost in 2020. 10Gbe, as a business and home choice, is something that has been reducing in price all the time, but there have always been key elements in the equation for buyers (such as the switch and the client devices that have always lagged behind).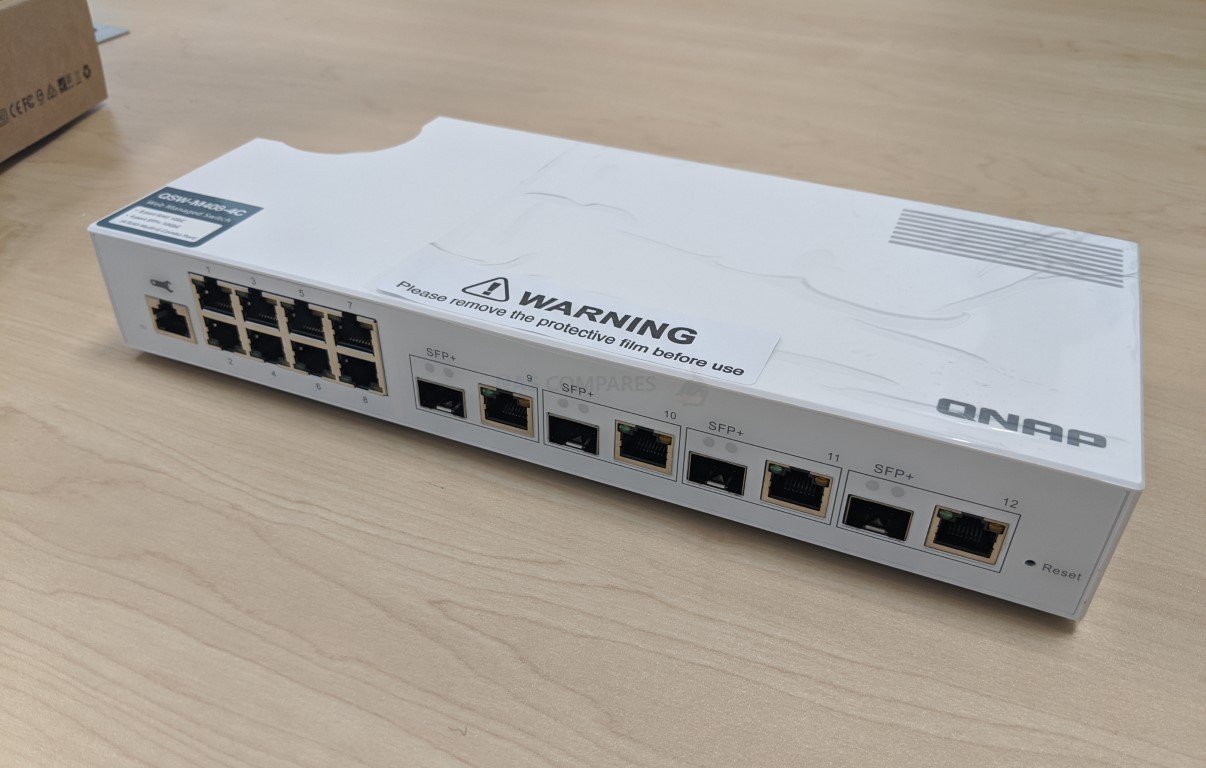 If you like, or can at least get over, the plastic white chassis that the QSW-M408-4C arrives with, what you'll find is easily one of the best value you and software rich 10Gbe solutions around right now. Extra points to QNAP for managing to make a software user interface for a 10Gbe switch that doesn't make most users want to pull their hair out – almost for that reason alone I bloody love this thing.
PROS
CONS

Very affordable L2 10Gbe Switch
Good ethernet coverage for price
QSS(Management software) is very clear and graphical
VERY compact, even the PSU is rotational
FAST setup
Excellent degree of cross ethernet coverage of fiber and copper
Works straight out of the box
Good access options
Good midterm spend between 1Gbe and 10Gbe networks

Design and colour will split opinion
2 Year Warranty is shorter than Netgear
If you are thinking of buying a QNAP NAS, please use the links below
Summary
Reviewer
Review Date
Reviewed Item
QNAP QSW-M408-4C Hardware Review
Author Rating