Reviewing the Affordable QNAP

QSW-1105-5T

2.5Gbe Switch
QNAP has really been making aggressive moves into the word of network switches in the last two years. We have seen multiple 10Gbe switches for copper and fibre connectivity arrive on the market from them (managed and unmanaged) that have made the cost of upgrading the hub of your network equipment to 10Gbe a great deal more affordable. That said, with numerous 5Gbe and 2.5Gbe solutions in their NAS portfolio AND most users looking to make only a small jump above 1Gbe, the appeal and affordability of switching to a 2.5Gbe setup (eg 2.5x that of traditional ethernet in the typical small scale office) has been greater than I would have expected. As an answer to this, and as a means to allow more users to take advantage of the growing number of 2.5Gbe equipped solutions out there, QNAP have released the QSW-1105-5T switch. Arriving with a fanless, silent architecture, 5 ports providing a total 12.5Gbe of 5 lane network bandwidth, it is another solution that users looking to make smaller upgrades (side-grades?) may find very appealing indeed – as well as leaving some users scratching their heads at the point of a relatively small jump up in the grand scheme of things. So, let's take a look at the QNAP QSW-1105-5T and see if this small little upgrade could mean big things for you and your network.
QNAP

QSW-1105-5T

2.5Gbe Switch – Quick Conclusion
Needless to say, the QNAP QSW-1105-5T is not a hugely powerful that is designed to challenge smarter or larger entries into the QNAP QSW rang of switches – but that is largely the point! Along with users looking at play n play upgrades to their PC/Client machines at home/office with USB adapters (such as the QNA-UC5G1T), the appeal of 2.5Gbe upgrades in networks that favour WiFi 6 and (soon) WiFi 6E is actually quite pronounced. In this arena, the QSW-1105-5T has little or no competition right now and even if it did, it's a very solid and well-made product. The price point of over $100 for a 5-Port switch that is unmanaged, when you can pick up 1Gbe unmanaged switches at $40-50 is a little off-putting, but given the next tier (10Gbe) will likely set you back $200 for the same unmanaged architecture, this is more a question of finding a balance I guess. Aside from that, It is hard to fault the switch for what it is, as it is delivering on all it's promises – I just wish there was a managed version too to take advantage of 2.5Gbe LAG connectivity that is available in almost all multi LAN QNAP solutions in 2020/2021.
QNAP

QSW-1105-5T

2.5Gbe Switch Packaging
If we take a look at the retail box of the QNAP QSW-1105-5T, we can immediately get a sense of the size of this device. Despite this not being the first affordable switch I have reviewed from QNAP, I am still rather surprised at how much they have packed into such a small chassis. But I am getting ahead of myself, the retail box is very much in line with the design aesthetic at QNAP. Arriving in a petite brown box and featured product label telling us lots about the specifications, network abilities and boasting its advantages. The box is plain, but still has a bit more personality than most – not important, but something I am glad still exists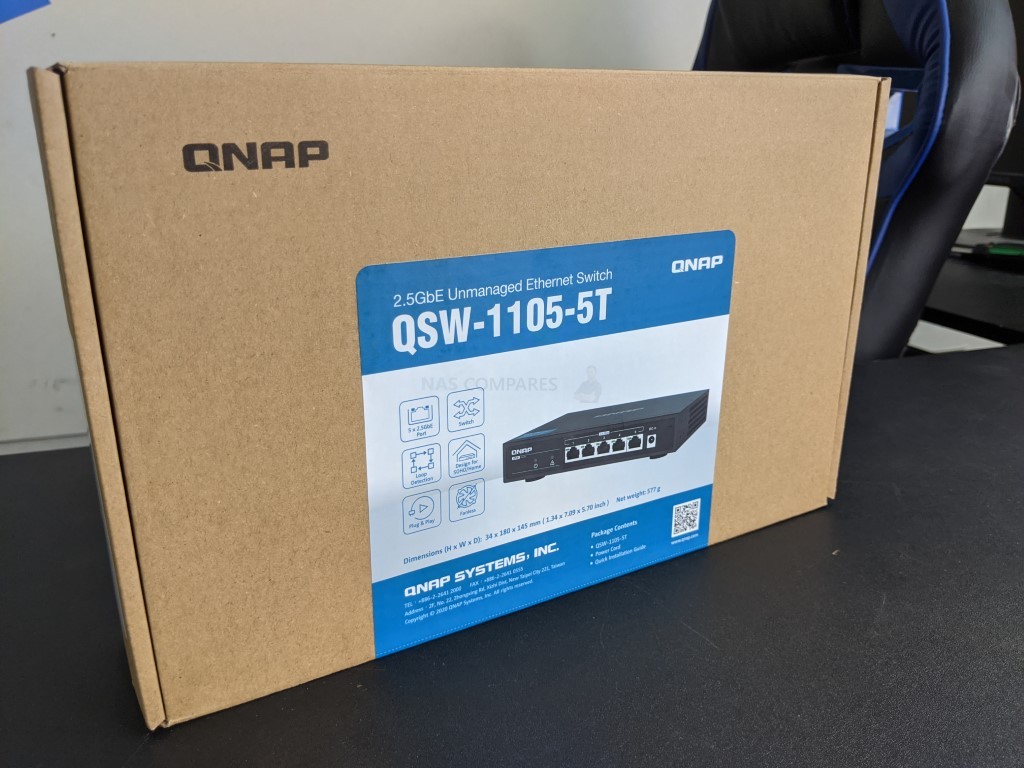 The contents of the retail kit are not much (it rarely is with switches, given that they are made to sit within existing equipment) but it arrives well packaged and each part neatly contained. Once I removed the contents from its retail packaging, I found that it did not include any LAN cables. This is not a big deal, given these are ridiculously cheap, but it's a shame they didn't include them. Again, this is a very minor gripe and in the interests of affordability and preventing waste, it makes sense (most network-enabled client devices will have a cable included). Inside we found:
QNAP QSW-1105-5T Switch
External Power Supplier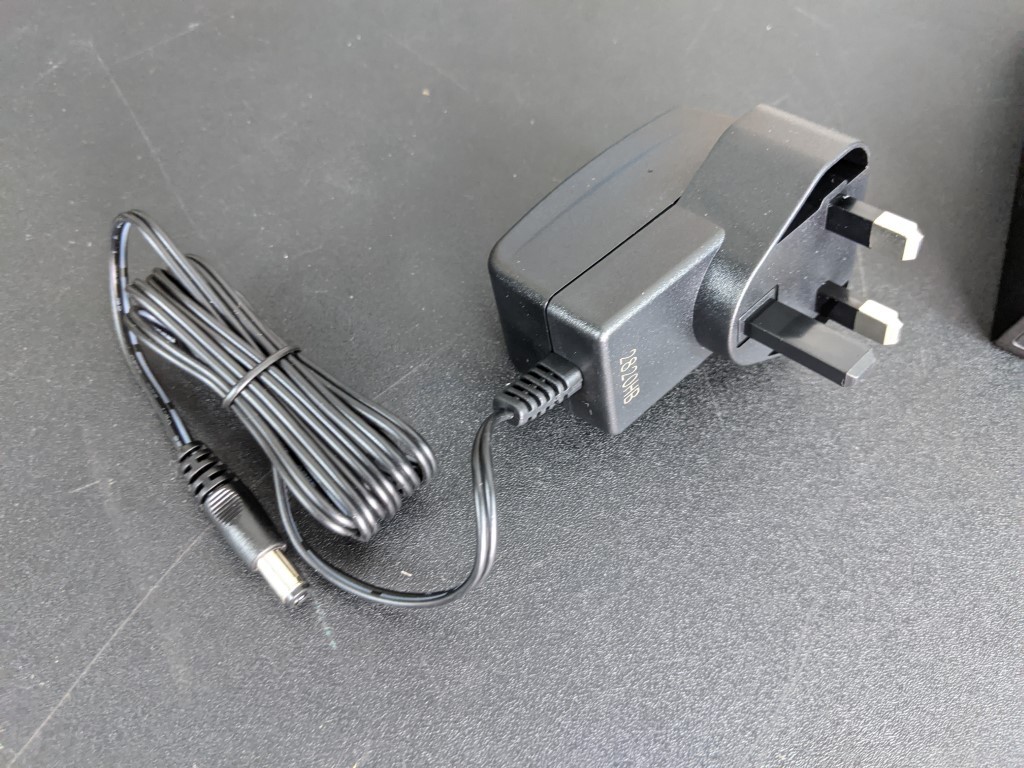 Quick Start & Installation Guide
External Power Connector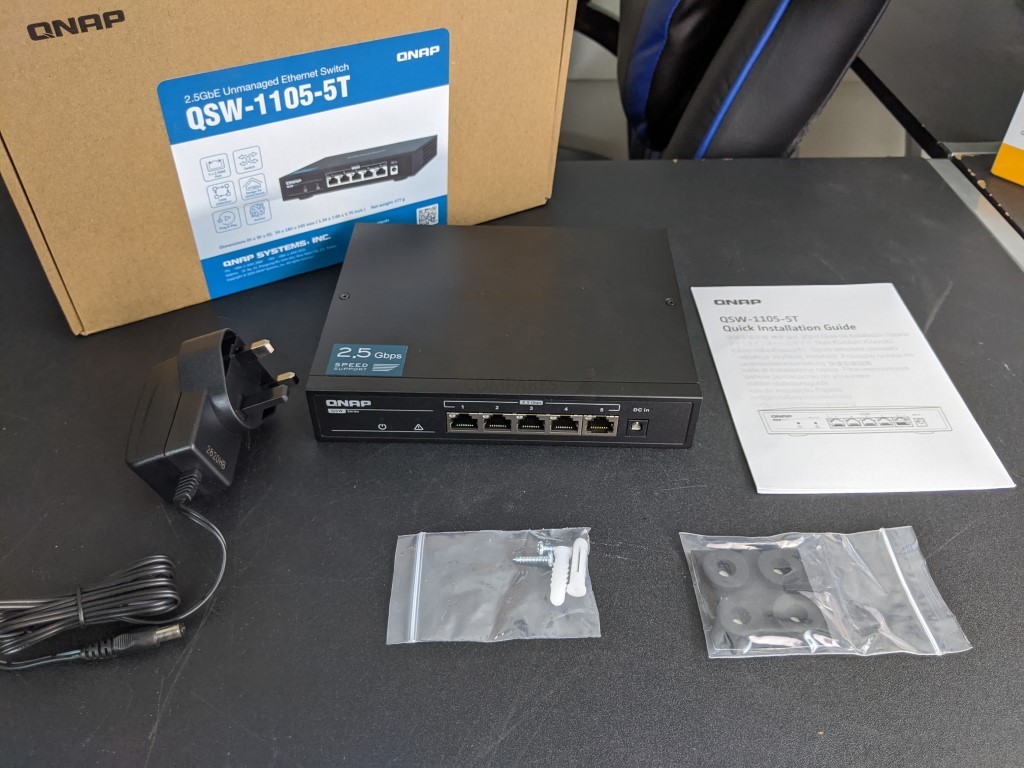 This is pretty much everything you are going to need to get this device up and running in your environment and fairly standard for a rather 'setup-and-forget' tier device.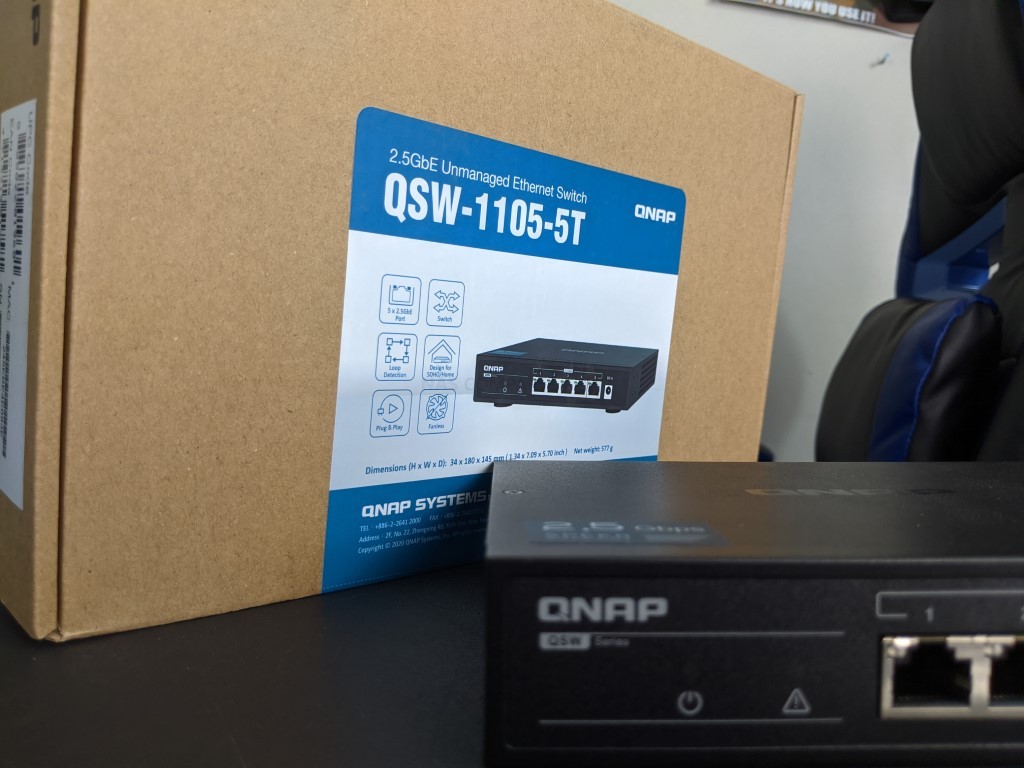 QNAP

QSW-1105-5T

2.5Gbe Switch Chassis Design
Once I unpacked everything, I was able to get a good look at this switch in all its glory. I still can't get over how a switch that features 5 RJ45 LAN ports is still able to be so compact in design. Measuring at just 34 x 180 x 145 mm, this device can be deployed very easily indeed. There are of course factors such as ventilation that we will talk about in a bit, that is a key factor in fanless devices, but nevertheless, this is a very compact device that has been chiefly designed to be utilised in environments where space is limited or discretion is key.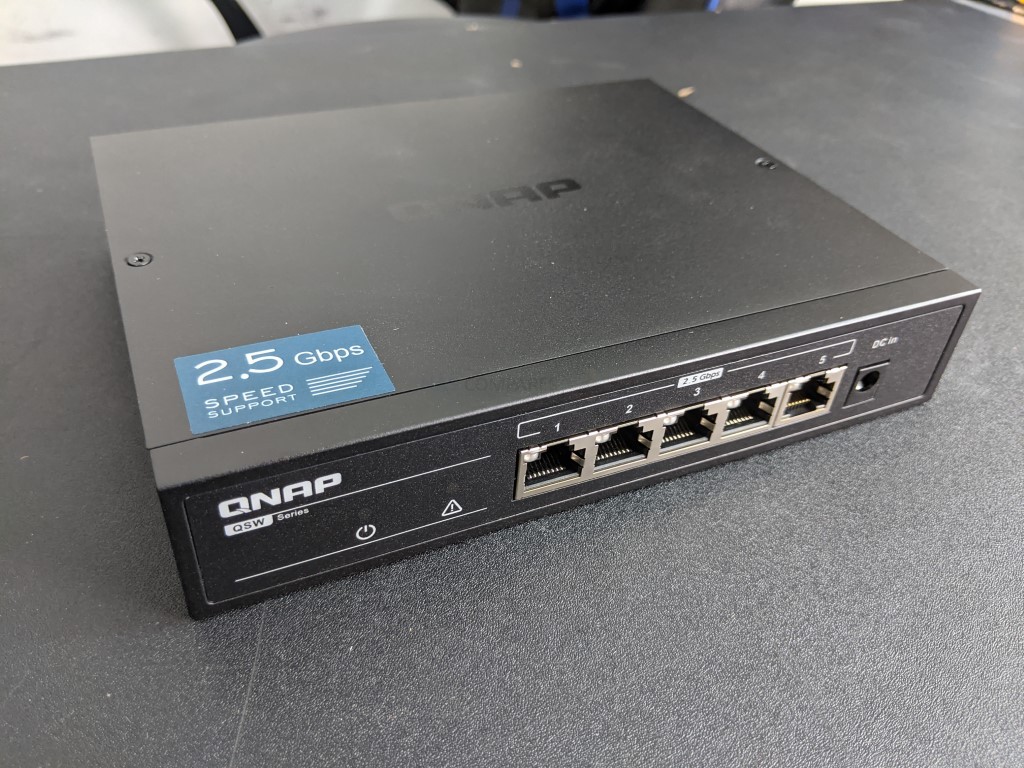 If we take a closer look at the front of this small. black switch, we can see the PSU connector. One small complaint I have is that the connector would be much, MICH more useful on the back of this casing, as otherwise there is an unfortunate likely hood of either the connector and cable having to loop around the side OR you have to have all 5 LAN ports facing backwards (which would obscure the LEDs).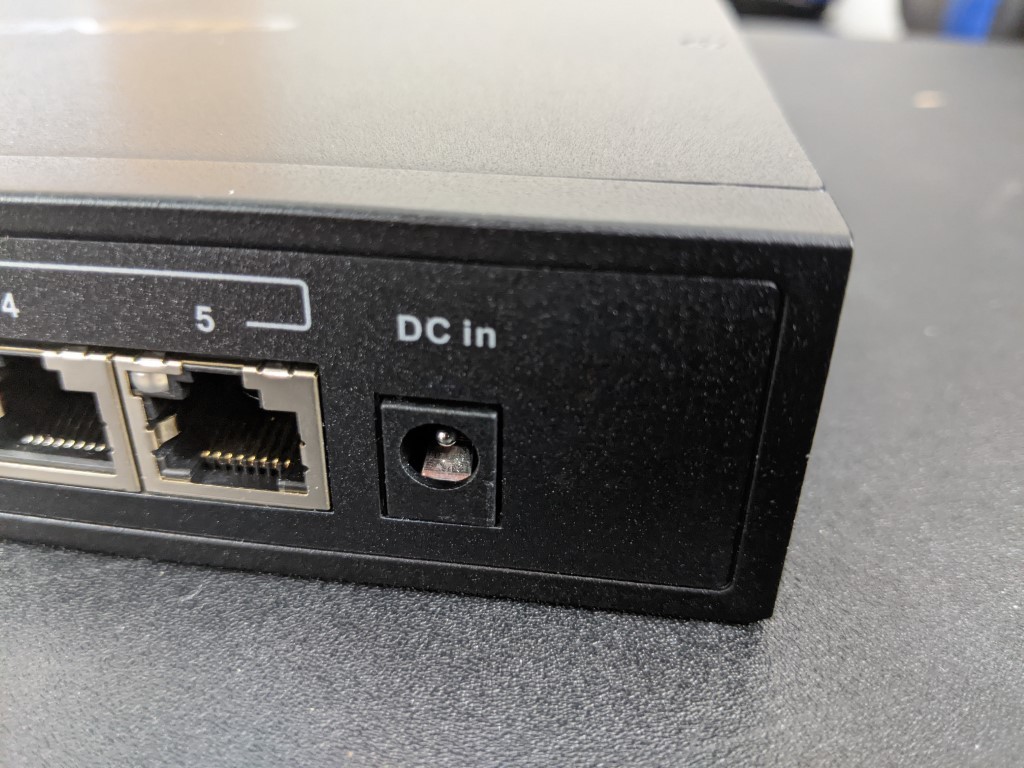 It is still perfectly function and the casing is fairly nondescript and it is as you would expect from a device that is designed to just be set up and forgotten. However, a closer look let us get a better idea of how this device maintains efficiency.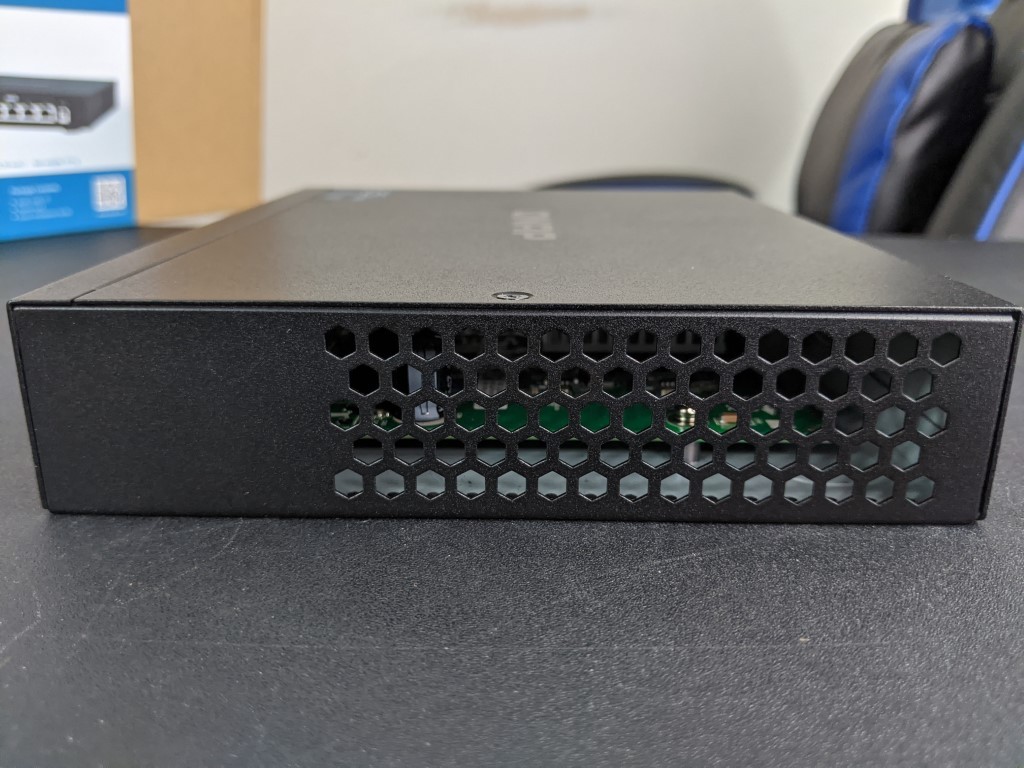 Multiple ventilation points are featured on the QSW-1105-5T switch too promote passive airflow and cooling whilst the device is in operation. Most first-time network users are unaware of just how much heat is generated by a network switch compared to that of the router provided by an internet service provider (ISP).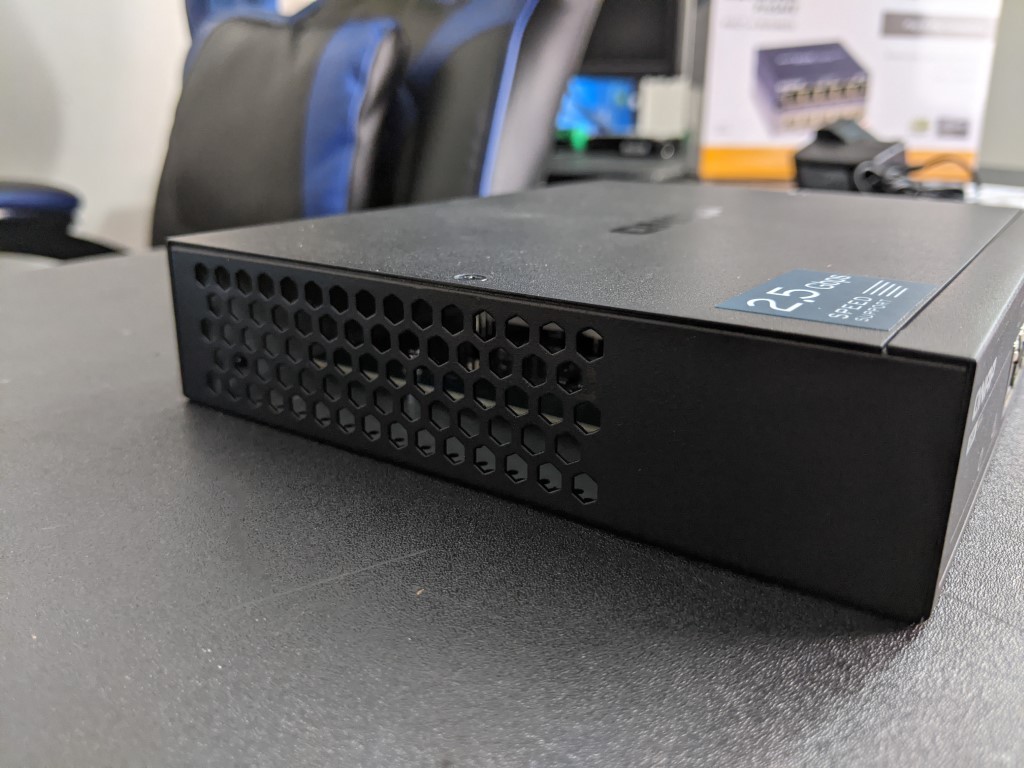 These vents serve as a way for the processors and heatsinks inside to maintain a workable environment and without them, they would be susceptible to performance degradation and damage caused by overheating. You should always store your network switches, whether they are fanless or not, in a well-ventilated area as they are never truly idle devices and will be operational 24/7 in one capacity or another. Though obviously, the more devices that are on the network, the more the switch will work. The switch contains multiple small processors and controllers on the internal PSB that work together to maintain high speeds, despite the QSW-1105-5T device's unmanaged nature. These multiple areas of ventilation found on all sides of the QSW-1105-5T ensure that passive airflow can maintain internal temperatures at a workable level, despite the silent fanless design that it has been chosen.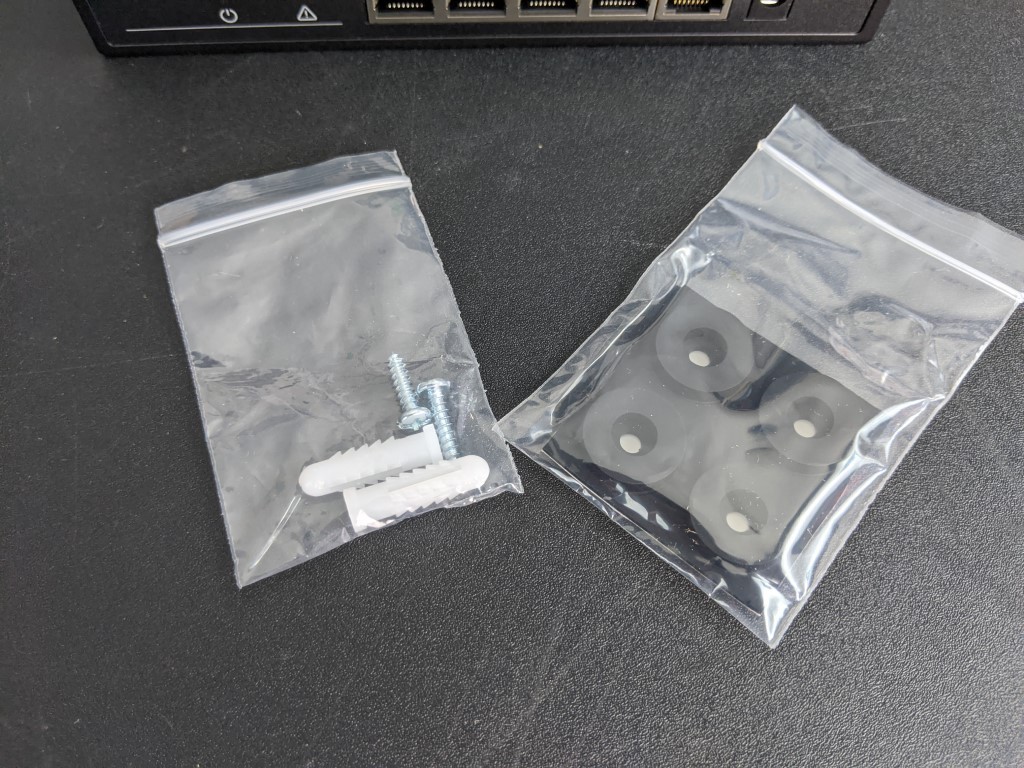 Equally, the QNAP QSW-1105-5T features rubberized feet that serve as both a means to stabilise the switch, but more importantly raise the QSW-1105-5T switch from the surface to ensure heat can be dissipated from beneath the device whilst in operation. At this stage, I am pleased with the sheer weight of passive cooling featured on this chassis while still keeping it aesthetically pleasing. Though this will appeal to users looking for a quiet, low-power 2.5Gbe enabled switch, I think user's user's who intend on maximizing all connections for a potential 12.5Gbe total throughput at the same time may want to consider an active cooling (fan) based solution instead.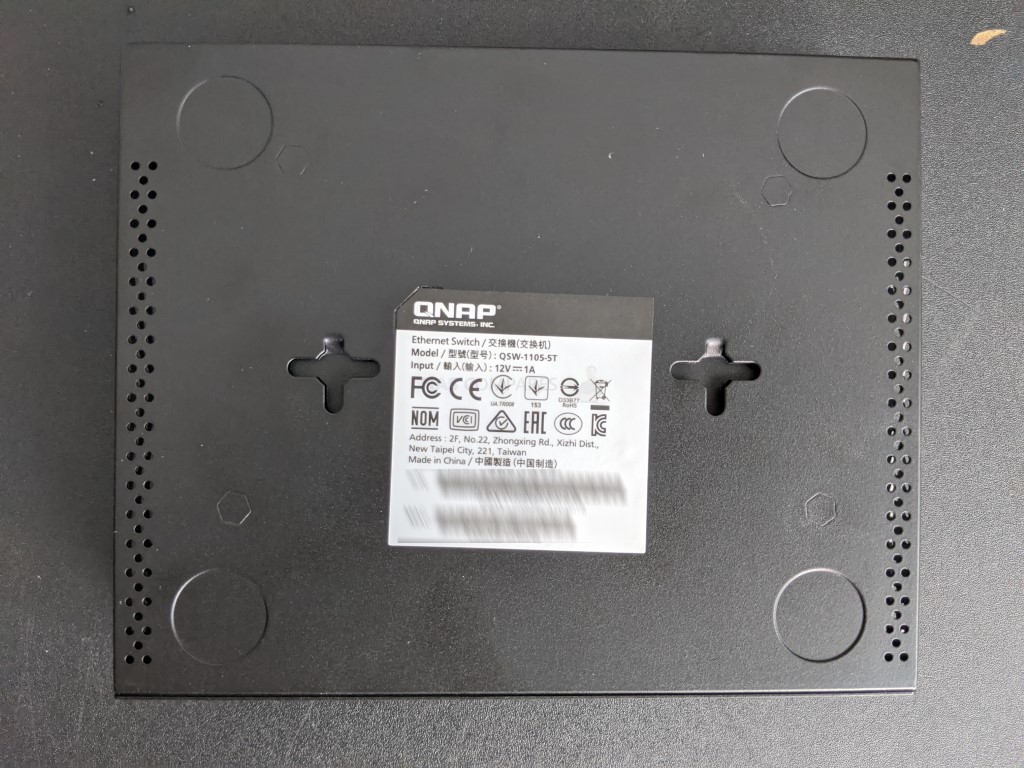 The front of the QSW-1105-5T combo switch features five individual network ports and indicators as you would expect from a pivotal and central network device..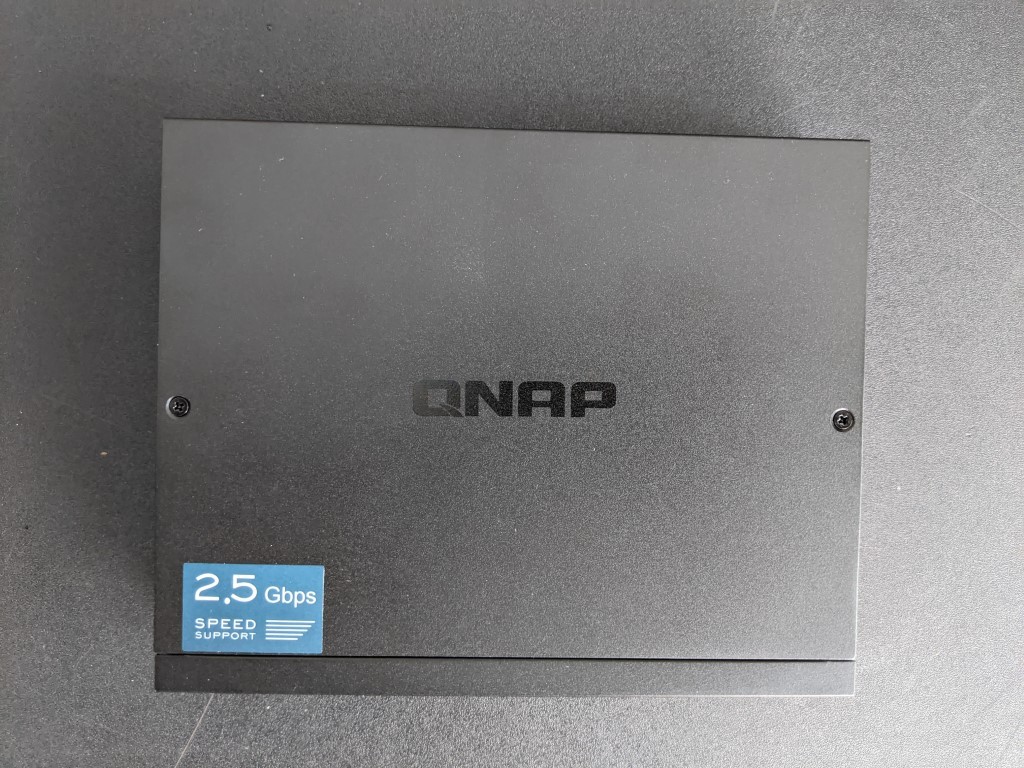 Every single network port features twin LEDs that denote active connections and network traffic. Ask any veteran techie and they will tell you about the importance of these lights, as they serve as the most basic but reliable form of acknowledgement that two devices are talking. A number of truly budget solutions in the past from companies such as D-Link and TP-Link have tried to cut corners by minimising these indicators, creating brainless and lightless boxes, that have the potential to infuriate you down the line. Do yourself a favour and spend the few extra quid it costs to have them, as they only have to be there for you on one occasion to save you hours of trial and error.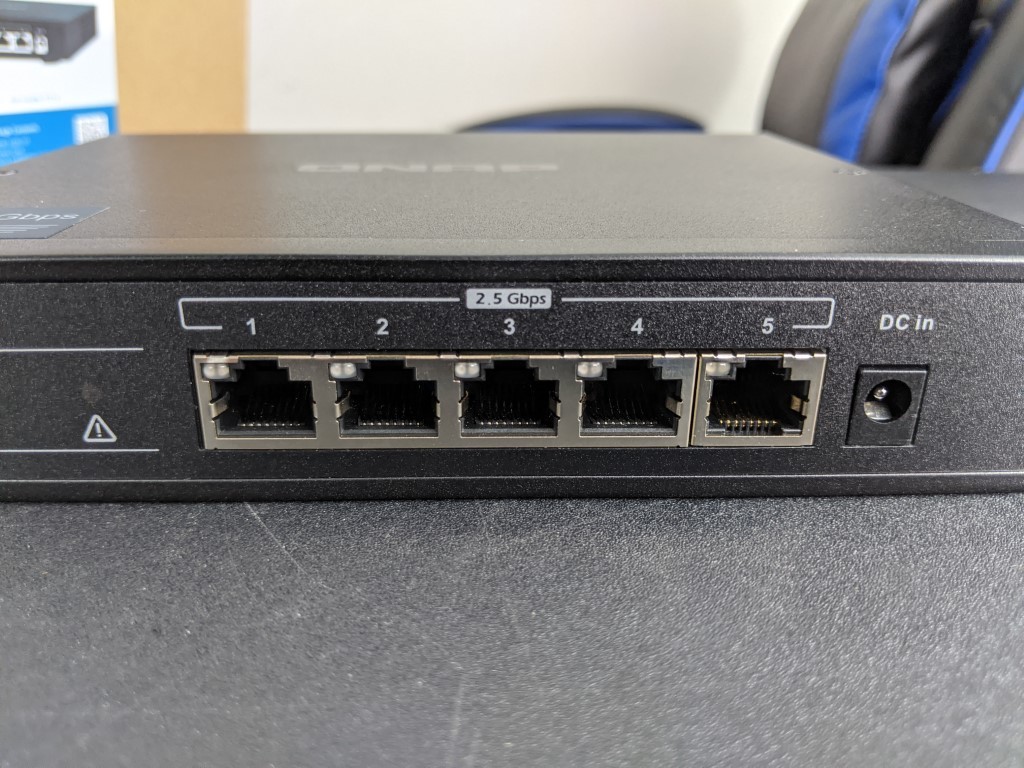 The most mainstream and ONLY connection available on the QSW-1105-5T QNAP switch is the copper-based RJ45 2.5GBe (2.5GBASE-T) connectivity found on the right-hand side. These five ports serve as the means for all of your connected devices to exchange packets of data on your network environment, though it is worth remembering that this switch is affordable for many reasons and one of them is that it is an unmanaged switch. That means that you cannot access a configurable back-end via an app or browser-based user interface for features such as port-trunking (aka link aggregation) and adaptable port priorities, though this switch DOES support Loop detection which can be an issue in systems whereby physical connections get confused and can effectively block a system from use. Before you go any further, let's take a moment to understand the difference between a managed and unmanaged switch.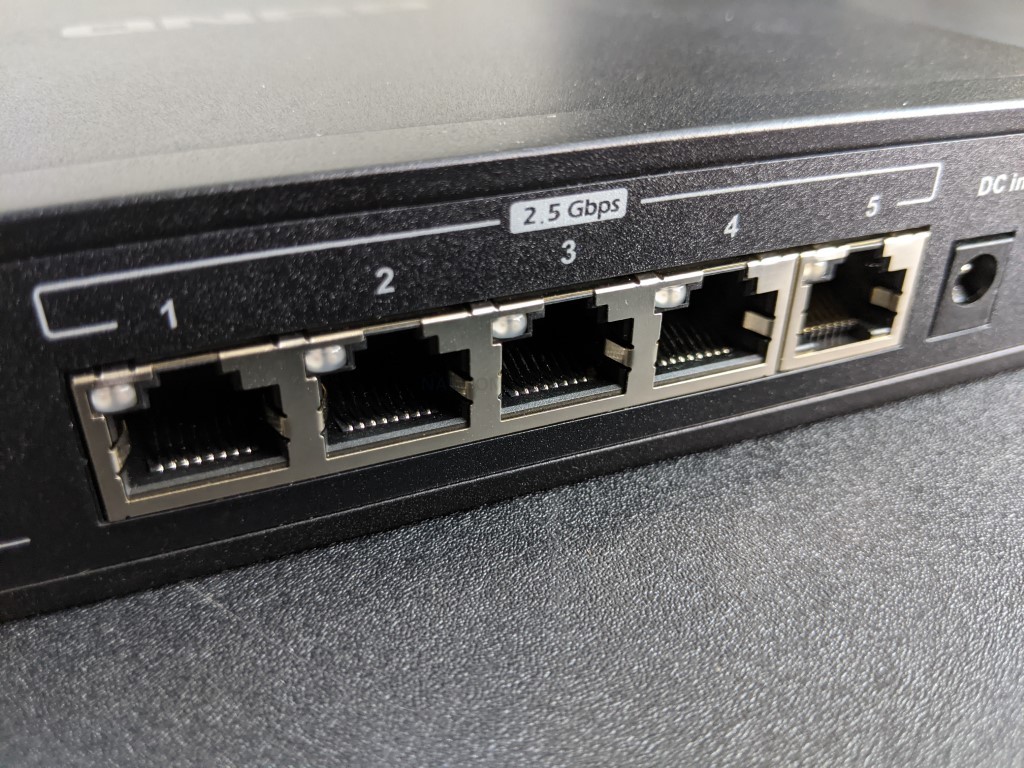 What is an Unmanaged Switch?
As mentioned above, an Unmanaged Switch simply allows Ethernet devices to communicate with one another, such as a PC or network printer, and those are typically what we call plug and play. They are shipped with a fixed configuration and do not allow any changes to this configuration. An Unmanaged Switch is typically used in small networks or to add temporary workgroups to larger networks.
What is a Managed Switch?
Managed Switches provide all the features of an Unmanaged Switch, but also provide the ability to configure, manage, and monitor your LAN. Furthermore, a Managed Switch gives you more control over your LAN traffic and offers advanced features to control that traffic. The key difference between Managed and Unmanaged Switches is the ability to configure the Switch, as well as the connectivity of any/all users as and when needed.
For those looking for a simple network environment where devices can access one another and communicate over an equal playing field up to 2.5 Gigabit (250MB per second) maximum transmission, these 5-ports will serve as more than enough connectivity. However, if simple and traditional 1Gbe is all you are looking for then this QSW-1105-5T switch from QNAP maybe quite a lot of overkill. This device is about servicing your network connections today, tomorrow and in years to come. As well as allowing you to include the increasing array of 2.5Gbe NAS drive, USB Adapters and PCIe upgrade cards into your hardware environment and increase your existing network connect action by a potential 2.5x, whilst still supported 1Gbe through backwards compatibility.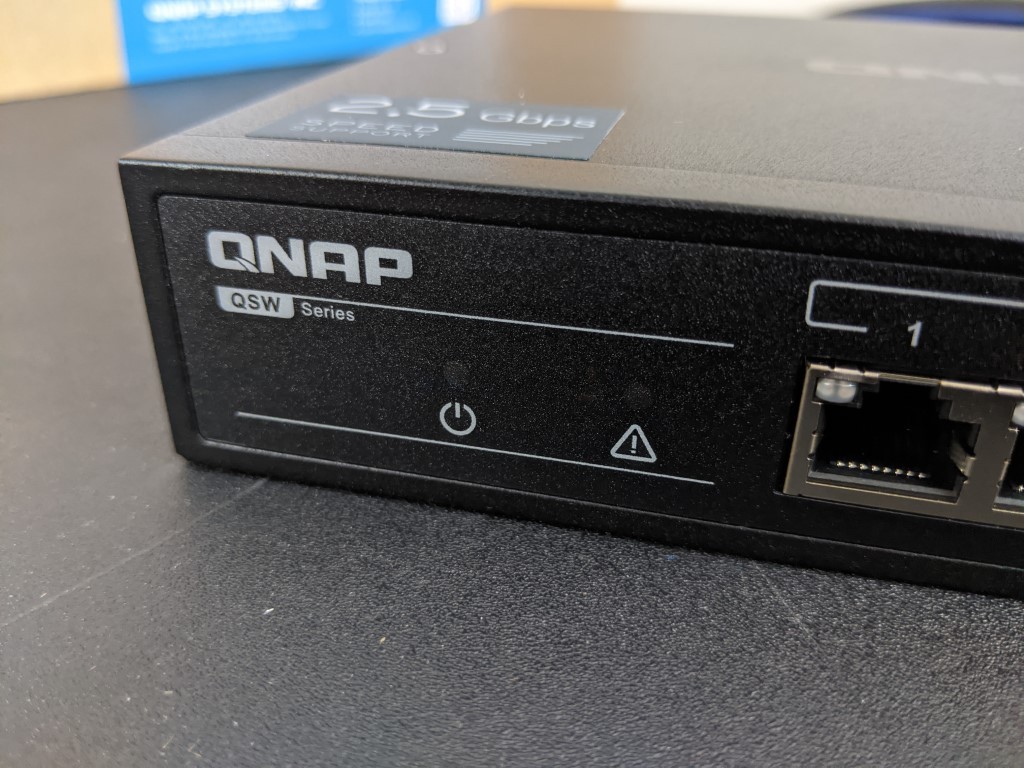 Next to these RJ45 ports, we find the LEDs that denote the power of the device, as well as a warning alert light for if the system is having network issues. Each of the RJ45 LAN connectors as twin lights for access confirmation and activity. The switch works exactly as you might well expect, providing up to 250MB/s connectivity to connected 2.5G devices. The lack of management is a shame and if QNAP releases an M/Managed version of this switch at a minimal price increase (as we have seen with the QSW-308-1C vs later release QSW-M408-4C), then it could undermine this piece of hardware substantially, but right now this still serves as a neat upgrade on the majority of 1Gbe unmanaged switches out there and around a 3rd of the cost of an unmanaged 10Gbe solution at a similar level.
QNAP

QSW-1105-5T

2.5Gbe Switch Review Conclusion
The QNAP QSW-1105-5T switch definitely lives up to what it promises and has a very clear target user in mind. It does not pretend to be more than it is and because of that can maintain a high performance and low physical and power usage impact for users looking to move to the next level of networking without spending a vast amount. The QSW-1105-5T serves as a great upgrade for users moving from gigabit ethernet and towards multi-gigabit environments and with fantastic growth in 2020 towards 2.5G, 5G and 10Gbe in affordable hardware, the need for a more palatable and affordable upgrade to this tier is not only hugely welcome but fast becoming an inevitability. That said, the QSW-1105-5T is not for everyone, it seems a little pricey when unmanaged 1Gbe 5-Port switches are generally around £40-50.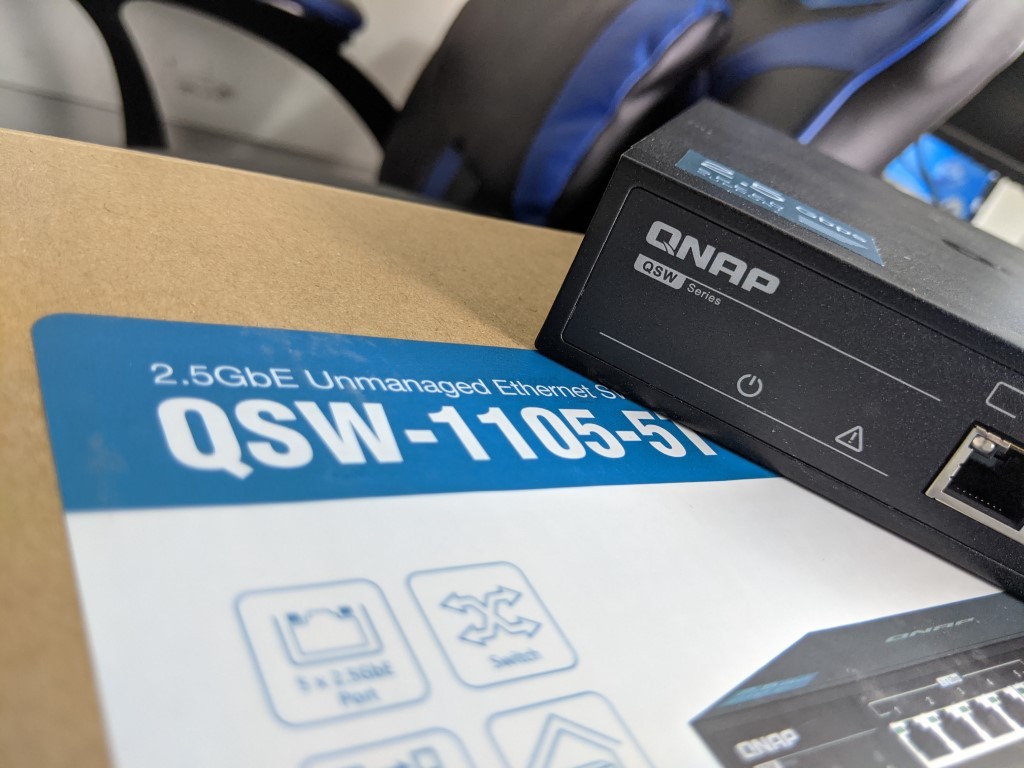 Also, if you already have a multi-gigabit network environment in place or have need of a more controllable and priority defining network environment in mind, you will probably find the QSW-1105-5T a backstep and limiting in its scope. But the QSW-1105-5T is not designed for that and does not pretend to be so, and with QNAP having released and in the process of releasing switch options to cater to an ever-evolving network clientele, whether this is the switch for you or not, by the end of 2020 QNAP will almost certainly have a switch that suits your needs and budget. Bottom line, I really like this device and couldn't see myself finding many uses for this device for aspiring YouTubers like me as well as day-to-day data work in general.
Pros of the QNAP QSW-1105-5T Switch
Cons of the QNAP QSW-1105-5T Switch

Affordable Plus Gigabit entry point
Exceptionally petite design
Unparalleled passive cooling
Silent Deployment
Good Network Brand Support

Unmanaged, so not for everyone
The price difference between 1Gbe and 2.5Gbe in this 5-port switch seems bigger than it should be
📧 LET ME KNOW ABOUT NEW POSTS 🔔
Join 1,577 other subscribers
Get an alert every time something gets added to this specific article!
This description contains links to Amazon. These links will take you to some of the products mentioned in today's content. As an Amazon Associate, I earn from qualifying purchases. Visit the NASCompares Deal Finder to find the best place to buy this device in your region, based on Service, Support and Reputation - Just Search for your NAS Drive in the Box Below
Need Advice on Data Storage from an Expert?
We want to keep the free advice on NASCompares FREE for as long as we can. Since this service started back in Jan '18, We have helped hundreds of users every month solve their storage woes, but we can only continue to do this with your support. So please do choose to buy at Amazon US and Amazon UK on the articles when buying to provide advert revenue support or to donate/support the site below.

Finally, for free advice about your setup, j
ust leave a message in the comments below here at NASCompares.com and we will get back to you.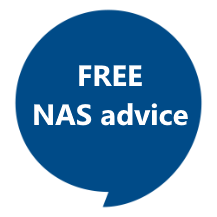 Need Help?
Where possible (and where appropriate) please provide as much information about your requirements, as then I can arrange the best answer and solution to your needs. Do not worry about your e-mail address being required, it will NOT be used in a mailing list and will NOT be used in any way other than to respond to your enquiry.
Support What We Do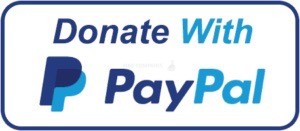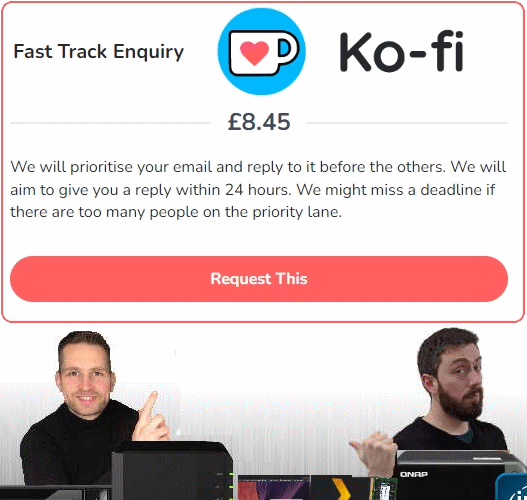 Terms and Conditions
Alternatively, why not ask me on the
ASK NASCompares forum
, by clicking the button below. This is a community hub that serves as a place that I can answer your question, chew the fat, share new release information and even get corrections posted. I will always get around to answering ALL queries, but as a one-man operation, I cannot promise speed! So by sharing your query in the
ASK NASCompares
section below, you can get a better range of solutions and suggestions, alongside my own.
Summary
Reviewer
Review Date
Reviewed Item
QNAP QSW-1105-5T 2.5GbE Switch Hardware Review
Author Rating