DSM 7.0 First Impressions
Now that we have all had a chance to download Synology Diskstsiton Manager 7 (DSM 7) to take a look at whether it was worth the wait, many of us have come away pretty impressed. It's arguably more of a redesign in UI on the face of it (with the bulk of the biggest changes made in the background of how it operates and in key business-focused apps) but there is still plenty to do in this beta. Elements such as the much faster login speed, more responsive feeling from the UI and reorganization of some menus are certainly welcome, but like any beta, this is not fully representative of the finished product. So, today I am going to go through all my first impressions of the DSM 7.0 beta, what stood out for me, what didn't and ultimately see how much of what Synology have been promising for 2 years has arrived. Before going any further though, remember that if you are going to download and test the DSM 7 beta yourself, know that a system that is upgraded to DSM 7.0 is very difficult to downgrade back to DSM 6.2 (as many of us found in the private beta), so it is recommended to backup in at least 2 places before proceeding. Alternatively, you can run a virtual machine equivalent or access the Synology Live Online demo for DSM 7 HERE. Just be aware that the online demo is getting a lot of hits at the moment and might have a waiting time. So, now that's out the way, let's go through the highlights.
| | |
| --- | --- |
| | |
| Synology DSM 6.2 | Synology DSM 7 beta |
Synology DSM 7.0 Software GUI
Straight away, the whole graphical user interface of DSM7 is a big, big change and even after just a few hours of testing out the beta version, the DSM 6.2 GUI does look a little old-fashioned by comparison. Of course, there is more to the utility to consider of a NAS device than a slick UI but it has to be said that in terms of responsiveness and fluidity, you can definitely feel the difference in how DSM responds when interacting with menus and applications. It's quite tough to put into words how responsive things feel and the majority of my testing was conducted via the network and not internet access, so that may well play a part. Nevertheless, this new streamlined UI is both remarkably clean and incredibly sleek in appearance.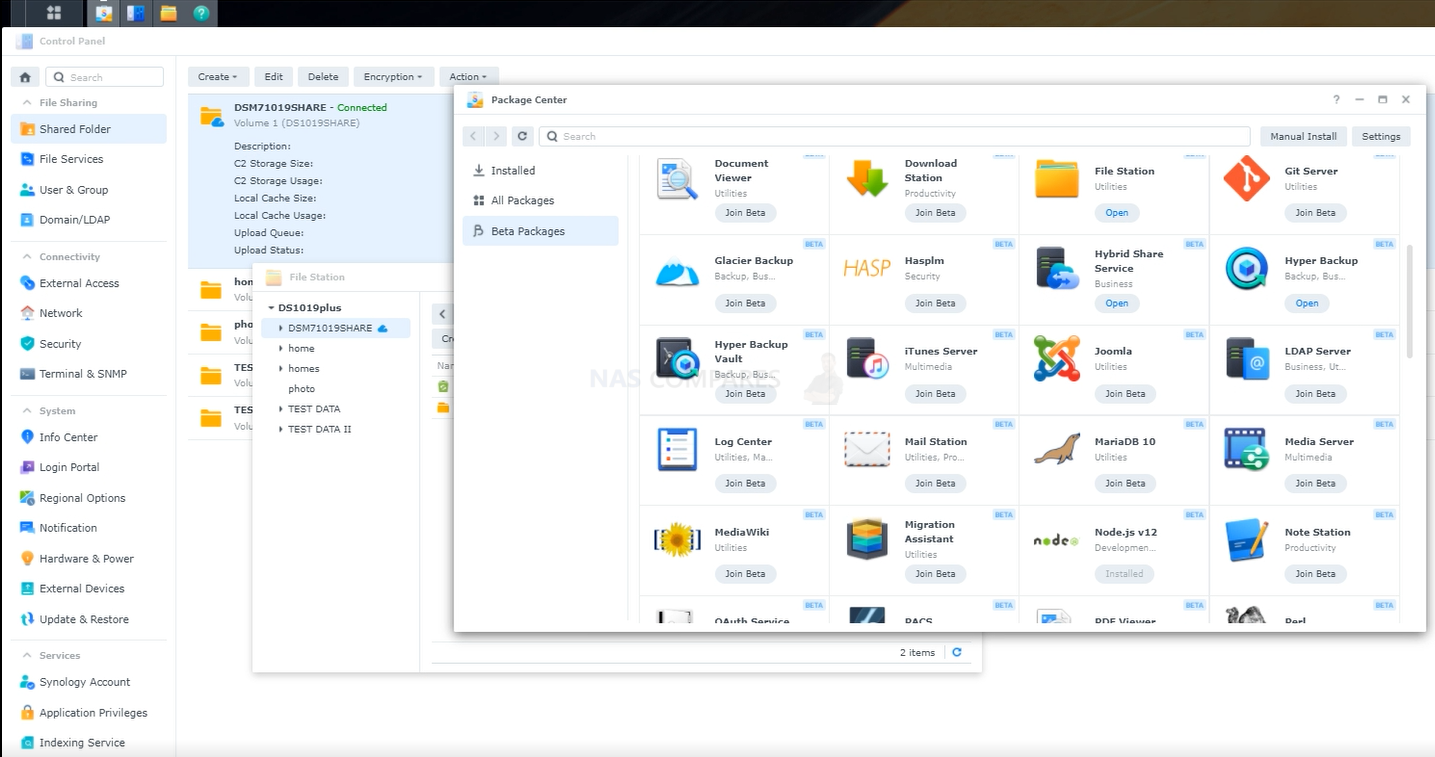 A visit to the App Center shows us that all the applications that can be used in the DSM 7.0 beta are all listed as 'beta' themselves. This is likely because each has needed a tiny bit of background returning to work with the DSM 7.0 system. All the applications I tried seemingly worked identically to that of their DSM 6.2 counter parts, though I would highlight that some applications were absent. Mostly 3rd party applications (such as Plex Media Server) and obvious omissions like Synology Photos and Moments, as they have been replaced by the merged Synology Photos Application.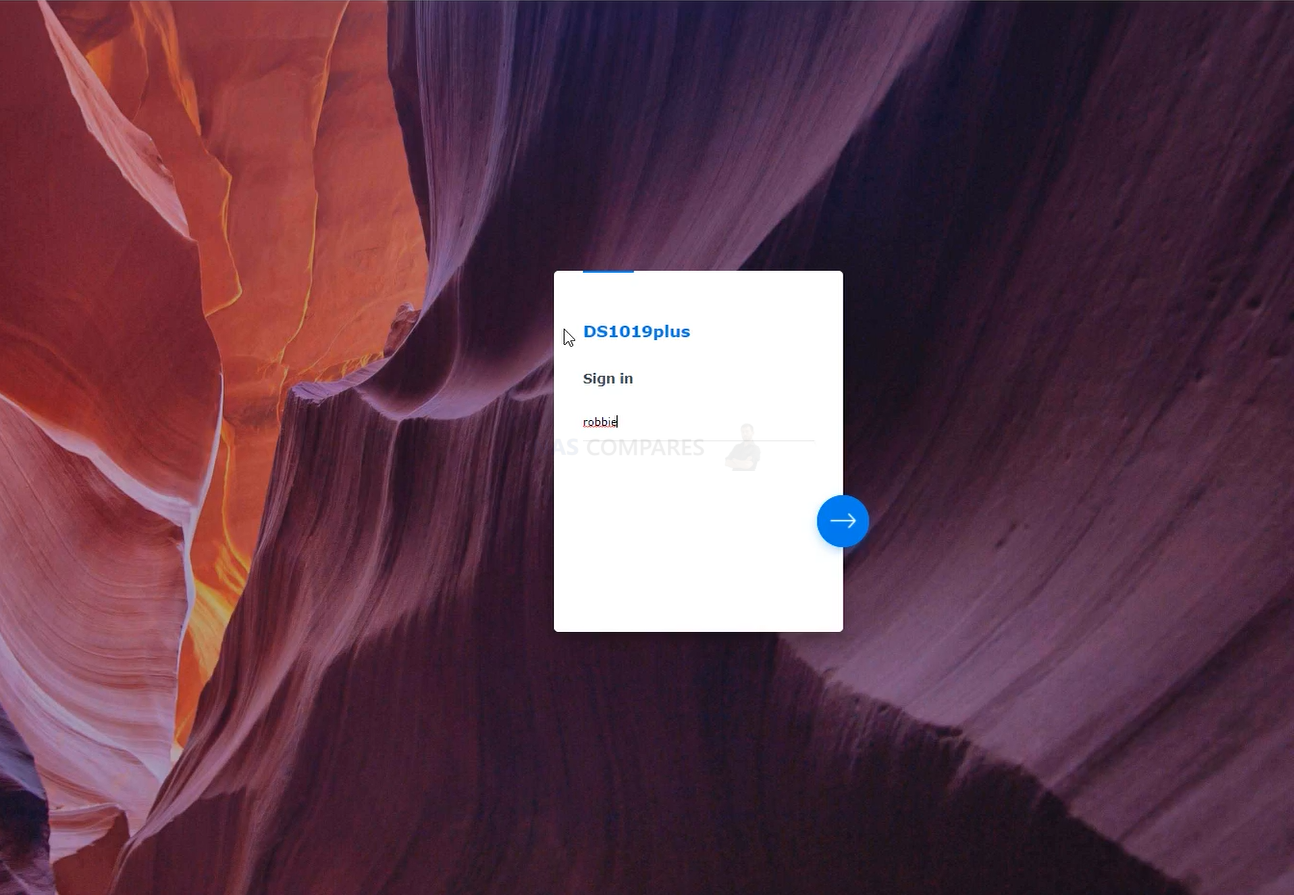 DSM7 and Logging In
The changes in how a user can log into the Synology NAS, both as an admin or general user, are quite neat and although I like the Synology secure sign-in application, I am slightly more impressed by the fact that the Synology can integrate authenticators from third-party providers too with FIDO2. That means fingerprint authentication on some Mac devices and Windows Hello. Most of us likely use the google authenticator on Android device, and the Synology Secure Sign In is very similar to this, so the ability to use both their own authentication system or the ones you already use is going to be important for many users who don't want another app filling up their phone.
In the last 12 months, I went from someone who relied on passwords to someone who features two-step verification in the bulk of their utilities and the fact that the new Synology DSM allows you to factor upto three different verification means before logging in is a nice touch. Only a fraction of users are likely to take advantage of this but it's still a welcome option for many.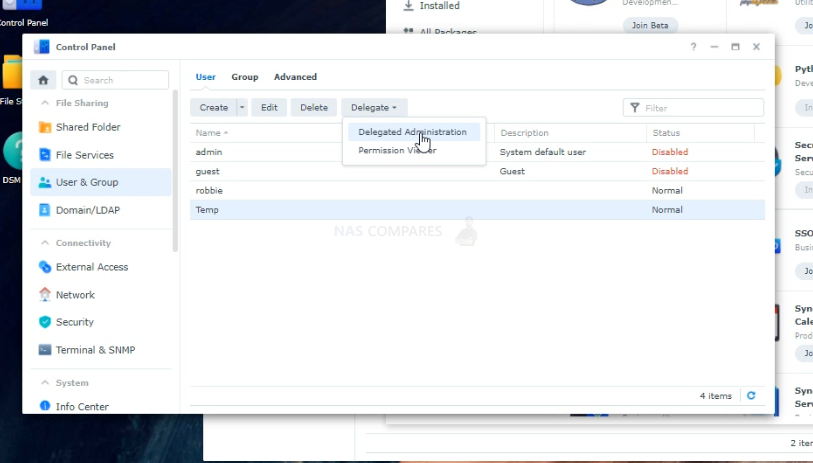 Delegating Admin Powers on the Fly
Another nice feature (and arguably more of an extension of the existing user control, but presented WAY better) is the ability for the administrator of the NAS to allow sub-privilege users individual admin system control on the fly. So, rather than moving them to an Admin Group via the control panel, or creating a new set of rules and moving people in and out, you can just 'delegate' to them and then individually select the services and rights they have in a single screen.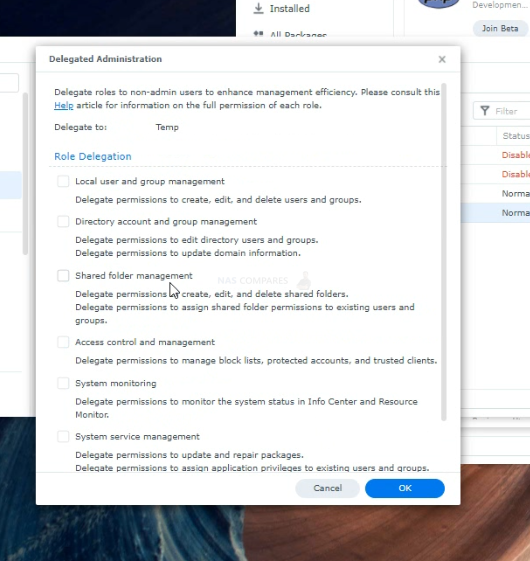 It is DEFINITELY something that larger hardware environments will take advantage of.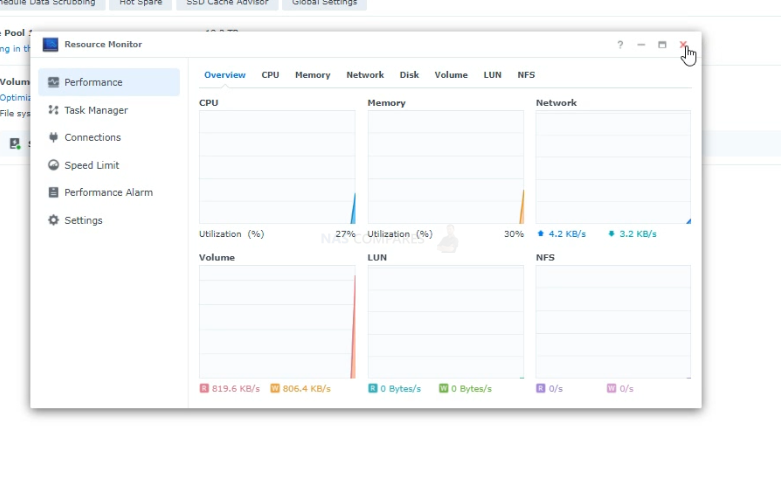 DSM 7.0 Resource Monitor
One neat area of improvement is in the resource monitor and one was already touched on at last year's launch event. The resource monitor of DSM 6.2 always felt a tad limited and even though it gave a reasonable amount of information, the extent to long-term resource data that is kept and how much analysis could be gleaned from it was surprisingly lax. In DSM 7.0, not only do you have the rather analytics buffet menu that is 'Active Insight' (that we will touch on later), but the DSM 7 resource monitor provides more legacy data on your used resources in the system and allows you to view data that is far more long term. Aside from that, it is just a cleaner UI and that is not a bad thing.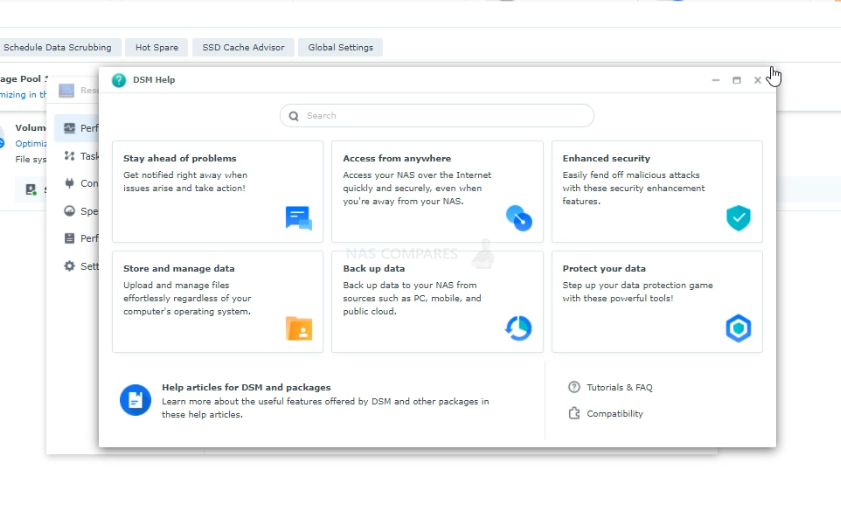 DSM 7.0 Help and Guides
An area that is rarely touched on is the improvements in the help menu and although I have quite a lot of experience with the Synology platform, even I was impressed with the extent to the interactive setup and help options available. They don't draw a huge amount of attention to this, relying more on first-time setup notifications to guide the more novice user when installing DSM 7, but with a greater degree of graphical representation in these tutorials in the help menu, this is a big step up from the arguably more wordy help options of DSM 6.2
STORAGE MANAGER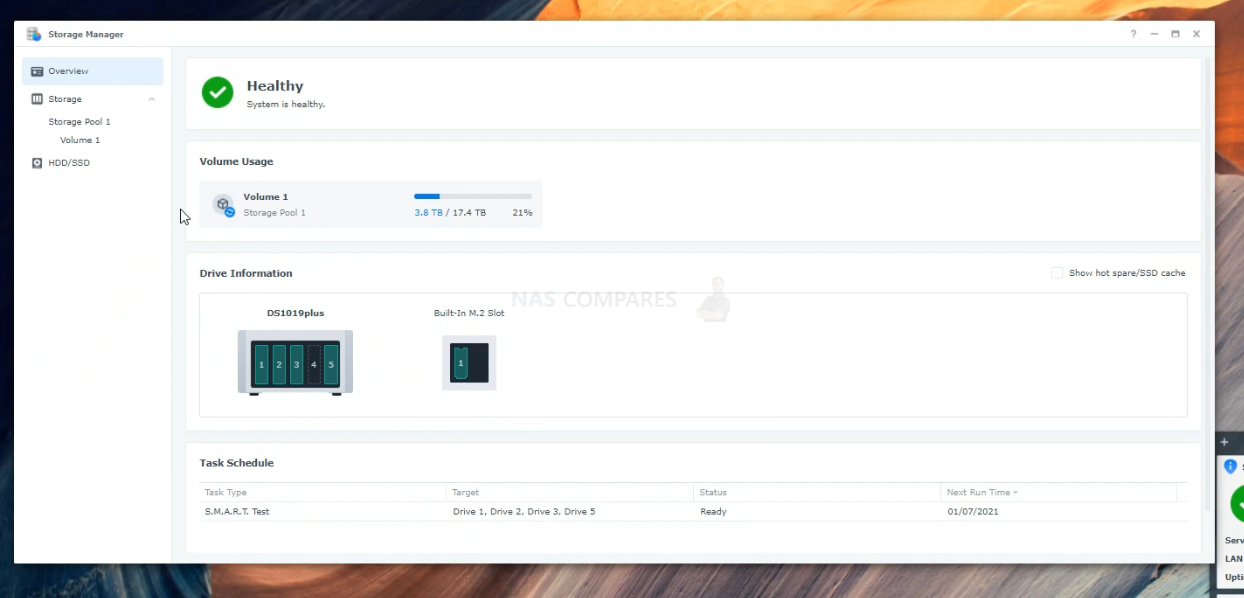 Synology DSM 7.0 New Storage Manager
The storage manager is arguably the area that has received the most re-design in DSM 7 compared with DSM 6.2. The UI has now been switched into a single-window that displays relevant information as needed. The side panel is now more of a more minimalist breadcrumb design with a large degree of graphical representation to represent storage tiers and caching on the system. DSM 7 also makes improvements on how it handles RAID safety and how it acts upon degraded RAID configurations. Synology report improved RAID 6 performance and degraded RAID 6 array performance over previous Synology diskstation versions, but we will have to test this more or more in a future article.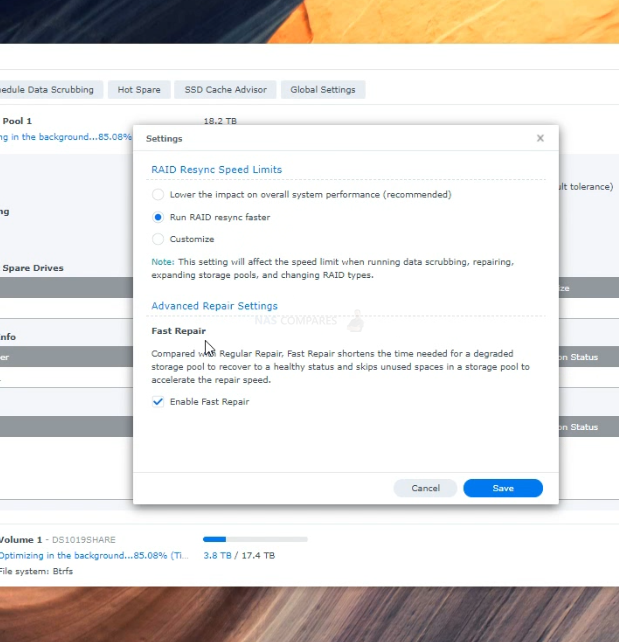 There are far more reactive services in conjunction with your Hot Spare and options such as Fast Repair and Automated handovers are now available, along with the ability to sync the hot spare with a drive suspected of potential failure, allowing a swap over that negates the degradation performance drop associated with a RAID rebuild. This is achieved by the system taking note of a drive displaying critical warning and issues BEFORE it fails! A great addition, but maybe a little less than the drive failure prediction that was spoken of at depth in 2018 and again in 2019. Perhaps this is a feature that will be evolved more as time moves forward in DSM 7.
SSD Cache Handling
The ability to calibrate and remove cache SSD storage in the new storage system, without needing to temporarily dismount the pool is certainly a welcome benefit and one that more regular hands-on it technicians will see the benefits of. As your storage grows in capacity and the requirements of usable cache evolve, it could be pretty irritating that in making small changes to the cache media required all ongoing connections to the storage to be disconnected – this is a long-overdue improvement. On top of this, there are improvements in write-back metadata caching by the system that prevent data on the SSD being lost in the event of their corruption which I was unable to test in my preliminary experiments but will touch on later. Synology report improved cache performance on the system with DSM 7 in a number of ways, which we will, of course, be testing here on NASCompares in the near future.
Synology Photos
Synology has talked a big game about merging the Synology Photo Station 6 and Moments applications into this single photography application, with Synology Photos as the result. The design seemingly leans a little more towards Moments in its default presentation, but Synology Photos seemingly maintains the bulk of the more important editor choices found in Photo Station. Your existing database of tags, albums and settings from each of the older applications automatically switches into Synology Photos when installed – however, we still need to check that this effects any active shares of media from either older application in the transition.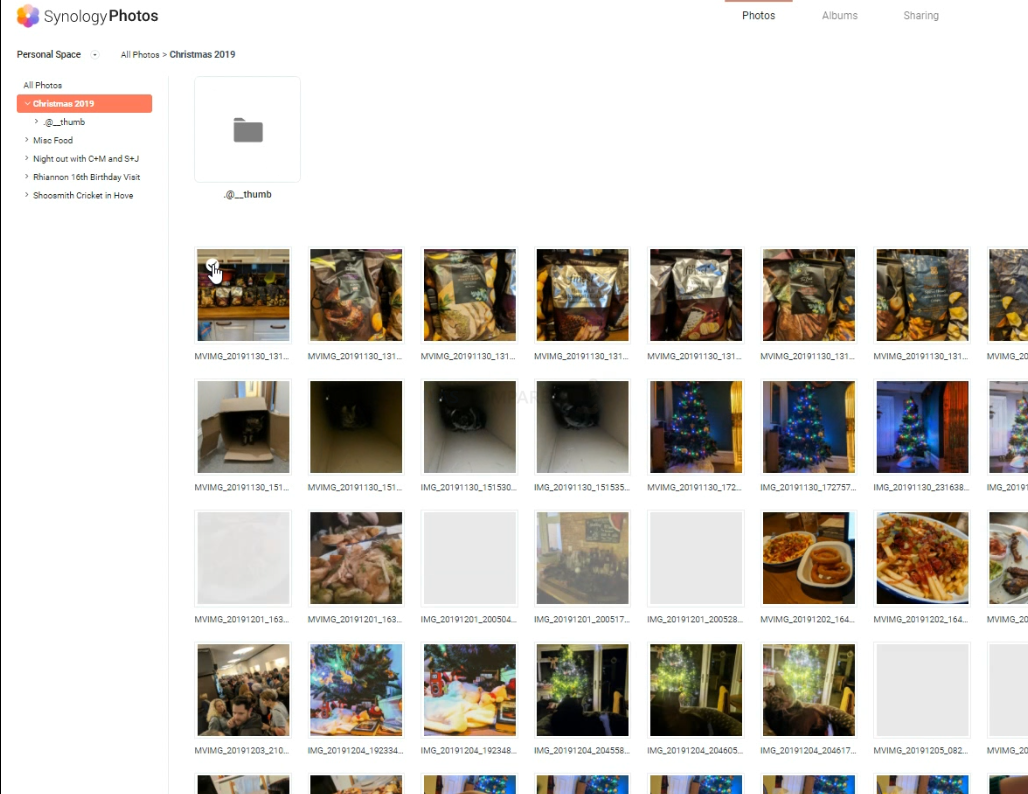 The GUI can be switched in numerous ways, ranging from timeline to folders and from a more general overview to a more business-focused shared space. This allows you to make customizations and options to these different areas of your photo collections that will only reflect where relevant, i.e if you are a professional photographer that uses a Synology NAS to share your recent collections but want to limit the interaction of your audience with them based on time or eligibility, you are able to edit your shared space without those changes being impacted on your general photo collections.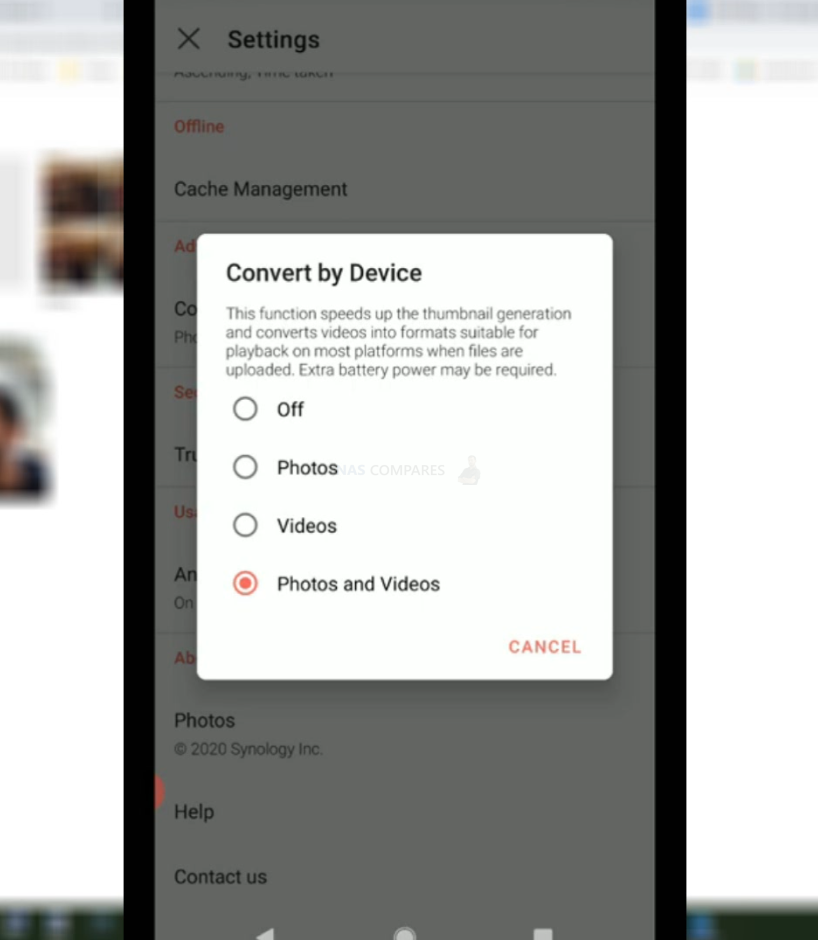 Synology Photos and Filtering
Also, album generation and filters are far more intelligent this time around. Not only do you have the already Moments associated AI photo recognition to allow pictures of faces and day-to-day objects to be categorised (as well as using the geo-related metadata content to create location-based recognition). But also this has been fully-featured and integrated into the intelligent search and filter system. So, you can not only search with a collection of keywords that include camera aperture and multiple people that are tagged, but you can also generate intelligently built albums where you can simply add a bundle of keywords appropriate to any number of pictures and the system creates a new you fully featured album on the Synology photos dashboard, using these search parameters to populate it.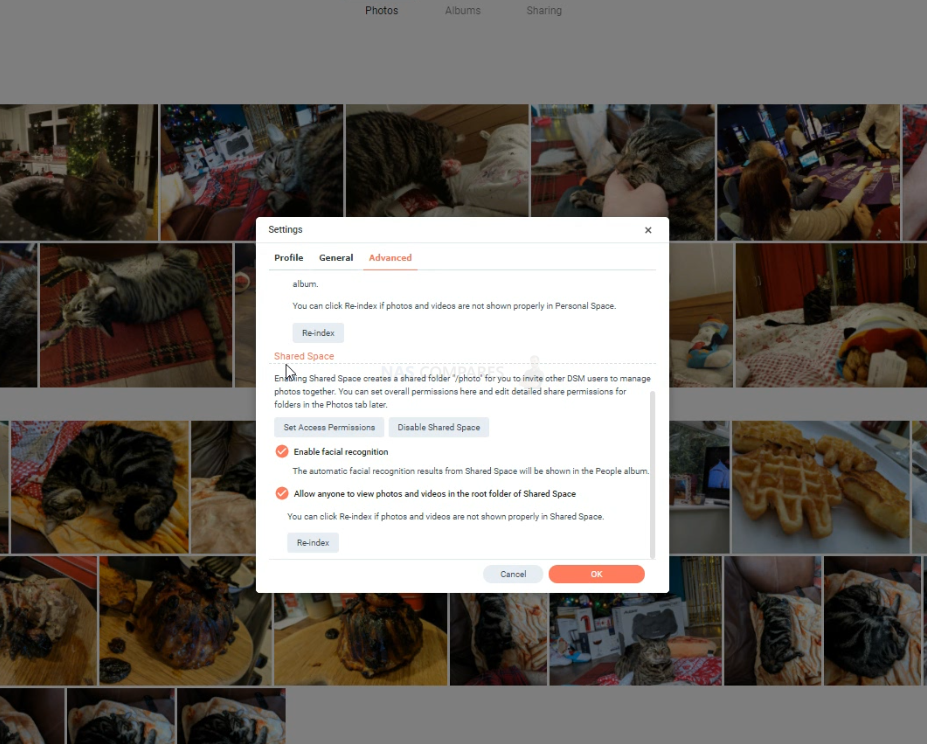 My only criticism at this stage is that users who rely heavily on Synology Photo Station may find the process of adapting to the new layout a fraction limiting in its settings. The bulk of the core and more important settings are present but you certainly get the feel that customisation has been a pinch streamlined by comparison. Still, it is a welcome upgrade and good to see the services from both older applications being merged into a single to use platform.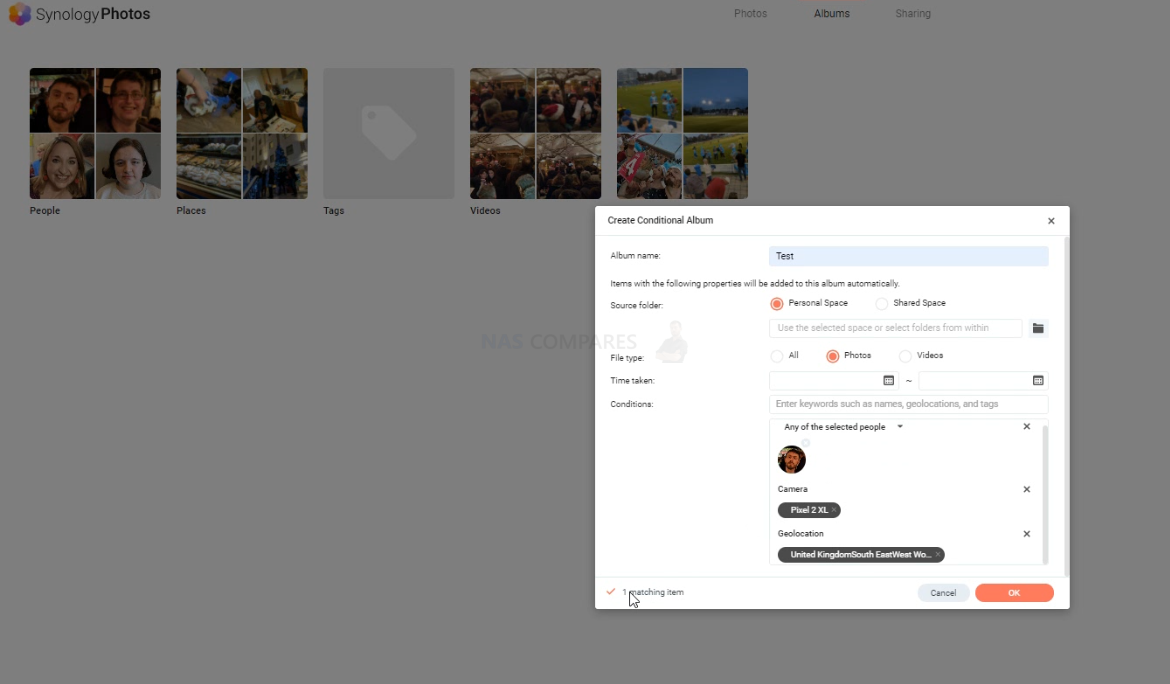 Originally revealed last year, the hybrid share service included in DSM 7 is another big step by Synology in creating an intelligent, centrally managed hybrid cloud system. Hybrid cloud in the modern NAS industry has come to represent a system that leverages the benefits of a physical piece of NAS hardware in conjunction with an area of cloud space, with each platform in full or customised synchronisation. In the case of Synology, they are utilising their own C2 Cloud platform and Hybrid Share allows you to synchronise multiple shared spaces on multiple NAS' with your Synology C2 Cloud space.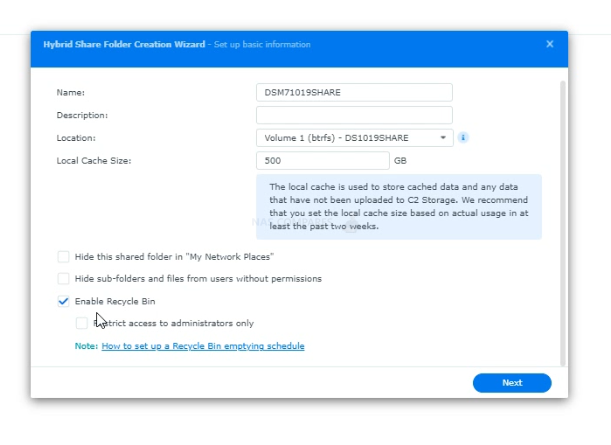 The result is that users can connect with either portal, via the internet or the network and any changes made are reflected across the wider storage system. Especially useful for organizations where employees and physical architecture are more physically spread out from the central storage archive. In more mid-range and accessible usage, the hybrid shared space can even be used in conjunction with Synology Drive as a drive teams folder, which introduces the utility of file versioning, a handy feature that allows you to revert files and to previously kept versions in the event of an error, corruption or comparison.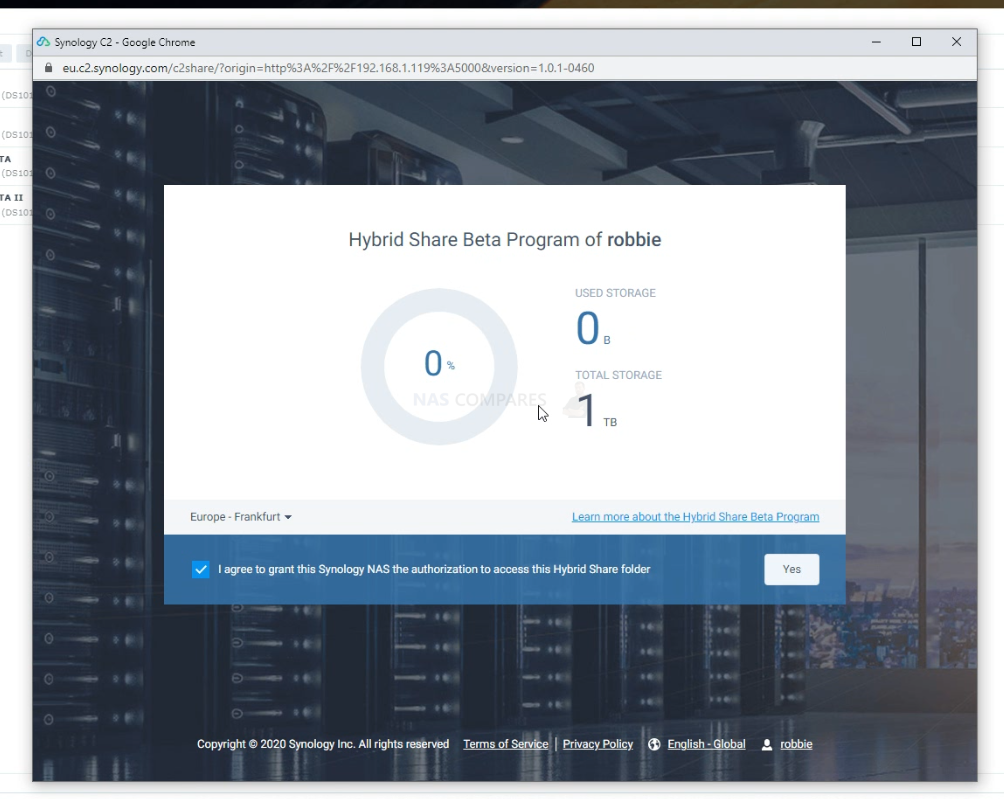 The benefits of hybrid storage in conjunction with a multi-site business are far more enterprise in their appeal, however, it is certainly a feature that will be of benefit to off-site users who lack the secure/pre-designated means to connect to their NAS remotely, but DO have an internet connection to use instead. An early complaint however for some uses is the lack of support of third-party cloud providers by Hybrid Share (eg Google Drive, DropBox, One Drive, etc). That said, users still have a huge degree of third-party cloud storage and service support with Synology hyper backup and active backup suite for office 365 and G suite already.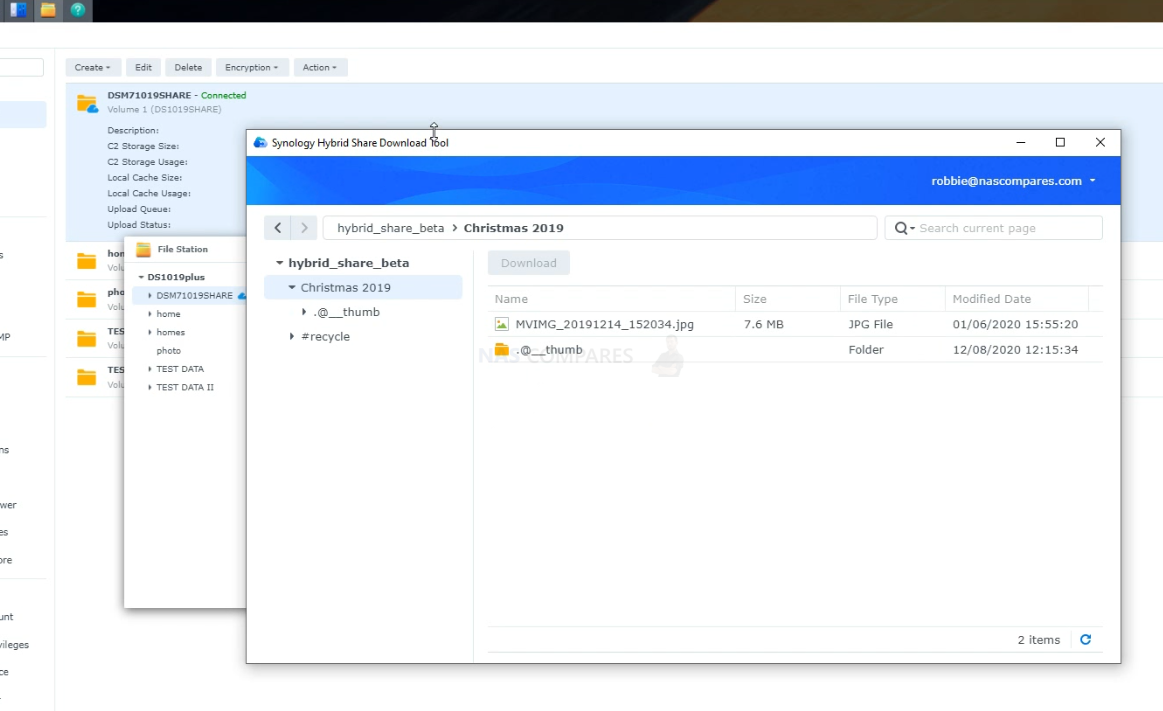 The hybrid share service also arrives in a desktop client for Mac, Linux and Windows that allows users to retrieve data from the cloud in a more traditional manual fashion in the event that is needed. A tad more rudimentary than the Synology drive client and it's file on-demand options, but still a welcome addition. The shared cloud drive also appears clearly and with full system utilisation on mobile client apps to such as DS file, allowing users to now take advantage of the C2 Cloud Space in a far more approachable way. Up until this point, Synology C2 was more of a disaster recovery option that allows your data to live on the cloud in a large blob form, with less precise and limited retrieval options beyond whole array wide recovery.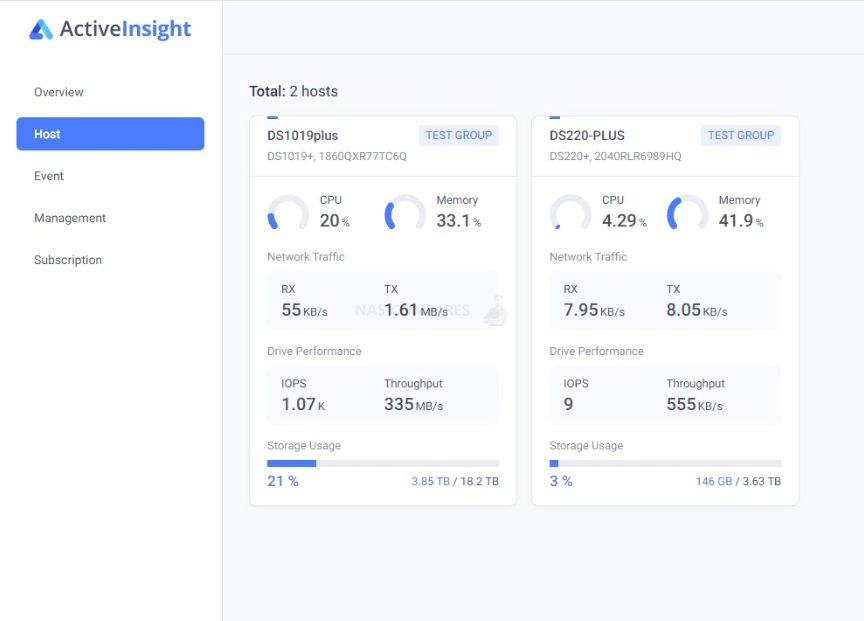 With Hybrid Shared spaces being utilized, this Synology C2 space can be interacted with and utilised in a far more customisable way and makes the platform feel much more of a complete package. Also, whilst the DSM 7.0 Beta is on-going, you are able to connect the NAS system to your online account and have access to an area of online space to take advantage of in conjunction with HybridShare.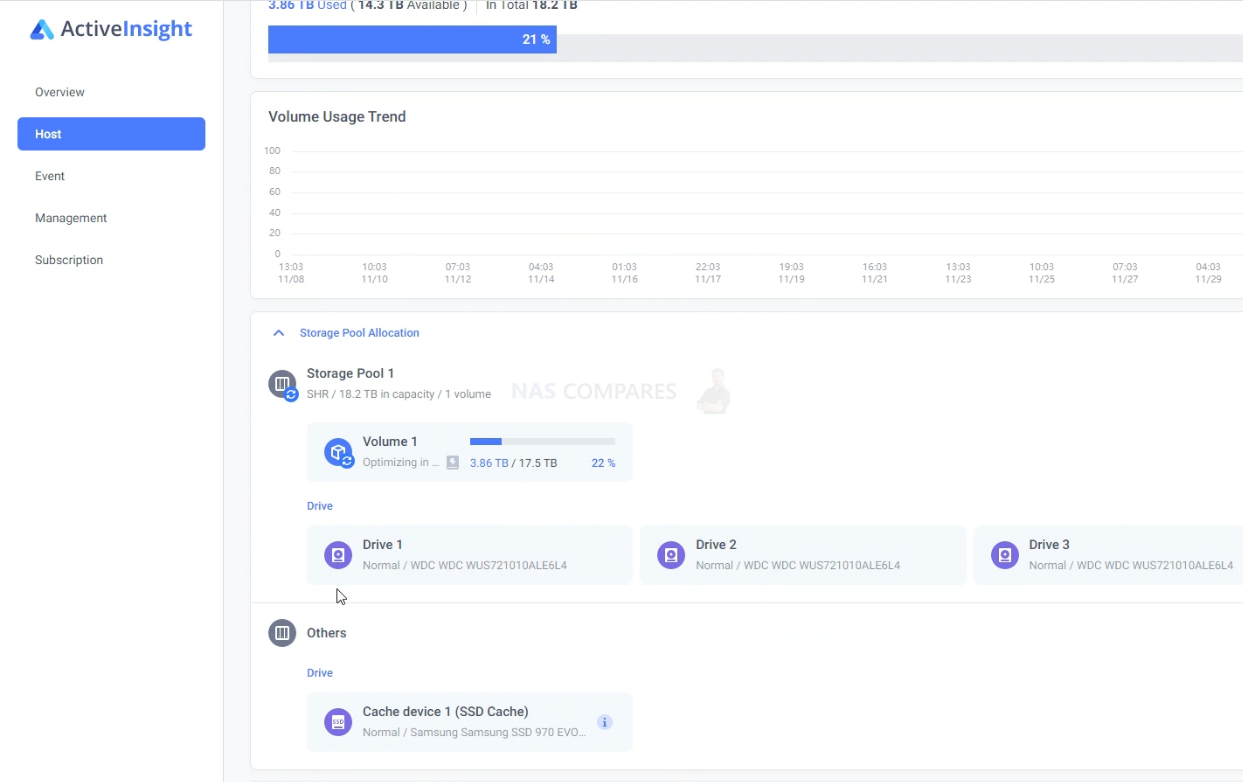 Active Insight, your hosts and DSM 7
Of all the features that are being rolled out in DSM 7, easily one of the most enterprises is the Active Insight monitoring tool. This is a prime example of Synology reaching out to the IT managers and companies that have delegated data storage technicians on site, as in short, the applications (and service as a while) is designed to give realtime analytical information on your entire Synology storage network. Think of it as a resource monitor – but much, MUCH bigger and with a HUGE degree of analytical information that can be retrieved in real-time, as well as presented in business class customized reports. If you are only running one or two Synology NAS systems in your company architecture, then chances are that you will not use it to even a fraction of it's potential. However, for those larger enterprises that have a Synology NAS system deployed to manage that branch/location's data storage services, which is then synchronized (perhaps with Hybrid share and/or C2 Cloud) to a larger central server, this is a tremendously ambitious and useful service that provides your IT managers (and by extension department heads) everything they are ever going to need to know to stay on top of their storage hardware.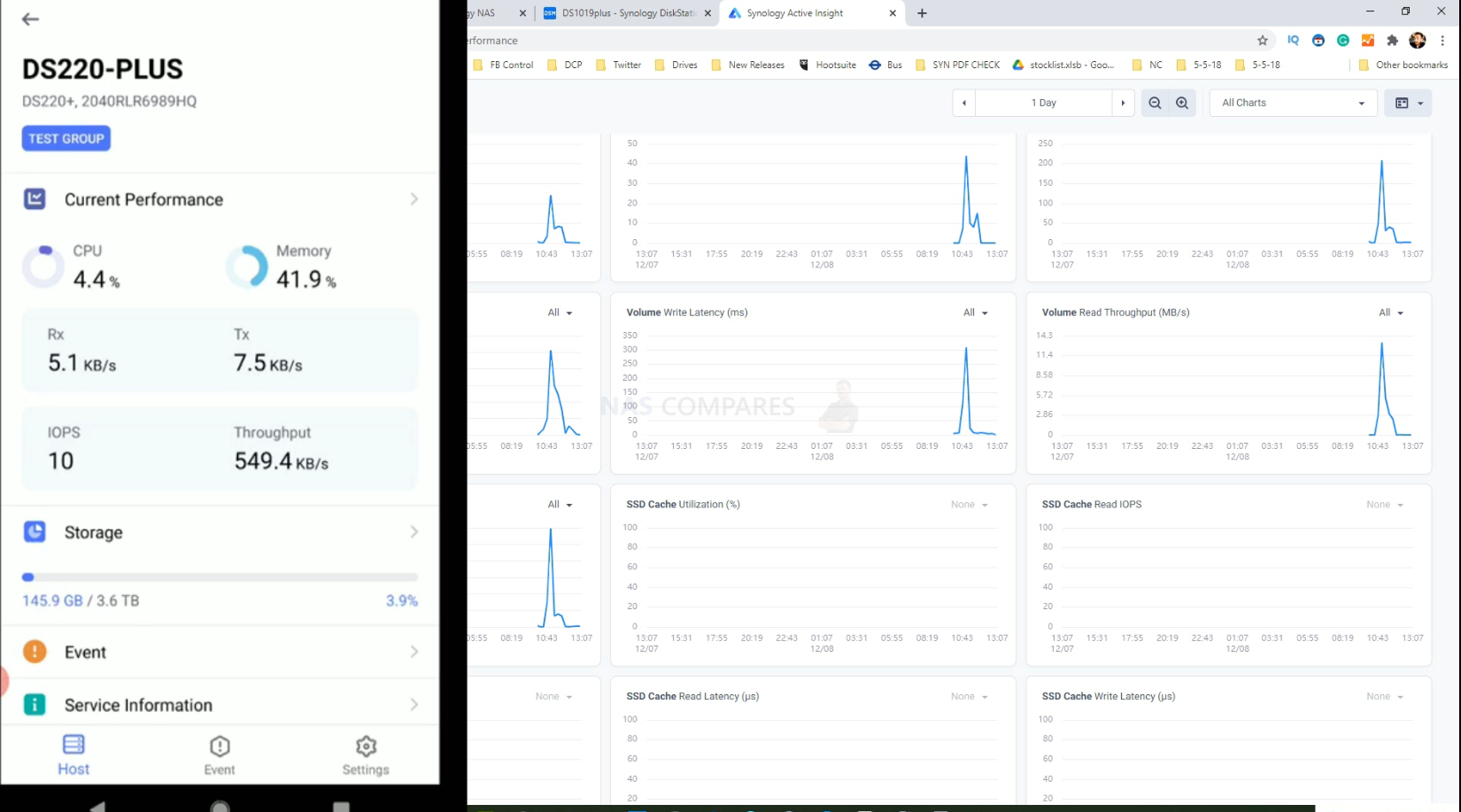 Along with an enormously customizable range of report configurations and recommendations for repair, everything can be adjusted to your individual business needs – as well as shared in tailored reports that are sent to whomever you choose, and at a frequency that suits your own priorities. Highlights that stood out immediately even at this early level were:
Upto 1 Year of data is recorded, maintained and available for immediate review. This is available for all devices that are in your Active Insight network monitoring group.
A huge array of measurable metrics for all hardware, storage paths and caching services (with several parameters for each storage media type and container)
Custom System/Network-wide health report generation for relevant personnel, that can be adjusted into targetted groups of devices/hosts
Alert and Resolution Recommendations (can be customized) can be added to email reports, along with resolution confirmations (i.e share analytical reports that show activity and repairs when actioned to teams)
The mobile application that provides that same level of analytical information across the wider network of hardware, whilst still managing to be clear
It is worth highlighting that some features in the current beta of Active Insight are likely going to be available in paid subscription services (as this is a service more than a product).
Other Highlights in DSM 7 in Beta and Coming Soon
The full extent of the Synology DSM 7 beta is still being explored by users right now and some require a wider array of hardware on hand than I currently have on hand. So, rather than you guys wait, here is a breakdown of other features of the DSM 7.0 public beta that you can try out, as well as a few coming later in 2021:
Hyper Backup now supports loads more DSM applications to allow you to backup their settings, as well as configuration backups being possible to your Synology Account
SHA (Synology High Availability) improvements with DSM updates being made significantly faster across the respective clusters, faster switching of the manual/passive device in practice, as well as faster disaster, triggered failover
Active Backup now supports destination based compression (as well as the existing Deduplication support) to massively reduce space used
Active Bacup Suite now supports Linux Server clients, as well as virtual deployment when needed for disaster recovery and stability, whilst the physical machine is recovered
Fibre Channel is now supported (when using compatible HBA cards) – touched on earlier
Metadata Pinning supported on the SSD cache, leading to a reported improvement of 3.8X performance for Backup and Snapshot tools
Coming next year:
Support of MacOS 10.15 (Catalina and about) in Active Backup Suite
📧 LET ME KNOW ABOUT NEW POSTS 🔔
Join 1,462 other subscribers
Get an alert every time something gets added to this specific article!
This description contains links to Amazon. These links will take you to some of the products mentioned in today's content. As an Amazon Associate, I earn from qualifying purchases. Visit the NASCompares Deal Finder to find the best place to buy this device in your region, based on Service, Support and Reputation - Just Search for your NAS Drive in the Box Below
Need Advice on Data Storage from an Expert?
We want to keep the free advice on NASCompares FREE for as long as we can. Since this service started back in Jan '18, We have helped hundreds of users every month solve their storage woes, but we can only continue to do this with your support. So please do choose to buy at Amazon US and Amazon UK on the articles when buying to provide advert revenue support or to donate/support the site below.

Finally, for free advice about your setup, j
ust leave a message in the comments below here at NASCompares.com and we will get back to you.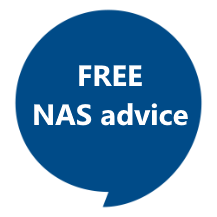 Need Help?
Where possible (and where appropriate) please provide as much information about your requirements, as then I can arrange the best answer and solution to your needs. Do not worry about your e-mail address being required, it will NOT be used in a mailing list and will NOT be used in any way other than to respond to your enquiry.
Support What We Do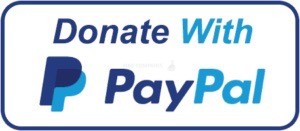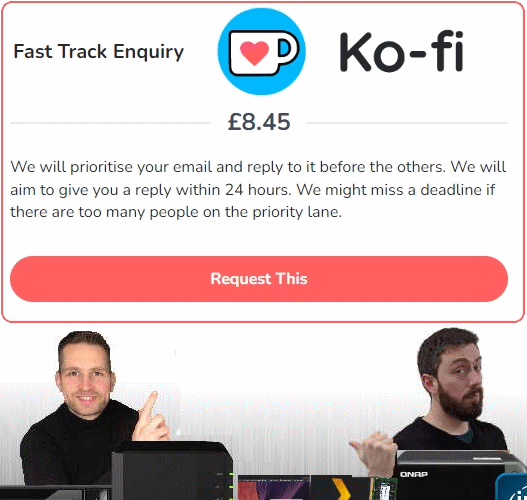 Terms and Conditions
Alternatively, why not ask me on the
ASK NASCompares forum
, by clicking the button below. This is a community hub that serves as a place that I can answer your question, chew the fat, share new release information and even get corrections posted. I will always get around to answering ALL queries, but as a one-man operation, I cannot promise speed! So by sharing your query in the
ASK NASCompares
section below, you can get a better range of solutions and suggestions, alongside my own.
This description contains links to Amazon. These links will take you to some of the products mentioned in today's video. As an Amazon Associate, I earn from qualifying purchases