Synology DS1821+ NAS Review
Even to the most casual follower of network-attached storage, 2020 has been a fantastically truncated year of new hardware releases. Perhaps it is because the supply chain has been so fragmented worldwide, with people adjusting to new working practices, or perhaps it is simply the brand readjusting their release strategies in line with how companies have adapted to this new way of working. Regardless of what it is, we have seen the usually predictable pattern of hardware releases from brands like Synology be utterly thrown out the window. Into this wonderfully eclectic range of releases, we find the brand new 8-bay NAS solution for small and medium business hit the market, the DS1821+ Diskstation solution. This desktop NAS is geared towards prosumers looking to take advantage of the Synology Diskstation Manager (DSM) software, as well as working from a more flexible and adaptive hardware platform. Finding a place in the storage portfolio between the DS1621+ and DS1621xs+, this system arrives with all of the hardware benefits of the former but allows the user to save money and add flexibility over the latter. Arriving 2 years after its predecessor, the DS1819+, this system arrives with a newer CPU, better memory options, dedicated caching and scalability of its expandability in a number of key ways. But with other network hardware improving drastically in those 2 years and the demands from even mid-range businesses growing considerably, is this new Synology NAS a big enough jump to warrant your money? Does the Synology DS1821+ deserve your data? Let's find out.
Synology DS1821+ NAS Review – Quick Conclusion
I have always been a long-term fan of the Synology brand as a whole, applauding their recent moves towards Ryzen processors and range-wide adoption of dedicated M2 NVMe cache bays. However, the Synology DS1821+, much like the DS1621+, is a giant leap in many ways and the smallest of stumbles in others. The switch from Atom to Ryzen embedded processor needs to be recognised for both the big jump it is from a brand that typically errs on the side of caution in hardware. Likewise, the inclusion of ECC memory, massive potential-filled PCIe expandability at PCIe 3 x8 and support of popular services like Synology Hybrid RAID (SHR) are certainly a plus. But many buyers will be put off by the continued adoption of 1Gbe as standard and the limitation of those NVMe bays to caching ONLY and not raw storage pools. With a price tag without storage media at around £1,000 (give or take), this is a big ask to pay for something that has lucrative software potential but arguably lesser hardware potential. In short, I do really like the Synology DS1821+ NAS, I just don't know how long I could be in love with it long-term, as the rest of my network hardware environment embraces faster connectivity.
Synology DS1821+ NAS Review – Packaging
Once again, I am about to talk about cardboard boxes, but the complete package of the DS1821+ serves as part of why Synology is seemingly the 'Apple' of NAS. Arriving in the oh so familiar packaging that most Synology NAS systems come with, the DS1821+ NAS it is pretty well protected and pleasantly presented. As this is an eight-bay solution, it moves away from the home user market towards the business bracket quite swiftly and the retail packaging indicates as much.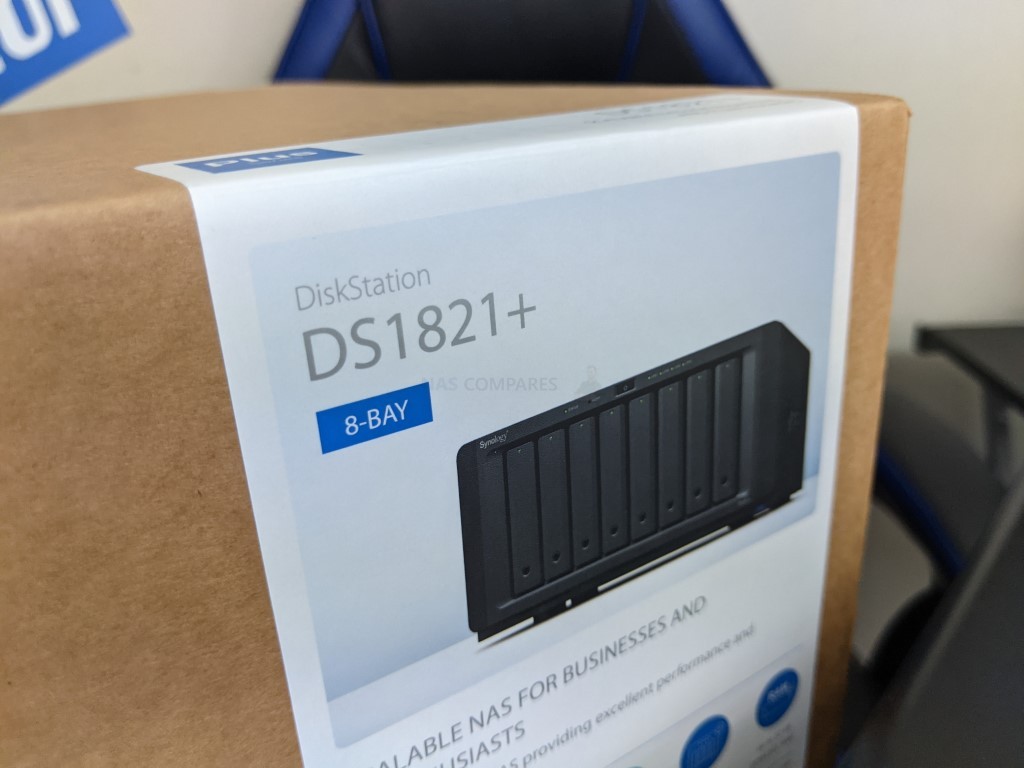 As highlighted in other Synology NAS reviews in the past here, I always like the understated natures of the packaging, seemingly bland and looks 'the same box with a sticker as the others', but a closer look shows that it is indeed distinct to the rest of the Synology products. A very small detail, but appreciated.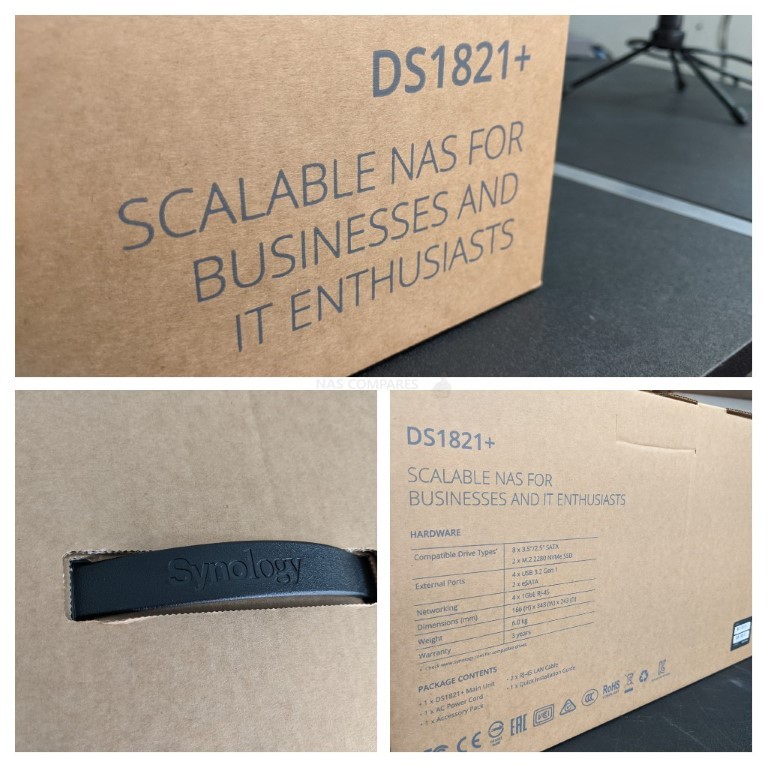 Covered in that usual Synology smooth branding design, the DS1821+ also arrives with a good level of physical protection from shock damage in transit. The NAS arrives with an impressively thick amount of rigid foam surrounding the system. Movement in transit is easily one of the largest factors in damage to computer-related goods, so it's good that Synology has spent the extra few quid here on this largely exclusive online purchase.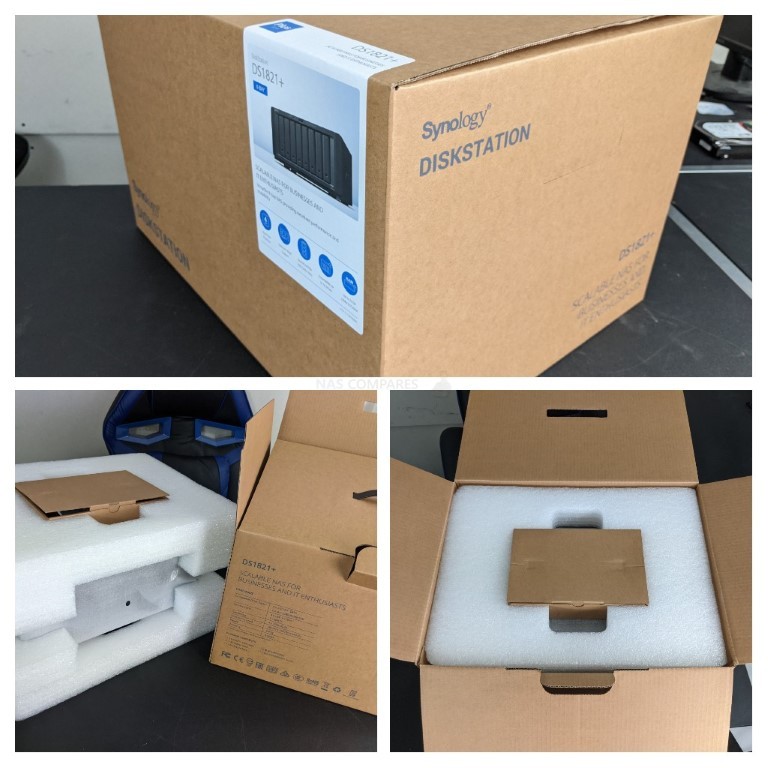 Inside the retail box, we find the usual Synology accessories and contents:
DS1821+ NAS System
Power cord (Mains) for the internal PSU
RJ-45 network cable x2 (CAT 5e)
Quick Installation Guide x1
You have here, pretty much everything that you're going to need to set up your Synology DS1821+ NAS on day one, with the exception of storage media. Synology has always provided their solutions unpopulated and with the exception of recent releases in SSD Media (the SNV3400 and SAT5200 ranges), they still maintain this position with hard drive Media inside their NAS solutions. I have continued to hear rumblings to the contrary on this, but that's a story for another day I am sure.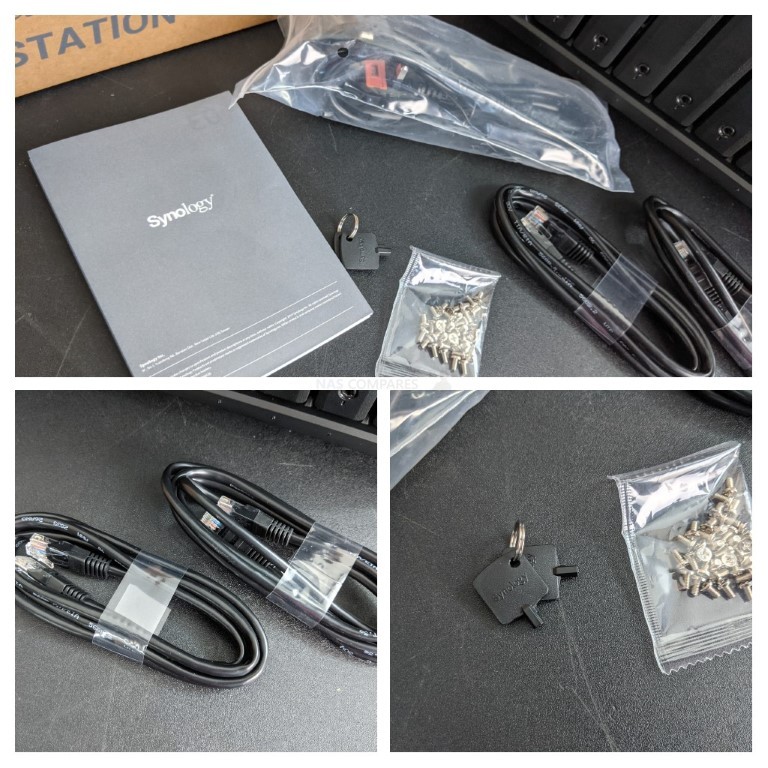 To be honest, there isn't really anything particularly outstanding about the accessories that the unit arrives with. That in itself is not the end of the world, as what you do get is all very competent. Information relating to first time setup of the DS1821+ is largely limited to a paper diagram based first-time setup manual that directs the reader to links, recommending using online resources from the brand to set up the device to your tailored network needs. The network cables that the Synology DS1821+ arrives with are cat 5e in design, which is perfectly fine for this 1Gbe enabled NAS, though those that will upgrade there ethernet via PCIe cards may wish to upgrade these too. All in all, a competent if fairly standard, contents arrived with the DS1821+ NAS.
Synology DS1821+ NAS Review – Design
The design of the Synology DS1821+ Diskstation is one that we have already seen numerous times in the last 10 years since this chassis was first revealed at the start of the last decade in the DS1811+. Dedicating the bulk of the available physical space to the eight storage bays, it is an impressively designed and attractive casing that will not look too shabby stored away privately or open in your desktop environment.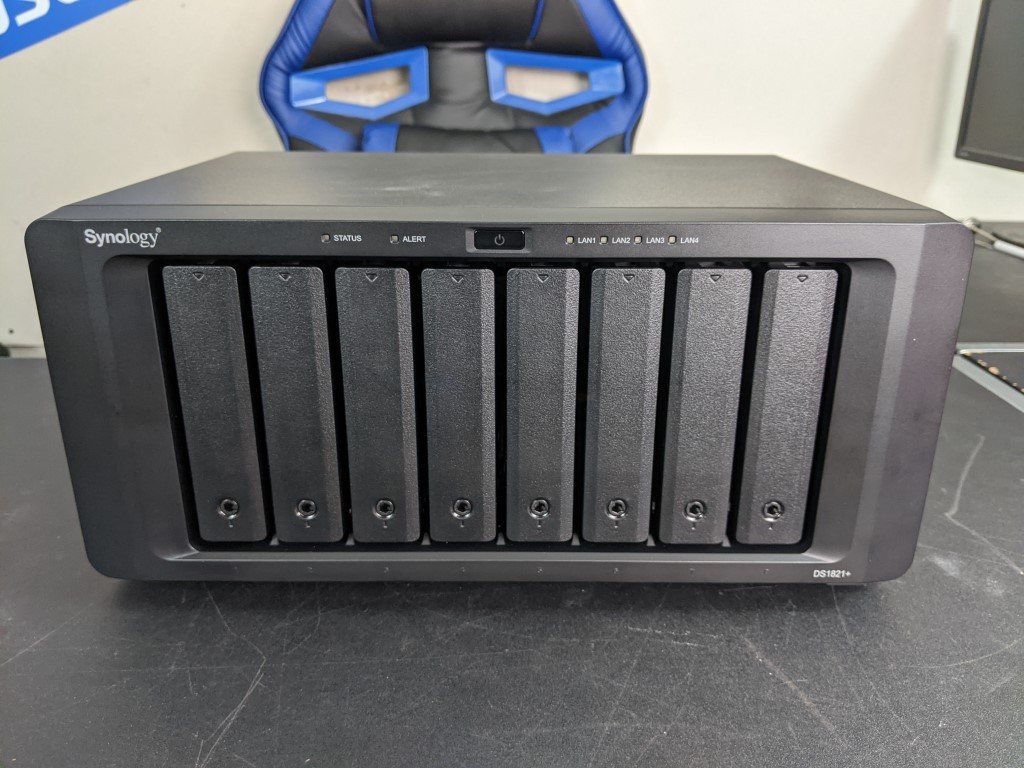 The front of the DS1821+ casing features very few details and is designed to appear sleek but nondescript. Synology has never really favoured 'LCD panels' or more direct localised interaction with their products, favouring network or internet communication between users and their hardware. That said, there is a series of LED lights dotted around the top of the frame to denote system access, activity and network traffic to each of the available LAN ports on this device.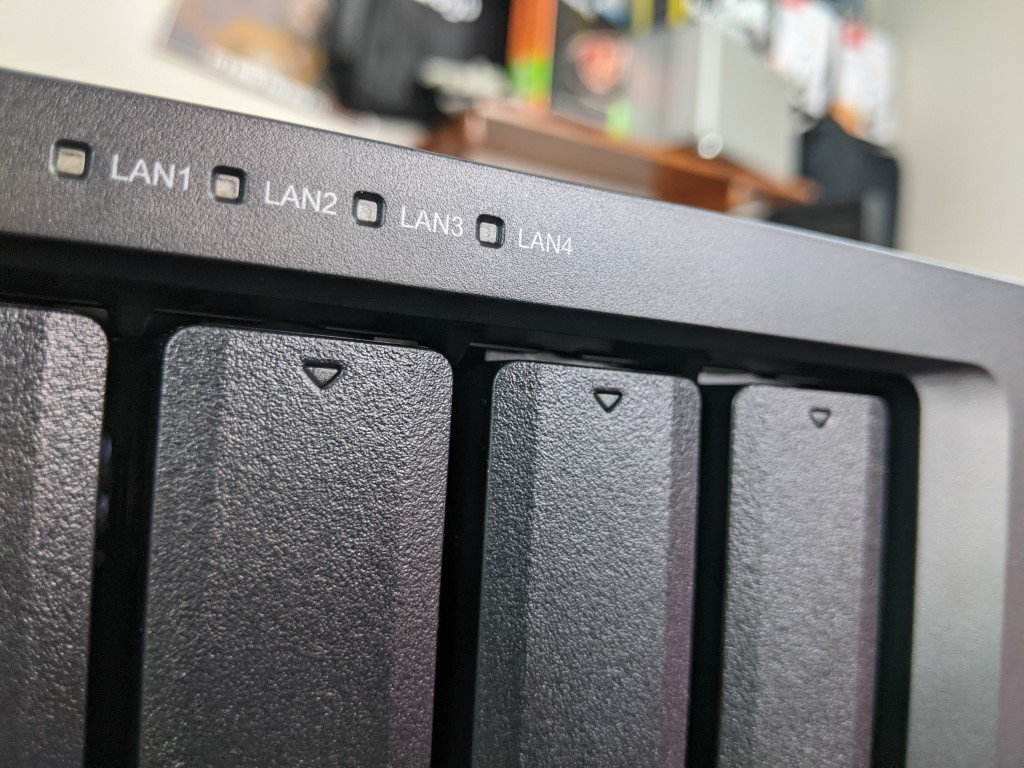 Aside from those LEDs, the bulk of the front of the DS1821+ is dominated by the 8 individual SATA storage bays. These bays can be populated by 3.5 inch and 2.5 inch storage media, with each bay having it own LED to denote drive activity.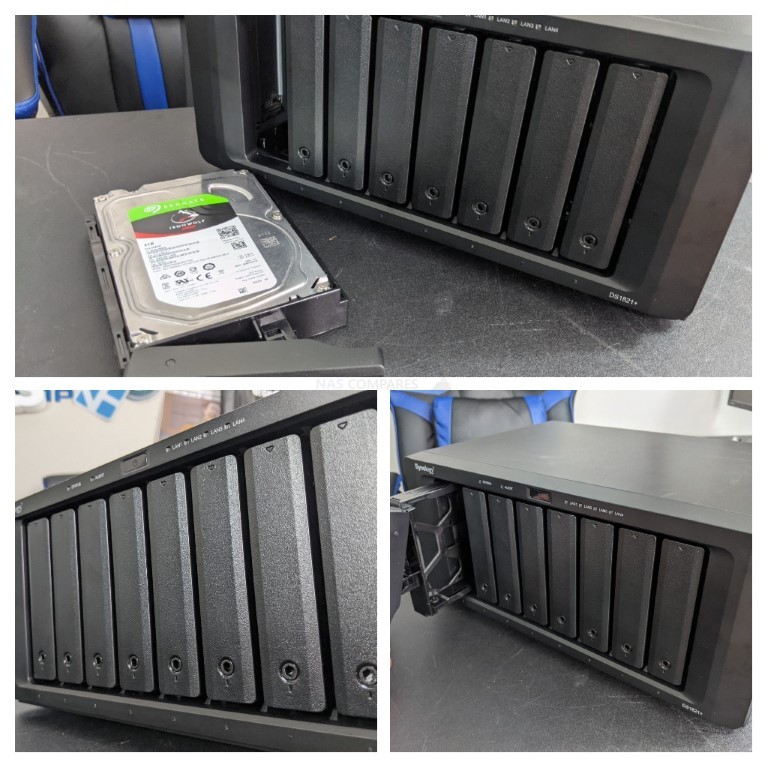 The system can be populated by as little as one storage drive or can be fully populated on day one as the user's storage requirements and budget dictate. Currently, the largest commercial available NAS and server hard drives are available in up to 18TB (Terabytes) and solid-state drives at around 4TB and 8TB pending on performance and durability.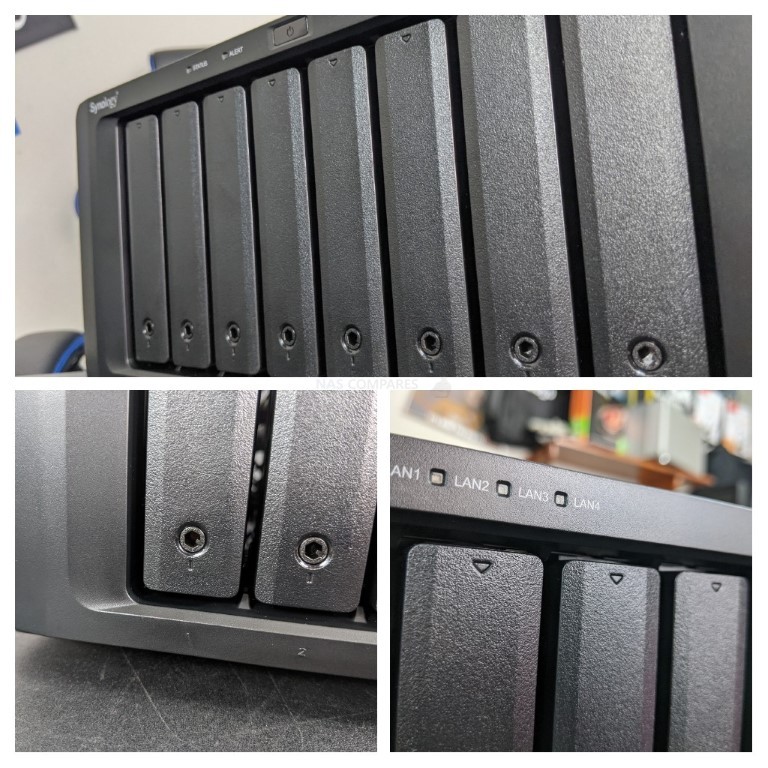 Each tray features a locking mechanism, that is partially spring-loaded to allow easy hot-swapping of drives in the event of RAID rebuild situations. Additionally, each bay is screwless in design for hard drive media, allowing users to install drives in seconds as well as providing screws for 2.5″ media to be used.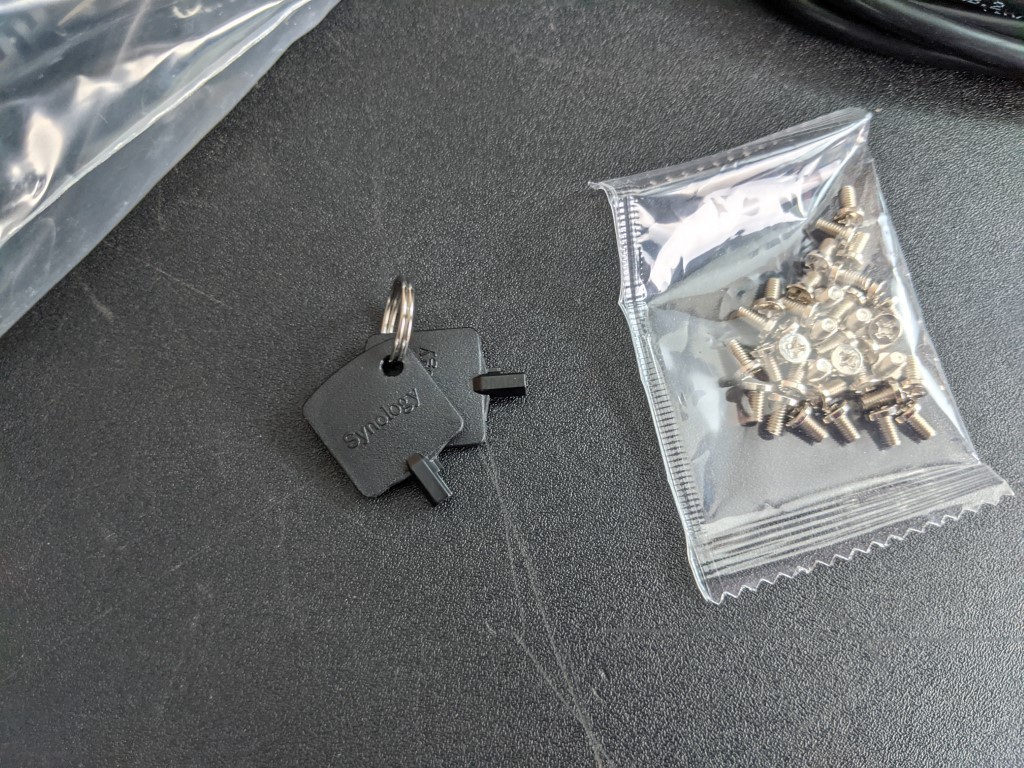 The trays themselves are plastic in material and over the years Synology has improved these designs substantially to a point where the long-term difference between these plastic trays and their metal counterparts are near enough inconsequential. The DS1821+ allows you to install multiple drives in a RAID environment that is supported internally by the Synology system, as well as support of Synology's own hybrid RAID system, SHR. SHR support on this device is important for some, as it is one of the more popular storage features that Synology provide to their users that allows you to mix and match your drives to get the best RAID configuration possible from that setup. Most users rarely mix drives on day 1 of deploying their storage system, but years down the line the ability to introduce larger drives to your RAID system that may be running out of space is exceptionally useful. SHR support on the DS1821+ is something that is absent on the arguable more power (and expansive) DS1621xs+ and with its large number of default storage bays, this may be a key deciding factor for buyers who prioritize capacity over performance.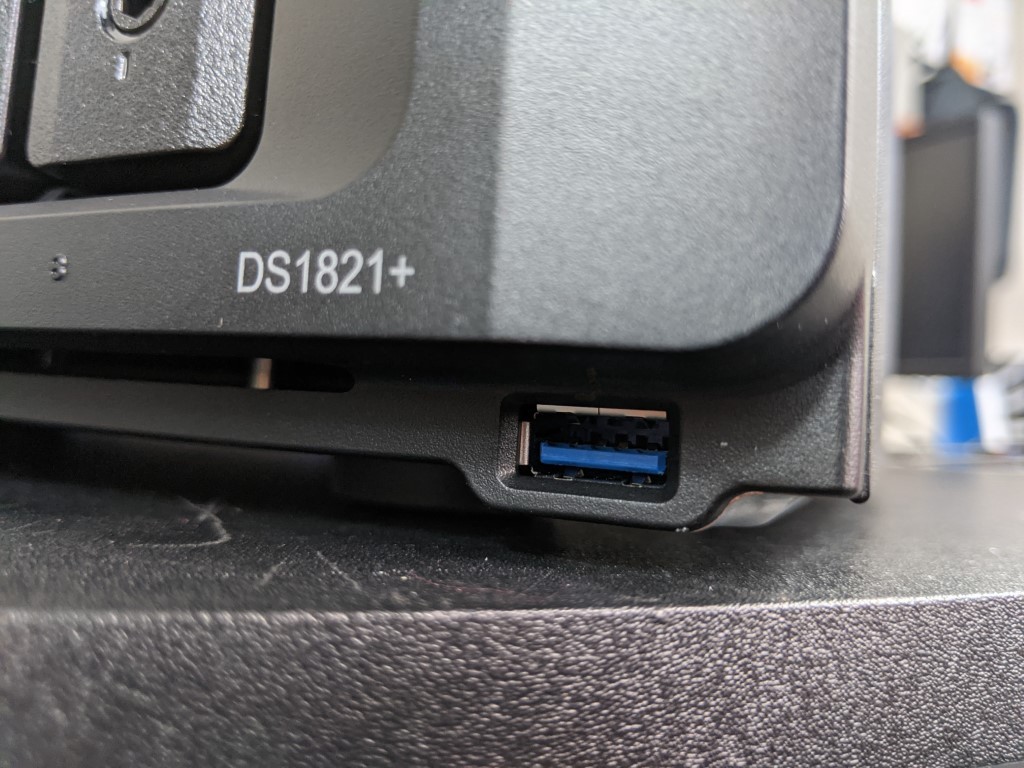 At the very base of the DS1821+ NAS, discreetly hidden on the bottom corner, is a USB 3 port for connecting external storage devices and a limited number of supported peripherals. I have long been an advocate of adding local USB-storage as another tier in your existing backup strategy, however, these USB port can also be used for regularly backing up storage you use on-the-fly via external drives and flash USB keys (eg students, photographers, etc). Further, back up options with USB storage are available with several backup applications included with the Synology NAS software included with this device (eg Hyper Backup, Active Backup, USB-Copy).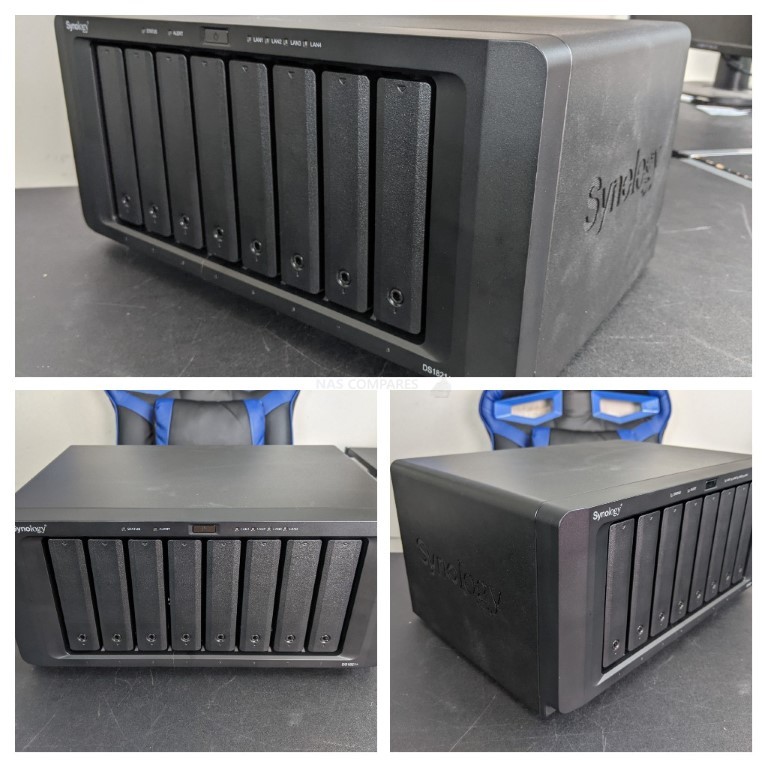 An important factor in any 24/7 system is that of maintaining operational temperatures internally. Along with twin active cooling fans that I will touch on later, the DS1821+ also features the Synology branded mesh vents on either side of the chassis. These have always been a pleasing design choice from the brand, very slick and a discrete but important layer of passive cooling working in conjunction with the active cooling on the rear.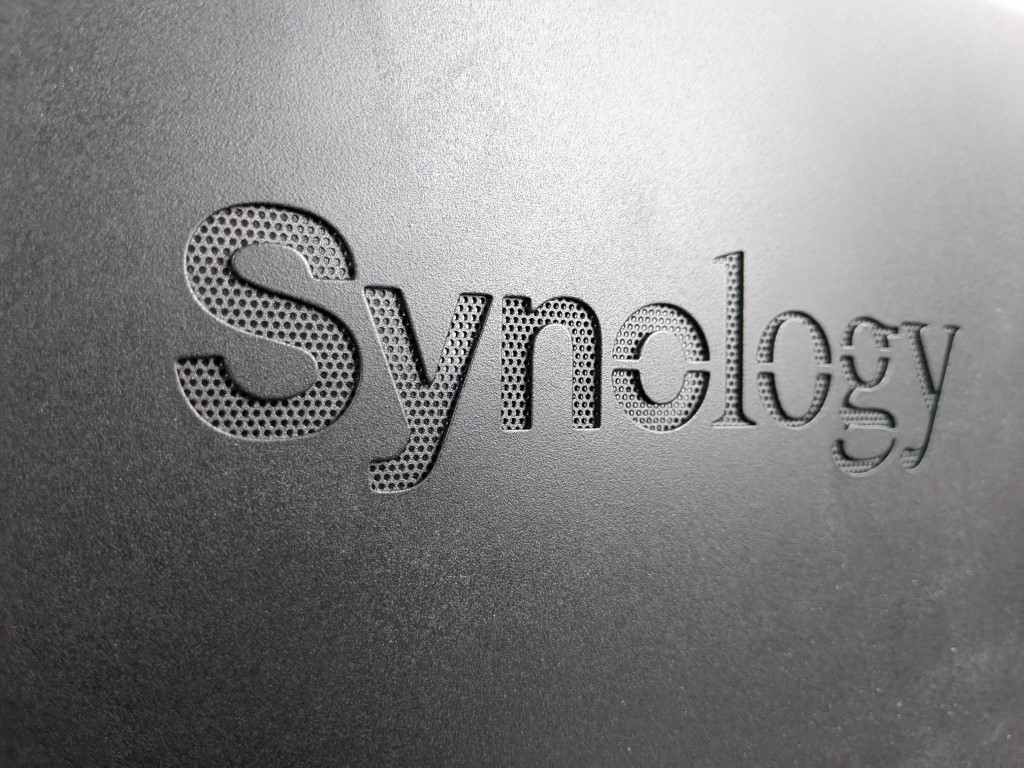 As I said, the Synology DS1821+ NAS is a compact but well-designed NAS in terms of its physical stature, but it is worth highlighting that a largely metal external casing like this will generally produce a little bit more background noise whilst in operation. The majority of noise that this system will generate can largely be blamed on the storage media you choose to install inside and the quality of their build (those clicks, hums and whirs), but an external metal housing will tend to amplify these things a pinch more. Nevertheless, if you plan on setting this up out of sight, or just generally do not plan to be in close proximity with it regularly, this can largely be overlooked and the benefits of metal architecture to help dissipate heat in general use is also a bonus. Let's take a look at how you connect to the device.
Synology DS1821+ NAS Review – Ports & Connections
Compared with its predecessor, the Synology DS1821+ is near enough identical at a glance to that of the DS1819+ in its ports and connections. On the one hand, it still features a great amount of connectivity and upgradeability in your physical network environment. On the other, many will argue that improvements could still have been made in this newest generation too.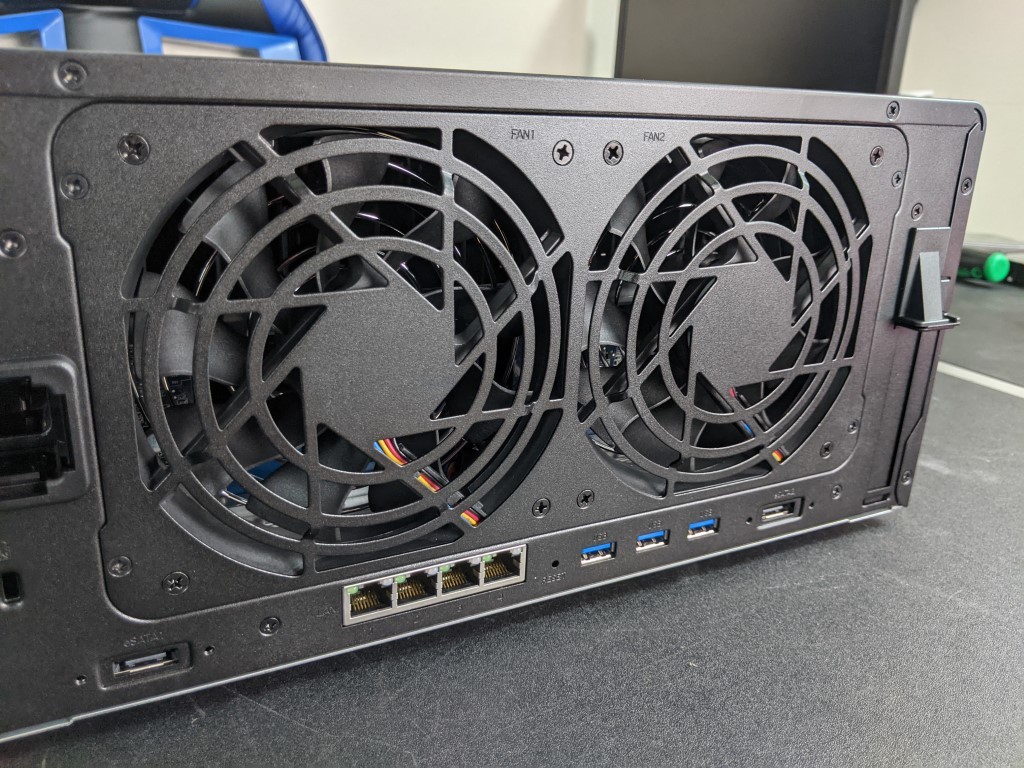 Continuing with the metal physical design, the rear of the DS1821+ features a large ventilated panel and two active cooling fans to regulate the temperature of the system as needed.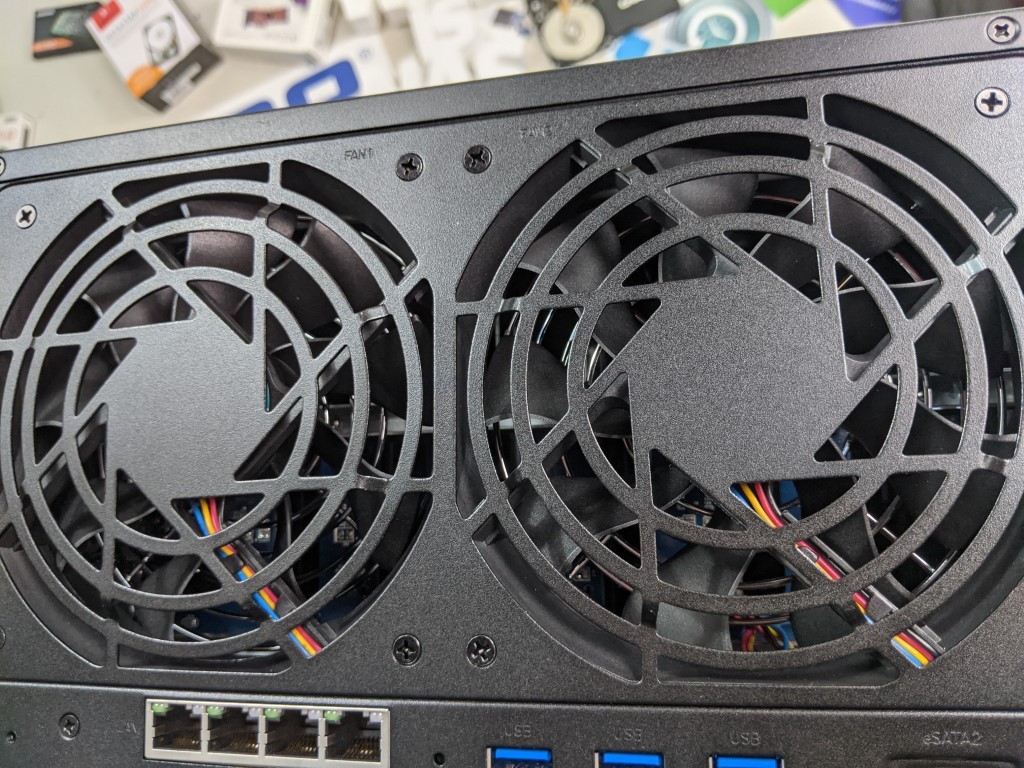 These rear cooling fans are able to have their operational speeds increased or decreased as the system requires, both automatically or manually. it is highly recommended that you do not adjust these manually as it may worsen overall performance in the long term, but those particularly sensitive to the humming of fans will welcome this small degree of control over them. The same amount of control is also afforded to the LED lights, that can have their brightness easily adjusted.
As expected from this series from Synology, the DS1821+ features four RJ45 network ports that can be connected to your existing switch or router individually, or combined in supported setups for link aggregation (port trunking) or to maintain a failover system. As this system arrives with Gigabit Ethernet architecture on these ports, via link aggregation you can reach speeds in excess of 400-440MB/s, but it is reliant on you having a smart managed network architecture in order to set this up. There is no avoiding that some of Synology's more critical audience will bemoan the use of 1Gbe in 2020, with many of their rivals now adopting 2.5Gbe and 5Gbe at this price point. Synology does have a 6-bay 10Gbe alternative in the DS1621xs+, but as this NAS arrives at almost twice the price of the DS1821+ (largely down to further benefits of the xs series) that is quite a large jump to make to get greater than gigabit ethernet connectivity. It is a shame that Synology is not embracing these greater van 1Gbe connections on Diskstation devices as much as other brands, and even if you argue that an 8 bay system provides limited throughput to fully saturate a wider bandwidth, it is still enough to fill up these larger network connections for multiple users and once.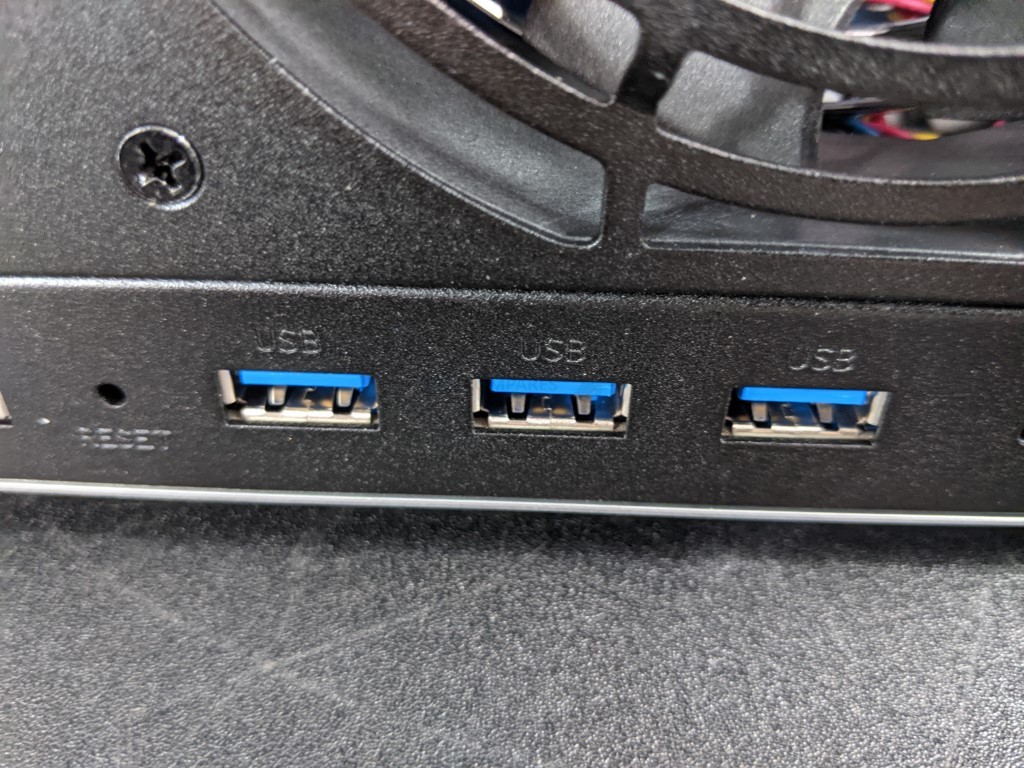 The DS1821+ also features two additional USB ports for connecting peripherals and external storage devices. These ports also can be used for integrating UPS fail-safe devices in your network office environment, support of making non-network accessible devices network available (such as printers and scanners) and a small range of network adaptor upgrades are also supported. As touched on previously, these do not support peripheral control devices like keyboards and mice, largely due to the DS1821+ not having a visual output to combine these with, so no KVM support.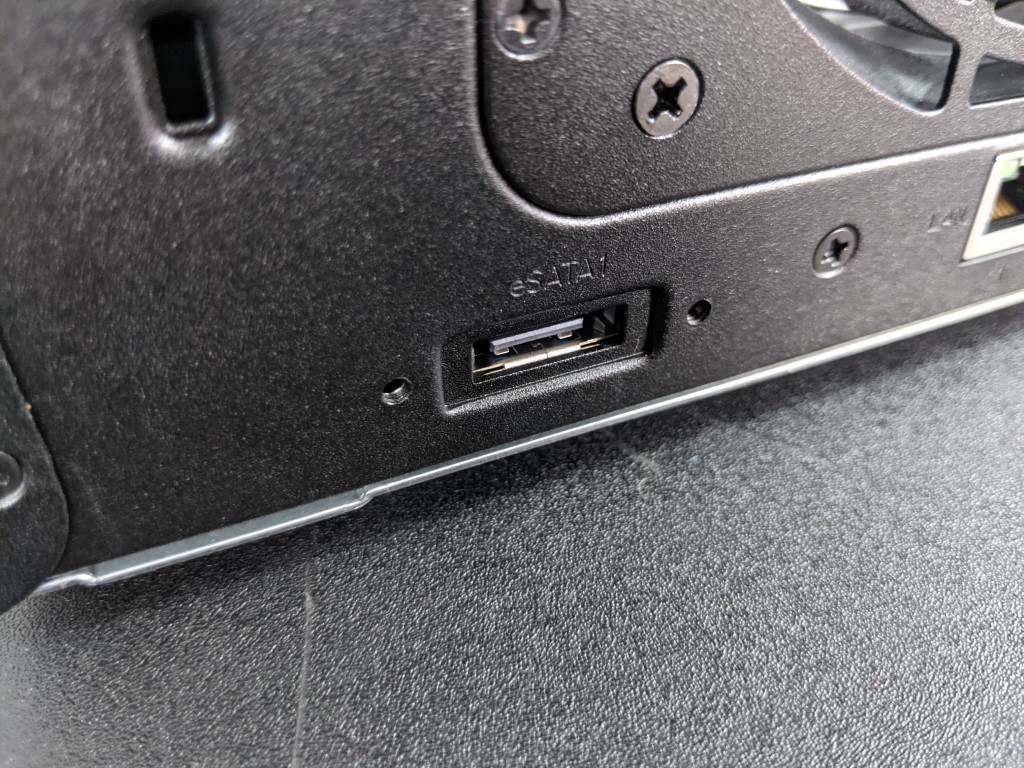 The DS1821+, like many of the Synology Plus series devices, also features expandability in its storage potential with the connection of up to an additional 10x SATA storage bays via two DX517 expansion slots (eSATA based). This is a handy feature for those users who, within the device lifespan, notice this storage capacity diminish, but do not wish to purchase a new system and invariably have to reinvent network paths, backup routines and reinstall an entire multi-user access system for the clients or colleagues. These expansion ports work quickly and easily, allowing users to gradually increase their overall storage outside of the main host system. Though some users might argue that the expansion range of desktop devices from Synology seems a tad limited, at either a 5-Bay or 12-Bay expansion system for desktop and even then, only the 5 Bay being supported on this device. Alot of this can be blamed on larger expansion systems requiring larger connections to the host system, which in turn needs to be a consideration at the chipset level, so expansions are not an easy subject to tackle at the best of times.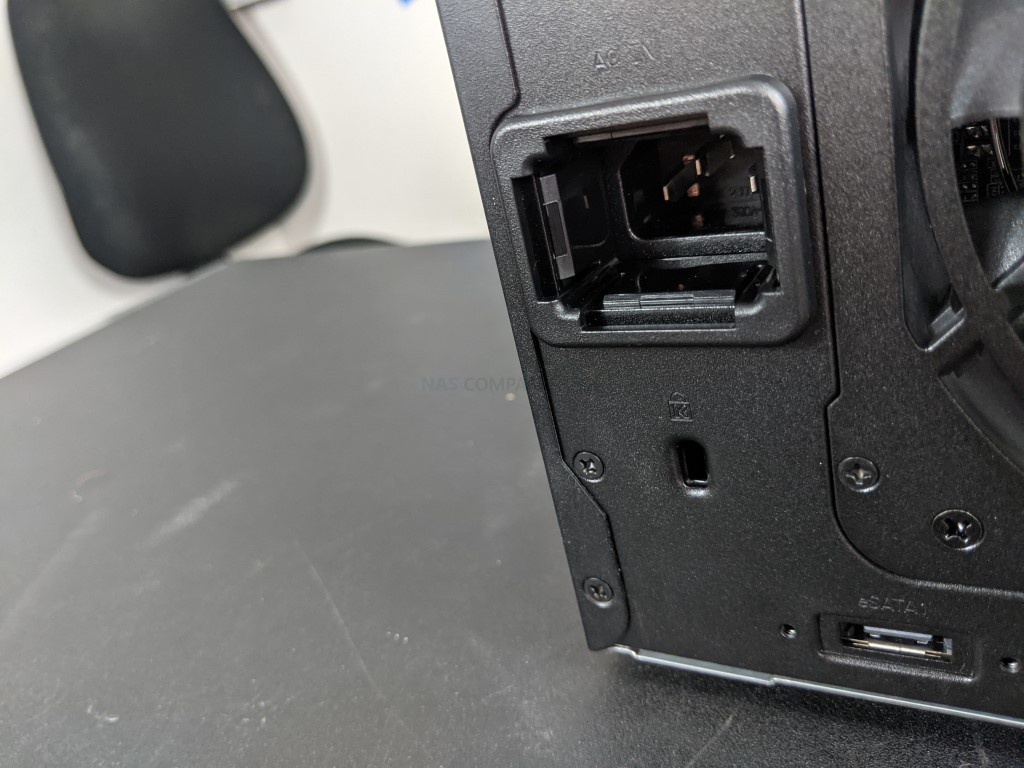 Already mentioned, the DS1821+ features an internal PSU, at 250W. Of course, this is a maximum and Synology reports 59.8W usage while in operation 26.18W whilst in standby, which is pretty reasonable for an 8 Drive storage system. Additional power consumption provisions are likely to be PCIe upgrade cards, increased SSD cache modules and memory, as well as the increases to internal factors in cooling that they present. As mentioned, the Synology DS1821+ can also be upgraded in its external connections via the installation of network interface cards (NIC) in the available PCIe slot. Arriving in a PCIe Gen 3 x8 configuration, it means that the Synology DS1821+ supports some impressive bandwidth boosting enabled cards. Synology provides several first-party upgrade cards that add one or two more 10Gbe to your storage system and thanks to the excellent choice of PCIe architecture and the CPU inside the DS1821+, you will get a great deal of performance out of the right storage media in those 8 bays. Additionally, there are several third-party cards available to add 20Gbe and 40Gbe connectivity to this desktop NAS, although you will struggle to populate this system with enough storage media to fully saturate that kind of top-end bandwidth realistically.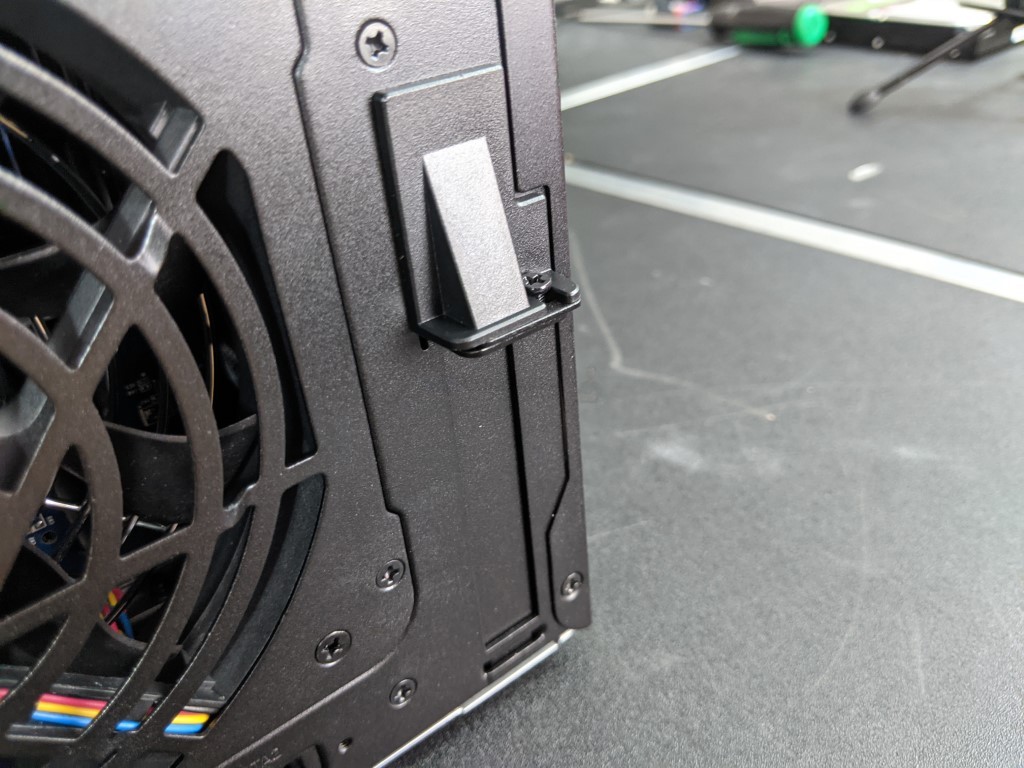 As this system already arrives with twin NVMe SSD cache bays by default, there is no need to consider installing the Synology E10M20-T1 combo card (unsupported) as you will not be able to take advantage of those additional NVMe bays. Luckily, this neatly frees you up to take advantage of twin improved NIC upgrades. Overall, at a casual glance, the DS1821+ does not seemingly provide much improvement over the DS1819+ device that came before, but it is how the improved internal specifications improve the performance and experience of applications and connected users that we should really focus on.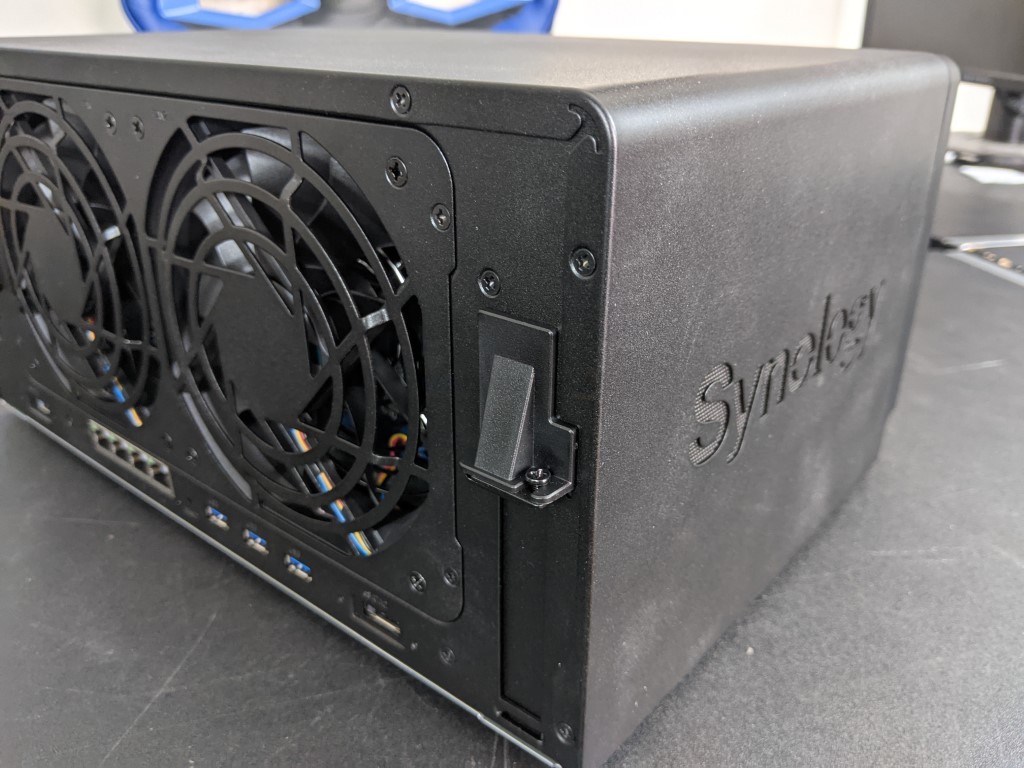 Synology DS1821+ NAS Review – Internal Hardware
The internal hardware that Synology have selected for the DS1821+ 8-bay NAS is an interesting combination of new architecture combined with staples of this particular series. Of course, the main area of difference that many including myself have focused on is that new CPU that is featured in this NAS device.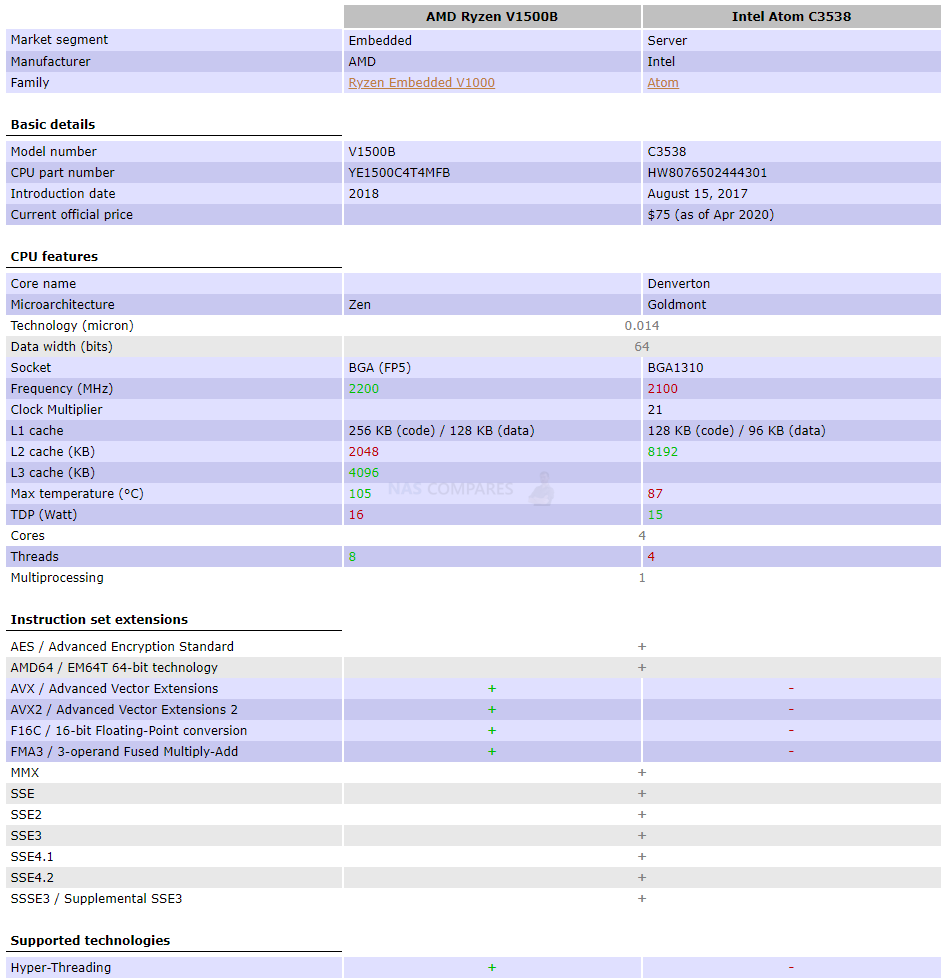 The new DS1821+ arrives with the Ryzen V1500B AMD processor, effectively the first time the biggest brand in NAS has made the switch away from Intel processors in this series. Although technically not a full and complete Ryzen (comparable with that of the more market famous Ryzen 3 5 and 7), this more efficient and server optimised processor is designed for long-term, always-on utilisation, while simultaneously performing tasks with a lower resource consumption than other Ryzen CPU. This kind of design is pivotal in NAS hardware, as typical components found in desktop computers will generate far more heat from unnecessary power utilisation that is a real barrier in network-attached storage architecture long term. This processor (and the rest of the Ryzen embedded family) unlike the rest of the premium Ryzen family, integrate the chipset into the chip itself, and it is through this unique architecture that it can be more efficient and server optimised.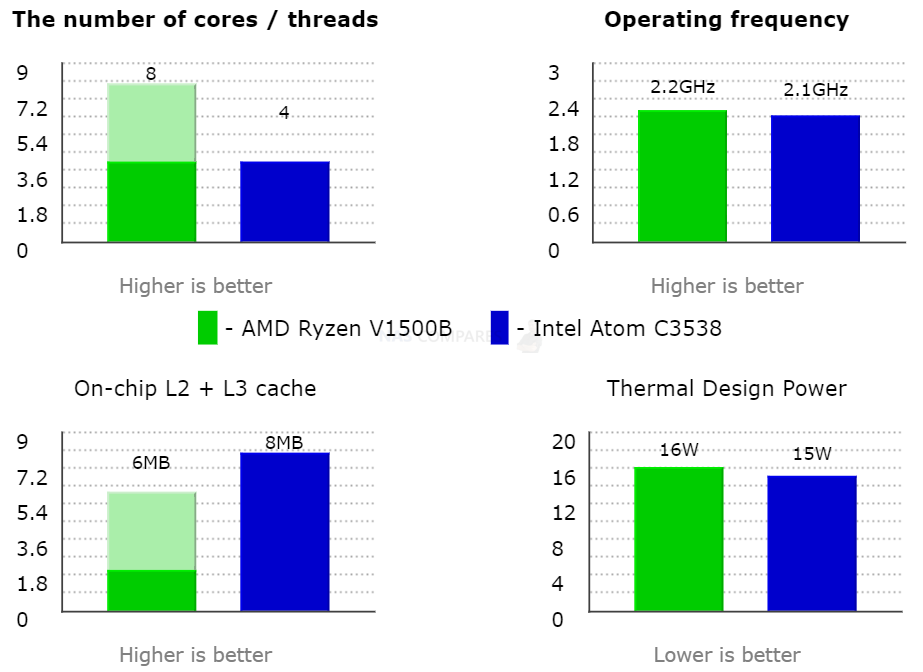 Just to keep things relative, this processor is not going to challenge the likes of an Intel core (i3/i5/i7) processor, however, it is a noticeably higher performance CPU than that of the Intel C3538 Atom that the DS1819+ before it featured, at near enough the same price point. chiefly, this new AMD processor of choice allows you to use less power comparatively to complete the same tasks and therefore ultimately allows you to do much more with the resources at hand in the newer DS1821+ device. Neither DS1821+ nor DS1819+ Synology NAS have a GPU embedded processor, which is fairly normal for this product series and may leave some buyers a little disappointed, as the smaller 4 and 5 bay(e.g. DS920+ and DS1520+) devices arrive with Intel Celeron processors embedded graphics. But this needs to be offset against the typical CPU abilities in more day to day data management tasks. This processor also opens the door to DDR4 ECC memory and the DS1821+ supports up to 32GB across two SODIMM slots in the base of the NAS chassis.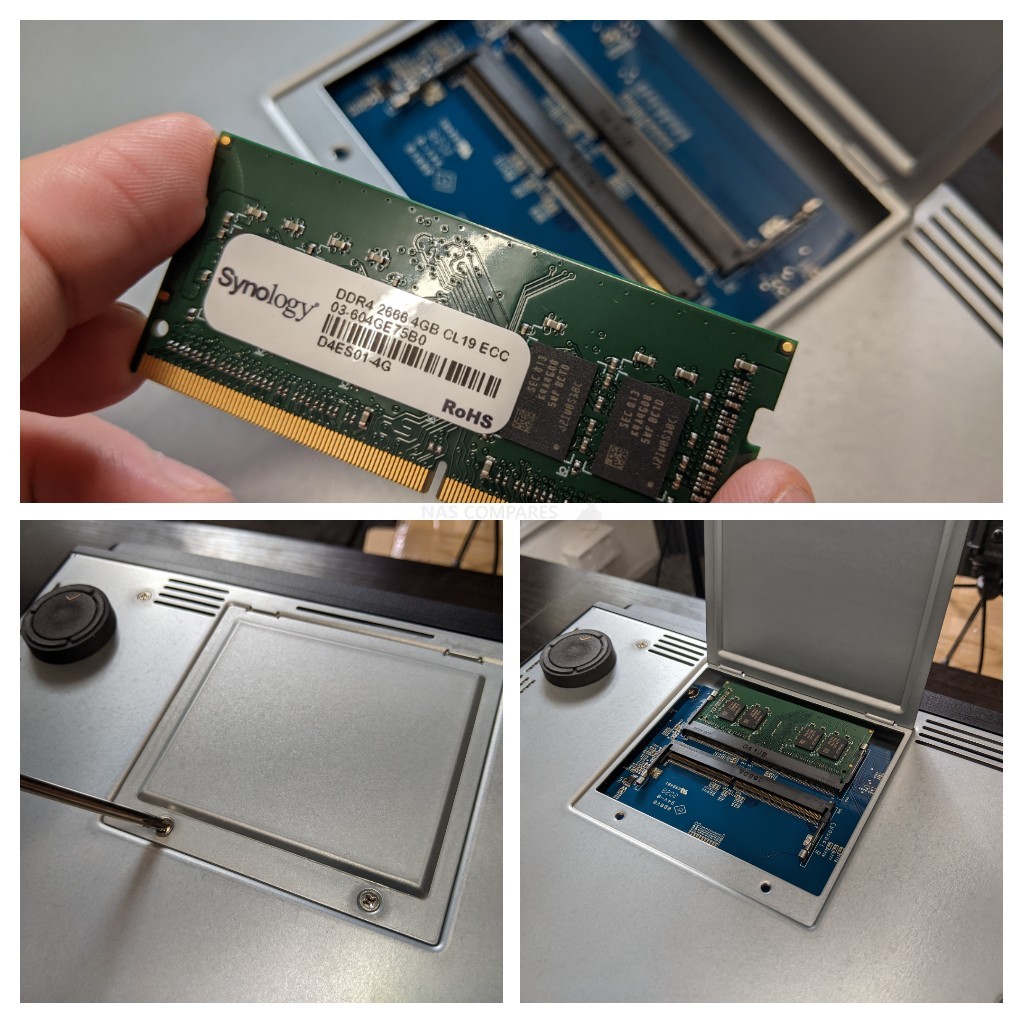 It is worth highlighting that the Synology DS1821+, much like the rest of the range from this brand, is designed to only support official Synology memory modules and they provide several different capacities in their range. There is an area of contention for many users on utilising unofficial or official memory, but Synology steadfast maintain that users should not be utilising configurations and that include unsupported memory at the risk of an unstable system long term – in short, they cannot provide support on an unsupported configuration and therefore cannot ensure your data is safe. With talk of Memory shortages already starting to appear at the end of 2020 (likely related to changes in the supply chain caused by the on going pandemic) the strict limitation to own-brand memory might prove a thorn in the side of some users buying this solution early.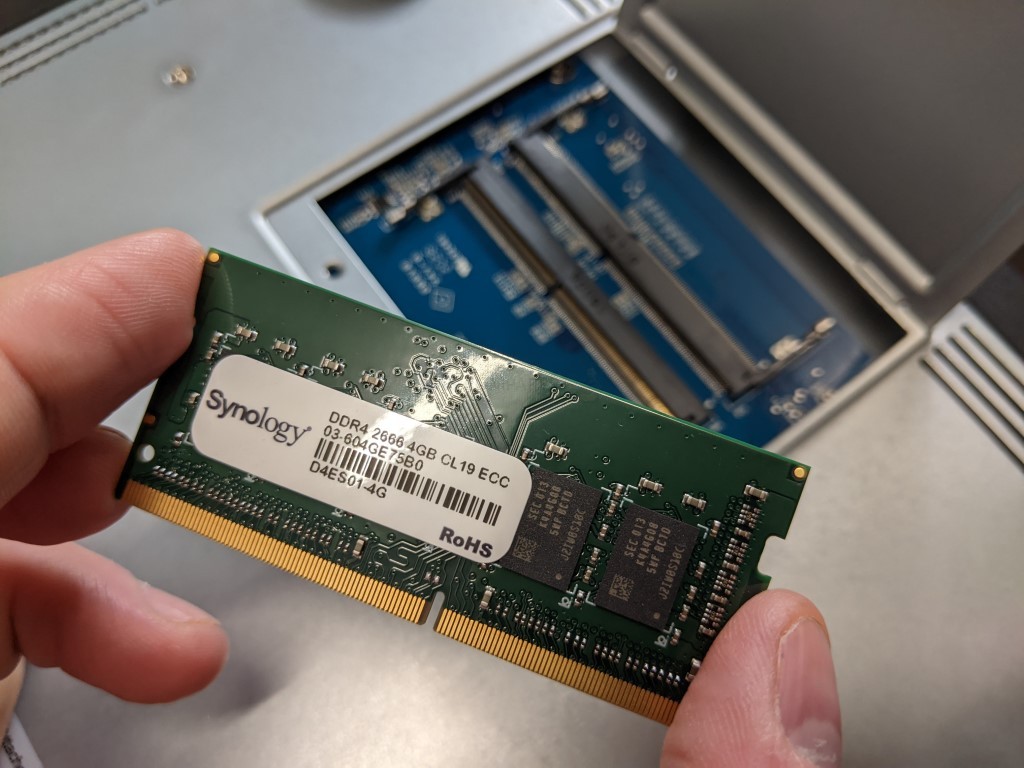 Nevertheless, the maximum supported 32GB of memory is still pretty impressive for this NAS and for those looking at moderate virtual machine deployment for their staff, a well equipped and expandable surveillance solution, a collaboration platform for users to work together on, a multi-tiered backup system – or ALL of the above, the DS1821+ works as an impressive base device to surround with your existing network architecture. Memory upgrades are not the only means with which users can improve the performance of individual applications and fluidity of user storage on this device, as Synology has equipped the DS1821+ with additional SSD cache upgradability in line with the majority of 2020/2021 solutions in their portfolio.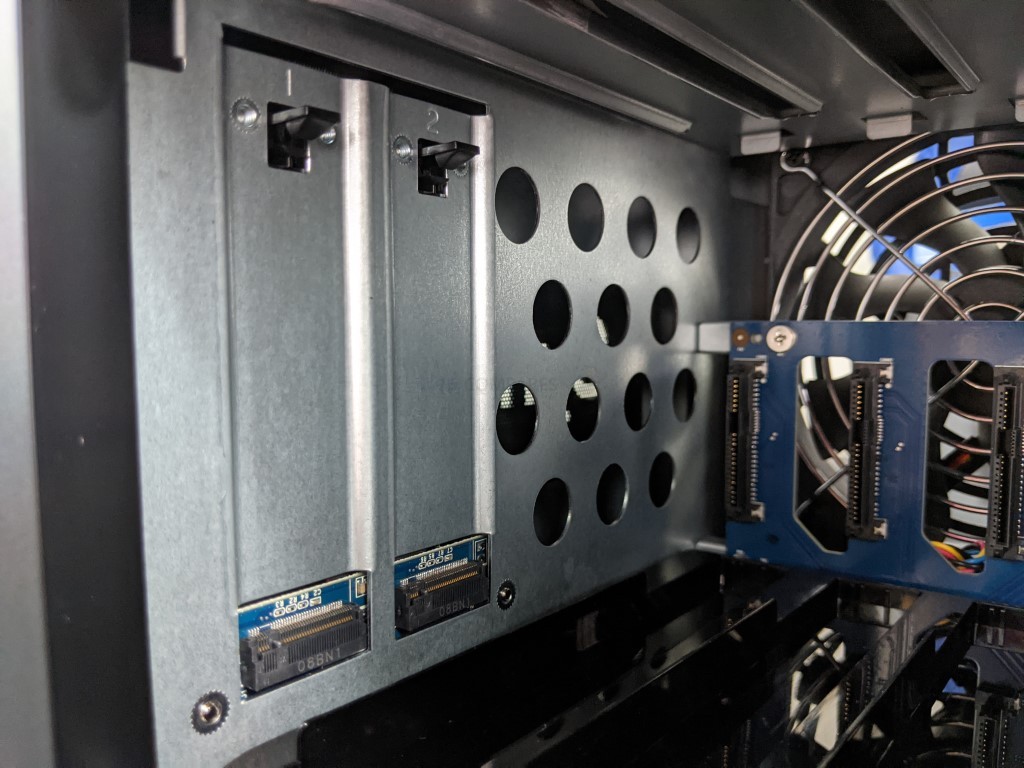 These two NVMe SSD bays allow you to install all two high-speed m.2 media modules that allow you to leverage the high IOPS and read-write that  Solid State Drives feature towards the larger (but typically slower) hard drive RAID storage array of the eight main bays. The benefits of SSD caching are typically found in smaller file exchanges, more frequently accessed files being copied ad-hoc onto the cache storage and is particularly useful in shared drive spaces between teams, either as network drives, iSCSI/LUN targets or using the popular Synology drive client applications in conjunction with the NAS. Unsurprisingly, Synology still maintains that these m.2 NVMe slots can only be used for SSD caching and not raw storage, which is a shame given the internal hardware of this device. Nevertheless, Synology has really embraced SSD caching over these last few years and fair play to them, they do it better than everyone else right now. Even when comparing NVMe SSD vs SATA SSD in caching, the system's in the Synology portfolio do seemingly take advantage of the additional performance.
Synology DS1821+ NAS Review – Software
You will be pleased to know that the upgrades in the Synology DS1821+ NAS of that Ryzen powered processor, over that of the Intel Atom, mean that to the entire Synology application range is available to you and in all cases, you will get faster performance and larger simultaneous access than previously. The Synology range of NAS devices all features the same software, in DSM 6.2 (DSM 7 beta revealed and available to test NOW). What separates them is the extent to which it can run the software, both in terms of which applications and to what extent. This is often governed by the memory and CPU inside and the DS1821+ NAS is no exception. If you currently own a DS1819+ NAS from Synology, then chances are that the Synology DS1821+ NAS will have little or nothing that you have not seen before. Likewise, the higher tier DS1621xs+ (which features a more powerful CPU in the Intel Xeon), this quad-core processor in the DS1821+ does not present a massive upgrade to you. In terms of scaling between the new and older device. However, for those looking for a robust storage NAS with RAID coverage and internal hardware that will stand the test of time, the newer NAS represents a great starting block for your network-attached storage system and in a straight comparison, wins in almost every way.  It unsurprisingly arrives with all the software advantages available on a modern NAS, thanks to the Diskstation Manager (DSM) platform currently in version 6.2.2 and DSM 7.0 fully available towards the middle of next year. The DS1821+ NAS supports a multitude of first-party applications and third-party apps for home and business use, such as:
First-Party Applications included with your NAS system
Synology Office – Create documents, spreadsheets, and slides in a multi-user environment. Real-time synchronization and saving makes collaboration a breeze.
Synology Chat – Aimed at businesses, Synology Chat is an IM service that transforms the way users collaborate and communicate.
Synology Drive – Host your own private cloud behind the safety of your NAS with 100% data ownership and no subscription fees.
Synology Moments – Manage your photos and videos with deep-learning algorithms that automatically group photos with similar faces, subjects, and places.
Synology Calendar – Stay on track, share calendars, and schedule meetings, while ensuring sensitive information remains safely stored on company premises.
Synology Active Backup for Business (ABB) – Consolidate backup tasks for virtualized environments, physical servers, and personal computers, and rapidly restore files, entire machines, or VMs – completely license free.
Synology Hyper Backup – backup you NAS safely and efficiently to multiple destinations with deduplication, integrity checks, compression, and versioning.
Synology Surveillance Station – Safeguard your business, home, and other valuable assets with reliable video surveillance tools.
Synology Virtual Machine Manager (VMM) – An intuitive hypervisor that supports Windows, Linux, and Virtual DSM virtual machines. Its powerful disaster recovery tools help users achieve maximum service uptime.
Synology High Availability – Synology High Availability (SHA) combines two Synology NAS servers into one active-passive high-availability cluster, alleviating service disruptions while mirroring data.
Synology Central Management System (CMS) – Synology CMS allows you to manage multiple Synology NAS servers quickly and conveniently from a single location.
Synology Video Station – Manage all your movies, TV shows, and home videos. Stream them to multiple devices or share them with friends and family.
Synology Photo Station – Built to help photographers manage their photos and share them with clients for feedback or business development.
Synology Audio Station – Manage your music collection, create personal playlists, stream them to your own devices, or share with family or friends.
Synology File Station – Manage your Synology NAS files remotely through web browsers or mobile devices.
MANY more, as well as Third Part App Support in:
Synology DS1821+ PLEX MEDIA SERVER (4K & 1080p Coming Soon Below)
Plex Media Server
Google Drive, DropBox, Elephant Drive and other cloud migration tools
Docker for virtual application environments
Nakivo Backups, WordPress Site Hosting and numerous 3rd party CRM for Business
The DSM platform has evolved a great deal over the last few years and has become practically an entire reason to buy a Synology NAS on its own. You can, of course, try out the Synology DSM software platform before investing in a NAS, by visiting the link below and trying DSM 6.2 for yourself:

Alternatively, you can test Synology DSM 7.0 Beta in an on line demo by visiting below:

A full software review of the DSM 6.2 platform on the DS1621xs+ NAS is currently in process and I hope to have this to you here on the blog very soon or on the YouTube channel in due course. Stay tuned.
Synology DS1821+ NAS Review – Conclusion
What you have here is a solid piece of hardware that very much lives up to everything Synology promises, even if some of those promises aren't to everyone's taste. With a hardware architecture that we have already tested to notable success in the DS1621+ previously, we already knew that this NAS would be able to do everything it promised. Many users looking to spend their annual business budgets on an improved or extended data storage solution will find the balanced position of hardware vs software found by the Synology DS1821+ to be quite desirable, as well as the scaled potential to upgrade external performance via PCIe and storage via eSATA. However, there is no ignoring that despite the fact this 2020 release excels in many things, it also arrives with a little bottlenecking in a number of others. The continued default utilisation of 1Gbe on the newest generation by Synology is somewhat perplexing and although I have continued admiration for Synology's engagement with intelligent M2 NVMe cache utilisation and providing a solution that allows more flexible upgrade paths, I know that there are still users who just wish they could use that super fast NAND for raw storage pools and have better than gigabit connections out by default..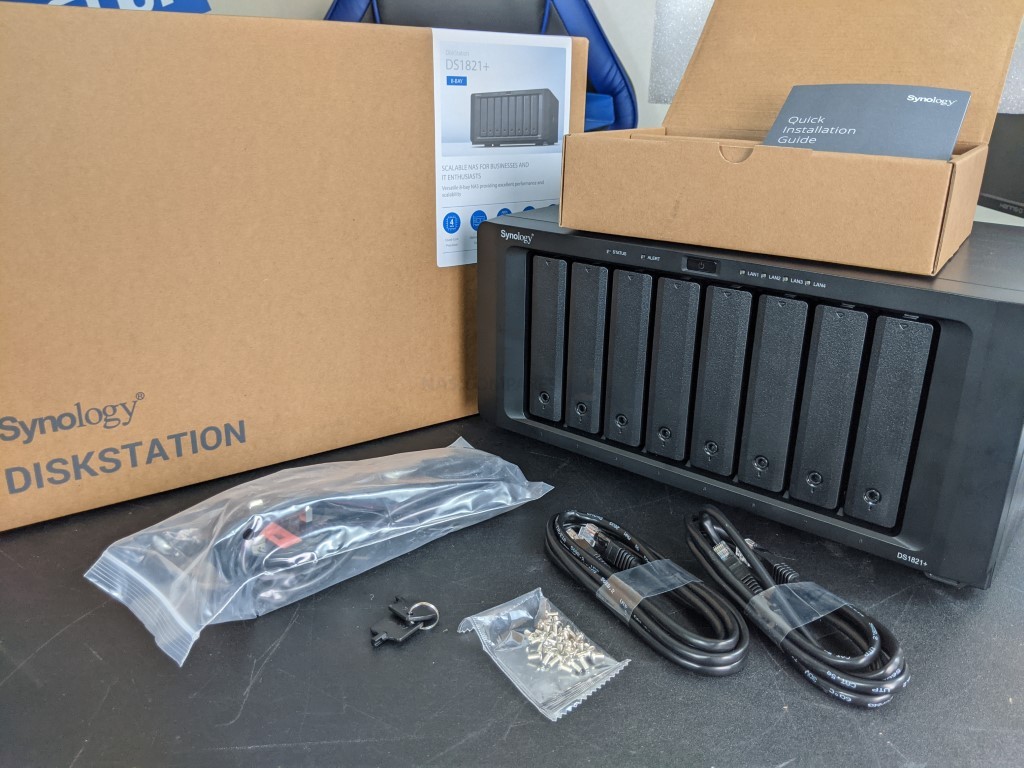 It has never been a secret that buying a Synology NAS solution was always a largely 'software over hardware' purchase, and the DS1821+ is still a fine example of that balance. However, with other brands closing the gap in what they can offer the SMB (Small/Medium Business) user, while still providing superior hardware and similar warranty coverage, there is the tiniest feeling that the DS1821+ is a NAS that sits on its laurels a bit. Hugely upgradable and still with that award-winning and fantastically intuative DSM software, the DS1821+ is about buying a solution you can adapt within its lifespan and not one that will knock your socks off on day one. A solid and dependable data storage solution, if a little safe, at the end of 2020.
Synology DS1821+ PROS
Synology DS1821+ CONS

Desktop Ryzen Powered Solution

Dual NVMe M.2 cache

PCIe Gen 3 x8 PCIe Equipped

Great RAID Options (inc SHR)

Excellent choice of Apps

DDR4 ECC Memory up to 32GB

Numerous Backup Software Options

Huge Virtualization Support

3yr Warranty and Extendable

1Gbe Ports seem a bit limited now

Shame it does not support 1/2 x DX1215

NVMe SSDs cannot be used for RAW storage
📧 LET ME KNOW ABOUT NEW POSTS 🔔
Join 1,410 other subscribers
Get an alert every time something gets added to this specific article!
This description contains links to Amazon. These links will take you to some of the products mentioned in today's content. As an Amazon Associate, I earn from qualifying purchases. Visit the NASCompares Deal Finder to find the best place to buy this device in your region, based on Service, Support and Reputation - Just Search for your NAS Drive in the Box Below
Need Advice on Data Storage from an Expert?
We want to keep the free advice on NASCompares FREE for as long as we can. Since this service started back in Jan '18, We have helped hundreds of users every month solve their storage woes, but we can only continue to do this with your support. So please do choose to buy at Amazon US and Amazon UK on the articles when buying to provide advert revenue support or to donate/support the site below.

Finally, for free advice about your setup, j
ust leave a message in the comments below here at NASCompares.com and we will get back to you.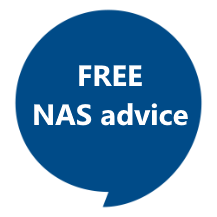 Need Help?
Where possible (and where appropriate) please provide as much information about your requirements, as then I can arrange the best answer and solution to your needs. Do not worry about your e-mail address being required, it will NOT be used in a mailing list and will NOT be used in any way other than to respond to your enquiry.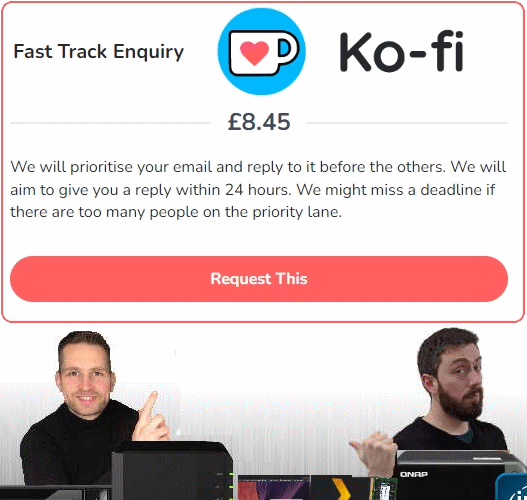 Terms and Conditions
Alternatively, why not ask me on the
ASK NASCompares forum
, by clicking the button below. This is a community hub that serves as a place that I can answer your question, chew the fat, share new release information and even get corrections posted. I will always get around to answering ALL queries, but as a one-man operation, I cannot promise speed! So by sharing your query in the
ASK NASCompares
section below, you can get a better range of solutions and suggestions, alongside my own.
Summary
Reviewer
Review Date
Reviewed Item
Synology DS1821+ NAS Hardware Review
Author Rating