Choosing the Best 6-Bay NAS Drive of 2020
Whether you have been looking at buying a new network-attached storage (NAS) solution for the home or for business, there is a good chance that you have been looking for a RAID 6 solution in 2020/2021. There was a time when RAID 6 was seen as the 'overkill' RAID configuration, as is a 2 Drive failure protection (ie if up to 2 HDD in your storage array broke/failed, the system would still be able to protect and secure your data from loss). The reason for it's unpopularity in the past was 1, because you lost 2 drives of usable storage space, 2, the cost of an array that would be big enough for sufficient drive bays and 3, RAID 6 was generally to most complex and slowest configuration – requiring the CPU inside the system to have to calculate a lot of parity data all the time as write actions took place across the array. Fast forward to now and the popularity of RAID 6 in even small business has soared considerably, thanks to hard drives getting HUGE (currently at 18-20TB), NAS CPU hardware improving vastly and the larger number of 6/8Bay solutions on the market than ever before. That last point is important, as 6-Bay solutions (once rather overlooked) are now much more desirable, as they provide a good level of storage space, support all RAIDs, are compact and allow the end-user a much more balanced purchase between storage potential, hardware power and data safety. It has now reached a point where choosing the best 6-Bay NAS drive to buy is considerably harder than ever, with many on the market. Never fear, today I want to tell you the best 6 drive NAS solutions to buy right now and below I have detailed the top 3. Let's see who the winners are.
Best 6-Bay NAS – What Qualifies?
Because there are quite a large number of 6-Bays on the market, I have had to be strict about the criteria for consideration in this list of the best. As 6 bays are more often than not purchased by small-medium business users (SMB) I have tailored the criteria a lot more in that direction. So, all solutions considered need to be or support:
The NAS server needs to have been released before October 31st 2020, so it has been officially available to buy and review
Solutions do not need to have been released in 2020, but if released in 2019/2018/etc, they need to have been available for sale the for the whole of 2020 too
Only Desktop/Tower systems are being considered, Rackmount servers are generally harder to compare and are more tailored to industry
Each solution must be a combined Hardware+Software solution
Must have at least 2 years manufacturers warranty
All Solutions need to be Expandable (i.e Add Storage later in the NAS storage lifespan)
All solutions must be considered 'balanced' in terms of hardware vs storage – ie a £2000 box of power than will likely be overkill and the 6 bays cannot possibly saturate the abilities are not considered. They have a place in the market, but that is considerably more enterprise in architecture
There you go! Those are the rules and although there are some honourable mentions (the QNAP TS-h886 and TS-h686 for example), they are what I would consider an enterprise solution and not SMB 6-Bay buyer material (context etc – don't @ me). Let's see what the best 6-Bay NAS solutions of the year to buy are.
Best 6-Bay NAS for Prosumer & SMB – Synology DS1621+
0- 108TB, 6-Bays, Ryzen V1500B 4-Core CPU, 4GB ECC Memory, 4x 1Gbe Ports, 3yr Warranty, $830  
Hardware Review – https://nascompares.com/2020/10/15/synology-ds1621-nas-hardware-review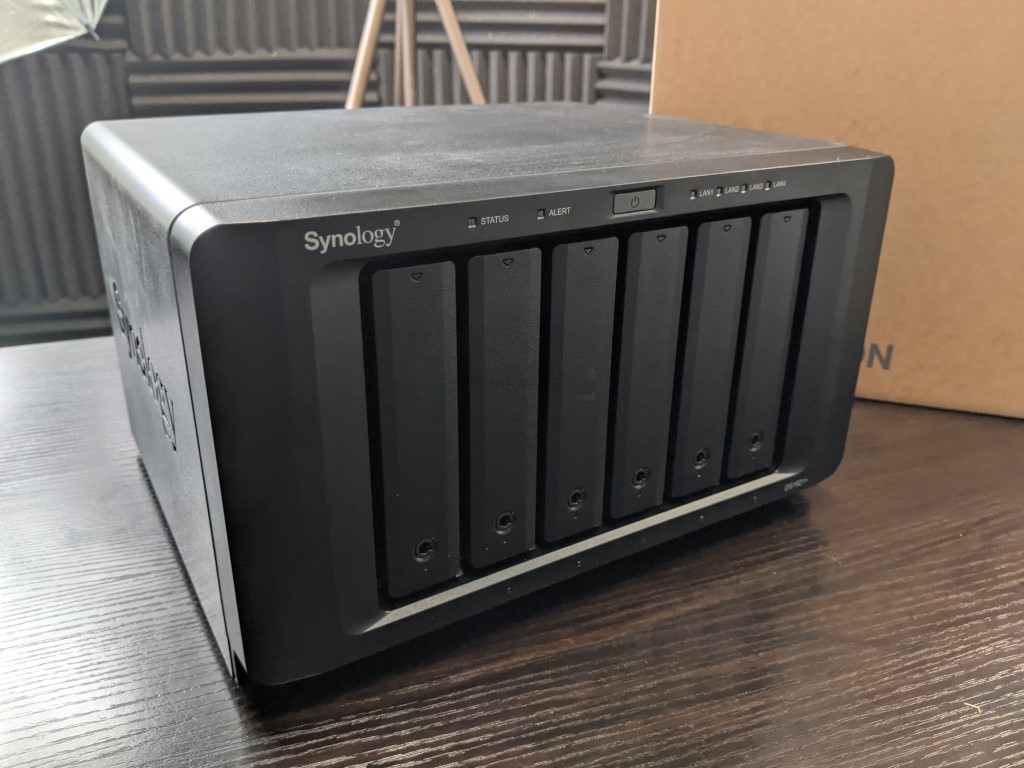 What We Said 15/10/20:
The Synology 'Plus' series of devices has long held a reputation for providing mid-range hardware to mid-range business customers. Because of this, the DS1621+ needs to balance a fine line between providing fast and reliable hardware, whilst still maintaining a price point that won't intimidate the average small-medium business user. In this regard, I think the Synology DS1621+ NAS gets it right, finding an impressive halfway point between these two factors. However, it is important for buyers to understand what they are buying and where the price point for the Synology DS1621+ is being aimed. Although it seemingly lacks some of the multimedia and prosumer features of 'cheaper' NAS devices in the Synology portfolio, it doubles down on more business and enterprise-level features in efforts to support that core audience. It's about getting the right tool for the job and in that area, Synology almost completely succeed. The lack of above gigabit connectivity afforded to a NAS unit at this price point, compared with their competitors, may put some users off, but on the whole, you are getting good performance and excellent value on this combined hardware and software solution with some excellent scalability.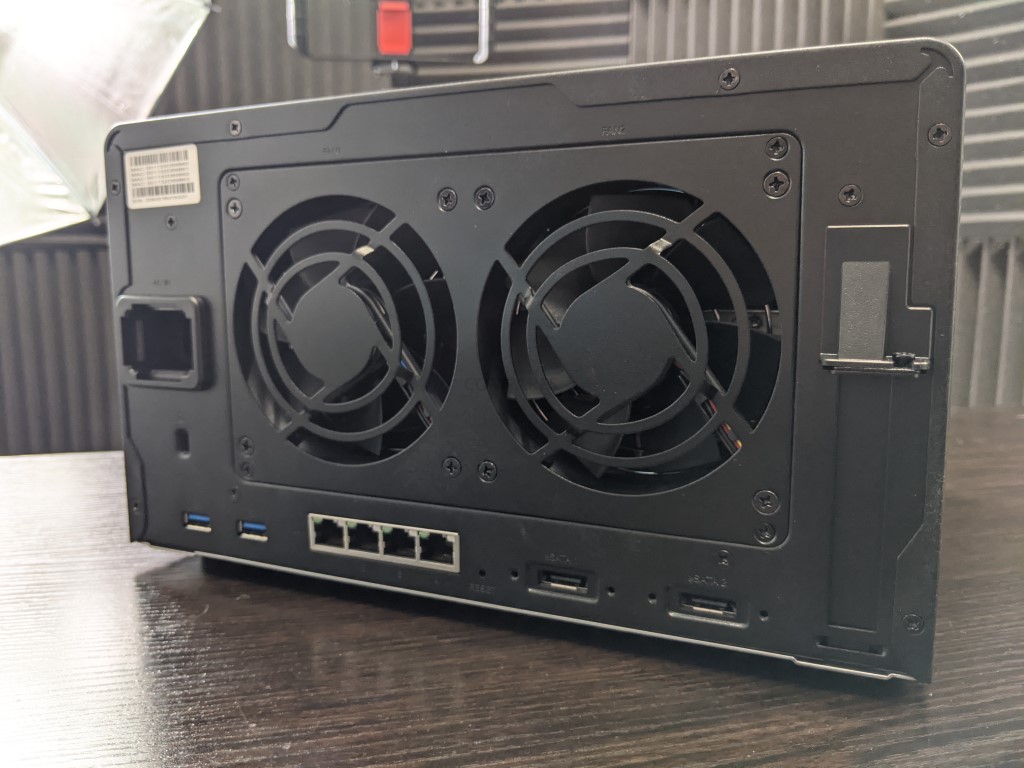 Synology DS1621+ PROS
Synology DS1621+ CONS

Desktop Ryzen Powered Solution
Dual NVMe M.2 cache
PCIe Gen 3 x8 PCIe Equipped
Great RAID Options (inc SHR)
Excellent choice of Apps
DDR4 ECC Memory up to 32GB
Numerous Backup Software Options
Huge Virtualization Support
3yr Warranty and Extendable to 5yrs

1Gbe Ports seem a bit limited now
Shame it does not support 1/2 x DX1215
NVMe SSDs cannot be used for RAW storage
Best 6-Bay NAS for Both Hardware & Software – QNAP TS-653D
0- 108TB, 6-Bays, Intel J4125 Celron 4-Core CPU, 4/8GB DDR4 Memory, 2.5Gbe Ports, 4K HDMI 2.0, PCIe Gen 2×2 Upgrade Slot, 3yr Warranty, $650+  
Hardware Review – https://nascompares.com/2020/06/06/qnap-ts-653d-nas-hardware-review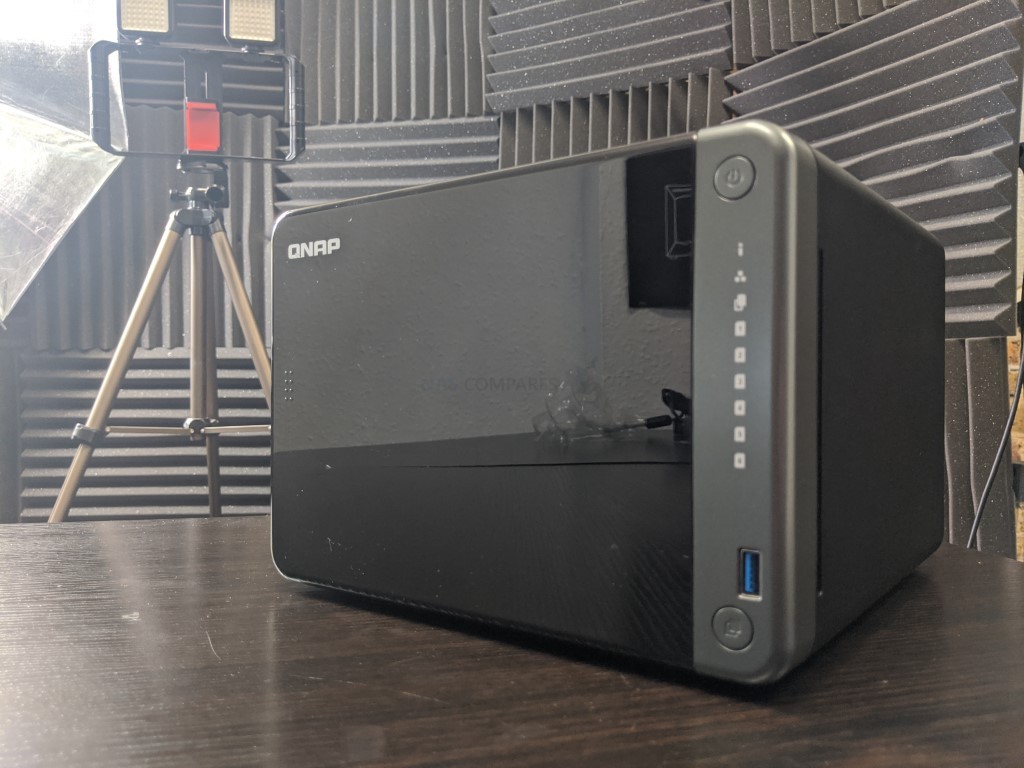 What We Said 06/06/20:
Served as a more compact and affordable alternative to the TVS-673e and TVS-672XT, the TS-653D NAS is something that QNAP should be proud of. It is a great entry into their already impressive range of desktop NAS devices, finding an excellent balance between home and business users. If you are looking for a brand new 'powerful on a budget' NAS to consolidate your home media, Set up a Surveillance network, run virtual OS environments, sort through photo media, support your relatives as the 'IT whizz' of the family, or move your business away from Google Drives and DropBox' onto something safer, more scalable and dependable – then the TS-653D has alot to offer you. It gives you a great base to start using the QTS platform, as well as a good means to upgrade your storage internally at a later date (expansions in memory to 8GB, expansions in storage with the TL & TR Series, expansion in NVMe, 10Gbe both in the QM2 range and more). That said, If you are an existing TS-653B owner, this might not seem like the jump you were waiting for.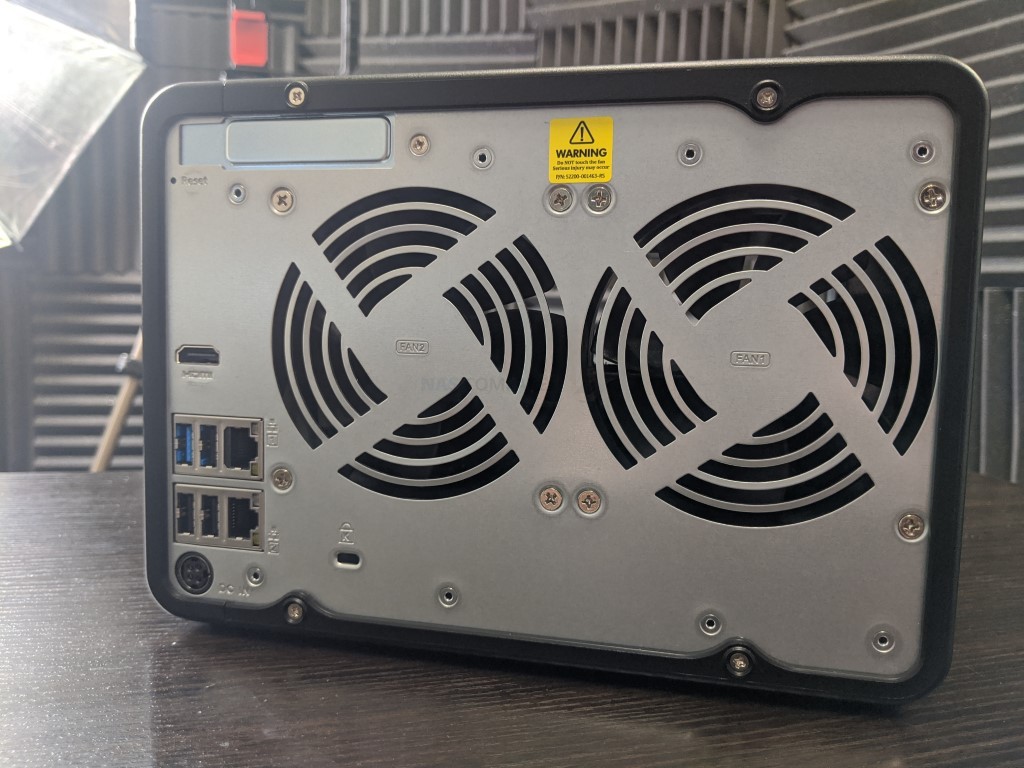 PROS
CONS

2.5Gbe LAN Ports
8 Surveillance Camera Licences
AI-Powered Apps
Snapshot Replication
PCIe Expandability
Support Plex
Virtualization
4K Video transcoding
Full Plex Transcoding
60FPS 4K Support
10 min Windows and/or Ubuntu VM install (included)
Expandable

Plastic Chassis not for everyone
Not quite as intuitive as Synology DSM (close though)
Does not Support BTRFS
Best 6-Bay NAS for Performance Internally & Externally – Synology DS1621+xs+
0-108TB, 6-Bays, Xeon 4-Core CPU, 8-32GB Memory, 10Gbe and 2x 1Gbe Ports, NVMe SSD Cache Bays, PCIe Gen 3 x8 Slot, 5yr Warranty, $1650+  
Hardware Review – https://nascompares.com/2020/09/10/synology-ds1621xs-nas-review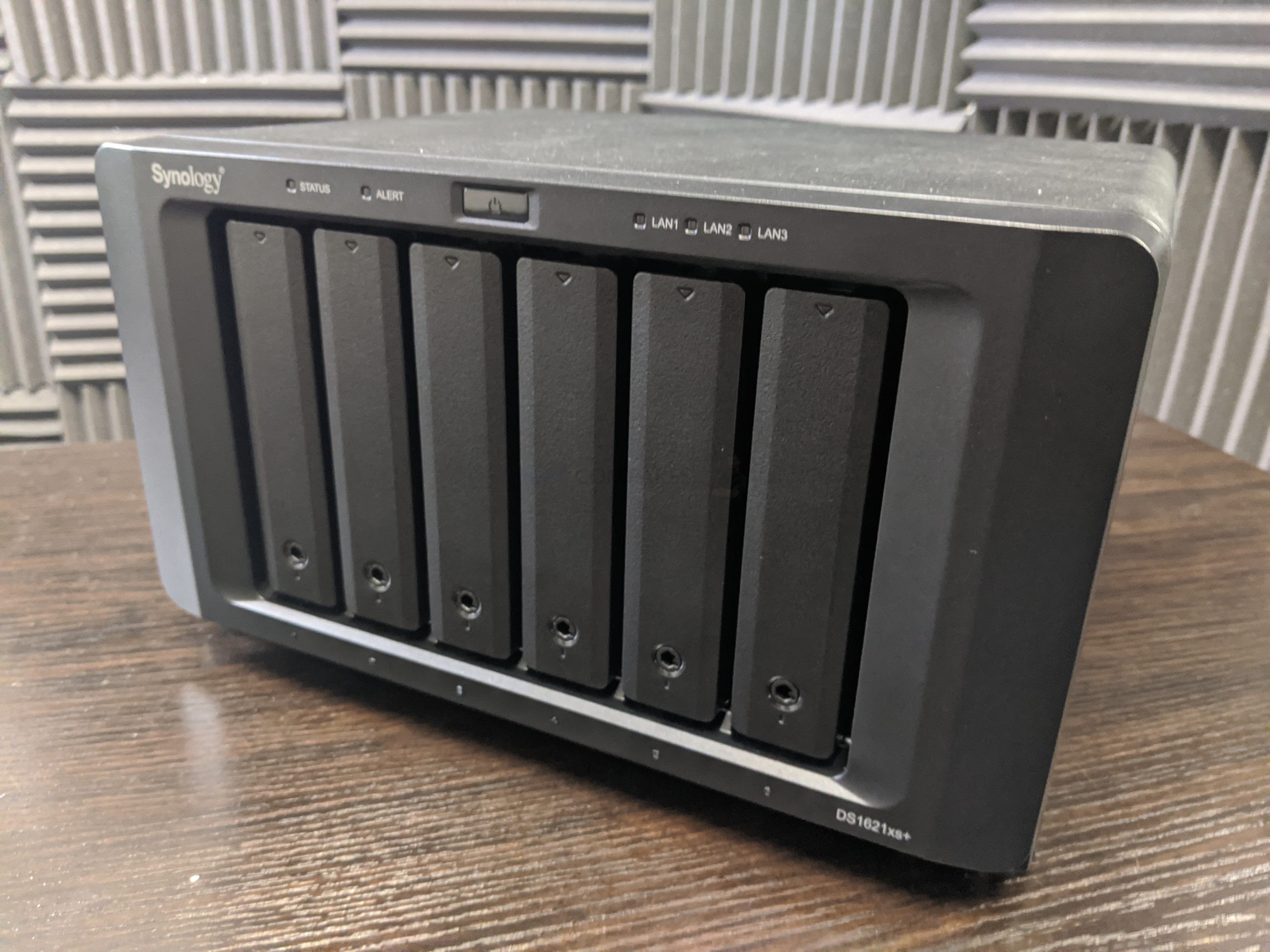 What We Said 10/09/20:
Whatever way you look at it, you cannot what question the sheer level of hardware value present in the DS1621xs+, especially compared with other similarly priced Synology NAS. In the DS1621xs+, you find one of the best performing internal and external NAS systems in the entire Synology portfolio, as well as providing you with an enterprise rackmount grade solution in a desktop form. I know it seems like a big statement, but this could genuinely be one of the best examples of what Synology provide to business users and certainly reorganises the portfolio for small and medium business users for the better in 2020/2021. Is it perfect, of course not, few things ever can be. But if your budget can extend to it, the Synology DS1621xs+ easily represents the very best of everything that Synology has to offer, while still maintaining a fantastic high standard to third-party software users worldwide.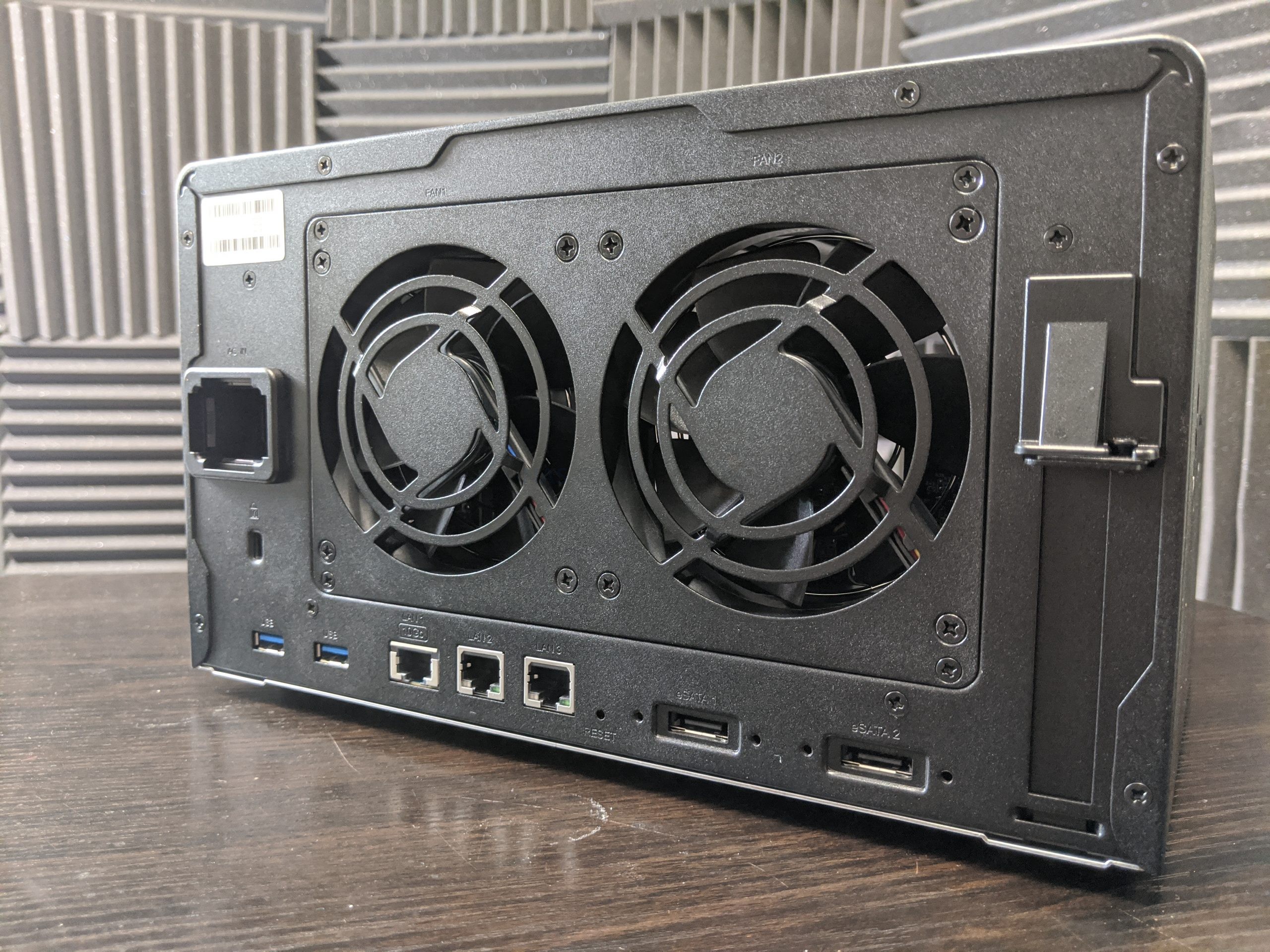 Synology DS1621xs+ PROS
Synology DS1621xs+ CONS

10Gbe Equipped!
Desktop Xeon Solution
Dual NVMe M.2 cache
PCIe Gen 3 x8 PCIe Equipped
Great RAID Options (inc RAIF F1)
Excellent choice of Apps
DDR4 ECC Memory
Numerous Backup Software Options
Huge Virtualization Support
5yr Warranty
2x 5-Bay Expandable

1Gbe Ports seem a bit unnecessary
No SHR Support
Shame it does not support 1/2 x DX1215
NVMe SSDs cannot be used for RAW storage
📧 LET ME KNOW ABOUT NEW POSTS 🔔
Join 1,410 other subscribers
Get an alert every time something gets added to this specific article!
This description contains links to Amazon. These links will take you to some of the products mentioned in today's content. As an Amazon Associate, I earn from qualifying purchases. Visit the NASCompares Deal Finder to find the best place to buy this device in your region, based on Service, Support and Reputation - Just Search for your NAS Drive in the Box Below
Need Advice on Data Storage from an Expert?
We want to keep the free advice on NASCompares FREE for as long as we can. Since this service started back in Jan '18, We have helped hundreds of users every month solve their storage woes, but we can only continue to do this with your support. So please do choose to buy at Amazon US and Amazon UK on the articles when buying to provide advert revenue support or to donate/support the site below.

Finally, for free advice about your setup, j
ust leave a message in the comments below here at NASCompares.com and we will get back to you.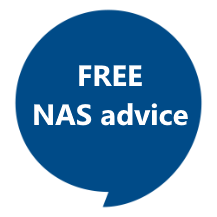 Need Help?
Where possible (and where appropriate) please provide as much information about your requirements, as then I can arrange the best answer and solution to your needs. Do not worry about your e-mail address being required, it will NOT be used in a mailing list and will NOT be used in any way other than to respond to your enquiry.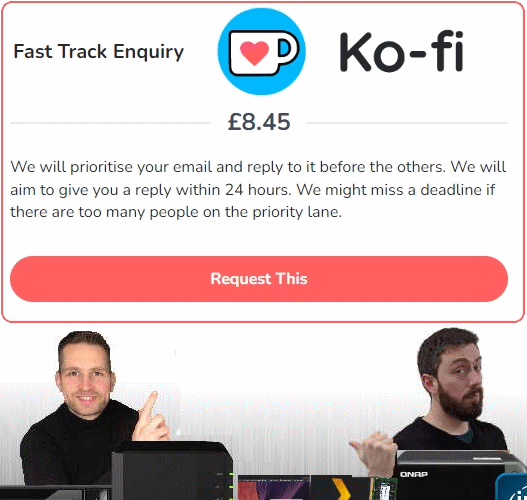 Terms and Conditions
Alternatively, why not ask me on the
ASK NASCompares forum
, by clicking the button below. This is a community hub that serves as a place that I can answer your question, chew the fat, share new release information and even get corrections posted. I will always get around to answering ALL queries, but as a one-man operation, I cannot promise speed! So by sharing your query in the
ASK NASCompares
section below, you can get a better range of solutions and suggestions, alongside my own.
This description contains links to Amazon. These links will take you to some of the products mentioned in today's video. As an Amazon Associate, I earn from qualifying purchases
Summary
Reviewer
Review Date
Reviewed Item
Best 6-Bay NAS Drive of the Year
Author Rating