A Guide to Moving your Photos and Drive Data to Synology NAS
Today I want to show you guys how to make the switch from your Google Photos and/or Google Drive account and onto a Synology NAS. Whether you are looking into migrating your data from the cloud to a private server because of safety, cost or the recent announcement by Google to stop unlimited photo backups in June 2021, there are lots of good reasons to make the jump. Additionally, there are several different ways to move data over from Google to Synology NAS available. Today I want to talk about two of the most reliable ways to do it, namely using Google Takeout and Synology Cloud Sync. Both have their advantages and disadvantages, but below is a guide to walk you through both methods on a Synology NAS and both methods will cover Google Photos and Google Drive, to migrate your data over manually or automatically.
Video Guides Below (if you prefer)
What Photo Apps are Available on Synology NAS?
Technically there are THREE Synology applications for photography. However, two of them (Synology Photo Station and Synology Moments) are on DSM 6.2, whereas the latest application (Synology Photos) is in DSM 7, which is in beta and plans to combine both of the previous two apps into a single, multi-purpose tool. So, let's take a quick look at the tools on offer for photo storage on Synology NAS when moving away from Google Photos and Google Drive.
Synology Photo Station
The original Synology Photography app, used by both home and business users alike. This is quite a professional application with a tonne of configuration options for sharing, streaming, album creation and building a fantastic portfolio of your work. It lacks a few of the AI-powered features that are present in Synology Moments and Synology Photos, but it is still a remarkably popular application and recommended for those that take their photography seriously when moving from Google Photos to a Synology NAS.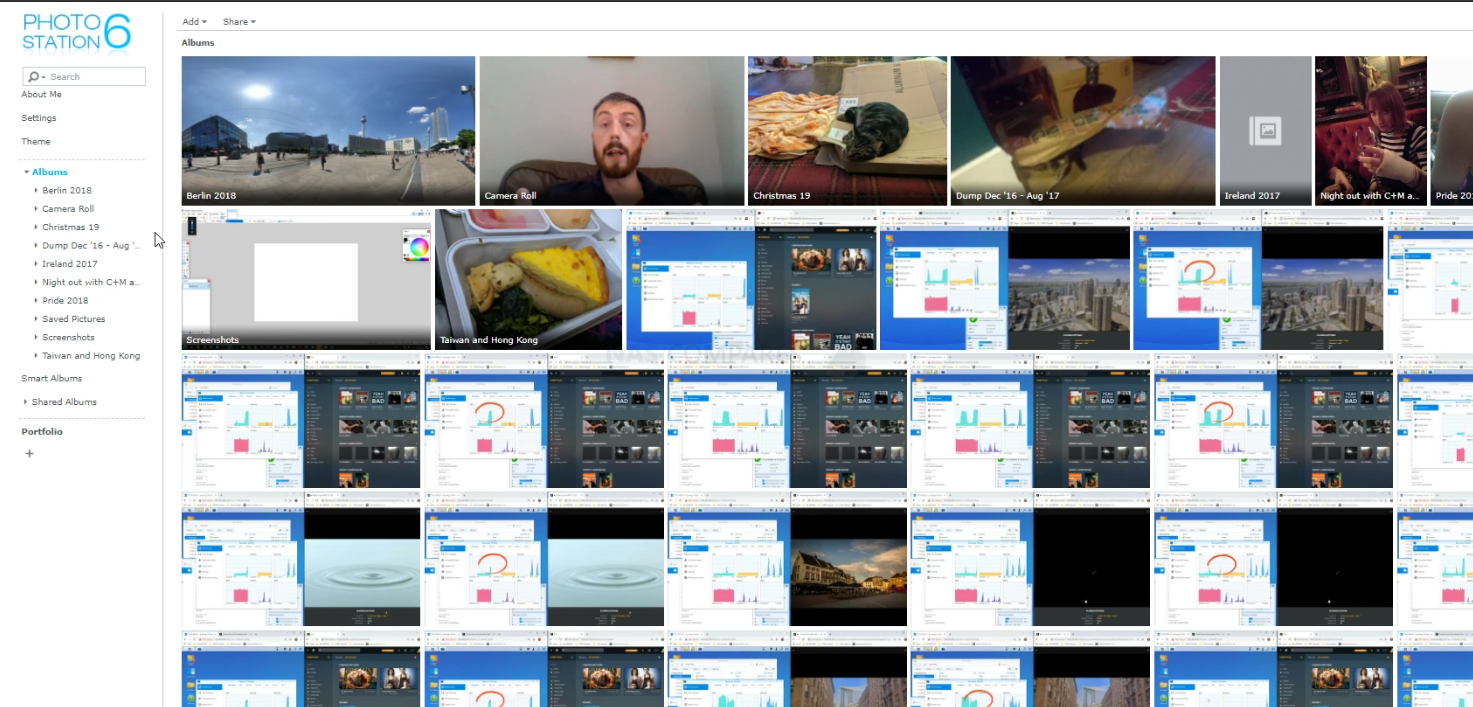 Synology Moments
Although not quite as established as Synology Photo Station, the Synology Moments application is considerably more familiar to those who use the Google Photos application on mobile device or via the web browser. It supports the usual photo album display, but then includes facial recognition, 'thing' recognition to identify the contents of photos and group them together, geo-tagging recognition and more. Finding a much more user-friendly and simplified GUI, Synology Moments is the tool for users who are more interested in using their photos for personal use (though it does still support many sharing and classification options).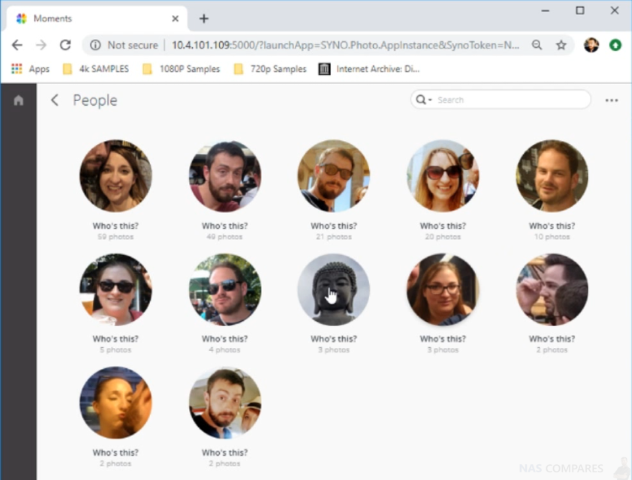 Synology Photos – Coming in DSM 7.0
Synology Photos is a re-imagining of how a NAS handles your photos in Synology DSM 7.0. Their latest firmware (in beta that time of writing, but with a full version coming soon) it combines the Photo Station and Synology Moments application into a single tool – Synology Photos. With the sharing and home/business separation where needs in Personal and Shared pace options, all the AI-powered recognition you need and it even bring s few new tools into the mix (AI Tagging combined with intelligent album creation for example), it is more like Google Photos in it's GUI, but has a few more business options in the background for sharing photo shoots and professional portfolios at your finger tips.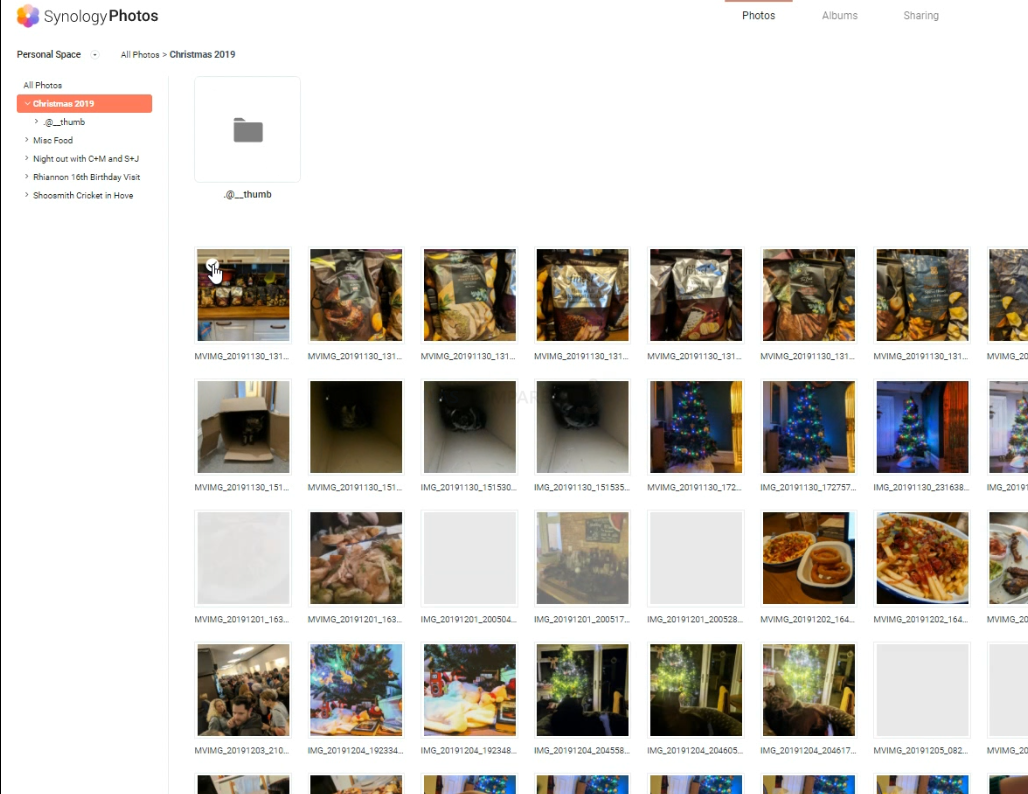 So there you go, the tools you can use on your Synology NAS to migrate your Google Photos into. Let's talk about the two most popular and straight forward ways to transfer your Google Photos and Google Drive data over to your NAS.
How to Copy Your Google Photos & Drive to Synology NAS using Google Takeout
For those that are not aware, all the data that you send to google (via app synchronization, backups, cloud shares, emails, everything!) can actually ALL be downloaded if you want. You just need to head over to Google Takeout and from there you can download your data (from each app, or all) and then you can move that data to your NAS ecosystem as needed. Below is how you would use Google Takeout to move your Google Photos and Google Drive data over to a NAS. Let start!
First thing to do, is to head over to Google Takeout. Google Takeout can be found HERE – https://takeout.google.com
Once you have logged into your Google Account, you will be presented with this screen: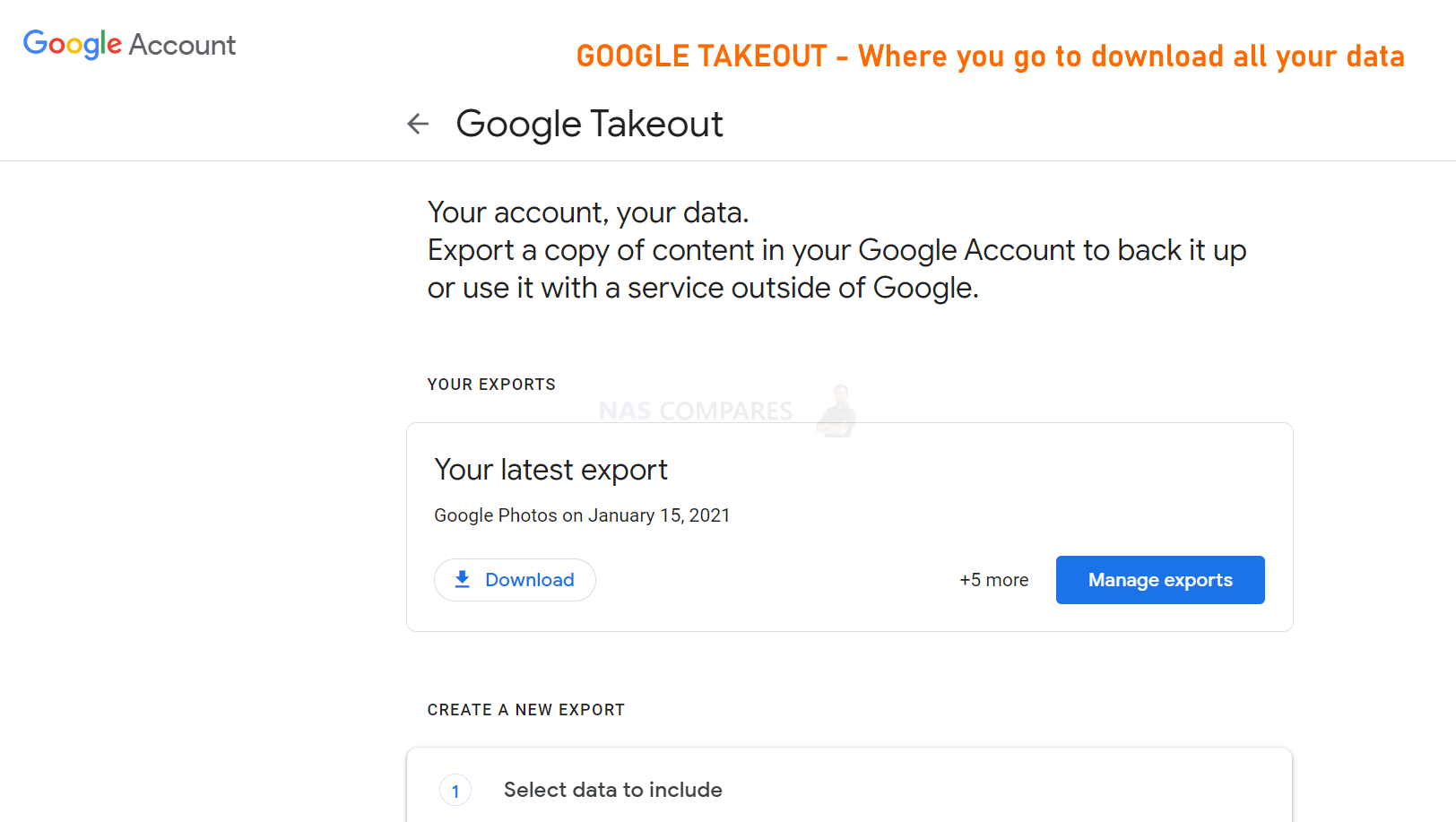 This is the full list of applications and services that Google has and you can select them which ones you want to download/migrate. So, for Google Photos, scroll down and tick the box new to 'Google Photos':

You can also/alternatively download your Google Drive data here too, just tick the box next to 'Drive'.

Once you have selected which data to download (in this case, you photo and/or Drive data), scroll to the bottom and click Next Step.

After clicking to proceed, it will then ask you to verify if this is just a 1-off download or if you want to regularly download your google data (with links sent via email). Additionally, it will ask you if you want to break the download into smaller blocks (2GB by default) as some file systems have difficulty with larger files (eg FAT32). I recommend 2GB blocks to be safe. When ready, click 'Create Export'.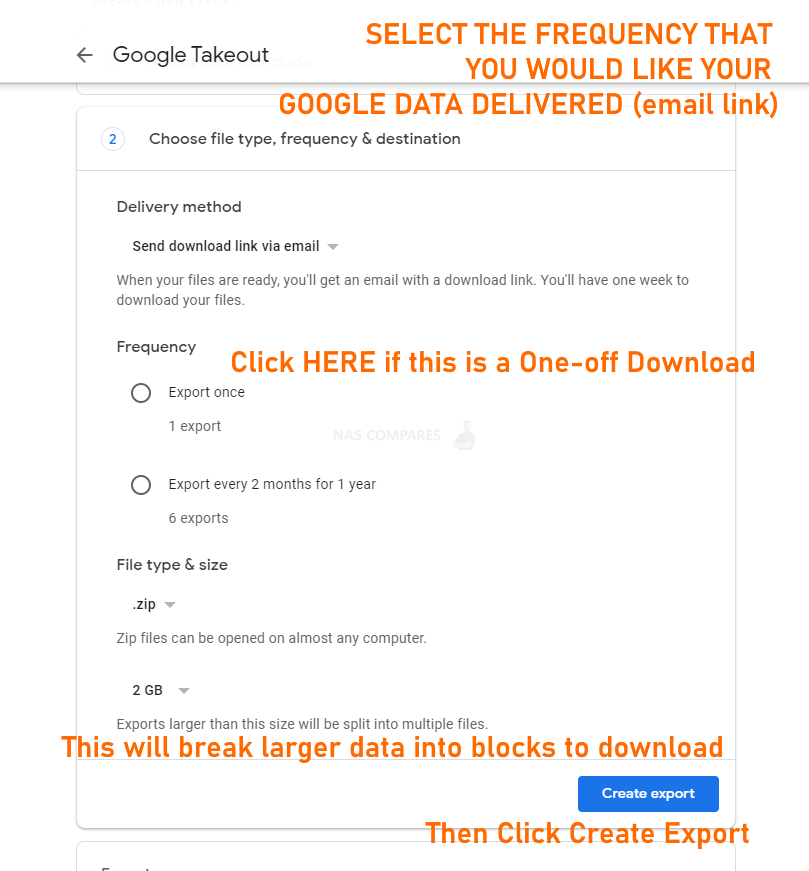 Once you click Create Export, Google will then prepare your download. Depending on the size of your photo/drive data, this can take minutes, hours or even days. You do not need to keep this window open the whole time, as Google will email you with a link to when it is done to download everything.

Once Google has finished preparing your download, you will be given the option to download the .zip of all your data. Just click the Download Arrow icon and it will begin.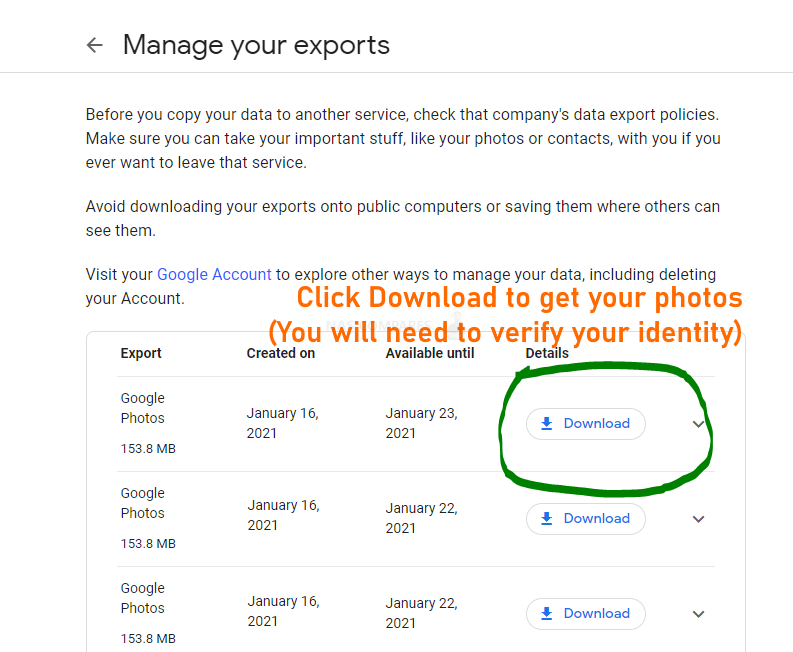 Google might ask you to verify that it is you (as this IS your personal data) before allowing you to download it all – this is perfectly normal.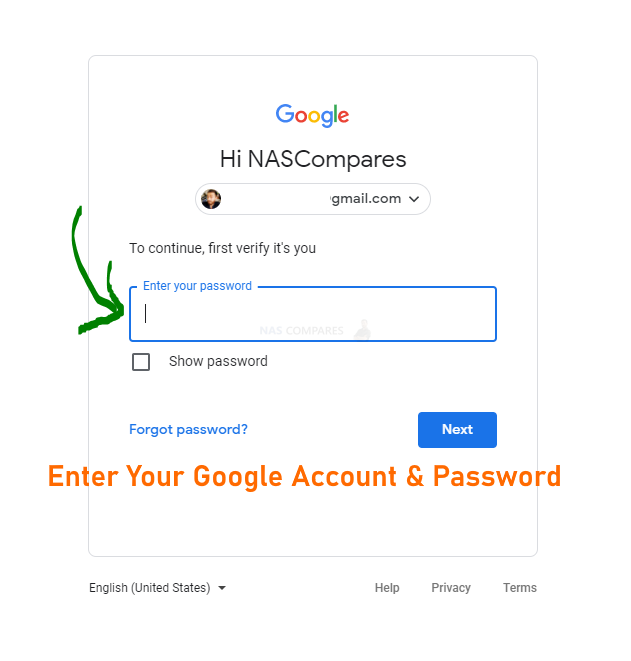 Once you have downloaded the file (eg to your Downloads folder of your PC/Mac/Android/Lunix machine), you will need to extract the .ZIP file (normally by right-clicking and selecting 'extract'.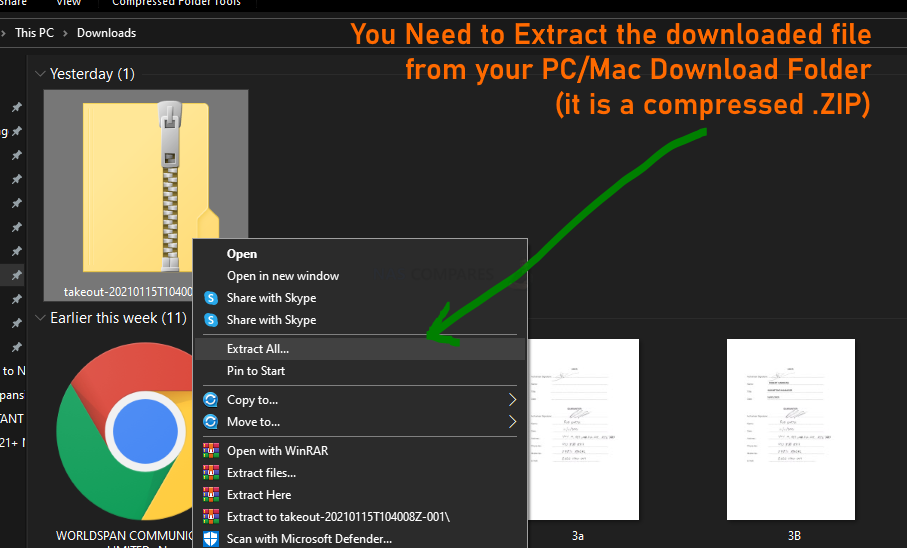 The Folder that is extracted will be called 'Takeout' and contains all of your Photo/Drive data. So, open it up!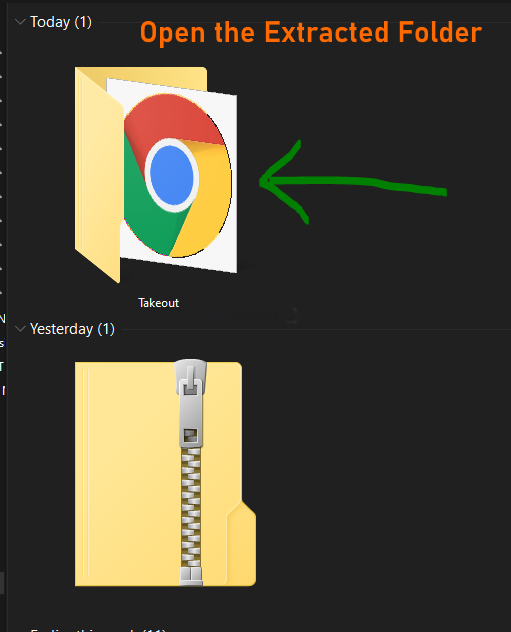 Inside this folder will be another folder called 'Google Photos'. There may well be other folders, if you selected other Google services to download earlier. We are just focusing on Photos, for now, so head into that folder.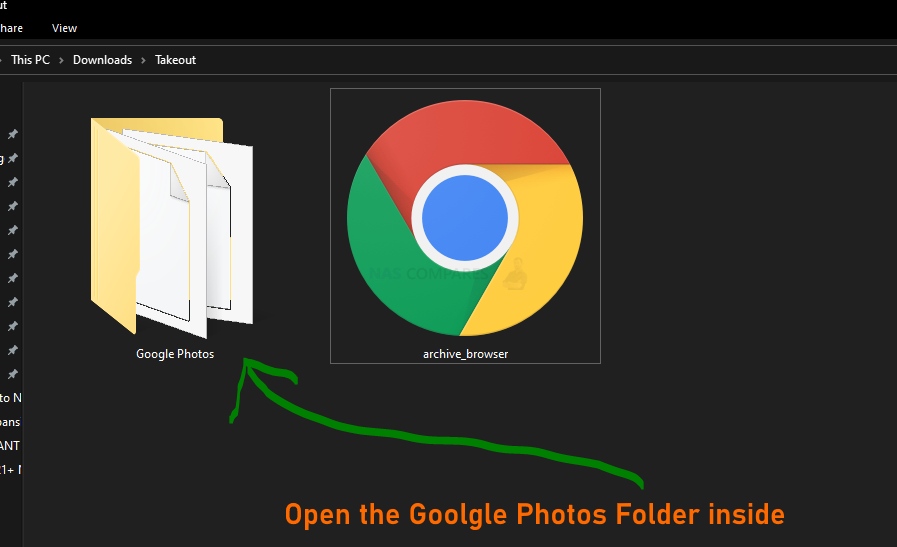 Depending on how you catalogue your Google Photos, inside you will find a folder for each year of photos and or every album you made yourself in the Google Photos application. These are the photos we want to move onto our Synology NAS.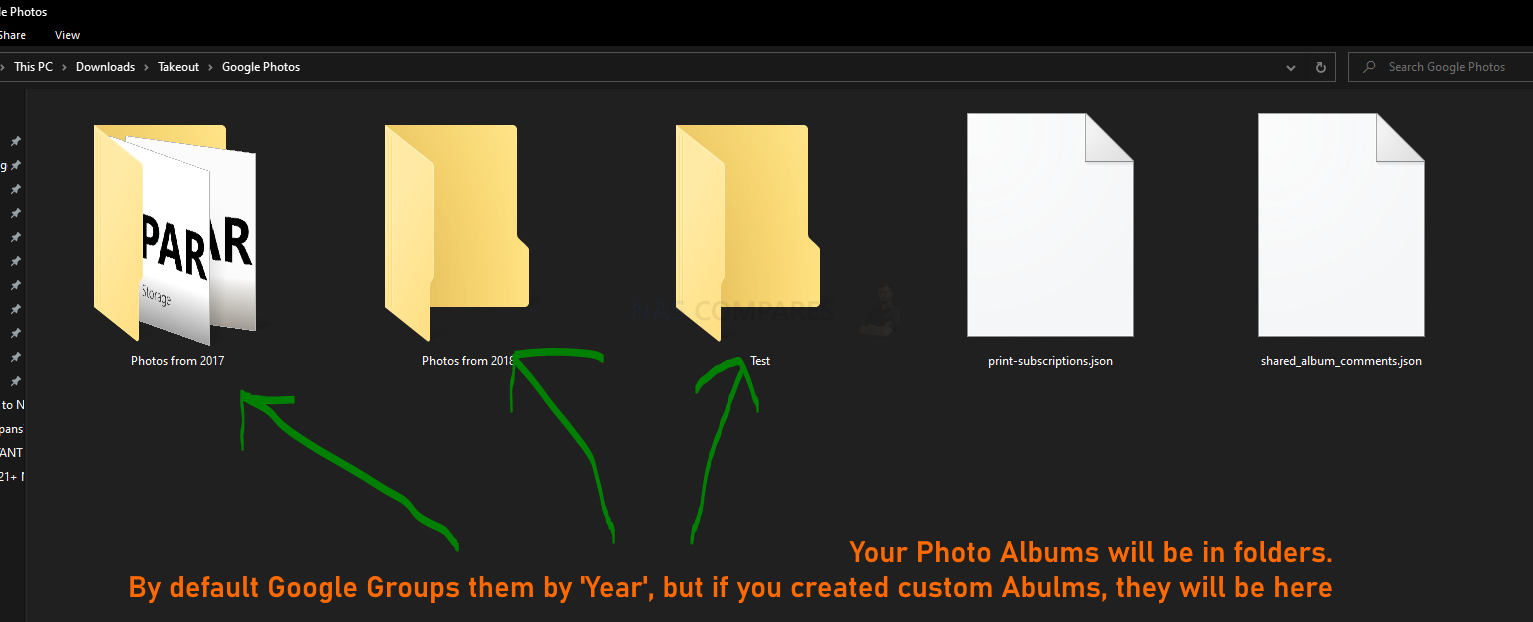 Next thing is to move them on to the NAS. This can either be done by simply dragging and dropping the Google Photos folders into the Synology File Station application (on both DSM 6.2 and DSM 7.0 shown below) or you can map the NAS as a mapped network drive and carry it over inside your own File Manager in the OS (learn how to map a network drive HERE).
This slideshow requires JavaScript.
IMPORTANT UPDATE – (thanks to Sipan in the Netherlands for this extra note of caution) Alongside your Photos, you will find a large body of files with the prefix (the format) .json . These files are the metadata (time, geolocation, camera type, etc) from each picture, as Google strips this information from the files (generally hardcoded into the .png, .jpeg, etc) as a separate file (presumably for faster searching online. If you want to carry this data over effectively, you will need to merge the .json files with the photo files. There are several methods listen online (eg using https://exiftool.org/ or some github tools like this https://github.com/mattwilson1024/google-photos-exif) and I will trying a few out and updating this guide at a later date. In the meantime, you should copy the photos AND the .json files TOGETHER as then you have them all in one place for when you merge them.
This slideshow requires JavaScript.
The amount of time it will take to upload the Google Photo and/or Drive data will depend on o nthe size fo the data AND your network connection. But there is an upload status time and status bar at the top right of Synology DSM.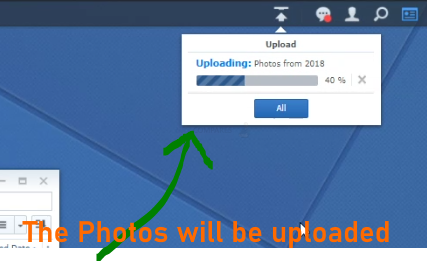 And there you go – you have now used Google Takeout to move your Google Photos and/or Google Drive data to a Synology NAS. In order for the individual Synology Photography applications to see and index your Google Photo collection, you will need to make sure that you put the albums into the correct folders (by default at least). Synology Photo Station needs you to place images int the 'photo' album that is created when Photo Station was installed. It will periodically check and index the images that you put inside this folder, as well as scrap metadata and camera data from the images to build a more useful photography database.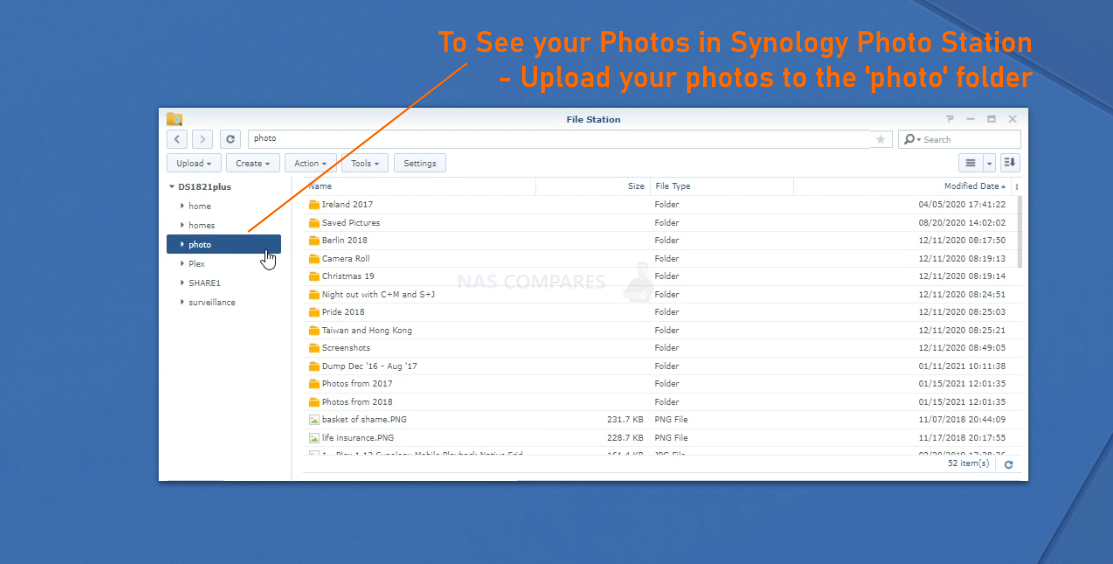 Once the photos albums are in the 'photo' directory, then a short while afterwards, the Synology will begin to index and build the database. It will not take long before the albums show in the Photo Station applications (as you see below):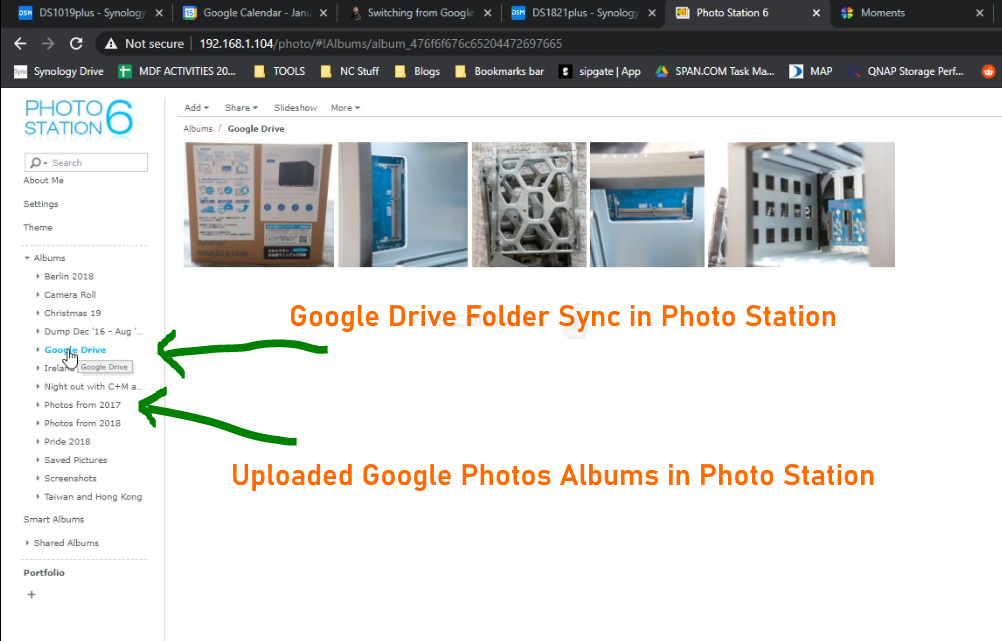 For Synology Moments, you need to place the Photo Albums from Google into the Home/Drive (depending on your setup) folder: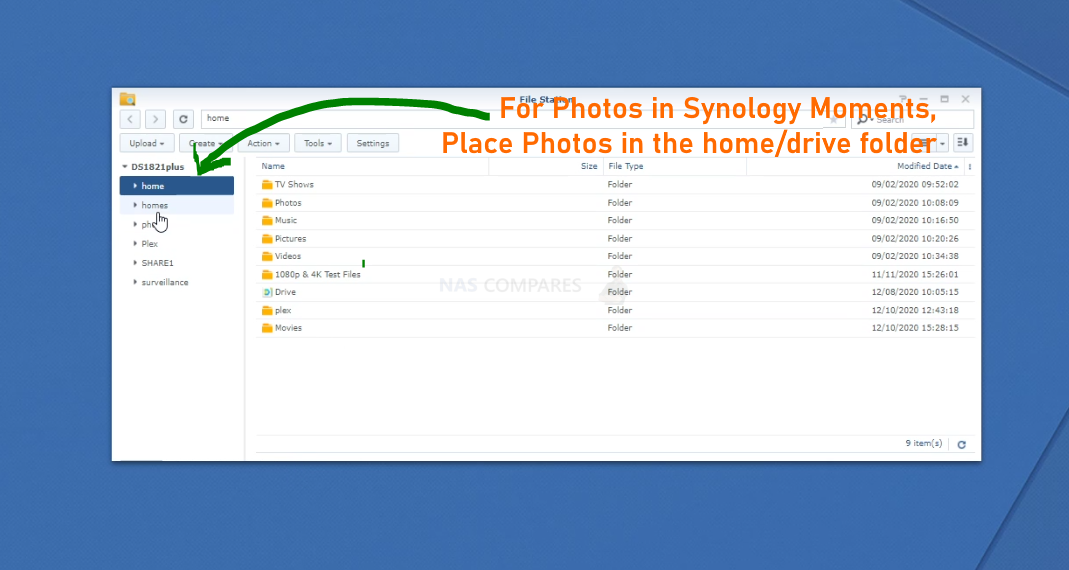 Finally, for Synology Photos, you will also need to place your Google Photo albums into the Home>Photos Folder.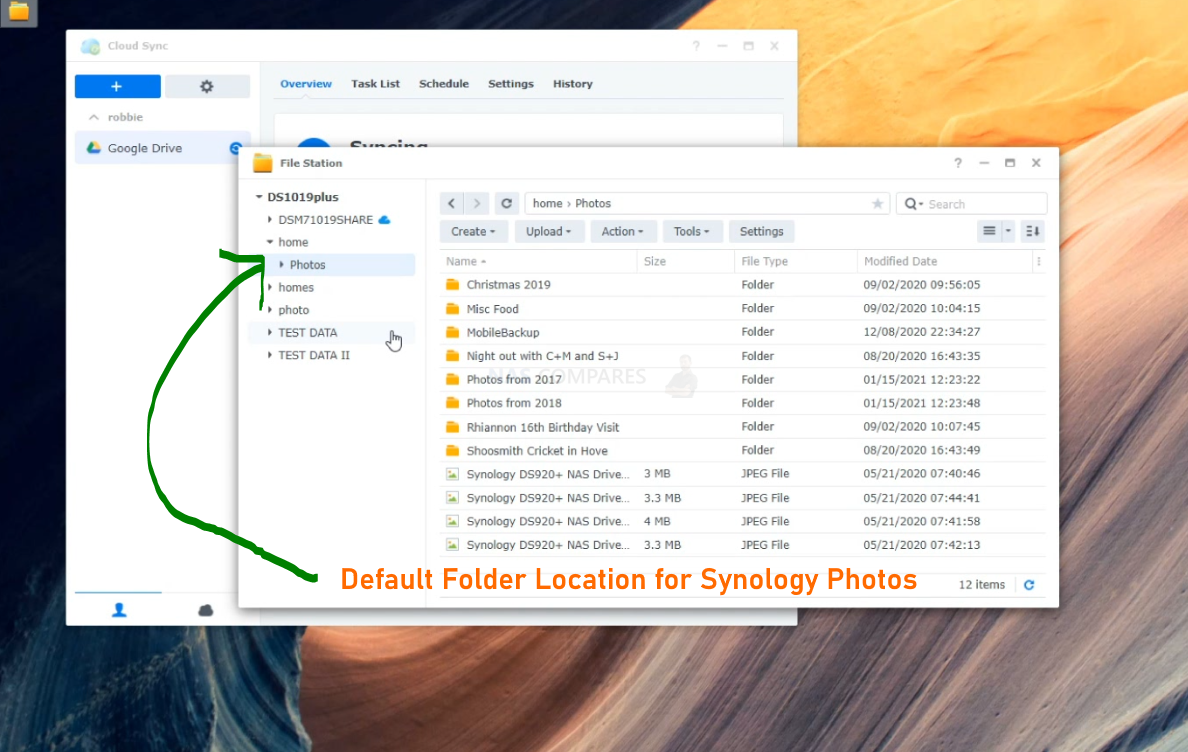 And there you go – you have now successfully moved your Google Photos and Google Drive files onto your Synology NAS. Next, lets discuss how to use the SYnology automated tools to export and/or sync our Google Drive data with our NAS automatically and on a regular basis.
How to Copy Your Google Drive to Synology NAS using Cloud Sync
Synology has a multi-tier and incredibly useful Cloud Synchronization tool, called Cloud Sync. This tool allows you to establish a connection between your Google Drive and the Synolgoy NAS, then arrange data to be copied in either direction and on a regular basis. You can even have it so that after the initial backup of Google Drive to NAS (or visa versa) you can then only allow changed/added files to be backed up in future (otherwise known as a differential backup). Let's go through how to do this. First thing to do is head into the App center on your Synology NAS and select+download the Cloud Sync tool.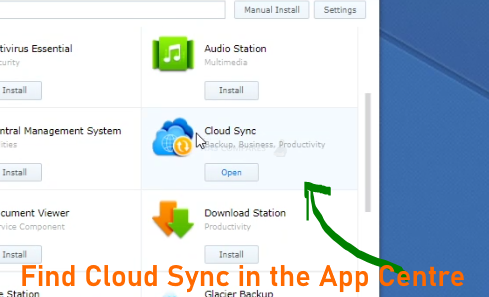 Cloud Sync is available in both Synology DSM 6.2 and DSM 7.0 and can be installed quickly and deployed in minutes. Below is how they look in both versions of the software:
This slideshow requires JavaScript.
Once the application is installed and started, it will present you with a list of supported cloud providers that the Synology NAS will be about the synchronize with. Scroll down and find Google Drive and then click Next.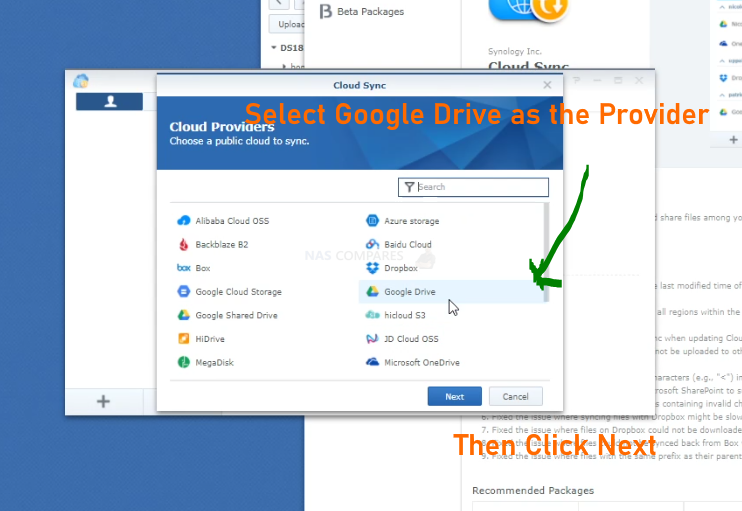 When you click Next, a pop-up window will appear that asks you to log in with your Google Account.
After you log in, Google will ask you to verify that you are happy to allow the Synology NAS and Synology Cloud Sync to access your Google Drive – you will need to allow this to let the Cloud and NAS communicate.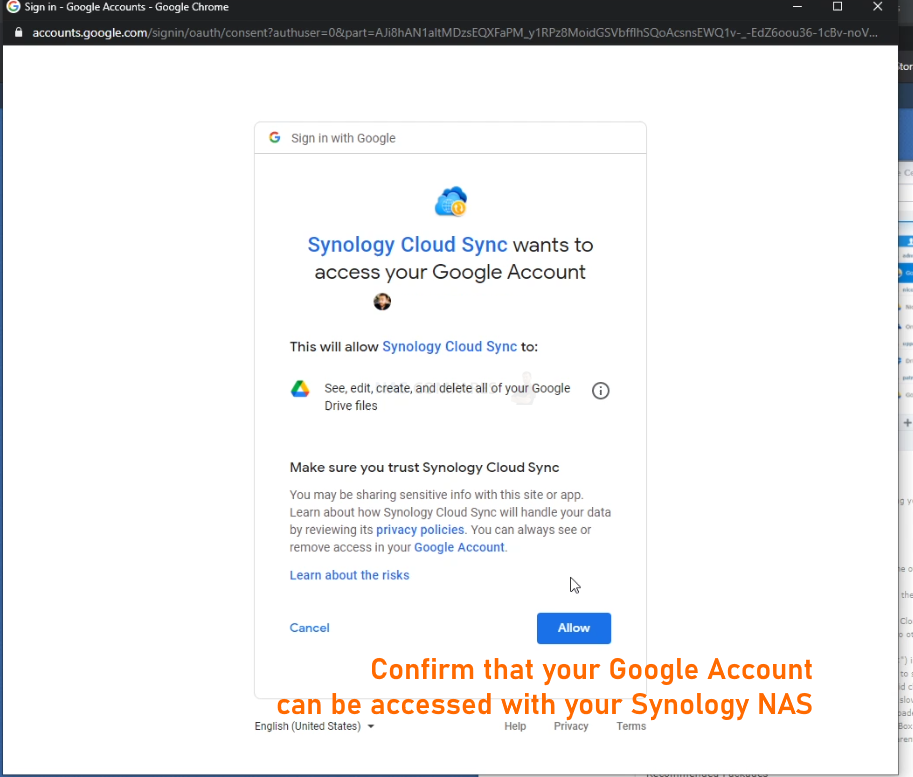 Once you have given your NAS permission to access your Google Drive, you will be presented with a screen that asks you to setup your synchronization task. Both DSM 6.2 and DSM 7.0 show this window, but they look a fraction different (see below). The Local Path is the folder on your NAS where you want the data to be on your NAS. The Remote Path is the folder structure of your Google Drive and you will need to select which folder(s) you want to sync. Data Encryption is available if you want the transmission of data between each platform to be safer and finally there is the Sync Direction option:
This slideshow requires JavaScript.
The Sync direction drop-down is to help you decide if you want the folders on the NAS and Google Drive to be fully synced at all times (identical in contents and data), or a one-way sync (in either direction) that means that the changes on one side (ie uploading a files to google drive) will send a copy over to the other (i.e the NAS), but not the other way around. I recommend the 'Download Remote Changes Only' if you are looking to copy your Google Drive data over to the NAS long terms, or BiDrectional if you intend to still use your Google Drive as another tier of backup.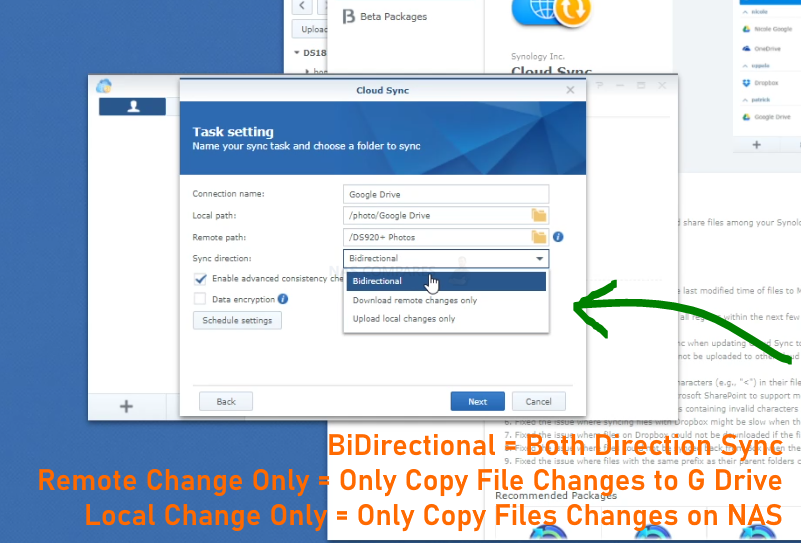 There is also an option to allow further backup and sync actions to happen on a schedule – ie if you do not want a large and regular Google Drive backup to consume all your network or slow other tasks down, you can set the sync task to happen at 1 AM when everyone is gone/asleep.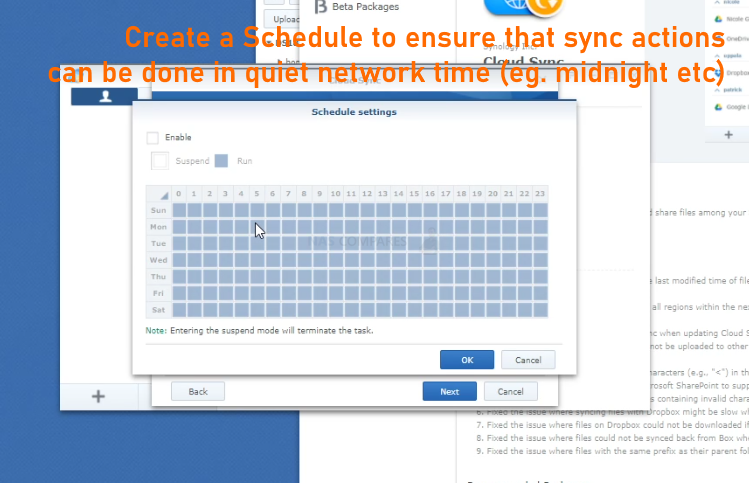 Once you click Next, you will get a summary of the Sync Task you have created. Check it's all correct and then click Apply.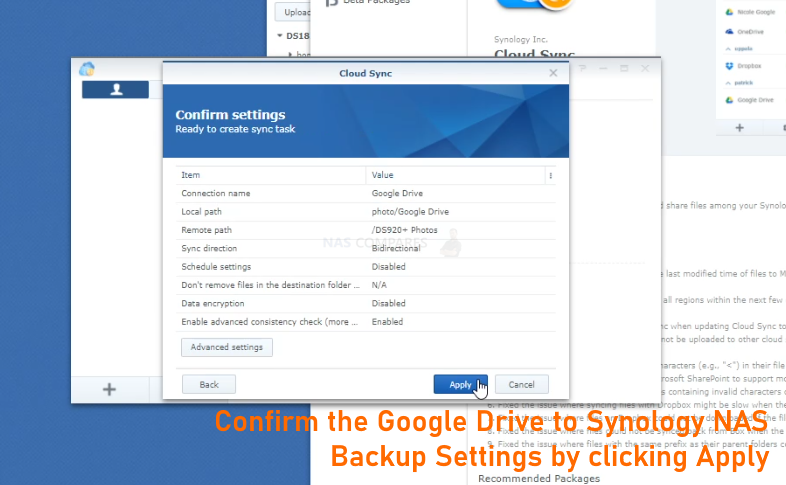 The Syncronization and task list menu looks very similar in both DSM 6.2 and DSM 7.0 (as you can see below) and allows you to action a task manually at any time or on a schedule as needed.
This slideshow requires JavaScript.
Whatever Local Path you selected for your Google Drive connection in Cloud Sync will appear on the File Station application. You can even arrange for the Google Drive Sync to send the contents directly to the Photos, Music, Video folders where appropriate on the Synology NAS and then the system will automatically index them as they arrive.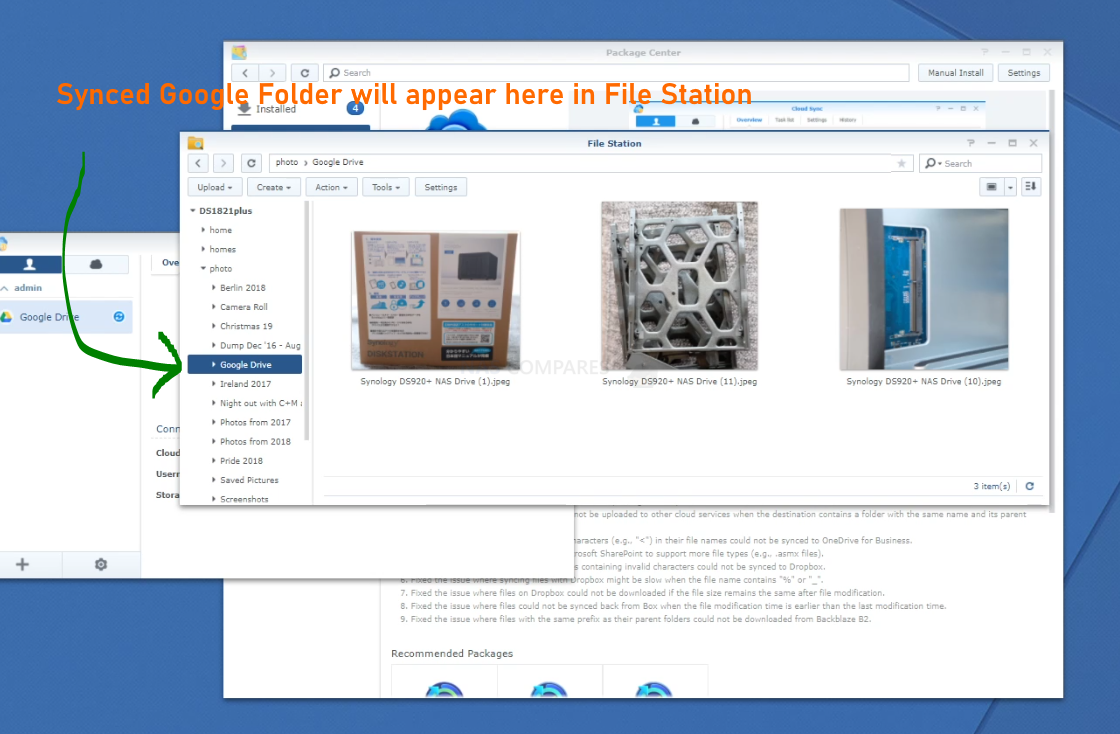 So, just as before, the Synology Moments default folder is Home and/or Drive (depending on how you setup).
And if you Selected the Photos folder as your default path, the contents of the Google Drive folder you synced will appear in Photo Station like this: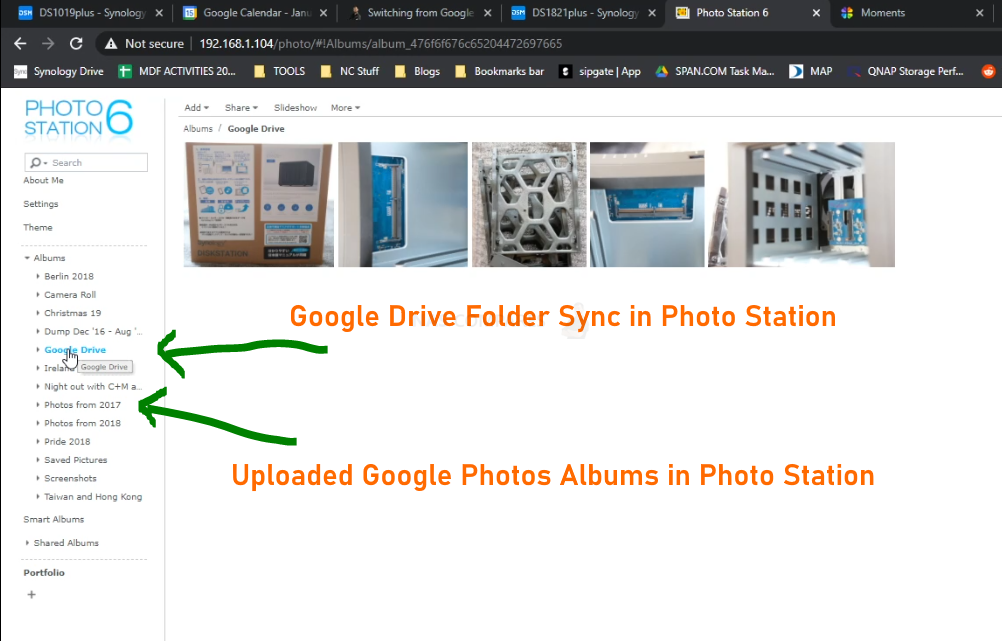 And there you go. Two easy and quick ways to transfer your data from Google Photos and Google Drive to your Synology NAS. Google Takeout is the longer but more precise of the two – but the Cloud Sync option is much easier and automated. So, next question. Why Should you choose a Synology NAS?
Why Choose Synology NAS after Google Photos?

Easily one of the most popular brands in the world for home and small business uses, Synology provides numerous NAS solutions. With their smallest one-bay solution arriving at around £100 without a hard drive, they are a brand that market very heavily on the ease and utility of their software more than anything else. With a gorgeous software GUI that can be accessed via your web browser, several mobile applications for photo and general backup and file management, and several desktop utilities that allow you to share your photos easily, Synology is a very attractive brand for those making the move away from the Google cloud services and Google Photos. Popular Synology NAS drives for photography backups are:
| | | | |
| --- | --- | --- | --- |
| Cheap/Small NAS | | Photographer NAS | Photo Business NAS |
| Synology DS120J – $99 | Synology DS220+ – $299 | Synology DS920+ – £599 | Synology DS1621+ – $799 |
| | | | |
Synology NAS Advantages
Easily the most user-friendly NAS brand

Excellent software focus

Good range of intuitive applications included with the device
Synology NAS Disadvantages
Slightly more expensive than most other brands

Configuration options are a little more hidden in an effort to maintain simplicity
Thanks for reading and I hope you found this article helpful. If you still need more help on the right NAS solution for you whether it is to move from Google Photos/Cloud, or just a server for your home or business, use the completely free advice section below. It's run by just me and a little help and is done with unbiased advice and without profit in mind. I might not be the quickest to reply, but I respond to every one! Please donate to the site if you found this guide helpful and want to help me to help others. Have a great 2021!
📧 LET ME KNOW ABOUT NEW POSTS 🔔
Join 1,570 other subscribers
Get an alert every time something gets added to this specific article!
This description contains links to Amazon. These links will take you to some of the products mentioned in today's content. As an Amazon Associate, I earn from qualifying purchases. Visit the NASCompares Deal Finder to find the best place to buy this device in your region, based on Service, Support and Reputation - Just Search for your NAS Drive in the Box Below
Need Advice on Data Storage from an Expert?
We want to keep the free advice on NASCompares FREE for as long as we can. Since this service started back in Jan '18, We have helped hundreds of users every month solve their storage woes, but we can only continue to do this with your support. So please do choose to buy at Amazon US and Amazon UK on the articles when buying to provide advert revenue support or to donate/support the site below.

Finally, for free advice about your setup, j
ust leave a message in the comments below here at NASCompares.com and we will get back to you.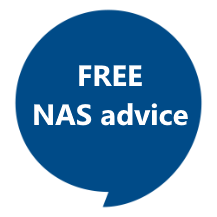 Need Help?
Where possible (and where appropriate) please provide as much information about your requirements, as then I can arrange the best answer and solution to your needs. Do not worry about your e-mail address being required, it will NOT be used in a mailing list and will NOT be used in any way other than to respond to your enquiry.
Support What We Do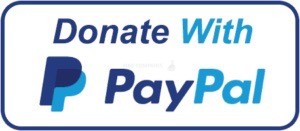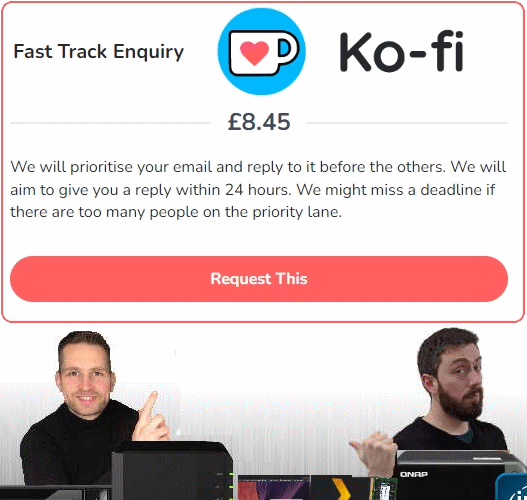 Terms and Conditions
Alternatively, why not ask me on the
ASK NASCompares forum
, by clicking the button below. This is a community hub that serves as a place that I can answer your question, chew the fat, share new release information and even get corrections posted. I will always get around to answering ALL queries, but as a one-man operation, I cannot promise speed! So by sharing your query in the
ASK NASCompares
section below, you can get a better range of solutions and suggestions, alongside my own.
This description contains links to Amazon. These links will take you to some of the products mentioned in today's video. As an Amazon Associate, I earn from qualifying purchases
Summary
Reviewer
Review Date
Reviewed Item
How To Switch from Google Photos and Drive to Synology NAS - A Step By Step Guide
Author Rating