Synology RS3621xs+ Rackmount NAS Review – Is it Innovation or Limitation?
If one thing has become abundantly clear in the world of network-attached storage even early in 2021, it is the Synology have really started focusing heavily on the enterprise sector. As a brand, Synology has tended to juggle three very important areas of storage, namely home, small/medium business and enterprise solutions. However, the recent releases from Synology have largely delved into that latter department more and more, with Synology launching three new enterprise rackstation solutions in January 2021, alongside unveiling their new hard drive range for use in these top-tier systems. The new Synology RS3621xs+ rack mount 12 bay solution follows a popular predecessor in the RS3617xs+ solution released in 2017. Arriving with a more balanced hardware vs storage architecture than the OTT solutions released in the last 2 years (see the SA3400, UC3200 and FS6400 for example), people have been waiting on an upgrade on this series for a while. Although the newest generation brings with it a few improvements on an already popular recipe, new storage limitations and some changes in the Synology ecosystem may not be for everyone. So let's take a closer look at this new rackmount solution and see if the RS3621xs+ is another solid step forward from the brand in its efforts to conquer the enterprise market.
Synology RS3621xs+ NAS Review – Quick Conclusion
The Synology RS3621xs+ Rackstation is another solid and reliable piece of kit from one of the biggest brands in NAS and although I did not expect it to disappoint, it is still arguably the teeniest bit safe as an upgrade over its predecessor. An improved CPU, improvements on quality and quantity of memory and the ways in which the system can be upgraded are always welcome. But if you already own the Synology RS3617xs+ that came before it, there are not going to be enormous improvements here that warrant an expensive upgrade. Additionally, the policy of the newest generation with its rather strict policy on compatible hard drive media might not be for everyone and being more desirable to those more committed to the Synology ecosystem. An excellent piece of hardware that nevertheless manages to play it safe and be controversial at the same time.
Synology RS3621xs+ Rackmount NAS Review – Retail Packaging
The RS3621xs+ NAS arrives in a staggeringly large shipping container. Generally, I don't review Enterprise-class hardware on the blog (favouring YouTube normally), as I feel this kind of hardware is tricky to review without undermining the larger-scale visual scale of things. However, I was genuinely excited to get my hands on this device, as it's predecessor, the RS3617xs+ (and the RS4017xs+) were remarkably popular devices for those users who jumped from SMB to Enterprise. The shipping box is fantastically well protected and contains multiple layers of cardboard and protection.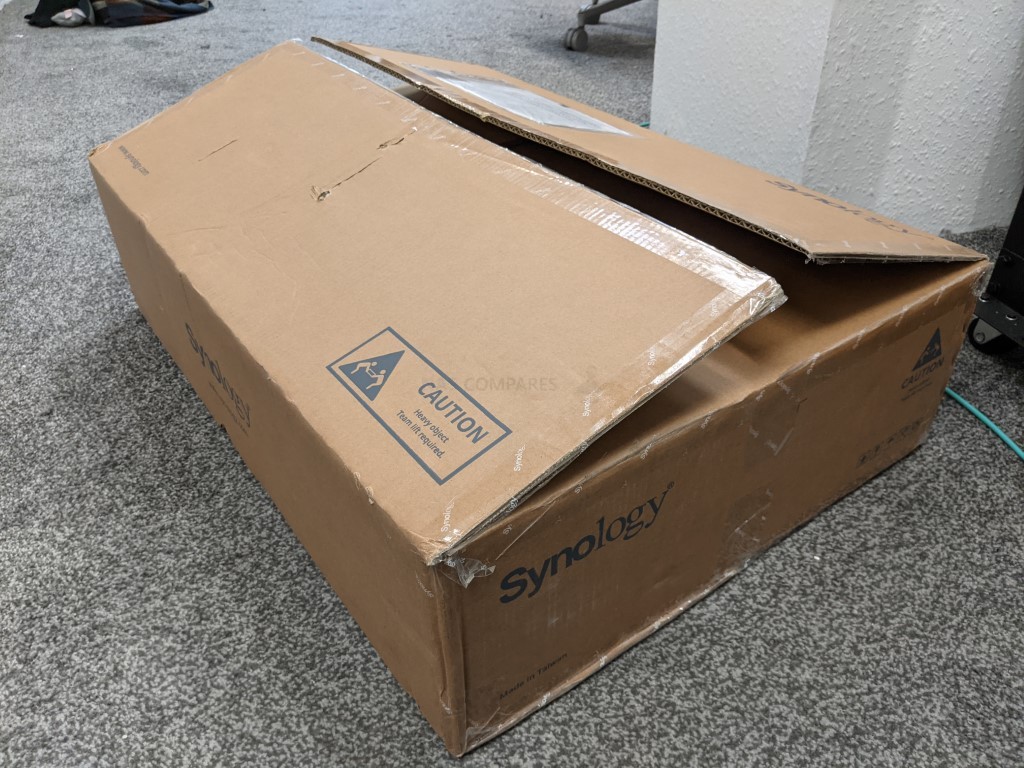 Inside we find the RS3621xs+ NAS of course, but also around 50% of the box is occupied with protective foam (protection from shock/movement damage in transit of course). The system arrives unpopulated, but given the recent release of Synology HAT5300 hard drives and strict compatibility on this system for those drives, I do wonder how long it will be before Synology consider fully/partially populated systems. Nevertheless, if they do, this is more than enough protection in transit for that!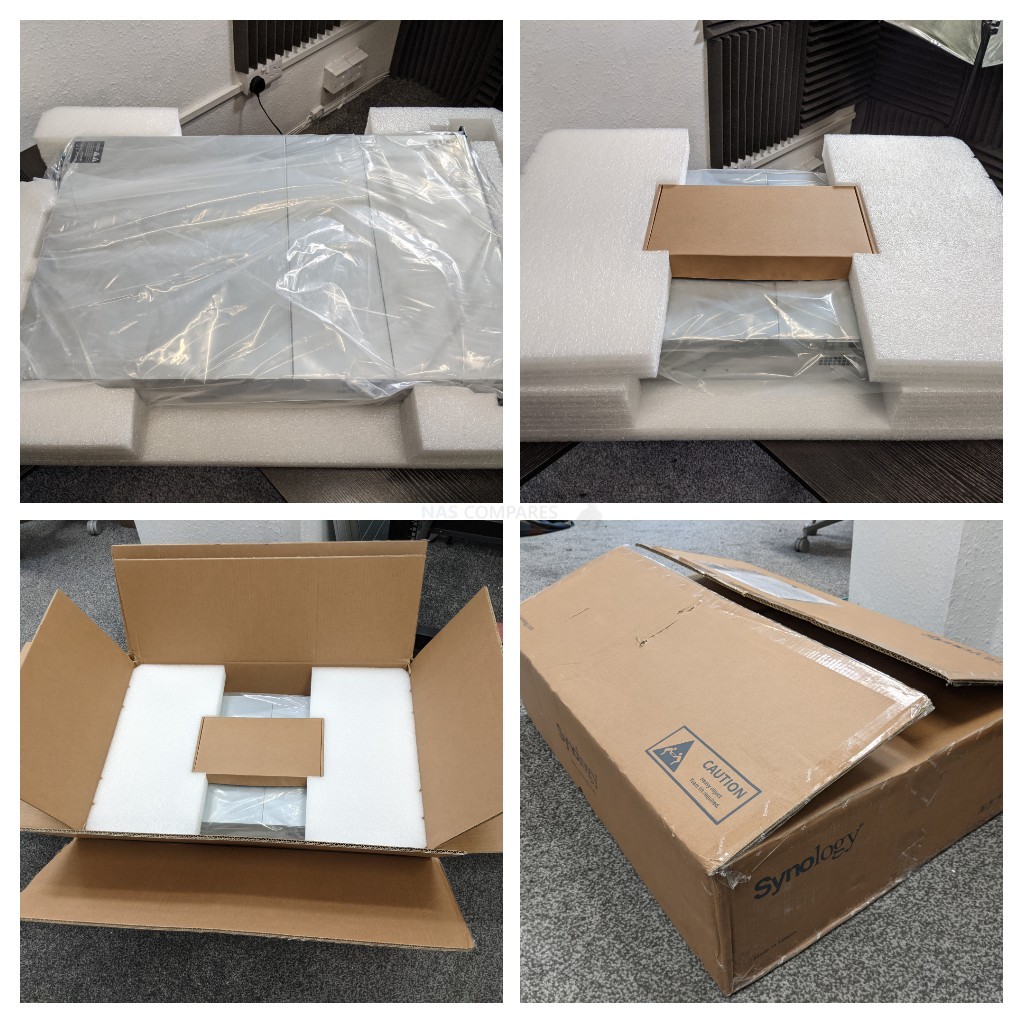 Strip away all the cardboard and we find the unit, encased in foam and a box of accessories.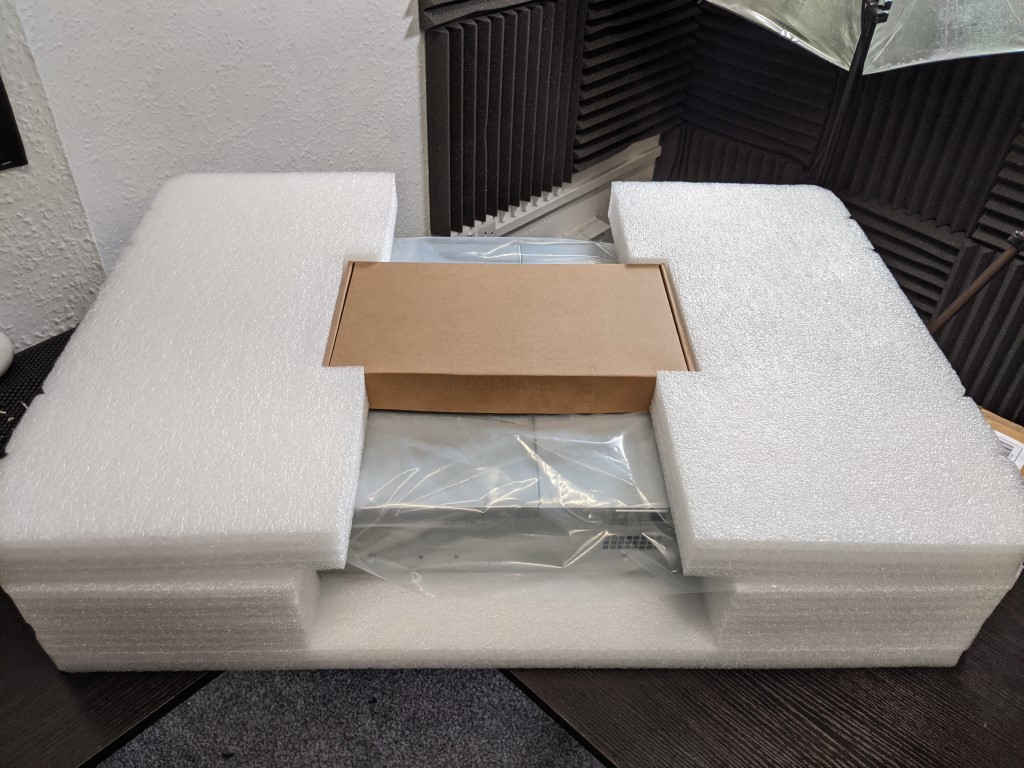 Inside the box of accessories, we find a marginally thinner collection of bits than usual.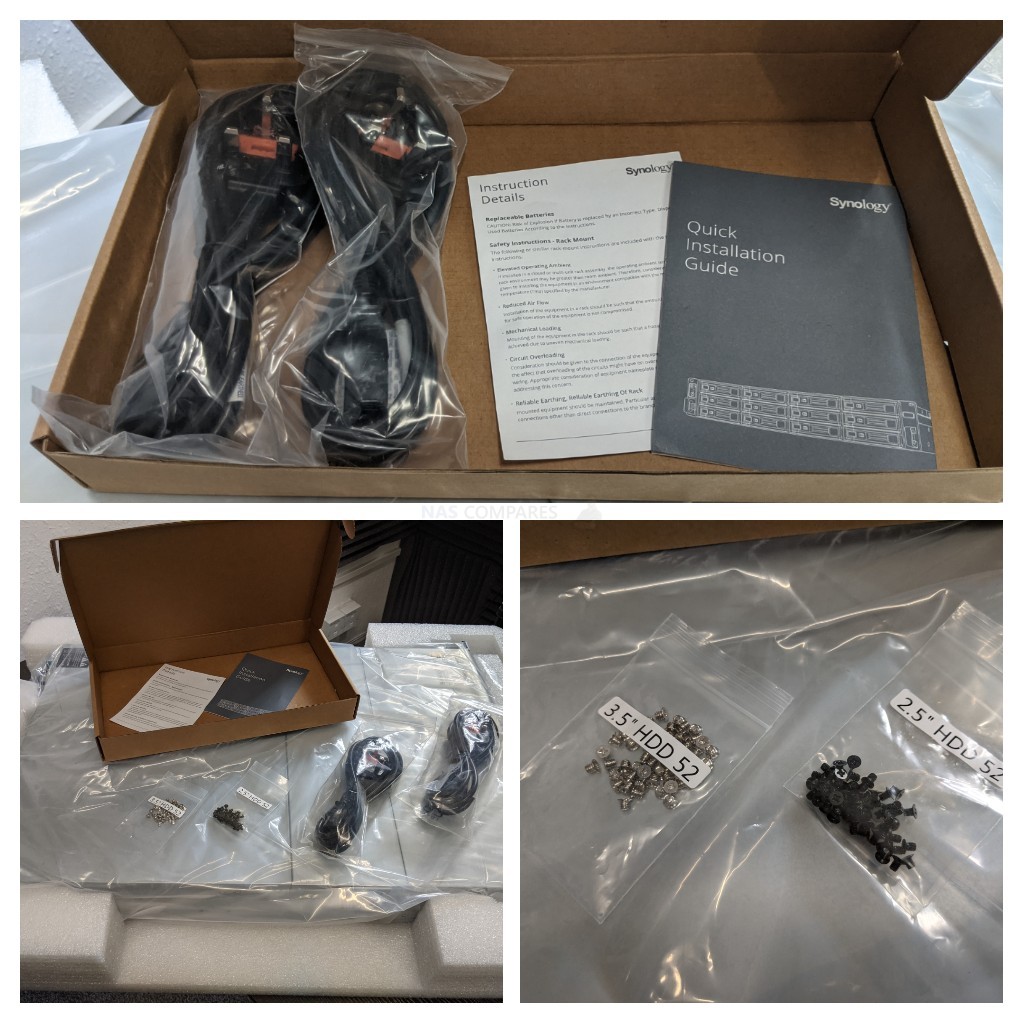 In full, you find a Setup Guide, First Time tips sheet, screws for 2.5″ and 3.5″ media and two mains power connectors (as this is a redundant PSU device). There are not HDD tray keys, as this system uses manual click locks on each bay and there are not ethernet cables. Now, this is a minor grip that some have raised online, but Synology has starting reframing from including ethernet cables in their rackmount solutions lately. Now, there is a very positive argument to be made for this that they are preventing waste in the unnecessary use of ethernet cables that might be superfluous and/or are too short for a particular setup. However the flip side is that some business users will just be irritated not to have these on hand (especially given that the bulk of switches, NICs and routers do not include cables either. It's a very, VERY minor point, but certainly raised by some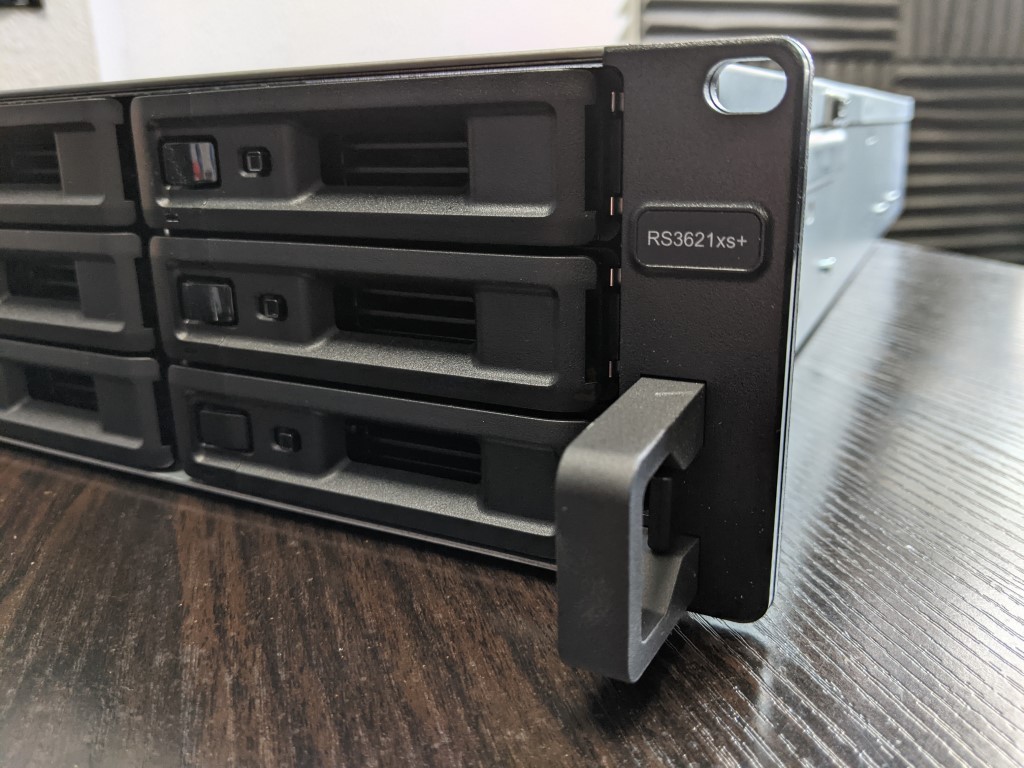 Ultimately though, it's all fairly safe, solid and standard. Let's take a look at the design of the system
Synology RS3621xs+ Rackmount NAS Review – Design
The front panel of this full depth rackmount NAS server is rather understated. Synology has never entertained LCD panels or any hands-on control panels on their rackstation series and the RS3621xs+ is no exception. The system has 12 main SATA storage bays, power and mute controls, as well as LEDs to denote access and activity. It's a sleek and clear design that also features quite a lot of passive ventilation on each tray.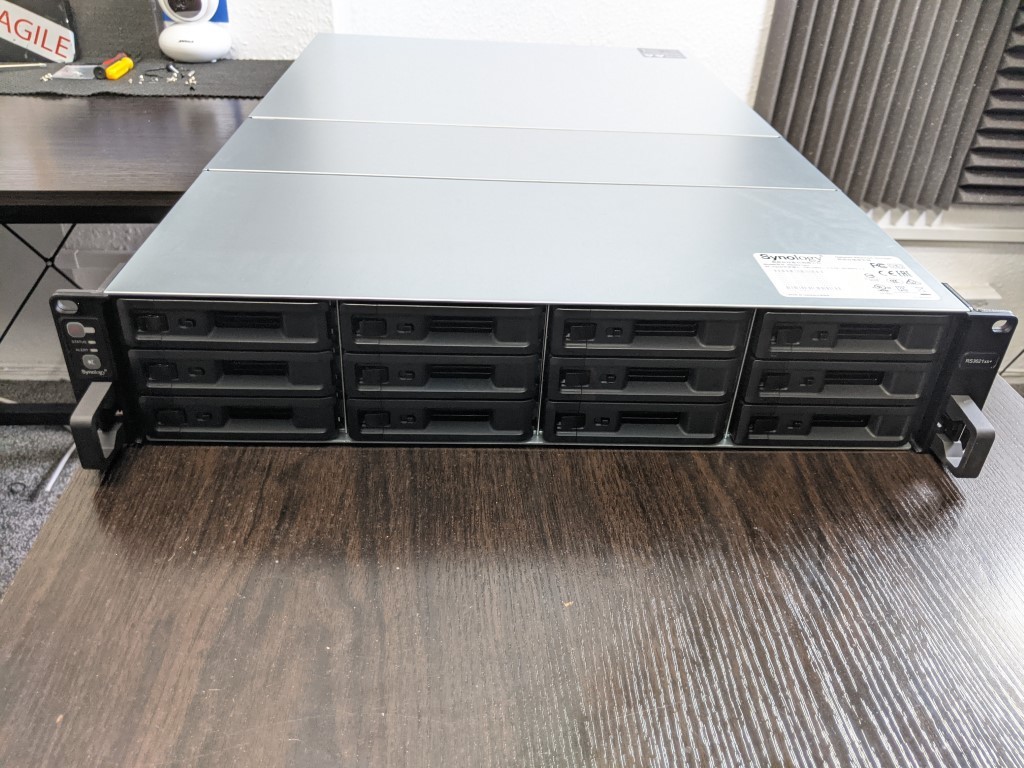 On the left-hand side of the system, you will see both a power button and a mute button. The former is pretty obvious, but it is only really in rackmount systems that we find the option to mute alert noises. This is generally because rackmount systems are usually set up in tower cabinets, as well as in relatively inaccessible locations. When an alert happens, the reason will be readily apparent from the DSM GUI. However, with one of many different reasons (drive error, temperature, access issue, etc), many users will want to mute the device at the hardware level, before logging in to address the matter via the software. It's a longstanding feature of rackmount that always leaves me a little surprised when I still see it today.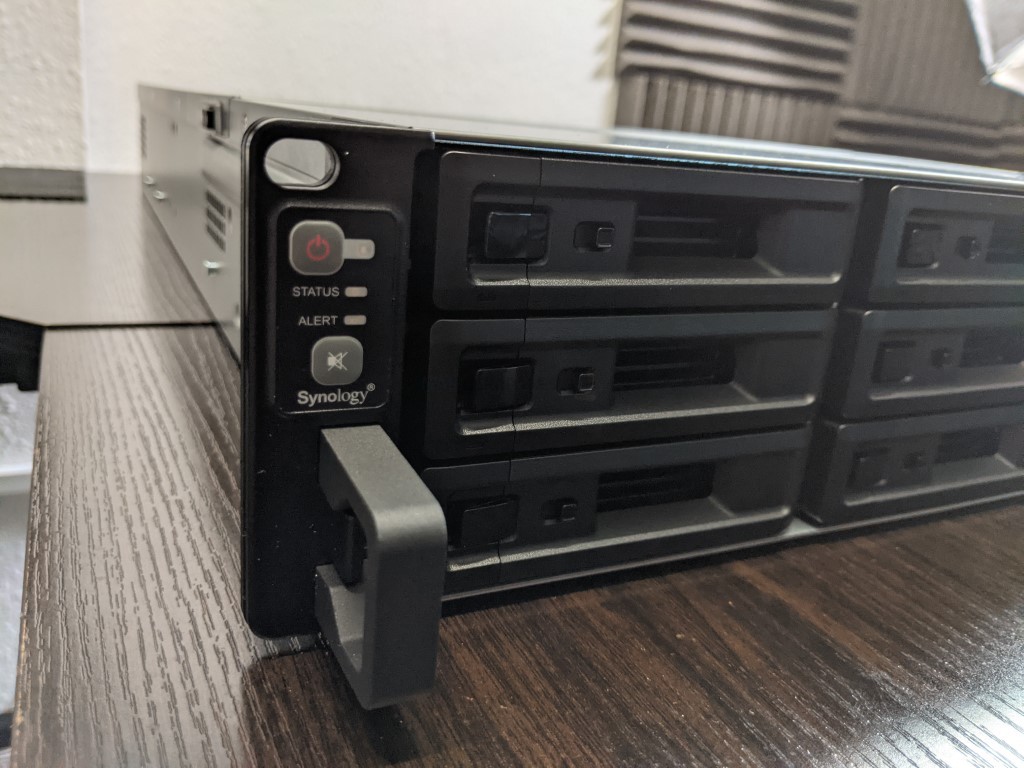 The Synology RS3621xs+ does not arrive with rails included (two versions available from Synology), but does feature the side handled on either side of the chassis. This is generally to aid alignment in a rack cabinet, as well as grip in the case of sliding rails.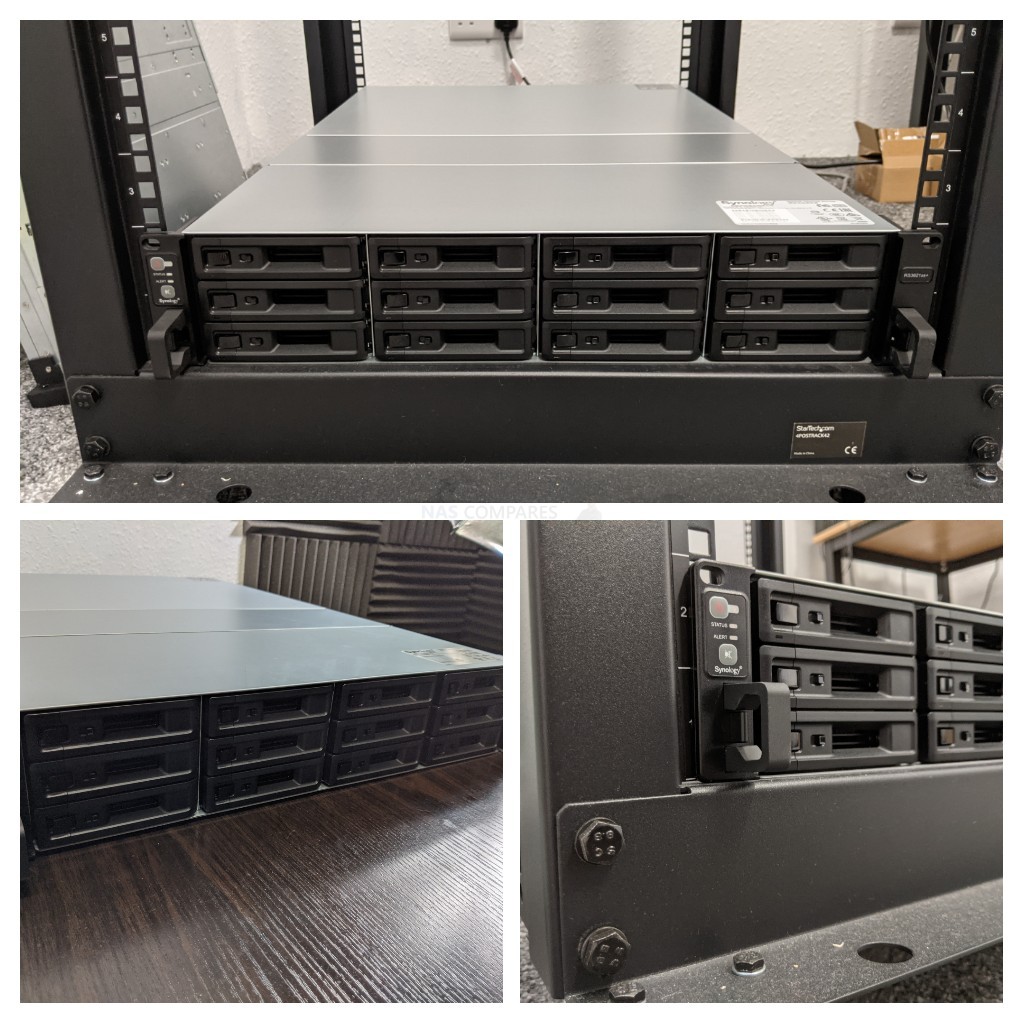 As mentioned, each of the SATA drive bays features its own clicking lock mechanism (no key-lock). It's a shame we aren't seeing any SAS HDD support hear, but then again you do have the SA series of solutions from Synology for that.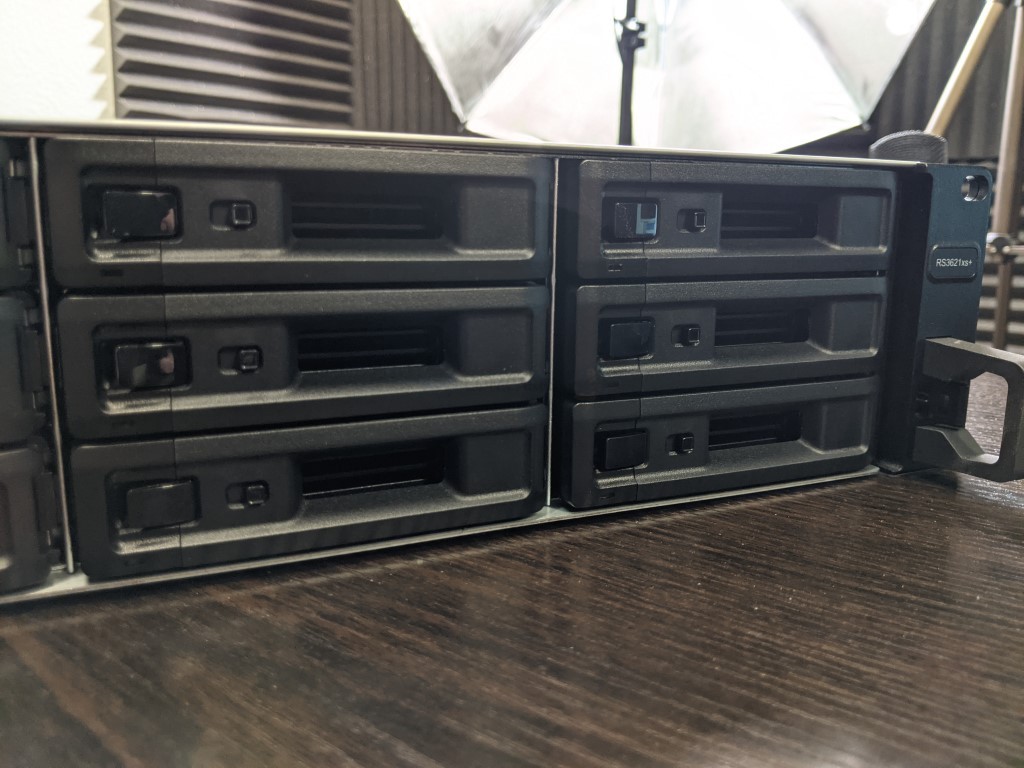 Each tray features screw holes for 2.5″ and 3.5″ media, though the subject of compatible and supported Hard Drive media is something that the Synology RS3621xs+ is addressed rather differently from other previous Synolgoy Rackstation releases.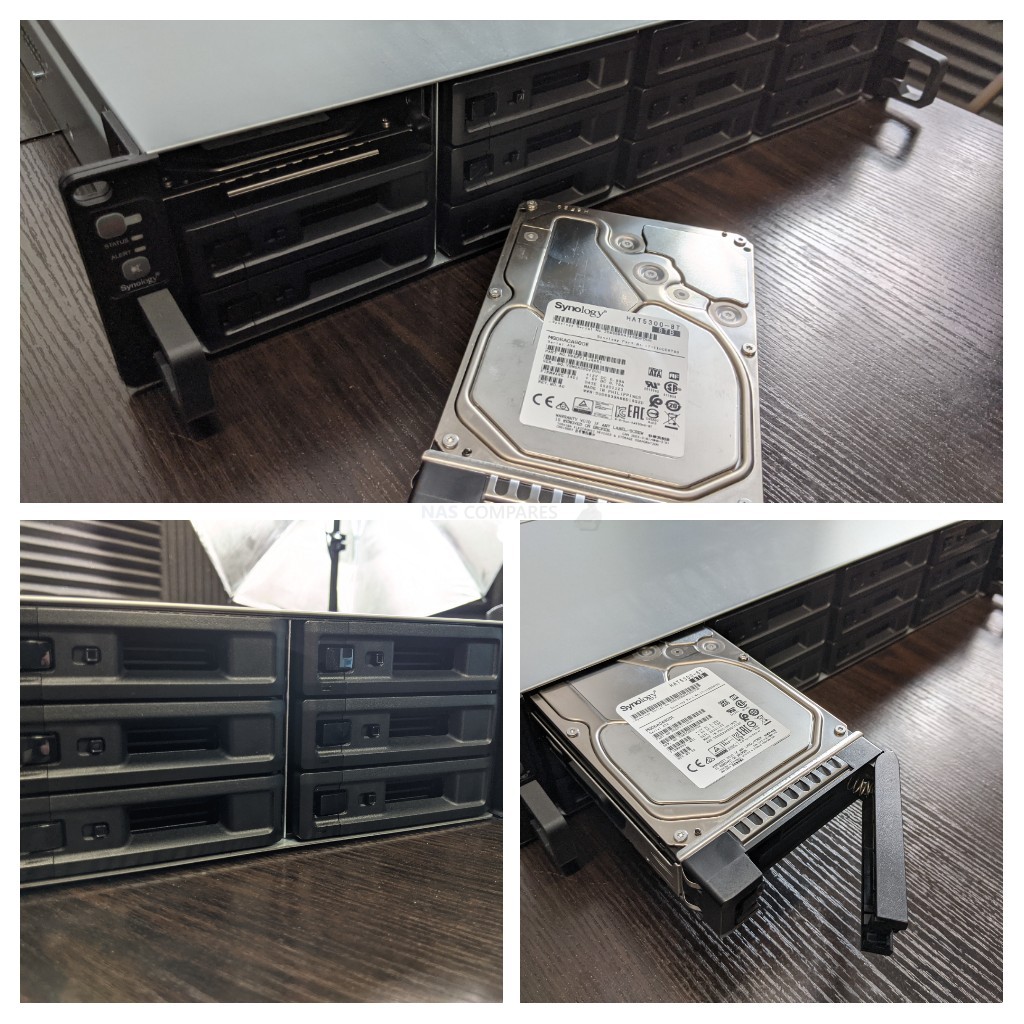 The RS3621xs+ only supports the use of Synology's own range of Hard Drive and SSD media, in the HAT5300 series and SAT5200 series respectively. This is certainly something that has raised a few eyebrows lately, as Synology has always been very open about HDD/SSD compatibility in their range. This new approach is one that is only pursued in the XS/SA/UC range starting from 2021 series (eg RS4021xs+, RS3621RPxs, etc) but means that the newer generation lacks a lot of the storage media choice of its predecessor.
You Can Read the Synology HAT5300 Hard Drive Review HERE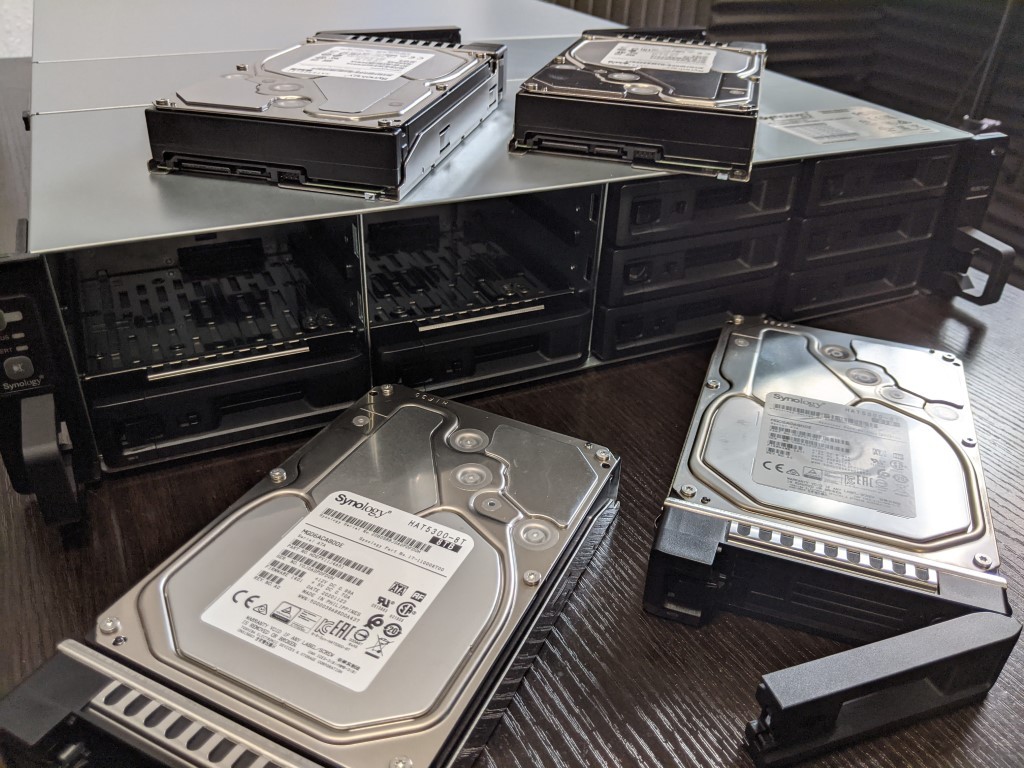 In Synology defence, the range of hard drives that they have produced is quite top end and although arrive at a pro-series price point, they have the architecture of enterprise-class drives (in line with Ultrastar and EXOS). At launch, these drives have arrived in a thinner range than what is presently available in the rest of the market from other hard drive manufacturers, but no doubt this will be further fleshed out as the series continues. Nevertheless, this is a distinctly aggressive move here by Synology to create more of a closed hardware ecosystem that some users who prefer a more balanced range of purchasing choices or hardware configurations may not be in favour of. Synology has stated that this system if used with unsupported drives and/or are used in unsupported configurations, will result in your warranty being unsupported also. Below is what happened when we populated the Synology RS3621xs+ with a combination of hard drives from different brands alongside the Synology hardware.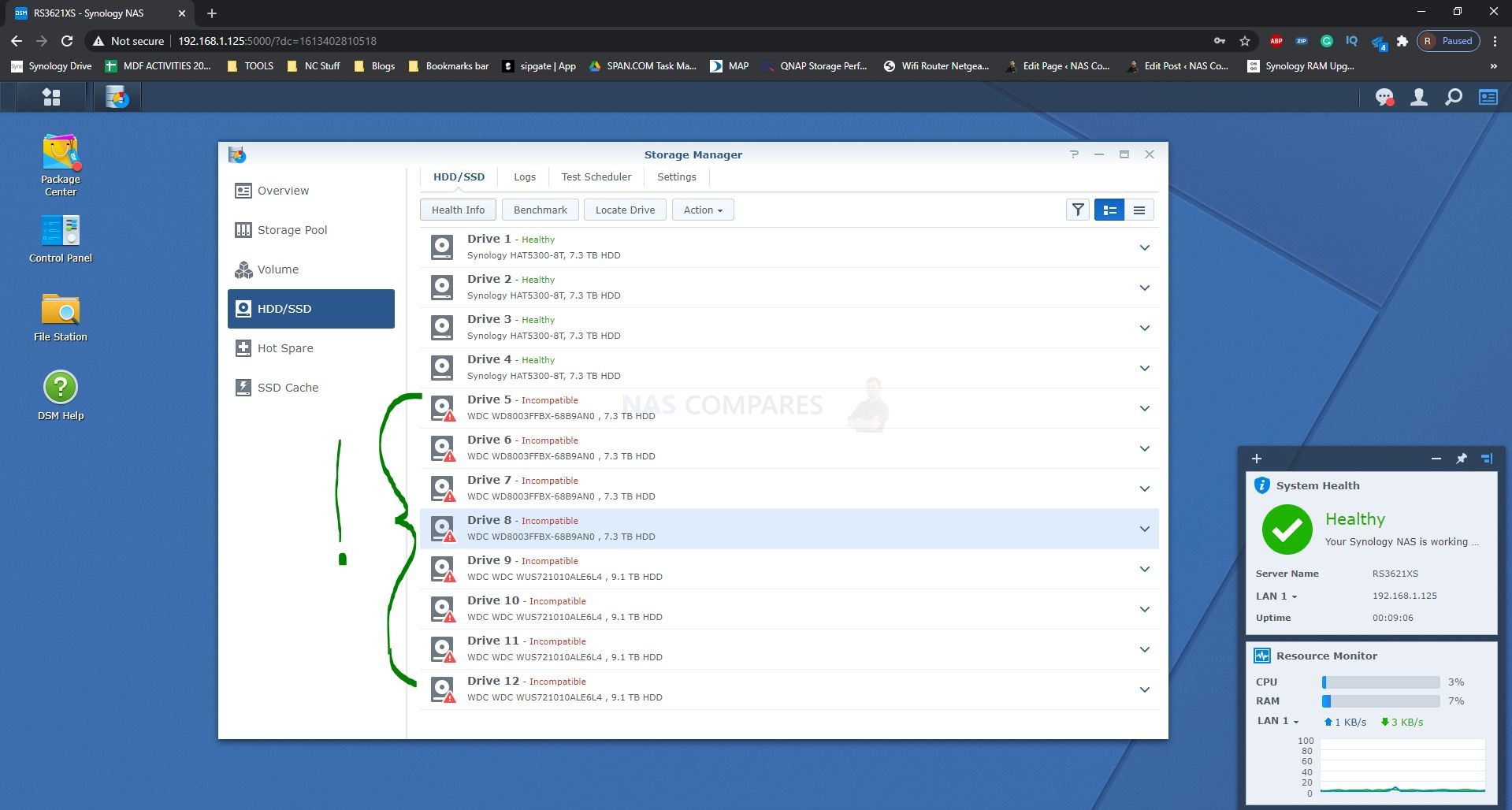 As you can see, the Synology RS3621xs+ system would only class the HAT5300 range of hard drives as compatible and applicable within the storage manager. The WD Red Pro and Western digital Ultrastar Drive media were listed as incompatible quite clearly. This is not the first time that Synology has listed hardware installed inside its system as unsupported but often users can still proceed at their own risk.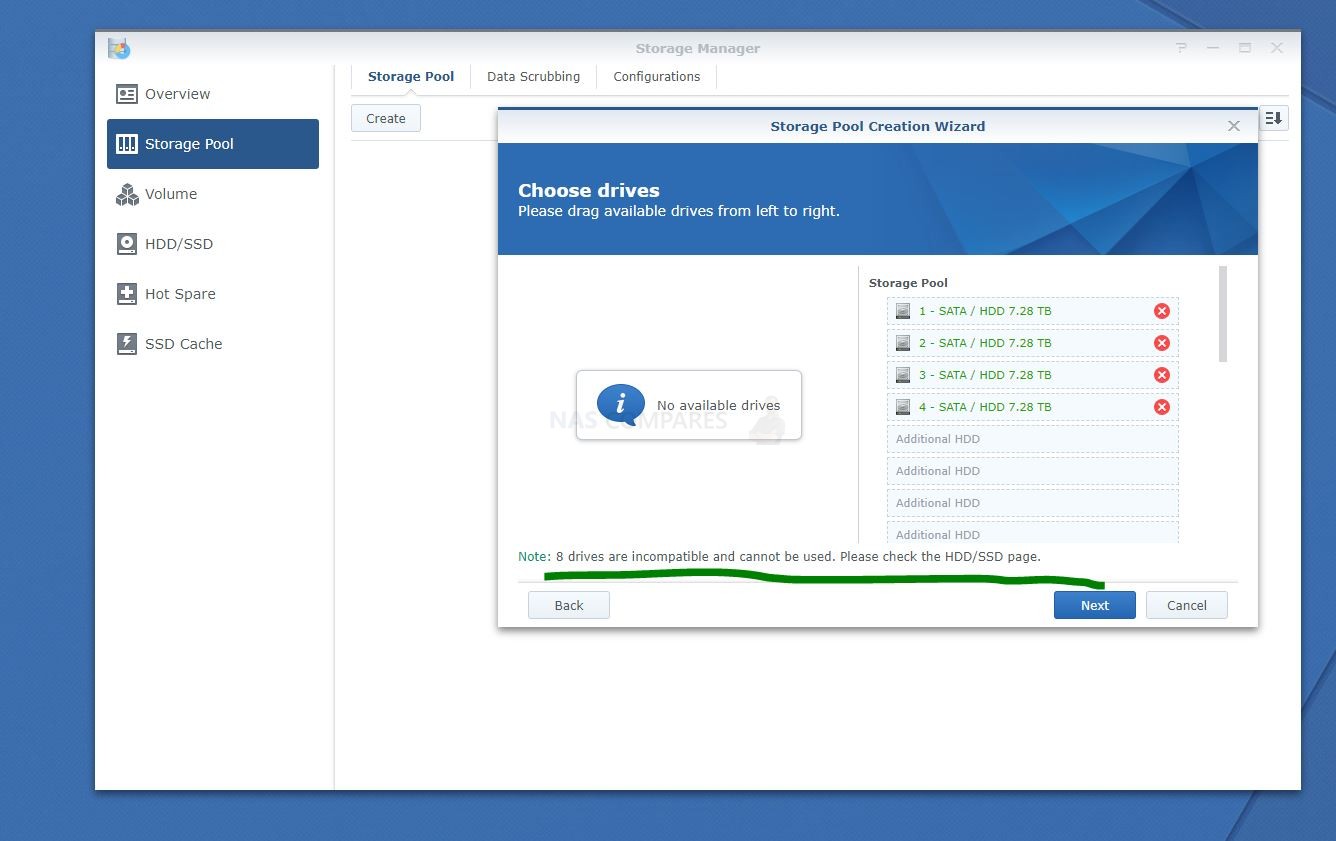 However, even when creating a simple storage pool, the system will only allow you to utilise Synology hard drives and removes all incompatible and unsupported drive media from the available list, detailing that these drives were unsupported and recommends you visit the Synology compatibility pages. However, it has to be said that Synology has still left room for a little flexibility for migrating users and even allows a small number of third-party drives to remain on the compatibility lists depending on the system.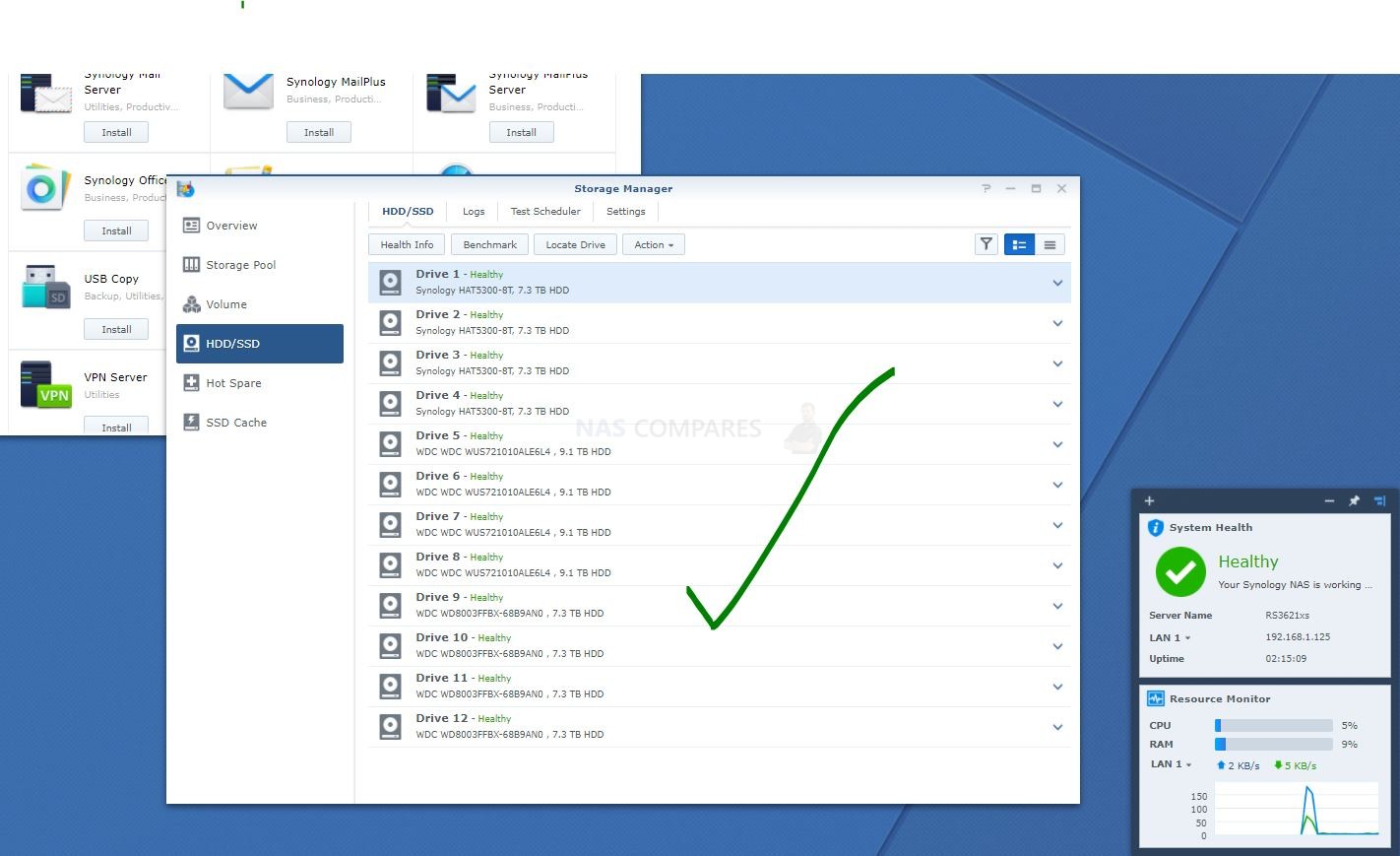 Users who are migrating from an existing Synology NAS hardware system and want to carry over the drive media, shares, storage volumes, accounts and more are still able to migrate old non-Synology hard drives across to the new system. So at least you are not being forced to purchase a whole new system and media upon upgrading. Synology also highlights that migrating media from an existing Synology NAS to the new RS3621xs+ Rackstation will not invalidate your warranty or leave you unsupported. Although the ability to expand unsupported migrated media on the RS3621xs+ is negligible and likely still means that upon refreshing your storage media as it lessens in durability, you are still going to need to invest in Synology hard drive media.
Overall, the design of the RS3621xs+ is exactly what I would have expected from Synology and despite questions about compatible storage media, this is a largely positive and expectedly solid chassis design.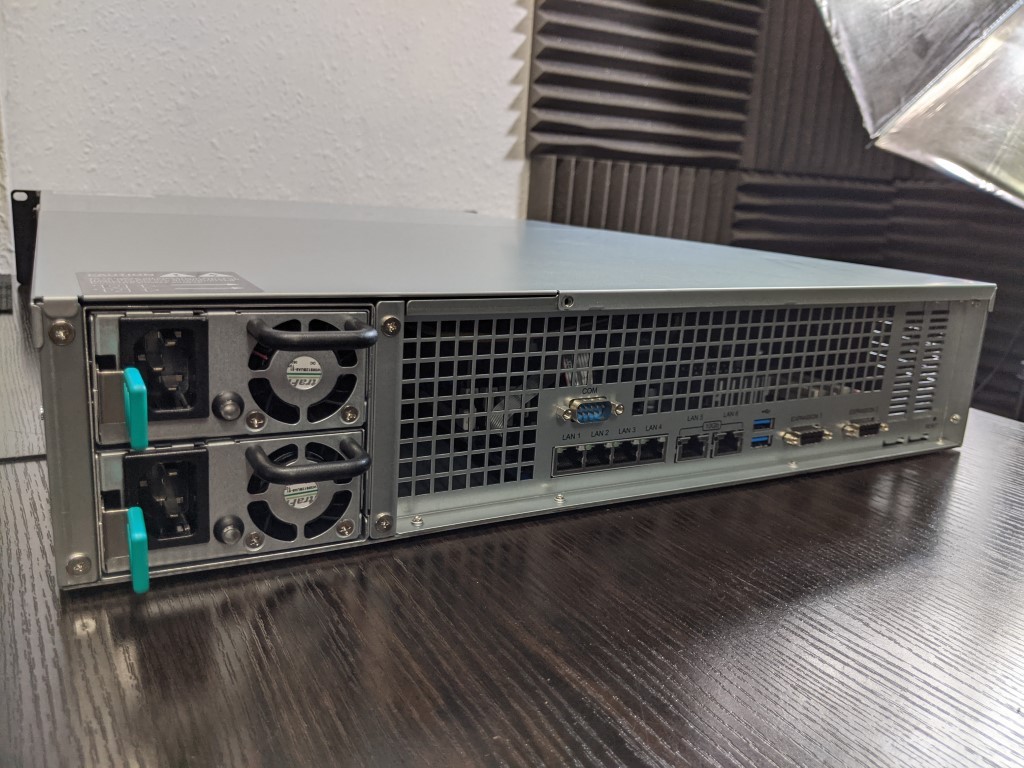 Synology RS3621xs+ Rackmount NAS Review – Ports and Connections
The rear connections featured on the Synology RS3621xs+ are a combination of impressive and safe choices. If you already own the RS3617xs+ NAS that came before this system, then there will be little or no surprises for you here. Unsurprisingly, as this system is a rack mount, ventilation with a combination of active and passive cooling are incredibly important. The rear panel features a huge arrangement of ventilation surrounding the PSUs and connections. With active cooling featured on the power supply units, but familiar active fans being moved to the middle of the chassis design (shown later).
The Synology RS3621xs+ features a 2 PSU architecture, as is the standard for enterprise-level server hardware. Each one is 500 Watt and the system runs with both active at all times. In the event that a PSU fails, the second PSU allows the system to continue running without interruption. Each PSU is covered by the systems 5-year warranty and you can even purchase a spare PSU to keep in case of emergencies. Lastly, there is of course the added benefit that you can remove that a failed PSU and install a new PSU without ever needing to power down the system, allowing active connections and shares to be uninterrupted.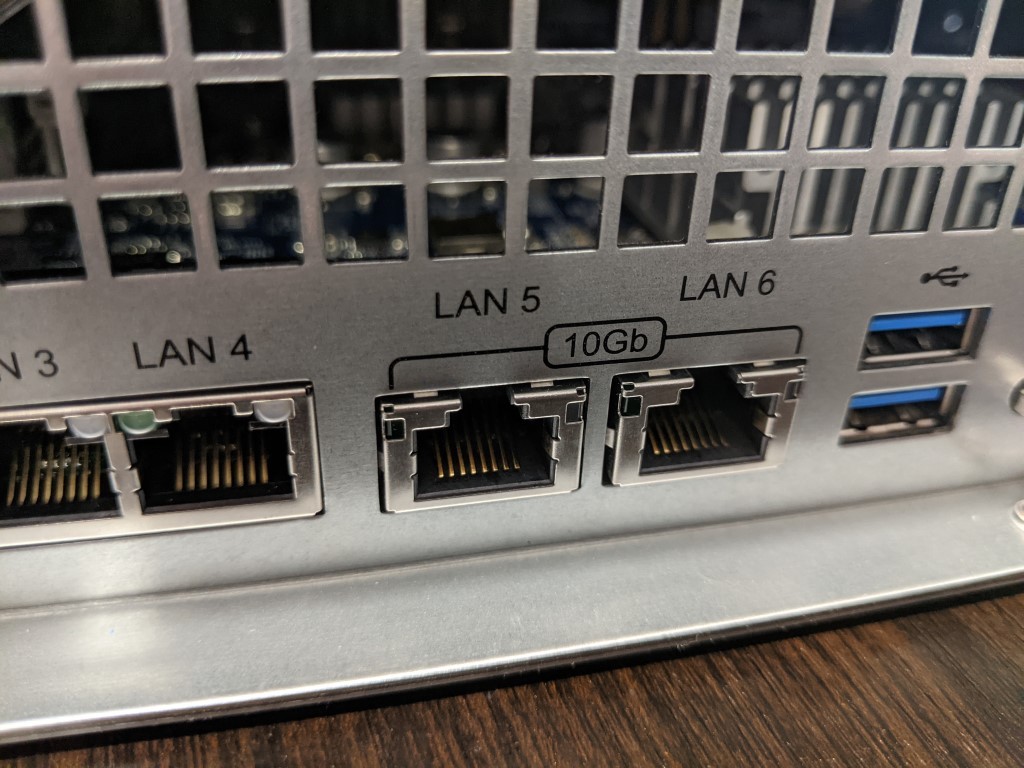 Another popular feature of the RS3617xs+ predecessor that is still present here on the RS3621xs+ is the inclusion of two 10GBe Ethernet ports. Both utilising copper 10GBASE-T, this allows the system to enjoy either two individual 1000 MegaBytes connections with the local area network, enjoy failover support to ensure a redundant connection or, more popularly, can bind these connections via link aggregation and enjoy a 20 GBe bandwidth between the NAS system and all its connected users. For those that prefer the large scale application of fibre SFP+ there are numerous fibre upgrade cards available from Synology as well as some new fibre channel cards on the horizon. 12 Bays of storage populated with the Synology enterprise hard drives, Xeon processor and a decent RAID level should comfortably saturate this connection. Add to this, the ability to introduce larger and more high-performance bandwidth cards, SSD caching and numerous expansion devices and you are looking at an enormous level of performance potential later in the systems life too.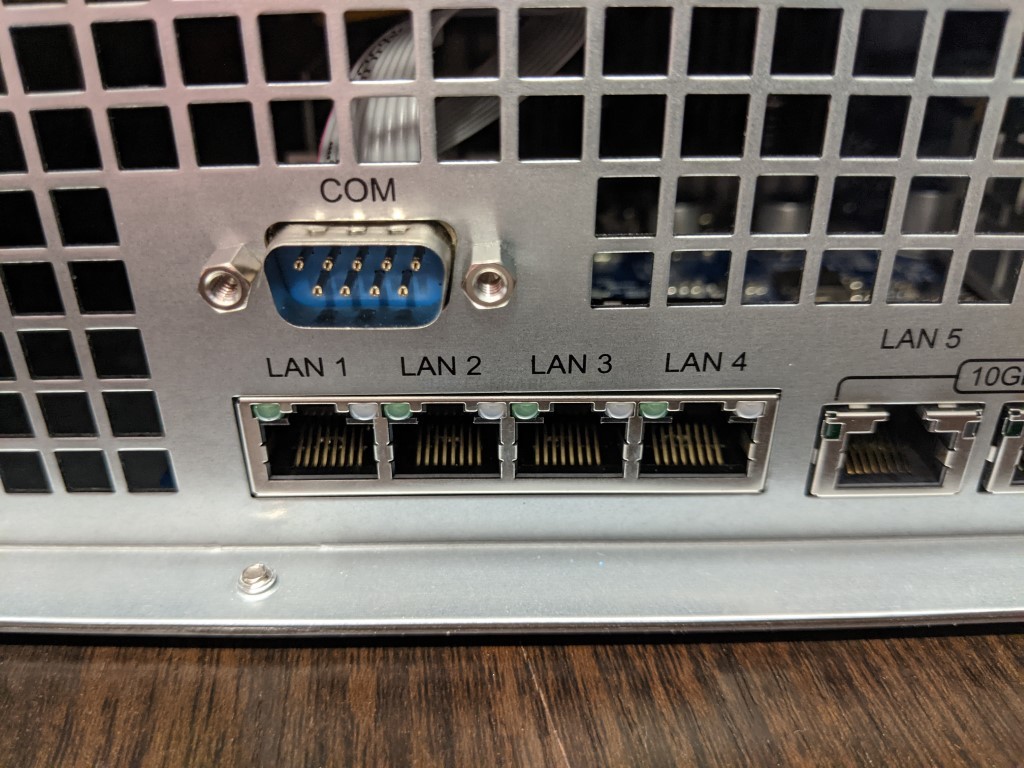 Alongside these two 10 Gigabit connections, there is a further 4x 1GB port present. These seem slightly less necessary and although one or two ports could be justified for connection to the internet or maintenance network, 4-port seems a little bit unnecessary for the overall architecture of this device. Some Pro to mid-range users have criticized Synology for continuing their implementation of 1GBe in their architecture in 2021, however, in the case of Synology RS3621xs+ I think we can forgive them a little due to the inclusion of 2x 10G, despite the likelihood of the 4 x 1Gbe ports being a tad underused here.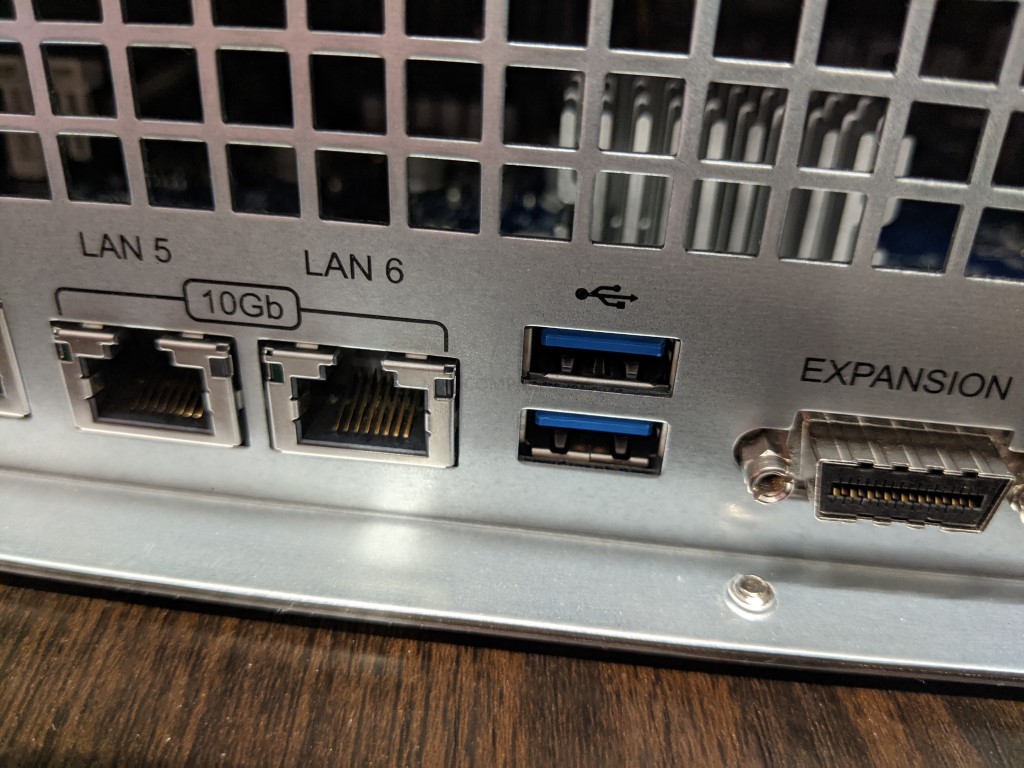 Another long-running staple of Synology hardware is the inclusion of USB ports that allow the system to be connected to numerous other local hardware devices. Although the compatibility of these devices on the Synology platform is a little thinner than on some other brands, overlooking KVM and general control accessories support, these ports are still perfectly usable for a myriad of external storage for backup purposes, UPS and office hardware devices and even some security utilization. They are USB 3.2 Gen 1 connections, so 5 Gigabit connectivity, but better to have them than not.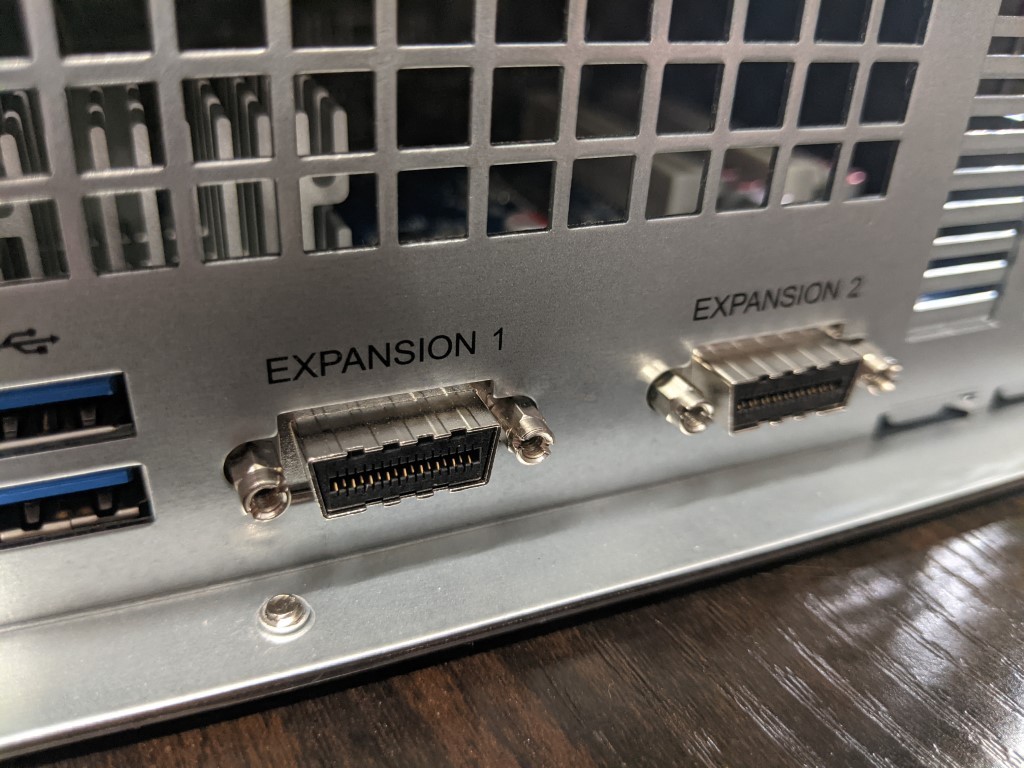 Another one of the reasons why the Synology RS3617xs+ was so popular and likely the RS3621xs+ will be too, is the expandability of this hardware solution. Arriving with 12 bays of storage by default, you can add a further 24 bays of storage with the connection of the RX1217 (up to two of them) and allow an enormous degree of storage potential, both on day 1 and day 1000 on this system. I am uncertain on how the system will react if an expansion device is populated with drives that are unsupported by the core RS3621xs+ system, but likely is soon to be detailed in the compatibility, list if not already. Generally, expandability on a solution is at its most important at the enterprise level, as these users will generate significantly more data and therefore need an ever-expanding array of storage with which to capture it long term.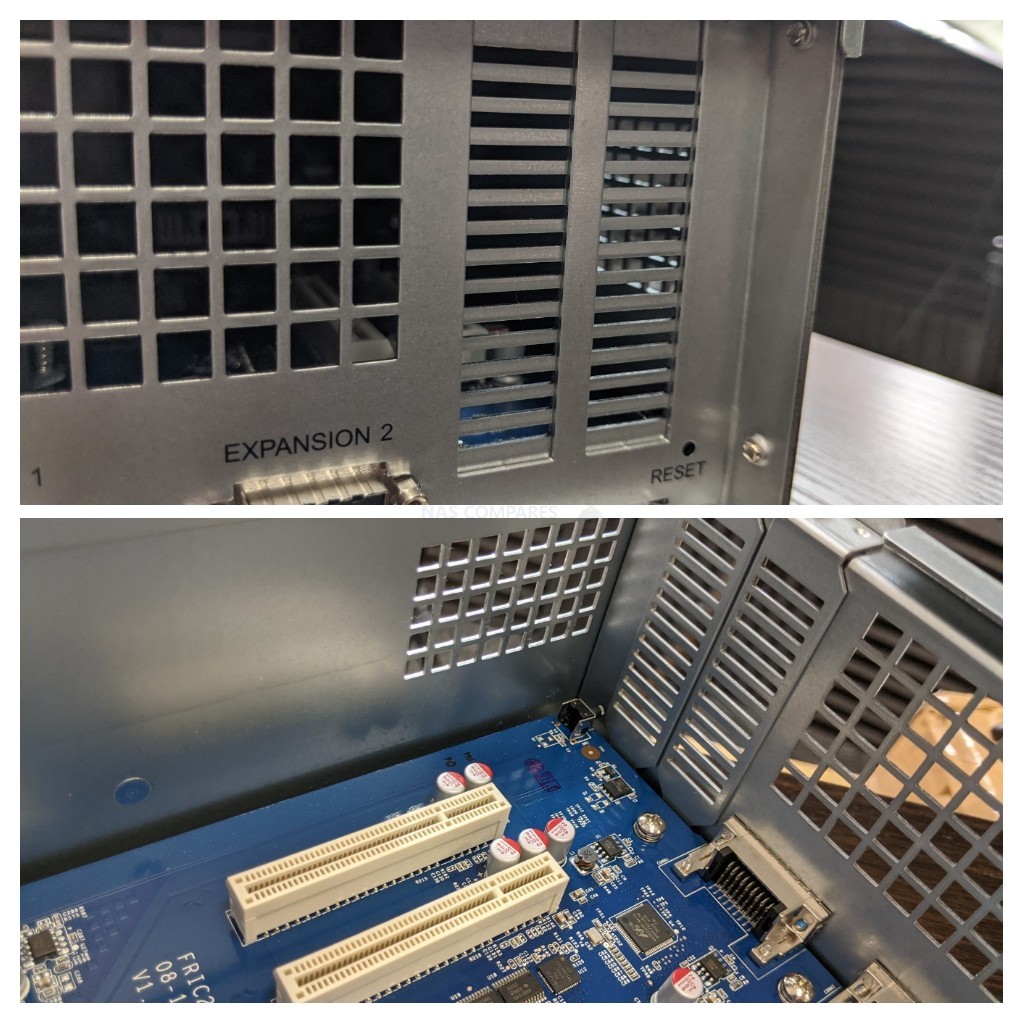 As mentioned earlier, the system also features further expandability via the use of PCIe upgrade cards. Synology has a wide range of upgrade cards that span both copper and fibre connections with a recent 25GBe fibre card introduced to the upgrades listings recently. Synology RS3621xs+ arrives with two PCIe Gen 3 x8 available slots, so each card installed has a potential 8000MB/s of possible bandwidth between the card and the RS3621xs+ system. Obviously, the architecture and delivered bandwidths of every card will differ and you cannot exceed the interface or media of the card in question, but this is still a large degree of support in future for upgrade cards. There are even combination cards from Synology that factor both 10GBe and m.2 NVMe SSD bays for caching. Although it might have been nice for that SSD cache bays feature on the system by default, as found in the RS1619xs+. Still, those are great upgrade options. Let's take a look under the bonnet!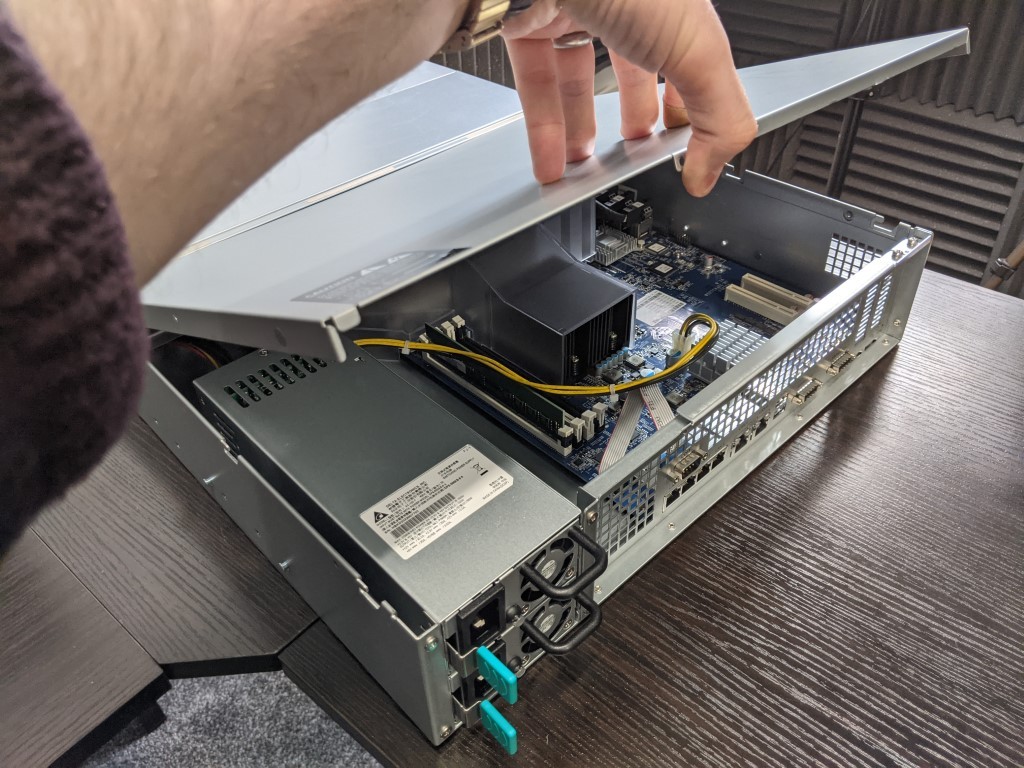 Synology RS3621xs+ Rackmount NAS Review – Internal Hardware
The internal architecture of the RS3621xs+ has not changed wildly in terms of designing compared with that of the RS3617xs+. Arriving with the same well-ventilated layout of internal components and cooling, there is an improvement on the CPU but much else remains the same. Here is how the core components of the RS3621xs+ and RS3617xs+ compare:
How the RS3621xs+ and RS3617xs+ Compare?  
CPU
Synology RS317xs+ NAS
Synology RS3621xs+ NAS
CPU Model
Intel Xeon D-1531
Intel Xeon D-1541
CPU Architecture
64-bit
64-bit
CPU Frequency
6-core 2.2 (base) / 2.7 (turbo) GHz
8-core 2.1 (base) / 2.7 (turbo) GHz
Memory
System Memory
8 GB DDR4 ECC UDIMM
8 GB DDR4 ECC UDIMM
Memory Module Pre-installed
8 GB (8 GB x 1)
8 GB (8 GB x 1)
Total Memory Slots
4
4
Maximum Memory Capacity
64 GB (16 GB x 4)
64 GB (16 GB x 4)
Drive Bays
12
12
Maximum Drive Bays with Expansion Unit
36 (RX1217/RX1217RP x 2)
36 (RX1217/RX1217RP x 2)
RJ-45 1GbE LAN Port
4 (with Link Aggregation / Failover support)
4 (with Link Aggregation / Failover support)
RJ-45 10GbE LAN Port
2 (with Link Aggregation / Failover support)
2 (with Link Aggregation / Failover support)
USB 3.2 Gen 1 Port*
2
2
Expansion Port
2
2
PCIe Expansion
2 x Gen3 x8 slots (x8 link)
2 x Gen3 x8 slots (x8 link)
So, as you can see, the general architecture has changed very little in the hardware department.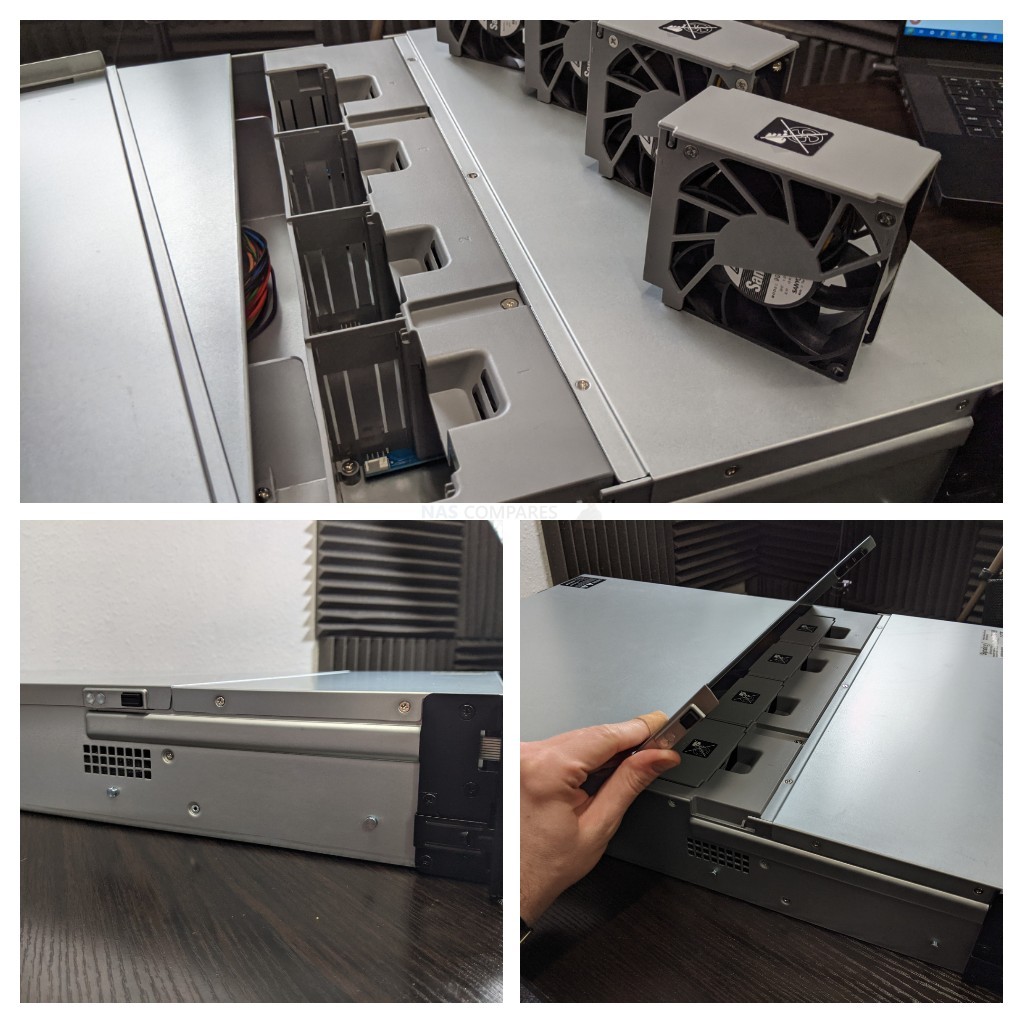 As mentioned earlier, the middle of the Synology RS3621xs+ is where the large range of active cooling is found. On the side of the RS3621xs+, we find a button that when pushed, opens the door panel to reveal four block fans. Each van can be removed easily for cleaning and general maintenance as needed, and when the system is in operation, all four fans blow exceptionally hard to maintain cool internal temperatures and ensure the efficient running of the CPU, memory, network cards and more across the internal PCBs.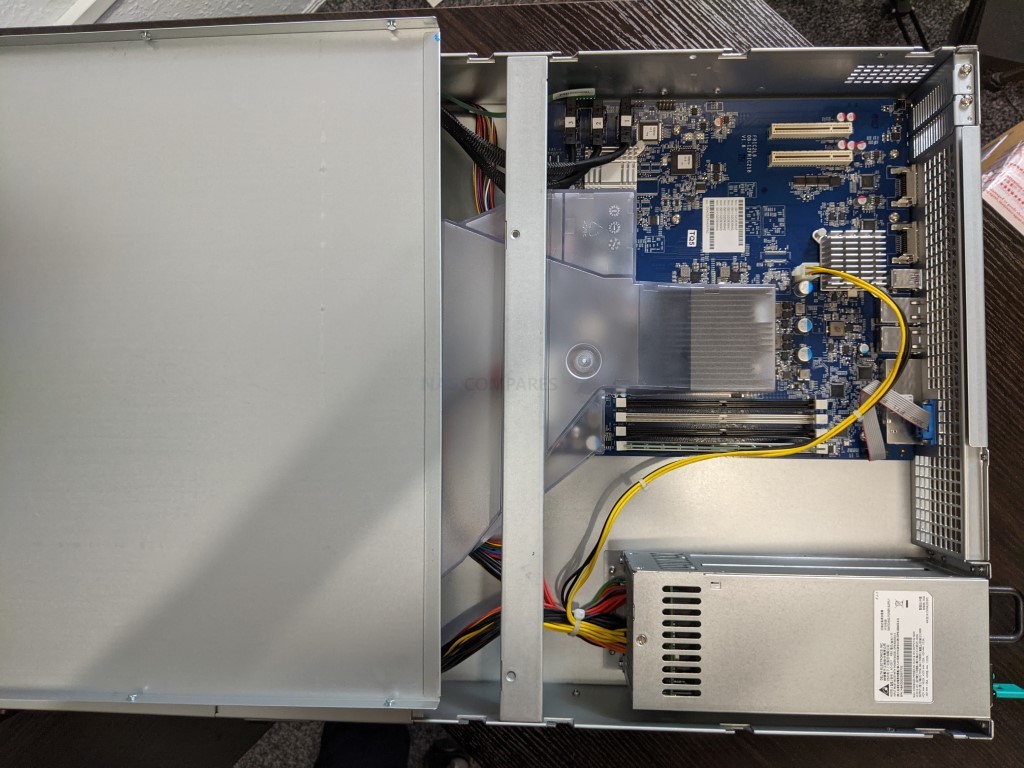 Removing the lid of the Synology RS3621xs+ is quite straightforward and doing so reveals a nice clear area of space, as well as an area of directional air control across the CPU and it's large heatsink.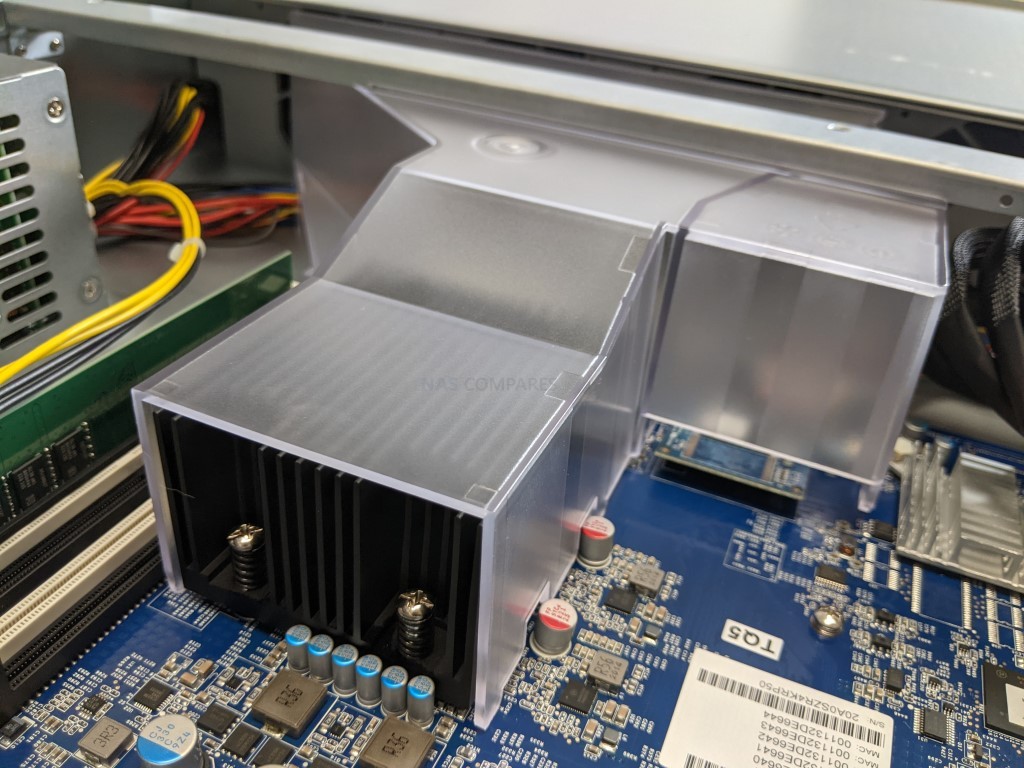 This plastic panel channels the airflow through the bulk of the cooling fans, delivering it directly over the processor and that large heatsink. The CPU inside the RS3621xs+ is an 8 core Xeon processor, D-1541 that has a 2.1Ghz clock speed that can be burst to 2.7Ghz and among one of the most powerful in the Synology line up, if not the most recent. Arriving with a score on the CPU benchmark of over 9500, this is still a great data center processor for handling thousands of actions at any given time.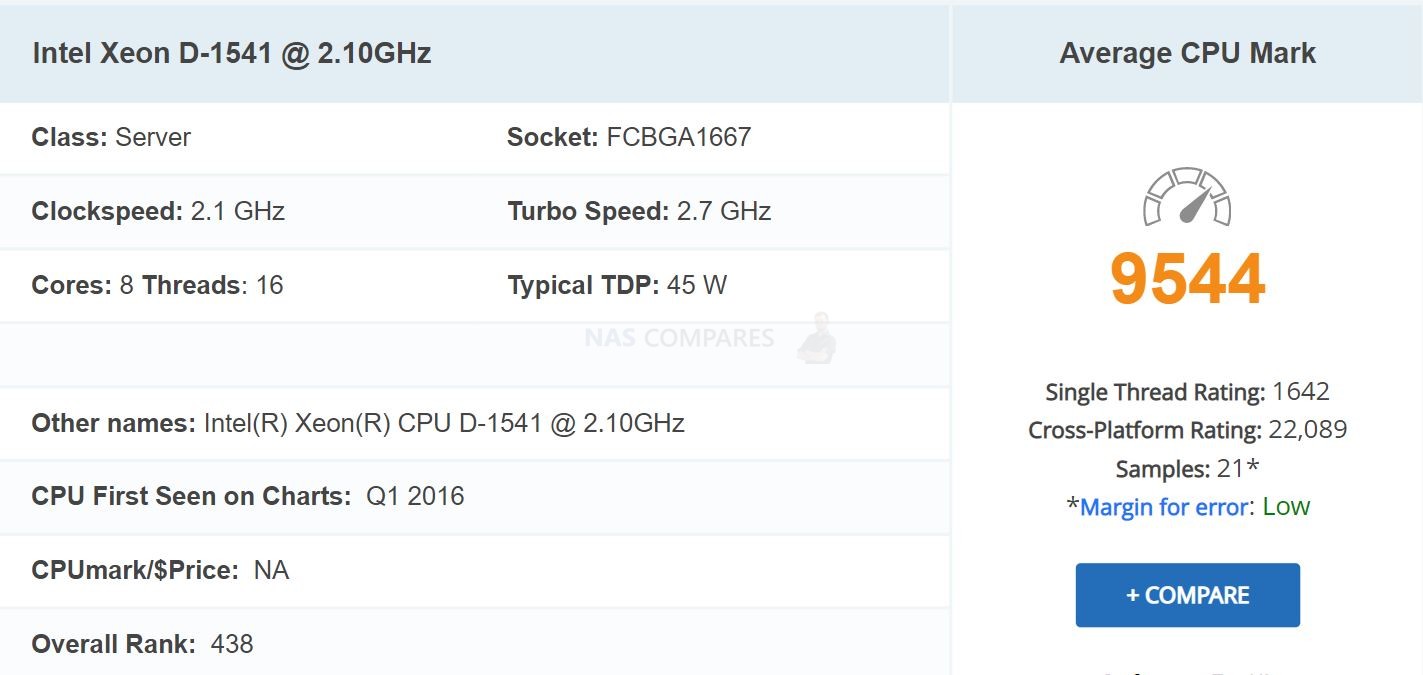 This processor brings several additional advantages to this server system, both inside and outside of Synology DSM. On the Synology first-party side, it allows the full complement of Synology software and services to be available straight away, as well as largely unparallel simultaneous usage at any given time from hundreds of active users or applications. In terms of third-party hardware, it allows a huge amount of performance to be possible via the myriad of network ports and upgrade cards available. However, it is worth highlighting that this processor is a 2016/17 release and although generally, we expect the processes in a NAS system to feature an element of efficiency and durability not found in PC architecture, some might find this processor the tiniest bit underwhelming for the price tag. Especially given the quality of processors released last year in the SA and FS series of devices, such as the 12-core Xeon found in the SA3600, or the Intel Xeon Silver 4110 2x 8-Core CPU in the FS6400.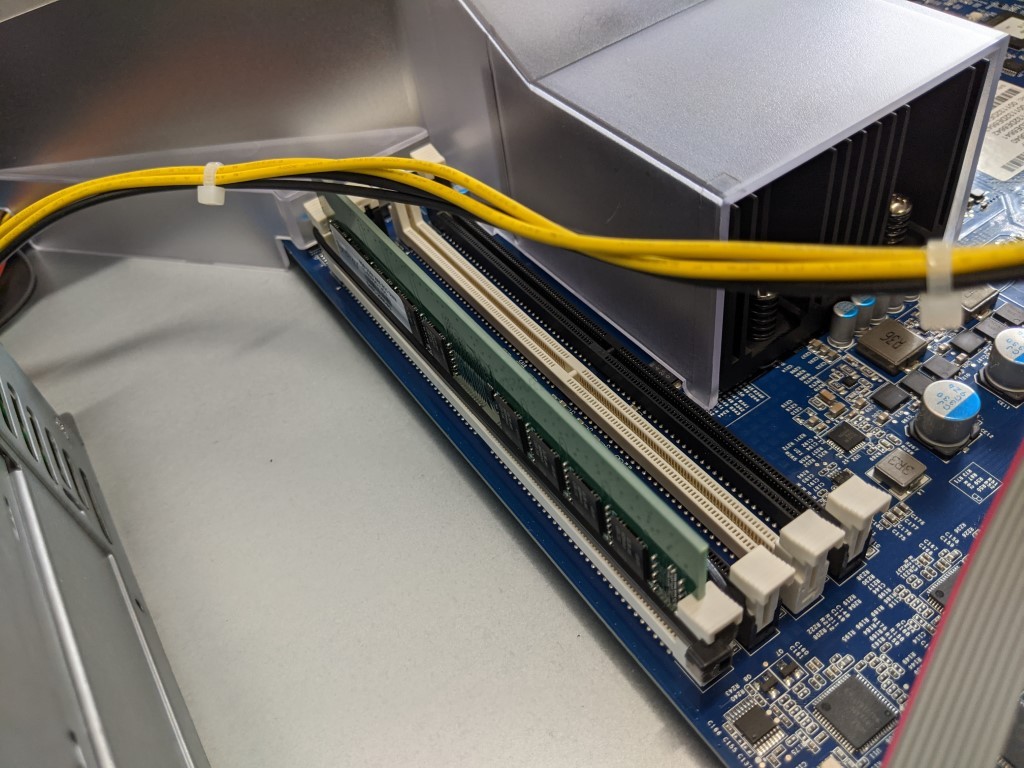 Alongside this 8-core processor, the system also arrives with 8GB of DDR4 ECC UDIMM memory. Synology has been in the habit of introducing ECC memory in all of their SMB and enterprise products in the last year and that is always going to be appealing to a number of data-sensitive buyers who understand that data loss can happen from the tiniest of bit failures, that can snowball into something much worse. Error code correcting memory ultimately compares data that passes through it at the beginning and end and in the event that change or damage is identified, the file is then healed automatically to the previous state. These checks are done constantly as the system processes data and is a nice extra touch from Synology to include as standard (with further increases with BTRFS inside too). The memory on the RS3621xs+ can be upgraded to a maximum 64GB across for available slots. Which on the one hand seems like a lot of memory and at the same time seems less than I would have expected from a system of this calibre with that processor. Especially given that Intel rate this processor to support a maximum 128GB of memory, depending on the modules used. Perhaps this is a limitation of ECC memory or a limitation based on Synology not providing 32GB modules, still, nevertheless, it is a solid CPU and memory combination to be utilising inside the RS3621xs+ on day one.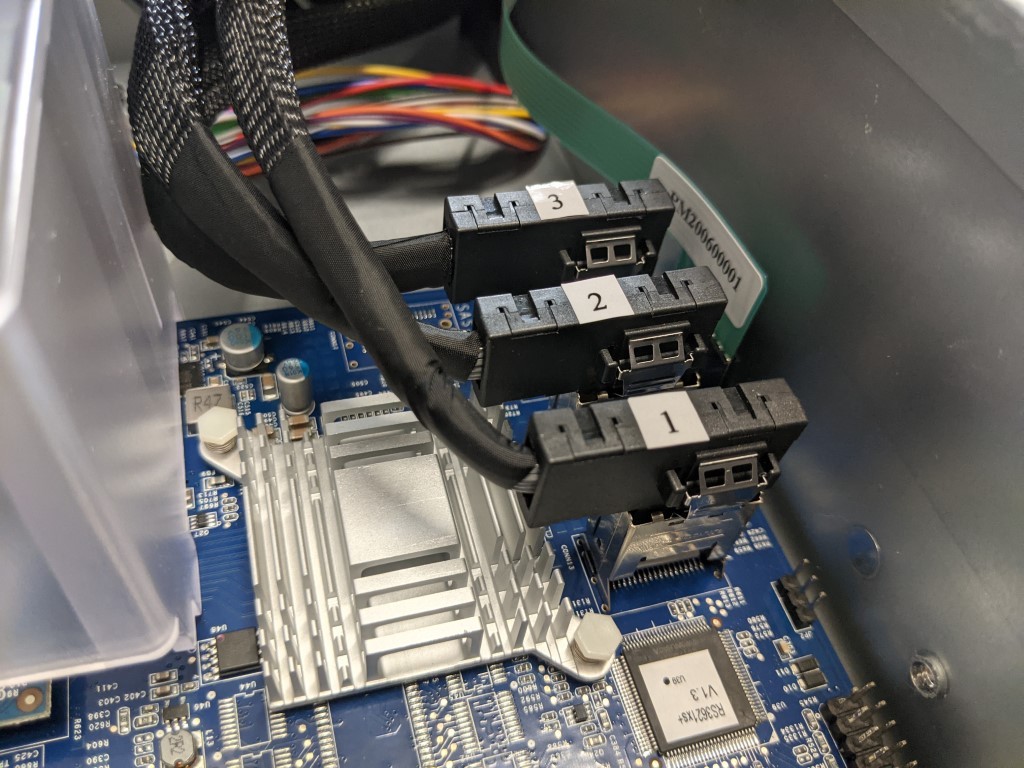 Overall, the arrangement of storage media and how it is delivered to the mainboard is clean and efficient, with numerous internal SAS cabling accompanied by a dedicated network controller for that 10G connection. During our testing, we were able to comfortably accommodate four Windows 10 VM on the default hardware are using Synology virtual machine manager, and could likely host more as a target and with VMware support.
Synology RS3621xs+ Rackmount NAS Review – Software
You will be pleased to know that the upgrades in the Synology RS3621xs+ NAS of that 8 Core Xeon processor, over that of the Intel Atom, mean that the entire Synology application range is available to you and in all cases, you will get faster performance and larger simultaneous access than previously. The Synology range of NAS devices all features the same software, in DSM 6.2 (DSM 7 beta revealed and available to test NOW). What separates them is the extent to which it can run the software, both in terms of which applications and to what extent. This is often governed by the memory and CPU inside and the RS3621xs+ NAS is no exception. If you currently own an RS3617xs+ NAS from Synology, then chances are that the Synology RS3621xs+ NAS will have little or nothing that you have not seen before. Likewise, the 4-Bay 1U RS1619xs+ (which features a quad-core CPU in the Intel Xeon family and M.2 NVMe SSD Bays), might mean for some that in terms of performance, this quad-core processor in the RS3621xs+ does not present a massive upgrade to you. However, for those looking for a robust storage NAS with RAID coverage and internal hardware that will stand the test of time, the newer NAS represents a great solid block for your network-attached storage system and in a straight comparison, wins in almost every way against most systems in their portfolio. The RS3621xs+ NAS supports a multitude of first-party applications and third-party apps for home and business use, such as:
First-Party Applications included with your NAS system
Synology Office – Create documents, spreadsheets, and slides in a multi-user environment. Real-time synchronization and saving make collaboration a breeze.
Synology Chat – Aimed at businesses, Synology Chat is an IM service that transforms the way users collaborate and communicate.
Synology Drive – Host your own private cloud behind the safety of your NAS with 100% data ownership and no subscription fees.
Synology Moments – Manage your photos and videos with deep-learning algorithms that automatically group photos with similar faces, subjects, and places.
Synology Calendar – Stay on track, share calendars, and schedule meetings, while ensuring sensitive information remains safely stored on company premises.
Synology Active Backup for Business (ABB) – Consolidate backup tasks for virtualized environments, physical servers, and personal computers, and rapidly restore files, entire machines, or VMs – completely license free.
Synology Hyper Backup – backup you NAS safely and efficiently to multiple destinations with deduplication, integrity checks, compression, and versioning.
Synology Surveillance Station – Safeguard your business, home, and other valuable assets with reliable video surveillance tools.
Synology Virtual Machine Manager (VMM) – An intuitive hypervisor that supports Windows, Linux, and Virtual DSM virtual machines. Its powerful disaster recovery tools help users achieve maximum service uptime.
Synology High Availability – Synology High Availability (SHA) combines two Synology NAS servers into one active-passive high-availability cluster, alleviating service disruptions while mirroring data.
Synology Central Management System (CMS) – Synology CMS allows you to manage multiple Synology NAS servers quickly and conveniently from a single location.
Synology Video Station – Manage all your movies, TV shows, and home videos. Stream them to multiple devices or share them with friends and family.
Synology Photo Station – Built to help photographers manage their photos and share them with clients for feedback or business development.
Synology Audio Station – Manage your music collection, create personal playlists, stream them to your own devices, or share with family or friends.
Synology File Station – Manage your Synology NAS files remotely through web browsers or mobile devices.
The DSM platform has evolved a great deal over the last few years and has become practically an entire reason to buy a Synology NAS on its own. You can, of course, try out the Synology DSM software platform before investing in a NAS, by visiting the link below and trying DSM 6.2 for yourself:

Alternatively, you can test Synology DSM 7.0 Beta in an online demo by visiting below:

A software review (and comparisons) of the DSM 6.2 platform on the RS3621xs+ NAS is currently in process and I hope to have this to you here on the blog very soon or on the YouTube channel in due course. Stay tuned.
Synology RS3621xs+ Rackmount NAS Review – Conclusion
The RS3621xs+ is another solid example of what Synology provide too business users with their solutions. Although not a great deal of hardware evolution has happened in the 3 to 4 years since its predecessor, this is a system that is able to take advantage of a large number of improvements in the Synology software in 2021. There is still a feeling of safety from the brand in how they designed this system within their overall portfolio of solutions, that might make you feel that its wings may have been intentionally clipped in places, but this is still a fantastic example of the Synology XS series. Likewise, if you are happy to purchase first-party drives in line with the Synology compatibility list, there is little reason for enterprise users not to purchase the RS3621xs+ for their business in 2021.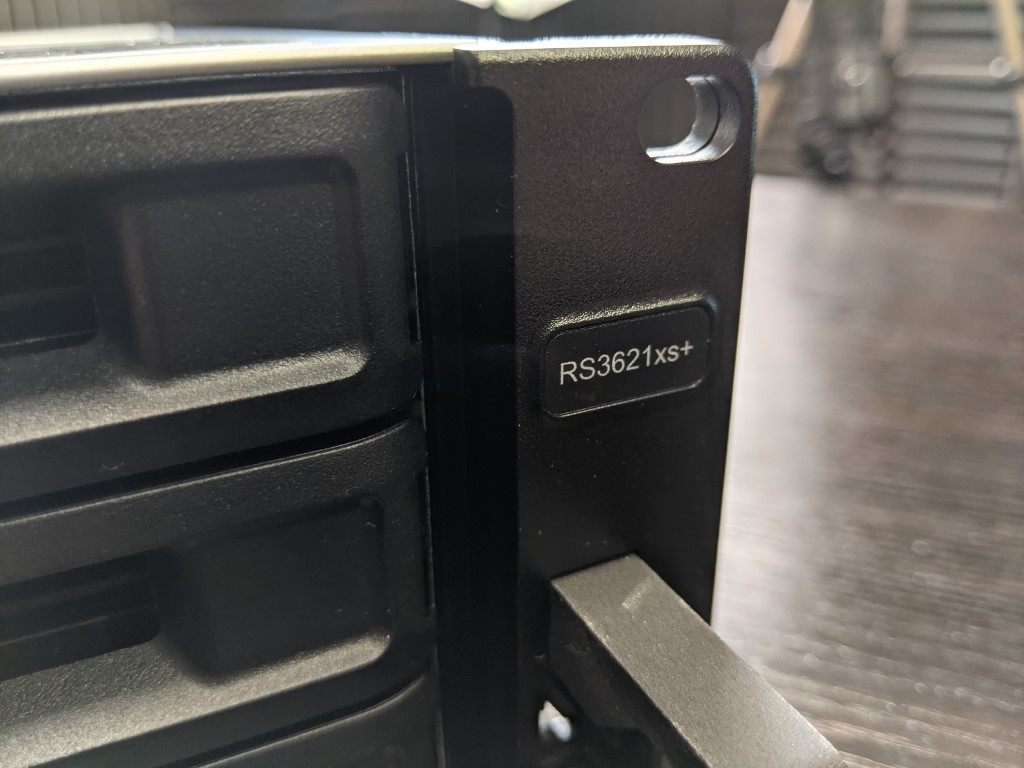 The Synology RS3621xs+ Rackstation is another solid and reliable piece of kit from one of the biggest brands in NAS and although I did not expect it to disappoint, it is still arguably the teeniest bit safe as an upgrade over its predecessor. An improved CPU, improvements in quality and quantity of memory and the ways in which the system can be upgraded are always welcome. But if you already own the Synology RS3617xs+ that came before it, there are not going to be enormous improvements here that warrant an expensive upgrade. Additionally, the policy of the newest generation with its rather strict policy on compatible hard drive media might not be for everyone and being more desirable to those more committed to the Synology ecosystem. An excellent piece of hardware that nevertheless manages to play it safe and be controversial at the same time.


Synology RS3621xs+ PROS
Synology RS3621xs+ CONS

8-Core Xeon Processor

Two 10GBe Connections as Standard

Two PCIe Gen 3 x8 PCIe Equipped

4 Slots that Support DDR4 ECC UDIMM Memory

Excellent choice of Apps

Redundant PSU as Standard

Numerous Backup Software Options

Huge Virtualization Support

Storage Can be Expanded to 36 SATA Drives

5yr Warranty

NVMe SSDs Ports not available, unlike desktop alternatives

Very Limited Hard Drives Supported (Largely ONLY Synology HAT5300 series)

64GB Memory Maximum Seems Low, given other Enterprise Solutions support 128/256GB
📧 LET ME KNOW ABOUT NEW POSTS 🔔
Get an alert every time something gets added to this specific article!
Want to follow specific category?

This description contains links to Amazon. These links will take you to some of the products mentioned in today's content. As an Amazon Associate, I earn from qualifying purchases. Visit the NASCompares Deal Finder to find the best place to buy this device in your region, based on Service, Support and Reputation - Just Search for your NAS Drive in the Box Below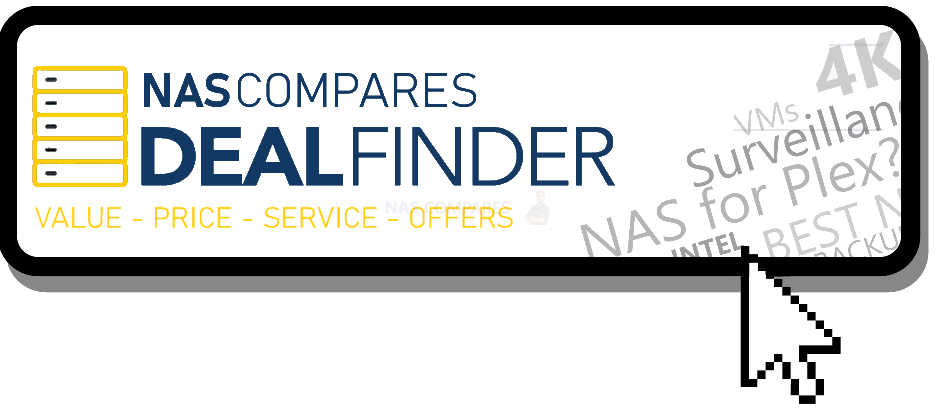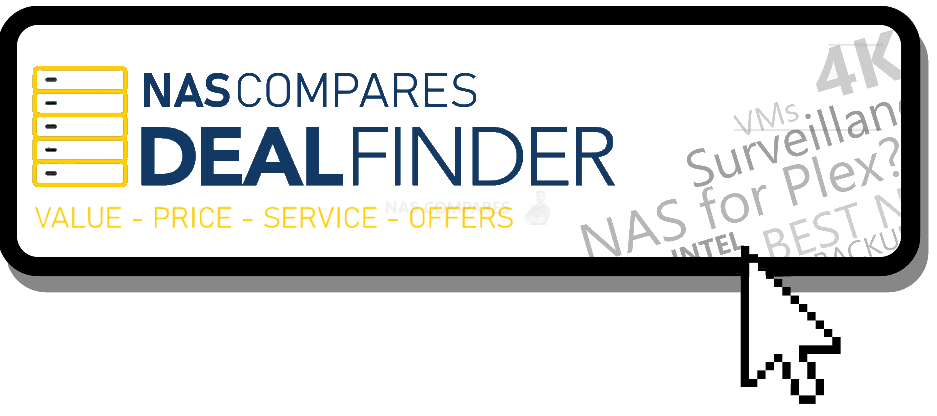 Other products mentioned on this article:
SEARCH IN THE BOX BELOW FOR ANY OTHER NAS
Need Advice on Data Storage from an Expert?
We want to keep the free advice on NASCompares FREE for as long as we can. Since this service started back in Jan '18, We have helped hundreds of users every month solve their storage woes, but we can only continue to do this with your support. So please do choose to buy at Amazon US and Amazon UK on the articles when buying to provide advert revenue support or to donate/support the site below.


Finally, for free advice about your setup, j
ust leave a message in the comments below here at NASCompares.com and we will get back to you.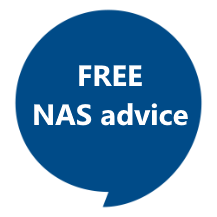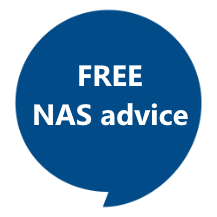 Need Help?
Where possible (and where appropriate) please provide as much information about your requirements, as then I can arrange the best answer and solution to your needs. Do not worry about your e-mail address being required, it will NOT be used in a mailing list and will NOT be used in any way other than to respond to your enquiry.
Terms and Conditions
Alternatively, why not ask me on the
ASK NASCompares forum
, by clicking the button below. This is a community hub that serves as a place that I can answer your question, chew the fat, share new release information and even get corrections posted. I will always get around to answering ALL queries, but as a one-man operation, I cannot promise speed! So by sharing your query in the
ASK NASCompares
section below, you can get a better range of solutions and suggestions, alongside my own.
Summary
Reviewer
Review Date
Reviewed Item
Synology RS3621xs+ NAS Review
Author Rating