An Easy Guide to Buying the Right UPS for your NAS System
The appeal of a UPS has grown substantially in recent years, not just for business users either, with an increasing number of home users in limited power setups (houseboats, pop-up offices and mobile homes) the utility of a safety net for your power consuming devices is inarguable. More conventionally, if your data is mission-critical and your business or home life revolves around both access to your data, as well as maintaining the constant read and write of daily life, then like many people you may have looked into the option of an uninterruptible power suppler (or UPS for short). There was a time when a power failure solution was an option only open to enterprise and elite-level business – with prices starting off in 5 figures. However in recent years with the boom of network-attached storage (NAS) in the home, as well as mass production technique becoming a smoother and more economical process, Owning a UPS device to protect your data in the home or business has become a far more affordable option. However choosing the right UPS for your QNAP or Synology NAS, as well as finding one that compliments your budget can be hard. Today we want to address the three commonly asked questions by users who are considering a UPS, but do not quite know which UPS device is right for them. They are:
How does a UPS work and how will I benefit?

How do I work out the right Watts, Volts and Amps to choose the best UPS?

How much is a UPS going to cost me?
So, today I want to go through each of those frequently asked questions and help you understand what a UPS actually is, much much they are, how to narrow down the choices and finally show you will be able to use it. This guide is useful for NAS buyers who are looking at Synology, QNAP, Asustor, Terramaster and more, but it also applies to just helping you choose the right UPS for your other devices too. Let's go!
What is a UPS and Why Should I Buy One for my NAS?
This is easily the most commonly asked question about UPS. UPS stands for Uninterruptible Power Supply and many users seem to think that a buying a UPS will mean they can run their devices, drawing power from the UPS meaning that they can read and write data to their NAS server, large scale DAS or from their large SAN for hours after their mains power fails. Yes, this is true – but you WILL have to pay 5 figure sums to get that kind of stability and prolonged support. In most cases, you will not need HOURS to be protected from Read/Write failure on your HDD media. No, in many NAS and DAS devices, what you want is enough time to shutdown the Server/RAID storage down safely. This is something you can have at your figure tips just buy spending hundreds of pounds, NOT thousands, Obviously, this is heavily dependant on the number of devices drawing power, their individual needs and the efficiency and functionality of the UPS in question. If you would prefer to watch a video of what exactly a UPS is and how to choose one, click the video below. Otherwise, read on!
How Does a UPS Draw Power and How Do I Connect My Devices?
This is a complex subject for some and we want to talk about how this all works. I will keep it slow and easy! Before we get all confused with Watts, Volts, Power and more, let's use an analogy we can all wrap our head around. Let's first off think of the receiving of electricity to your device as drawing water from a tap.
For a tap, you need water AND the pressure to deliver it through the pipe out of the tap
Water in this analogy represents ELECTRONS, that carry the electricity from the source power supply all the way round to the destination device
The Tap in this analogy represents the Destination device – a NAS, DAS or PC (and of course the water/electrons are going around in a circuit back to the water/power source, which is mostly unseen In the cables)
The Pressure in this analogy represents the VOLTAGE and this measurement represents the strength of the electricity is being pushed by the electrons in our circuit
It's important to measure this as some devices are designed only to accept number of VOLTS and if this is too high or two low it will not function correctly. To go back to our analogy, it will either be too weak for water to travel up and out the tap, or will be too strong and blow to tap out of the sink!
AMPS represent the amount of electrical charge passes a given point in a second. i.e. How much water passes through the pipe per second.
So, now we need to know the WATTS of the device. This is compiled with the following equation:
AMPS x VOLTS = WATTS
or
Water Volume x Water Pressure = Water Power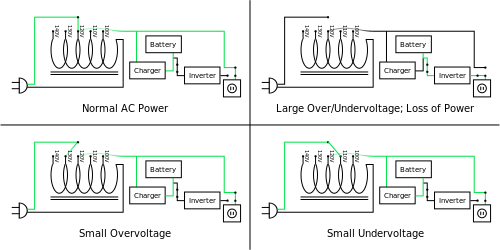 If you have ever lived in a Flat or Apartment on the 5th floor and the shower basically dribbled the water out, this was due to the water pressure not being strong enough to deliver the water to the destination device. A smaller battery pack is often displayed in MILLIAMP HOURS (do not think of this as a measurement of time but of a measurement of CHARGE. In this analogy, this would represent a large drum of water. – Not how much water there is or how fast it is travelling from the drum but the available water being carried over to the tap. This the output and result is heavily affected by the AMPS and VOLTS (or pressure of water and how much water the tap can maximum or minimum receive).
Choosing the right UPS Battery for your Home or Office
Almost all UPS devices are connected the same. You connect one end to your mains power plug (3 Pin, 2 Pin worldwide etc) and the UPS should feature a multitude of similar plugs on board to connect your destination device to (PC, NAS, etc). Inside the UPS Chassis is one or more Batteries that are being charged from the wall plug, but your host devices are being powered from the wall (not drawing from the batteries unless disaster strikes). If a power failure in your home or business occurs, the destination devices will draw from the Batteries giving you time to power save, power down, migrate your data elsewhere and ultimately protect your digital storage from corruption or loss for power failure. Additionally, even though there are a large number of figures present when buying a UPS, it should be remembered that The power drawn by computing equipment is expressed in Watts or Volt-Amps(VA).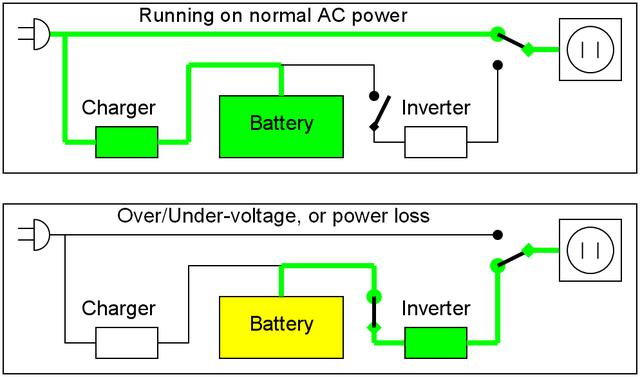 BUT
The power in Watts is the real power drawn by the equipment.Volt-Amps are called the "apparent power" and are the product of the voltage applied to the equipment times the current drawn by the equipment.
Smaller, cheaper UPS devices do not provide much in the way of charge and therefore the running time is going to be shorter. Mid range UPS devices can provide higher CHARGE TIMES, more features and functionality like Network alerts, internet alerts over SMS, E-mail, LCD display, USB connectivity (for maintenance as well as be able to save or shut down some NAS or PC machines for you in the event of power failure – saving you from needed to interact) and more.
There is more to choosing the right UPS than matching the WATTS of your destination device and that of the UPS
UPS capacities are giving in VOLT-AMPS , not WATTS
Remember again,
VAULTS x AMPS = WATTS
Well, Resistance present in electrical load means that the WATTS cannot be matched Like for Like. So:
How do I Choose the Correct VA for the Watts on my NAS, PC and more?
You will need to consider a UPS with a VOLT-AMP 50-75% higher than the WATTS present on your destination device. Don't forget to factor into your consumption any other devices that are drawing from the UPS, as this consumption is not per device, but TOTAL.
What is Line Interaction on a UPS?
Some UPS are 'Line Interactive' . This is a functionality that can support you if you local supply is weak or intermittent and can bolster that connection. Particularly useful for those that are based far from city centres where the maintenance may be less frequent.
Equipment nameplate ratings are often in VA, which makes it difficult to know the Watt ratings. If using equipment nameplate ratings for sizing, a user might configure a system, which appears to be correctly sized based on VA ratings but actually exceeds the UPS Watt rating. By sizing the VA rating of a load to be no greater than 60% of the VA rating of the UPS, it is impossible to exceed the Watt rating of the UPS. Therefore, unless you have high certainty of the Watt ratings of the loads, the safest approach is to keep the sum of the load nameplate ratings below 60% of the UPS VA rating. Note that this conservative sizing approach will typically give rise to an oversized UPS and a larger run time than expected. If optimization of the system and an accurate run time are required, call our experts who have the ability to accurately size your UPS
– Battery Packs, Listed in VOLTS and can be added to an existing UPS
– Replacement Battery Cartridges, an Internal Upgrade, RANGE specific
– Available in Desktop or Rack mount
How Does Synology, QNAP, Asustor and Terramaster work with a UPS?
Almost all NAS drive brands support the use of a smart UPS, connected via USB for monitoring or via the network. That said, how each NAS system reacts to a power cut and switching to the UPS battery does differ. I recently tested the CyberPower 1500 system with a selection of 4-Bay UPS systems to see how each NAS brand's hardware and software react. Below is the video for each brand. Just click the video, or you can open them up in a separate tab by clicking the title.
Which UPS do you recommend for my NAS Server?
Below are a number of tiered UPS systems for your individual power needs and budget. These are based on the Watts you need to cover and based on a single NAS  of different size each. This, of course, is just the tip of the iceberg and for more precise advice based on a whole office or server room of hardware, we recommend getting in touch with us directly using the Free Advice section below (no commitment and the advice is totally impartial) so we can save you money as well as provide you with a solution that will help you sleep at night!
Cyberpower VP1000EILCD Value PRO




VP1000EILCD




£90+

1-Bay, 2-Bay Lite, 2-Bay to 4-Bay Lite




NAS, DAS, PC or Server




 

Smart-UPS 500VA LCD




100VSMT500J 




£150+ exVAT

1-Bay, 2-Bay Lite, 2-Bay to 4-Bay




NAS, DAS, PC or Server

APC




Smart-UPS




SMT750I




750VA 230V, LCD, Tower




£220+ exVAT

2-Bay to 4-Bay Lite NAS, DAS, PC or Server

APC




Smart-UPS




SMT1000I




1000VA 230V, LCD, Tower




£300+ exVAT

6-Bay to 8-Bay Lite NAS, DAS, PC or Server

APC




Smart-UPS




SMT1500I




1500VA 230V, LCD, Tower




£420+ exVAT

8-Bay to 12-Bay Lite NAS, DAS, PC or Server

APC




Smart-UPS




SMT2200I




2200VA 230V, LCD, Tower




£640+ exVAT

12-Bay to 16-Bay Lite NAS, DAS, PC or Server

APC




Smart-UPS




SMT3000I




3000VA 230V, LCD, Tower




£1100+ exVAT

12-Bay to 16-Bay Lite NAS, DAS, PC or Server

APC




Smart-UPS




SMT3000RMI2U




3000VA 230V, LCD, 19″Rack-2U




£1050+ exVAT

4-8 Bay Rackmount  NAS, DAS, PC or Server
📧 LET ME KNOW ABOUT NEW POSTS 🔔
Get an alert every time something gets added to this specific article!
Want to follow specific category?

This description contains links to Amazon. These links will take you to some of the products mentioned in today's content. As an Amazon Associate, I earn from qualifying purchases. Visit the NASCompares Deal Finder to find the best place to buy this device in your region, based on Service, Support and Reputation - Just Search for your NAS Drive in the Box Below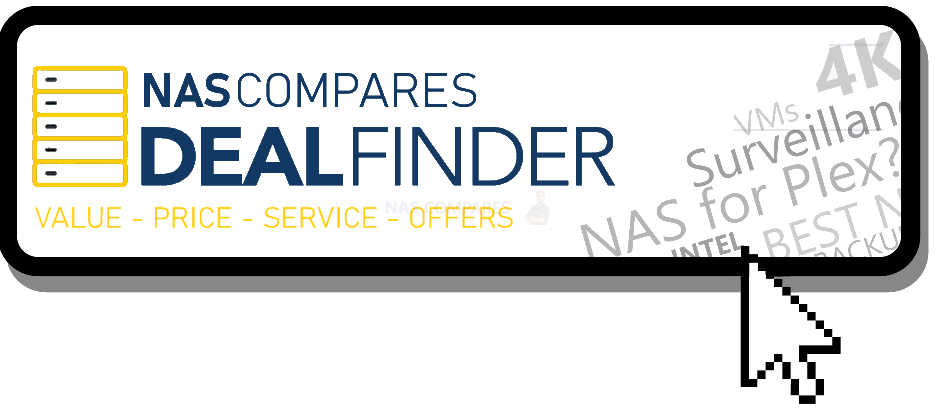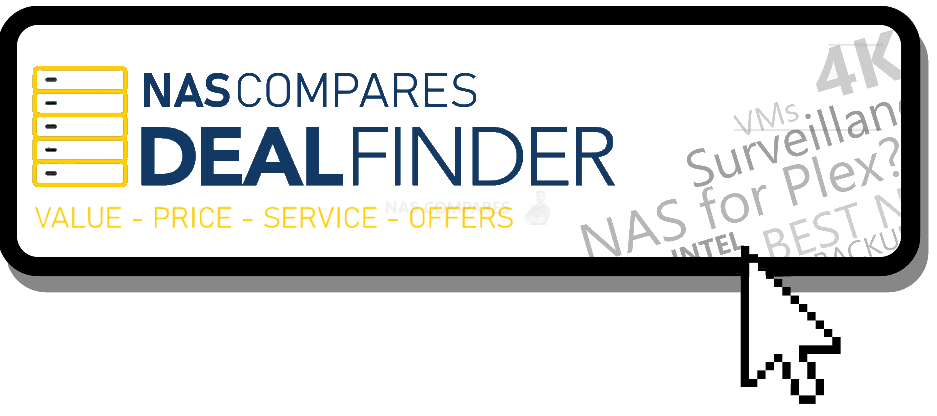 SEARCH IN THE BOX BELOW FOR ANY OTHER NAS
Need Advice on Data Storage from an Expert?
We want to keep the free advice on NASCompares FREE for as long as we can. Since this service started back in Jan '18, We have helped hundreds of users every month solve their storage woes, but we can only continue to do this with your support. So please do choose to buy at Amazon US and Amazon UK on the articles when buying to provide advert revenue support or to donate/support the site below.


Finally, for free advice about your setup, j
ust leave a message in the comments below here at NASCompares.com and we will get back to you.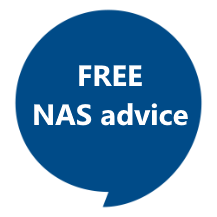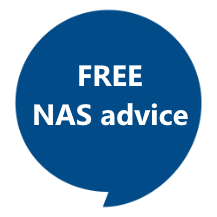 Need Help?
Where possible (and where appropriate) please provide as much information about your requirements, as then I can arrange the best answer and solution to your needs. Do not worry about your e-mail address being required, it will NOT be used in a mailing list and will NOT be used in any way other than to respond to your enquiry.
Terms and Conditions
Alternatively, why not ask me on the
ASK NASCompares forum
, by clicking the button below. This is a community hub that serves as a place that I can answer your question, chew the fat, share new release information and even get corrections posted. I will always get around to answering ALL queries, but as a one-man operation, I cannot promise speed! So by sharing your query in the
ASK NASCompares
section below, you can get a better range of solutions and suggestions, alongside my own.
Summary
Reviewer
Review Date
Reviewed Item
Choose the Right UPS for Your NAS - An Idiot's Guide to UPS
Author Rating