Choosing the Best Rackmount NAS for Plex
The lines between home NAS and Business NAS hardware has been getting increasingly blurred in the last year or two, with more enterprise hardware (such as U.2, NVMe and Xeons) all appearing in desktop solutions, as well as rackmount solutions beginning to arrive at price points that could easily be considered desktop accessible. No other area of NAS rackmount NAS usage growth in 2020/2021 has surprised me more than the gradual increase in users who want to host a Plex Media Server solution on a rack-based server. Maybe it is their impressive cooling system, low height build or their comparatively more impressive upgradability when compared with desktop solutions that make them attractive to Plex Media Server prosumer users. Needless to say, rackmount solutions will always tend to arrive at a higher price stage by around 10-20%, but also will likely allow you to increase the maximum memory, network connectivity, storage expandability and more – so in many ways, you are paying more to allow yourself increased scalability down the line. Today I want to talk about a few Rackmount NAS solutions that are well suited for Plex Media Server use. Each solution is selected for its specific reason (budget, power, size, playback, etc) and may not necessarily mean that the most expensive is in fact the best one for your needs. So, let's take a look at some of the best rack NAS solutions for Plex Media Server in 2021.
What Kind of Rackmount NAS Qualify for this Plex NAS List
Before we go any further, it is worth remembering that not all NAS are suitable for Plex. The Plex Media Server application is supported and accessibly by hundreds of Rackmount NAS solutions, but in some cases, the solution will be too efficient (i.e too low powered) to run Plex comfortably or will be TOO powerful and therefore just be overkill/a waste. So, below are my parameters when choosing a Plex NAS:
Only 64bit x86 Processors will be considered
4Bay Minimum, 12-Bay Maximum – Anything larger than that is just too OTT
Only SATA Hard Drive Supported NAS (No, SSD, U.2, SAS, etc)
Has to Playback 4K and 1080p (transcoding is debatable)
Available Unpopulated (does not force you to buy HDD pre-installed)
Has to have been released in the last 18 Months
The above is pretty much what I would recommend to anyone looking to invest in a rackmount NAS for Plex. So, let's take a look at 5 recommended rackmount NAS systems for Plex from Synology and QNAP.
Best Affordable Rackmount NAS for Plex – The QNAP TS-451DeU NAS
0- 72TB, 4-Bays, CPU, 2-8GB DDR4 Memory, HDMI 2.0 & 2.5Gbe Ports, 3yr Warranty, $650+  
Hardware Reveal – https://nascompares.com/2020/02/13/brand-new-qnap-ts-451deu-rackmount-nas-for-business
What We Said 04/1/20:
We have seen many new releases announced in 2020 from QNAP and now they are fleshing out their 2021 portfolio, there did seem to be ALOT of business and not enough pleasure! The TS-451DeU fixes this by giving you a great middle-ground for home and/or business users, finding an affordable hardware package that is genuinely tough to beat. The TS-451DeU NAS features everything you want in the latest generation of NAS, especially from an innovative brand like QNAP, but does it without commuting you to hardware that you may never use or feel doesn't have a place in your budget. What you find here is not a NAS that will blow your socks off, but rather a petite and affordable Plex server for those of you who are drawn to the rackmount solutions over rackmount.
This slideshow requires JavaScript.
QNAP TS-451DeU

PROS
QNAP TS-451DeU CONS

Great Choice of CPU
HDMI 2.0 at an affordable level – always good
Supports pretty much the entire QNAP app catalogue
Very Compact and low noise
Arriving at a good price point for a standard Intel 4-Bay
Good as a first NAS if you want all the features
EXCELLENT home multimedia NAS at this price point
VERY Good Surveillance NAS for Home or Small Business
Expandable with TR-004U and more QNAP expansions

CPU is a little weak for solid Virtual Machine Use
Lacks the PCIe Upgrade slot of the TS-251D
Best Mid-Range Rackmount NAS for Plex – The Synology RS1221+ NAS
0- 144TB, 8-Bays, AMD Ryzen V1500B 4-Core CPU, 8-32GB DDR4 ECC Memory, 4x 1Gbe Ports, PCIe 3×8, 3yr Warranty, $1300+  
Hardware Review – https://nascompares.com/2021/02/11/synology-rs1221-nas-review
What we said 02/11/21 – The RS1221+ NAS is a device that is designed with a more minimalist deployment in mind, yet still manages to provide this whilst maintaining a decent level of hardware inside too. Half-depth/compact rackmount NAS has long been associated with low-level hardware inside and a "you-get-what-you-are-given-and-be-grateful' kind of attitude in recent years and it is only in the last year or so with very, VERY competent solutions such as the Synology RS1221+ that we can expect a lot more from these more petite solutions. The lack of NVMe caching bays by default, slightly weak storage expandability and the continued appearance of 1Gbe is a little disappointing, but this needs to be balanced against a great CPU, great CPU, great PCIe expandability and (of course) Synology Diskstation Manager (DSM) being a continued hot selling point of all their hardware. If you are looking at buying a complete solution (i.e hardware & software for your business collaboration, security, backups and asset sharing with clients), the RS1221+ is a fantastic solution. But those who are looking for a bare-metal solution to wrap their existing software and services around might find the RS1221+ a little limiting. Another great release from Synology, if a little 'safe'.
This slideshow requires JavaScript.
Synology RS1221+ PROS
Synology RS1221+ CONS

Rackmount Equipped Ryzen Powered Solution
30cm Compact Rackmount is always attractive (RP ver. larger)
PCIe Gen 3 x8 PCIe Equipped
Great RAID Options (inc SHR)
Excellent choice of Apps
DDR4 ECC Memory up to 32GB
Numerous Backup Software Options
Huge Virtualization Support
3yr Warranty and Extendable to 5yrs

1Gbe Ports seem a bit limited now
Shame it does not support 1/2 x DX1215
NVMe SSDs Ports not available, unlike desktop alternatives
Best Performance Rackmount NAS for Plex – The QNAP TS-h1277XU NAS
0- 216TB, 12-Bays, Ryzen 4-8 Core 3/5/7 CPU, 32-128GB DDR4 Dual Channel Memory, 2x Copper 10Gbe Ports, 2x 10Gbe SFP+, USB 3.2 Gen 2, 3yr Warranty, $4000+  
What we said in 2020 – I have reviewed many QNAP NAS systems over the years and typically I find that although the hardware changes, the software between each NAS really seems similar. Yes, an intel CPU will open the doors to more powerful software and an HDMI enabled system will allow a number of direct video access applications to be deployed. However, in the case of the QNAP TS-h1277XU and it's Ryzen 7 3700X, things are wildly different. On the face of it, you would be forgiven to think that this is just another QTS system, but the speed and fluidity of the entire system being based on the new ZFS QuTS Hero platform makes everything just feel incredibly responsive. Alongside this, the inclusion of a vast array of storage management benefits and RAID functionality that up until now was considered out of reach outside of FreeNAS is incredibly apparent and presented in an incredibly intuitive and user-friendly way. Right now, the next step in data storage is for your internal network speeds to match that of your external internet speeds, from site to site and office to office. Now systems will always struggle to compete with Cloud services with regard to start-up prices being much smaller on the cloud, and upload/download speeds worldwide getting bigger.

The TS-h1277XU is by no means a cost-effective solution and does not pretend to be. The TS-h1277XU is a powerful, fast, rugged and reliable storage system and is easily in my pick for one of the best NAS I have used this year. If you can afford it, you will not regret it. A genuinely incredible piece of engineering, allowing you to leverage towards power rather than capacity, it is still a spacious device, even in this modern age of 16TB and 18TB hard drives in the market. This is a powerful, compact (if somewhat expensive) solution that should allow you to not only stop worrying about your data, but also wonder why you never had a number of these features at your fingertips before. With comparatively instantaneous RAID builds, incredibly future-proof expandability in terms of storage and internal upgrade connections, you can certainly see that QNAP poured a lot of love, work and money into this solution. If you think you are ready for a ZFS NAS, the QNAP TS-h1277XU is arguably one of the very best in the market in the world right now and will even challenge the likes of FreeNAS in the field of ZFS, whilst still bringing the utility and ease-of-use of QTS onto the powerful and multi-functional file system. But damn, that price tag!
PROS
CONS

4 x 10Gbe LAN Ports (2x Copper / 2x SFP+)

8 Surveillance Camera Licences

USB 3.2 Gen 2 Ports (10G)

ZFS File System

PCIe Gen3 x8 and x4 Slots
Huge

DDR4 Memory Capacity

10 min Windows and/or Ubuntu VM install (included)

Expandable in a lot of ways

Quite expensive for a 12-Bay
Arguable TOO much hardware for Plex that will never be used
Best Powerful Synology Rackmount NAS for Plex – The Synology RS1619xs+ NAS
0-64TB, 4-Bays, expandable to 16 Bay MAX, Xeon D1527 4-Core CPU, ECC DDR4 Memory, 4x 1Gbe LAN, PCIe Slot, NVMe SSD Bays, 2x PSU, £1600+ ex.VAT  
Synology RS1619xs+ Hardware Review – https://nascompares.com/synology-rs1619xs-rackstation-nas-review
What makes Synology impressive in the field of business over the last 2 years, is that they spend more time and money on their applications than any other NAS brand. The result is that 1, the DSM software gets much, much greater results from the hardware than 3rd party apps or other NAS brands with their own software, and 2, they are not just selling hardware but a complete storage solution that fills pretty much every modern need for your data in business. I know this sounds too good to be true, but they really have gone the extra mile on this software. The RS1619xs+ provides you with the hardware platform to make the most of their software platform. Add to this that the RS1619xs+ arrives with 5 years of warranty and 3 years of the Synology Replacement Service (SRS) for next day, no quibble, replacement in the event of hardware issues AND access to the Synology premium support services and you are looking at a solid and very grounded data storage solution indeed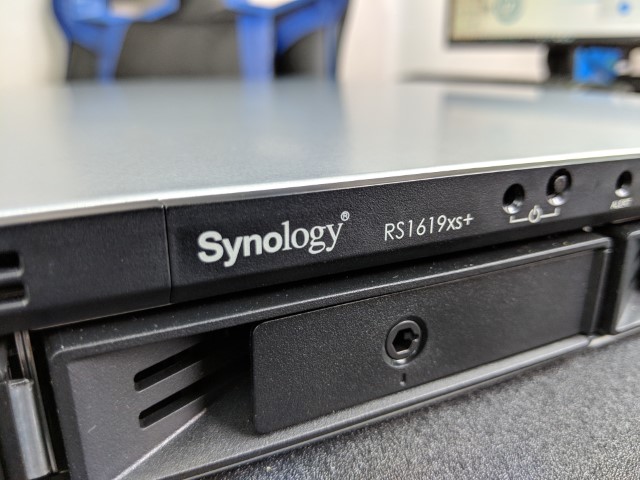 What makes the RS1619xs such an appealing server in 2018 is that it manages to give you everything that Synology as a brand promises, in such a compact form. Because this is a hardware geared device, it is more expensive than most typical 4 Bay NAS – but as always you need to work out your priorities and decide where to leverage your spending. Synology has had a history of providing far too modest a hardware spec, in favour of software spending.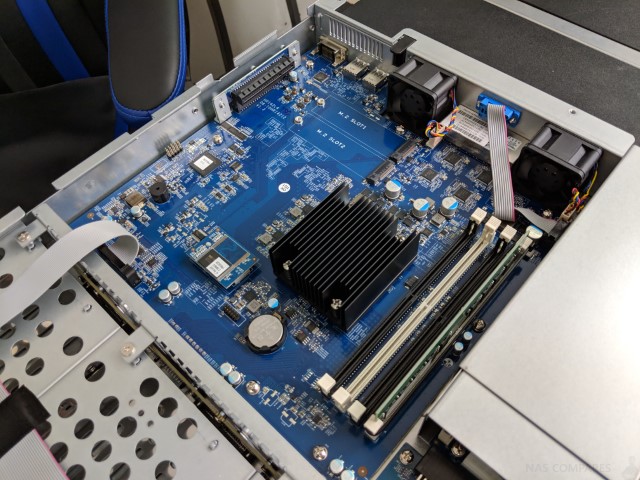 However, this new RS1619xs+ gives you a solid and reliable helping of both hard and software to push your business use to the top tier. More affordable units such as the RS818+ or RS819 give you the 4 bays of RAID storage, but internal hardware that would reach it's limit long before you do! The Synology RS1619xs+ represents more than just a rackmount NAS with better than average hardware, it represents Synology listening to their critics and answering with a device that ticks all the boxes – Price, Power, Software, Capacity. One of the best things they have put out to market in years!
Synology DS1621xs+ PROS
Synology DS1621xs+ CONS

10Gbe Equipped!
4-Bay Xeon Solution!
Dual NVMe M.2 cache
PCIe Gen 3 x8 PCIe Equipped
Great RAID Options (inc RAIF F1)
Excellent choice of Apps
DDR4 ECC Memory
Numerous Backup Software Options
Huge Virtualization Support
5yr Warranty
1x 12-Bay Expandable

1Gbe Ports seem a bit unnecessary
No SHR Support
NVMe SSDs cannot be used for RAW storage
Best Mid-Range QNAP Rackmount NAS for Plex – The QNAP TS-873AU NAS
0- 144TB, 8-Bays, Ryzen V1500B 4-Core CPU, 8-64GB DDR4 Memory, 2.5Gbe Ports, 2x NVMe, PCIe Gen 3×8, 3yr Warranty, $1700+  
Hardware Review – https://nascompares.com/2020/11/09/qnap-ts-873au-nas-hardware-review
What we said in Nov '20 – The QNAP TS-873AU is a solid enough piece of kit that brings a great balance of hardware and software to SMB NAS buyers in 2020/2021, as does the rest of the TS-x73AU range in general. Being the first to utilize the Ryzen V1500B that is appearing on competitor devices more and more and the year goes on has given them more time to adapt its utility in their hardware portfolio than most. On the one hand, that is a very good thing, as it has allowed them to shape their software portfolio and hardware standards around it to update a number of solutions that had been around for 2+ years already. On the flip side though, whilst the system tries to be as customization and adaptable as possible in its upgrade path for users, it manages to feel like it lacks something in its specifications. That is by no means a large complaint – the TS-873AU supports the entire library of 1st and 3rd party applications across their catalogue, as well as the service and utilities that those new to NAS (that just want a setup and forget solution) will value. You just cannot help but feel that the £1600+ price tag attached to this 8-bay rackmount is a pinch high, without 10Gbe, SSD Caching Bays, ZFS or HDMI – the things that have made QNAP so popular this year.
This slideshow requires JavaScript.
This Rackmount NAS ticks a lot of boxes and although in some ways it leaves me feeling wanting, it is still a decent rackmount solution for small/medium business users looked to strengthen the backbone of their data in-house. The CPU still leaves me pleased and the inclusion of high upgradability in PCIe 3×8, UDIMM class DDR4 Memory and Network interface ports will always score high points from me, as well as the high level of support that the TS-873AU brings in QT right now. Just make sure you factor in if/when you are going to upgrade the system, as the price tag on this rackmount NAS could easily accommodate some of their other NAS in the portfolio that will allow you to shift your budget potentially towards more suitable areas of your business (eg 10Gb, KVM support, caching, etc). A good NAS, but a pricey one for that hardware on day 1.
QNAP TS-873AU PROS
QNAP TS-873U CONS

2.5Gbe LAN Ports
8 Surveillance Camera Licences
PCIe Gen3 x8 slot
Virtualization Support is unparalleled
DDR4 Memory
10Gb/s USB 3.2 Gen 2
10 min Windows and/or Ubuntu VM install (included)
Hugely Expandable
Quite compact for a rackmount

Quite expensive
Lacks HDMI
Similar internal architecture in units like the TS-h973AX and TS-873A feature ZFS
| | |
| --- | --- |
| | |
📧 LET ME KNOW ABOUT NEW POSTS 🔔
Join 1,410 other subscribers
Get an alert every time something gets added to this specific article!
This description contains links to Amazon. These links will take you to some of the products mentioned in today's content. As an Amazon Associate, I earn from qualifying purchases. Visit the NASCompares Deal Finder to find the best place to buy this device in your region, based on Service, Support and Reputation - Just Search for your NAS Drive in the Box Below
Need Advice on Data Storage from an Expert?
We want to keep the free advice on NASCompares FREE for as long as we can. Since this service started back in Jan '18, We have helped hundreds of users every month solve their storage woes, but we can only continue to do this with your support. So please do choose to buy at Amazon US and Amazon UK on the articles when buying to provide advert revenue support or to donate/support the site below.

Finally, for free advice about your setup, j
ust leave a message in the comments below here at NASCompares.com and we will get back to you.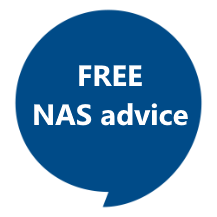 Need Help?
Where possible (and where appropriate) please provide as much information about your requirements, as then I can arrange the best answer and solution to your needs. Do not worry about your e-mail address being required, it will NOT be used in a mailing list and will NOT be used in any way other than to respond to your enquiry.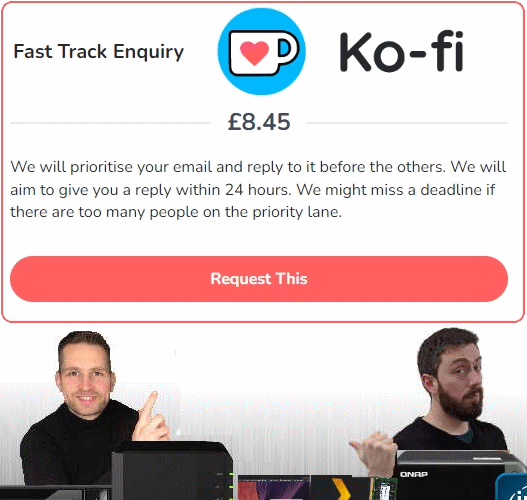 Terms and Conditions
Alternatively, why not ask me on the
ASK NASCompares forum
, by clicking the button below. This is a community hub that serves as a place that I can answer your question, chew the fat, share new release information and even get corrections posted. I will always get around to answering ALL queries, but as a one-man operation, I cannot promise speed! So by sharing your query in the
ASK NASCompares
section below, you can get a better range of solutions and suggestions, alongside my own.
This description contains links to Amazon. These links will take you to some of the products mentioned in today's video. As an Amazon Associate, I earn from qualifying purchases
Summary
Reviewer
Review Date
Reviewed Item
The Best Rackmount NAS for a Plex Media Server
Author Rating