A Guide to the Best Low Price Switches You Can Buy
If you are looking to buy a new network switch for your home or business needs, then chances are that you have noticed that the prices of these devices fluctuate all over the place. You can pick up a switch for his little as $30 or as much as $1000 and yet they look remarkably similar. Most people don't even really want to have a particularly fully featured network switch and are just looking for an easy, reliable and cheap switch for the network setup. I have tested and reviewed hundreds of different switches over the last few years and today I want to recommend the best cheap switches you can buy that are still very good. Below I will cover everything from Gigabit to 10Gbe, from managed to unmanaged and from home to business. So if you are looking for a cheap switch that is going to do the jobs you need without fail, there's a very good chance you will find it below. Let's get started.
Important – Many of these switches I have personally used, tested for YouTube, reviewed or have found numerous good reviews online. However, I have not selected just the cheapest switch based on just price alone, but rather the lowest price switch that is STILL GOOD – so ultimately the best value network switch you can buy for each environment/setup. There is an important difference between value and low-price, with the former meaning 'good for the cost' and the latter being 'low cost for other reasons'. So, take that into consideration when looking at the solutions below. Additionally, each recommended network switch type will feature an unmanaged option (i.e has no software or graphical user interface via app/computer, everything is fixed in terms of control) and an unmanaged option (i.e features software control, link aggregation, layered security, priority settings, etc). Typically the unmanaged version will be noticeably cheaper and run much more quietly, but the managed switch will have a great degree of control and customizable security and performance.
Best Cheap But Good 1Gbe Network Switch
If you are ONLY looking for an insanely cheap switch that is reliable, setup+forget and one you can get for just a few bucks, then you really are spoilt for choice. For simple gigabit connectivity of up to 5 devices, there are plenty of switches available in the market. However, the key thing to look for is lifetime warranty coverage and to make sure that the switch can handle at least 100MBs for each port – as many particularly budget switch options hide total switching-capacity in the specifications and often will bottleneck when multiple connections are active at once. So don't ruin things for yourself in an effort to save just $5-10 along the way.
Best Unmanaged
Best Managed
NETGEAR 5-Port Gigabit Ethernet

Unmanaged Switch (GS305)

NETGEAR 5-Port Gigabit

Ethernet Plus Switch (GS305E)

Check Below for the Current Price on Amazon:

Check Below for the Current Price on Amazon:
Best Cheap But Good 2.5Gbe Network Switch
Although 2.5Gbe has existed for quite a while, its appearance on the affordable home market is relatively new. Now that we are seeing more motherboards, routers and NAS server drives arrived with 2.5Gbe onboard at the same price as 1Gb, the demand for 2.5G network switches has grown to meet it. There are several different 2.5G switches on the market right now, however many capitalise on the current rarity of this kind of switch and are either overpriced or are cheaper builds that might struggle later. It has to be said that QNAP has really cornered the market in this area and have several 2.5Gbe solutions in their portfolio ranging from highly economical home devices to affordable Business solutions. There are lots of cheap 2.5G switches in the market right now but in terms of the best value for money, I would still recommend the QNAP QSW switches.
Best Unmanaged
Best Managed
QNAP QSW-1105-5T 5-Port

2.5Gbps Auto-Negotiation

QNAP QSW-M2108-2S Managed Switch

8 port 2.5Gbps, 2 port 10Gbps SFP+

Check Below for the Current Price on Amazon:

Check Below for the Current Price on Amazon:
Best Cheap But Good Home 1G+10Gbe Network Switch
The demand for combo switches has grown noticeably in recent years, as many users wish to integrate 10Gbe setups into the home office and SMB setups, but do not feel the necessity or budget to fully integrate their entire architecture towards 10-gigabit in its entirety. These combo switches are generally comprised of a bank of 1Gbe ports and then one or two 10Gbe ports for dedicated high-performance network hardware that can be shared by all of the gigabit Ethernet-connected devices. Combo switch devices will either arrive with a combination of fibre and copper connections or will arrive purely in copper 10GBASE-T and 1GBASE-T RJ45 connectivity. Although QNAP and NETGEAR have released several very good combo switches in the last couple of years, some exceptionally well priced 10G/1G solutions have appeared from D-Link and TrendNet that, in terms of price, are near unbeatable.
Best Unmanaged
Best Managed
NETGEAR 10-Port Ethernet Switch

GS110MX 8 x1G, 2 x10G

QNAP QSW-M408-4C Switch

4-Port 10GbE SFP+/RJ45 Combo

Check Below for the Current Price on Amazon:

Check Below for the Current Price on Amazon:
Best Cheap But Good 8 Port 10Gbe Network Switch
For those that are looking to fully integrate 10Gbe into the network environment, several very affordable pure 10Gbe switches have arrived on the market thanks to affordable component manufacturers like Aquantia (a microchip and SoC manufacturer that was a driving force behind 10Gbe components at 1/10 the price of those before). As desirable and well-placed as Netgear is in the network switch market in 2021/2022, their fully equipped 10Gbe solutions are considerably less affordable than many in the market today and this is perhaps an overreliance on the enterprise market that is starting to wane. Here are a couple of very good switches for those that are looking to completely jump their network to 10G effectively, but as cheaply as possible:
Best Unmanaged
Best Managed
QNAP QSW-1208-8C Switch

8/12 Port with 8x 10GBASE-T

NETGEAR 8-Port XS708E

8x 10GBASE-T + 1x 10G SFP+

Check Below for the Current Price on Amazon:

Check Below for the Current Price on Amazon:
Best Cheap But Good 16 Port 10Gbe Network Switch
If you are a serious business user, someone looking to integrate a surveillance set up with multiple cameras or are managing multiple offices of network bandwidth and connectivity, this is when 16-port switches arrive on the market. The majority of 16 port network switches arrive managed, as at this point a degree of network management is heavily implied. Additionally, many of the switches will be rated as layer 2 or layer 3 security, and depending on your budget or layers of pre-existing security, this may be something you'll need to look into. Then there is the impact of larger networks and distribution of available bandwidth, with large switches like this allowing unique functionality such as quality of service (QoS), the priority of service (PoS) and vLANs, that allows you to create numerous subnetworks within the larger network. It is network switches like these that just a few years ago would have set you back thousands of pounds and now can be picked up up4 somewhere between $500-1000 if you shop around just right. Here is what I recommend for a higher business class 10Gbe network environment.
Affordable Managed
Best Managed
NETGEAR 16-Port 10G XS716E

10GBASE-T + 1x 10Gt SFP+

Cisco SG550XG-8F8T Switch

Managed 8x 10GBASET 8x SFP+

Check Below for the Current Price on Amazon:

Check Below for the Current Price on Amazon:
Best Cheap But Good SFP+ and Copper Combo 10Gbe Network Switch
Combo switches are designed to allow users to integrate both convenient and localised copper-based Ethernet connectivity along with much more far-reaching and low latency fibre optic connections. Generally arriving with combinations of 1G and 10G connections at the affordable tier, these systems arrived with dedicated RJ45 ports alongside SFP+ transceiver port to allow diverse fibre connectivity. Combo switch devices have also grown more popular with businesses having a central 10-gigabit ethernet NAS in a discreet distant location shared with a large 1Gbe base of hardware – these have now become increasingly more affordable too. QNAP has released some great combo switches in their QSW series and I highly recommend them for those looking at mixed ethernet network environments on a budget.
Best Unmanaged
Best Managed
QNAP QSW-308S Switch

3x 10G SFP+ & 8-Port 1G Ports

QNAP QSW-M408-4C Switch

4-Port 10GbE SFP+/RJ45 Combo

Check Below for the Current Price on Amazon:

Check Below for the Current Price on Amazon:
Need More Help Choosing The Right Network Switch For Your Needs?
Once you are looking at purchasing a new network switch, it can get remarkably confusing. The jump from your Internet Service Provider (ISP) router towards a switch assisted environment can be intimidating. If you need help choosing the right switch, or need some free advice on your network setup (i.e Settings, the right hardware, software or problem-solving), use the free NASCompares advice section below. It is completely free, requires no login etc and is manned by just myself and Eddie the Web Guy. It is a free service run by humans, for humans! Our replies might take an extra day or two (we have lives!) but before you go off and spend hundreds/thousands on a solution, why not ask us first – we can probably help you! Thanks for reading.
📧 LET ME KNOW ABOUT NEW POSTS 🔔
Join 1,410 other subscribers
Get an alert every time something gets added to this specific article!
This description contains links to Amazon. These links will take you to some of the products mentioned in today's content. As an Amazon Associate, I earn from qualifying purchases. Visit the NASCompares Deal Finder to find the best place to buy this device in your region, based on Service, Support and Reputation - Just Search for your NAS Drive in the Box Below
Need Advice on Data Storage from an Expert?
We want to keep the free advice on NASCompares FREE for as long as we can. Since this service started back in Jan '18, We have helped hundreds of users every month solve their storage woes, but we can only continue to do this with your support. So please do choose to buy at Amazon US and Amazon UK on the articles when buying to provide advert revenue support or to donate/support the site below.

Finally, for free advice about your setup, j
ust leave a message in the comments below here at NASCompares.com and we will get back to you.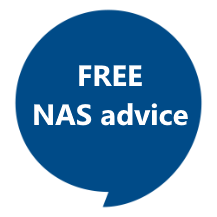 Need Help?
Where possible (and where appropriate) please provide as much information about your requirements, as then I can arrange the best answer and solution to your needs. Do not worry about your e-mail address being required, it will NOT be used in a mailing list and will NOT be used in any way other than to respond to your enquiry.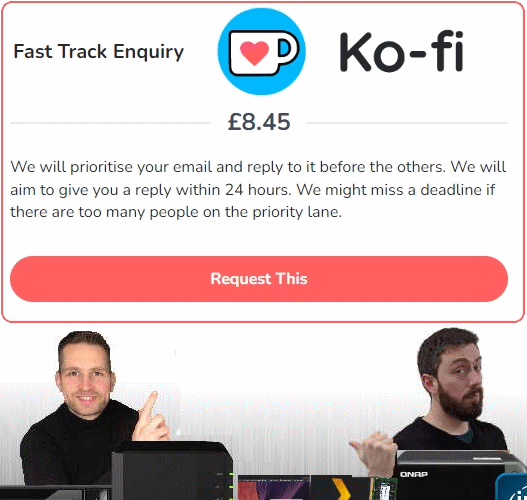 Terms and Conditions
Alternatively, why not ask me on the
ASK NASCompares forum
, by clicking the button below. This is a community hub that serves as a place that I can answer your question, chew the fat, share new release information and even get corrections posted. I will always get around to answering ALL queries, but as a one-man operation, I cannot promise speed! So by sharing your query in the
ASK NASCompares
section below, you can get a better range of solutions and suggestions, alongside my own.
This description contains links to Amazon. These links will take you to some of the products mentioned in today's video. As an Amazon Associate, I earn from qualifying purchases
Summary
Reviewer
Review Date
Reviewed Item
Best Cheap Switch of 2021
Author Rating