Asustor Drivestor 2 Review – Low-Cost Cloud Alternative?
With Network Attached Storage (NAS) becoming such a well established and easy to use alternative to cloud services like Google Drive and Dropbox, it comes as no surprise that most brands in this industry need to be quite diverse in their portfolio. In the same way that phones, laptops, TVs and Digital Cameras eventually arrived in budget-standard-prosumer-business-enterprise builds, so have NAS drives. Asustor is a brand that over the last few years has really expanded its portfolio in capacity, utility and price point, with the new Drivestor 2 NAS arriving as their entry point into the brand. Arriving at one of the lowest price points of any system in their range, yet still featuring 2.5GbE, 4K Media support and a Quad-Core Processor, you do seemingly get a lot of bang for your buck. So today's let's review this new value NAS solution and decide if the Asustor Drivestor 2 NAS deserves your data!
Other Asustor Reviews You Might Be Interested In:
Asustor AS6604T LockerStor 4 NAS Review – https://nascompares.com/2020/08/17/asustor-as6604t-lockerstor-4-nas-hardware-review
Asustor AS6510T Lockerstor 10 NAS Review – https://nascompares.com/2020/01/23/asustor-as6510t-lockerstor-10-nas-review
Asustor AS5304T Nimbustor 4 NAS Review – https://NAScompares.com/2019/06/27/asustor-nimbustor-NAS-hardware-review
Asustor Drivestor 2 Review – Quick Conclusion
Presented as one of the most affordable 2.5GbE NAS in the market right now, the Asustor Drivestor 2 NAS is a modest system that for the most part does not over-promise in what it can provide. Its architecture lends quite well to the more budget-friendly buyer, home users and those that are simply looking for an easy backup option to the cloud. Additionally, less demanding users who want some light multimedia support, network-based camera surveillance and cross-platform file sharing will certainly see plenty of use in the Drivestor 2 device. The software and services available via ADM on the Drivestor 2 AS1102T also provide a decent level of utilities and provide a good level of confidence to the end-user in housekeeping and secure functionality. Though the system is arguably let down by weak upgradeability and internal hardware (that 1GB Memory is a bit of a kick in the butt) that has been a tad overused in recent years, you still have a very functional solution here that mostly sticks the landing in offering your own private cloud solution. As long as you keep your expectations realistic, the Drivestor 2 is another solid release from Asustor in 2021/2022.
Asustor Drivestor 2 Review – Retail Packaging
Much like the Drivestor 2 Pro, when I first unpacked the shipping container to get to the Drivestor 2, I was pleasantly surprised by the retail packaging. I shouldn't be – Asustor has always been very graphical in their packaging, going to good lengths to detail what the units can do, the hardware specs, the software specs and generally creating a very appealing and engaging retail design. I often comment warmly on the attention many companies make on retail packaging, despite the fact that these devices are almost always purchased from online stores (so by the time you see the packaging, you have already purchased it), it would be a dull, dull world indeed if everything arrived in default brown box packaging (do you hear me Synology?).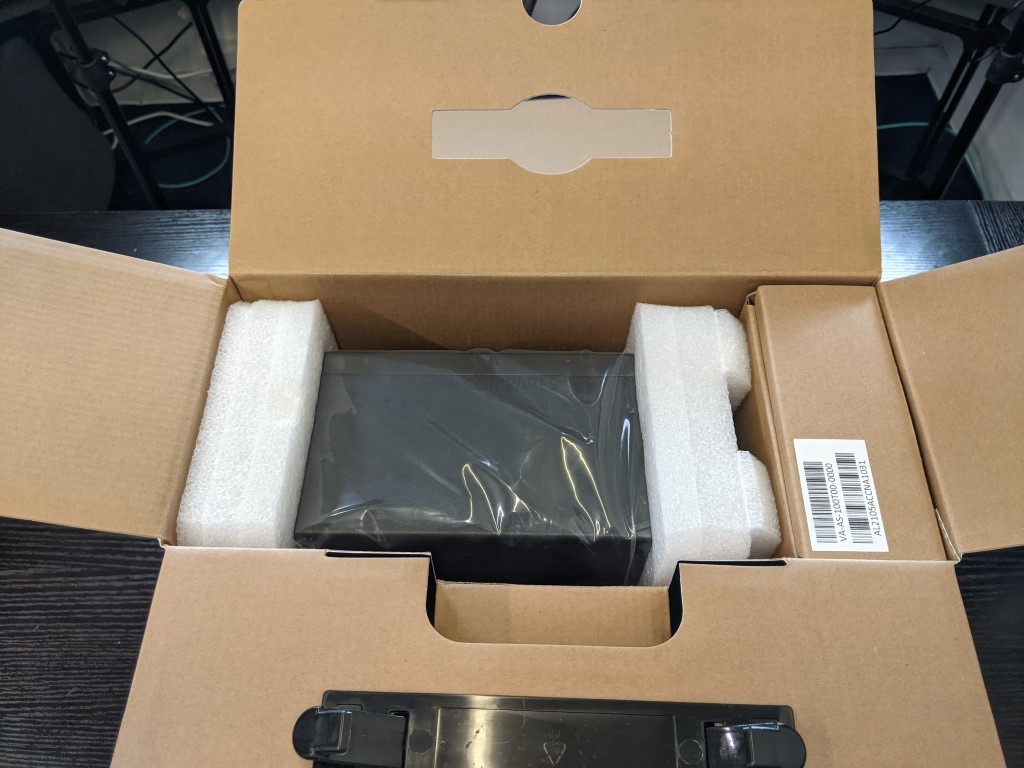 No, my surprise was the size of the retail box. Considering this contains a 2-Bay NAS drive, it is rather small. Given this device promises a whole lot of hardware abilities, along with 2 bays of HDD storage, it seemed remarkably condensed. As minor a point as this is, I thought it would be remiss not to highlight this, as, alongside speed and capacity, factors such as noise, chassis and heat are pretty important concerns. If we open up the box, we find the following contents: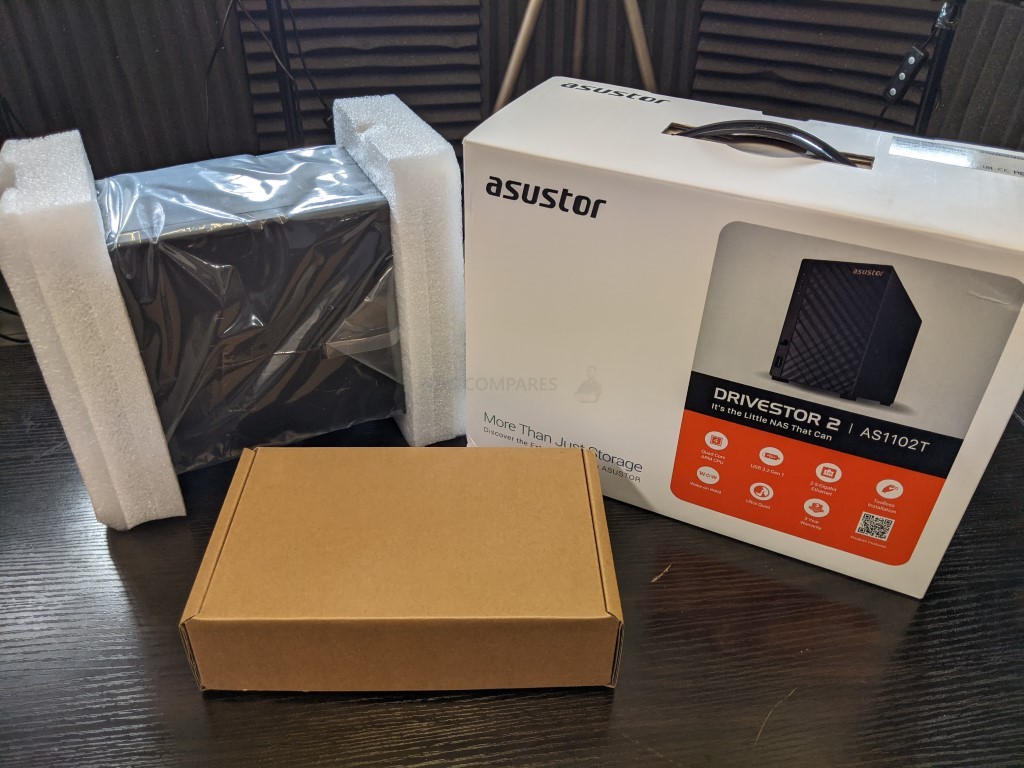 1x Asustor

Drivestor 2

AS1102T NAS Drive
1x 65W External Power Supplier, 100V to 240VAC
1x Mains Power Cable
1x RJ-45 LAN Cable(Cat 5e)
Packed of Flat Head Screw (for 2.5″ HDD)
Quick Start Guide and Instruction Manual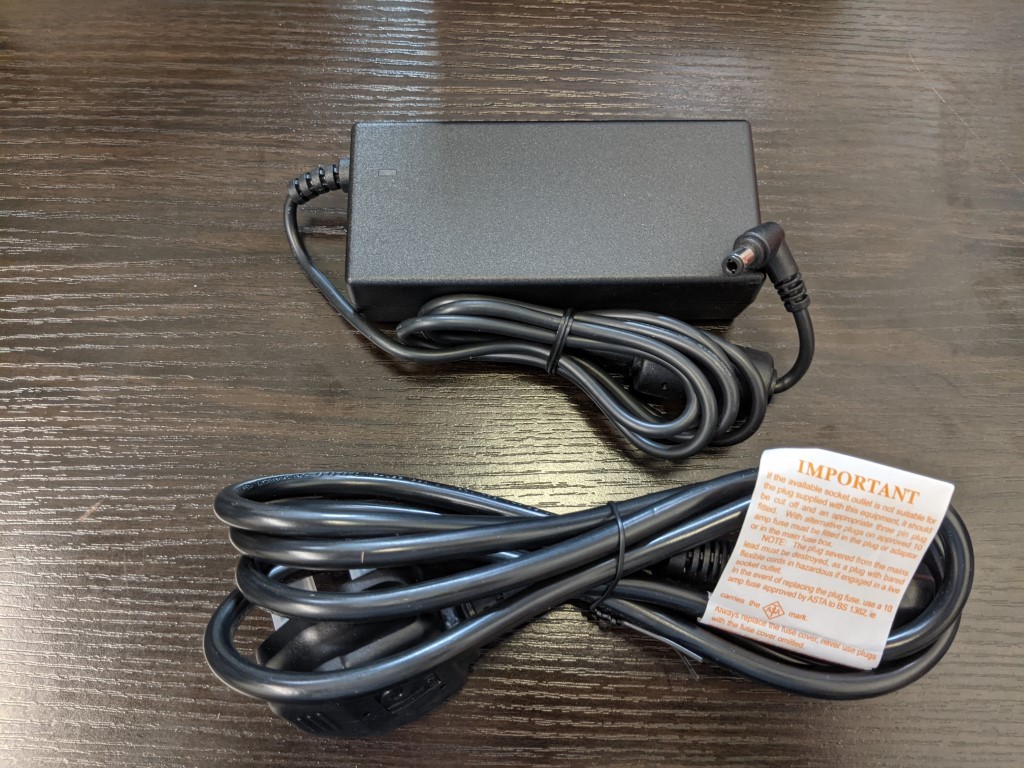 These accessories seem all standard (perhaps I would expect Cat 6e, but at 2.5Gbe, this makes no difference), but with a very efficient PSU (especially for a 2 bay NAS) I am still very much a fan of external Power suppliers, as in the event fails (and this applies to all brands, not just in NAS) the power supplier is still the most failure-prone part of any hardware (it is technically ALWAYS working) and in the 2-3 times in my working history that a PSU failed, in the case of an internal power supply, it has been difficult and time-consuming to repair. External power bricks are jsut easier for desktop devices, plus this 65W PSU means that the Drivestor 2 will be making a very, very tiny make on your environment. Lovely stuff.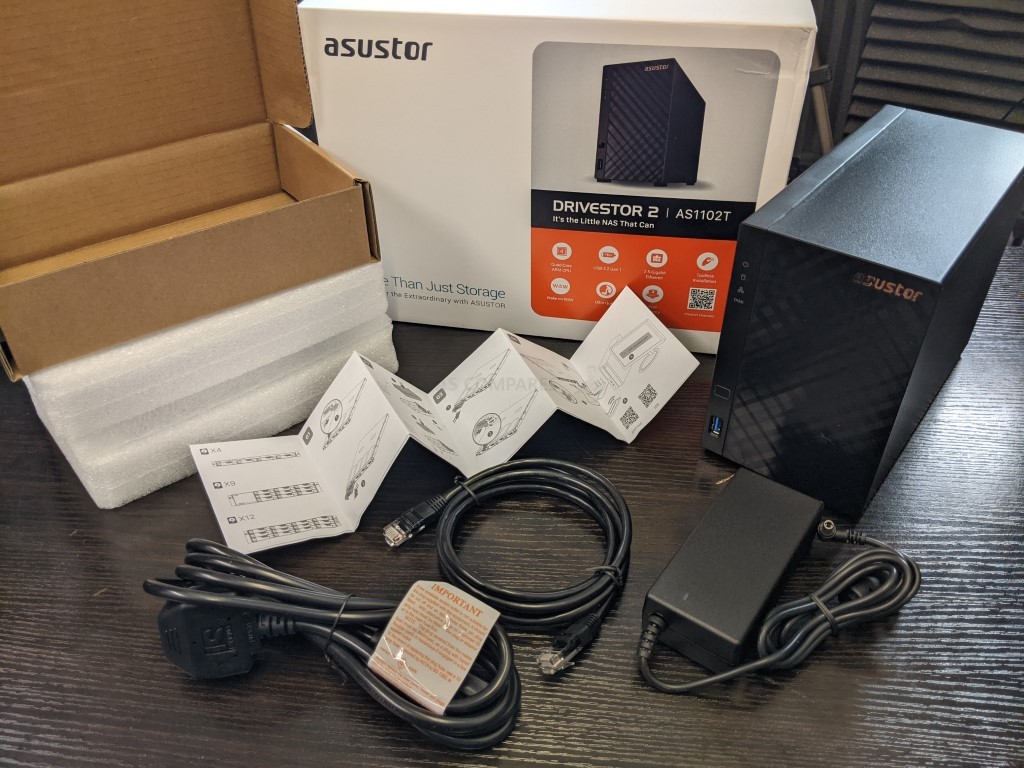 Asustor Drivestor 2 AS1102T NAS Review – Design
Looking at the design of the Drivestor 2 chassis, it is quite understated and although lacks a lot of the initial appeal of the Drivestor 2 Pro, it does make up for this a little with its contained and simply shape for some users. The Drivestor 2 case does not feature any form of external trays or bays, keeping its storage bays internally and inaccessible without powering down the device and opening up the case. This does lead to a lower noise level when in use, though will hardly lower the ambient noise levels of more enterprise hard drive media inside.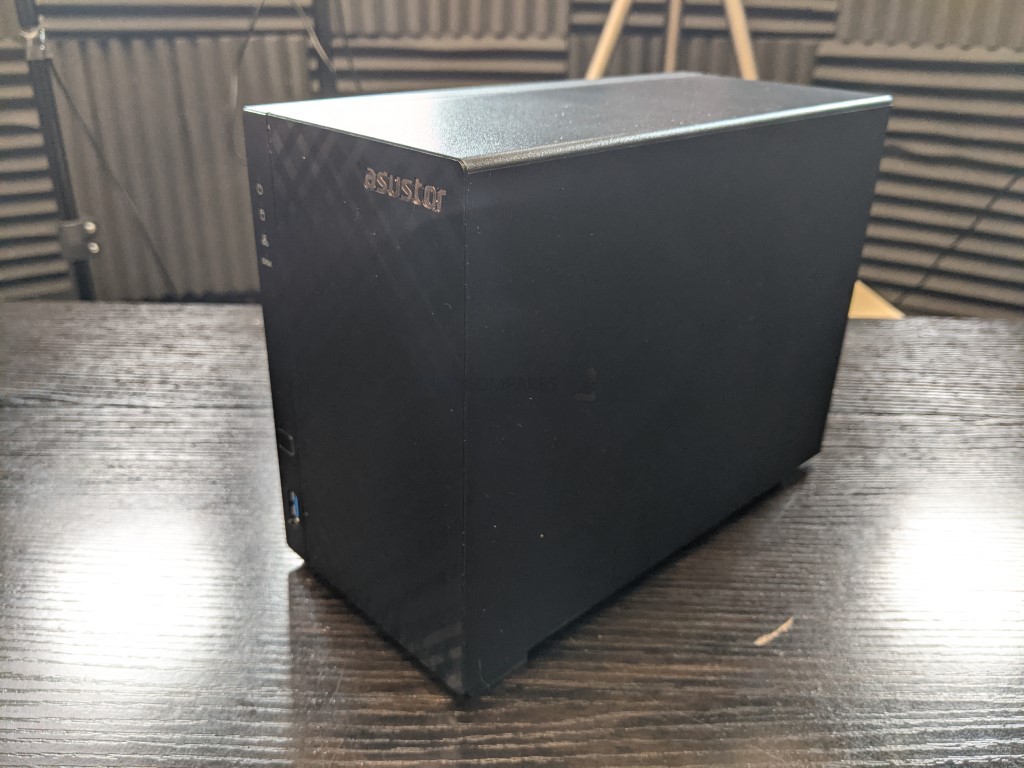 As is a growing trend, the front panel of the Asustor DriveStor is not hinged or fixed but can be removed easily. This means that when the device is doing its day-to-day tasks and not being physical used, it is a contained and covered unit, that looks very neat in most office environments. This removable front panel is even slightly raised and ventilated on all sides, to ensure the rear fan's active airflow is not interrupted.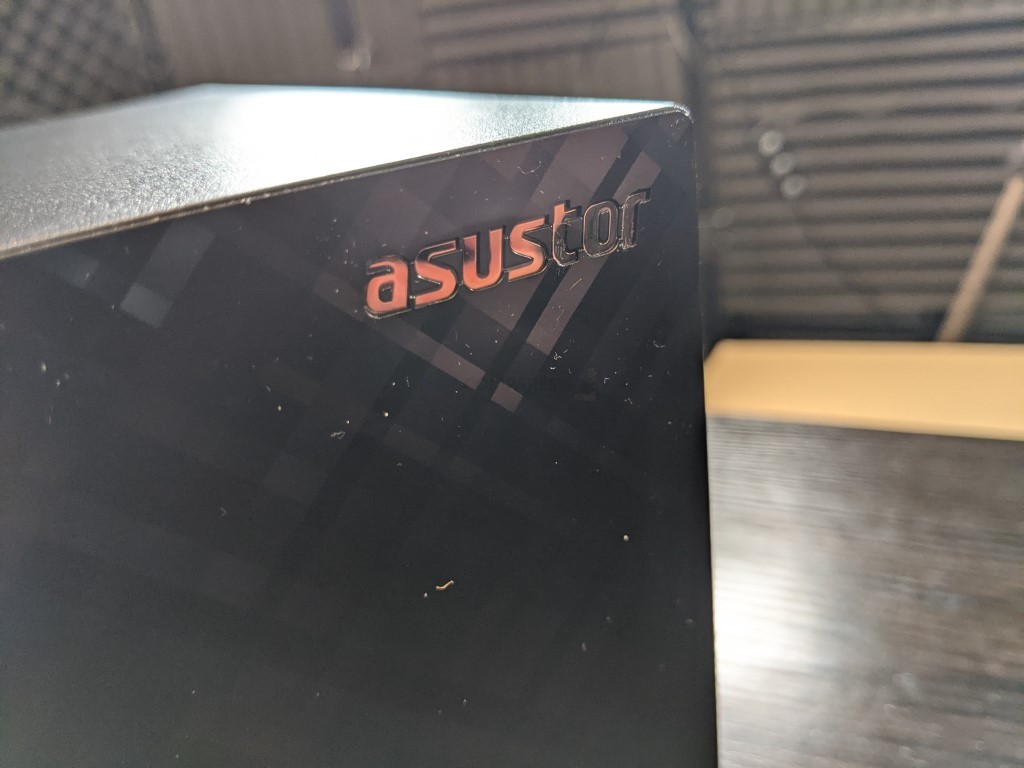 Like the modern edged design of the front panel, the sides of the Asustor Drivestor 2 AS1102T NAS Drive have that angular edge to their surface. The chassis is only available in black and is plastic outside, surrounding a metal internal frame. Additionally, looking at the screw layout, this is a fixed frame that is not intended to be opened for upgrades/maintenance. You cannot even remove this chassis/panel to access the memory upgrade slots as this system does not allow expanding beyond the default 1GB memory sadly.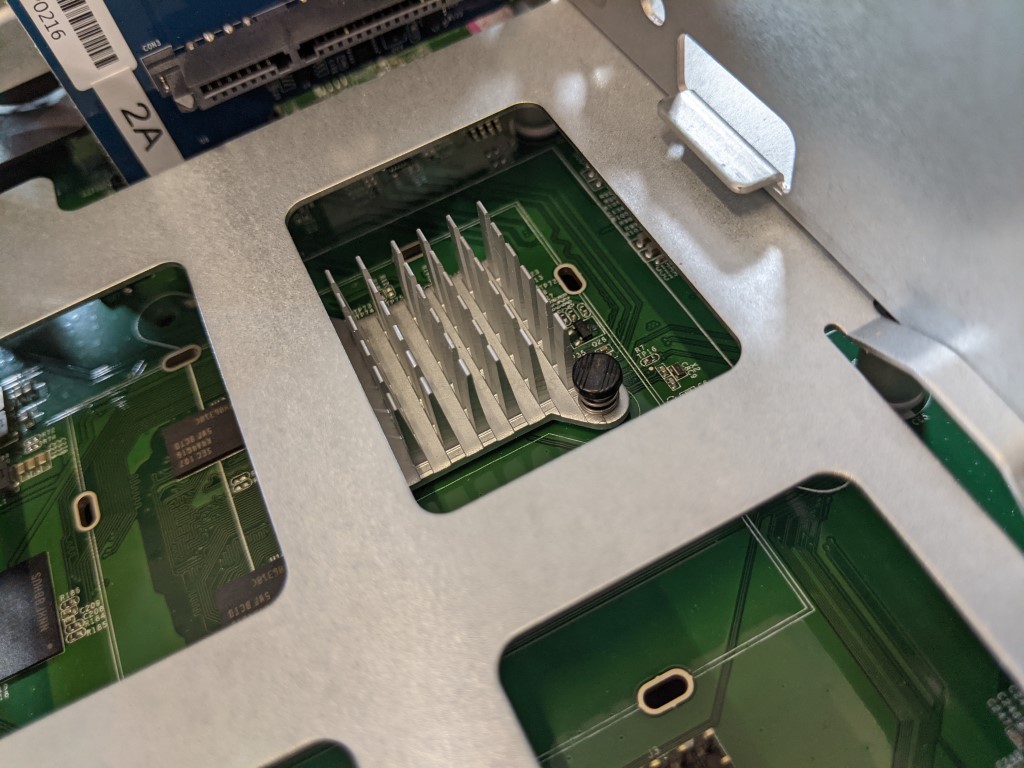 The base of the device features rubberized feet and a large ventilation slot that covers the base of the device to further assist passive airflow through the Hard Drive/SSD installed inside the Drivestor 2 NAS. Aside from this, there is little else on the base of the Asustor AS1102T NAS of note.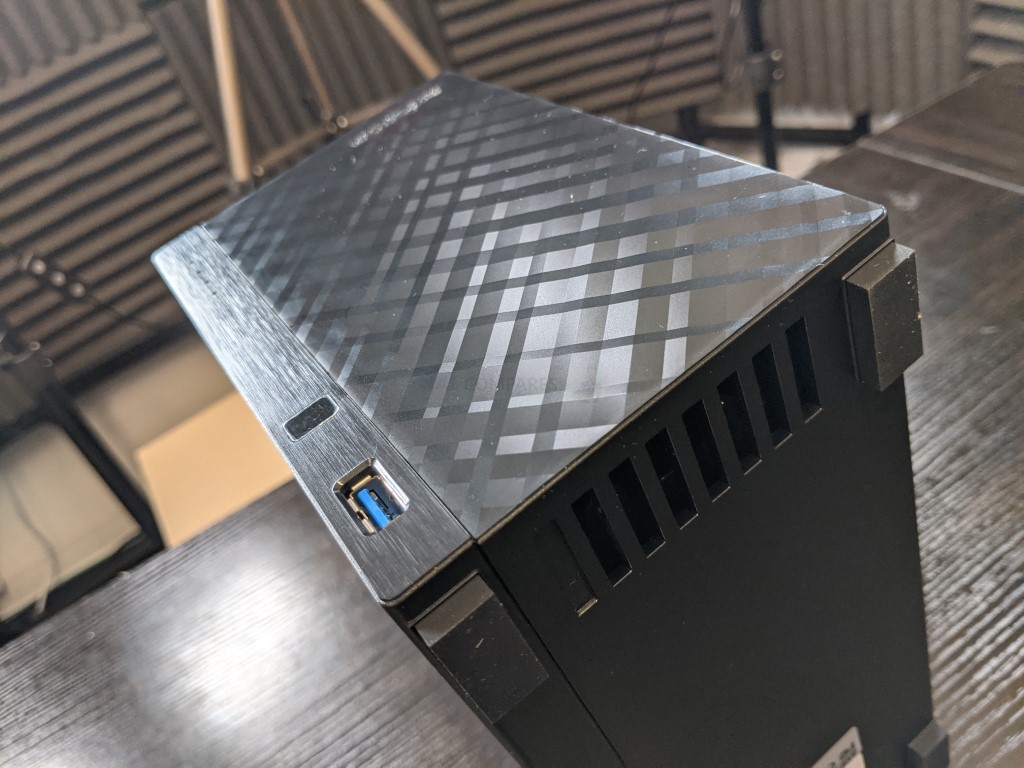 The front displayed LED lights and power button pretty much cover every active/passive factor you will need in the running of this NAS. The LEDs indicate the following:
Power/Standby
Network Access/Activity (one for each port)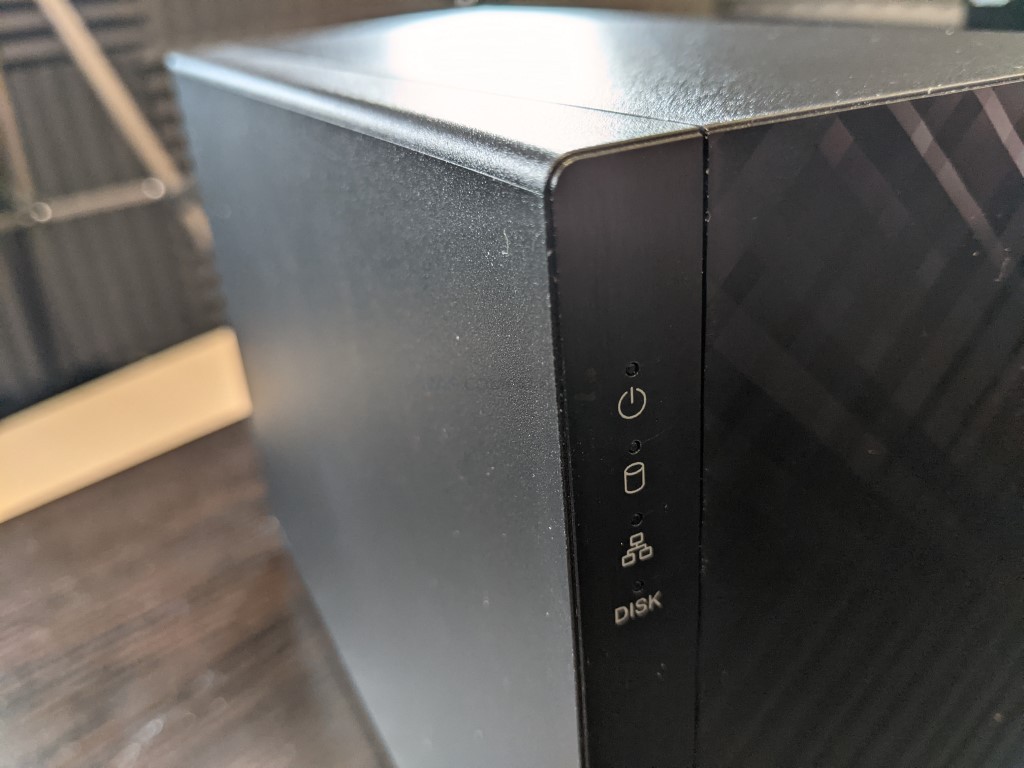 System Activity (Read/Write Actions in progress)
Drive Activity (one for each drive, regardless of RAID)
I know LEDs are fairly standard, but the number of brands that are simplifying this for no real reason is growing and those who care about this kind of thing will notice! The front of the chassis also features a USB 3.2 Gen 1 (5Gb/s) port that allows users to connect numerous devices, but this port is largely utilized for connecting an external USB storage drive for adding additional parallel storage or connecting an ad-hoc/scheduled local backup for the NAS. Unlike the Pro version of the Drivestor NAS, there is no 1-click copy button, but you can activate the backup from the ADM GUI, have it action on a pre-set schedule, or automatic when a/the drive is connected to the port.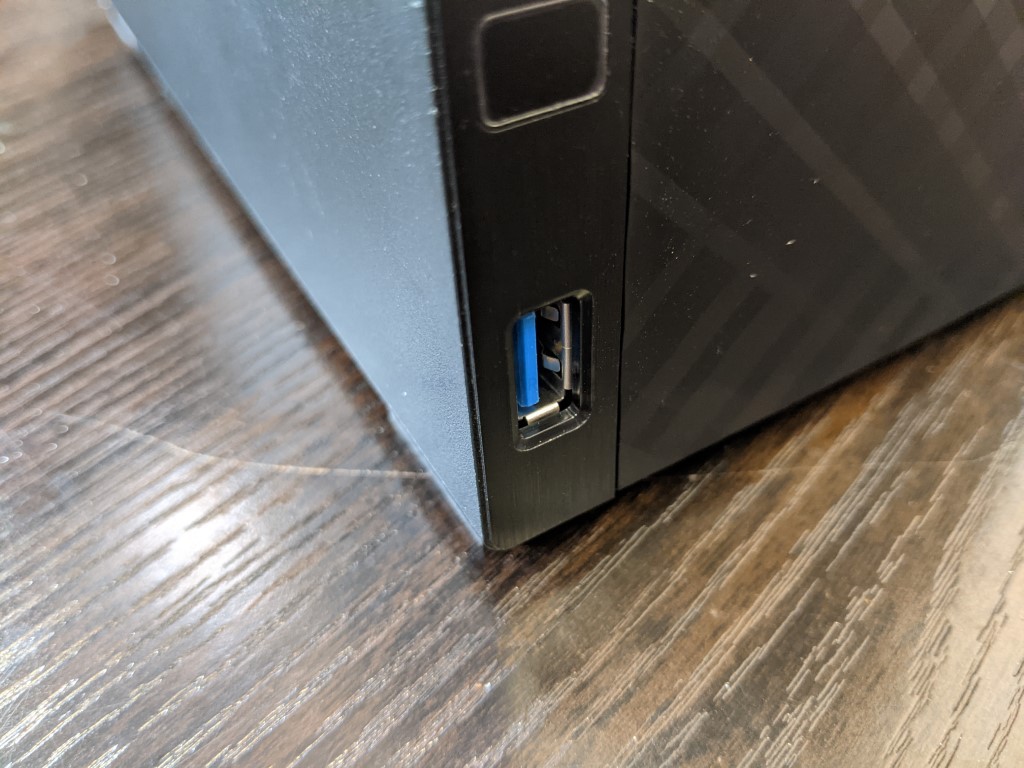 Of course, the main focus when removing the front panel is the HDD/SSD media bays of the DriveStor 2 NAS. These two Bays support the very latest SATA based Hard Drives and Solid State Drives (18TB Seagate Ironwolfs/WD Red and 4TB commercially available grade respectively). The Asustor AS1102T can function with a single drive if you wish, as well as gradually/fully populated and features its own RAID handling of RAID 0 and RAID 1. Additionally, you can install a combination of Hard Drives and SSDs in individual bays, which can then be used to create separate RAID-enabled storage pools for fast/regular accessing data volumes. Alternatively, it is becoming common for small office and shop owners to use a 2-Bay with HDD and SSD installed for a large volume of storage space, supported with a portion of SSD caching. This results in an increased performance internally (and indeed externally thanks to that 2.5Gbe) when working from traditionally slower mechanical hard drives.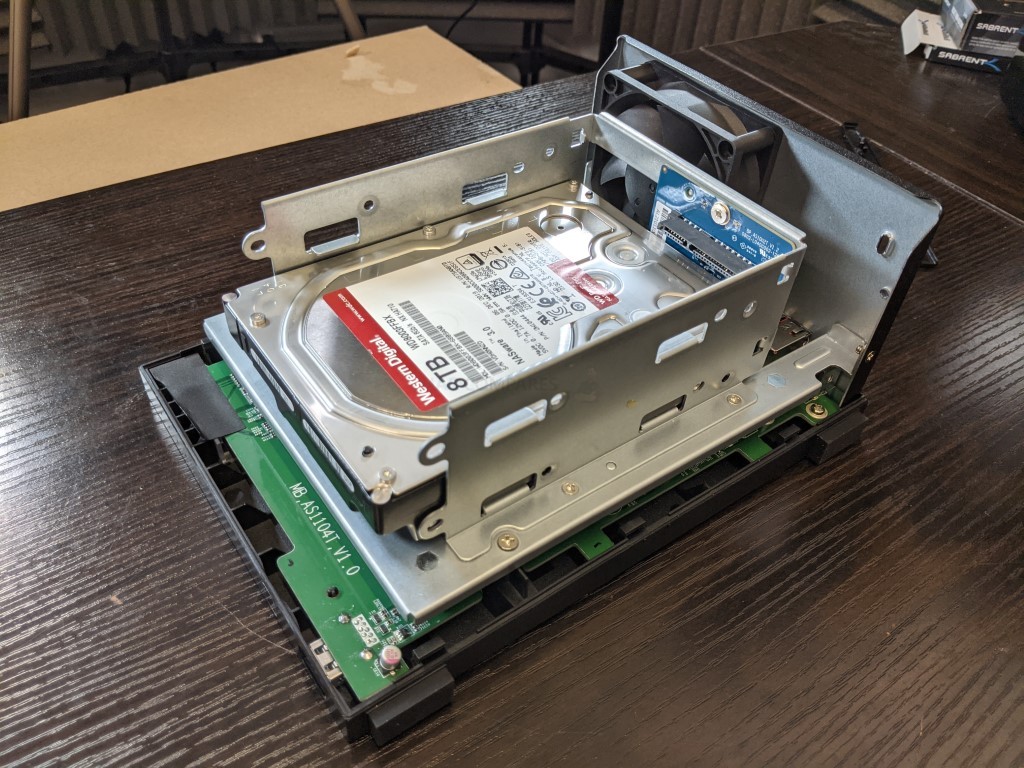 As mentioned, accessing these storage bays is done with the removal of the casing. This is not too difficult and even installing drives inside is very straightforward, it jsut means that hot-swapping (adding a new drive to a RAID array to reBuild a failed RAID will require the NAS being turned off – something that will interrupt active shares and or will need more hands-on time. Not the end of the world, but some users will always choose hot swapping in the even of NAS RAID recovery, as powering the system down on the back of a degraded RAID state feels (for not real reason) a bit dicey.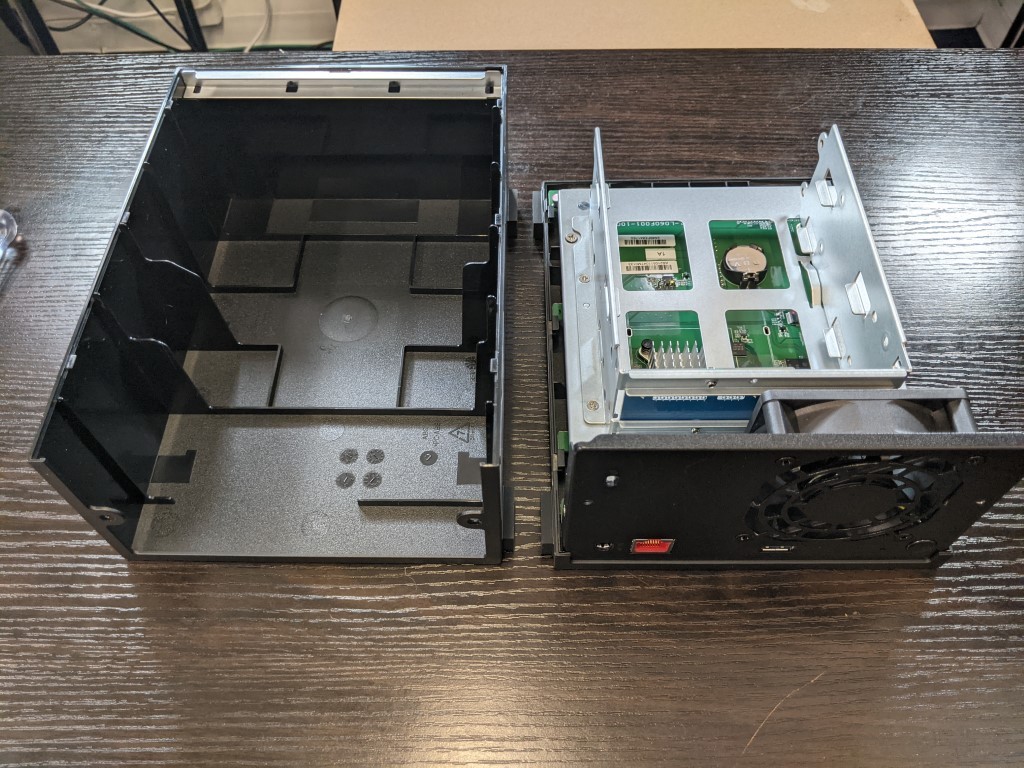 Asustor Drivestor 2 Review – Ports and Connections
Somewhat in line with the modest and cost-effective design featured on the Asustor Drivestor 2, connections on the rear of the device are similarly few. Though I will highlight that it still manages to arrive with hardware a pinch better than a number of similarly affordable price points.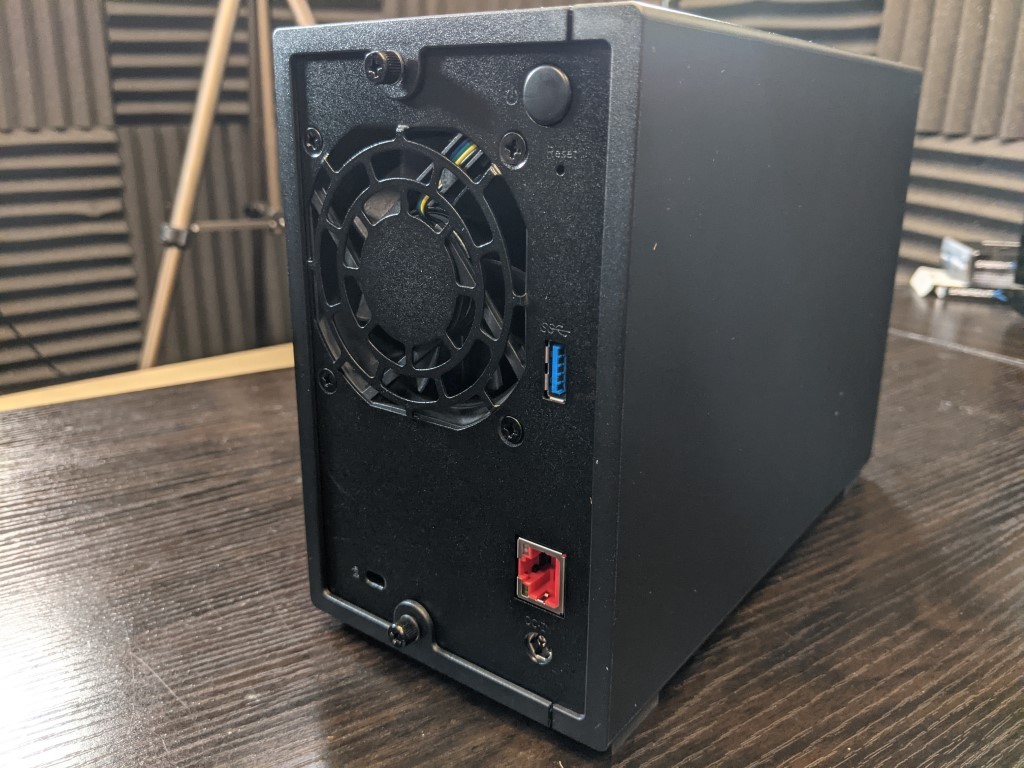 The rear of the device is largely dominated by that single active cooling fan that can have its RPM adjusted automatically or manually as the system internals require. Unless you utilise particularly enterprise or large capacity media, this NAS is not going to be particularly noisy. Additionally, the fact it has an external PSU further allows the system to do a better job of maintaining improved internal temperatures and keeping that fan at the best possible level of use.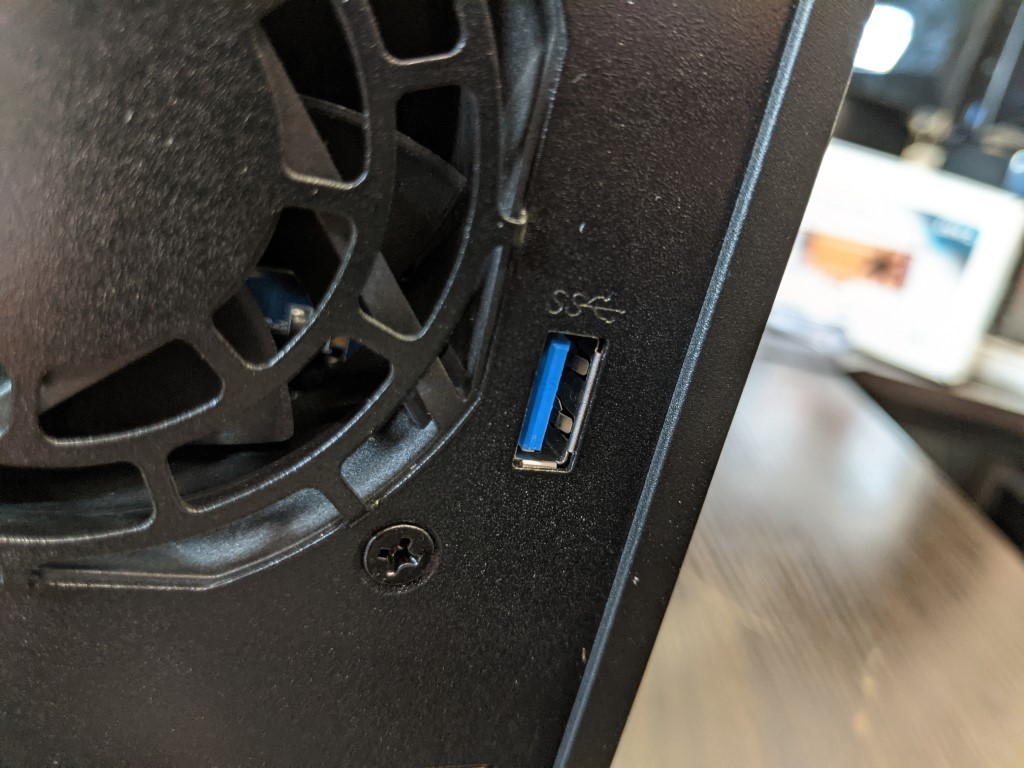 The system also supports the connection of an additional USB device, although the DriveStor lacks the KVM support (as found in the likes of the Lockerstor and Nimbustor series). Alongside the attachment of USB external storage, Wi-Fi dongles, improved network interface adaptors and network-attached office hardware like printers, scanners and UPS', the Drivestor 2 also supports the 4-bay Asustor expansion chassis that allows you to expand this system by an additional 8 bays of storage across 2 connected expansions. These ports are all USB 3.2 Gen1 however and limited to 5Gb performance, though this may well be limited by the processor rather than the brand opting towards lesser connections.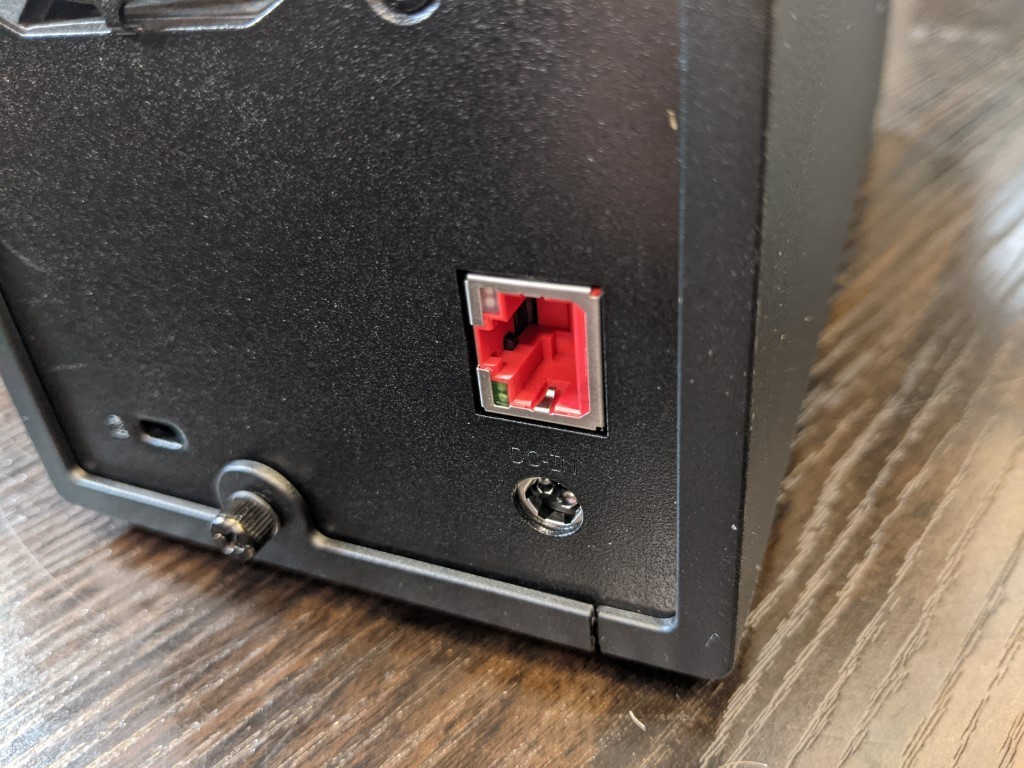 Another interesting if slightly brand predictable inclusion on the Drivestor 2 AS1102T is that it arrives with 2.5Gbe connectivity at a price point where other brands like Synology and QNAP have opted for standard gigabit ethernet. Given that both of the 4 bay and 2-days Drivestor systems have the potential to push out 350-700MB per second internally, it is a welcome addition that externally you have a potential 270MB/s per second throughput possible with supported network hardware. Even this rather modest CPU, compared with that of the Intel and AMD in other systems, will still be able to fully saturate this external connection and it is a rare treat for the budget end of the NAS buyers market to enjoy 2.5Gbe.

For those that are concerned that the benefits of this larger bandwidth ethernet connection will be lost on them, Asustor also provides an optional USB to 2.5 GB adaptor that supports numerous operating systems and even connection to the NAS itself for further network connections (i.e add another connection in the network manager). It's an additional purchase but at just £25+, it will hardly break the bank.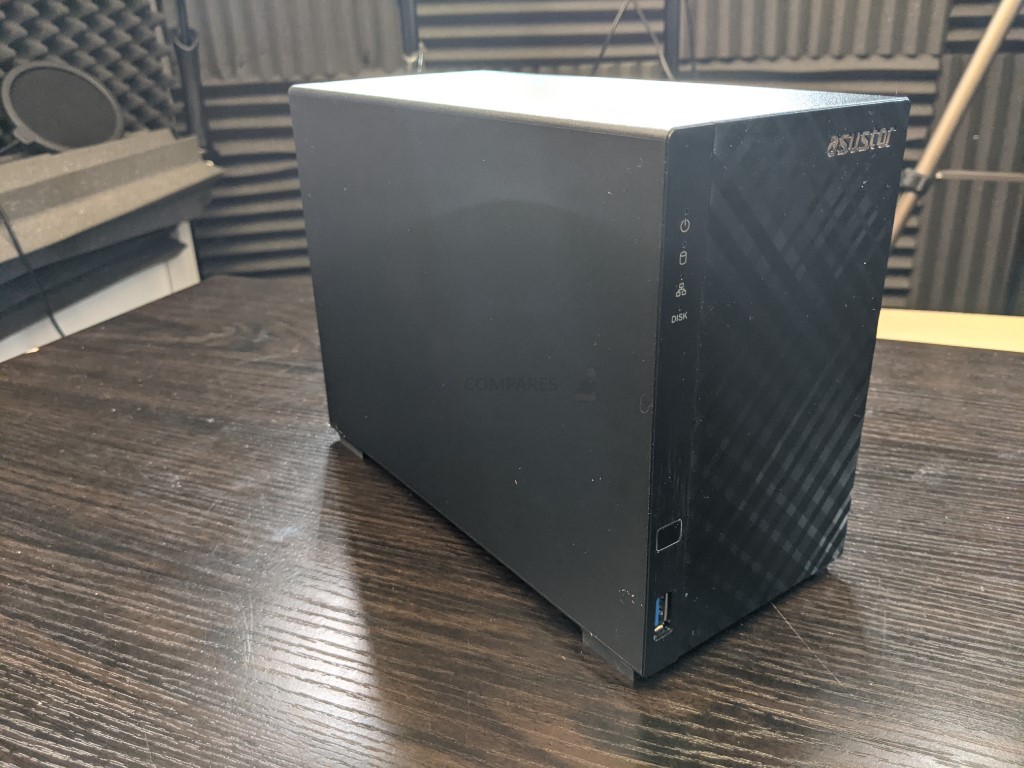 And that is really it for external connectivity on this box. The lack of a GPU embedded CPU means that HDMI support is totally absent and (sorry to repeat myself – but!) with it a lot of the KVM applications that many buyers still opt for Asustor solutions for absent here. Still, you are still getting a better than average selection of ports and connections is this modestly priced solution. Let's discuss that internal hardware and the benefits of brings to the system software and services as a whole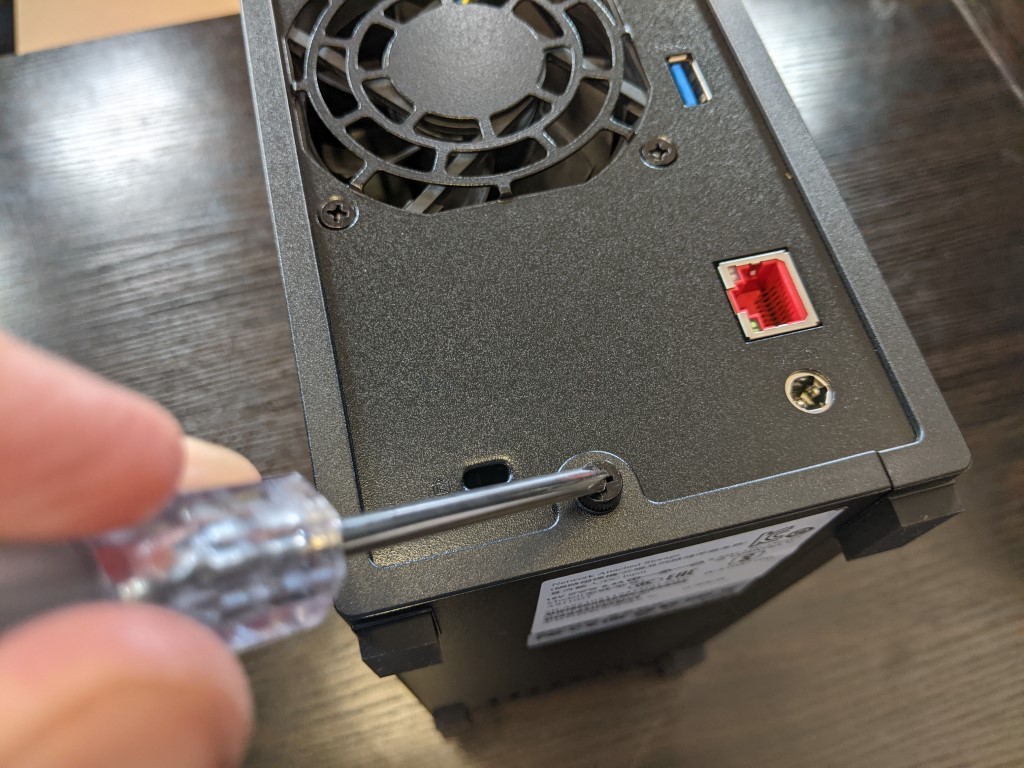 Asustor Drivestor 2 Review – Internal Hardware
The internal hardware featured on the Asustor Drivestor 2 is a surprisingly good value, but rather restricted level of components. There is practically no means of upgrading the internal systems and it should be highlighted that this NAS will likely consume around 30% of the available resources in just general operation. The advent of newly developed 64-bit CRM processors is something we have seen hugely benefit the private server market in recent years but it has to be said that it arrives with plenty of limitations early doors.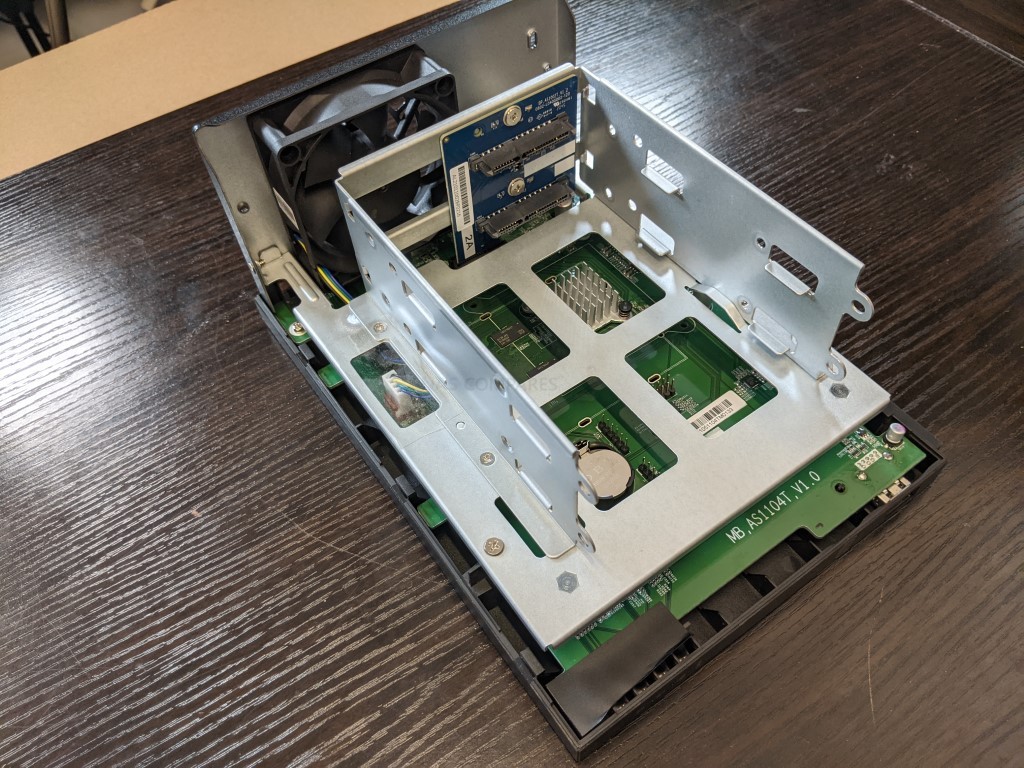 The Realtek RTD1296 inside the Drivestor 2 NAS provides quite a good deal of the standard and first-party software+services available on the platform. Multimedia streaming, multi-tiered backups, background storage sync, security services, container installation and surveillance among many. Additionally, the system features enough hardware in that CPU architecture to make lovely transcode 4H H.265 media (HEVC) which at this price and power level is pretty impressive. Still, this is a processor that does not feature embedded graphics and because of that, some services are not supported by this CPU, such as virtual machine deployment, hardware transcoding in Plex media server, AI-assisted services and generally results in significantly more power usage to do anything with even a hint of graphical object handling. Nevertheless, with a 1.4 GHz frequency per core, the efficiency it brings allows it to do a great deal more than a 32-bit counterpart with fewer resources consumed. Additionally, it is quad-core so you do have a fairly robust processor getting the job done.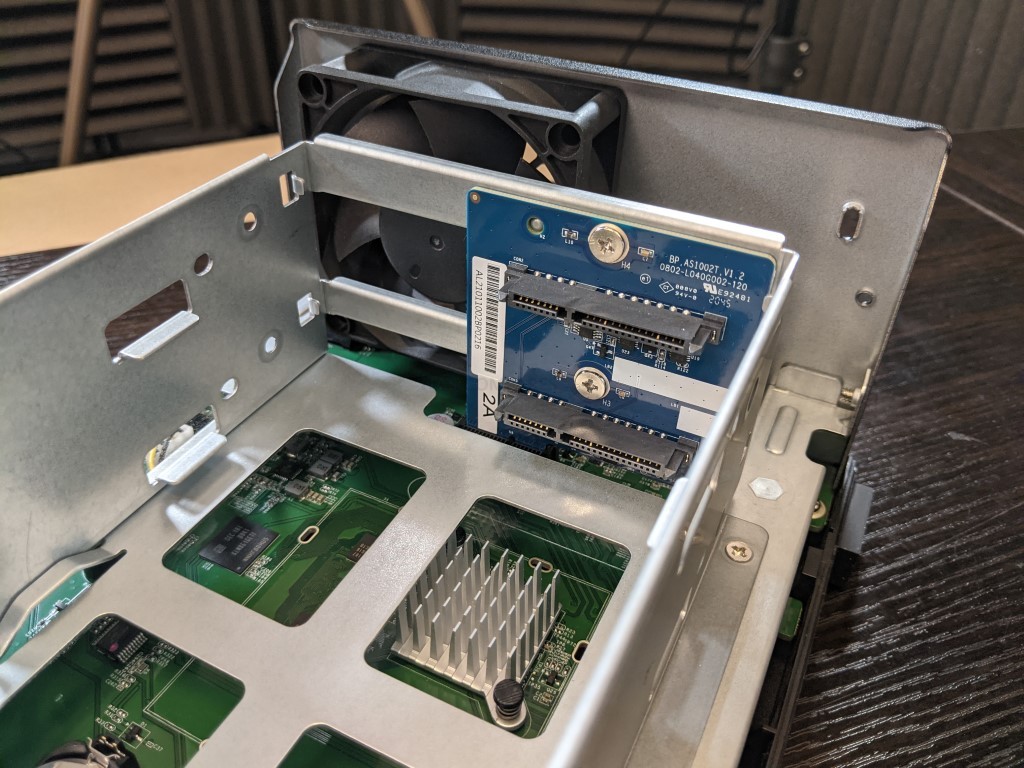 The system also includes 1GB of memory that, alongside this CPU, is actually quite good value and is enough to get a handful of decent applications running simultaneously very well. Also, this memory is DDR4 in architecture, at 2400Mhz, a noticeable upgrade over the 1GB and 512MB DDR3 at 1600Mhz in its predecessors. As good as this all sounds, the system generally will be utilising 20% of this to keep the system running in the background and the fact that you cannot upgrade this memory beyond this point does result in the system having a slight glass ceiling in terms of simultaneous users and services. The Drivestor 2 Pro version arrives with 2 Gigabytes, which is a good level of base memory to be getting on with as an affordable solution, but the Drivestor 2 only having 1GB that cannot be upgraded is something that really nails this NAS down a bit in terms of potential performance in a number of ways.

The throughput reported by Asustor on the Drivestor 2 NAS drive externally easily saturates the available to 2.5Gbe connection in regular file transmission, which isn't a huge surprise for this RAID equipped box. Obviously, this bandwidth is shared between upload and download, so do bear that in mind when looking at these performance benchmarks. Internally the system and its software performed surprisingly well for the rather modest hardware inside and there is even a dedicated media mode that allows you to reserve 512MB of memory for dedicated use when streaming multimedia. The system does not feature dedicated SSD caching bays (e.g M.2 NVMe slots as found in the LockerStor) s and the lack of an integrated graphics CPU also means that the system will use considerably more power when handling visual tasks. But for a single user or light business backup server, the Drivestor 2 NAS will provide acceptable throughput.
Asustor Drivestor 2 Review – Software & Services
We have discussed the latest or drive management software in previous Asustor reviews and although it features the same services and software platform, these new systems arrived with support of the latest version of this software ADM 4.0. Additionally, this software receives frequent updates to ensure that the software runs the very best it can on the DriveStor, as well as keeping up to date with security patches and application versions. We have touched on a number of the features in our Drivestor 2 and ADM 4.0 NAS software review (below) and it highlights already, but here are the highlights:
Plex – This system DOES support plex, but only as high as 1080p and without hardware transcoding (video below too)
Storage Management – Sadly there is no BTRFS Support, but there is EXT4 for the traditionalist, Multiple Snapshot storage and browsing for recovery, a large number of ISCSI and LUN target creation, fast-acting SSD caching use
Network Management – Support of LAG, Load Balancing and virtual switches, as well as maintaining top transmission over 2.5Gbe for editing or gaming over the network. As well as Jumbo Frame control, DDNS automation, Wake on LAN support and internet/external NAS access with EZ Connect
Backups – Supporting a wide range of multi-tiered backup options that can be carried out simultaneously thanks to the capable CPU in the DriveStor NAS, such as network RSync, USB Backups, NAS-2-NAS migration, Cloud Backups with Google Drive, Dropbox and Backblaze and numerous RAID levels internally for redundancy.
Content Management – Numerous Content Management Systems (CMS) and Customer Relationship Managers (CRMs) available in 1st and 3rd party forms, with simultaneous operations supported by the Asustor Drivestor 2 NAS
User Account Control – Supporting over 4,000 accounts, each with their own bespoke privileges and access levels, as well as grouping methods to automate the process easily
Security – AES 256bit hardware encryption on data in/out of the device, as well as over backup methods, as well as Windows ACL permission and configuration, auto blacklisting and multiple VPN provider support
Antivirus (ClamAV) – Scheduled Scans, Automatic Virus Definition Updates, Quarantine Infected Files
Download Center – Supports BT(Torrent & Magnet Link), HTTP and FTP Downloads, Torrent Search, Bandwidth Control, RSS Subscription and Automatic Downloading (Broadcatching), ASUSTOR Download Assistant for Windows & Mac
DropBox, OneDrive and Google Drive Sync – Each ADM Account is Able to Individually Log into one cloud Account, supporting Sync, Directly Upload Files to cloud from the NAS, or from cloud to NAS
LooksGood Media App –Built-in three main video library categories; movies, TV shows, home movies and smart video sorting management
The efficient global search function allows for searches by keywords followed by the execution of more detailed searches for the purpose of finding categories of movies, TV shows, home movies and parameters such as actors, director, year, genre, writer and title
Attractive poster wall and thumbnail display
Automatic production of video poster thumbnails
Centralized management and ability to configure the order of favourites and playlist history
The system administrator is able to configure video library and editing permissions according to user preferences
Can configure access permissions to share with
Multimedia conversion feature
Self-defined smart folder for video conversions
Supports digital TV recordings via digital
Easy streaming with Chromecast and DLNA
Supports playback of videos in Apple TV via AiVideos tvOS version
Mail Server – Each ADM Account can Become an Independent Email Account, Provides SMTP, IMAP and POP3 Mail Protocols, Spam Filter and Black List Settings, Antivirus Scanning for Emails, Exclusive Email Backup Mechanism, Auto-Forwarding and Auto-Response Protocols
Photo Gallary – "Album" and "Browse" Viewing Modes, Manage Photo Album Access Rights: Public Access, Restricted to Certain Accounts, Album Password, Multi-level Folder Structure Support, Supports Tagging of Photos, One-click Sharing to Social Media (Facebook, Google+, Twitter, Plurk, email), Intuitive Drag and Drop Management, Slideshow Viewing Mode, Supports a Wide Range of Image Formats: JPG/JPEG, GIF, PNG, BMP, TIFF, RAW and Supports Video Playback
Surveillance Center – Numerous channels in 720p/1080p on single live view display, On-screen camera controls including camera PTZ, manual recordings, take snapshots, configure camera settings and open Maps, Up to 4 channels of synchronous and non-synchronous playback with audio, Intelligent video analytics including motion detection and foreign object detection, Supported Browsers: Windows Internet Explorer, Microsoft Edge, Firefox, Mac Safari, Mac Firefox ESR, Event notification supports SMS, E-mail, and mobile push notification, AiSecure mobile app for iOS and Android with Push notification, Maximum IP Cam (4 Free Licenses; Additional Licenses to be Purchased)
Takeasy – Download from YouTube, Vimeo, Twitch and More, Selectable Video Type and Quality, Automatic Downloads with YouTube or Twitch Subscriptions, Preview Downloads in Progress and Online Playback
SoundsGood Audio App – Import Personal/Public Music Collection, Personal/Public Music Collection Permission Control, Playlist Editor, ID3 Tag Editor, Local Speaker Support: HDMI, USB, Audio Jack, Supported Audio Formats for Browser: MP3, WAV, Ogg, Supported Audio Formats for Transcoding Through Browser: AIFF, Flac, Supported Audio Formats for Local Speaker: MP3, WAV, Ogg, AIFF, Flac
Backup Tools – Rsync (Remote Sync) Backup, Cloud Backup, FTP Backup, External Backup, One-Touch Backup, EZ Sync, Snapshots
Lastly, for those who are curious, here is how the Asustor ADM platform compares with the Synology DSM platform:
Asustor Drivestor 2 Review – Conclusion
Presented as one of the most affordable 2.5GbE NAS in the market right now, the Asustor Drivestor 2 NAS is a modest system that for the most part does not over-promise in what it can provide. Its architecture lends quite well to the more budget-friendly buyer, home users and those that are simply looking for an easy backup option to the cloud. Additionally, less demanding users who want some light multimedia support, network-based camera surveillance and cross-platform file sharing will certainly see plenty of use in the Drivestor 2 device. The software and services available via ADM on the Drivestor 2 AS1102T also provide a decent level of utilities and provide a good level of confidence to the end-user in housekeeping and secure functionality. Though the system is arguably let down by weak upgradeability and internal hardware (that 1GB Memory is a bit of a kick in the butt) that has been a tad overused in recent years, you still have a very functional solution here that mostly sticks the landing in offering your own private cloud solution. As long as you keep your expectations realistic, the Drivestor 2 is another solid release from Asustor in 2021/2022.
PROs of the AS1102T Drivestor 2
CONs of the AS1102T Drivestor 2

Lowest Prices 2.5GbE NAS Out there
2.5Gbe Connectivity can be fully saturated
Lower Ambient Noise level than the Pro Version
Rare Realtek NAS that is Expandable
4K HEVC Transcoding
Modern Software Design
Wide Range of Mobile Apps
Cloud/NAS/USB Backup Support

Lack of HDMI = No KVM Setup
1GB Memory and No Option to Upgrade further is a kicker
Software still not quite on par with competitors (AI services, Hybrid Cloud, etc)
Going to Buy on Amazon? Use the button Below – Thank You!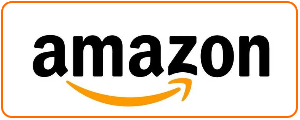 📧 LET ME KNOW ABOUT NEW POSTS 🔔
Join 1,582 other subscribers
Get an alert every time something gets added to this specific article!
This description contains links to Amazon. These links will take you to some of the products mentioned in today's content. As an Amazon Associate, I earn from qualifying purchases. Visit the NASCompares Deal Finder to find the best place to buy this device in your region, based on Service, Support and Reputation - Just Search for your NAS Drive in the Box Below
Need Advice on Data Storage from an Expert?
We want to keep the free advice on NASCompares FREE for as long as we can. Since this service started back in Jan '18, We have helped hundreds of users every month solve their storage woes, but we can only continue to do this with your support. So please do choose to buy at Amazon US and Amazon UK on the articles when buying to provide advert revenue support or to donate/support the site below.

Finally, for free advice about your setup, j
ust leave a message in the comments below here at NASCompares.com and we will get back to you.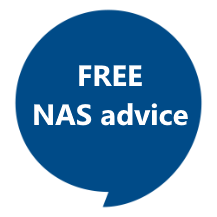 Need Help?
Where possible (and where appropriate) please provide as much information about your requirements, as then I can arrange the best answer and solution to your needs. Do not worry about your e-mail address being required, it will NOT be used in a mailing list and will NOT be used in any way other than to respond to your enquiry.
Support What We Do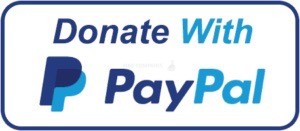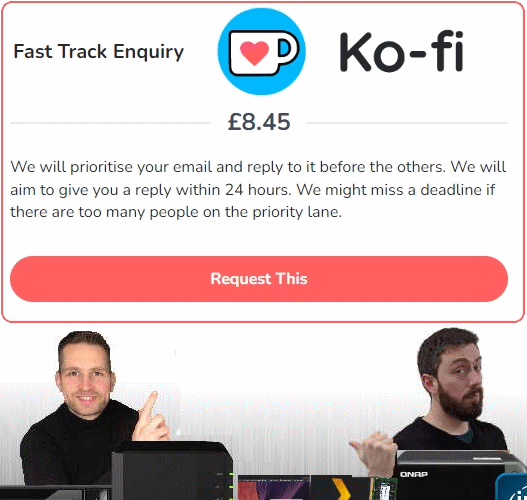 Terms and Conditions
Alternatively, why not ask me on the
ASK NASCompares forum
, by clicking the button below. This is a community hub that serves as a place that I can answer your question, chew the fat, share new release information and even get corrections posted. I will always get around to answering ALL queries, but as a one-man operation, I cannot promise speed! So by sharing your query in the
ASK NASCompares
section below, you can get a better range of solutions and suggestions, alongside my own.
This description contains links to Amazon. These links will take you to some of the products mentioned in today's video. As an Amazon Associate, I earn from qualifying purchases
Summary
Reviewer
Review Date
Reviewed Item
AS1102T Drivestor 2 NAS Review
Author Rating