QNAP TS-233 2-Bay NAS Drive Revealed, Coming Soon!
UPDATE – The QNAP TS-233 NAS is now released and my FULL Review is now published and can be found HERE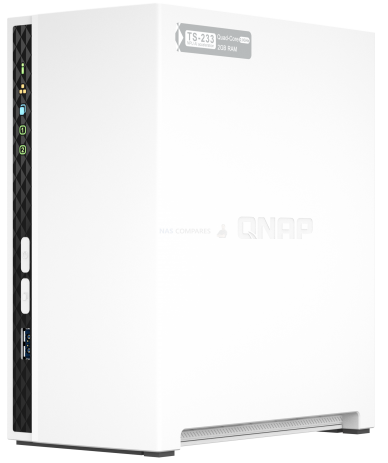 If you are someone who has been looking at buying their first NAS drive, but targeting something a little more 'affordable' or 'value' in scope, then it's been a bit of a tough choice lately. There ARE most cost-effective solutions available right now from the big name brands, but many are coming up on 2 years since release and this can easily lead buyers to wonder 'is something better about to arrive?' New releases in the world of network-attached storage (NAS) were a little thin in the closing stages of 2021 compared with previous years. Whether it is the manufacturers switching focus from the hardware to the software, relying more and more on existing models to support their NAS operating system and GUI, or because 2020/2021 had been rather complicated years to track consumer trends and existing units in the field because the pandemic has massively effected consumer priorities. Whatever the reason, news on new releases from the big NAS brands have started to arrive a lot later than we expected and with many users sitting on their money, waiting for something new and shiny to buy, it is only now at the start of 2022 that we are seeing some new kit start to emerge. Step forward to a new affordable 2-Bay NAS solution from QNAP, the TS-233 NAS Drive. Featuring a modified take on an existing chassis, the arrival of a new efficient yet capable CPU (that I expect we will see cropping up a lot more as the year goes on) and a few hardware factors that are very 'QNAP' in design, the newly announced TS-233 sounds like it will be the perfect budget NAS for those making their first steps into a home or small business server.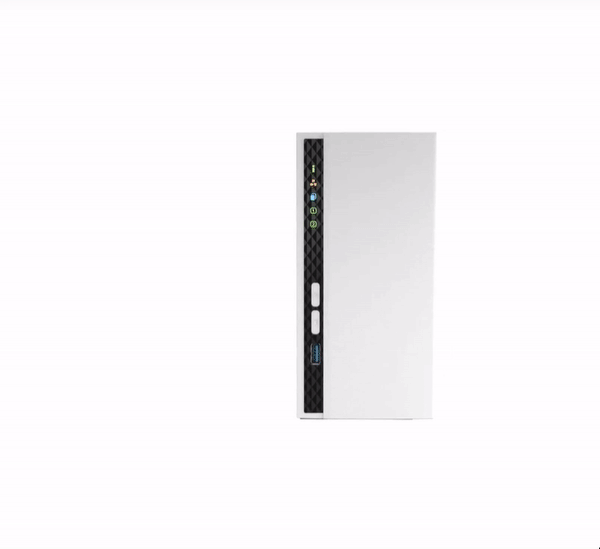 What are the Hardware Specifications of the QNAP TS-233 NAS?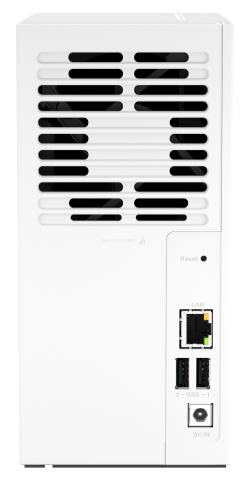 The hardware of the TS-233 NAS is not exactly going to blow you away, it has to be said. QNAP, along with many other brands, has been in the market for producing these affordable solutions in desktop form for a while (in the last 5-6 years we have seen the TAS-268, the TS-228A and the TS-230) and although each one is an improvement over the one before it, it is generally very small improvements. This is because these solutions are all too often produced to be extremely 'budget aware' and with the rising cost of components generally outpacing how much growth in their ability can be stretched between generations (not without increasing the cost fo the device significantly), the hardware specifications of the TS-233 are pretty modest.
TS-233">
TS-233 active spec_value" data-sku-name="TS-233">ARM 4-core Cortex-A55 2.0GHz processor
TS-233">2GB DDR4 (Max)
TS-233">2x SATA HDD/SSD Bay
TS-233">Top Loaded Drive Injection
TS-233">1x RJ45 1GbE
TS-233">1x USB 3.2 Gen 1
TS-233">2x USB 2.0
TS-233">Support of the USB-to-5GbE Adapter
TS-233">Compact 188.6 × 90.1 × 156.2mm White Closed Chassis
TS-233">Low Noise single 80mm Fan
TS-233">65W External PSU and Reported 3.43/10.81W Power Use (Idle/Active)
Now, although I am pleased by that CPU as an upgrade over the current 'Value' devices from ALL brands having the same Realtek RTD1296 processor, the rest of the system seems remarkably similar to the current TS-230 NAS from QNAP in their value series. The lack of 25GbE on this system is particularly surprising in 2022. Especially given the brands big, BIG push towards 2.5GbE on the rest of their hardware in the last two years.
How Does the QNAP TS-233 compare with the TS-230 NAS?
The new TS-233 from QNAP looks set to serve as a follow up to the now almost 2 years old TS-230. On the face of it, these two NAS are incredibly similar and for the most part it really comes down to one core difference between them – the CPU. Though both the new and old system uses a 64bit ARM chip, this newer generation ARM A55 Cortex 4-Core processor is more efficient AND  arrives at a higher clock speed per core (2.0Ghz vs 1.4Ghz), which means that it is going to use less resources than it's predecessor in most tasks. Here is how the two NAS drives compare:
| | | |
| --- | --- | --- |
| MODEL | QNAP TS-233 | QNAP TS-230 |
| CPU | | Realtek RTD1296 |
| CORES | 4 | 4 |
| CLOCK SPEED | 2.0GHz processor | 1.4GHz processor |
| MEMORY | 2GB DDR4 (Max) | 2GB DDR4 (Max) |
| BAYS | x2 SATA | x2 SATA |
| PORTS | | |
| LAN | 1x 1GbE | 1x 1GbE |
| USB 2.0 | x2 | x1 |
| USB 3.2 Gen 1 | x1 | x2 |
| PSU | 65W External | 65W External |
| IDLE POWER USE | 3.43W | 4.48W |
| ACTIVE POWER USE | 10.81W | 12.27W |
| SIZE (mm) | 188.64 × 90.18 × 156.26 | 188.64 × 90.18 × 156.26 |
| WARRANTY | 2yrs | 2yrs |
That Realtek RTD1296 was certainly a popular chip in the more affordable NAS ranges in the last two years (appearing across pretty much ALL the NAS brands). This was largely down to it being modest in power/price, yet supporting 4K transcoding, snapshots, container applications, multiple tiers of backup operations with full Hybrid Backup 3 support and can even support Plex Media Server in 2020 and 2021 (though transcoding will not be possible). However, with a newer refresh of affordable NAS ranges, it should not come as a surprise that a more capable processor will arrive and the A55 Cortex in the TS-230 NAS can seemingly do everything the older Realtek A53 processor can do, just doing it quicker and utilizing fewer resources. Though I will highlight that I am not a big fan of this system still arriving with 1GbE AND the fact that it only has a single USB 3.2 Gen 1 port (the older TS-230 NAS had 2x).
What Are the Software Specifications of the QNAP TS-233 NAS?
It is a valid question! With such modest hardware under the bonnet, how much of the QNAP software can this system hope to run? If it can run things as well/better than the TS-230, then that would indicate that it should be able to run a good 50-60% of the QNAP applications. However, the 2GB of DDR4 memory that the TS-233 arrives with (which cannot be upgraded) will likely use a significant chunk of that just to run a small handful of applications at once. The QNAP TS-233 is more than just hardware and arrives with the QTS 5 NAS software. This software is included in the price of the TS-233 and is a great user interface and operating system for those users in both home and business circles. it is important to understand that when you buy the TS-233 server (or indeed any QNAP NAS), it arrives with the QTS software platform, with constant updates and hundreds of applications included. These are all tested and maintained 1st party QNAP apps and 3rd party applications. This is further improved with desktop client programs for PC/Mac and mobile applications for iOS and Android – ALL INCLUDED and downloadable at any time. The TS-233 can perform most modern applications that you would want from a modern NAS, such as:
First Party QNAP Applications for the TS-233
QSync for Backing up multiple Devices to the NAS on a schedule/as needed
Hyper Backup Sync 3
QuMagie for photo collections and AI-enabled face/thing recognition
Multimedia Console for managing media sharing, streaming, transcoding and indexing
File Station for File Management, sharing and permission allocation
Download Station for managing HTTP/FTP/NZB/BT downloads, as well as RSS feeds for podcasts and updates
QFiling and QSirch to better organize files and remove duplicates/waste
Cloud Drive for Migrating and Synchronizing between Google Drive, Dropbox, Amazon S3, etc
Photo Station to organize and catalogue photo collections
Music Station to organize, playback and stream music media to network/internet devices
Video Station to playback media over the network/internet
Container Station for management micro/compact virtual environments
QVR Elite for Surveillance/CCTV/NVR use with IP Cameras
MANY more QNAP Apps
Third-Party Applications for the TS-233
Plex Media Server(no transcoding natively)
Emby
iTunes Server
Acronis True Image Backup
Malware Remover
SugarCRM
TVMosaic
Desktop Client Applications from QNAP
QSync for Mac and Windows
QVR Elite Client for PC/Mac
QFinder Pro for Mac/PC
Mobile Applications for iOS and Android
Qfile – File manager
QPhoto – Photo Manager
QVideo – Video Manager
QMusic – Music Manager
QRemote – Remote Control App over the Network
QNotes – Central note-taking app, for collaboration between users
It is a pretty widespread range of applications and services to choose from. However until I have one in the studio, we will have to wait and see how far this system can be pushed. A common factor that gets overlooked when people buy these more affordable systems, is that they are good for running 1,2 or 3 things at once – but 2GB of memory being spread across users and processes all at once can quickly lead to a bottleneck that more powerful x86 64bit processors (such as Intel or AMD CPUs in more expensive Prosumer/SMB systems) can easily deal with. So, yes, the QNAP TS-233 can likely do all of these services and functions listed, but you have to keep your expectations realistic when trying to do many things at once!
When Will the QNAP TS-233 NAS Drive Be Released and the Price?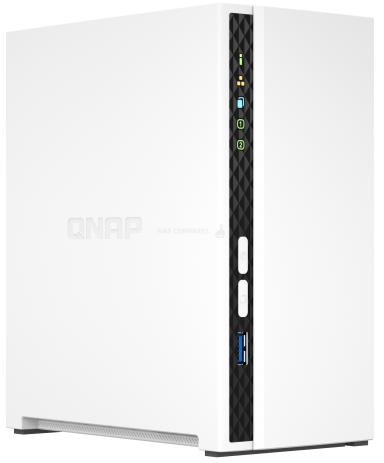 Despite its remarkable similarity to the QNAP TS-230, I think this newer TS-233 will arrive at a higher price point – this is largely due to it arriving with the hardware architecture a pinch earlier than most brands, as well as hardware shortages making components at the point of manufacturer hardware to get and most costly. This is not exclusive to the TS-233 but something we are going to see a lot more in 2022 as the knock-on effects of these shortages over 2020-2021 (when hardware/components were acquired for 2022 hardware) need to be levelled against the RRP on these newer systems launching. It's a sad but annoying truth! However, this is still going to be a NAS aimed at the Home and small business owner, so a price around the £160-180 price point (without your local TAX) is fairly likely. Details on the QNAP TS-233 NAS are still so thin that as an estimation of a release date is just too thin on the ground. The TS-233 NAS is already listed on the QNAP Taiwanese pages, so it is likely that if it is going to be released in the rest of the world (almost certainly!), that it will be added shortly and released some time in Feb/March of 2022.
📧 LET ME KNOW ABOUT NEW POSTS 🔔
Join 1,411 other subscribers
Get an alert every time something gets added to this specific article!
This description contains links to Amazon. These links will take you to some of the products mentioned in today's content. As an Amazon Associate, I earn from qualifying purchases. Visit the NASCompares Deal Finder to find the best place to buy this device in your region, based on Service, Support and Reputation - Just Search for your NAS Drive in the Box Below
Need Advice on Data Storage from an Expert?
We want to keep the free advice on NASCompares FREE for as long as we can. Since this service started back in Jan '18, We have helped hundreds of users every month solve their storage woes, but we can only continue to do this with your support. So please do choose to buy at Amazon US and Amazon UK on the articles when buying to provide advert revenue support or to donate/support the site below.

Finally, for free advice about your setup, j
ust leave a message in the comments below here at NASCompares.com and we will get back to you.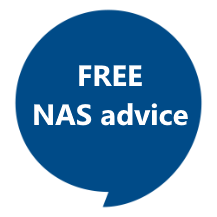 Need Help?
Where possible (and where appropriate) please provide as much information about your requirements, as then I can arrange the best answer and solution to your needs. Do not worry about your e-mail address being required, it will NOT be used in a mailing list and will NOT be used in any way other than to respond to your enquiry.
Support What We Do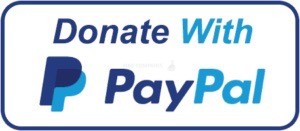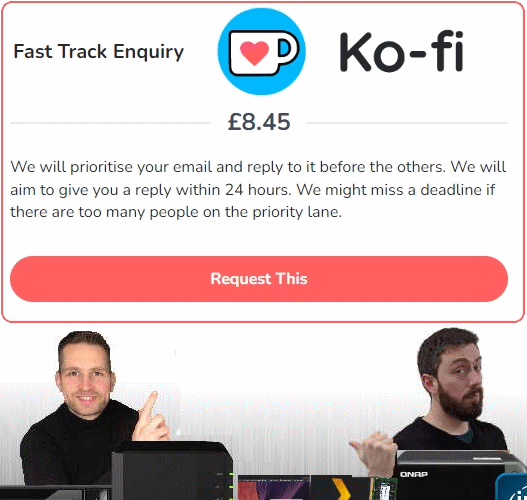 Terms and Conditions
Alternatively, why not ask me on the
ASK NASCompares forum
, by clicking the button below. This is a community hub that serves as a place that I can answer your question, chew the fat, share new release information and even get corrections posted. I will always get around to answering ALL queries, but as a one-man operation, I cannot promise speed! So by sharing your query in the
ASK NASCompares
section below, you can get a better range of solutions and suggestions, alongside my own.