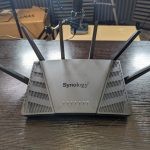 Synology Router Manager 1.3 Review Chapters

SRM 1.3 Synology Router Software Review, ALL Parts - HERE
SRM 1.3 Synology Router Software Review, Part 1, Design & Control - HERE
SRM 1.3 Synology Router Software Review, Part 2, Safety & Security - HERE
SRM 1.3 Synology Router Software Review, Part 4, Safe Access - HERE
SRM 1.3 Synology Router Software Review, Part 5, USB Storage Services & Conclusion - HERE 

Synology SRM 1.3 Review – Network Management
The more premium a router is (i.e expensive!) the more you find that they start to feature features and services that are more often found in switches. Indeed, it still surprises me that Synology has yet to make the jump towards its own range of switches in the way that the other NAS brand QNAP has. That said, the network management and control that is featured in SRM 1.3 is quite extensive for a router, even if the complaints surrounding how long it has taken Synology to feature virtual network creation have been fairly constant these last few years. The Network Center application largely provides the bulk of network management resources, opening up into a brief overview of available connectivity and enabled SSIDs. There is also a live graph of activity covering uploads, downloads, system hardware resources and the status of those individual physical ports.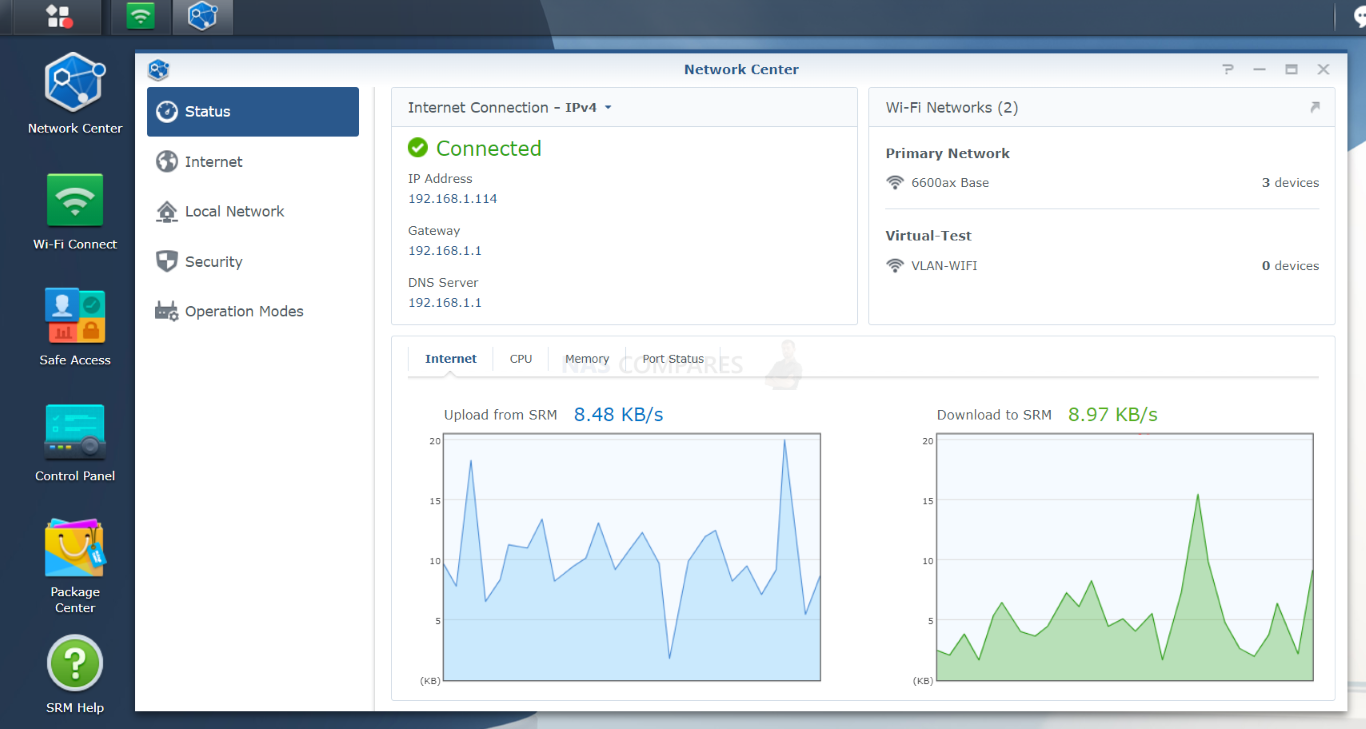 If you dig a little into the Port Status area, you are able to see any live connections and the bandwidth currently available on that connected line. This was one area of design that I was a little underwhelmed by on Synology's part. Aside from the user interface in the Network Center application featuring a few different options whether you used the router on its own or as an additional access point (which makes sense logically), SRM 1.3 still lacks a larger topographical overview of the network, virtual networks and SSIDs. I appreciate that this would fall more into 'network switch' territory, but with the RT6600ax router with SRM 1.3 supporting 5 virtual networks, 15 SSIDs on a network, 4 LAN ports and the ability to bond them together in a custom way – that would be MUCH easier to comprehend graphically or in a breadcrumb/tree style.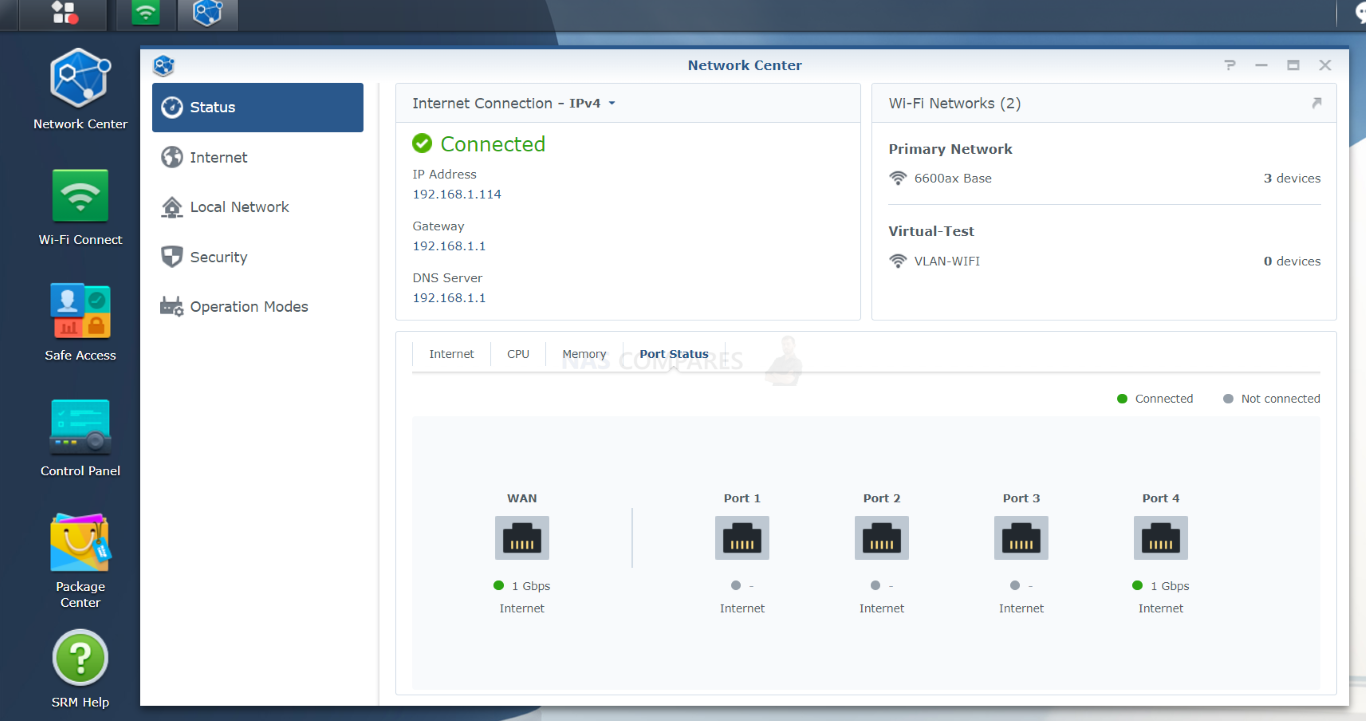 There IS however a clear and quick-to-setup means to create a failover connection involving multiple ports. Although in the diagram below WAN and LAN 1 were featured, this is customizable via dropdowns. Additionally, you can factor in the USB SIM dongle or Mobile Phone USB tethering services to be used as a failover for the WAN and a wired internet connection. This failover also has a few straightforward rules and system policies for how the switch would take place in the event of your primary connection dropping, as well as what happens when it gets stored. Fairly straightforward stuff, but presented very well in SRM 1.3 and makes having a backup internet connection a lot more justifiable and easy to implement.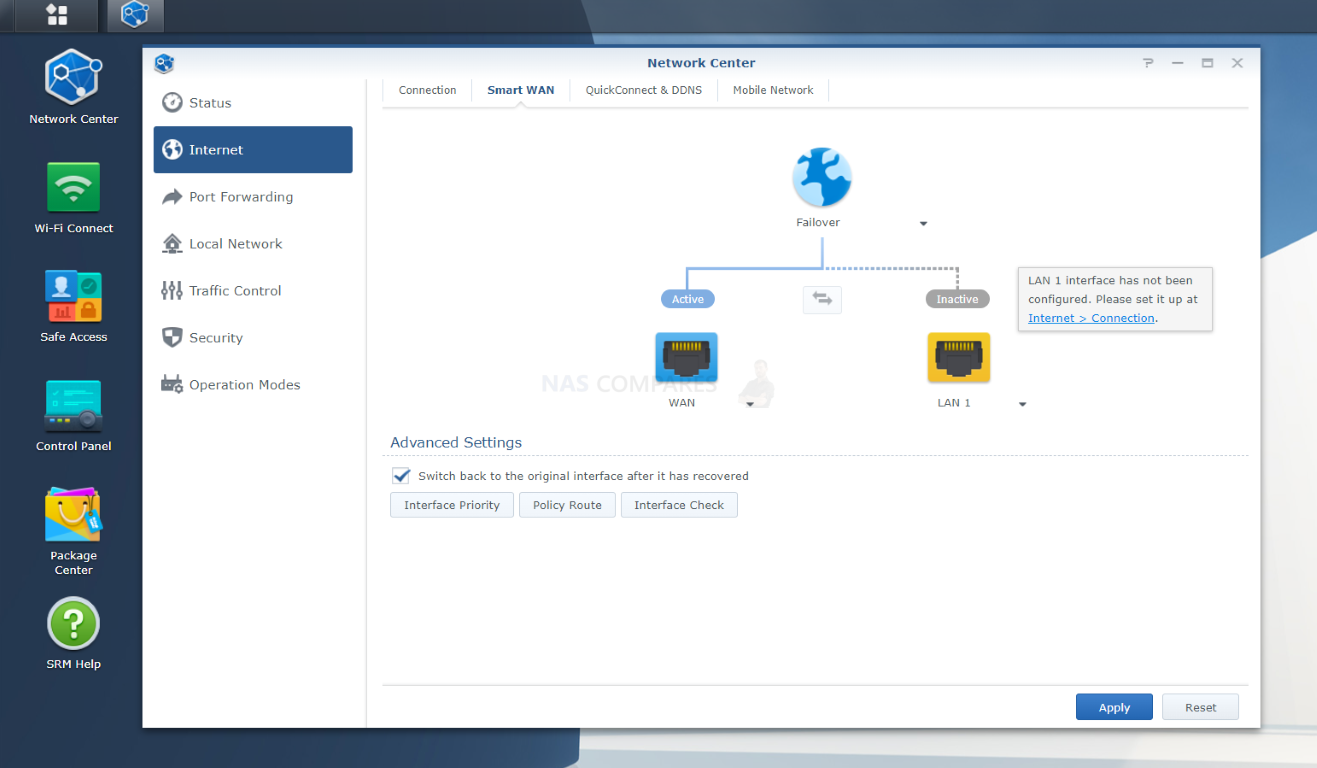 The newly added virtual network creation (vLAN) support in SRM 1.3 is pretty straightforward and (as this system is a router) also benefits from a few extra things (as well as supporting a few things you might expect), such as:
The ability to assign custom VLAN IDs
The option to completely block a vLAN to access the SRM 1.3 Controls/GUI
The option to block any communication/visibility between one vLAN and all other networks
The option to bond (attach) a physical port to a specific vLAN
The option to connect the vLAN with an existing SSID or create a new one during the creation wizard
Later in the access and user panels, you can permit levels of access to virtual networks
Again, this is all not really groundbreaking stuff, but 1) it's something people have requested in SRM for a while, 2) brings a lot of network switch functionality to a router and 3) is presented in that special Synology ay that makes it remarkably straight forward. Bearing in mind we are talking about vLAN creation (something very few domestic users will ever know how/need to do) being made as easy as setting up an old Hotmail email account, I respect the effort.
This slideshow requires JavaScript.
Once additional networks have been created, they are displayed in a list on the main Network center page, each able to be completely reconfigured or their identities and ports changed with ease. Again, I am surprised that Synology was not able to show this information in a bit more of a pictorial fashion (something the likes of Netgear and QNAP have shown on their routers and switches for years).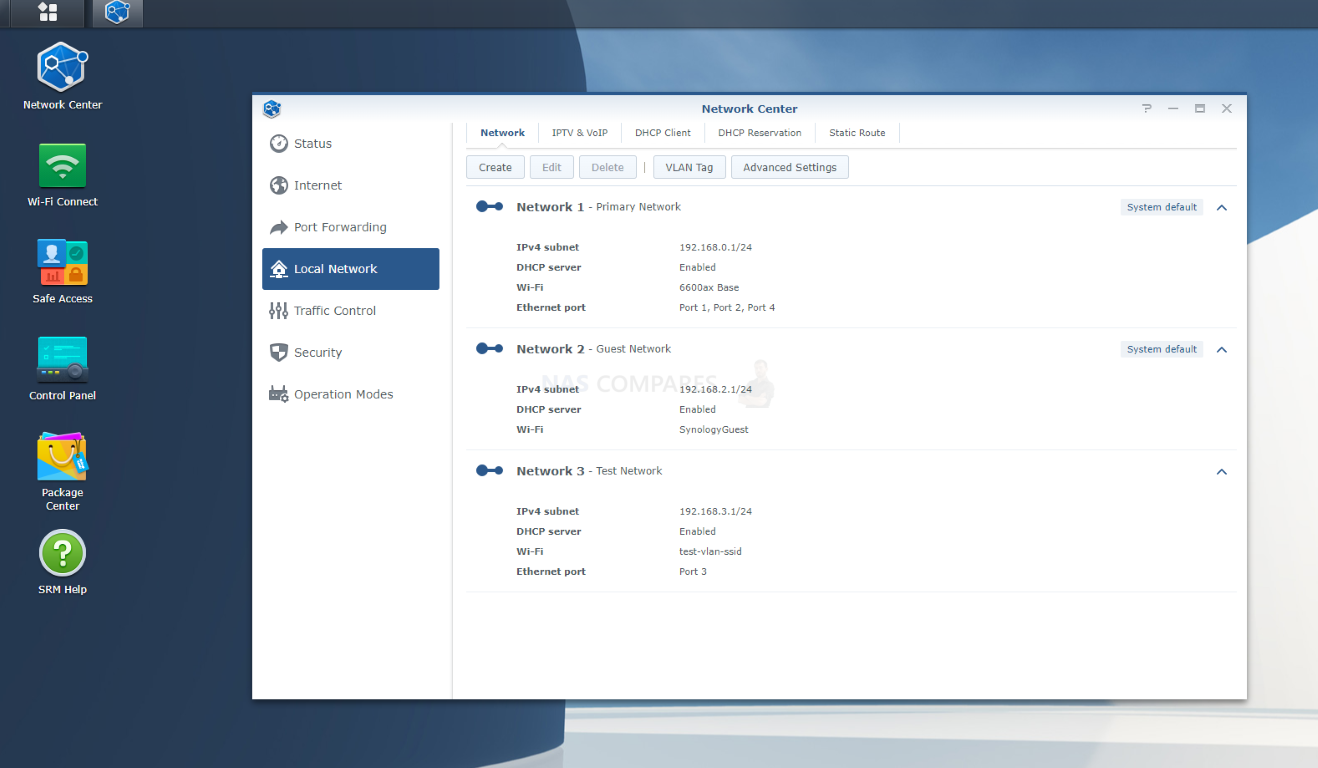 As you might expect, creating a new SSID is INCREDIBLY easy in SRM 1.3 and you can create a whole lot of them too. Each can have its own identity, security protocol (eg WPA 3 Enterprise style or something more modest for legacy devices), and assignment to a specific frequency or band (eg 2.4-5Ghz and/or over 80Mhz or 160Mhz) to ensure that the right wireless connections are getting the benefits of the better coverage. That really is just scratching the surface of it and it's impressively detailed in its configuration options.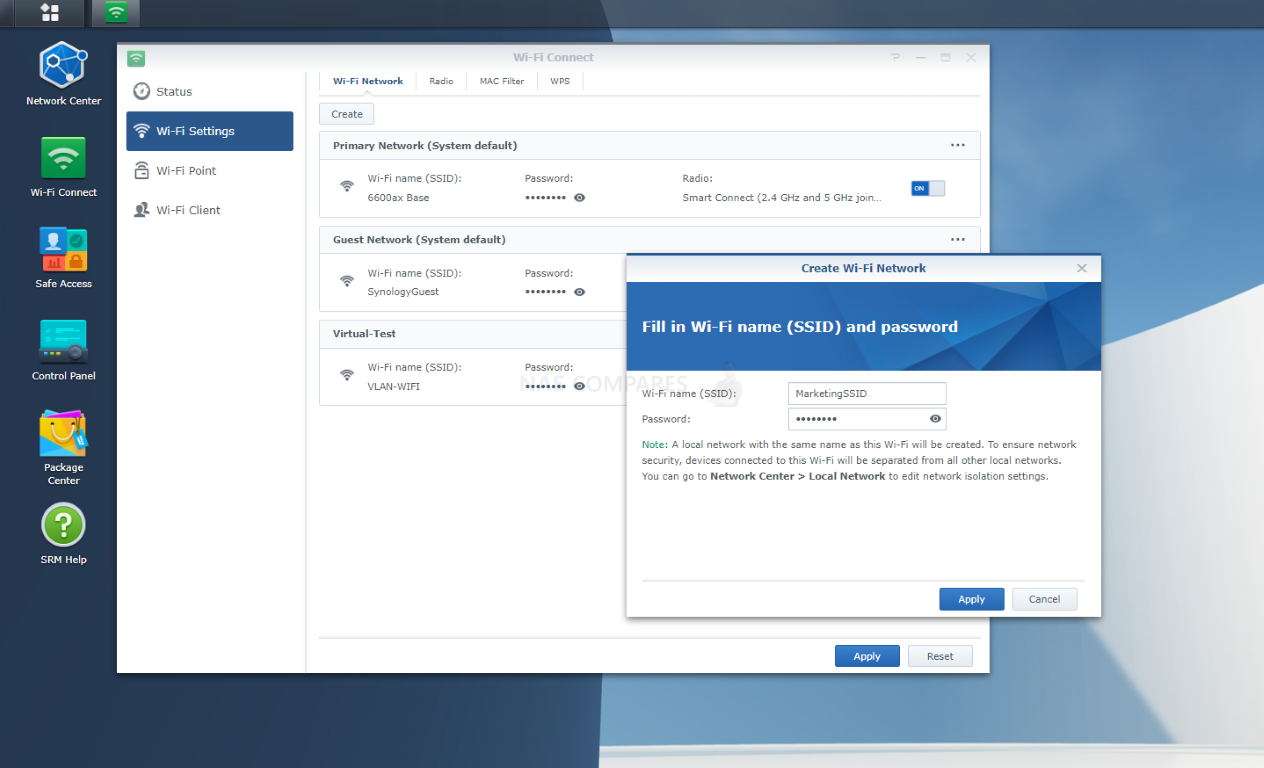 As you might expect, SRM 1.3 (of course) features port forwarding rules that can be changed and allows you to create those more targeting but tactically placed means of accessing your network when needed, whilst keeping the safeguards in place. This is something that Synology cannot really make very user friendly and frank it should not be! Aside from the fact that a basic-mid level of understanding of port placement and protocol is needed, too much bad news surrounding ransomware injections from the likes of Asustor and QNAP in the last year or two has demonstrated the folly of inexperienced users punching holes in their firewalls etc (or worse still, brand's offering to do it for you with little warning to the consequences). A standard by often vital feature, that is getting the respectful treatment it deserves here.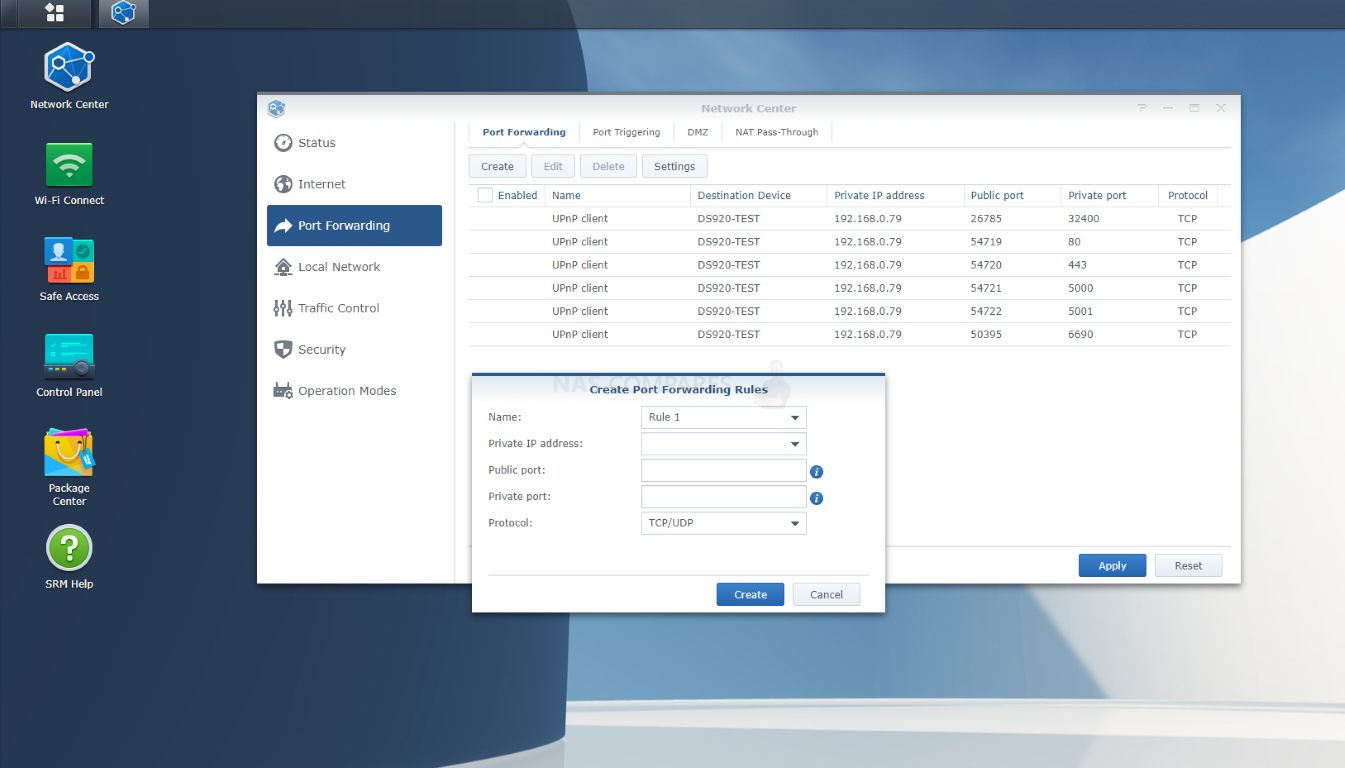 For those of you that have high priority internet connections running into your home or business premises, there is a specialized setting for giving PoS to IPTV (so online TV services and VoIP (voice over IP) phone lines. Along with numerous profiles for each that can be selected from a drop-down, you can also create custom profiles manually. This will likely be only of use to specific users and perhaps a greater range of external internet services might be added over time (as they increase in popularity) but still a handy feature for some and a nice extra for business lines certainly to ensure that phone calls over the internet are clear as/when needed, rather than giving a specific port priority of service generally, which might lead to unnecessary network throttling for everyone else accidentally. Better to identify a service specifically, rather than the port.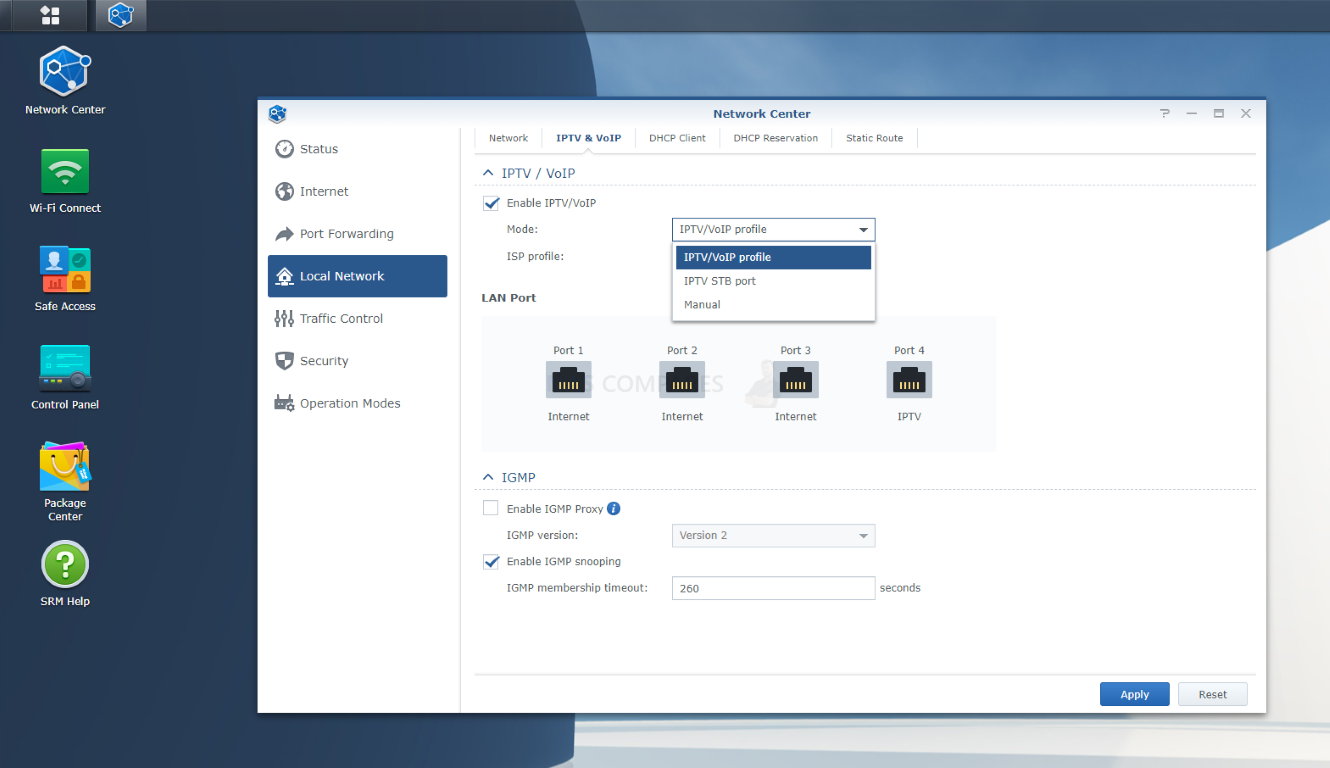 Talking of identification, as devices are connected and disconnected from the machine SRM keeps a record and along with names, will try to assign a device identity (classing it as a phone, laptop, printer, NAS, etc), which will be useful later to know what devices are on which network (As well as assigning access to these later in the 'Safe Access' tool. This is by no means full proof in how accurate it will identify devices and you can add custom icons as needed.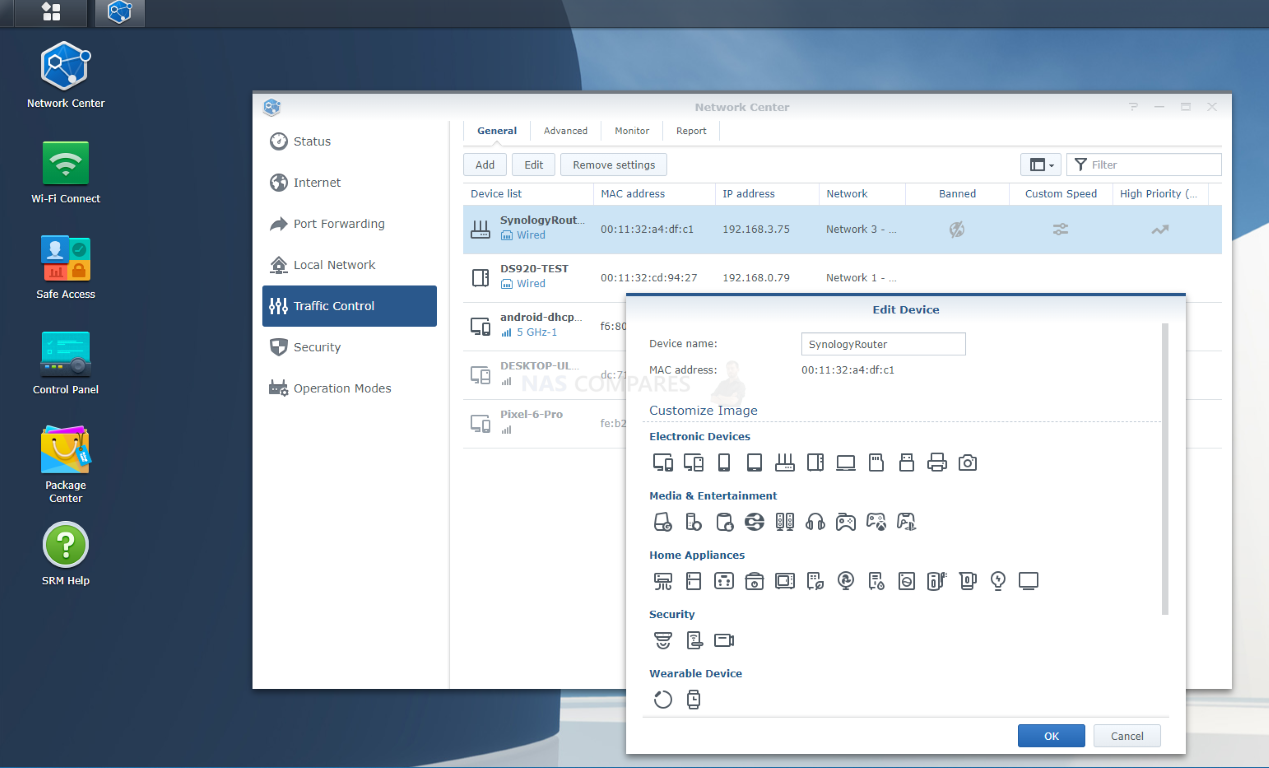 Returning to external checks and monitoring, SRM 1.3 also includes a few bits and bobs in the 'Network Tools' area for monitoring how packets of data are moving externally. These include a Traceroute service for when you connect with a website, so that you can see where data you get travelled along the way, particularly routers. A traceroute provides a map of how data on the internet travels from its source to its destination and although is often limited by connections along the route, can be a handy way to troubleshoot, as well as test site identities. Next, there is a ping measurement tool that allows you to measure the reply speed in milliseconds from a site to test your connection to/from a given internet location. Finally, there is an incredibly easy to use Wake on LAN (WoL) service that will automatically list available devices that are on the network and allow you to power them on/off if they support that feature. Again, this is now exactly groundbreaking, but it is presented in a very easy to understand way, which is what SRM 1.3 seems to constantly strive for and (for the most part) succeed at.
This slideshow requires JavaScript.
The last thing I want to touch on is the ability to generate remarkably professional reports of system activity (as well as internet, user, device and specific network service activity) in a scheduled and repeatable form. These generated reports can be tailored to a specific date or time, and can also have the range of data/services that they include be customized too. So, if you want a once a day, or once a week report that details the network behaviour of your staff, this can be set up automatically to be emailed to you on the frequency of your choosing.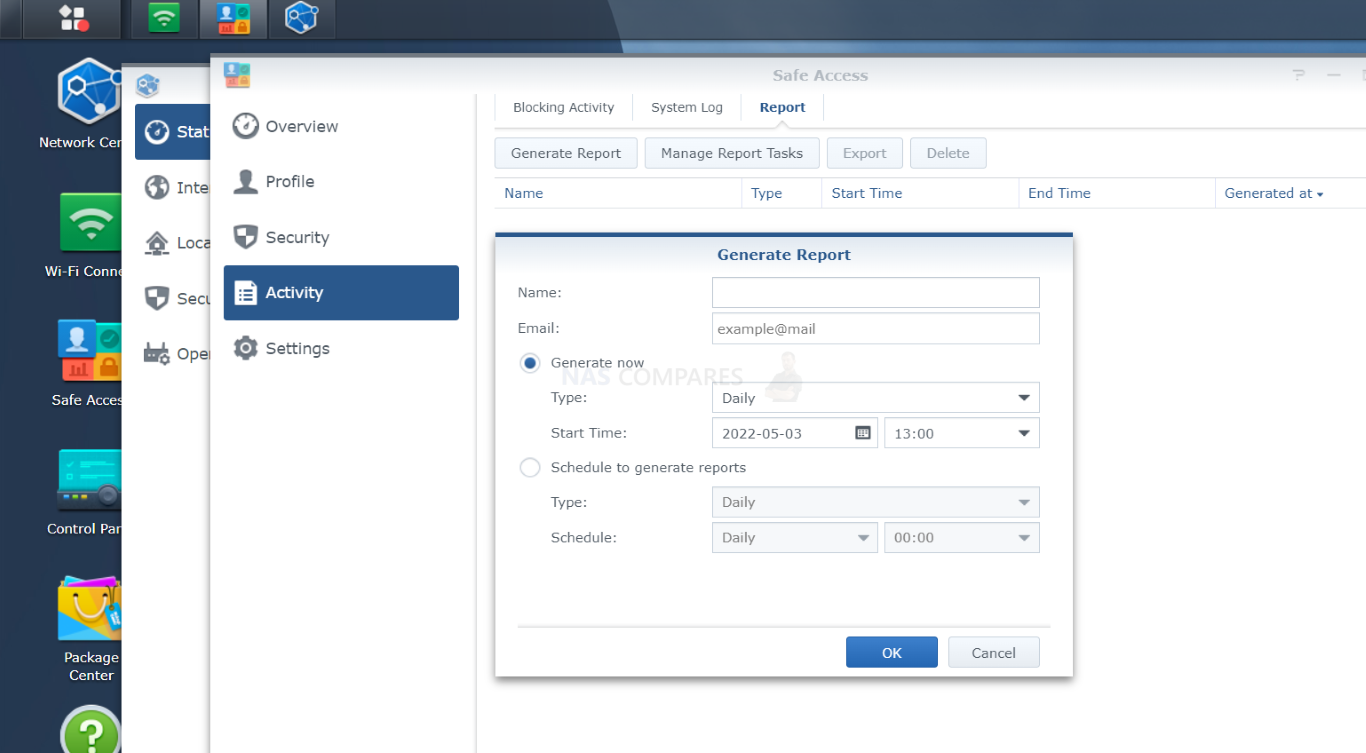 Alternatively, you can create a much more general and system/network-wide report that covered the activity of everything in-house (as well as external connections where appropriate) and from there get a good understanding of the main active users/devices. This is all presented in a great balance of textual and graphical language and is something that IT admins will be able to use and learn from. Synology provides an even better and more dynamic version of this kind of reporting in their multi-site/system monitoring platform 'Active Insight' (a paid subscription platform), so I am impressed that Synology has not attempted to play this tool behind a license or cloud wall.
This slideshow requires JavaScript.
There is also a fairly common feature in SSRM and on the Synology routers to create a guest WiFi SSID that allows you to create a network that has lower network importance, access and connectivity to the rest of the system. This is hardly new, but it is worth highlighting that this Guest WiFi mode is a great deal more customizable than many I have seen and you can change a great deal of the rules, timing and allowed behaviour permitted on it.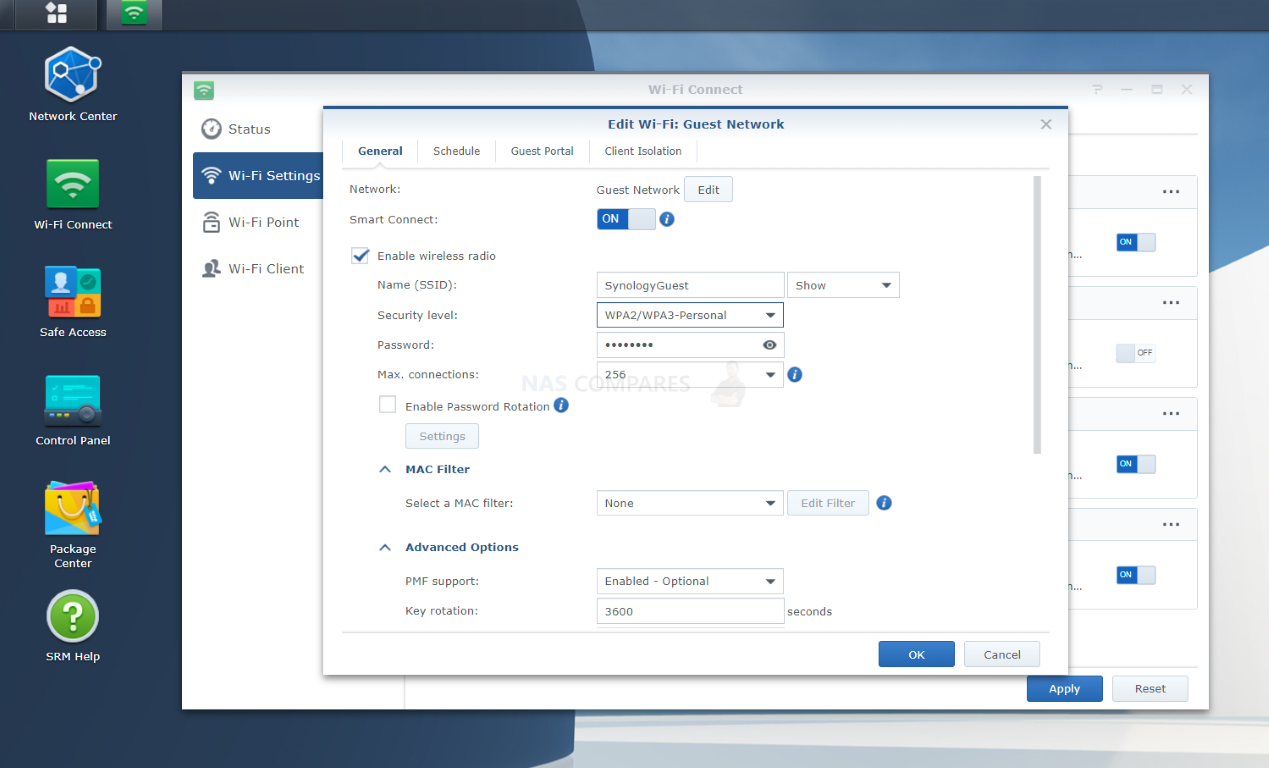 You can even very quickly create a custom login portal screen (much like many of the public WiFi spaces you may have logged into previously) with SRM 1.3 and this adds an interesting extra degree of policy to your business class router operation.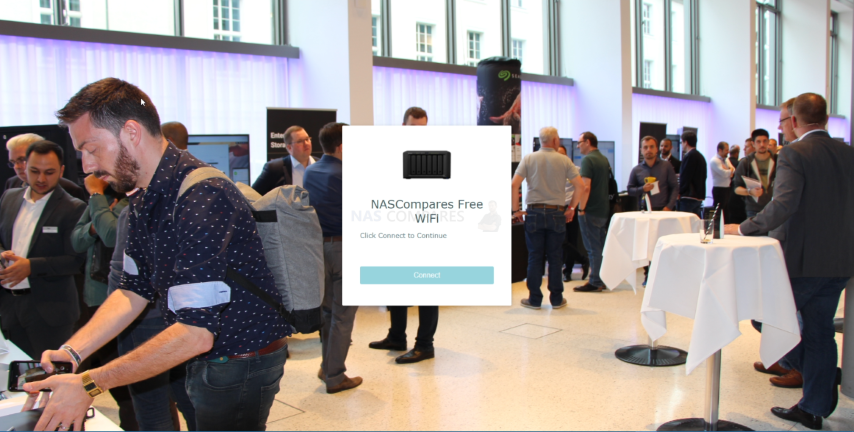 The network management of SRM 1.3 is still good and something that those inexperienced in this rather double-niche area of I.T will certainly find beneficial. Those more aware of this subject are likely to want to look past the user-friendly GUI and ask for the more aggressive customization tools (many of which are absent and/or are more at home in a network switch, such as port trunking or even semi-automated loop detection when switches are introduced to the router LANs), but when you have here is still remarkably well presented, very responsive, more customizable than I thought it would be and you are still getting a decent mix of a router and switch features packed into a single software platform in SRM 1.3. Let's sink our teeth into Safe Access – possibly one of the main reasons that mainly look at the Synology Router series.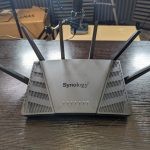 Synology Router Manager 1.3 Review Chapters

SRM 1.3 Synology Router Software Review, ALL Parts - HERE
SRM 1.3 Synology Router Software Review, Part 1, Design & Control - HERE
SRM 1.3 Synology Router Software Review, Part 2, Safety & Security - HERE
SRM 1.3 Synology Router Software Review, Part 4, Safe Access - HERE
SRM 1.3 Synology Router Software Review, Part 5, USB Storage Services & Conclusion - HERE 

You can watch the FULL review of the latest WiFi 6 Router from Synology, the RT6600ax, over on YouTube below:
Alternatively, you can watch my full review of Synology SRM 1.3 on this NAS in the video below:
📧 LET ME KNOW ABOUT NEW POSTS 🔔
Join 1,582 other subscribers
Get an alert every time something gets added to this specific article!
This description contains links to Amazon. These links will take you to some of the products mentioned in today's content. As an Amazon Associate, I earn from qualifying purchases. Visit the NASCompares Deal Finder to find the best place to buy this device in your region, based on Service, Support and Reputation - Just Search for your NAS Drive in the Box Below
Need Advice on Data Storage from an Expert?
We want to keep the free advice on NASCompares FREE for as long as we can. Since this service started back in Jan '18, We have helped hundreds of users every month solve their storage woes, but we can only continue to do this with your support. So please do choose to buy at Amazon US and Amazon UK on the articles when buying to provide advert revenue support or to donate/support the site below.

Finally, for free advice about your setup, j
ust leave a message in the comments below here at NASCompares.com and we will get back to you.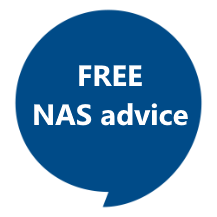 Need Help?
Where possible (and where appropriate) please provide as much information about your requirements, as then I can arrange the best answer and solution to your needs. Do not worry about your e-mail address being required, it will NOT be used in a mailing list and will NOT be used in any way other than to respond to your enquiry.
Support What We Do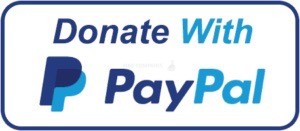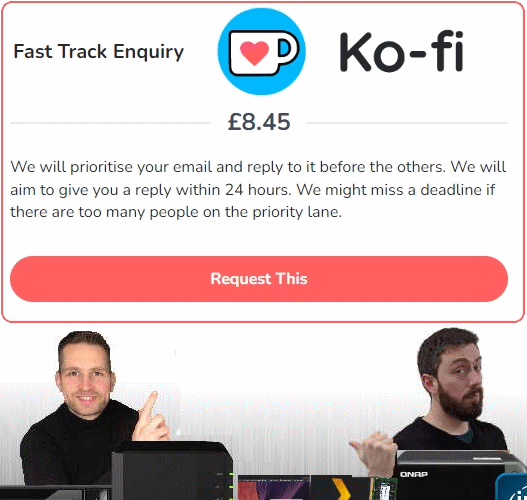 Terms and Conditions
Alternatively, why not ask me on the
ASK NASCompares forum
, by clicking the button below. This is a community hub that serves as a place that I can answer your question, chew the fat, share new release information and even get corrections posted. I will always get around to answering ALL queries, but as a one-man operation, I cannot promise speed! So by sharing your query in the
ASK NASCompares
section below, you can get a better range of solutions and suggestions, alongside my own.