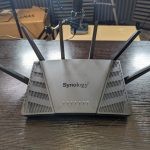 Synology Router Manager 1.3 Review Chapters

SRM 1.3 Synology Router Software Review, ALL Parts - HERE
SRM 1.3 Synology Router Software Review, Part 1, Design & Control - HERE
SRM 1.3 Synology Router Software Review, Part 2, Safety & Security - HERE
SRM 1.3 Synology Router Software Review, Part 3, Network Management - HERE
SRM 1.3 Synology Router Software Review, Part 4, Safe Access - HERE

Synology SRM 1.3 Review – USB & Storage Services
One feature of Synology routers and SRM 1.3 in general that I really, REALLY think doesn't get anywhere near the respect it deserves is the USB support. Coming from the network storage pedigree that Synology has, you would expect their router to support some level of storage by adding a USB drive. Hell, most ISP routers and $50 amazon unbranded routers have USB ports. However, unlike the painful simply breadcrumb and white screen file list arrangement that most routers with a USB port provide, SRM 1.3 provides several personal NAS class storage management tools. This combined with a number of the router service tools able to use the storage for their records and logs (as well as the use of the USB for failover/phone-tethering), you might see why I am also super annoyed that the latest generation Synology RT6600ax router only has one port. Ultimately though (short of that niche failover support for business), SRM 1.3 is at its best when that USB is used with a storage drive.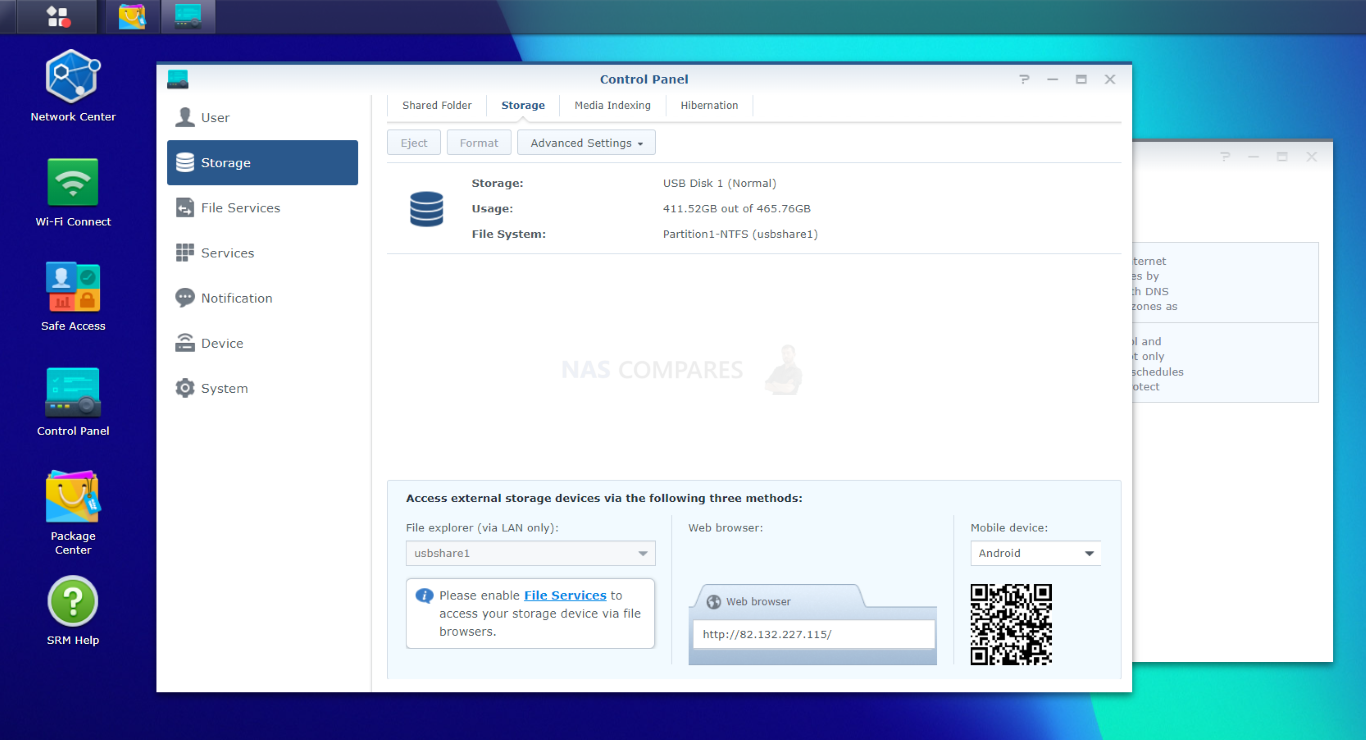 A connected drive can be accessed and interacted with by both Windows and Mac operating systems, with access being made possible in a bunch of different ways, ranging from network access to web browser targets and even WebDav for remote internet access.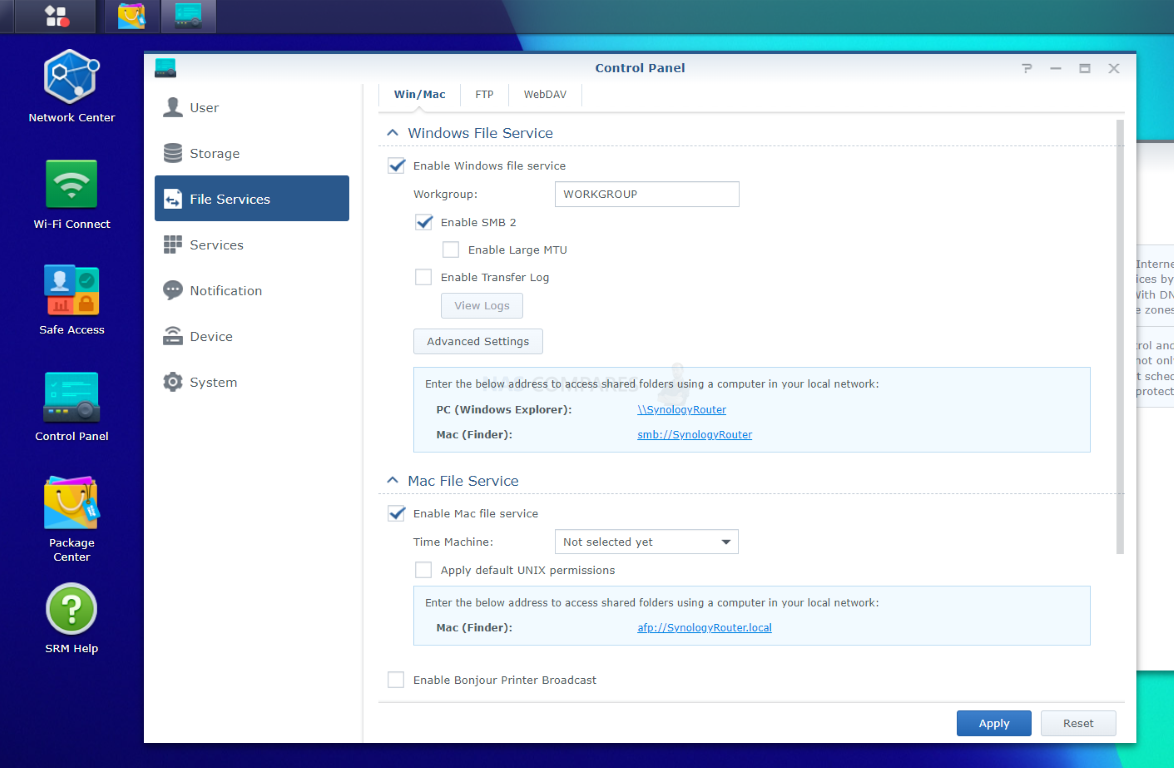 Much like Synology NAS, you can set the system to periodically index the storage drive for multimedia, as well as regularly scan the media for creating thumbnails. SRM 1.3 allows the connected media to be visible by DLNA/uPnP network players (so most home consoles, smart TVs, sound systems and phones), though remote access and any kind of transcoding if completely off the table with this level of hardware of course!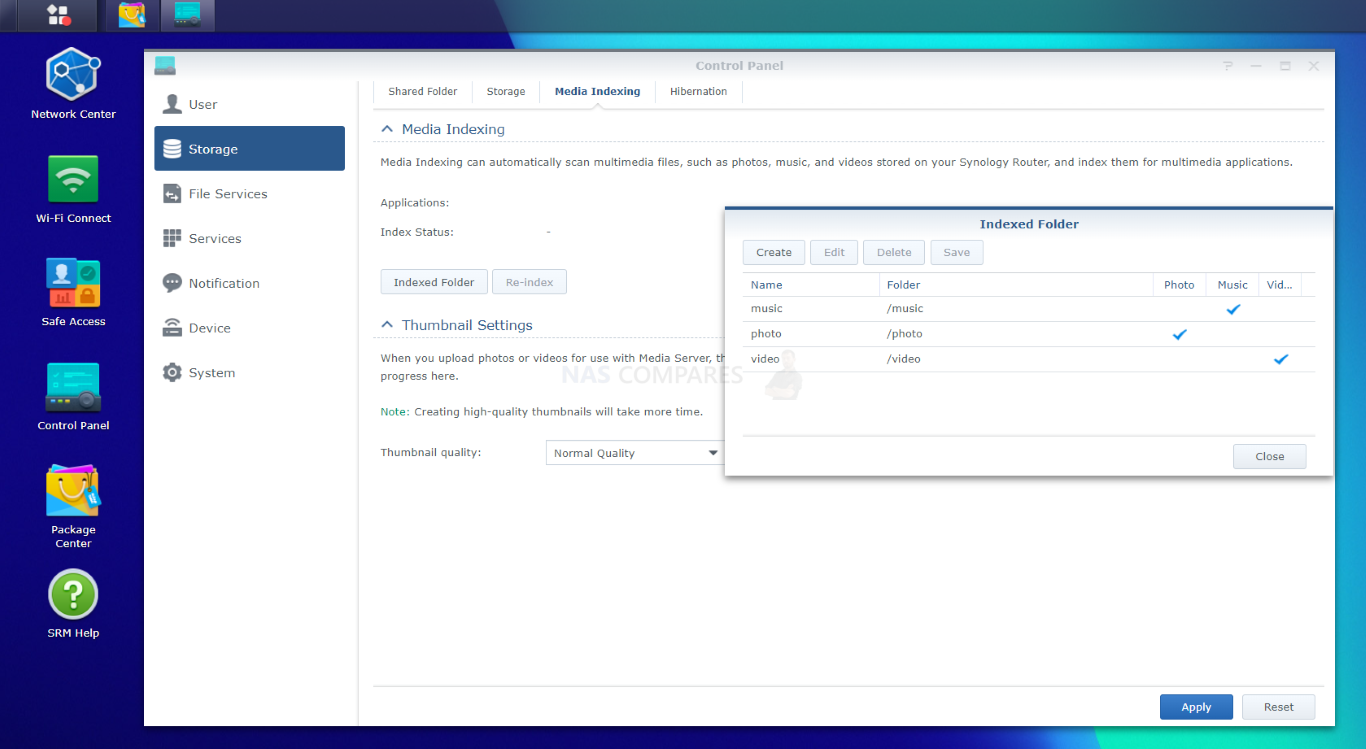 Using the File Station application provides you with a genuinely complete file management tool, that allows you to intuitively browse the files, create shared folders, Copy, Paste, Archive, extract and view media files in the web browser. It is completely the same as the File Station tool that is included with every Synology NAS and is a joy to use!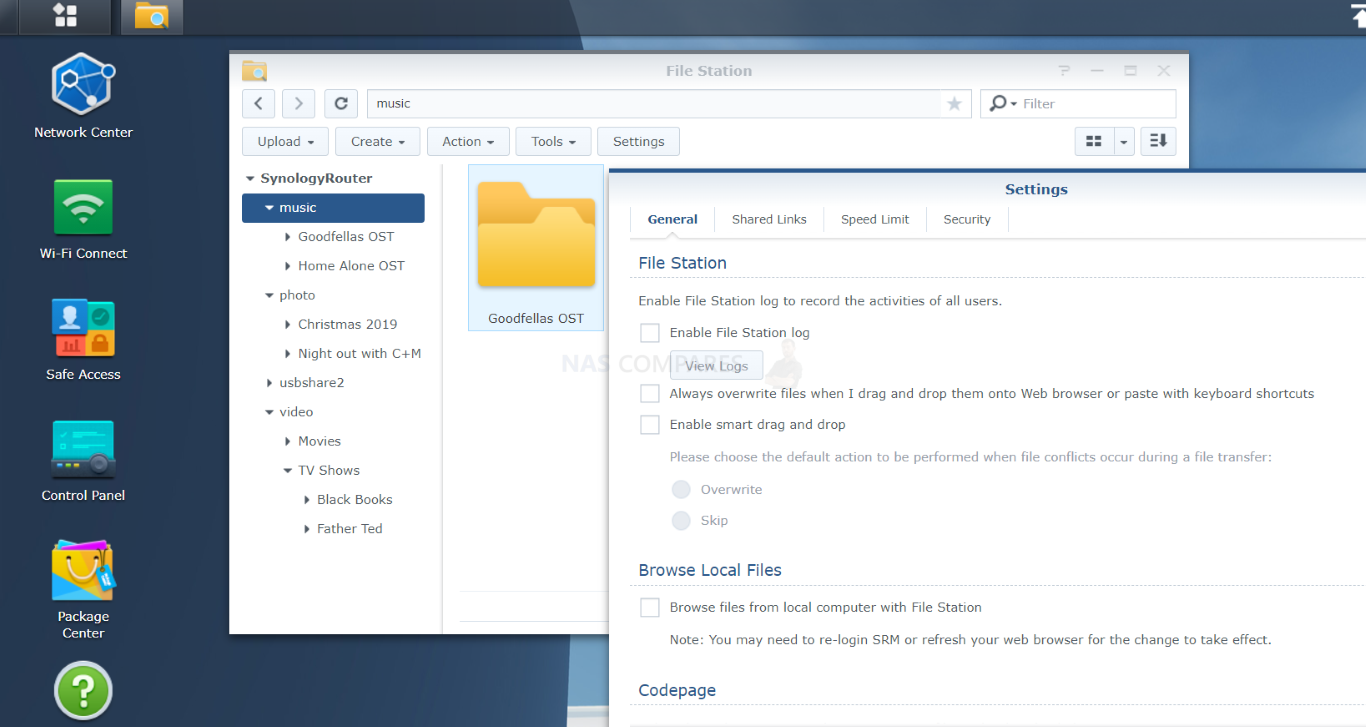 Although using USB storage via a router (when cloud storage and NAS storage are now very mainstream) seems a bit old skool, if you are placing this router in your home network and do not have any form of network-attached storage or substantial cloud space available (eg in the terabytes), this port serves as an excellent alternative. Plus, given the low cost of USB external drives that are bus-powered (available in up to 4-5TB currently), this drive can be used as a backup drive for all/most of your devices when combined with the Synology mobile apps available, as well as a means to share those files locally or remotely over the internet with colleagues and family in just 2-3 clicks.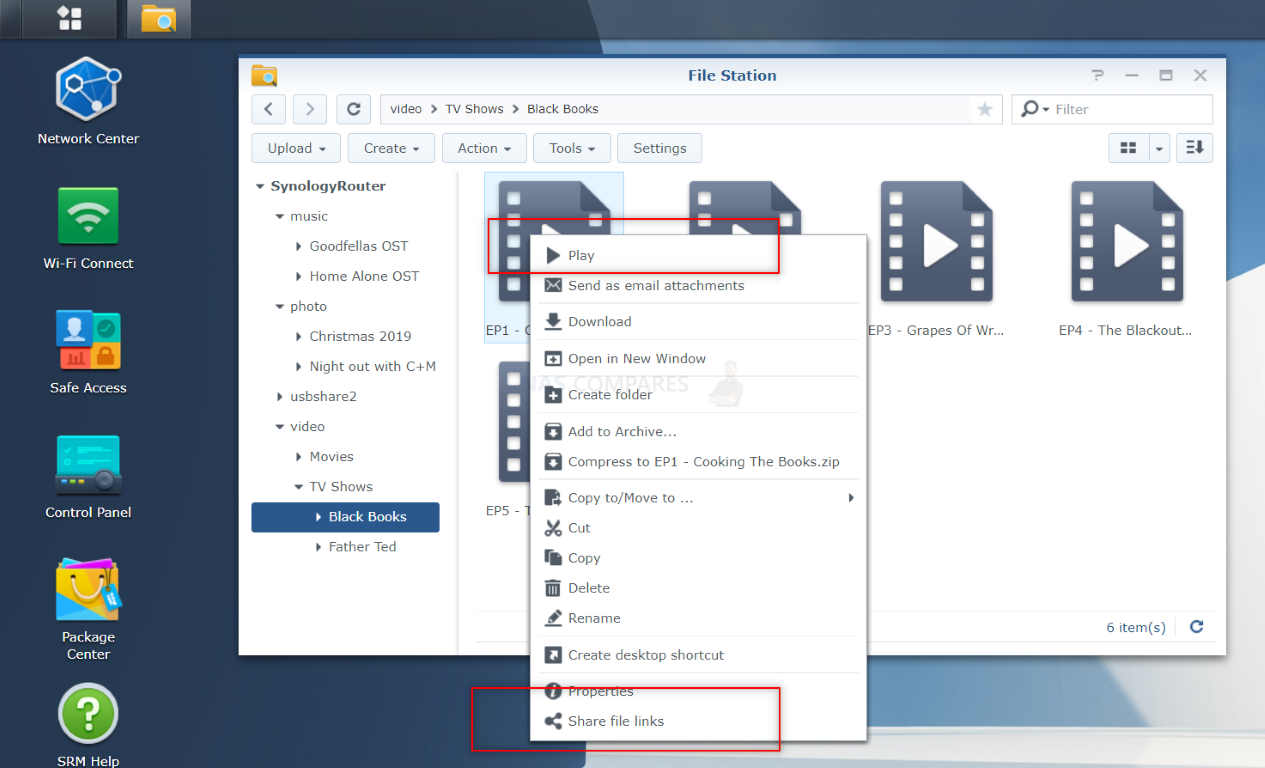 Additionally, you can map the storage as a network drive on both Windows and Mac systems, so you do not even need to log into the SRM 1.3 GUI interface to read/write to it. Even if an external USB drive will only hit around 120-160MB/s (unless it's SSD based of course), that will be fine as a single WiFi 6 80-160Mhz connection will saturate between 120-240MB/s under perfect conditions.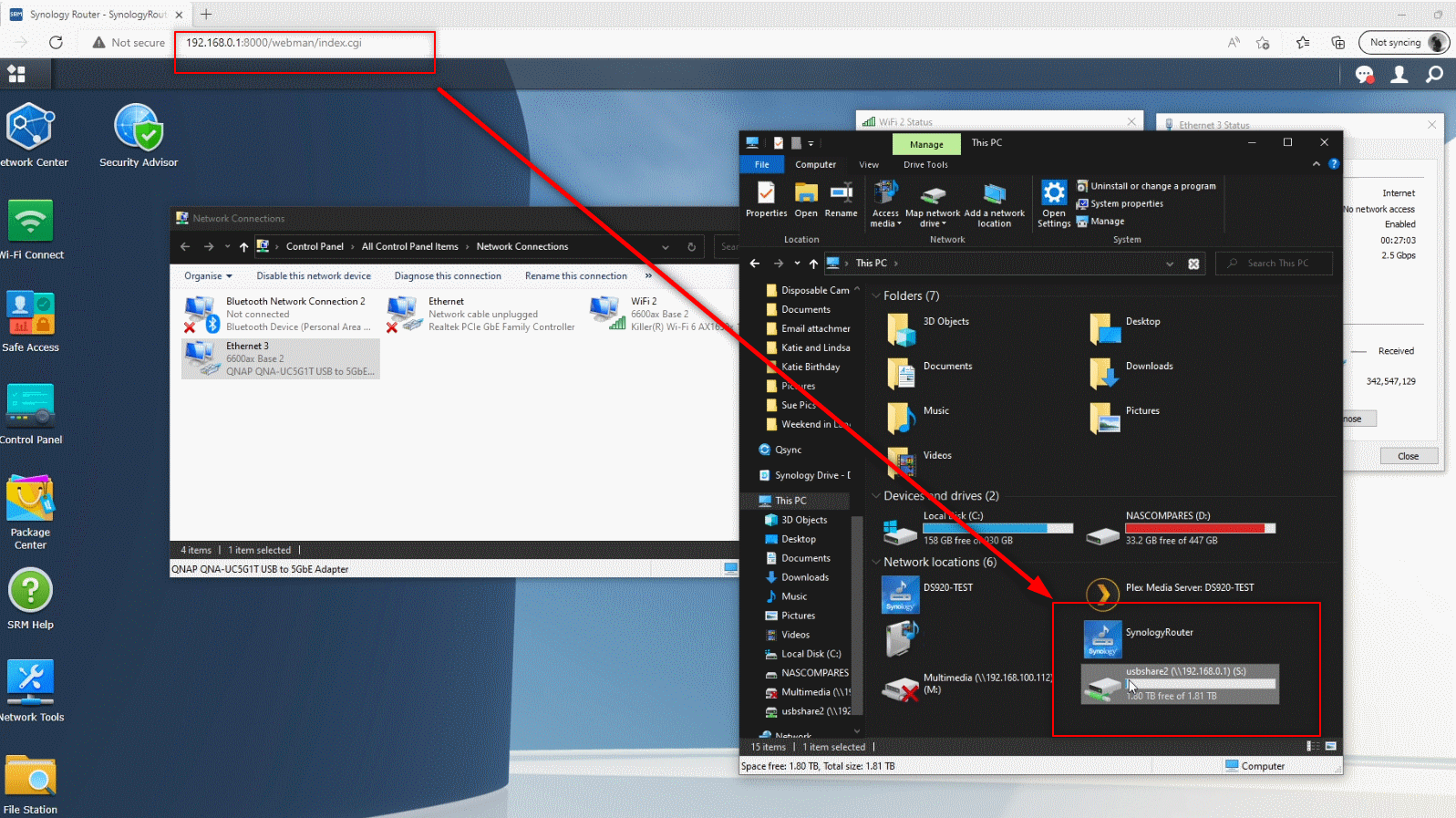 You can even access the storage on the UB storage connected to the Synology RT6600ax, RT2600ac and MR2200ac router with the DS File mobile application for iOS and Android, meaning you can interact with your files on the go, as well as trigger automated photo backups from your phone with the extra options built into File Station/DS File.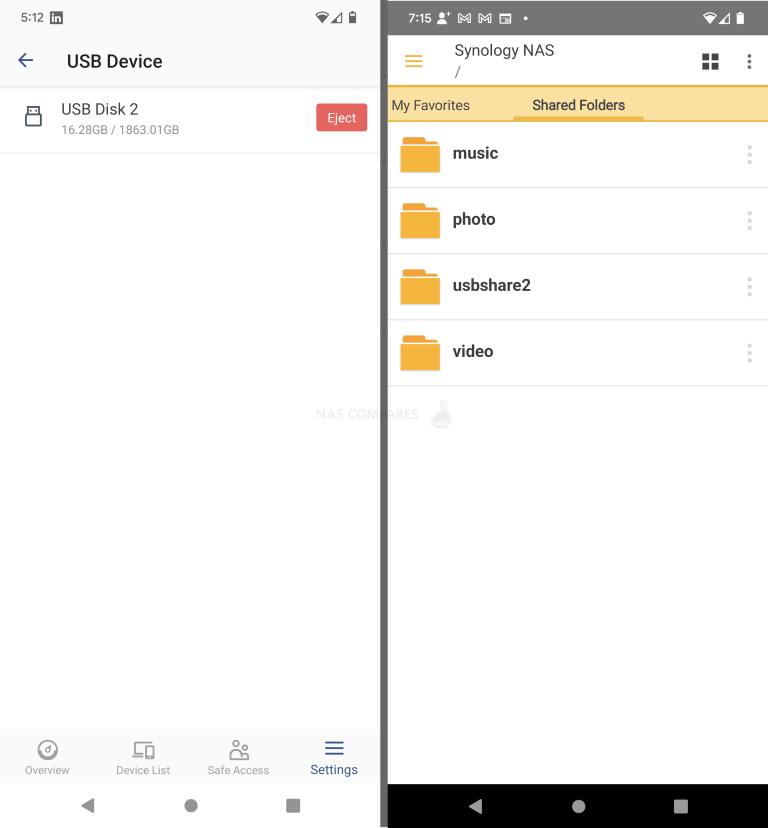 SRM 1.3 also supports the brand's download station tool which allows you to action files to be downloaded from anywhere on the internet onto your connected USB drive. These download options take many forms (FTP, HTTP, RSS feeds, Torrents, NZB, etc) and can be managed from this single portal in the web browser or via the DS Get application for iOS and Android. I have been using Download station on my NAS for downloading the latest episodes of podcasts for years now and always found Download Station on Synology to be one of the best tools out there for managing internet-wide downloads. It does have a search functionality built-in, but (like more download manager applications like this on other NAS brand's systems), I would use caution, as Synology cannot fully verify the sources (though you can list others, such as the InternetArchive which is an ever-growing rich source of historical data).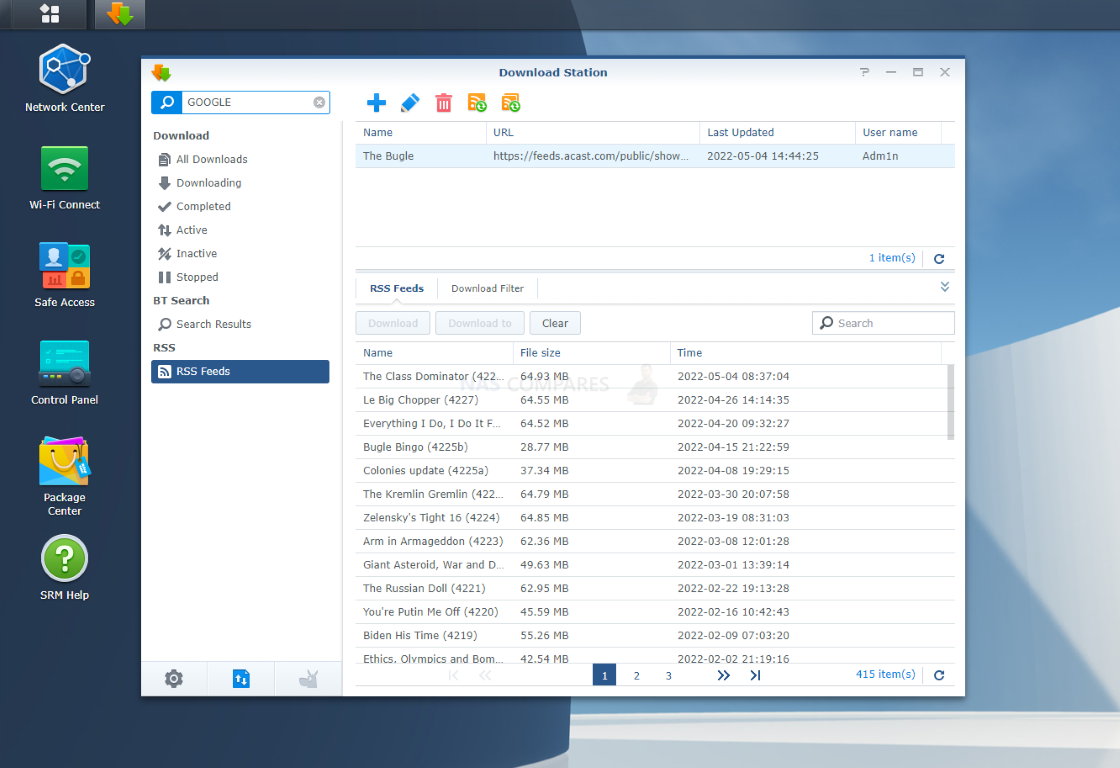 The support of USB storage on SRM 1.3 might sound a little archaic in the age of Google Drive, DropBox and NAS drives becoming increasingly affordable, but I am still hugely gratified to know that the development that Synology has made into their storage systems has been extended to SRM. As mentioned earlier, you might well be looking at a Synology router for your home for its Safe Access, performance and coverage, but it also means you have the option for a surprisingly robust and multi-featured storage system too by just adding a USB Drive. Plus SRM also features the means to backup your existing router configuration in case you need to experiment with your ports/settings and want to roll back easily, which can be stored on your local client machine or the USB. It's just a shame that the most recent RT6600ax that has SRM 1.3 onboard only has a single USB (forcing users to have to make a tough decision on storage vs a phone sim dongle/tethered-phone for a WAN failover, but nevertheless the USB support in SRM 1.3 is unparalleled.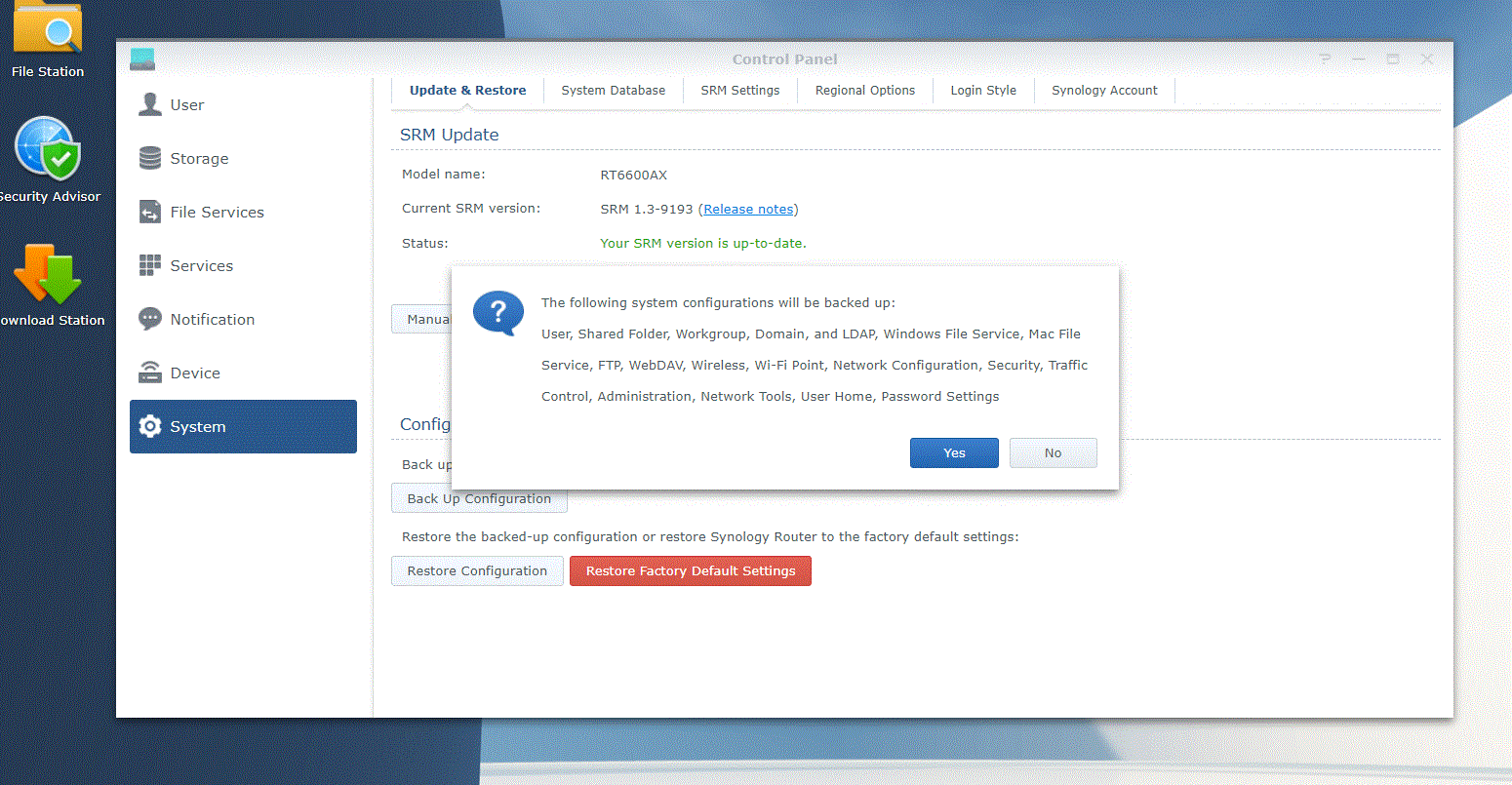 Synology SRM 1.3 Review – Conclusion & Verdict
When reviewing and judging Synology Router Manager 1.3, you have to somewhat separate your feelings about Synology router hardware (the RT6600ax, RT2600ac and MR2200ac) a little. This is because, although the Synology router hardware may seem a little safe-to-middling at times vs current hardware in the market, the software they provide has always been absolute class. SRM 1.3 continues this pedigree with a user interface that manages to do the nearly unthinkable – it manages to make the process of managing your network easy and actually ENGAGING! That's one of the biggest hurdles of managing a router and your network security in general, it's a massive chore that is fraught with technical jargon, hurdles and screens saying 'no', 'invalid' or 'not available'. Synology has crafted a genuinely intuitive and accessible router software system here and although a lot of that is thanks to their years in NAS software, they have certainly improved upon previous revisions in SRM too. When it comes to the features that SRM arrives with, clearly 'Safe Access' is one of the killer apps of the SRM 1.3. But it doesn't stand alone and thanks to the integrations of 'network switch' style controls and a wide array of custom network settings, it really feels like more of a complete version in 1.3. Additions of long-overdue features such as vLAN and customs, custom SSIDs and the DS Router application's improved layout/controls are smaller steps in SRM 1.3's development than some would like, but with the software feeling that pinch more responsive and the layout of the controls getting tweaked to be more intuitive, that just means that SRM 1.3 is just adding polish to an already fantastic management system. Additionally, the latest generation of Synology router hardware means that new configuration options and the extent to which you can use SRM 1.3's services have been drastically increased in time for version 1.3. At the time of writing, we are still awaiting the SRM 1.3 update to extend to the full Synology router series (thereby enabling mesh with the likes of the MR2200ac), but that shouldn't be too long and with that, the option for SRM 1.3 to manage a grander mesh wireless network in your home/office will be hugely beneficial. In short, still highly recommend it SRM 1.3 in 2022/2023.
PROs of the SRM 1.3
CONs of SRM 1.3
Incredibly easy to use, intuitive and very responsive

'Safe Access' puts all other Parental Control and filtering services to shame (and it's included subscription-free)

vLAN and multiple connected SSID created are now available

Multiple Failover Options available

USB Support in SRM 1.3 is huge and shouldn't be overlooked

Guest WiFi Portal and Generated reports have a real business/enterprise feel to them

The free VPN Plus licence is pretty generous vs other routers/platforms

Good range of support, guidance and suggested setup tools

Can be setup, accessed and controlled locally & remotely. As well as via multiple mobile apps, desktops web browsers or SSH

Mesh Support with MR2200ac is still not available at the time of writing as the SRM 1.3 update is not on all routers yet

Similar hardware routers from Netgear (even older NightHawk generations) allowed container applications (plex, smart home tools, etc)

Not strictly plug n play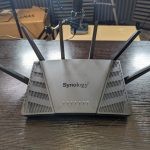 Synology Router Manager 1.3 Review Chapters

SRM 1.3 Synology Router Software Review, ALL Parts - HERE
SRM 1.3 Synology Router Software Review, Part 1, Design & Control - HERE
SRM 1.3 Synology Router Software Review, Part 2, Safety & Security - HERE
SRM 1.3 Synology Router Software Review, Part 3, Network Management - HERE
SRM 1.3 Synology Router Software Review, Part 4, Safe Access - HERE

Synology Router Portfolio
RT6600ax

RT2600ac

MR2200ac

Class / band
compatible standards
AX6600 / Tri-band
IEEE 802.11ax / ac / a / b / g / n
AC2600 / dual band
IEEE 802.11ac / a / b / g / n
AC2200 / Tri-band
IEEE 802.11ac / a / b / g / n
Maximum communication speed
(5GHz band 1)
4800Mbps

(160Mhz)

1,733Mbps
(4str / 80MHz)
867Mbps
(2str / 80MHz)
Maximum communication speed
(5GHz band 2)
1200Mbps
incompatible
867Mbps
(2str / 80MHz)
Maximum communication speed
(2.4GHz band)
600Mbps
800Mbps
(4str / 40MHz / 256QAM)
400Mbps
(2str / 40MHz / 256QAM)
WAN terminal
1000BASE-T x 1
1000BASE-T x 1
1000BASE-T x 1
LAN terminal
2.5GBASE-T x 1 * 1
1000BASE-T x 3
1000BASE-T x 4 * 2
1000BASE-T x 1
USB terminal
USB 3.0 Standard-A x 1
USB 3.0 Standard-A x 1
USB 2.0 Standard-A x 1
USB 3.0 Standard-A x 1
CPU
Qualcomm IPQ6018
Arm Cortex-A53 4-core 1.8GHz
Qualcomm IPQ8065
Qualcomm Krait 300 2 core 1.7GHz
Qualcomm IPQ4019
Arm Cortex-A7 4 core 717MHz
RAM
1GB DDR3
DDR3 512MB
DDR3 256MB
You can watch the FULL review of the latest WiFi 6 Router from Synology, the RT6600ax, over on YouTube below:
Alternatively, you can watch my full review of Synology SRM 1.3 on this NAS in the video below:
📧 LET ME KNOW ABOUT NEW POSTS 🔔
Join 1,570 other subscribers
Get an alert every time something gets added to this specific article!
This description contains links to Amazon. These links will take you to some of the products mentioned in today's content. As an Amazon Associate, I earn from qualifying purchases. Visit the NASCompares Deal Finder to find the best place to buy this device in your region, based on Service, Support and Reputation - Just Search for your NAS Drive in the Box Below
Need Advice on Data Storage from an Expert?
We want to keep the free advice on NASCompares FREE for as long as we can. Since this service started back in Jan '18, We have helped hundreds of users every month solve their storage woes, but we can only continue to do this with your support. So please do choose to buy at Amazon US and Amazon UK on the articles when buying to provide advert revenue support or to donate/support the site below.

Finally, for free advice about your setup, j
ust leave a message in the comments below here at NASCompares.com and we will get back to you.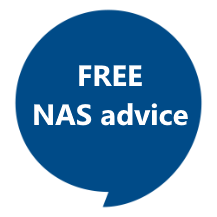 Need Help?
Where possible (and where appropriate) please provide as much information about your requirements, as then I can arrange the best answer and solution to your needs. Do not worry about your e-mail address being required, it will NOT be used in a mailing list and will NOT be used in any way other than to respond to your enquiry.
Support What We Do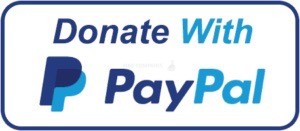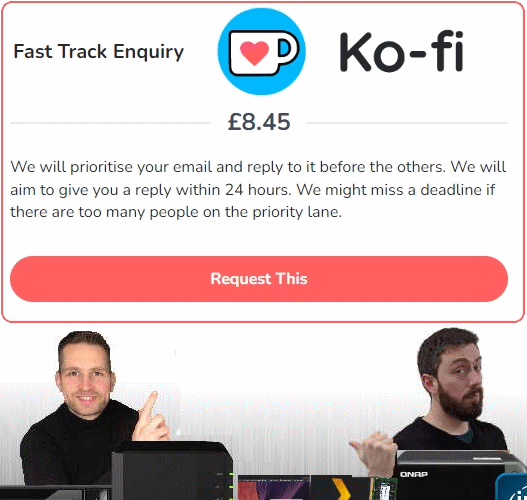 Terms and Conditions
Alternatively, why not ask me on the
ASK NASCompares forum
, by clicking the button below. This is a community hub that serves as a place that I can answer your question, chew the fat, share new release information and even get corrections posted. I will always get around to answering ALL queries, but as a one-man operation, I cannot promise speed! So by sharing your query in the
ASK NASCompares
section below, you can get a better range of solutions and suggestions, alongside my own.