The Synology DS923+ vs DS920+ NAS Comparison
Note – Our Synology DS923+ NAS Review is now live and you can find it HERE
I think we can all agree that in the world of network-attached storage (NAS), one of the best brands out there for software and services is Synology. In the last few years, we have seen this brand catapult its DSM platform into an incredibly user-friendly, powerful, safe and capable tool that is accessible to home and business users alike. Very few Synology NAS systems have been as popular as the Summer 2020 released DS920+ NAS, a 4-Bay desktop system that served as a fantastic middle ground for all users and largely considered the 'go to' Diskstation system for prosumers and small businesses. However, that was released 2.5 years ago now and in that time, alot has changed. Users have bigger demands, want things much faster, better connectivity and Synology are responding to this with the release of the DS923+, the followup/refresh of the Synology DS920+. In that two and a half years, some things have stayed the same, but a whole bunch of things have changed and many users are wondering whether they should buy the Synology DS920+ (regularly on sale – check on our deals page here) or go for the newer Synology DS923+ NAS. So, today I am going to compare them in a bunch of ways, Hardware, Storage Options, Ports, DSM Support and even Plex, just to see how they stack up against one another. Note, I am not going to compare them in price (but I will in value later), as comparing the price of two devices around 2.5yrs difference in release and availability isn't particularly fair. Lets get started.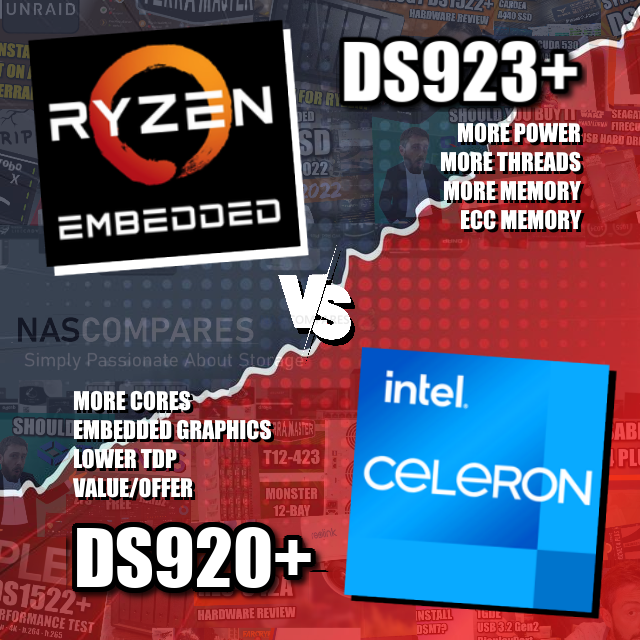 The Synology DS923+ vs DS920+ NAS – Internal Hardware
Let's face it, THIS is one of the biggest and earliest reasons that many users have been comparing the DS920+ and DS923+, as Synology surprised all of us with it's choice of internal hardware in their latest diskstation release. To give you a little bit of history, Synology has always (for at least a decade or so) presented the plus series of 2-Bay and 4-Bay solutions with an Intel x86 processor with integrated graphics on board (i.e an extra component that is designed to be better suited to graphical data tasks, rather than use the normal/typical power of the processor as a whole. Indeed, the Synology DS920+ NAS arrives with exactly that, an Intel Celeron J4125 Processor, 4 Cores, 2.0Ghz frequency that can be burst when needed upto 2.7Ghz and on-board Integrated graphics. At the time of release, this was pretty much the 'main' Intel Celeron that was in use in the NAS market and provided an excellent middle ground between cost vs power vs efficiency in a NAS (other brands providing the same). So, when discussions of a follow up to the DS920+ were beginning to be raised, many (myself included) assumed it would be another Intel Celeron inside (originally hypothesizing the N5105 or J6412). However, the confirmed CPU inside the DS923+ is the AMD Embedded Ryzen R1600, Dual Core, 2.6Ghz frequency that can be burst when needed to 3.1Ghz. The fact that the AMD R1600 does NOT feature any onboard/integrated graphics is a blow for anyone that is going to be considering the DS923+ over the DS920+ for server side transcoding in Plex Media Server (either by choice or in the case of automatic conversion with HEVC/H.265). Now, before going any further, I need to highlight that the R1600 can DEFINITELY HANDLE 4K IN PLEX (I will cover this more later, but you can watch the video here), so if you are choosing between the DS920+ and DS923+ for use as a native playback media server in 4K and 1080p, the CPU choice here is not an issue and in many ways, the increased horse power will allow more resources to go towards media playback across multiple streams AND other NAS services. Let's take a closer look at the base internal hardware of the DS923+ and DS920+:
How do the Synology DS920+ and DS923+ NAS Compare in Internal Hardware?
NAS Model

Synology DS923+ NAS

Synology DS920+ NAS

CPU Model
AMD Ryzen R1600
Intel Celeron J4125
CPU Architecture
64-bit
64-bit
CPU Frequency
2-core 2.6 (base) / 3.1 (turbo) GHz
4-core 2.0 (base) / 2.7 (burst) GHz
Hardware Encryption Engine (AES-NI)
Yes
Yes
Memory
System Memory
4GB DDR4 ECC SODIMM
4GB DDR4 non-ECC
Memory Module Pre-installed
4GB x1 Module
4GB X1 SODIMM Module (soldered)
Total Memory Slots
2
1
Maximum Memory Capacity
32GB (16GB+16GB)
8GB (4GB + 4GB)
Ok, so let's break this down into the advantages that either one provides. The Intel Celeron inside the DS920+ NAS and it's integrated graphics are definitely going to have their use. Tasks that require more advanced graphical techniques, such as encode, decode, QuickSync-supported tasks, viewing images that can be manipulated in the viewer and running of anything presented in HEVC/H.265 compression are going to benefit from the graphical toolkit present in the J4125 CPU. Also, the power use/efficiency of the Intel Celeron in 24×7 use is going to typically be lower in like-for-like use cases (with a TDP rating of 10W on the Celeron vs 25W on the R1600 – but these represent max usage/non-typical). Finally, the Intel Celeron in the DS920+ is a 4-core processor, double that of the R1600 at 2-core. 4 Cores means that you can spread those dedicated cores to other processes more effectively and present a larger degree of processing power to those tasks. Now, the DS923+ and it's AMD R1600 does counter all of these points with some impressive strengths of it's own. For a start, that much higher base and turbo frequency of 2.6Ghz > 3.1Ghz. This means that you have a much more powerful NAS at your disposal to get most other tasks done and if you are not focused on those graphical areas mentioned earlier that the J4125 favours, the R1600 is going to get most other tasks done quicker and/or have more resources to spread out to more users at once.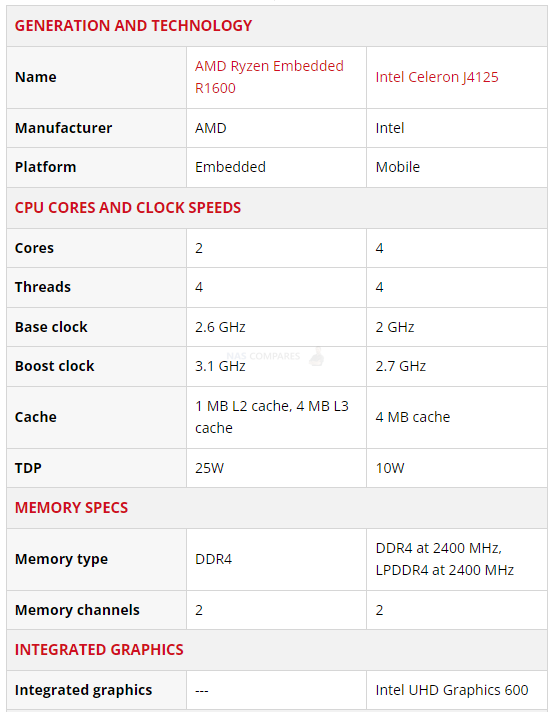 The fact the DS923+ R1600 CPU is a dual-core is a bit of a kick, but it does make up for this a bit with the fact it is 4 threads, which can be used as virtual CPUs in VMs and spread itself out more efficiently to multiple tasks than spreading cores would – less powerful, but more efficient. The R1600 CPU also opens up Gen 3 PCI lanes internally, allowing greater bandwidth to be afforded to the system's internal chipset/hardware-services than the PCI Gen 2 lanes in the J4125 DS920+ (Gen2 = 500MB per lane, Gen3 = 1000MB per lane). This is likely how the DS923+ NAS can provide both a 10GbE optional upgrade (covered more later) and the two NVMe SSD slots (likely a higher gen/speed than those in the DS920+). Finally, let's talk about memory! Both the DS920+ and DS923+ NAS arrive with 4GB of DDR4 memory, but even a casual glance shows quite alot of difference from this point! First off, the DS920+ can only be upgraded to 8GB maximum (CPU Recommended and NAS Recommended), whereas the DS923+ and it's R1600 can hit 32GB of memory (over two slots, so 2x 16GB SODIMM) – That is ALOT of memory to play with! Additionally, the memory in the DS923+ is 3200Mhz (TBC!) and ECC (Error-correcting Code) memory that takes advantage of an additional on-board component that runs a checksum/parity-bit as data passes through the RAM at the beginning at compares at the end, repairing/healing data that might get corrupted in the write process (very caveman description, but it largely covers it). The memory in the DS920+ is 2666Mhz, non-ECC and 4GB of it is soldered to the board (only 1x upgrade slot). Business users and those running high volume and frequency databases are going to definitely see/want the benefits of that ECC memory, the scalability of it and the particular benefits of that R1600 Processor in the DS923+. The DS920+ is still, overall, the better multimedia choice in terms of the range of supported graphical services available, power consumption 24×7 and at the current value for money (It has been as low as £400-425 previously) it is incredible in 2022/2023, but really the hardware inside the DS923+ is much more business focused (not an accident I am sure).
The Synology DS923+ vs DS920+ NAS – Storage Options
So, this is going to be quite a short section! For the most part, the Storage capabilities and options that the DS920+ and DS923+ arrive with are largely identical. Both of them feature four SATA Bays of storage (which can be fully/partially populated), both support the traditional RAID configurations (RAID 0/1/5/6) as well as Synology Hybrid RAID, both support BTRFS and EXT4 file systems, both have m.2 NVMe SSD slots than can be used for 2280 SSDs for caching and both can be expanded by an additional 5-Bays of storage with the DX517. There is very, very little difference between the DS923+ and DS920+ in terms of storage. However…
How do the Synology DS920+ and DS923+ NAS Compare in their Storage Options?

| | | |
| --- | --- | --- |
| NAS Model | Synology DS923+ NAS | Synology DS920+ NAS |
| Drive Bays | 4 | 4 |
| Maximum Drive Bays with Expansion Unit | 9 (DX517 x 1) | 9 (DX517 x 1) |
| M.2 Drive Slots | 2 (NVMe) | 2 (NVMe) |
When it comes to Hard Drive compatibility, the compatibility lists of the DS923+ and DS920+ are a little different. The DS920+ features several more compatibility drives (eg the likes of the WD Red 14TB Red Pro or Seagate Ironwolf Pro) that do not appear on R1600-powered 22/23 gene systems like the DS1522+. Now the DS923+ full HDD/SSD compatibility list is still unavailable, but newer generation devices from Synology released in the 2022 series and afterwards have been having an odd habit of not listing many 3rd party drives above 16/18TB (including their own HAT5300 drives and 3rd party Surveillance drives such as WD Purple and Skyhawk, and the enterprise tiered drives). Now, the argument could easily be that testing and certification are not full completed yet, but there is no avoiding that, as it stands, the DS920+ is seemingly compatibilible with more drive types. We have performed ALOT of tests on the DS1522+ (same architecture as the DS923+, but 5 Bays) with WD Red/Gold 18TB, 20TB and 22TB drives and found them to work perfectly, yet they do not feature on the compatibility list, so when you install them in your DSM 7.1 (DSM 7.2 in Q1 2023), you might see a brief alert from your system about using non-compatible drives on your Synology. Again, this is a very small point and every possibility that it will iron out in the messaging from the brand as the DS923+ establishes itself, but it is certainly a point worth highlighting.
The Synology DS923+ vs DS920+ NAS – Ports and Connections
The external connectivity of the Synology DS923+ and DS920+ NAS are, at least on day 1, near enough IDENTICAL! Both arrive with two-gigabit ethernet connections (a little disappointing in 2022/2023, but lets move on), two USB 3.2 Gen 1 (5Gb/s) ports for storage and supported accessories and an eSATA port that is used for attaching the official Synology DX517 expansion chassis (mentioned earlier). Now, after that, we can discuss the big, BIG difference between the DS923+ and DS92+ NAS:
How do the Synology DS920+ and DS923+ NAS Compare in their Ports and Connections?

| | | |
| --- | --- | --- |
| NAS Model | Synology DS923+ NAS | Synology DS920+ NAS |
| RJ-45 1GbE LAN Port | 2 (with Link Aggregation / Failover support) | 2 (with Link Aggregation / Failover support) |
| USB 3.2 Gen 1 Port* | 2 | 2 |
| eSATA Port | 1 | 1 |
| PCIe Expansion | 1 x Gen3 x2 network upgrade slot (Optional 10GbE) | No |
| System Fan | 92 mm x 92 mm x 2 pcs | 92 mm x 92 mm x 2 pcs |
| Power Supply Unit / Adapter | 100 W | 100 W |
Yes, the Synology DS923+ arrives with the option to upgrade its network connectivity from 1GbE to 10GbE with the Synology E10G22-T1-MINI adapter (arriving at around £129-139 in price). Now, this might be the main tipping point for many users to immediately opt for the Synology DS923+ over the DS920+ NAS. Now, the full saturation of a 10Gb connection on the DS923+ is not going to be easy (maybe with full SSD RAID use, intelligence cache in place all burned in and/or enterprise-level HDDs in place) but even a single modern NAS HDD would be bottlenecked by a single ethernet port on the DS920+ and only barely accessed fully via LAG/Port-trunking with 2x 1GbE. the option for the DS1522+ to add a 10GbE connection in conjunction with that more powerful CPU is going to mean some very good throughput is going to be possible (and with ECC memory to keep on top of data integrity in those high-speed writes too).
Note – You can find my 10GbE, 4x WD Red Pro 22TB Synology Ryzen R1600 NAS (DS1522+) Tests HERE on the Blog and HERE on YouTube, where we were able to hit 1.15GB/s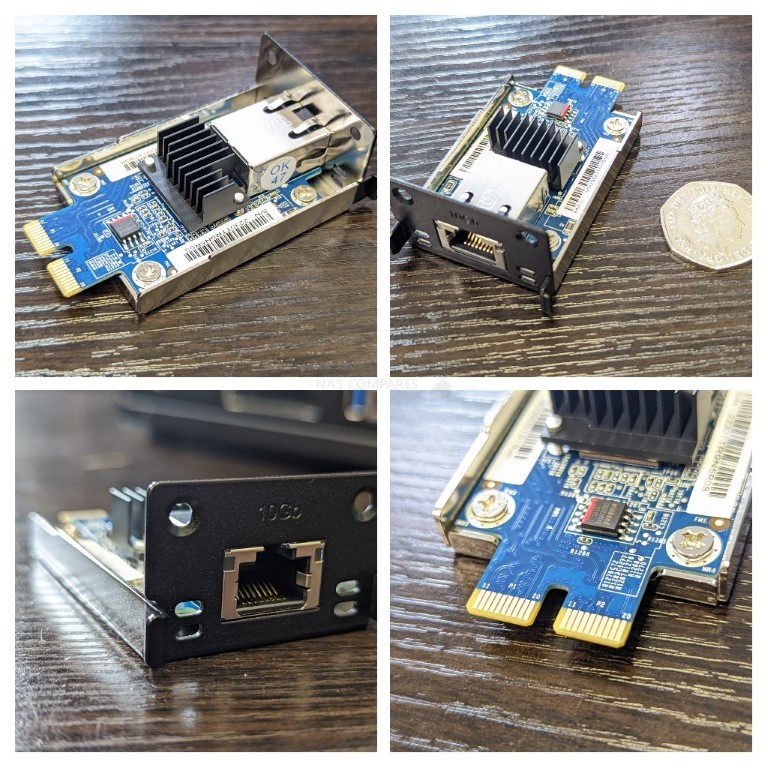 It would have been nice if the DS923+ NAS had arrived with 10GbE on board (even if it meant increasing the price a bit, many would feel) or greater than gigabit on those default ethernet ports, but there is no avoiding that the DS923+ CLEARLY wins in terms of network connectivity, as it has the exact ports as the DS920+, but allows the scalability up to 10Gb/1,000MB/s bandwidth down the line.
The Synology DS923+ vs DS920+ NAS – Software Performance
The performance of Synology DSM services and supported 3rd party connected appliances is going to be very similar on both the DS920+ and DS923+ NAS when it comes to utilizing the respective systems in low volume/frequency client tasks. By that, I mean that the scale of the operations that you need the NAS to action (from simple file sharing and downloading, to more intensive multi-site backups, file streaming, databases and surveillance for example) will largely dictate which NAS will perform better for you. As mentioned, the DS920+ and its embedded graphics-supported CPU will use fewer resources to perform graphically focused tasks such as transcoding, as well as running applications that have a high volume of visual data such as live camera feeds in Surveillance Station 9. Whereas the file handling and general transfer performance of traditional data exchanges are going to use fewer resources on the DS923+ embedded Ryzen processor, as well as have a much, MUCH higher ceiling for total processes thanks to that larger memory scalability already discussed. Below is a breakdown of the most popular applications and services that are included with either the Synology DS920+ or DS923+ NAS:
Synology Office – Create documents, spreadsheets, and slides in a multi-user environment. Real-time synchronization and saving make collaboration a breeze.
Synology Chat – Aimed at businesses, Synology Chat is an IM service that transforms the way users collaborate and communicate.
Synology Drive – Host your own private cloud behind the safety of your NAS with 100% data ownership and no subscription fees.
Synology Moments – Manage your photos and videos with deep-learning algorithms that automatically group photos with similar faces, subjects, and places.
Synology Calendar – Stay on track, share calendars, and schedule meetings, while ensuring sensitive information remains safely stored on company premises.
Synology Active Backup for Business (ABB) – Consolidate backup tasks for virtualized environments, physical servers, and personal computers, and rapidly restore files, entire machines, or VMs – license free.
Synology Hyper Backup – backup you NAS safely and efficiently to multiple destinations with deduplication, integrity checks, compression, and versioning.
Synology Surveillance Station – Safeguard your business, home, and other valuable assets with reliable video surveillance tools.
Synology Virtual Machine Manager (VMM) – An intuitive hypervisor that supports Windows, Linux, and Virtual DSM virtual machines. Its powerful disaster recovery tools help users achieve maximum service uptime.
Synology High Availability – Synology High Availability (SHA) combines two Synology NAS servers into one active-passive high-availability cluster, alleviating service disruptions while mirroring data.
Synology Central Management System (CMS) – Synology CMS allows you to manage multiple Synology NAS servers quickly and conveniently from a single location.
Synology Video Station – Manage all your movies, TV shows, and home videos. Stream them to multiple devices or share them with friends and family.
Synology Photo Station – Built to help photographers manage their photos and share them with clients for feedback or business development.
Synology Audio Station – Manage your music collection, create personal playlists, stream them to your own devices, or share with family or friends.
Synology File Station – Manage your Synology NAS files remotely through web browsers or mobile devices
However, the extent to which you can use all these applications at any single time (both as multiple clients using the same software or multiple applications running in parallel on the same NAS system) is going to be better on the Synology DS923+ in the grand scheme of things, thanks to that potential 32GB of memory available to scale up down the line. Here is how these two Synology NAS drives compare in volume and features in those 1st party services:
Now we have still yet to have the software support and range of users/clients supported by the hardware configuration of the Synology DS923+ NAS drive, HOWEVER, we DO have those of the DS1522+ NAS, which arrives with the same CPU (but 8GB of memory and an additional storage bay). Nevertheless, this should serve as a small indication of the extent to which the DS923+ and DS920+ compare in DSM performance:
| | | |
| --- | --- | --- |
| Model | DS920+ | DS1522+ |
| Max Single Volume | 108TB | 108TB |
| SAN Manager | 128 ISCSI Targets and 256 LUNS | 128 ISCSI Targets and 256 LUNS |
| Surveillance Station | 40 Cameras Max, 2 Licenses | 40 Cameras Max, 2 Licenses |
| Collaboration Suite | ALL Tools | ALL Tools |
| Synology Drive | 350 Connections , 5,000,000 Files | 350 Connections , 5,000,000 Files |
| Active Backup | FULL Support (Google, 365, VM,  local) | FULL Support (Google, 365, VM, local) |
| Synology Photos | All Features | All features |
| Hybrid Share | Full Support of 10x syncs | Full Support of 10x syncs |
| Accounts | 2048 Users, 256 Groups, 512 S.Folders | 2048 Users, 256 Groups, 512 S.Folders |
| SHA | Yes | Yes |
| VMM | Yes, 4 Recommended Max | Yes, 8 Recommended Max |
| Hardware Transcoding | Yes | No |
| MailPlus | 100 concurrent users, 5 Licences | 100 concurrent users, 5 Licences |
| SHR Support | Yes | Yes |
| Snapshots | 65,536 Max | 65,536 Max |
| Web Hosting | Upto 30x | Upto 30x |
| Hyper Backup | Yes, all features and clients | Yes, all features and clients |
| Max Synology  Tested R/W Speed | 226.01MB/s – 225.84MB/s | 736MBs – 796MB/s |
Once again, very similar and indeed, both systems largely provide the building blocks to use each application to the highest extent allowed/recommended by Synology in DSM. Despite these NAS' having very different CPUs, they still ultimately support the same volume of services (at maximum) in DSM. But the DS923+ clearly has more recourse scaling possible and that will hopefully mean that you will be able to push several applications in higher frequencies each more on the newer system than the old one. Just don't overlook how useful that Intel Celeron CPU would be to multimedia tasks.
The Synology DS923+ vs DS920+ NAS – Plex Media Server
This is going to be a big, BIG question for a number of users – Which is better for Plex Media Server, the older Synology DS920+ or new DS923+ NAS? Now, as mentioned much earlier in this comparison, if you are looking at native playback a handful of streams of H.264 media, without transcoding, in both 4K and 1080p (up to about 60Mb/s bitrate), then you will see almost no difference between these devices unless you stream to large #s of clients, as the embedded graphics hardware on the Intel J4125 CPU will not really see any activity/need. HOWEVER, if you are running complex file formats (mp4a, occ, RAW for example), want on-the-fly transocding to reduce a media files size that you are streaming from a weak connection (commute? on the beach?) and/or you are playing HEVC/H.265 media in 4K/1080p/720p media to client devices that need server-side conversion – THEN the R1600 embedded Ryzen in the DS923+ will definitely hit 100% CPU utilization VERY fast and you will hit a wall very quickly. Now, what is the significance of HEVC/H265 and conversions/transcoding? Well, HEVC/H.265 is a newer and much more effective compression technique for squeezing GIANT MEDIA into smaller file sizes (eg from CINEMA to sofa) and prior to that, the h.264 compression format was still good, but also FREE! However, HEVC/H265 requires a licence and, in the absence of one being included by the manufacturer or purchased by the client hardware user, your HEVC/H265 file will need to be converted to a playable format in order to be streamed – THIS is the hard work that the embedded graphics on the Intel Celeron are GREAT for! Below are two videos from the NASCompares YouTube channel that show a multitude of Plex Media Tests on the DS920+ vs the DS1522+ (same hardware mostly) and how they compared:
4K MEDIA

ONLY PLEX NAS TESTS!
720p/1080p/4K PLEX MEDIA SERVER TESTS
Now, there are lots of ways to get around the HEVC/H265 barrier. You can:
Use Media Client Hardware for watching your Plex Server Media that is powerful enough to allow 'client side' conversions
Only Use H.264 Compressed media
Use a client hardware device that includes an HEVC/H.265 Licence purchase option
However, if you are running your Plex Media streaming to mobile devices (many of which do not allow client-side hardware conversions) or an Amazon Fire Stick (same again), these will rely quite heavily on the NAS doing the heavy lifting in the event of you needing HEV/H265 content modified. So, although BOTH the DS920+ and DS923+ NAS are going to be good for Plex in native playback, when it comes to media that is going to need some extra horsepower server-side, the DS920+ NAS takes the clear lead here.
The Synology DS923+ vs DS920+ NAS – Conclusion
There is alot to like in the DS923+ NAS. Optional 10GbE, an awesome 32GB of DDR4 ECC Memory to scale up towards and a CPU with plenty of horsepower to be getting on with (if a pinch more electricity-hungry). When the DS920+ first arrived, it did so to almost universal praise (barring a few concerns at the time about 1GbE) and it has pretty much always been in the top 3 NAS since its launch for most users. Now the full specifications and details of the DS923+ are known, for many more complex and/or non-native media users, it has made the DS920+ is now even more attractive. Synology has clearly taken a rather different tactic in the release of their newest 4-Bay Diskstation, making changes to the expected hardware configuration and architecture that set it on a very different path than its predecessor. If you were already looking at Synology NAS systems that arrive with a heavy emphasis on business use, high frequency/volume transfers and scaling their architecture notably down the line in efforts to remain future-proof, the DS923+ is going to tick ALOT of boxes for you. Whereas if you were looking at a Synology NAS for home use, a Plex Media server, low client/user use and generally as more of a setup-and-forget solution, then the DS920+ will likely suit your needs better and will have the added benefit of a more palatable price point at the end of 2022. The Synology DS923+ NAS has moved this tier of Synology portfolio towards more of a small business footing than the DS920+, which might not please everyone. Keep an eye open for the DS423+ and DS223+ towards the start of next year (as well as the Value series arriving in 1, 2 and 4-Bay with that Realtek RTD1619b), as there is every likelihood that Synology are going to give these much more of a multimedia/home spotlight, now that the DS923+ has shifted it's gears to a higher audience somewhat.
| | | |
| --- | --- | --- |
| | | |
| NAS MODEL ID | Synology DS923+ NAS | Synology DS920+ NAS |
Need More Help Choosing the right NAS?
Choosing the right data storage solution for your needs can be very intimidating and it's never too late to ask for help. With options ranging from NAS to DAS, Thunderbolt to SAS and connecting everything up so you can access all your lovely data at the touch of a button can be a lot simpler than you think. If you want some tips, guidance or help with everything from compatibility to suitability of a solution for you, why not drop me a message below and I will get back to you as soon as possible with what you should go for, its suitability and the best place to get it. This service is designed without profit in mind and in order to help you with your data storage needs, so I will try to answer your questions as soon as possible.
📧 LET ME KNOW ABOUT NEW POSTS 🔔
Join 1,409 other subscribers
Get an alert every time something gets added to this specific article!
This description contains links to Amazon. These links will take you to some of the products mentioned in today's content. As an Amazon Associate, I earn from qualifying purchases. Visit the NASCompares Deal Finder to find the best place to buy this device in your region, based on Service, Support and Reputation - Just Search for your NAS Drive in the Box Below
Need Advice on Data Storage from an Expert?
We want to keep the free advice on NASCompares FREE for as long as we can. Since this service started back in Jan '18, We have helped hundreds of users every month solve their storage woes, but we can only continue to do this with your support. So please do choose to buy at Amazon US and Amazon UK on the articles when buying to provide advert revenue support or to donate/support the site below.

Finally, for free advice about your setup, j
ust leave a message in the comments below here at NASCompares.com and we will get back to you.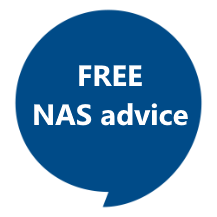 Need Help?
Where possible (and where appropriate) please provide as much information about your requirements, as then I can arrange the best answer and solution to your needs. Do not worry about your e-mail address being required, it will NOT be used in a mailing list and will NOT be used in any way other than to respond to your enquiry.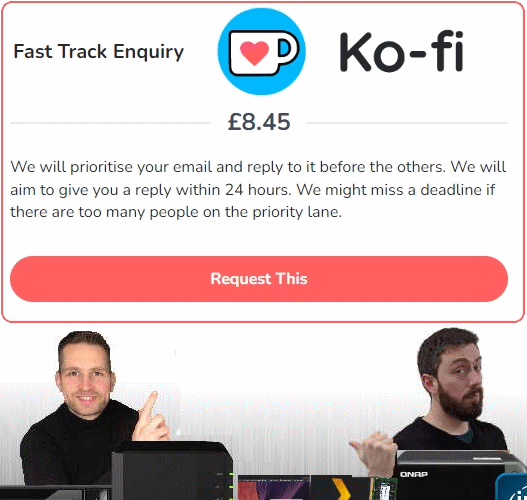 Terms and Conditions
Alternatively, why not ask me on the
ASK NASCompares forum
, by clicking the button below. This is a community hub that serves as a place that I can answer your question, chew the fat, share new release information and even get corrections posted. I will always get around to answering ALL queries, but as a one-man operation, I cannot promise speed! So by sharing your query in the
ASK NASCompares
section below, you can get a better range of solutions and suggestions, alongside my own.